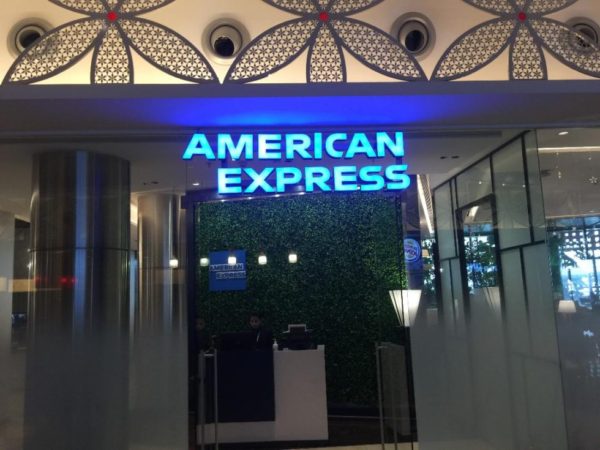 American Express operates a limited number of high quality airport lounges around the world. As of the time of writing, it has:
• 8 Centurion Lounges in US, 1 in Hong Kong
• 6 Centurion Clubs in Mexico
• 2 American Express Lounges each, in Australia & India
• 1 Lounge each in Sweden, Brazil & Argentina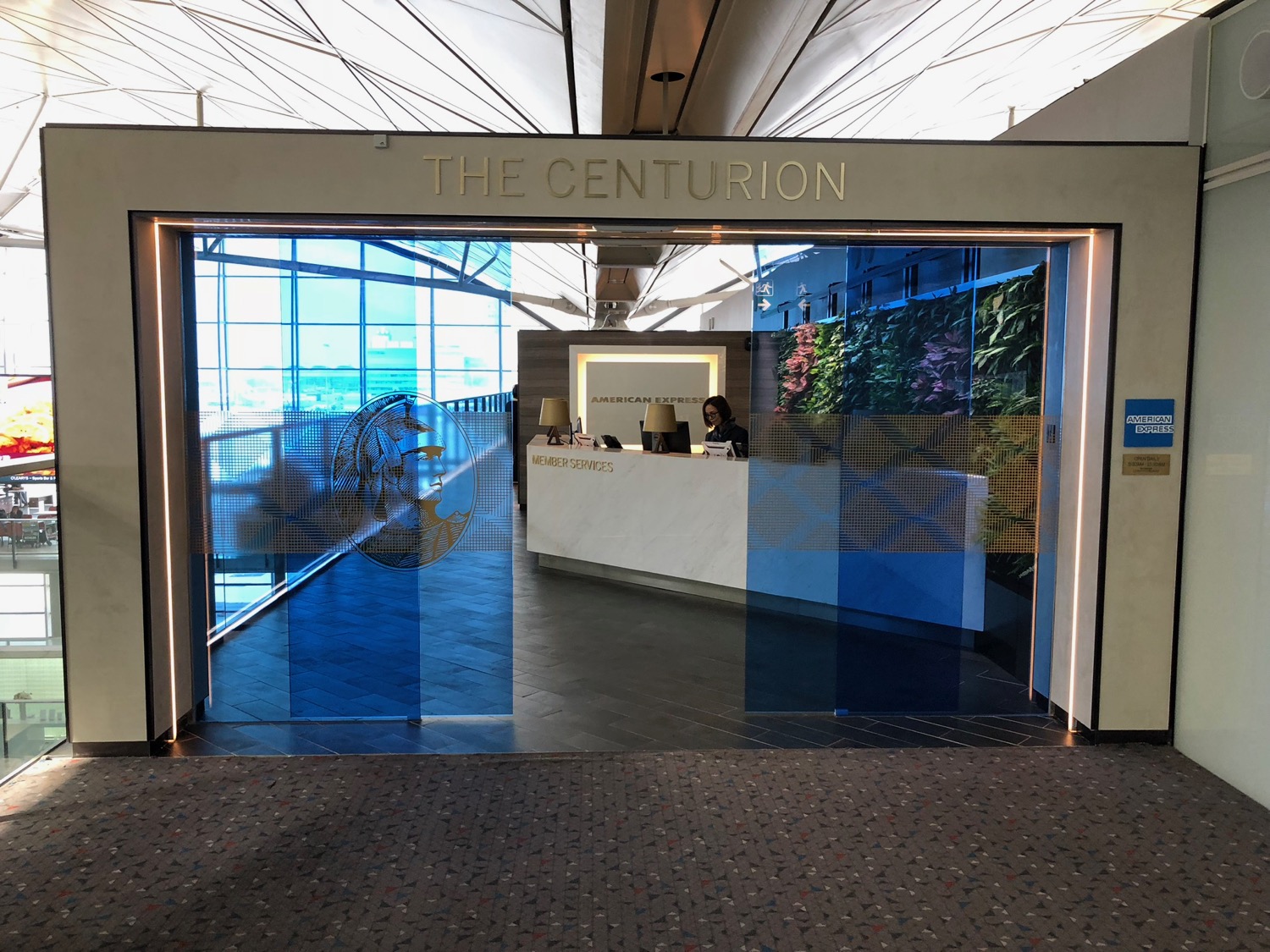 The Centurion Lounge – Hong Kong Airport
What sets these lounges apart from thousands of others, is that, they can only only be accessed by American Express credit or charge card-holders. It does not matter which airline or class you are flying, as long as you have a card that provides access to the lounge, you are in.
What to Expect
Not all American Express lounges are created equal. The Centurion lounges offer amenities such as shower suites, massage and so-on at certain locations. However, you can expect all the lounges to offer:
• Local & seasonal fare
• Hot and Cold beverages (including alcoholic beverages)
• High Speed wi-fi
• Personal workspace with universal power sockets
• Desktop computers with printer and copier
Location
The American Express lounge in Mumbai is located at Terminal 2. Although the Terminal serves both domestic and international flights, due to its location, the lounge can only be accessed by domestic passengers. This also means that if you are flying with Indigo, Go Air, SpiceJet, Air Deccan, you are out of luck.
After clearing security, stay on your left and look for this sign: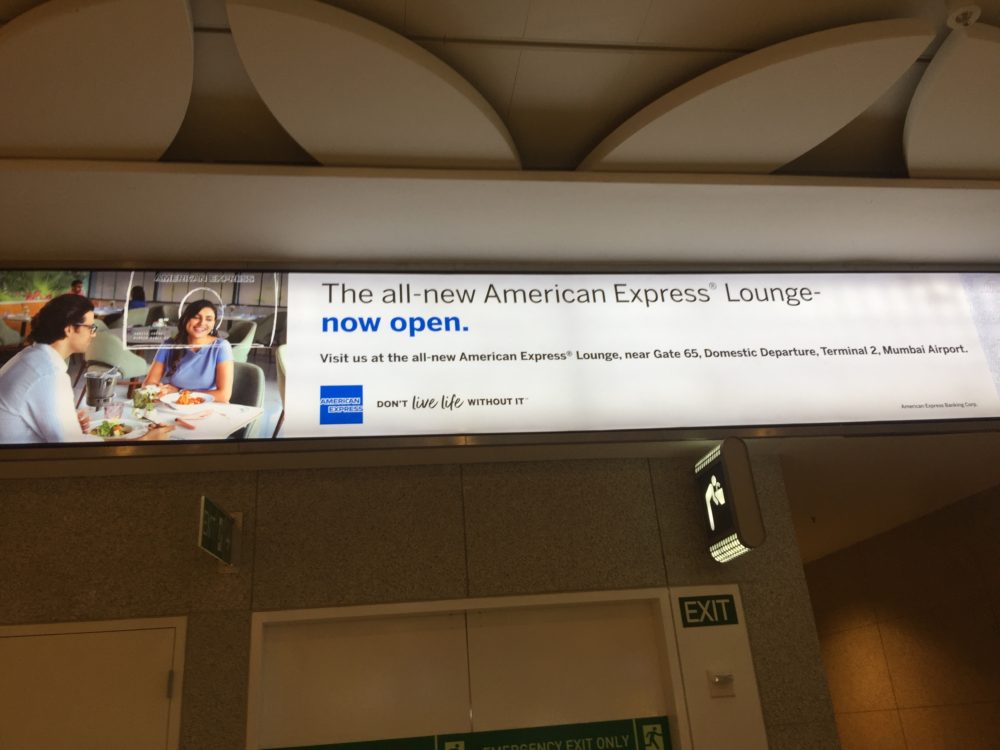 There is no dedicated signage directing you to the lounge, so just follow signs leading you to Gate 65, which is around a 2 min walk past security.
First Impression
The external look and design of all American Express lounges are strikingly similar. Once you get past the partly frosted doors, you will notice the trademark 'green living wall'.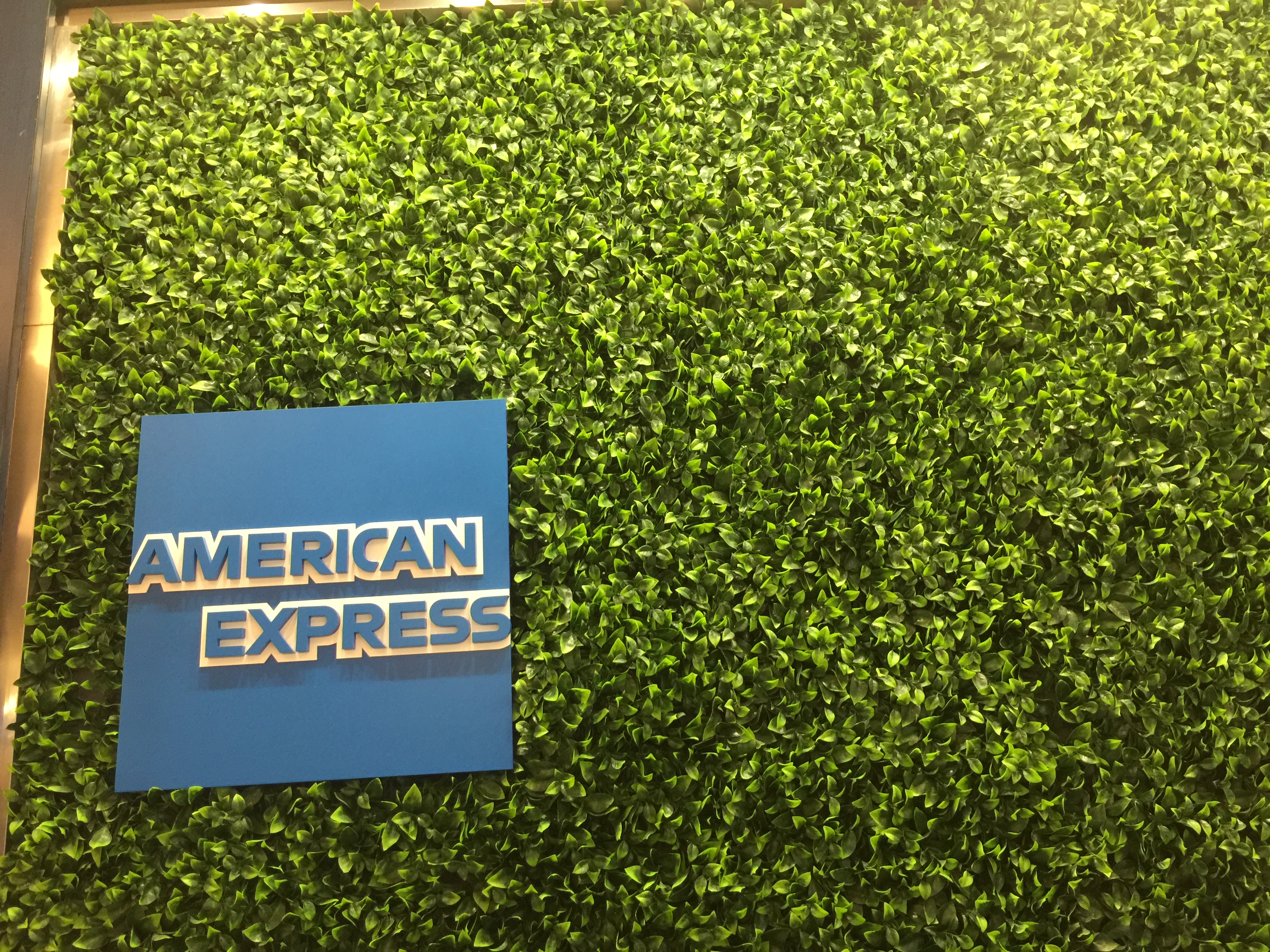 The Green Living Wall
The front desk is located right by the wall, where the staff validated my Platinum Card and boarding pass. This is where things get a little interesting. Unlike the Centurion lounges or lounges in Australia which can only be accessed by Platinum and Centurion cardholders, the Mumbai lounge is also accessible to others (more on this later).
The need to accommodate other cardholders without diluting the experience for Platinum and Centurion guests has necessitated the lounge to be split in 2 sections.
To the right and past the frosted door is the section reserved for Platinum's & Centurion's. As you walk in, you will see rows of big, comfy armchairs upholstered in blue and brown leather.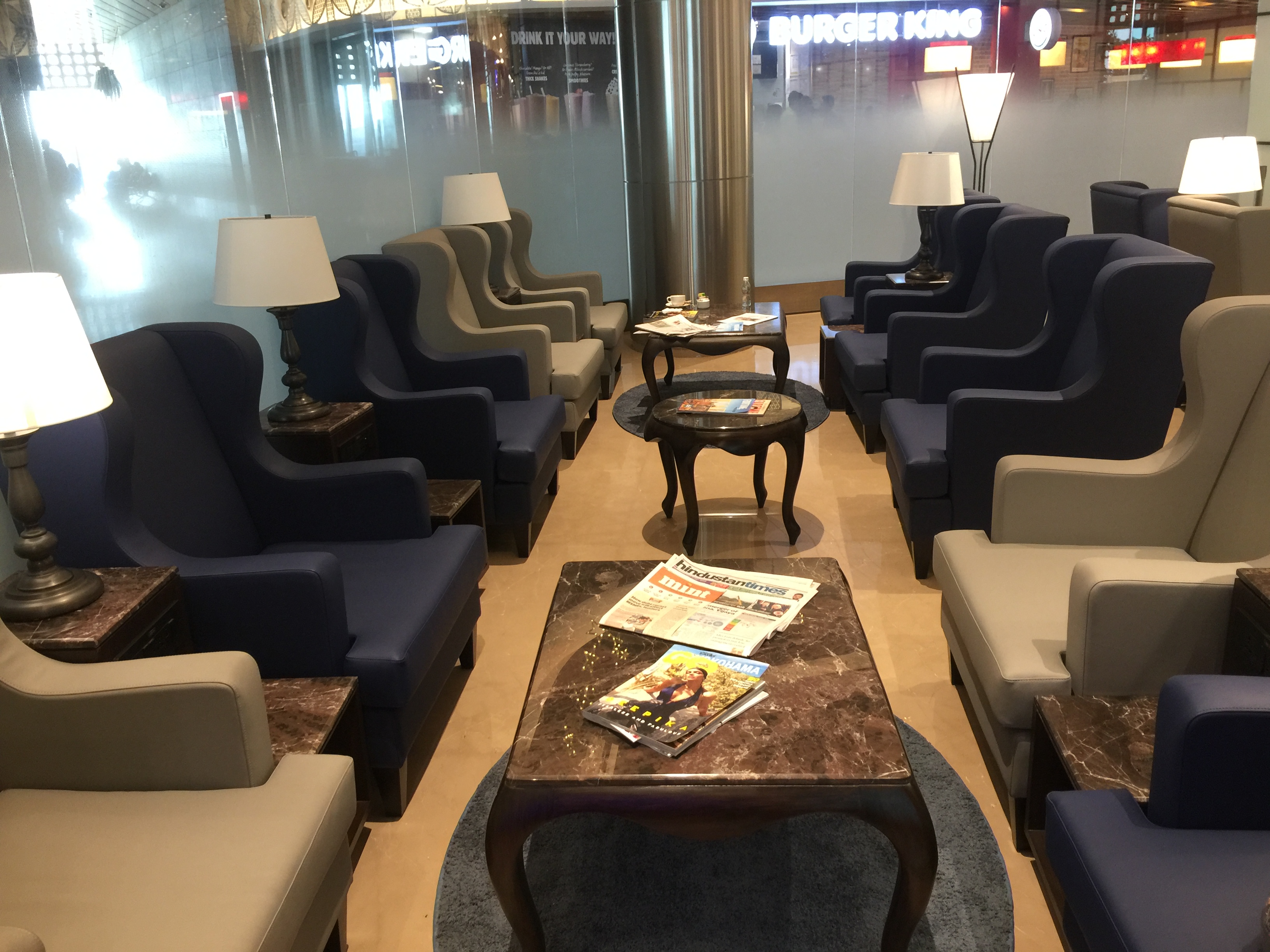 American Express Lounge Mumbai seating
I did not count, but this section of the lounge seem to be able to seat around 20 guests. Each pair of chair was separated by a small table and a reading lamp. There were universal power points and a USB port to keep your gadgets juiced-up on the move.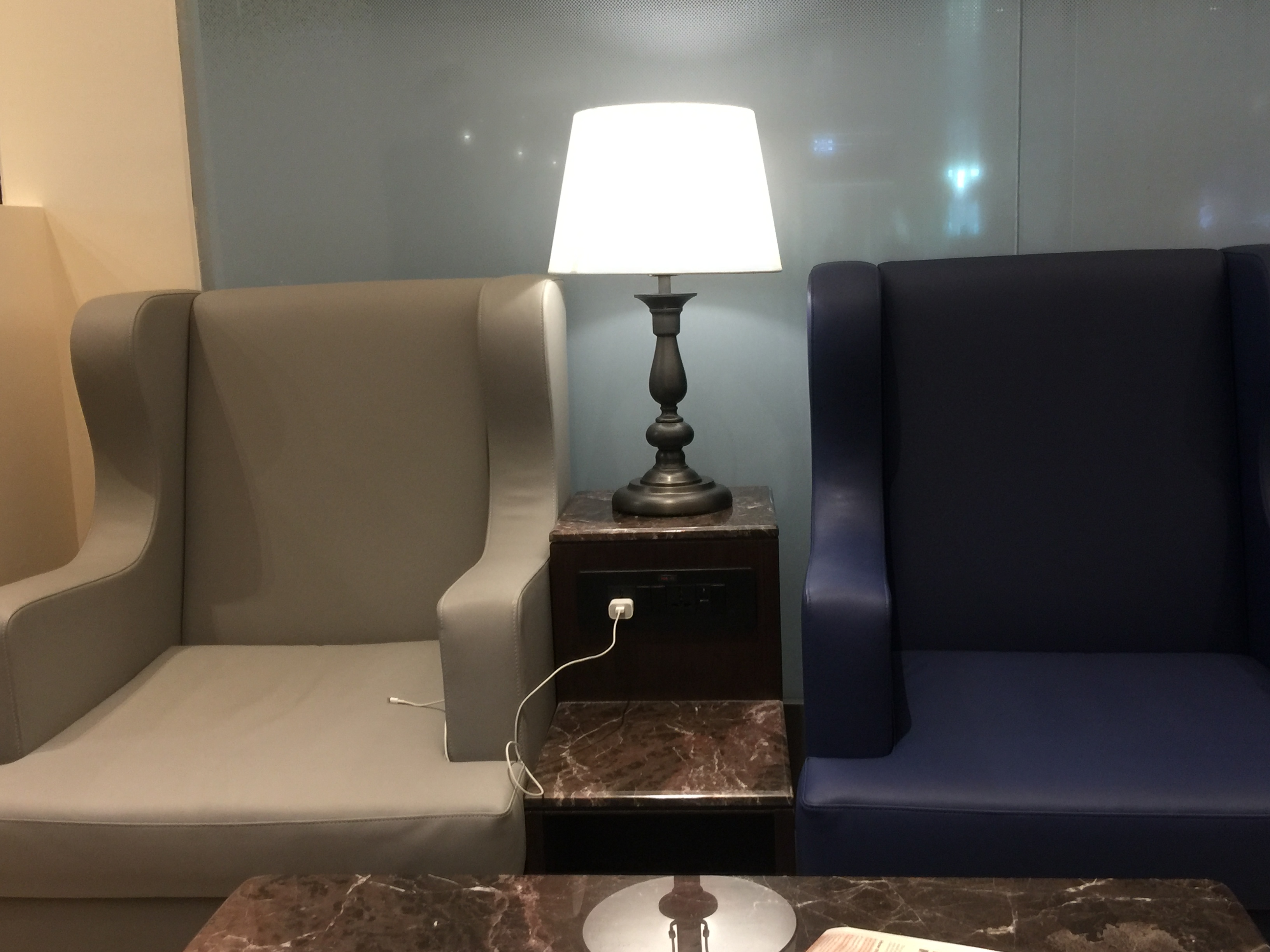 The middle 2 rows of chair had their backs to one another, while they were face to face with guests in the row that ran the length of the wall, thus offering absolutely zero privacy.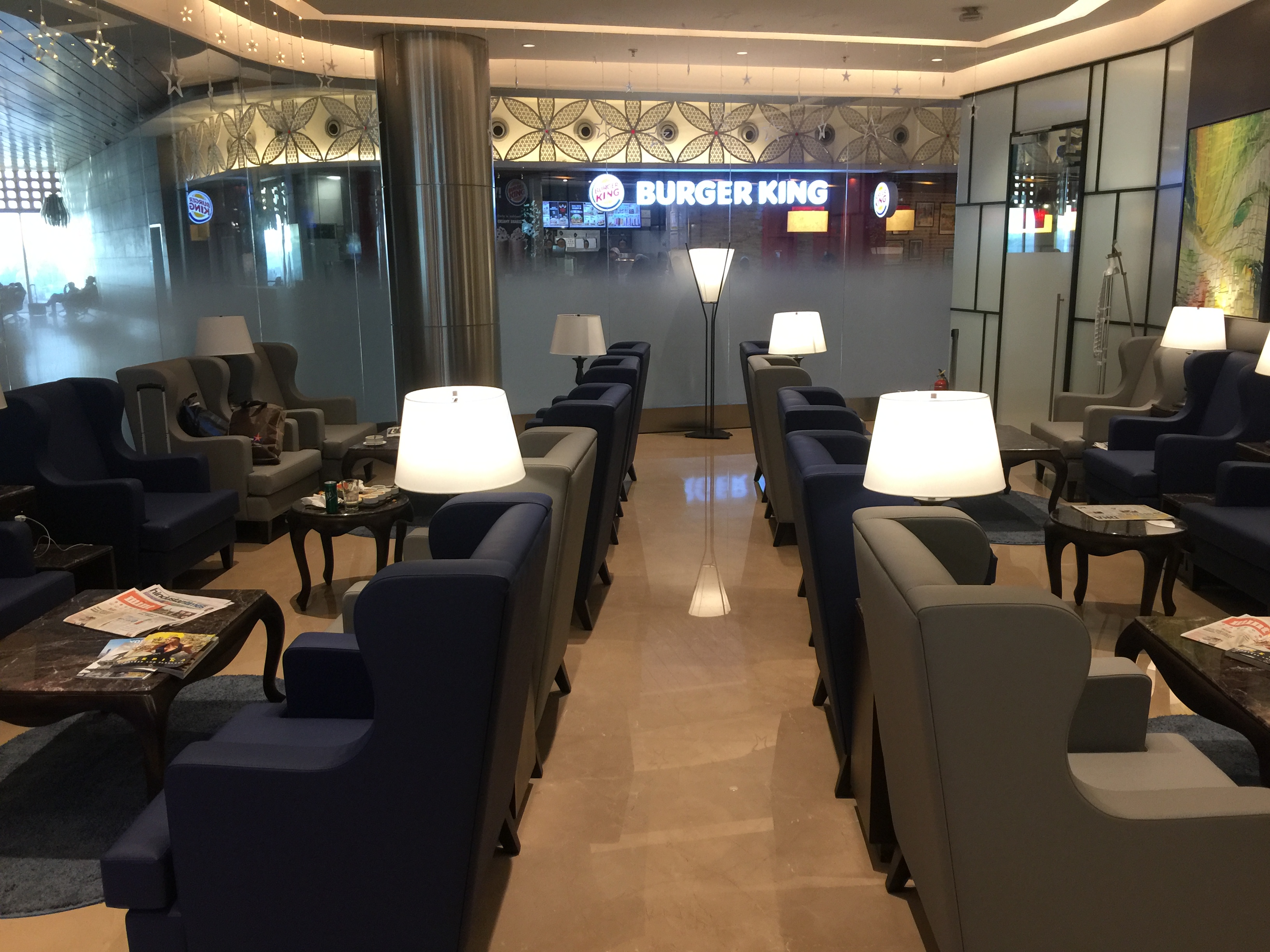 American Express Lounge Mumbai seating
Thankfully, on the day of my visit, I had this entire section of lounge to myself with not another soul in sight. This made taking photos a breeze.
Once inside, you will notice that the 2 sections are visibly blocked-off, with a single door providing access from the Platinum/Centurion section to the other, but not in the opposite direction.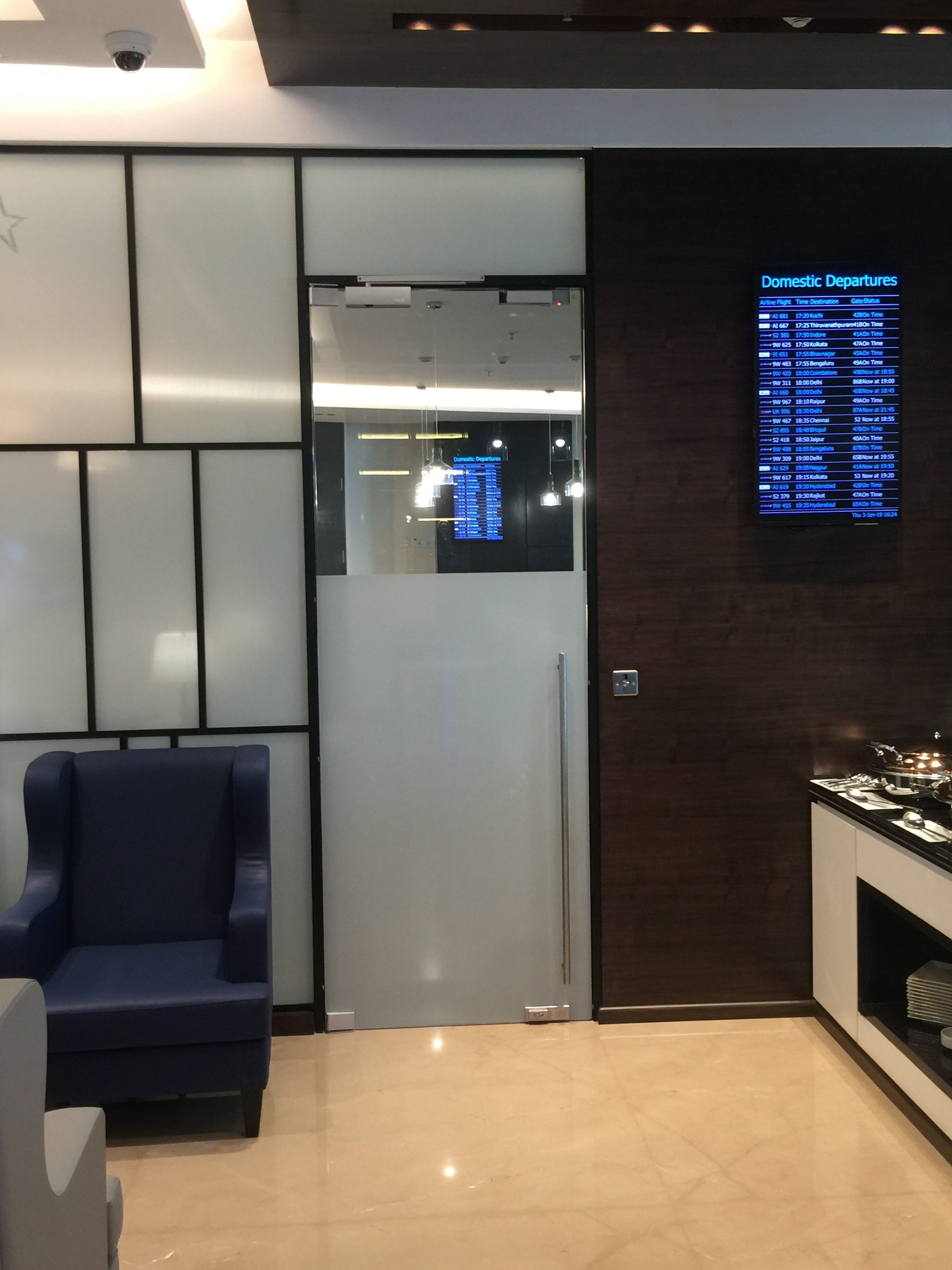 You can access the non Platinum/Centurion section through this door
The lounge was cordoned-off on the other end by floor to ceiling wall that ran the breadth of the facility. There was a long, communal bench with bar-stools underneath. To the left of this table was a small buffet station with a selection of hot dishes. There were plates and cutleries in the shelf below.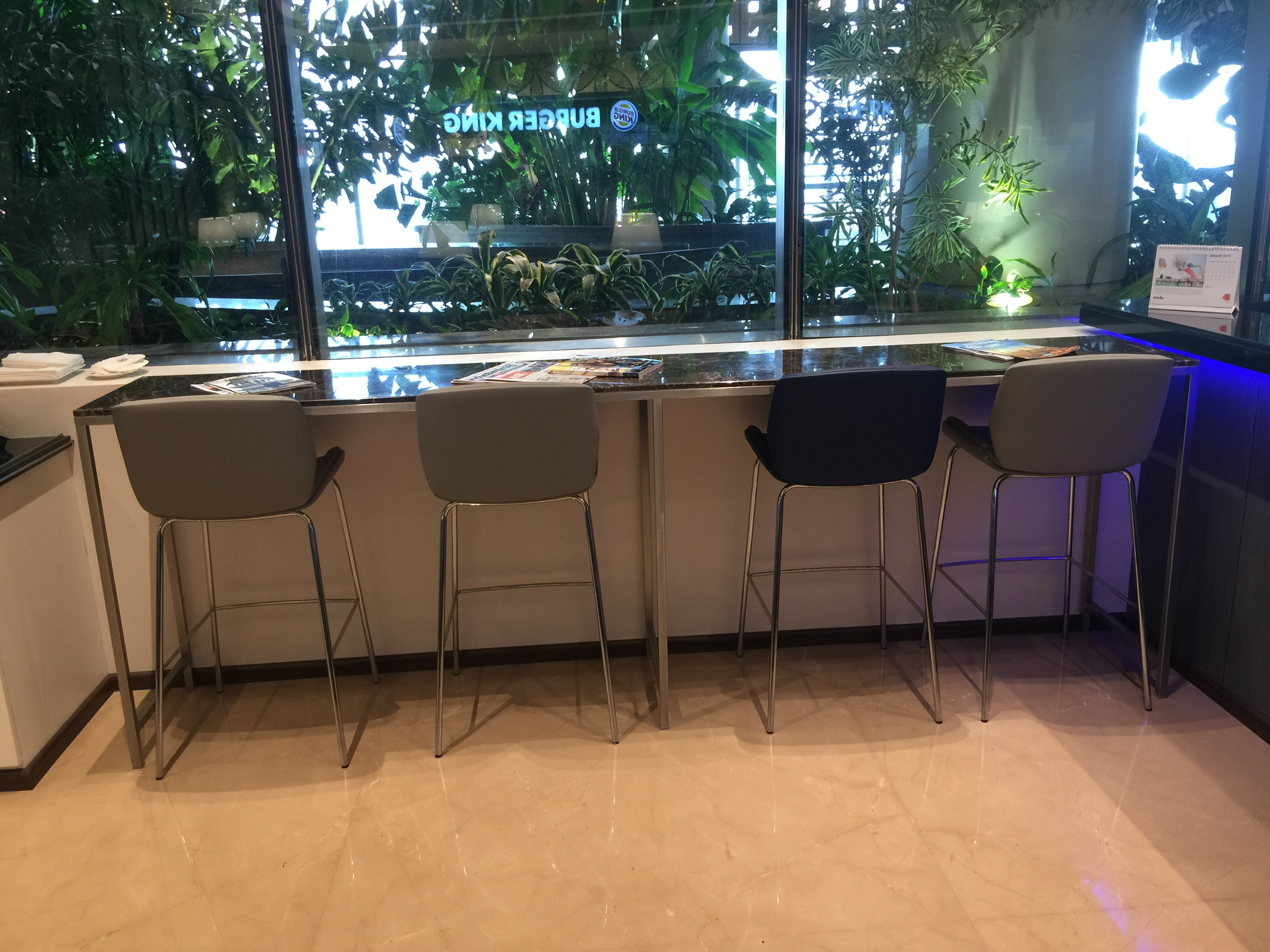 American Express Lounge Mumbai shared seating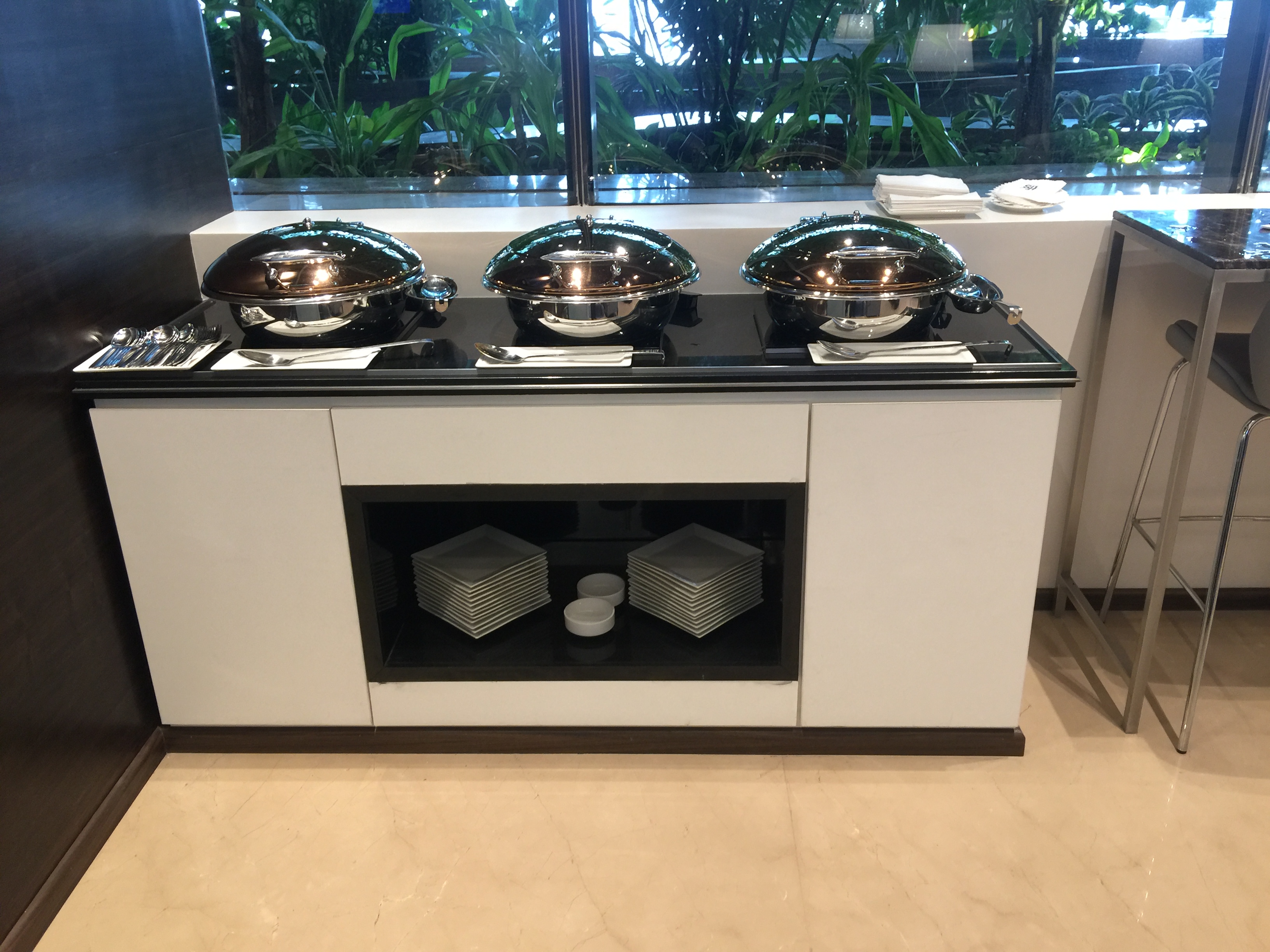 American Express Lounge Mumbai Buffet station
To the right was a tiny, unattended bar. I was later advised by the staff that the bar-license was still pending and as such, they were only serving non-alcoholic drinks at present. Bummer…:-(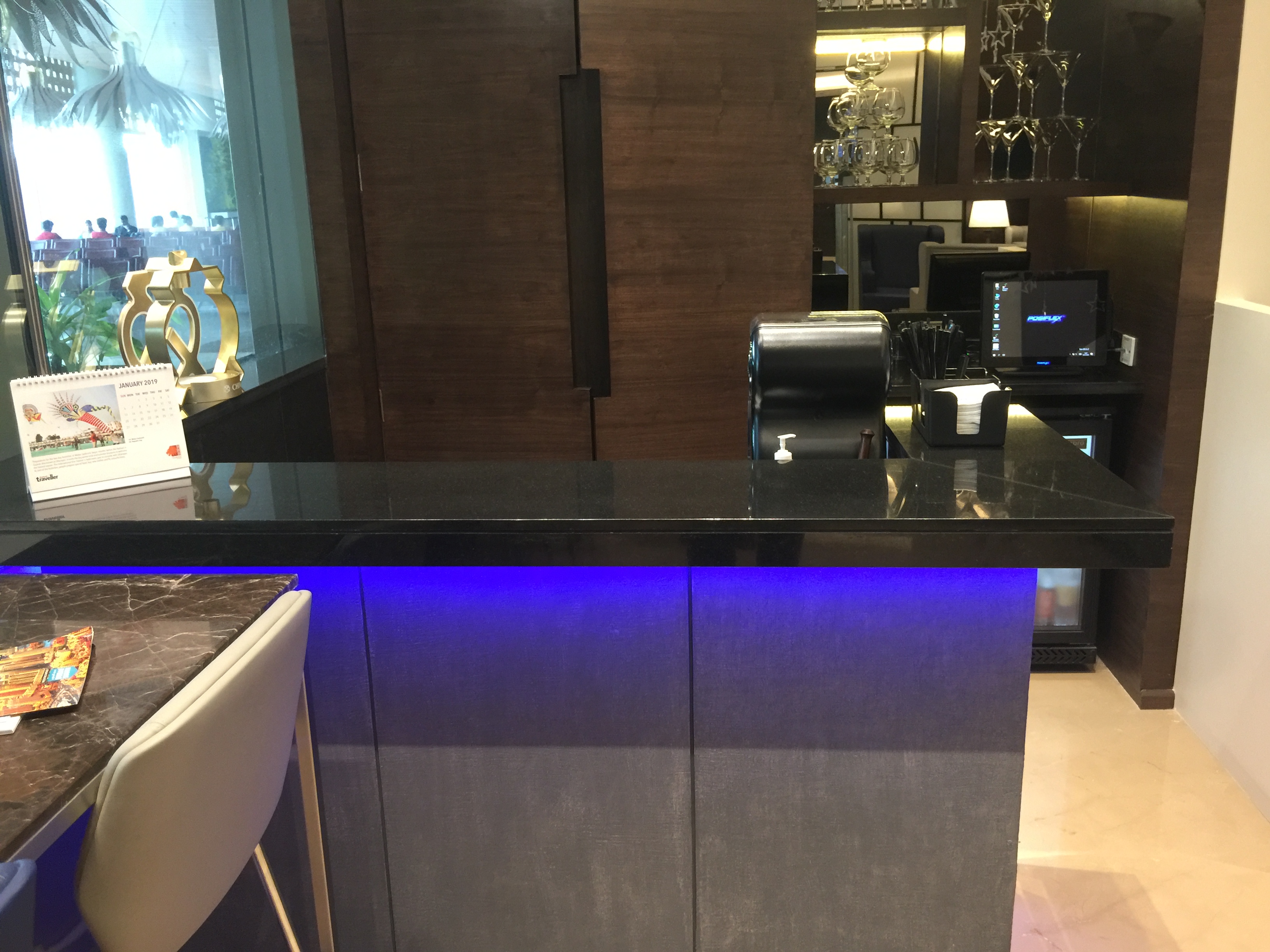 American Express Lounge Mumbai Bar
Getting a pub or bar license in India can be a lengthy, complicated process, so this wasn't much of a surprise to me.
Dining
As soon as I took my seat, a staff walked in welcoming me. He handed me a menu and explained that guests in this section had the option of both the buffet as well as a la carte dining. I went with the latter.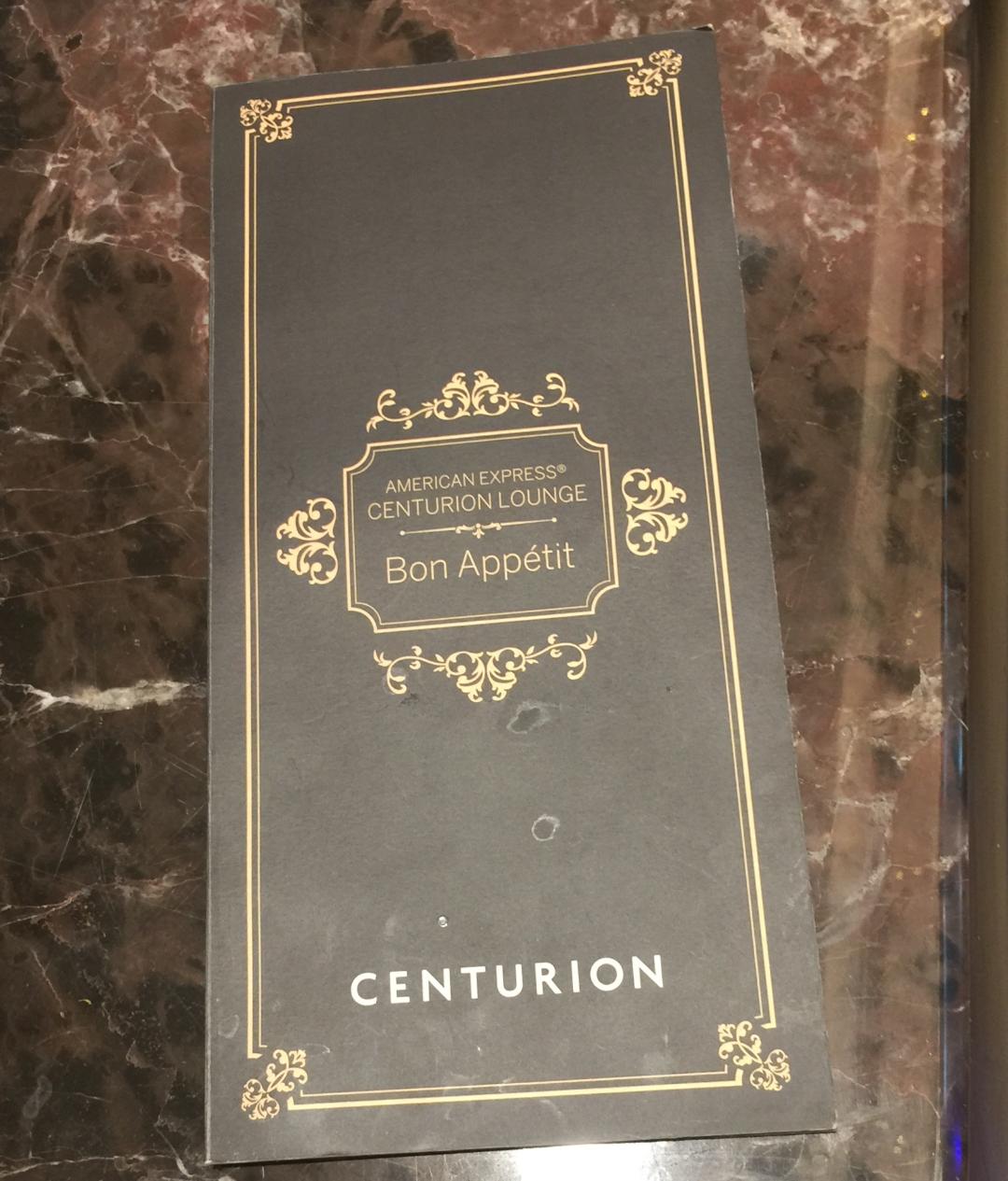 Whether you want to grab a quick bite on the run or wish to truly soak-it-in with a multi-course, hour-long affair, the menu's got you covered. Without going into too much detail, here is the food and drinks menu.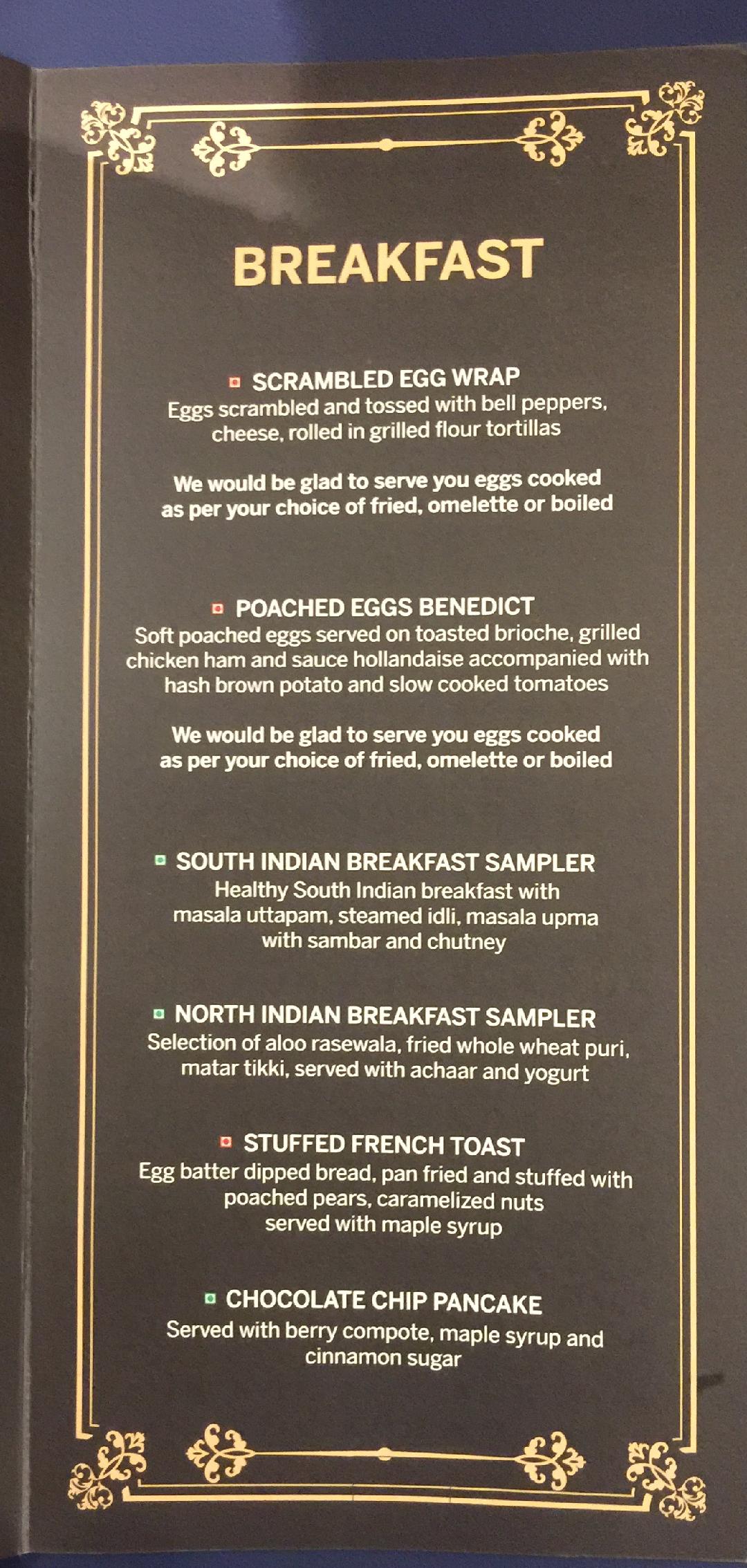 American Express Lounge Mumbai Breakfast menu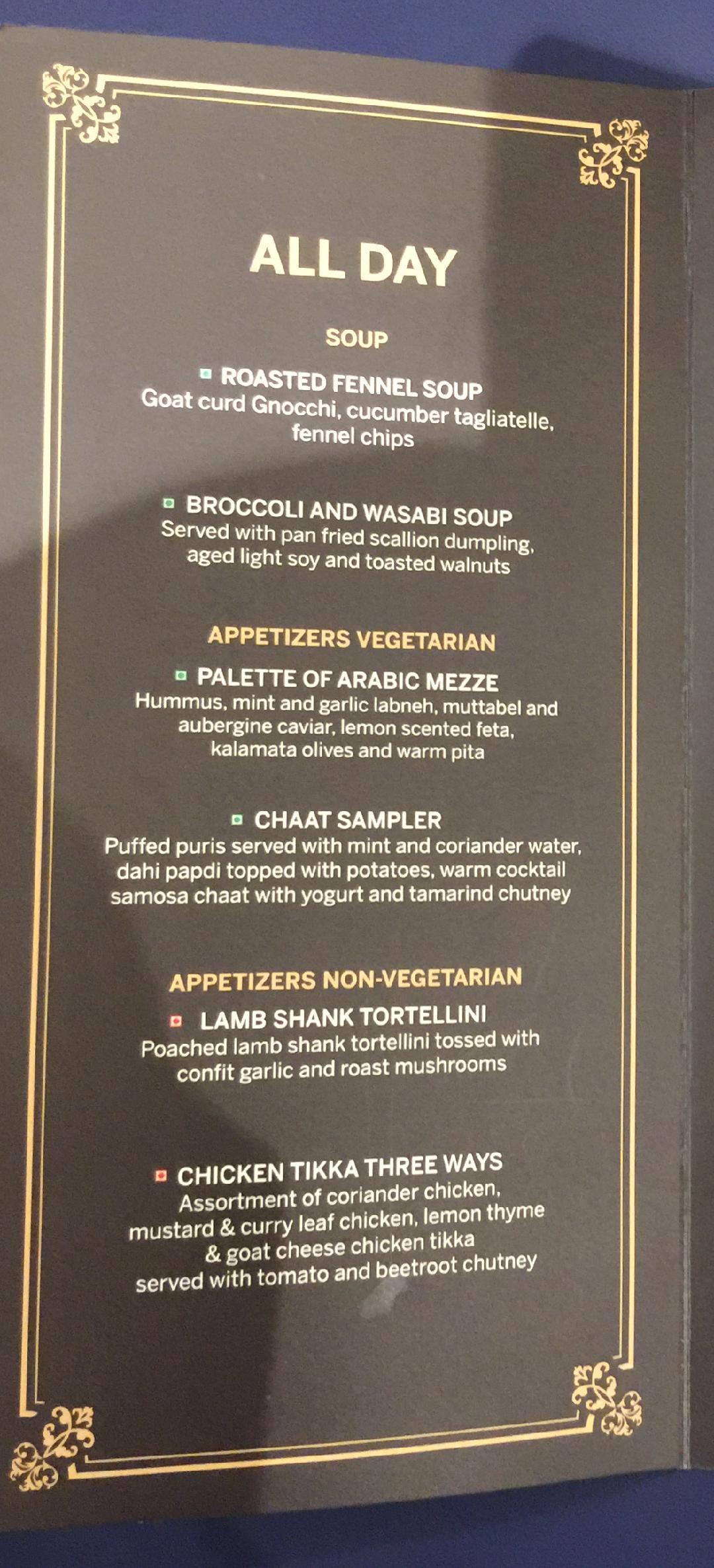 American Express Lounge Mumbai All Day Menu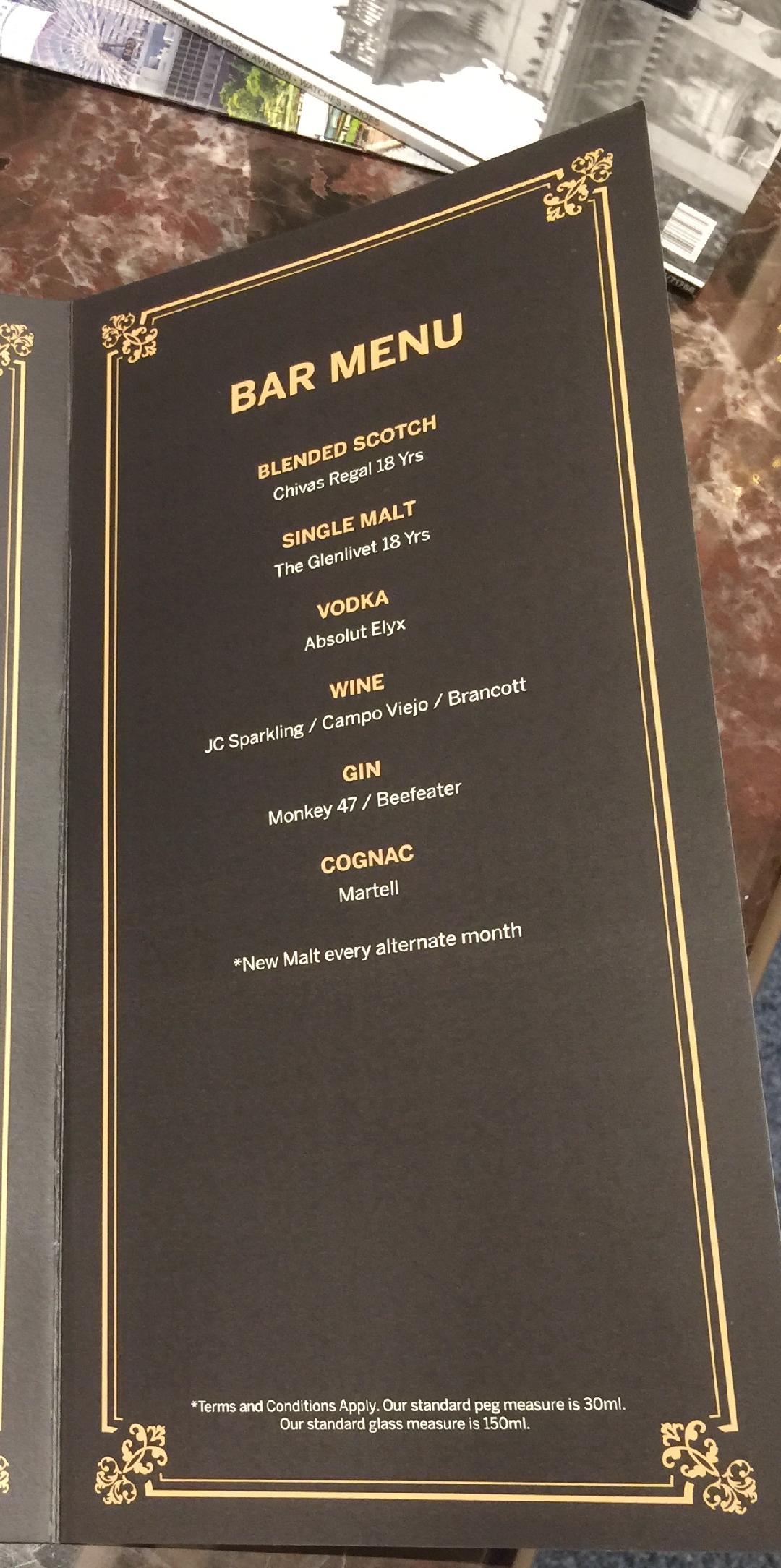 American Express Lounge Mumbai Bar Menu
Meanwhile, this is what they had on self-serve buffet station on the day of my visit.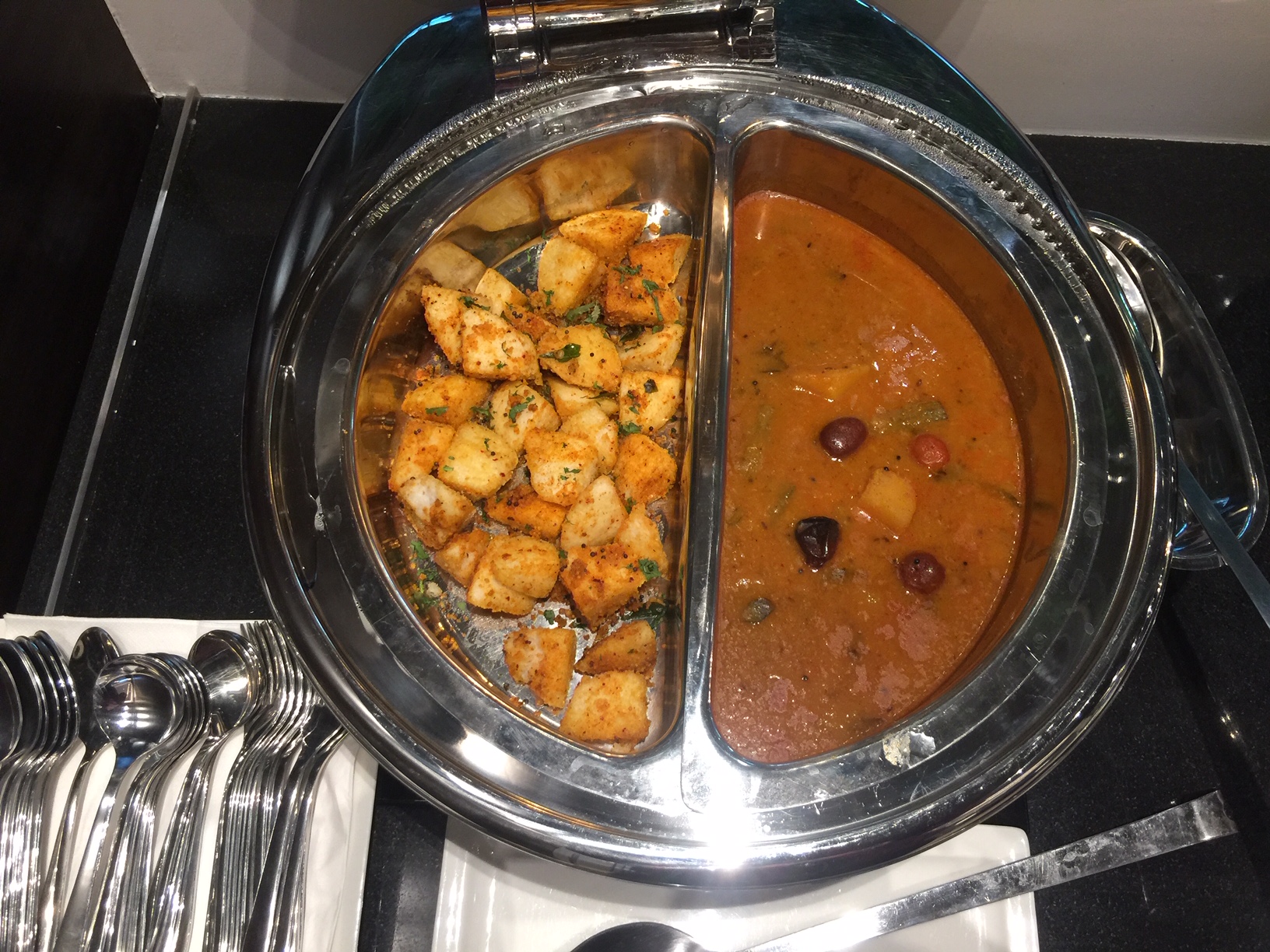 American Express Lounge Mumbai Buffet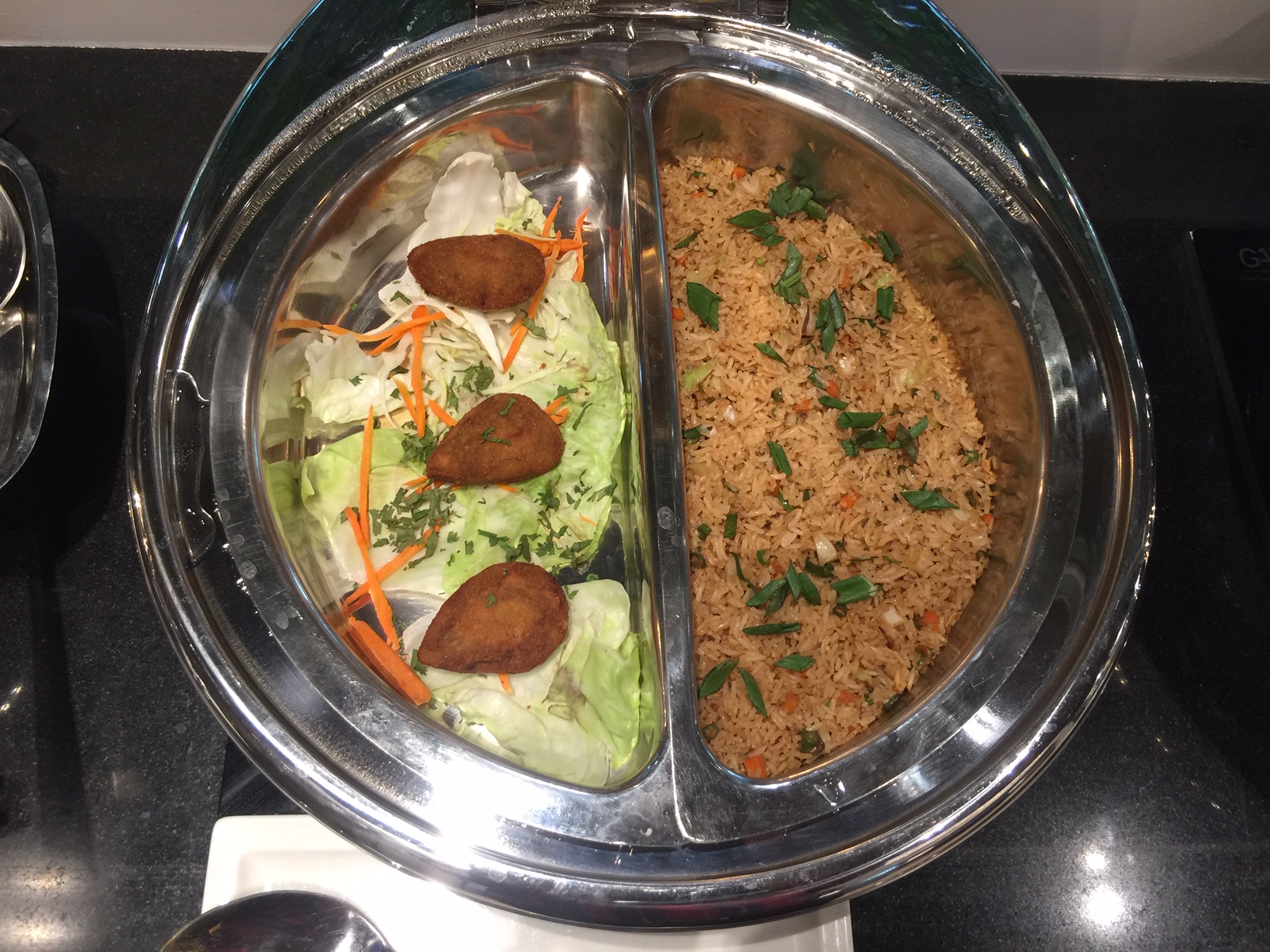 American Express Lounge Mumbai Buffet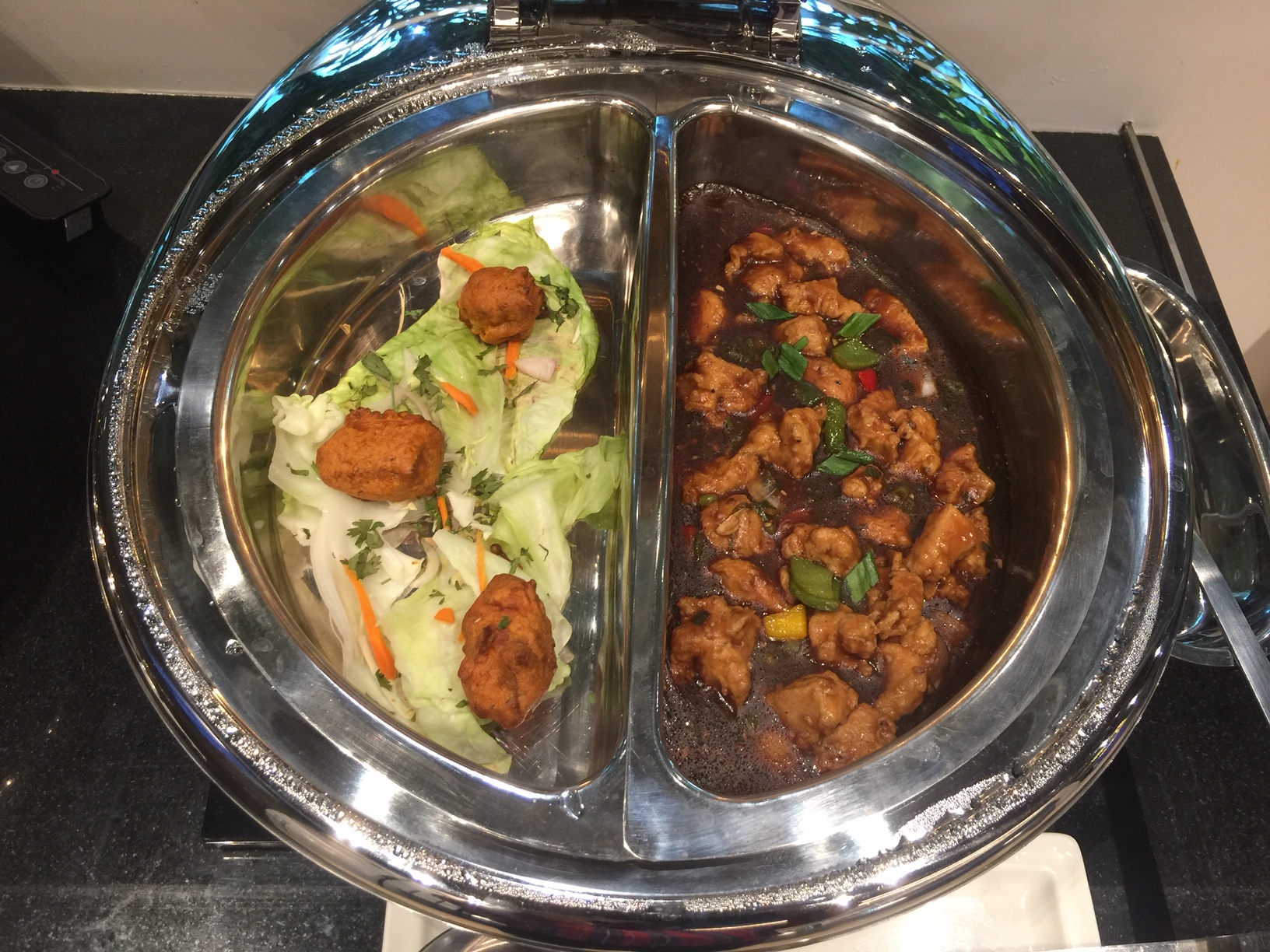 American Express Lounge Mumbai Buffet
This is what I ordered.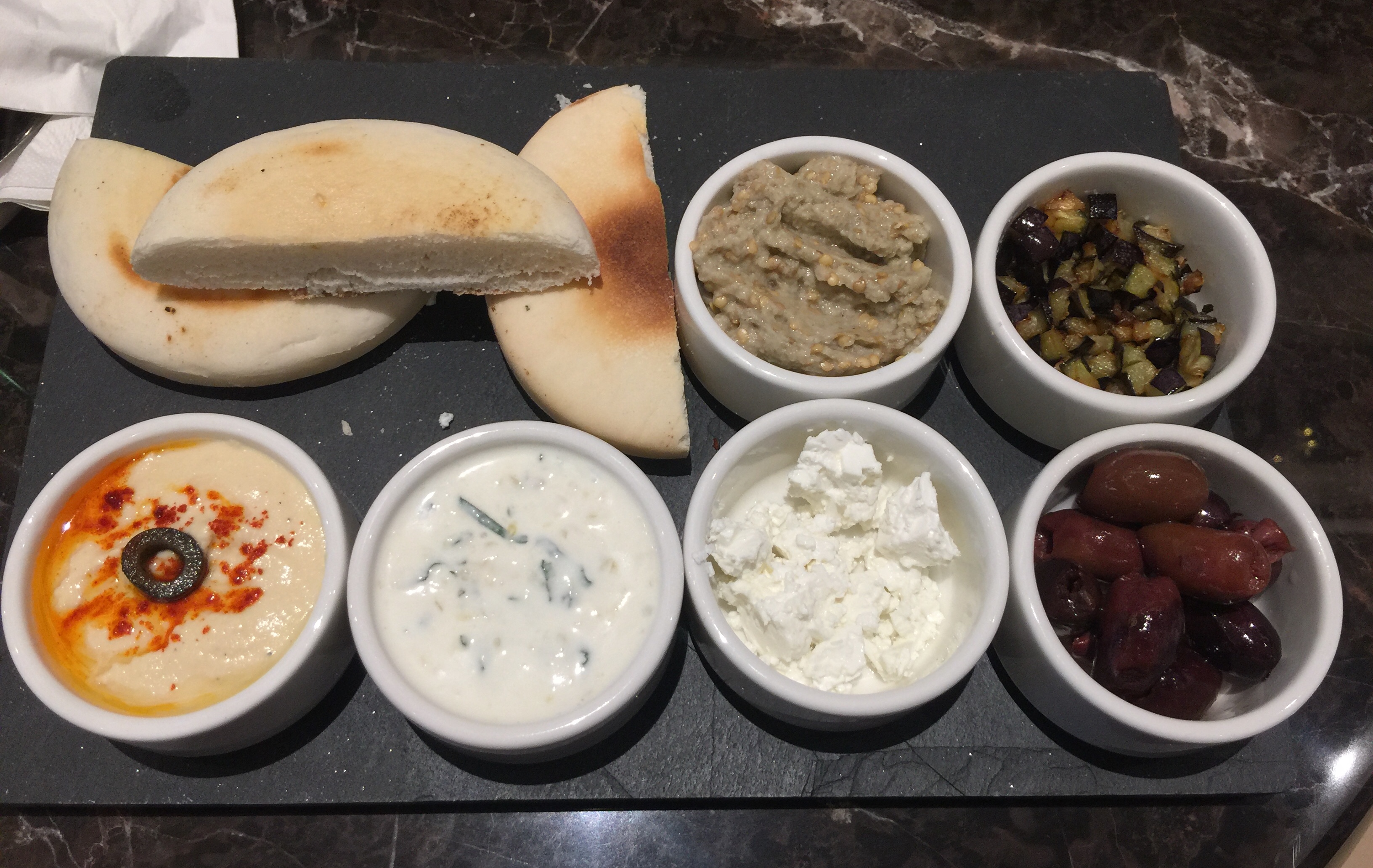 American Express Lounge Mumbai Entree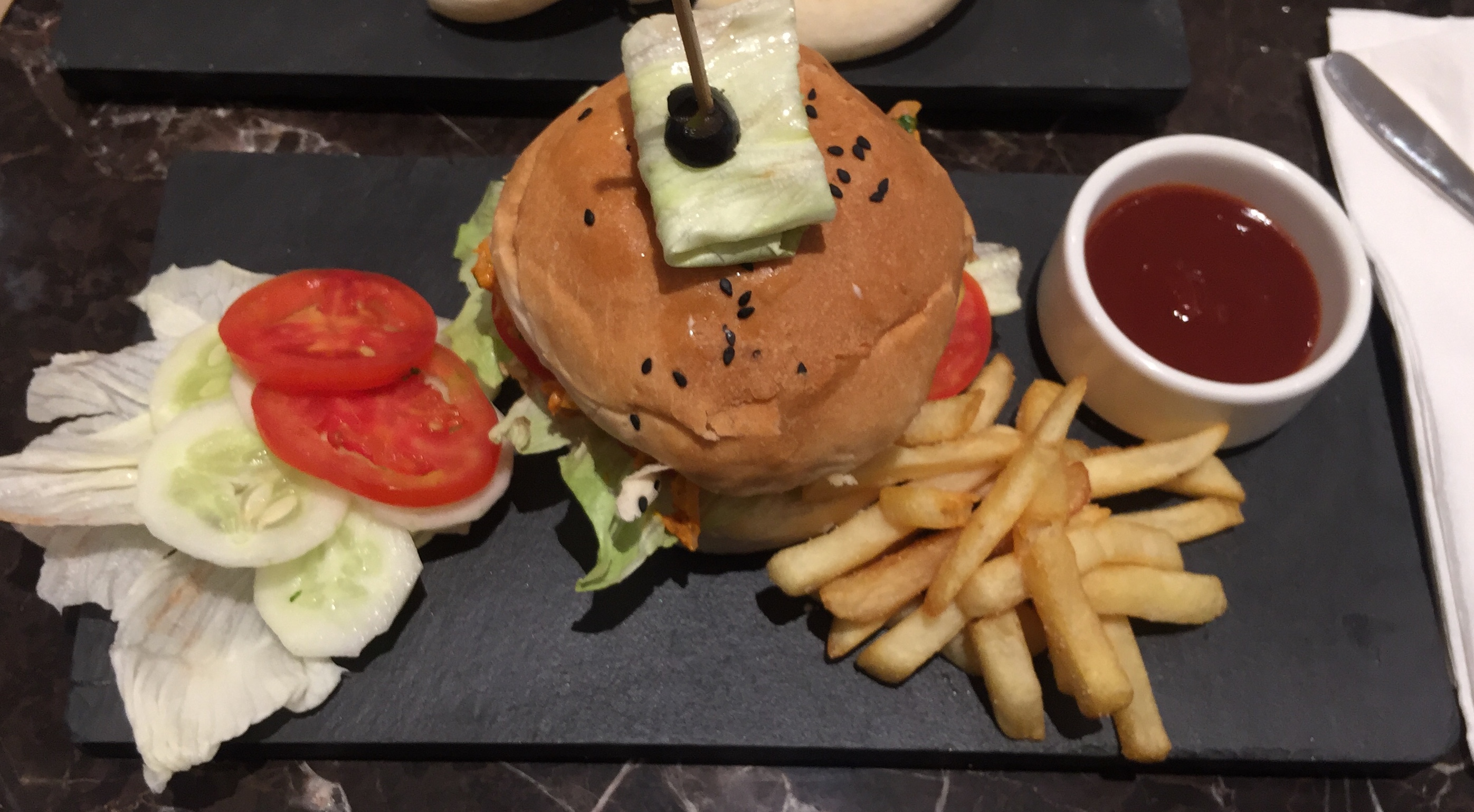 American Express Lounge Mumbai – Mains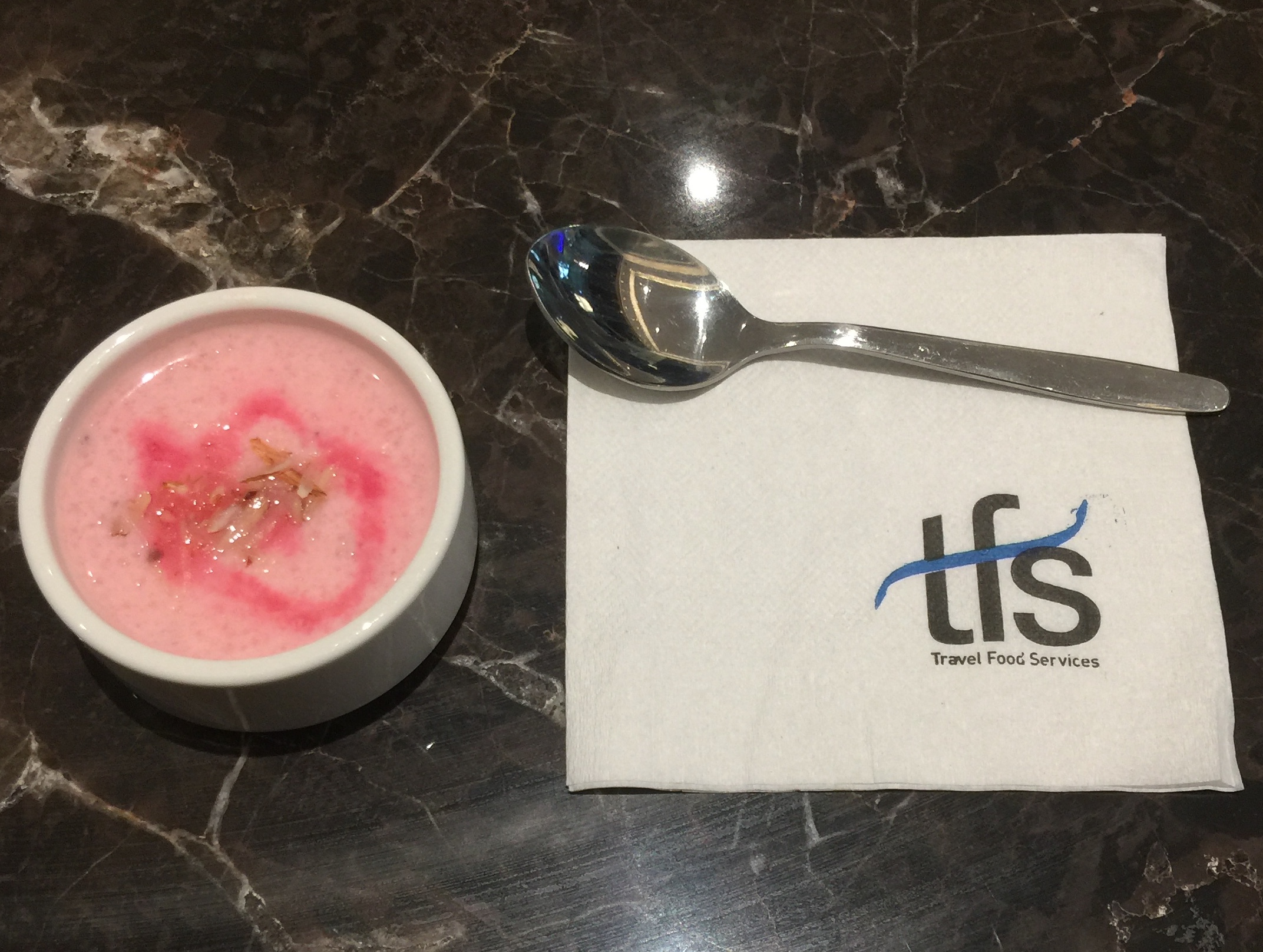 American Express Lounge Mumbai Desserts
If this feels like too much food for 1 person, it sure is. I ordered the spread purely for the purpose of reviewing as many offerings as I could. In the end, I only managed to sample small portions of each dish.
The burger was fine (hard to get that wrong), but the mezze plate was just passable. The bread was luke-warm, bordering on cold. But what left a bad taste in the end was not the food itself, but the logistics of a la carte dining, or should I say, the lack of it.
The absence of proper dining table and chairs was stark. There were tables around where you could place your food, and it may be ok for someone having drinks and eating from a grazing menu, but is far from ideal for a three-course meal. How and why has American Express got this so wrong, I would never know.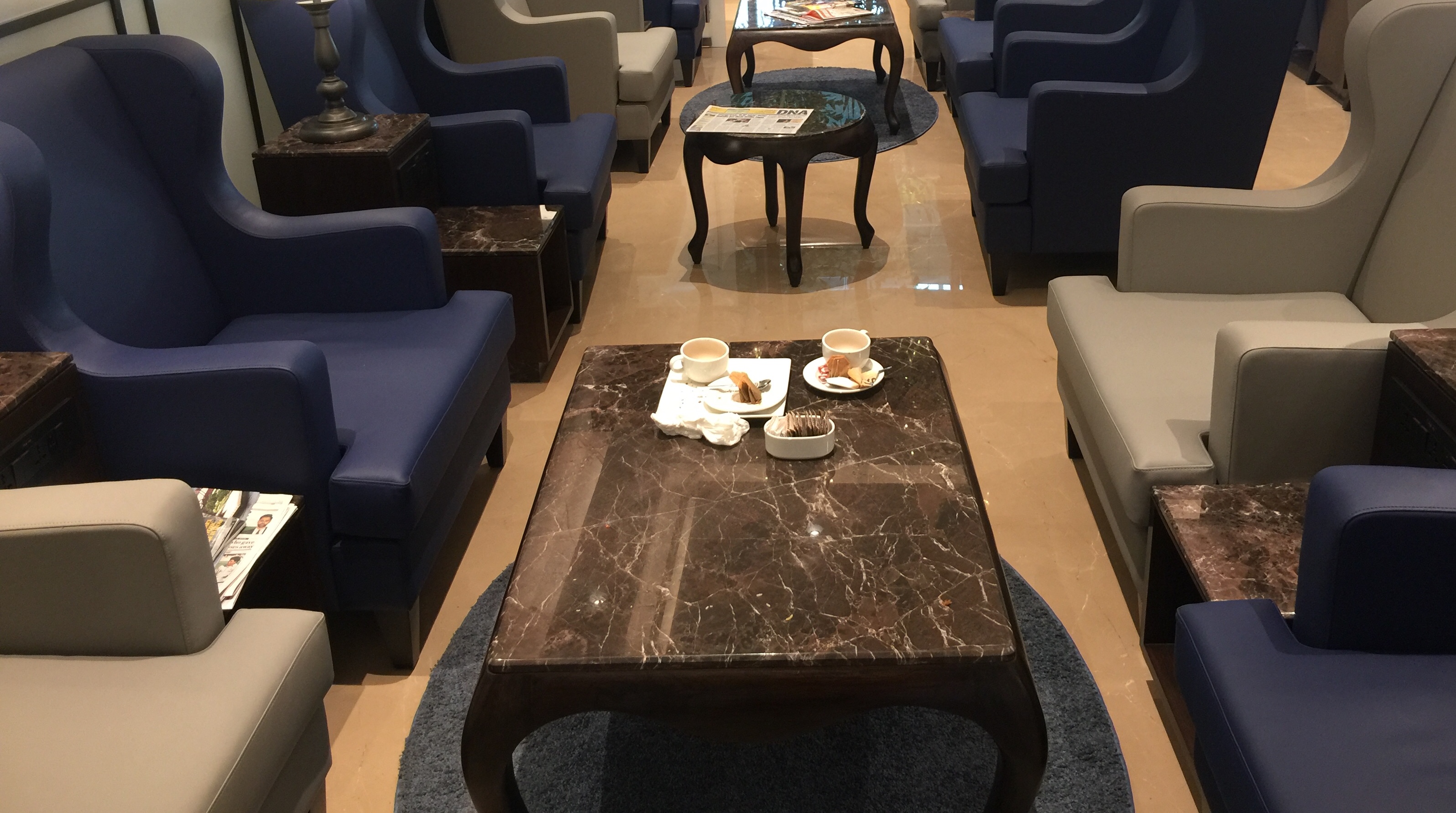 Is this ideal seating for a la carte dining?
I did have a word with the staff and brought this to their attention, they listened to me patiently and vigorously nodded their heads in agreement. I will wait and see if this goes any further.
I was advised by the staff that once the bar is functioning, all drinks will be complimentary to Platinum & Centurion card holders, however, the American Express website suggests that alcoholic drinks are on the house for Centurion's but not for Platinum's.
I have written to American Express for further advice and will update this blog when I have any updates.
Other Amenities
The lounge offers high speed wifi to all guests, but not much else. There are no toilets or showers in the lounge. When queried, the staff sent me to a set of toilets next door.
This required physically exiting and re-entering the lounge. The toilets are located barely 10 metres away, so it was not the worst predicament to have befallen me, but its inconvenient for sure.
As I was preparing to head for the gates, the staff serving me handed over a feedback form which I completed. I then proceeded to board my flight.
Lounge Access
Following cardholders can access the lounge:
• Unlimited access for American Express Centurion cardholders and 2 guests (issued anywhere).
• Unlimited access for American Express Platinum cardholders, no guests allowed (issued anywhere).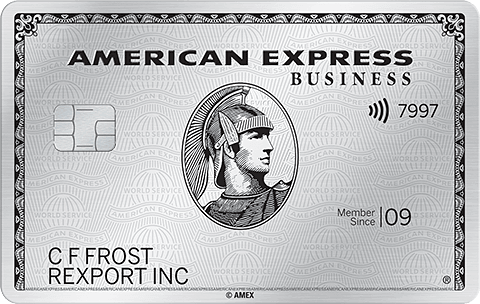 Access the lounge with your shiny Platinum card
• Unlimited access for American Express Corporate and American Express Business cardholders, no guests allowed (India issued only).
• Limited no. of entries for American Express Platinum Reserve cardholders, no guests allowed (India issued only).
In Conclusion
After the American Express lounge at IGI New Delhi (Terminal 3), the Mumbai lounge is its 2nd in India which is great. Given that American Express counts India as a 'focus market', I expect them to add several more lounges over coming years.
The Mumbai lounge is far from perfect and misses the mark on many fronts as noted above. In a fast growing economy like India, with a rapidly expanding middle class, I also expect the lounge to become quickly inundated, given its size and limited seating.
But for now, it provides peace and tranquillity to those with access to it, something which can be tough to find in other airport lounges.
Have you been to the American Express Lounge at Mumbai airport? What was your impression? Leave a comment below.