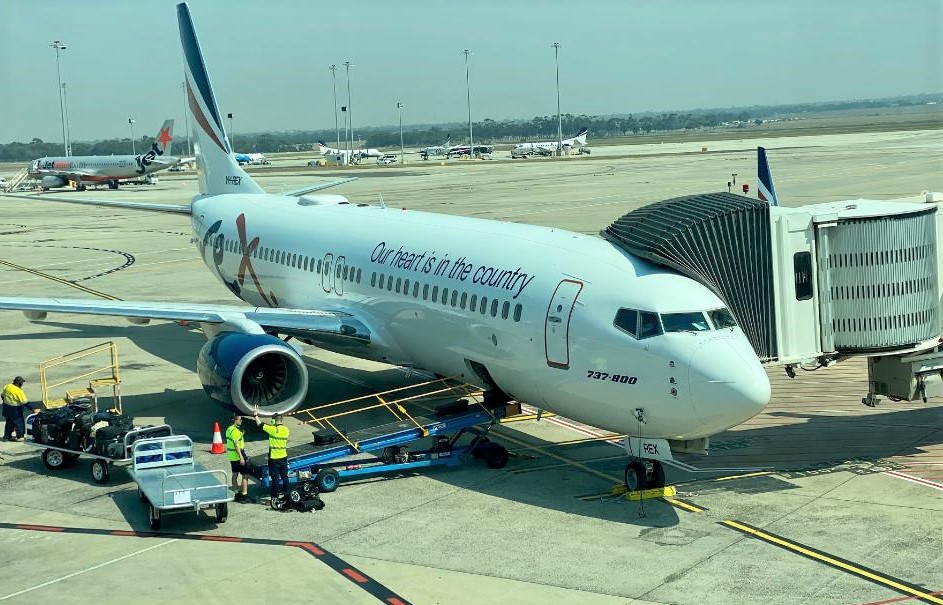 Rex have been around a long time, though mainly plying regional and sometimes rural routes; even so, it's embarrassing to think how little I knew of them all these years. That only changed a few months ago when they announced their foray on capital city routes and challenge the long held duopoly of Qantas & Virgin Australia.
Booking
As a new player with no airline partnership, Frequent Flyer Program or much of a lounge network, Rex knows it can't compete with incumbents on traditional airline metrics. The one parameter where it can, thanks to its supposedly lower operational cost-base is price. And that is exactly what it did by announcing $49 flights on its launch Sydney <> Melbourne route. That definitely got tongues wagging.
I paid a very reasonable $199 for my Business Class Seat, plus a wholly unreasonable $4 in surcharge & booking fee. It's bad enough when businesses slug you with a surcharge on credit card payments, in this instance though, Rex have taken things to the extreme by adding an online booking/handling fee.
Here's the surcharge Rex want you to pay for flying with them.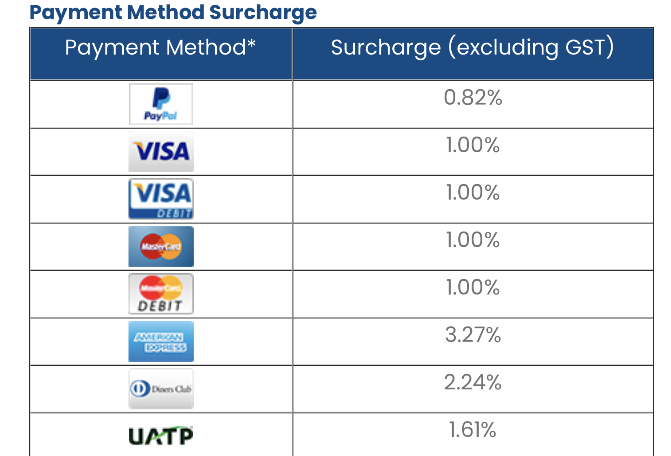 Payment Method Surcharge
And here's the online booking/handling fee.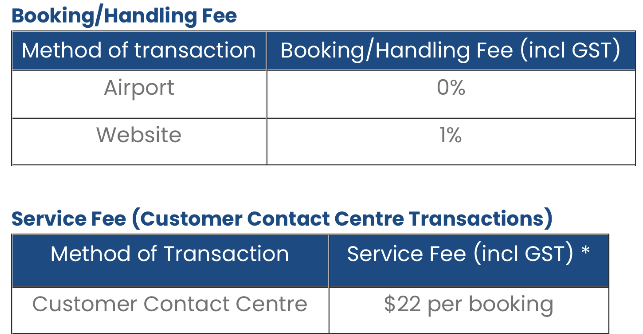 Online Booking and Handling Fee
In total, this is what you will fork out by the way of fees and surcharge for the privilege of flying Rex:
Visa & Mastercard – 2.2%
PayPal – 1.90%
American Express – 4.7%
As you can see, PayPal is the least expensive option. Here again though there is a catch, Rex won't let you use an attached American Express card to make payments, only a Visa or Mastercard.
Taking my flight as example, it would have cost me an extra $9.35 in fees had I paid for my $199 flight with an Amex card 🤷‍♀️
Arrival & Check-in
All Rex flights in Sydney operate from Terminal 2, which is a domestic terminal also used by Virgin Australia & Jetstar. I arrived to check-in for my flight at about 10:30 am, 2 hours before the departure time. It was easy to locate the check-in area, which is somewhat positioned in the centre of the terminal.
You could self check-in via one of the kiosks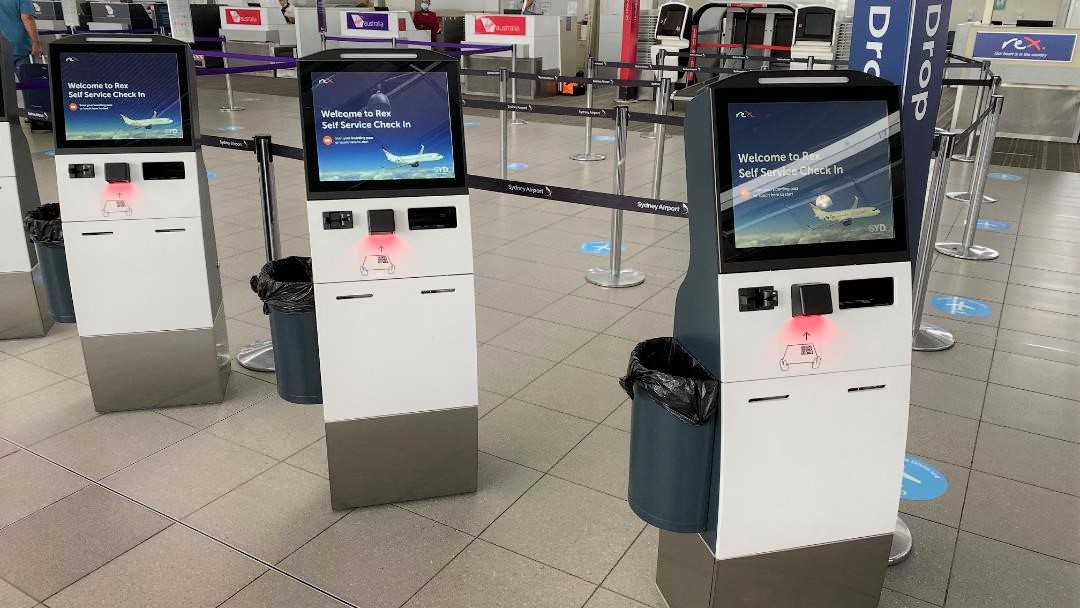 Rex DIY check-in kiosks
or head to the staffed desks for a more personalised experience.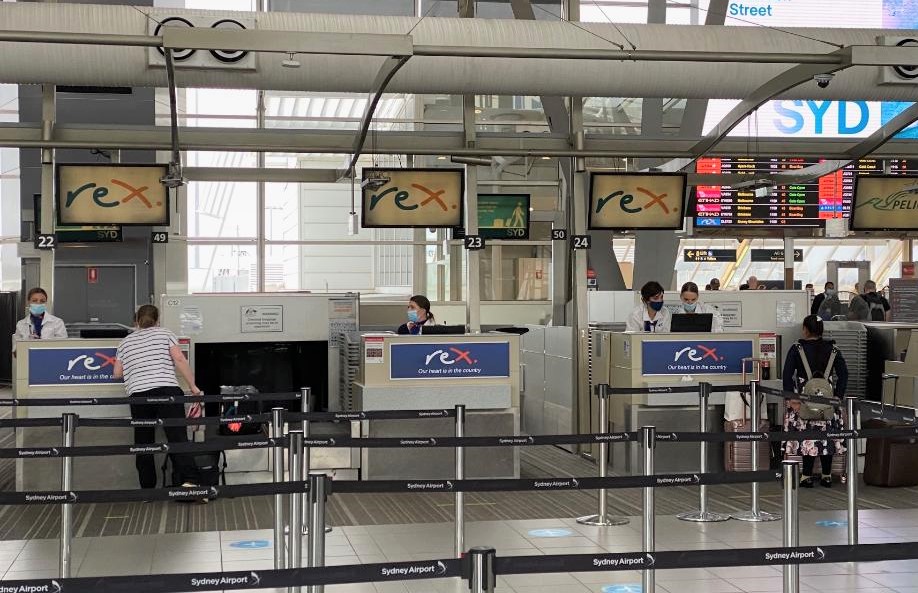 Rex assisted check-in desks
I don't know whether Rex have priority check-in for Business Class guests or members of its own Rex Flyer program, but if there was one I didn't notice it. It mattered little though as there was hardly anybody around. Checking in for the flight was an interesting experience, to say the least.
After exchanging pleasantries, I handed over my Drivers License to the desk agent, who after a minute of searching on her computer couldn't find me there. She queried if I was sure I was on the 12:30 flight to Melbourne? 😒
She eventually found me. About a minute later, she asked me if I wanted a seat in the exit row. I politely mentioned there was no exit row in business.
To sum-up, it was one of the most awkward check in experience I have had. Anyhow, all's well that end's well, so I picked up my boarding pass and proceeded to the lounge.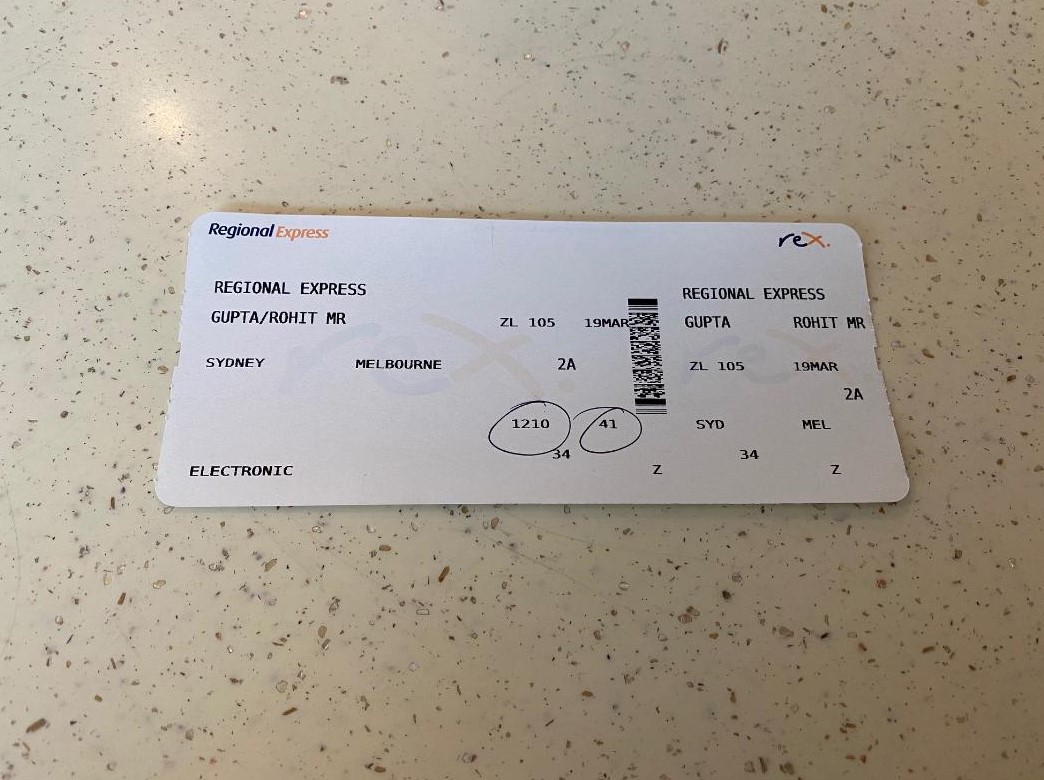 Rex Boarding Pass
I spent about 40 minutes in the lounge and have reviewed it earlier, you can read it over here. At 12 pm, I left the lounge to board my flight.
Boarding
My Rex flight ZL105 was departing from Gate 41, a good 5-10 minutes walking distance from the lounge, at 12:30 pm. In pre-COVID times, this happened to be a dedicated Virgin Australia departure gate, and for some reason Rex have left it unchanged.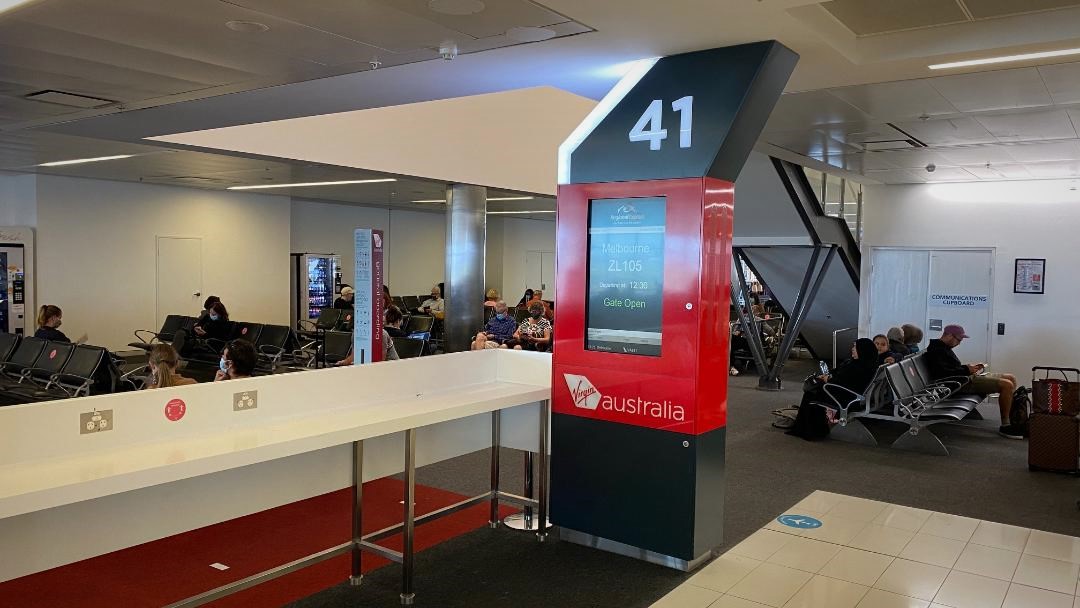 Gate 41, Terminal 2 – Sydney Airport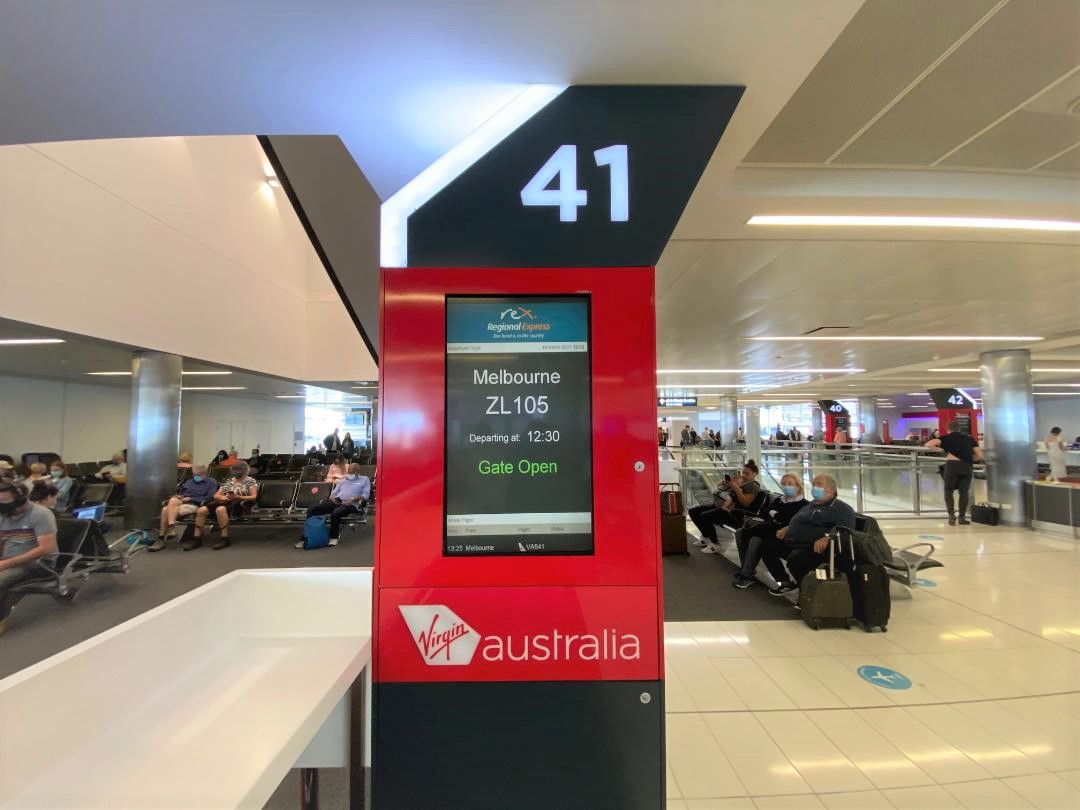 Gate 41, Terminal 2 – Sydney Airport
I am not sure it's great PR for a new airline trying to forge it's own identity, when the guests are visually made to feel like they are flying its rival. It felt weird to be flying Rex while surrounded in Virgin Australia colours.
Moving on, a decent smattering of crowd had congregated in the seating area by this time.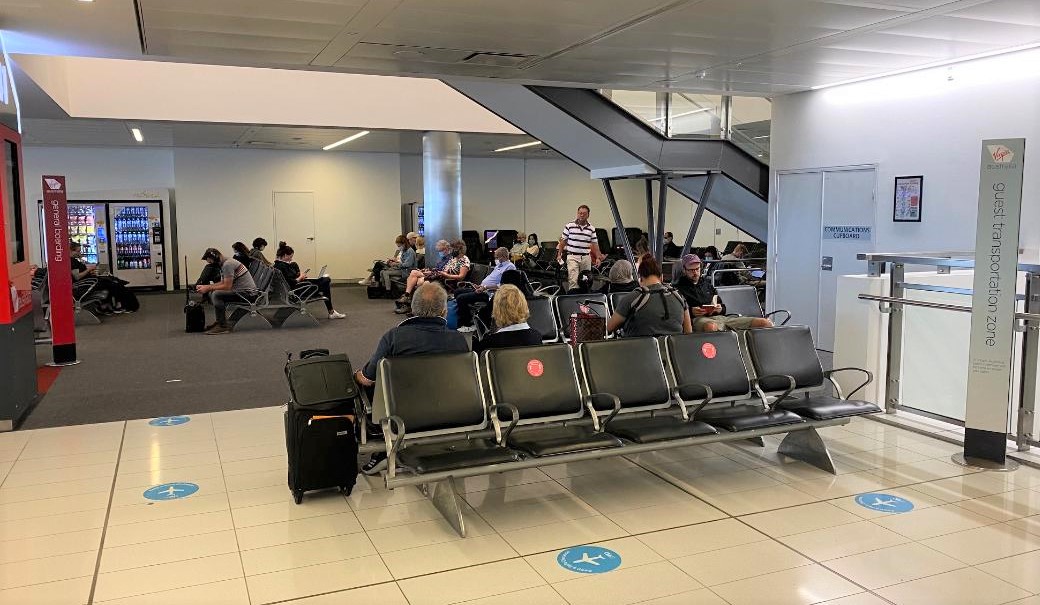 Gate 41, seating area
Soon enough, a boarding call rang out inviting everybody to board. That's right, we were all herded on the plane at once. Both front and rear doors were utilised for boarding, I entered from the front door and arrived at my seat 2A, which was a window seat on the left in Row 2.
The familiar Virgin Australia theme continued here too, although this wasn't unexpected as I was aware of it beforehand.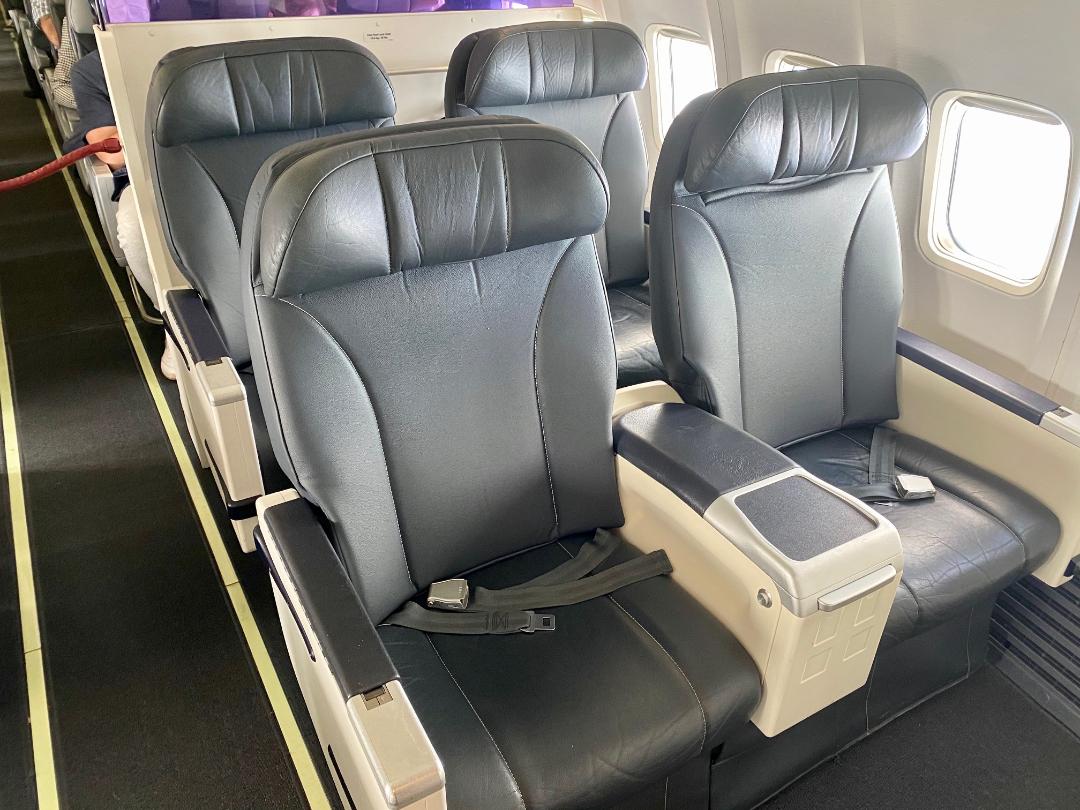 Rex B-737 Business Class Seats
A little bit of background if you are not familiar.
When Virgin Australia fell into administration last year, new owners Bain Capital took control and as part of their business plan, in addition to all of Virgin's long-haul planes, also dispensed with several older, leased B737's aircrafts from the fleet. These planes were subsequently taken over by Rex and used to launch its capital city operations.
As you can tell from the pictures below, from seats to the purple shield at the back of business class cabin to the magnetic rope, nothing has been altered.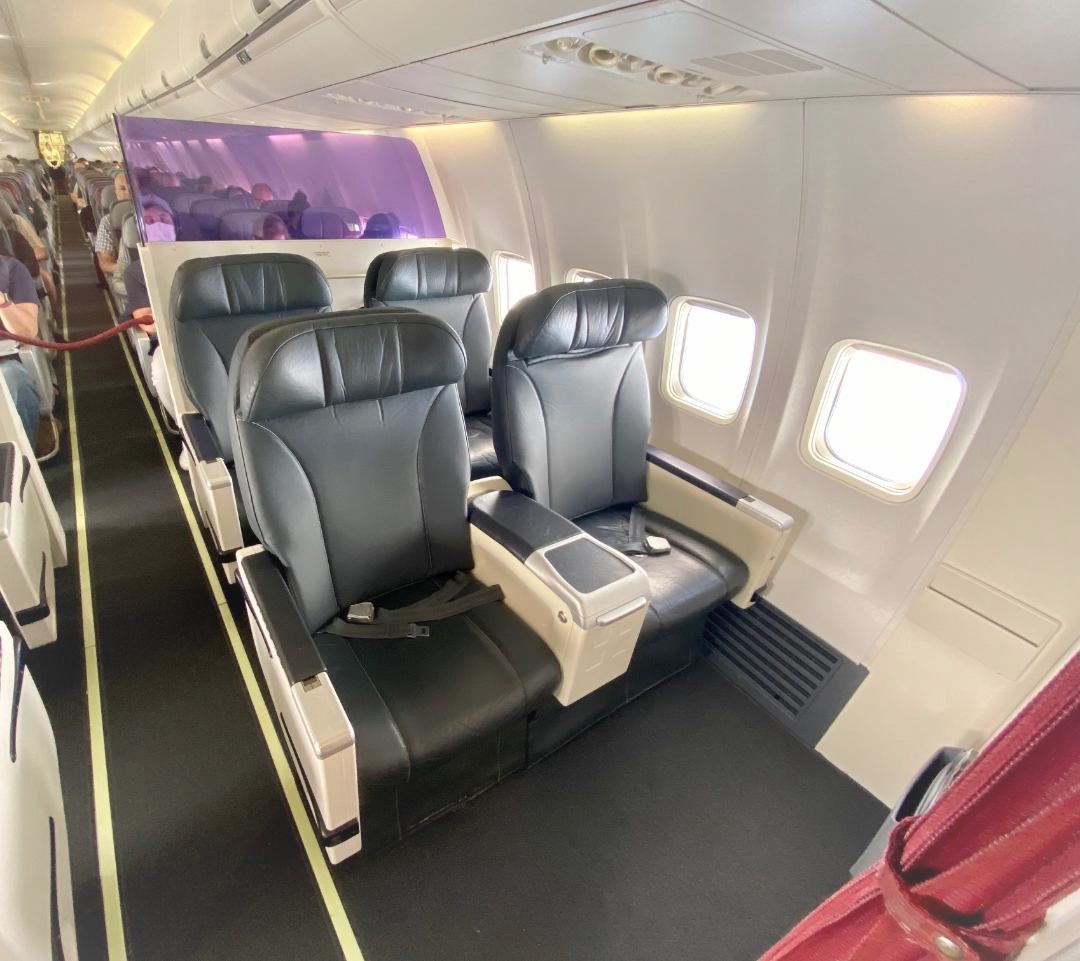 Rex B-737 Business Class Cabin
I have seen pictures of seats where the head rest has been embossed with rex logo, that wasn't the case on this aircraft though.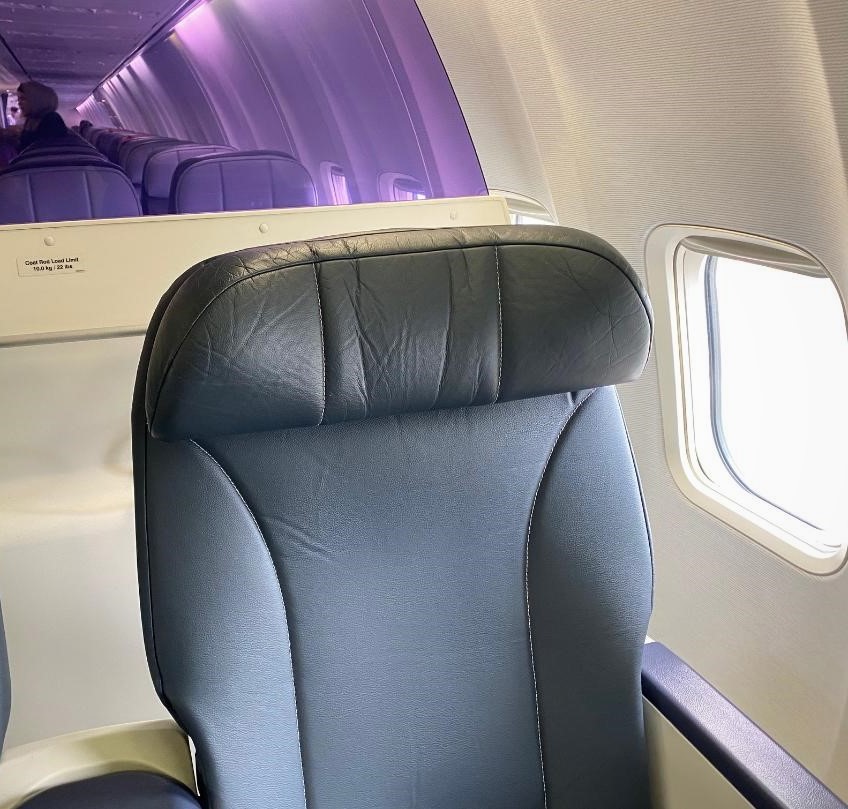 Rex B-737 Business Class Seat
I have reviewed the B-737 cabin and seat in detail on one of my earlier Sydney – Denpasar flight review, so I won't be doing that here again.
Service
Shortly after I took my seat, the steward came over and introduced himself. I was offered a pre-departure drink which was a choice between sparkling water and juice. I had water.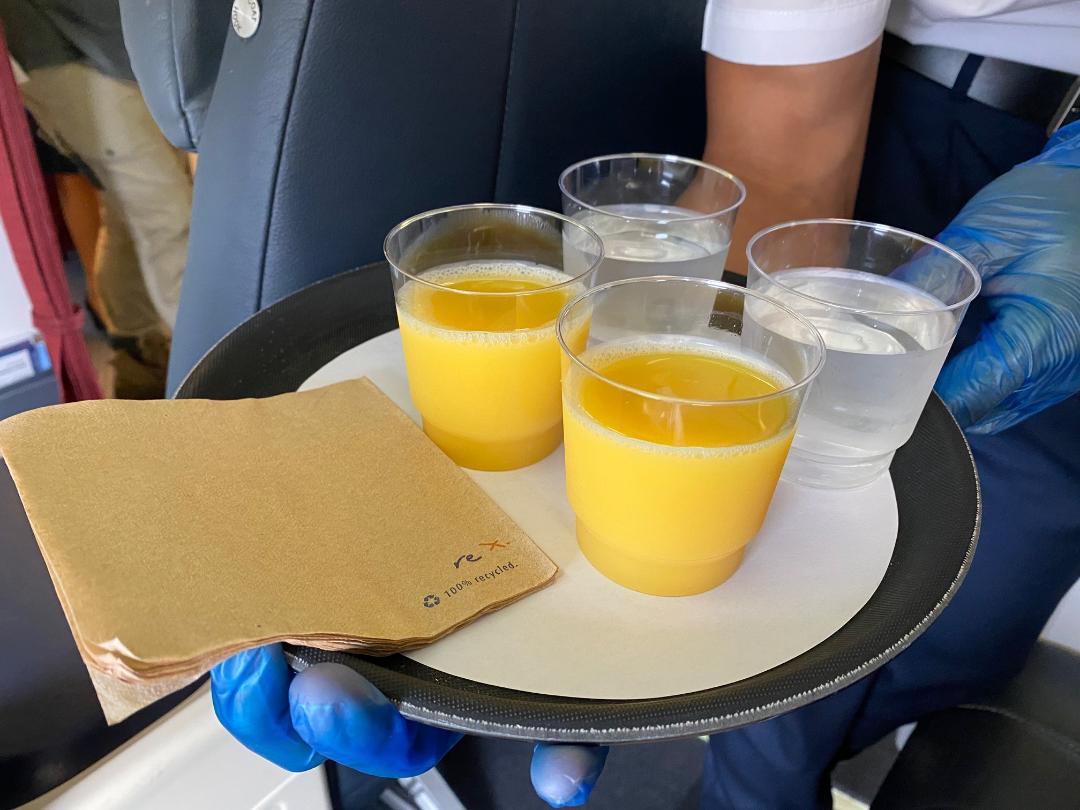 Rex Business Class Pre-departure Drinks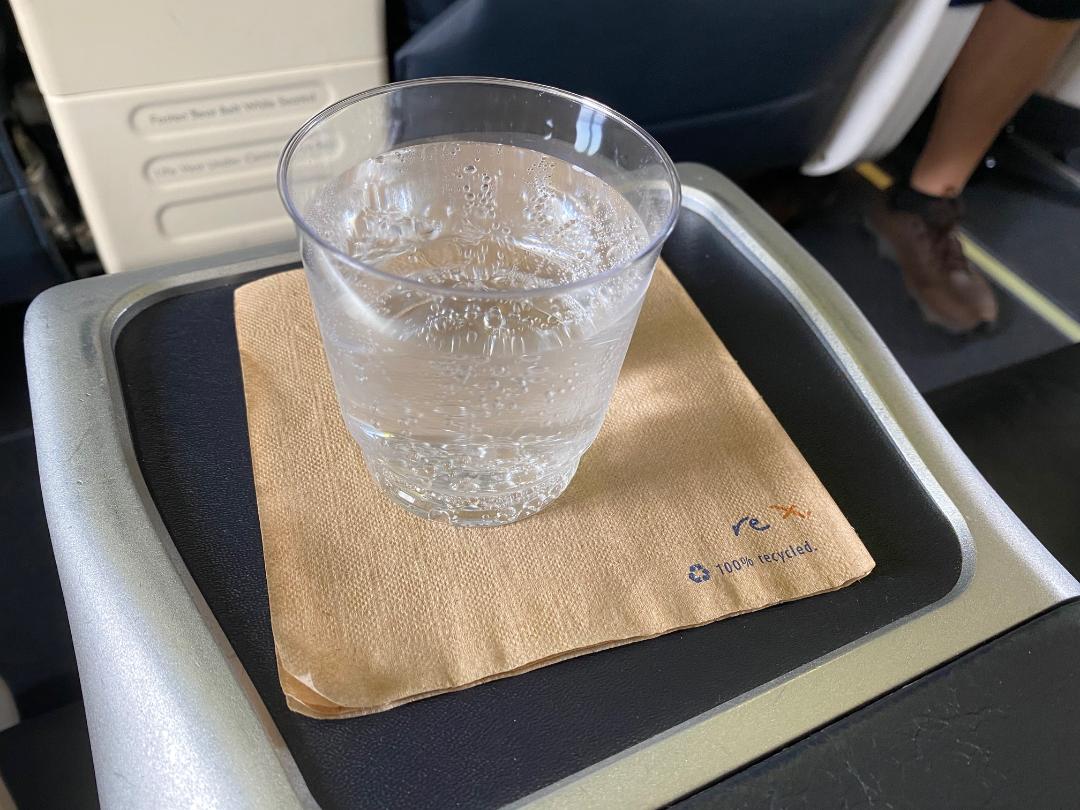 Rex Business Class Sparkling Water
The business class cabin on this flight was mostly empty with just 2/8 seats occupied. That made for pleasant service. Some 20 minutes after take-off, lunch service commenced. On this day, the choices were a Victorian cheese plate or lamb jaffle. I went with the lamb.
The meal was delivered on a disposable, cardboard tray and came with a side of bread roll plus a piece of carrot cake for desserts. Each of the items were individually packed which was a nice touch.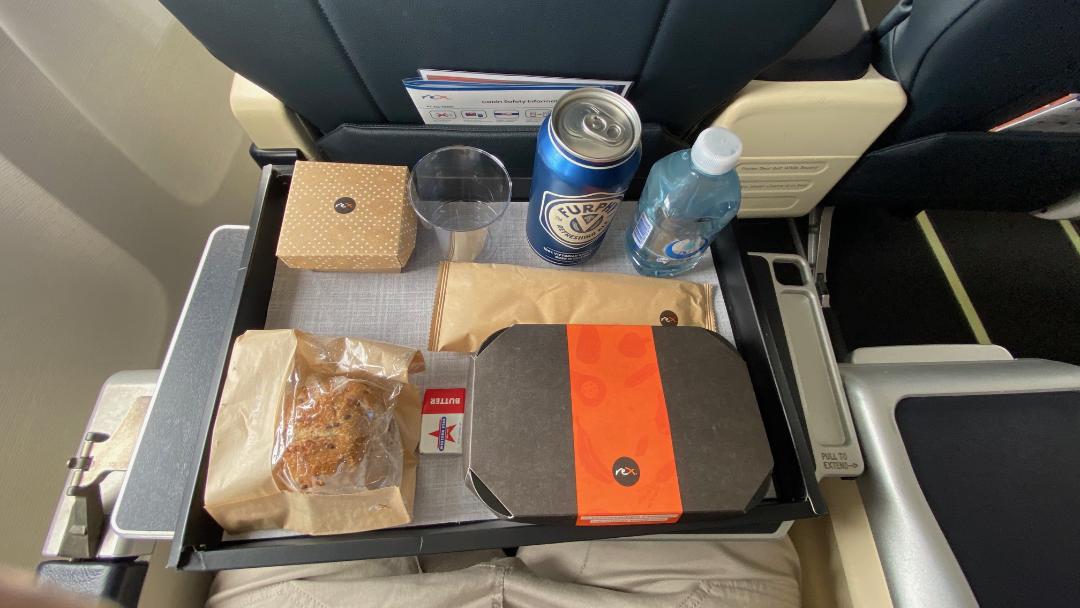 Rex Business Class Meal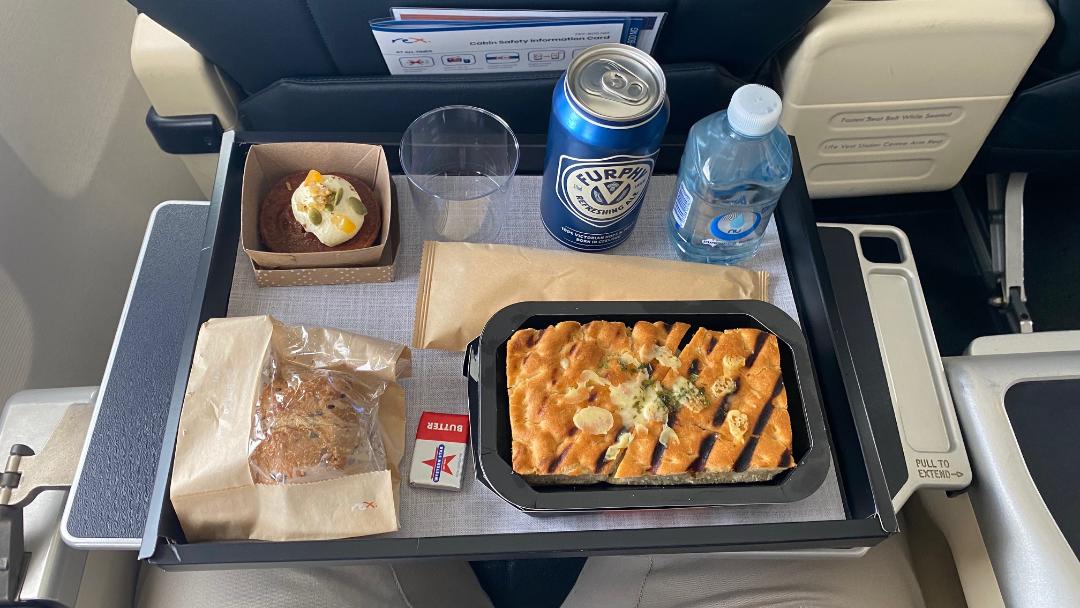 Rex Business Class Meal
Lamb jaffle was a savoury dish made up of wholemeal bread, lamb mince, mushroom, peas and cheddar. It was served piping hot and tasted good.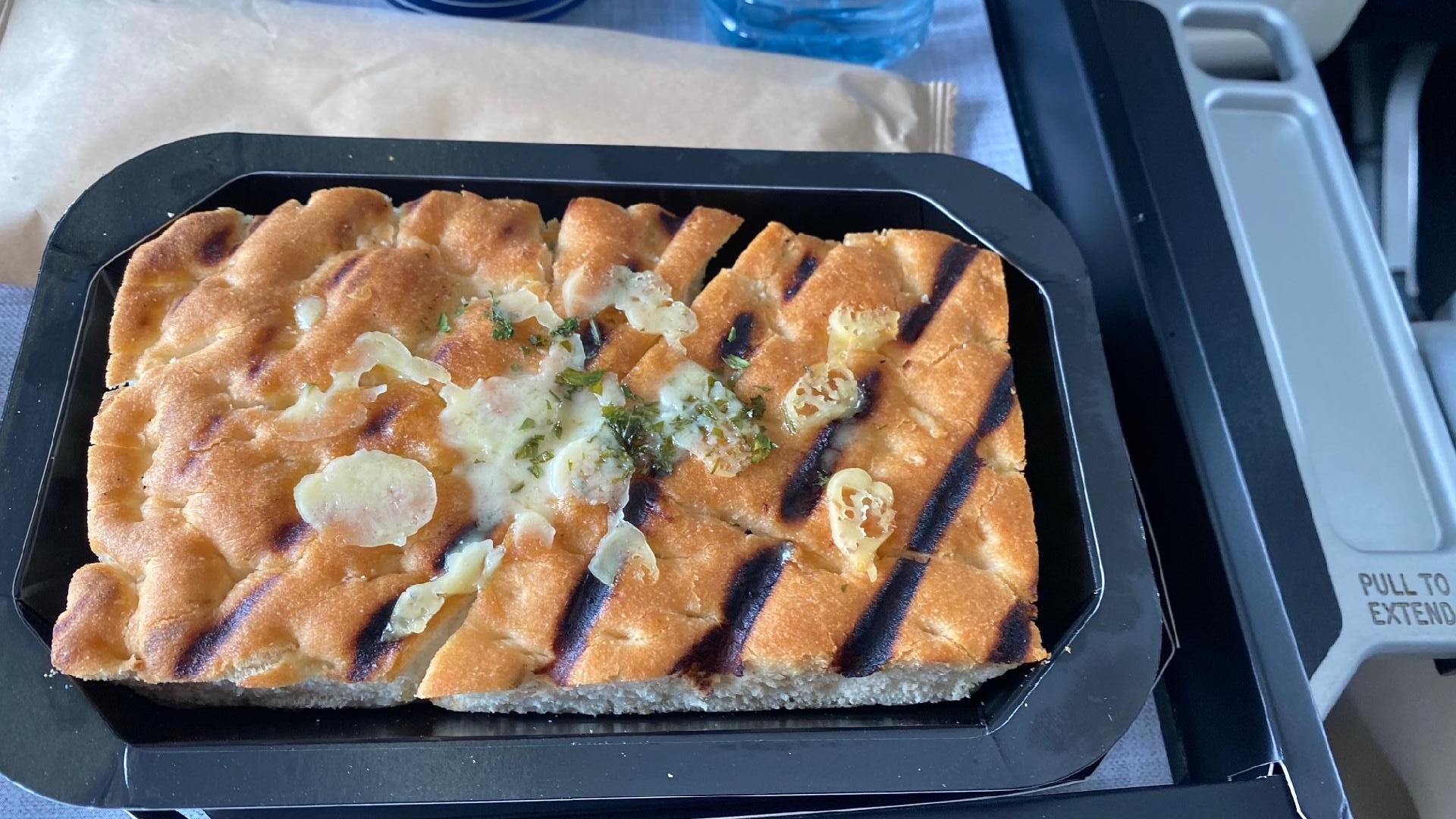 Rex Business Class Lamb Jaffle
I left the bread roll alone, but devoured the carrot cake which was delicious.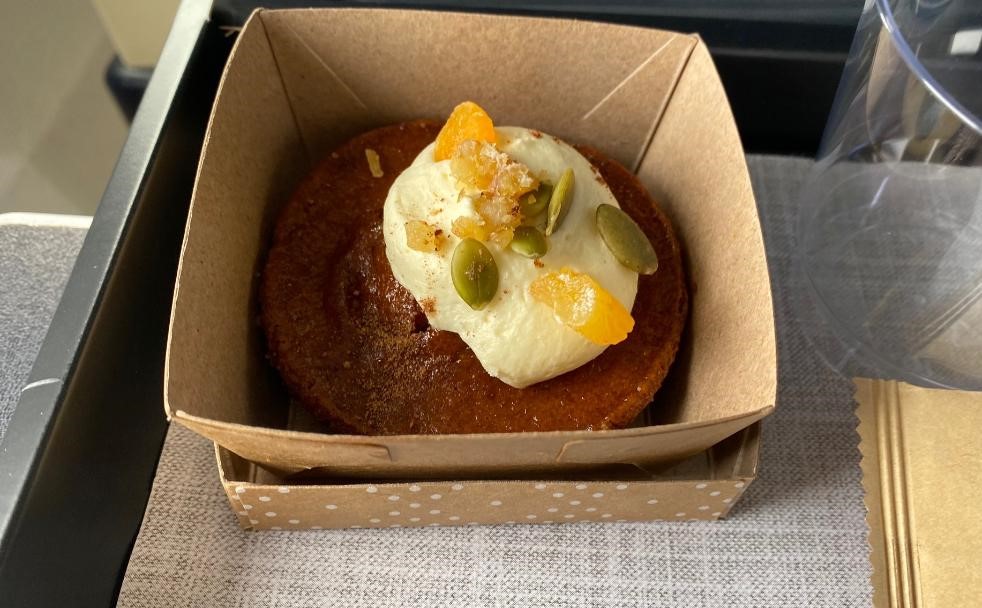 Rex Business Class Carrot cake
There was a can of chilled Furphy and a small bottle of water to wash it all down.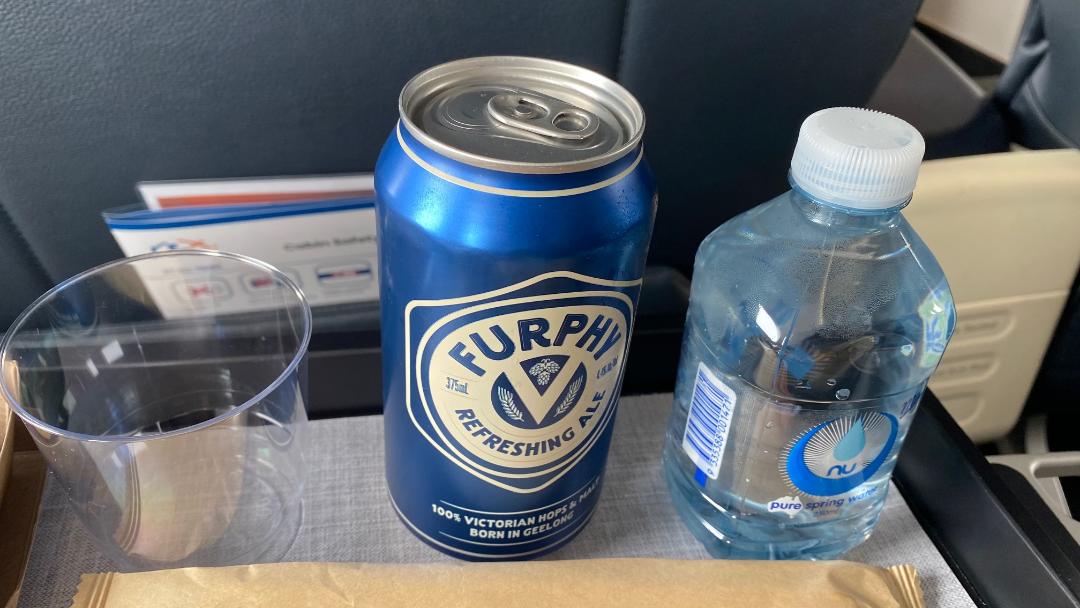 Rex Business Class Beverages
I should also add that the steward came around frequently and offered to top up my beer through the course of service. All up, the meal was substantial and exceeded my expectations on this short 1-hour hop.
There are reports of Rex wanting to connect all capital cities at some point, so I do hope that on those longer routes such as Brisbane – Perth, Rex will be more thoughtful with the offerings. A plate of cheese wouldn't cut it on the 5 hours+ trans-con routes.
Not long after the staff cleared my table, the pilot came on the PA system and announced we were starting our descent into Melbourne. We touched down at Tullamarine 5 minutes ahead of schedule and pulled up at the gate soon after. From here, I made my way out and jumped into an Ola which took me to the city.
My Thoughts
I had low expectations for my flight with Rex, so I am happy to say that the experience was better than what I had imagined. The in-flight service was really good and they got me into Melbourne on time. Sure, the check-in experience could be better and it would stand to reason that Rex have plans to shed all the Virgin Australia paraphernalia at some point. All of that can be easily fixed.
The biggest chink in Rex's armour, aside from the quality and scale of their lounges is the absence of a Frequent Flyer Program. Until that happens, Rex are likely to only attract occasional, price-conscious flyers. That will put bums on seats, but such aggressive pricing may also put their long term sustainability at risk, specially in light of their 2 well financed, resourced and battle-hardened competitors.
Have you flown with Rex? Leave a comment below.