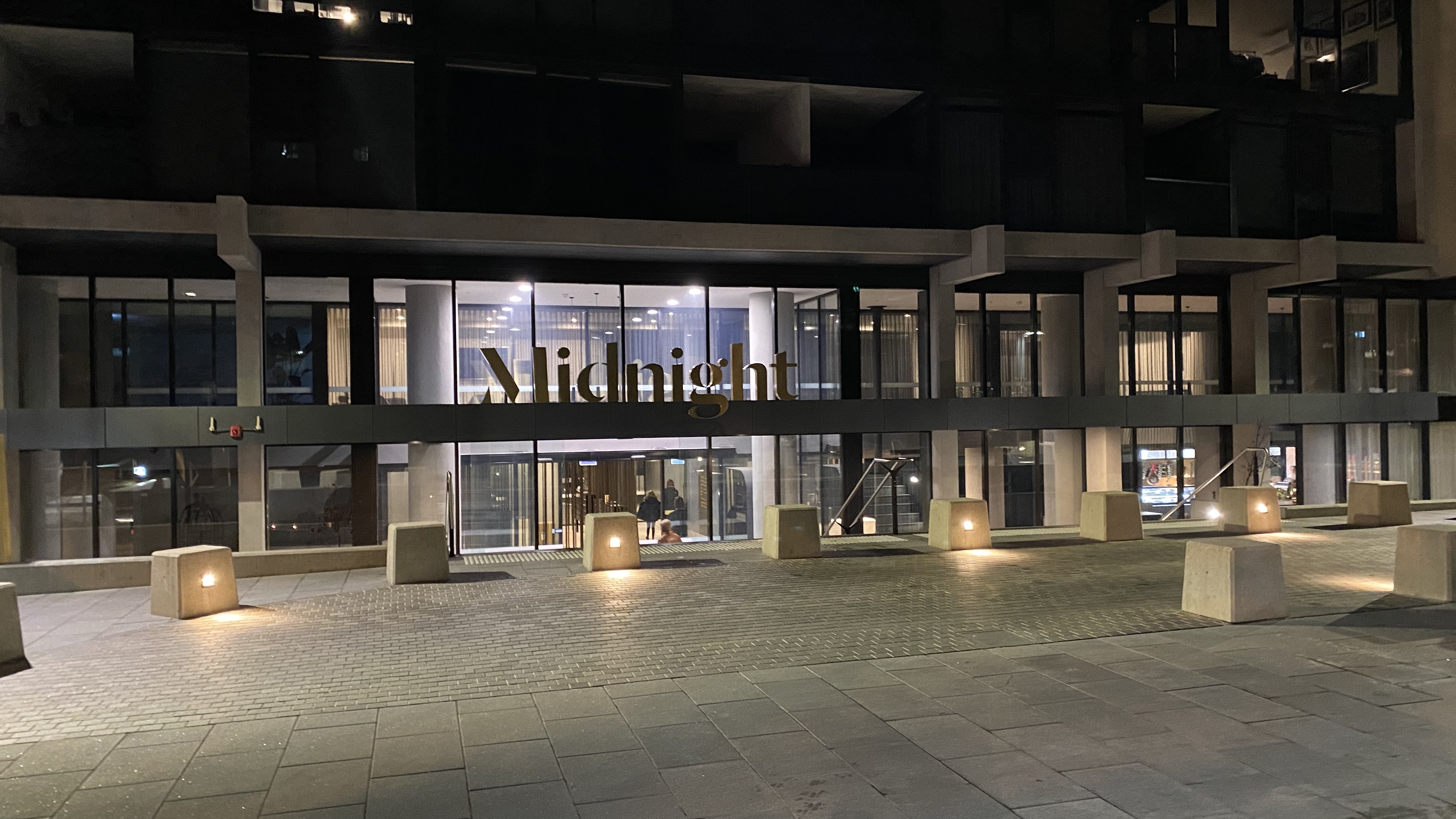 After being cooped-up at home for over 3 months, it was nice to be able to finally travel to Canberra for a weekend. The trip worked out well since it also gave me the opportunity to check out Marriott's only property in the nation's capital.
Location & Classification
Midnight Hotel, Autograph Collection is Marriott's 2nd ever property in Australia under the Autograph Collection brand, the other one being Pier One Sydney Harbour in Sydney. The hotel is centrally located in the suburb of Braddon, about 5-10 minutes away from tourist hot-spots such as the Parliament House and Australian War Memorial. If you are coming from the airport, it is a short 20 minutes ride and expect to pay around $35.
The building is mixed use, with the hotel taking up 50% of space while the other half is private residences. Amenities such as lifts, swimming pool and gym are shared between hotel guests and permanent occupants of the building.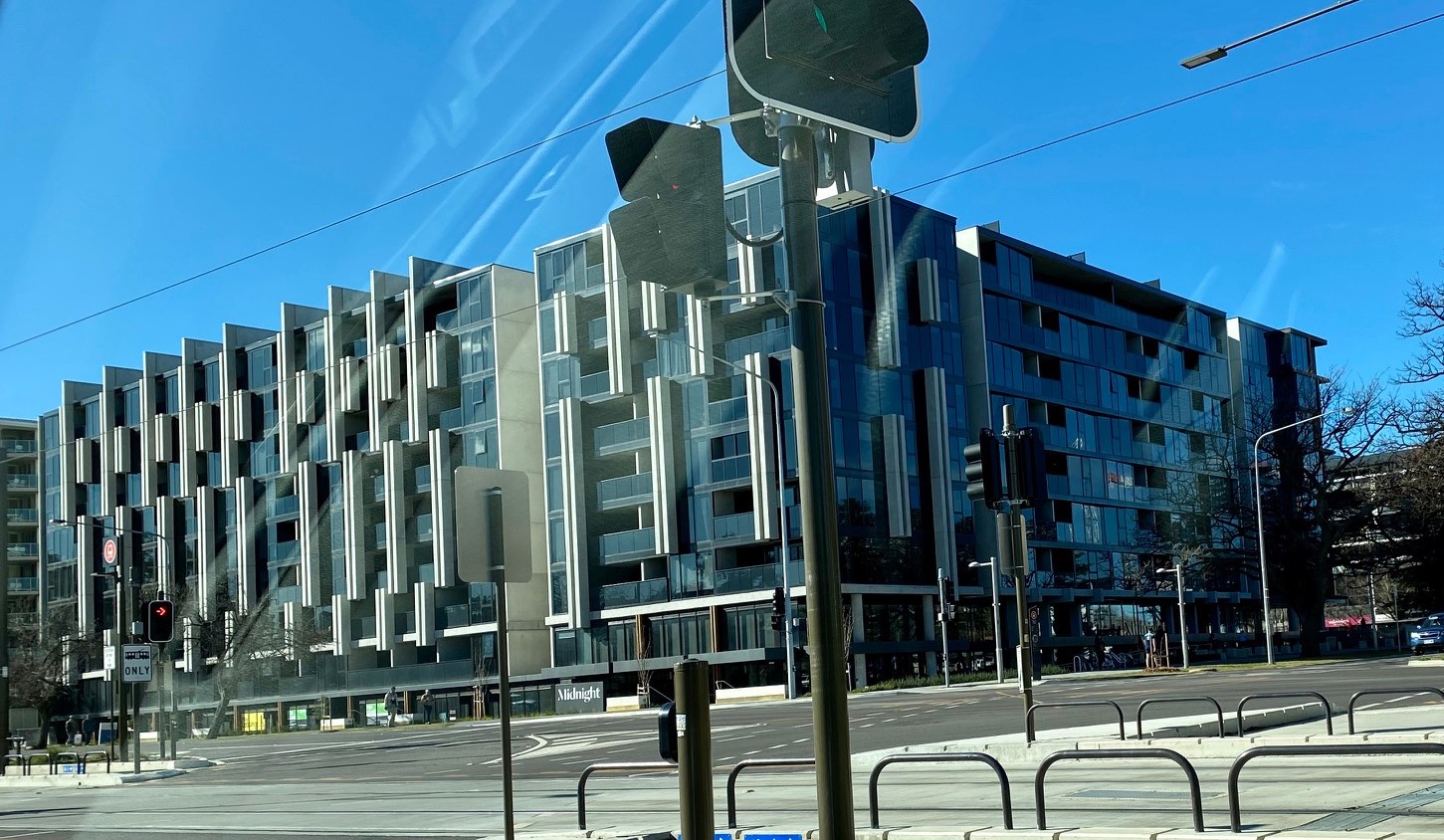 Street view of the hotel building
This is a Category 3 property, meaning if you are looking to redeem points, expect to pay anywhere between 15,000 – 20,000 Marriott Bonvoy points for an award night. During the time of my stay, cash prices were ridiculously low at around $130 which made redeeming points poor value. As I was travelling with my parents and sister, I booked 3 rooms and paid a total of $393 in cash. There was another $30 in daily parking fee, which the hotel discounted down to $15, thanks to my Platinum status with Marriott.
I should point out though that such low prices are NOT the norm, and in the pre-COVID months, I had regularly noticed cash prices trending upwards of $300+. So as travel restarts and hotels get busier, I expect the prices to creep back up to those levels in not too distant a future.
Arrival & Check-in
We drove to Canberra and arrived at the hotel around 2:30 in the afternoon. A day prior to the visit, I had a pre-arrival call from the hotel and during the course of our conversation, the staff provided me with directions to the hotel car-park. There are lifts located in the parking which take you directly to the lobby for check-in, which is a nice feature.
The lobby was not particularly large but was bright and airy, quite the contrast to the rest of the property where dark was the overwhelming theme. There were a couple of sitting areas on either end.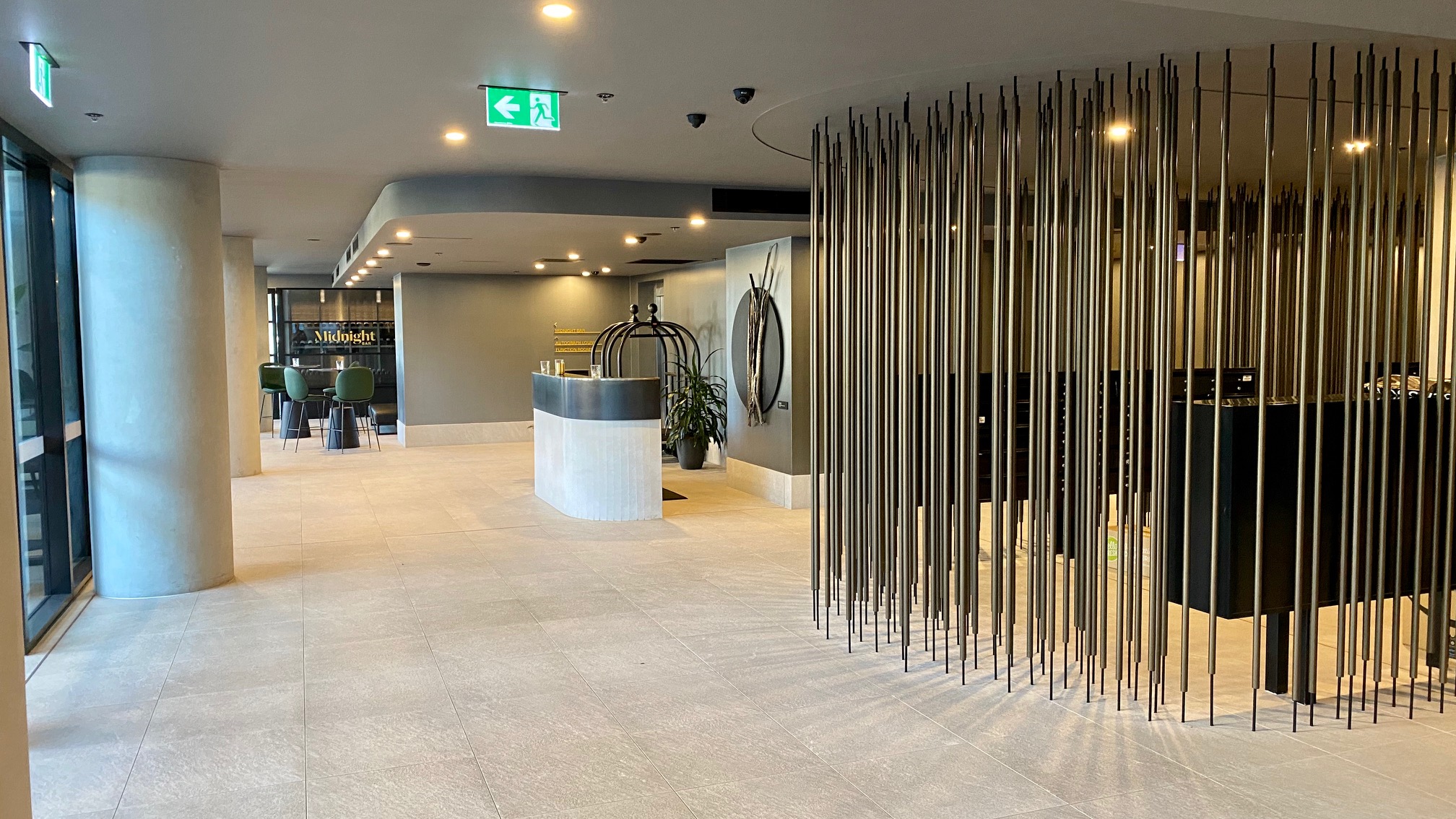 Lobby, Midnight Hotel Canberra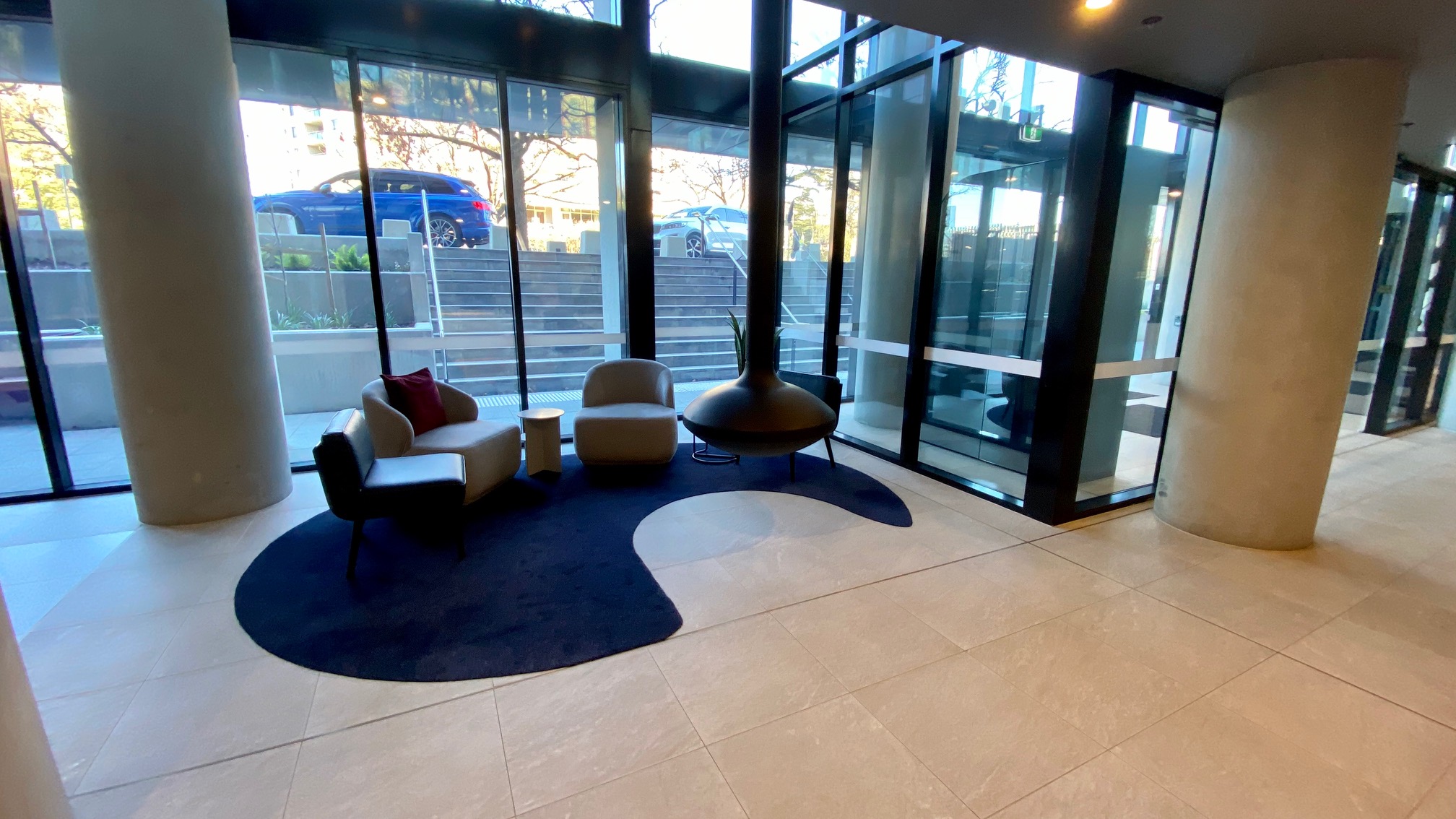 Lobby Seating, Midnight Hotel Canberra
The front desk was fairly quite and there was only 1 other person in front of me.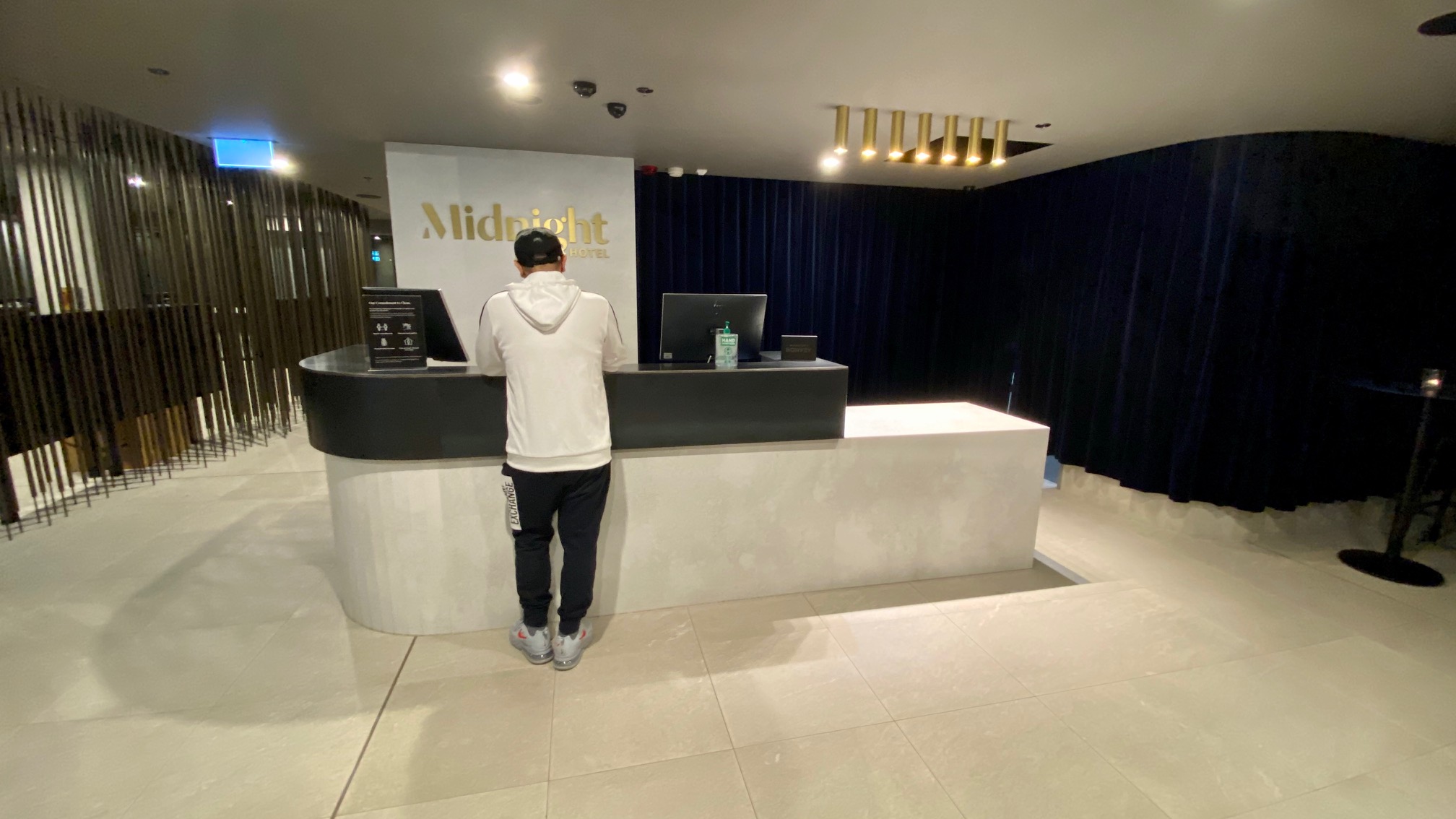 Reception, Midnight Hotel Canberra
I was promptly attended to by one of the other staff member who half greeted me. At the outset, I was offered a choice of the welcome amenity. There were 3 to choose from:
A bottle of wine
A small food and beverage amenity
1,000 Marriott Bonvoy points
The snack didn't sound too appetising and I am not much of a wine drinker these days, so I went with the points.
Platinum elites are entitled to lounge access where available, but since Midnight Hotel don't have a lounge, they offer elites one of the following choices as a benefit:
Daily complimentary breakfast for the elite member (+1)
750 Marriott Bonvoy points
In the circumstances where the hotel does not operate a lounge, the daily breakfast benefit is far more valuable than the paltry 750 points, which is the option I went with. In the past, I have been lucky enough where the hotel have extended the elite benefits to multiple rooms, on this occasion though, it was limited to just my own room. I politely inquired about an upgrade but was told it wasn't available. As it turned out, I did actually receive an upgraded room, even though it was only marginally better than the one I had booked.
At the conclusion of check-in proceedings, we collected our bags and made our way to the rooms which were all on the same level, in close proximity. I had been assigned Room 419, dubbed Midnight Lounge, the next level up from the standard room.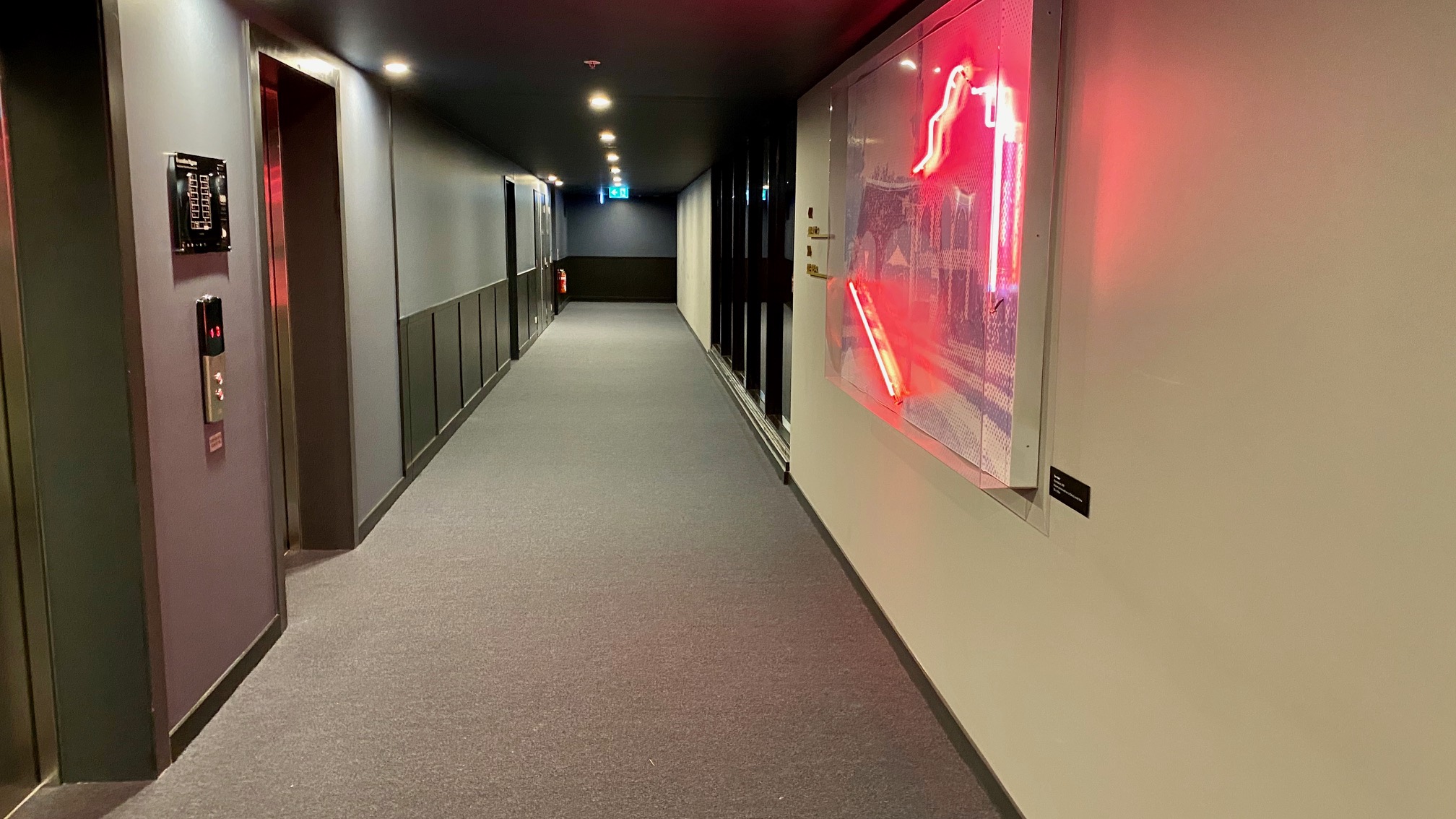 Hallway to our rooms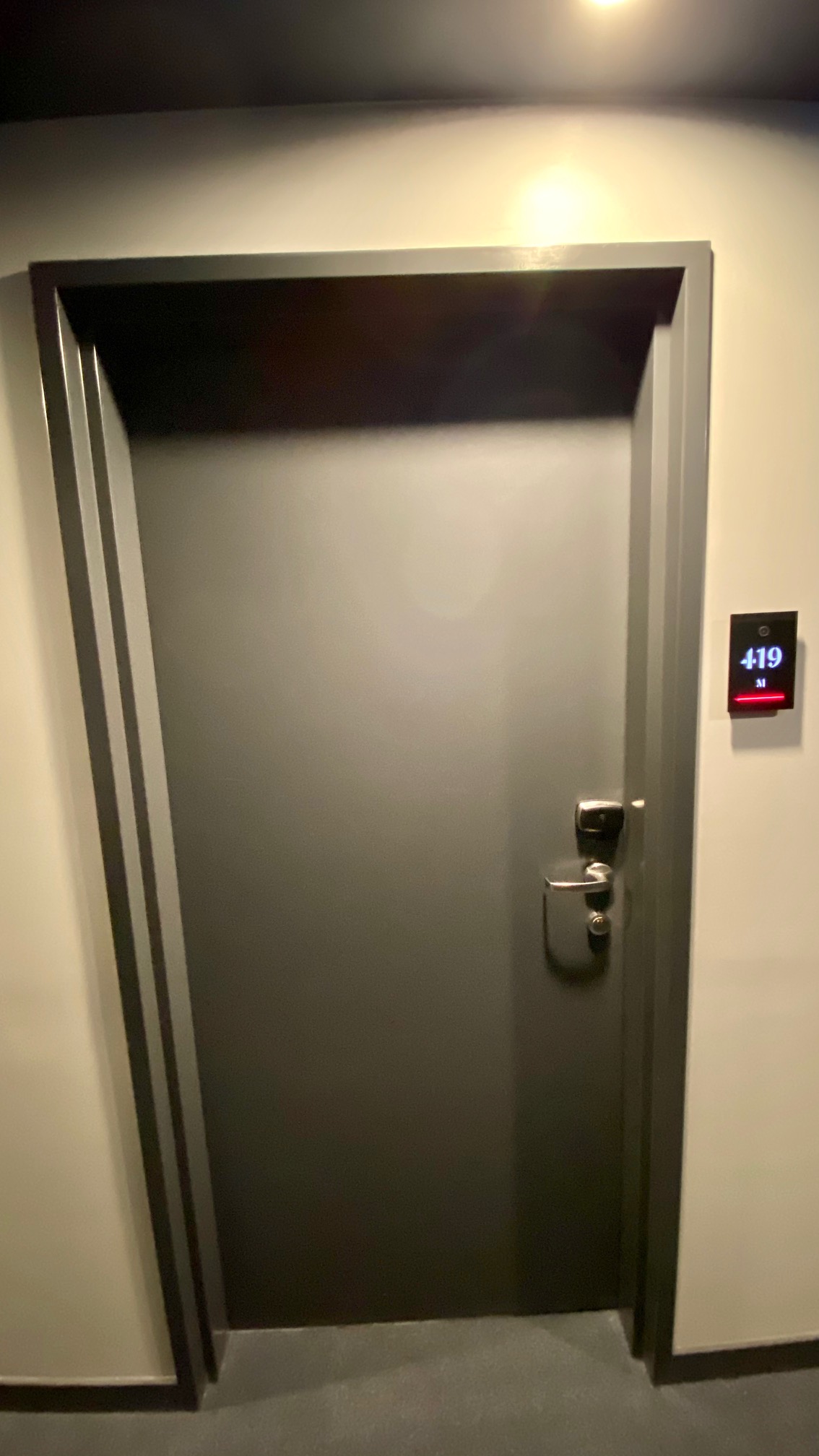 Room 419, Midnight Hotel Canberra
The Room
As I walked in, the bathroom was immediately to my right. It was decent size and had all the basics, as you can see in the pictures below.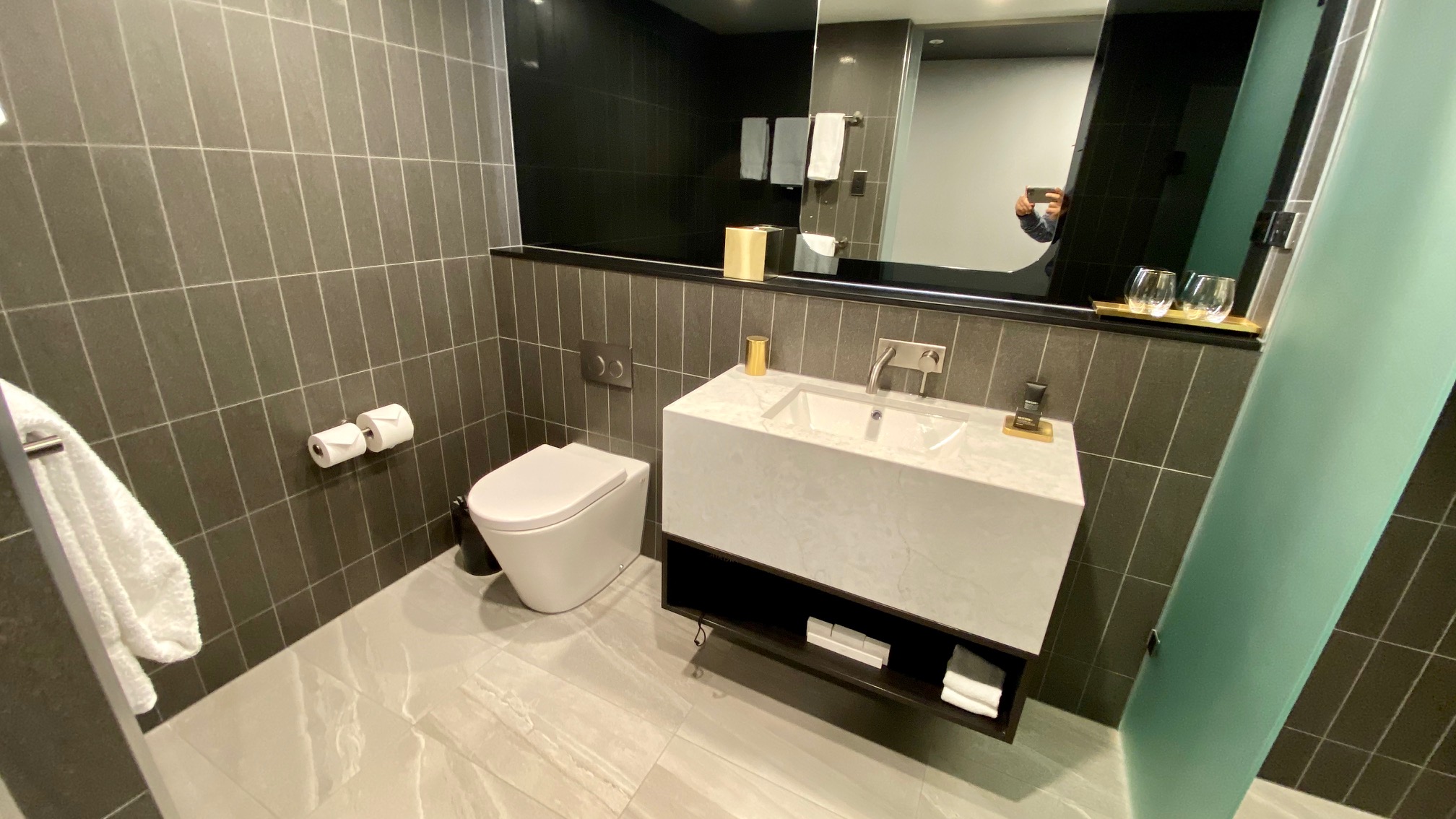 Bathroom, Midnight Hotel Canberra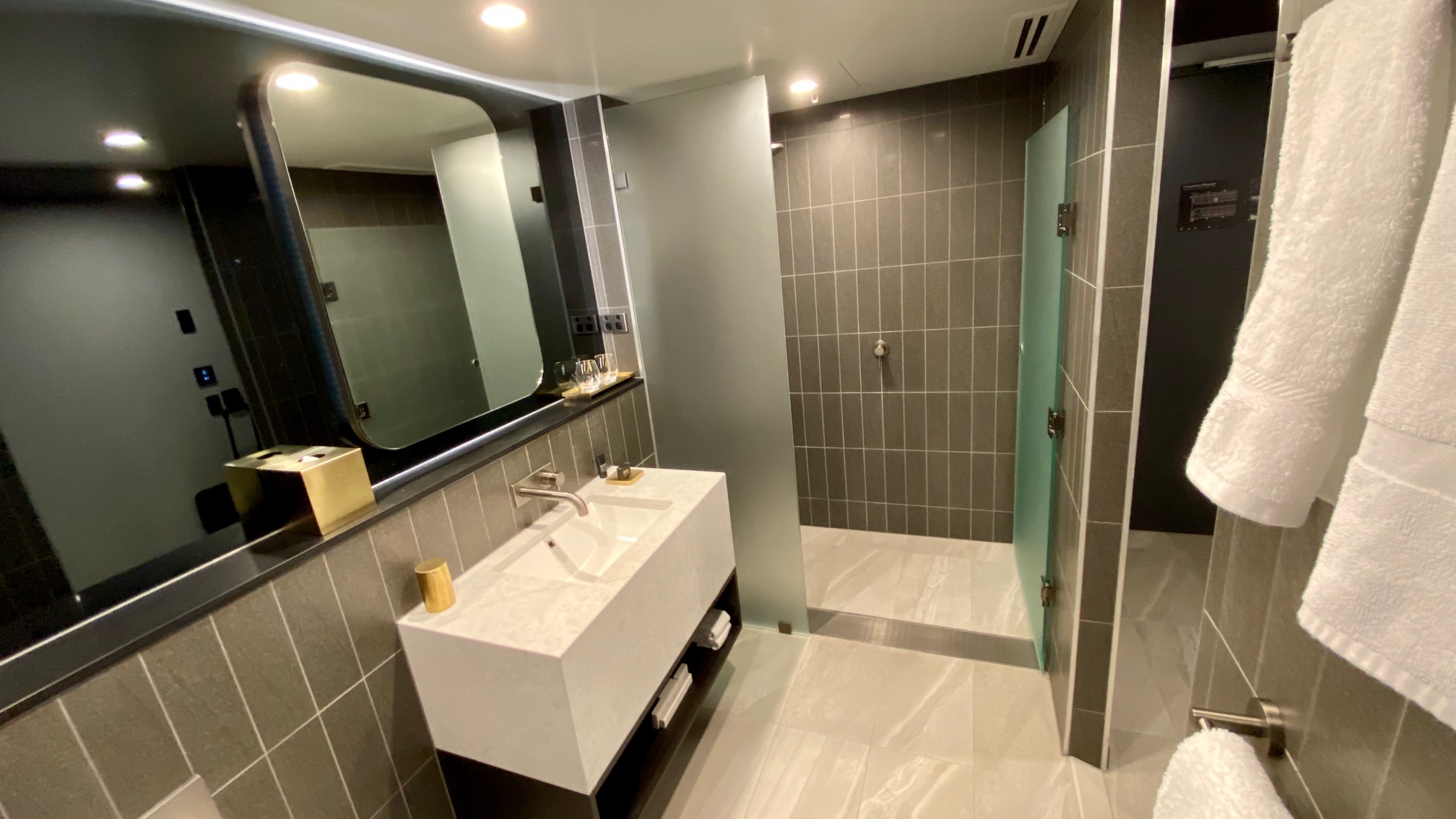 Bathroom, Midnight Hotel Canberra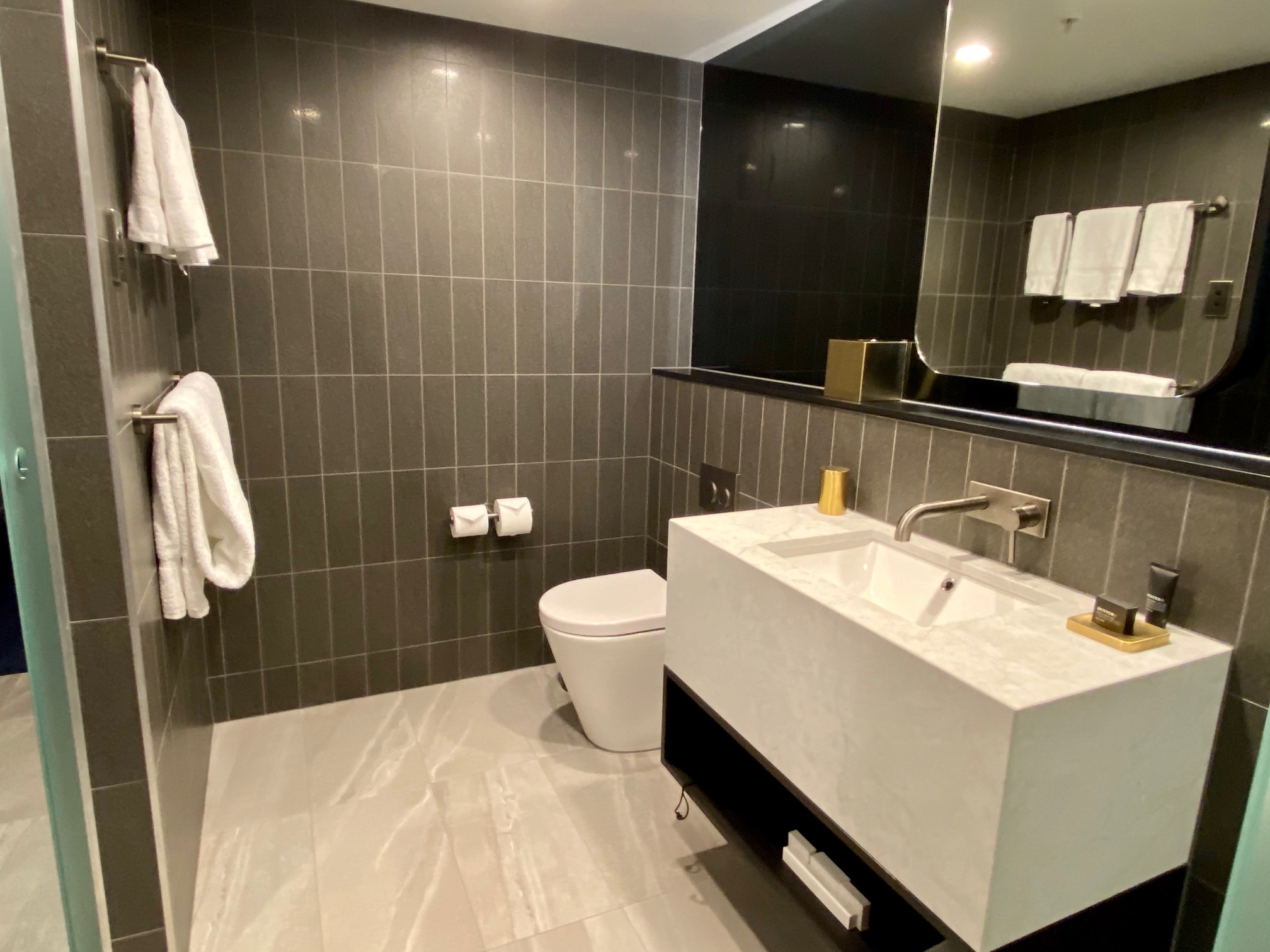 Bathroom, Midnight Hotel Canberra
It lacked the bath-tub which would have been nice to soak-in, in chilly Canberra weather, but I didn't mind since this was just an overnight stay. There wasn't much by the way of toiletries or bath amenity, save a bar of soap and a small tube of moisturiser from the Hunter brand.
Back out, there was a king-size bed with a selection of pillows and a large flat screen TV on the wall opposite from the bed.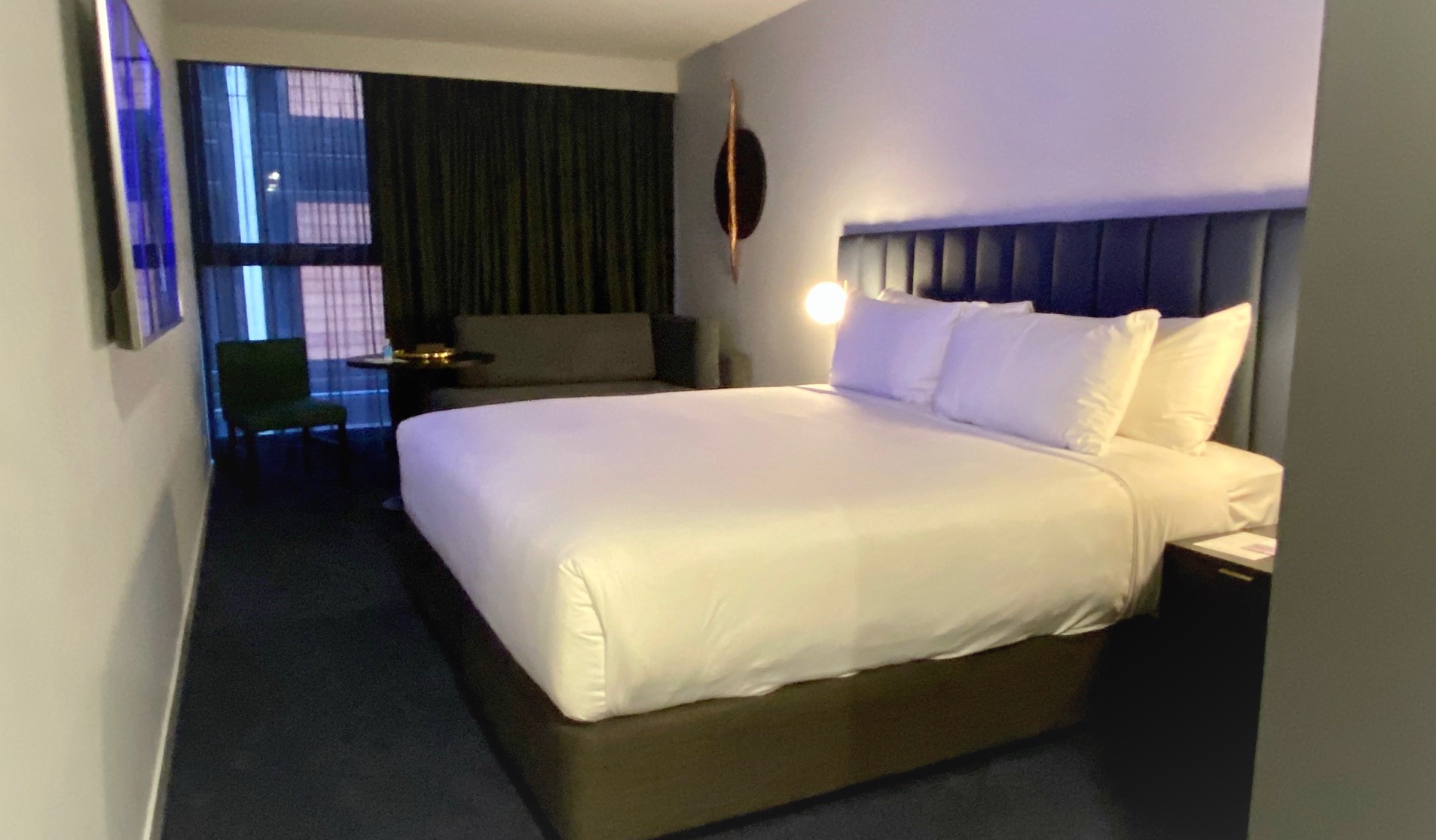 King Bed, Midnight Hotel Canberra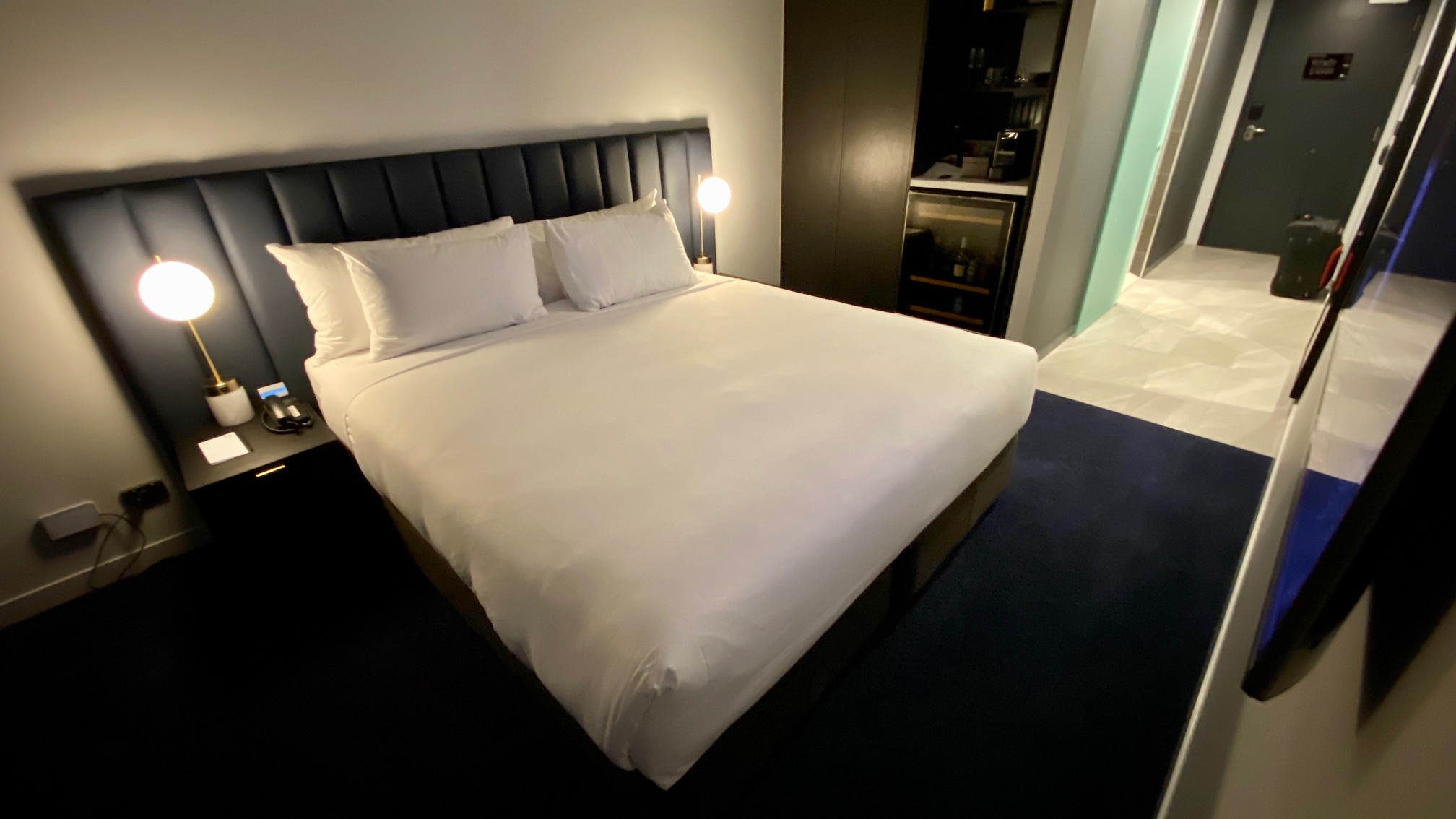 King Bed, Midnight Hotel Canberra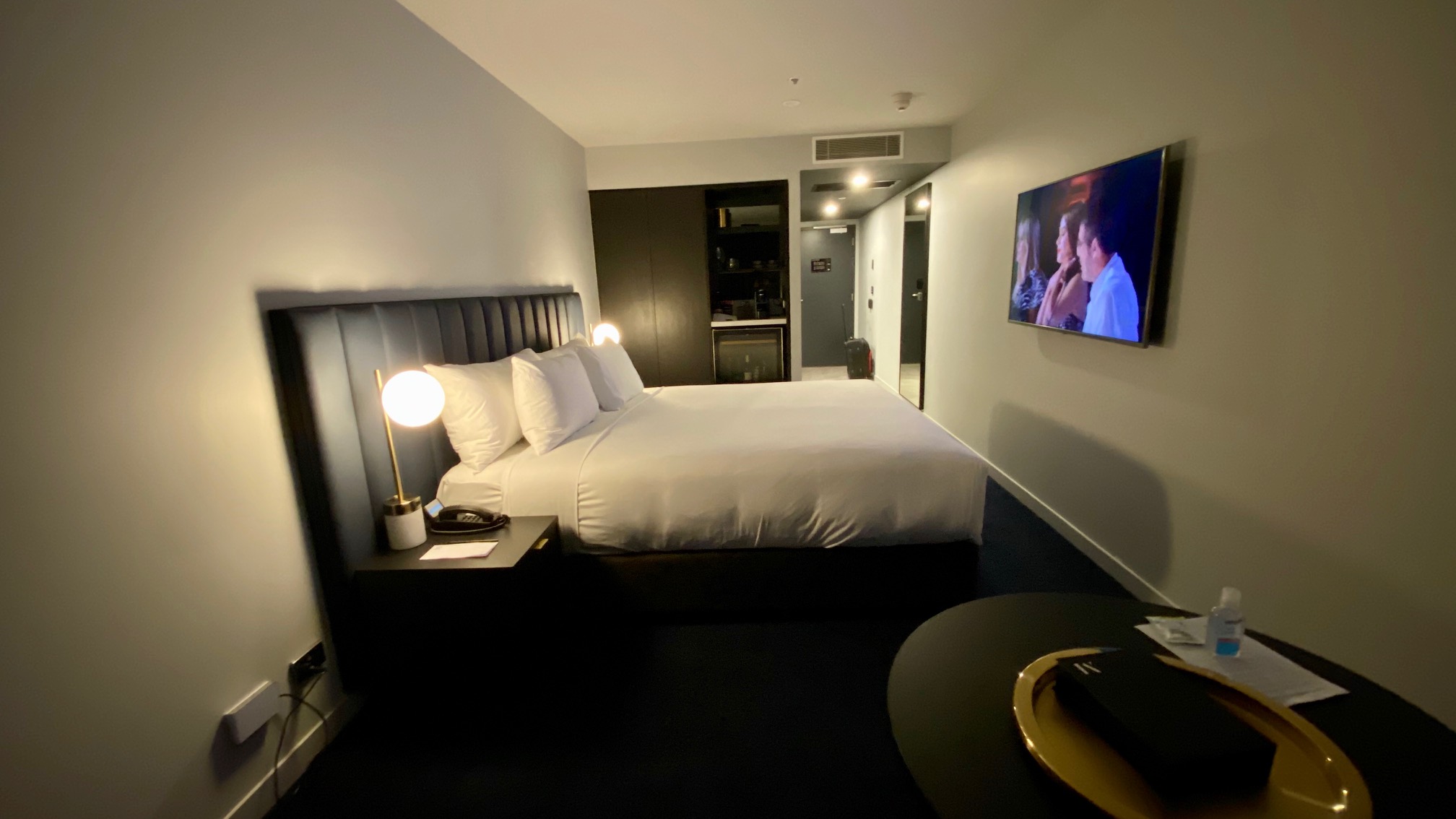 It was dark inside, and even with the lights turned-on, it made taking pictures tricky. So please excuse the quality of these images.
To the left of the bed, there was a large wardrobe. Inside, there were hangers, an electronic safe, a kettle, an iron and the iron table.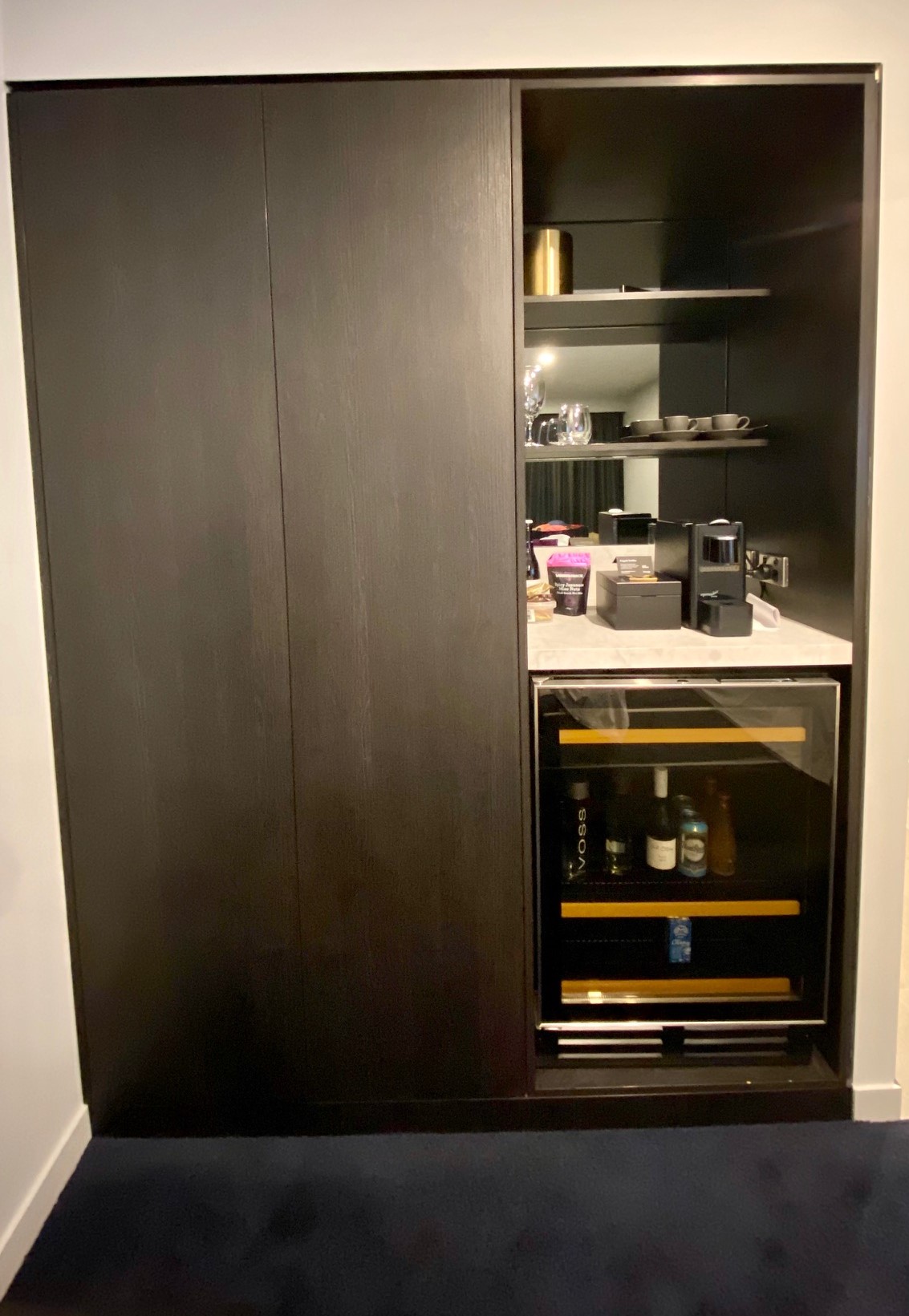 Wardrobe, Midnight Hotel Canberra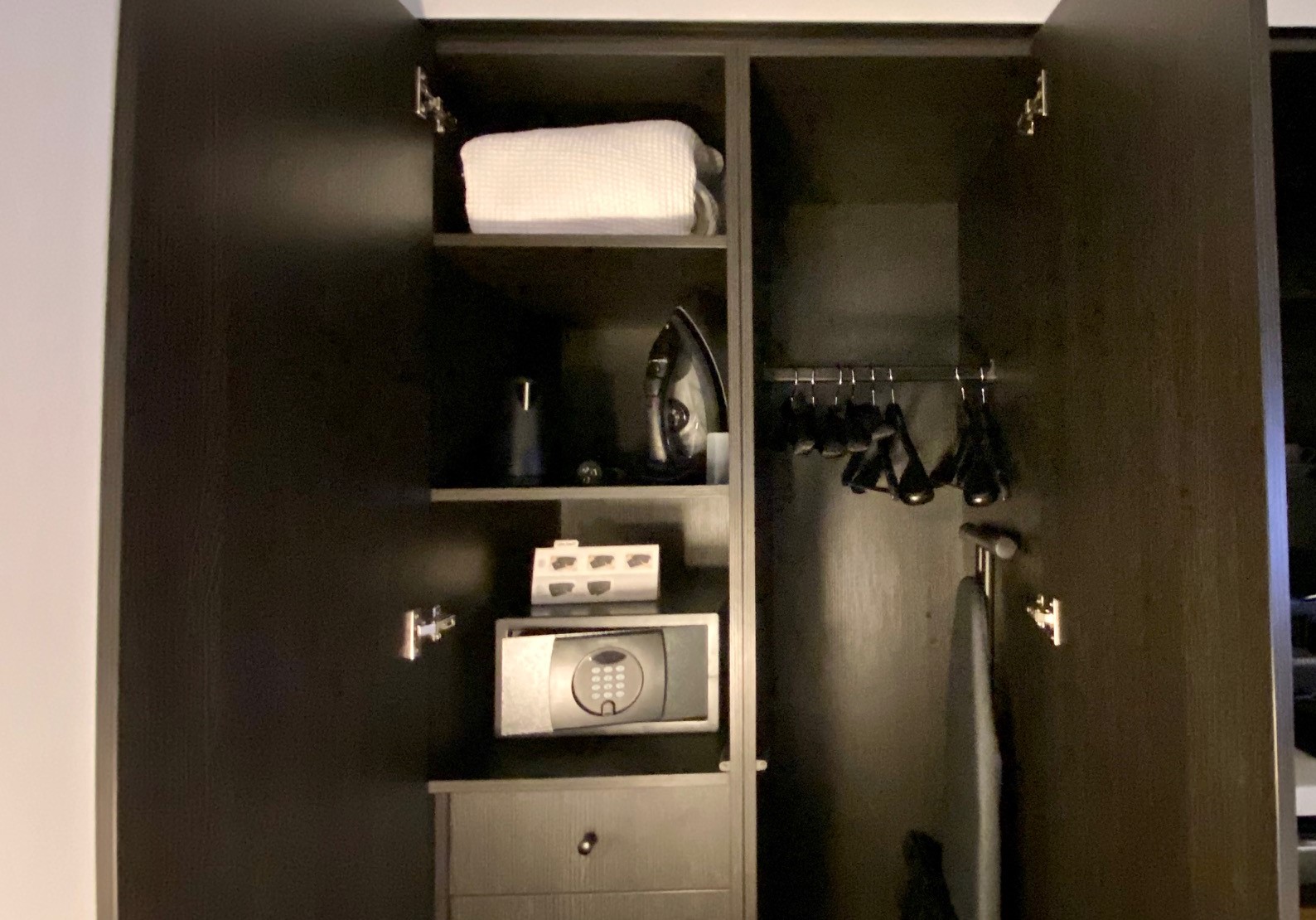 Adjacent to the robe, you had the in-room mini bar and a small fridge.


In-room mini bar and fridge, Midnight Hotel Canberra
One of the unique benefit of Midnight Hotel is that the mini-bar is included in the price of the stay, which, when you consider the outrageous prices many of the hotels normally charge for these items, was something I greatly appreciated.
There were some wine glasses and tea cups on one of the shelves.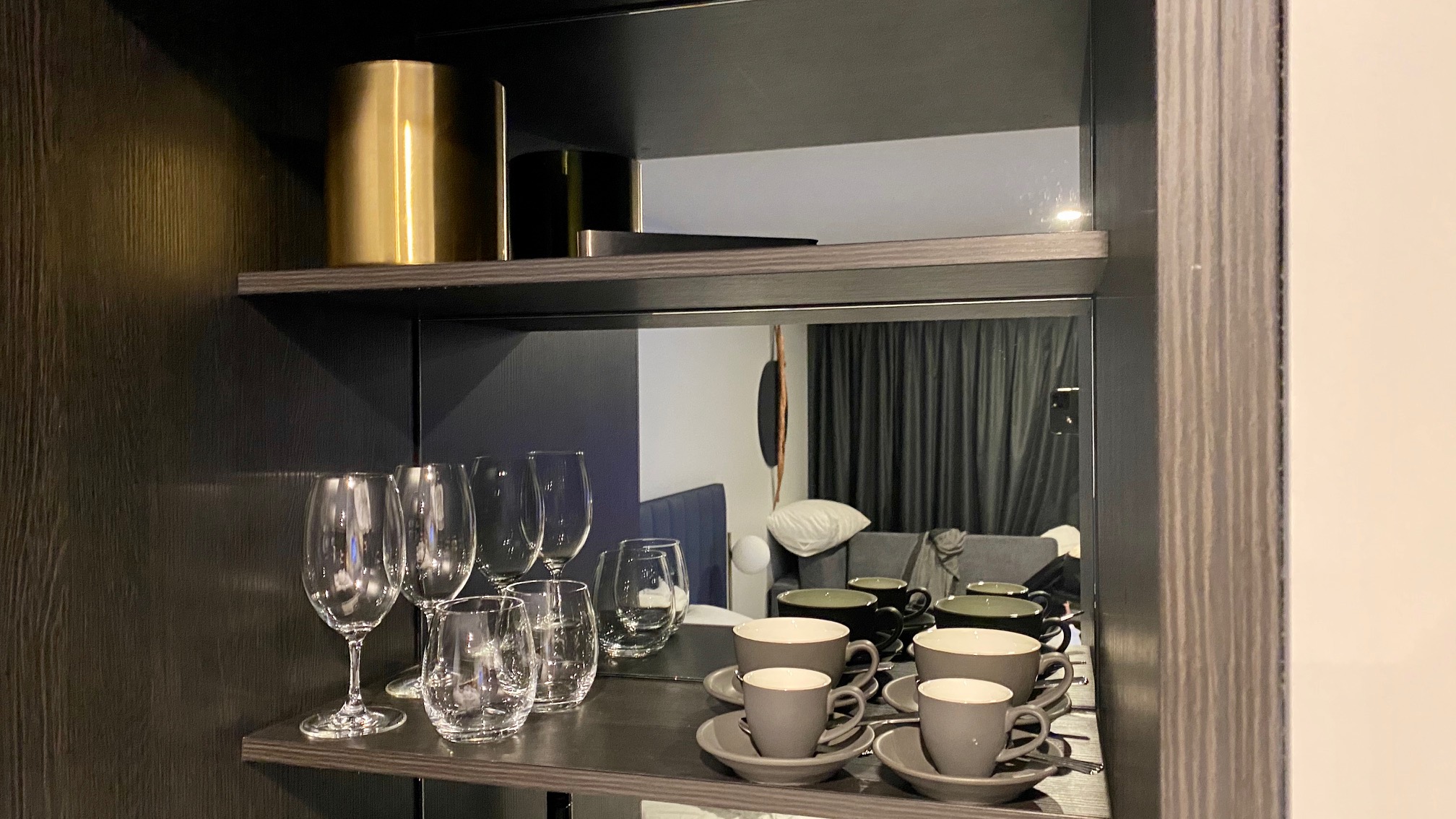 In-room Wine glass & Tea Cups, Midnight Hotel Canberra
Below, you had a few munchies, a small bottle of red wine, a DIY coffee machine, coffee capsules and provisions for making tea and coffee.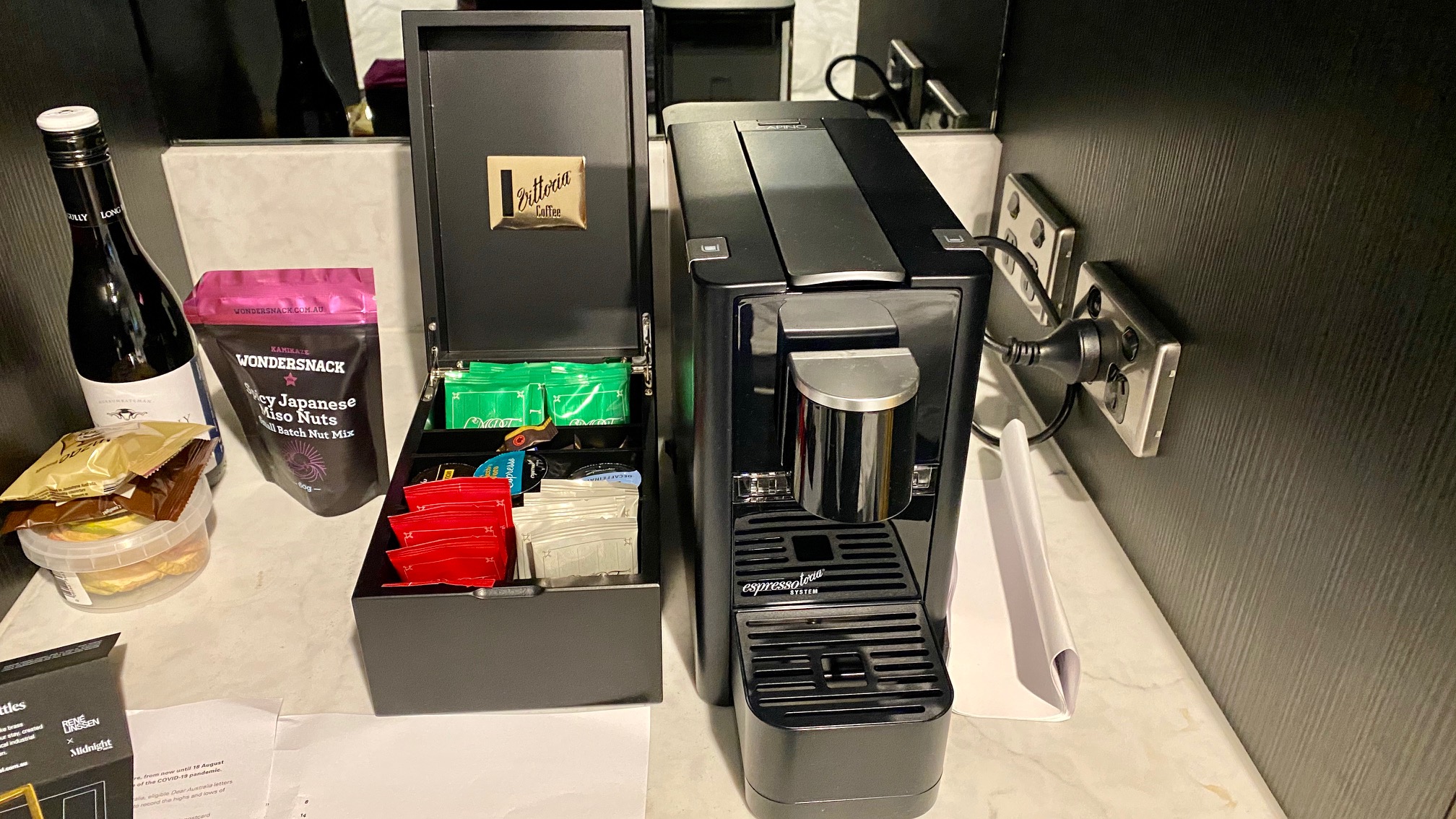 Snack bar, Midnight Hotel Canberra
Underneath in the bar fridge, there was a bottle of still and sparkling water from voss, couple of bottles of juice, some non-descript beer and a small bottle of white wine. All up, this wasn't insignificant by any means.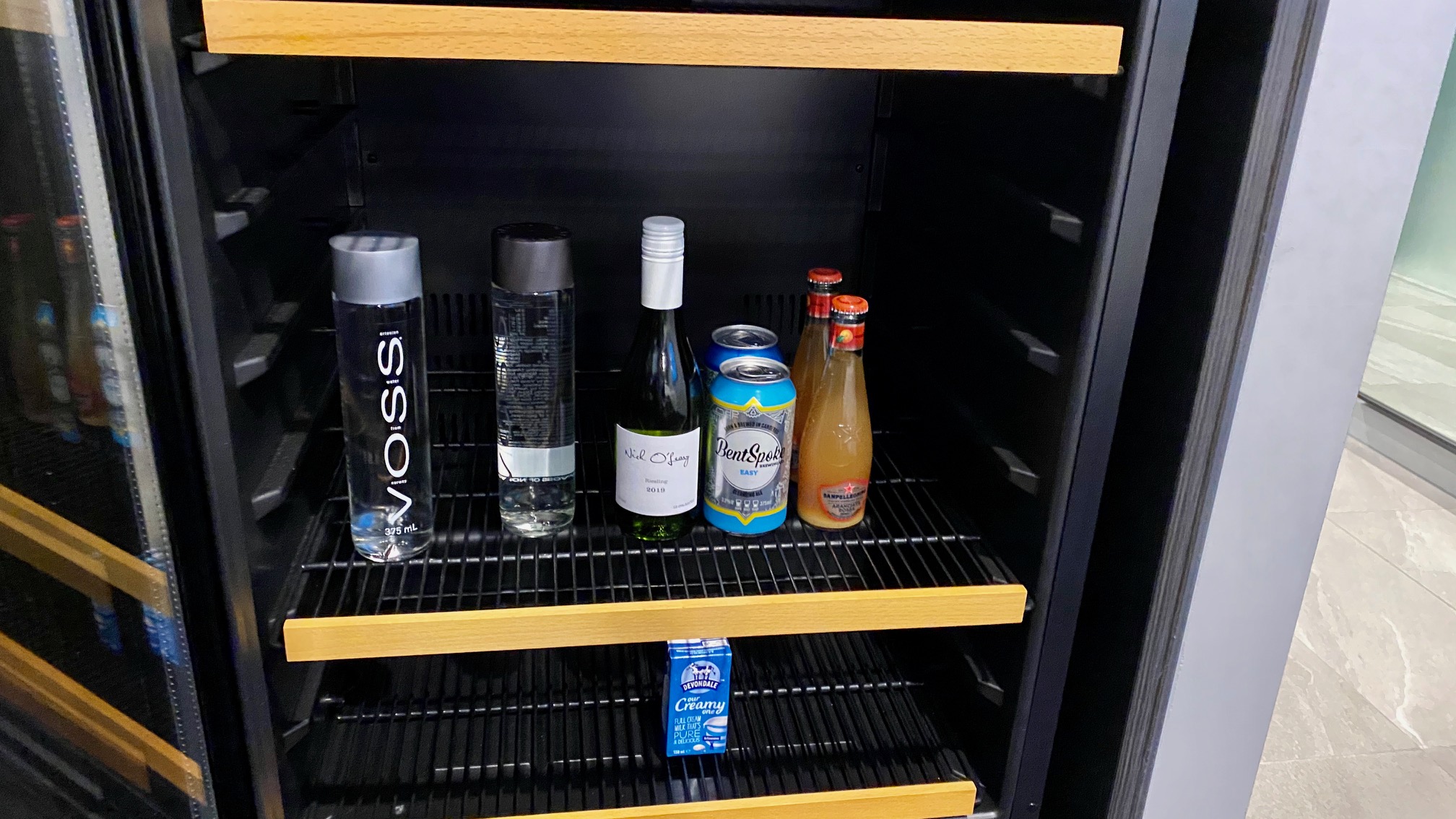 Contents of the bar fridge, Midnight Hotel Canberra
On the other side of the bed and towards the far end of the room, there was a good sized lounge and a chair, plus a round-top table with the hottest hotel amenity kit of 2020, ie, a bottle of hand sanitiser and an anti-bacterial wipe.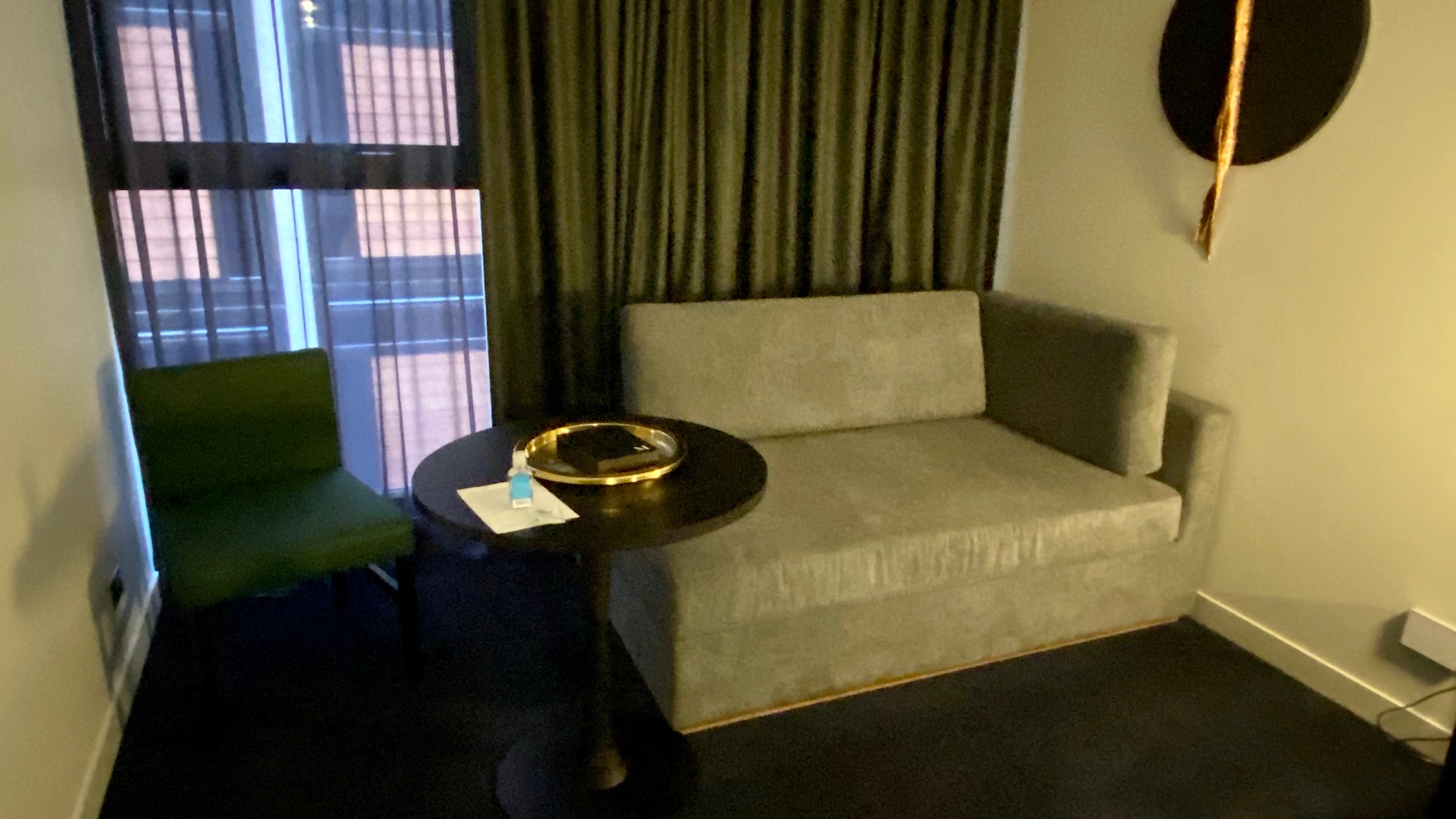 Lounge, Midnight Hotel Canberra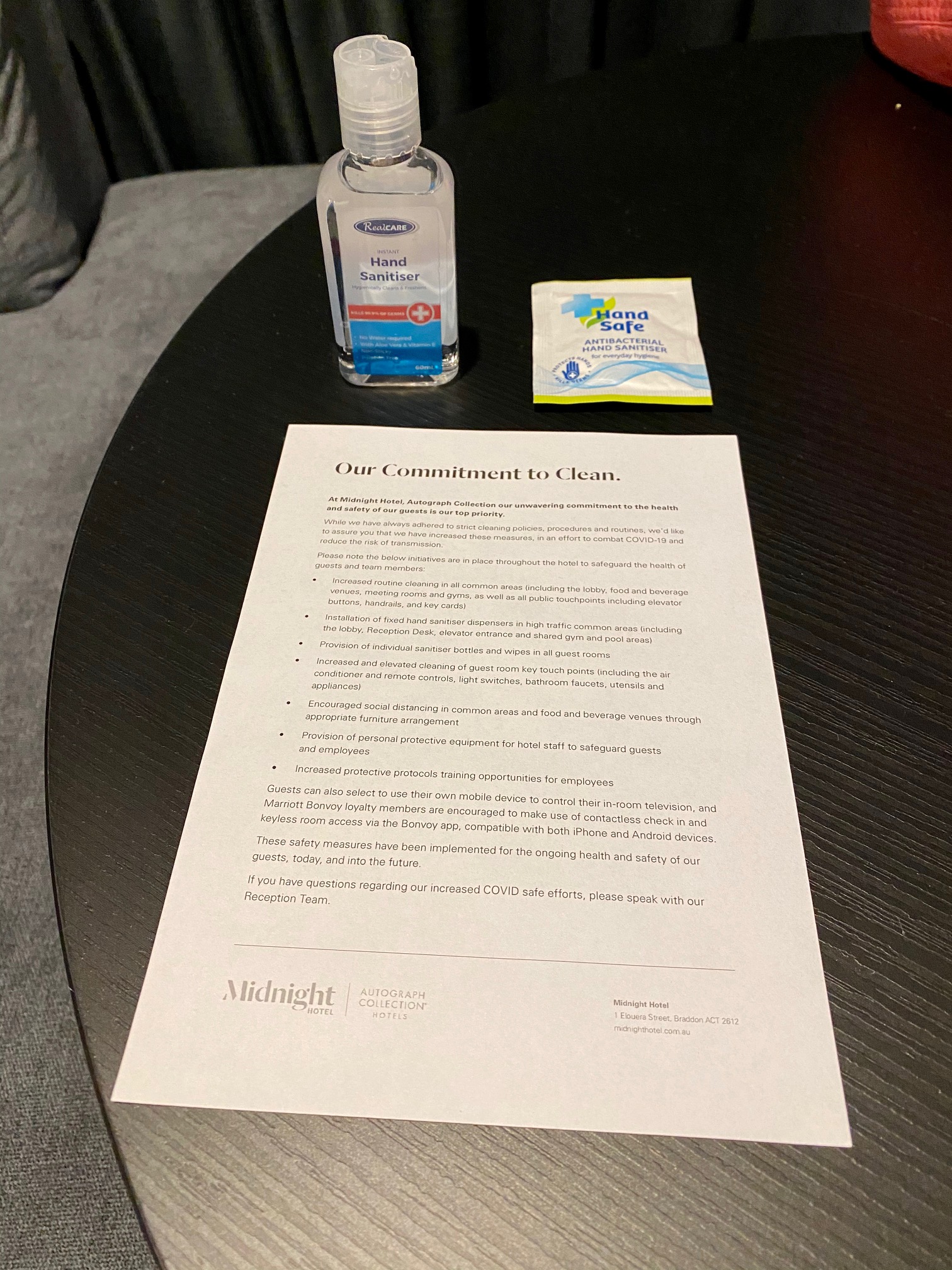 Hand Sanitiser & Wipe, Midnight Hotel Canberra
The room had no views to speak-off and very little natural light, given that the windows cannot be opened.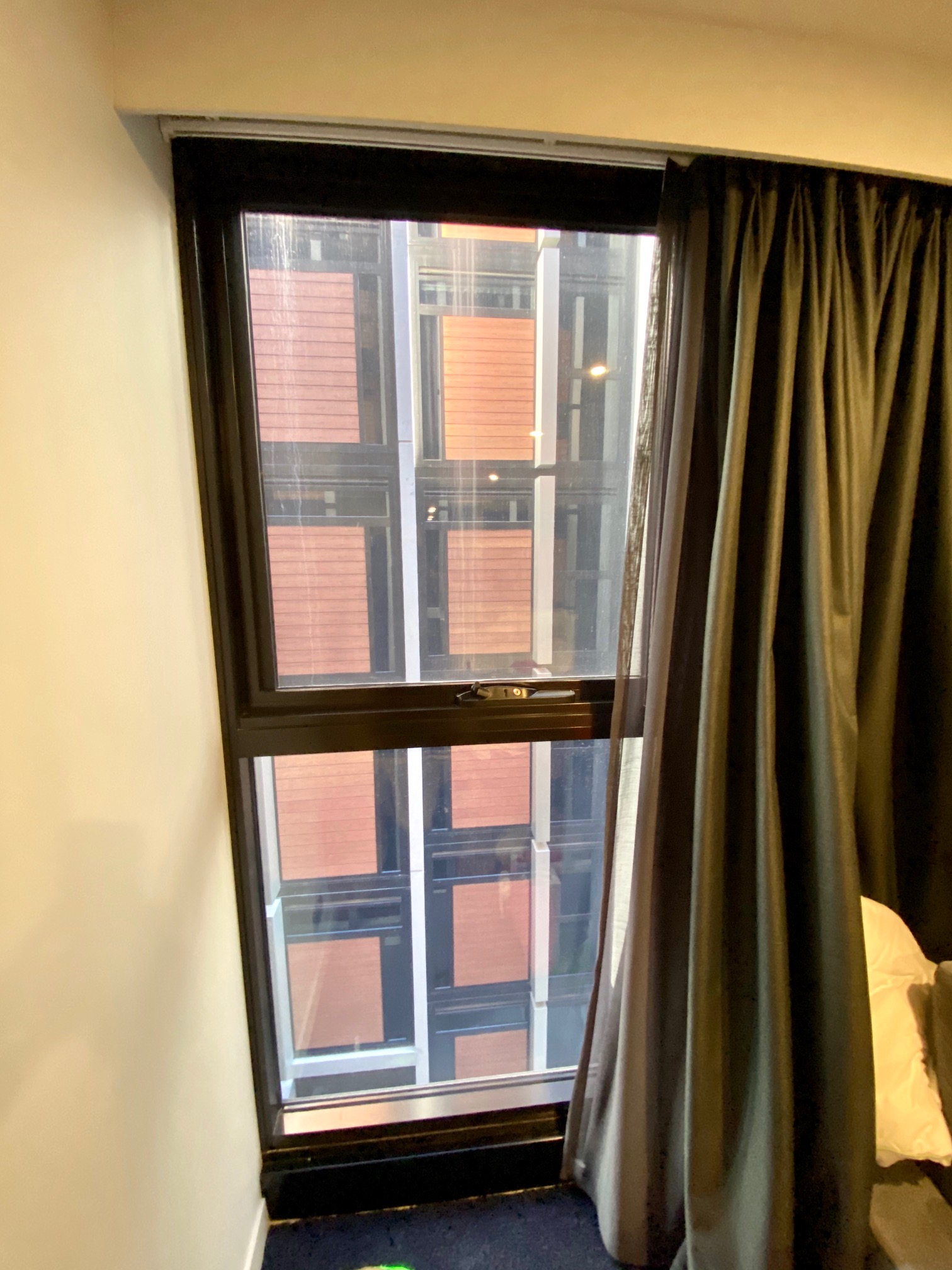 Window, Midnight Lounge Room
Overall, I thought the room was fine for a short 1 or 2 night stay, but if I was planning to hang around for a while, I would certainly be considering my options.
Dining
The hotel has a solitary restaurant, aptly named Braddon Merchant. It is located on the lobby level, just off the reception area. Although primarily used by the hotel guests, it also welcomes walk-in diners and there is easy access to the venue from Elouera Street.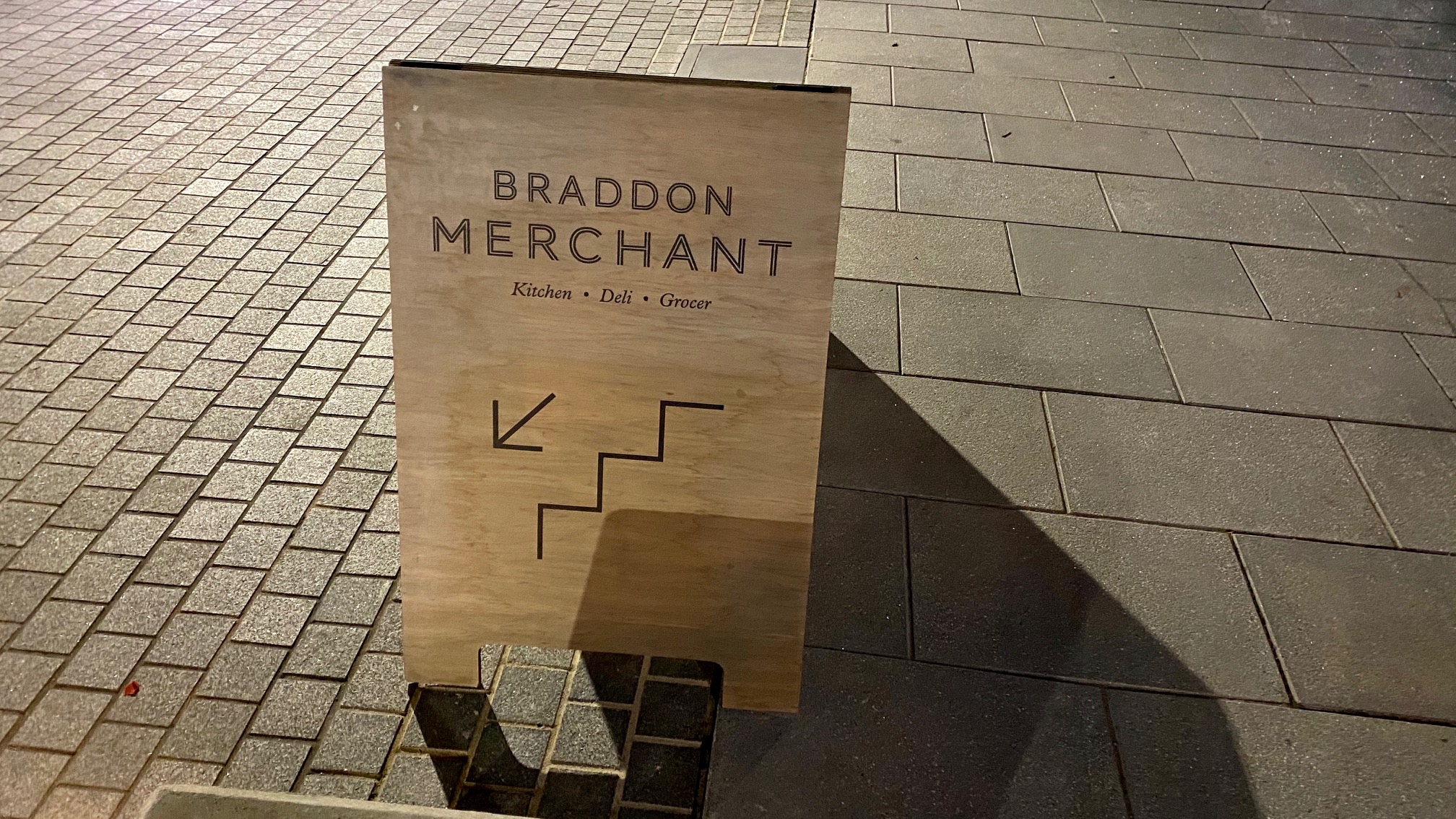 Directions to Braddon Merchant, Midnight Hotel Canberra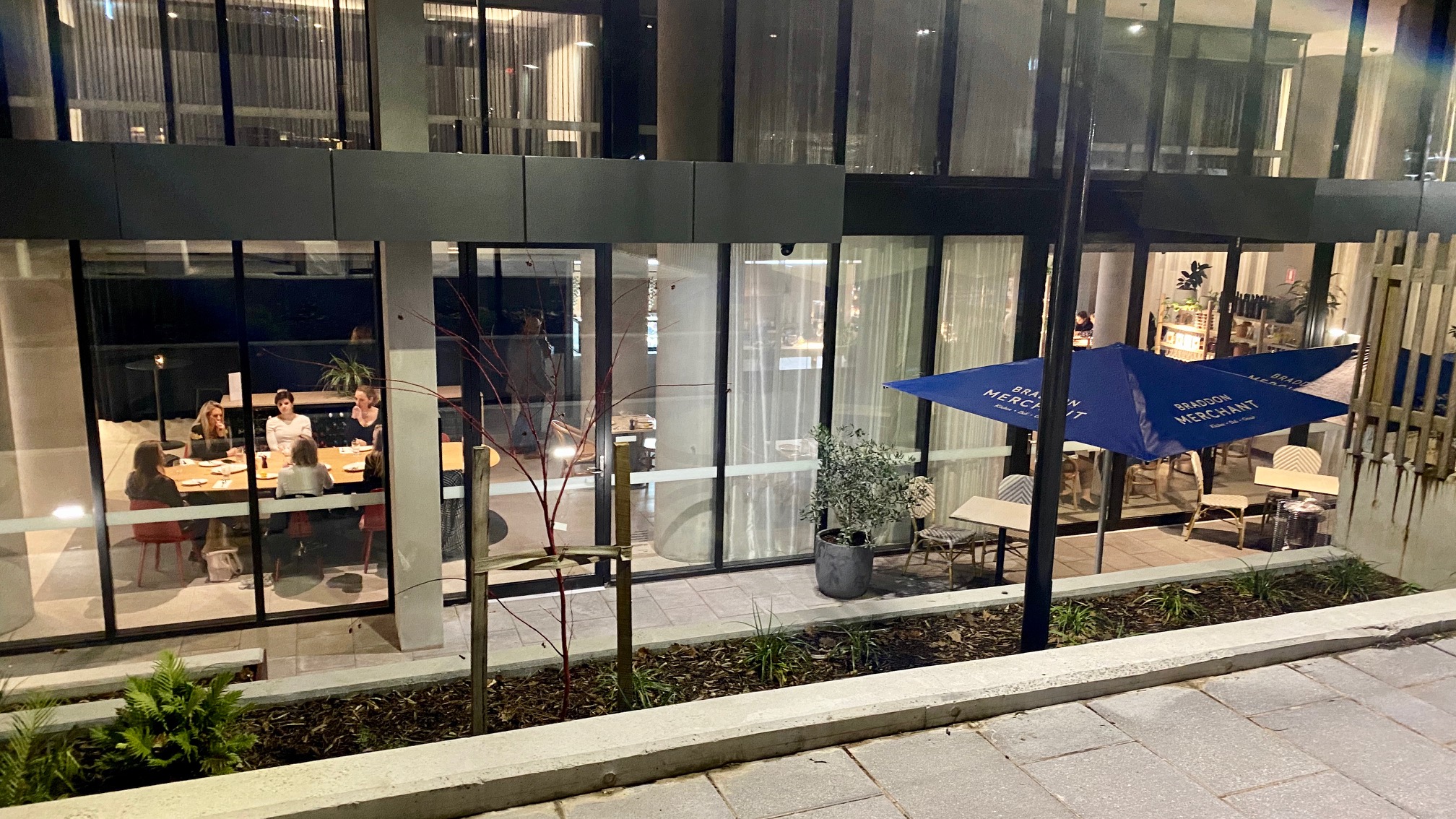 Street view of Braddon Merchant, Midnight Hotel Canberra
Breakfast is served each morning between 7-10 am, following which there is a dinner service from 5 pm. We arrived for breakfast around 9 am next morning and noticed that the place was at capacity. The picture below is from a different time of the day, as I didn't feel comfortable clicking photo's when the place was heaving with people.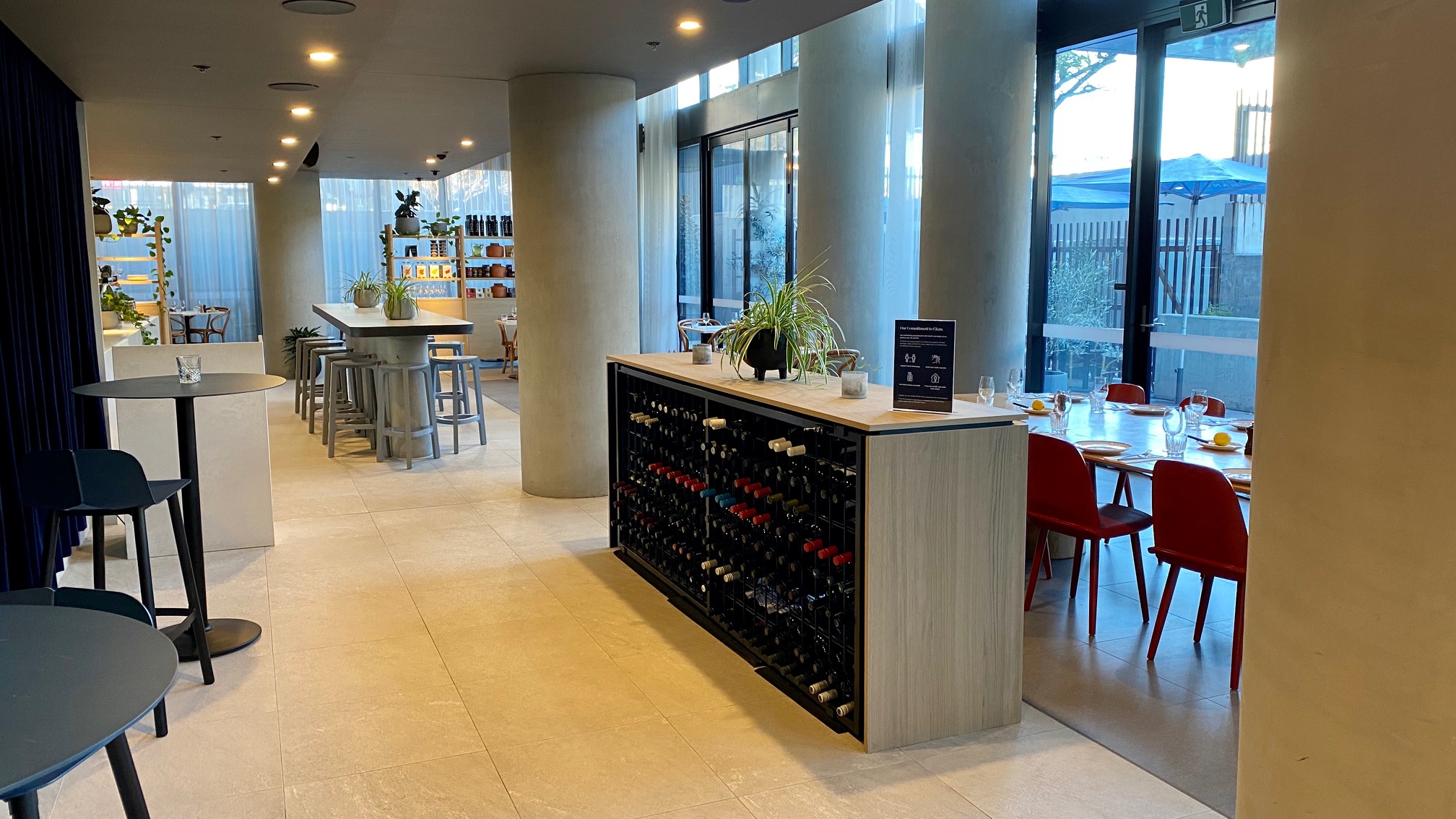 Braddon Merchant, Midnight Hotel Canberra
This is where I believe the staff dropped the ball. I was advised that there was no table available and they couldn't guarantee they will be able to arrange one by 10 am when the kitchen closes. Now, I understand that this was a particularly busy time and with all the COVID-induced capacity restrictions, it may not have been easy to organise a table for 6 of us. But what really upset me was the way this was handled, and the message conveyed. I told the staff member she could seat us on 2 smaller tables or come up with another setting, I didn't really care as long as we could eat. But she made no effort to look into whether that was possible, instead I was directed to try my luck at one of nearby café's or restaurants outside the hotel .
That, was a first, and I still have a hard time believing the restaurant staff said what she said. Anyhow, hearing the commotion, the restaurant manager came out and offered to set up a table for us in the lobby, past the reception and some 25 metres away from the restaurant. Seeing there was no other option, I accepted it.
Breakfast settings in the current climate have changed significantly and most hotels (if not all) have done away with self-serve buffet dining. Instead the manager brought out the a la carte dining menu for us to order from.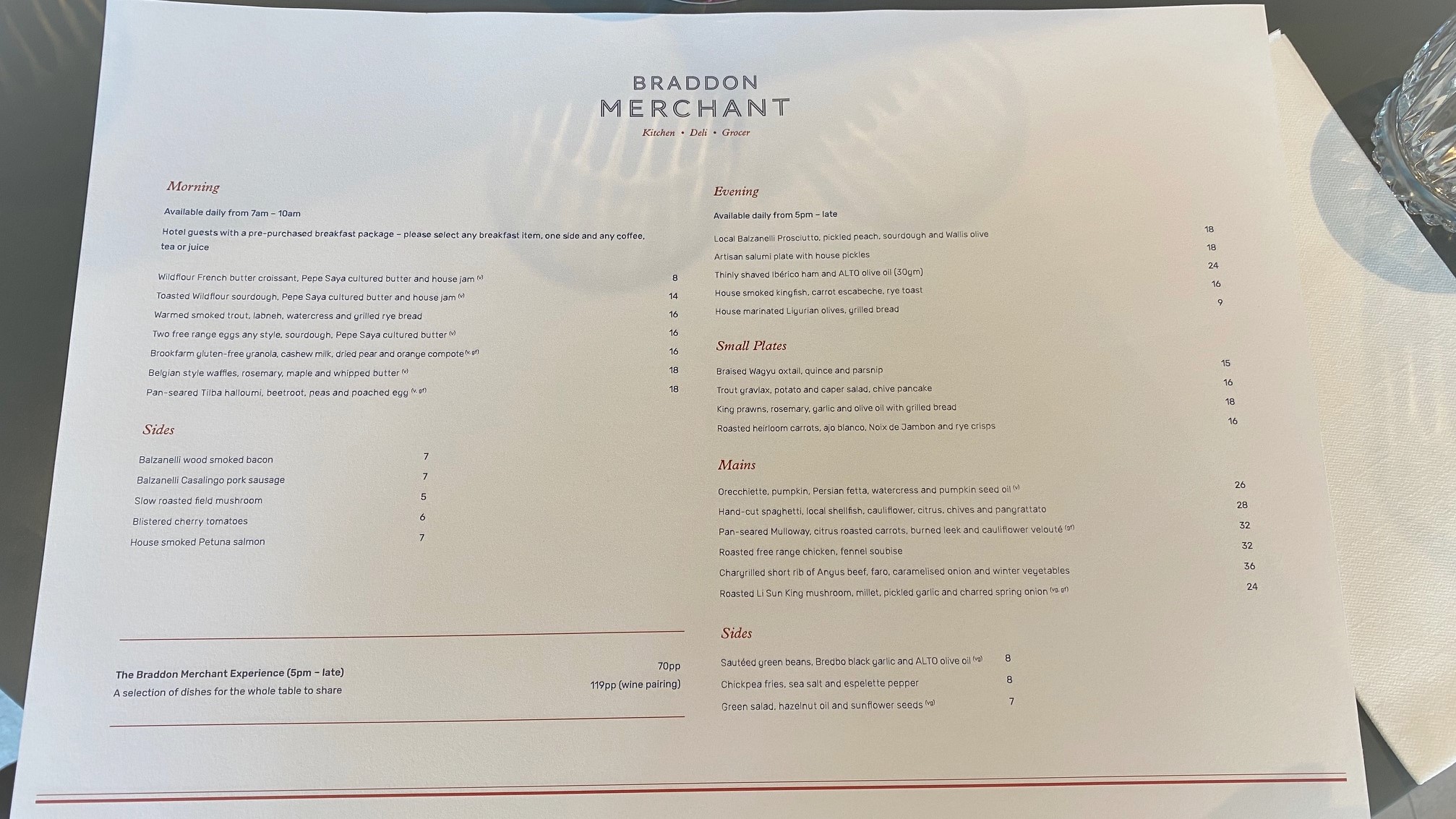 Menu, Braddon Merchant
I was advised that breakfast for my room was complimentary and guests in other rooms will be billed as per the menu. This was news to me as at the time of check-in, I was told the hotel will do the breakfast at $25 pp for the other 2 rooms. Cue, confusion and more round of discussions. To cut the long story short, the manager did in the end agree to the fixed-priced breakfast as was promised previously. By this point though, I was exhausted and asked to see the duty manager at the conclusion of our breakfast.
The menu itself was fairly limited as you can see above. Basically, you could order one item from the Mains, one of the sides and tea or coffee per person. I had the waffles which was nice, although it could have done with a little more maple syrup.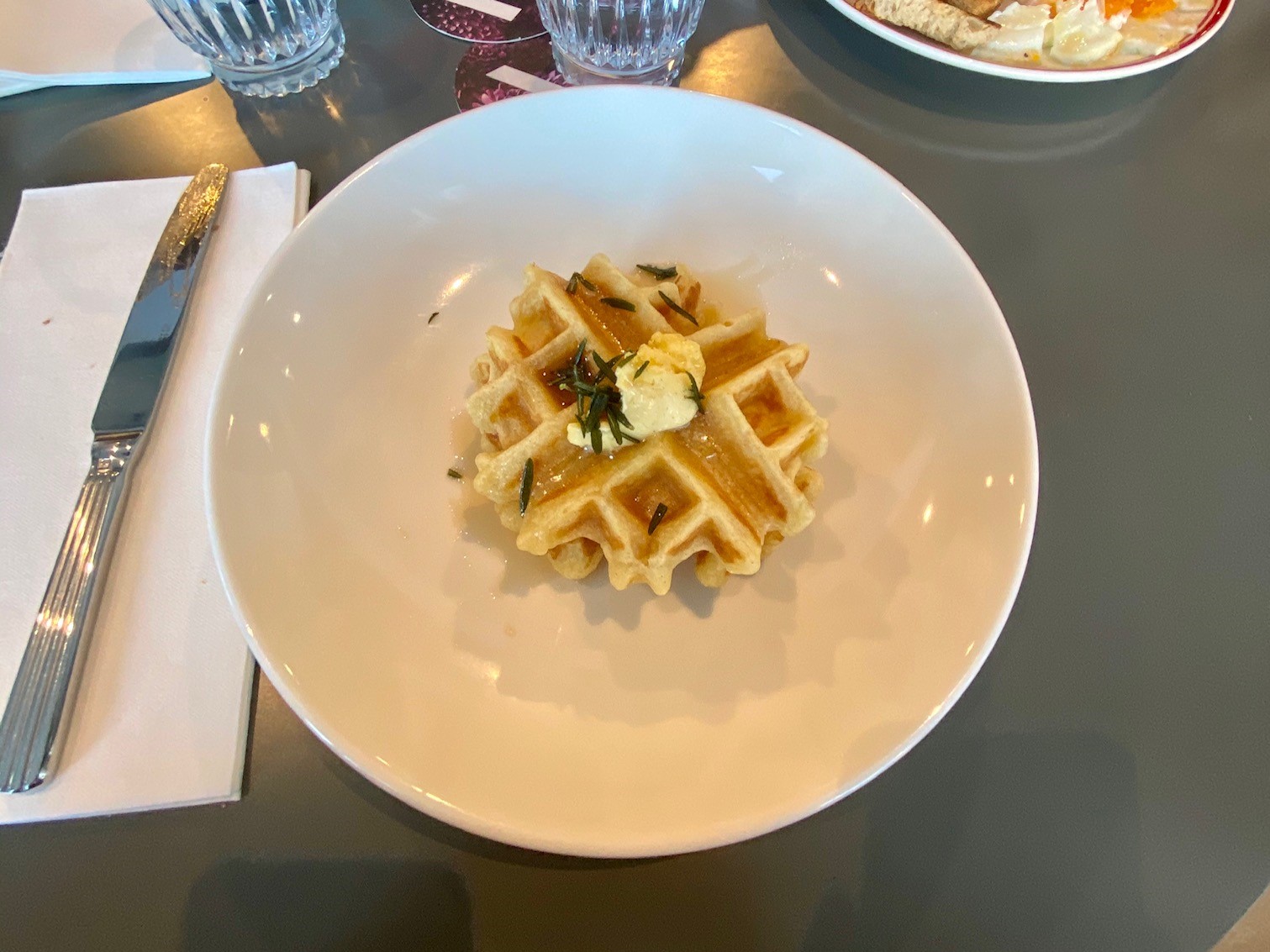 Breakfast at Braddon Merchant, Midnight Hotel Canberra
My parents ordered eggs, which came with halloumi and a piece of sourdough toast and butter.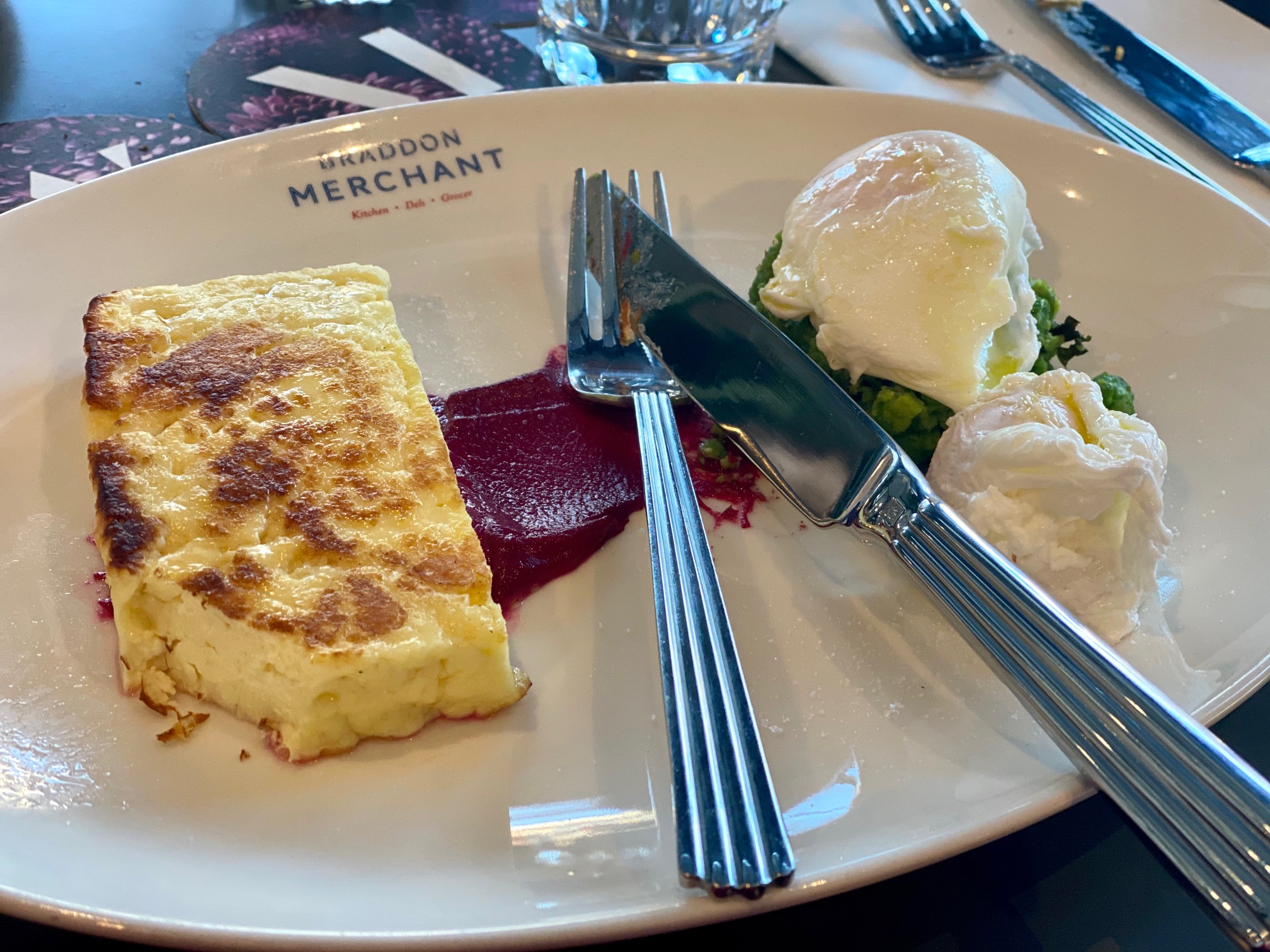 Breakfast at Braddon Merchant, Midnight Hotel Canberra
We rounded it off with a cappuccino each which everybody enjoyed. On the whole though, I thought the offerings where limited and the servings pretty meagre. If I was to find myself at this hotel again, I would certainly be considering my breakfast options elsewhere.
Other Hotel Amenities
As mentioned earlier, the hotel has an indoor pool and a small gym located on Level 1. I did not have the time for a swim but the water looked inviting.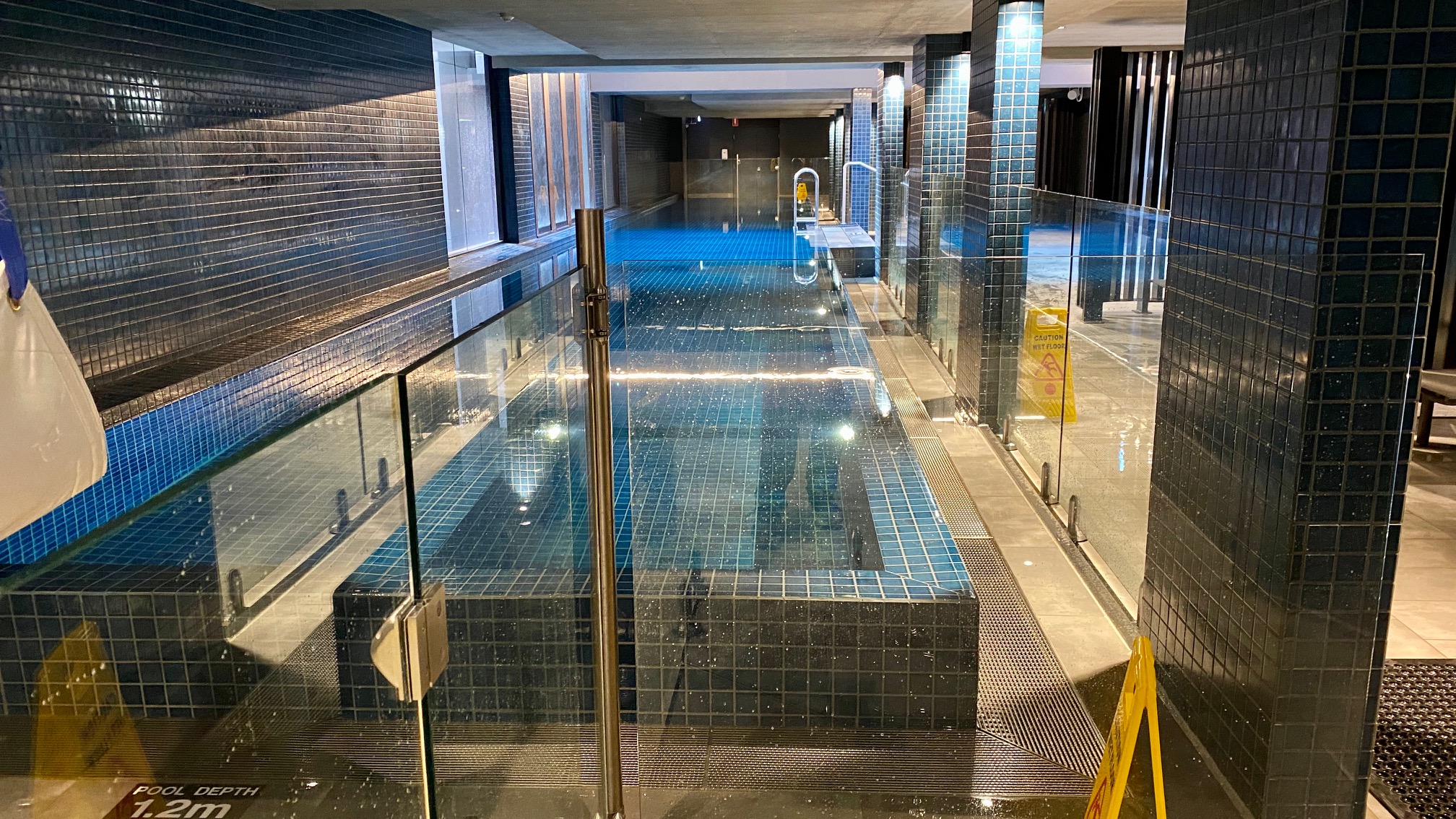 Indoor Pool, Midnight Hotel Canberra
There were plenty of empty day-beds scattered around the pool deck.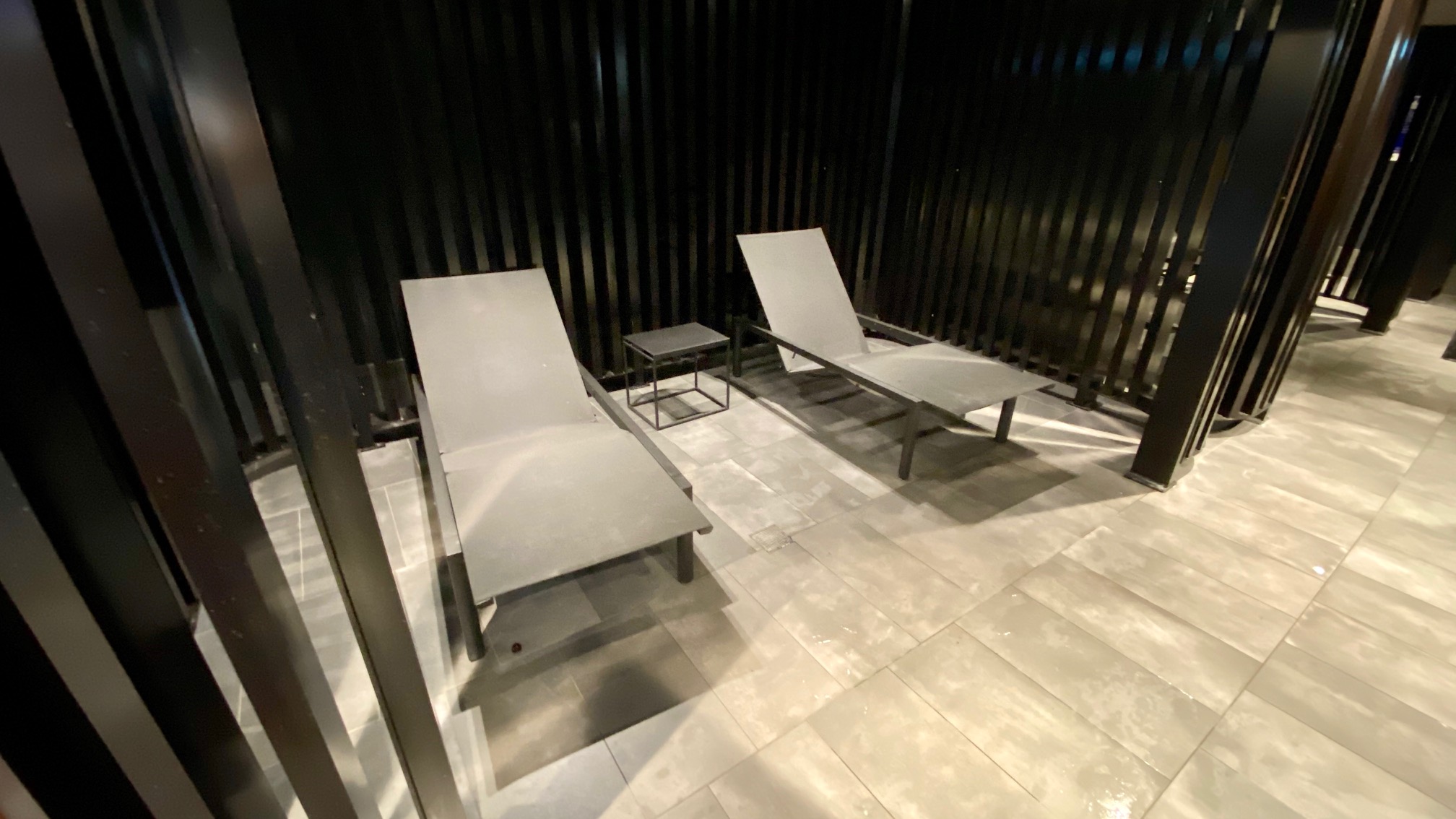 The gym is right next to the pool and consists of few basic equipment's and free weights as seen below. While not substantial, I thought it was adequate to get some amount of your daily work out.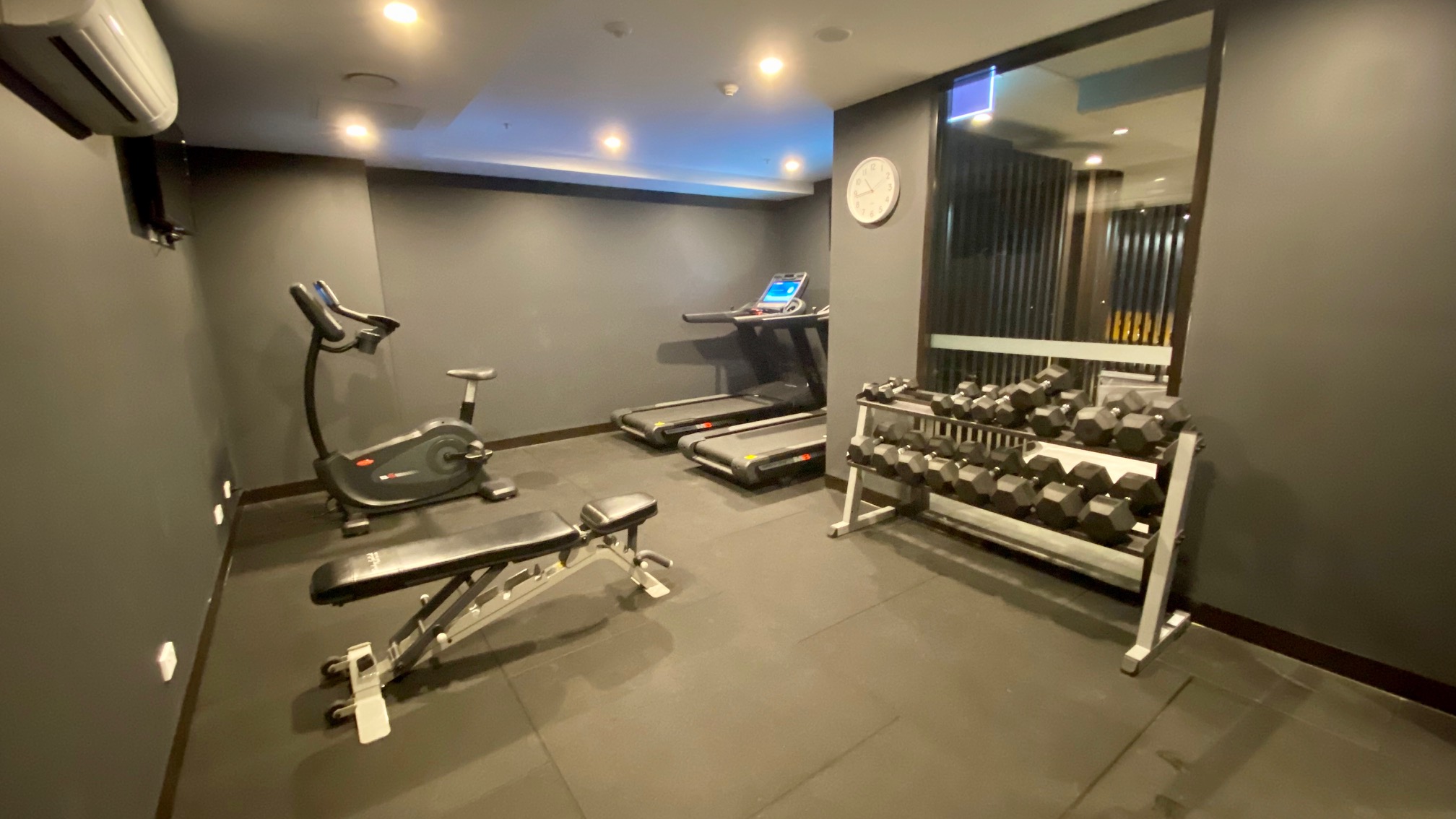 Gym, Midnight Hotel Canberra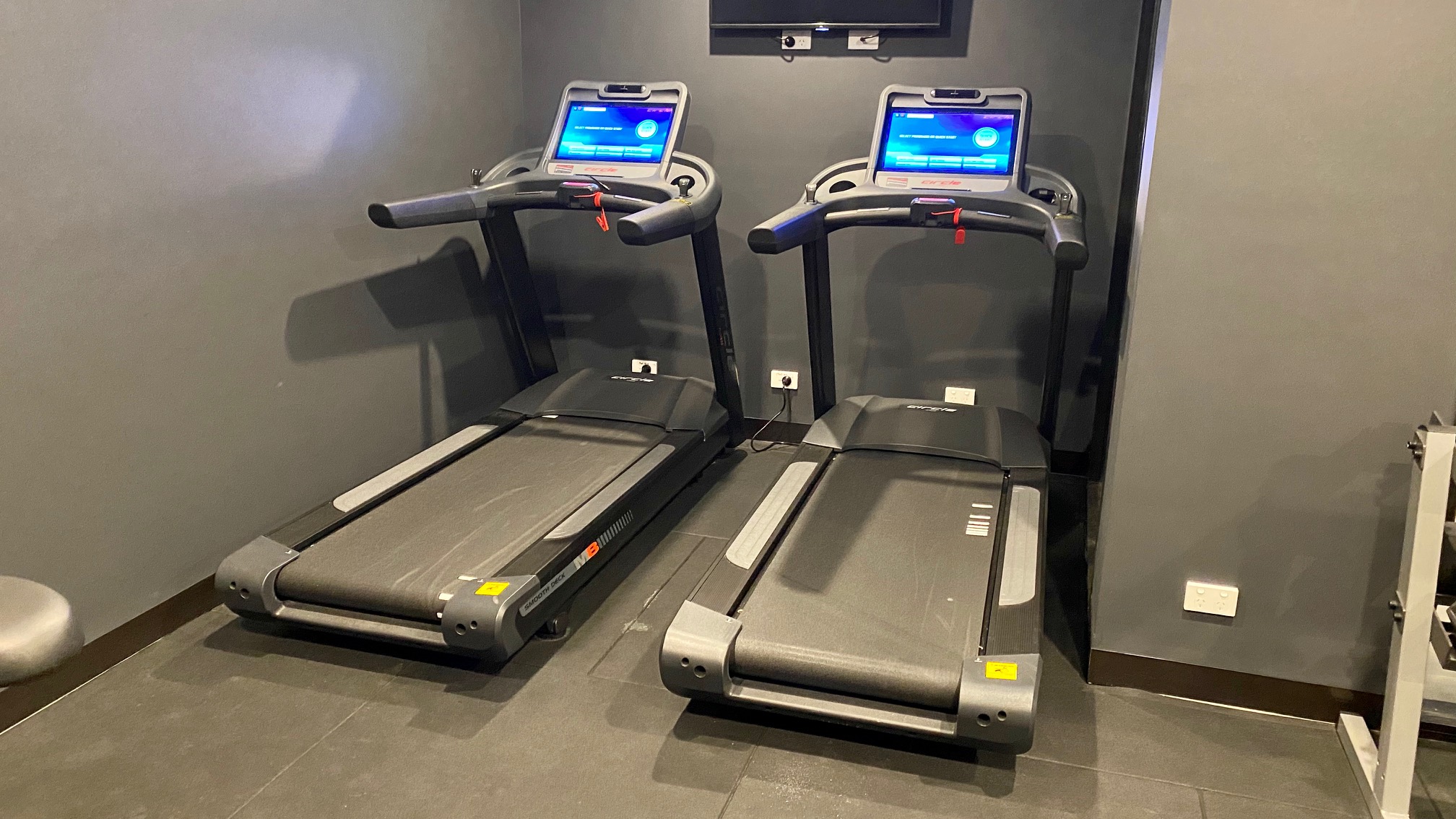 Gym, Midnight Hotel Canberra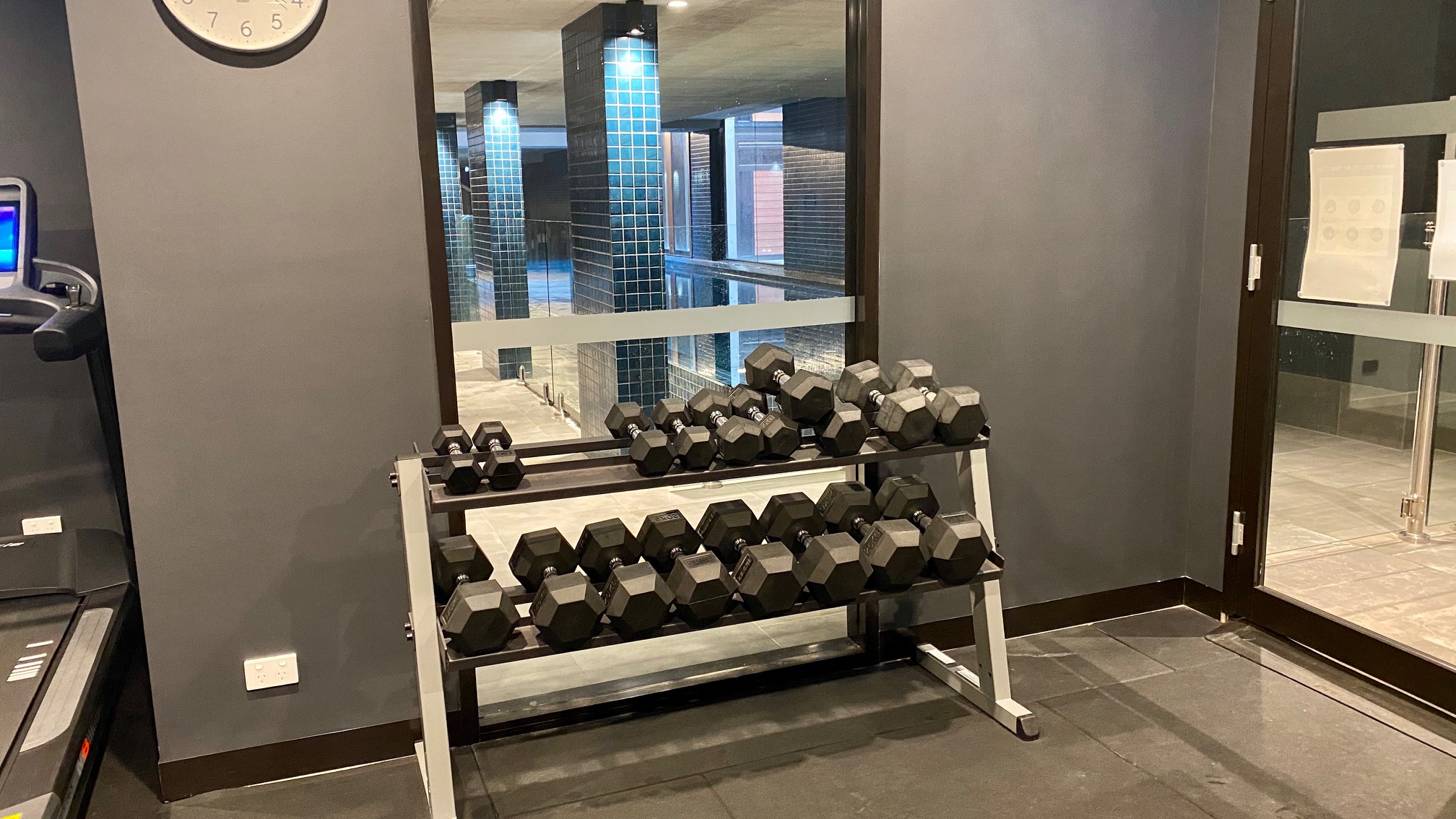 Gym, Midnight Hotel Canberra
The hotel also has an in-house spa, which in-line with the health advice from local authorities wasn't operational at the time.
 
Service
Before I get into the nitty-gritty, I should say that it's never a pleasant experience to bring up service issues. I know that for vast majority of the time, staff working in the hospitality industry do their best and go above and beyond to make guests feel welcome. However, on this occasion, there were far too many gaps, (massive holes even) which I simply could not ignore. So here goes:
Platinum elites are guaranteed a late check out (4 pm). This was not pro-actively offered at check-in.



4 pm late check-out is one of the guaranteed Platinum benefits

I was not advised that the in room mini-bar and the content of the fridge were complimentary. After settling into my room, when I called up the front office to check on that, I was told that since I had booked my stay through a 3rd party and not directly with Marriott, I wasn't entitled to that benefit. When corrected and told that the booking was indeed direct, the staff apologies and confirmed that it was complimentary. It just beats me that as a Marriott loyalist with 50+ nights per year, I still find myself in a situation explaining this to the staff.
Neither at check-in, nor at a later time, anybody mentioned anything about making a booking for breakfast, which led to the kerfuffle as discussed earlier.
While ordering coffee, I had asked the staff to ensure they brought sugar out. The coffee was delivered sans the sugar. I waited for about 10 minutes hoping someone was going to get it for us, but that never happened. Exasperated, I had to walk back to the restaurant and ask again before it was provided. No apologies offered.
If you would like to read about all of the Platinum elite benefits, check them out over here.
How the hotel made up for it
The negative experiences I had at Midnight Hotel will stay with me, it's impossible to erase that from my memory. Having said that, it would be remiss of me not to talk about the effort they made to provide some amount of comfort.
After finishing my breakfast, I headed straight to the Duty Manager's office who was receptive to my complaints and extremely apologetic. For all the troubles:
He offered to remove all breakfast charges which would have added up to over $100.



The hotel comped our breakfast – Image : courtesy, Midnight Hotel Canberra

He offered to extend the late check-out to all 3 rooms. We never made use of this since we were planning to leave just after lunch time, but I appreciate that the offer was made.
I was offered use of the official hotel car, a Jaguar, for our sight-seeing trips around Canberra. I ended up declining it as it wasn't going to work for our party of 6, as the Jag was only a 5 seater. Still, I thought this was a very nice gesture and restored some of the trust I had lost during my time at the hotel.
Most of all, the manager apologised profusely and promised to incorporate the lessons learned in future staff training. He also promised to sit down and discuss everything with the General Manager who was offsite at the time.
In Conclusion
Midnight Hotel is a new addition to the Canberra hotel scene, having opened it's doors in late 2019. This is by no means a luxury property, a fact supported by it's Category 3 rating on the award chart. To me, one of its biggest selling point is the location, with pretty much all of the local attractions falling within 10-20 minutes.
Canberra is not short of mid-tier hotel brands, there's a Hyatt Regency from Hyatt Group and a couple of Accor group brands including Novotel. So for someone not tied to a particular chain, there are many options to consider. If you are married to Marriott though, the hotel might be ok for a short stay of 1-2 nights max. For anything longer, I would probably not be staying at Midnight Hotel.
Have you stayed at Midnight Hotel Canberra? Leave a comment below.