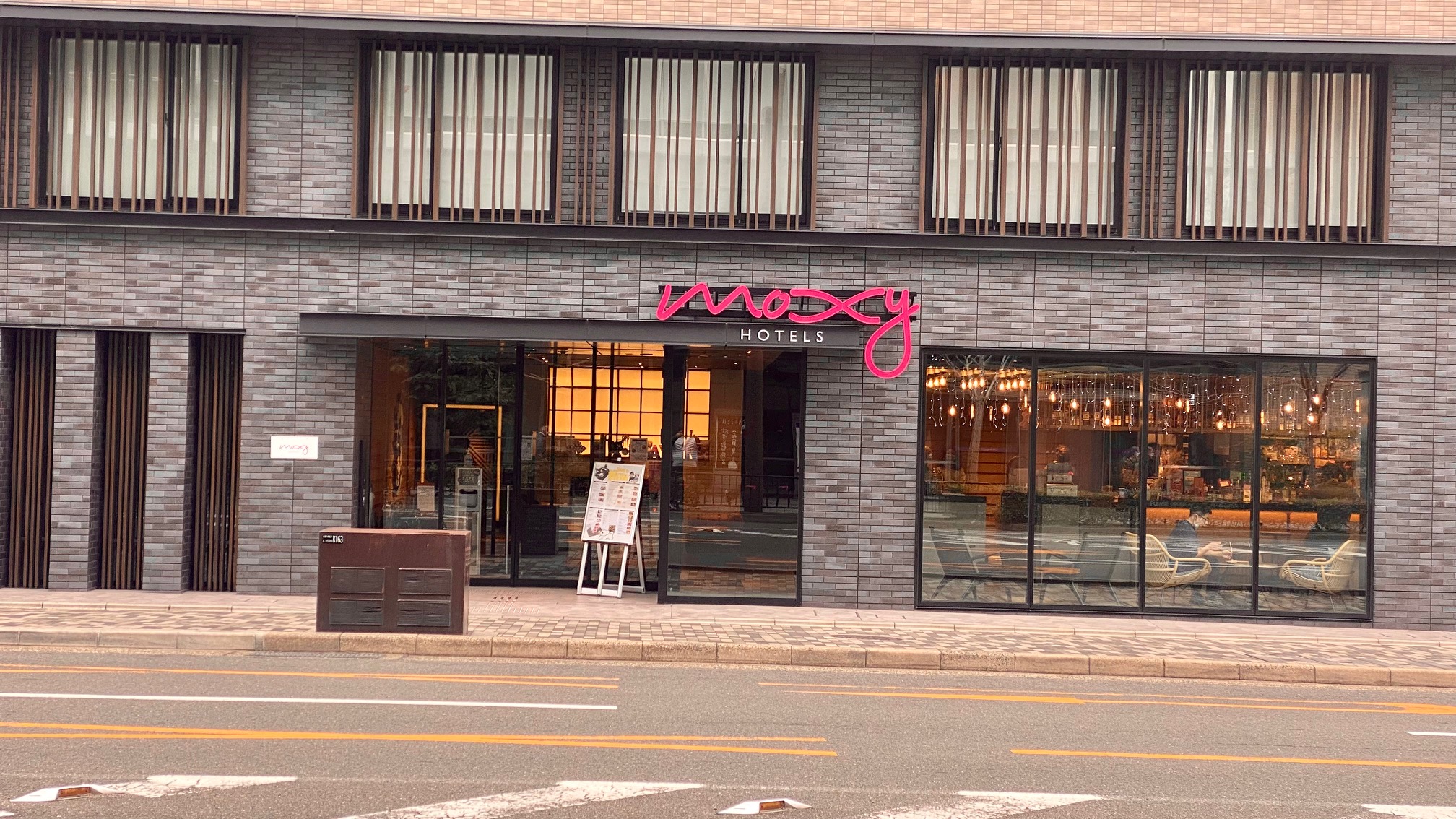 I recently spent a few days in Kyoto (Japan) during which I stayed at one of Marriott's budget brand Moxy Hotels. This trip had been long in the making and my original plan was to stay at Roku Kyoto which is a Hilton Group property, but when Marriott announced their new global promotion, I couldn't pass on the opportunity to earn Double elite night credits.
Hotel prices in Japan have gone through the roof in recent times, and by the time I started looking at Marriott properties in Kyoto, most of the full service properties were commanding $600 – $900 in nightly rates. To make matters worse, redemption nights were patchy. That left me the choice of either staying at Moxy or a coupe of Fairfield by Marriott properties. I decided on the former.
Moxy Kyoto Location
Moxy Kyoto is located in the suburb of Nijo. Most people arrive in Kyoto on a train or bus from Osaka which is the nearest city with an International airport. In both cases, you will be dropped off at Kyoto Station. From here, there are 2 ways to get yourself to the hotel.
The more expensive and (possibly) longer option is to catch an Uber. It's a 10 minute ride and will set you back between AUD 15-20, or, you could jump on one of Japan Rail (JR) trains and get down at the Nijo station, which is the 3rd stop from Kyoto station. The ticket price is about AUD 2.20 and the hotel is directly opposite from the station.
Moxy Kyoto Booking
Being one of Marriott's Select Service brand (Marriott's spin on the word budget), cash prices at Moxy Hotels are generally very affordable. It was about AUD 130 per night at the time of my stay so I just paid cash. With cash rates being so low, redeeming points is poor value. Award nights typically cost between 23,000 – 28,000 points per night.
If you are travelling to Kyoto for Cherry Blossoms when cash rates even at Moxy Hotels hit the stratosphere (I am seeing $450+ at the moment), redeeming points might make a lot more sense. Although with dynamic pricing at play, that's not a sure thing either.
Moxy Kyoto Check-In & Lobby
After a missed connection and 6 hour delay in Tokyo, I arrived at the hotel around 5 pm in the afternoon.
One of the oddities of Moxy Hotels is that they do not have your traditional check-in desks or reception area. You check-in at the bar. This is in line with Marriott's stated goal of positioning the brand at young and the young at heart travellers. In fact, Moxy don't even call their target customers as guests or customers, they call them fun hunters.
Check-in experience was friendly & efficient, just don't expect too many elite benefits. A card was presented and I was asked to choose my Welcome Gift from the three available options as you can see below.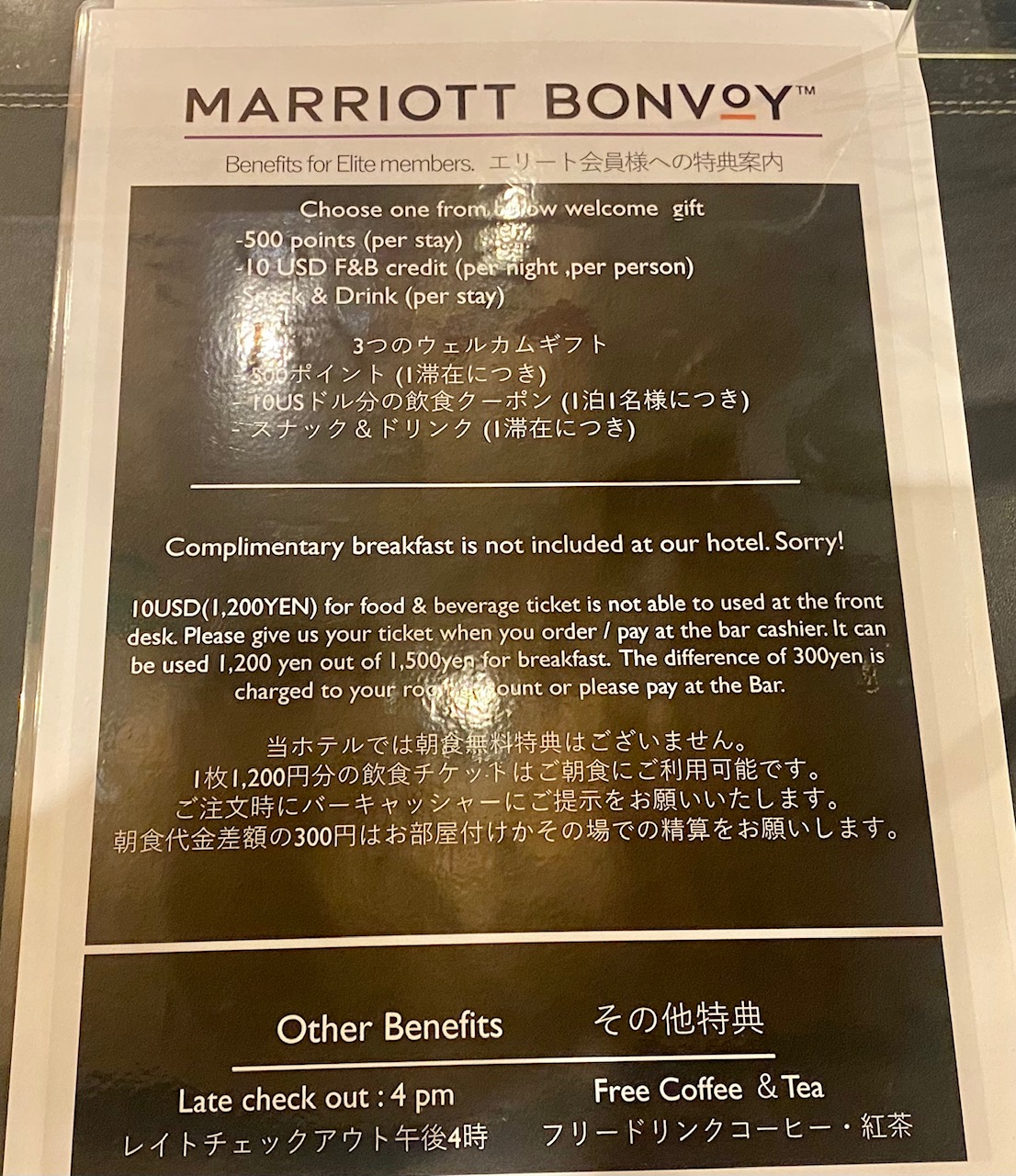 Marriott Bonvoy Elite Welcome Gift, Moxy Kyoto
Since the property does not offer free breakfast to Marriott Bonvoy elites, the option that made most sense was USD 10 daily Food & Beverage credit as you can use the credit to offset JPY 1,200 (1,200 Japanese Yen) off the cost of breakfast. So while not entirely free, I only paid about JPY 300 per day (AUD 3.30) for breakfast.
Gold elites and above also receive a drink coupon to redeem at the bar anytime during the stay. I had the Moxy cocktail which was alright.
No upgrades were offered or sought, but at one point during the check-in the staff did say that they had assigned me a bigger room.
With formal business out of the way, I picked up the room key and spent a few minutes surveying the lobby which wears a rather funky look. There is a small sitting area adjacent to a fireplace directly opposite from the bar, perfect for the long and cold Kyoto winter's.
Further down, there is a very large open space where you could catch up with friends for some chit-chat.
On one corner you have boardroom-style table and chairs with pendant lighting and a wall unit with hanging shelves stocked with books, art pieces, model briefcases and all kinds of display items. There is even an iMac desktop, although good luck with getting any serious work done.
On the other end a leather sofa runs along the length of the wall where fun hunters share sitting space with giant teddy bears. The walls above are covered with the kind of art work only millennials could explain.
There are lockers for storage that you could hire free of cost for the duration of your stay.
All in all, the whole space feel more like a Club than a hotel lobby. This might not be to everybody's liking but probably appeals to some of Marriott's younger clientele. At this point, I made a dash for the lifts and up to my room on Level 2.
Moxy Kyoto Standard Queen Room
At just 17 sqm in size, the room is compact with the Queen bed taking up most of the space. There were a pair of robes and a bunch of pillows resting on the bed.
A nightstand on the corner had a clock & 1980's style telephone. On the other end of the bed, you had a lamp fixed to the wall and the power board with light controls as well as all kinds of outlets.
A fold-out table and chair is available if you wanted to get any work done. I spent a few hours working and although the set-up isn't ideal, I was able to make it work.
Moxy Hotels don't do wardrobes, instead you have one of the walls dotted with about a dozen odd hooks. In a small room where space is at premium, I quite like this feature and regularly used it to hang my jacket, backpack, robes etc.
Lastly, there was a small free-standing unit just outside the bathroom. It contained cups, electric kettle and provisions for making tea and coffee on top. Underneath you had the safe and a bar fridge which was empty.
The bathroom was positioned directly across from the bed. Like the room itself, it was small but fully functional. It had a vanity with single sink and a shower but no bath. I will let the pictures speak for themselves.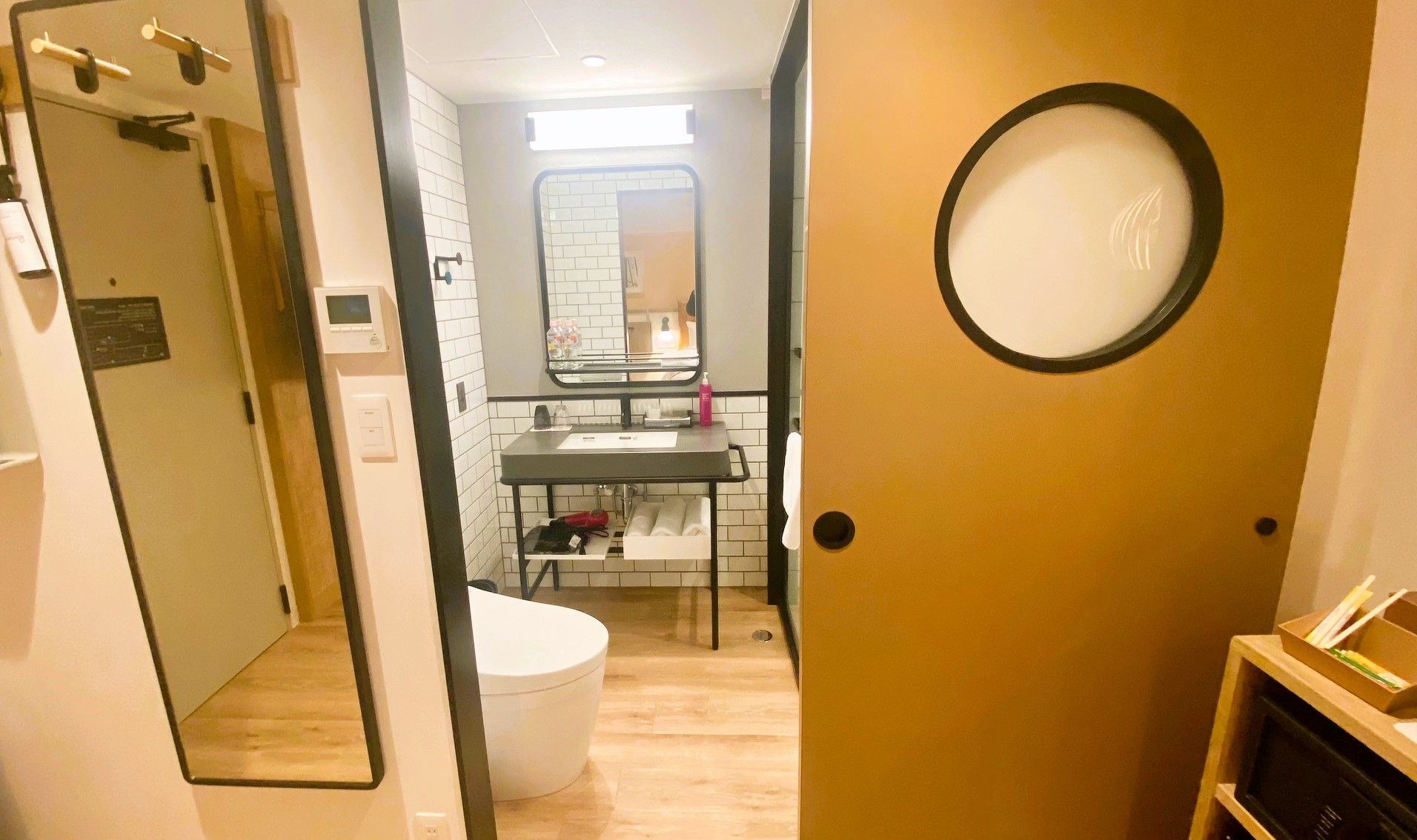 Queen Room Bathroom, Moxy Kyoto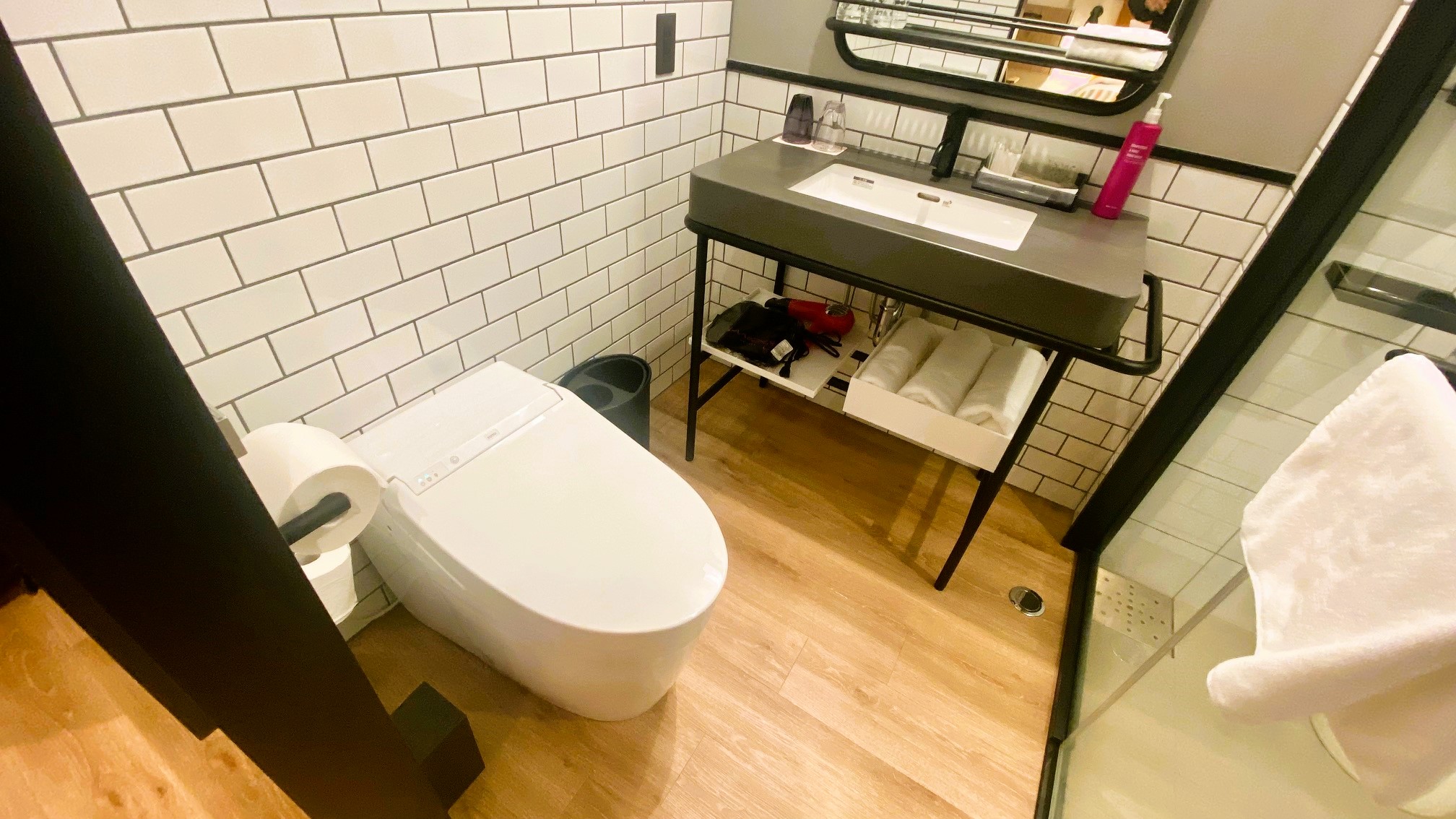 Queen Room Bathroom, Moxy Kyoto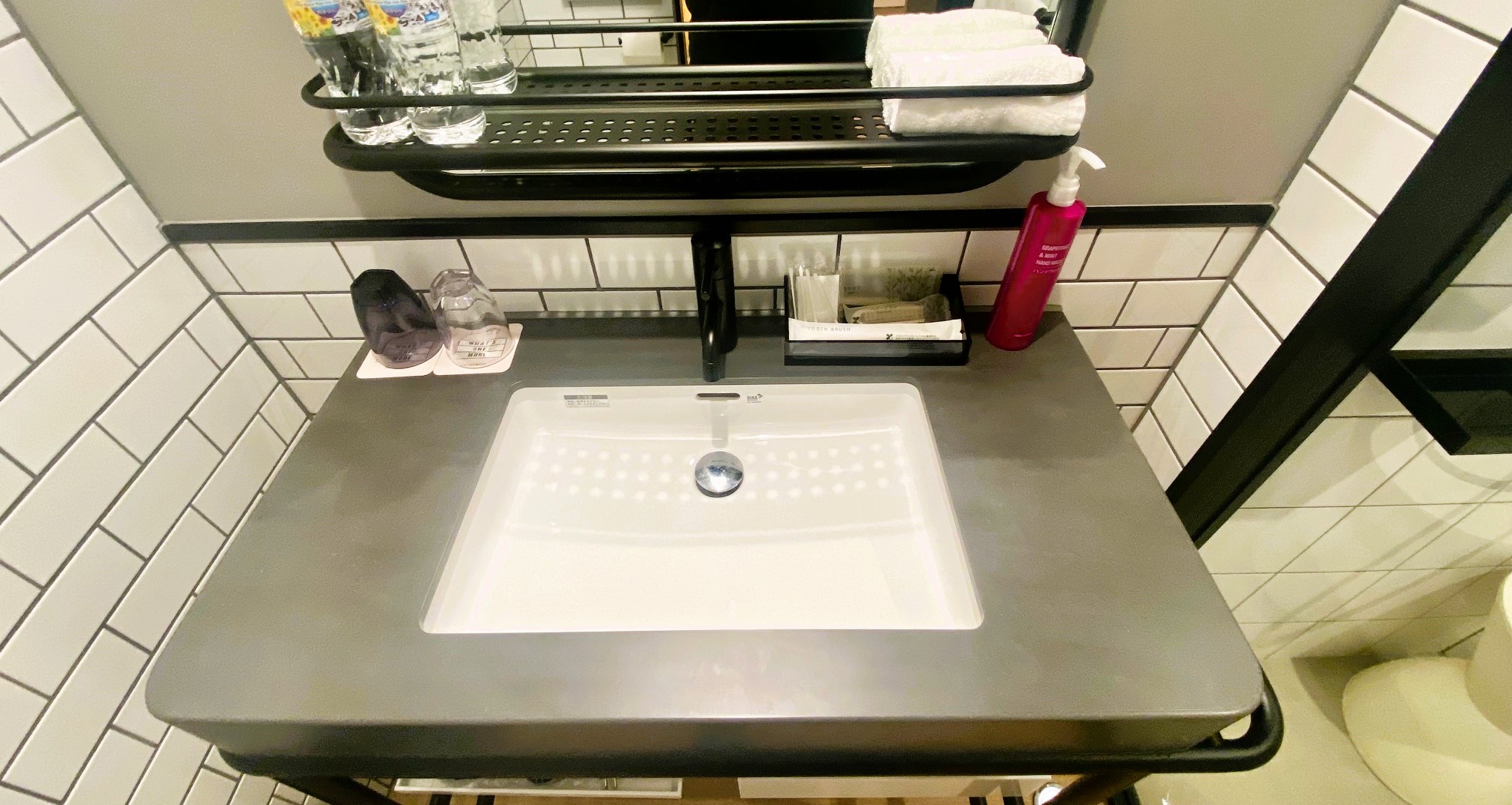 Queen Room Bathroom, Moxy Kyoto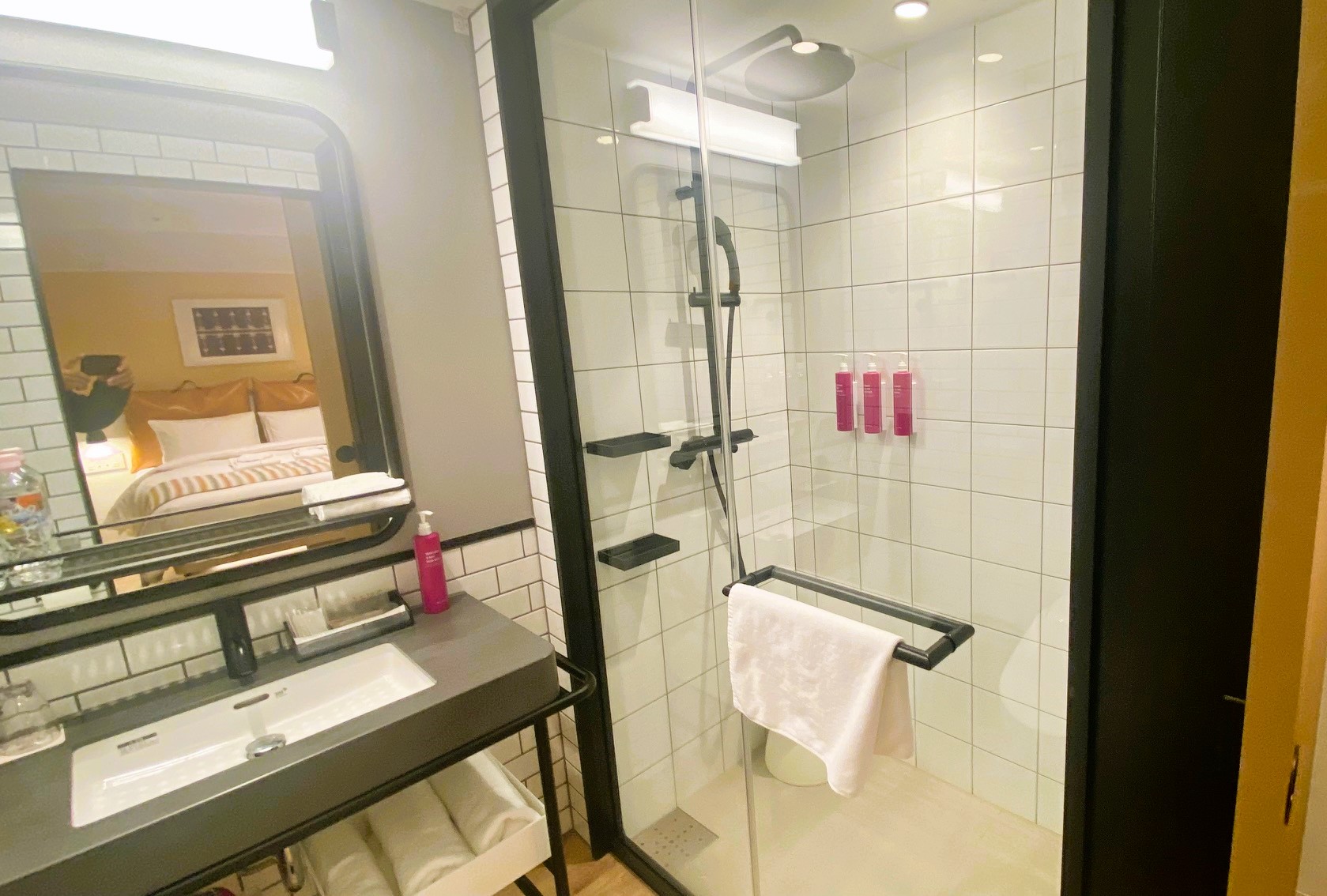 Queen Room Bathroom, Moxy Kyoto
In terms of amenities, you had items for use towards personal & dental hygiene, bottled water and a bunch of towels. Moxy Hotels have never offered single use toiletries or bath amenities and this property was no exception as products such as shampoo and shower gel were inside pump bottles fitted to the shower wall.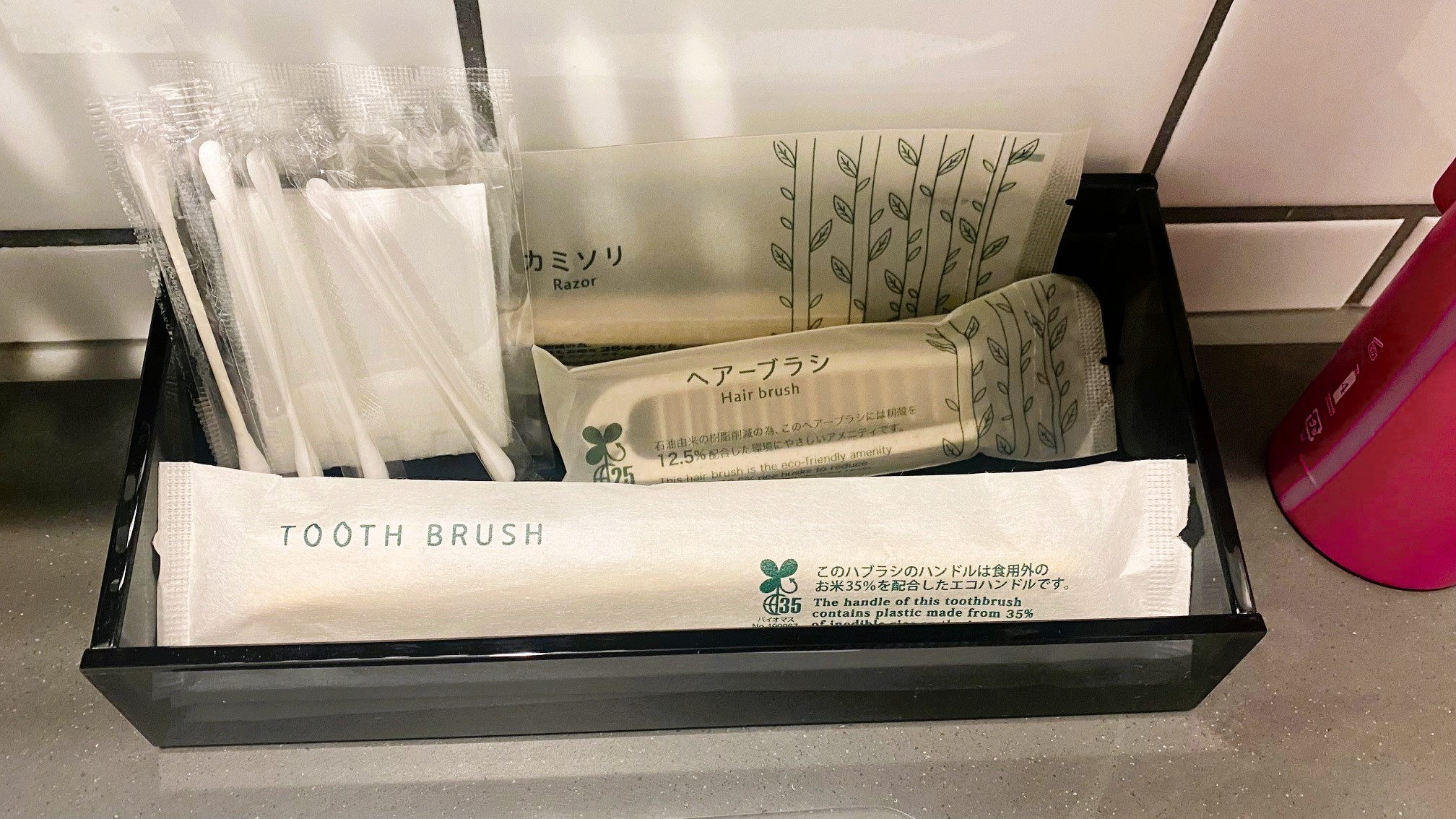 Queen Room Bathroom, Moxy Kyoto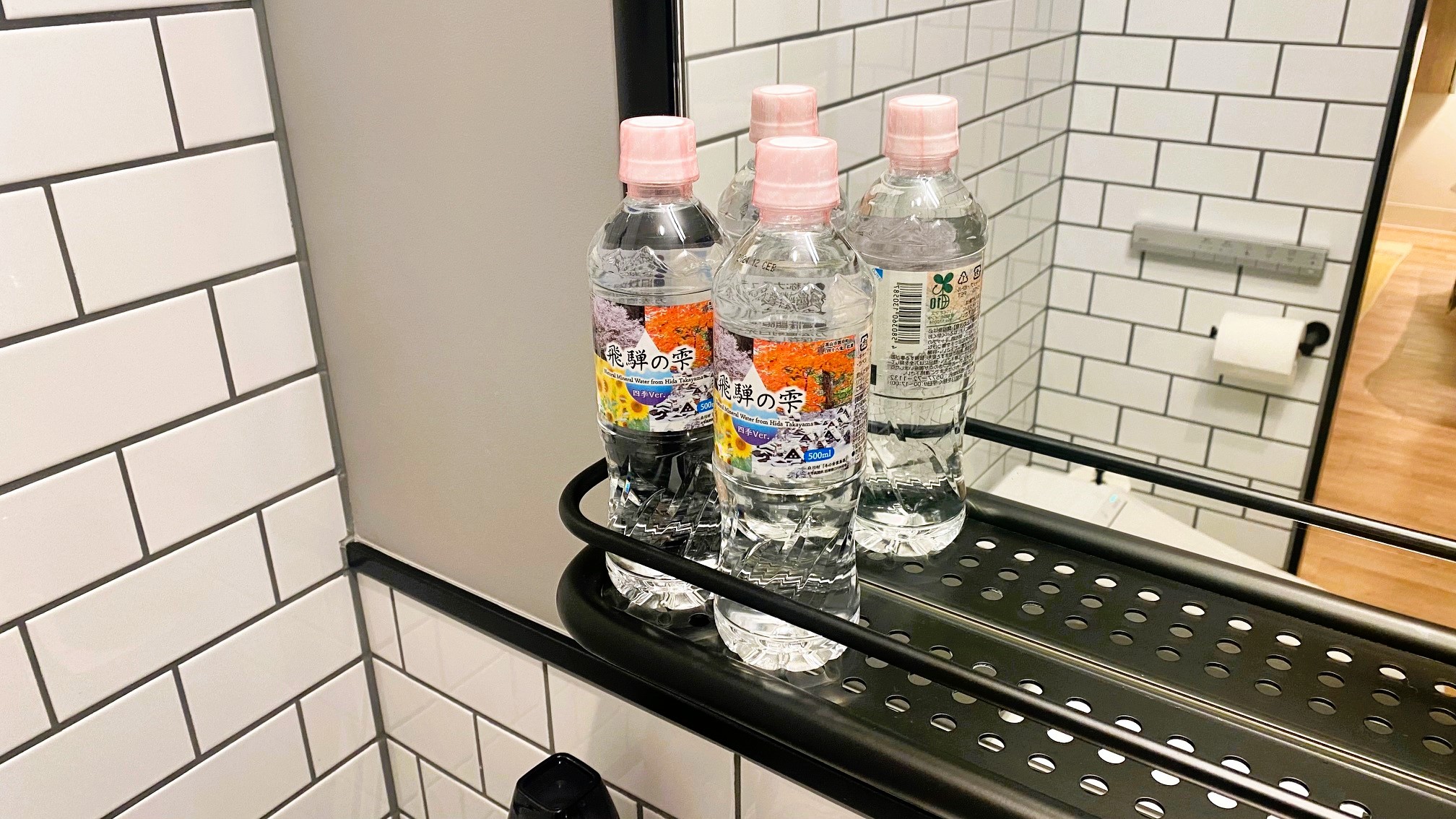 Queen Room Bathroom, Moxy Kyoto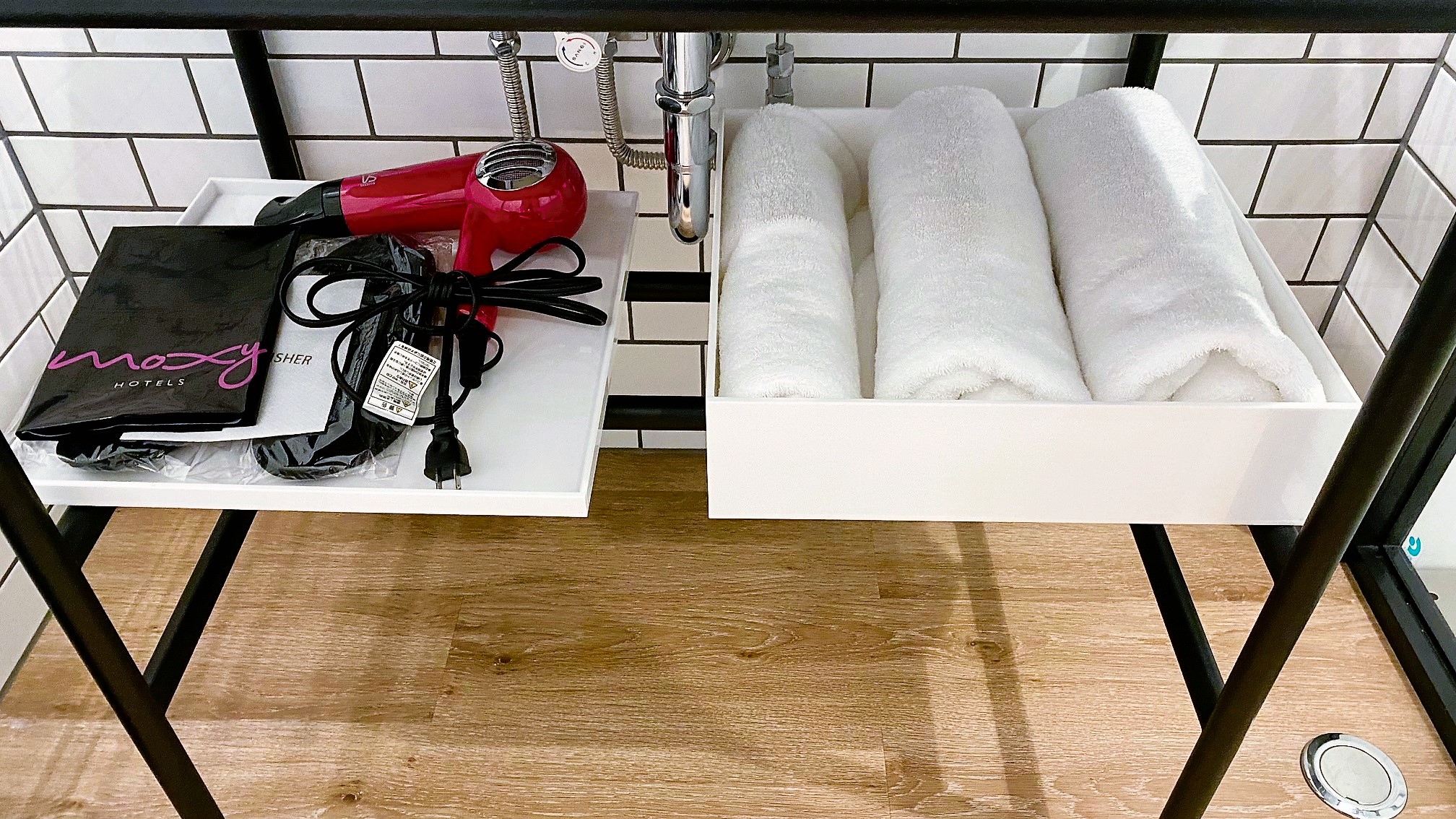 Queen Room Bathroom, Moxy Kyoto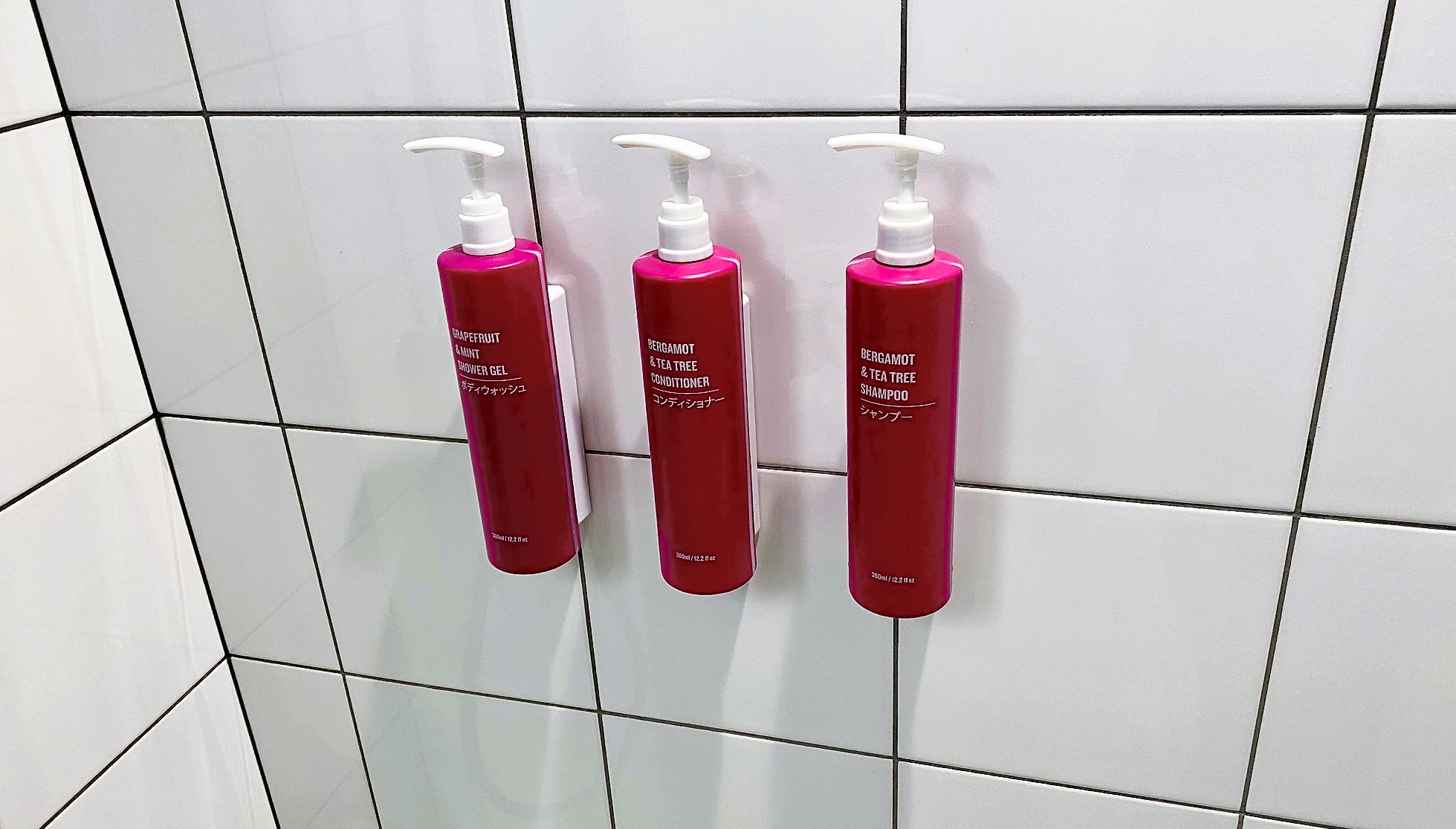 Queen Room Bathroom, Moxy Kyoto
Moxy Kyoto Dining
The bar on the ground floor acts as the sole dining option at Moxy Kyoto and the kitchen is open daily from 6:30 am – 9 pm. It is a small space geared towards casual dining and offers a few different styles of seating options as you can see below.
Breakfast is served daily between 6:30 am – 10 am with a rather limited menu of just 3 main dishes. You order the main dish at the bar and then pick up 2 items from the side dish area.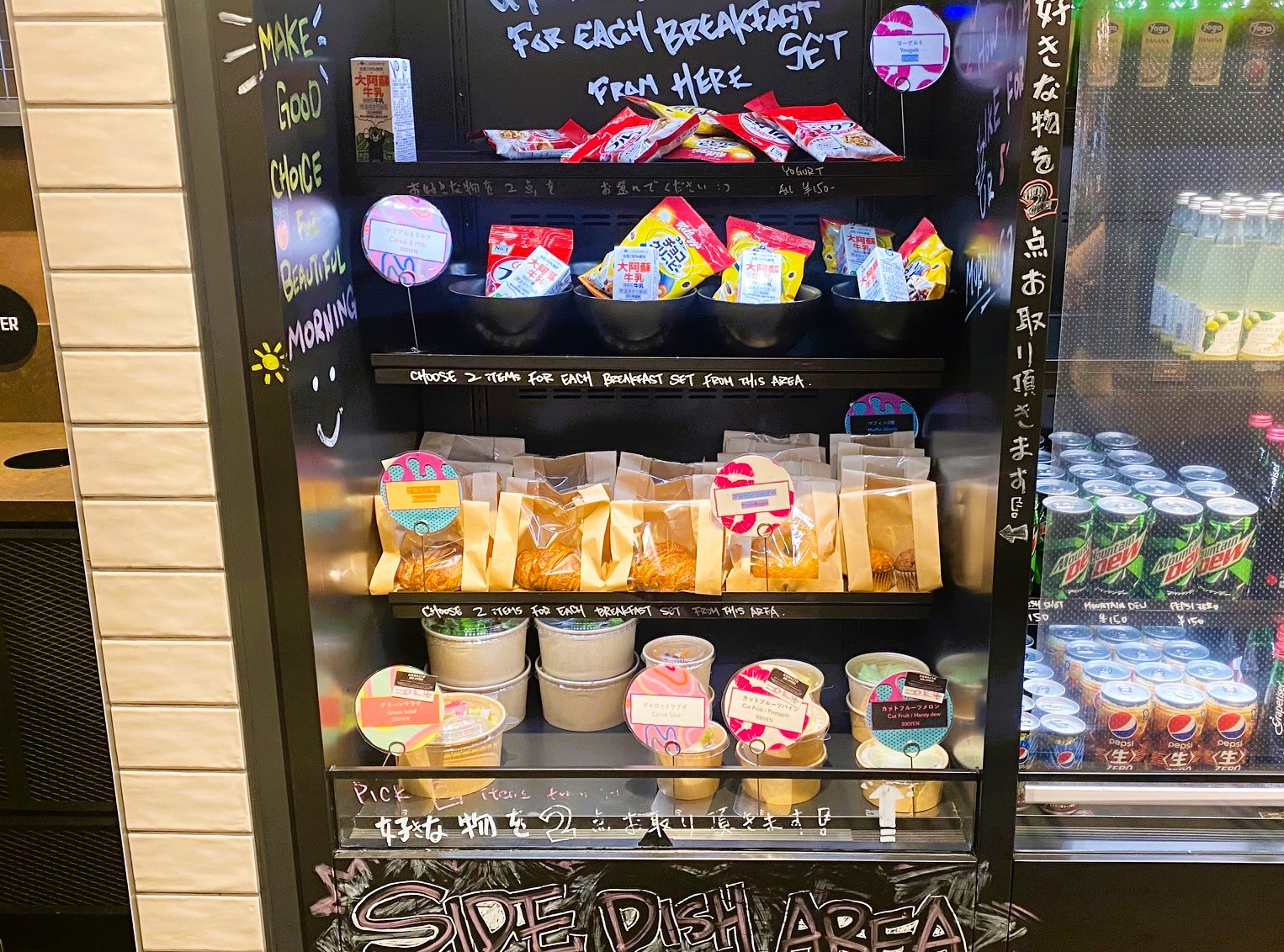 Breakfast Side Dish Area, Moxy Kyoto
There were all-you-can-drink fruit juices, still water, tea and coffee on offer. In fact Marriott Bonvoy elites can help themselves to complimentary tea and coffee any time of the day or night, which was nice.
I had the ramen on 2 mornings;
and the sandwich dish on the remaining days. I also had the croissant and yogurt as my 2 side dishes each day.
Besides breakfast, the bar is also open for lunch and dinner. I dropped-in one night for dinner and ordered the rice and chicken dish.
While nothing I ate during my stay stood out, it was more than acceptable if you just wanted to fill-up without making the effort to venture out.
Moxy Kyoto Guest Amenities
While the property does not have a Club lounge, Spa or Valet service, it offers a couple of amenities that budget travellers and health enthusiasts highly value.
There is a coin-operated laundromat in the basement which guests can use. Prices start at JPY 400 (AUD 4.50) per load for a 35 minute wash cycle and go up to JPY 600 (AUD 6.50) for a longer 120 minute cycle.
I never used it, but can imagine how popular this would be with long-term travellers spending lot of time on the road.
There is also a reasonably well stocked gym with good amount of cardio & weight machines. With the amount of walking and hiking I was doing on a daily basis, I did not have the energy to hit the gym during my stay.
In Conclusion
I enjoyed my stay at Moxy Kyoto and wouldn't mind returning should the circumstances be favourable. The rooms are compact (but not tiny) and public spaces are well maintained. The somewhat outlandish décor and the millennial vibe may not be to everyone's liking, although it didn't really bother me in the least.
In a nut-shell, if you are a Marriott loyalist, aren't too fussed about the elite status trappings and simply looking for a place to sleep somewhere in Kyoto, Moxy Hotels should definitely be in your consideration.
Have you stayed at Moxy Kyoto? Leave a comment below.