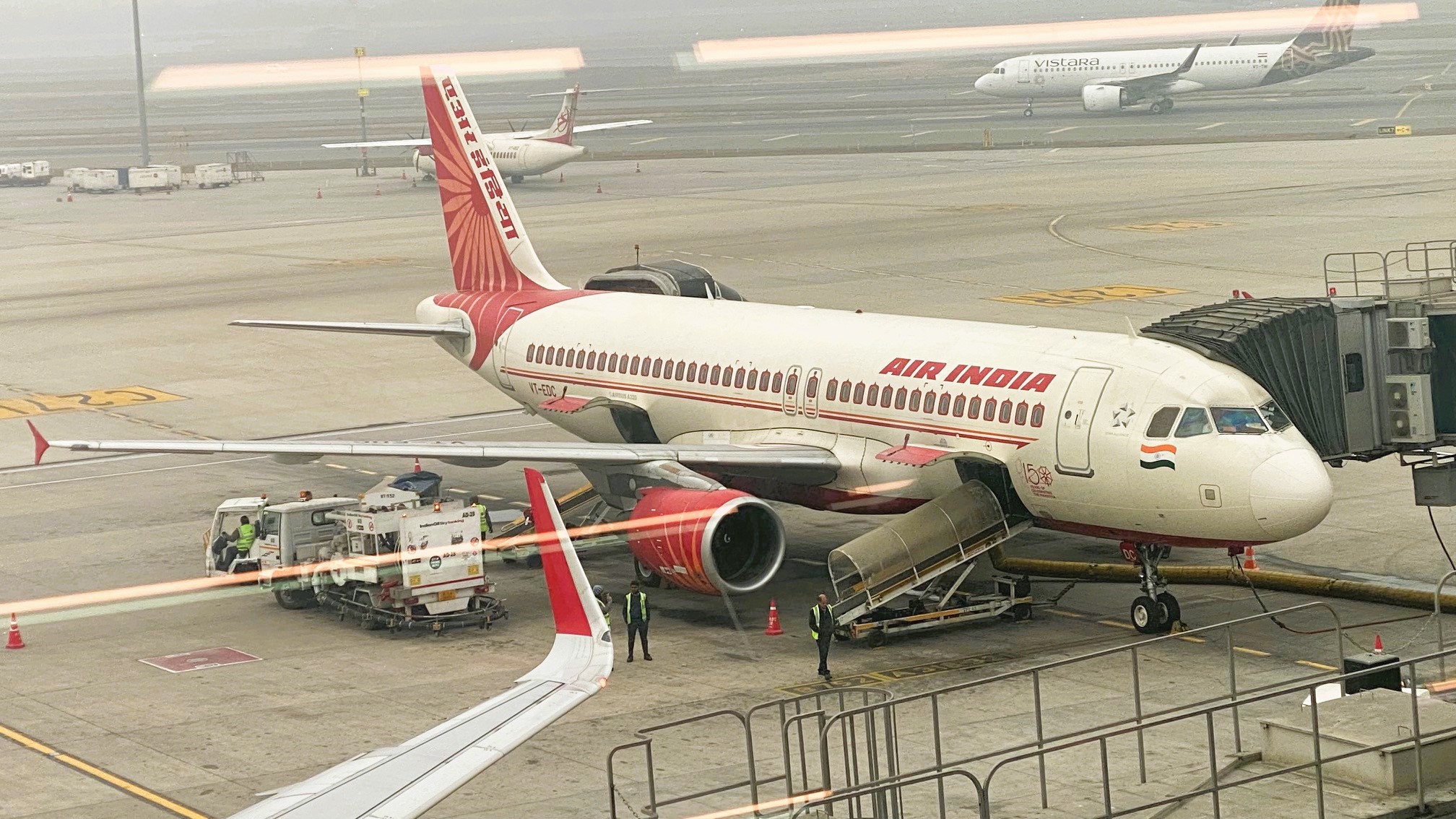 I recently returned home after spending 4-weeks in India. Although I spent majority of that time at my parents home, I did get a chance to check out Air India's Domestic Business Class offering on a short trip to Delhi.
Booking
Air India is part of Star Alliance, so you could redeem points from other Star Alliance currencies such as KrisFlyer Miles or United Miles. For my trip, I redeemed 15,000 Aeroplan Points (plus $55 in fees and taxes) for this short 1-hour hop.
Cash prices on this route generally run under $270, so you are not exactly getting a tonne of value by redeeming points, even so Aeroplan redemptions are relatively better value than say KrisFlyer, who wants 29,000 Miles, or United Mileage Plan which charges a ridiculous 57,500 Miles for this flight.
Earning Aeroplan Points
Aeroplan points aren't the easiest of currencies to earn for those of us based in Australia, but the value it offers is so irresistible that you should not totally disregard it.
Relevant Reading : Hidden Gems of Aeroplan Program
The recently launched Star Alliance Card in Australia is probably the easiest way for most people to earn Aeroplan points.
This card earns 1 Star Alliance point per $1 on up to $3,000 each month. The earnings drop to just 0.50 Star Alliance Point per $1 spend on spends over $3,000. Really, nobody should be spending a cent more than $3,000 per month on this card.
You can transfer Star Alliance points to Aeroplan in the ratio of 1:0.80 (1 star alliance point = 0.80 aeroplan point). Put another way, the card earns 0.80 Aeroplan point per $1 on up to $3,000 in spend each month. I have written extensively on Star Alliance Card previously, which you can check out here and here.
The other practical way to earn Aeroplan points is by transferring American Express Membership Rewards Points to Aeroplan via Marriott Bonvoy. If you want to learn more about these partnerships and how to transfer points, you can do so over here.
Note that this option of generating Aeroplan points only makes sense when there is a transfer bonus on offer from Amex to Marriott, which they have offered at least once a year over the last few years.
Arrival & Check-in
My home airport of Bhopal is amongst the smallest in India (in terms of number of daily flights), so you don't need to get here any earlier than 90 minutes prior to the departure time. On this day, I arrived at the airport at about 12 pm for the 1:25 pm departure.
Check-in was an extremely relaxed affair, so relaxed that the desk agent actually handed me an Economy Class Boarding Pass which I didn't notice until I was getting ready to board. 😉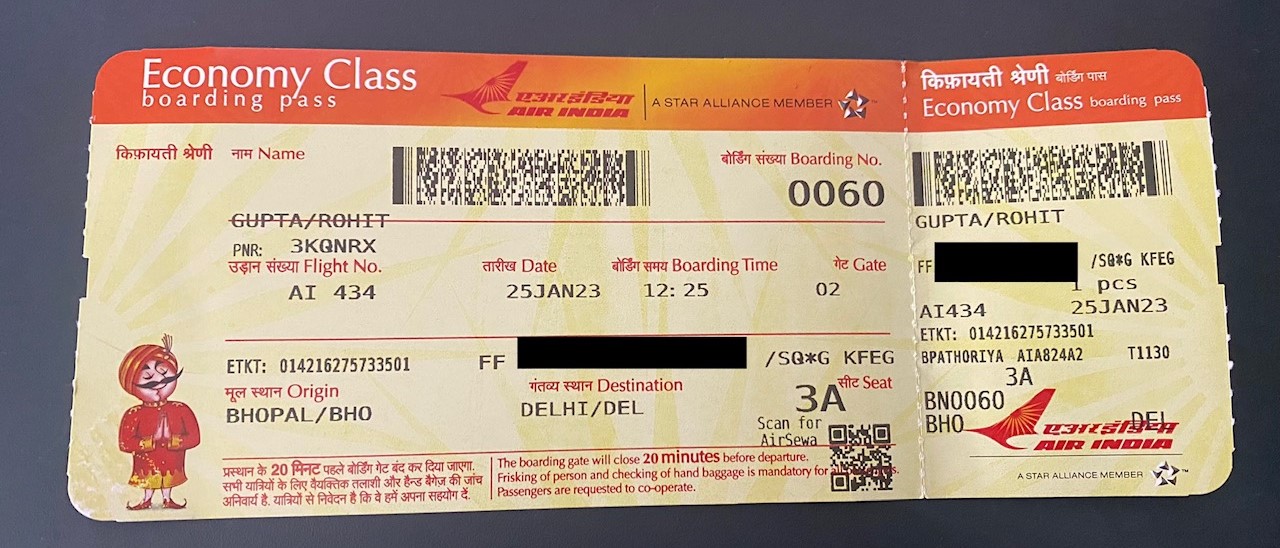 Have you ever received an Economy Class Boarding Pass when flying Business?
I showed the Boarding Pass to the agent who was going to board the flight and we both had a good hearty laugh about it. Turns out it was a first for him, as it was for me. To be fair, it was partly my fault too as I should have noticed the anomaly during check-in itself.
There are no lounges at Bhopal airport, so I whiled away time at a nearby café until boarding was announced.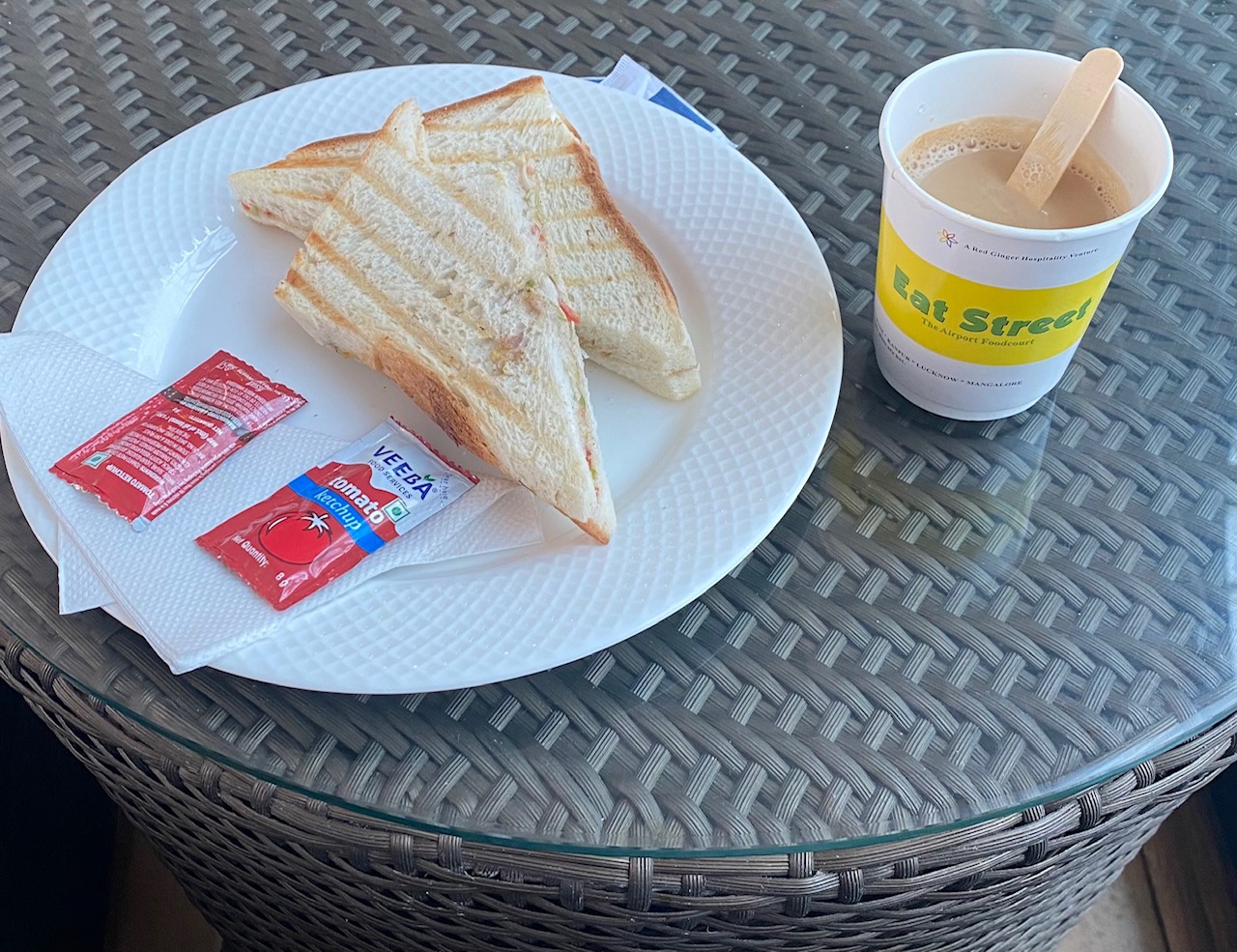 Coffee and Sandwich, Bhopal Airport Cafe
Air India A320neo Business Class Cabin
The Boarding Pass had 12:25 pm boarding time printed, but there wasn't really any movement until after 1pm. Boarding was first announced for elderly and those travelling with infants and small children, this was followed by Business Class, Air India Flying Returns elites and Star Alliance Gold members.
I entered the aircraft from the forward door and turned right. Business Class Cabin on Air India A320neo is laid out in 2-2 configuration, there are 3 rows of 4 recliner seats per row, for a total of 12 Business Class seats.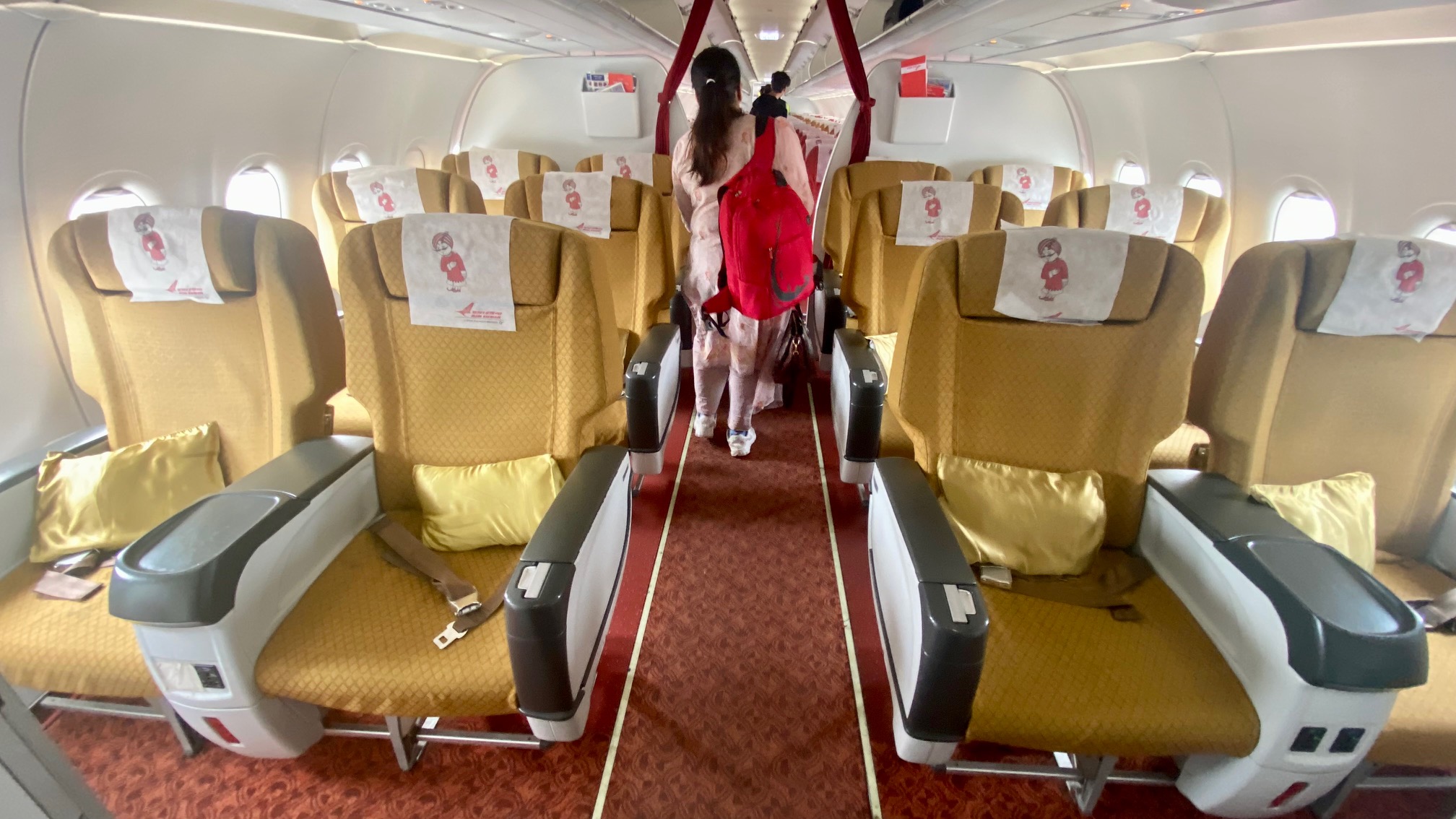 Air India A320neo Business Class Cabin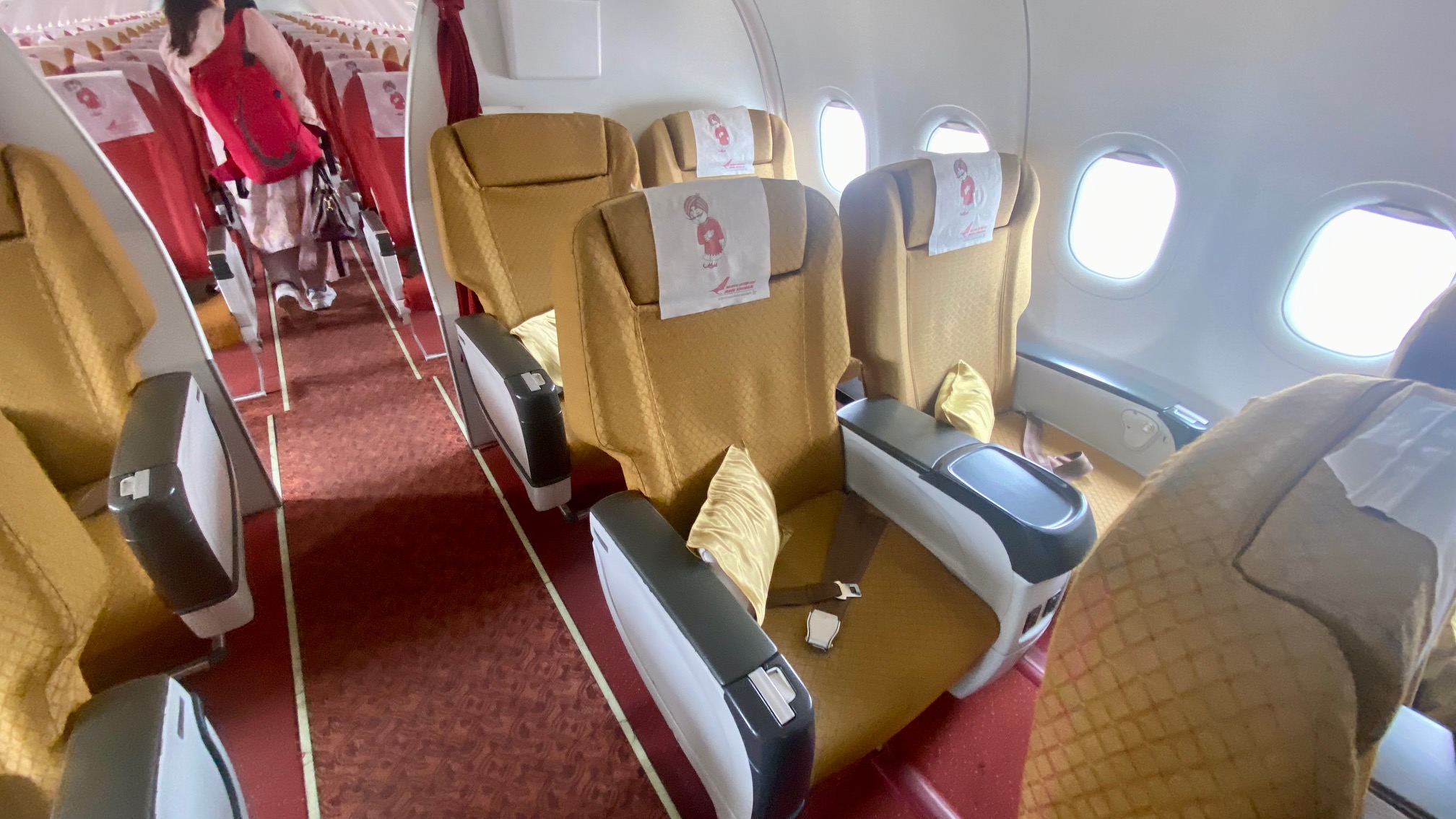 Air India A320neo Business Class Seats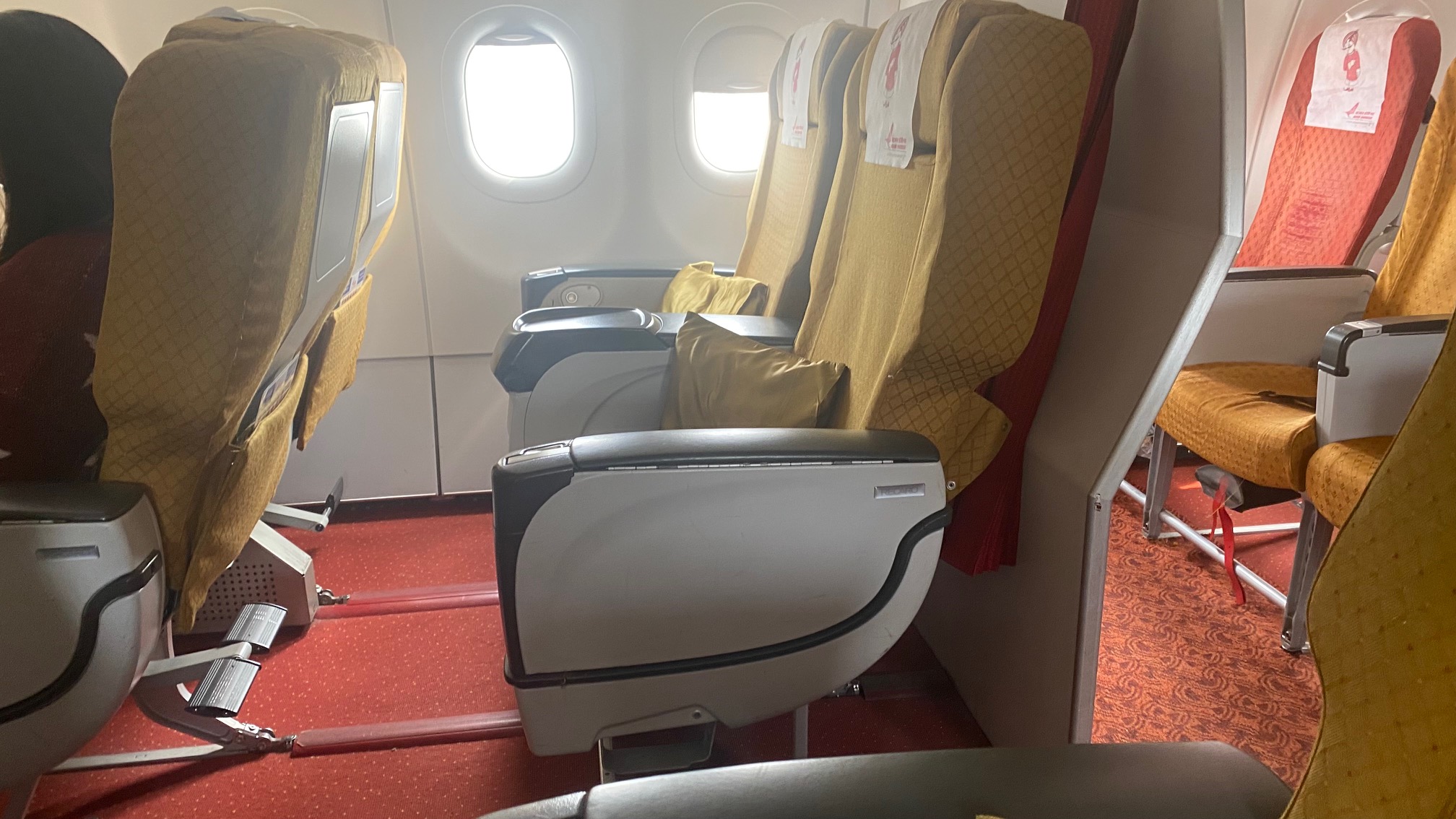 Air India A320neo Business Class Seats
You can tell from the colour schemes and finishes that the seats haven't really kept-up with changing times. This is primarily due to the airline being owned by the Govt of India and run as per the official babudom for more than 69 years, which has all but run the airline into the ground. Thankfully, last year the Tata Group bought the airline and have promised to completely overhaul it.
On this flight, I had selected Seat 3A which was a window seat in the last row on the left side of the cabin. Much like the cabin, the seat was pretty bare-bone (save for a shiny pillow) although the legroom and recline was excellent. Vertically challenged passengers will appreciate the foot rest.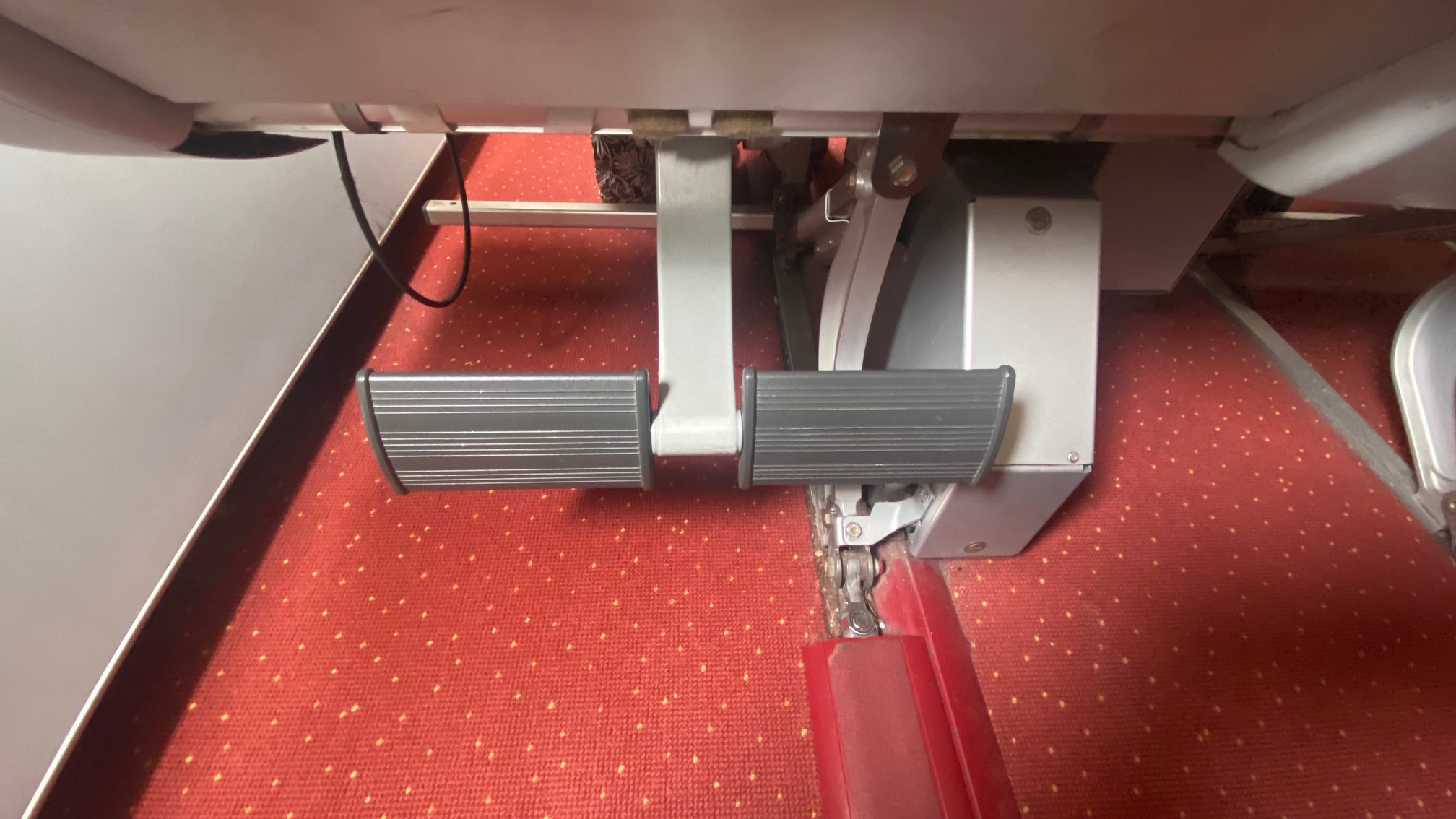 Legroom and Foot Rest, Air India 320neo Business Class Seat
There was a shared console in-between seats where you could place your drink or a portable electronic device.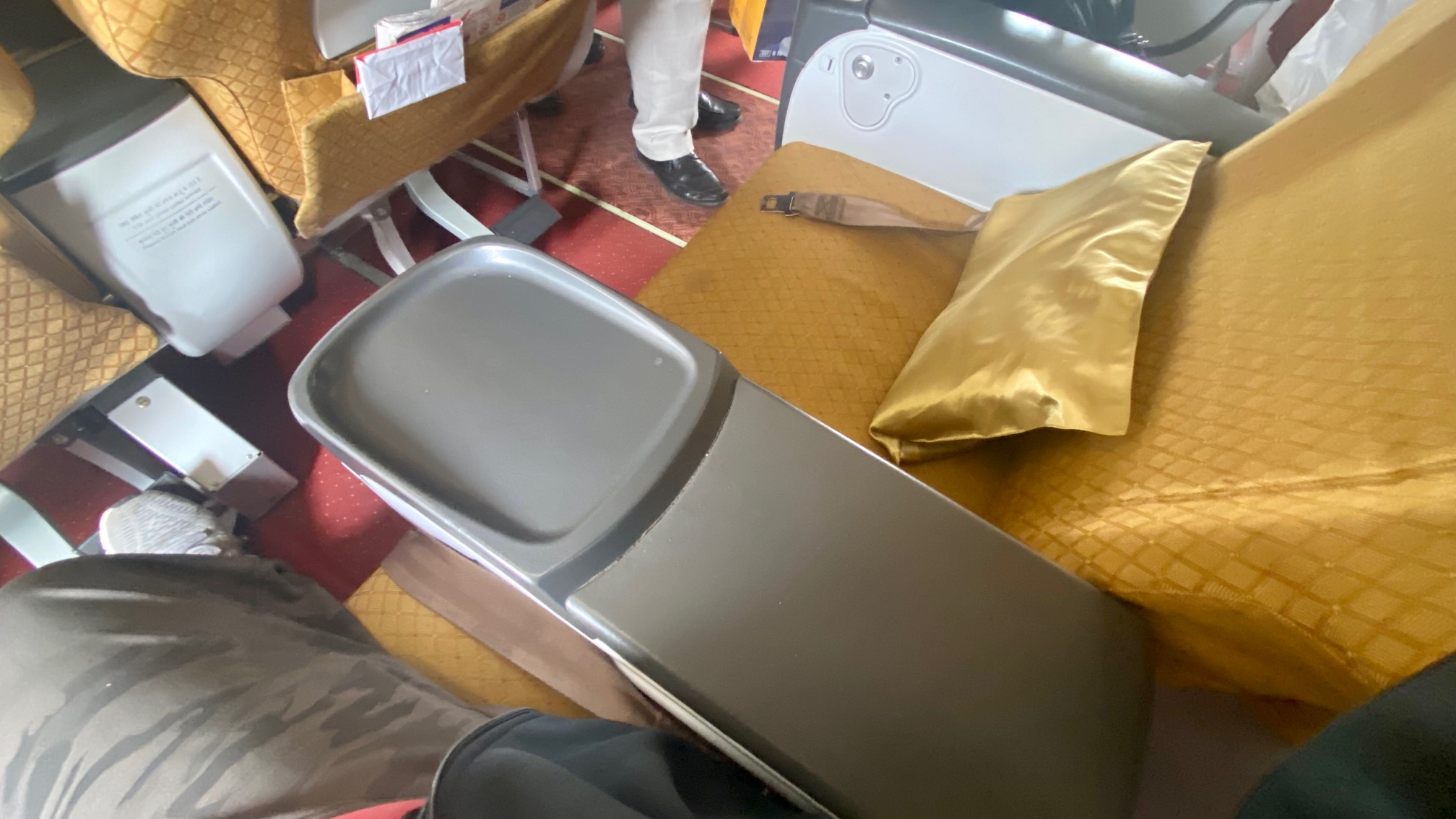 Shared Console, Air India 320neo Business Class Seat
There is no seatback entertainment screen or the ability to stream content on your own device, and don't even dream of inflight Wi-Fi on domestic flights when even international flights flying over India are required to disable the feature until they have exited the Indian airspace.
Instead, utilise this time to leaf through a book of some kind or making small talk with your fellow passenger.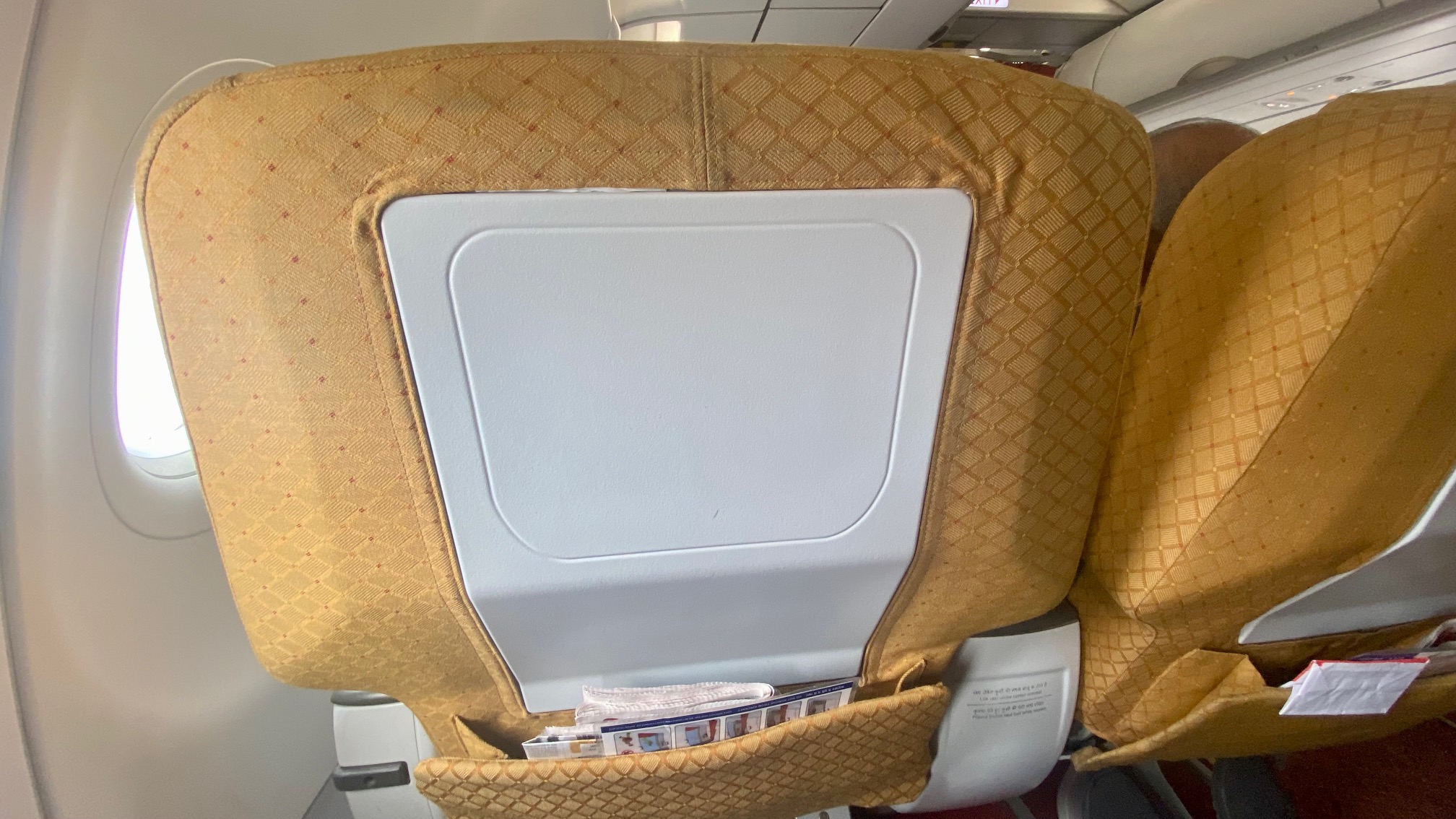 Air India A320neo Business Class Seatback View
The seat pocket in front was stuffed with newspaper and safety literature.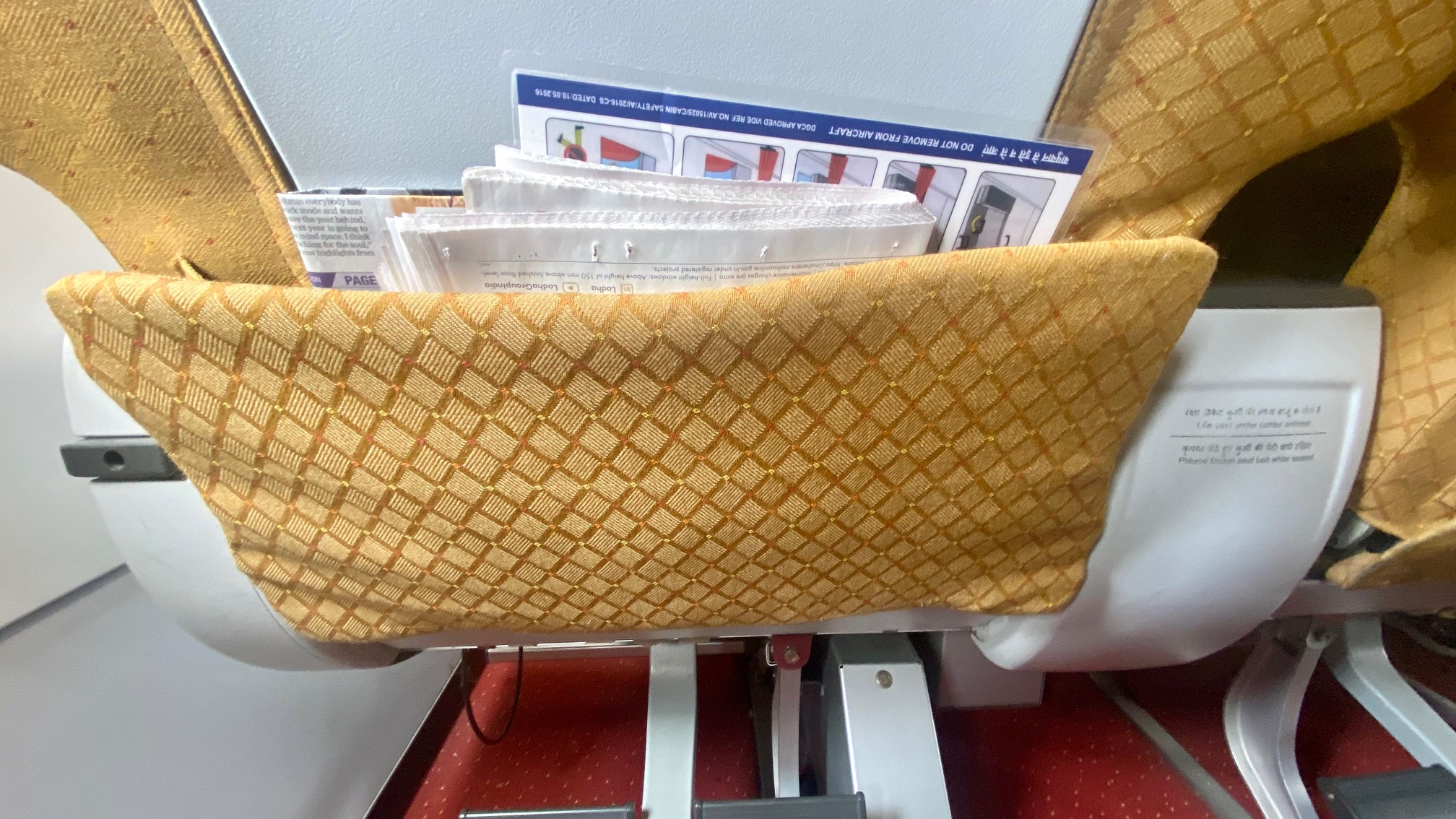 Air India A320neo Business Class Seat Pocket
The tray-table is stored inside the other armrest, there's also a push button on the inside of the armrest to recline your seat.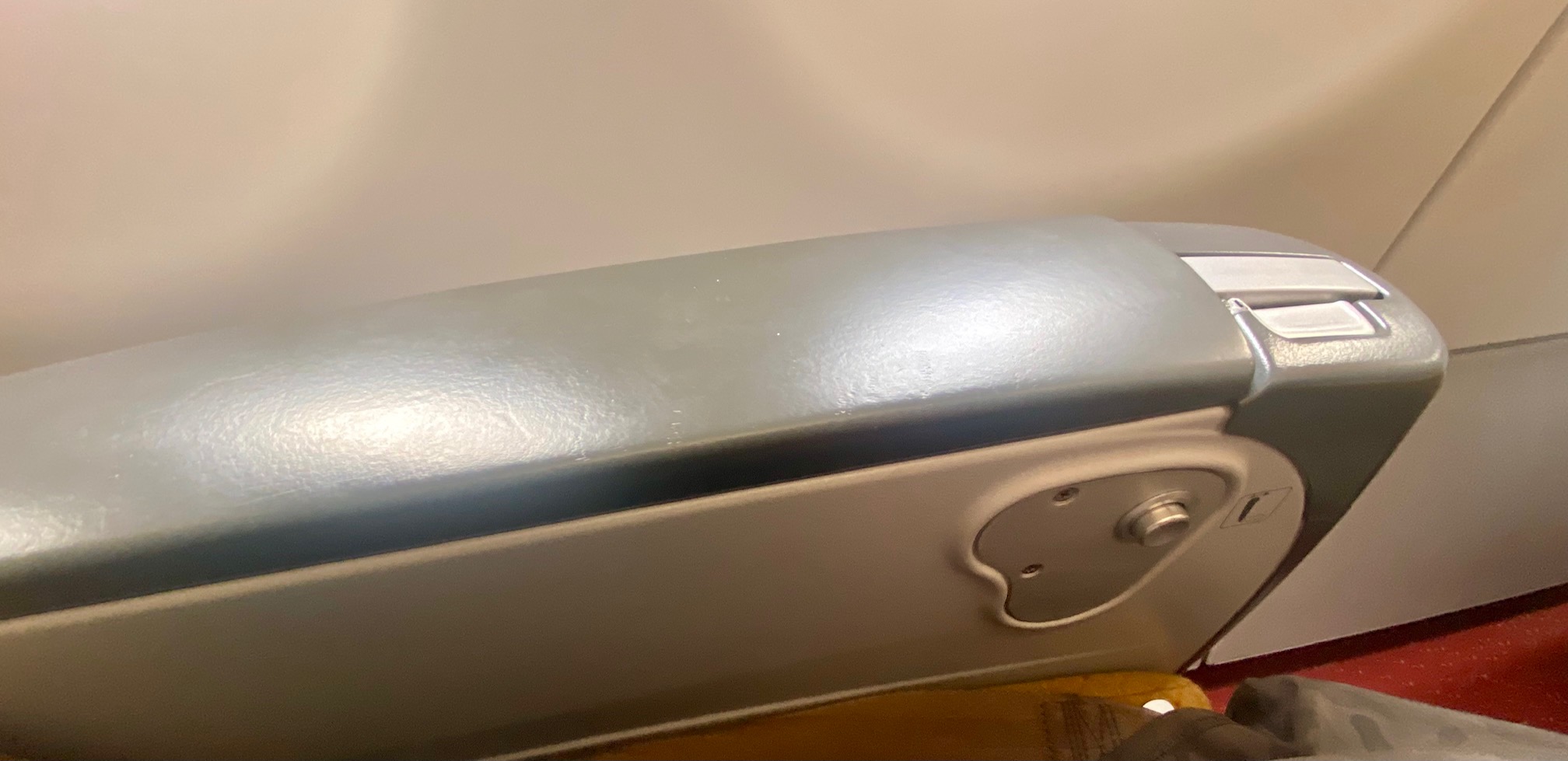 Air India A320neo Business Class Seat
To deploy the tray-table, lift the top, pull out the table and unfold. You could have the table half open or fully extended, which is always a nice feature to have.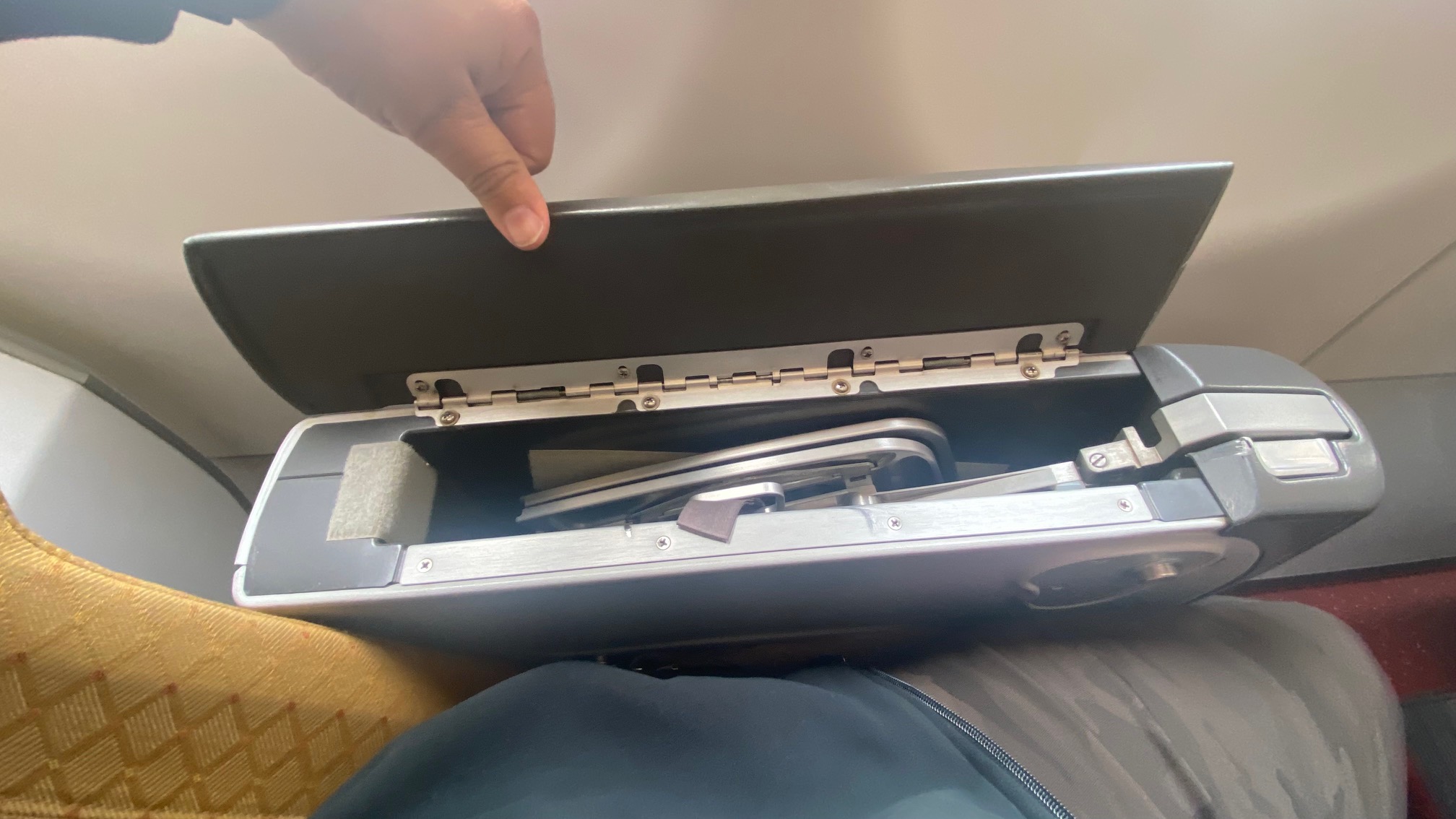 Air India A320neo Business Class Seat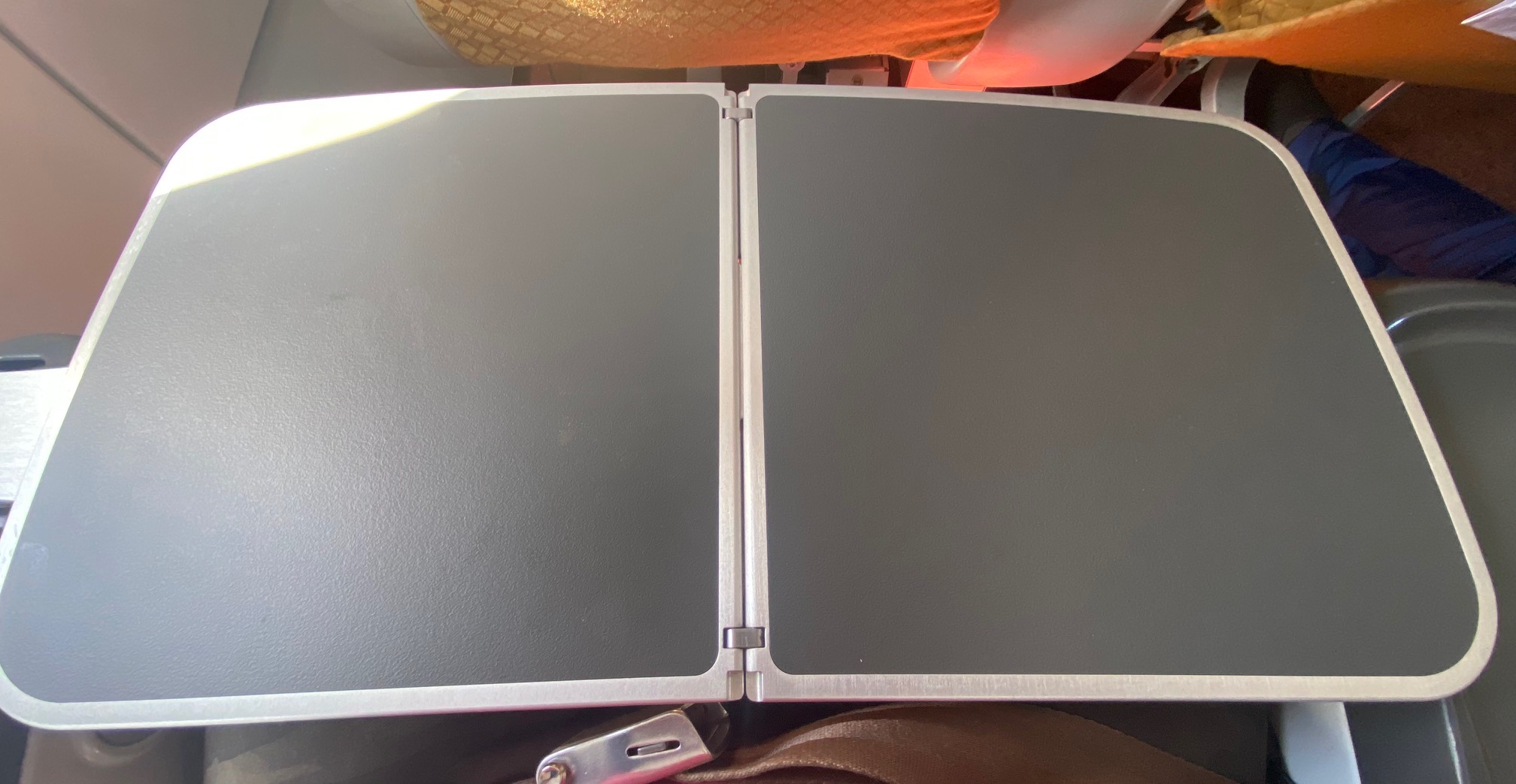 Air India A320neo Business Class Tray-table
Finally, there is a pair of International power outlet at the front of the shared console, adjacent to where your knees are in the sitting position. I forgot to take a picture, but rest assured they are definitely there and you are able to charge your devices.
Food & Beverages
A pre-departure drink was served within minutes of boarding the plane. The sole flight attendant working the Business Class Cabin brought out a tray with glasses of still water and orange juice. I had the juice.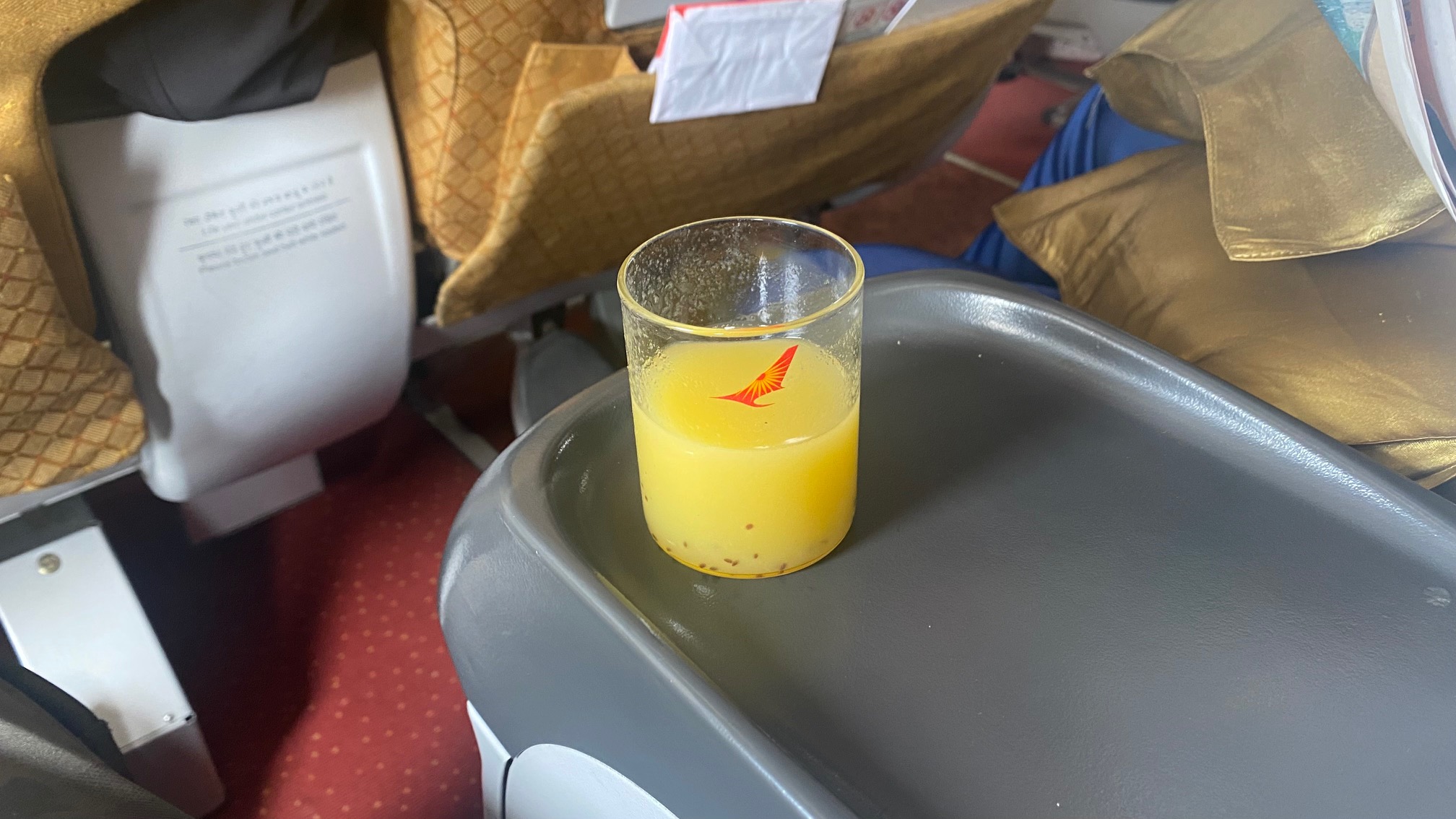 Air India Business Class Pre-Departure Drink
The pilot turned-off seat belt signs 10 minutes into the climb and once the plane had levelled off.
Soon after, printed menu cards were distributed in the cabin which reminded me of the kind of 1970's style hospitality I had only ever experienced on youtube videos. Menu cards have all but disappeared on domestic flights all over the world, so to be able to physically hold one was a great feeling.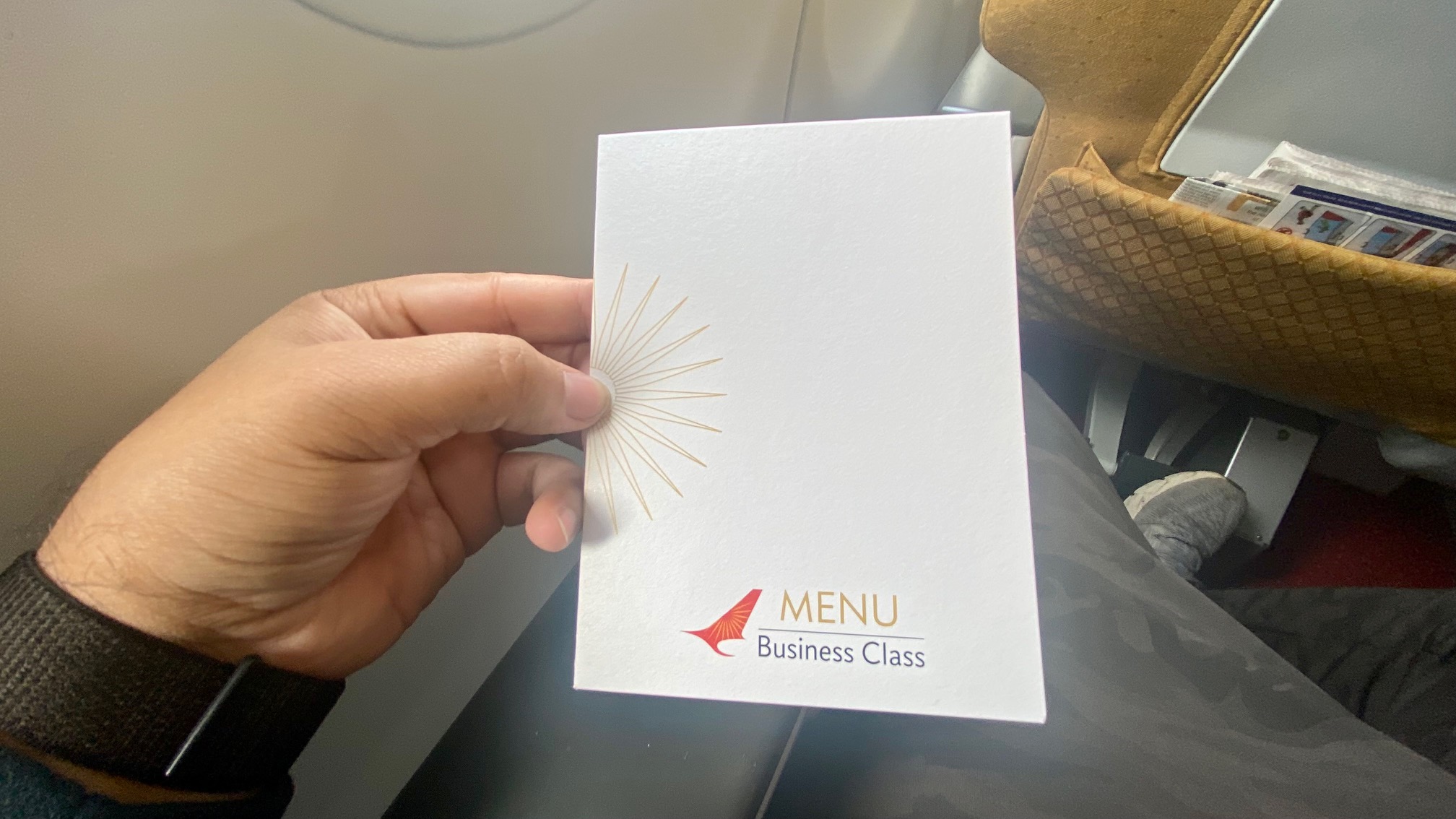 Air India Business Class Menu Card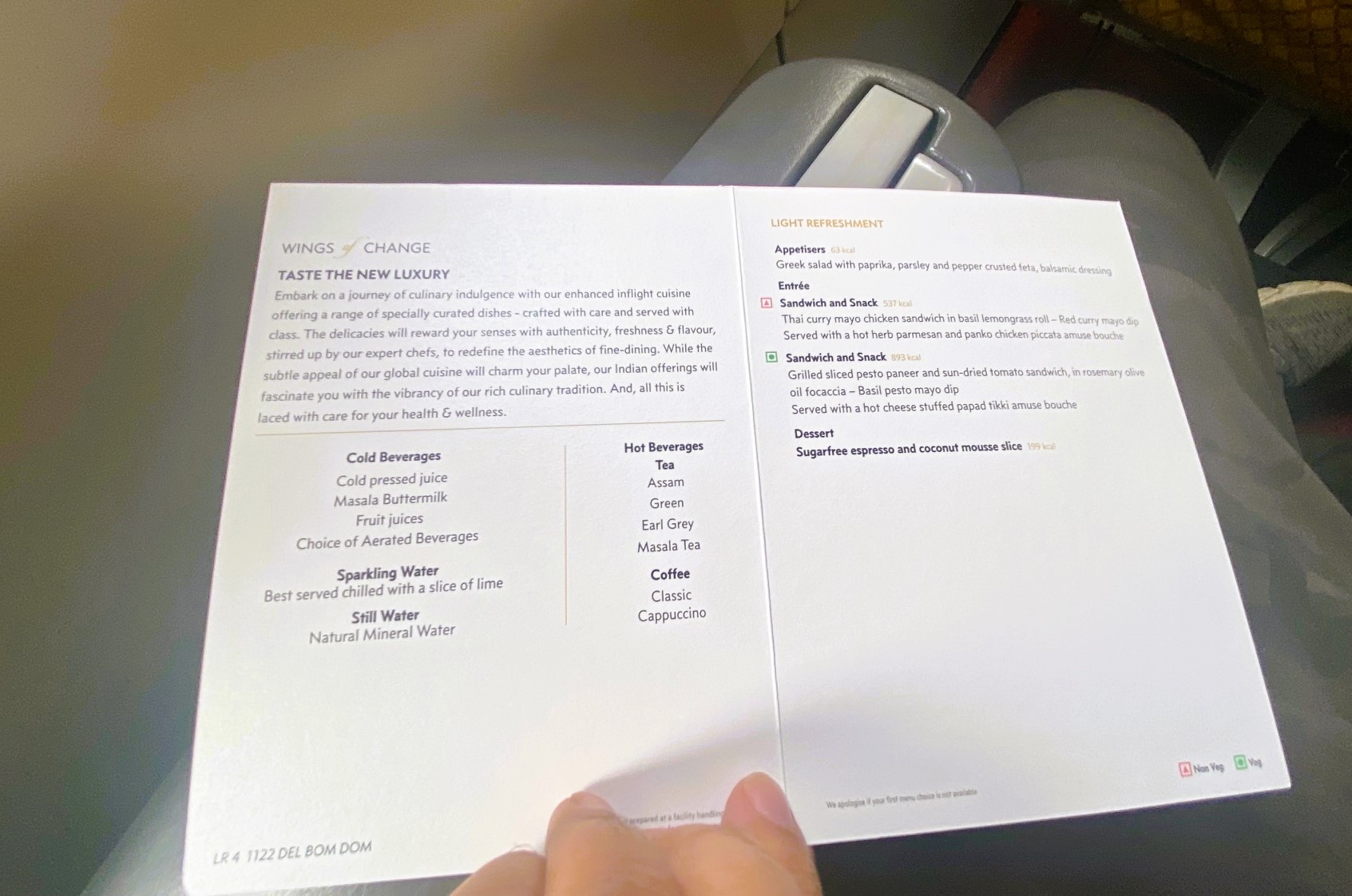 Air India Business Class Menu Card
Lunch was the main meal (only meal) on this flight. As you can see above, the options were chicken sandwich or paneer sandwich. I went with the former, but wished I had opted for the latter as the Thai curried mayo in the sandwich didn't taste good.
Everything was served at once and on a single tray, which was perfectly fine for a flight of this duration.
Although the menu card listed Greek salad as the entrée, what was served looked and tasted very different. It was more along the lines of oven roasted vegetables topped-up with crunchy bhujia. But it tasted good.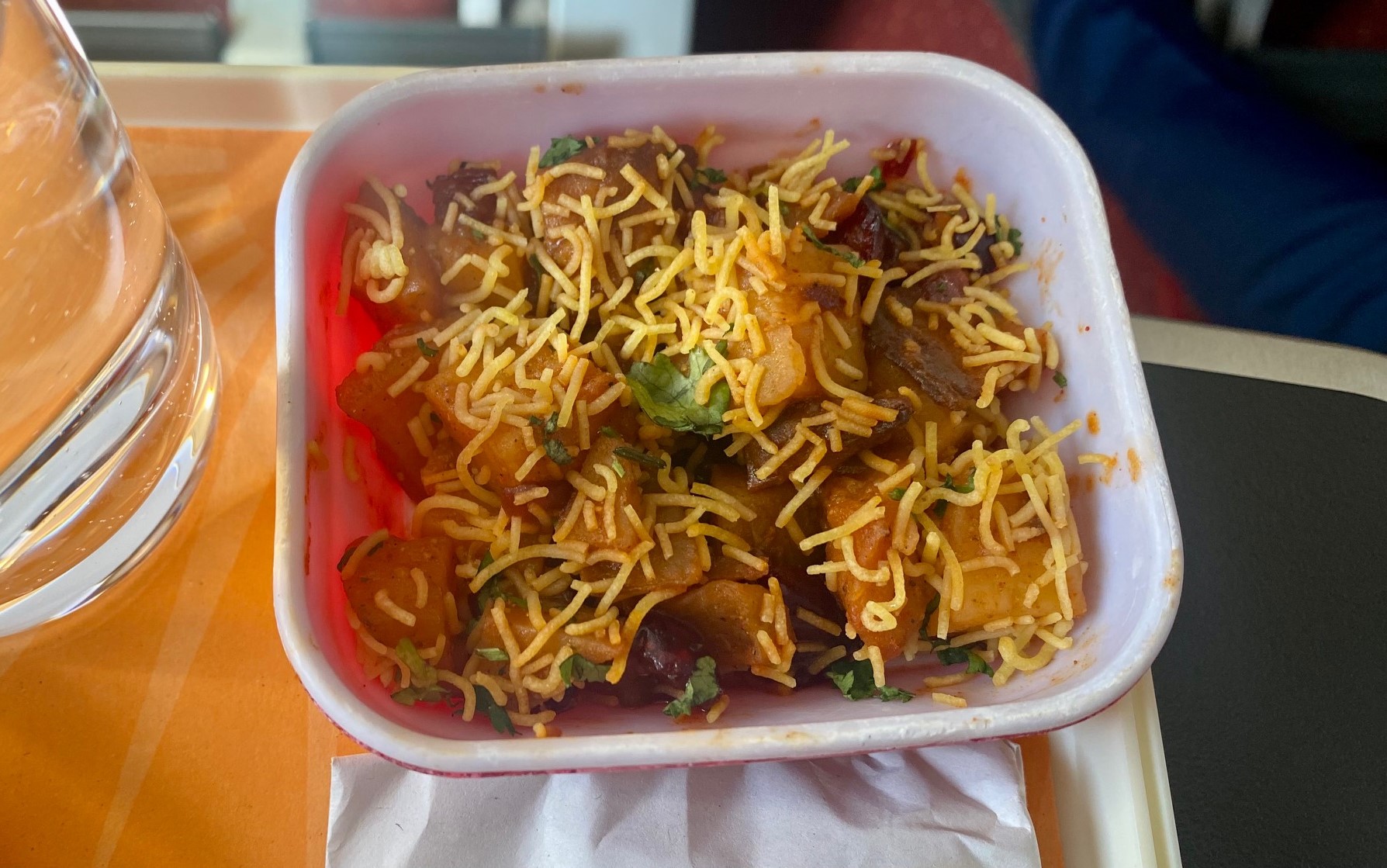 Air India Business Class Entree
The chicken sandwich came with coriander chutney and some kind of onion-carrot relish and 2 generous pieces of crumbed chicken.
The dessert (coconut mousse slice) was easily the best of all the dishes and I polished it off in no time.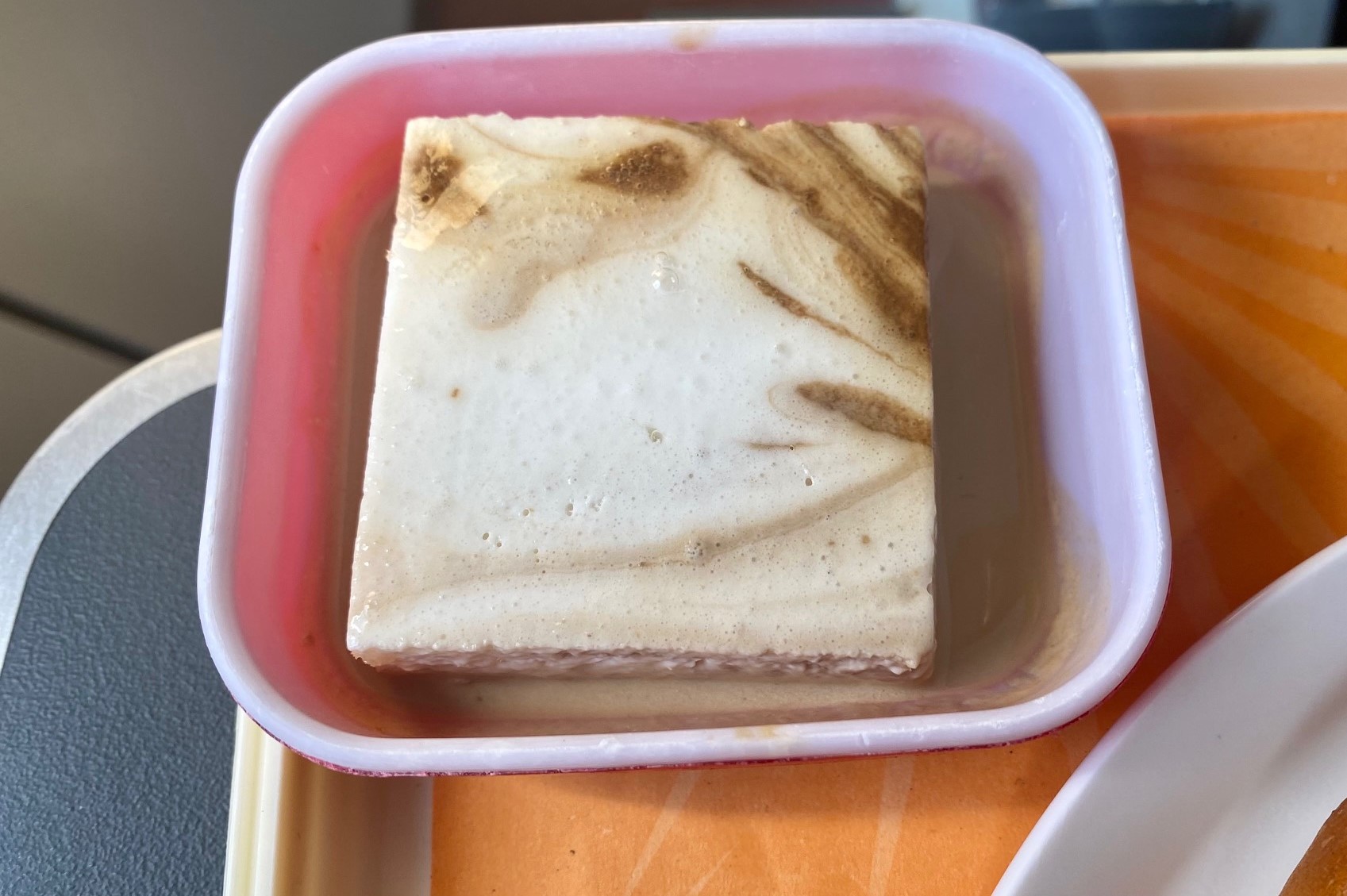 Air India Business Class Dessert
All in all, the meal was fairly unremarkable but edible. At this point I wanted to ask the crew member for a cappuccino, but she was flat out trying to clear the trays and getting the cabin ready for the descent into Delhi, so I didn't bother.
Few minutes later, the First Officer came on the P.A. system and announced that we were only 10 minutes from landing at the Indira Gandhi Int'l Airport. True to his words, we touched down into Delhi at 2:55 pm (5 mins early) and pulled into one of the gates shortly afterwards.
In Conclusion
Domestic flights are hardly anything to get excited about and this Air India flight was no different. Aside from the comical mix-up of the boarding pass, I can't really complain too much.
The plane was reasonably well maintained, staff were friendly and I arrived into Delhi on schedule. The cabin and seats were dated and the colour schemes were not to my liking, but they weren't hideous by any means.
Whenever my travels take me back to India, I will be happy to fly Air India again.
Have you even flown with Air India? Leave a comment below.