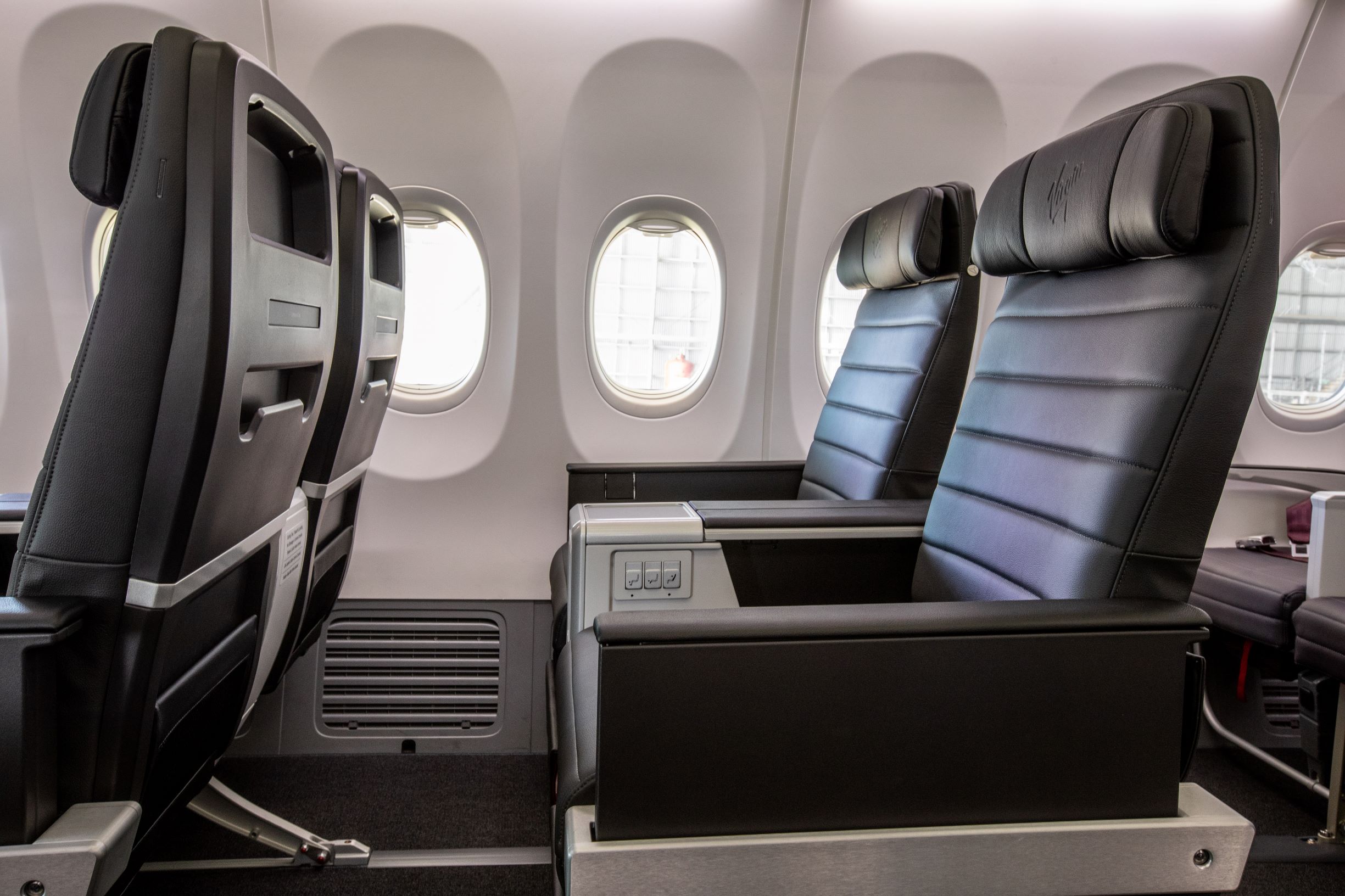 I am currently in the middle of a trip to Japan and United States. While there is no dearth of airlines flying between Australia and Japan, I had been wanting to fly Virgin Australia's recently launched Cairns to Tokyo (Haneda) flight for quite some time.
Backstory to VA's Japan Service
While VA currently operate their Japan service from Cairns, that's not how it was always intended. Back in the pre-covid era when Virgin Australia operated as a full-service airline, the plan was to fly out of Brisbane and deploy one of it's A-330 planes on this route. That flight was scheduled to commence in March 2020.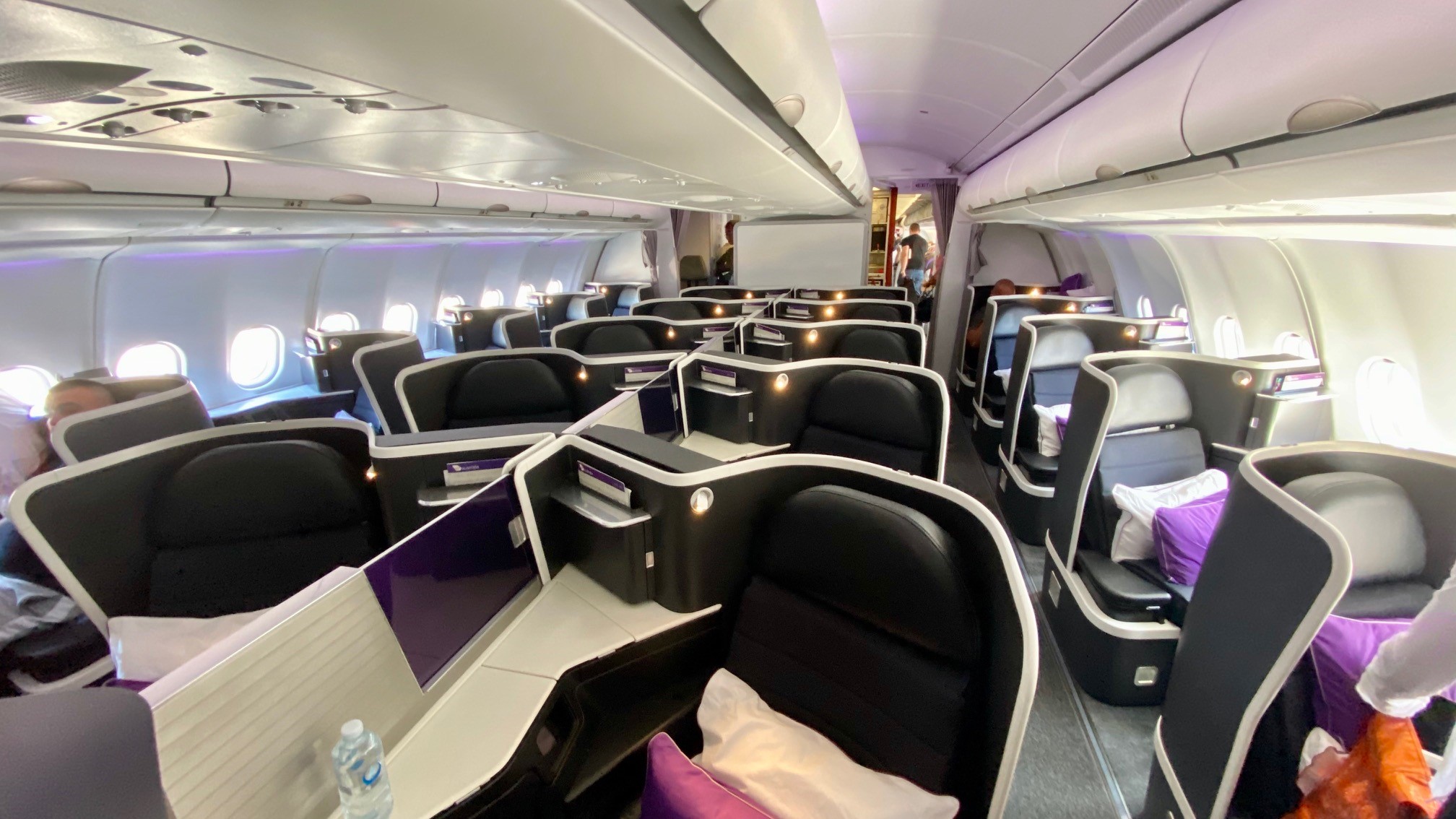 Virgin Australia's erstwhile A-330 Business Class
Then came Covid-19 which threw aviation world into turmoil. Virgin Australia, which had long been a basket case, churning-up big losses for years was immediately pushed into voluntary administration. The airline was subsequently bought by Bain Capital, who as part of restructuring got rid of all the widebody aircrafts and transformed VA into a mid-market carrier predominantly flying Australian domestic routes.
These days, the Cairns to Tokyo route is flown by VA's B737-8 (or Max-8) mainly as a way to preserve its hard-fought and highly prized landing slot at Tokyo's Haneda airport.
Booking
The easiest, and possibly cheapest way to fly this route is by redeeming Velocity points. A one-way flight in Business Class between Cairns and Tokyo will set you back 59,500 Velocity points. You can even start your journey in Brisbane for no extra mileage cost.
If you are flying into Cairns from one of the other East Coast Capital cities such as Sydney or Melbourne and onward to Tokyo, a one-way Business Class flight will cost you 71,500 Velocity points. Fees, taxes and carrier-imposed charges total approx. $110 which is reasonable.
If you are paying cash, expect to fork-out anywhere between $1,500 – $2,500 for a one-way flight in Business Class.
Sydney to Cairns
My Sydney to Cairns flight was uneventful. The only annoying part was that I was unable to check-in online due to my domestic and international legs tied-up on the same booking. At least I was able to collect both sets of Boarding Passes in Sydney itself which was nice.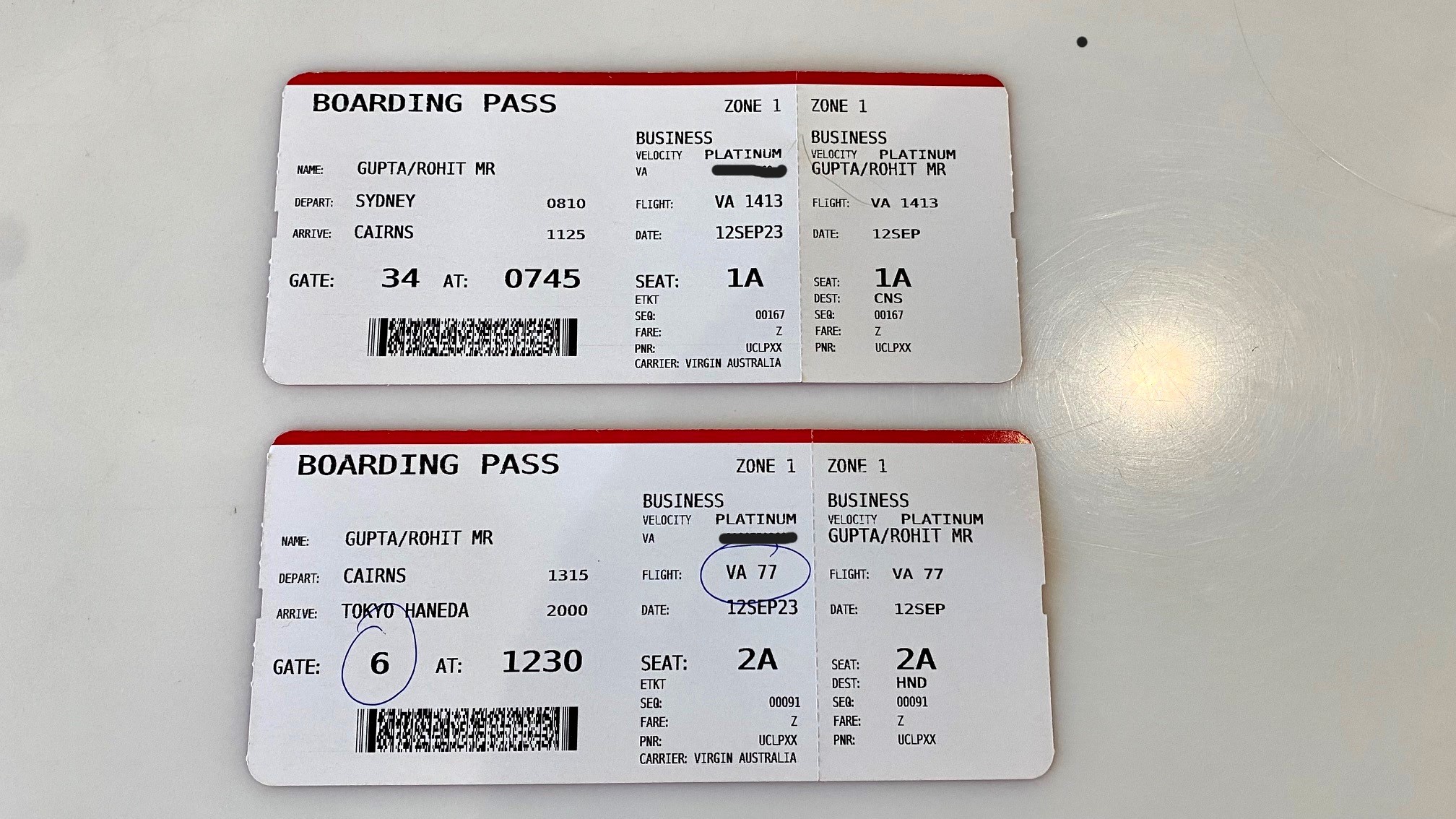 Virgin Australia Sydney to Tokyo Boarding Passes
We left Sydney on time and touched-down in Cairns just a few minutes past the scheduled arrival time. Being a morning departure, breakfast was the main meal served on this flight. I opted to have the vegetarian Quesadilla served with chopped onion and tomato.
It came with a side of danish pastry and plain yogurt topped with chunks of delicious mango and lychees. Yum.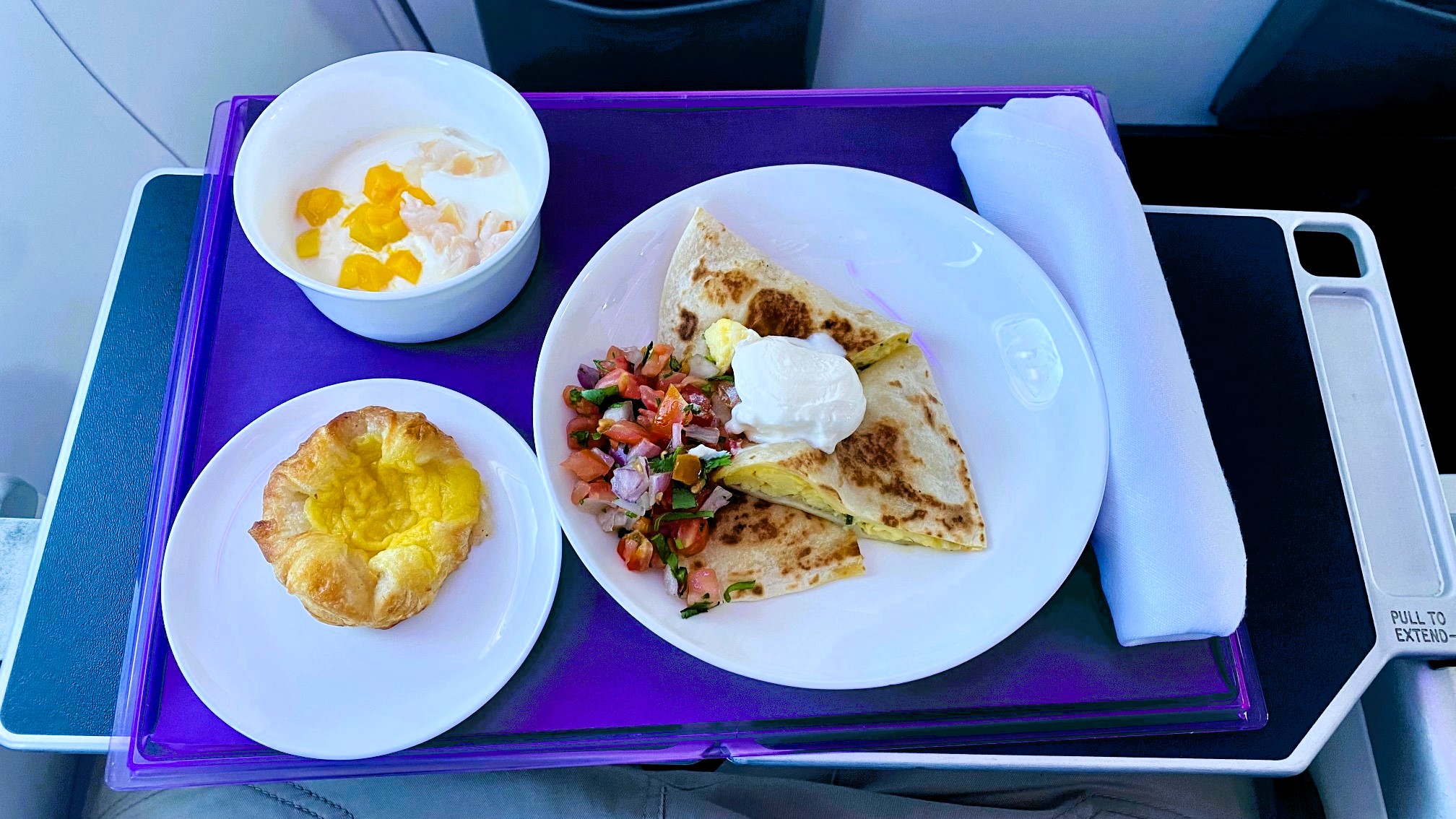 Virgin Australia Business Class Breakfast
I also had a cup of coffee. Later in the flight, and just before we started descending into Cairns, the crew came around with a snack tray. The assorted mix of almonds, beans and chickpea chips was delicious and healthy.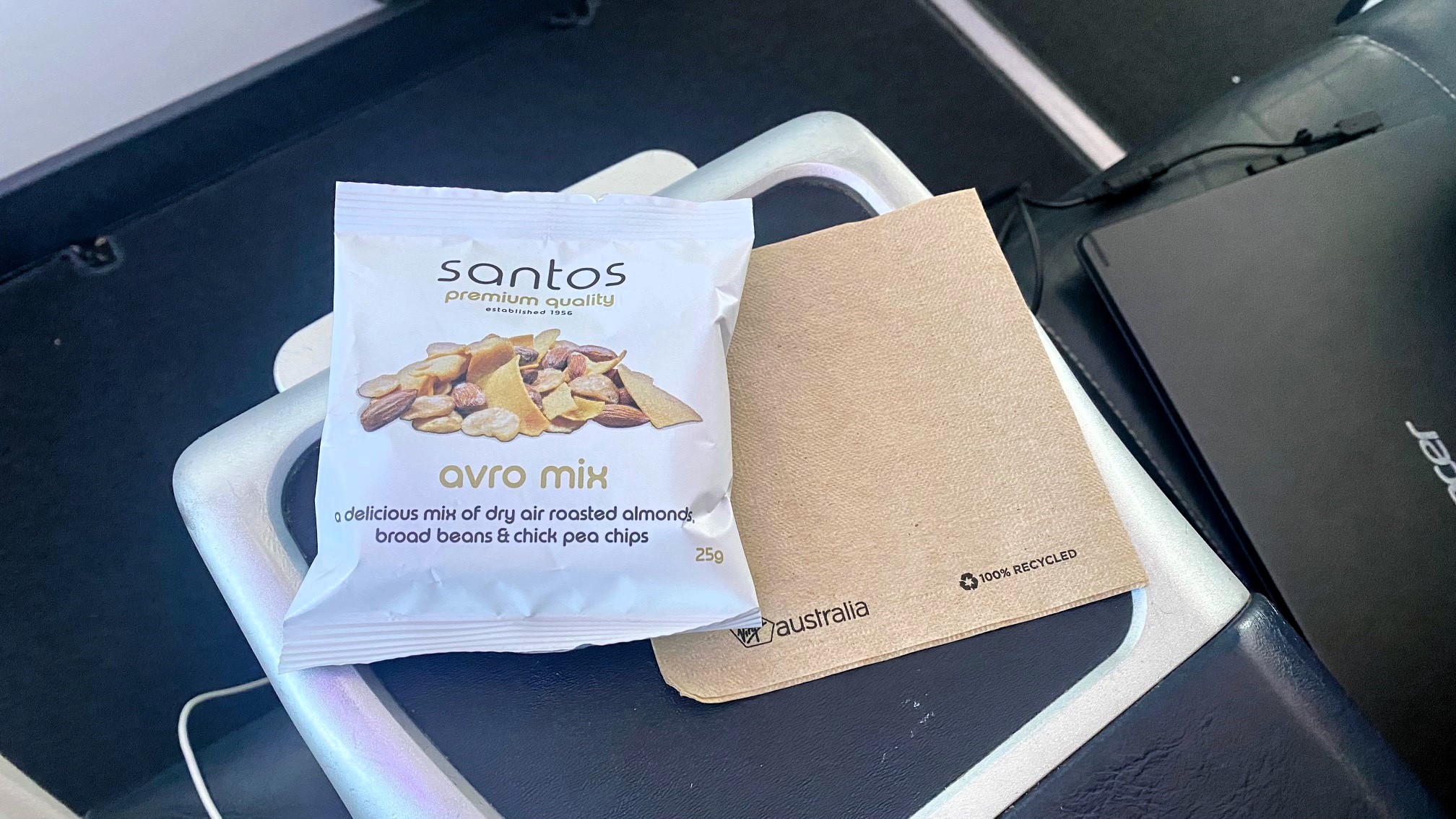 Virgin Australia Business Class Snack
Transit in Cairns
International flights from Cairns operate out of Terminal 1, which is located in a separate building a few minutes' walk from Domestic arrivals. Once you exit the arrivals hall, just follow the signs leading to the International Terminal.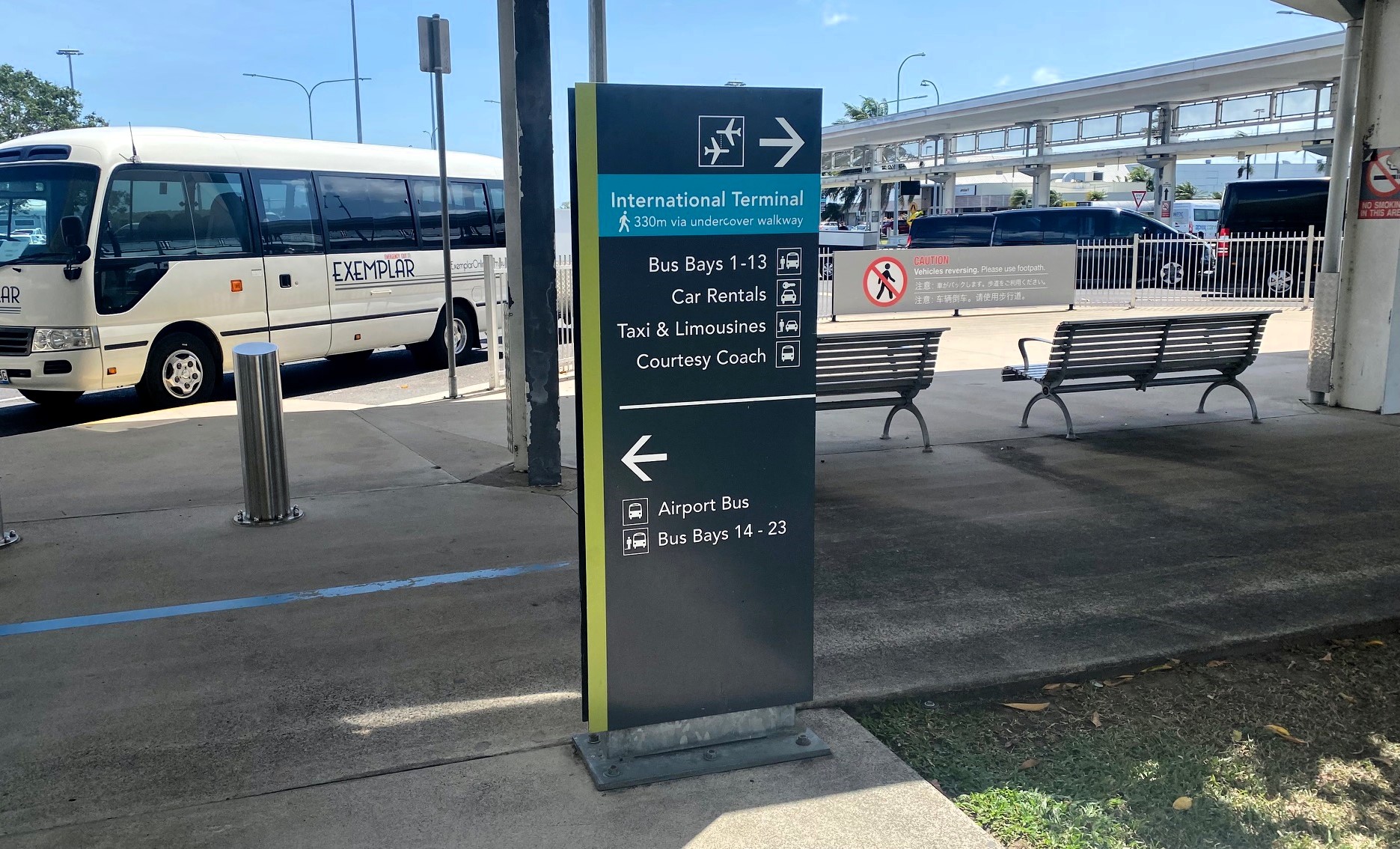 Directions to International Departures, Cairns Airport
As I already had my boarding passes, there was no need for me to line-up at check-in at Cairns. So I proceeded straight to clear immigration, security and into the Departures Hall.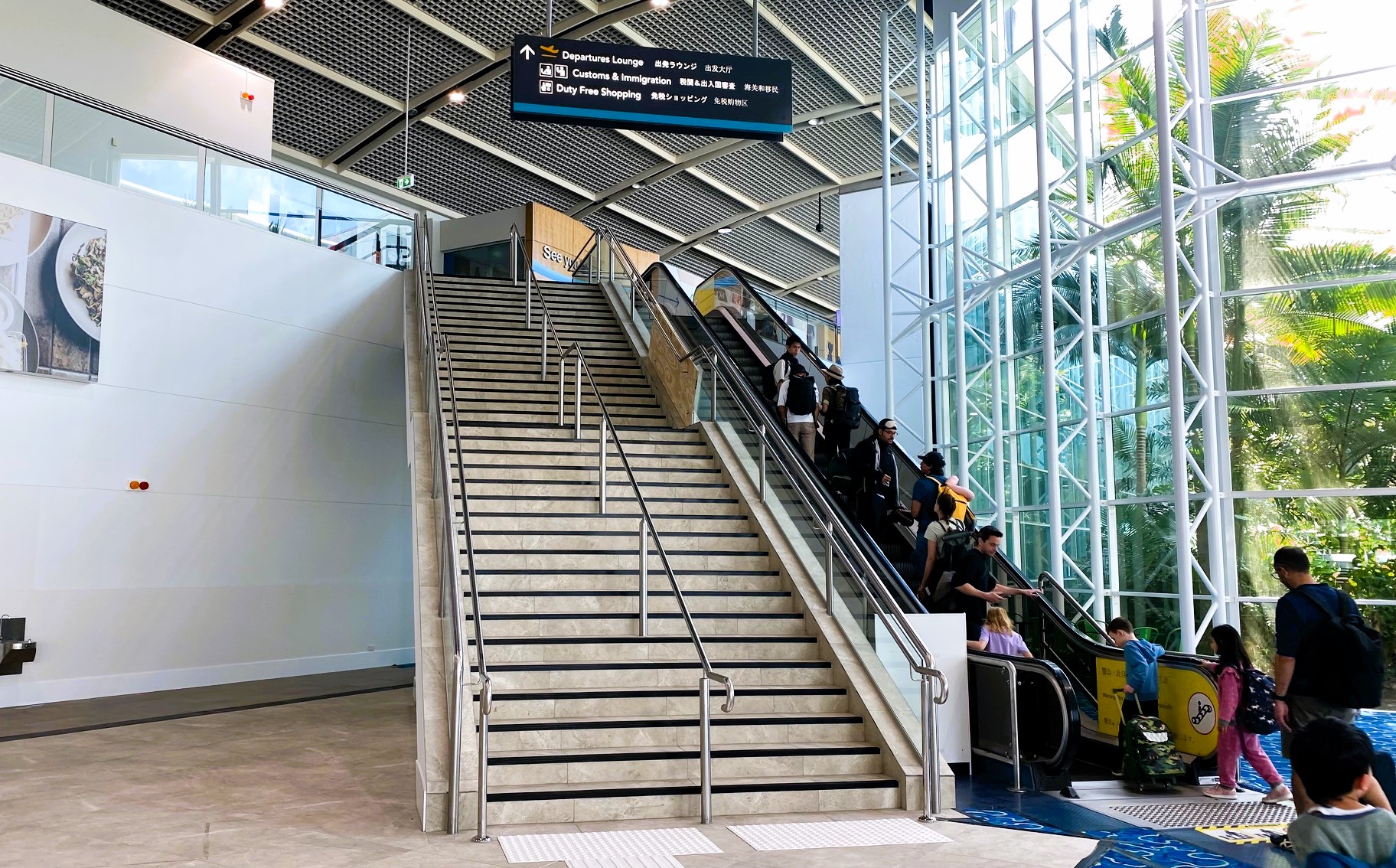 Escalator to International Departures, Cairns Airport
Lounge Access
Virgin Australia do not offer lounge access prior to International flights. Unlike some places such as Adelaide, where passengers may drop-in to the Domestic lounge before jumping onboard their overseas bound flight (time permitting), VA no longer operate a lounge in Cairns.
Upon stepping inside the Departure Hall, you will notice signs pointing to Airline Lounge. These signs however, are misleading.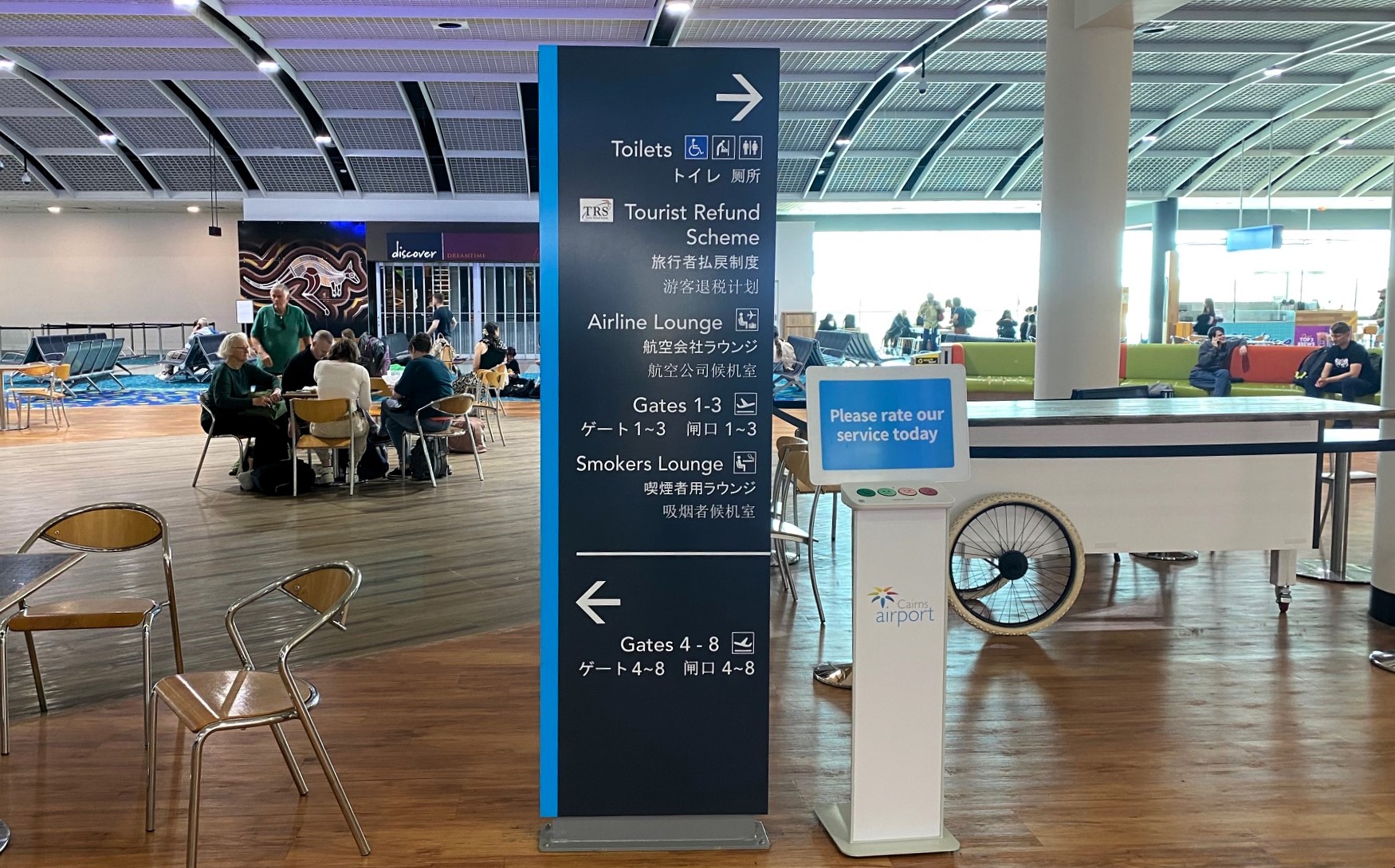 There are no lounges inside International Departures at Cairns Airport
To be honest, I am a little surprised at the lack of lounge offering at Cairns given that the airport sees around half a dozen international flights on most days. While I was waiting to board my flight, I saw an Air New Zealand plane taxxing for take-off.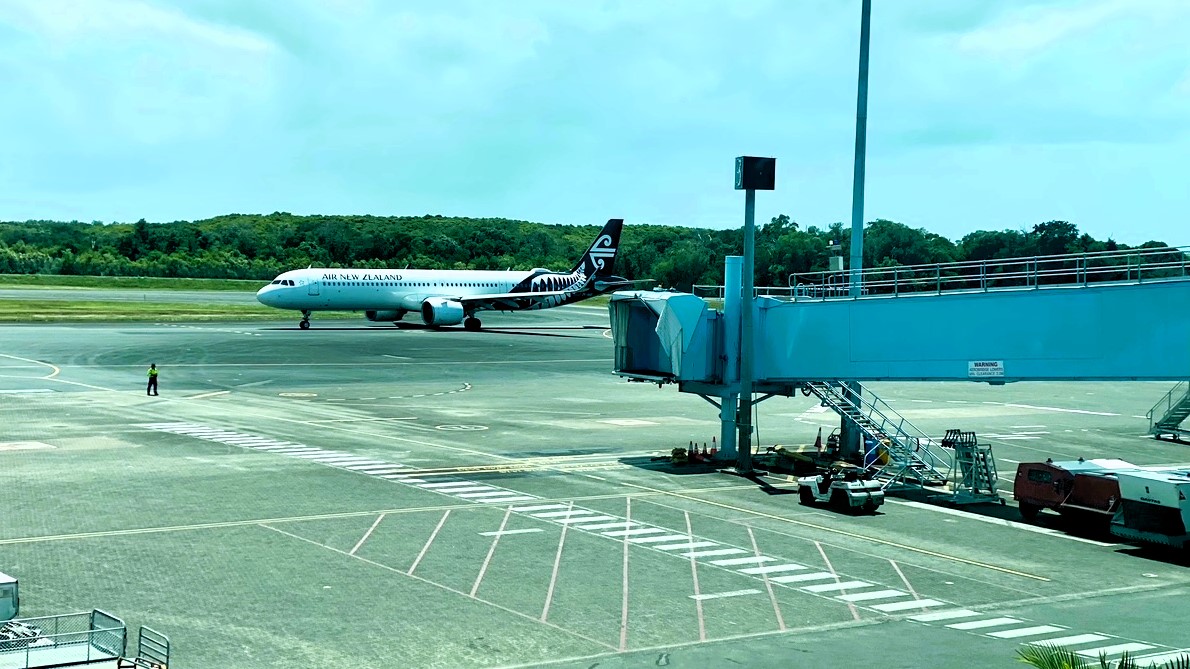 Air New Zealand, Cairns Airport
A Jetstar flight was also getting ready to depart for Osaka from one of the other Gates. Besides these two flights, there were a number of other flights listed on the display board bound for places such as Port Moresby, Bali etc.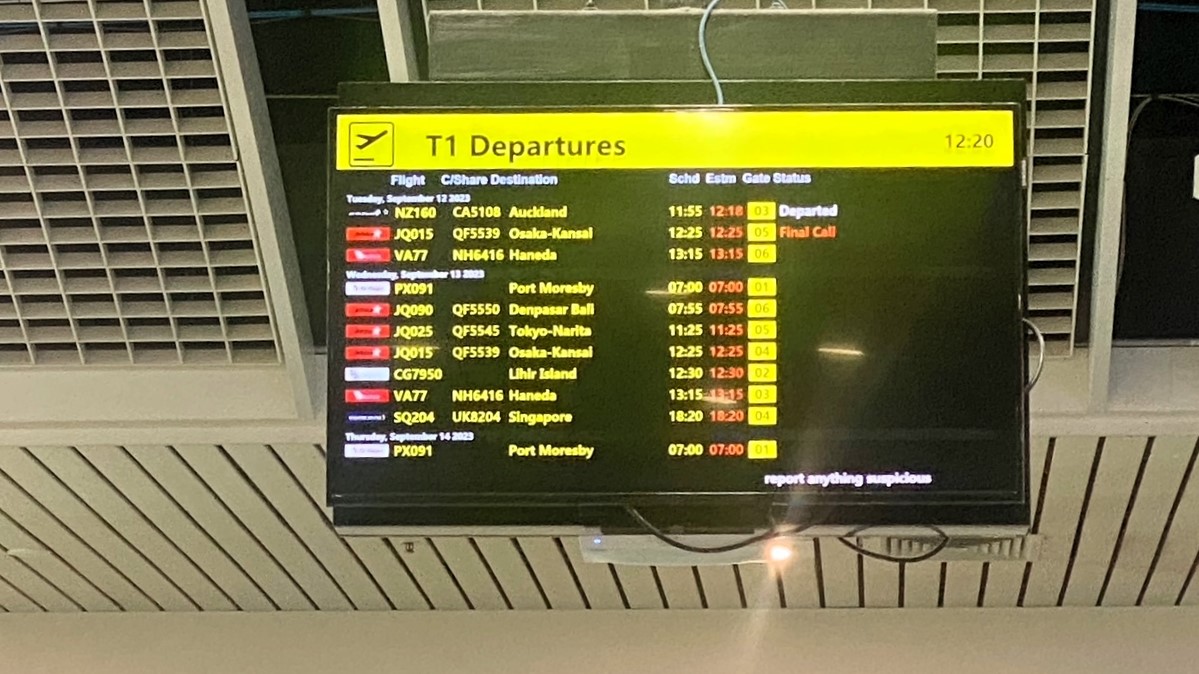 Flight Display, Cairns Airport
Then there's Singapore Airlines, which operate 3x weekly flights (soon to be 5x) between Cairns and Singapore. Surely, a pay-per-use lounge with opening hours calibrated with these departures makes financial sense??
To make matters worse, the Departure Hall at Cairns looked pretty bare-bones. I felt like I was walking through the ruins of a once thriving, prosperous city. There are 3 shops selling overpriced souvenirs to gullible Japanese tourists, a Hudson's coffee outlet and another one next to it offering cold wraps and sandwiches.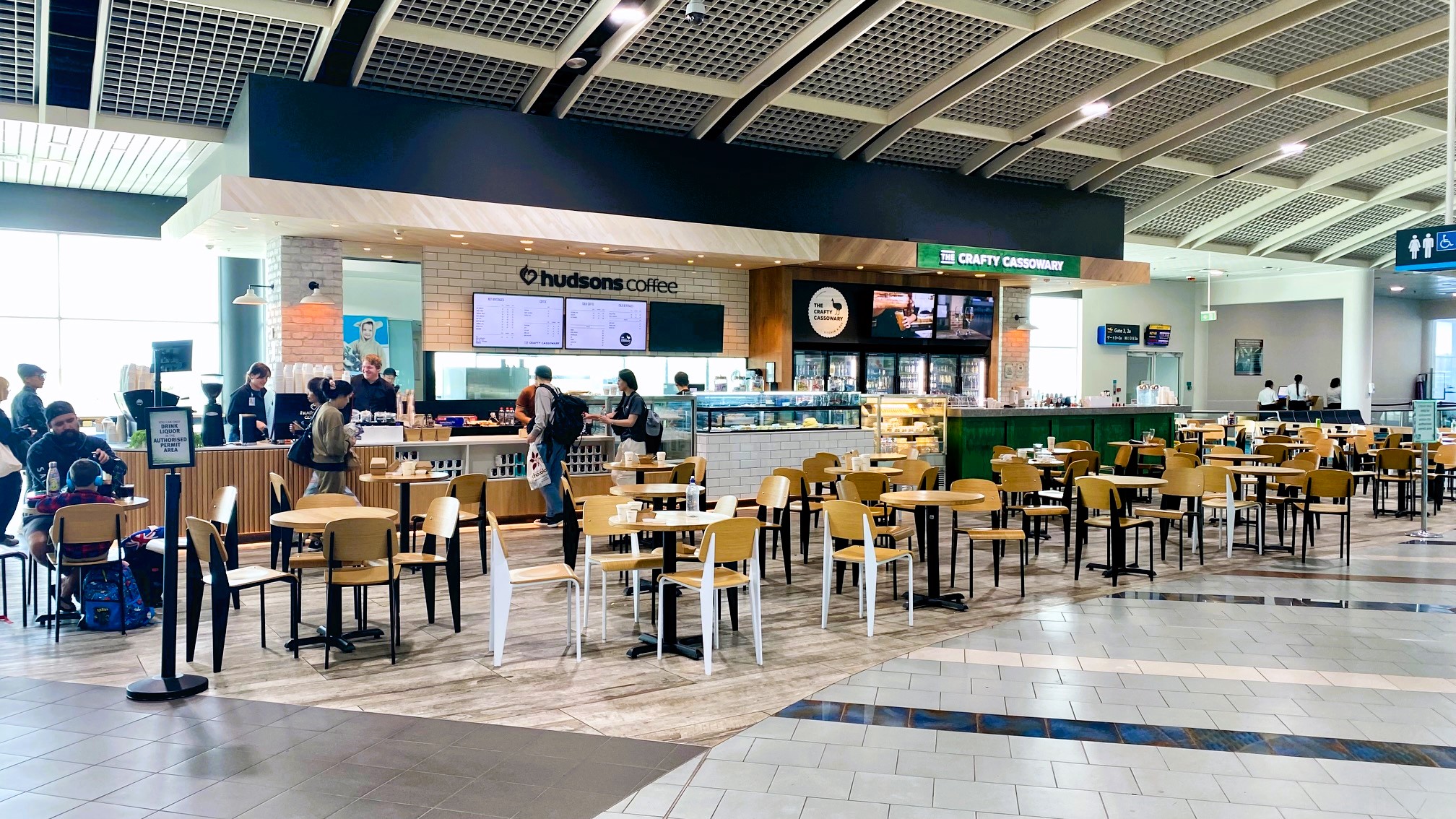 There's a distinct lack of F&B offering at Cairns International
If you are planning to take an International flight out of Cairns, don't come to the airport hungry. I would also suggest you pack some food to bring with you in-case there was an unexpected flight delay or cancellation.
Cairns to Tokyo – Boarding
After pottering around the terminal for about 30 odd minutes, I headed over to Gate 6 to board my flight to Tokyo.
Boarding started around 12:45 pm, about half hour prior to departure. While waiting at the Gate, I was expecting some sort of announcement to start boarding, instead, one of the Gate staff simply yelled "Premium" and motioned passengers waiting in the Premium boarding queue to start moving.
Soon enough, I scanned my Boarding Pass and entered the plane through the forward door.
Virgin Australia Max-8 Business Class Seats
Like all Virgin Australia planes, Max-8's are fitted in 2-cabin class. The cabins aren't totally new as VA have been flying them on some of their older planes on select domestic routes for quite some time.
First up, you have 2 rows of Seats in 2-2 configuration for a total of 8 Business Class seats.
I found it difficult to take good quality pictures of my own on this flight since quite a few passengers had boarded the plane before me, so some of the pictures you see here have been supplied by Virgin Australia.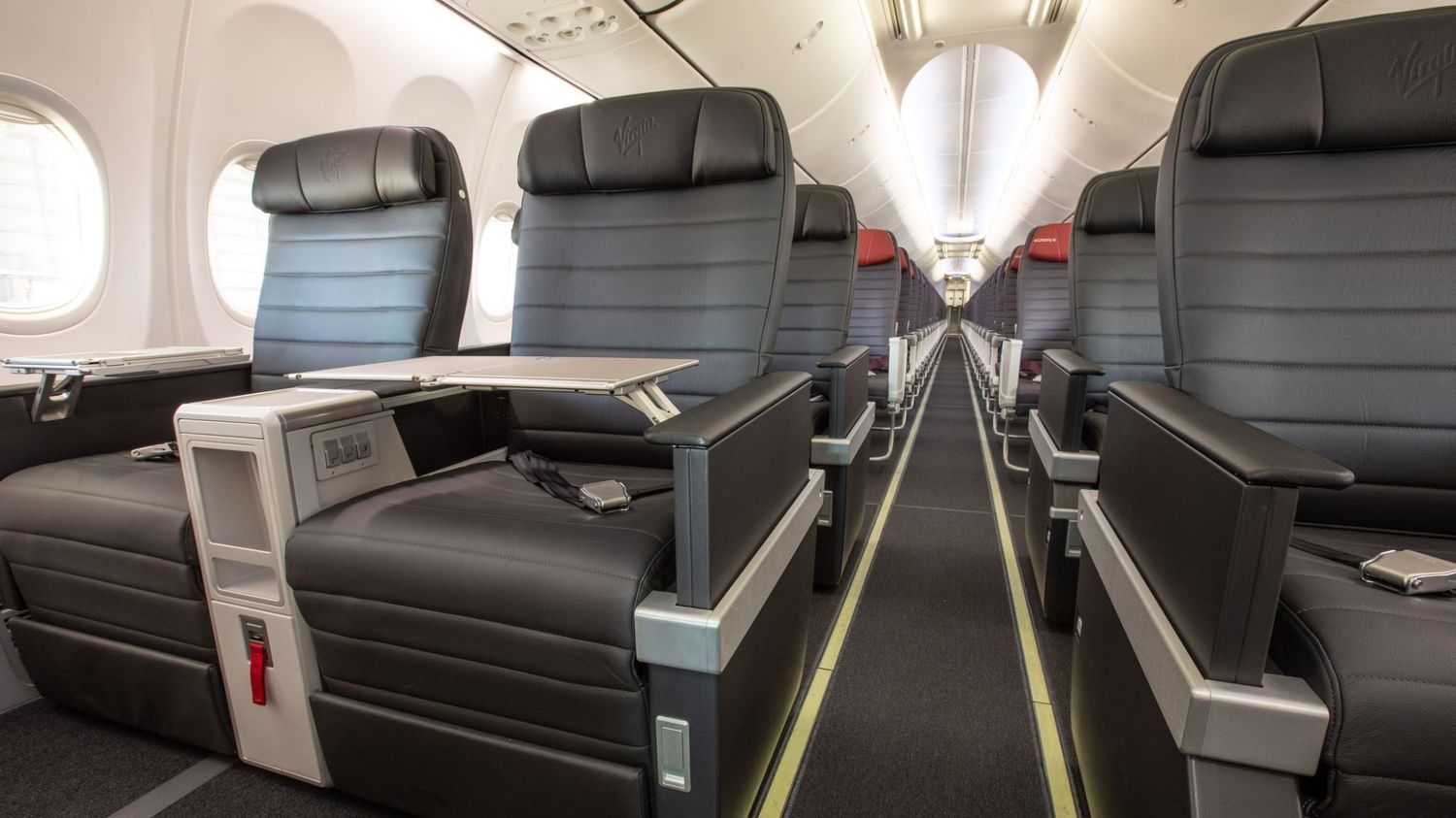 Virgin Australia B737-8 Business Class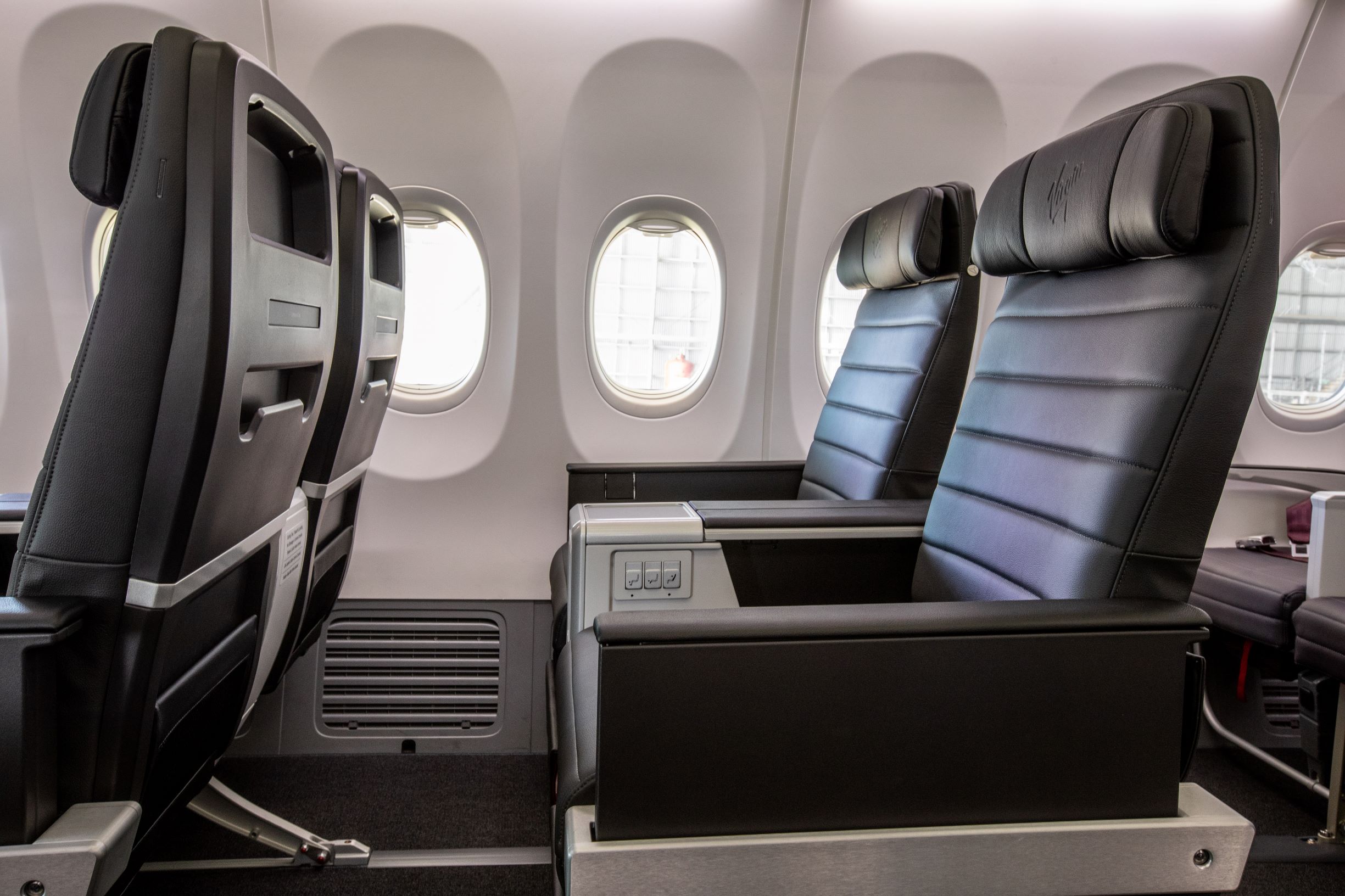 Virgin Australia B737-8 Business Class
Then there's Main Cabin with a further 174 seats.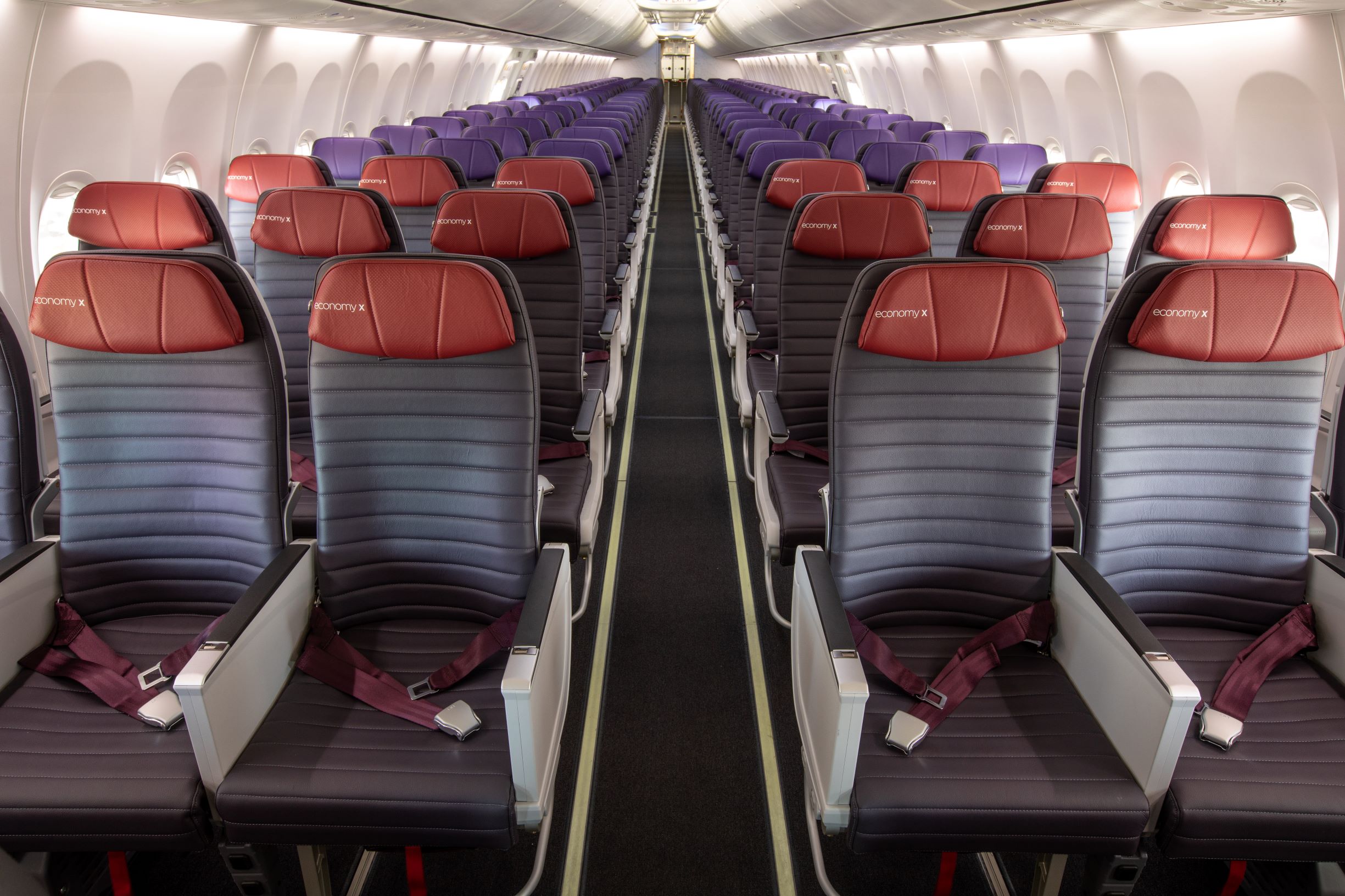 Virgin Australia B737-8 Main Cabin
As you can tell, the pictures look really classy. In reality though, I didn't find the setting to be that good.
That is because there is no physical separation of Business and Main Cabin which I personally find very annoying. People pay good money to fly Business (easily 3-4x over Economy) because they want a sense of privacy and exclusivity. With the cabins seamlessly blending into one-another, you don't get that on VA's Max-8.
The seats in Row 1 offer good legroom but I found Row 2 to be cramped.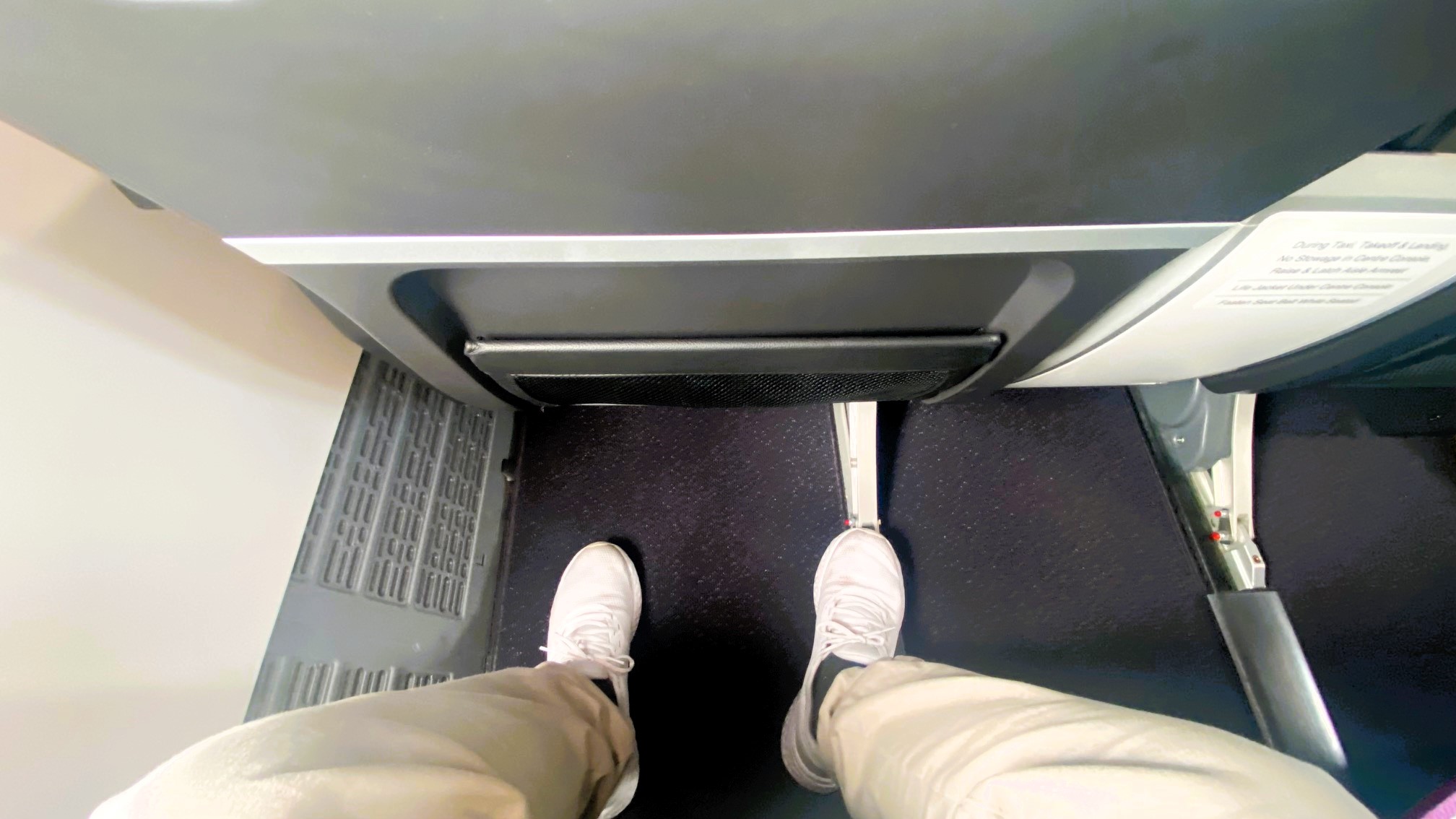 Virgin Australia B737-8 Business Class Row 2 Legroom
On this flight, I had selected Seat 2A which was the window seat in second row on the left-hand side of the plane.
There is a very wide armrest between the seats with ample surface area to place your drinks.
Lifting the armrest reveals the only real storage space found on these seats. It is deep enough to accommodate a tablet or small laptop. This is also where the power outlet is located, which I thought was very conveniently positioned and makes it easy to charge your devices.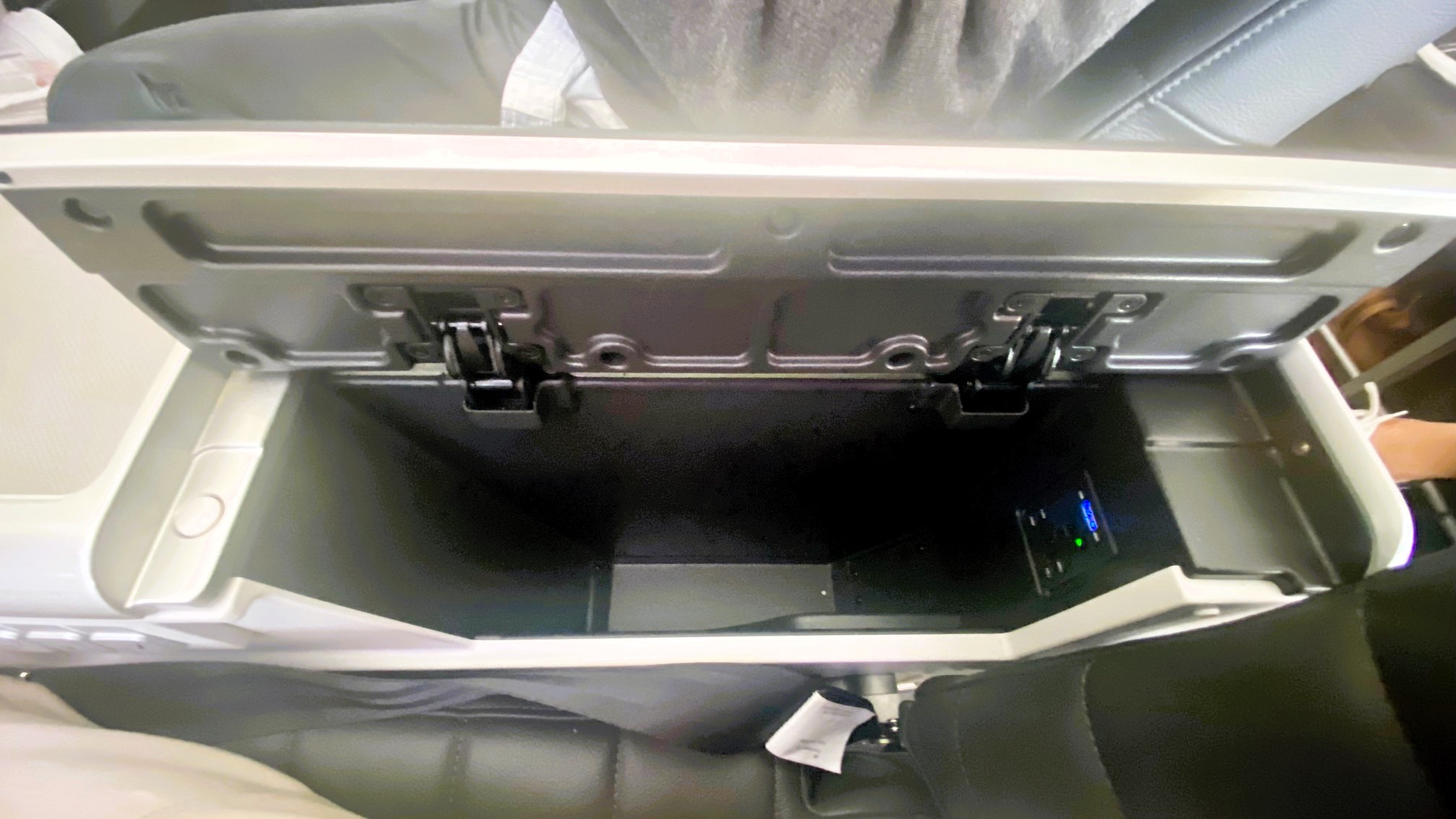 Virgin Australia B737-8 Business Class Seat Storage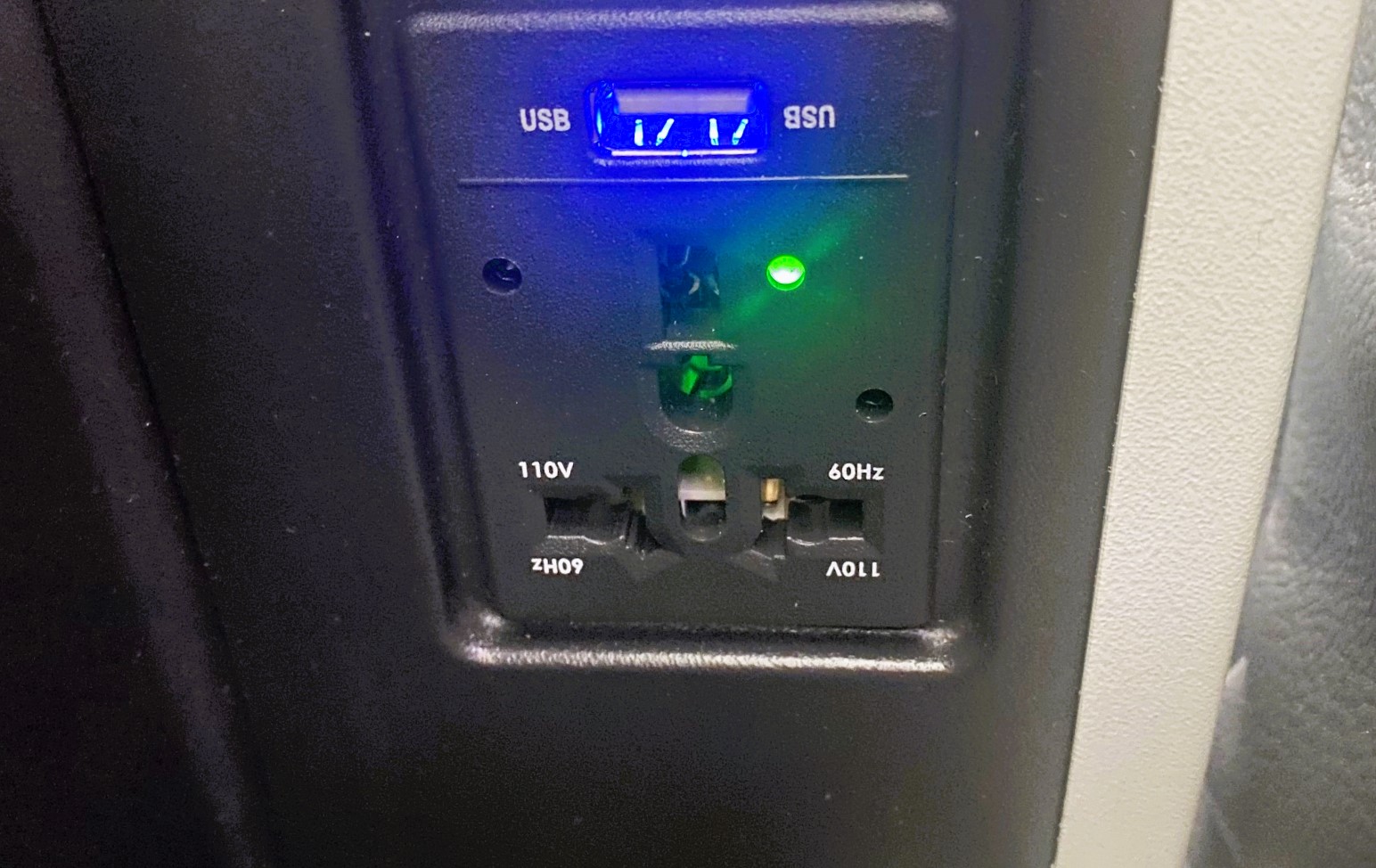 Virgin Australia B737-8 Business Class in-seat Power Outlet
On the side of the armrest towards the front there are 3 levers to manoeuvre the seat. Two of these are to recline and retract the seat, while the third one is to extend the footrest located near the floor of the cabin.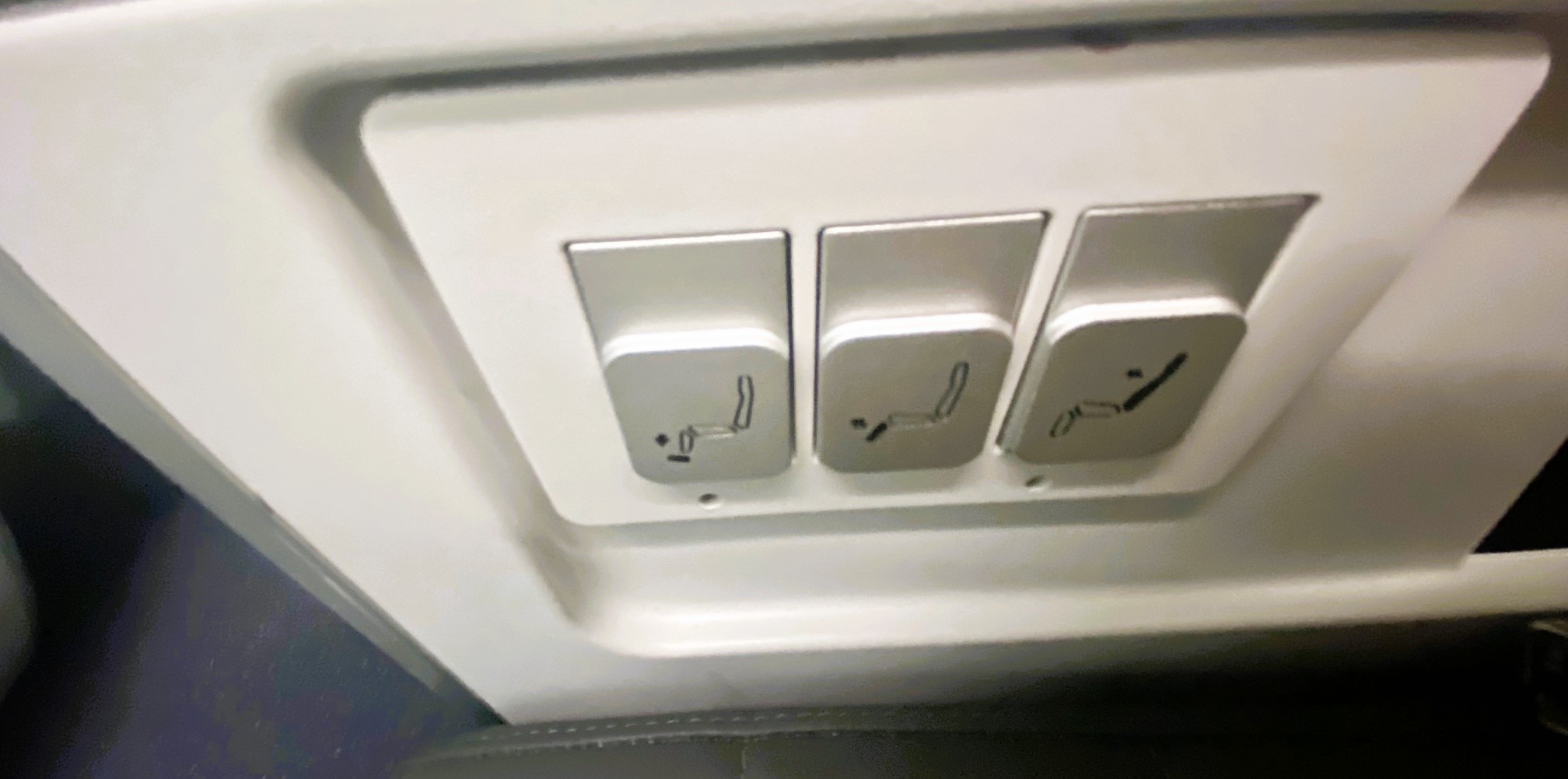 Virgin Australia B737-8 Business Class Seat Controls
With the seat fully reclined and footrest extended, you give yourself a few extra inches of space. Even so, the seat is a far cry from what other airlines offer on a flight of this duration, and gets increasingly uncomfortable as the flight extends into its forth, fifth, sixth hour and beyond.
While seated, you will see a literature pocket at the back of the seat in front of you. This is where you will find the Safety Instruction card, sick bag etc. Underneath, there is a netted storage space large enough for a wallet or small book.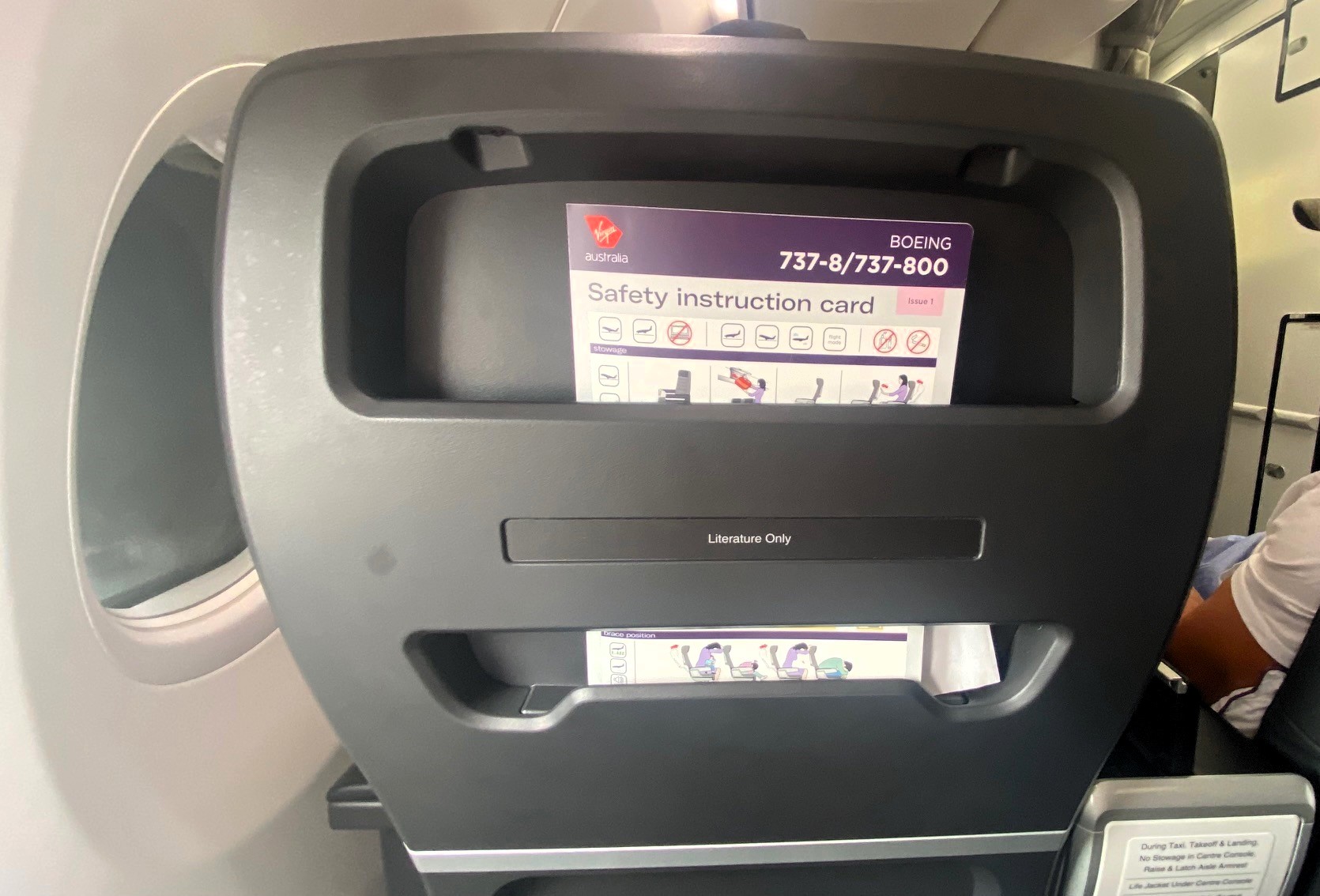 Virgin Australia B737-8 Business Class Seat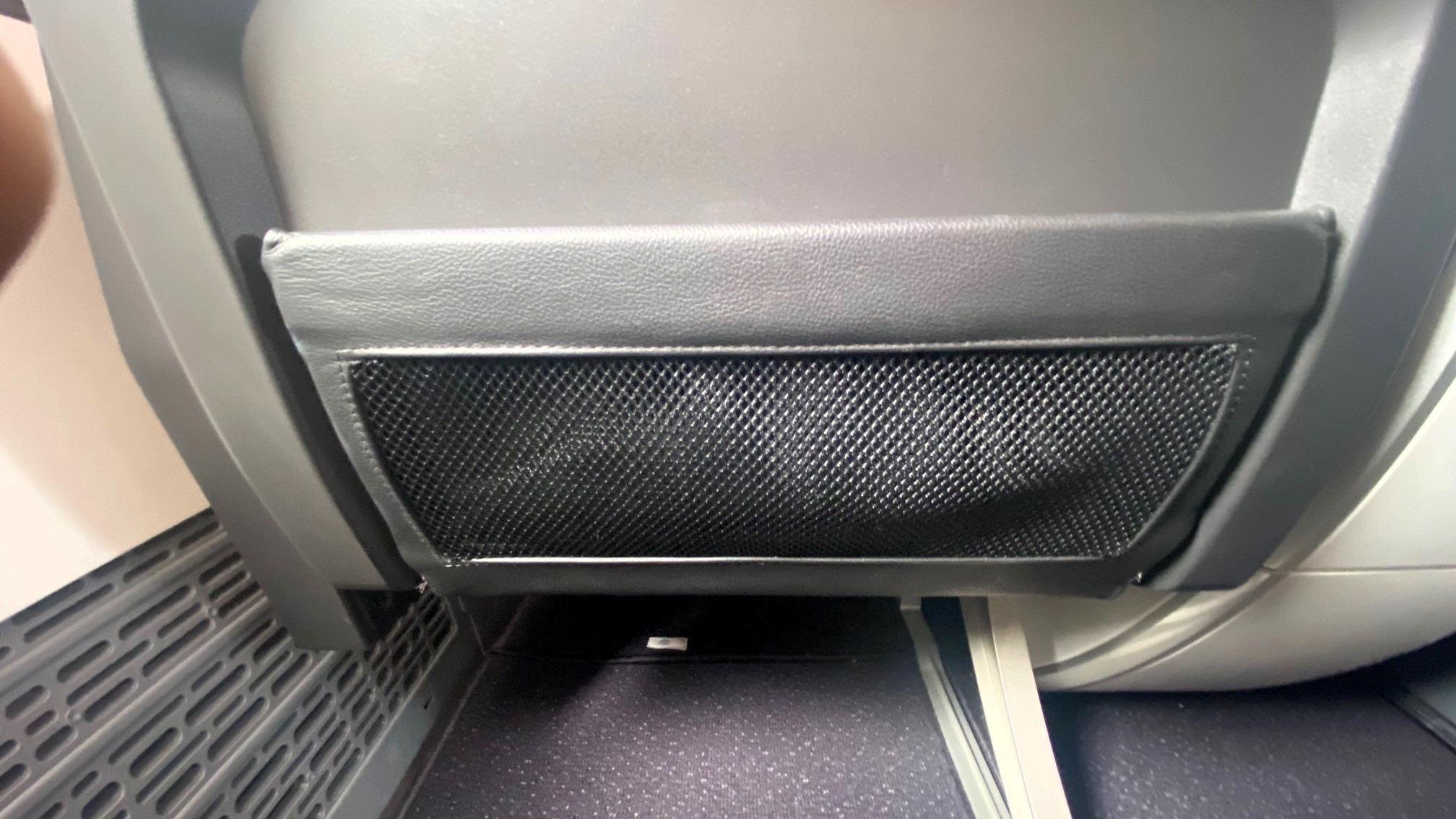 Virgin Australia B737-8 Business Class Seat Storage
The tray table is found inside the left armrest. Lift the top and you will see a little lever with a fork and spoon embossed over it. Pulling the lever releases the tray-table from its place which you can then pull out and deploy.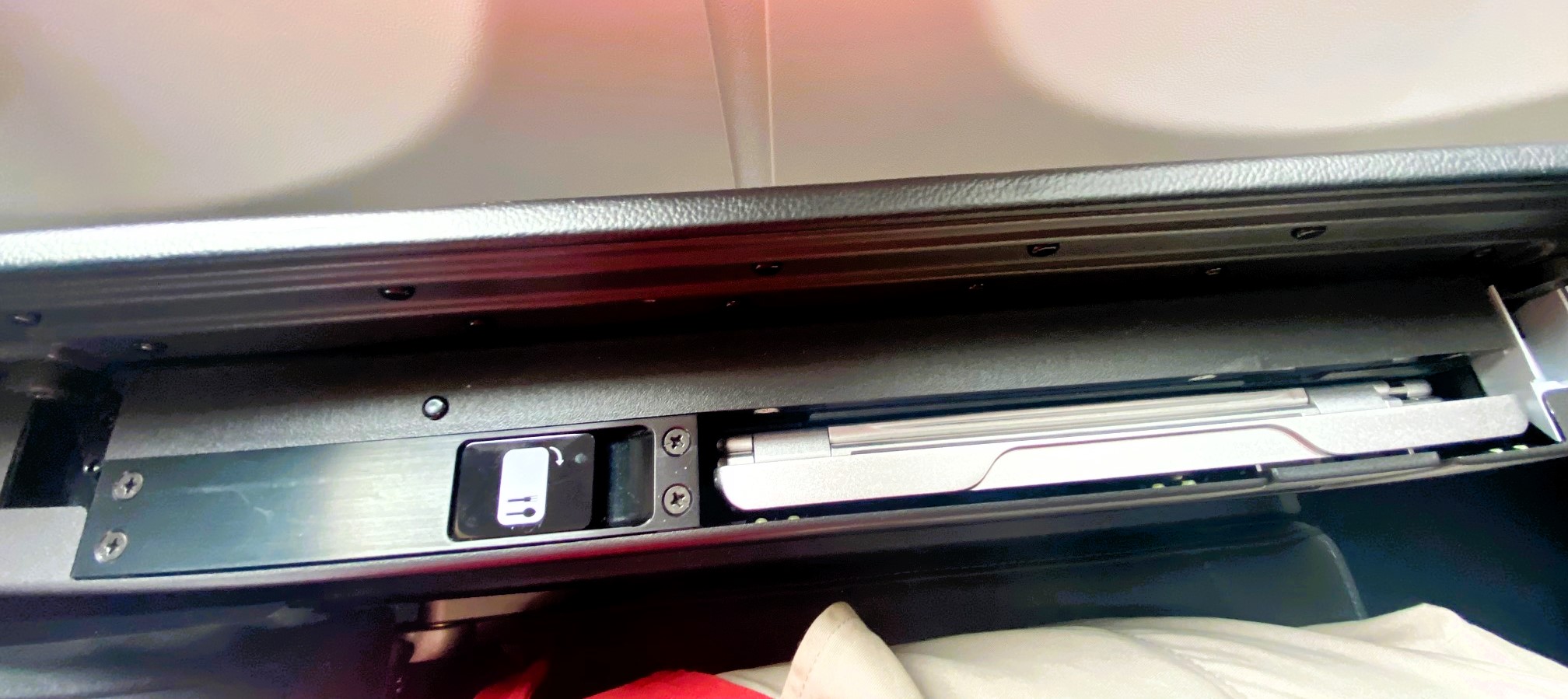 Virgin Australia B737-8 Business Class Tray-Table
You can open the table part-way or extend it fully.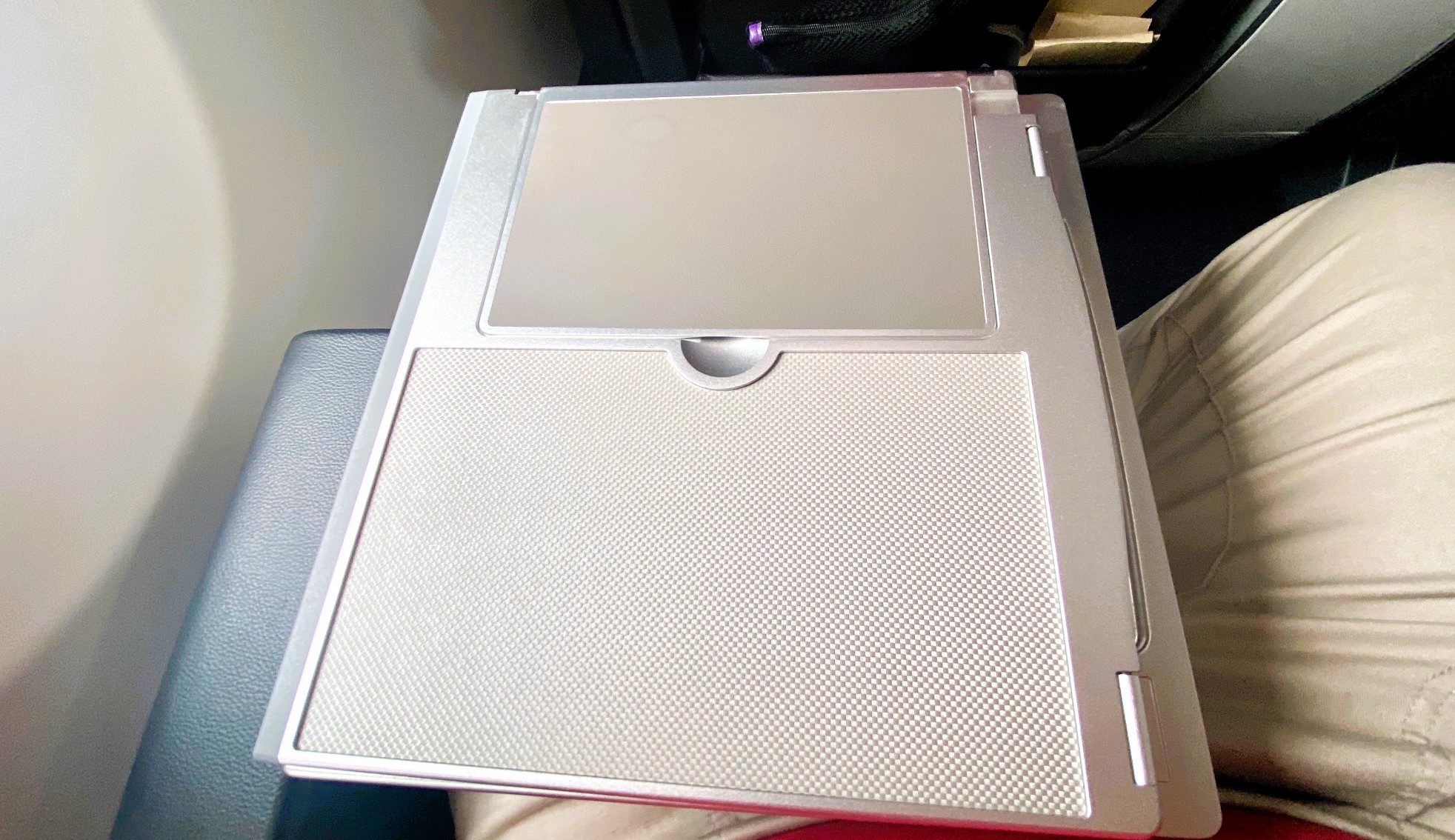 Virgin Australia B737-8 Business Class Tray-Table
In half-open position, an extension sticks out where you could rest your smart phone or tablet for your viewing pleasure without having to hold the device in your hands.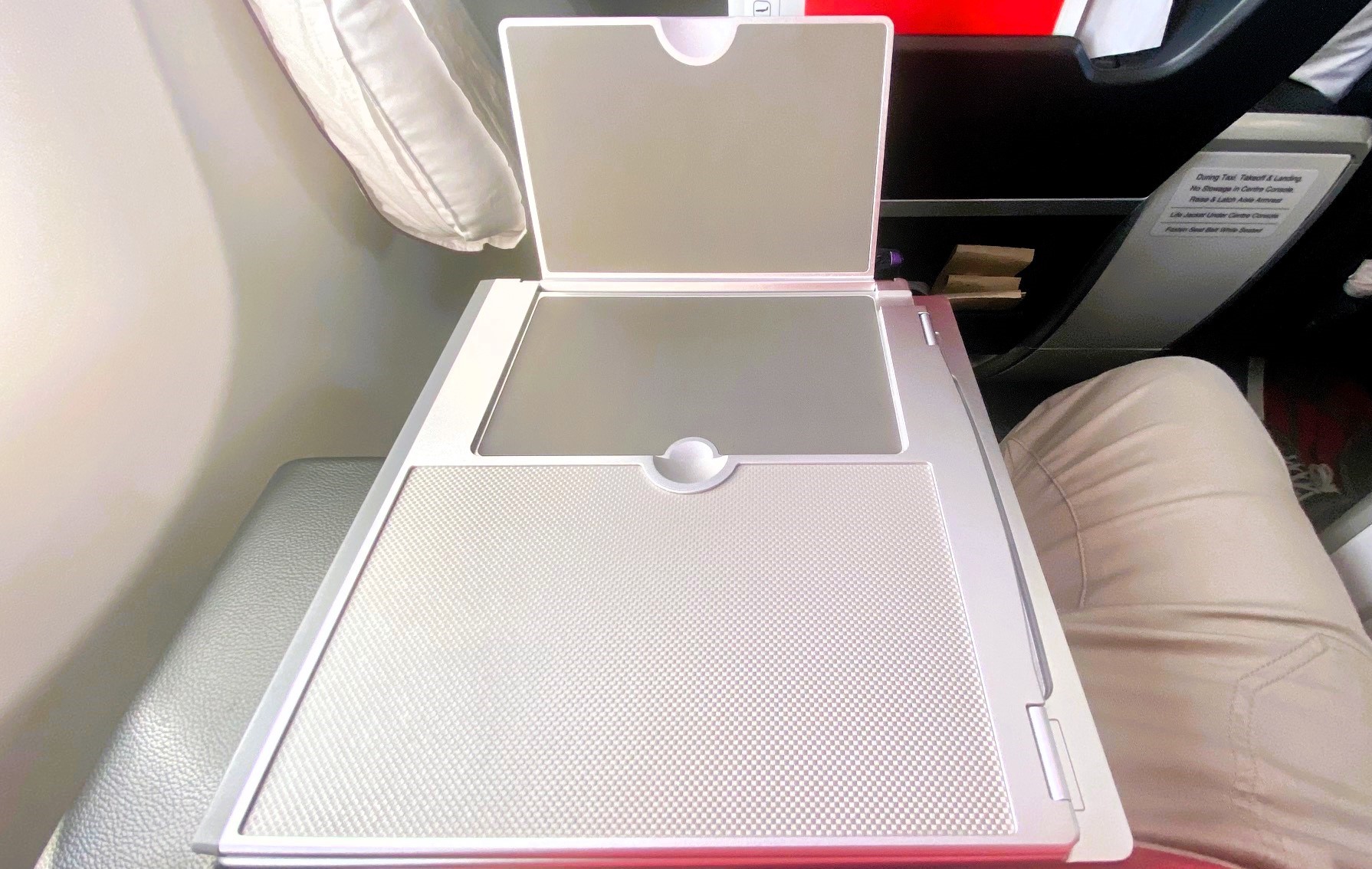 Virgin Australia B737-8 Business Class Tray-Table
When fully extended, it is large and sturdy enough to support the weight of your laptop. If you were travelling on Business, you can comfortably use the tray-table to get some work done.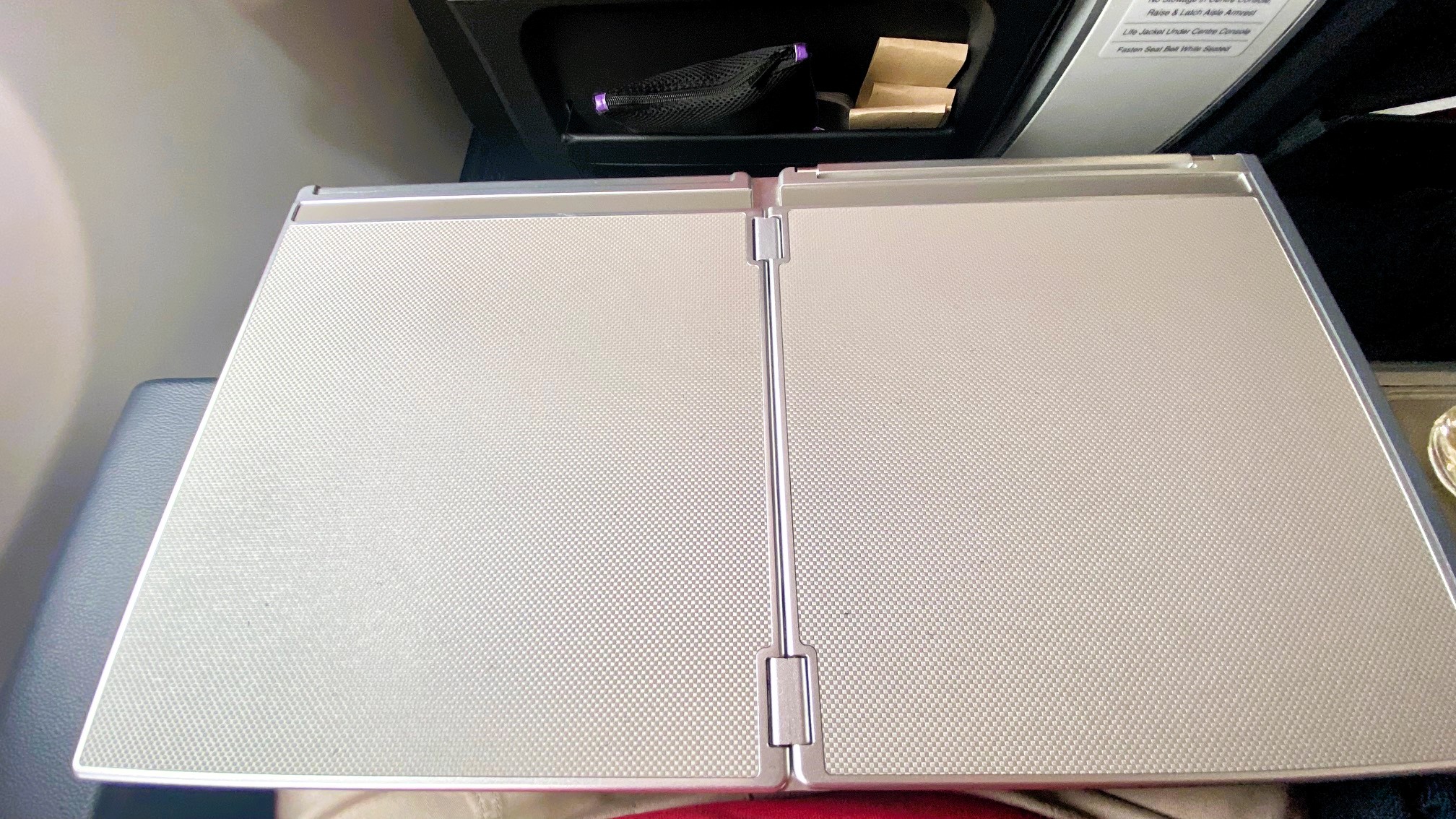 Virgin Australia B737-8 Business Class Tray-Table
Overall, I found the seats to be ok but not a patch on what some of the other airlines offer with their own recliner seats.
Amenities and In-flight Entertainment
As I boarded the plane and walked up to my seat, I noticed a pillow and blanket had been pre-placed on all the seats.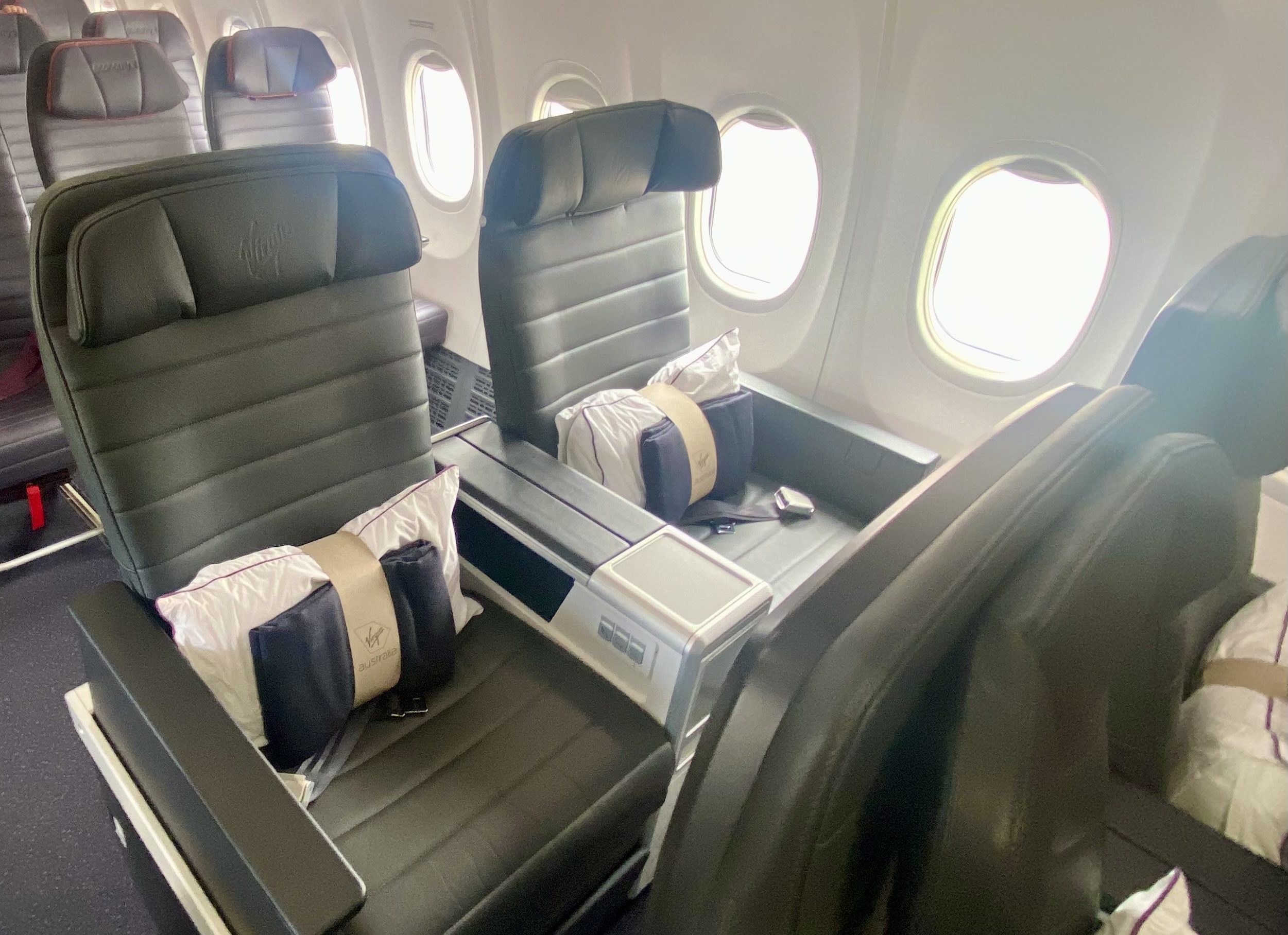 Virgin Australia Business Class Amenity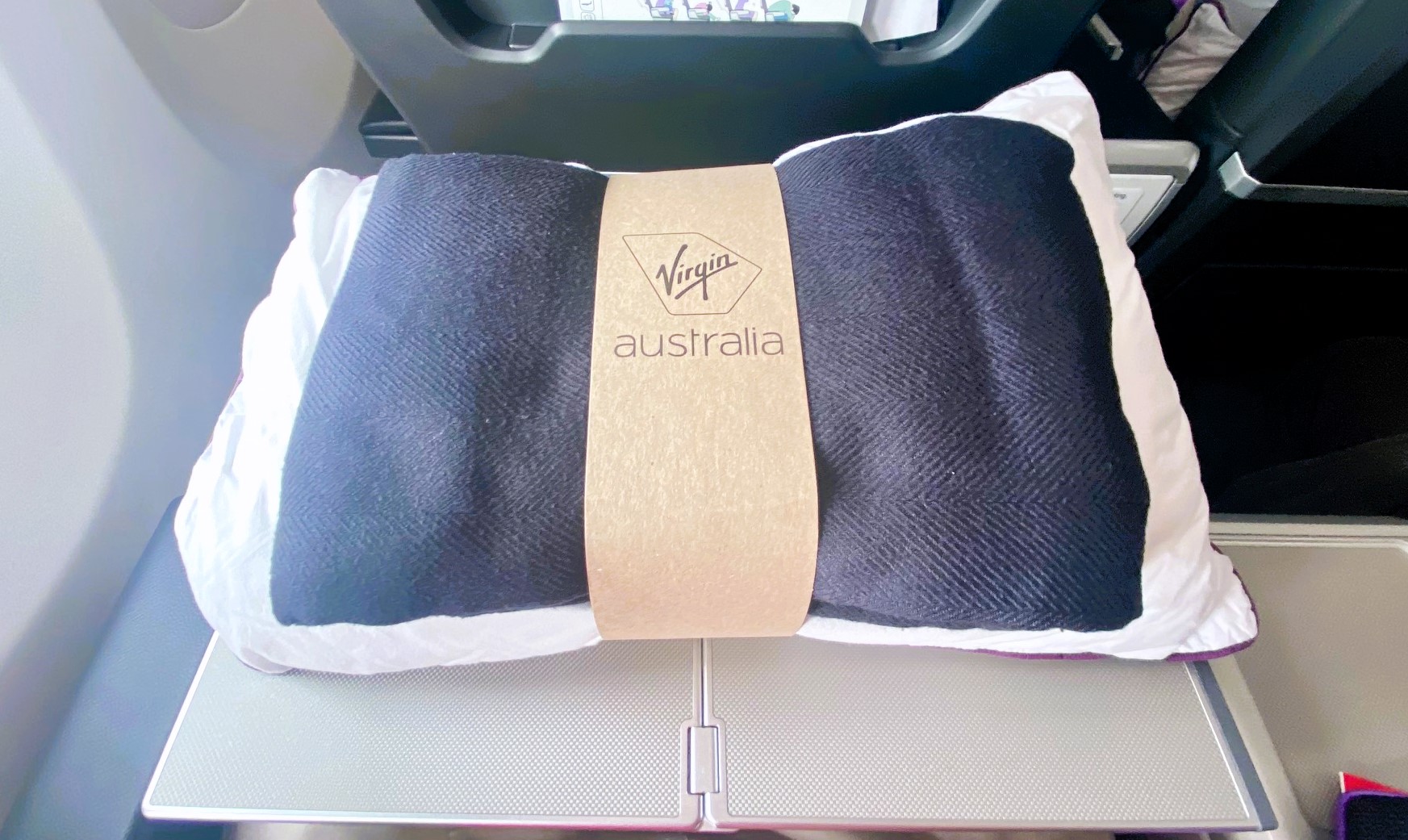 Virgin Australia Business Class Amenity
Business Class on this flight was full with 8/8 seats occupied.
A few minutes after everyone was seated, one of the crew-member went around the cabin handing out a black pouch containing the amenity kit and the menu.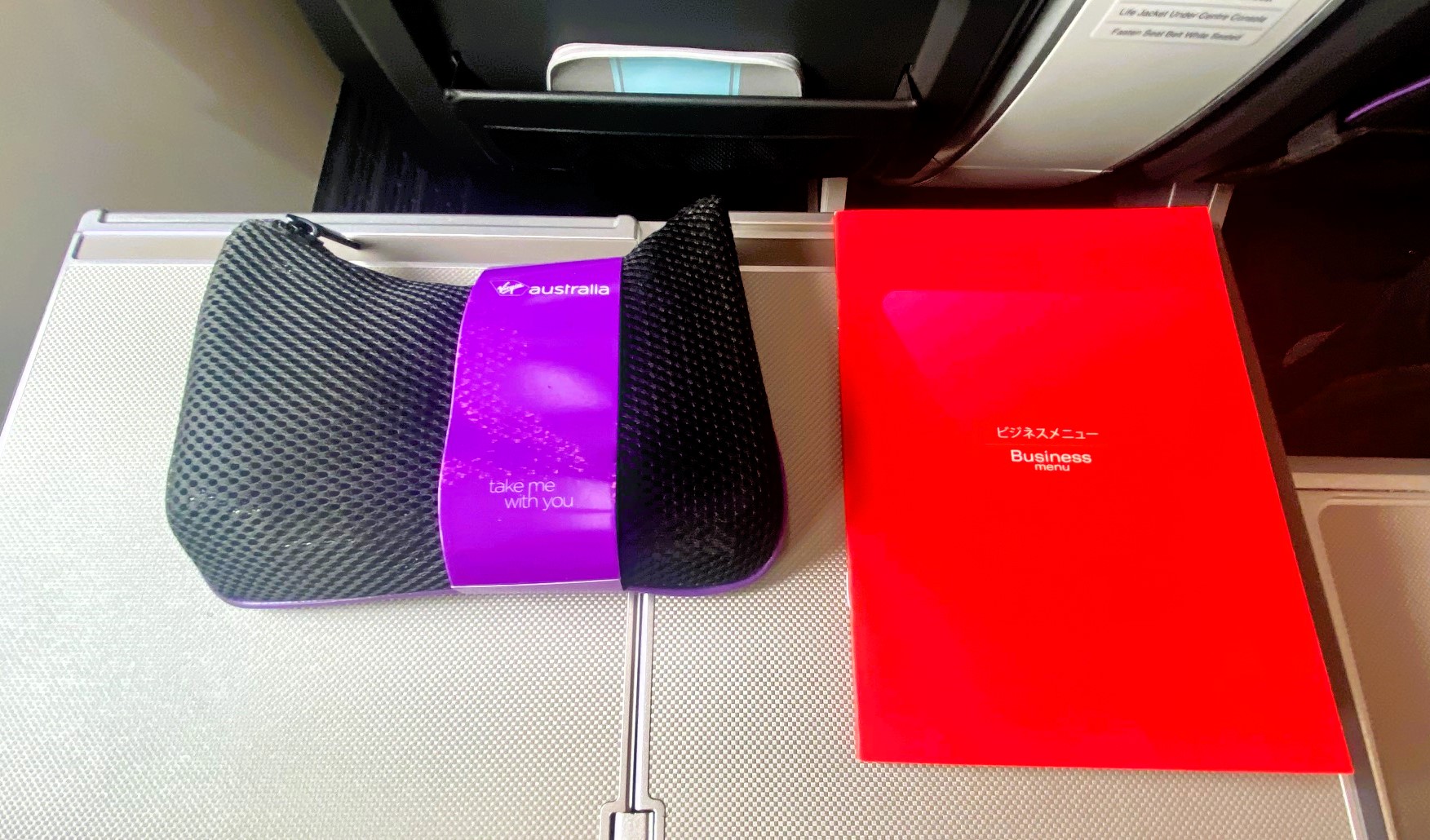 Virgin Australia Business Class Amenity Pouch & Menu
The items inside were fairly basic, there was an eye-shade, a dental kit, socks, limp balm, tissues and a pen.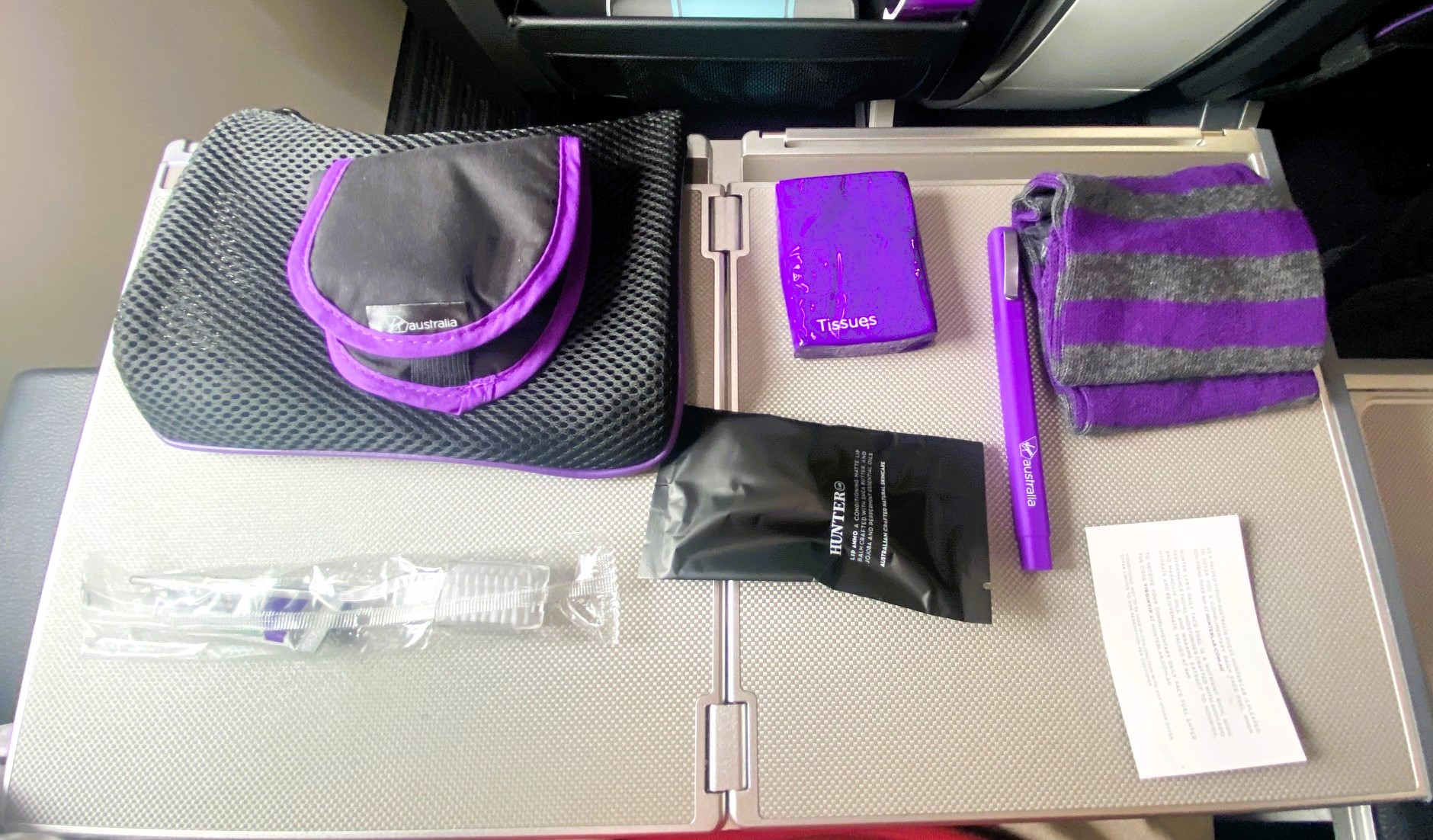 Virgin Australia Business Class Amenity Kit
Coming to in-flight entertainment, well there was none. About an hour prior to boarding while passengers were still waiting in the Departure Hall in Cairns, Virgin Australia made an announcement that in-flight entertainment system and wifi will not be operational on this flight. Further, they encouraged everyone to download movies, shows or whatever else they wanted to watch on the plane prior to boarding.
Apparently, it would have taken the Engineers five-hours to fix the system, so "in the interest of getting everyone away on time", (ie, we don't give a stuff) Virgin Australia decided to operate the flight sans wifi and any in-flight entertainment.
What a load of bull, no wonder many people don't take Virgin Australia seriously these days, and can you blame them?
A half-hearted apology was offered by the staff which rang hollow. I am not sure about VA's compensation policy in regards to service deficiency, but I fully intend to take it up with them after returning home.
Business Class Drinks and Dining
A pre-departure beverage was offered within minutes of taking the seat in Cairns, the choices were juice, water or sparkling wine. Having stuck to water on the previous flight, I went for the bubbly on this occasion.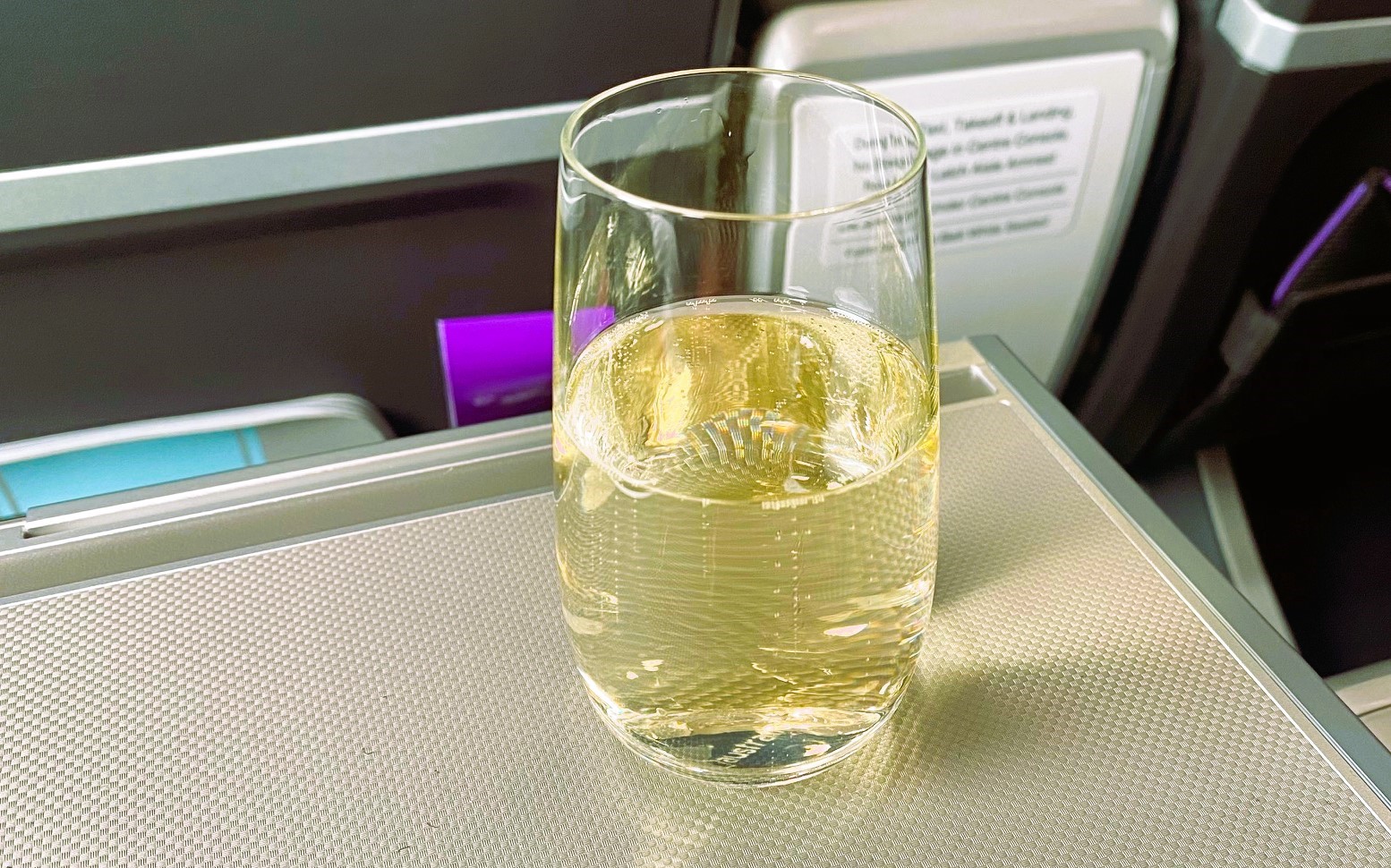 Virgin Australia Business Class Welcome Drink
Lunch service commenced about 45 minutes after take-off. The crew came around offering another round of drinks. I just had the water which was accompanied with roasted almonds. It was nice to see the nuts brought out in a ramekin dish. I would however have preferred if they had been warmed-up and dabbed in salt.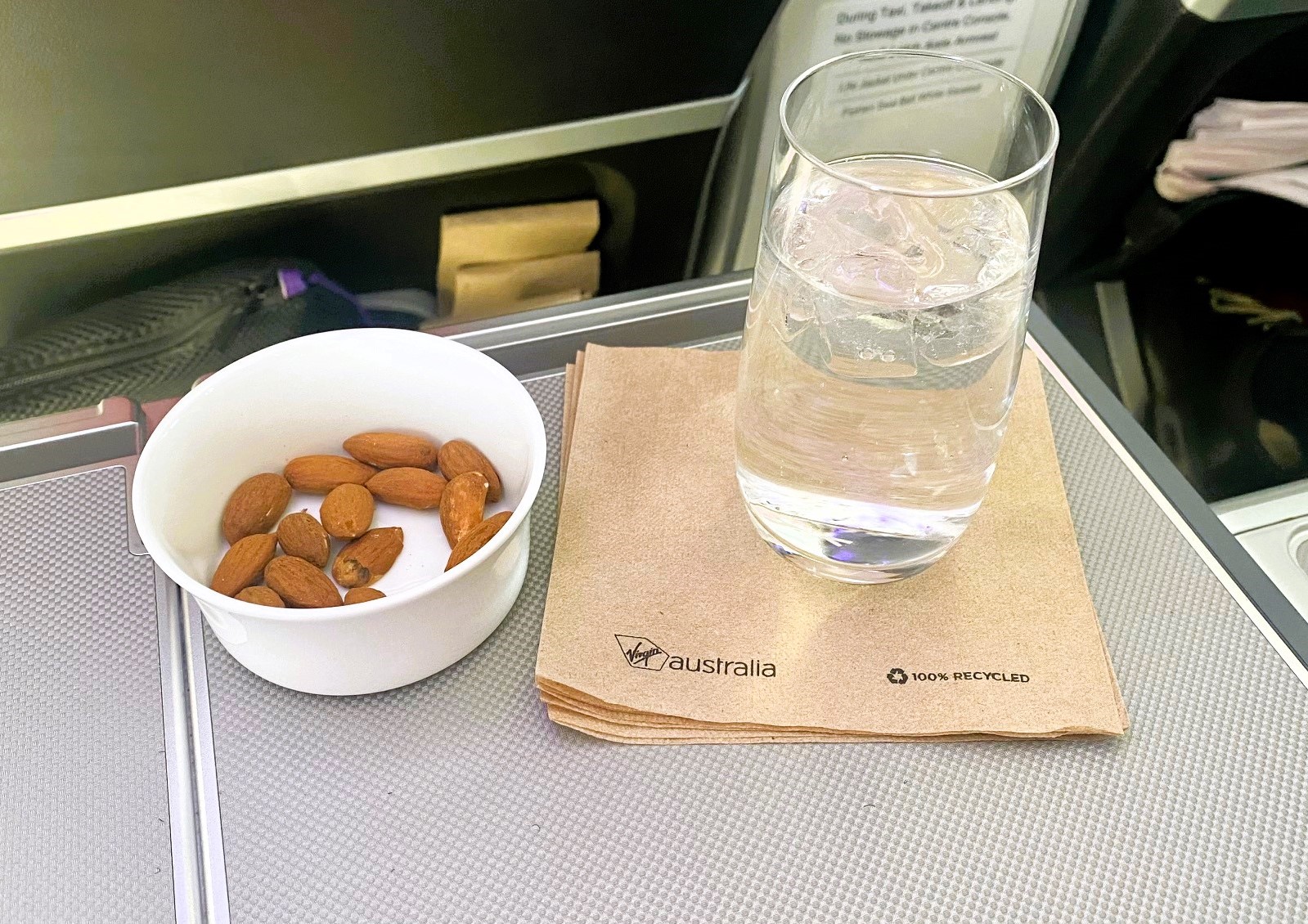 Virgin Australia Business Class pre-lunch Drink
From here on, the service went straight to Mains. There were no entrees or appetisers on offer. In terms of the Main course, passengers could either opt for the Japanese or International fare. Take a look at the Lunch Menu below.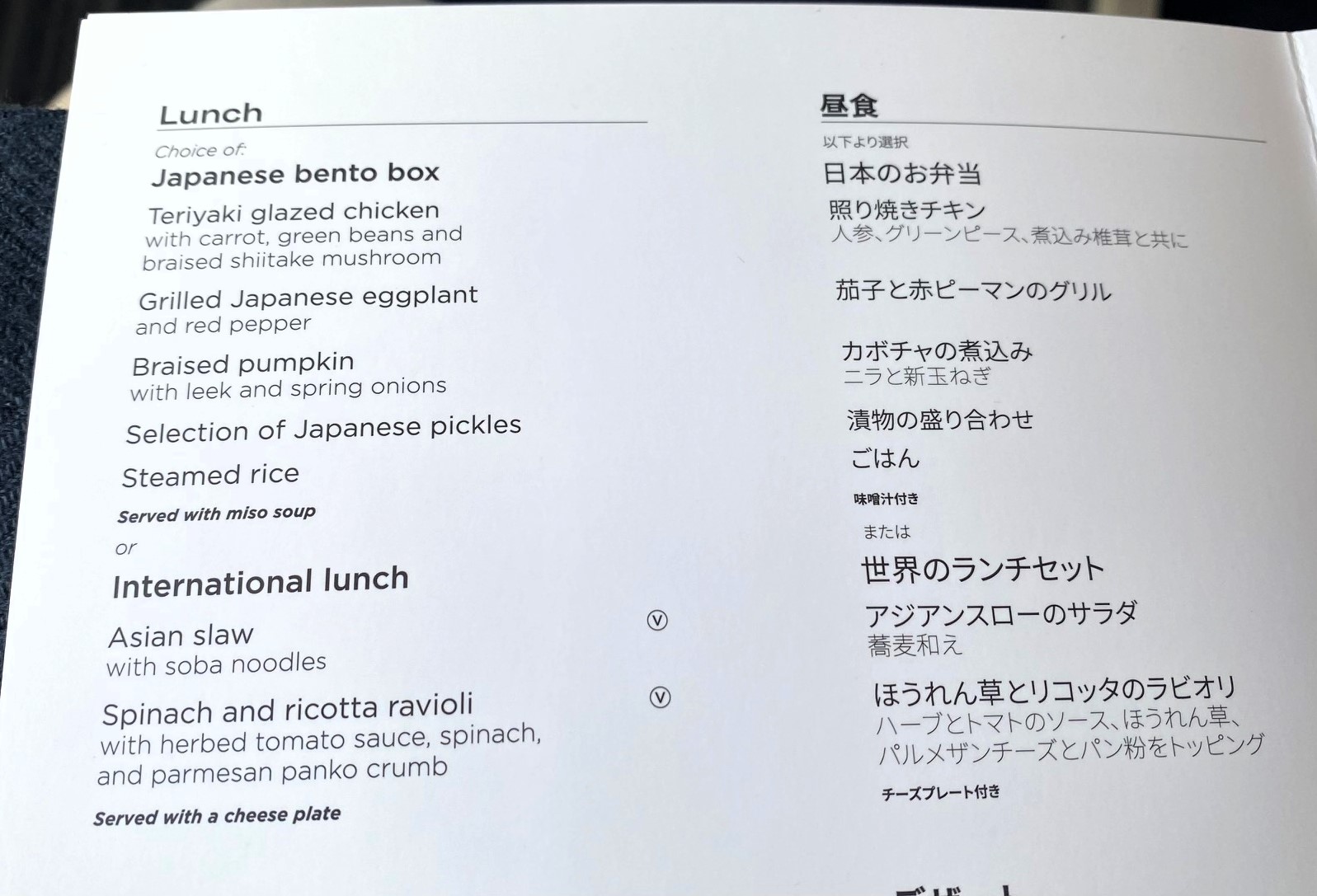 Virgin Australia Business Class Lunch Menu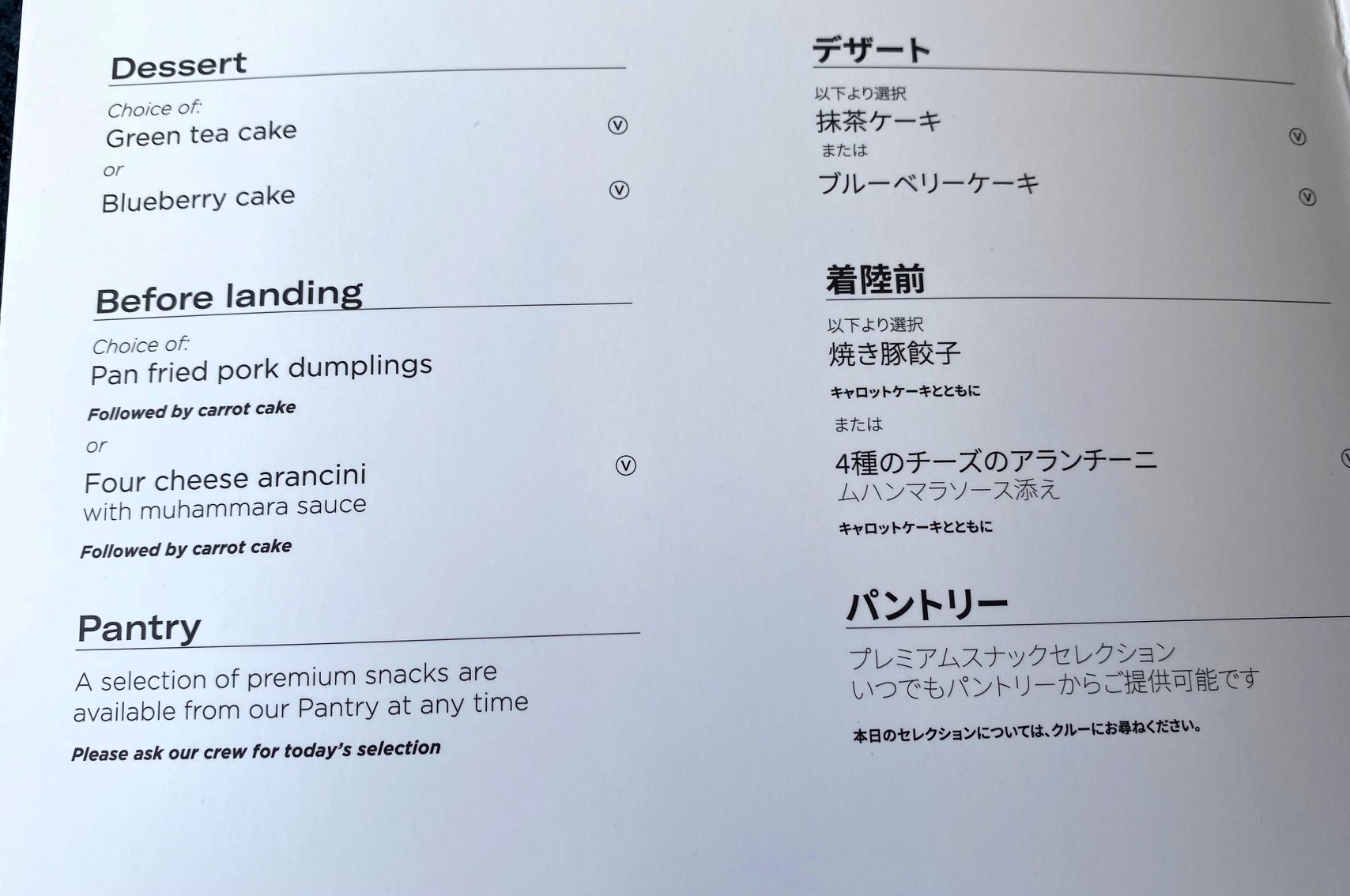 Virgin Australia Business Class Lunch Menu
Although it would have been nice to have something other than Bento Box on offer, given the dynamics of preparing something more elaborate in the narrow B737 galley I cannot be critical about this part. Anyhow, I went with the Japanese option which was all served on a single tray.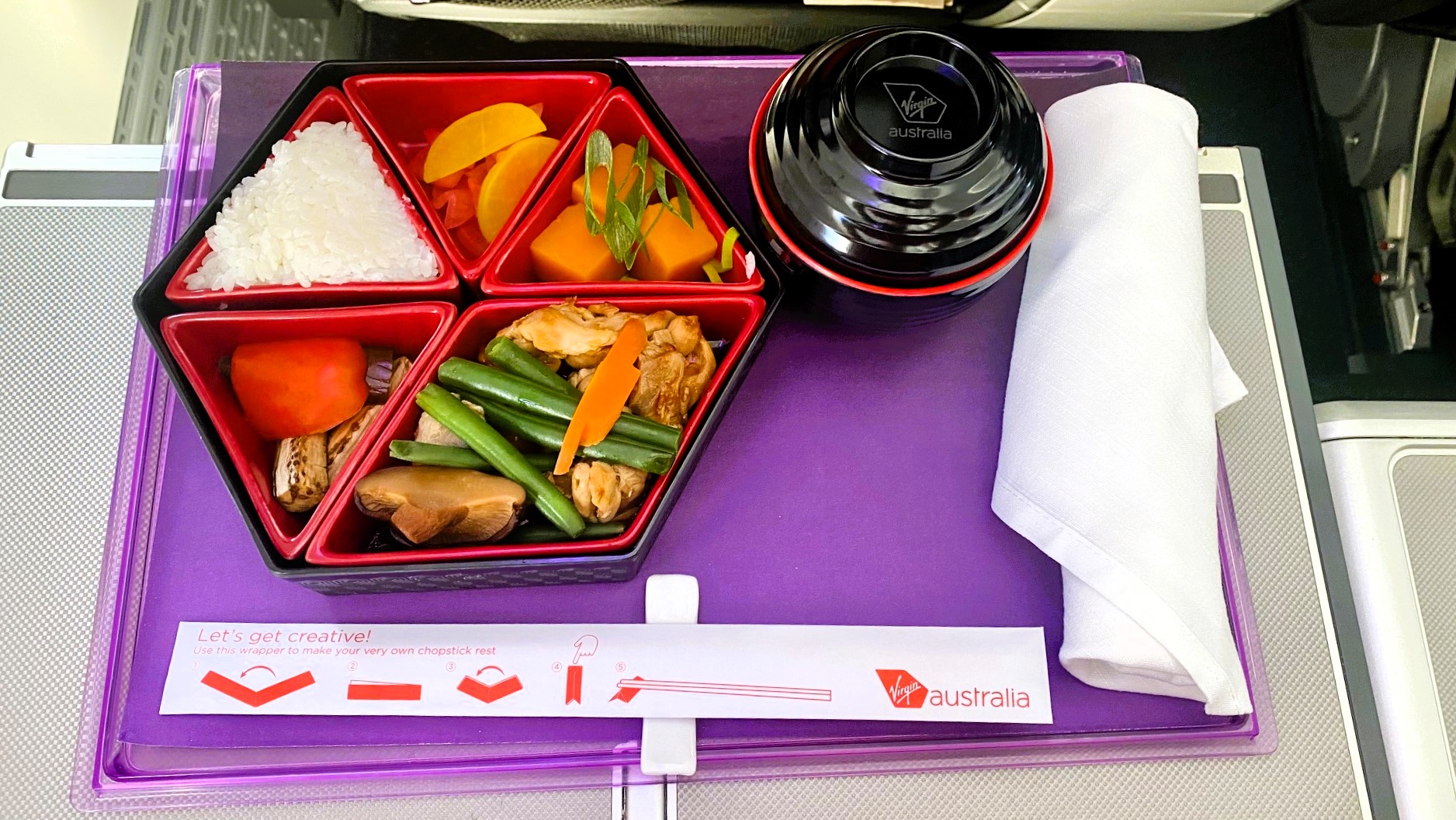 Virgin Australia Business Class Lunch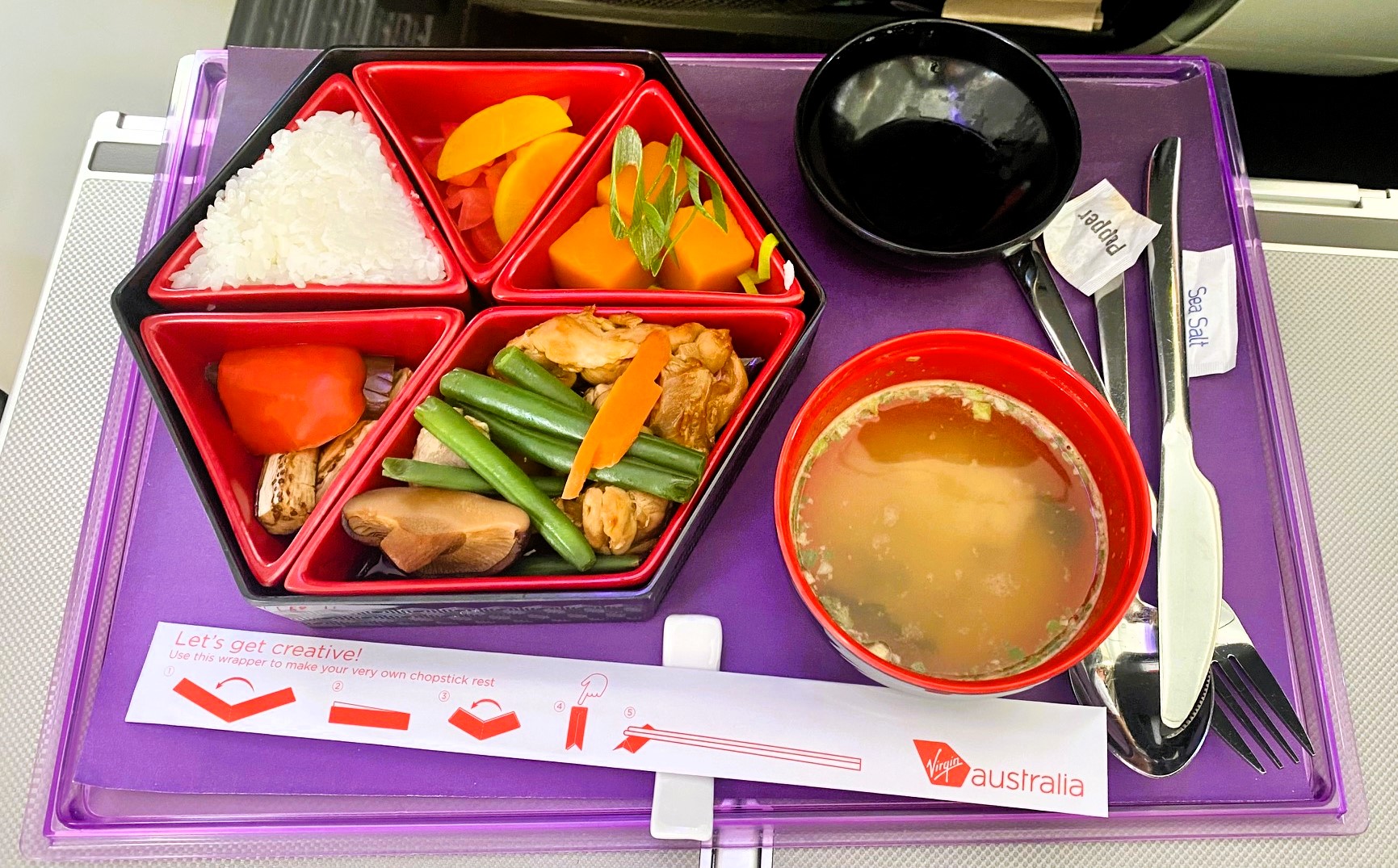 Virgin Australia Business Class Lunch
Everything was good, the miso soup in particular came steaming hot and I made sure to savour every last little drop of the good stuff 😉
I rounded-off the meal with the Green Tea-cake which was ok, if a little dry.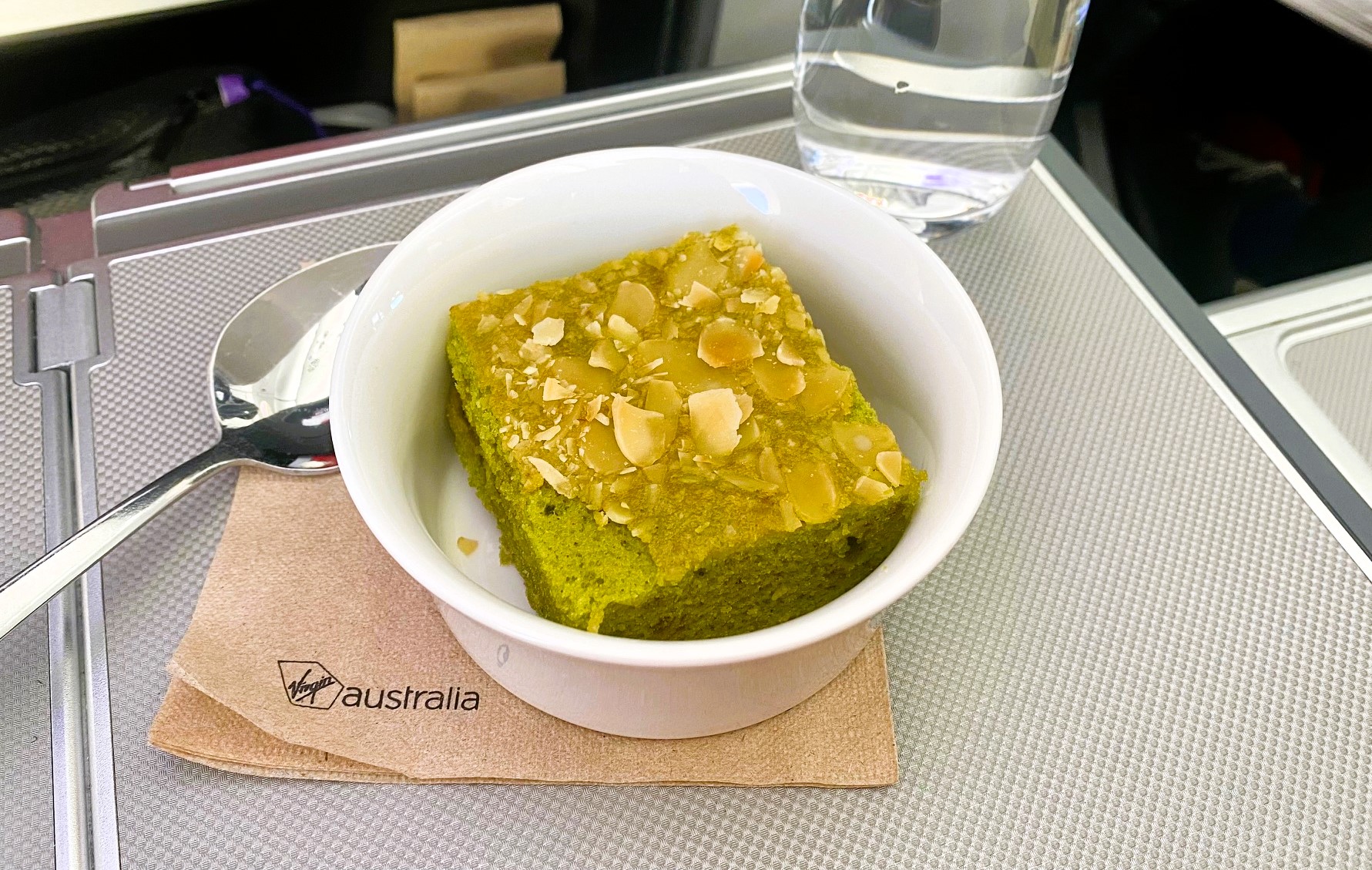 Virgin Australia Business Class Dessert
The crew kept-up with their drinks offering during and after the lunch. Here is the full Drinks and Beverage Menu.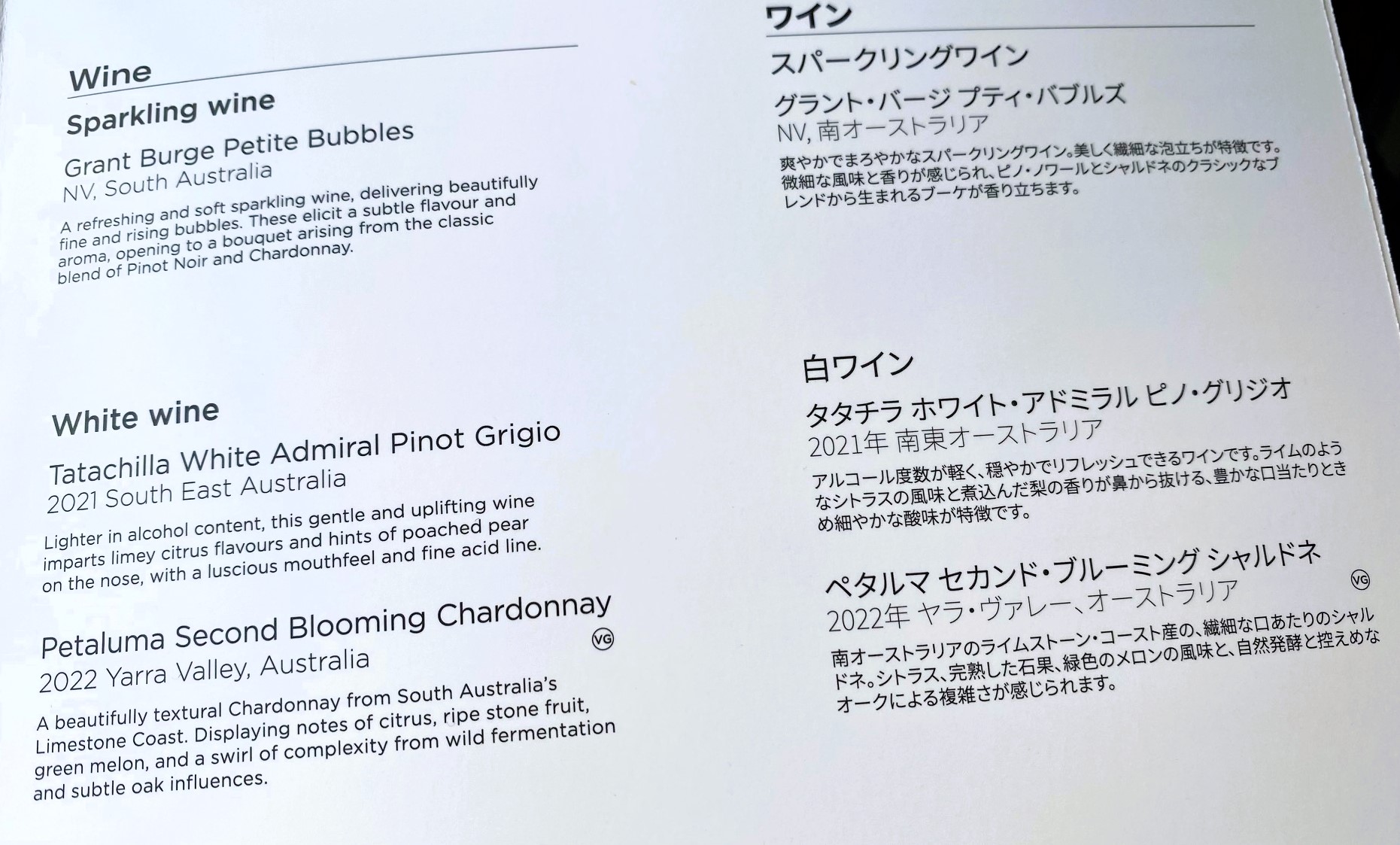 Virgin Australia Business Class Drinks Menu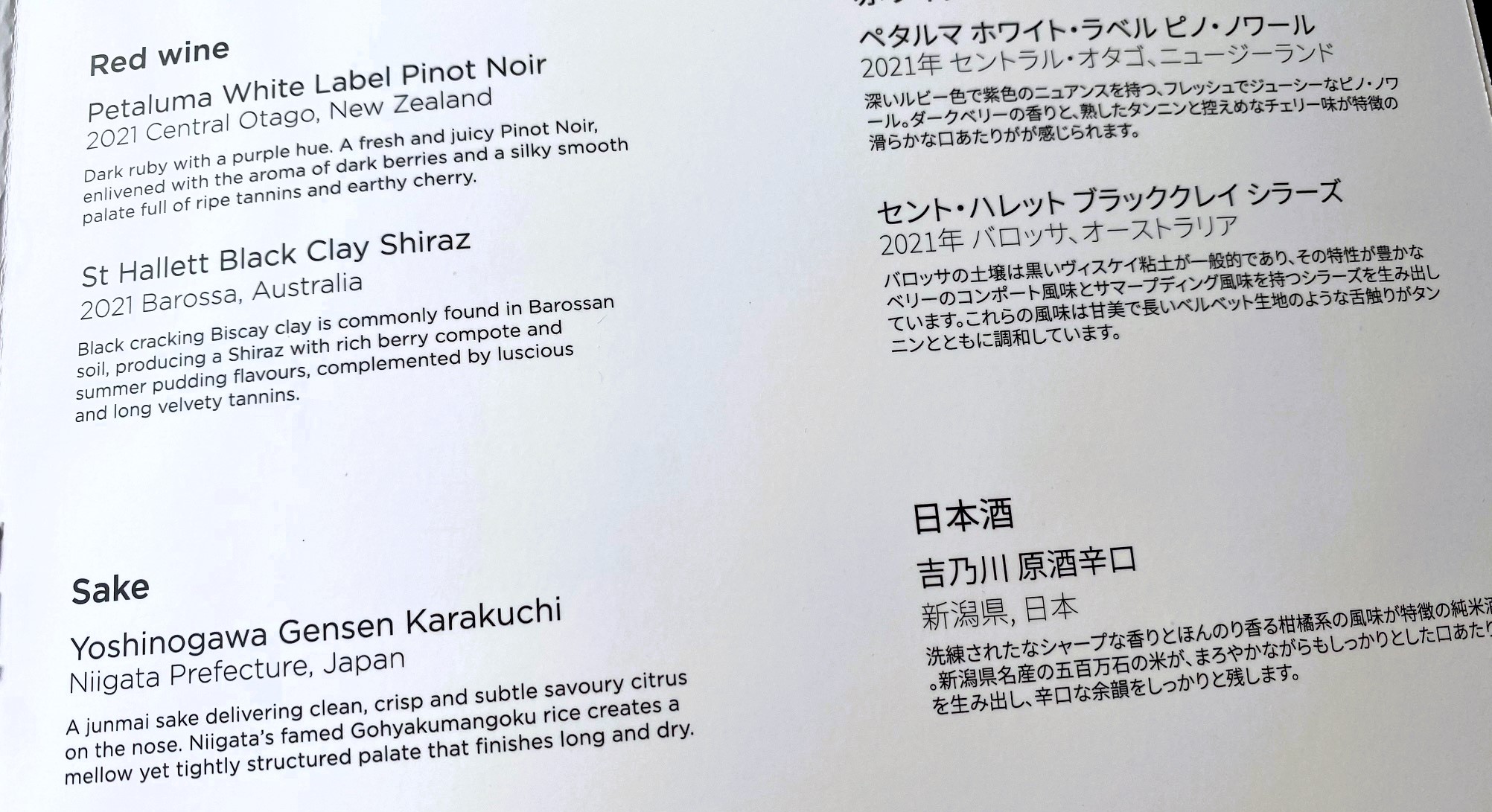 Virgin Australia Business Class Drinks Menu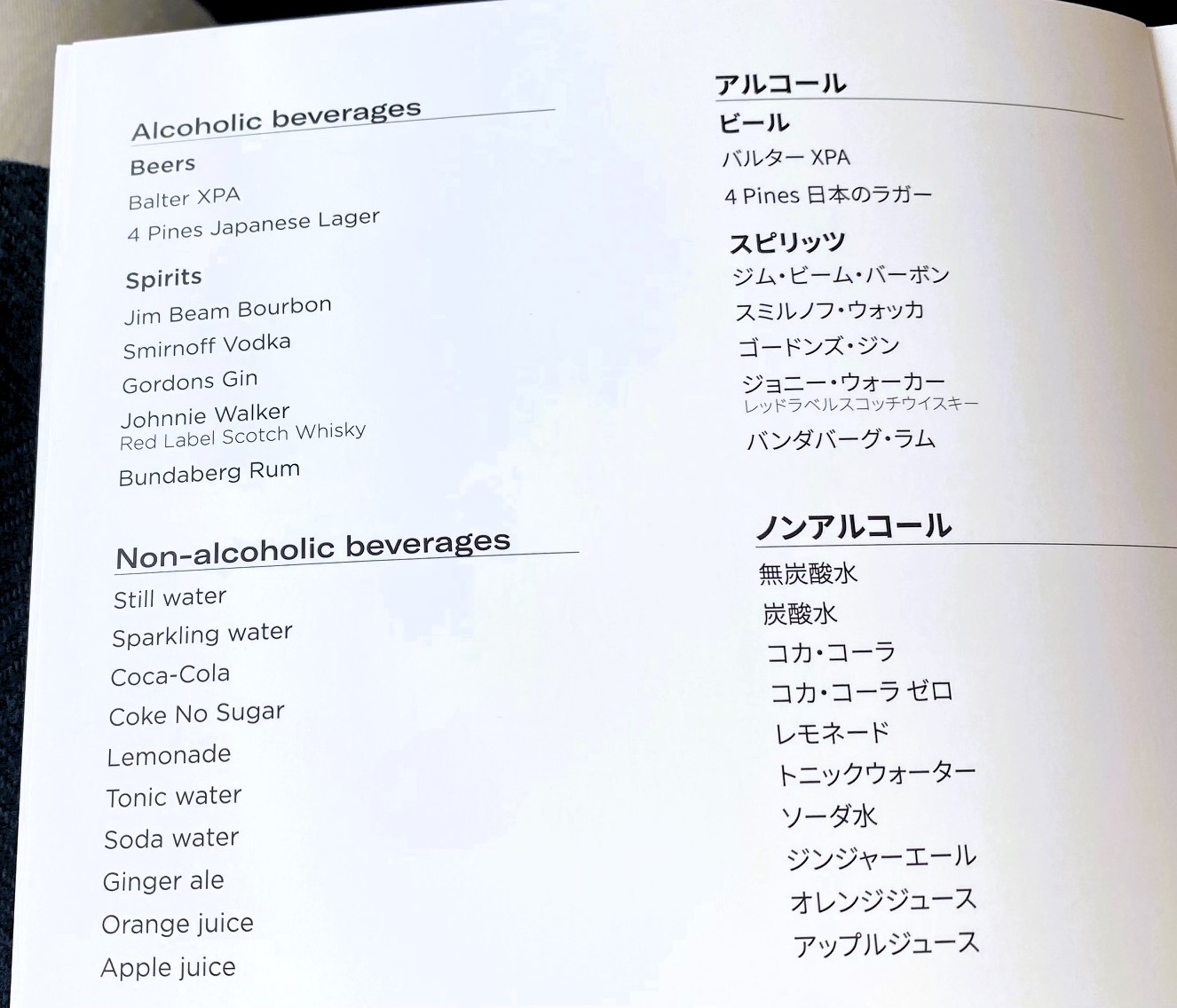 Virgin Australia Business Class Drinks Menu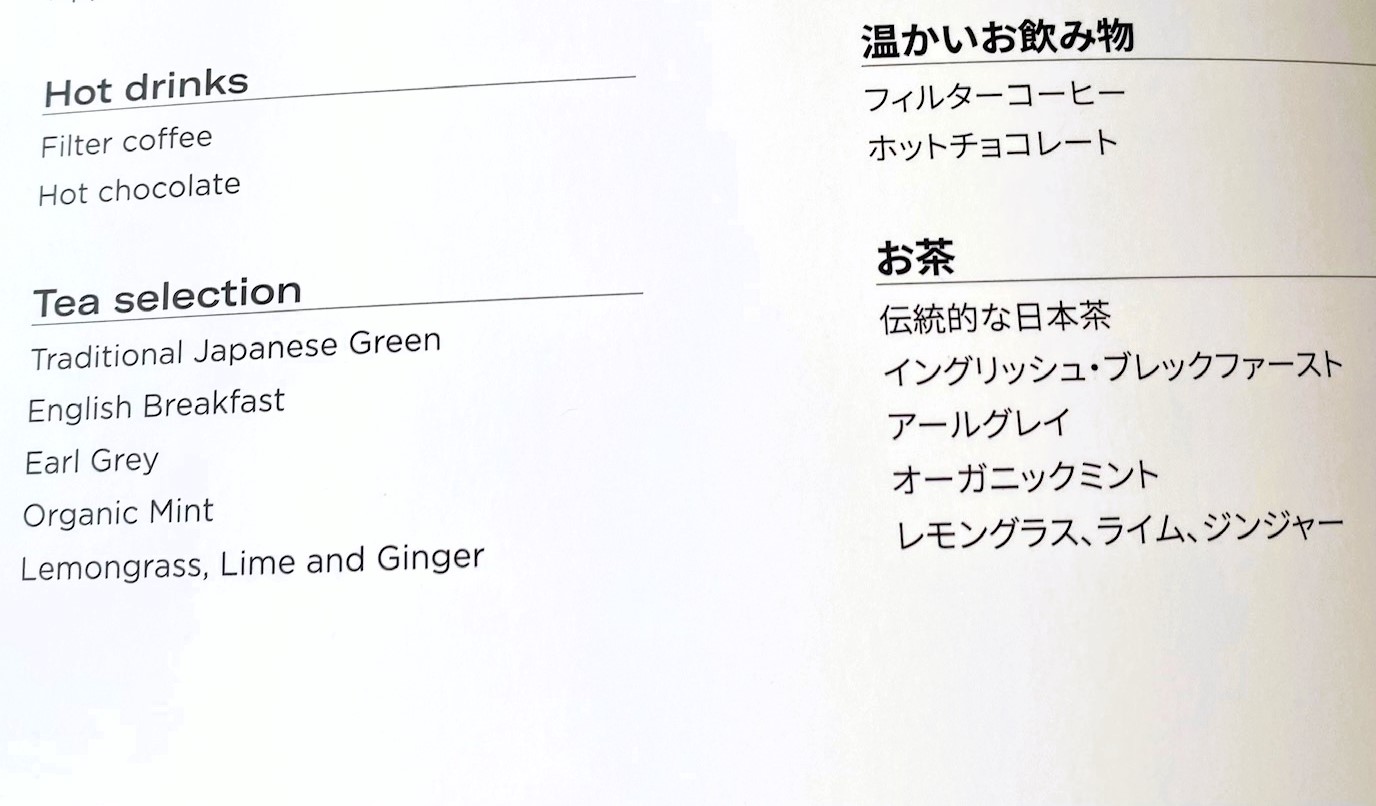 Virgin Australia Business Class Drinks Menu
There was a small pantry menu that Business Class passengers could order from in-between meals. It mainly consisted of items such as chocolates, nuts, crisps etc. Few hours after lunch I wanted to munch on something, so I had some apple juice and chips.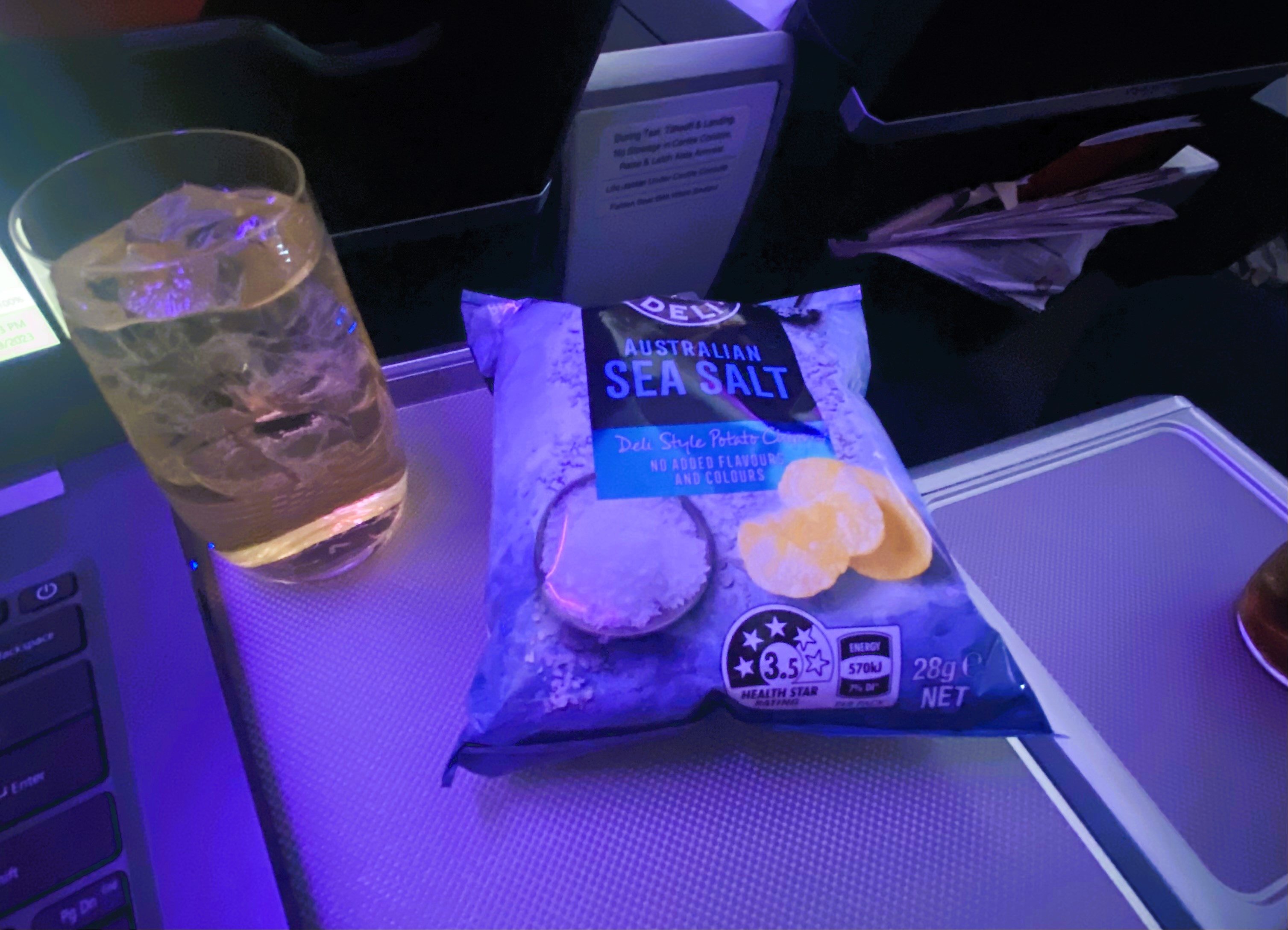 Virgin Australia Business Class Snack
A second meal was served about 2hrs 45 mins before landing into Tokyo. The choices on this occasion was pork dumplings or arancini balls. Keeping up with the Asian theme, I had the dumplings which came with soy sauce and a serve of carrot cake.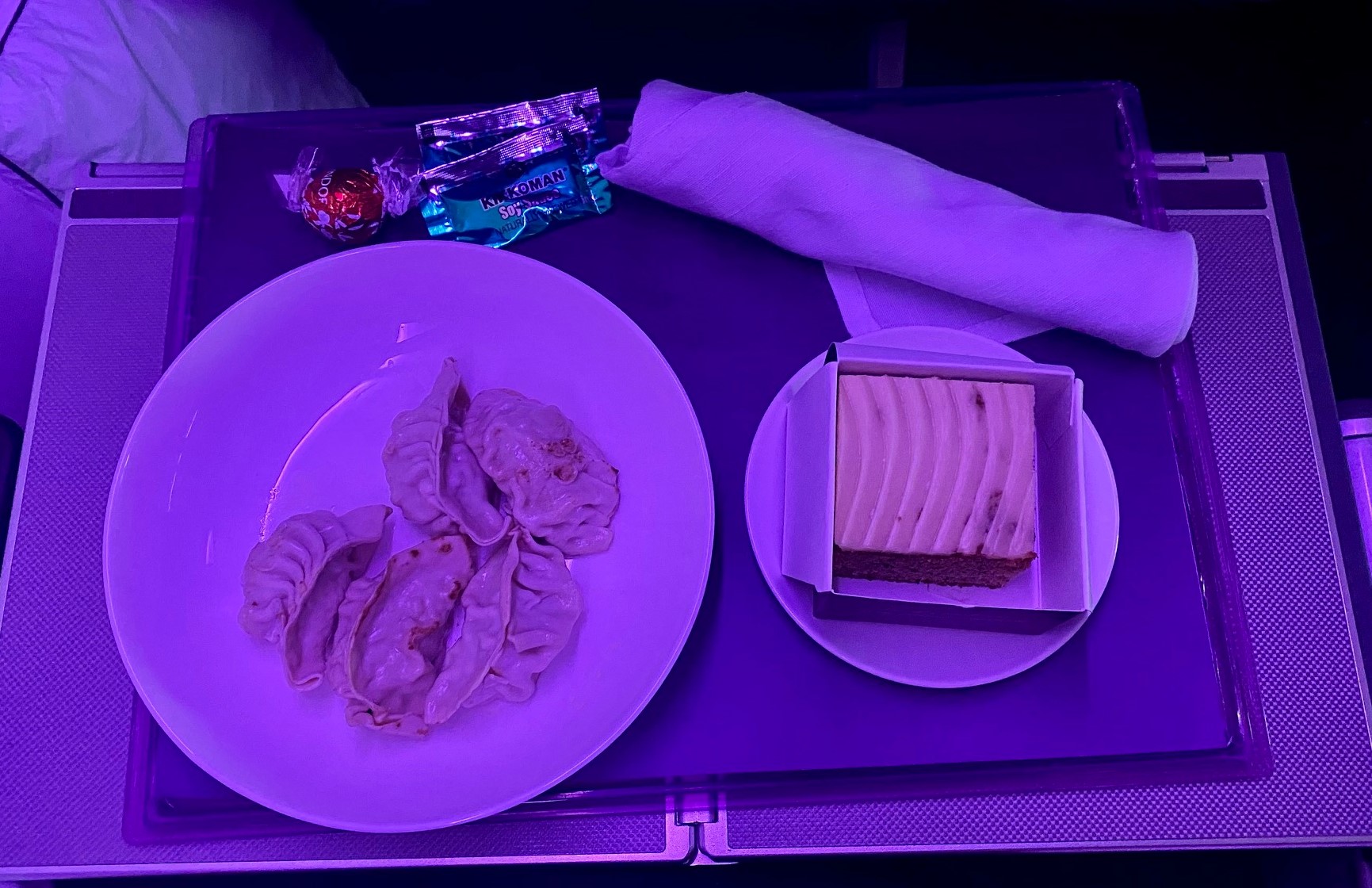 Virgin Australia Business Class Pork Dumplings
This turned out to be the best meal of the day. The dumplings were delicious and after tasting unsalted almonds earlier, the salty nature of soy sauce poured over the dumplings made for a very enjoyable meal. Yum 😋
After finishing my meal, I quickly checked out the lav which was on expected lines.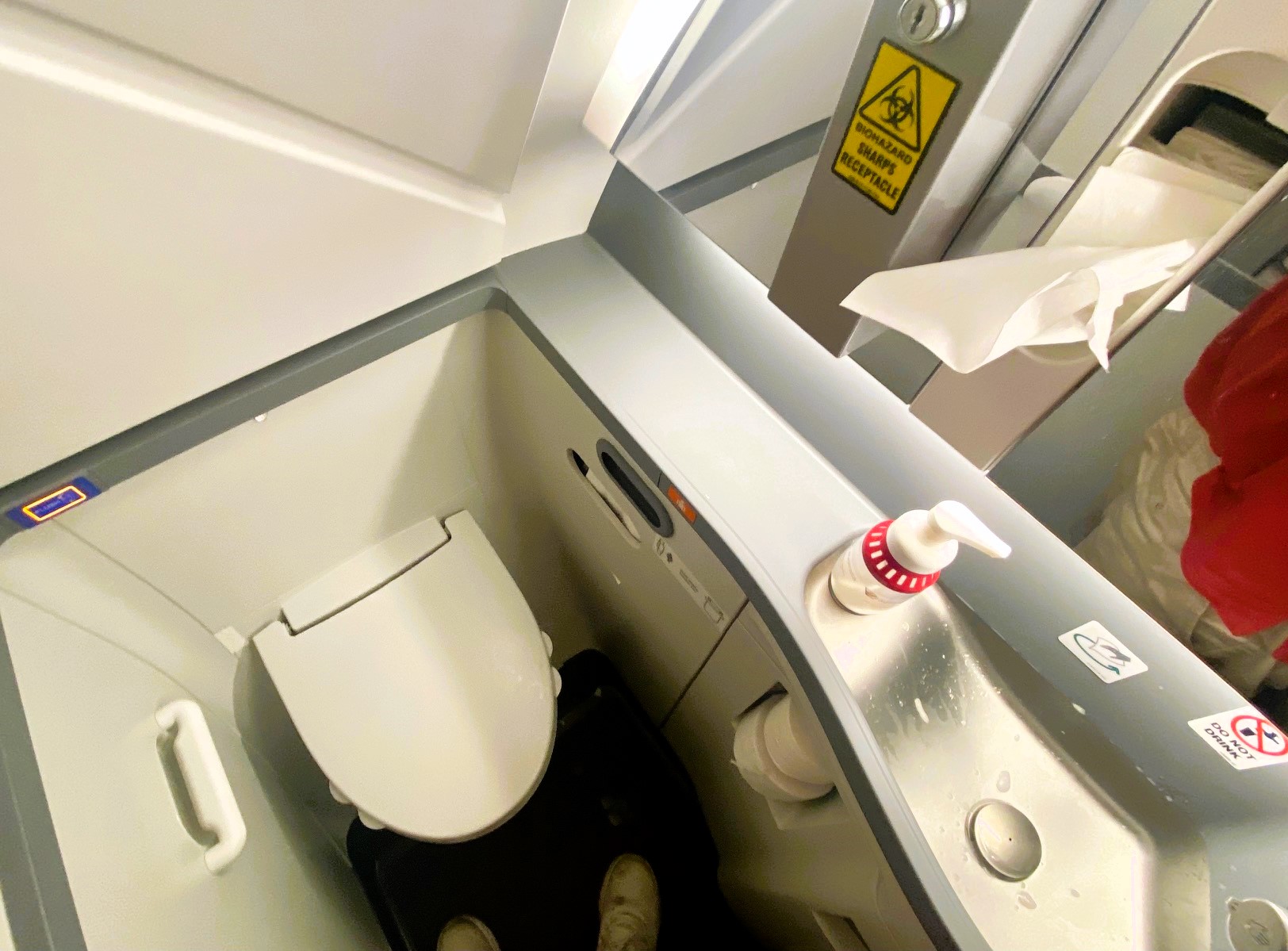 Virgin Australia Max-8 Lavatory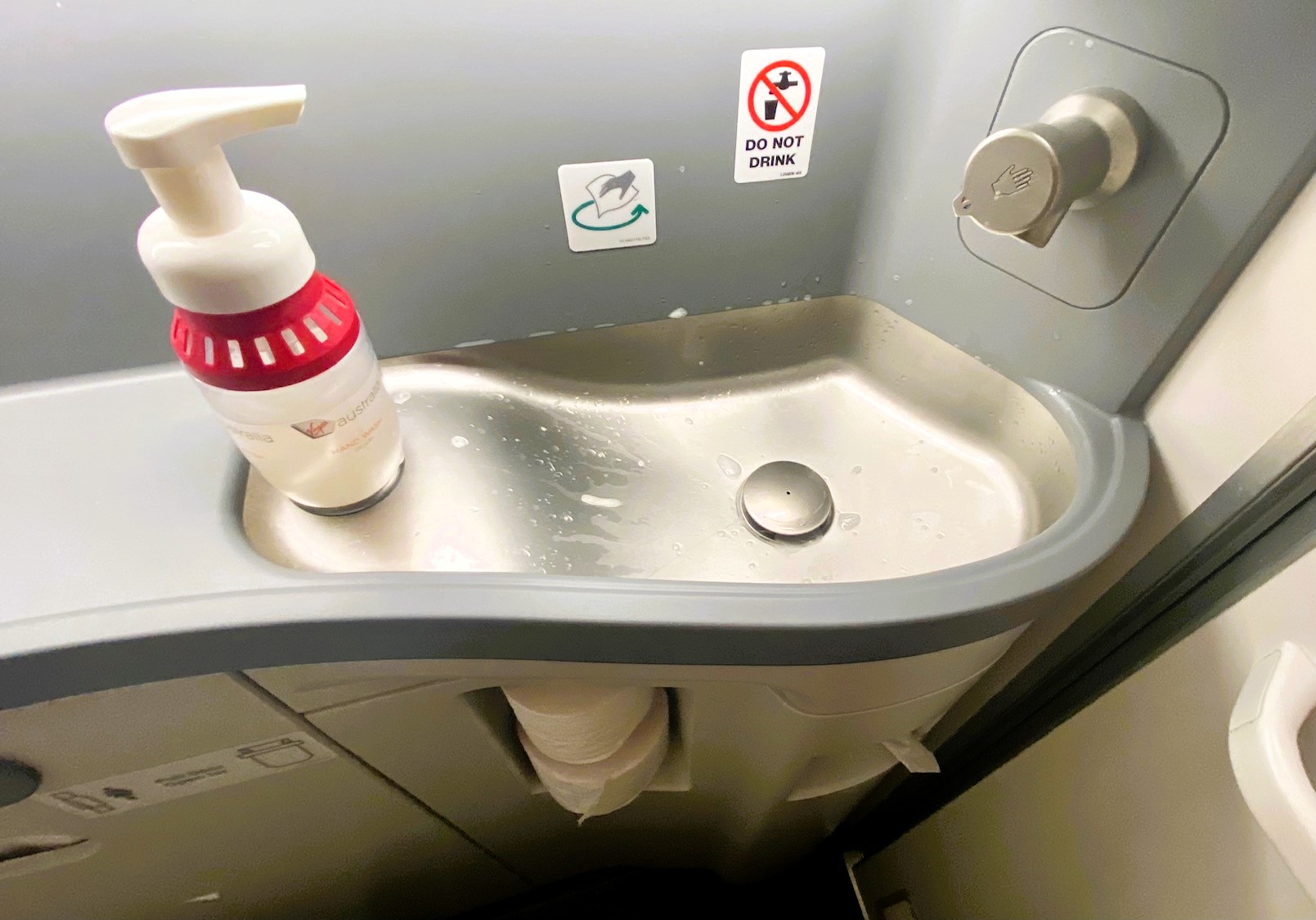 Virgin Australia Max-8 Lavatory
At all times, the crew ensured that the front lav was exclusively utilised by Business Class passengers. At one point I noticed a lady from the Main cabin trying to sneak in, she was swiftly returned and asked to head to the lav at the rear of the plane.
Arrival into Tokyo
With no in-flight content to watch and no wifi it got increasingly difficult to while away time. So it was a relief when the captain came on the PA system announcing that we were about to start our descent into Tokyo.
The bright lights of the city got even brighter as we approached Haneda. After a few left and right turns, we touched down at 7:45 pm local time which was 15 mins ahead of the scheduled arrival. At last, Virgin Australia got something right 😉
From here on, it was another few minutes until we pulled into a gate. The door opened soon after and passengers started streaming out of the plane and into the vast expanses of Haneda T3.
In Conclusion
I won't lie, while there were aspects of service Virgin Australia got right, on the whole this was far from an enjoyable experience. With a flying time of 7hrs and 30 minutes this is already quite a long flight, but the lack of inflight entertainment or wifi made it feel much longer.
While I acknowledge that I had bad luck in the sense that the system broke down just prior to my flight, and that this is not the typical experience most people have, hand-on-heart, I cannot recommend anyone to fly VA on this route.
The crew did the best they could under the circumstances and I got no truck with that, its predominantly the type of seating configuration Virgin Australia have fitted their Max-8's with, which is the real cause for concern.
To be sure, it is not that a more passenger friendly seating is not possible on the aircraft. Fly Dubai and Singapore Airlines both operate Max-8 planes and their Business Class seating is vastly superior to Virgin Australia.
You never say never, and while I am always grateful for any flying experience I have, my hope is that I don't relive this experience any time soon.
Have you flown Virgin Australia to Tokyo? Leave a comment below.