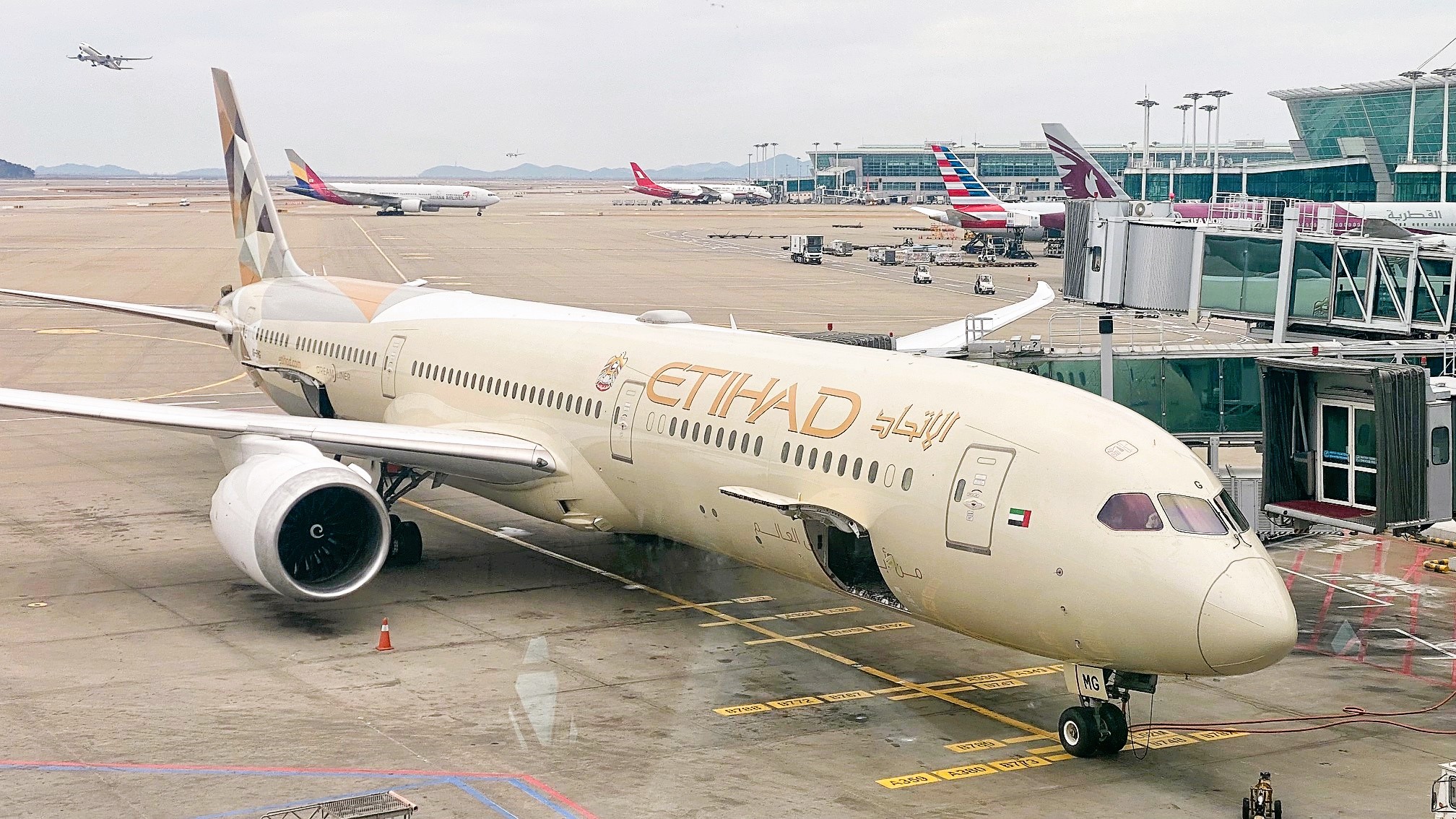 After spending a few days in Kyoto where I stayed at Moxy Kyoto, I took the short Asiana flight from Kansai Int'l Airport in Osaka to Incheon Seoul. The next part of my trip was going to take my from Seoul to Doha via Abu Dhabi flying Etihad Airways.
Booking
I booked my Seoul – Abu Dhabi – Doha leg all on one ticket redeeming 60,000 Aeroplan points. Aeroplan points aren't the easiest of points currency to earn for those of us based in Australia, but the value it offers is so irresistible that it's worth making the effort.
This card earns 1 Star Alliance point per $1 on up to $3,000 each month. The earnings drop to just 0.50 Star Alliance Point per $1 spend on spends over $3,000. Really, nobody should be spending a cent more than $3,000 per month on this card.
You can transfer Star Alliance points to Aeroplan in the ratio of 1:0.80 (1 star alliance point = 0.80 aeroplan point). Put another way, the card earns 0.80 Aeroplan point per $1 on up to $3,000 in spend each month. I have written extensively on Star Alliance Card previously, which you can check out here and here.
The other practical way to earn Aeroplan points is by transferring American Express Membership Rewards Points to Aeroplan via Marriott Bonvoy. If you want to learn more about these partnerships and how to transfer points, you can do so over here.
Note that this option of generating Aeroplan points only makes sense when there is a transfer bonus on offer from Amex to Marriott, which they have offered at least once a year over the last few years.
Boarding
On this day, my Etihad flight was departing from Gate 43 in Concourse E. As I had already checked-in online and downloaded both boarding pass's on my wallet, I cannot talk about the actual check-in experience at Incheon Airport.
Anyhow, boarding was scheduled to start at 4:50 pm for the 5:50 pm departure. At 4:50 pm, the Gate staff announced that boarding will be delayed by 10 minutes as the aircraft wasn't yet ready to receive passengers. As promised, 10 minutes later they called for First & Business Class passengers as well as those with elite status to start boarding.
I was hoping to be amongst the first to board so I can get some clean shots of the cabin, frustratingly, my boarding pass came up as Not Ok For Boarding when they scanned it. Turns out the boarding passes saved on my phone were the culprit and I actually needed a printed copy to board. Thankfully it only took them couple of minutes to print it and I was on my way soon enough.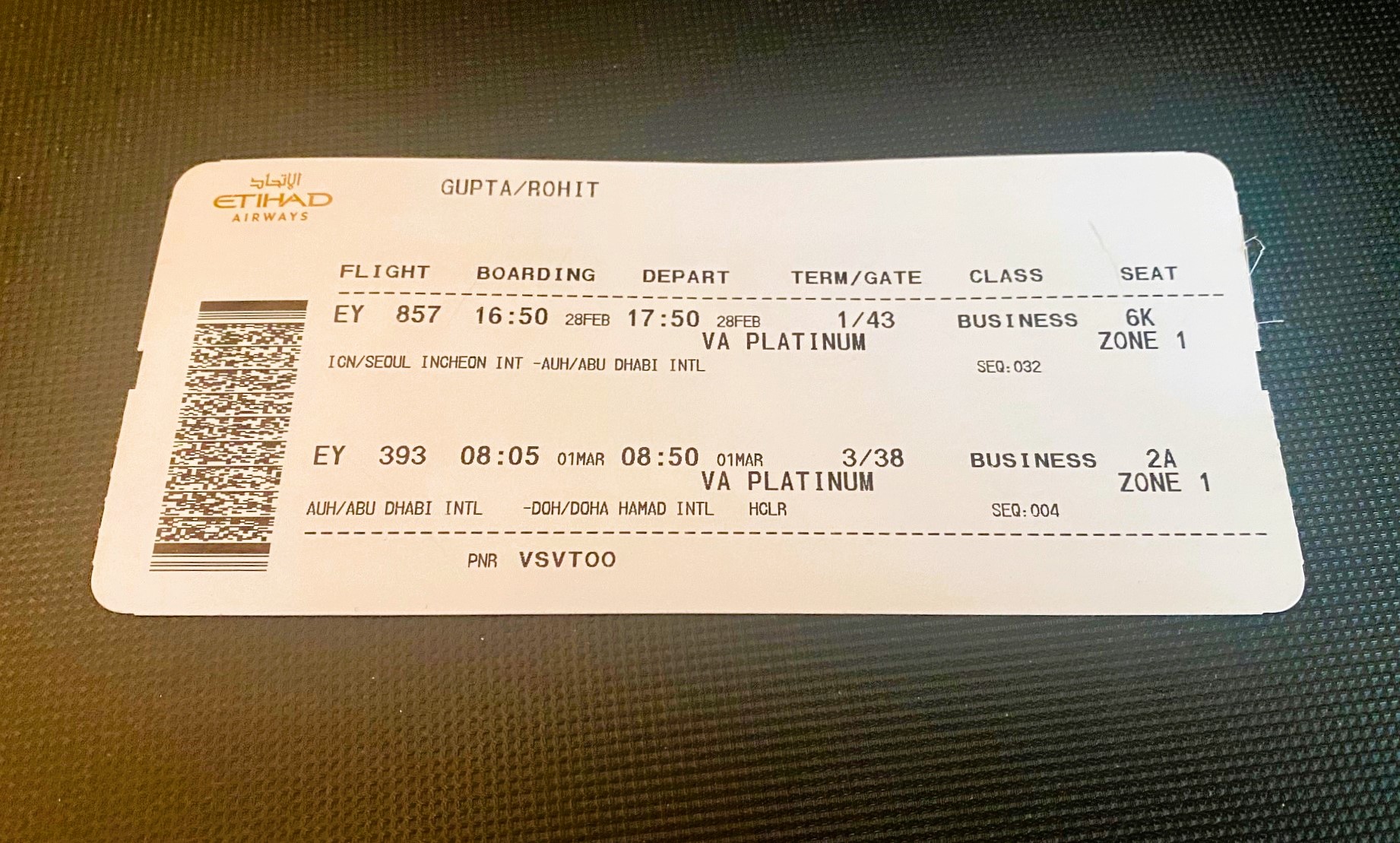 My Etihad Airways 2-in-1 Boarding Pass
Etihad B-787 Business Class Cabin & Seats
I boarded the plane from the 2nd door and turned left to enter the Business Class Cabin. Etihad's B-787 Business Class is laid out in the popular 1-2-1 configuration. There are 8 alternating rows of forward and rear facing seats for a total of 32 Business Class seats in the cabin.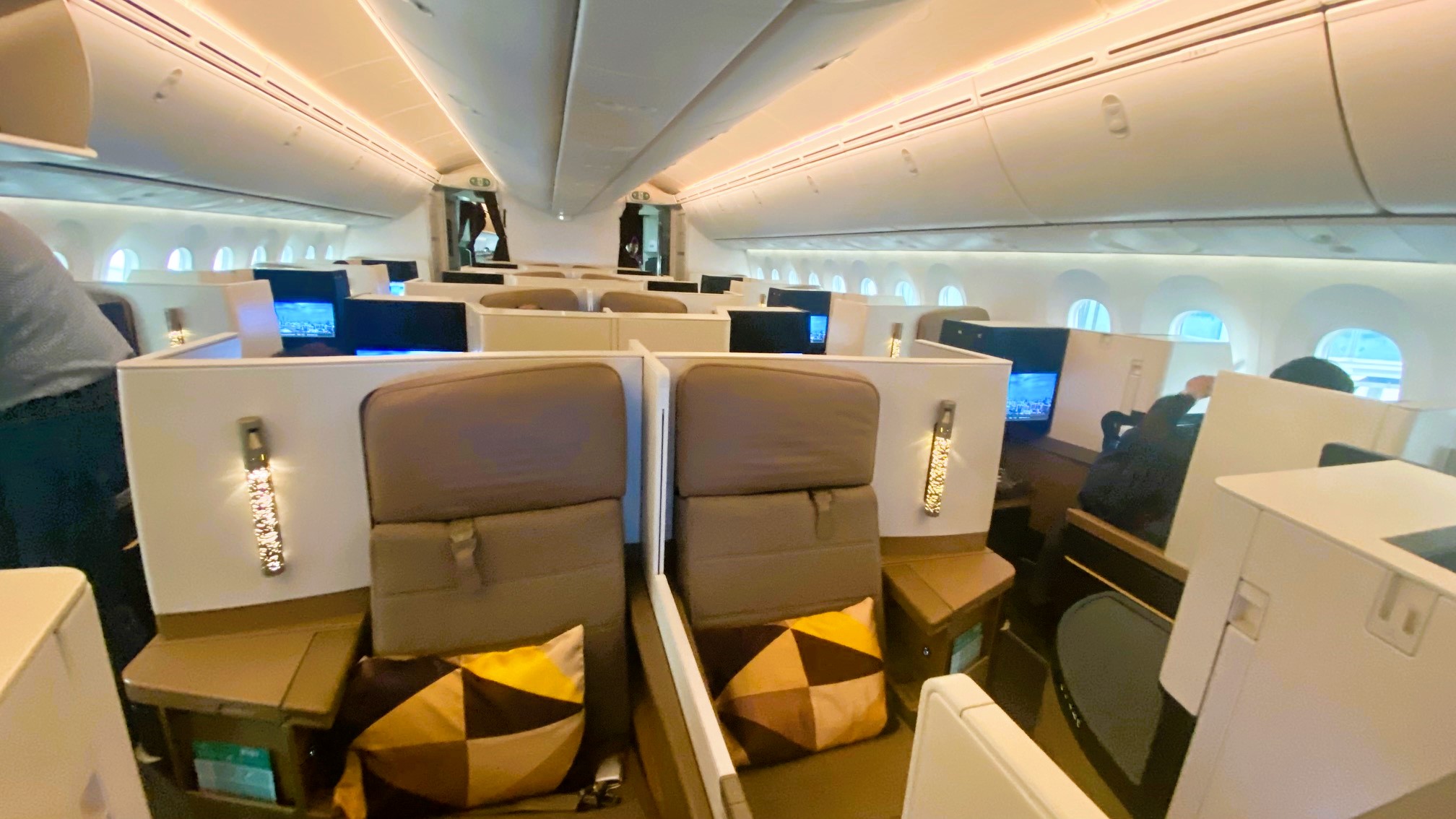 Etihad B-787 Business Class Cabin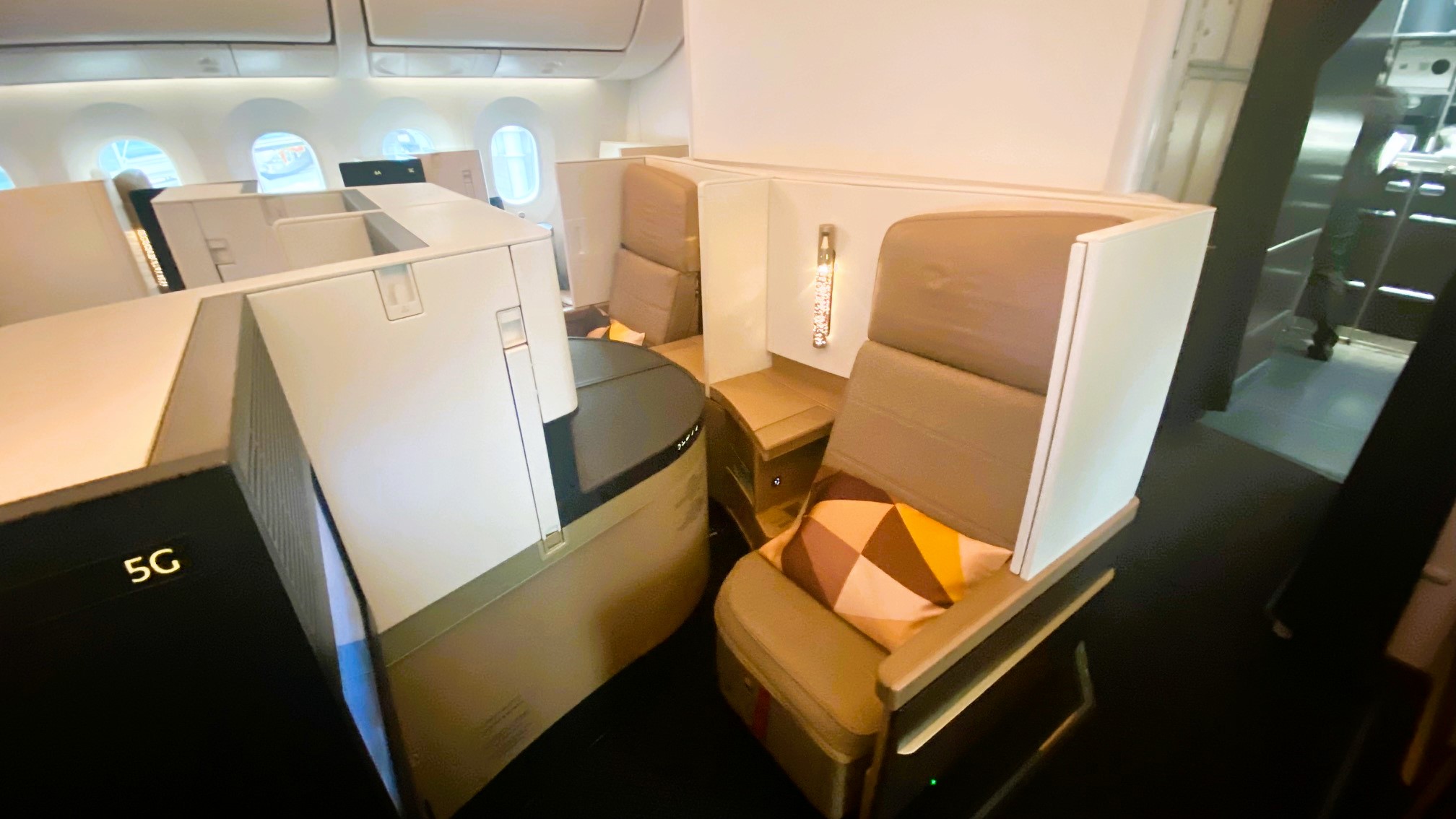 Etihad B-787 Business Class Seats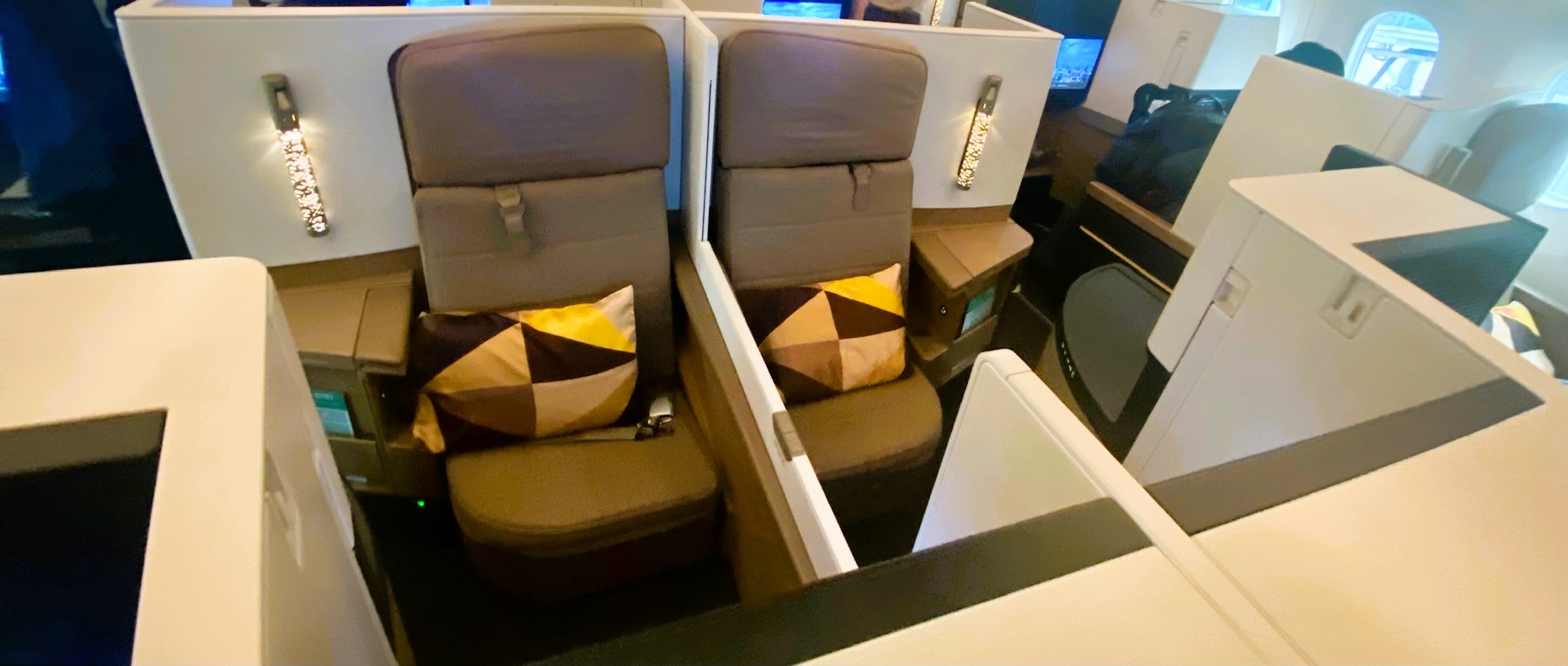 Etihad B-787 Business Class Seats
On this flight, I had selected Seat 6K for myself, which was a forward facing window seat on the right side of the cabin.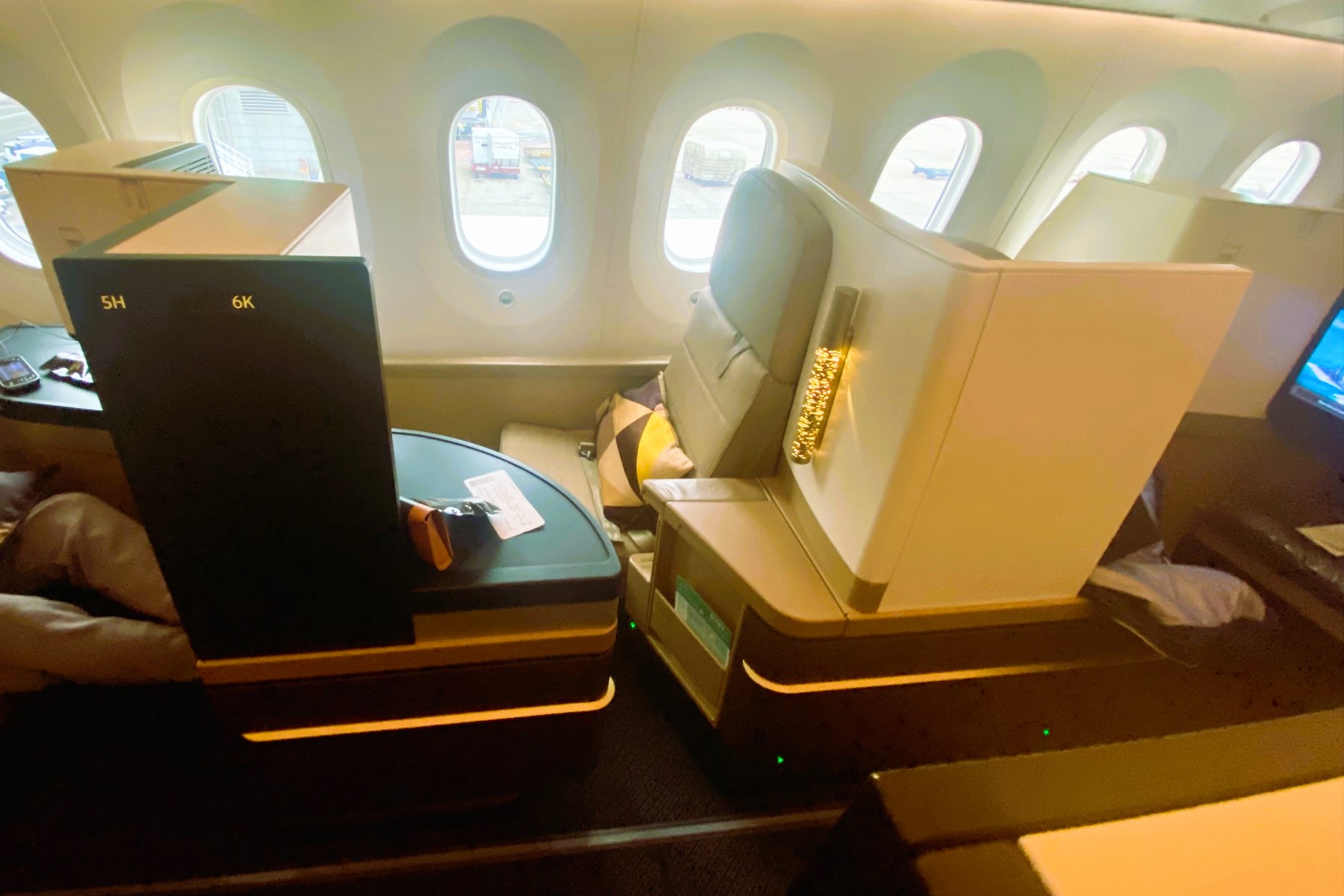 Etihad B-787 Business Class Seat 6K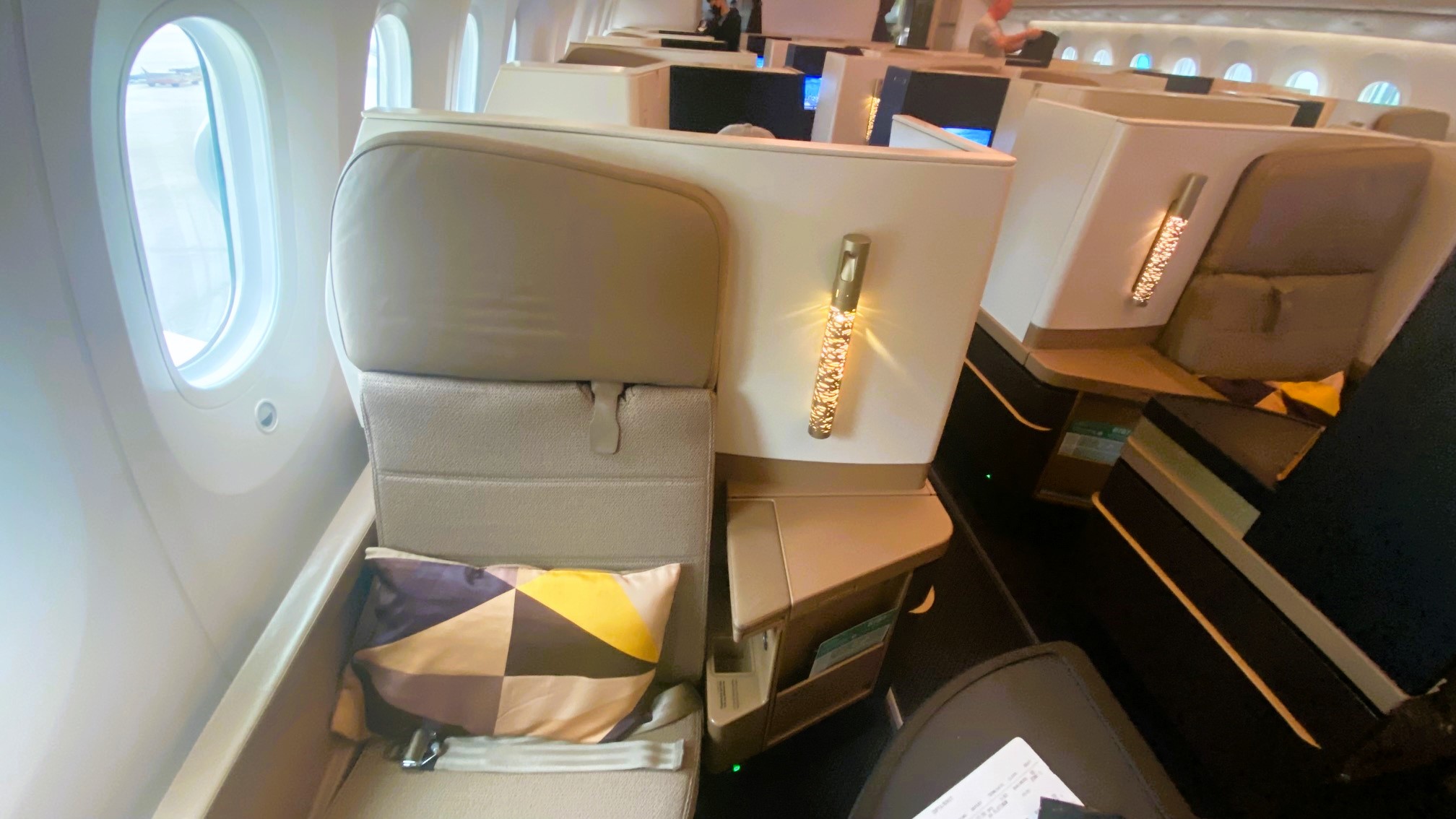 Etihad B-787 Business Class Seat 6K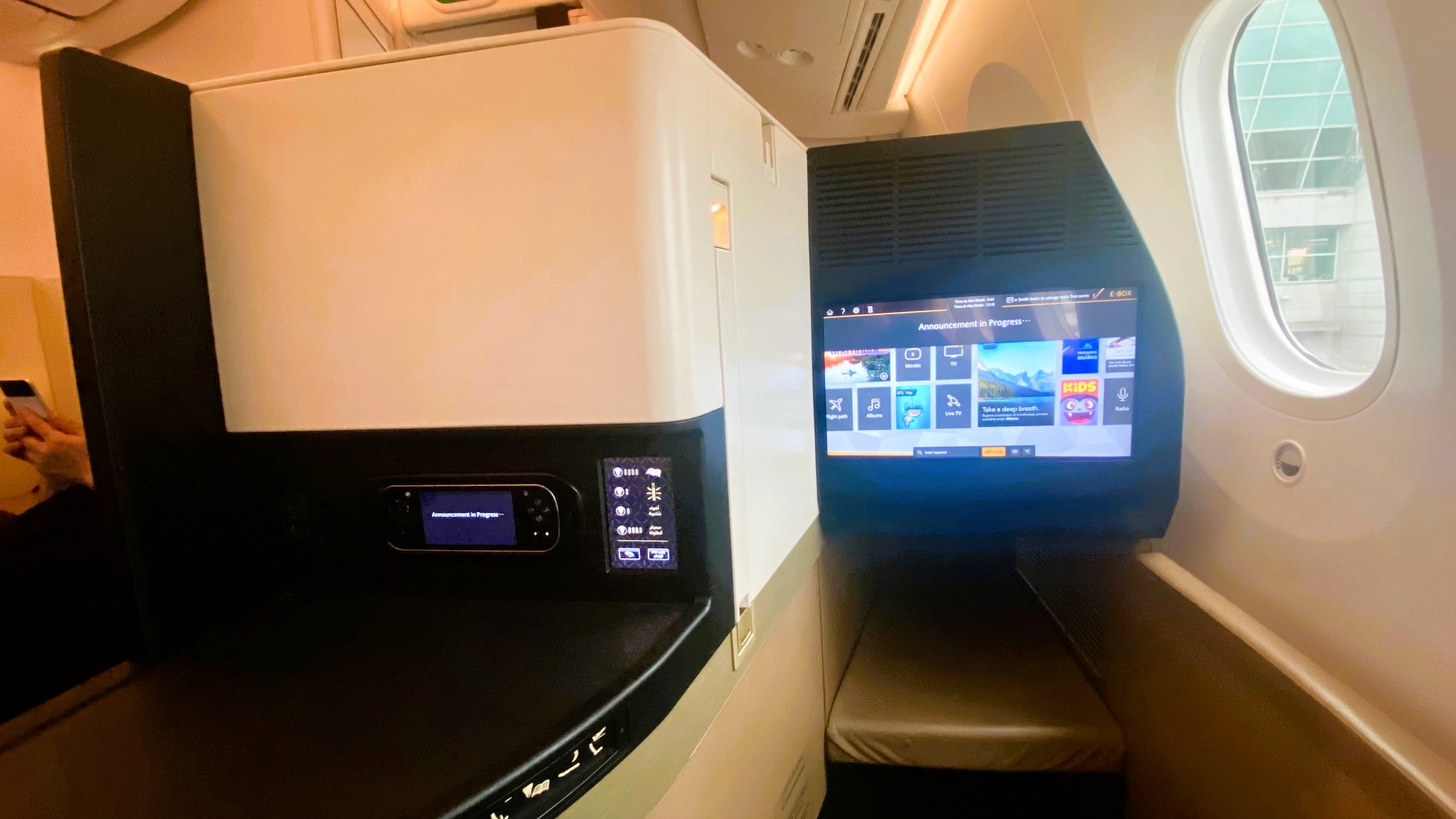 Etihad B-787 Business Class Seat 6K
I thought the seat was tastefully appointed without taking things over the top, unlike, you know who 😉😉. In the sitting position, there is a night lamp and a reading light parallel to your left shoulder.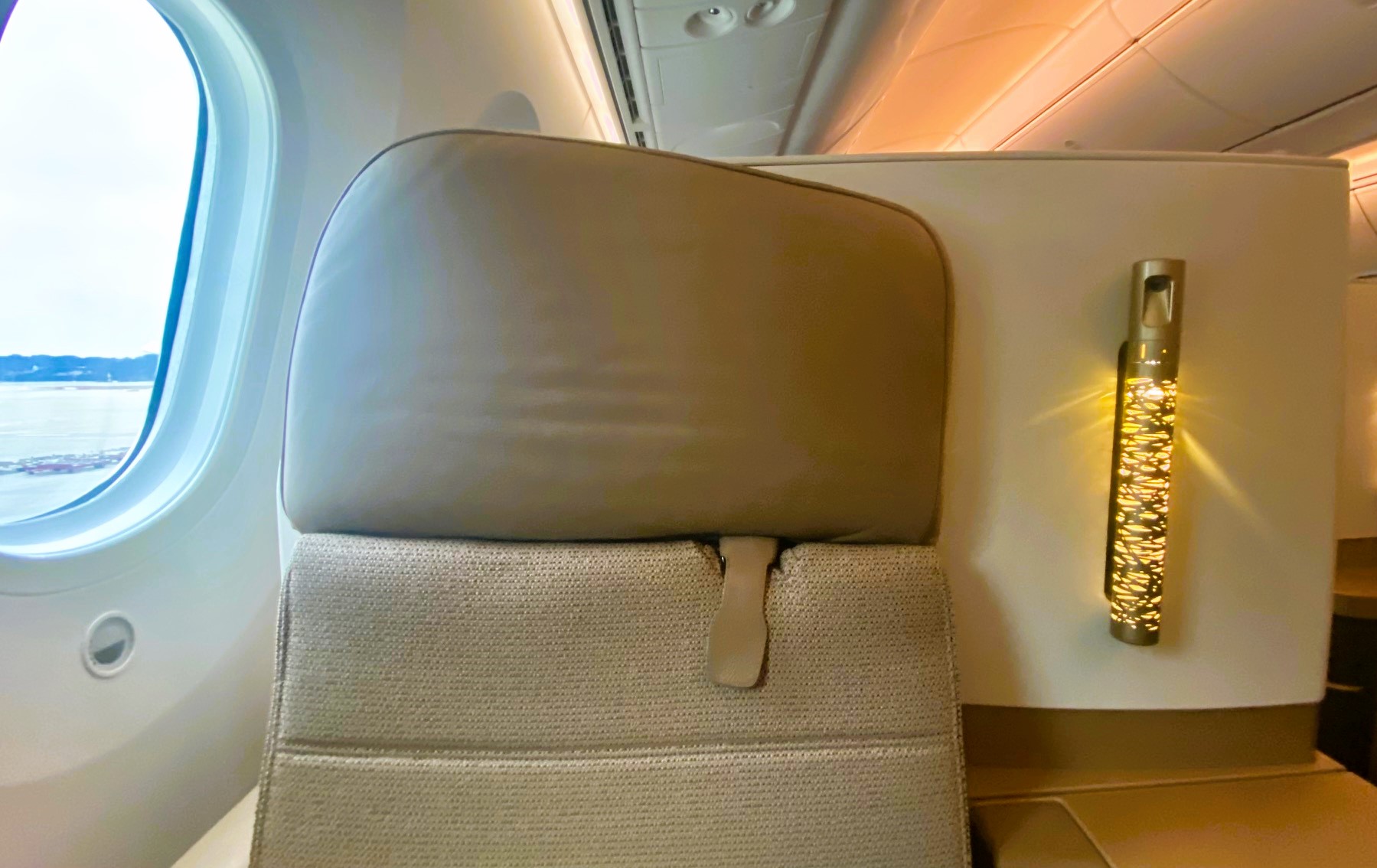 Etihad B-787 Business Class Seat
Just below, you have a two piece storage compartment. Waiting inside was a pair of good quality headphones and a bottle of water.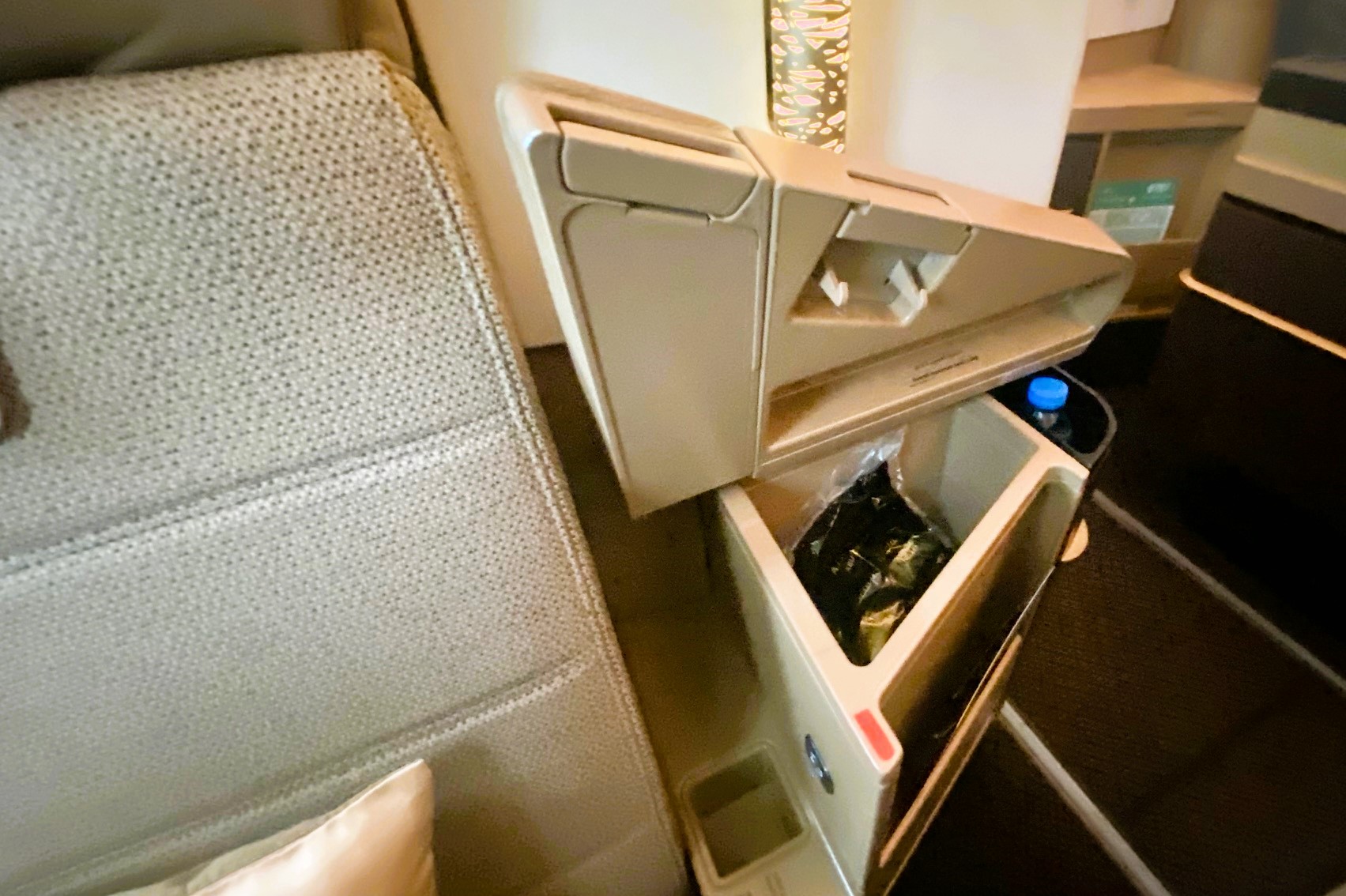 Etihad B-787 Business Class Seat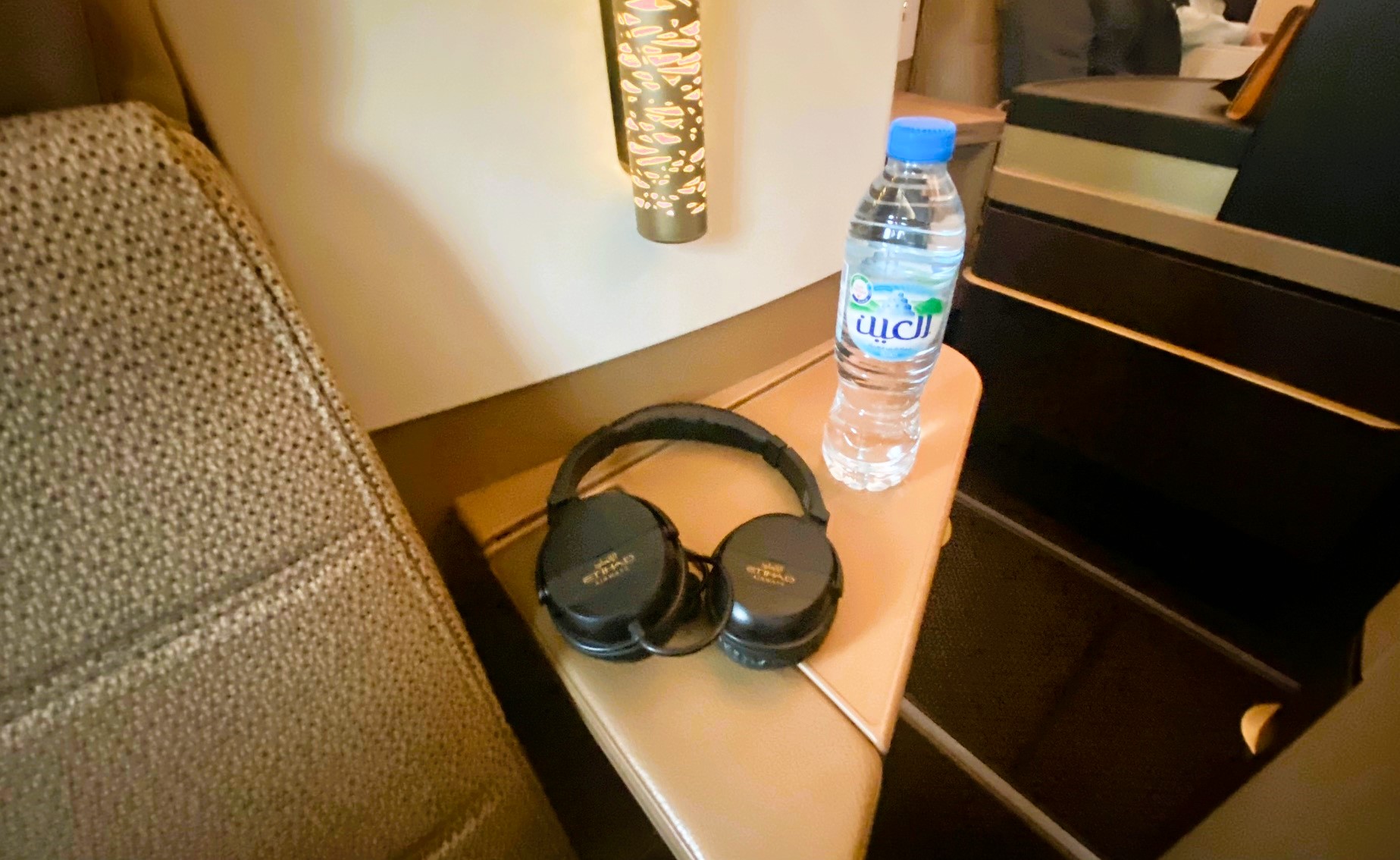 Etihad B-787 Business Class Seat
There is another large storage space under the seat footwell where you could easily fit your shoes or backpack.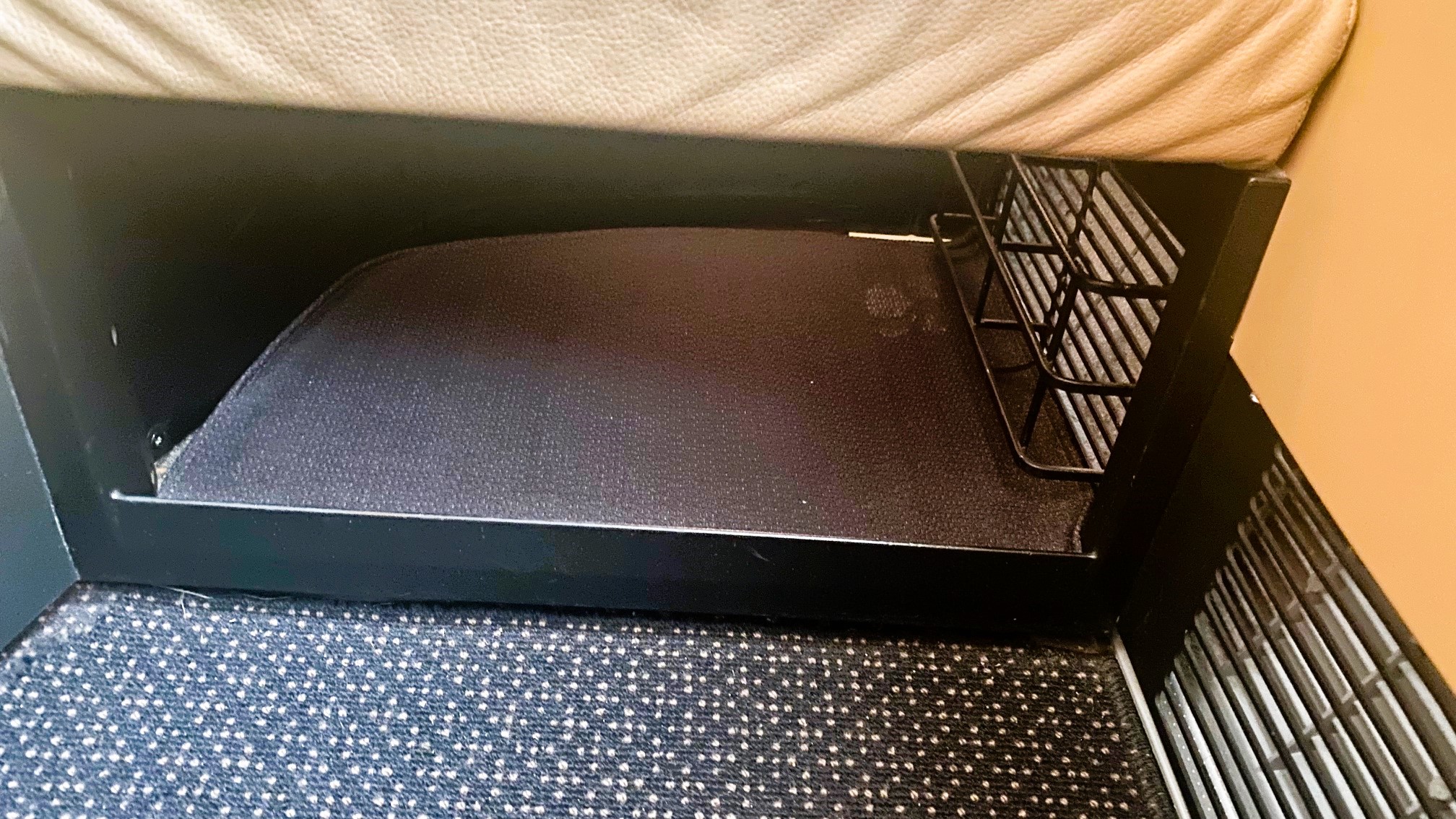 Etihad B-787 Business Class Seat
You will find the light controls, a hand-held device, power and charging outlets fitted on the forward console wall.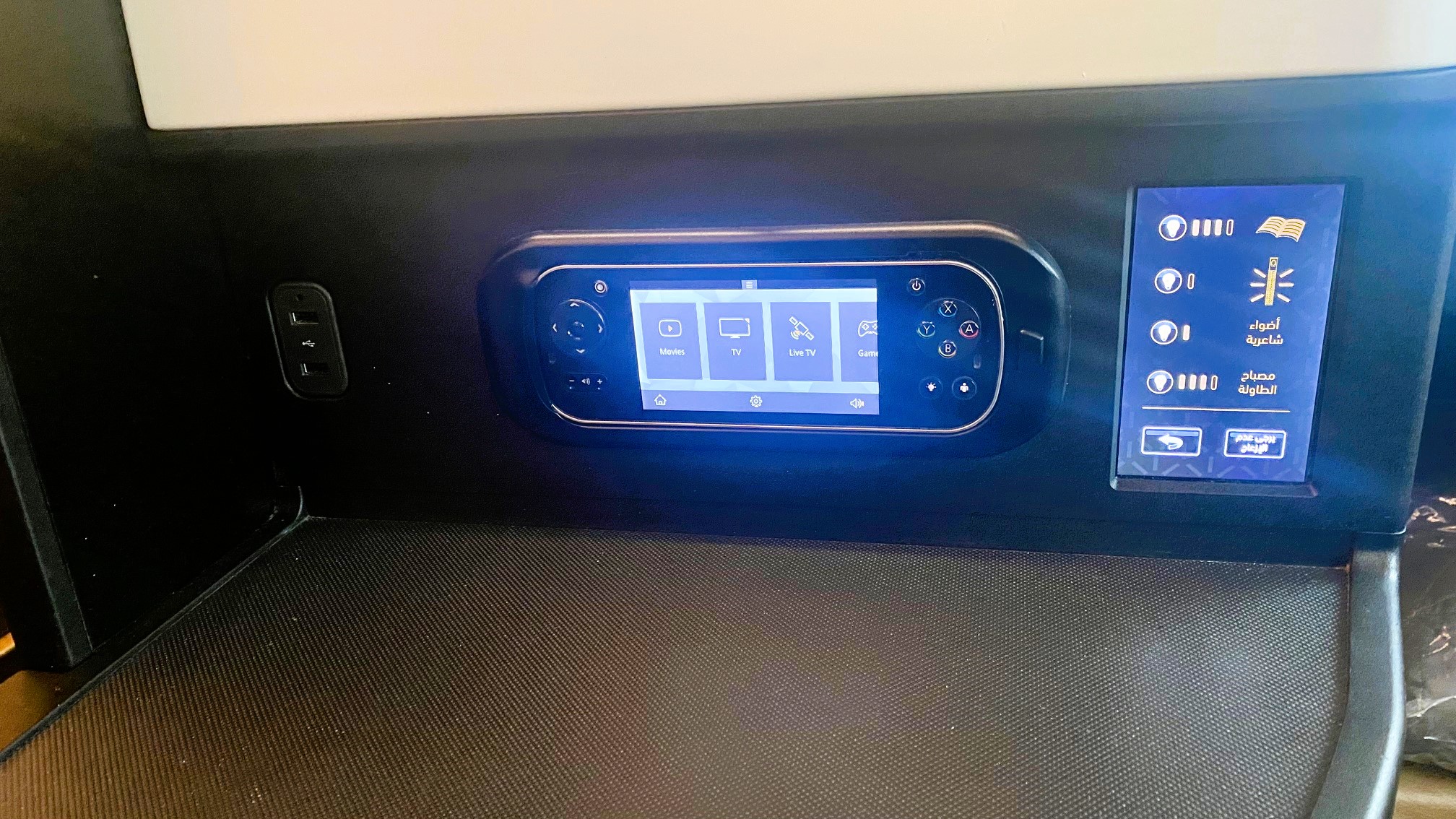 Etihad B-787 Business Class Seat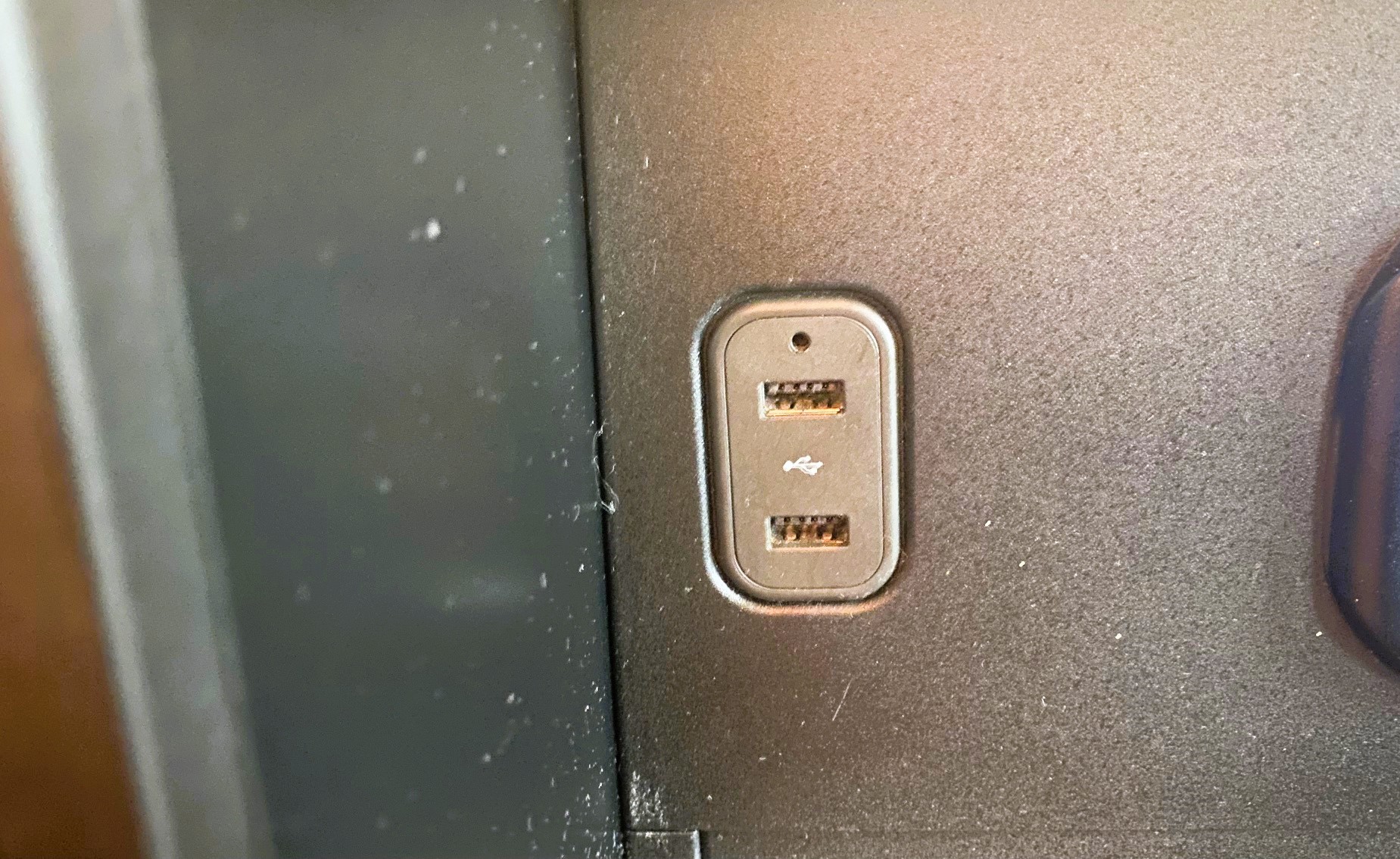 Etihad B-787 Business Class Seat
The tray-table is locked inside the front console, to unlock, gently pull the small lever underneath and the seat will slide out. Once out, bring it down and deploy.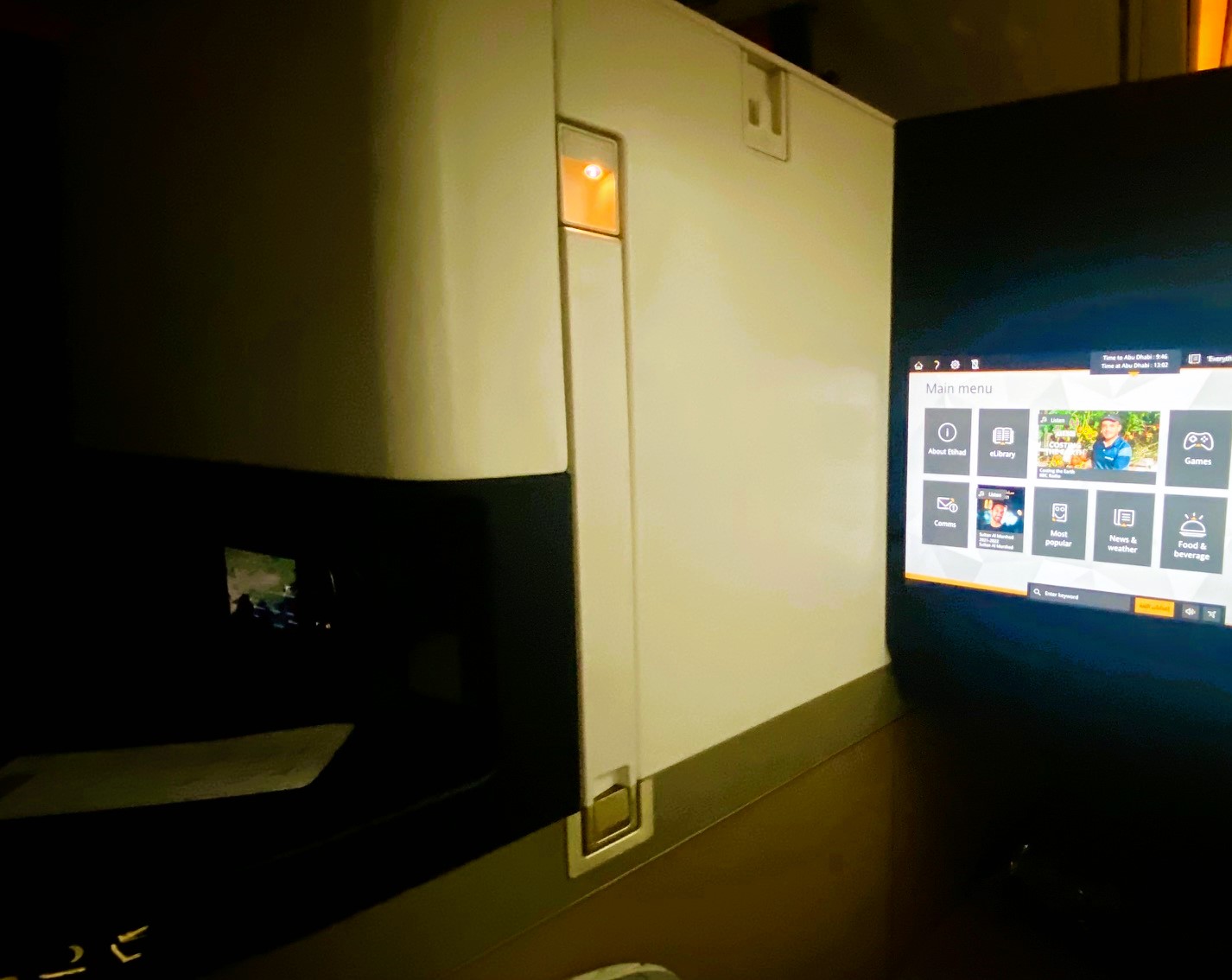 Etihad B-787 Business Class Seat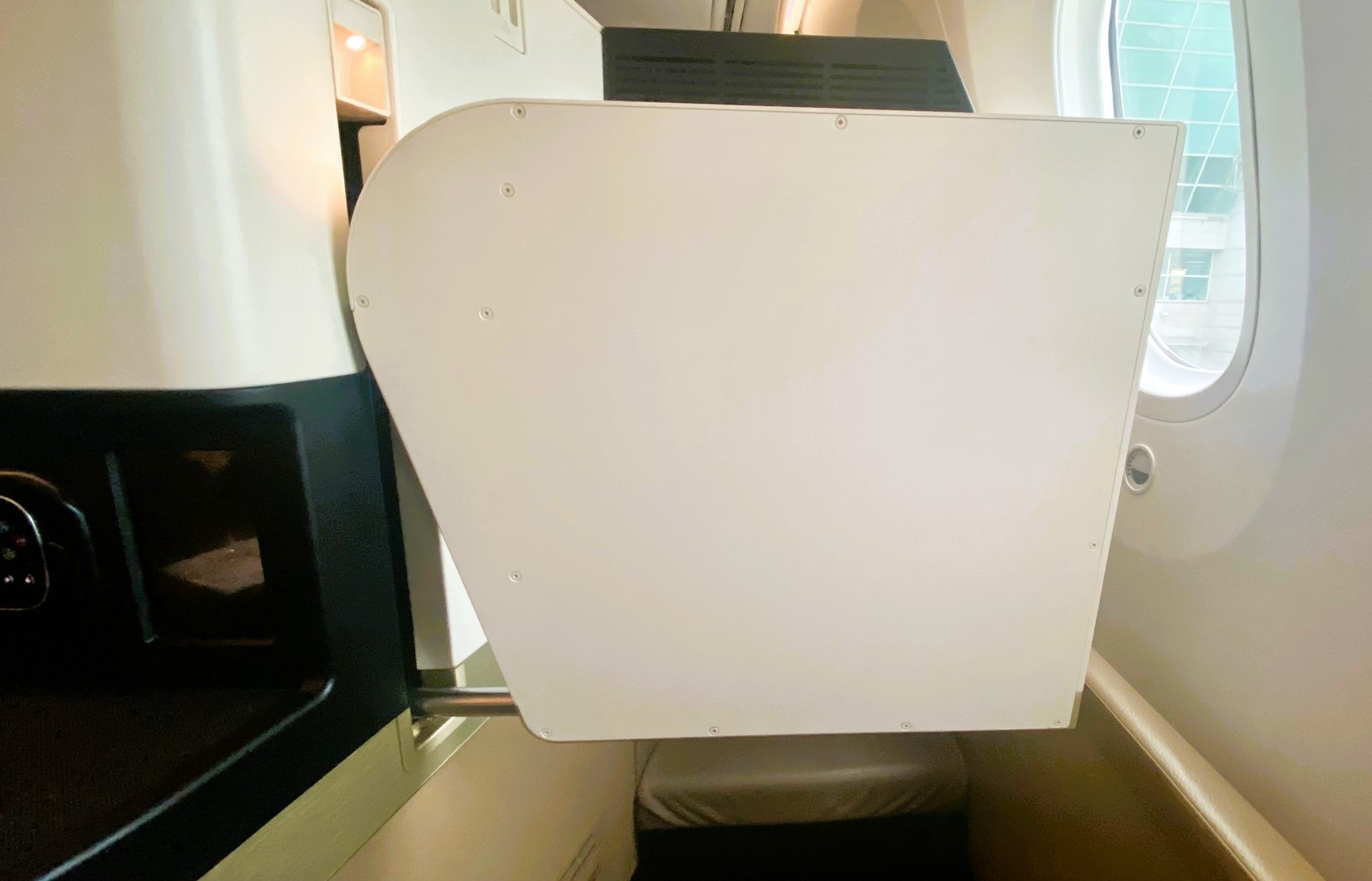 Etihad B-787 Business Class Seat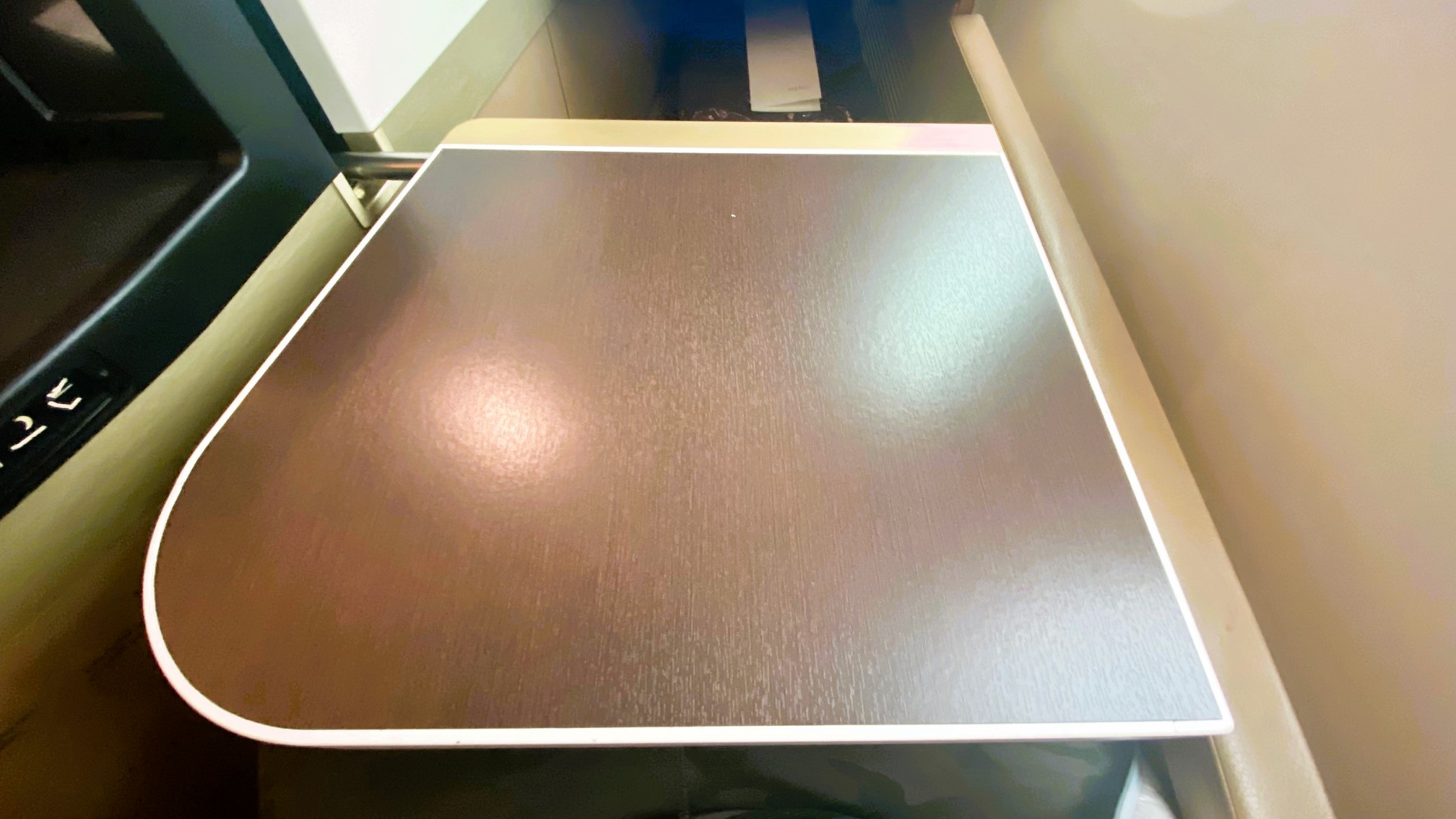 Etihad B-787 Business Class Seat
I found the tray-table to be quite solid & stable. Besides eating your meals on it, you can also use it as a desk to place your laptop and get work done.
The seat control pad is fitted to the side of the console. With the press of a button, the seat goes from upright to flat. You could also recline the seat part-way into a lounging position if you wanted to catch a movie or a TV show.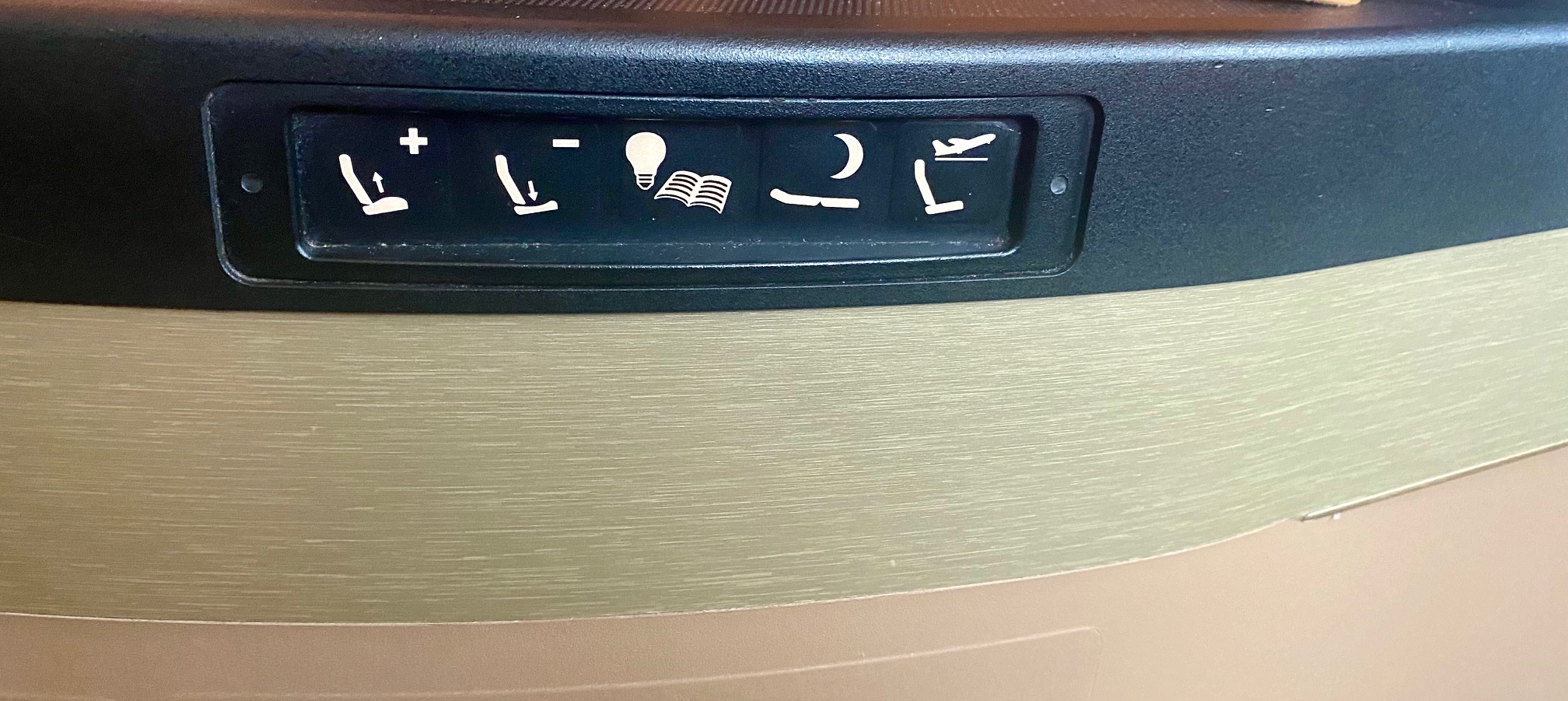 Etihad B-787 Business Class Seat
Speaking of which, there is an 18.5 inch touch-enabled entertainment unit directly in-front of the seat. Etihad's E-Box inflight entertainment system is loaded with thousands of hours on on-demand content such as movies, TV shows, kids entertainment and LIVE news and sports.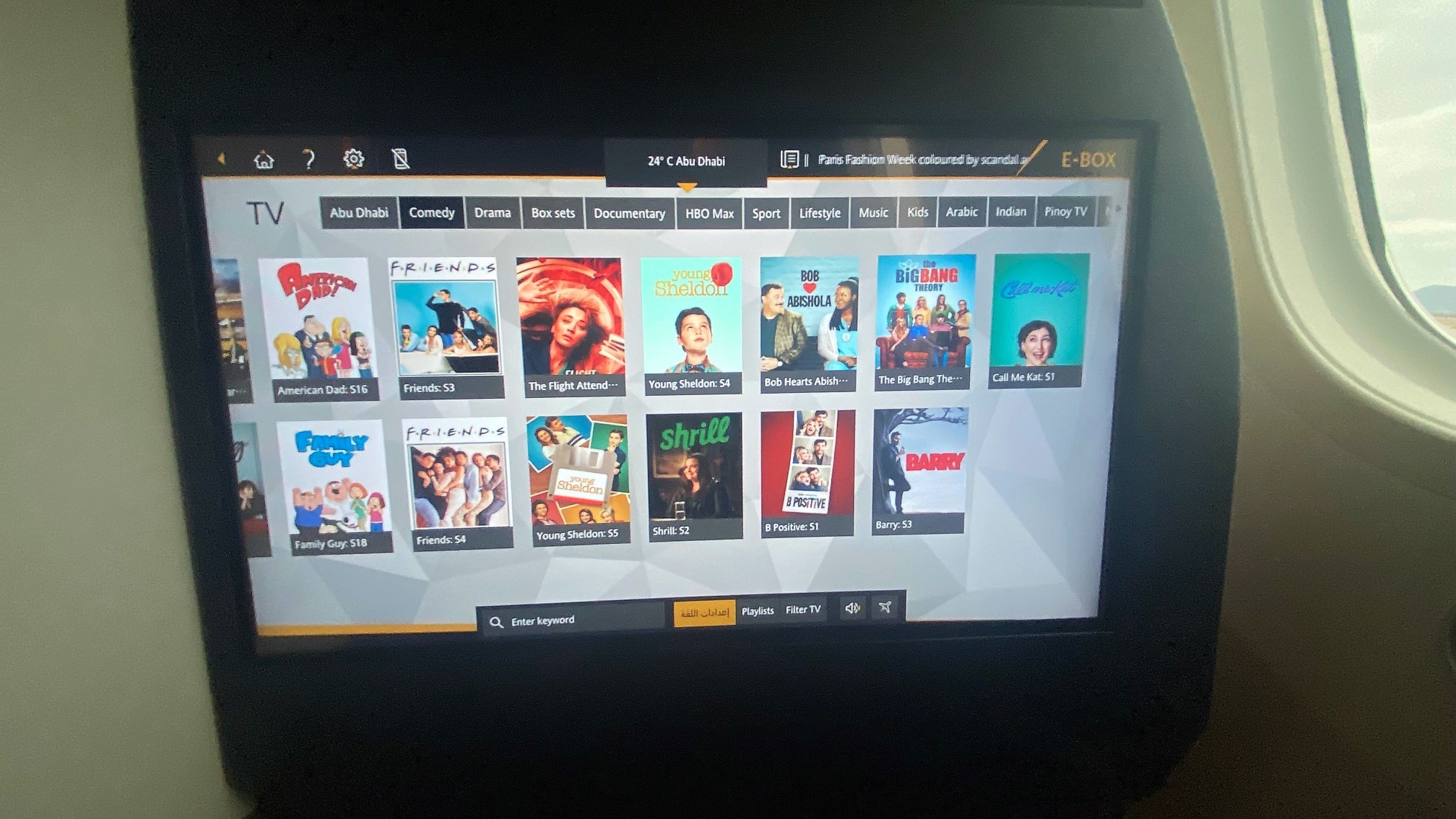 Etihad E-Box Inflight Entertainment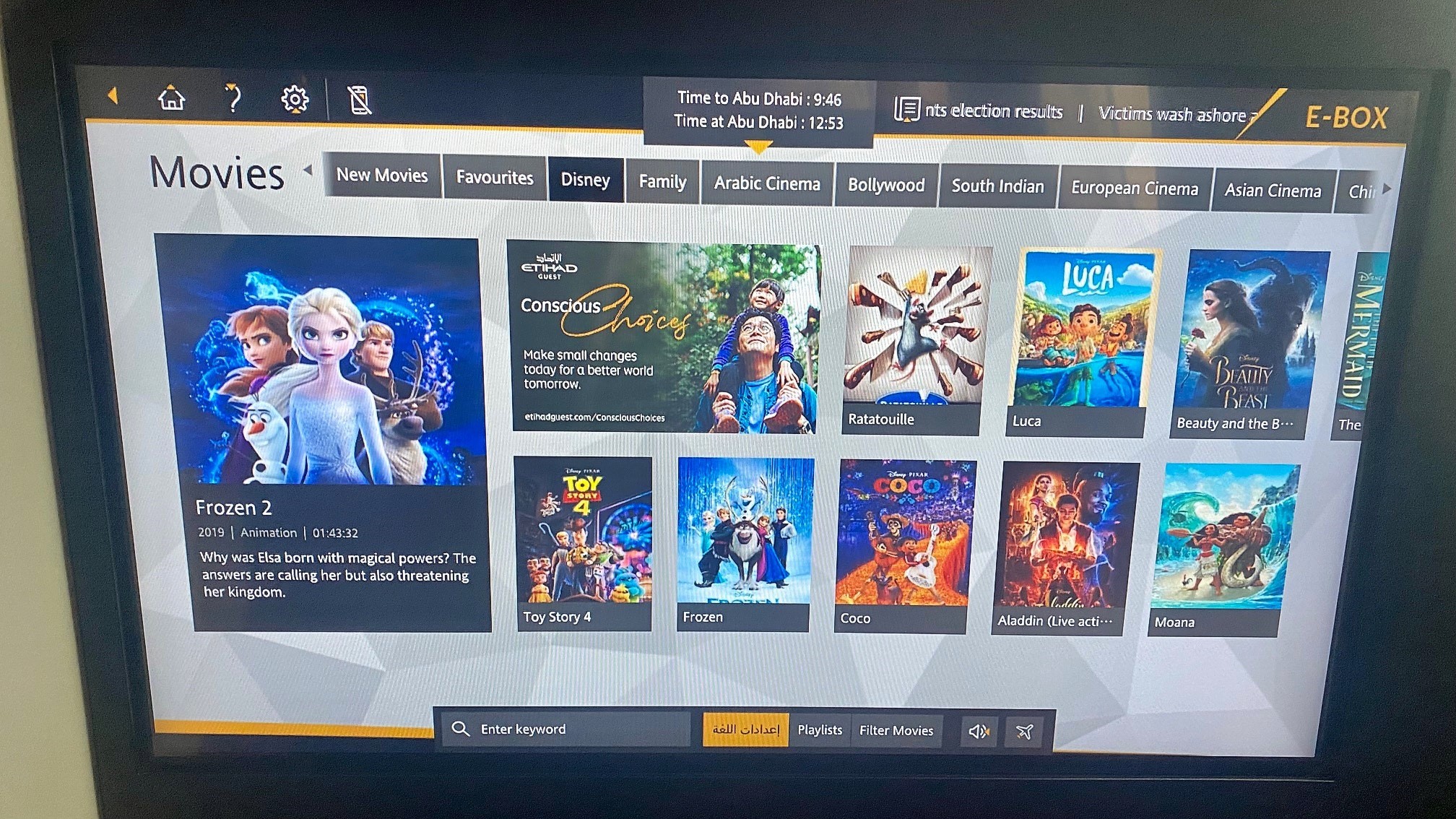 Etihad E-Box Inflight Entertainment
Wi-Fi is available onboard but it isn't free unless you hold Etihad Platinum status. I like it that Etihad lets you redeem Miles to pay for wifi. That said, the data limits are so tiny that unless internet connectivity is absolutely crucial for you, I wouldn't recommend it.
Lastly, passengers flying Business Class have access to 4 toilets, two at the front and two at the back of the cabin. I found the lavatories to be clean, spacious and regularly serviced by the staff for the duration of the flight. There's even a window in the toilet which would be nice to peek into during day time flights.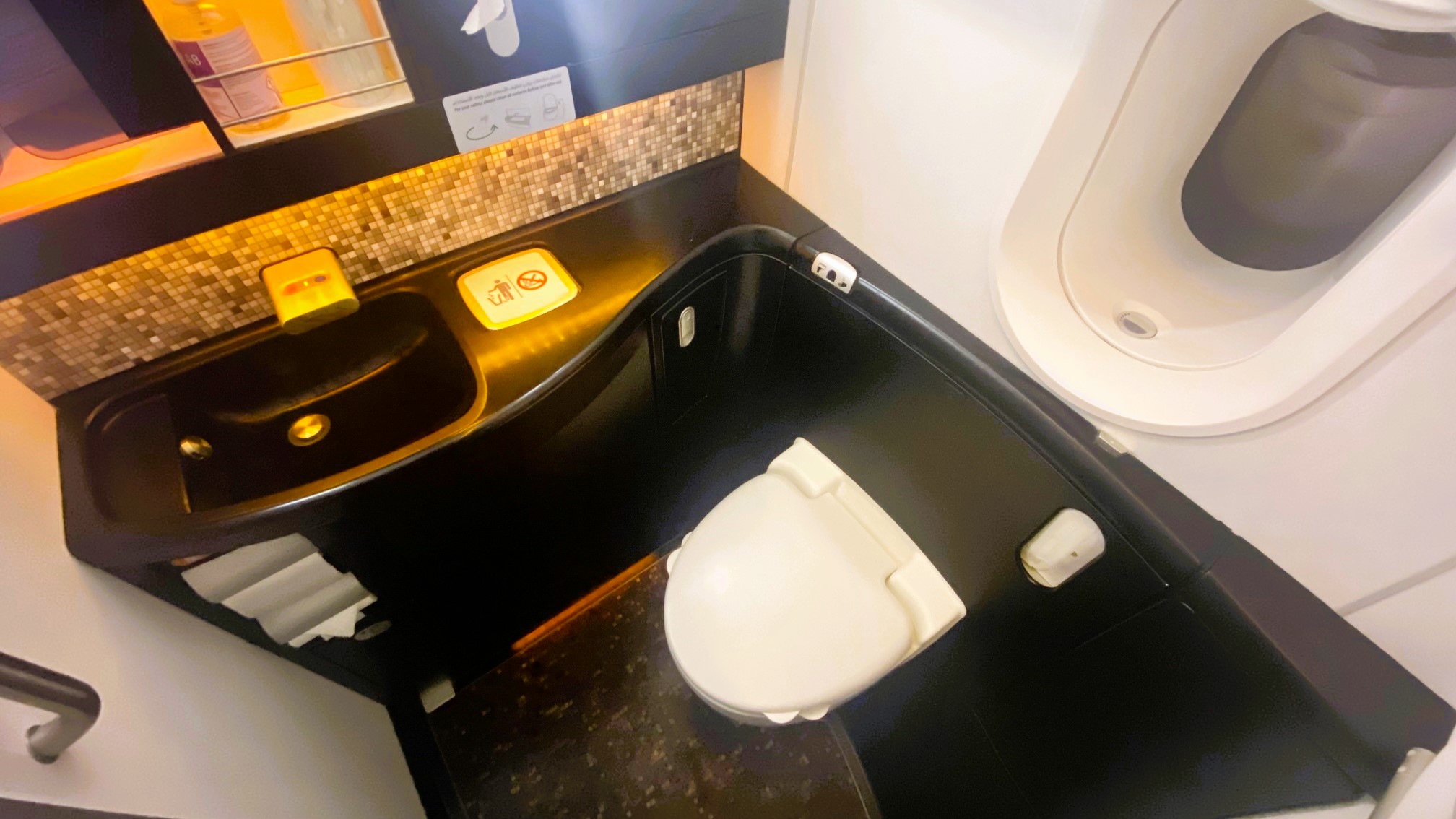 Etihad B-787 Business Class Lavatory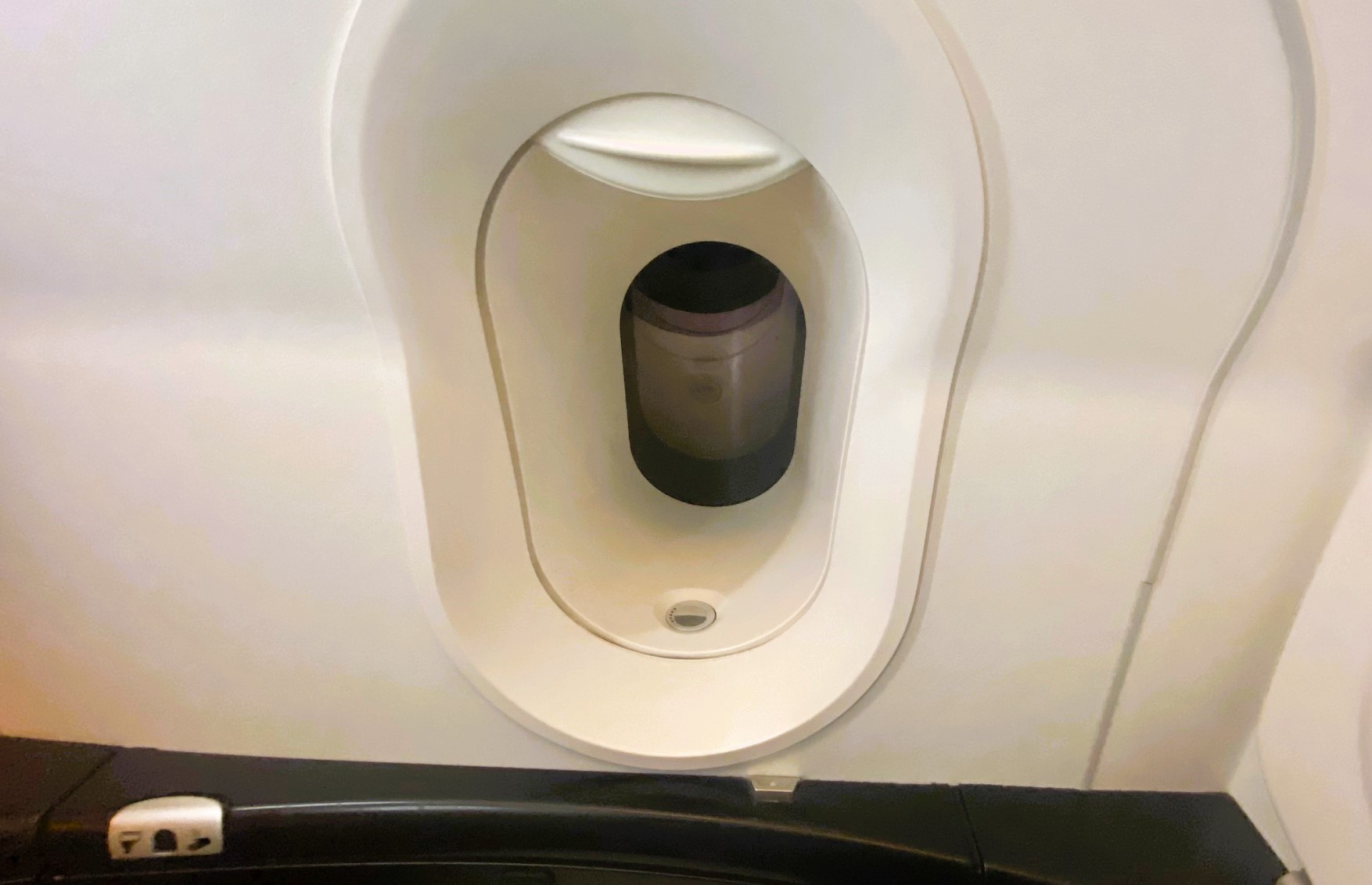 Etihad B-787 Business Class Lavatory
Etihad B-787 Business Class Amenities
As I boarded the plane, I found a pillow and a blanket waiting on my seat. The pillow was soft and good size and I had no trouble resting my head on it as I caught up on sleep later during the flight. The blanket too was warm and comfortable.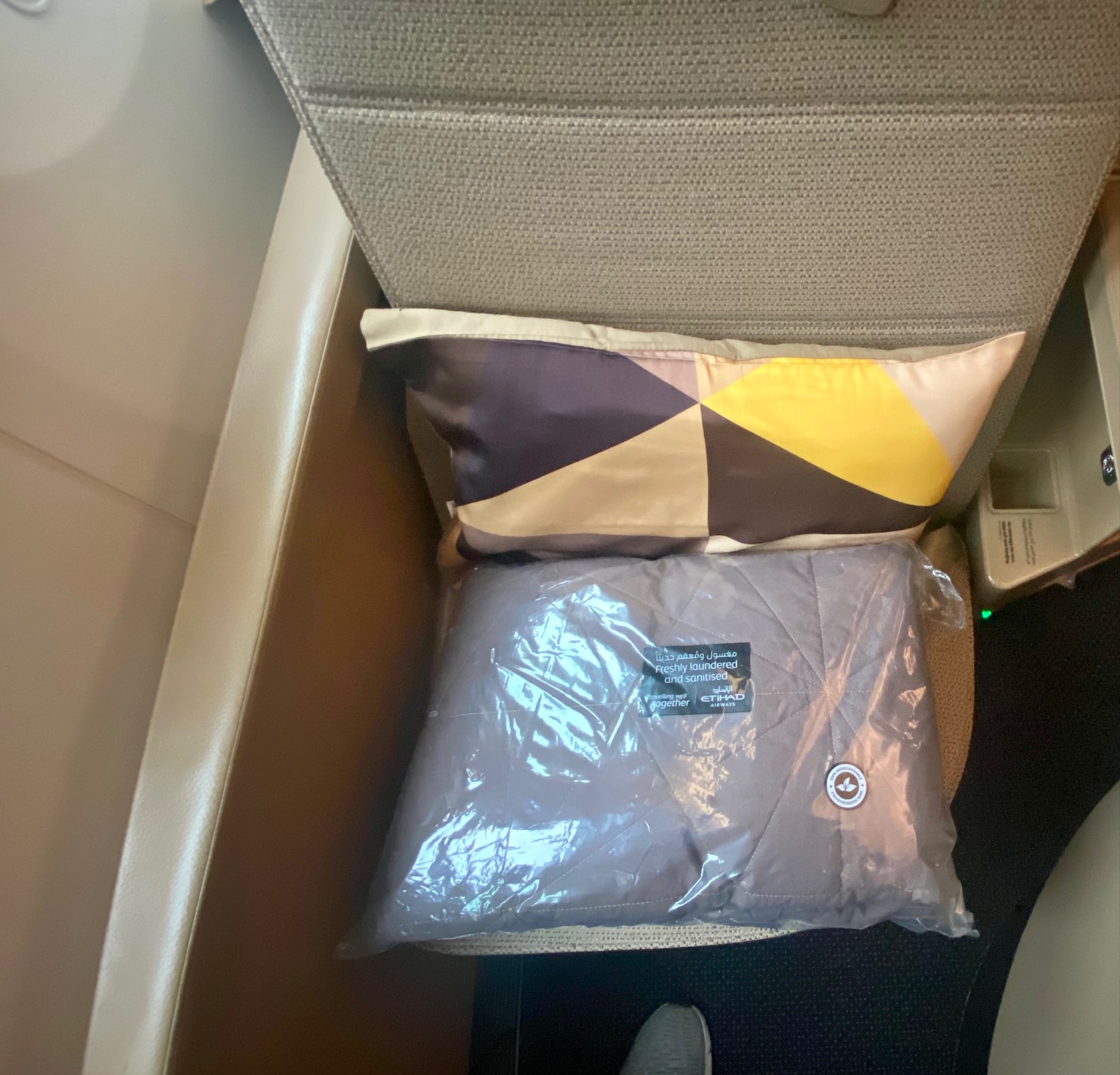 Etihad Business Class Pillow & Blanket
Etihad offers Acqua Di Parma amenity kit on long-haul flights. Inside, you will find all the essentials such as socks, eye shades, body lotion, cologne and a dental kit.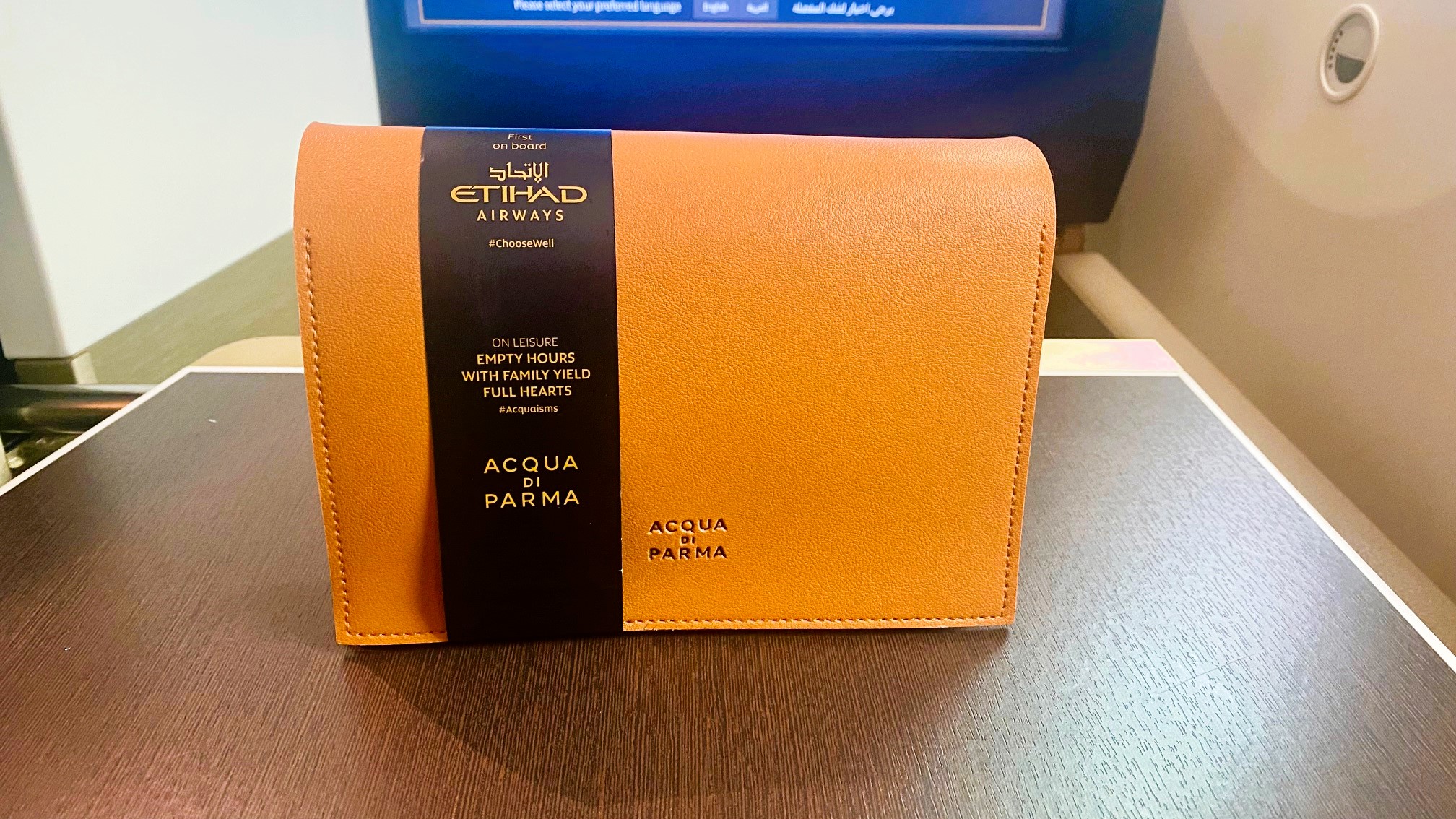 Etihad Business Class Amenity Bag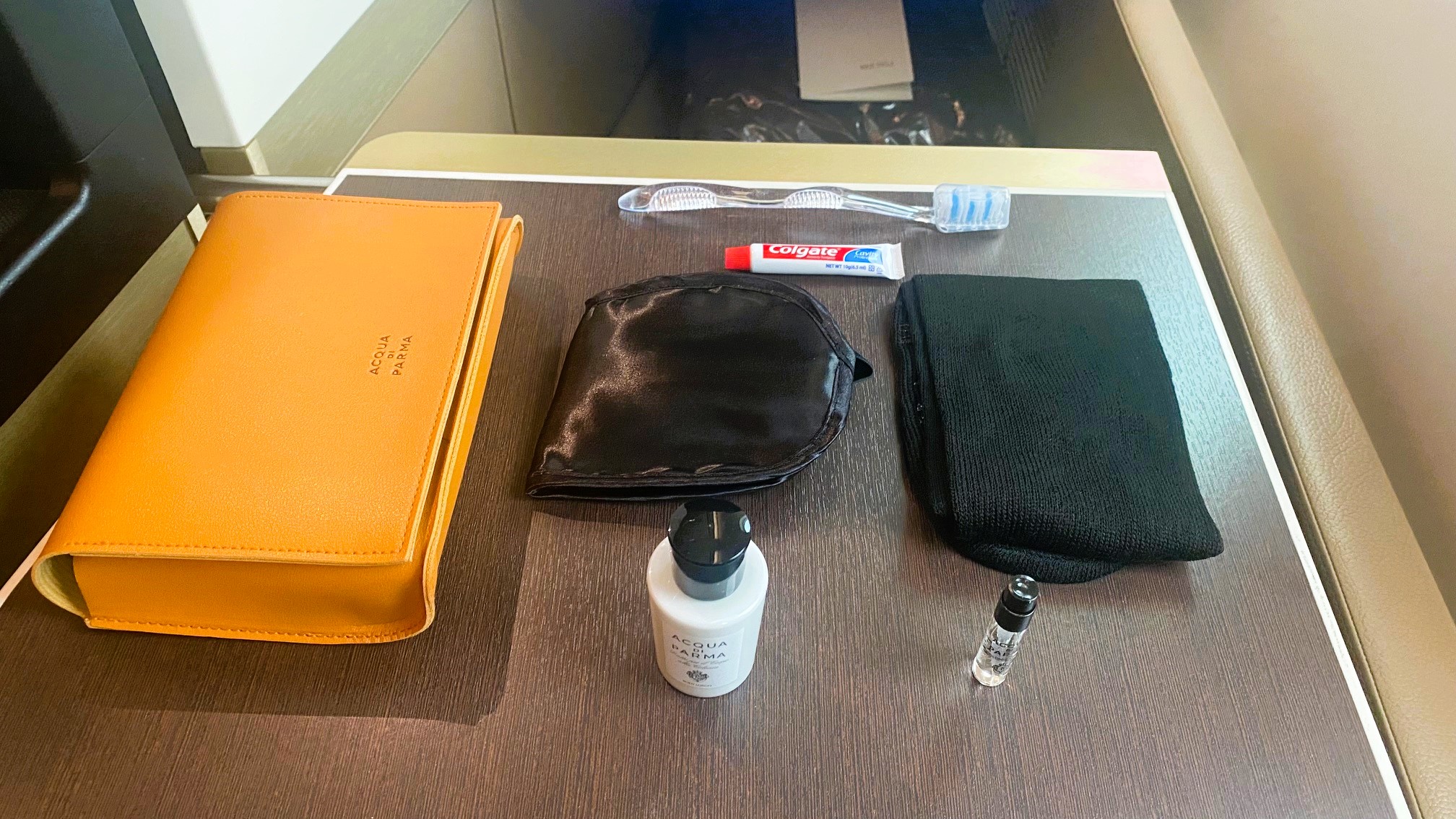 Etihad Business Class Amenity Bag Content
In addition, passengers were also offered a Travelling Well pouch stocked with a couple of wipes and a bottle of hand sanitizer.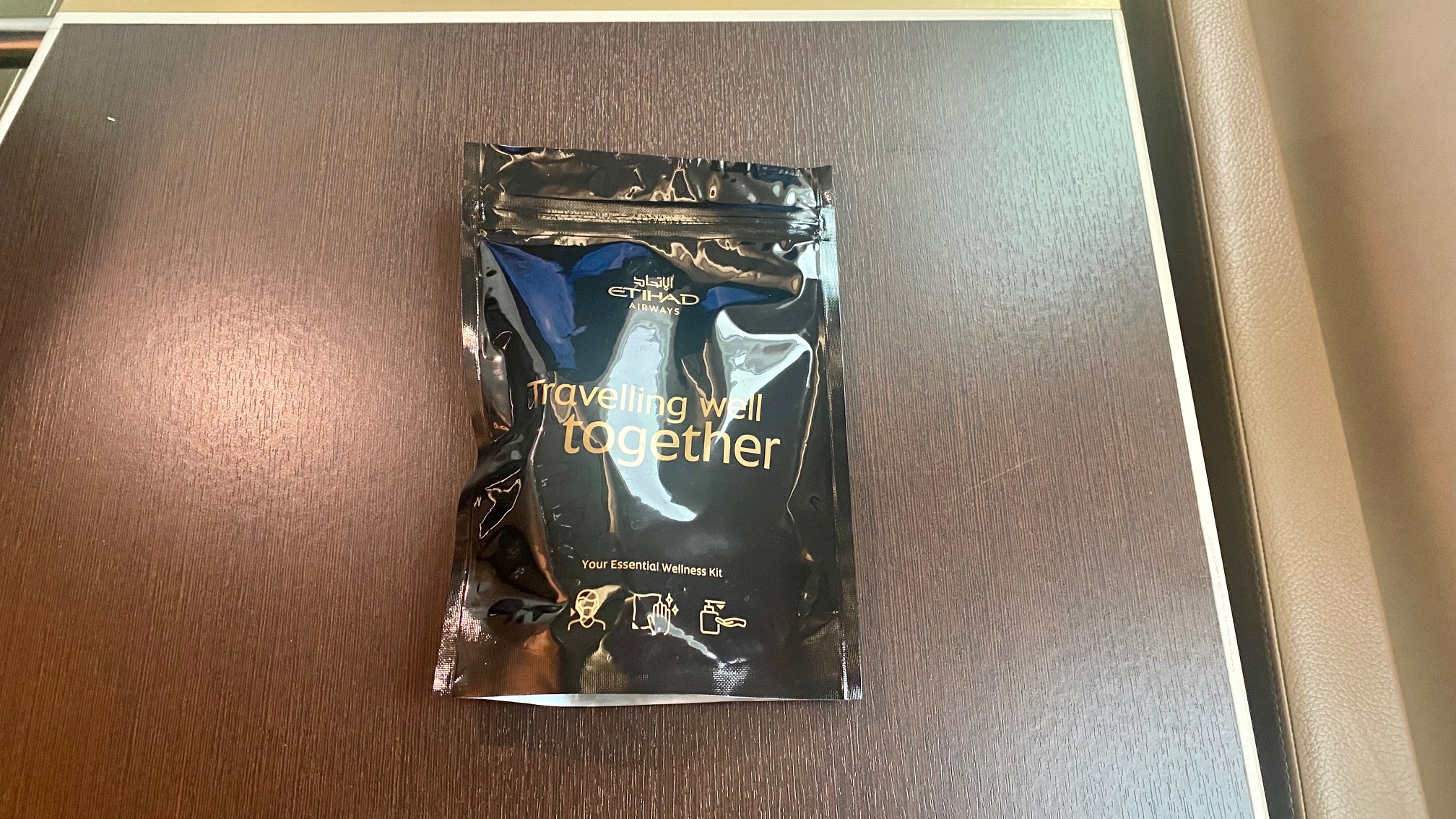 Etihad Business Class Travelling Well Pouch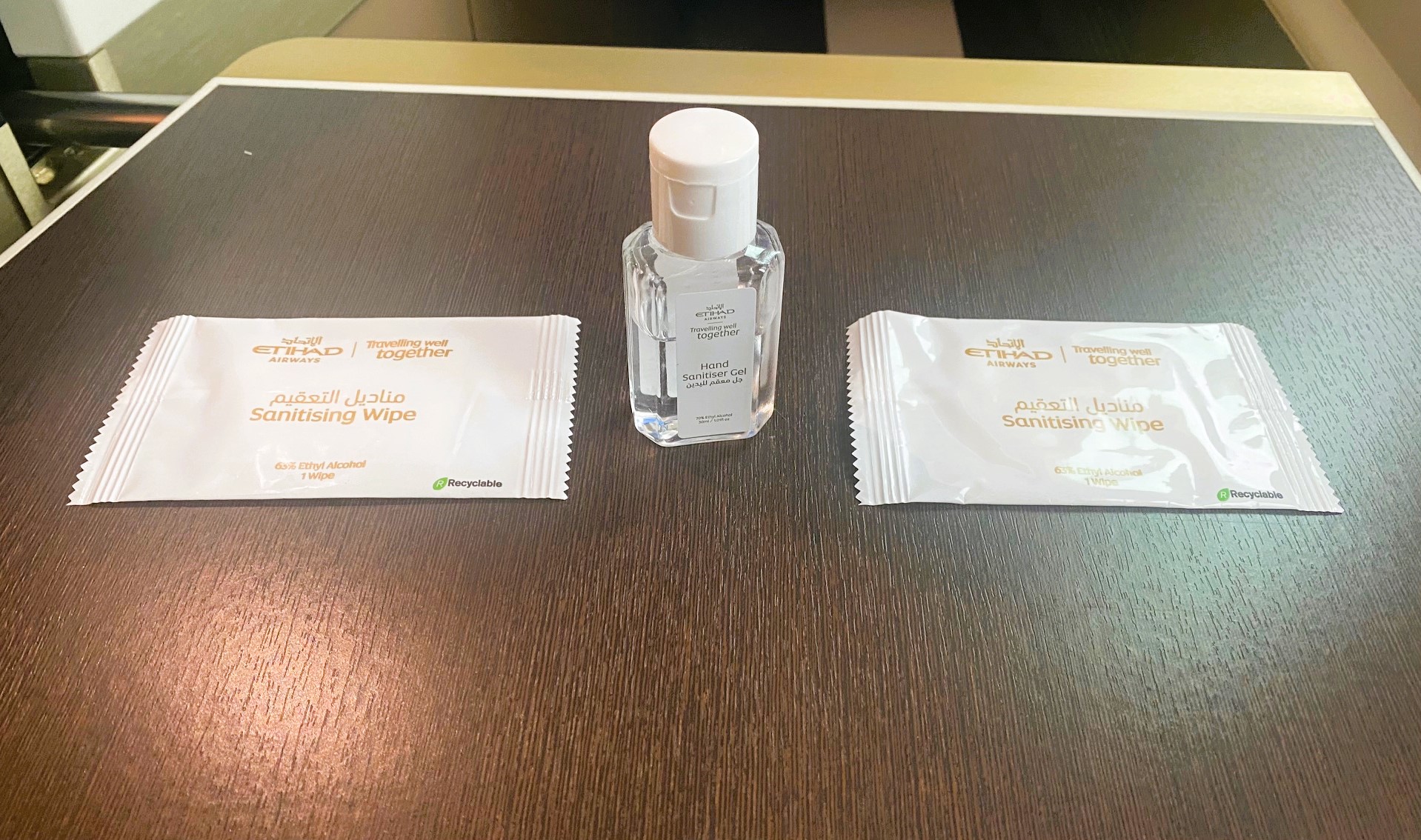 Etihad Business Class Wipes and Hand Sanitizer
There were no slippers or PJ's on offer which I found a bit odd. When I queried this with a crew member, she advised that they only provide them on flights of over 10 hours.
Etihad B-787 Business Class Flying Experience
Within a few minutes of boarding the plane in Seoul, a member of the crew came around to introduce herself and offer pre-departure drink. Leila told me she was from Morocco and will be looking after me on this flight. The choice was between juice, still, sparkling water or champagne. I had a glass of champagne to kick things off.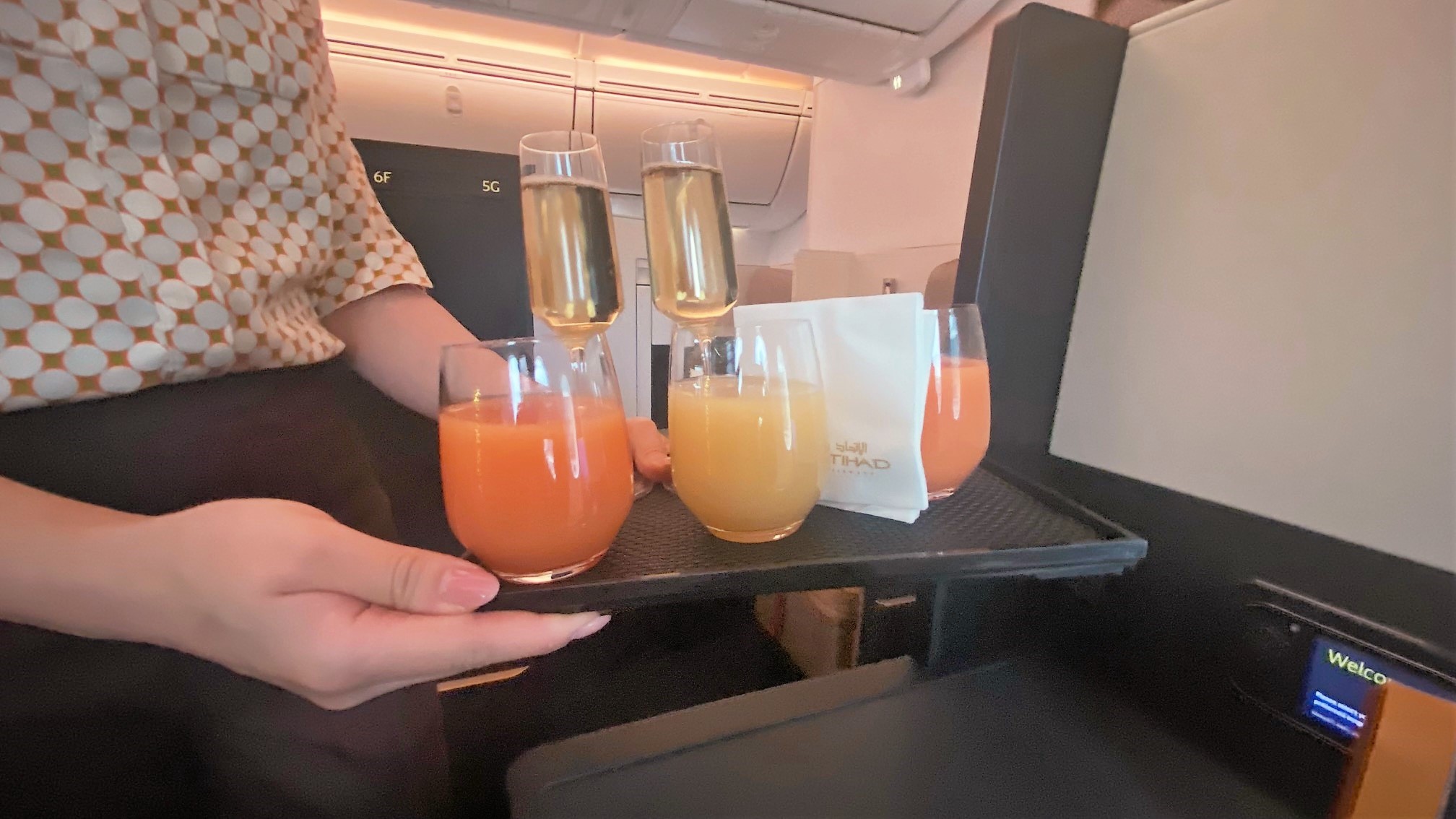 Etihad Business Class Welcome Drink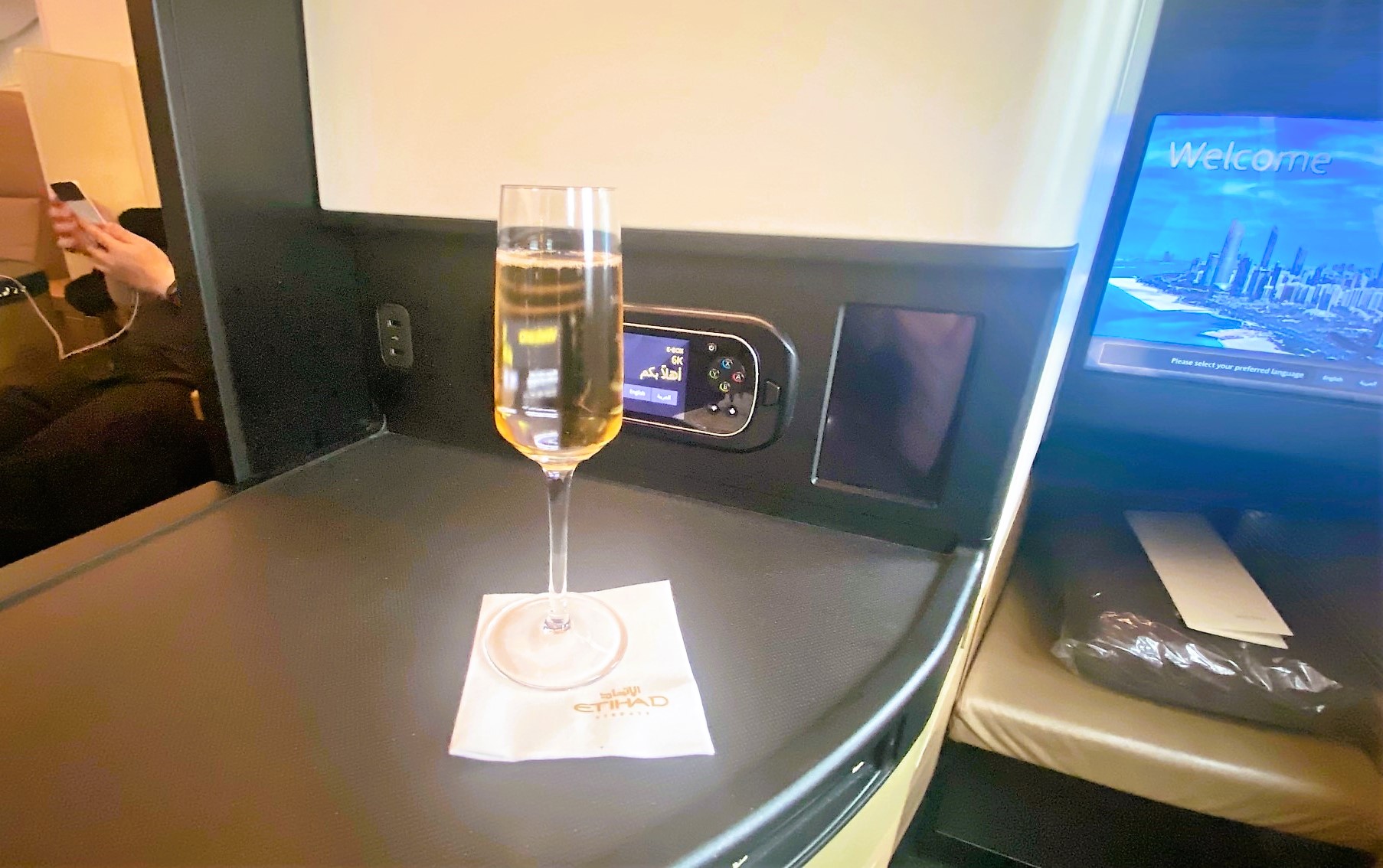 Etihad Business Class Welcome Drink
Soon after, the First Officer came on the PA system welcoming the passengers onboard and advising a flight time of 10 hours to Abu Dhabi. He also indicated we could be touching down at 11 pm, which was about 30 minutes ahead of the schedule. We started the push back at 5:47 pm and after a long taxi got airborne at 6:05 pm.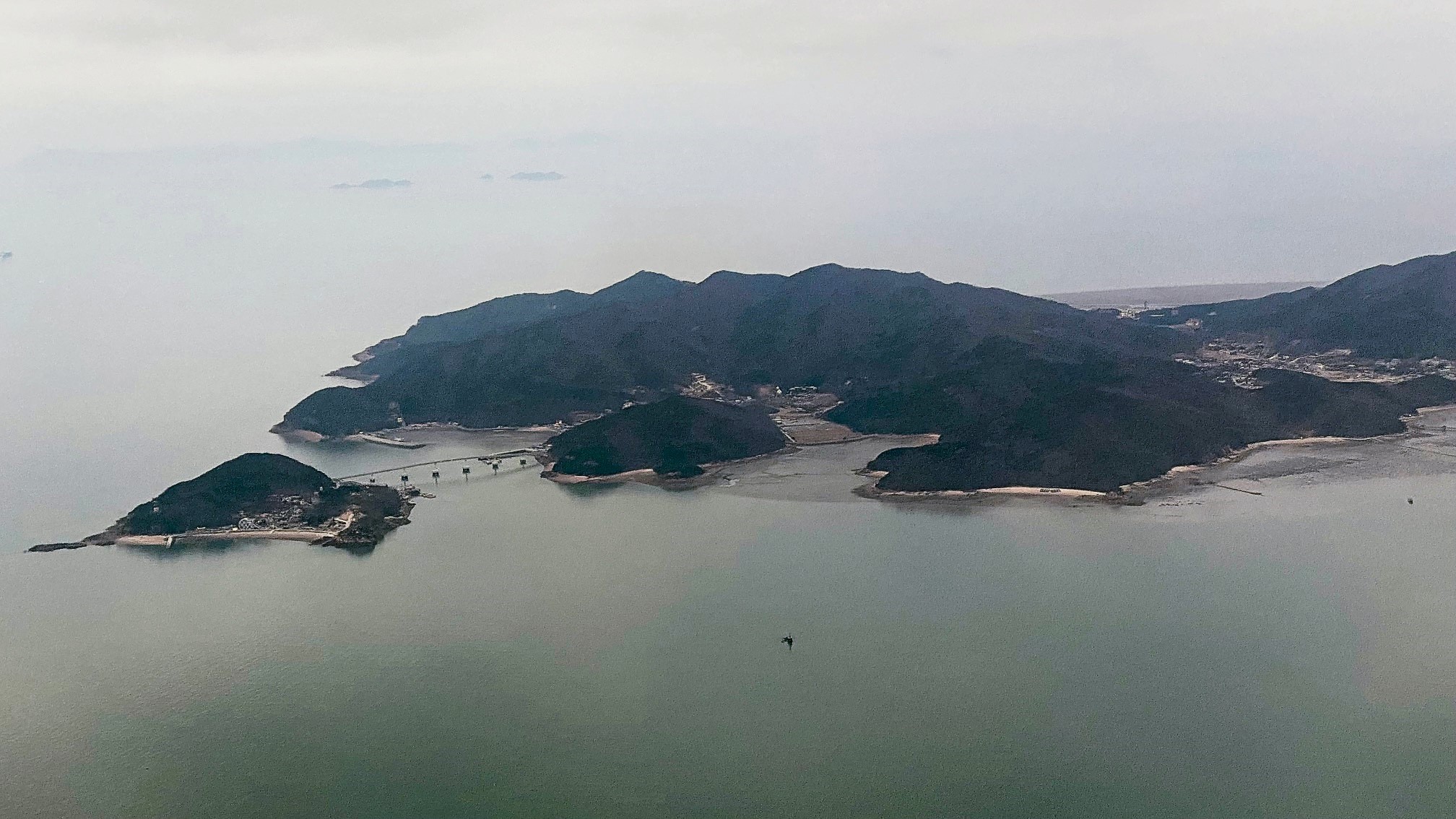 Take-off Views, Incheon Airport Seoul
The crew got busy immediately after the plane levelled-off and the seat belt signs were switched off. Leila advised me that they will soon be serving lunch (dinner may be?) Service started with a round of pre-dinner drinks. I ordered the Sauvignon Blanc which was served with a bowl of mixed nuts.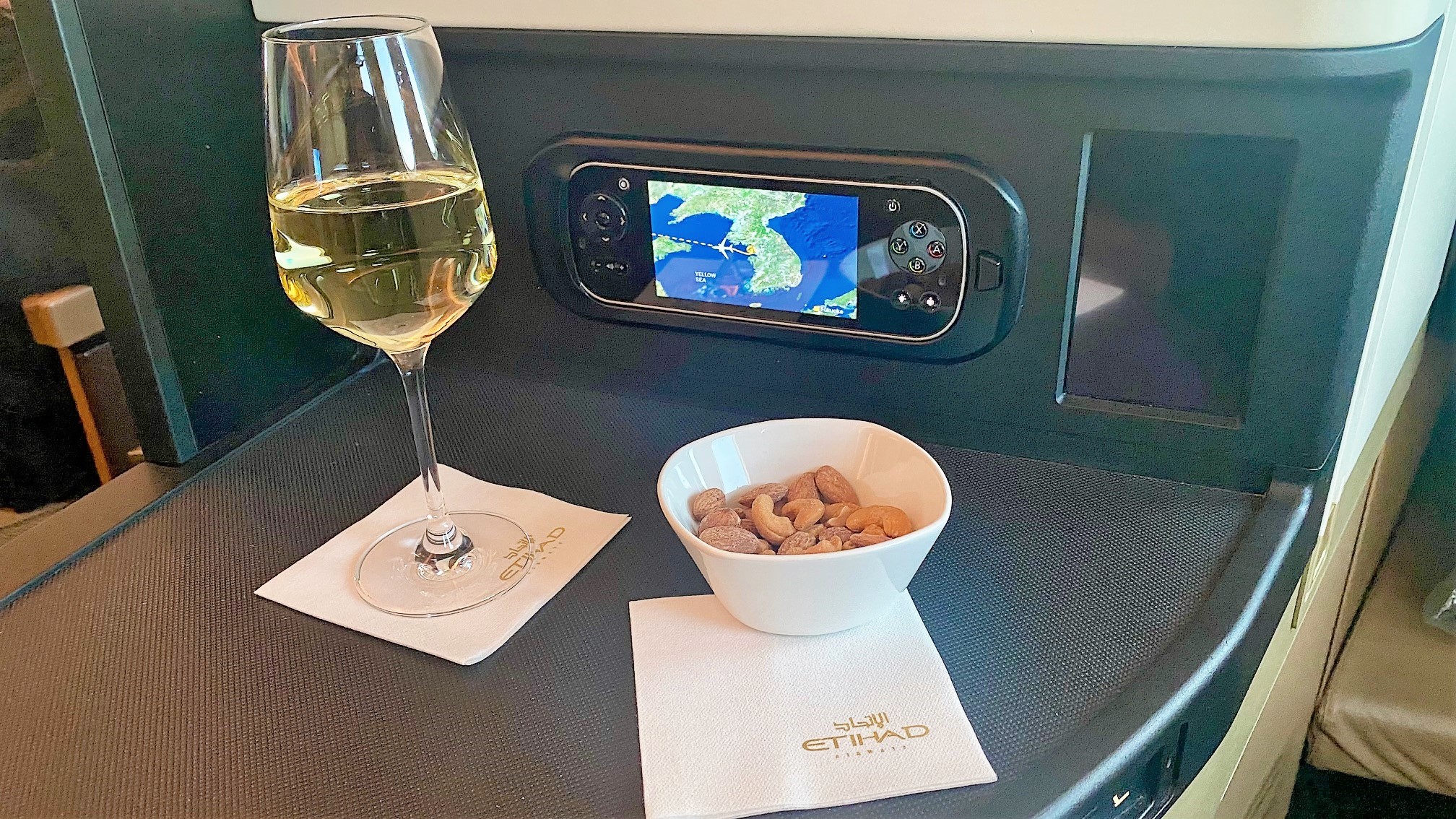 Etihad Business Class Pre-dinner drinks
Here is the rest of the Beverage and Alcoholic Drinks Menu.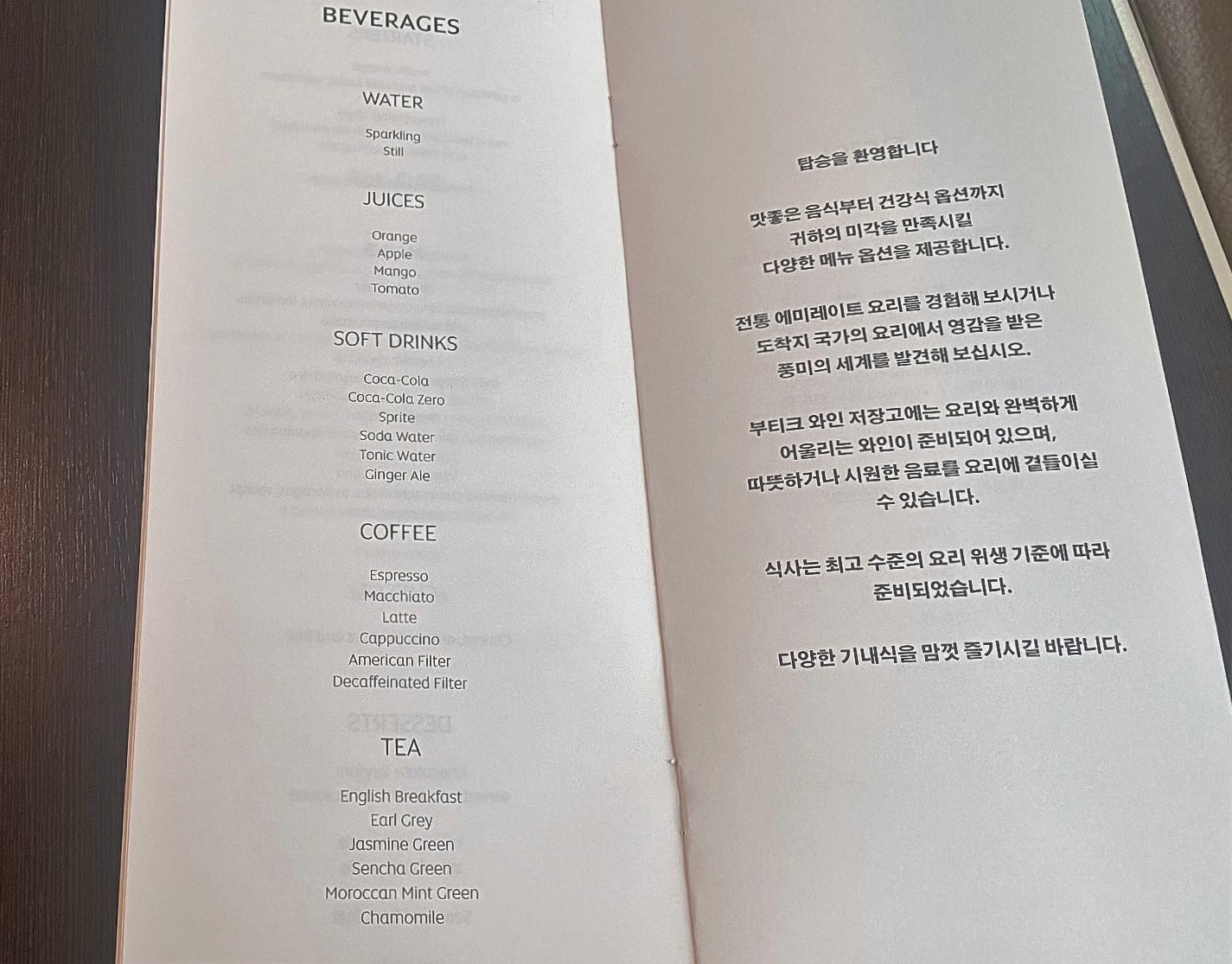 Etihad Business Class Drinks Menu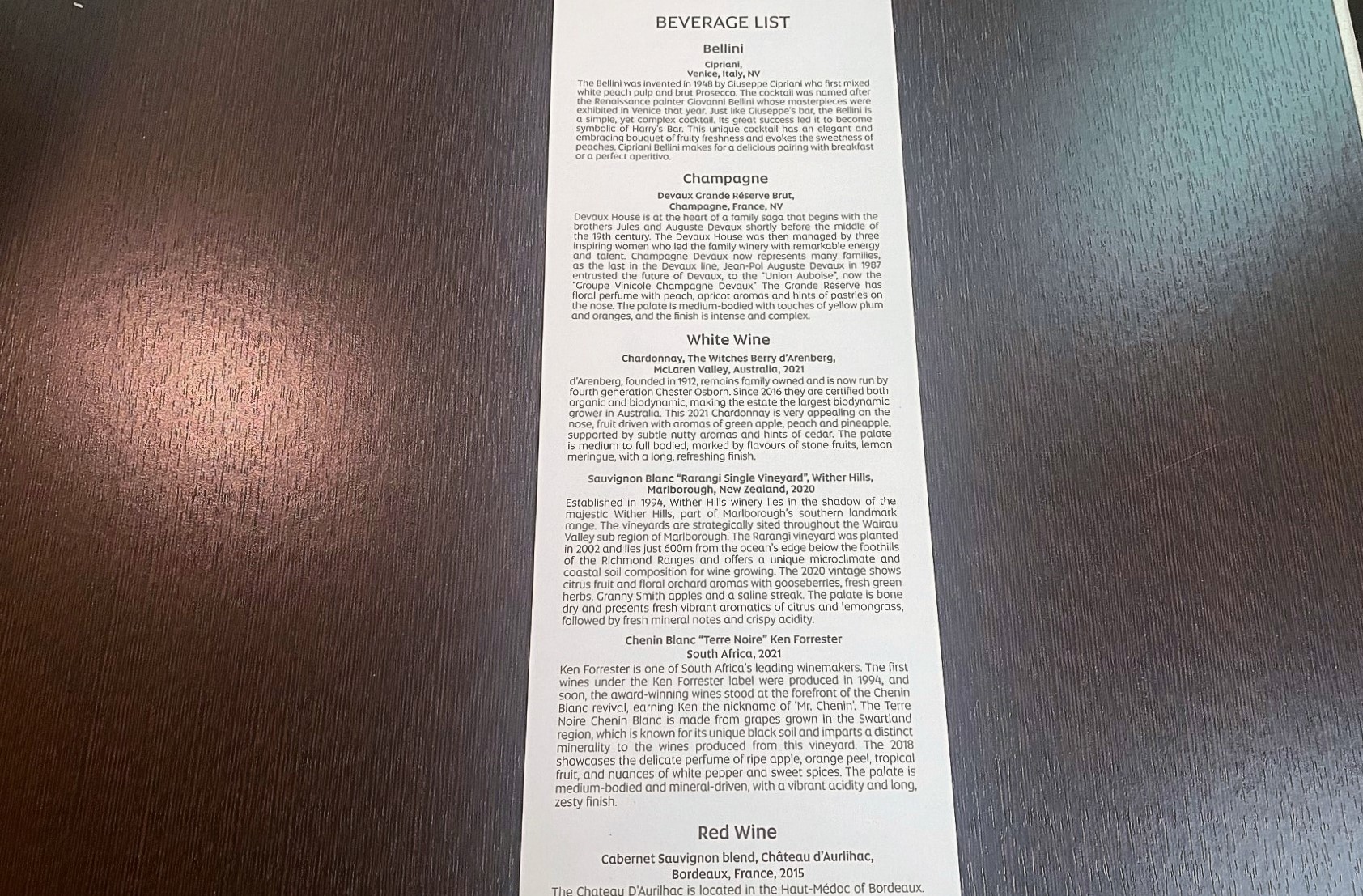 Etihad Business Class Drinks Menu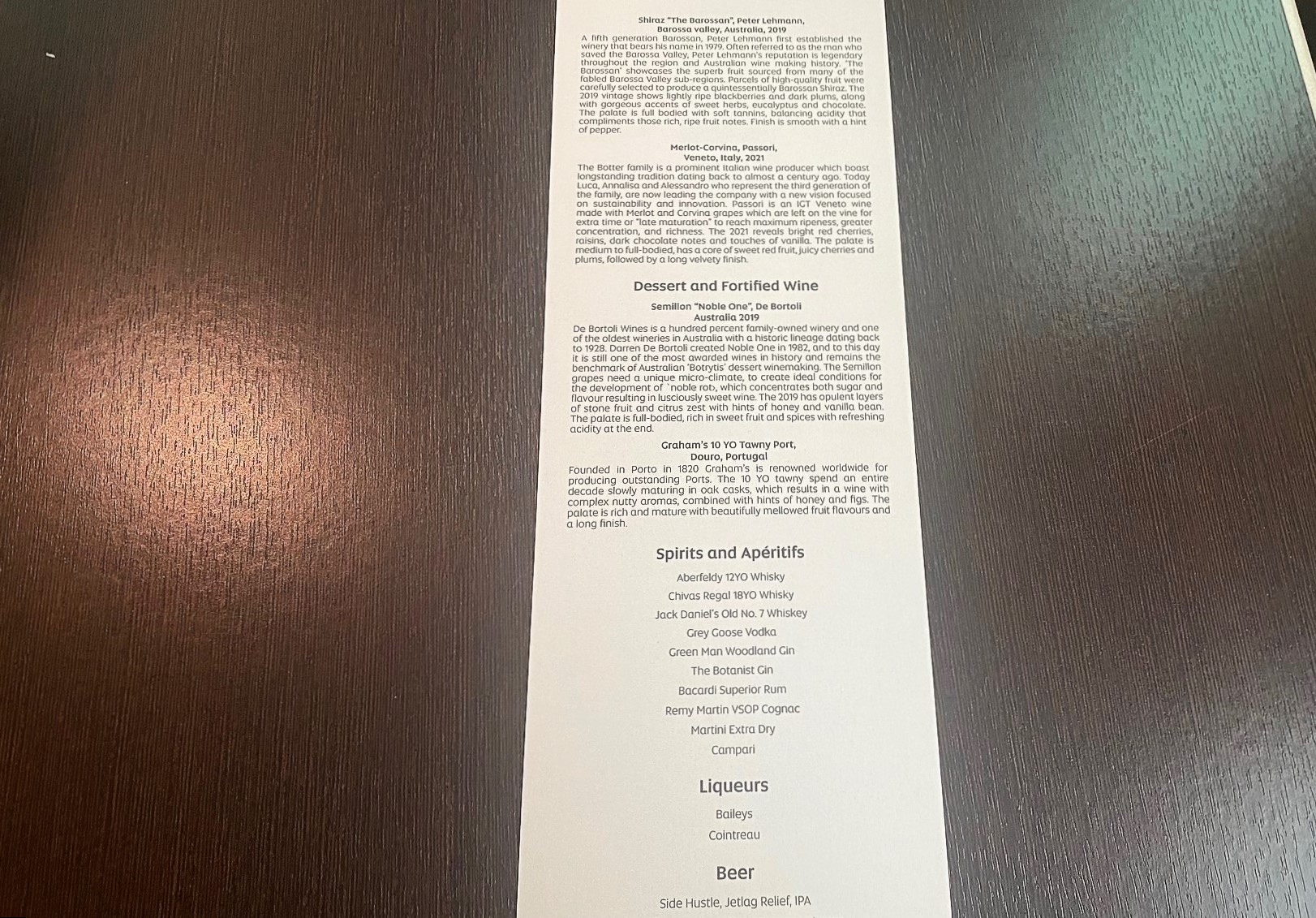 Etihad Business Class Drinks Menu
And here's all the food on offer to Business Class passengers.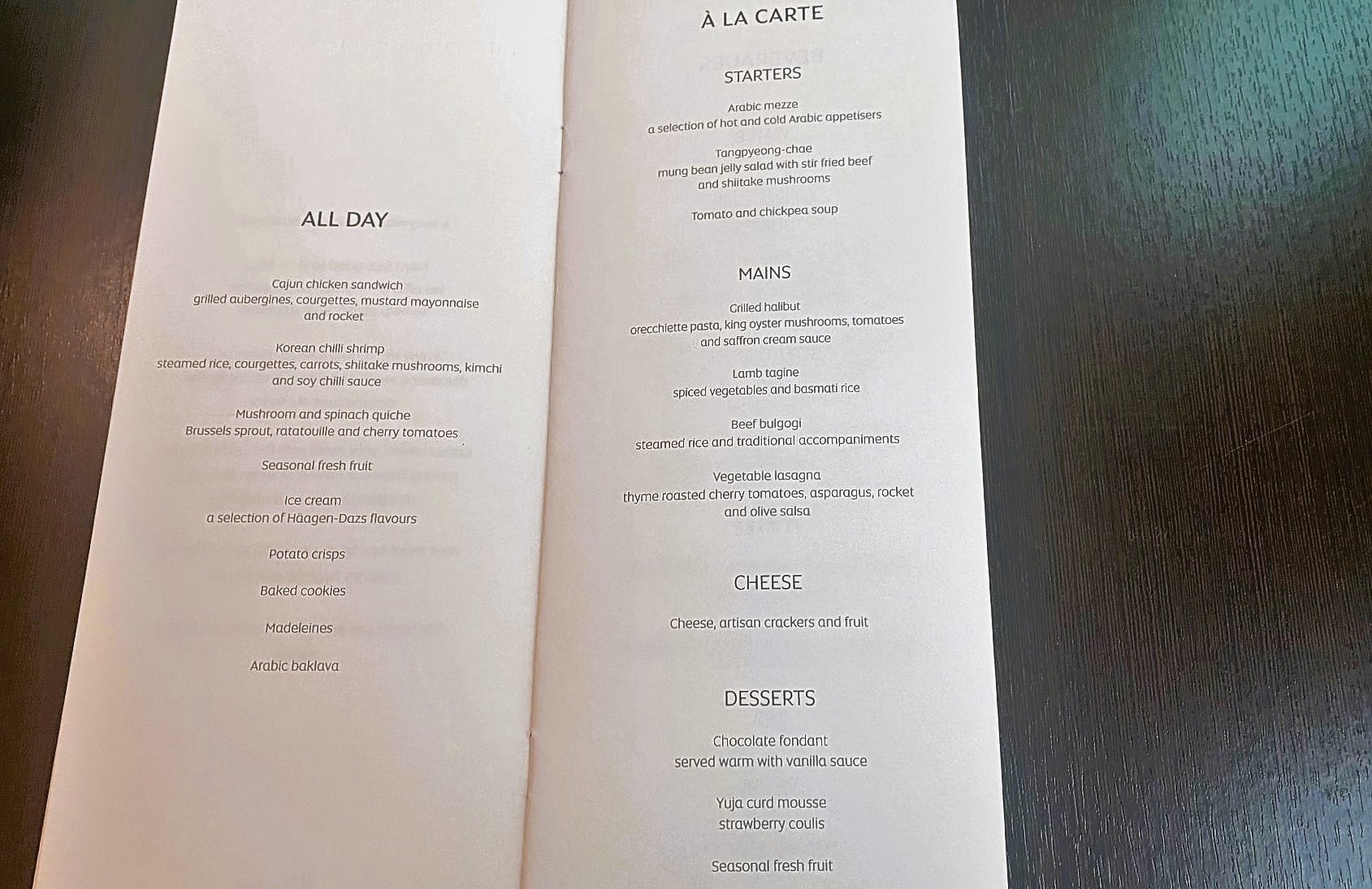 Etihad Business Class Dining Menu
I ordered the Arabic Mezze as my starter and Bellini to drink alongside. This was accompanied with a small bread-basket, 2 pieces of cold pita bread and a bottle of olive oil and balsamic vinegar. Everything was brought out on a single tray.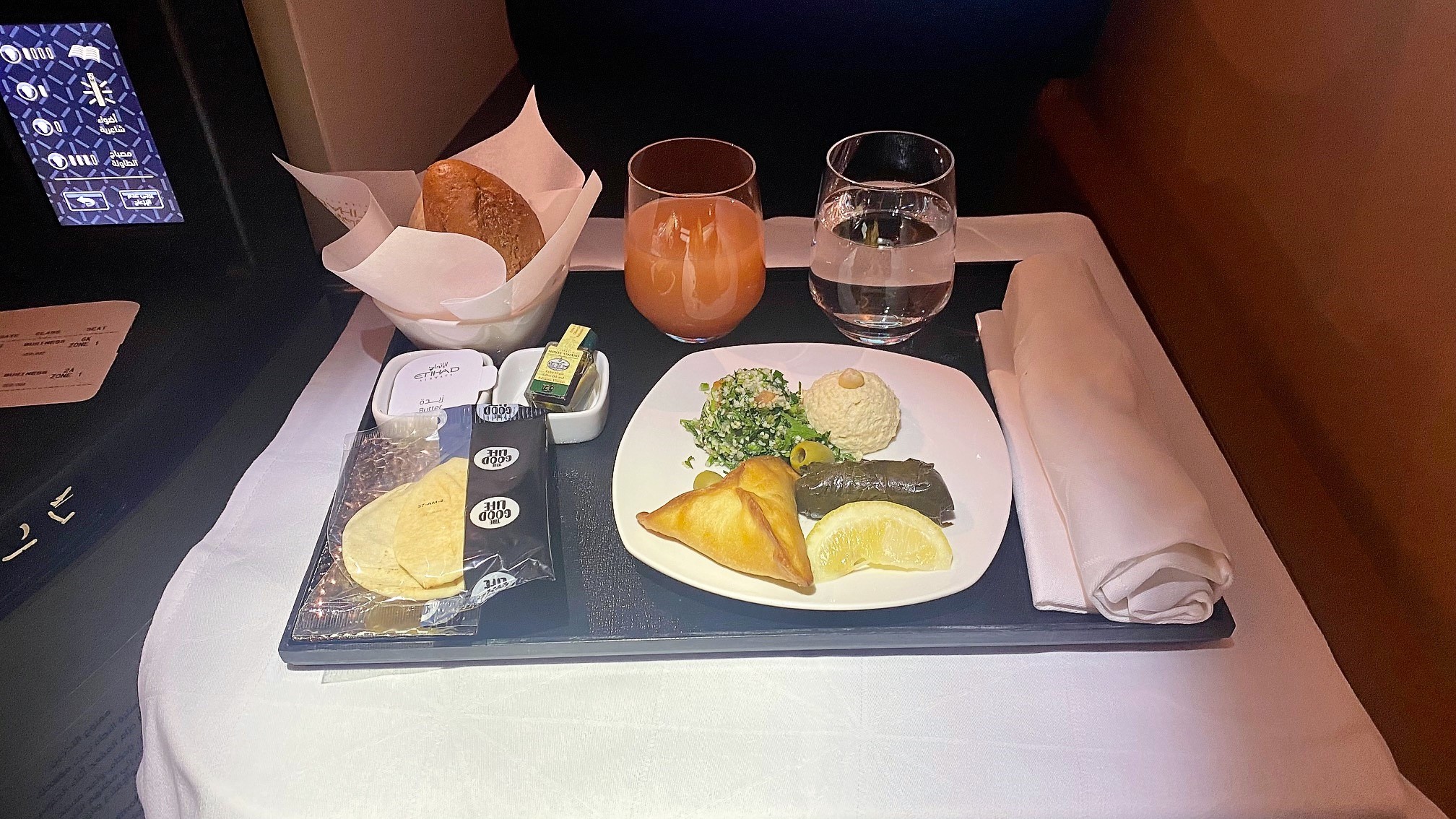 Etihad Business Class Starter Tray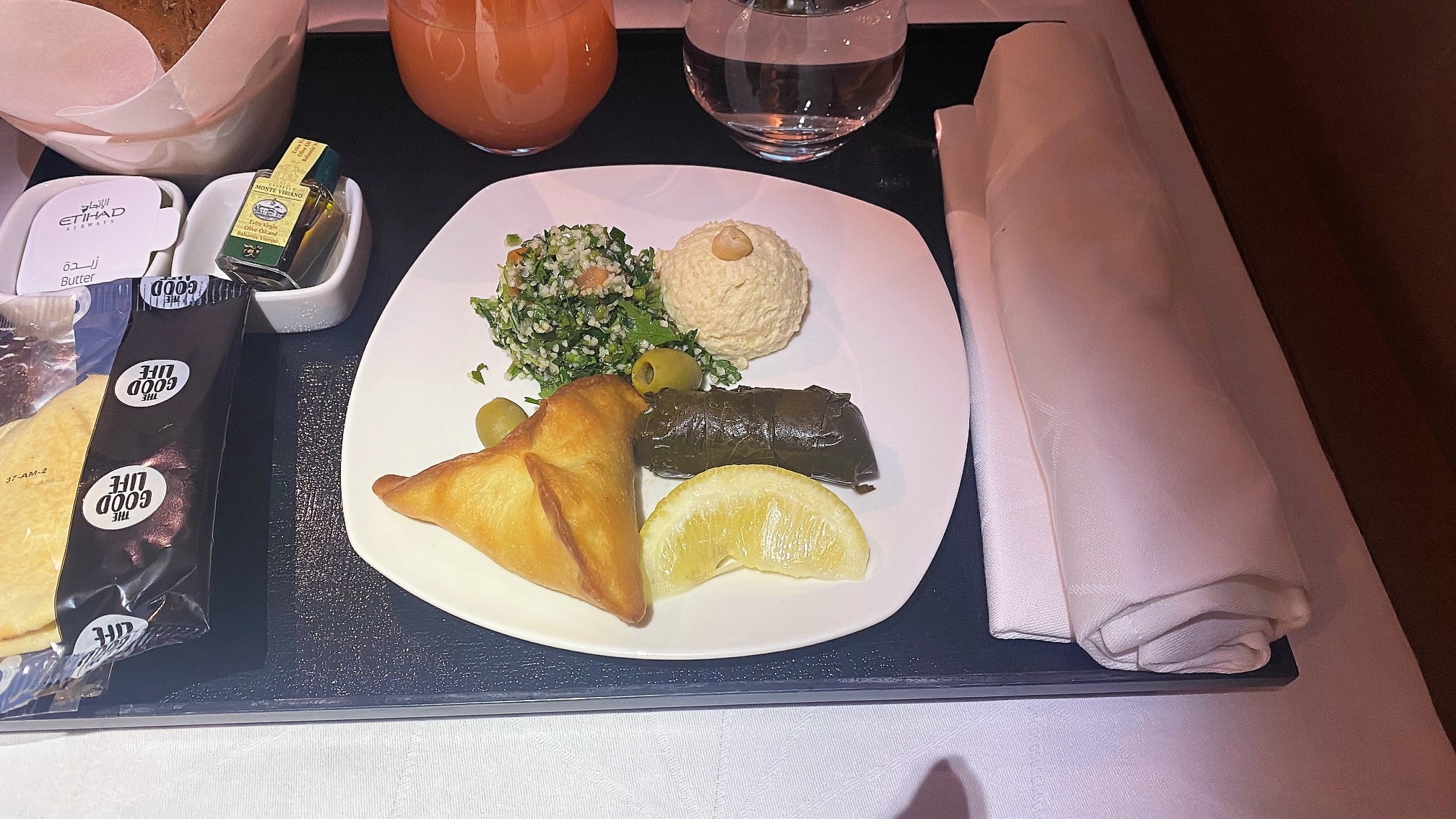 Etihad Business Class Starter Dish
The starter was a combination of hot and cold items which unfortunately failed to hit the spot. It felt like the cold items on the plate dragged the whole dish down.
I then had the grilled halibut for main. It came with a generous portion of pasta, mushrooms, tomatoes and saffron cream sauce poured over.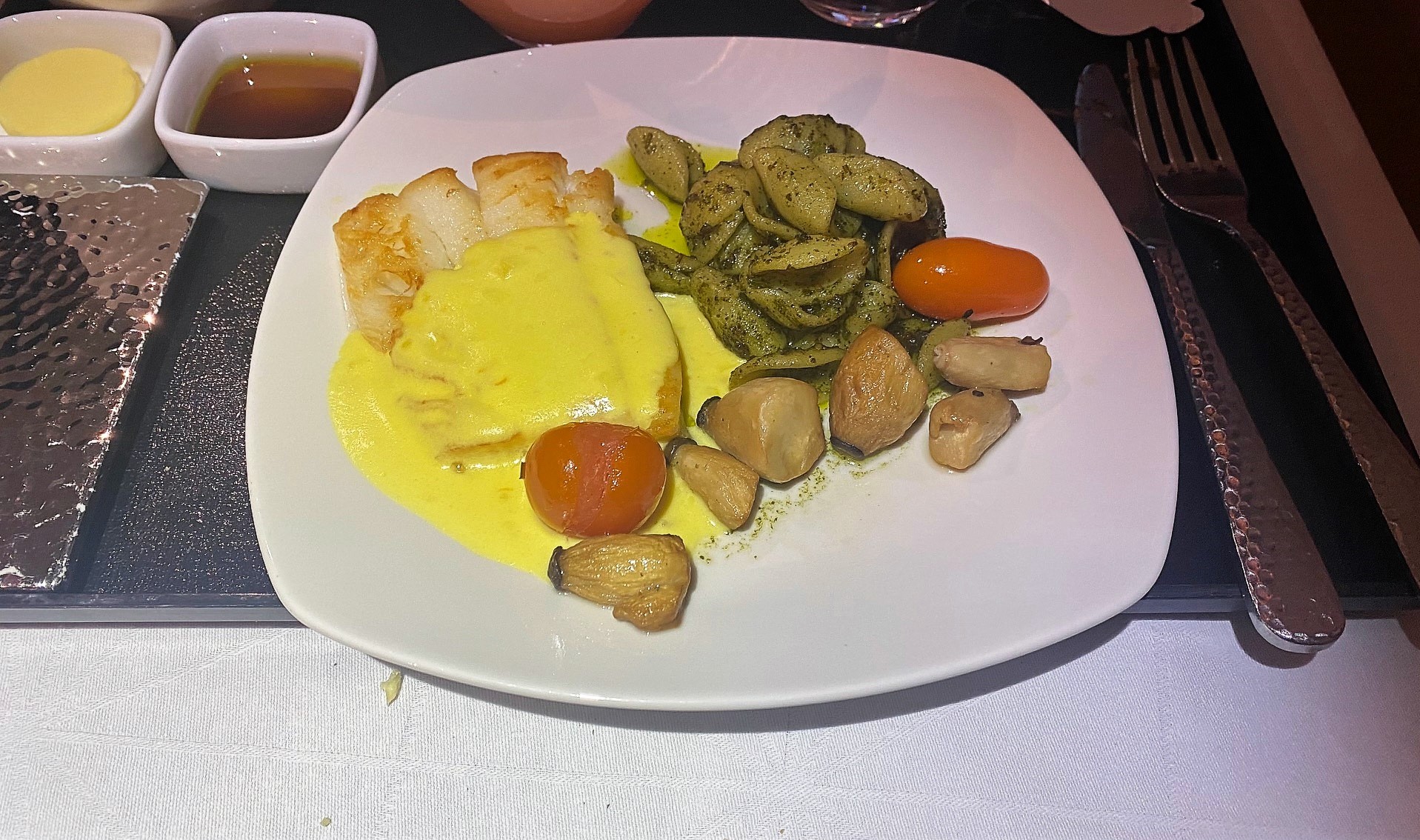 Etihad Business Class Grilled Halibut
This was followed up with a decadent serve of warm chocolate fondant and vanilla sauce. It was absolutely delicious and restored some respectability to what was a rather ho-hum meal.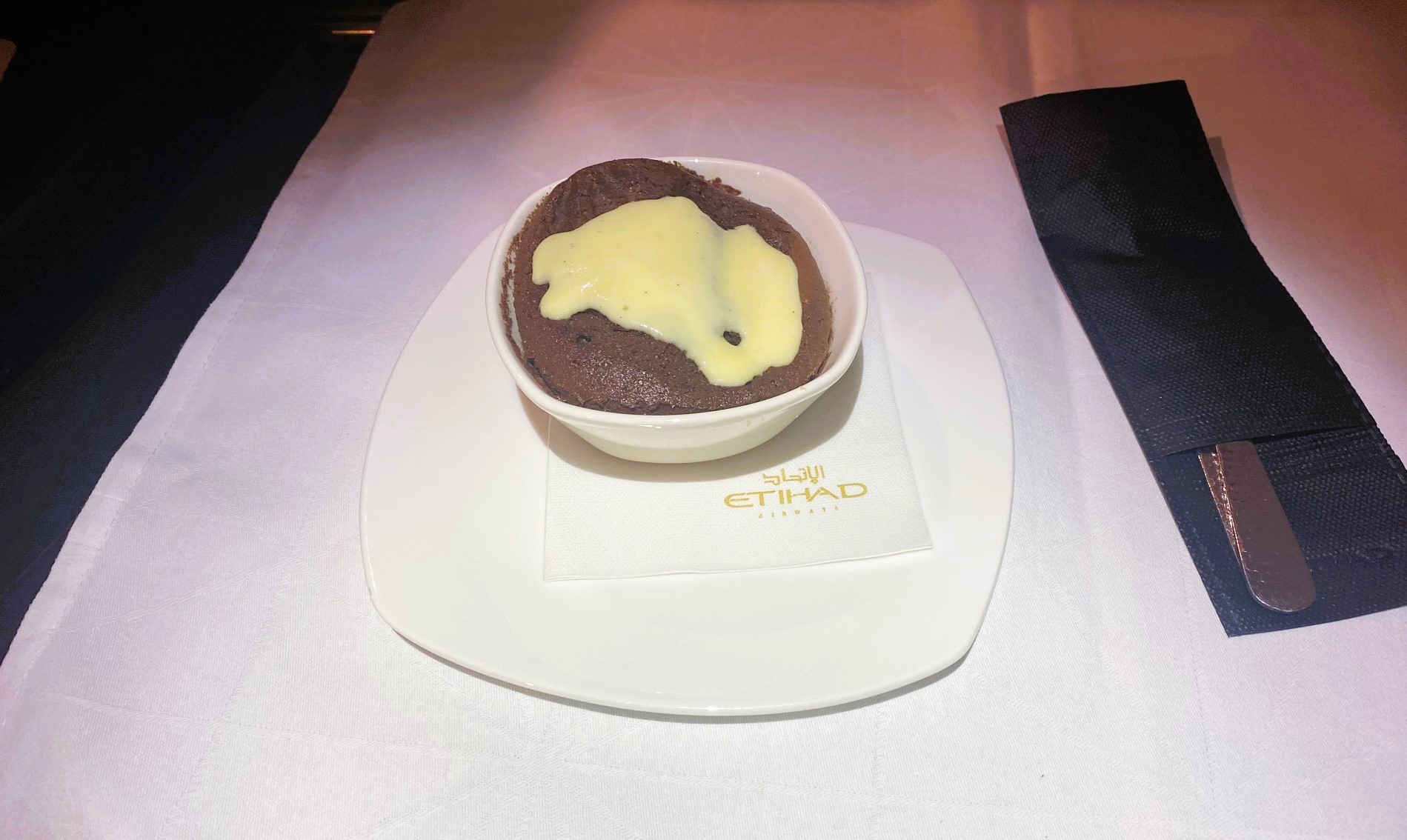 Etihad Business Class Chocolate Fondant
Once dinner was finished, I reclined my bed and caught up on few hours of much needed sleep. The bed was surprisingly comfortable and I dozed-off within just a few minutes of lying down.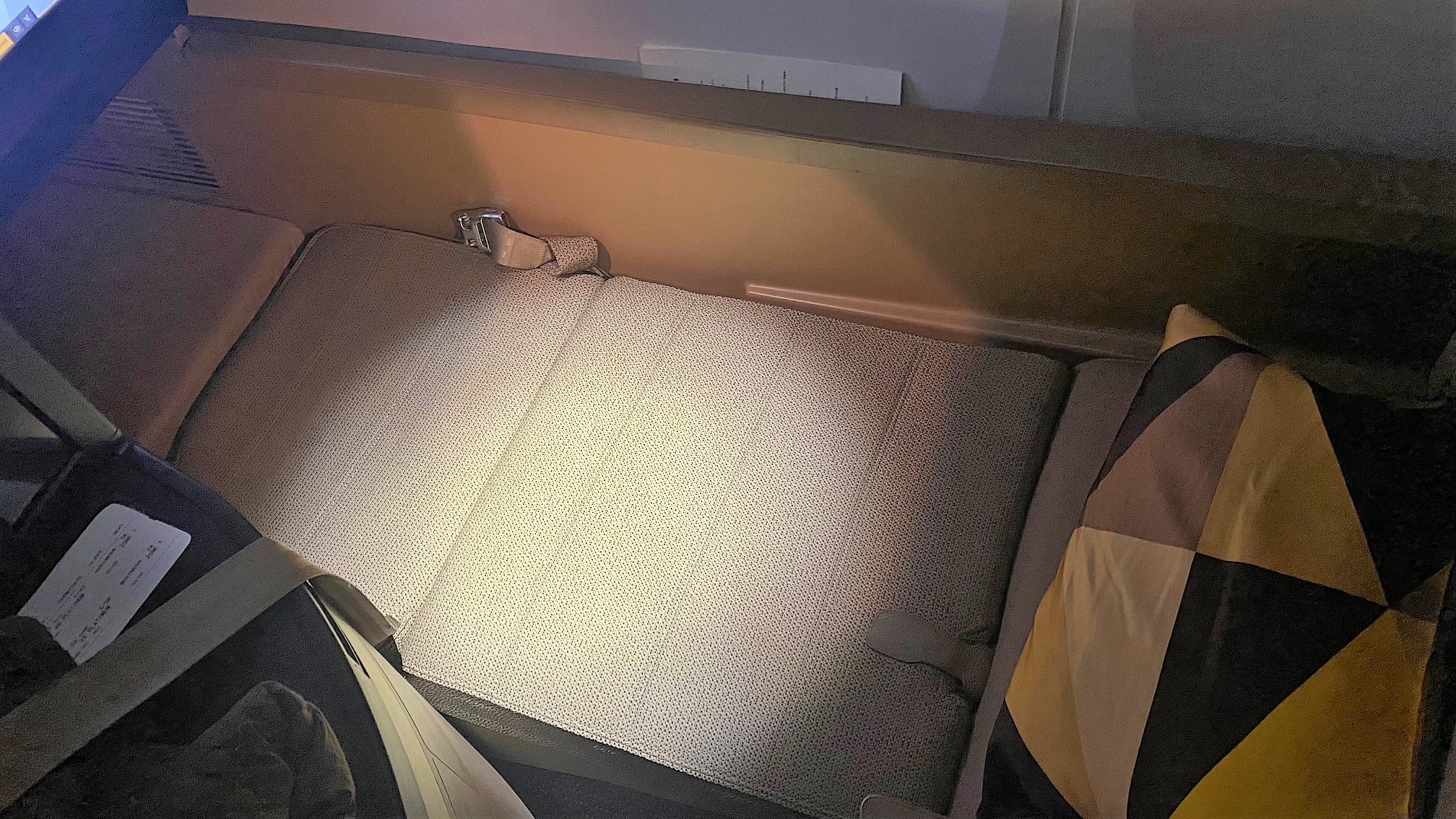 Etihad Business Class Seat, Bed Mode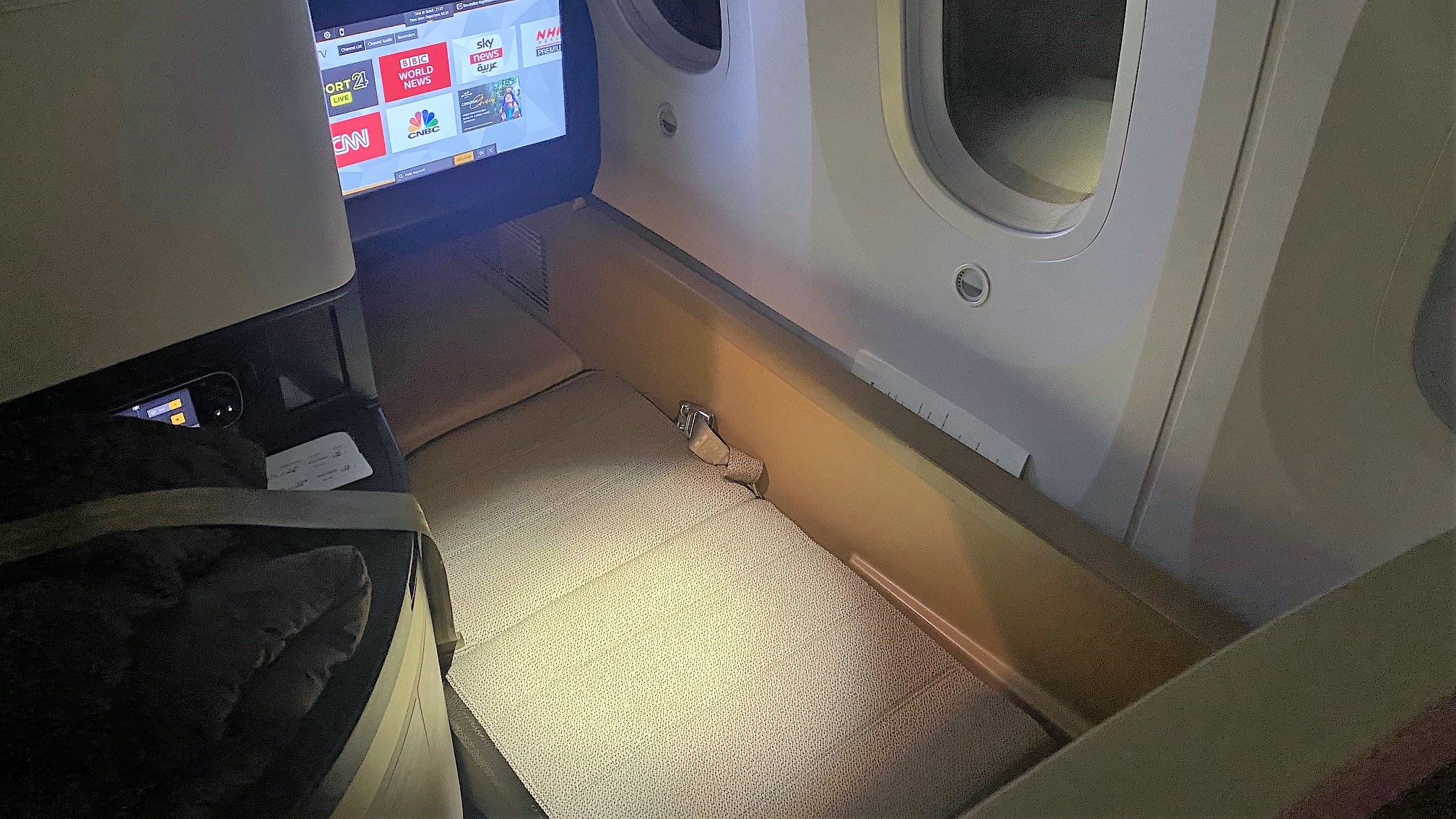 Etihad Business Class Seat, Bed Mode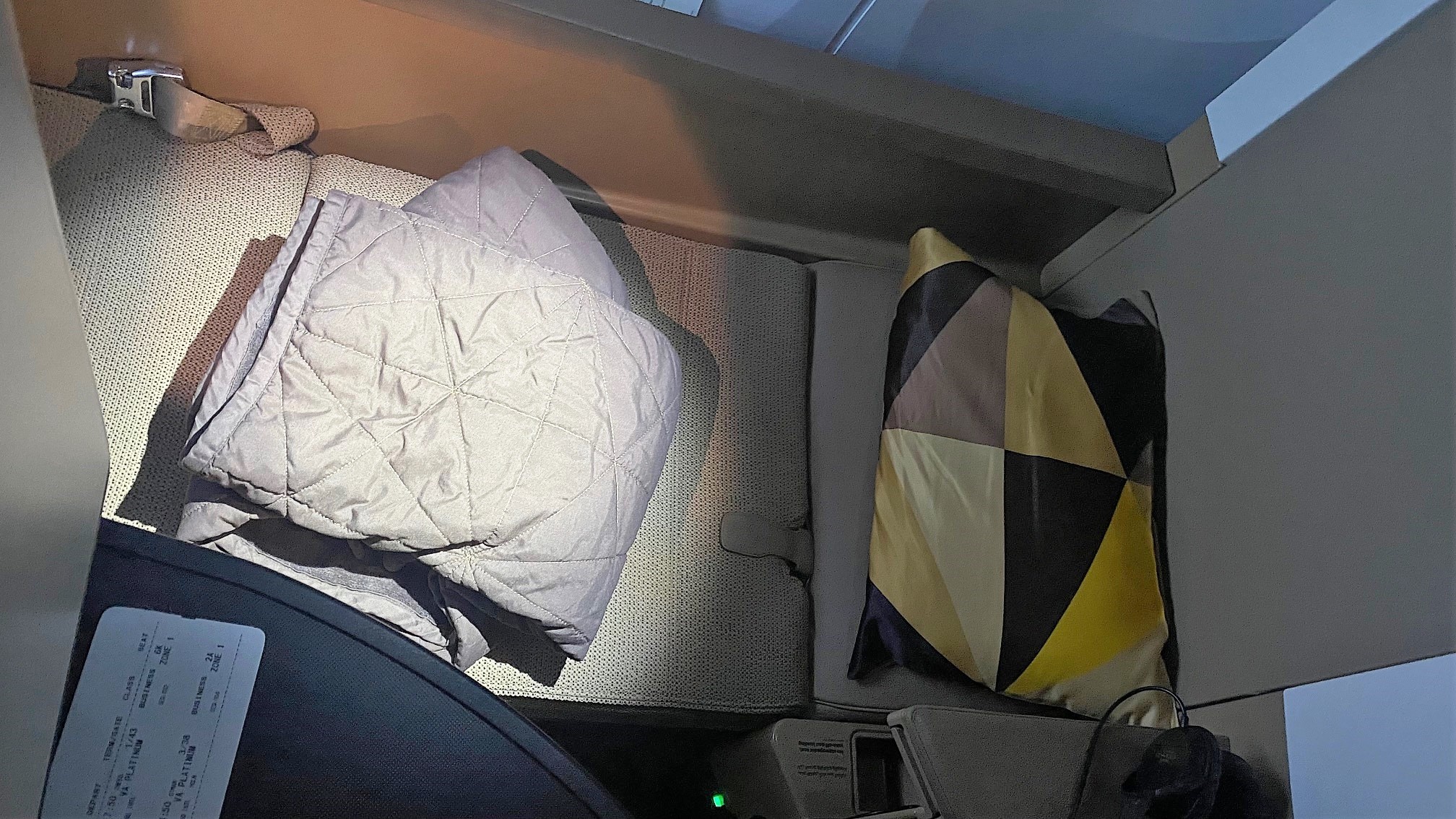 Etihad Business Class Seat, Bed Mode
I woke up about 4 hours later at which time we had flown more than 6.5 hrs of our 10 hour flight. Not satisfied with the dinner I ate earlier, I called for Leila and asked her recommendation for a mid-flight snack. She suggested that the mushroom and spinach quiche was nice so that is what I ordered. I also asked for some ice cream and a serve of Coke-zero to wash it all down.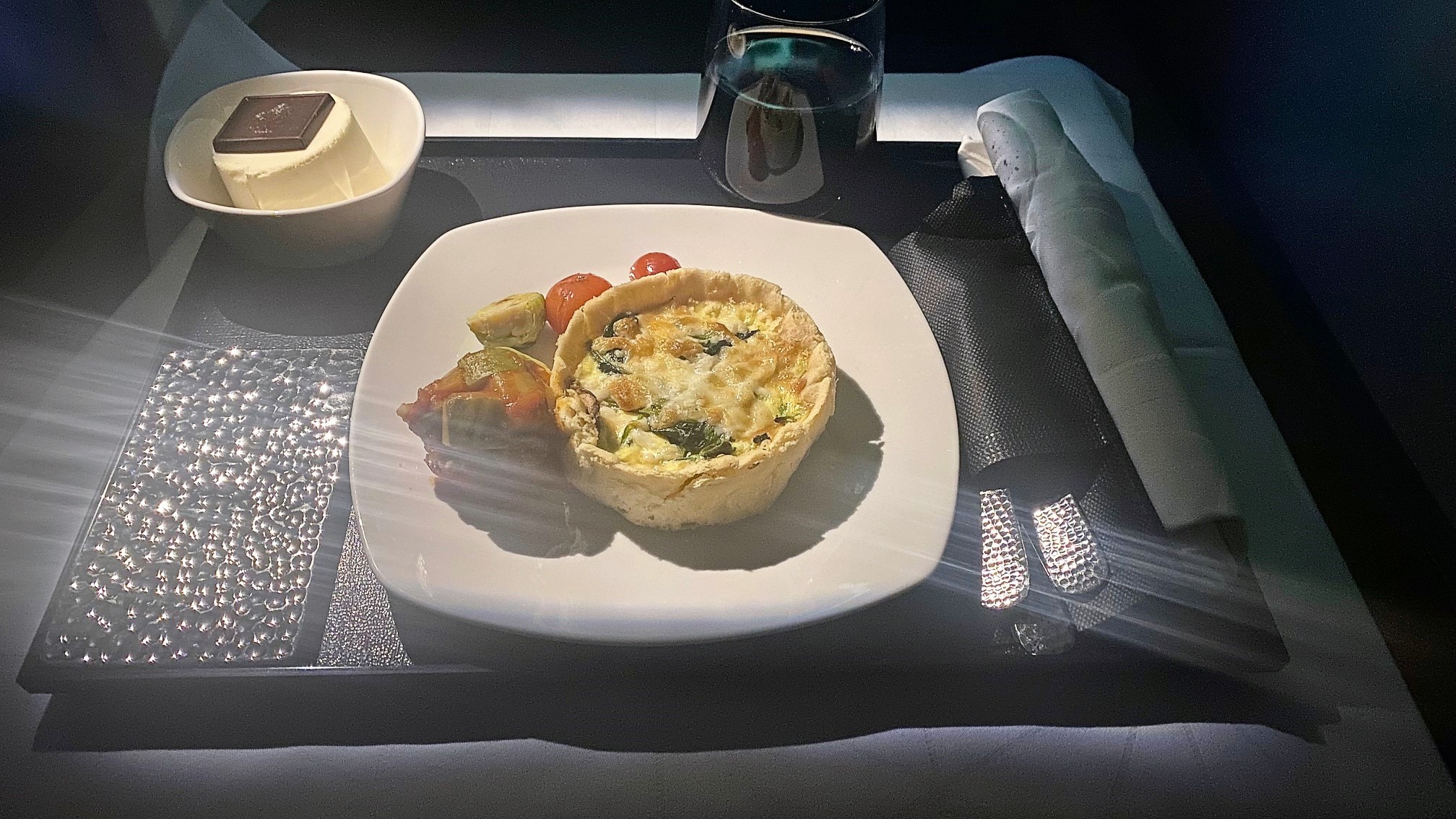 Etihad Business Class Snack Tray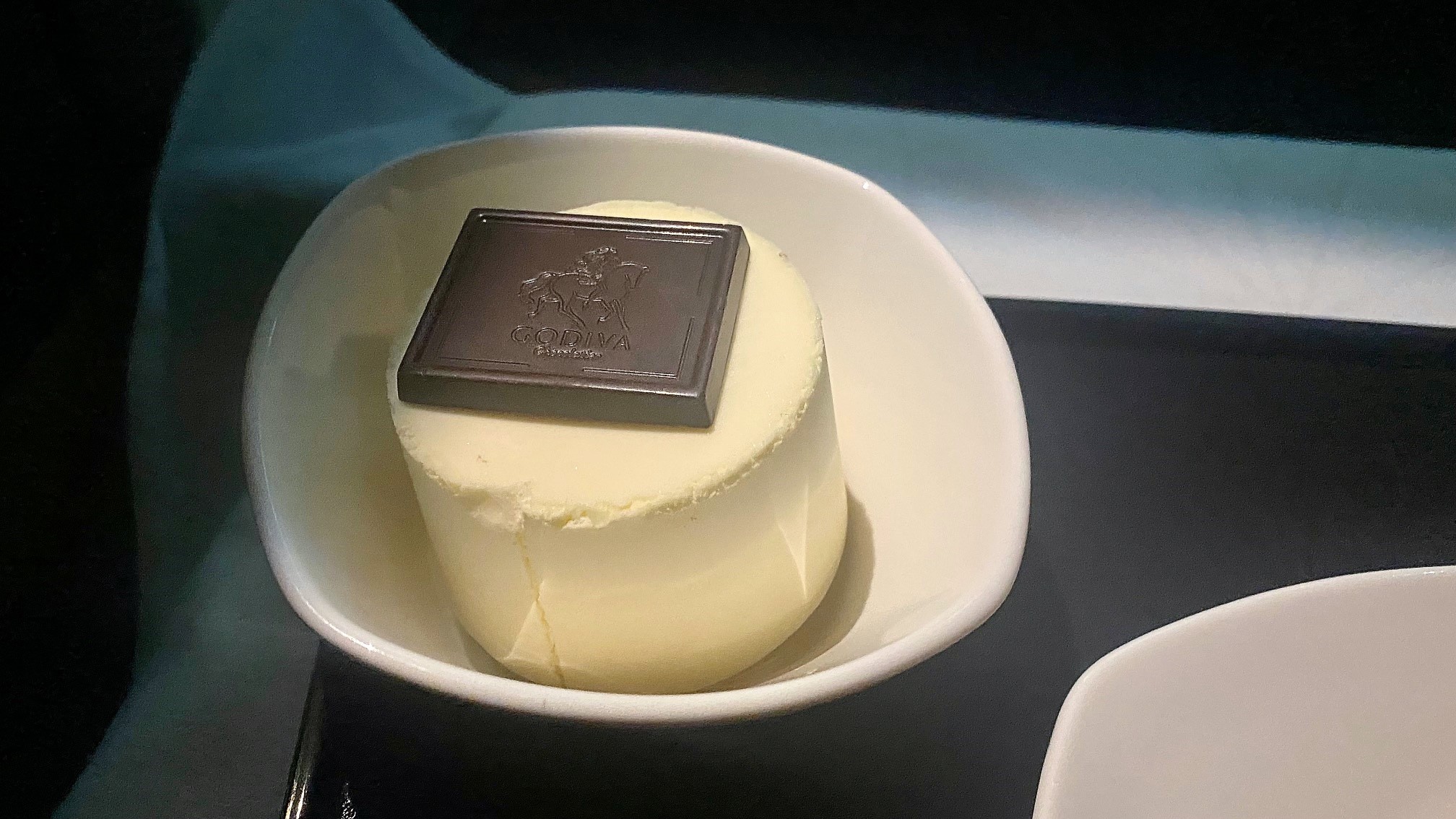 Etihad Business Class Ice Cream
While the quiche was alright, the ice cream came rock-hard and stayed like that for a quite a while. In the end, I returned it almost untouched.
I then spent the next 2 hours watching an old Bollywood classic from the 1980's, the movie is called Gol Maal and it is absolutely hilarious. I can't remember last time I laughed so hard watching a movie I have seen numerous times before.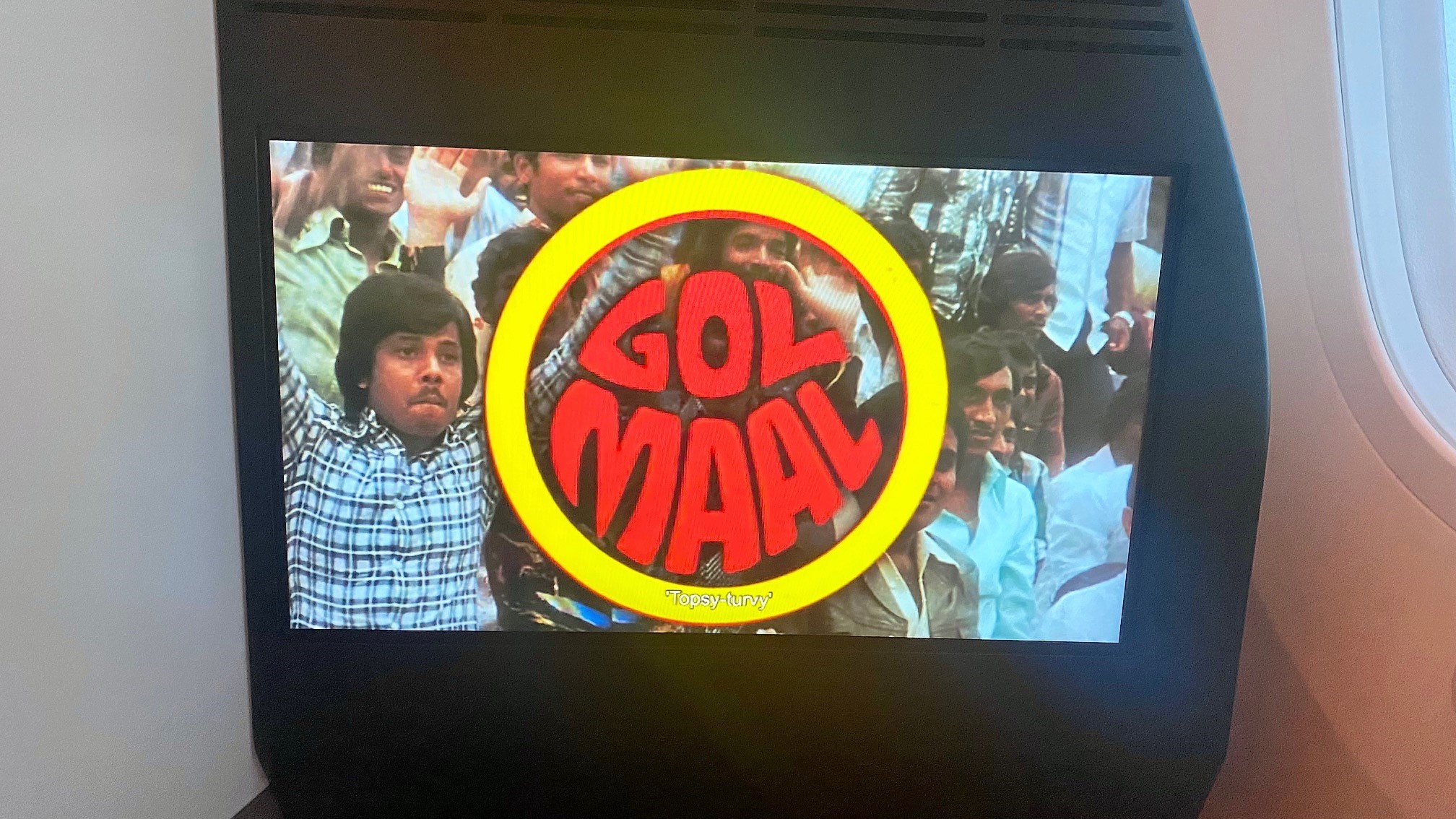 Etihad E-Box Offering, Gol Maal
Arrival into Abu Dhabi
As I was finishing up on the movie, the PA system roared back to life. It was the captain on the other end announcing that we will soon be commencing our descent into Abu Dhabi. The lights came back on and the crew got busy preparing the cabin for arrival.
We touched down into Abu Dhabi exactly at 10:59 PM local time which was 31 minutes ahead of schedule.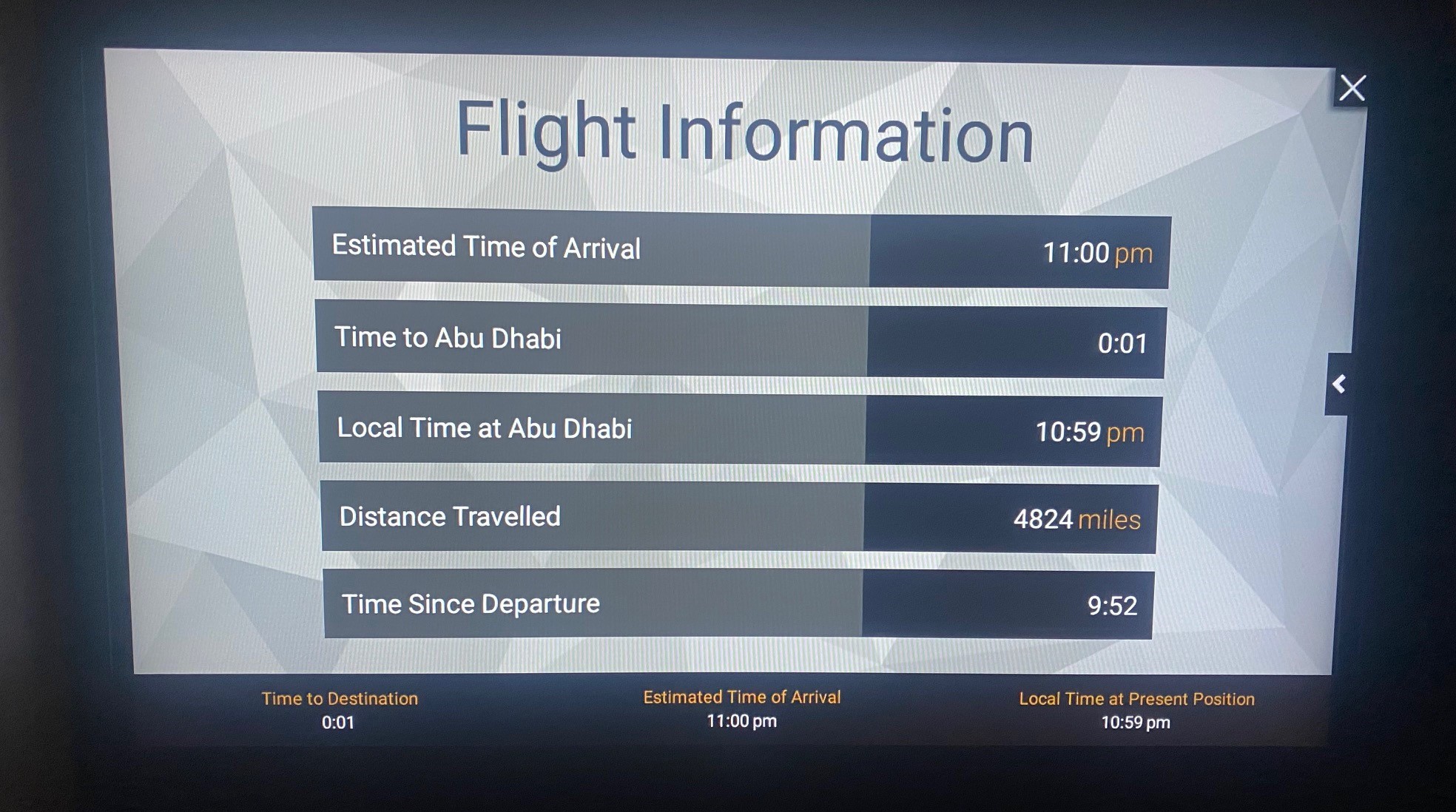 Flight display showing we landed well ahead of schedule
After a short taxi, the plane arrived at the gate, a jet bridge was attached and passengers soon started disembarking. From here, I made my way to the Etihad First Class lounge to wait out my 9.5 hrs transit.
In Conclusion
I was pleased with my experience flying Etihad Business Class from Seoul to Abu Dhabi. We departed on-time and arrived half an hour ahead of schedule which is always nice when it happens.
The cut-back in amenities, particularly the lack of slippers and PJ's on such a long flight is glaring. I also found the meals to be rather lack-lustre and there is significant room for improvement in both those areas. Etihad gets a bad-rap compared to the other 2 major Middle Eastern Carriers and I can see why. I would also rank them 3rd behind Qatar Airways and Emirates based on my experience.
Having said all of that, I found the service on this flight warm and personal and the hard product to be quite good. The seat in bed-mode exceeded my expectations and I was very happy with the length and quality of my sleep.
While I won't specially seek out Etihad for my future travels (unless its on the A-380), it's not an airline you should be putting on the Do Not Fly list, as I sometimes find some people suggesting.
Have you flown Etihad long-haul Business Class? Leave a comment below.