The arrival of Star Alliance Card firmly establishes Aeroplan as one of the most valuable Frequent Flyer Programs available in Australia. Sadly, to this day, few Australians care to look past the likes of Qantas, Velocity & Singapore Airline KrisFlyer.
Not only does Aeroplan offer numerous redemption sweet spots, the ability to include a stopover of up to 45 days for a piddly 5,000 points and over 45 airline partners, it genuinely understands what's important to its members and is not afraid of going the extra mile when things go wrong.
In this post, I want to talk about my most recent experience dealing with Aeroplan and how they went above and beyond in resolving a tricky issue which was not of their making.
Etihad A-380
In March 2023, Etihad released large amounts of First Class award space on its A-380. For those not aware, pre-covid, Etihad was a major operator of A-380 fitted with 9 First Class suites, otherwise known as First Apartments, plus the creme-de la-crème of luxury flying, The Residence, a private three-room suite with butler service.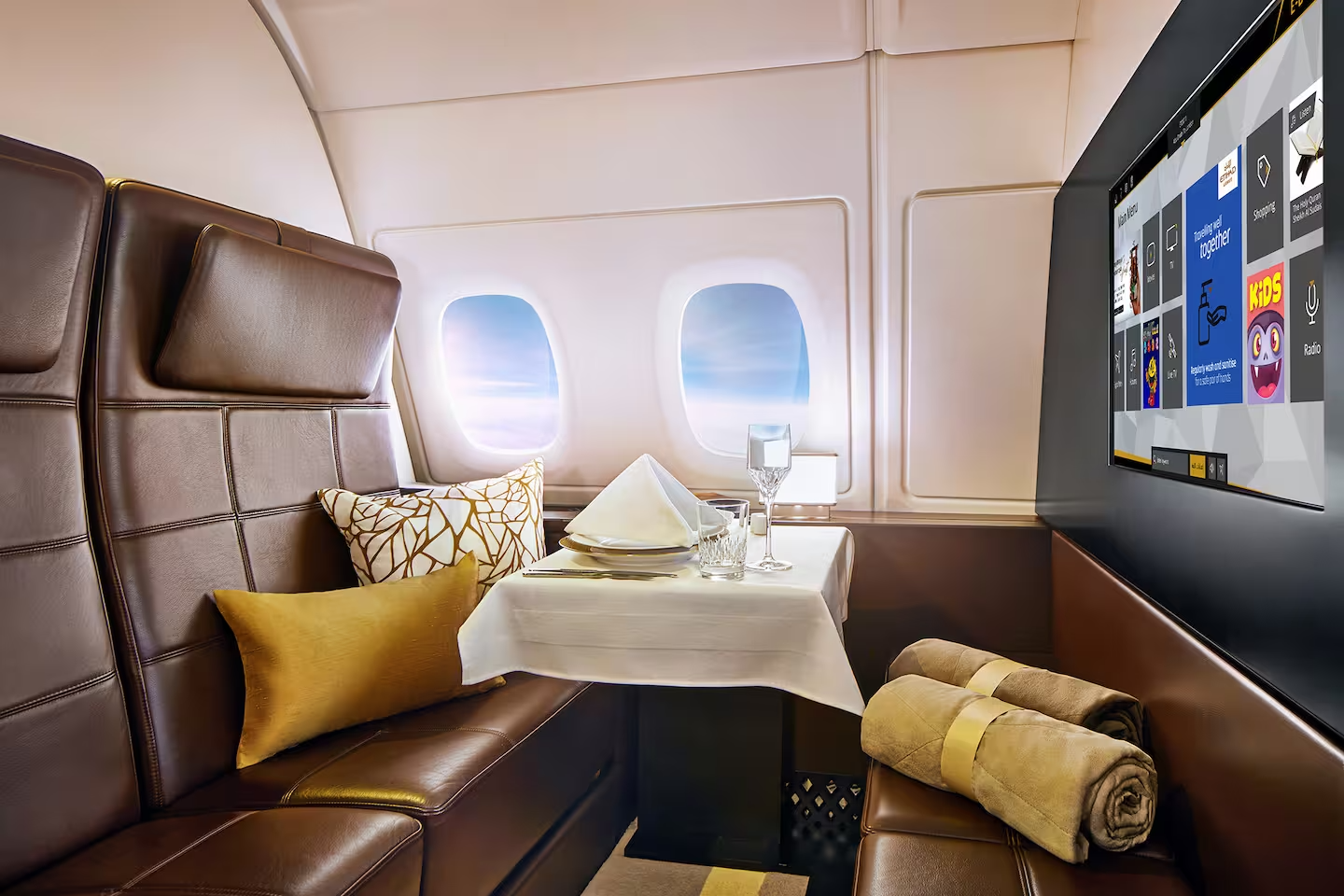 Etihad A-380 The Residence – Image courtesy etihad
In those pre-covid days, the A-380's were regularly deployed on flights to London, Sydney, New York and Paris. For a limited time, it also ferried many cash-rich Indian's and Emirati's on the roughly 2-hour commute between Abu Dhabi and Mumbai, which seemed like a waste of the product on such short route.
Then covid struck and Etihad grounded all of it's A-380's vowing to never bring them back. Fast forward to the era of revenge travel, like many other airlines (hello Qatar Airways & Lufthansa), Etihad had to eat its words and reintroduce the A-380.
One major distinction in the pre and post covid Etihad A-380 operations is that the aircraft is now exclusively utilised on the Abu Dhabi – London sector.
My Etihad First Redemption
Earlier in the year, like scores of people, I booked myself on Etihad's Abu – Dhabi to London A-380 service in First Class. I redeemed 65,000 Aeroplan points to fly this route which is a terrific deal.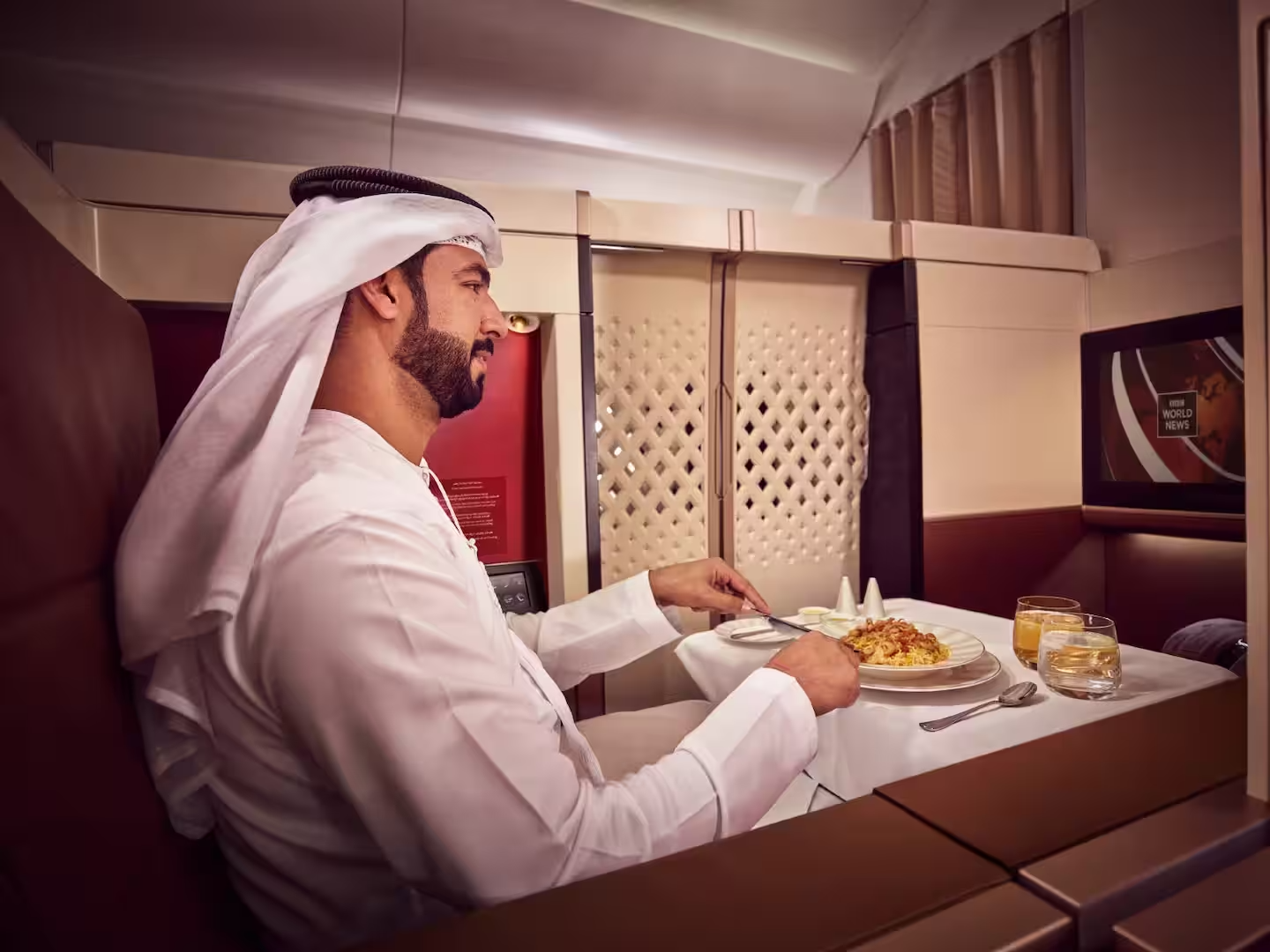 Etihad A-380 First Apartment – Image courtesy etihad
Unfortunately, Etihad cancelled most of these bookings (including mine) a few weeks later. These mass cancellations were widely reported on U.S. points blog at the time. To Aeroplan's credit, it got in touch with Etihad and got most (if not all) of these bookings restored. Sweet.
In late October I received another email from Aeroplan. Going through the email you get the impression like nothing really had changed and this was merely a reminder of the upcoming Etihad flight. I have reproduced the email below :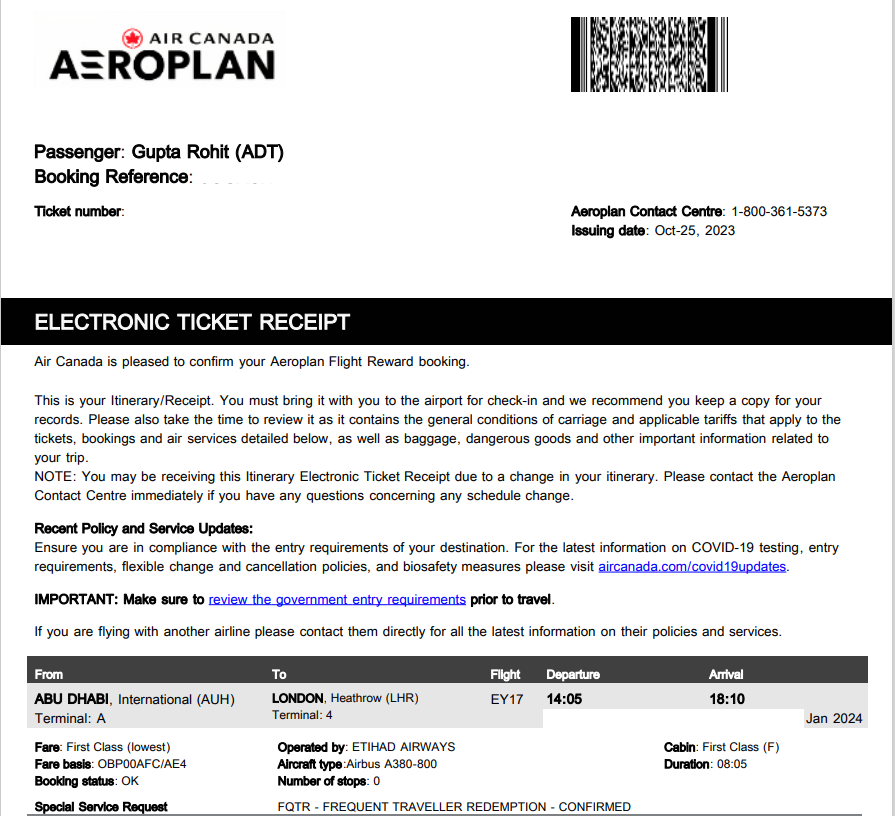 The innocuous looking email from Aeroplan
But something didn't feel right, so I quickly logged into my Aeroplan account and sure enough, the booking had disappeared. I tried to re-add the booking but it wouldn't stick. I then jumped on Etihad's website and here to, the booking was nowhere to be seen. At this point, I had received no communication from Aeroplan or Etihad.
Aeroplan's out of the box solution
My feeling is that at this point, Aeroplan decided it was futile talking to Etihad again and that they needed to come up with a different solution. Luckily for them, they have nearly 4 dozen airline partners to fall back upon. So here is what Aeroplan did :
Offered to book members with any partner airline flying between Middle East and London in First or Business Class for no extra points or cash, primarily with the likes of Oman Air, Emirates and Egypt Air, and
Awarded 50,000 Aeroplan points for the inconvenience.
In case someone didn't want to take either of the 2 options, they could ask for a full refund of points and cash (fees and taxes), and they would still receive 50,000 points. I mean this kind of response from a frequent flyer program is unheard of. Out of sheer curiosity I quickly logged into my Aeroplan account and was surprised to see that 50,000 points had already been deposited.
My attention then turned to the small matter of locking-in alternate flights.
Relevant Reading : Earn 50K Aeroplan Points and free Star Alliance Gold status with Star Alliance Card
Phone Call to Aeroplan
Seeing that lady luck was smiling upon me, I immediately got on the phone to Aeroplan to discuss my flight options. The call was initially answered by an agent who wasn't the friendliest. She kept putting me on long holds without really making any progress. After about an hour over the phone, she eventually offered to book me on Egypt Air from Dubai to London via Cairo.
The flight would be in Business since Egypt Air don't have First Class on their planes.
I should note that until this point she hadn't mentioned anything about the extra 50,000 points. She said that if I didn't take the option, she would simply process the refund for my Etihad flight. So I asked to speak to her supervisor.
On this occasion the call was answered by a competent person in Montreal. I said to him I would like to be booked on Emirates First Class from Dubai to London, I also let him know that if he could do that I was happy to make my own way from Abu Dhabi to Dubai. Thankfully, the supervisor was fully across with the situation about Etihad bookings. He immediately started searching for Emirates and found availability.
Its worth pointing out that Emirates flies 9x daily between Dubai and London but not all these flights are on the A-380 and only about half fly into Heathrow, with the rest going to Gatwick or Stansted. In continuing streak of good luck, he was able to book me on the afternoon A-380 departure from Dubai which gets me into London in time for dinner as you can see below.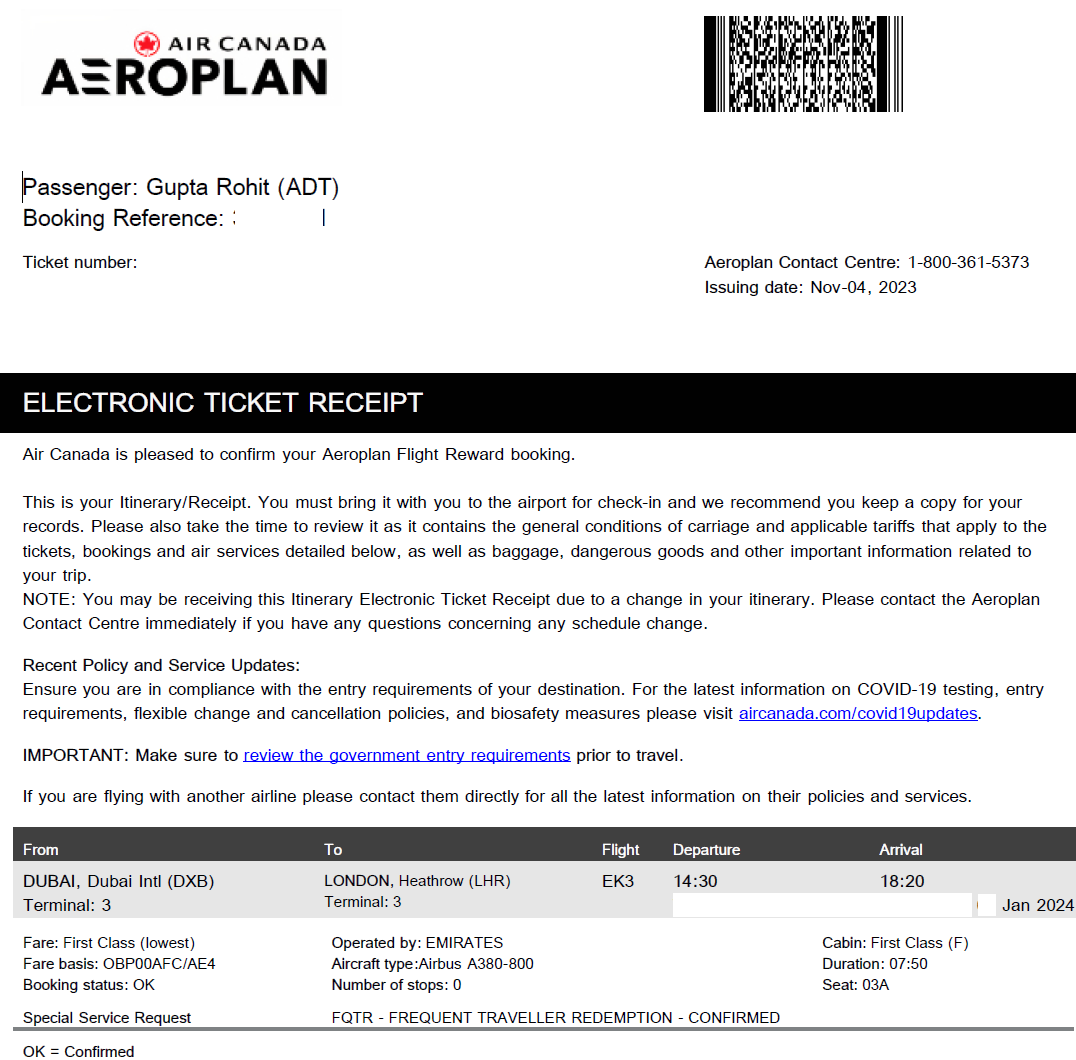 My Emirates A-380 First Class from Dubai to London Booking
The supervisor told me there were only 3 seats available on that flight, none for award booking. But due to the special circumstances associated with Etihad bookings, he was able to open up a revenue seat for me. Just how good is that 🙇‍♂️
In Conclusion
I redeemed Aeroplan points to fly Etihad A-380 First Apartments from Abu Dhabi to London. While I am a little sad that won't be happening (just yet), I can't complain too much about flying Emirates First on one of their A-380's.
But none of this would have been possible without a program that lives and breathes customer excellence and satisfaction. And if this wasn't enough, I now have an extra 50,000 Aeroplan points sitting in my account too.
And just in case you think this isn't a big deal, let me tell you that it is. I have been burned twice in the last 2 years by 2 different airlines who cancelled confirmed flights on me and refused to extend any help whatsoever.
Thinking of you Asia Miles and Alaska Mileage Plan, (and not in a good way 😜).
Have you ever redeemed Aeroplan points? Leave a comment below.