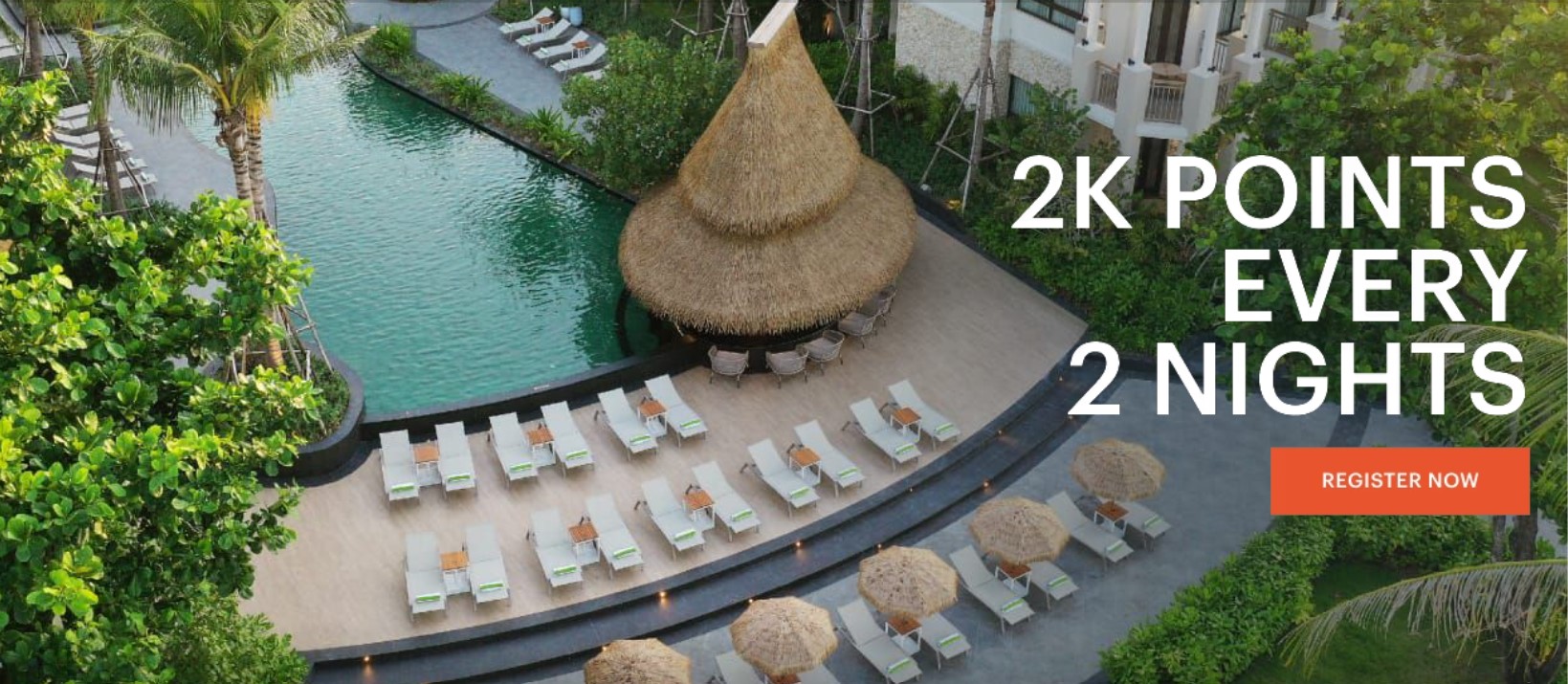 IHG have just announced details of it's new global promotion under which IHG One Rewards members can earn 2,000 bonus points every 2 nights. Dubbed 2K Points Every 2 Nights, the promotion starts on 12 October 2023 and runs until 31 December 2023.
Most IHG Hotels and Resorts, with the exception of Six Senses and Iberostar Beachfront Resorts are participating in the promotion. Registrations are essential and you can do that over here. After you have registered, you should receive an email confirmation like the one below.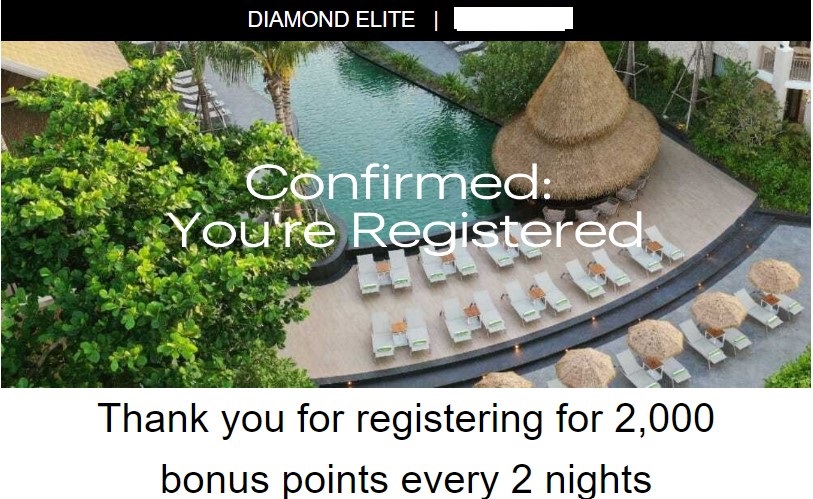 Note that only stays fully paid with cash are eligible for the promotion. Award stays and Points + Cash bookings are excluded. I should also point out that to be considered an eligible stay, members must spend a minimum of USD 30 per night.
IHG One Rewards Targeted Offers
Besides the global promotion which is open to all IHG One Rewards members, IHG have also been sending out a number of targeted offers that members can take advantage of to earn bonus points and elite night credits. Lets go over a few of these offers.
Welcome Back Bonus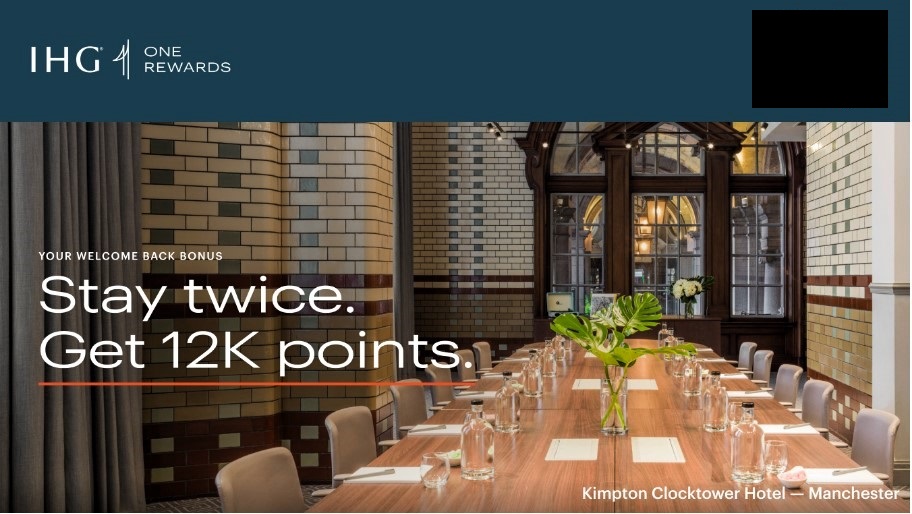 Members targeted for this offer can earn 12,000 bonus IHG One Rewards points simply by staying twice within 60 days of registration. Check your email to see if you are targeted, the registration link can be found in the email.
The last day to register for this offer is 31 December 2023, you then have a further 60 days to complete two stays.
Earn up to 8 bonus elite night credits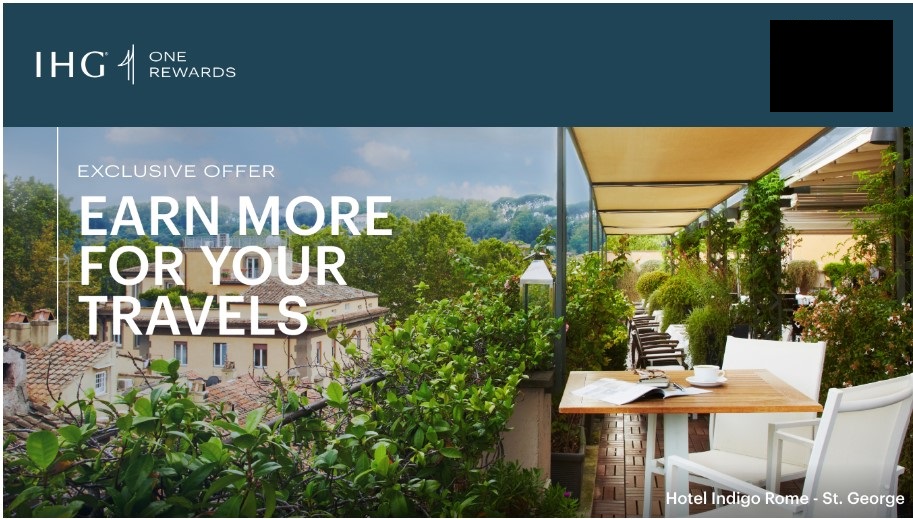 Under this offer, targeted members can earn 4 bonus elite night credits for every 4 nights they stay with IHG between 1 September and 10 October 2023. Members can take advantage of this offer twice, meaning they can earn up to 8 bonus elite night credits in total.
This offer may particularly appeal to those who are trying to earn or retain status with IHG One Rewards, or working towards Milestone Rewards.
Anniversary Offer 10 & 15 Years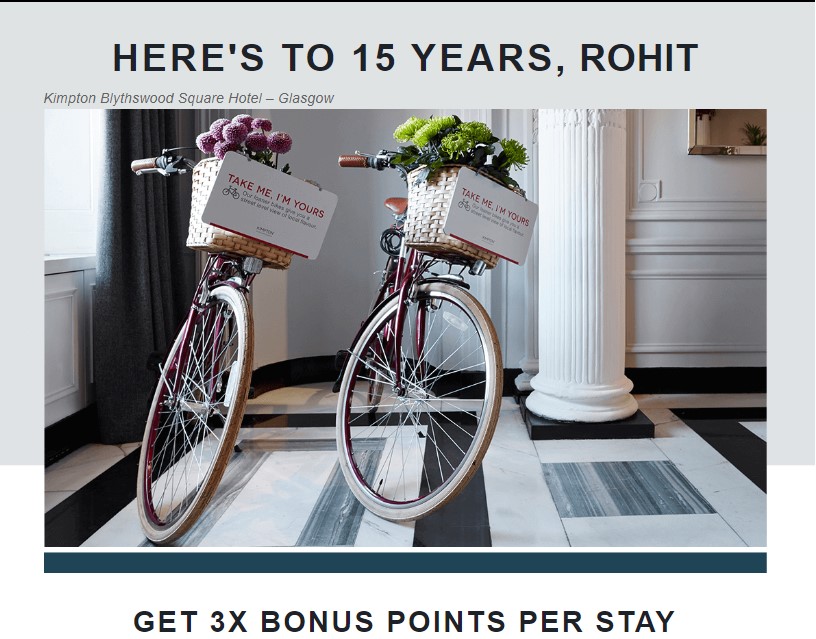 This is an offer exclusively sent out to members who are celebrating their 10 or 15 year anniversary with IHG. I had no idea I had been with IHG for 15 years, but here we are.
Under this offer, members can earn 3x points on all IHG stays for up to 20,000 bonus points. As always, registration is required and the link to do so can be found in the email. This offer is valid on stays completed by 3 November 2023.
In Conclusion
IHG One Rewards are currently running a number of public and targeted offers. If you are an IHG loyalist and planning travel between now and the end of the year, it is worth registering for the new global promotion and any targeted offers that may have come your way.
IHG's property portfolio now counts more than 6,000 Hotels and Resorts globally. So hopefully, it shouldn't be too difficult to find a few to align with your travel plans.
Do you stay with IHG? Leave a comment below.