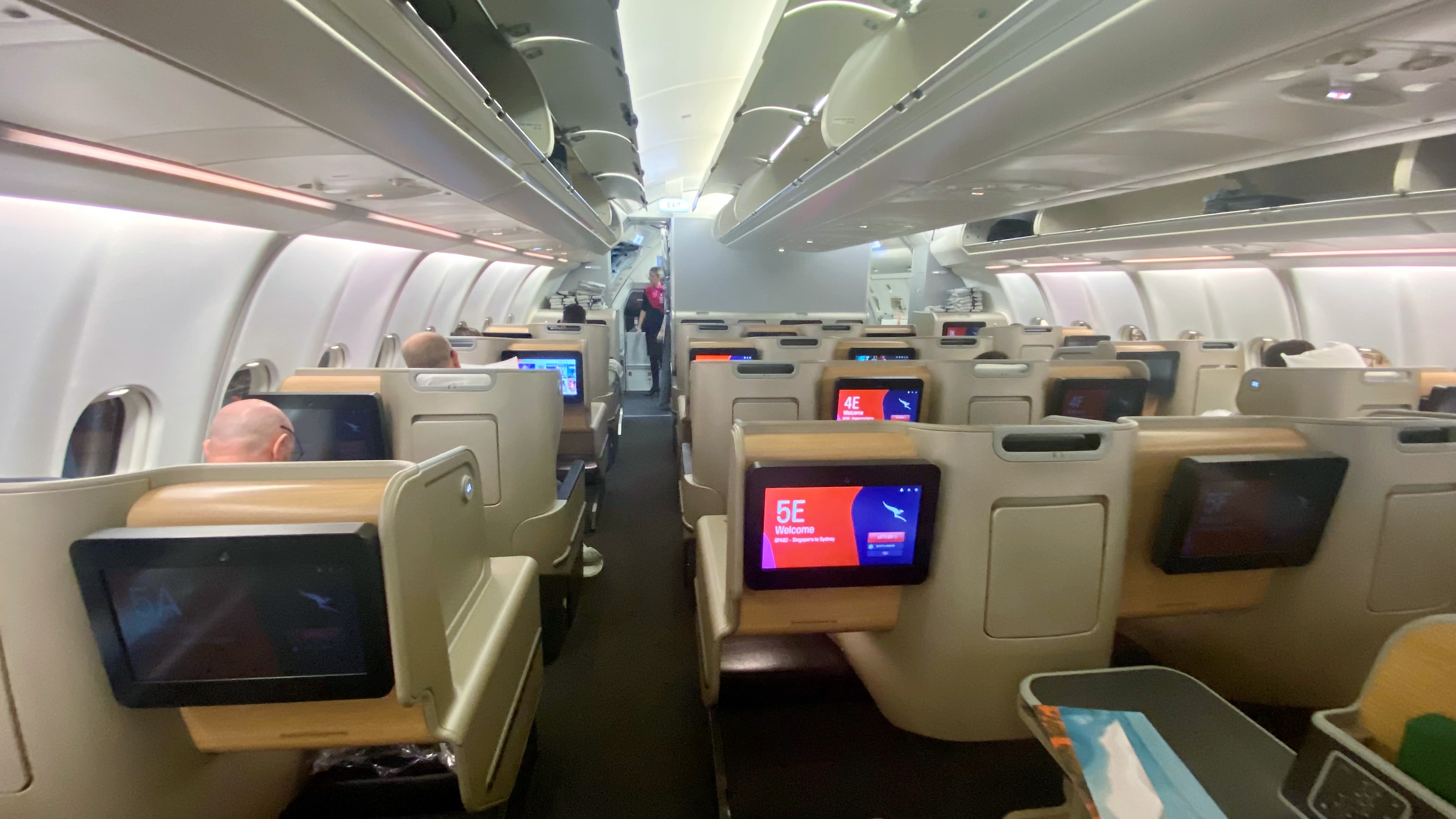 To wrap-up my trip to Jakarta, I first flew Batik Air to Singapore before taking the overnight Qantas flight to Sydney. I have flown Qantas A-330 Business Class quite a few times, but not since before Covid so I was keen to see if the experience has changed in the post-pandemic era.
Booking
If you live in Australia, Qantas points are the easiest points currency to book this flight which is exactly how I made the booking. I redeemed 68,400 Qantas points (plus about $200 in fees & taxes) for my one-way Business Class flight from Singapore to Sydney.
There are a couple of other Oneworld airlines points currency you could redeem which I consider to be good value. For instance, you can book this flight for just 61,000 Asia Miles, alternatively, you could redeem 62,000 British Airways Avios or 40,000 American AAdvantage Miles.
While Asia Miles are easy to come by as they are transfer partners with most major banks and American Express Membership Rewards Program, it is a lot harder to earn Avios or American Miles efficiently in Australia. For most people though, I expect Qantas points to be the currency of choice to make this booking, albeit at a slight premium.
Relevant Reading: 7 ways to earn loads of Qantas points without flying
Boarding
I spent a few hours in the Qantas First Lounge before boarding the flight. On this day, the flight was departing from Gate C18, which is a good 10-15 mins walk from the lounge. A decent crowd of passengers had built up by the time I arrived but boarding had yet to start.
They called the flight soon after and started screening passengers to get them inside the Gate lounge. Boarding commenced at about 7:20 pm with Business Class passengers, Qantas and OneWorld elites invited to board first.
There were separate doors for Business & Economy Class passengers, with those in the former group using the forward door near the cockpit to enter the aircraft.
Departure from Singapore
The scheduled departure time from Singapore was 8:05 pm. Few minutes after I took my seat, the First Officer came on the PA system welcoming passengers and providing a weather update. He also advised a flight time of just 6 hrs 56 mins which was incredibly short for a flight locked in at 8 hrs and 5 mins.
Once he finished his speech, the safety video was played. Don't know how everyone feels about it, but I am a fan of the current safety video that retraces Qantas' journey over the last 100 years. If you would like, its available to watch on YouTube over here.
The Pilots started pushing back at 7:55 pm which was well ahead of time, but then got delayed due to the late arrival of cargo that had to be loaded on the plane. We finally left the Gate at 8:20 pm, and after a very long taxii got airborne around 8:35 pm.
Follow PointsHq on Instagram – PointsHq 👈🏽
Business Class Cabin & Seats
I have reviewed Qantas A-330 Business Class and Qantas B-787 Business Class both earlier where I have extensively delved into the cabin and seats. So I will keep this part brief.
The Business Class Cabin on Qantas A-330 is laid out in the popular 1-2-1 configuration, which offers direct aisle access to every passenger.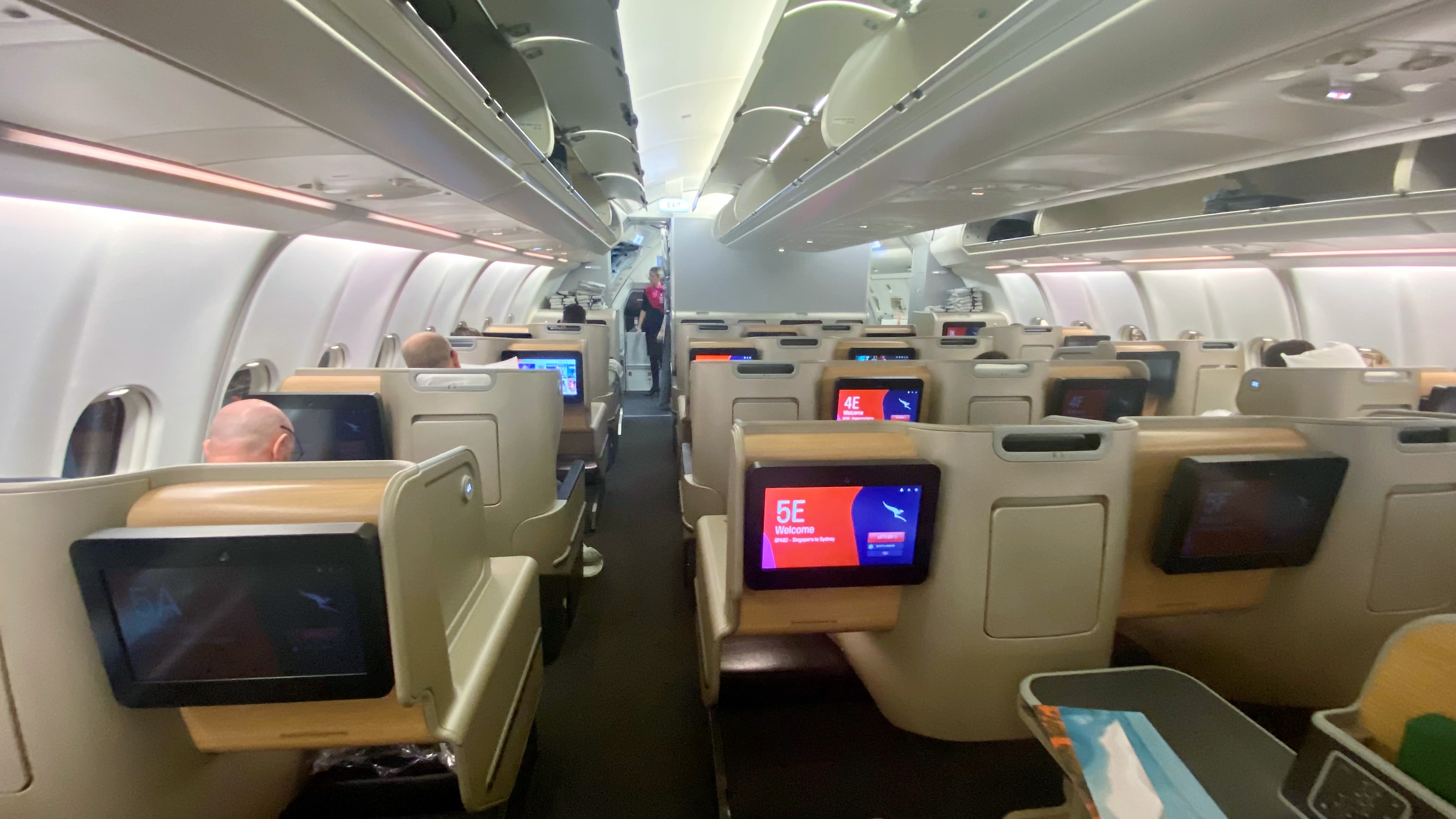 Qantas A-330 Business Class Cabin
On this flight, I had selected Seat no. 5A which is a window seat in the fifth row on the left hand side of the cabin as you can see from the seat map below.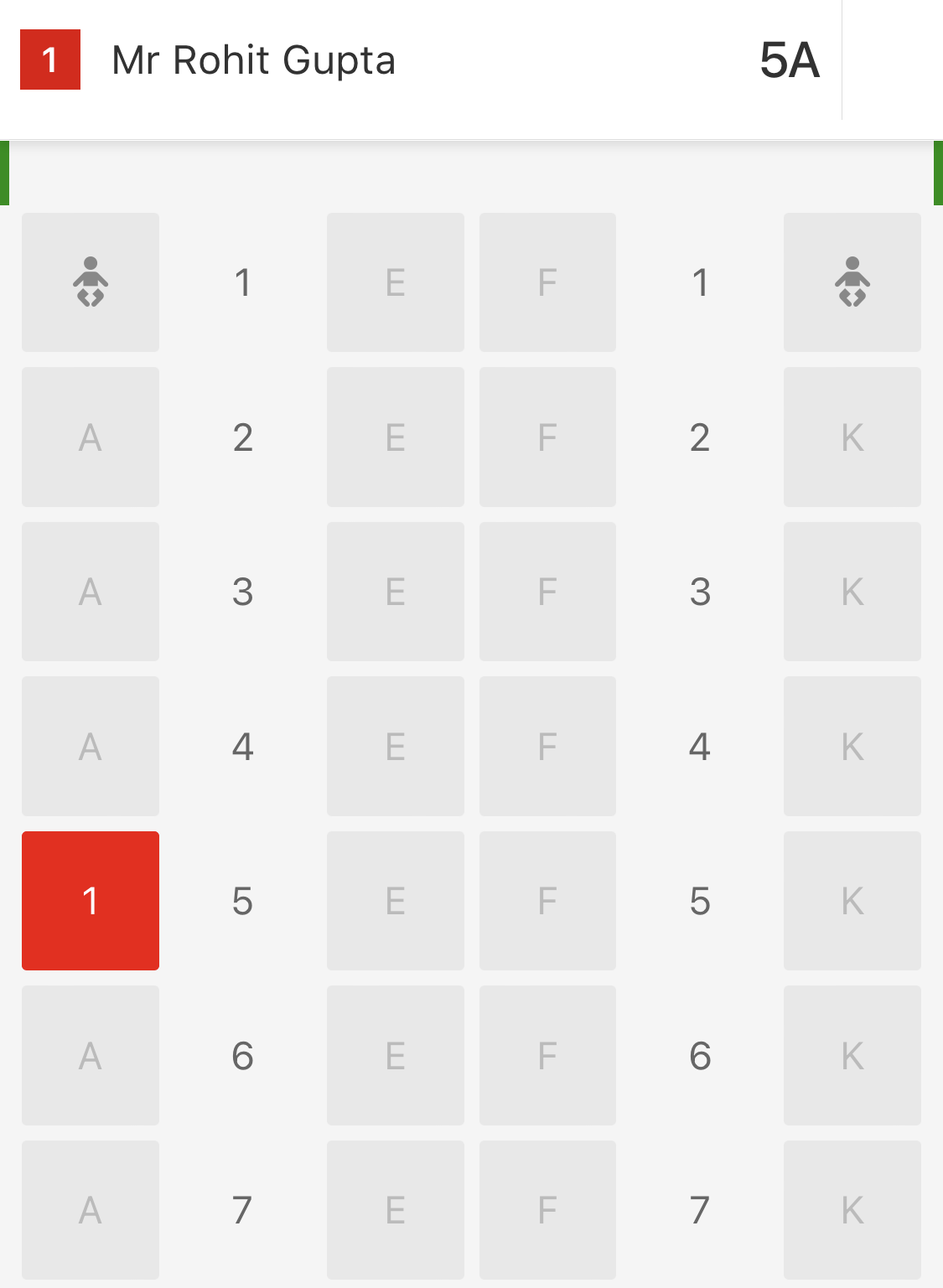 Qantas A-330 Business Class Seat Map
All the seats are very well appointed and offer all kinds of mod-cons that is expected of Business Class seats in the current times.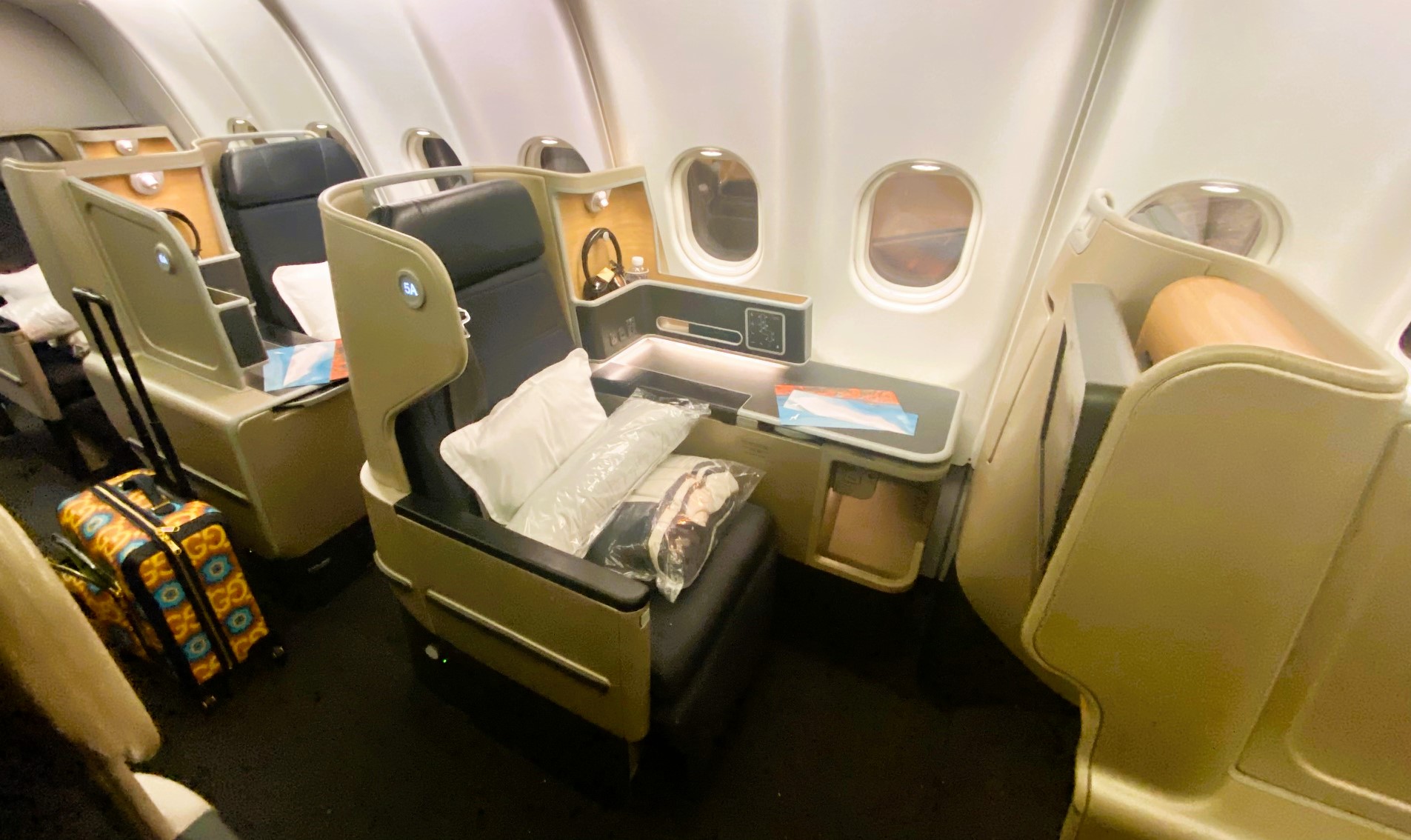 Qantas A-330 Business Class Seat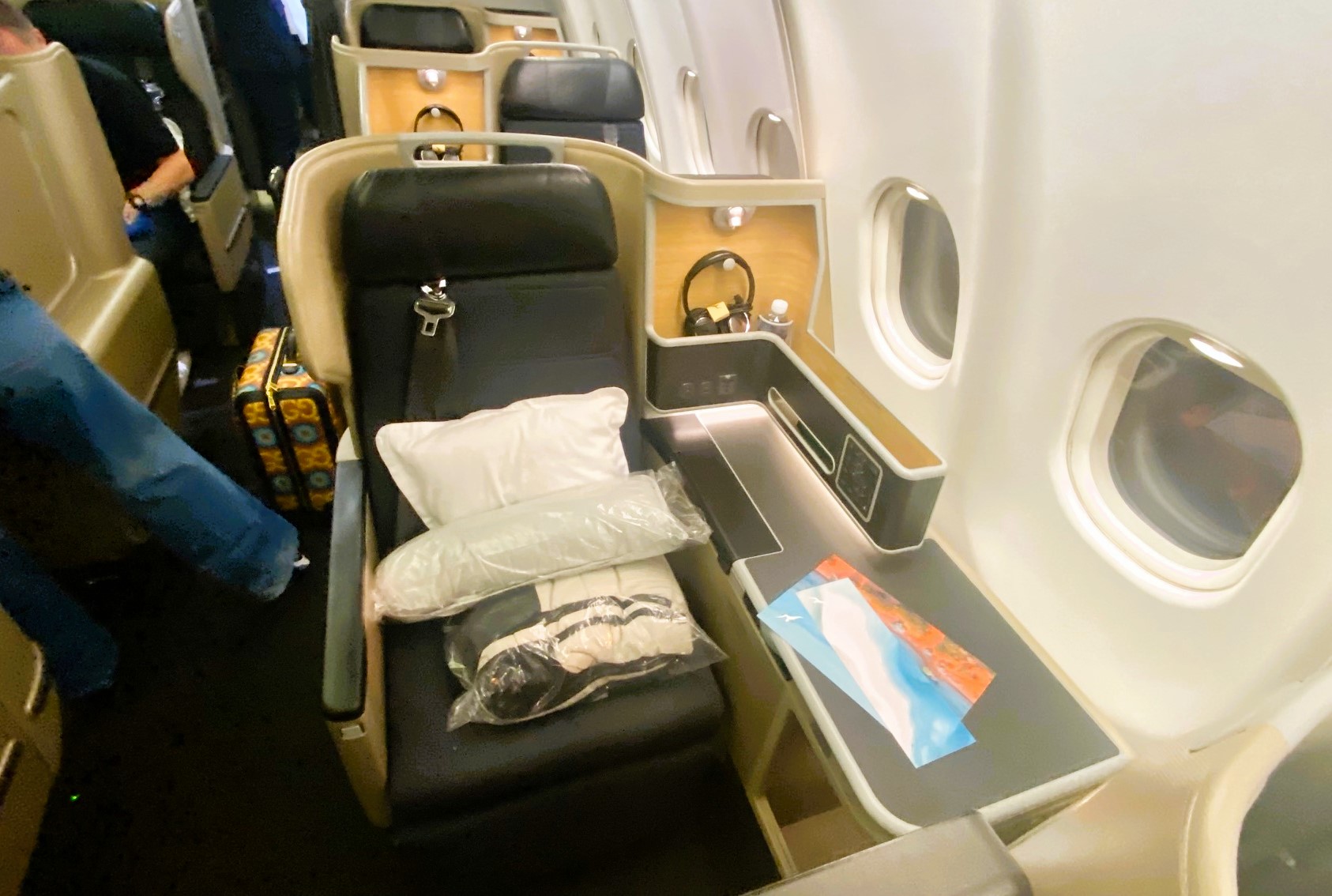 Qantas A-330 Business Class Seat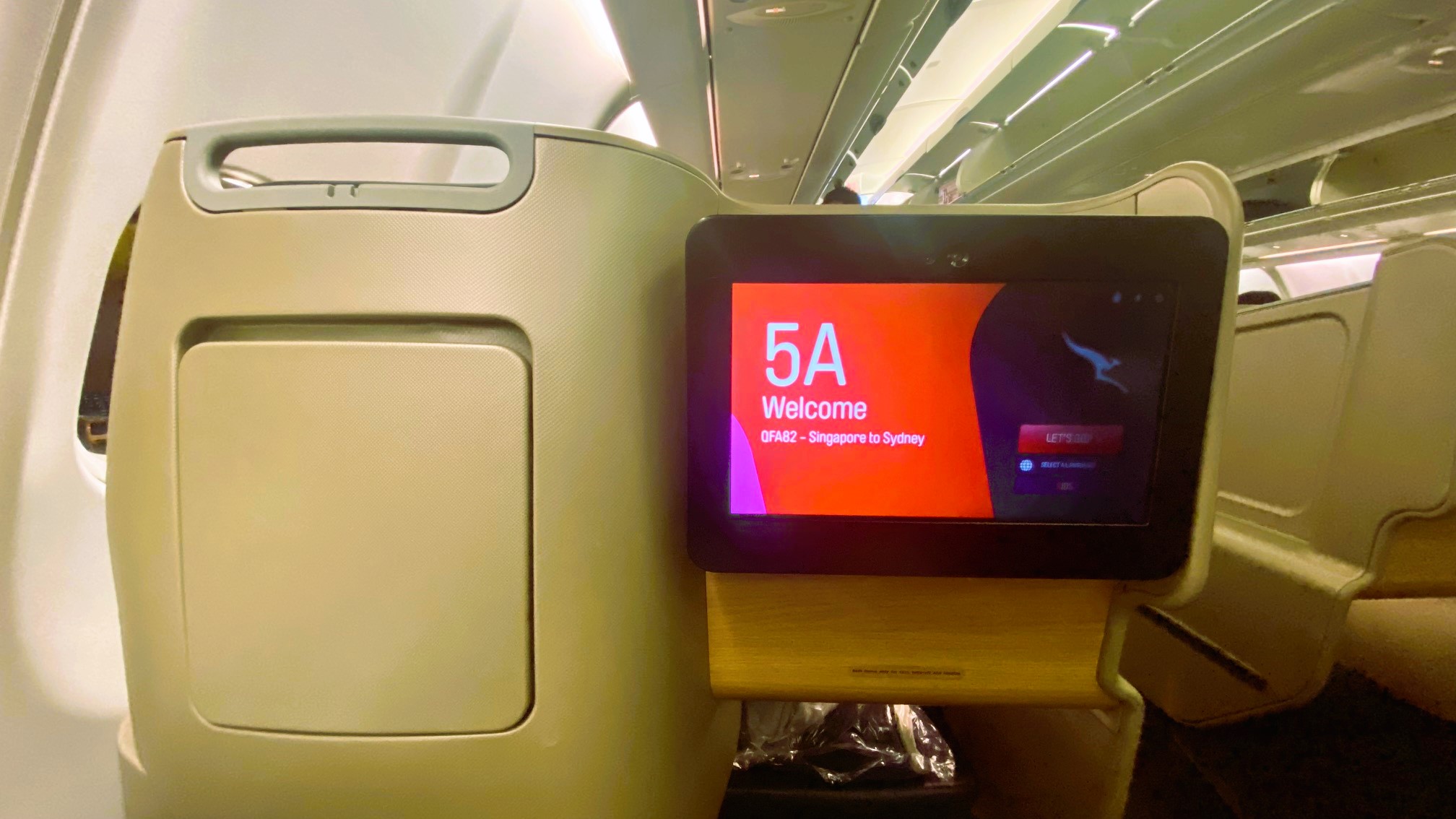 Qantas A-330 Business Class Seat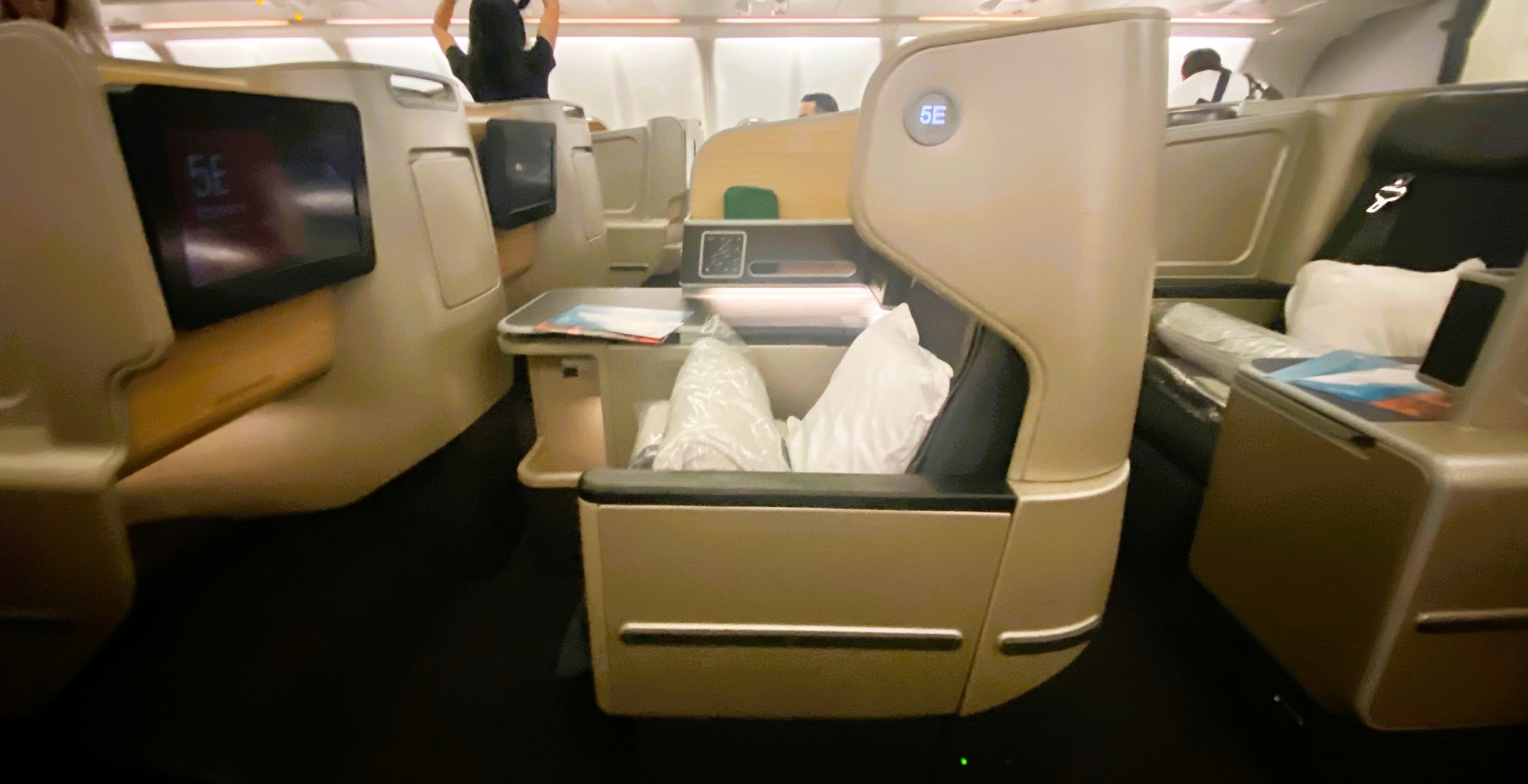 Qantas A-330 Business Class Seat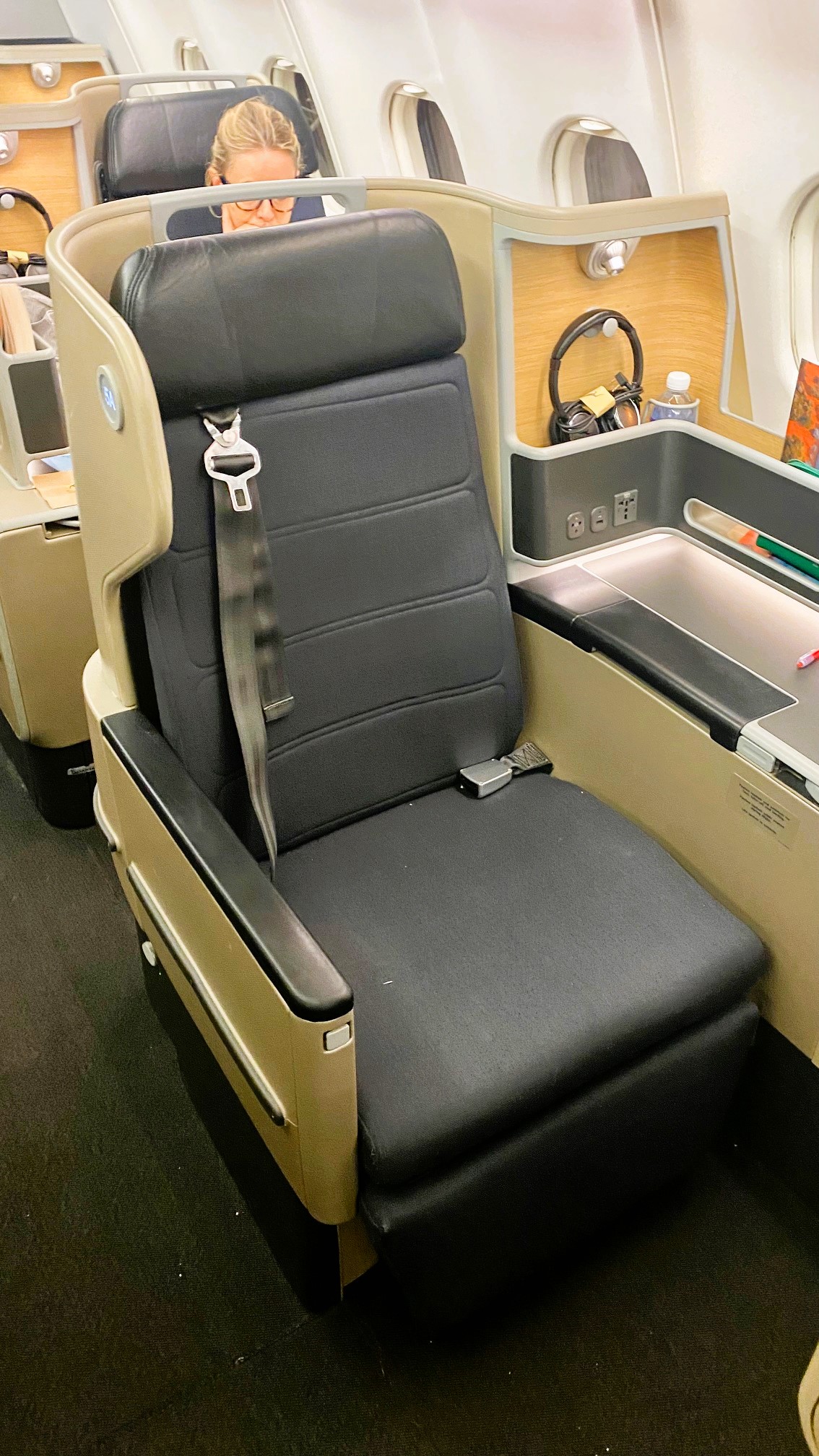 Qantas A-330 Business Class Seat
In the sleep mode, the seat fully slides down and turns into a lie-flat bed offering oodles of space to stretch out. Whether you are a side-sleeper or like to sleep in the Corpse Pose, you are guaranteed an excellent quality of sleep.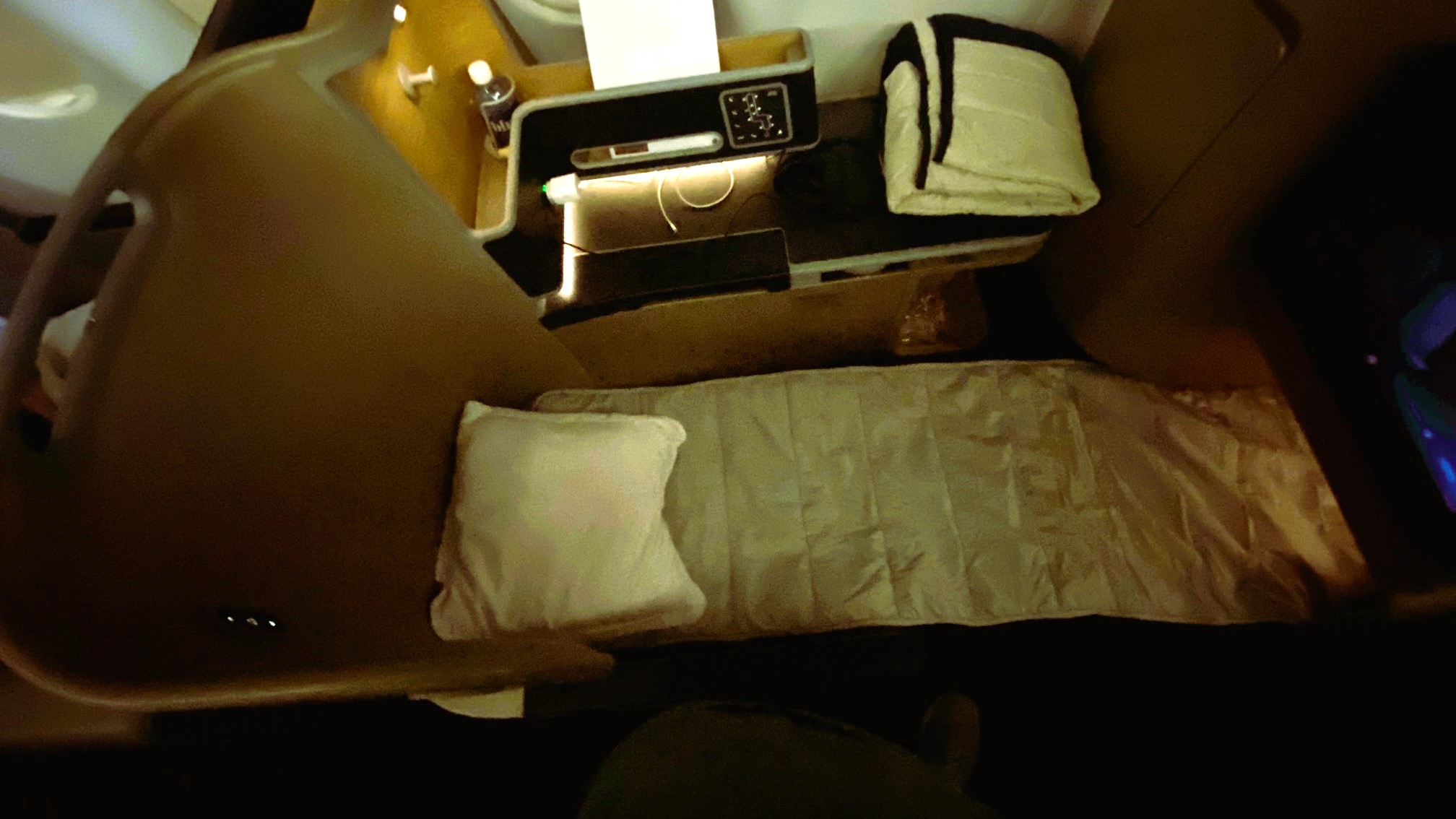 Qantas A-330 Business Class Seat, Sleep Mode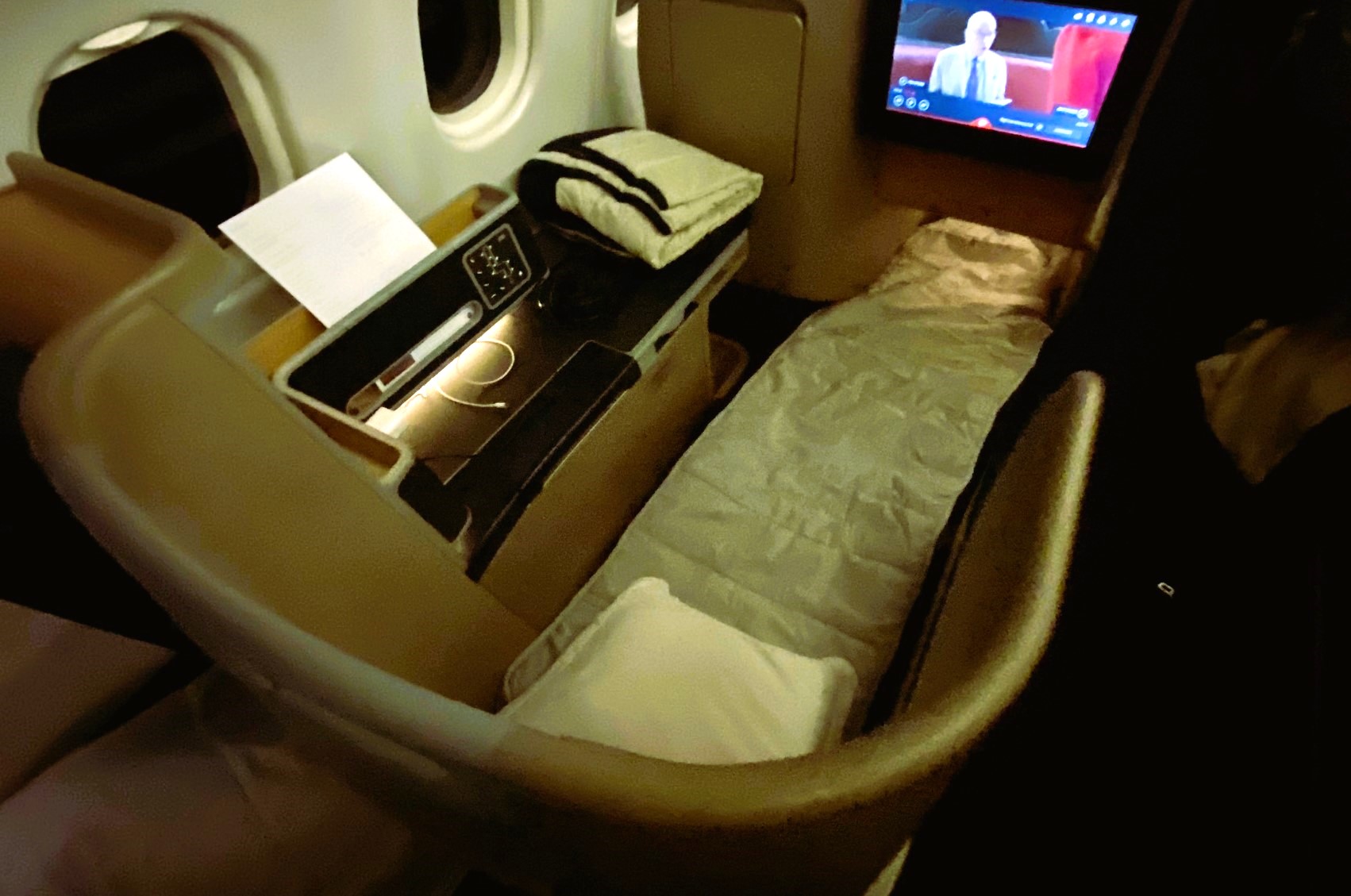 Qantas A-330 Business Class Seat, Sleep Mode
On Qantas A-330, the Business Class cabin is serviced by two lavatories, one at the front and another at the rear of the cabin. I went and had a quick look at it while boarding was still in progress, they looked alright, if a bit cramped.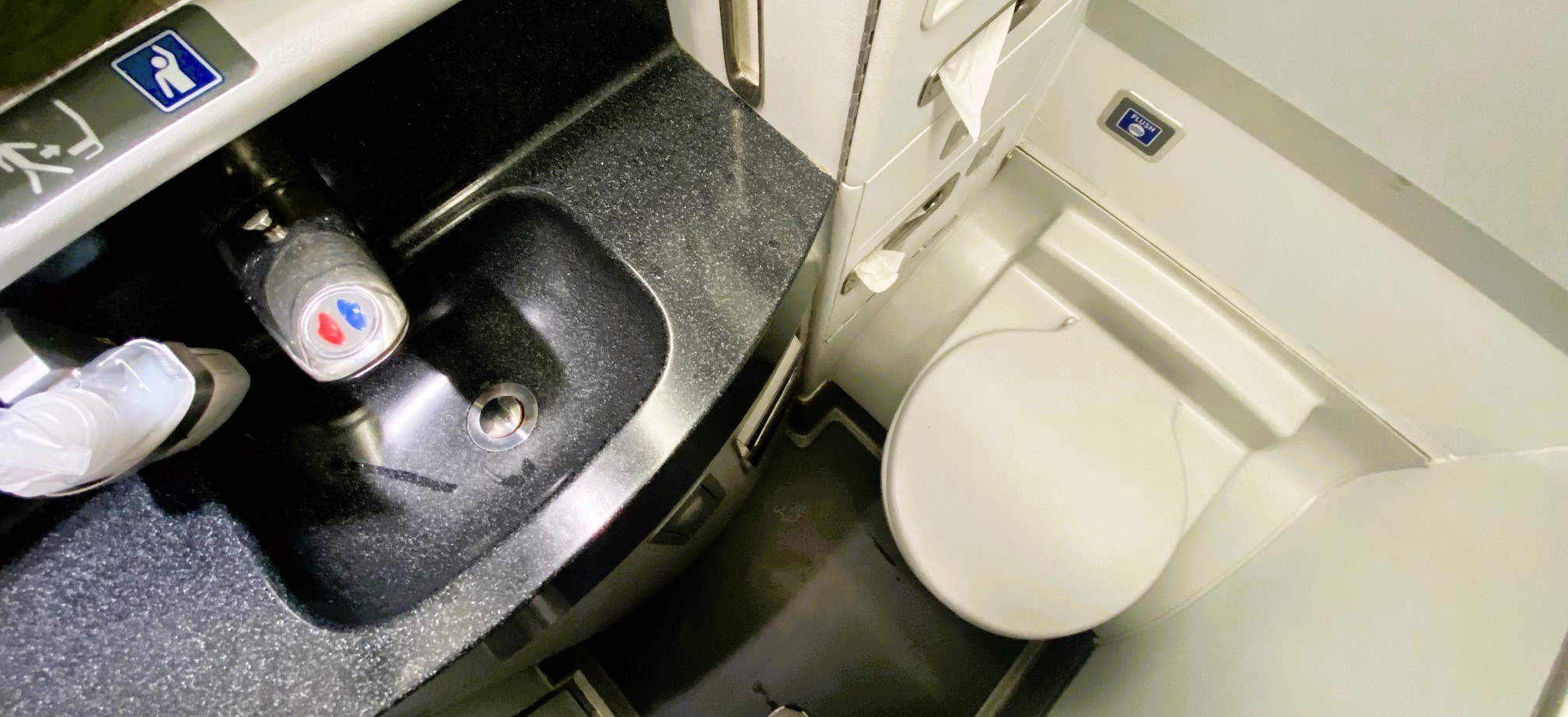 Qantas A-330 Business Class Lav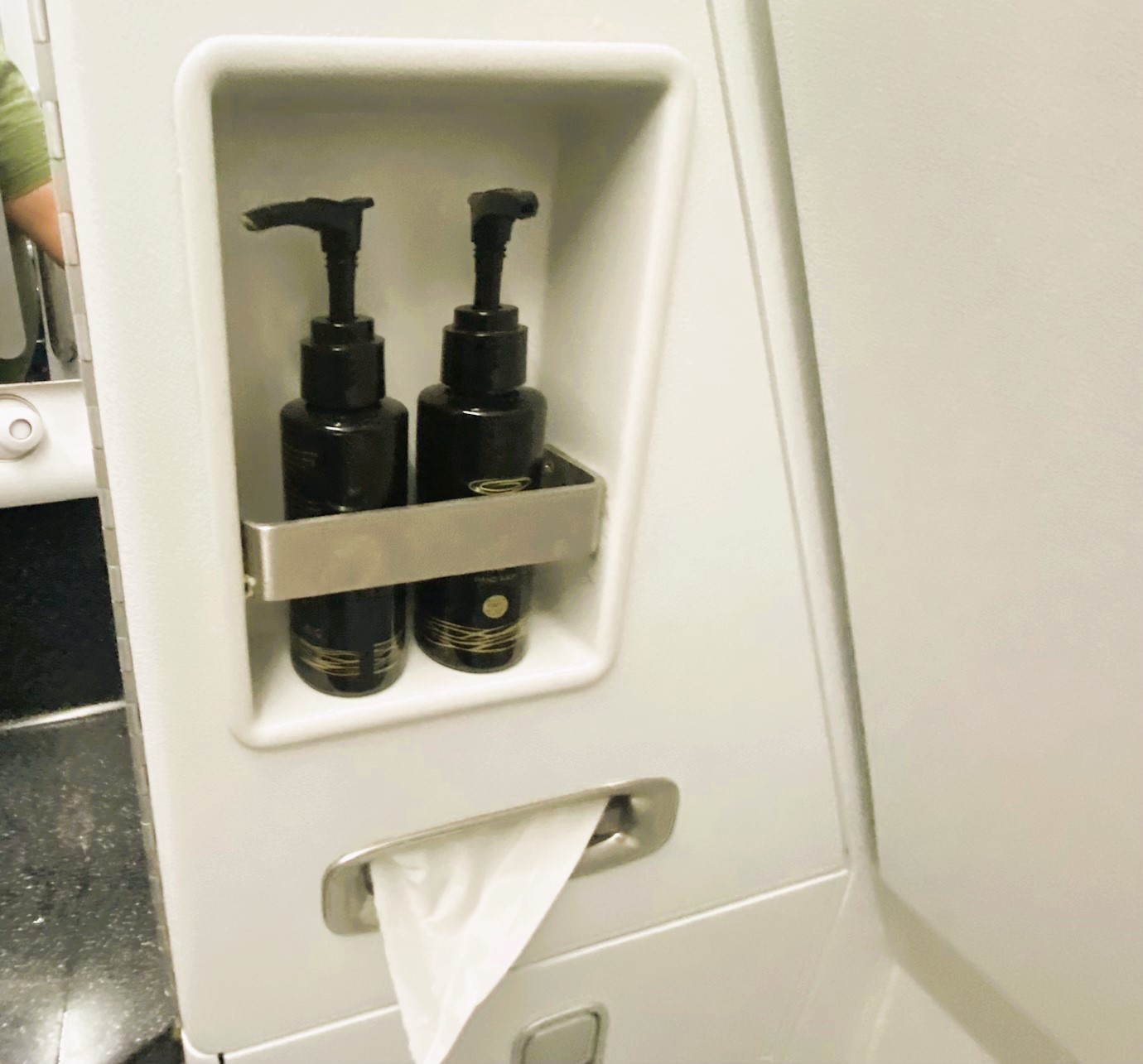 Qantas A-330 Business Class Lav
Business Class Amenities
Waiting on each seat, you will find a pillow, a blanket and a seat-topper neatly wrapped in protective packaging. Also waiting was a pair of noise cancelling headphones and a bottle of water.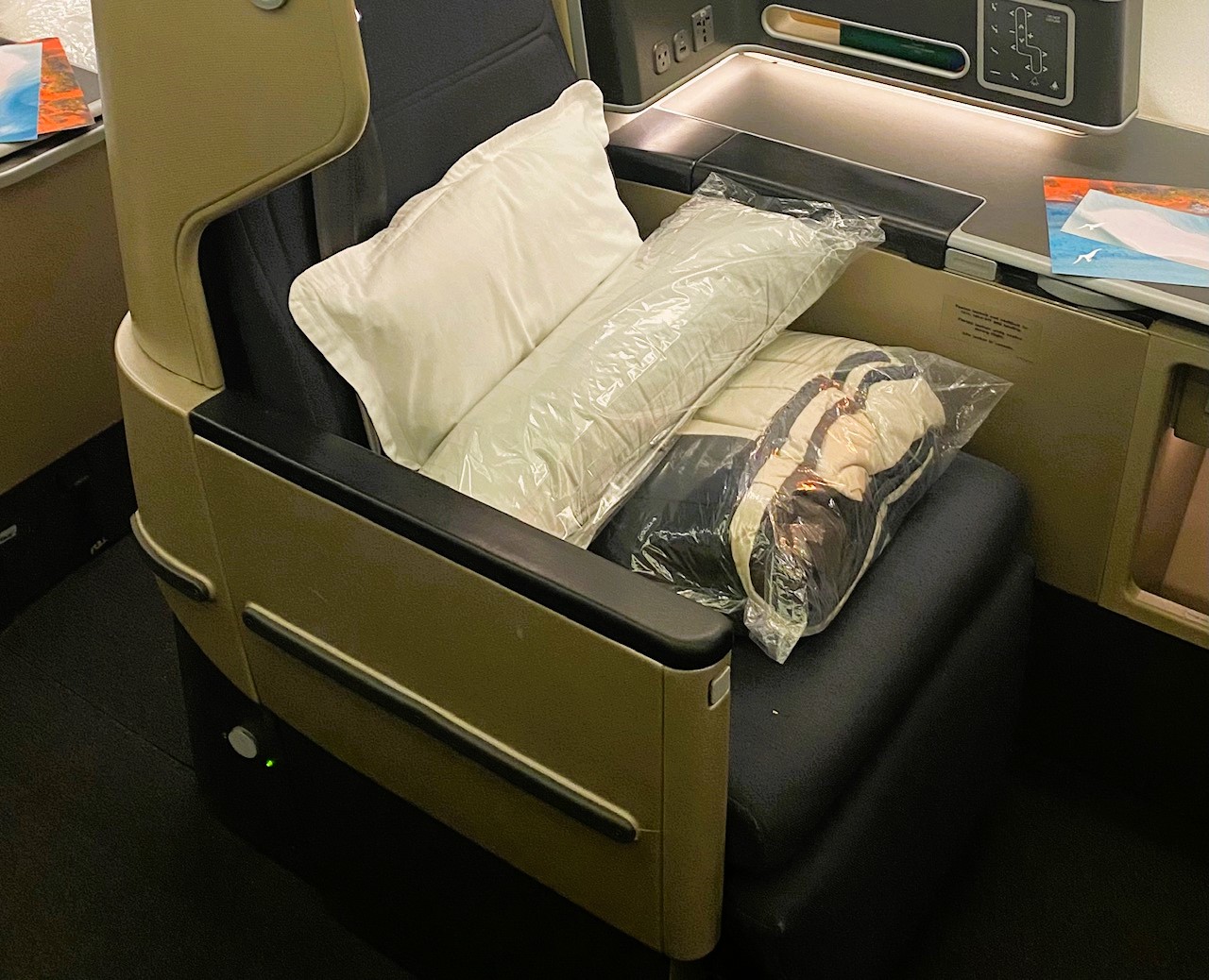 Qantas A-330 Business Class Bedding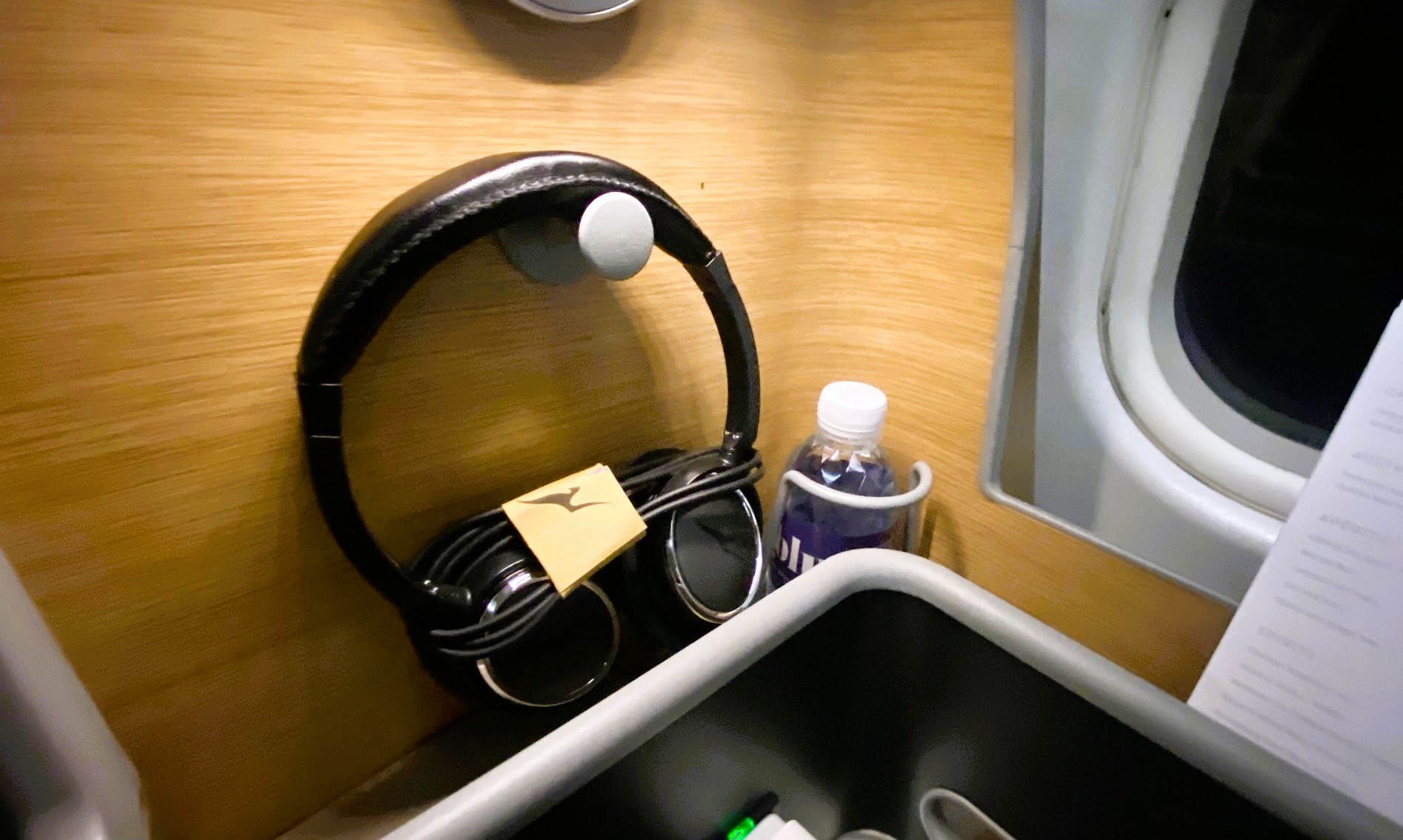 Qantas A-330 Business Class Headphones & Water
Later on in the flight, I made full use of the bedding and am happy to report that everything was comfortable and of high quality. Even though the cabin got a bit cold at night, I slept blissfully, ensconced in the cosy blanket.
About 10 minutes after boarding, the crew went around handing out amenity kits as well as a pair of PJ's to the passengers. The vibrant green bag you see below is part of Qantas' Centenary collection and was filled-up with standard goodies, except that everything inside was made out of sustainable materials such as bamboo and recycled plastic.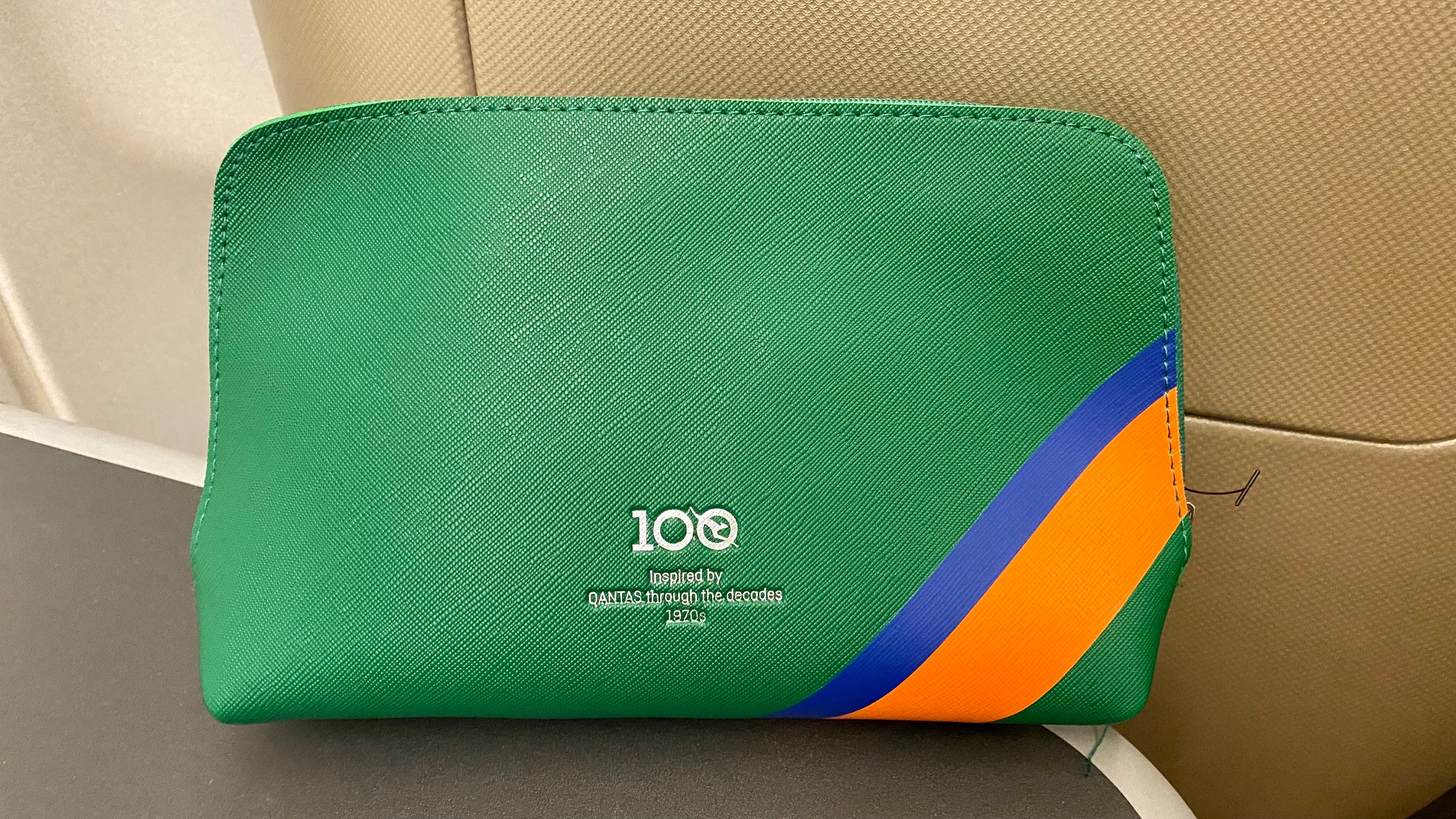 Qantas A-330 Business Class Amenity Kit Bag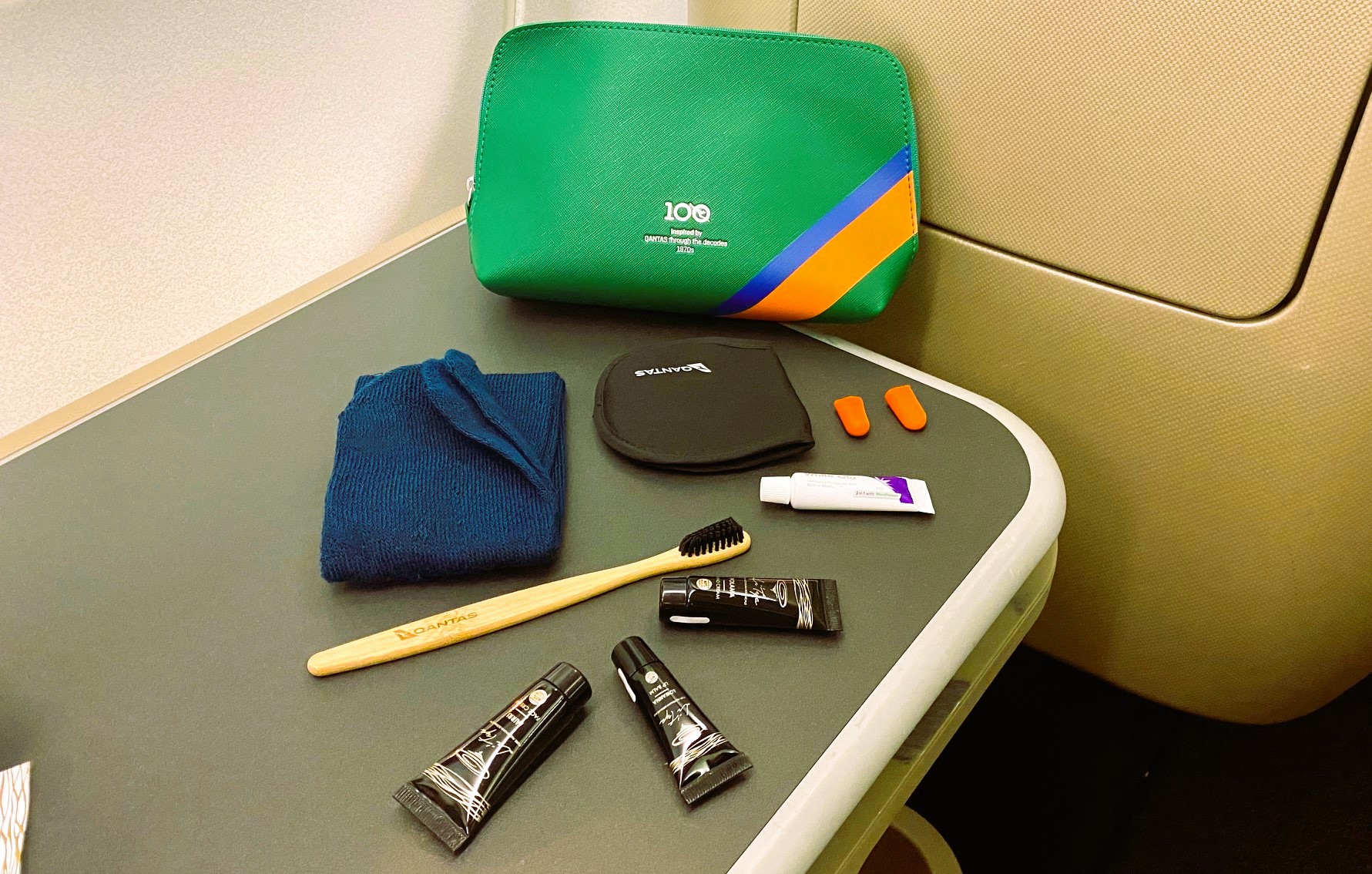 Qantas A-330 Business Class Amenity Kit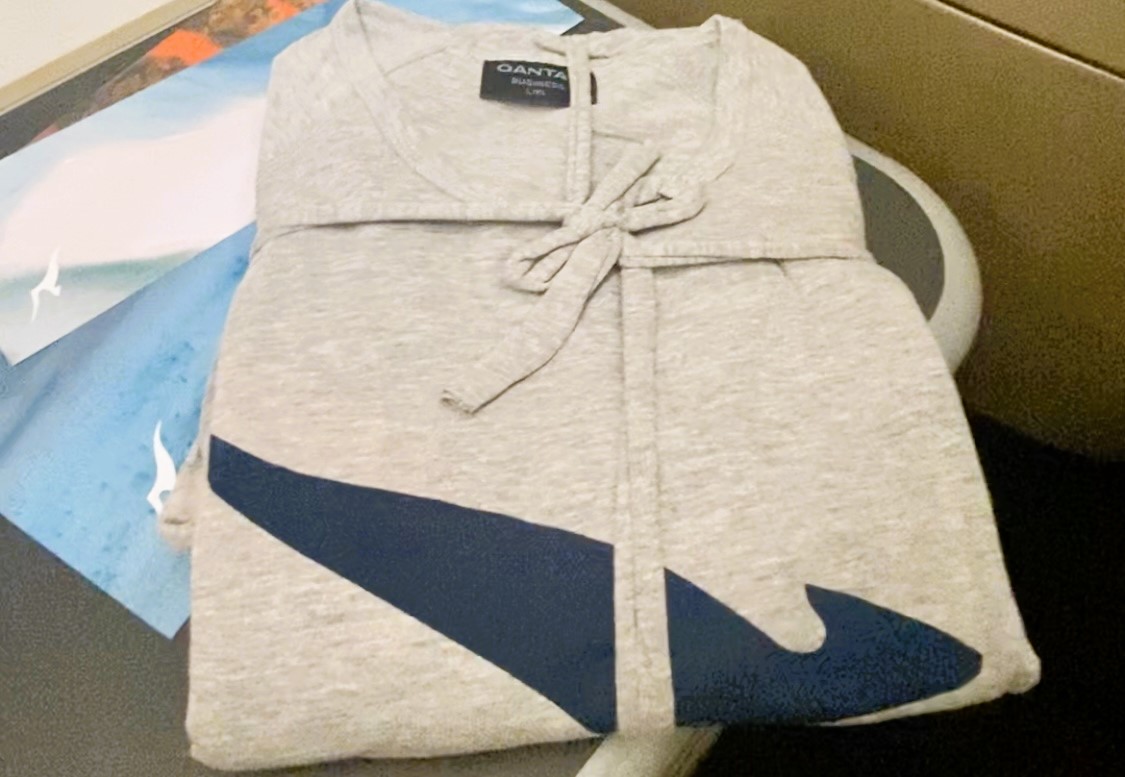 Qantas A-330 Business Pyjama's
Business Class Food & Drinks
A Welcome drink was offered few minutes after I boarded the plane and settled down in my seat, the options were still or sparkling water or a glass of champagne. I had already had copious amounts of champagne in the lounge, so water it was.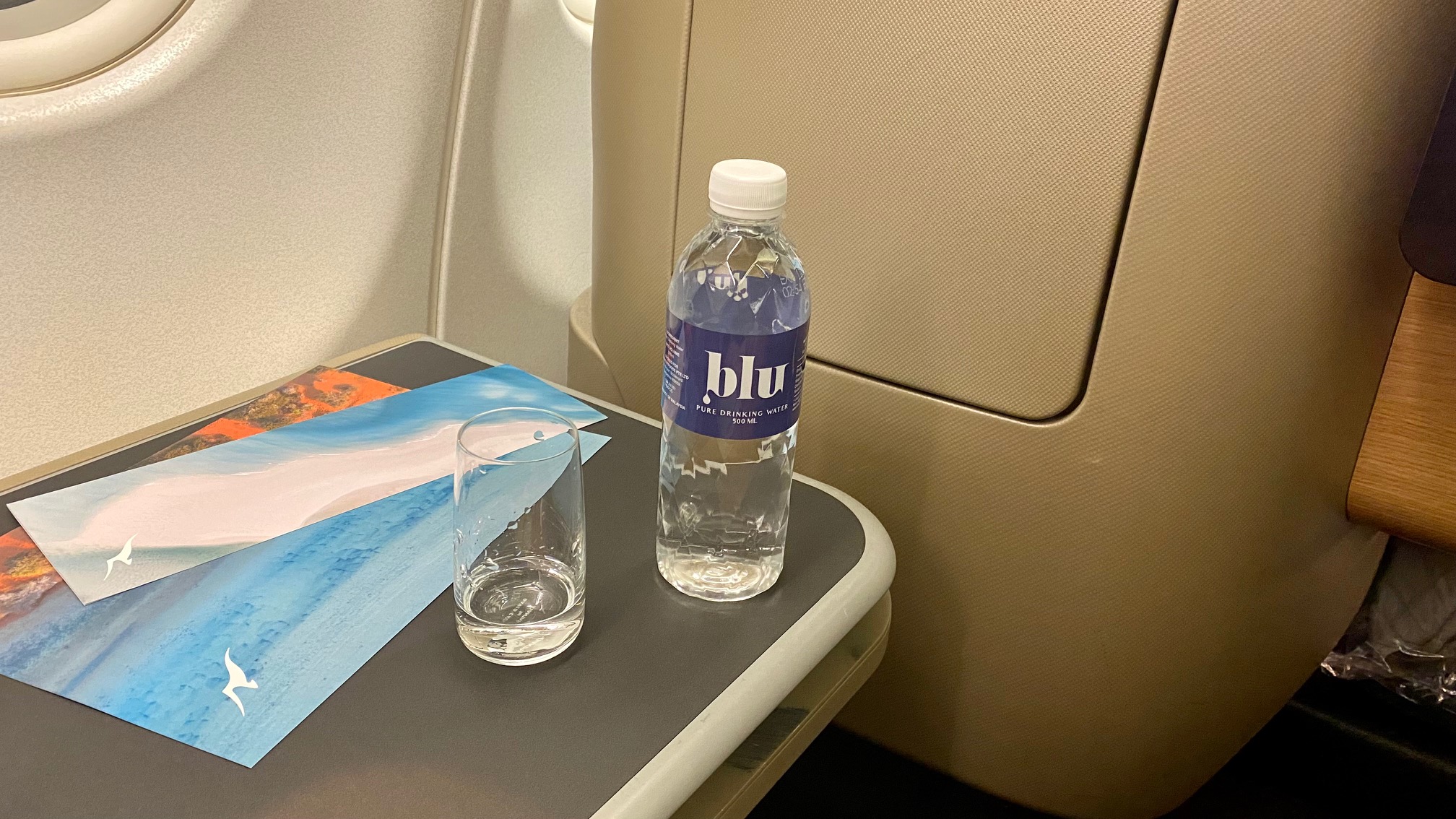 Qantas A-330 Business Class Welcome Drink
Then after take-off, the crew did another round of drinks before the dinner service. On this occasion, a drinks trolley was wheeled out and you could order anything off the drinks menu.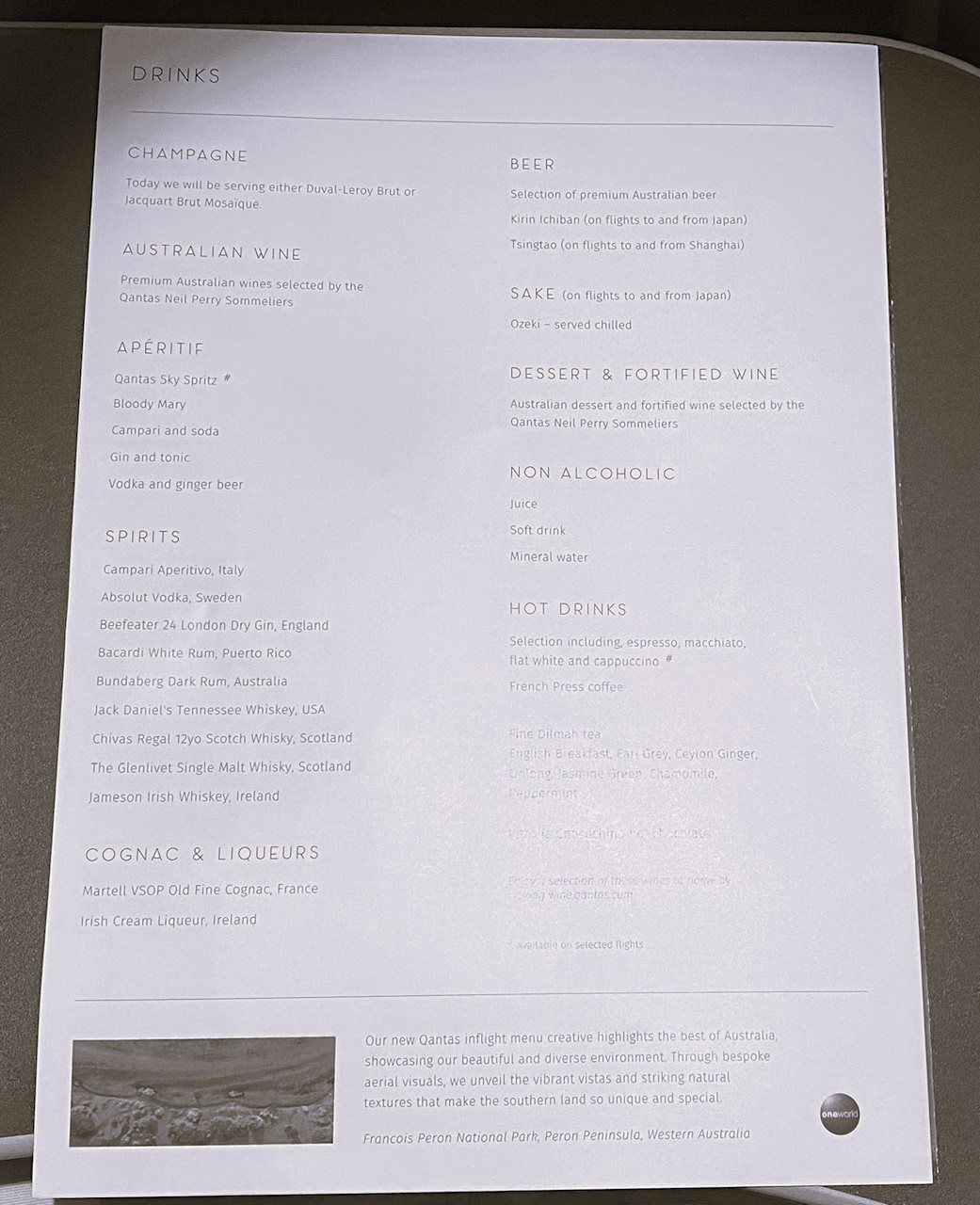 Qantas A-330 Business Class Drinks Menu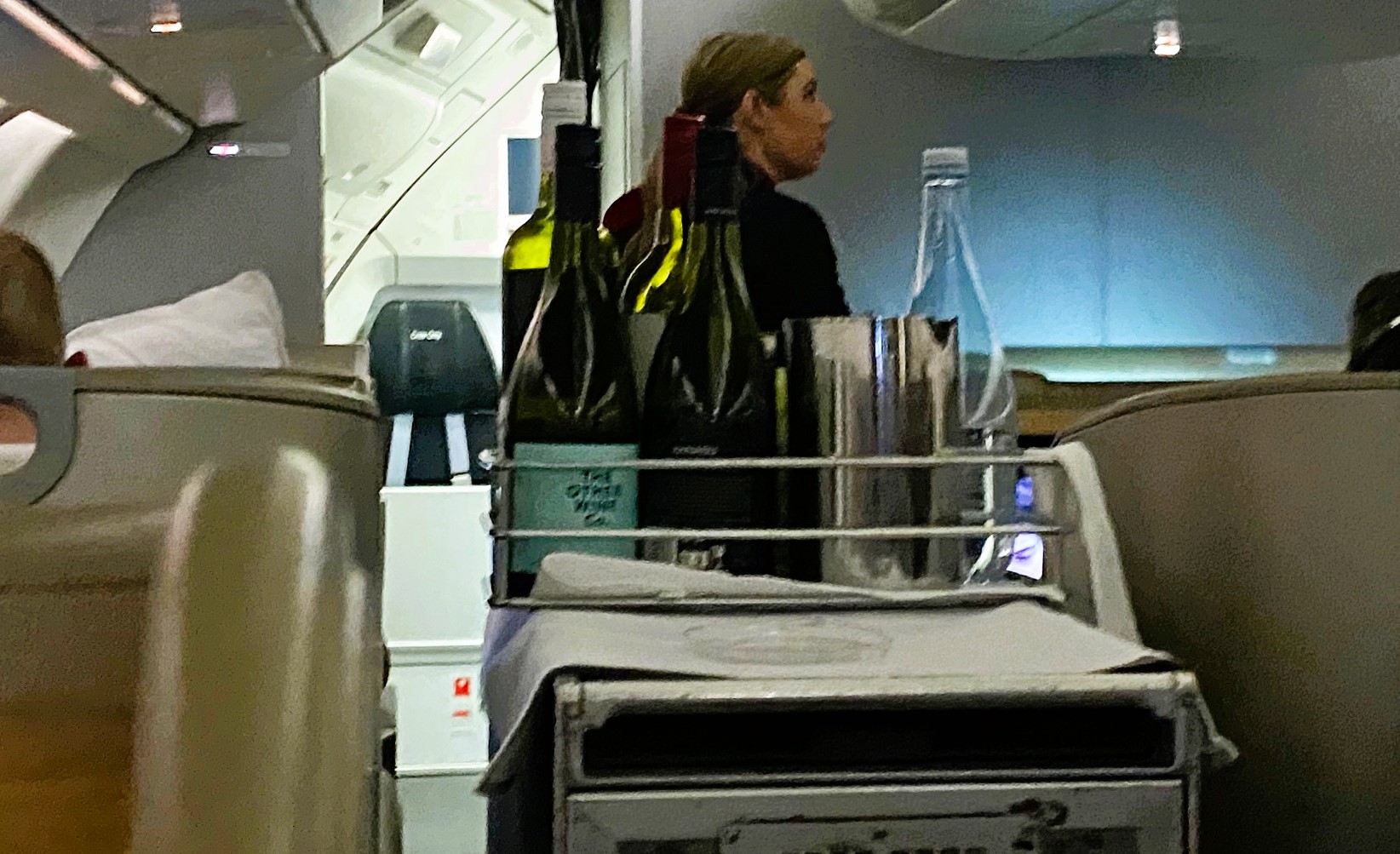 Qantas A-330 Business Class Drinks Trolley
I wanted something non-alcoholic, so queried whether they had any juices outside of the standard orange and apple juice. They did not, so I settled for a glass of orange juice which was delivered with a delay.
A pair of menu cards were provided to passengers, one of these was the Dinner menu which was the main meal on this 8:05 pm departure out of Singapore. The 2nd card was to pre-order the breakfast, you could mark your choices on the card and hand it back to the crew so they could deliver it as late in the morning as possible, thus allowing passengers some precious extra minutes of shut-eye.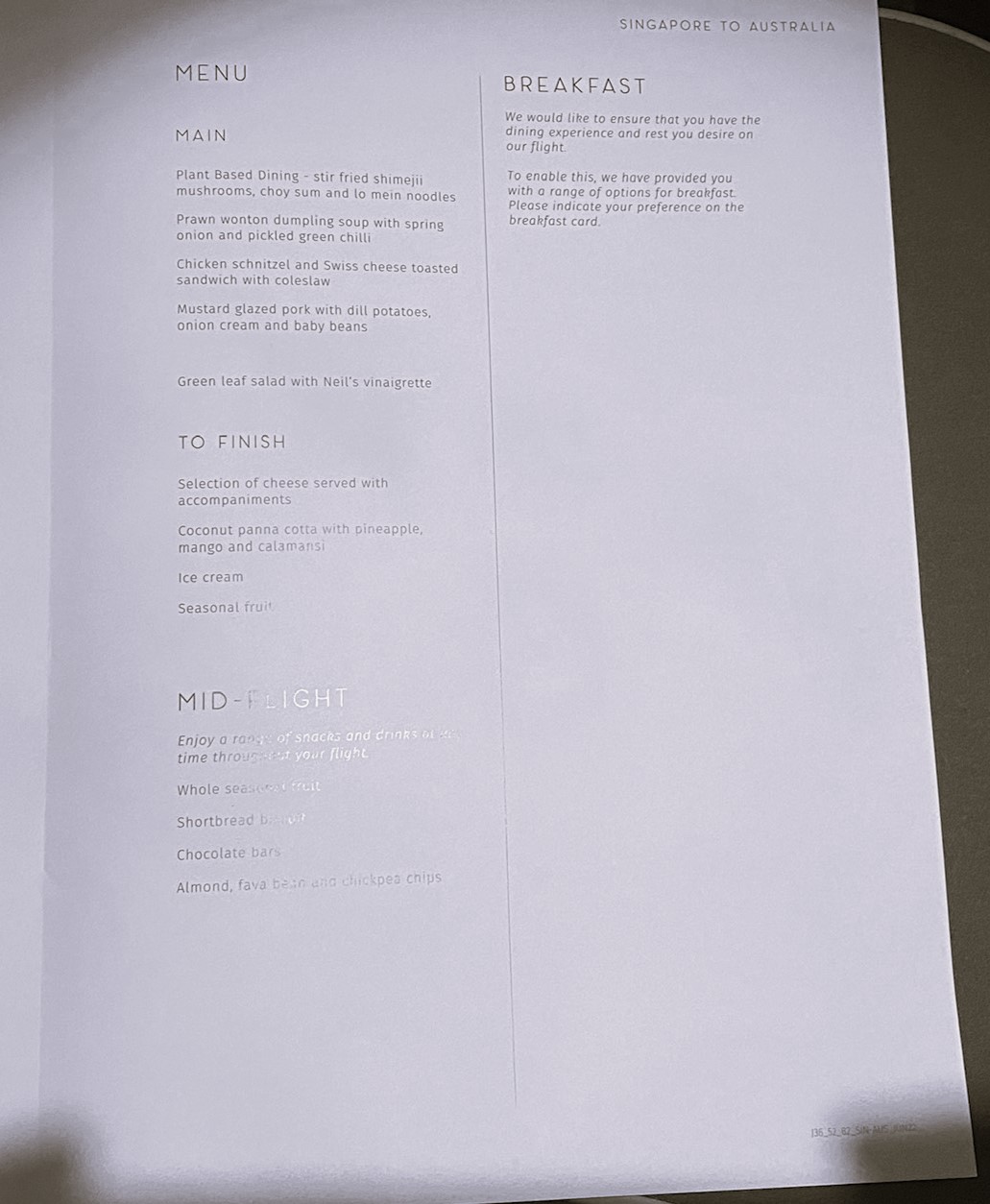 Qantas A-330 Business Class Dinner Menu
Once the drinks concluded, the crew returned to get the Mains order. Having fed myself silly in the lounge, I wasn't hungry and nothing on the menu appeared very tempting. So I just ordered the chicken schnitzel sandwich.
First up, the crew brought out a pre-arranged tray with a bowl of salad, a slice of cold bread and a serve of rock hard butter. The chicken schnitzel sandwich followed, which unfortunately wasn't very good.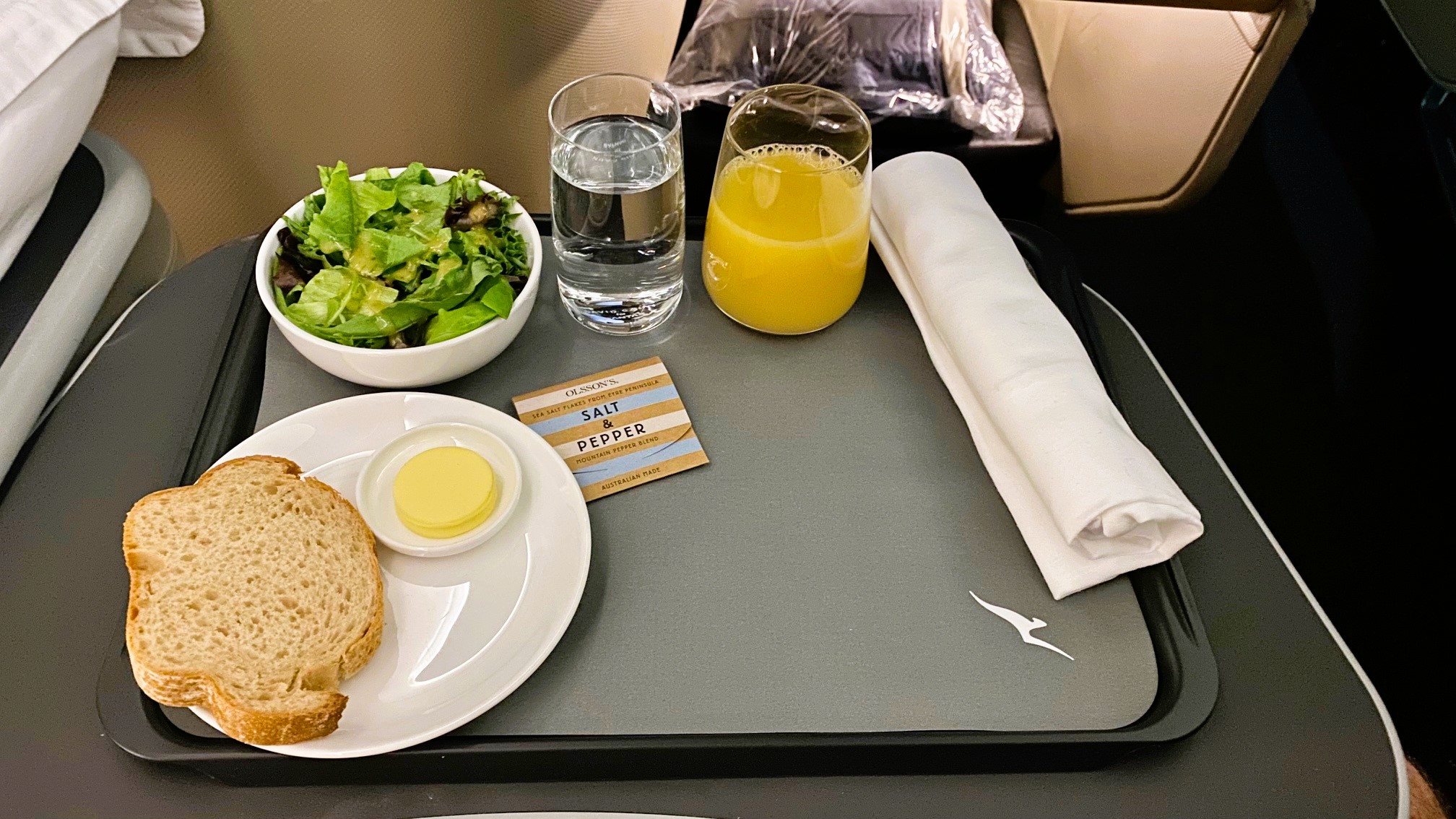 Qantas A-330 Business Class Dinner Tray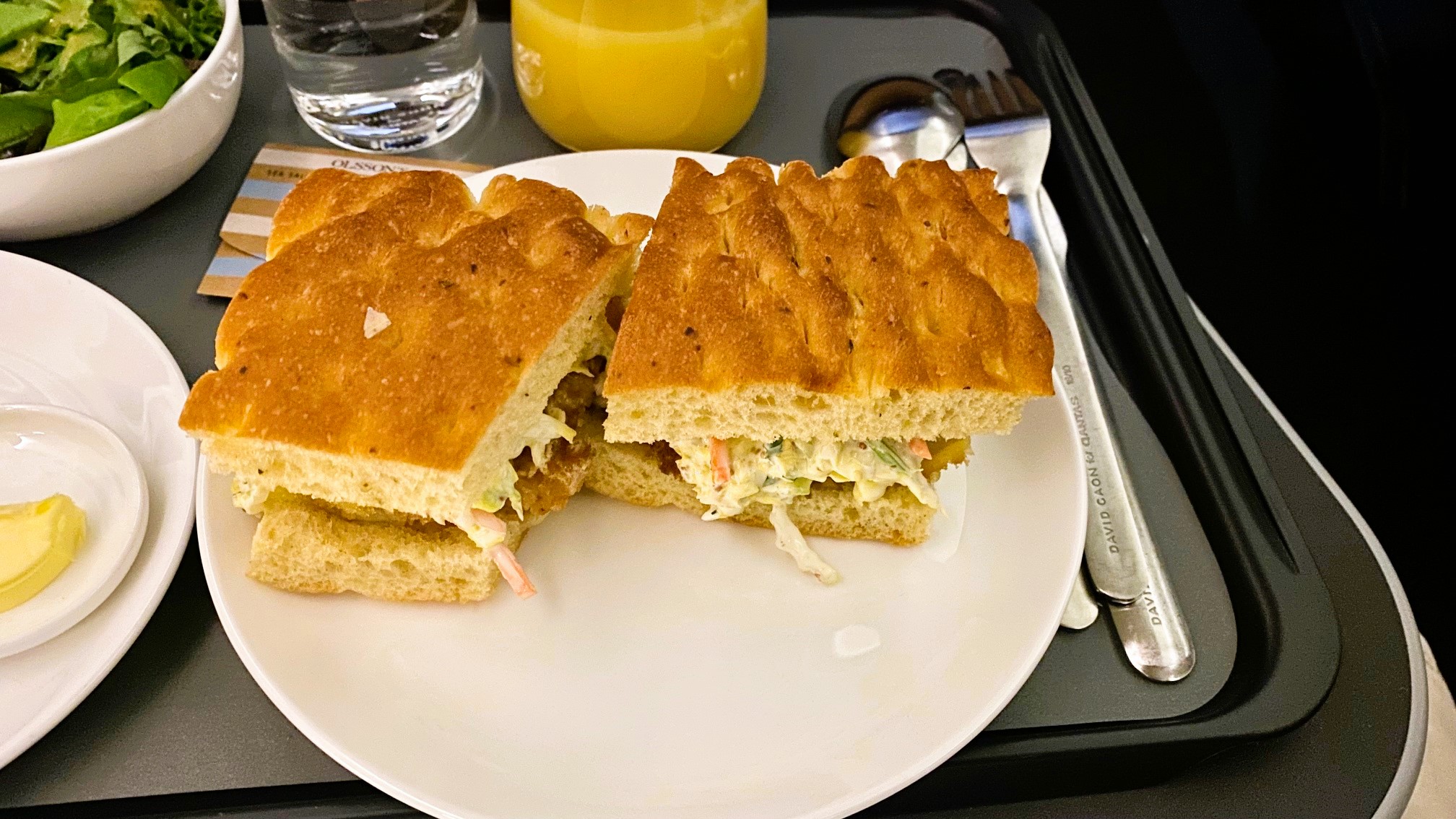 Qantas A-330 Business Class Chicken Schnitzel Sandwich
The bread on top was warm and crunchy but the base was soggy and a bit gluggy, possibly from the mayonnaise in the coleslaw leaking and finding its way to the bottom. The chicken wasn't evenly cooked and was also a bit stretchy. On this occasion it didn't matter a great deal cos I was not hungry, but if I hadn't eaten in the lounge and had saved my appetite for the in-flight catering, this would have been very disappointing.
I often hear people say that certain types of food should be avoided on the plane as they can be tricky to prepare. Well, without getting into the finer points of gastronomy, let me just say that I have had restaurant quality burgers and perfectly made scones on other carriers.
Moving on, I had the coconut panna cotta with pineapple and mango for desert which again turned out to be pretty ho-hum, but was an improvement over the mains.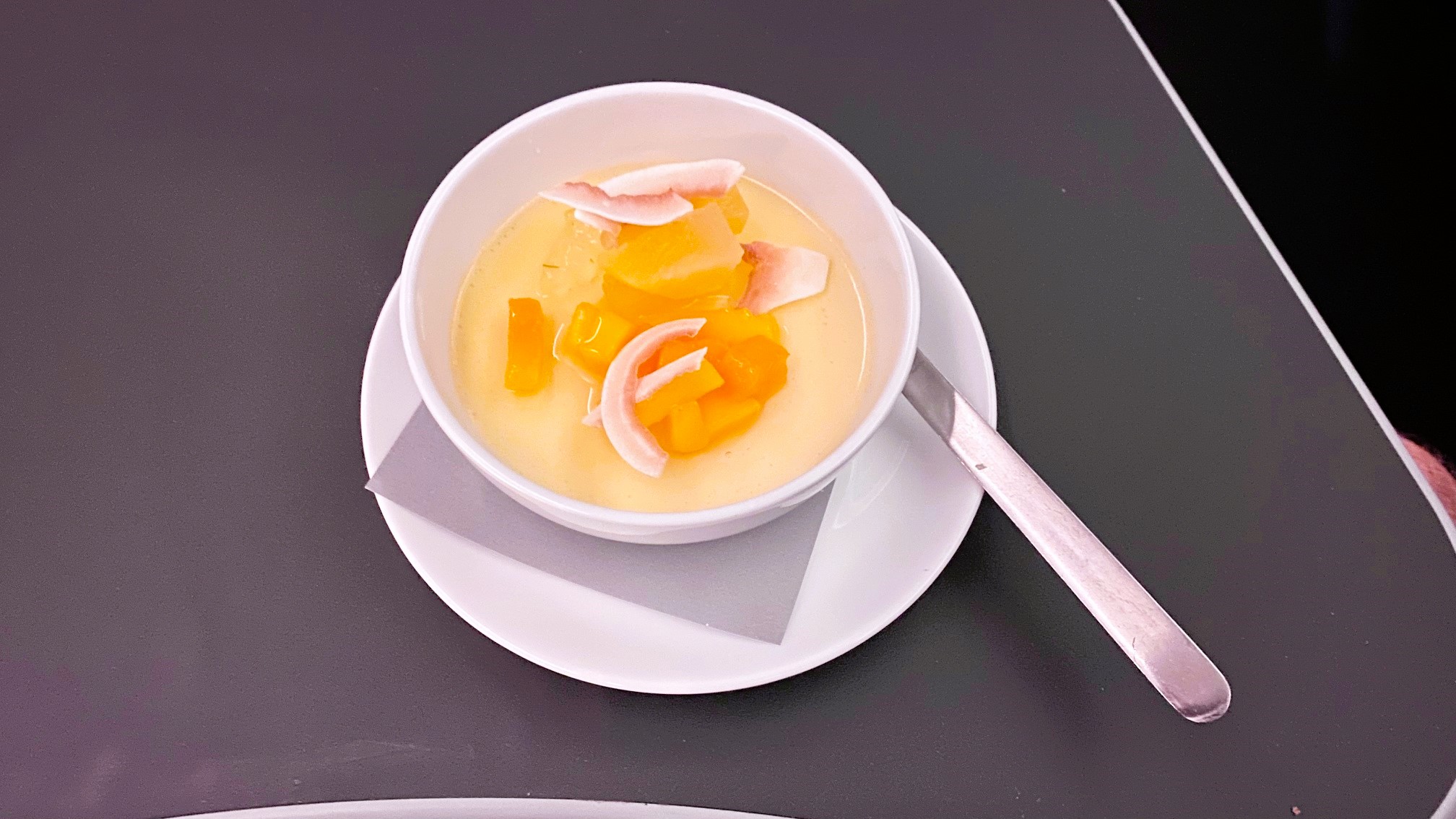 Qantas A-330 Business Class Dessert
I then reclined my seat and had 3.5 hrs of unbroken sleep which must be some kind of record, given that I am a poor sleeper on planes. I was woken up around 5:45 am Sydney time (2:45 am Singapore) by the crew who advised we were just 45 minutes from landing.
Prior to take-off, I had completed and handed over my breakfast order to the crew.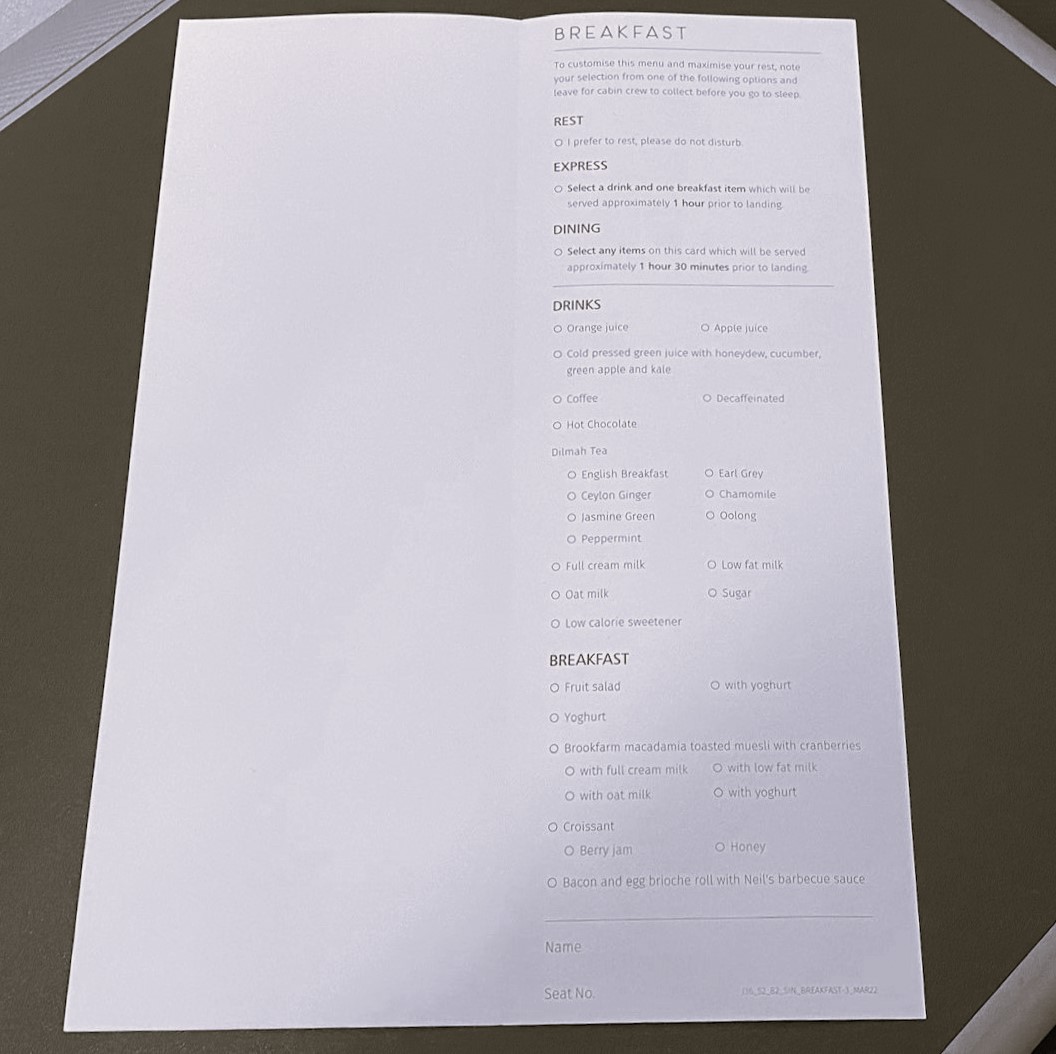 Qantas A-330 Business Class Breakfast Menu
She asked if I was ready for breakfast which I wasn't, truth be told I didn't even want to see any food at such an ungodly hour. But since I wanted to get a few pictures for the purpose of this review, I took it.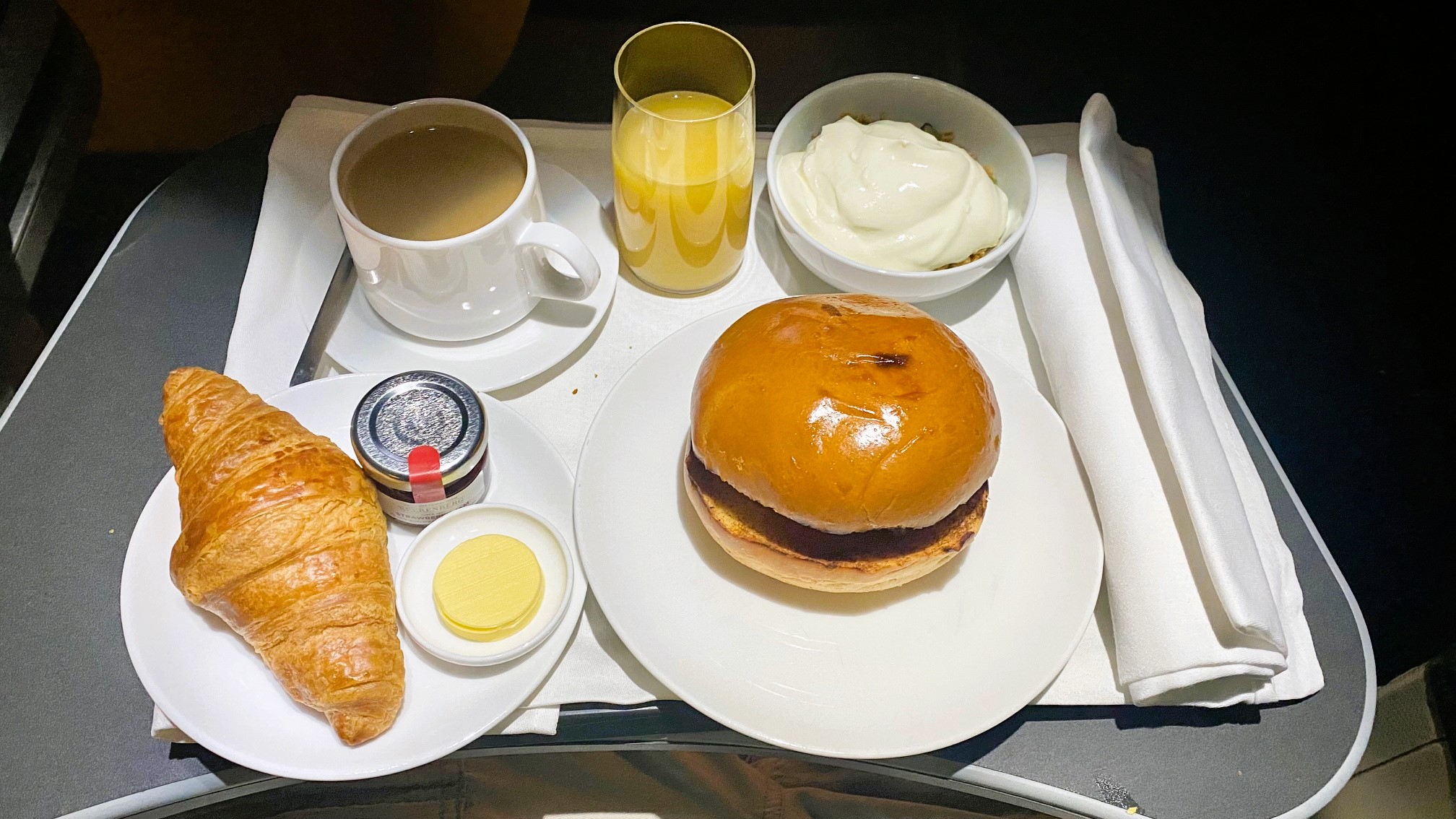 Qantas A-330 Business Class Breakfast
As you can see, I had ordered enough breakfast for 2 people (since my eyes are bigger than my stomach 😉), all of which was served on a single tray. The food looked really good, in particular the bacon and egg brioche roll which I have tried on many occasions at Qantas First lounge in Sydney.
I took few sips of coffee and handed rest of the tray back to the crew, I also offered my apologies for wasting the food.
Arrival into Sydney
While I was eating my breakfast, the PA system sprung back to life. It was the First Officer again who advised that we were about to start our descent into Sydney. This was confirmed by the moving map which showed were were hovering somewhere over Cowra in Central West New South Wales.
The crew started preparing the cabin for arrival, there were a few last minutes dash to the lav before the seat belt signs were switched on. We started descending soon after and after several left and right turns, had a very smooth landing in Sydney at 6:27 am. This was a full 43 minutes ahead of the scheduled arrival time of 7:10 am, thanks to some very strong tail winds enroute.
Afterwards, we taxied to our Gate, a jetbridge was attached to the plane and the doors were opened allowing passengers to alight and disappear into the vast expanses of the airport terminal.
In Conclusion
This was an excellent flight. We left Singapore slightly late for reasons outside of Qantas' control, but still made it to Sydney ahead of time. Enroute, I managed to catch decent sleep on what are some of the comfiest lie-flat beds in the sky. The crew were professional, if a bit standoffish. The sleepwear and amenity kits were very good too.
The quality of in-flight catering and lack of wifi remains 2 of the weakest points for Qantas, but this was hardly a surprise. Anybody who has flown Qantas is well aware of these issues and accepts them for what they are.
Follow PointsHq on Instagram – PointsHq 👈🏽
Have you flown long-haul Qantas Business Class? Leave a comment below.