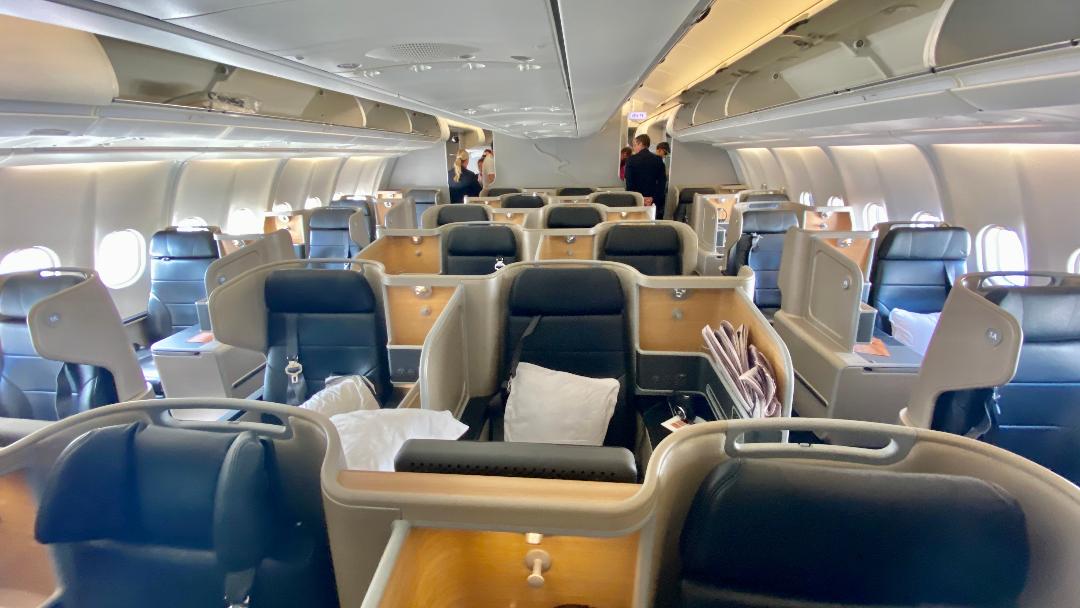 After checking out the excellent Qantas Domestic Business Lounge at Terminal 3, it was time to board the flight to Perth.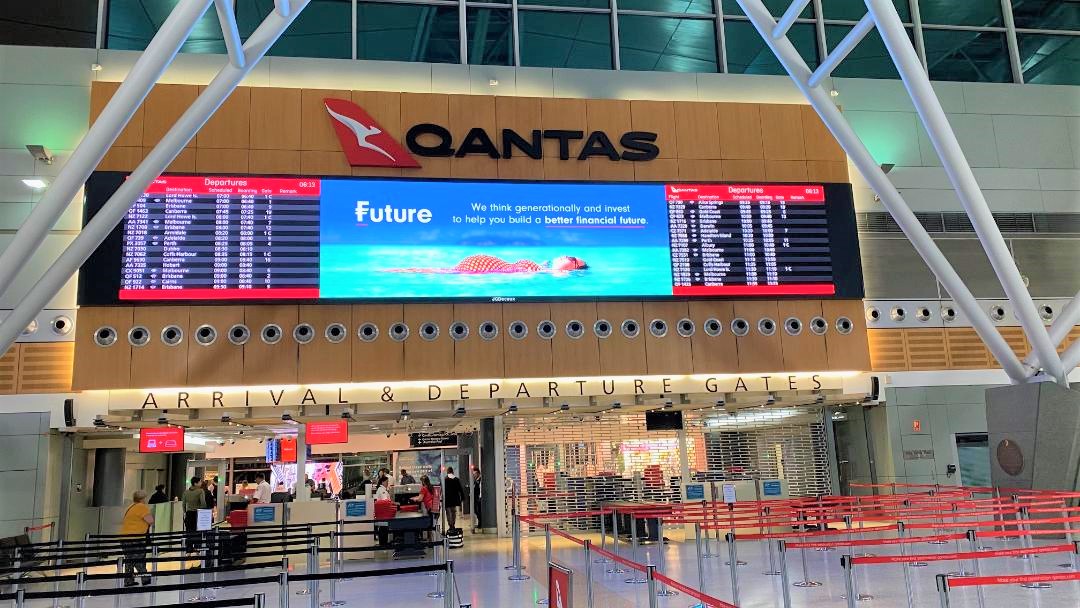 Departure Gates, Sydney Terminal 3
Booking
The most obvious and easily accessible program for Australians to book this flight is Qantas Frequent Flyer. If you have access to Qantas points, you could redeem 41,500 points to fly one-way in business class between Sydney and Perth.


Redeem 41,500 Qantas points to fly business class from Sydney to Perth
For my flight though, I had redeemed 20,000 Alaska Miles (plus $30 in fees and taxes) which to me is actually a better value than what you get from your Qantas points. I acquired these miles as part of a Marriott travel package I bought couple of years ago, prior to Marriott's takeover of SPG. Since then, Marriott have significantly devalued the travel packages and in most instances, they are poor value.
How to earn Alaska Miles in Australia
Firstly, let me begin by saying that Alaska Mileage Plan is one of the most valuable Frequent Flyer Program in the airline industry. Unfortunately (or fortunately depending on how you see things), it is also one of the most underrated and unknown program. I have previously written a comprehensive post on Alaska Mileage Plan. If you would like to learn and take advantage of the program, check out that post titled Hidden gems of Alaska Mileage Plan.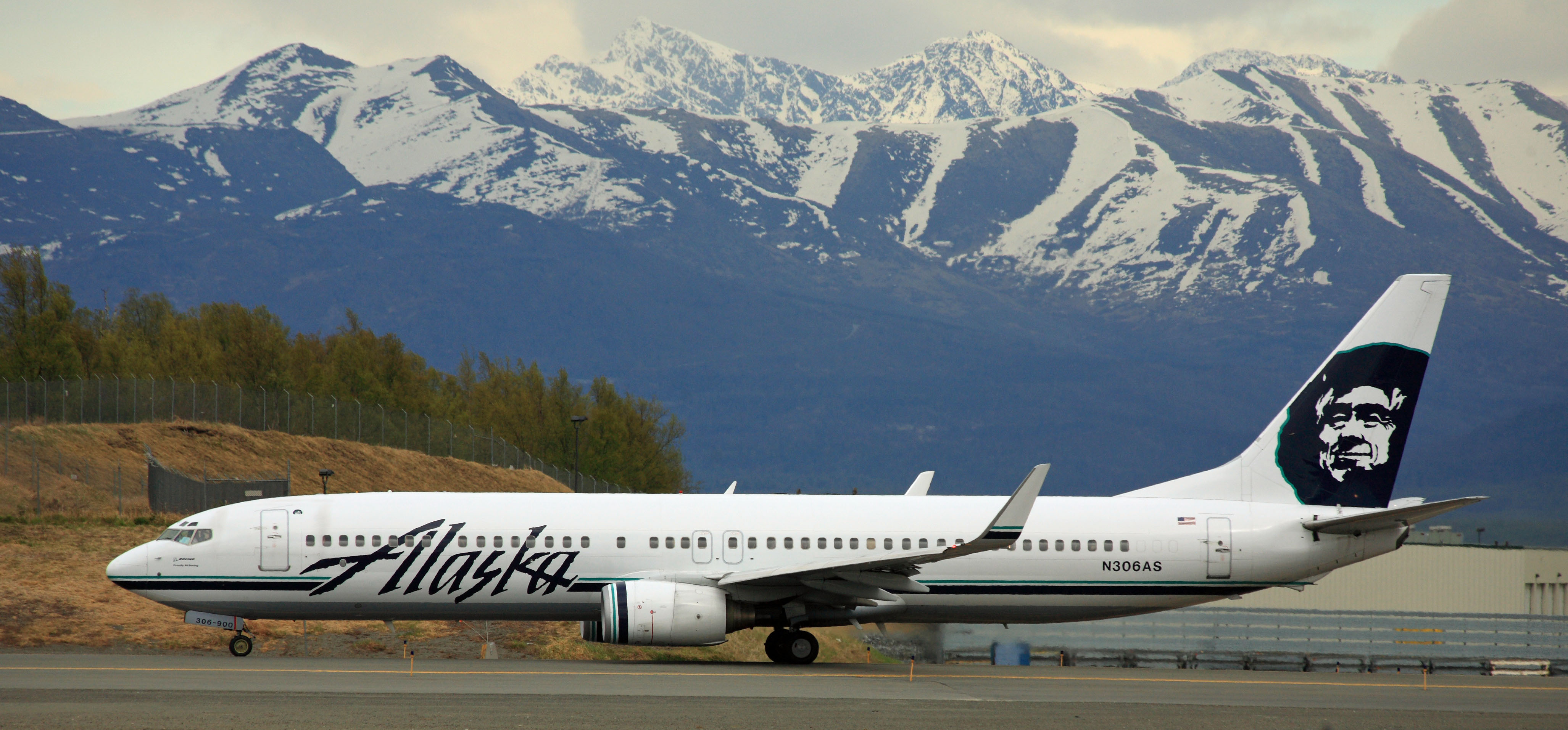 Savvy points and miles collectors can draw outsized value from Alaska Mileage Plan
Now, earning Alaska Miles for Australians isn't straight forward as the airline doesn't fly to Australia, or even anywhere close. In fact, this Seattle hubbed airline doesn't even fly to too many destinations outside the US west coast. Further, there are no credit cards in the Australian market that directly earn Alaska miles. That said, there are few ways you could get your hands on this highly valuable miles currency.
Alaska frequently sell miles at a discounted price. The discounts are sometimes in the form of bonus points or simply just a certain percentage off on the regular price.

Alaska Mileage Plan is a transfer partner of Marriott Bonvoy. If you have an American Express card, you can transfer membership rewards points to Marriott Bonvoy at 3:2 (3 membership rewards points = 2 Marriott Bonvoy points), which you could then transfer to Alaska Mileage Plan. The transfer ratio from Marriott to Alaska is 3:1 (3 Marriott points = 1 Alaska Mile). However, for every 60,000 points you convert, Marriott will throw in 5,000 Miles bonus. In short, for every 60,000 Marriott points you transfer to Alaska, you will receive 25,000 Alaska Miles.


Transfer Amex points to Marriott Bonvoy and onwards to Alaska Mileage Plan


Finally, Alaska has multiple airline partners including Qantas itself. So if you frequently fly with any of its partners, you could choose to credit those flights to Alaska and accumulate miles that way.
Check-in and Boarding
I arrived at the airport around 6:30 am for my 8:25 departure. Since I wasn't checking in any bags and had already checked in online for the flight, I was able to proceed directly for security clearance and then on to the excellent Qantas Domestic Business Lounge at Terminal 3. If you would like to read that review, you can do that through this link.
I left the lounge as soon as boarding announcement was made, which was about 25 mins prior to the scheduled departure. On this occasion, my flight was departing from Gate 4, which is less than 2 minutes walking distance from the lounge.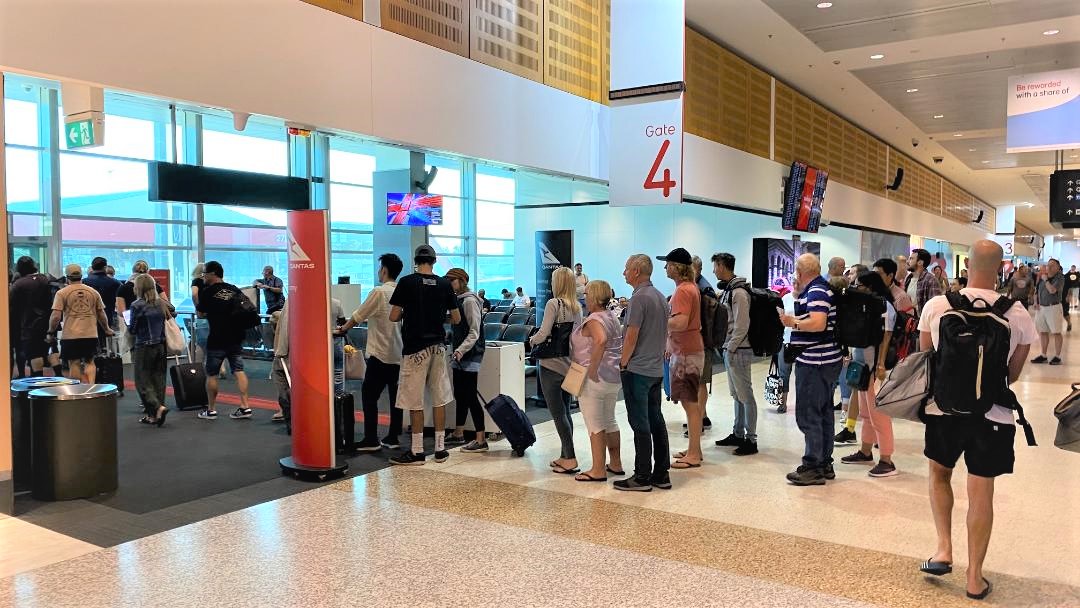 Gate 4, Sydney Terminal 3
As I approached the gates, there were a bunch of people queueing up in the economy class boarding lane, but business class lane was relatively empty. I quickly made my way to the front of the queue and after a quick scan of the boarding pass, I was pointed in the direction of the aerobridge which would take me on the plane.
I entered the plane via front door and turned left.
Business Class Cabin & Seating
Business class cabins on Qantas A-330's are fitted out in a 1-2-1 configuration. With direct aisle access for every guest, you never need to worry about trampling over your fellow passenger to get to the toilet.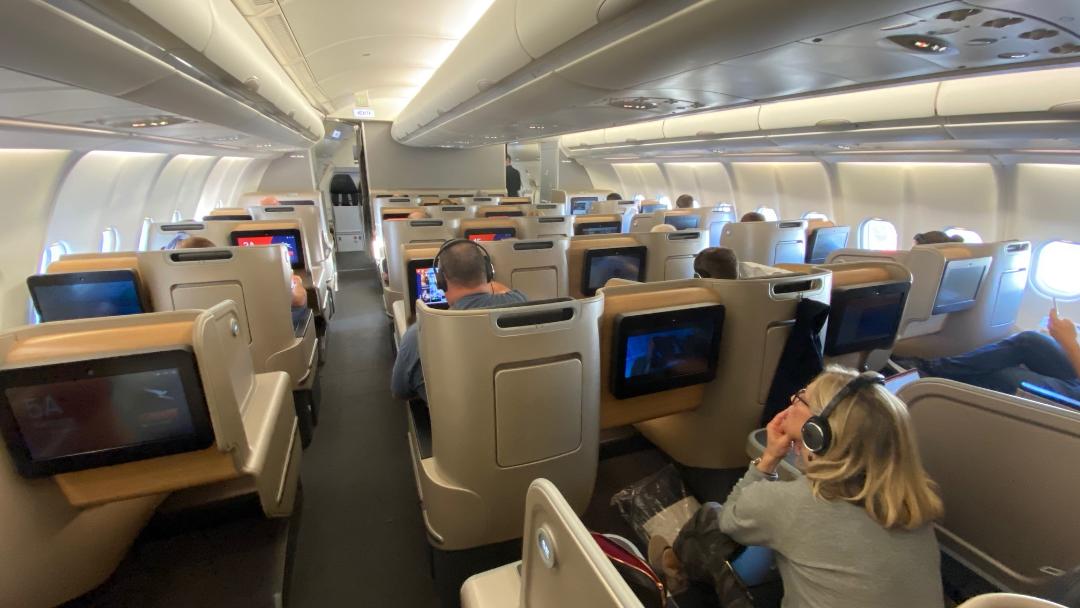 Qantas A-330 Business Class Cabin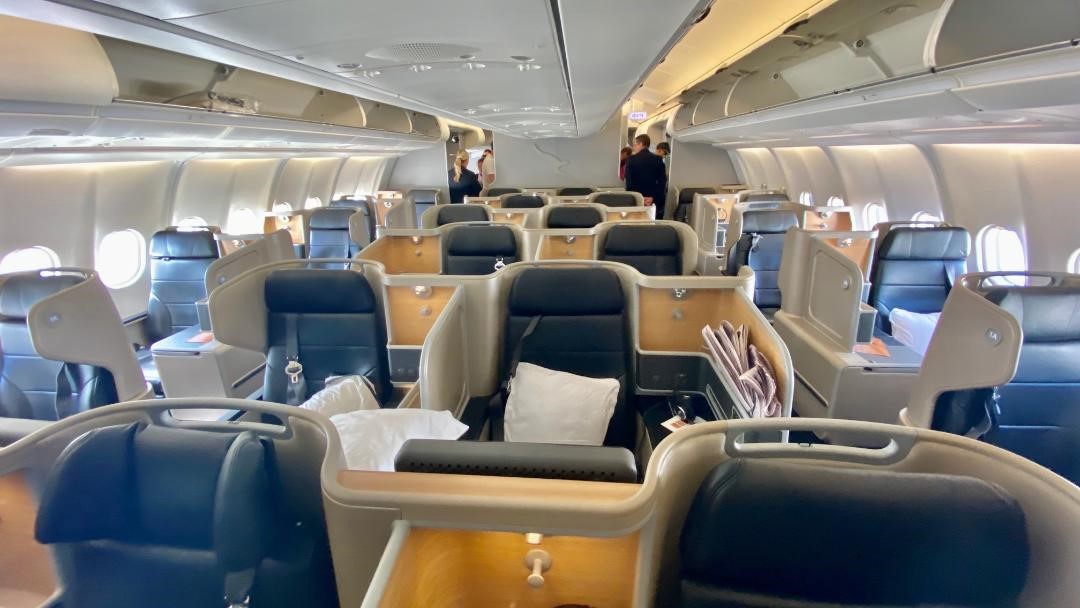 The main cabin at the front of the plane has 22 seats, with the smaller cabin behind it containing another 6, for a total of 28 business suites, as you can see in the map below.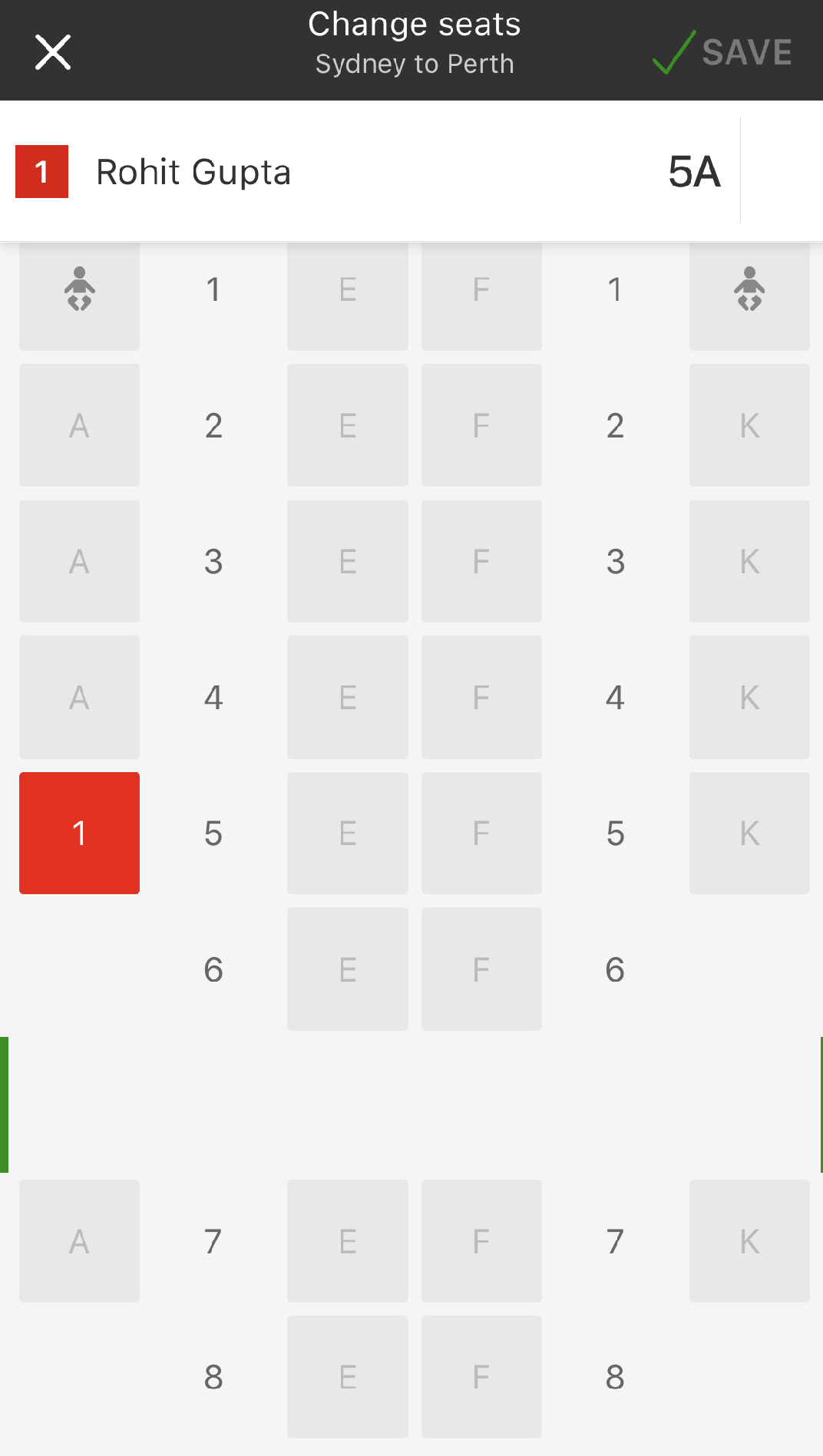 Seat Map, Qantas A-330 Business Class Cabin
For this flight, I had assigned myself seat 5A, a window seat on the left in the last row of the forward cabin. With a 31″ pitch and 78 inches in length, these seats are seriously spacious.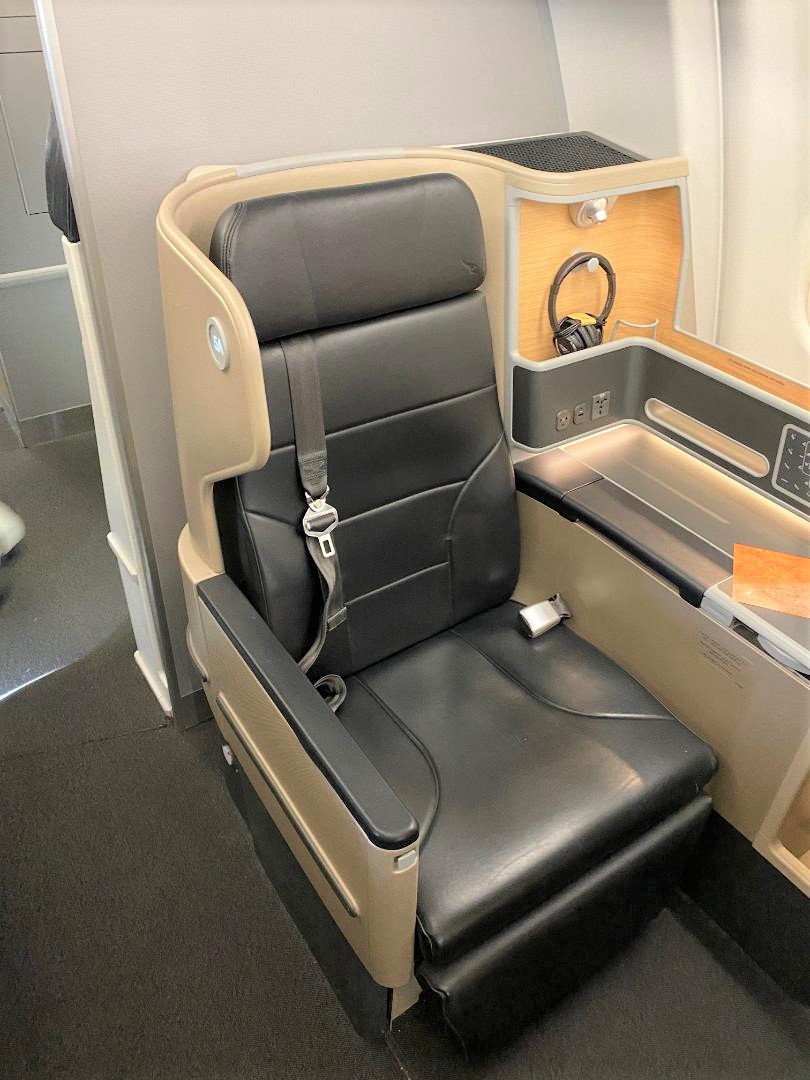 Seat 5A on Qantas A-330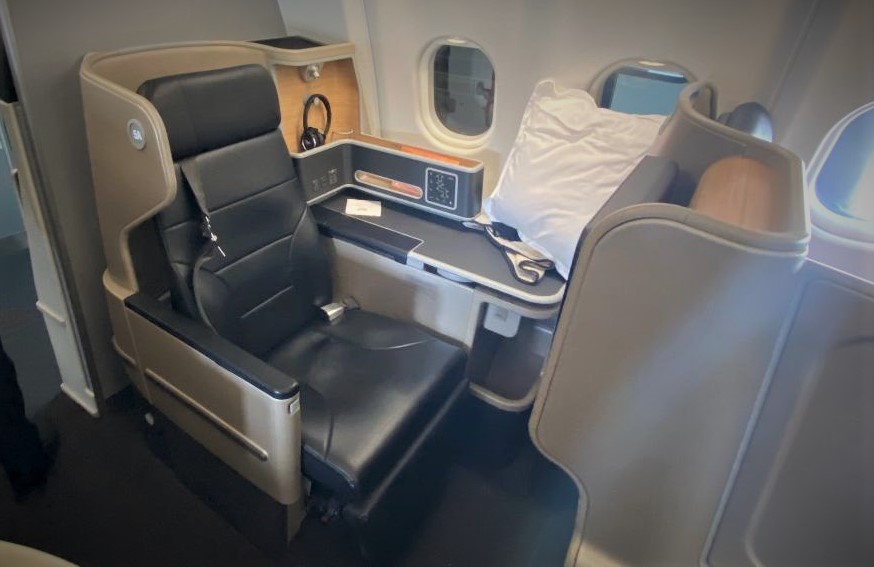 Seat 5A on Qantas A-330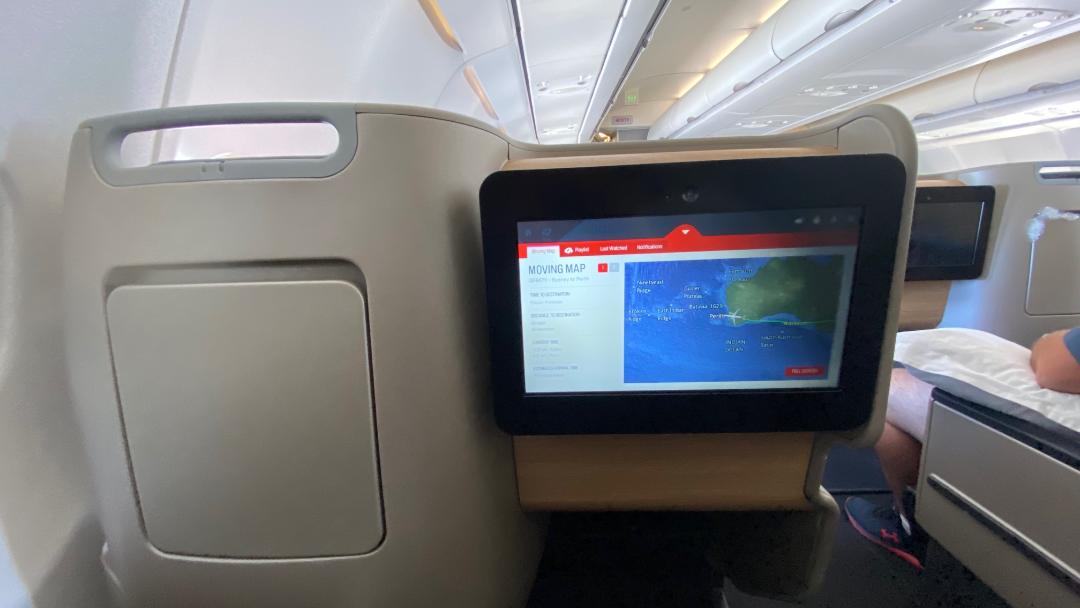 Qantas A-330 Business Class Seat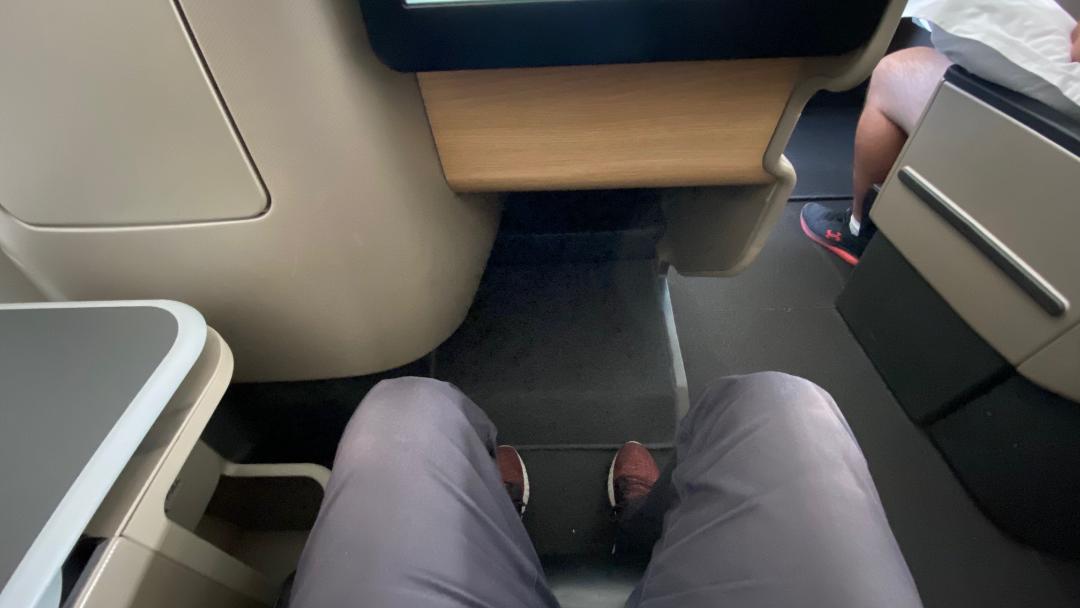 Qantas A-330 Business Class Seat
There was a pillow & blanket waiting on each of the seats.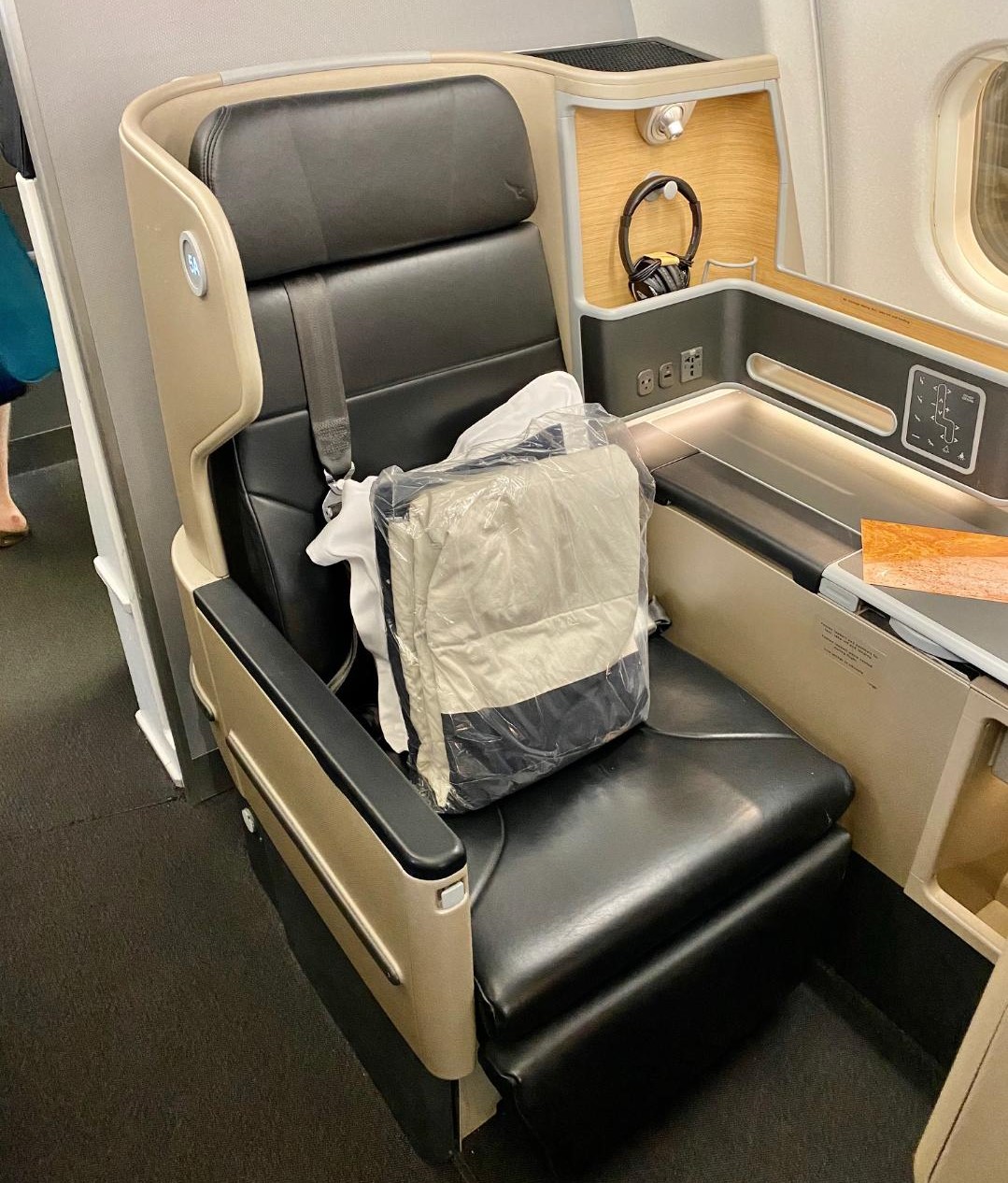 Qantas A-330, Business Class Pillow & Mattress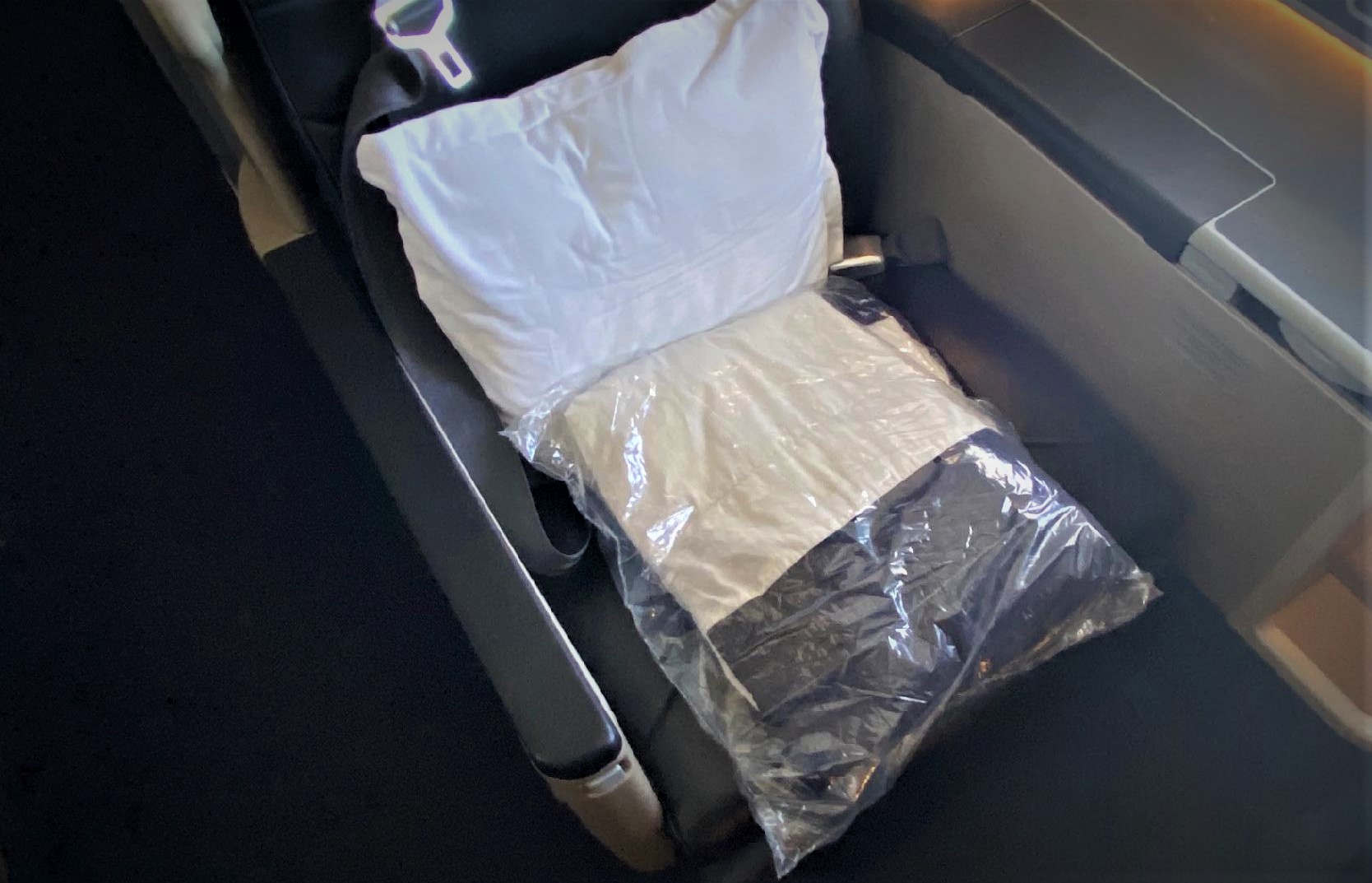 The window seats are laid-out in a way that all even number seats are closer to the windows and their console nearer to the aisle. Meanwhile, the odd number seats are set closer to the aisle, with their consoles right besides the window.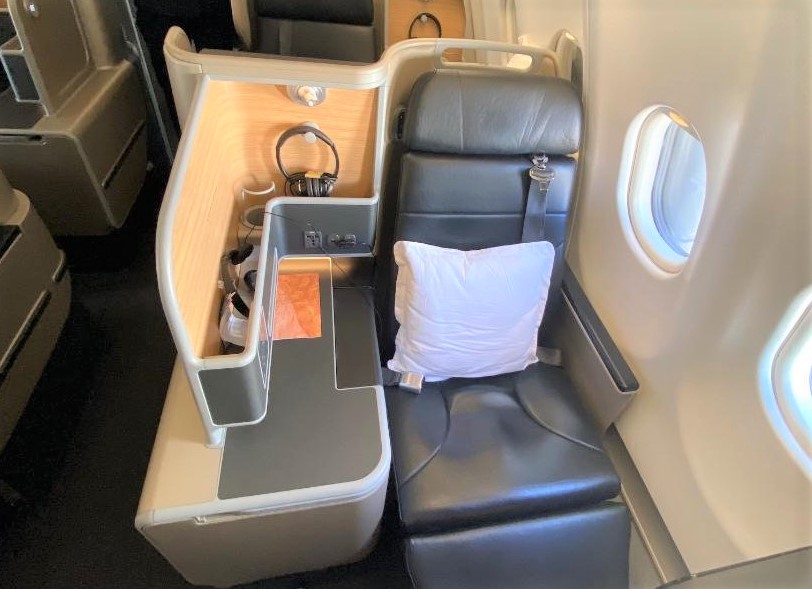 Even number seats are true window seats
All the seats are forward facing. Solo travellers will obviously look to snag the window seat, while couples or families travelling together may prefer the 2 middle seats.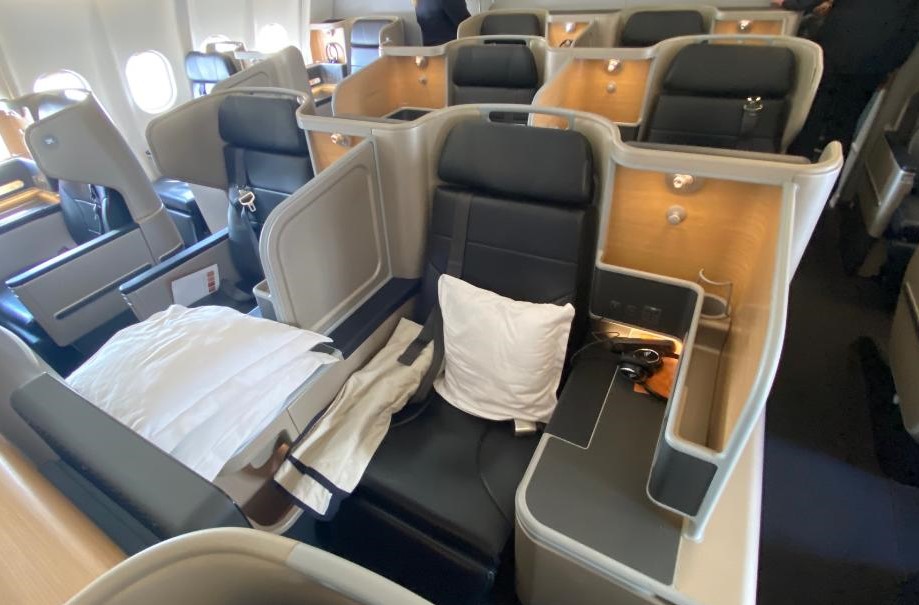 Qantas A-330, Business Class Middle Seats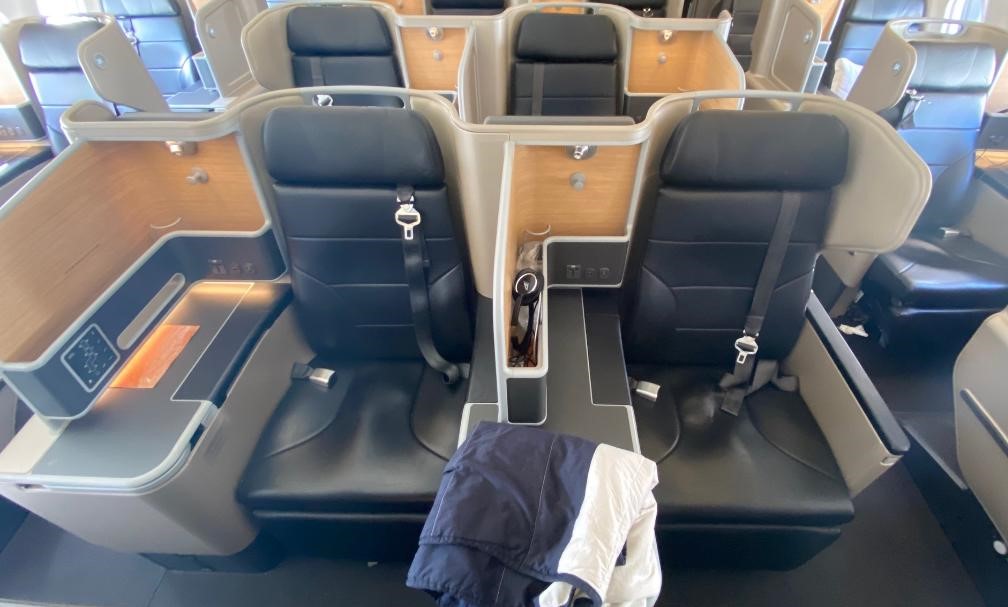 Upholstered in high quality leather, the seats itself are extremely comfortable. The controls are fitted on the jumbo-sized console and you could use these to manoeuvre the seat into your desired position.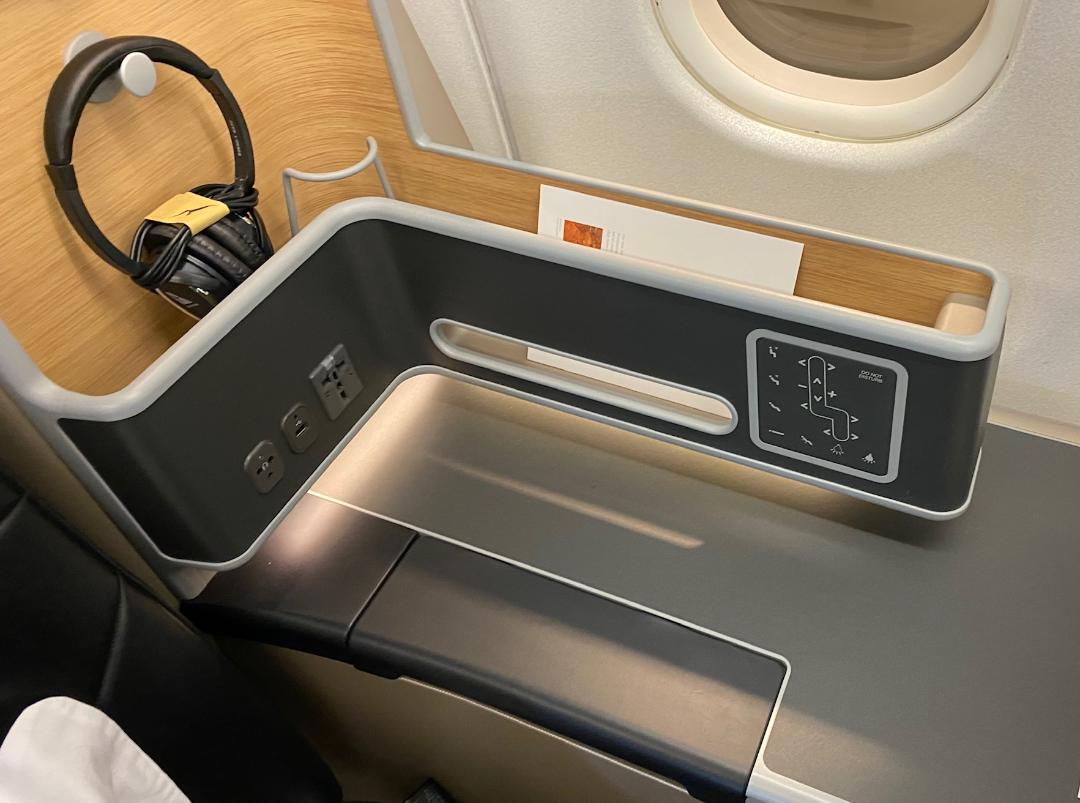 Console, Qantas A-330 Business Class Seats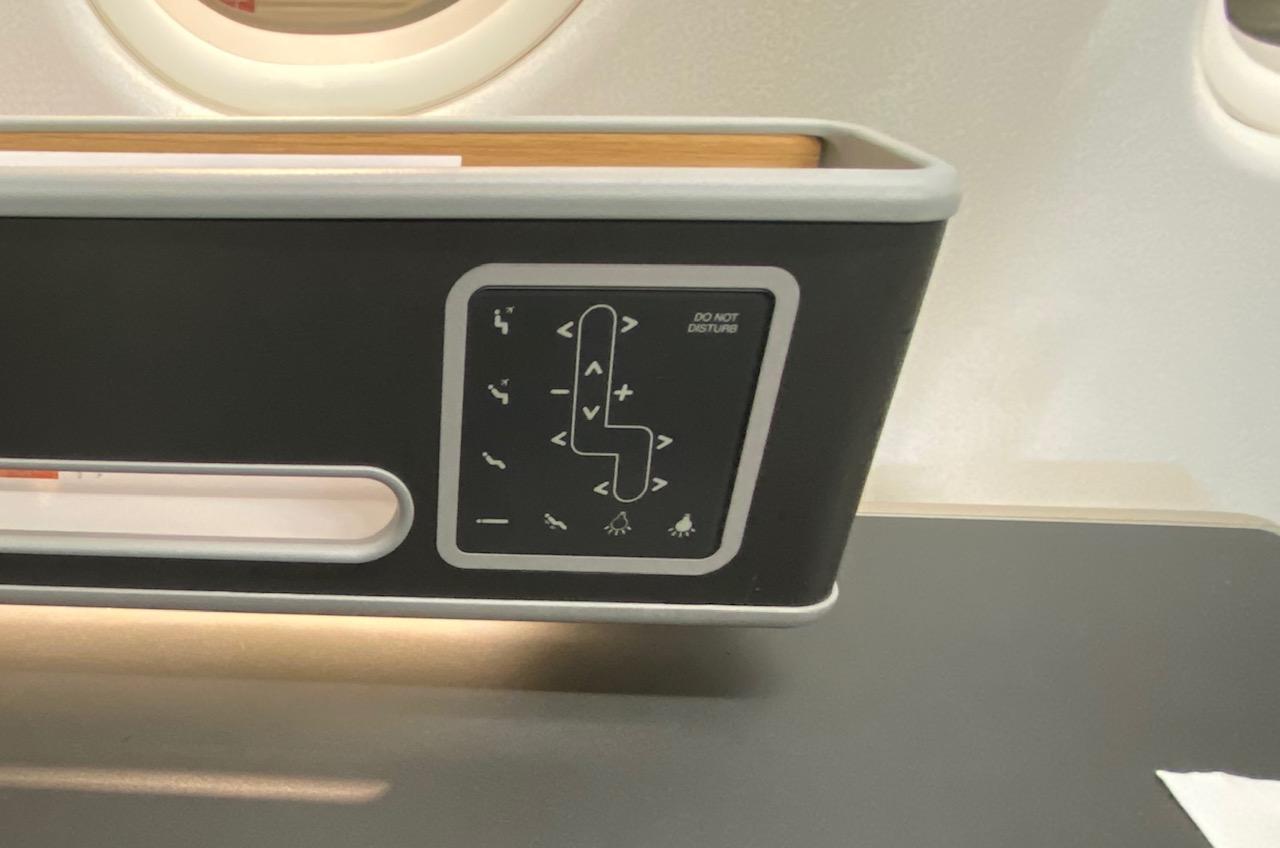 Seat Controls, Qantas A-330 Business Class Seats
With the push of a button, you could convert the seat from an upright position into a lie-flat bed in under 30 seconds. In the bed-mode, the seat extends all the way down until it connects with the foot-rest on the other end to form a fully flat bed.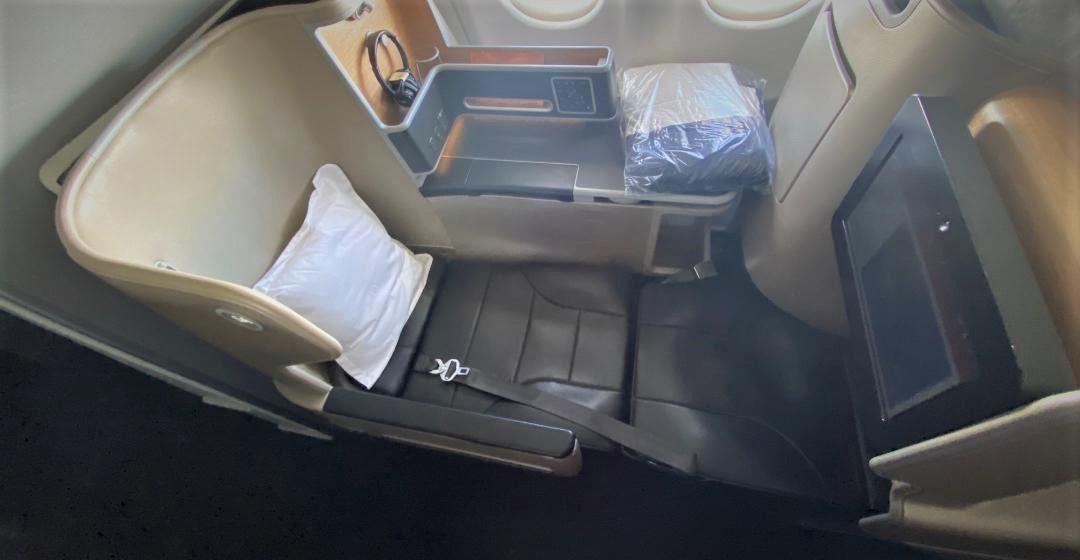 Qantas A-330 Business Class Seat – Bed mode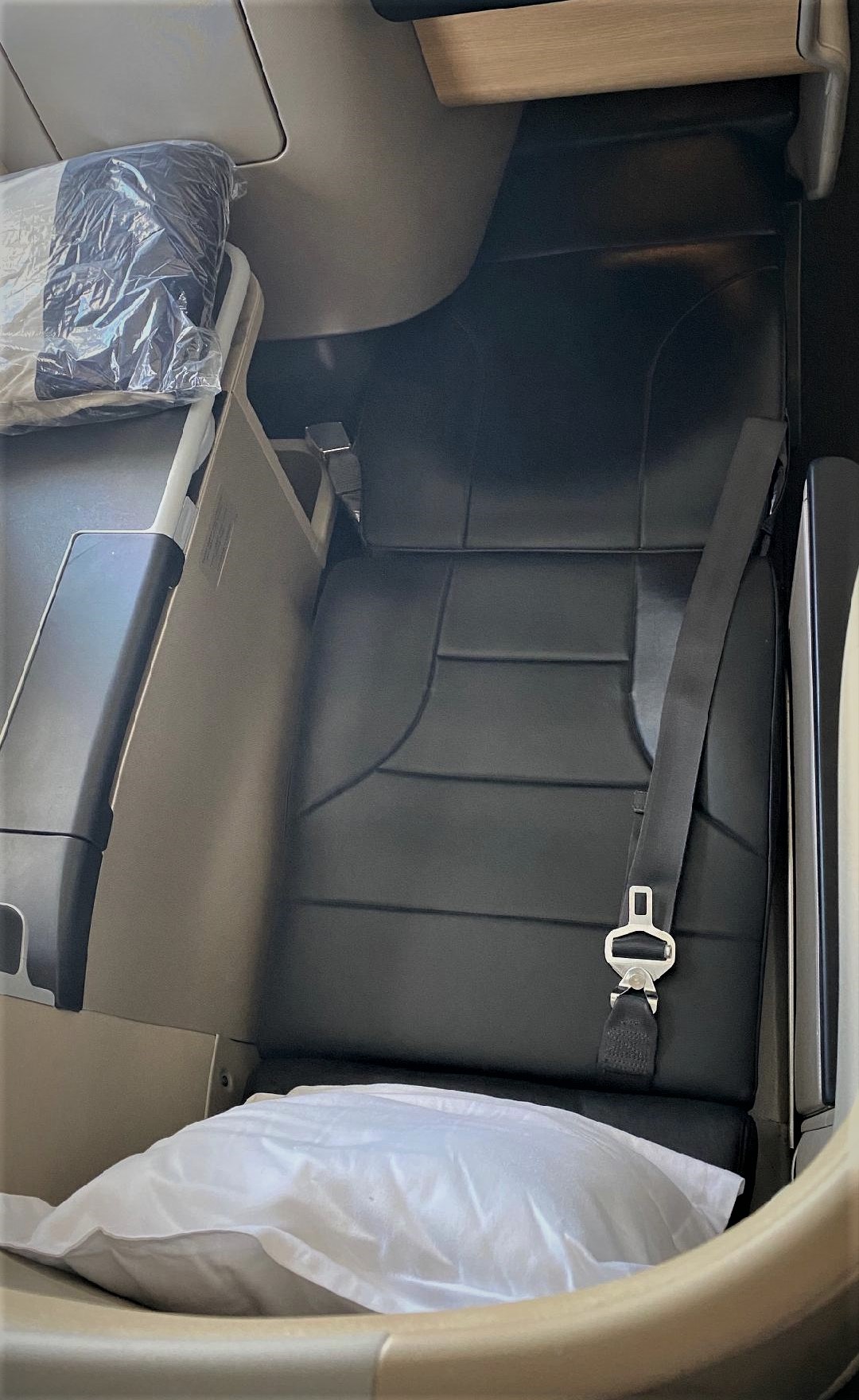 Qantas A-330 Business Class Seat – Bed mode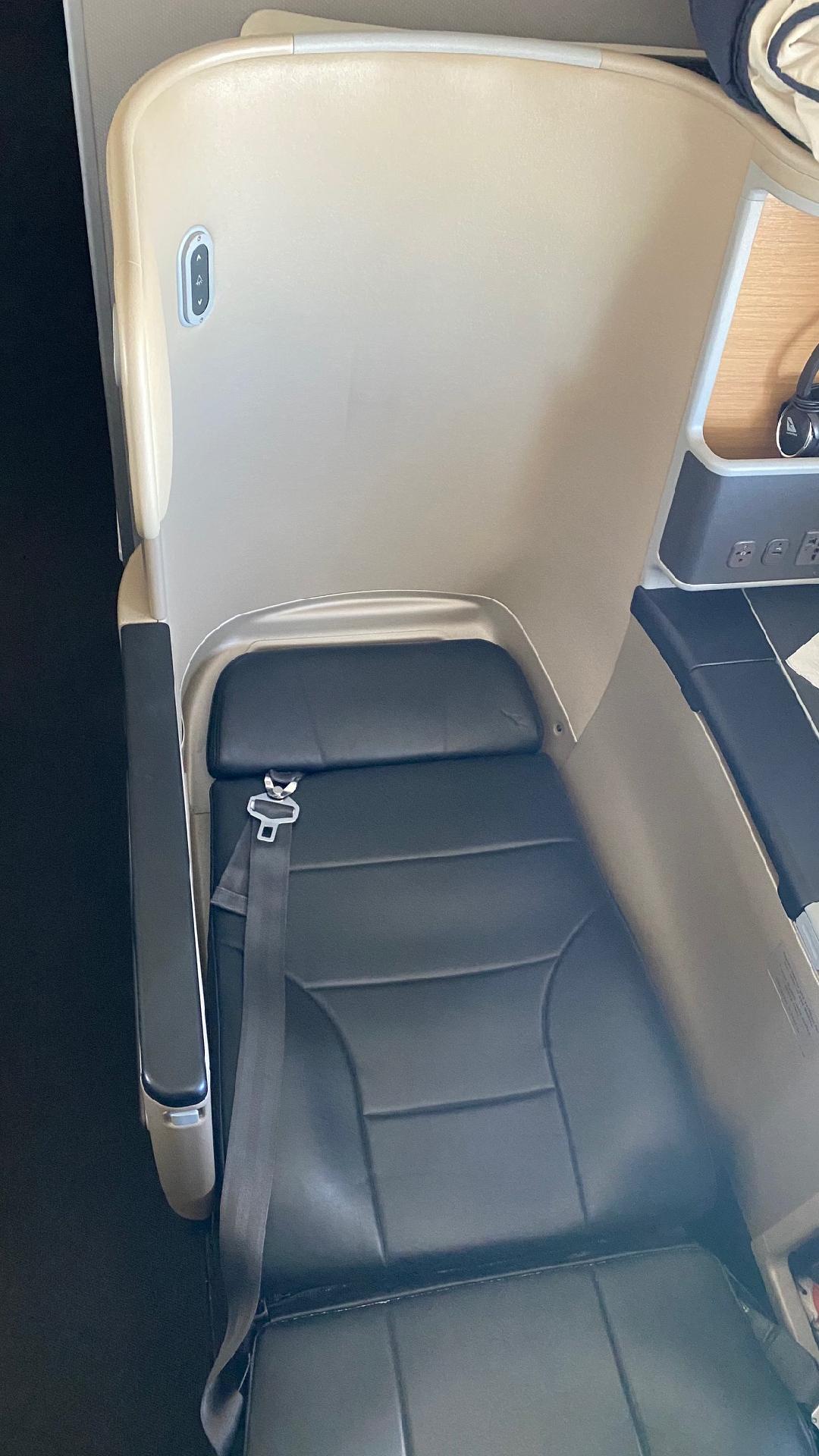 Qantas A-330 Business Class Seat – Bed mode
The power outlet, headphone jack and USB port are conveniently placed just above the console and within easy reach.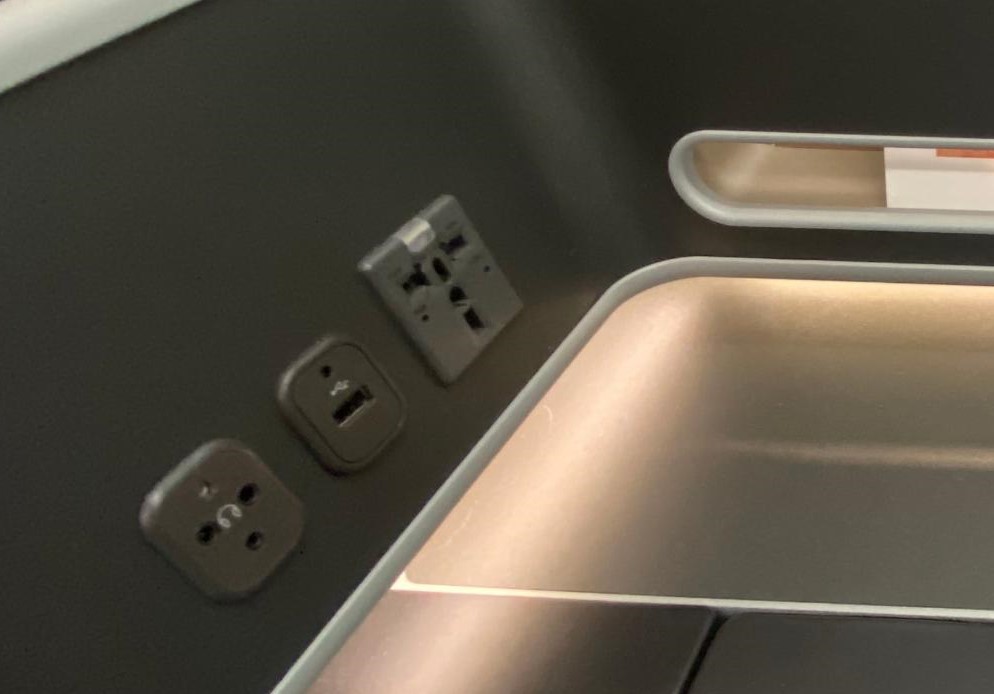 You can keep your devices running uninterrupted on Qantas A-330 Business Class Cabin
Besides a good sized bin, 3/4 of the way down near the ankles, there isn't a whole lot of storage space on these seats. The bin though, is large enough to fit your shoes or a back pack.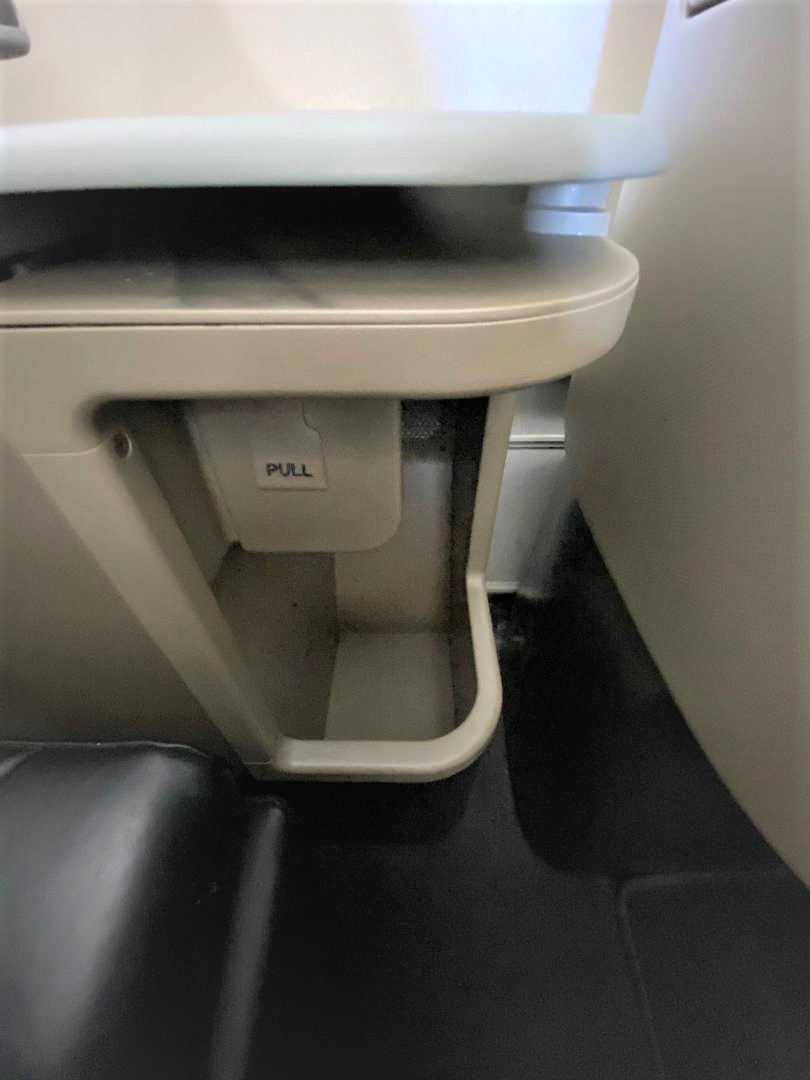 Storage Bin, Qantas A-330 Business Class Seat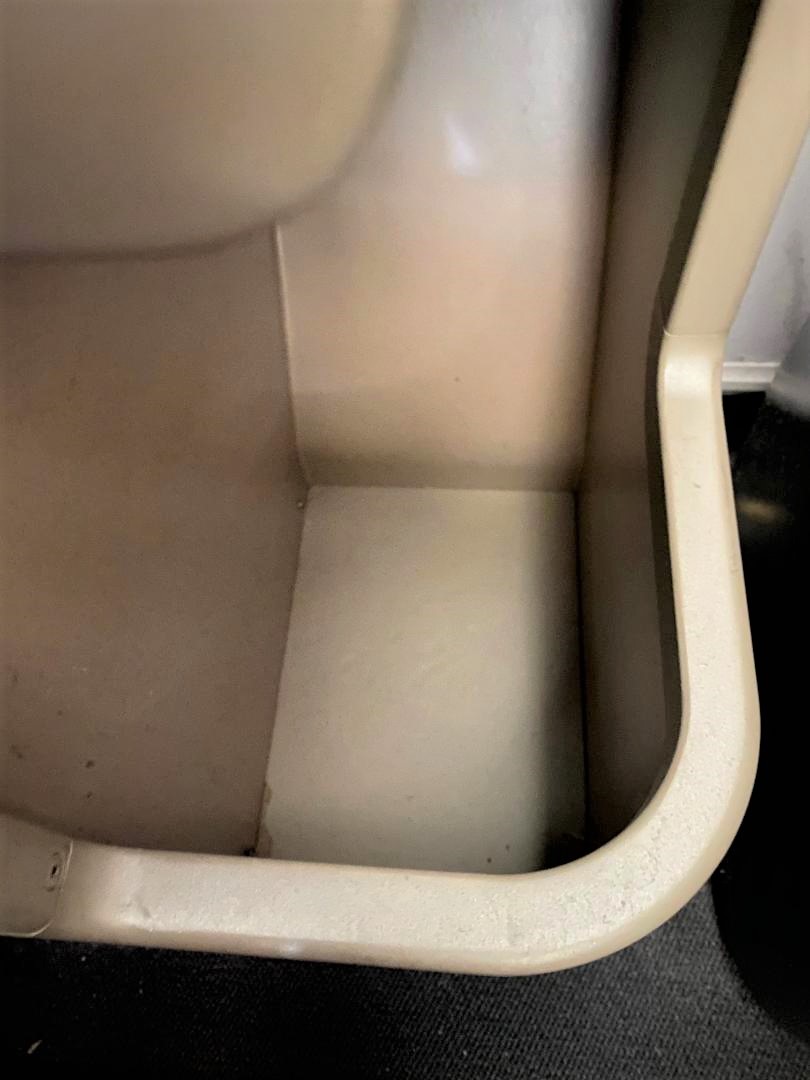 Storage Bin, Qantas A-330 Business Class Seat
The tray-table is secured in a little area under the console. To release, you need to press the lever adjacent to it and pull the table out manually. Besides using it for eating your meals, this may also have some application as a work table, albeit a wobbly one.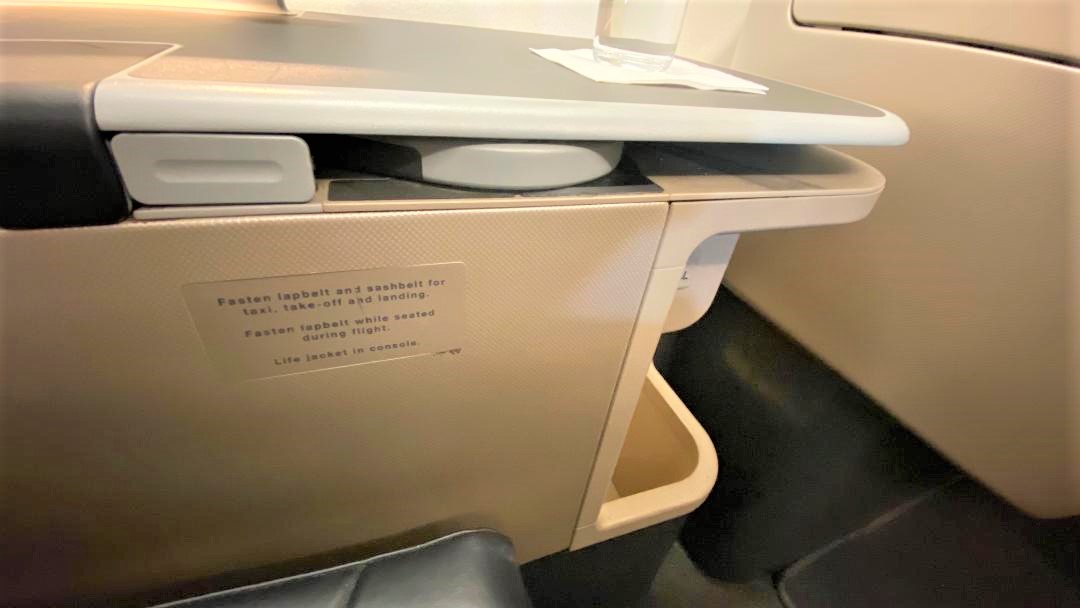 Press the button to release the tray-table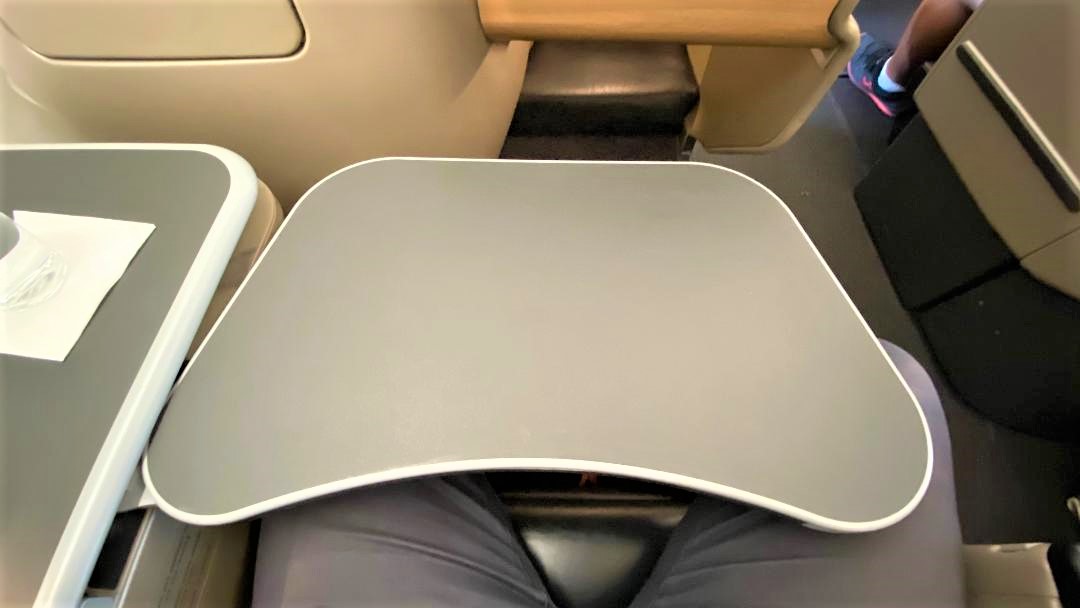 Qantas A-330 Business Class Tray Table
All up, this is an excellent seat and we are very lucky to be able to fly something of this standard on a domestic route within Australia.
In-flight Amenities
All passengers in business class have access to the seat-back monitors. At 16 inches, the screens are decently proportioned and provide passengers an excellent viewing experience.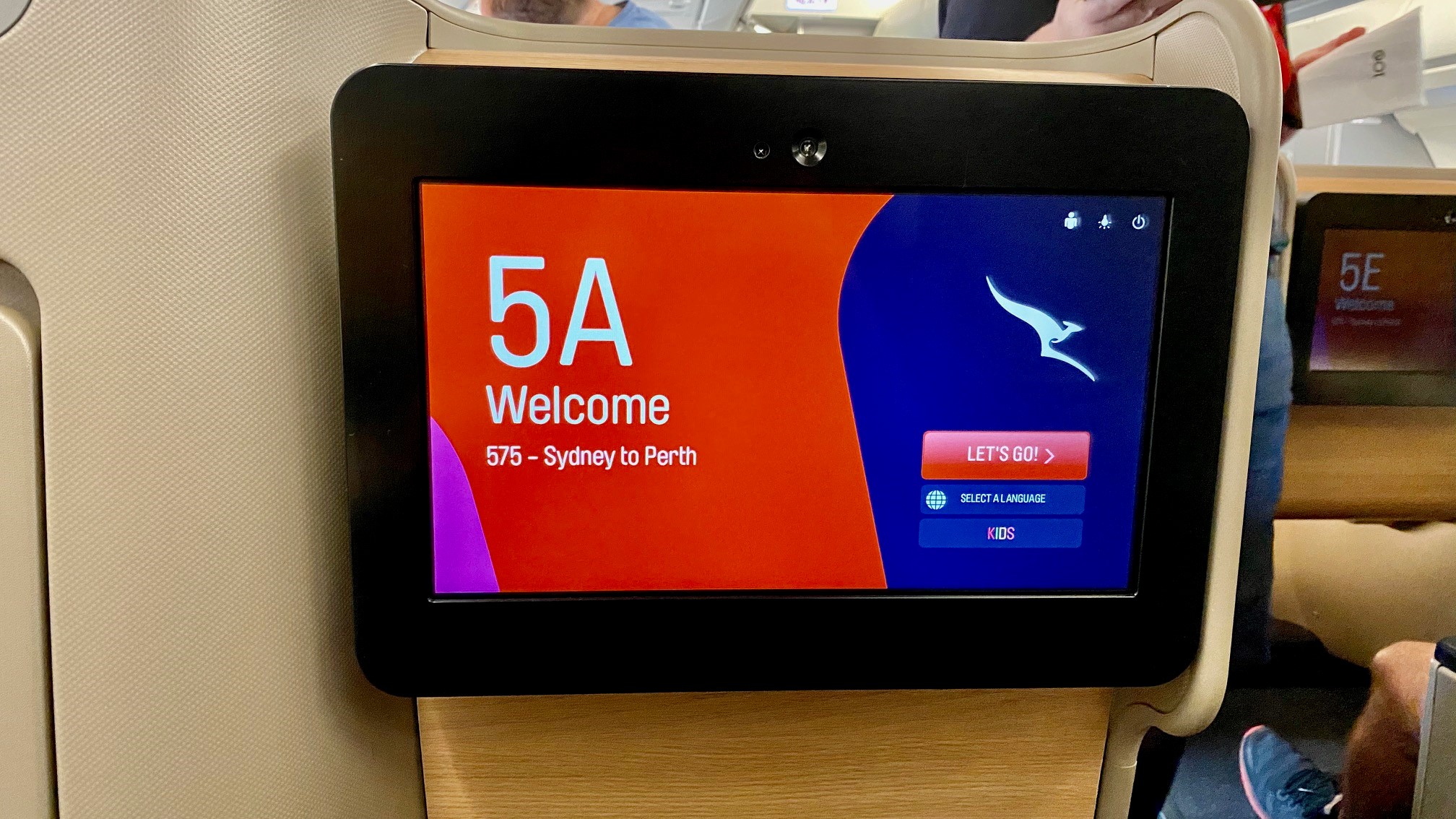 Qantas A-330 Business Class IFE Screens
The screens are touch enabled, although you could also operate them through the hand-held device hidden-away inside one of the compartments on the console.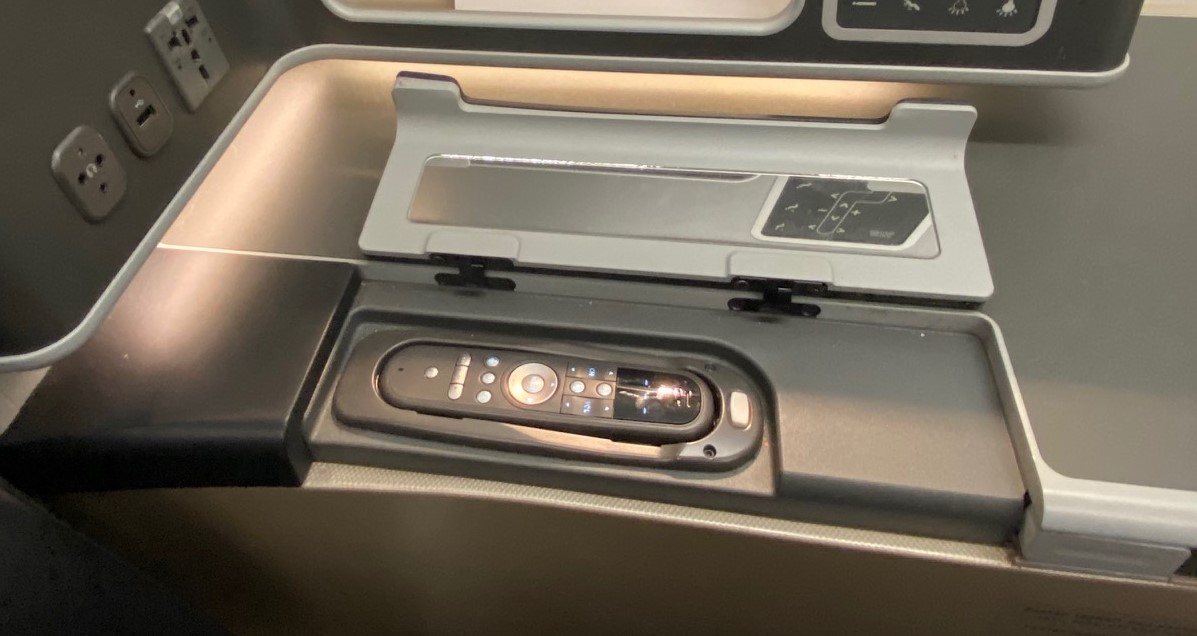 You can operate the IFE Screen through this hand-held device
The catalogue of content is huge, and between all the different movie genres, TV shows, cartoons, news and games, there is more than enough for everyone to while away time on this 4:30 hr flight.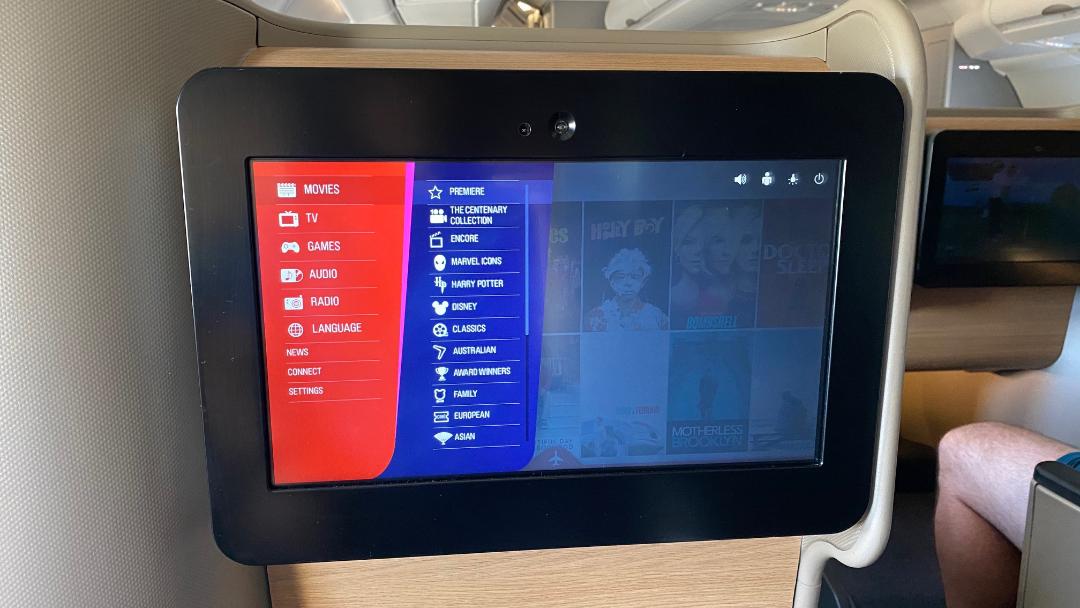 Qantas A-330
There was a pair of noise cancelling headphone on the hook and a reading light just above the power outlets, which I never got around to using. On review flights, unless sleeping, I tend to stick with the flight map on my screen, particularly if I wanted to get work done.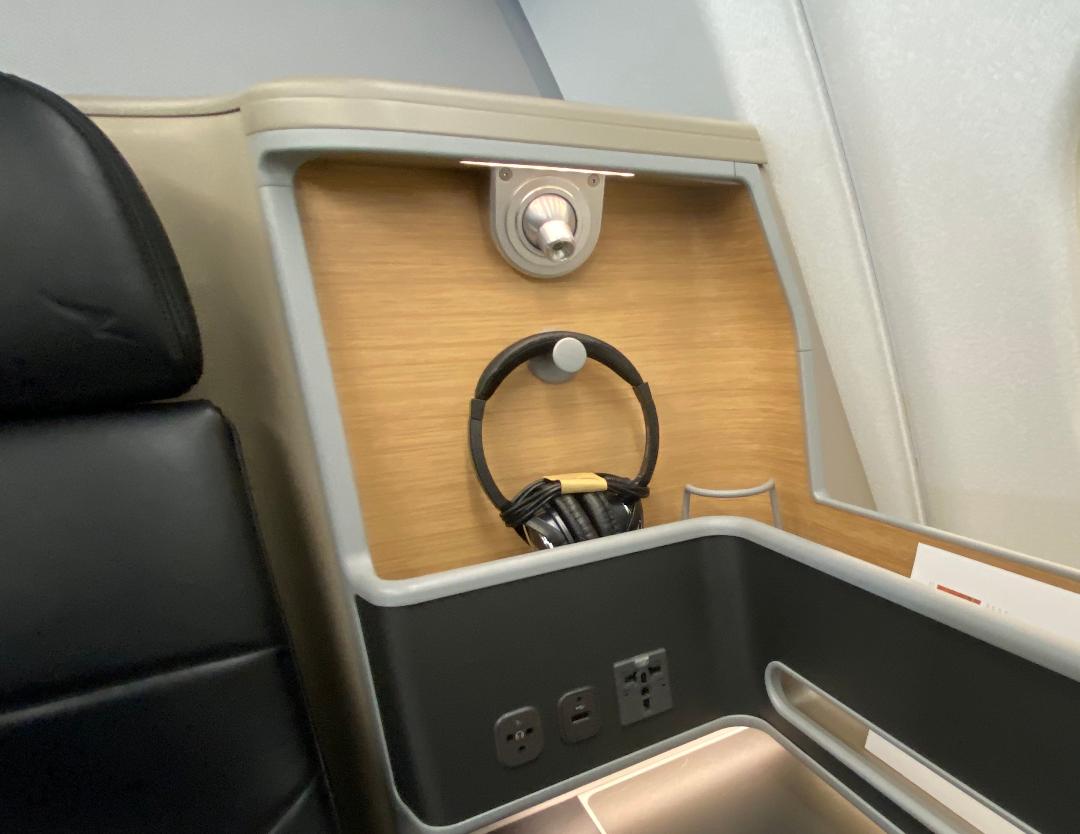 Qantas A-330, Business Class Headphone
Not all of Qantas' A330's are fitted with inflight wifi service, although luckily, this one was. I tested the speeds which I thought were quite impressive and certainly fast enough to let you stream videos to your device.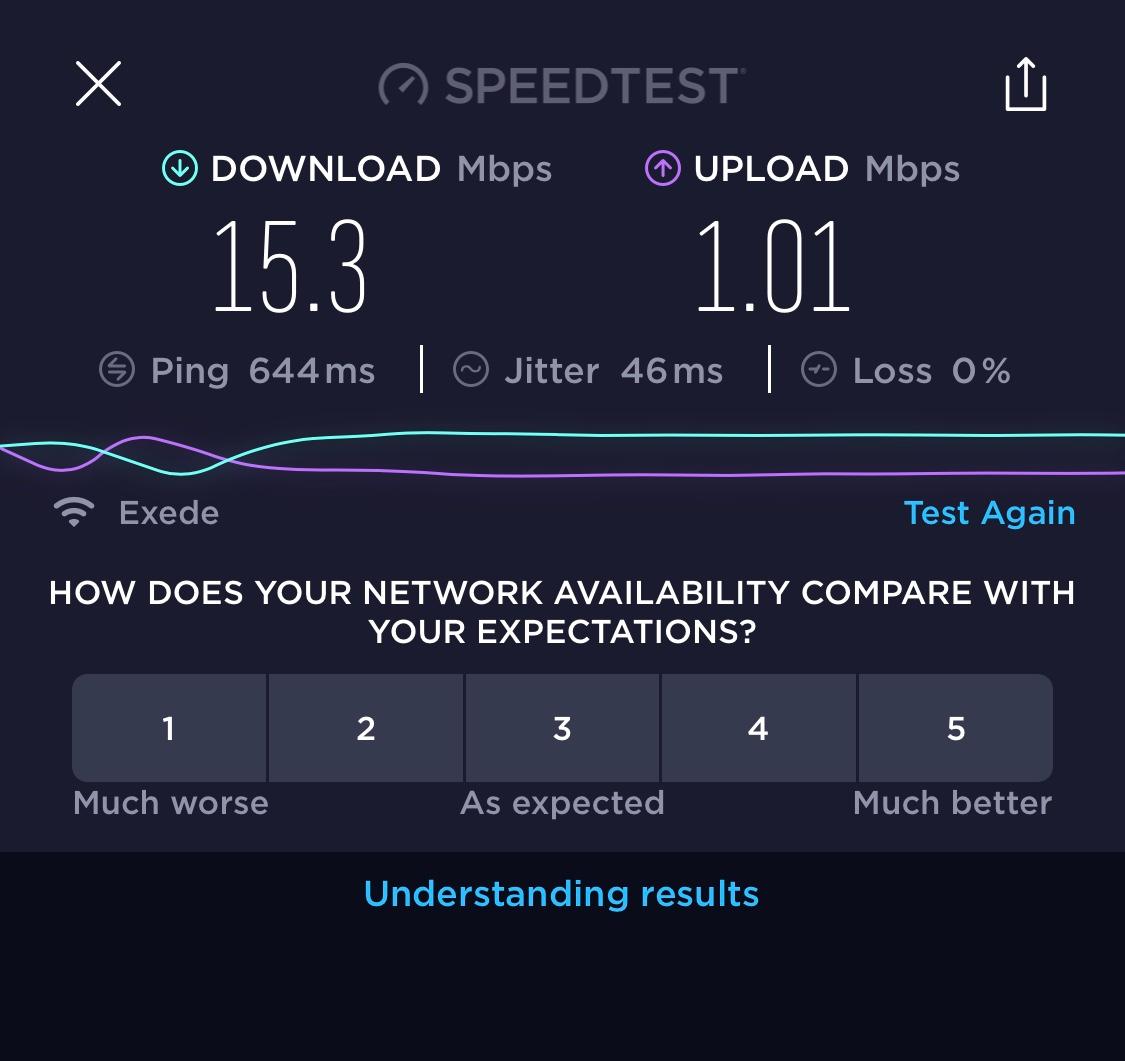 Qantas provides excellent wifi service on select A-330's
Lastly, Qantas don't do any amenity kits or PJ's on domestic flights, which is understandable.
Business Class Dining
The main (and the only) meal on this flight was breakfast. Soon after boarding was complete, a member of the crew went around the cabin offering pre-departure drinks to guests.
Unlike its main competitor on this route, Virgin Australia, which also offers sparkling wine and beer as part of its own pre-departure drinks service, the choice on Qantas is limited to just water or juice. I had a glass of still water.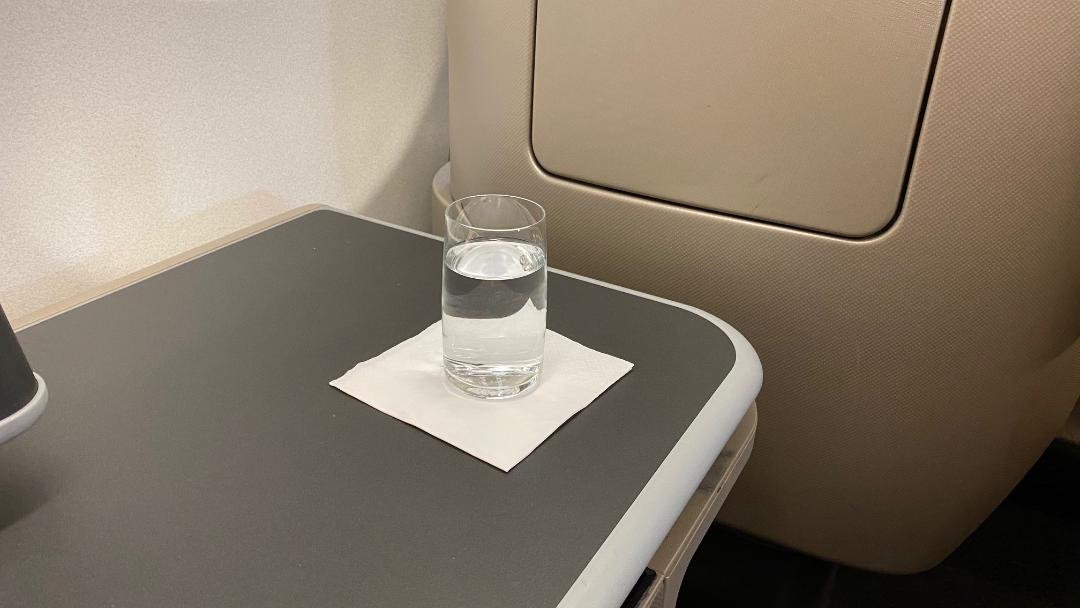 My pre-departure beverage was a glass of water
Once the plane reached cruising altitude, breakfast service began and menus were distributed. This though turned out to be a largely futile exercise, as you will see a little later.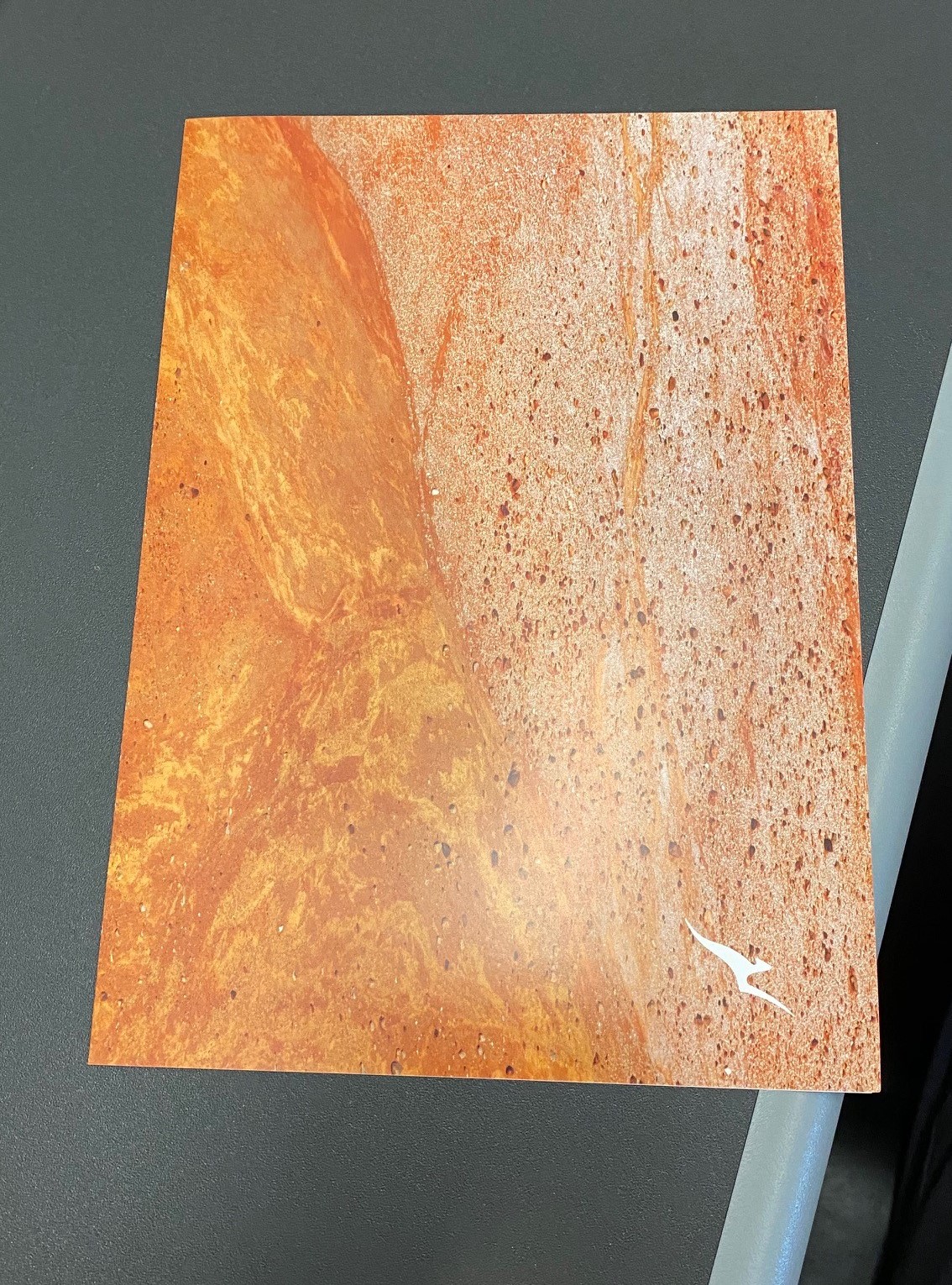 Qantas A-330 Business Class Breakfast Menu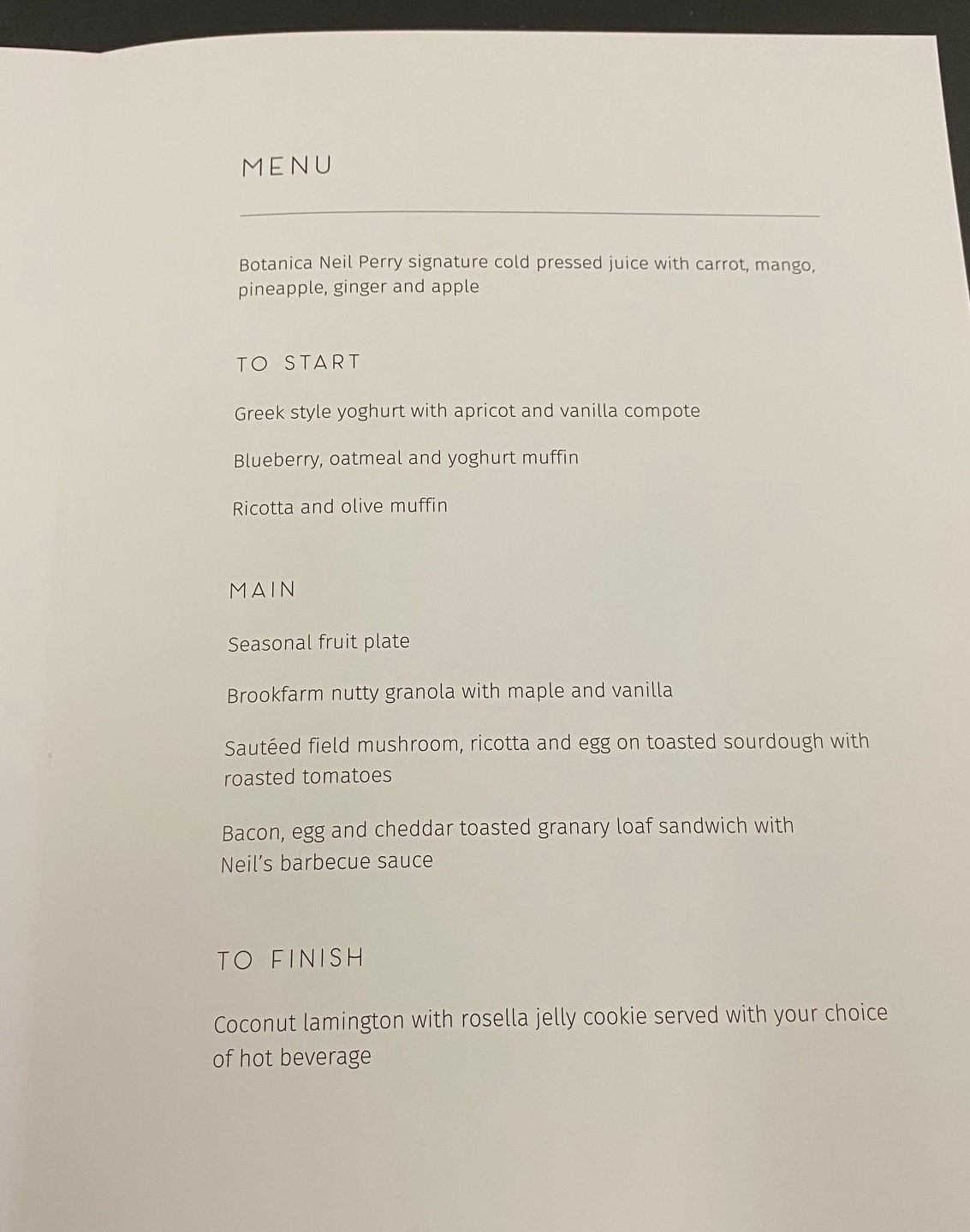 Qantas A-330 Business Class Breakfast Menu
Moments later, one of the crew members came around to get my breakfast order, I ordered the blueberry, oatmeal and yogurt muffin. For my mains, I went with the bacon and egg sandwich, as it was something I had never tried before and was curious to see how this would come out on an airplane.
I kicked things off with a glass of a Neil Perry designed cold-pressed juice, it was delicious and refreshing.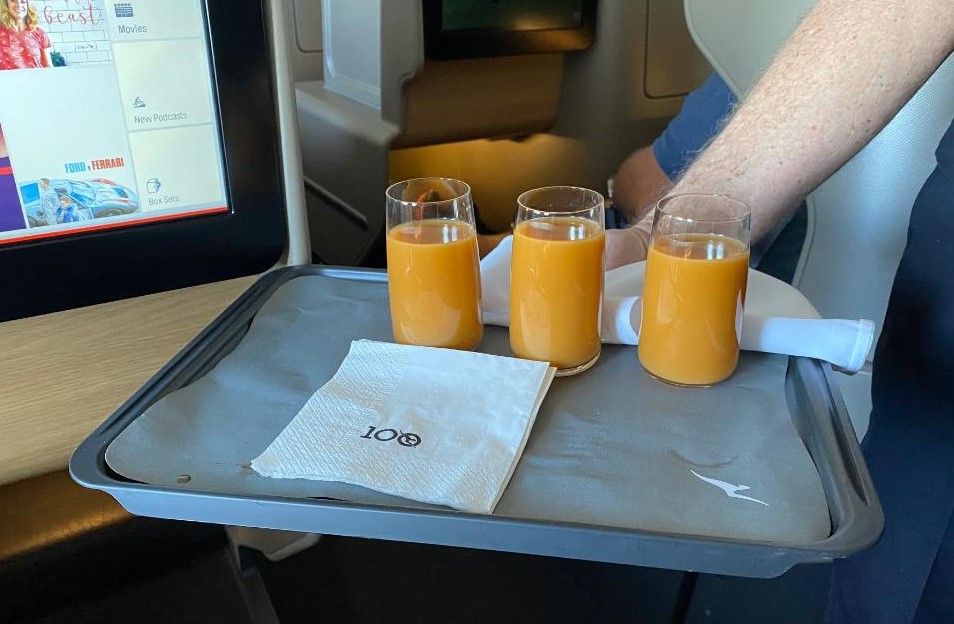 Qantas A-330, Business Class Juice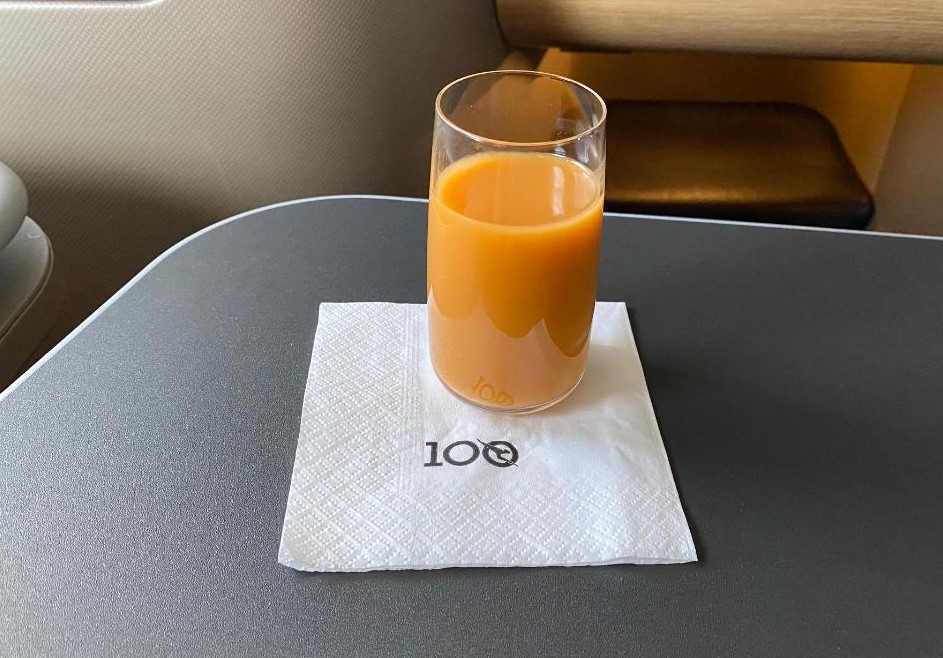 Qantas A-330, Business Class Juice
I then moved on to the blueberry, oatmeal and yogurt muffin, which was ok, but nothing great. So I only had a little bit of it.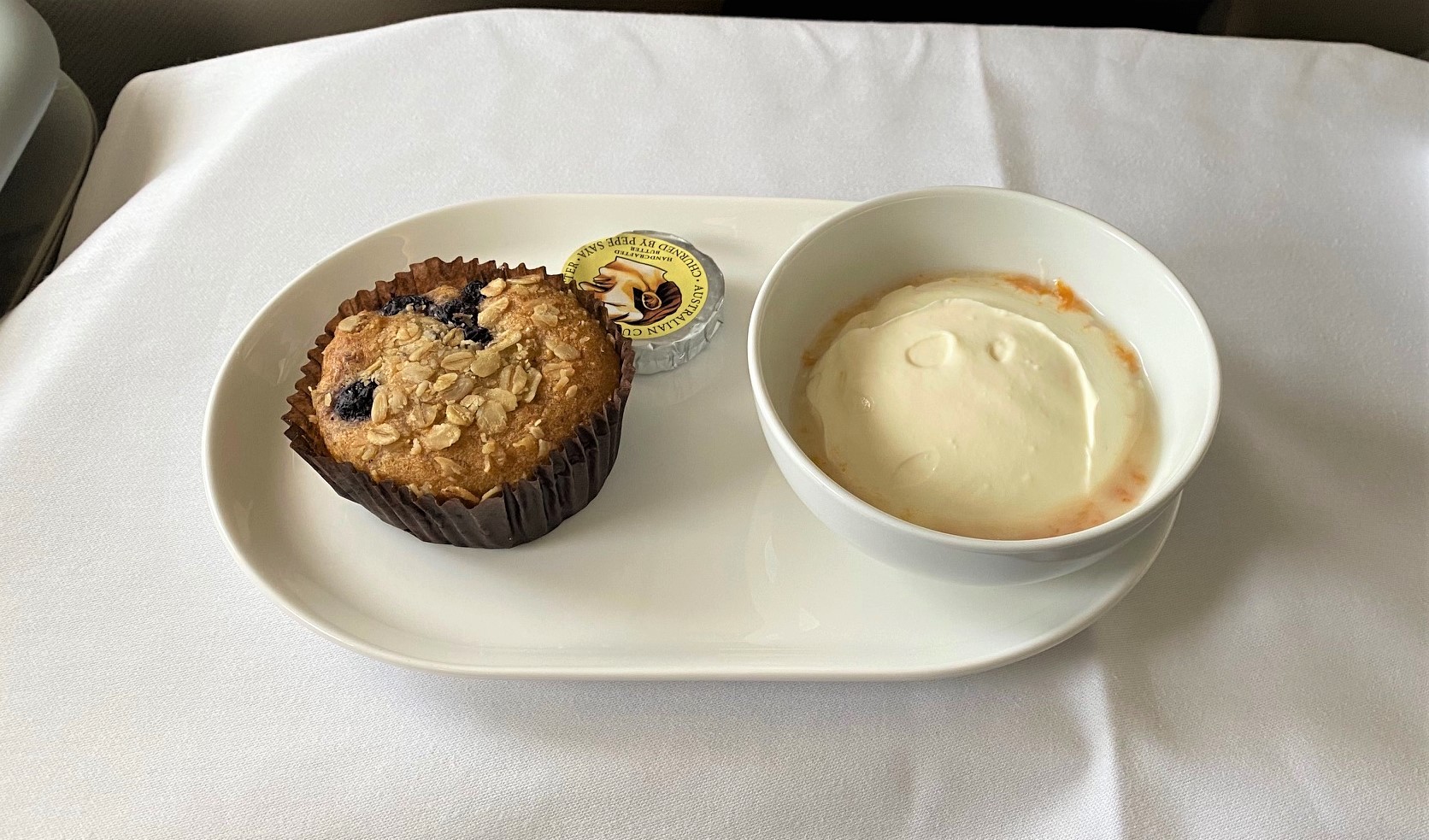 Qantas A-330, Business Class Breakfast
In the meantime, another crew member appeared (different to the one who took my order) and advised that there has been a mistake. They didn't have bacon and egg sandwich on-board, as breakfast on this flight was 'incorrectly loaded' 🤦‍♂️ . A little later, I also heard other crew members relaying the same information to other guests.
Anyhow, she apologised and mentioned that the mushroom and roasted tomato on sourdough with scrambled eggs (option 3 on the menu) was the only available item, so I went with it. Unfortunately, this was not a good dish at-all. The mushroom was haphazardly dumped over the sourdough and lacked flavour, worse, all the moisture from the mushroom seeped into the bread which caused it to wilt and become soggy.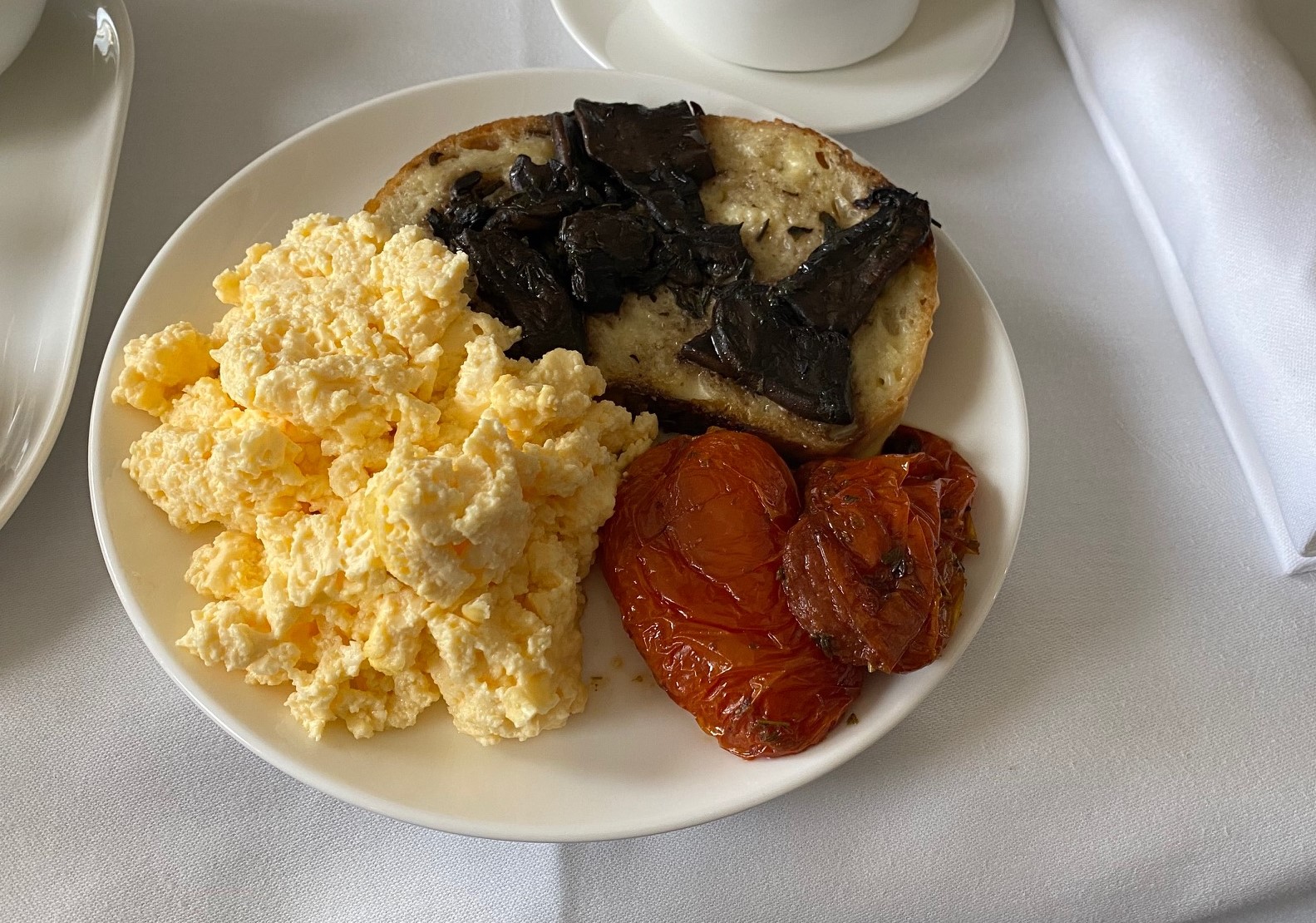 Qantas A-330, Business Class Breakfast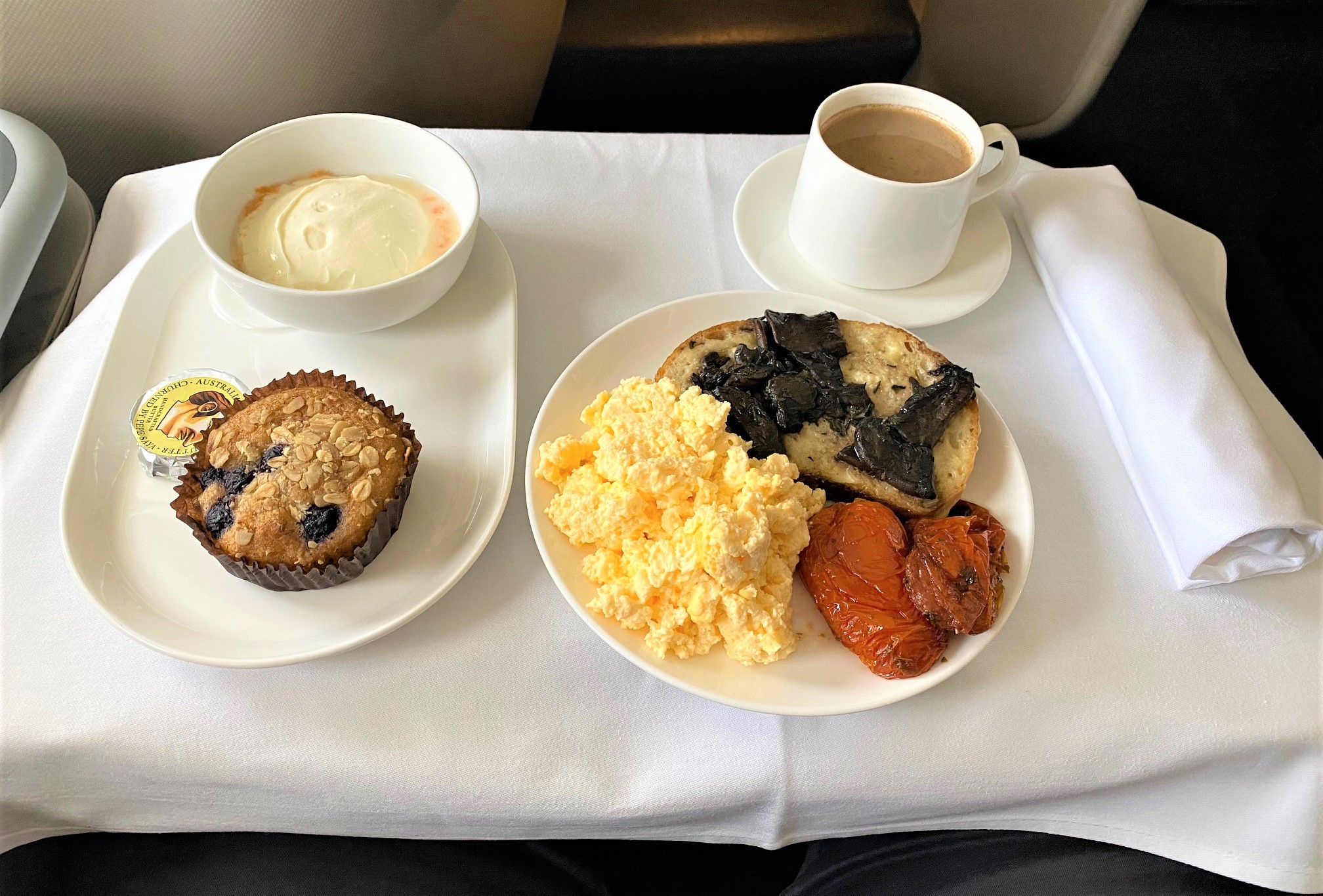 Qantas A-330, Business Class Breakfast
The scrambled eggs and roasted tomatoes were pretty ho-hum too, and Qantas wouldn't be scoring any marks for the presentation either 😜.
For some reason, my mind drifted off to the hit TV show 'Masterchef'. I tried to imagine Matt Preston (one of the judges) sampling the dish and his facial expressions. It brought a chuckle to my face.
Moving on, I had a cup of Americano to finish things off. That concluded breakfast.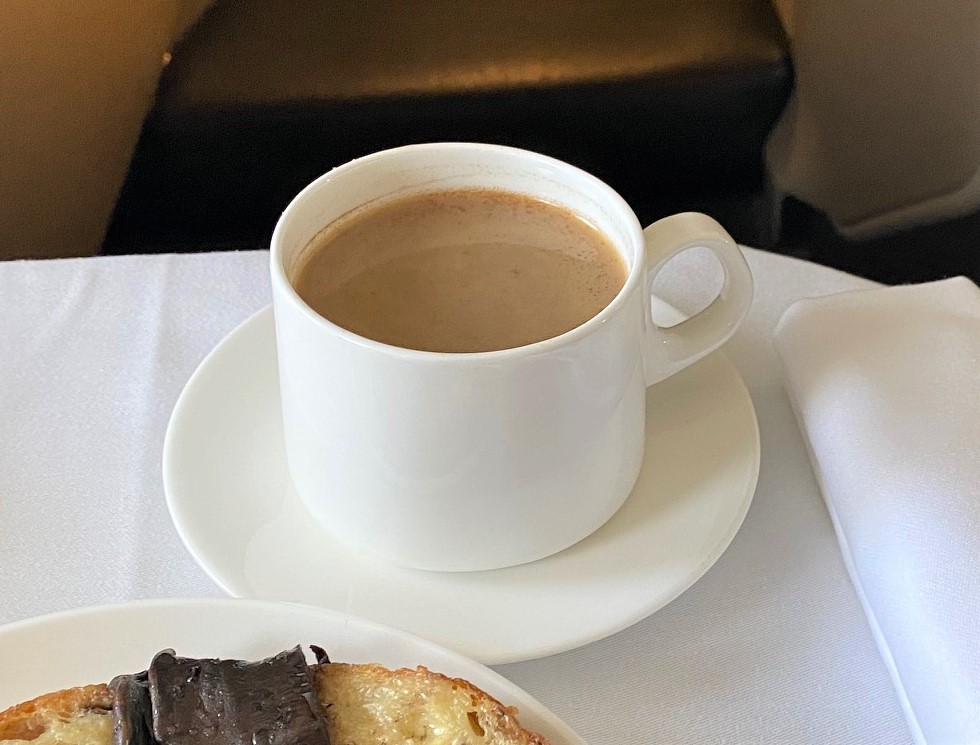 Qantas A-330, Business Class Americano
By now, the 4 am start had caught up with me. I was feeling a little drained and had a mild headache. So I reclined the bed down and had a solid 2 hour nap.
I was woken up by the voice of the pilot on PA system, announcing that we were about 40 minutes outside of Perth and starting our descent very soon. At this time, I would have really appreciated a hot-towel service, which unfortunately wasn't provided on this flight.
Soon after, we were coming down to land in Perth and pulled in at the gate at about 10:25 am local time, which was right on schedule.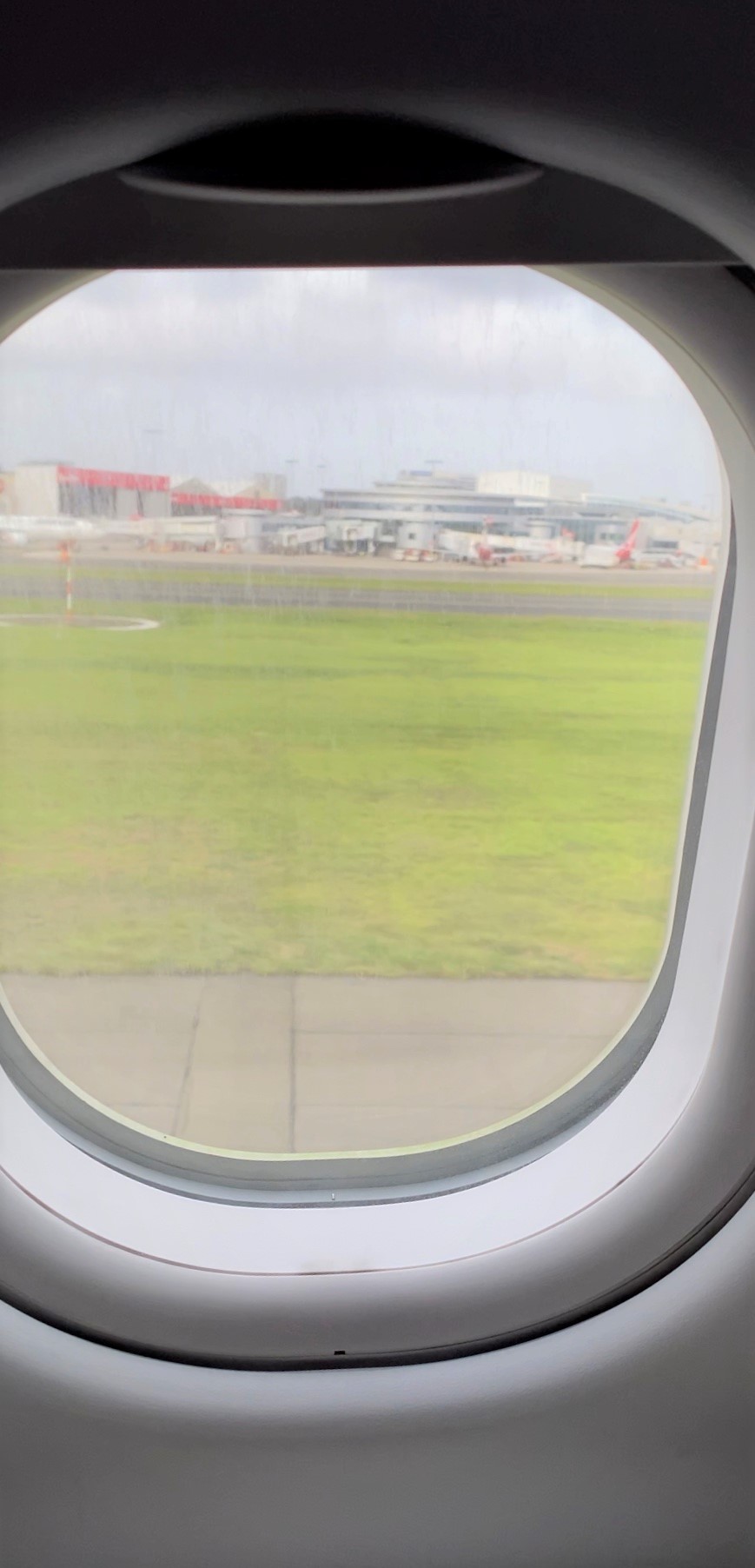 We touched-down in Perth on-time
In Conclusion
Let me start by pointing out the two features where there's a healthy room for improvement. Firstly, the breakfast on my flight wasn't worthy of a business-class meal. Even if you discount the fact that the catering team stuffed-up while loading meals on the aircraft, there is absolutely no justification for serving guests a sub-standard, poorly presented meal.
Next, I thought the service on this flight was below-par. Granted that the business cabin was full and crew were perhaps a little frazzled dealing with passengers who may have been grumpy not having their 1st choice meal served, that though, still didn't explain things. The service was devoid of any warmth and left me with the feeling that the staff were merely trying to get through the flight. I didn't have any unpleasant experience, just that I wouldn't rate them.
On the plus side, the cabin colours and interiors were stunning. The seats on this flight were out of the top-drawer and very well presented. Although these were first introduced in 2014, they remain a high quality offering and I would be overjoyed to fly them even on long-haul international routes, let alone a domestic flight.
Despite a few kinks, which can easily be fixed, Qantas A-330 business class is a memorable way to fly coast to coast and I would be very happy to recommend it to anyone.
Have you flown Qantas A-330 Business Class? Leave a comment below.