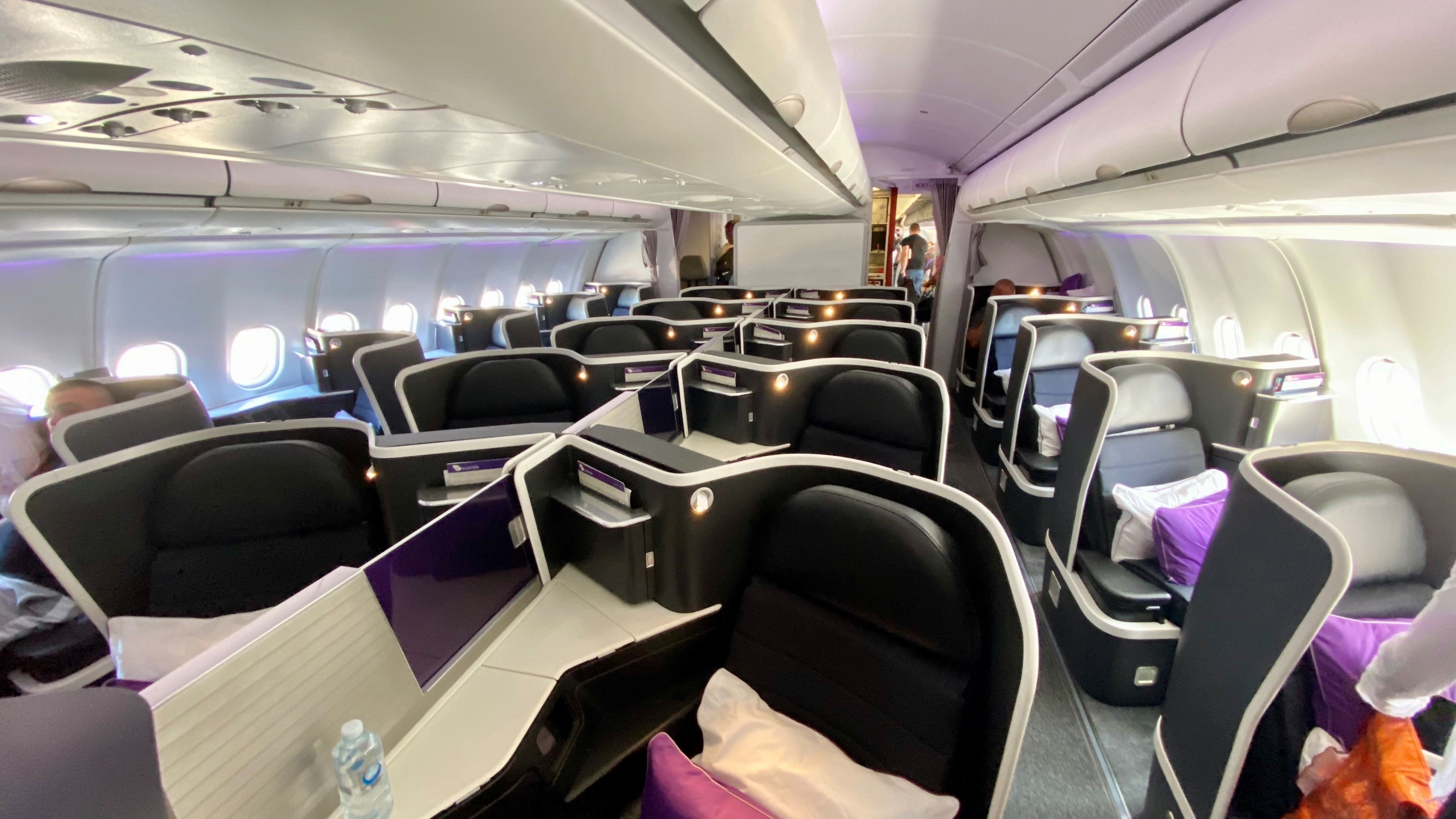 I flew into Perth on-board Qantas' A-330 Business Class. After less than 24 hrs on ground, it was time to head home with Virgin Australia.
Booking
For this flight, I bought an economy ticket with cash and used one of my Complimentary Platinum Upgrade to get a bump-up to Business Class. For the uninitiated, Velocity Platinum members get 4 free upgrades to business class per membership year. The catch is that you can only upgrade from an Economy Freedom Fare, so just remember that if you plan to use this benefit at some point.
If I was redeeming points, Velocity Frequent Flyer will be my go-to program, where I can redeem 35,500 Velocity points for this flight. There are gazillion ways to earn Velocity points. If you are interested, I suggest you check out one my earlier posts over here.
PS – If you would like to earn a big pile of Velocity points relatively quickly, The American Express Velocity Platinum Card is currently offering Welcome Bonus of 60,000 Velocity points, more than enough for the Perth – Sydney flight in business class, when you apply for the card using this unique referral link for The American Express Velocity Platinum Card and meet the minimum spend of $3,000 within 3 months. (other conditions apply).
Note, this offer is NOT available if you apply directly on American Express website, but is a special offer when you apply using this unique referral link for The American Express Velocity Platinum Card.
Disclosure – If you apply for the card using the links above and are approved, pointsHq or its related parties may receive some referral points.
The other major miles currency which Australians can redeem for this flight is Singapore Airlines' Krisflyer miles, although at 40,000 miles, it's poor value. You can check out the Krisflyer chart for Virgin Australia redemption over here.
Lastly, you can also put your Etihad Guest Miles to work for this flight and redeem 33,800 miles, however, just like Krisflyer, this isn't a great use of your miles, so you are better off sticking with Velocity.
Check-in and Boarding
I arrived at the airport around 9:00 am for the 10:35 departure. Since I wasn't checking in any bags and had already checked in online for the flight, I was able to proceed directly for security clearance and then on to the Virgin Australia Lounge at Terminal 1.
If you would like to read that review, you can do so over here.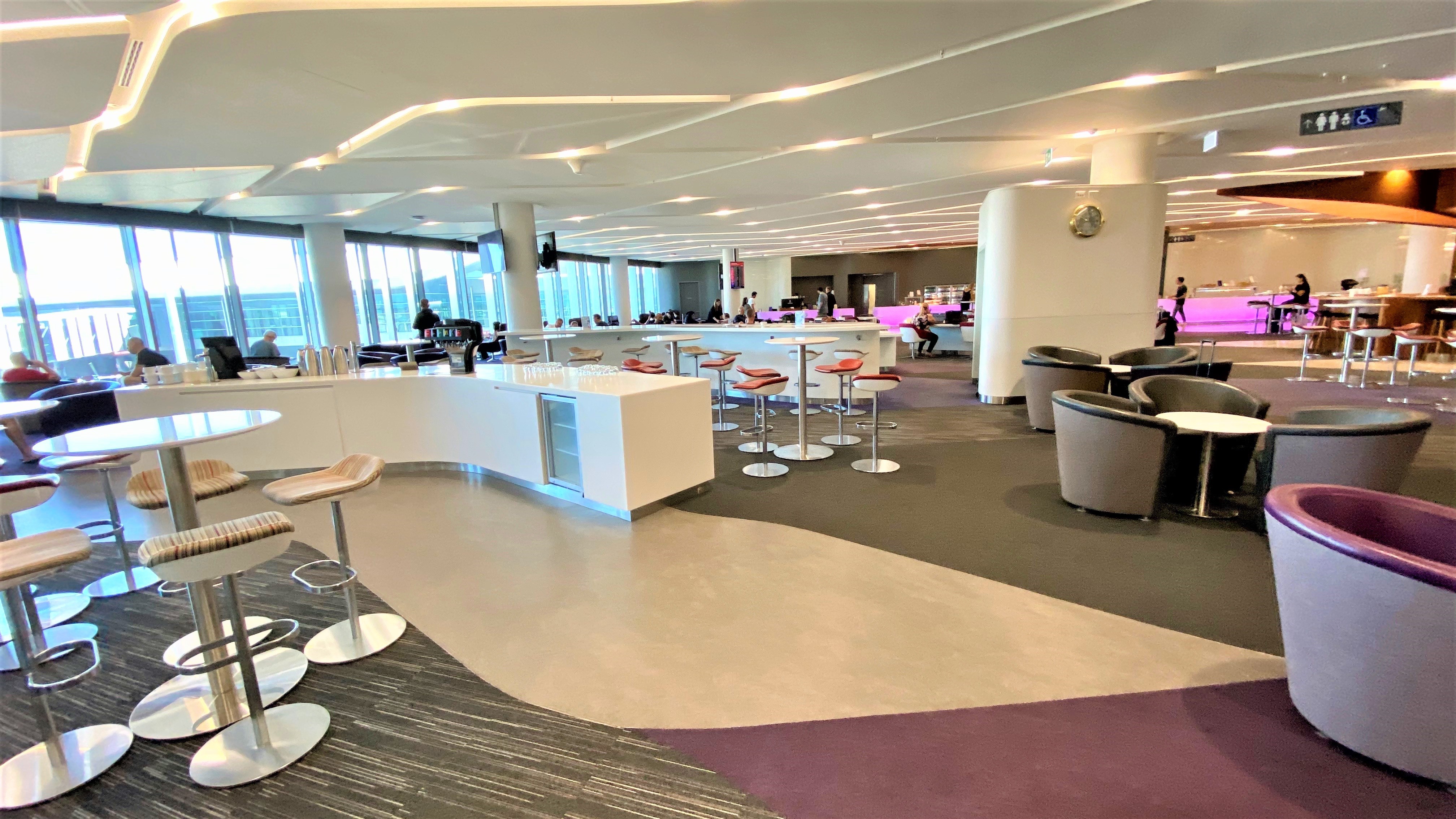 Virgin Australia Lounge T1, Perth Airport
After checking out the lounge, I made my way to Gate 49, where a substantial number of people had already congregated.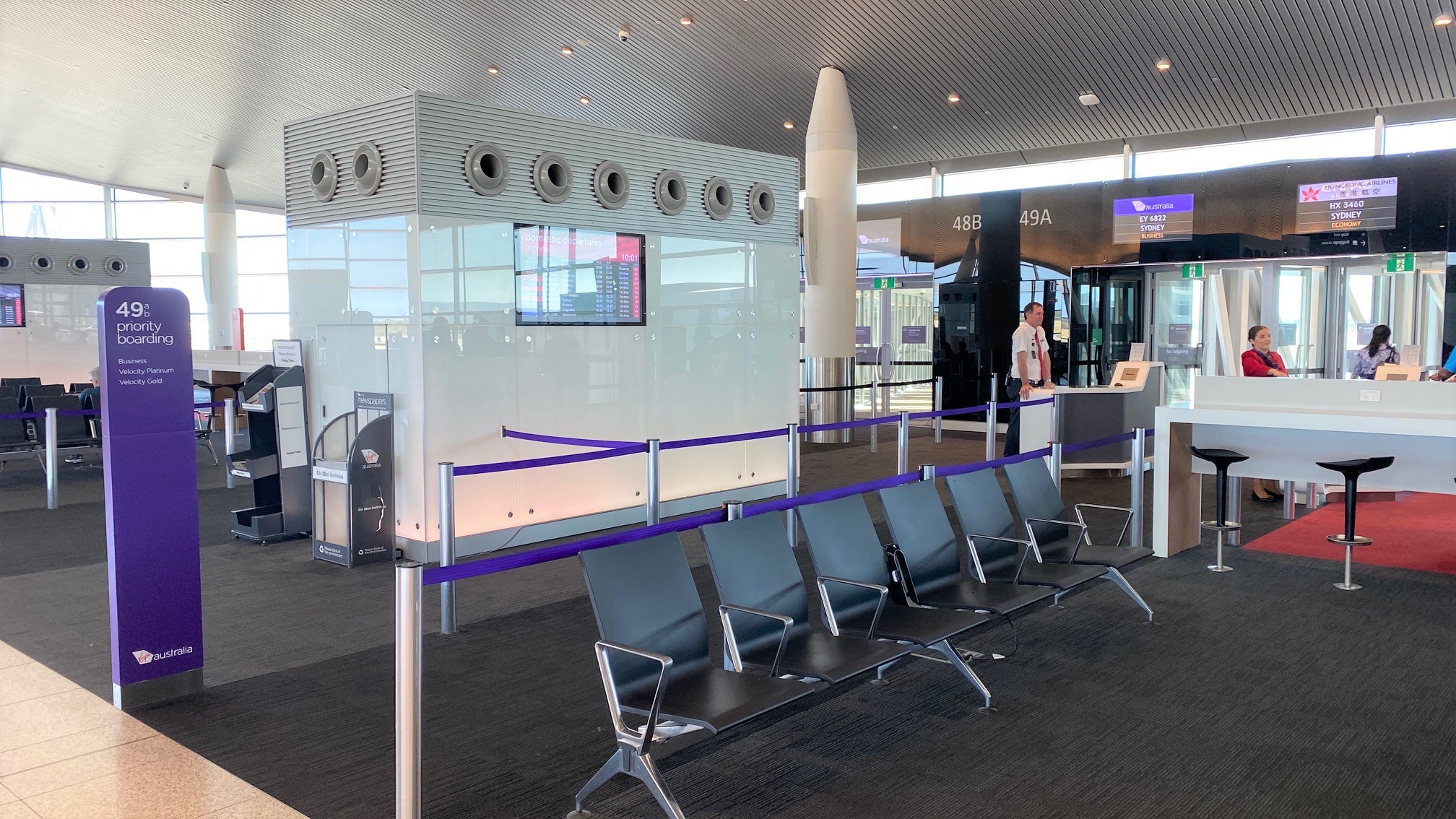 Gate 49, T1 – Perth Airport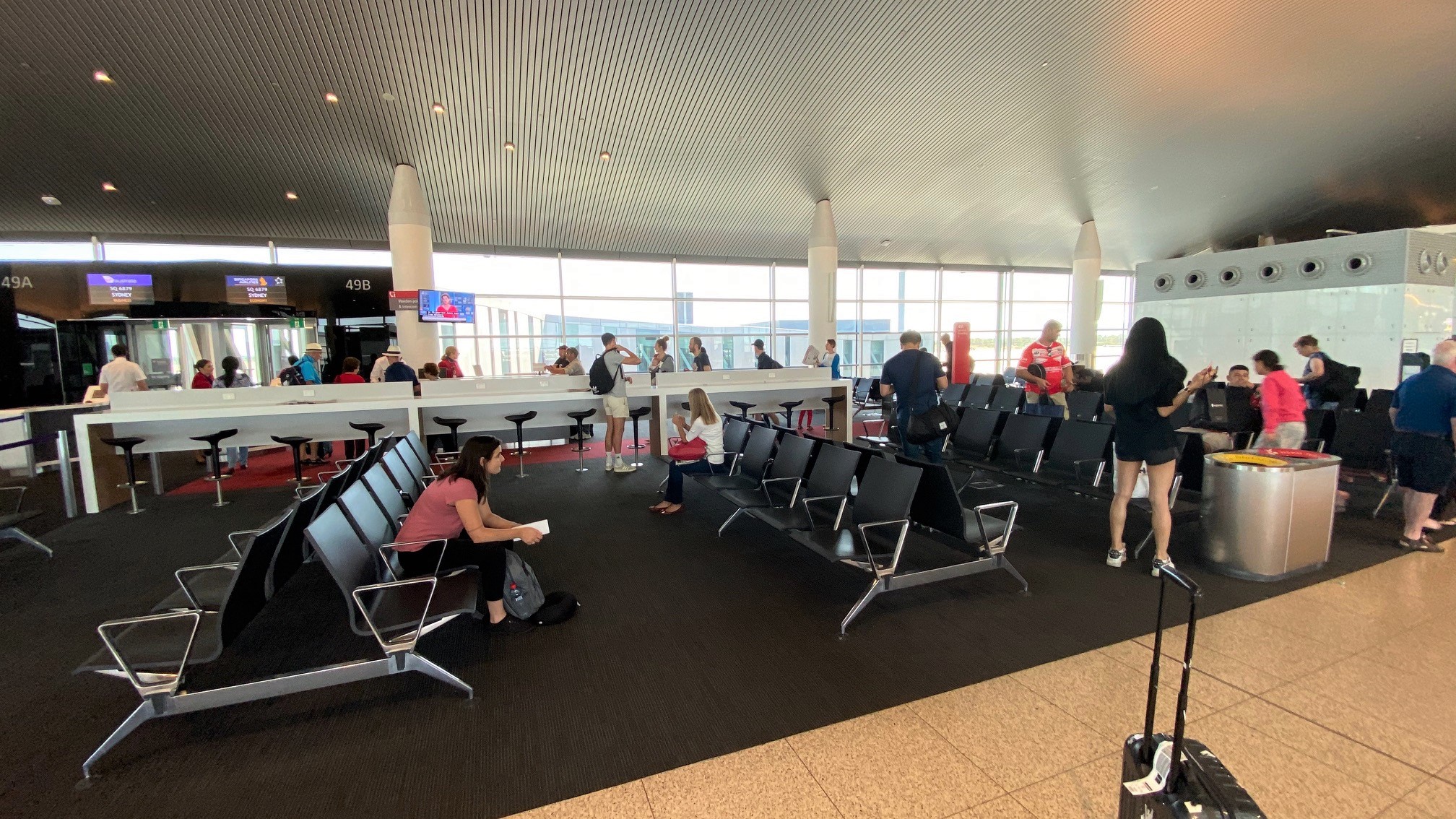 Soon after, a call went out inviting business class guests and Velocity elite members to commence boarding. I entered the aircraft through the front door and arrived directly in the cabin.
For the first time ever, I was the first to board, YAY 😀. I was greeted by the cabin crew who offered to show me to my seat. However, I couldn't pass the opportunity to take a few quick pictures of the cabin before other passengers arrived and ruined my shots.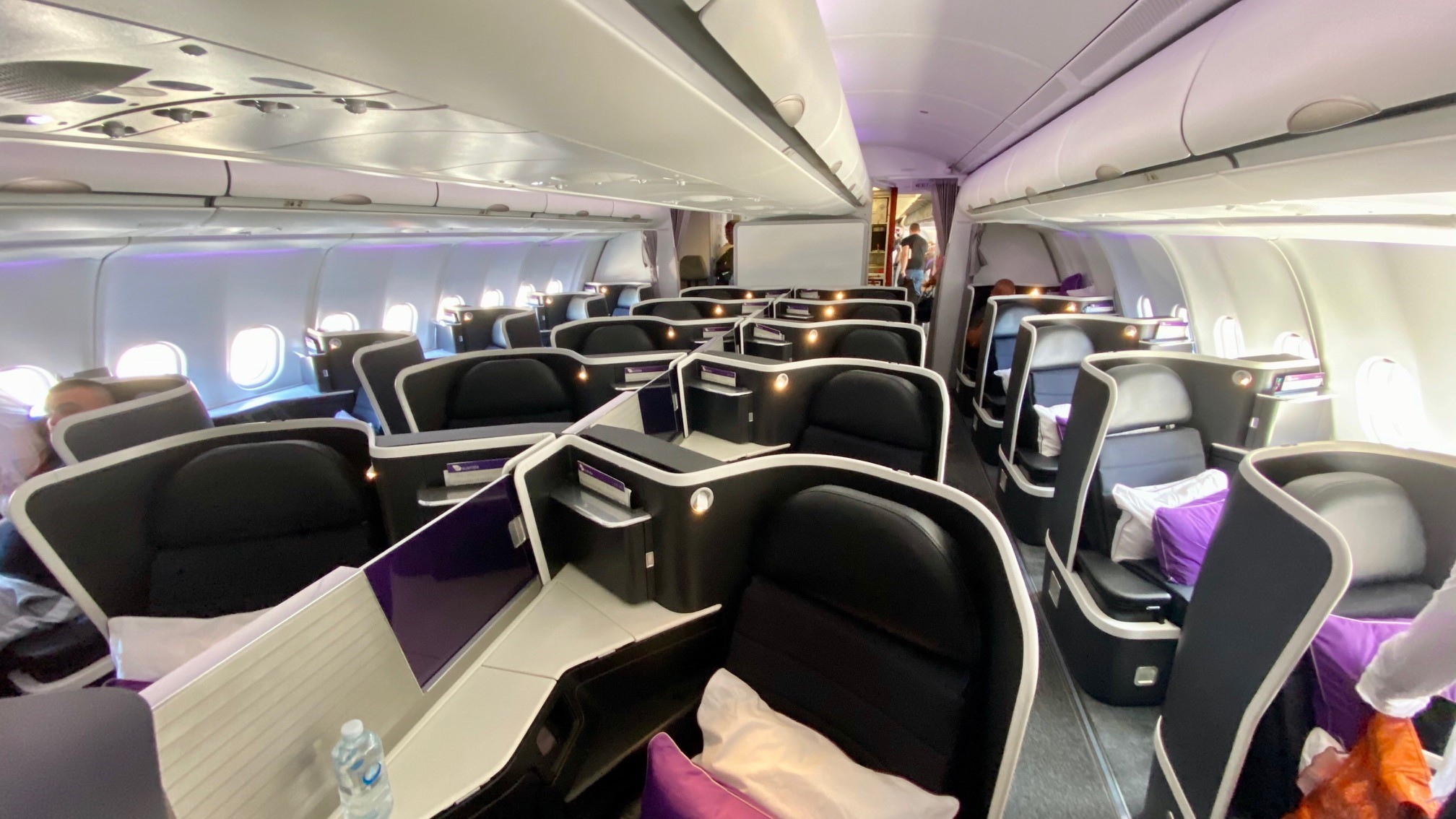 Virgin Australia, A-330 Business Class Cabin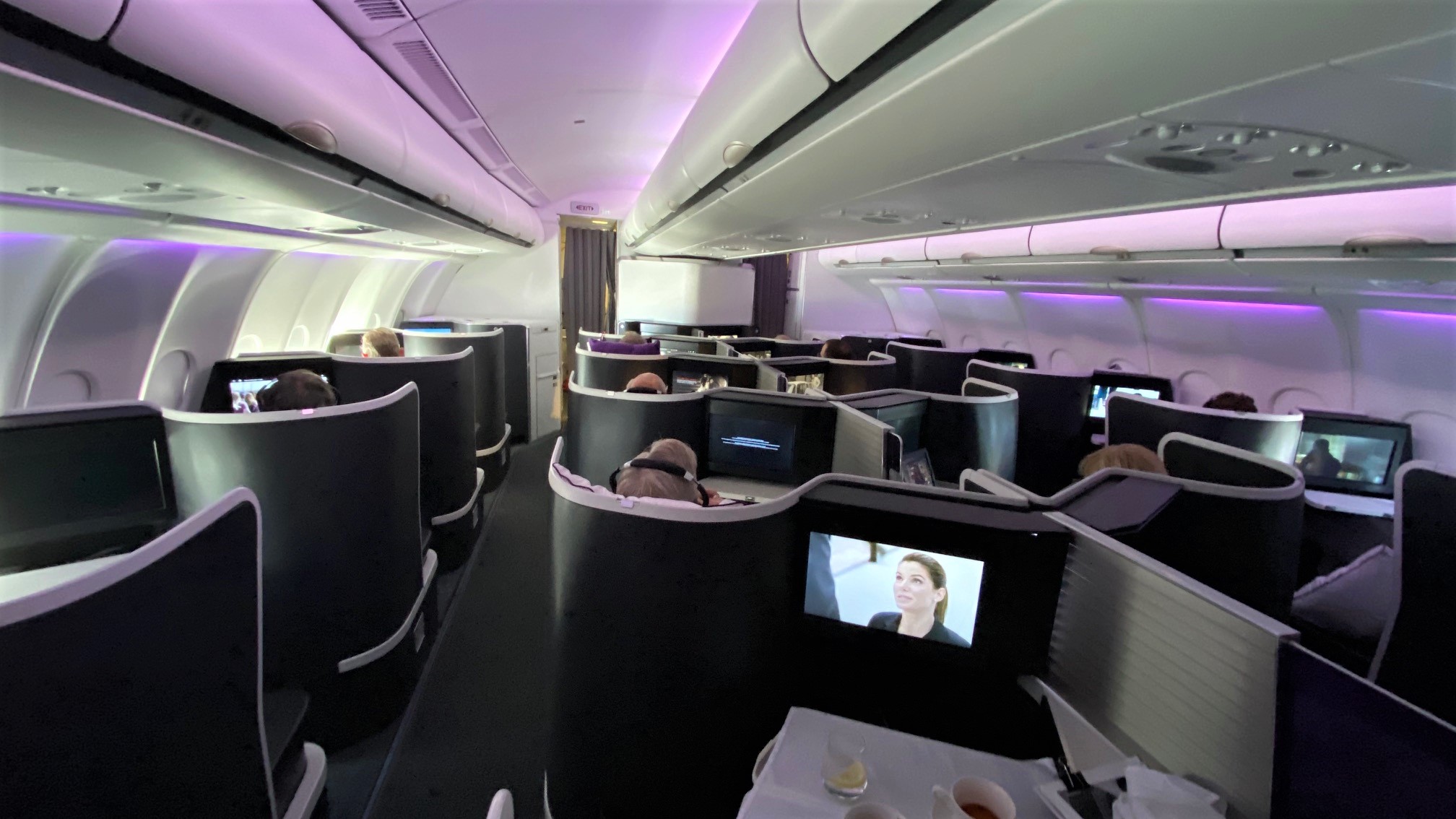 Virgin Australia, A-330 Business Class Cabin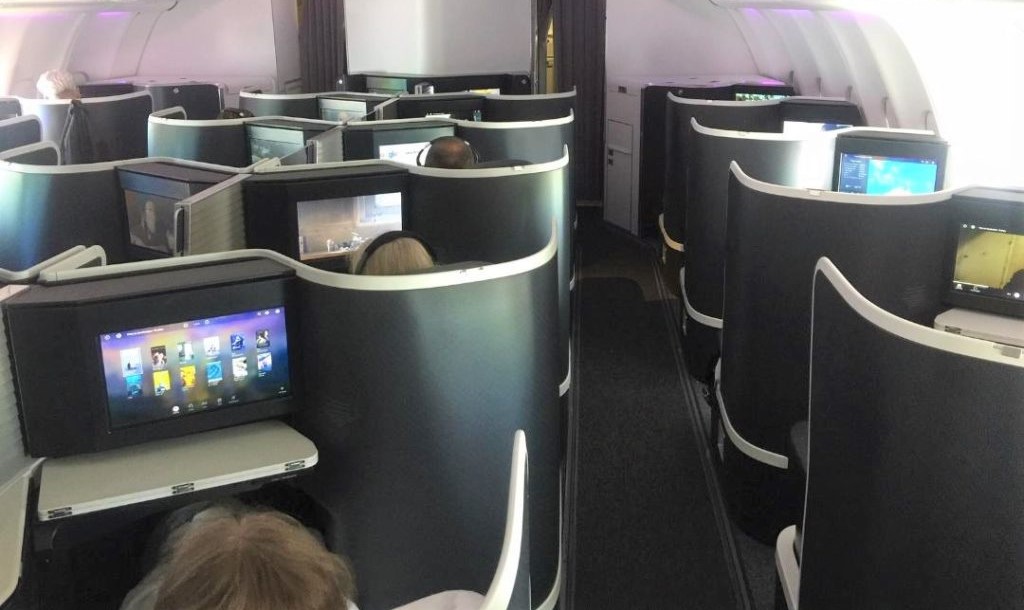 Virgin Australia A-330 Business Class Cabin
I have reviewed the A-330 cabin and seat in detail on one of my earlier Sydney – Hong Kong flights, so I will keep this part brief.
To summarise, the cabin is fitted out in a 1-2-1 layout for a total of 20 business class seats. On this flight, the cabin was 100% full with every seat taken.
The solo seats are slightly angled and face the window.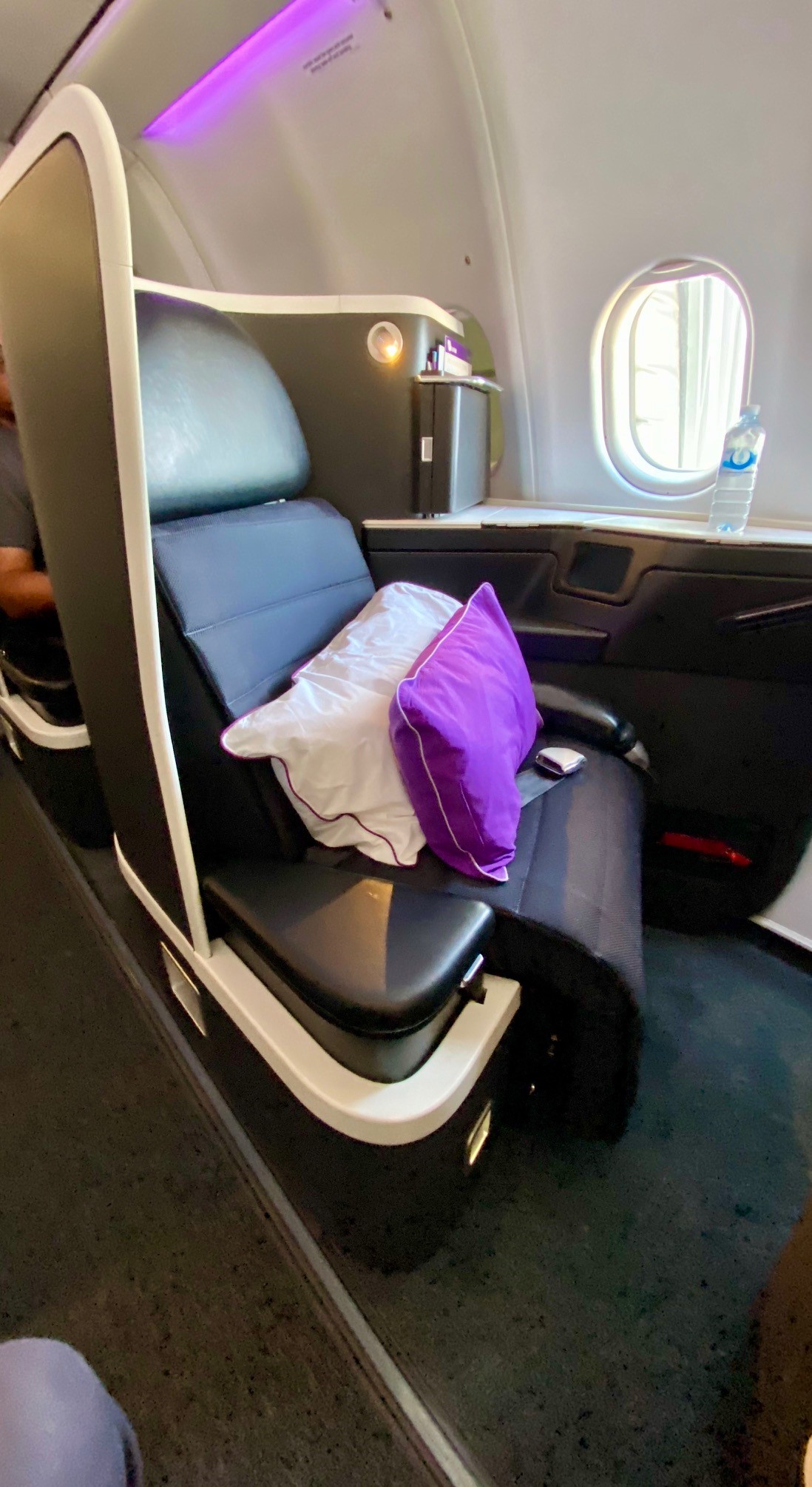 Virgin Australia A-330 Business Class, Window Seat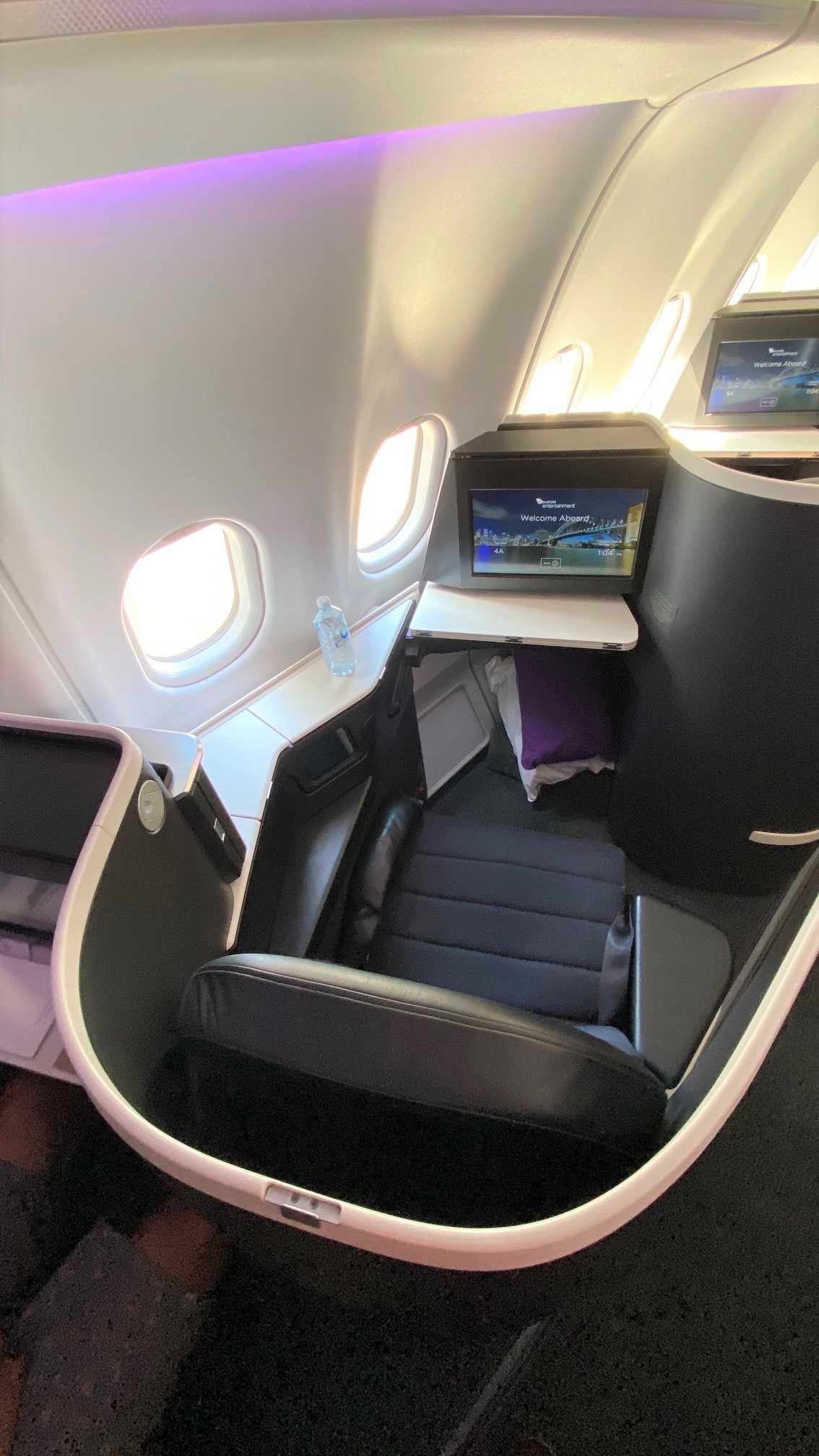 Virgin Australia A-330 Business Class, Window Seat
Meanwhile the two middle seats are tilted towards the centre of the cabin.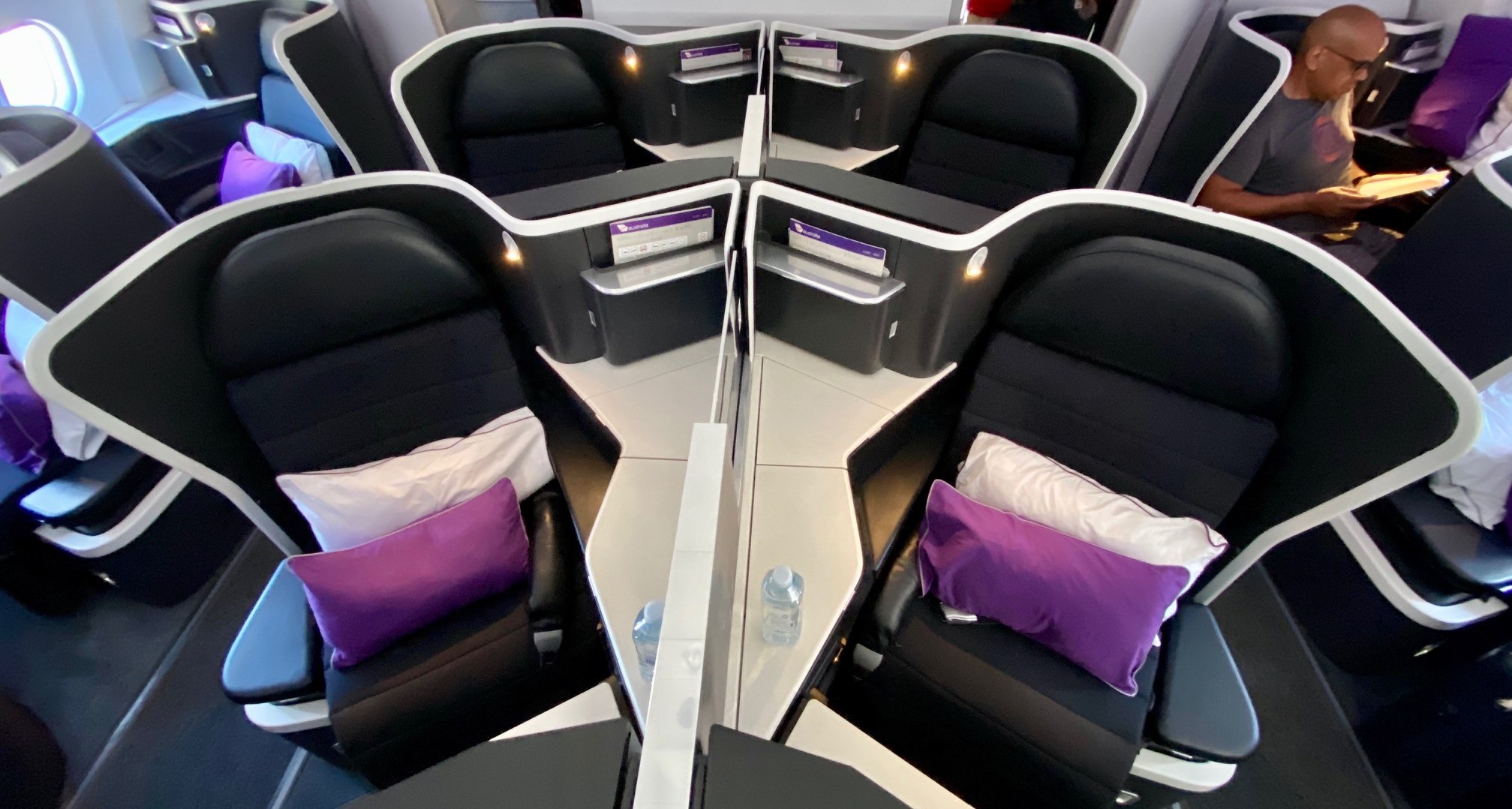 Virgin Australia A-330 Business Class, Middle Seats
If you are travelling solo, find yourself in the middle seat and are in no mood for a chin-wag, raise the divider between the seats for increased privacy.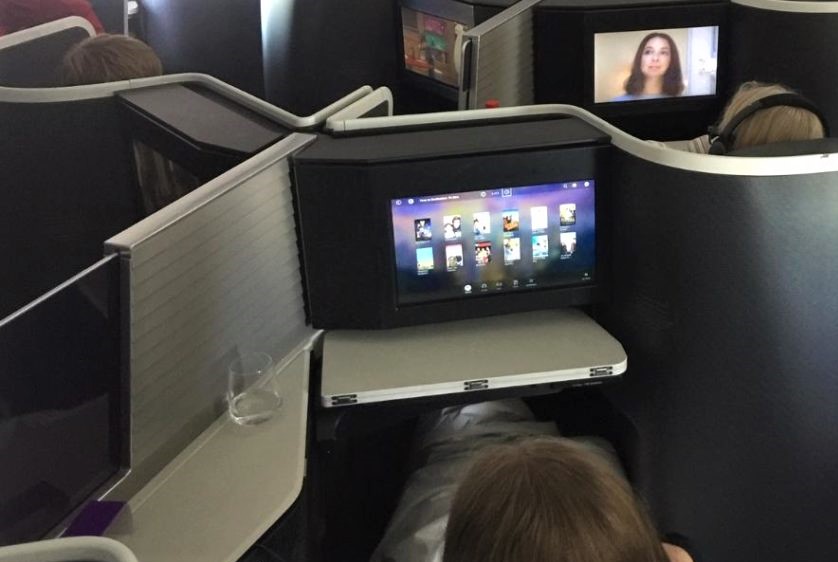 Pull-up the divider between seats to create more privacy
For this flight, I had allocated myself seat 4A, which was the second last window seat on the left. If you want to read about all the bells and whistles of the seat, check out this Virgin Australia A-330 Business Class Review.
Drinks & Dining
Within minutes of taking my seat, one of the crew member came to greet me. She introduced herself and inquired if I would like a welcome drink. The choice was between still or sparkling water, juice, beer, wine and sparkly. This was such a huge contrast to my Sydney – Perth flight where welcome drink was limited to water or juice.
I opted for the bubbles, which was a glass of Croser NV from the Piccadilly region in South Australia.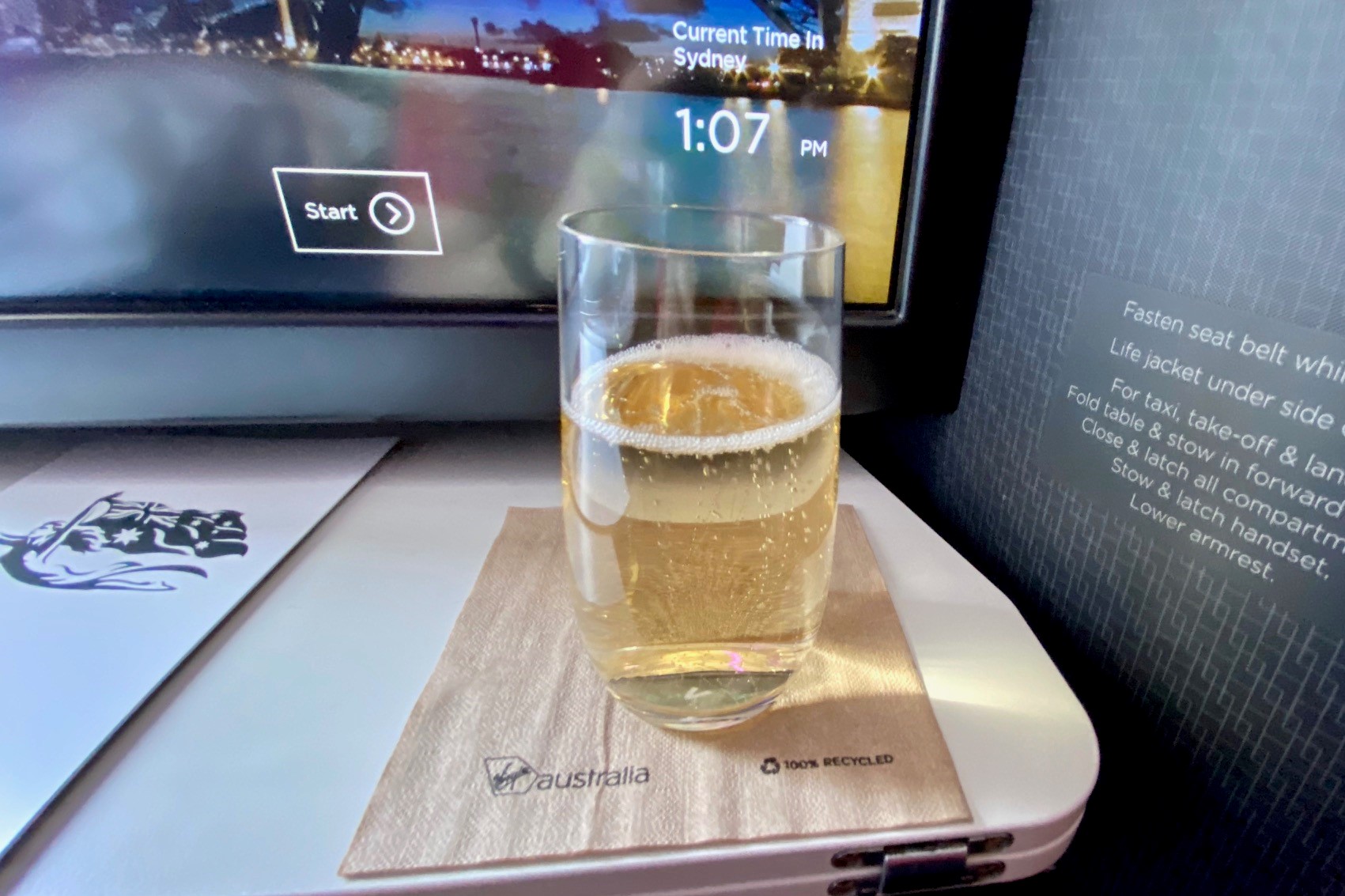 My welcome drinks was a sparkling wine
Moments later, a crew went around the cabin offering hot towels to the guests. It was refreshing and a perfect way to start this 3:50 hrs flight to Sydney.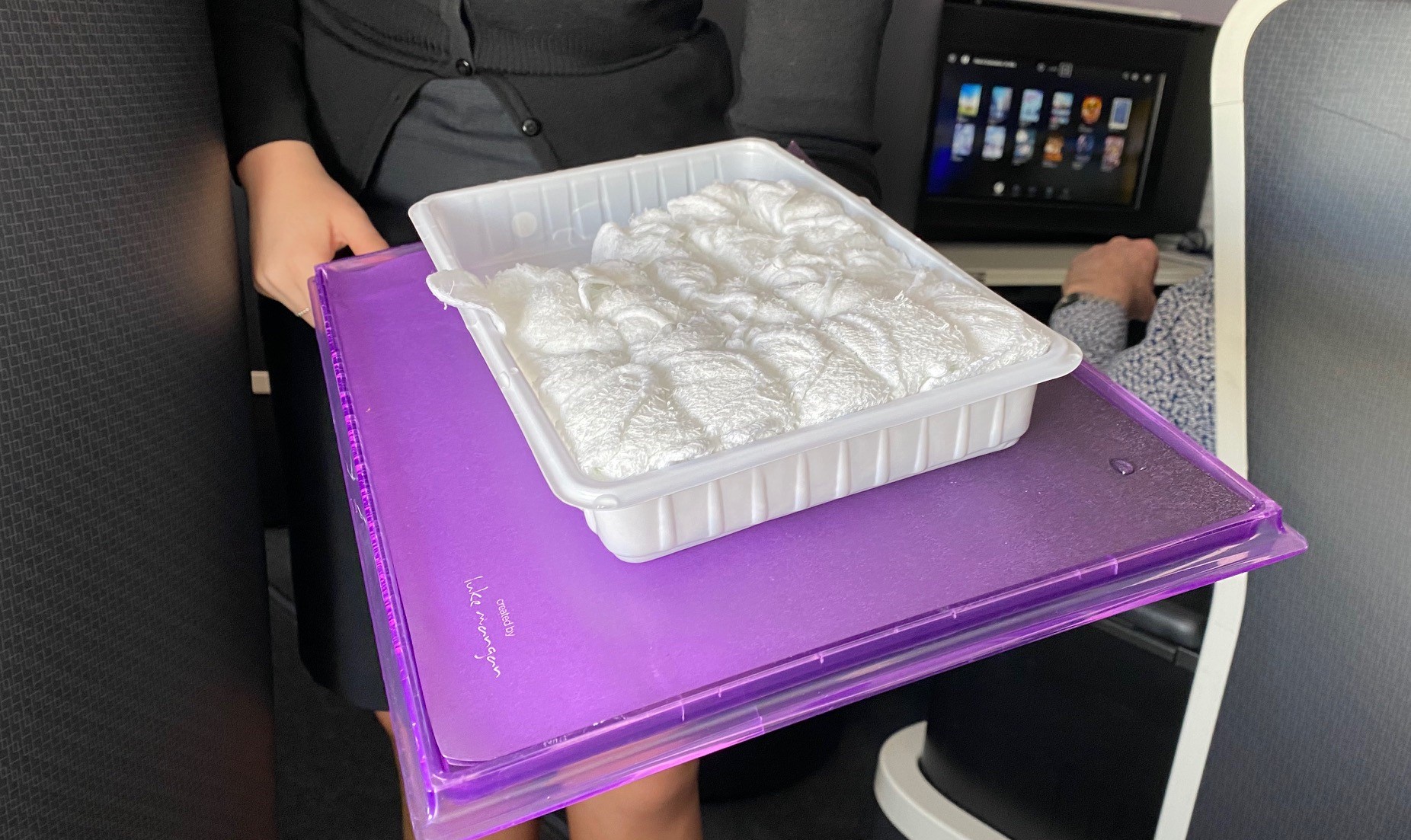 Hot Towels, Virgin Australia A-330 Business Class
As this was a 10:35 am departure from Perth, lunch was the main meal on the flight. Drinks menu were distributed and a round of drinks kicked off the meal service. I settled in a with a glass of apple juice and salted almonds which were very nice.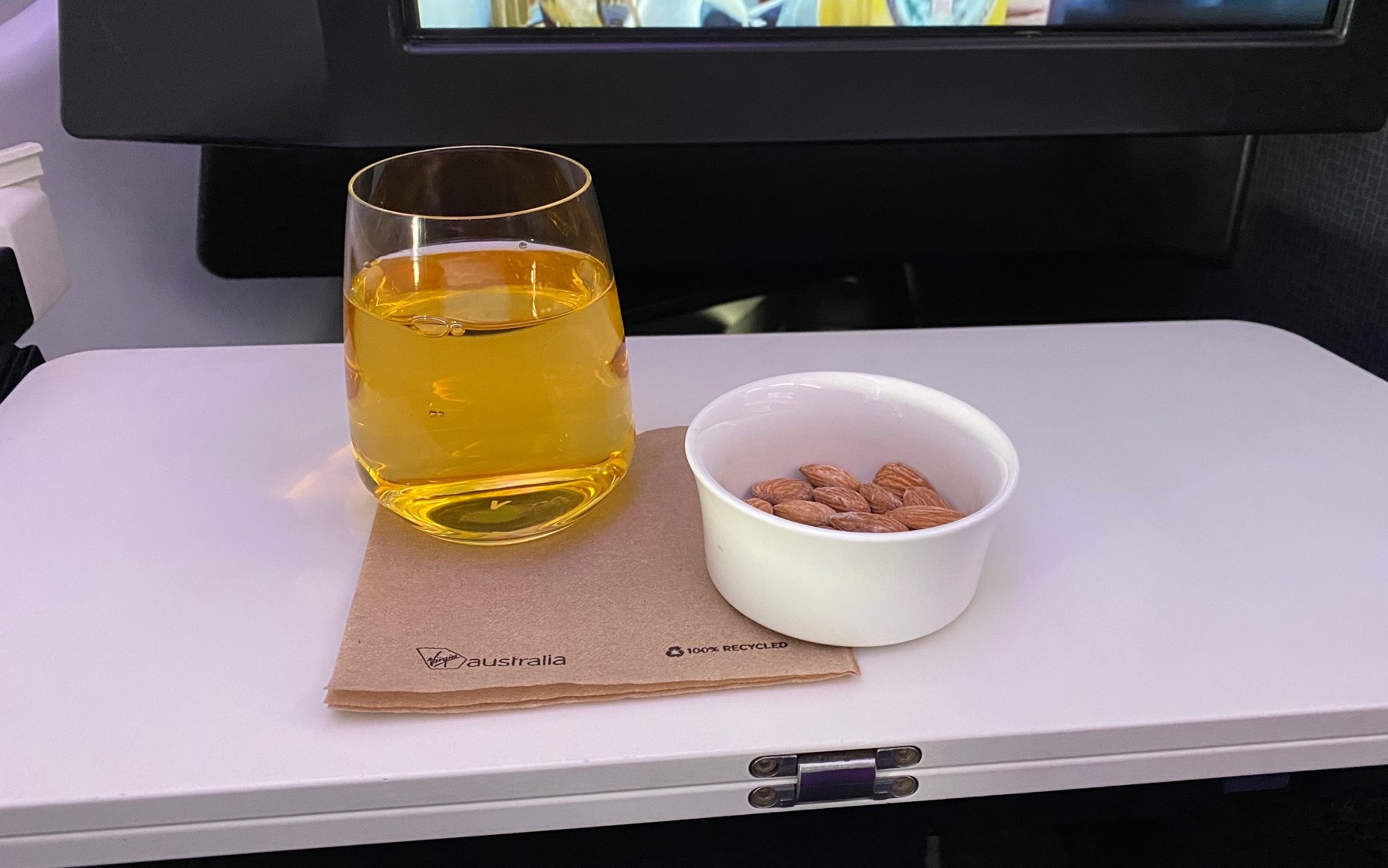 My pre-meal drinks and nibbles
One of the crew came around to explain that a new rotational dining menu had just come-in at the start of the month and the printed copies were yet to be loaded on the aircraft. As a result, she will be reading the details of each of the courses from a piece of paper while taking orders. Not ideal, but in the scheme of things, not a deal breaker either.
However, as I was going to review the flight, I asked her if it was possible to get a hand-written copy of the menu. A little later in the flight, she returned with a tablet which had the menu on it and was kind enough to hand it to me to take a few pictures.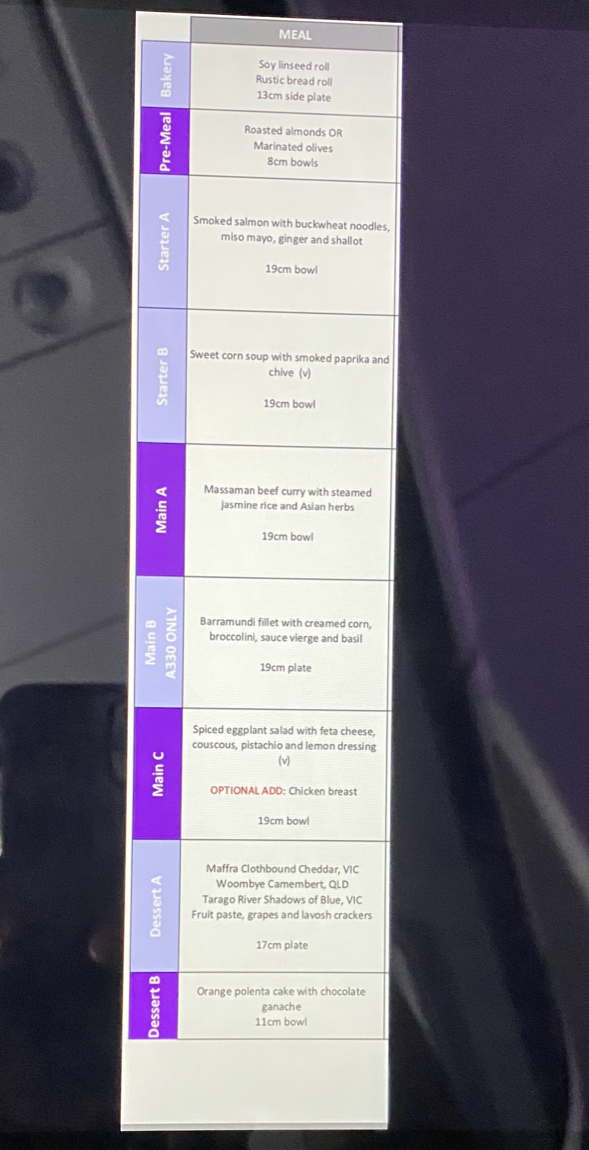 Virgin Australia A-330 Business Class, Lunch Menu
The table was prepared and the opening course of bread-basket was presented. I opted for the rustic bread roll and savoured it with a generous spread of butter.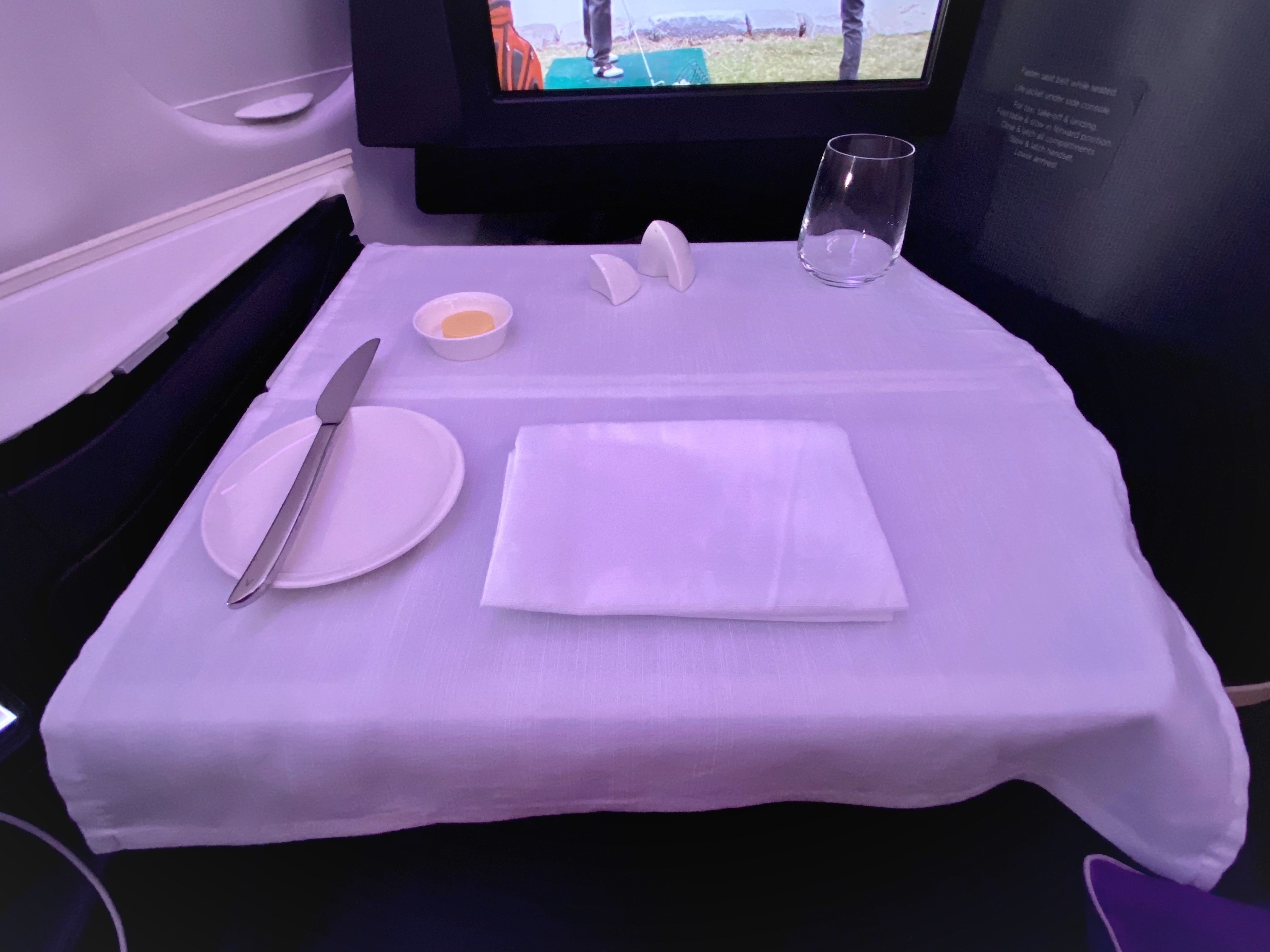 The table is set, bring me lunch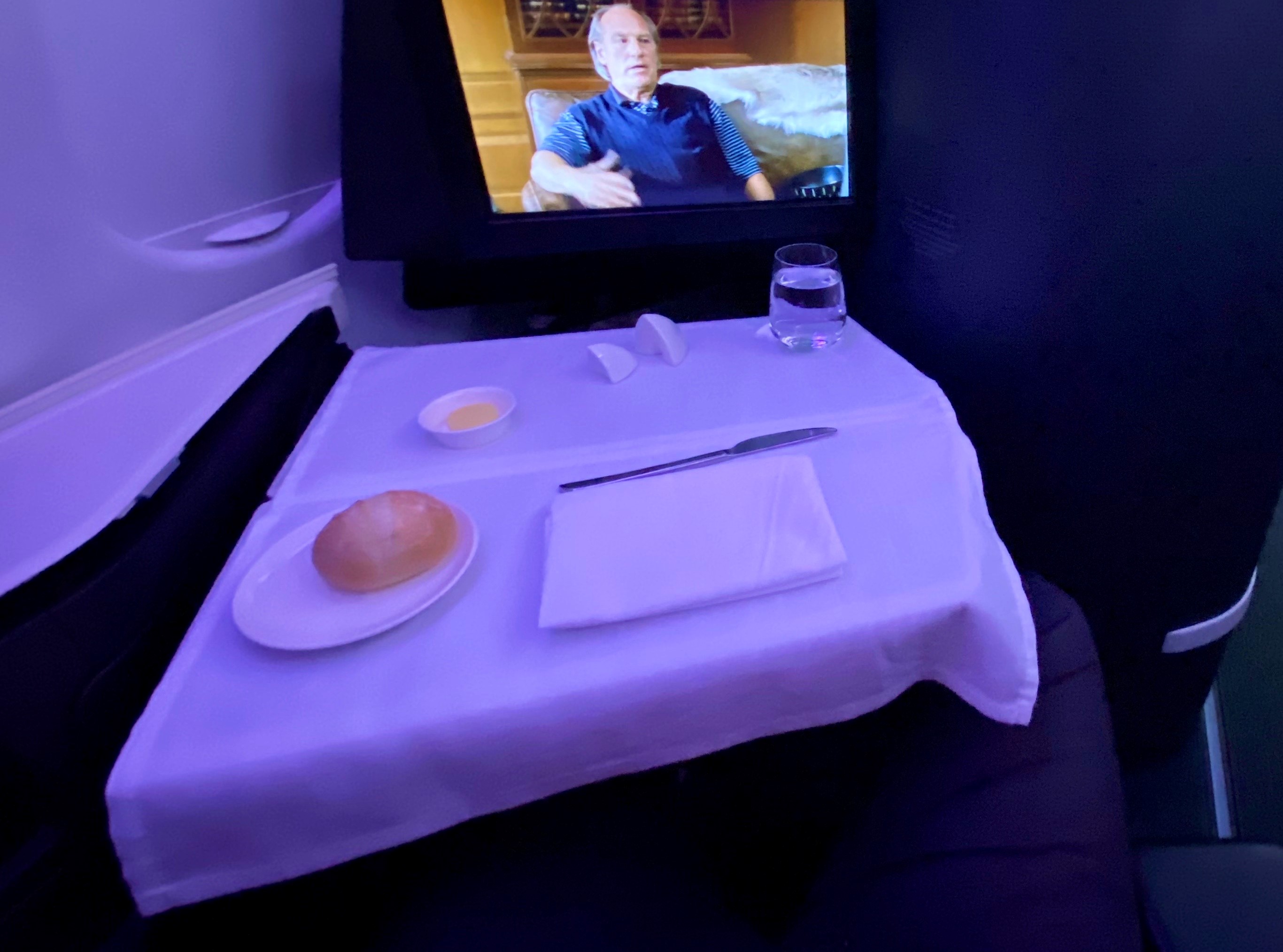 The starter was a choice between smoked salmon with buckwheat noodles or sweet corn soup. I went with the former and it was outstanding. I made it a point to savour it to the last morsel.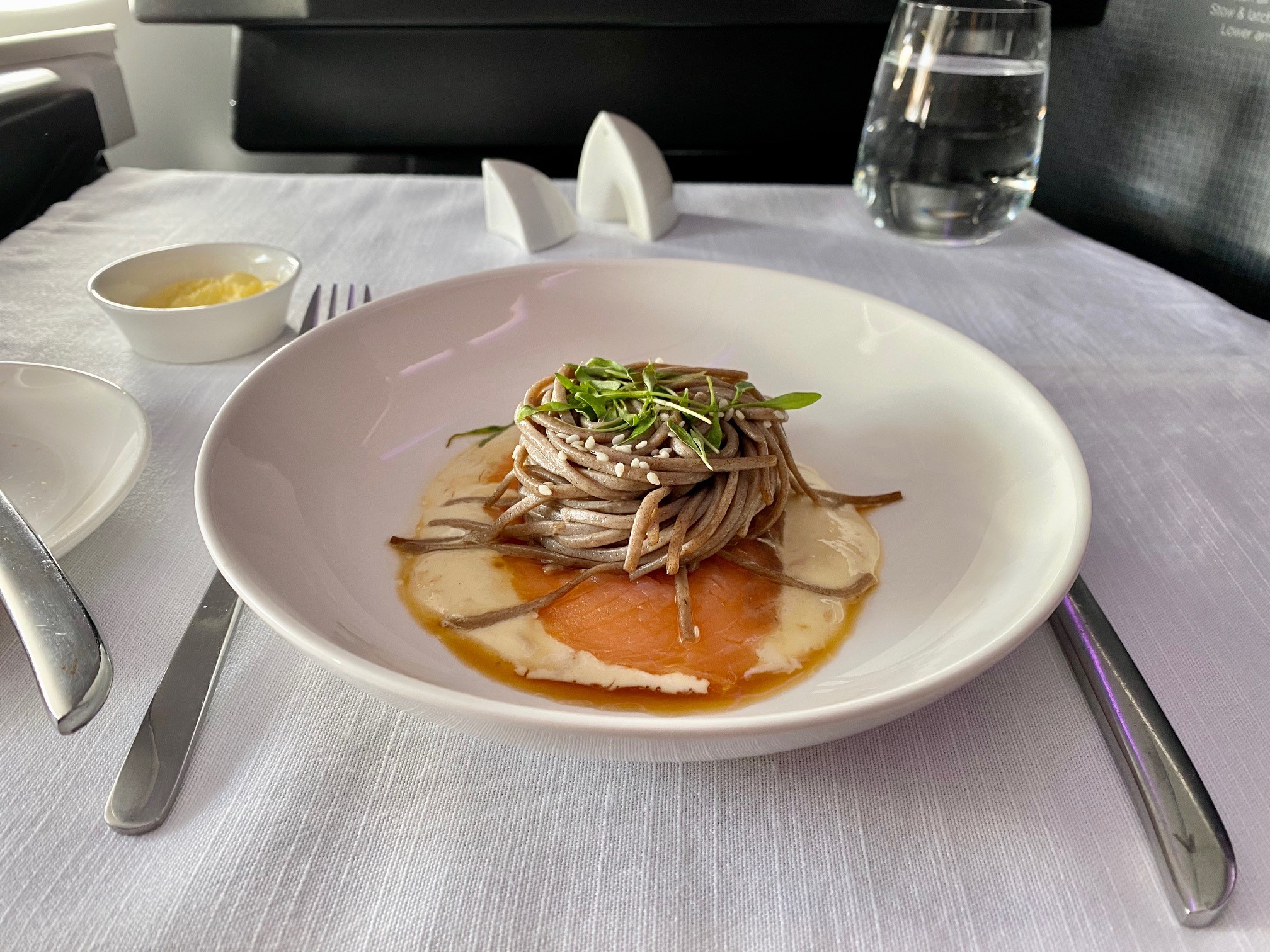 Virgin Australia A-330 Business Class Starter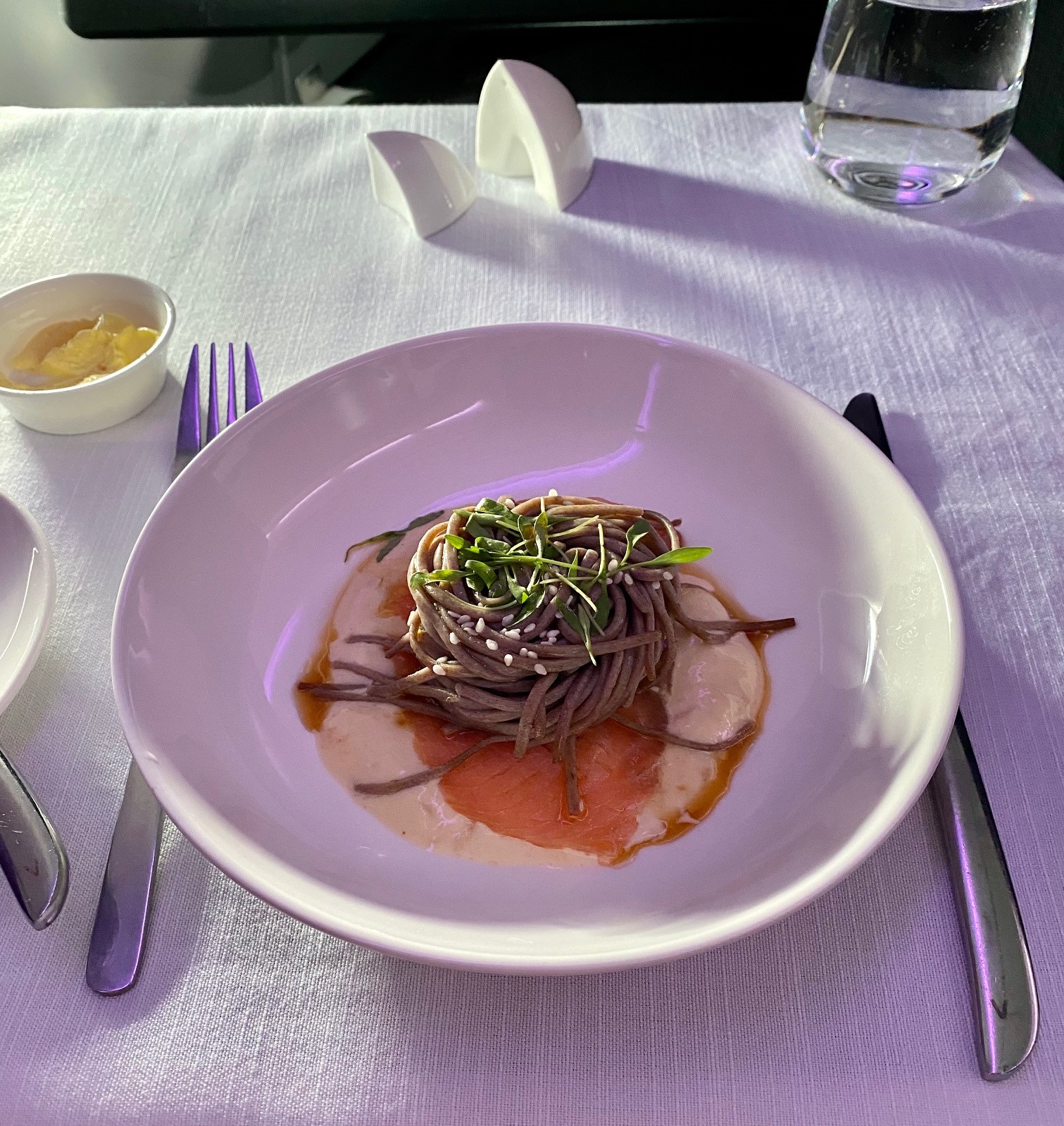 Virgin Australia A-330 Business Class Starter
Moving on to the mains, you could pick from the Massaman beef curry with rice, barra filet or spiced eggplant salad with fetta cheese. Since I don't eat beef and didn't feel like having a salad, the obvious choice was the fish.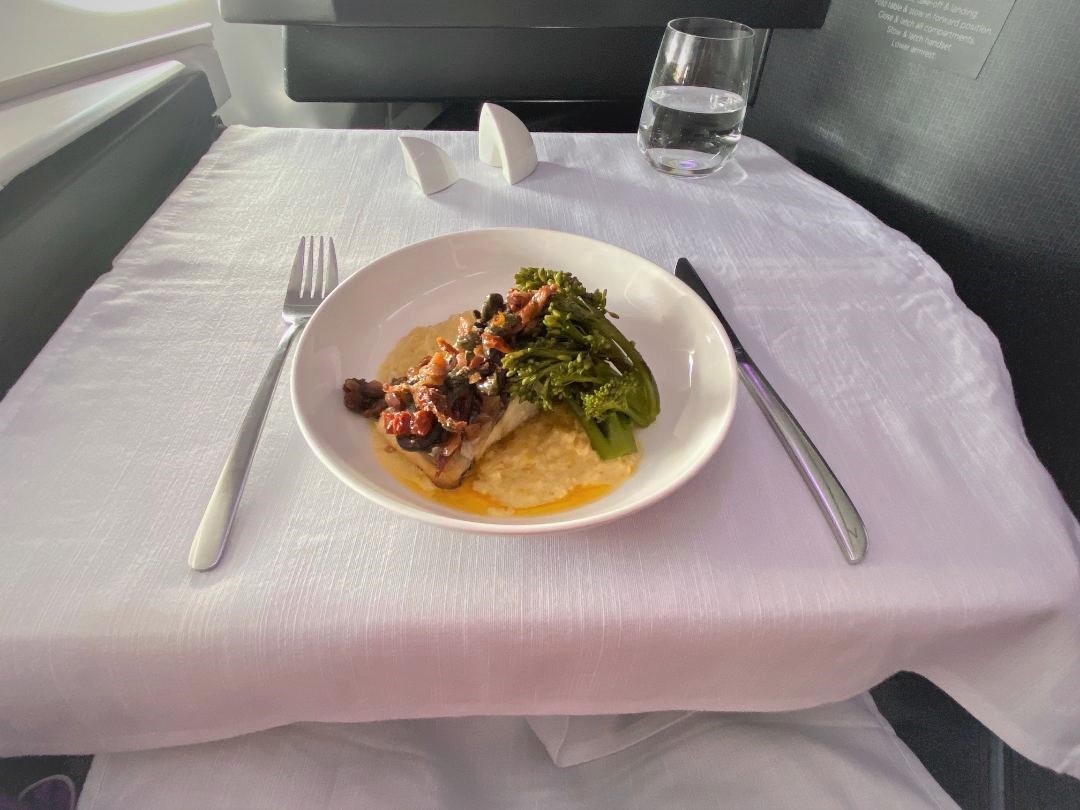 Virgin Australia A-330 Business Class Main Course
Although the presentation was a tad shabby, the barramundi came in steaming hot and was cooked perfectly. The skin was crispy on the outside, but as you cut into it and ate it, the tender chunks of the fillet lathered in creamy sauce literally melted in your mouth. The broccolini tasted fresh.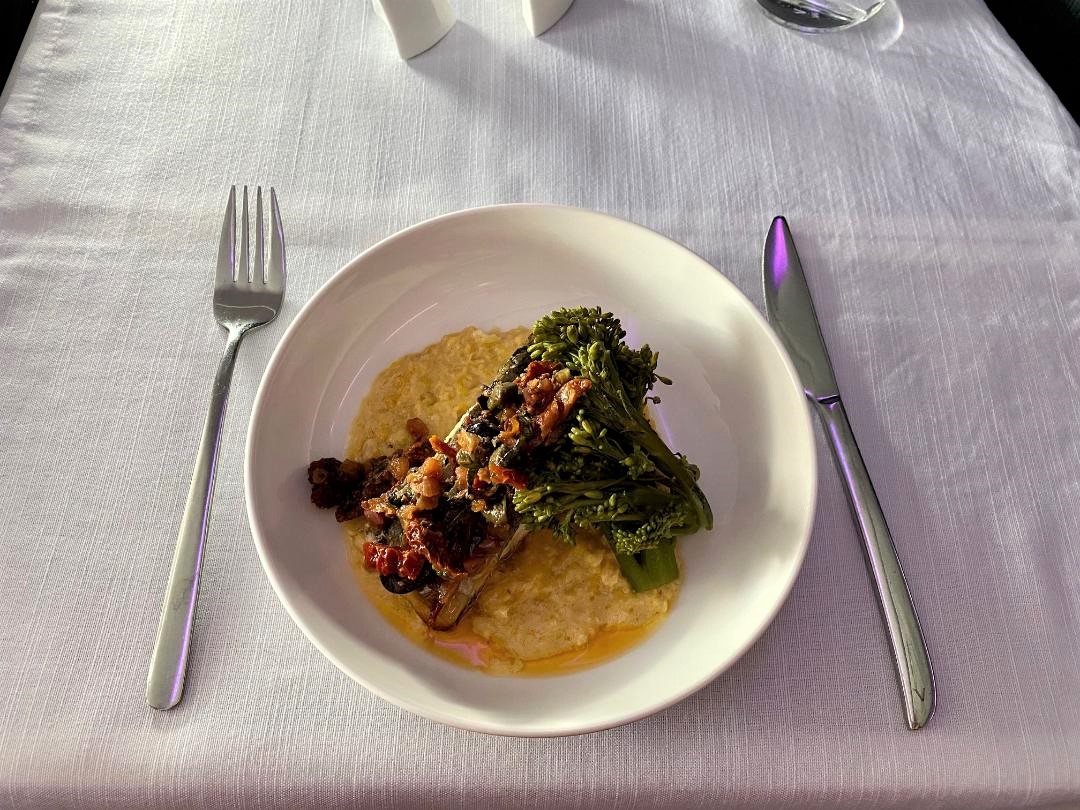 Virgin Australia A-330 Business Class Main Course
By the time they brought out the desserts, I was stuffed. There were 2 choices and I went with the cheese platter.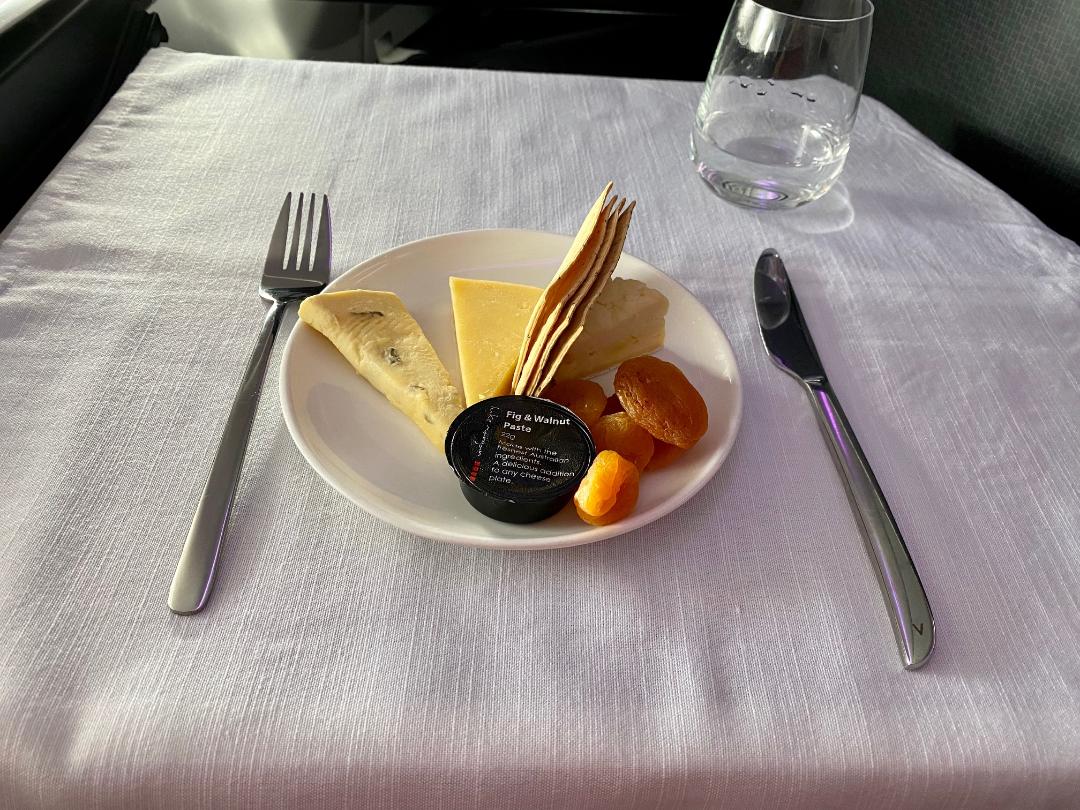 Virgin Australia A-330 Business Class Cheese Platter
There were a few different varieties of cheese, a fruit paste and a bunch of crackers. I thought the presentation was exquisite and on another day I would have taken the time to wash it all down with some riesling, but on this flight, I was way too full . So I just took a few photos and let it go.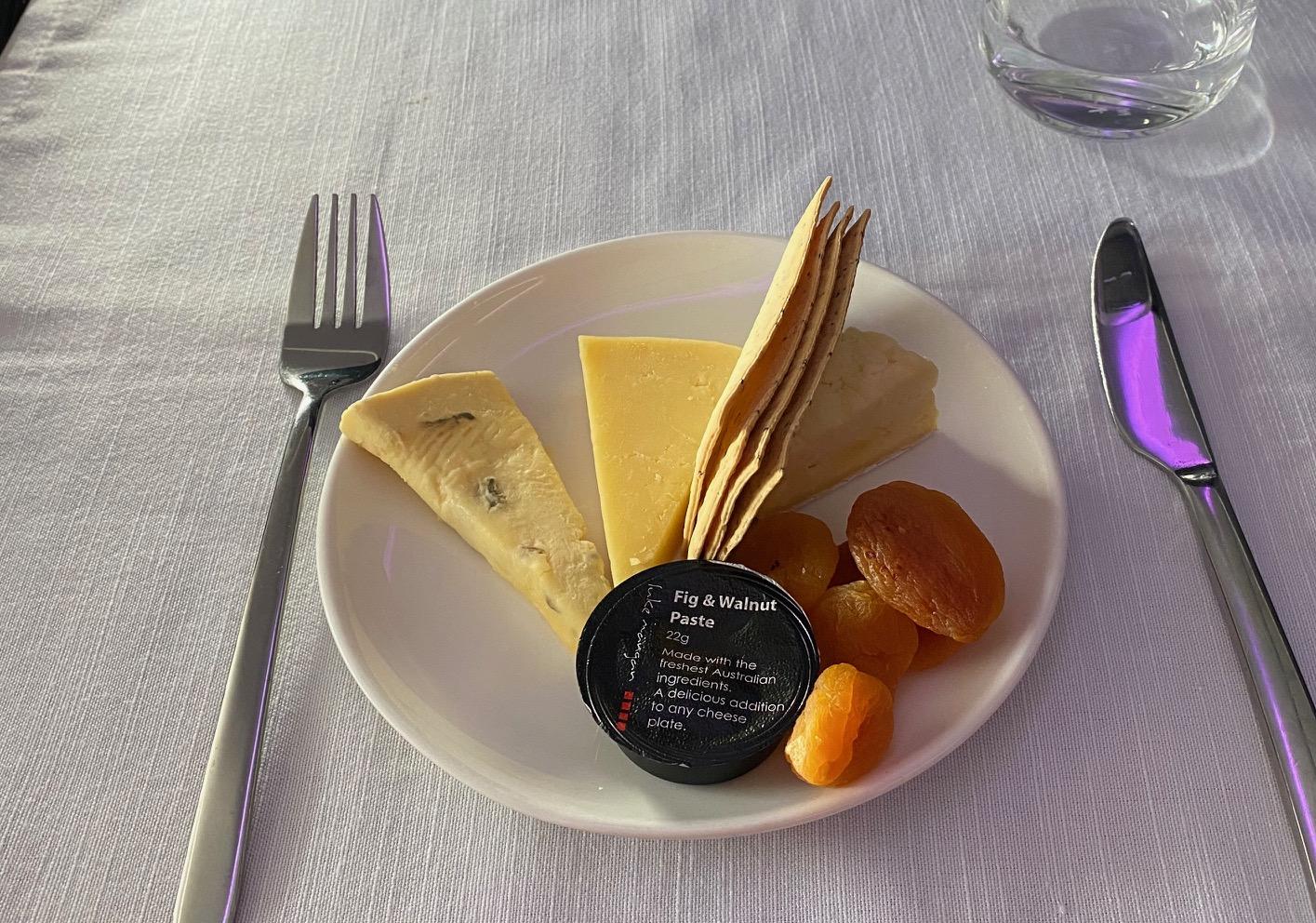 Virgin Australia A-330 Business Class Cheese Platter
That wrapped up the lunch service and my god was it impressive. At times, it was difficult to fathom I was flying domestic. This was high quality fine-dining at 38,000 feet. Take a bow Virgin Australia.
At this time, there was around 1hr 30 mins of flight time remaining and I noticed a few people reclining their seats and getting ready for some shut eye. I wasn't sleepy at all and decided to check out the in-flight entertainment offerings.
In-flight Entertainment
On A-330's, Virgin Australia offers touch enabled seat back screens, although you could also control these through the hand held device tucked inside one of the compartments by the window.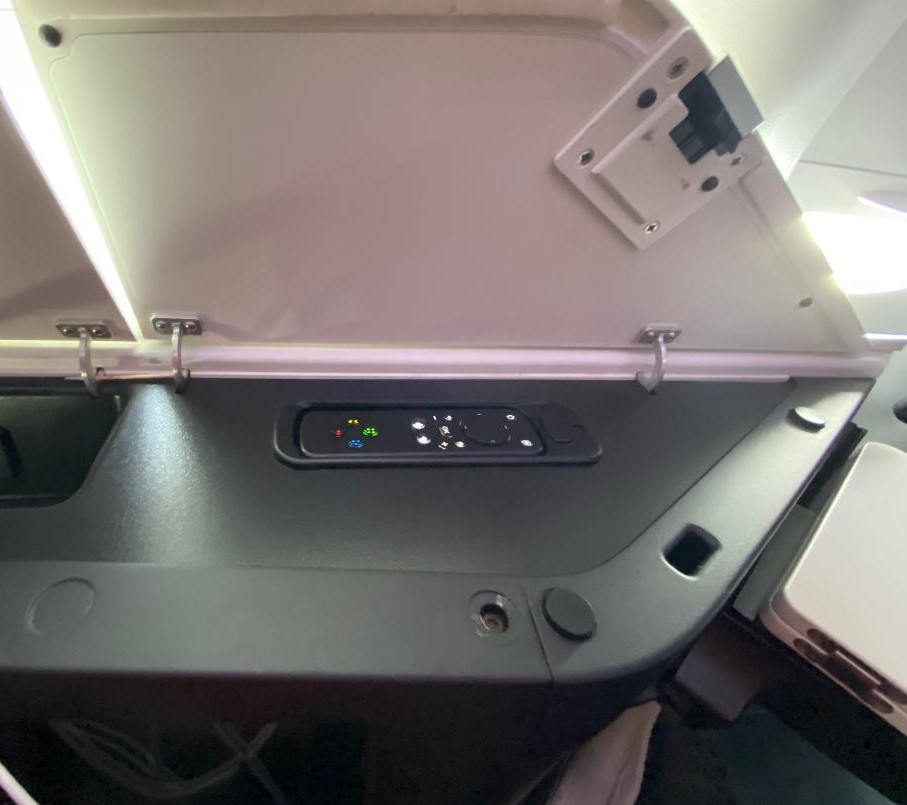 Virgin Australia A-330 Business Class IFE controller
At 10 inches, the screen itself is somewhat smallish. However, considering that this was a domestic flight, that's more of a whinge than a genuine complain 😉.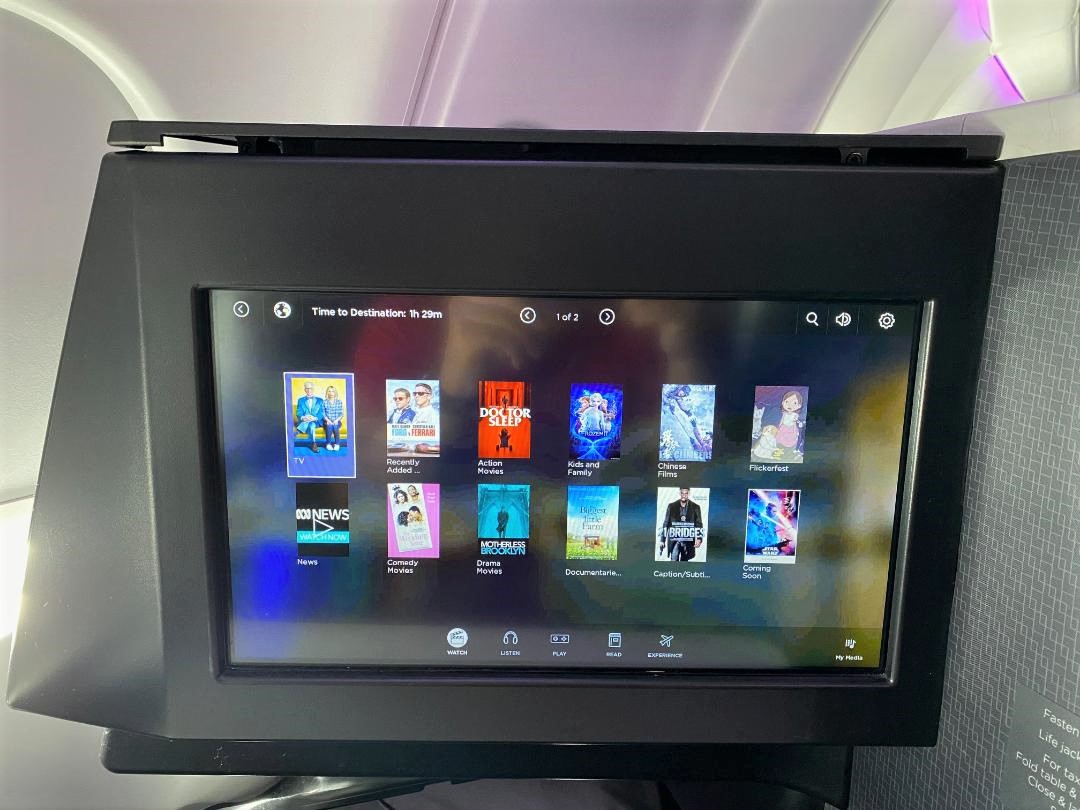 Virgin Australia A-330 Business Class, IFE Screen
The catalogue of content was far too extensive for a flight of this length and featured a large selection of movies, TV shows, Games, Entertainment and so on. I whiled away time flicking between different movies and a few docco's, without really watching anything properly.
About 40 minutes prior to touch-down, there was yet another round of hot towel service, followed by a a snack service. I just took a picture of the snack bowl which contained assorted packs of nuts, crisps and chocolate bars.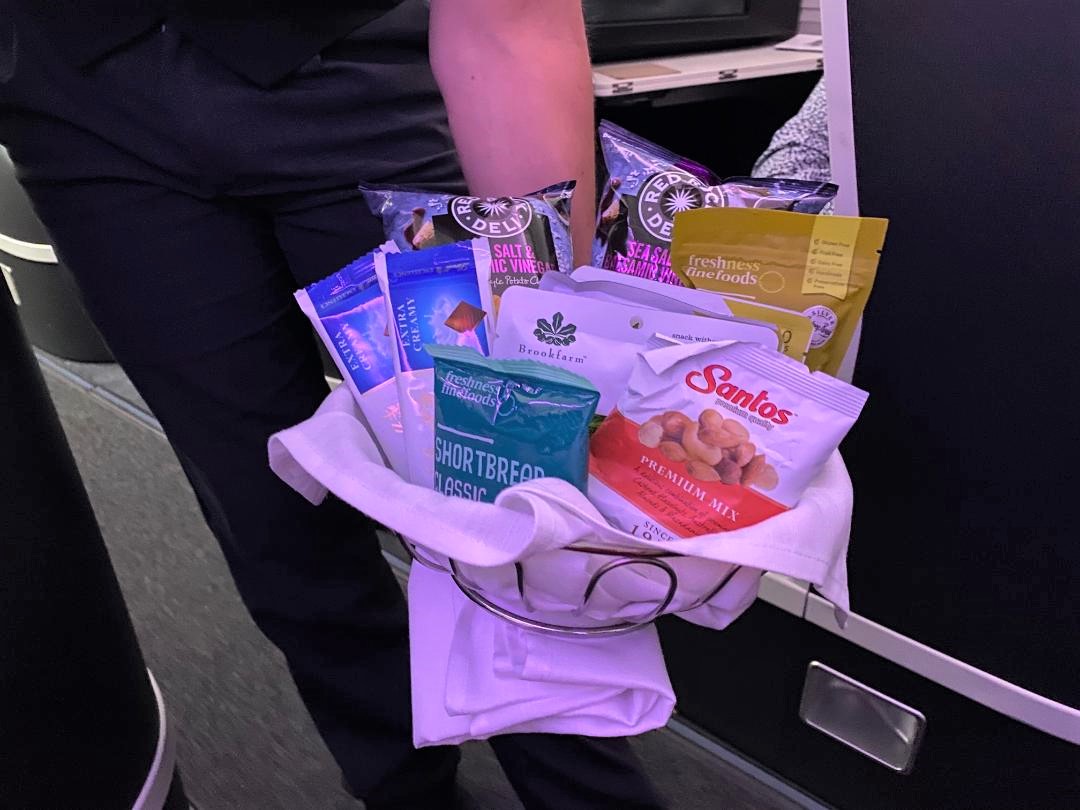 Virgin Australia A-330 Business Class Snack Bowl
This was followed by the crew doing the rounds of the cabin and thanking each of the guests individually, for choosing to fly with Virgin Australia.
Soon after, we started the descent into Sydney and touched down at 5:45 pm local time, which was right on schedule. It took few more minutes before we pulled into one of the gates, with guests disembarking soon after.
In Conclusion
This was one of the best domestic flights I had experienced in all my years of flying and reviewing. From service to comfort to dining, everything was near perfect. If I had to really be harsh, the only thing that I would perhaps pick on are the seats.
The reverse-herringbone seats were absolutely world class when they first came out, however, personally for me, I am sort of starting to fall out of love with them. They are just a little tight and besides a few nooks and crannies, there isn't a lot of storage to go around. Anyhow, like I said, for the most part, this was a near perfect flight, with the crew and genuinely warm service I experienced, being the 2 stand-out features.
To conclude, if you can score a seat on Virgin Australia's A-330 trans-con service (they also operate B-737 on this route), rest assured, you are in for an amazing time.
Have you flow Virgin Australia A-330 Business Class? Leave a comment below.