In September 2019, BP and Qantas first announced their intentions to form a partnership, leaving Velocity out in the cold. The partnership was initially meant to kick-off from 1st February 2020, but was pushed-back on account of delayed approvals. This also meant that since 31st January 2020, when the erstwhile BP-Velocity partnership was binned, there hasn't been any straightforward way to earn airline points on fuel purchases.
Note that, although, BP Plus and Qantas Business Rewards did launch their partnership in early February, that was targeted at businesses and not individual Qantas Frequent Flyer members.
Well there is some good news. The long awaited BP Rewards Program is finally here. Starting today (26th March 2020), members of the Qantas Frequent Flyer Program will be able to earn Qantas points each time they fill-up at BP.
If you are not currently a member of BP Rewards, you can sign-up here and pocket 100 bonus points just for joining. For those with BPme app on their phones, they can earn the bonus 100 points simply by opening the app, accepting the new T&C's and linking their Qantas Frequent Flyer account and BP Rewards account.
BP Rewards
With BP Rewards, you have the choice of earning either BP Points or Qantas points.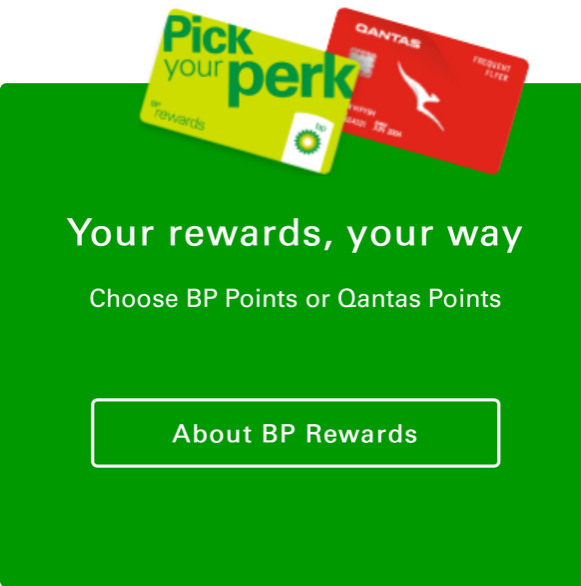 You can elect to earn BP Points or Qantas Points
The preferences can be set when you first first sign-up for BP Rewards and link your Qantas Frequent Flyer account. Once done correctly, this is how it should appear on your BPme app.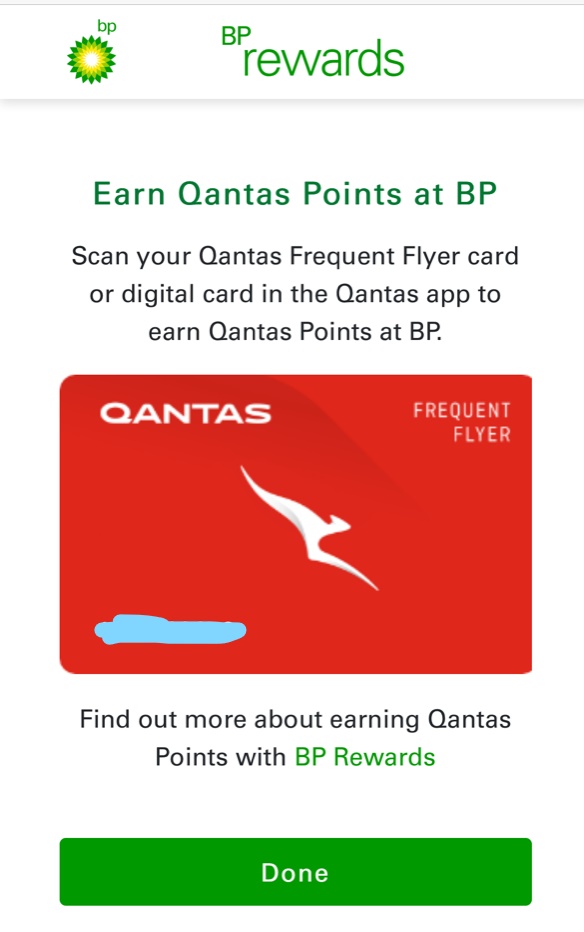 I chose to earn Qantas points with BP Rewards program
If you elect to earn BP Points, you will be able to redeem these for dollars off at BP, where 500 BP Points gives you $5 off. You could also redeem BP Points for a David Jones Gift Cards. However, depending on your circumstances, you may find that opting to earn Qantas points gives you more bang for your buck.
How many Qantas points will you earn?
Before we get into that, let's recount the deal BP and Velocity had in place until the time their union ended.
Until 31st January 2020, Velocity members were able to earn 2 Velocity points per litre on fuel (any type) and 2 Velocity points per $ for eligible in-store purchase.
Qantas & BP

So how many Qantas points can you earn with BP?
Sadly, as you can see above, Qantas Frequent Flyer members are not getting the same deal, rather, the earning rate is linked to the type of fuel you purchase. Further, the earning rate on in-store purchase also takes a hit, as you can see below.
Under the new partnership, members of the Qantas Frequent Flyer program earn:
2 Qantas points per litre on purchase of Ultimate 98 Unleaded fuel (the most expensive fuel).
1 Qantas point per litre on all other fuels.
1 Qantas point per $ on eligible in-store purchase.
Best cards for fuel purchase
If you are new to the points and miles game and wondering which card is the best for fuel purchase, there are a few different contenders, as I discuss below.
You can earn:
Mind you, these points are over and above points you earn with BP. If your card earns Membership Rewards points, you can transfer them to a number of different airline programs at the ratio of 2:1 (2 Membership Rewards points = 1 Airline point).
Another great card to use and double-dip on points is The Qantas American Express Ultimate Card (read full review) which earns 1.25 Qantas points per $ on most everyday spends.
For instance, if you fill-up with 60 litres of Ultimate 98 and paid with The Ultimate Card, you will earn 120 Qantas points for the fuel purchase with BP (2 points per litre), plus another 1.25 Qantas points per $ on the total fuel bill via your credit card. Not a bad return on something you are going to spend money anyway 🙌
In Conclusion
As you can see, BP's new partnership with Qantas isn't quite as good the one it had with Velocity, although that was always expected to be the case.
Personally speaking, I can reconcile with the higher points earn BP is offering on Ultimate 98 fuel, as it makes a much bigger margin on it than other fuel types, particularly, ethanol blended fuel, where competition is fierce and margins are slim. However, the 1 Qantas point per $ on in-store purchase, in my opinion is disappointing, particularly when you consider that most of the items they sell in-store are exorbitantly priced anyway 🤷‍♂️
To conclude, it's nice to see the delayed partnership finally get off the ground. Over to Velocity now to respond, as members in their program keenly await news on its own fuel partnership.
What do you think of the new BP and Qantas partnership? Leave a comment below.