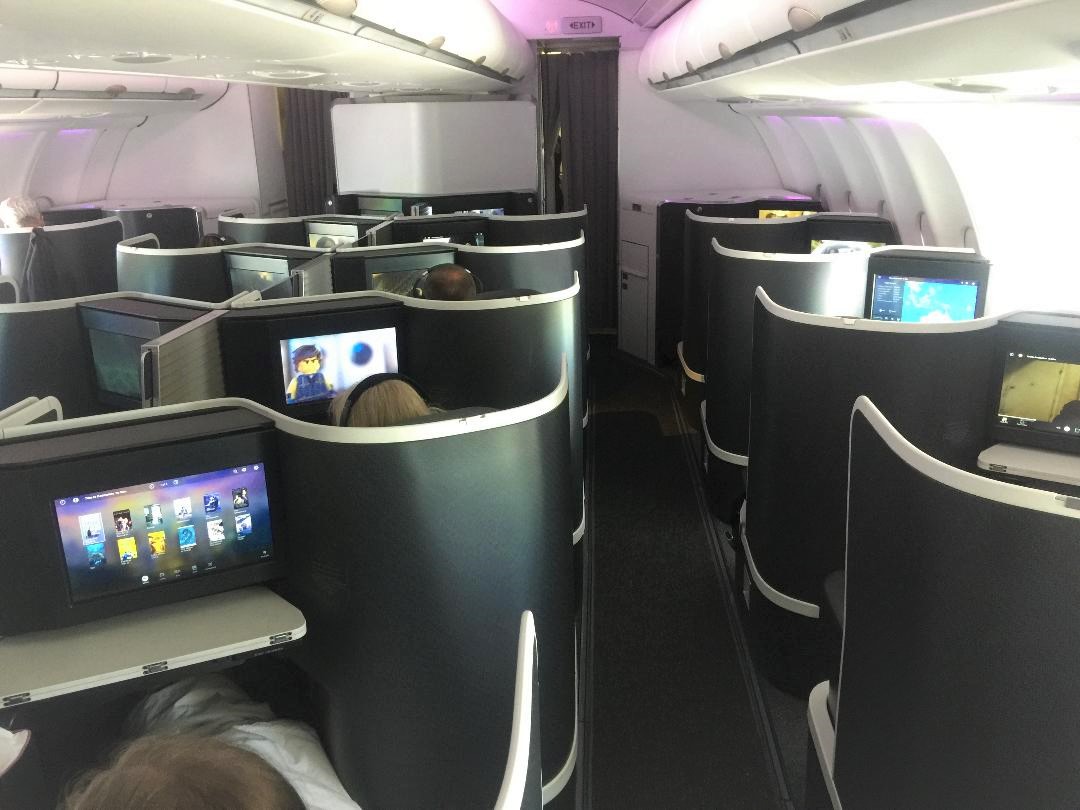 I recently flew from Sydney to Hong Kong with Virgin Australia. The airline operates daily flights between these 2 cities and the route is served by Airbus A-330, of which Virgin Australia have 6 in it's fleet.
Booking
I redeemed 59,500 Velocity points for this flight and paid approx $142 in cash to cover the fees and taxes. As I had written previously, Virgin Australia is increasing the carrier imposed charges on reward flights from 8th January 2020, at which time, you will be required to fork out an additional $48 in cash (total $190). So if you have plans to fly this route, I recommend you finalise your booking pronto, and certainly before the D-date.
PS – If you would like to earn a big pile of Velocity points relatively quickly, The American Express Velocity Platinum Card is currently offering Welcome Bonus of 60,000 Velocity points, enough for the Sydney – Hong Kong flight, when you apply for the card using this unique referral link for The American Express Velocity Platinum Card and meet the minimum spend of $3,000 within 3 months. (other conditions apply).
Note, this offer is NOT available if you apply directly on American Express website, but is a special offer when you apply using this unique referral link for The American Express Velocity Platinum Card.
Disclosure – If you apply for the card using the links above and are approved, pointsHq or its related parties may receive some referral bonus points.
The other major points currency which Australians can redeem for this flight is Singapore Airlines' Krisflyer miles, although at 64,000 Krisflyer miles, you are better off putting your Velocity points to work.
Check-in & Immigration Clearance
I arrived at the airport just after 7 am, plenty early for my 10:10 am flight and headed to Row J, which is at the South-Eastern end of the terminal.
The check-in desks only had a couple of people present at the time, and as I wasn't checking-in any bags, the whole process took less than 5 minutes.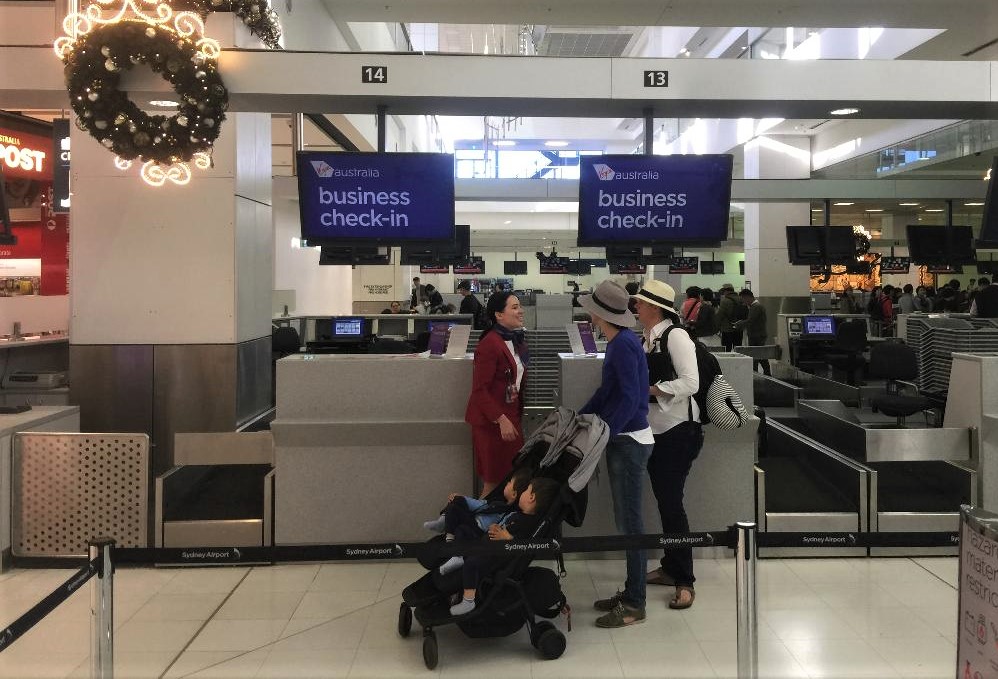 Virgin Australia Business Class Check-in
I was given the express path card, which most airlines provide to their guests flying business or first class.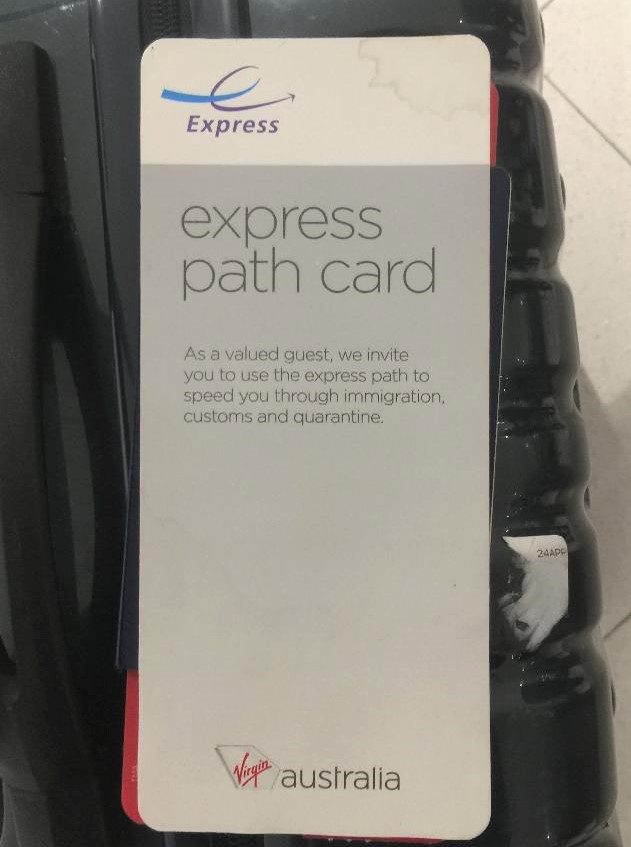 Passengers with express path card enter the customs hall through a separate gate, and in theory at-least, these cards are meant to speed-up immigration clearance and ease congestion. My experience though, over the last few times I have travelled through Sydney airport has been rather frustrating.
The express path queue seems to be getting longer and slower, and I have often noticed passengers getting stuck at the smart gates, which then requires staff to escort them over to a manned counter for manual processing. So in my opinion, beyond the novelty value of holding one, express path cards don't really do much to improve passenger experience.
It was another 20 minutes before I was cleared for immigration and security. I gathered all my belongings and headed for the lounge.
Lounge
Business class passengers flying Virgin Australia are usually directed to The House lounge. This is a very nice lounge which I have previously reviewed, and you can read about it over here. So instead, I decided to visit the recently opened American Express Lounge and spent about an hour checking it out. This is an awesome facility and a great new addition to American Express Global Lounge Collection.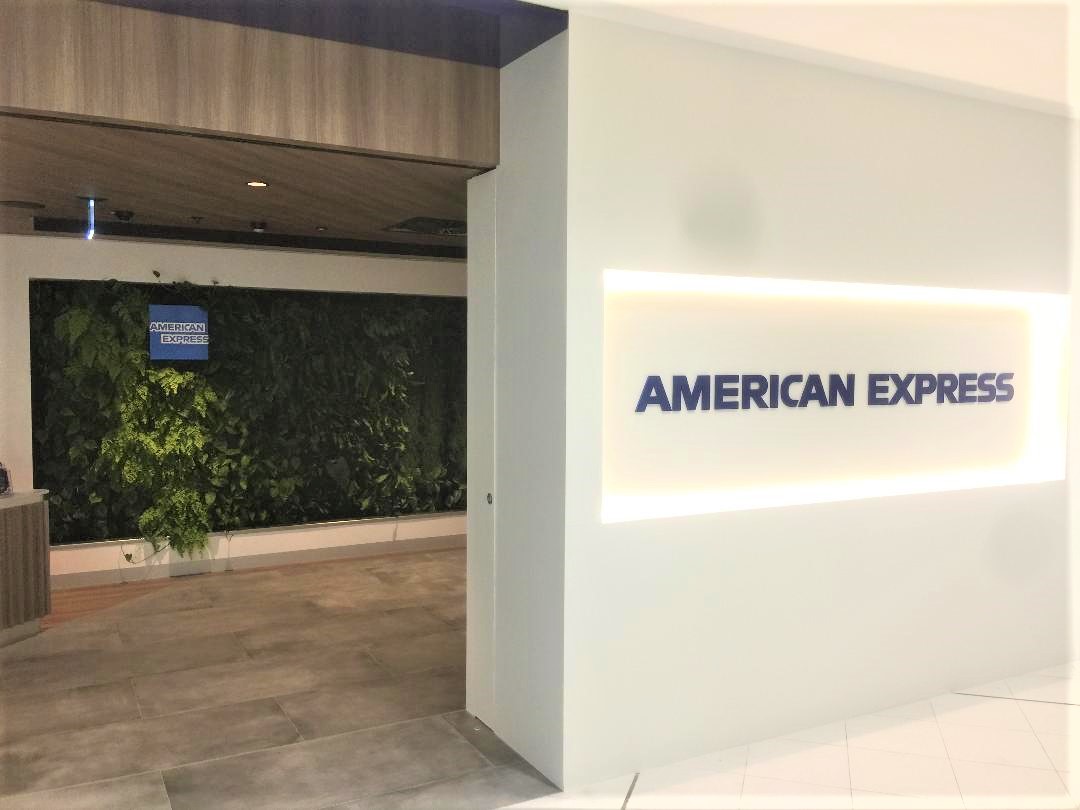 American Express Lounge, Sydney Airport
I left the lounge about 40 minutes before the scheduled departure of my flight and arrived at Gate 56. The gate was packed and there were plenty of people waiting in line to board the flight, which commenced shortly thereafter.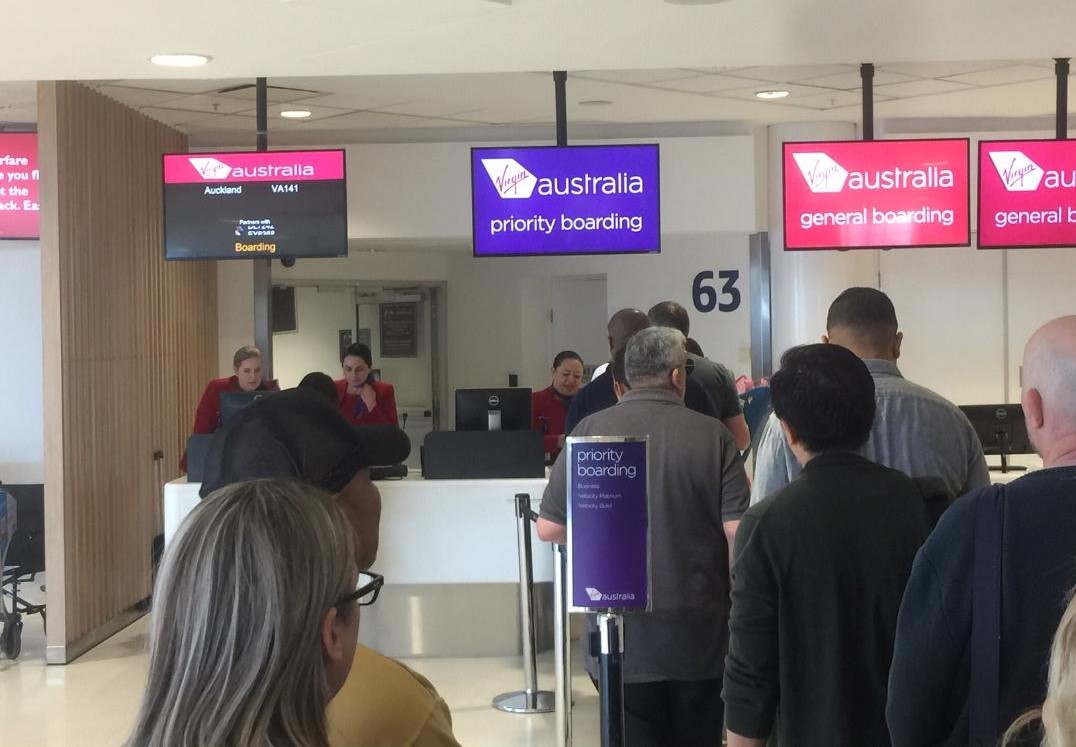 The boarding queue
Boarding & Seating
I boarded the aircraft through the front door and turned right. The business class cabin on Virgin Australia's A-330 is laid out in a 1-2-1 configuration. There are 5 rows, each with 4 seats for a total of 20 seats.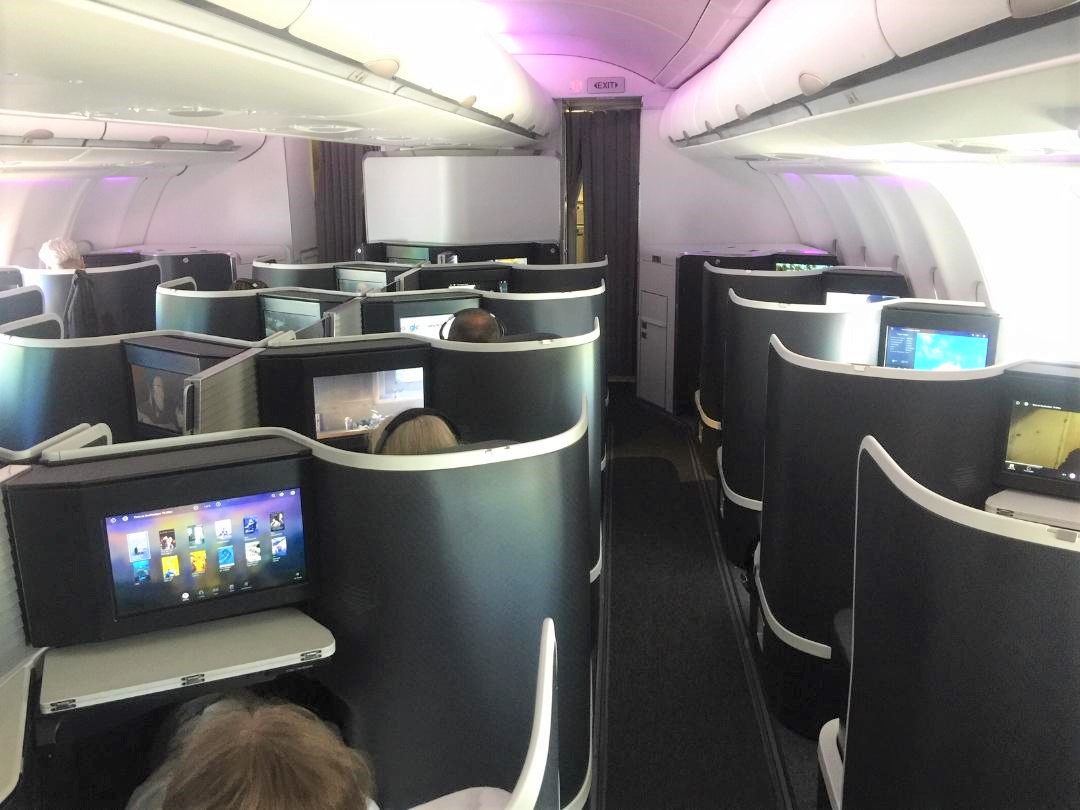 Virgin Australia A-330 Business Class Cabin
I had assigned myself seat 3K, which was a window seat on the right, in the centre row.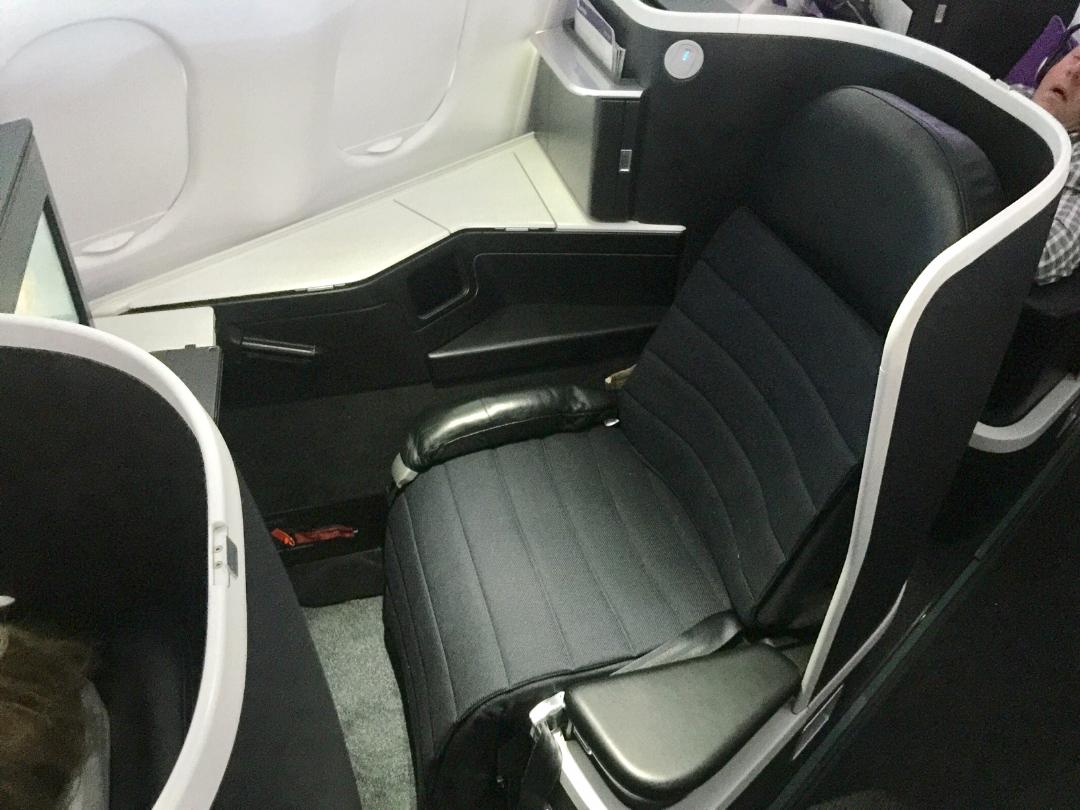 Virgin Australia A-330 Business Class Seat
The seat formation, formally known as reverse herringbone is a popular one and used by many different airlines globally. In this formation, the window seats are set at a slight angle and face the window, meanwhile, the middle 2 seats are angled towards each-other, which make them a good choice for travelling families, or couples who wish to sit together.
If you weren't in the mood for socialising though, you could raise the small privacy panel between the 2 middle seats for increased privacy.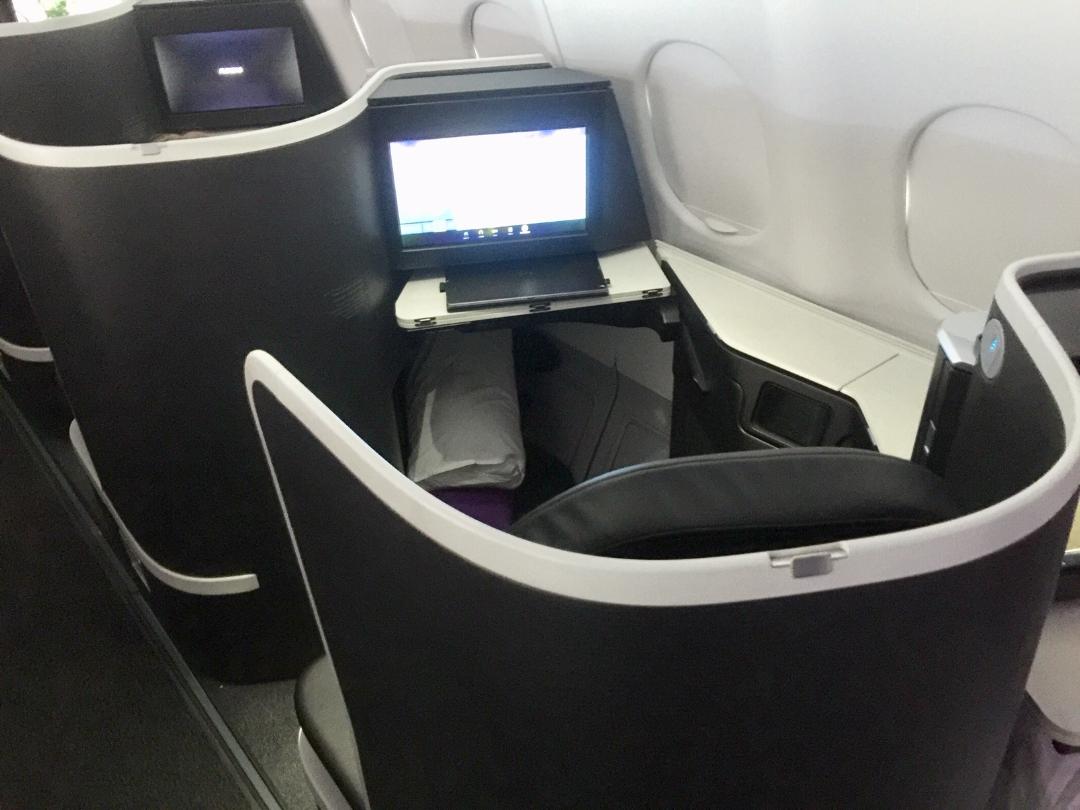 Virgin Australia A-330 window seat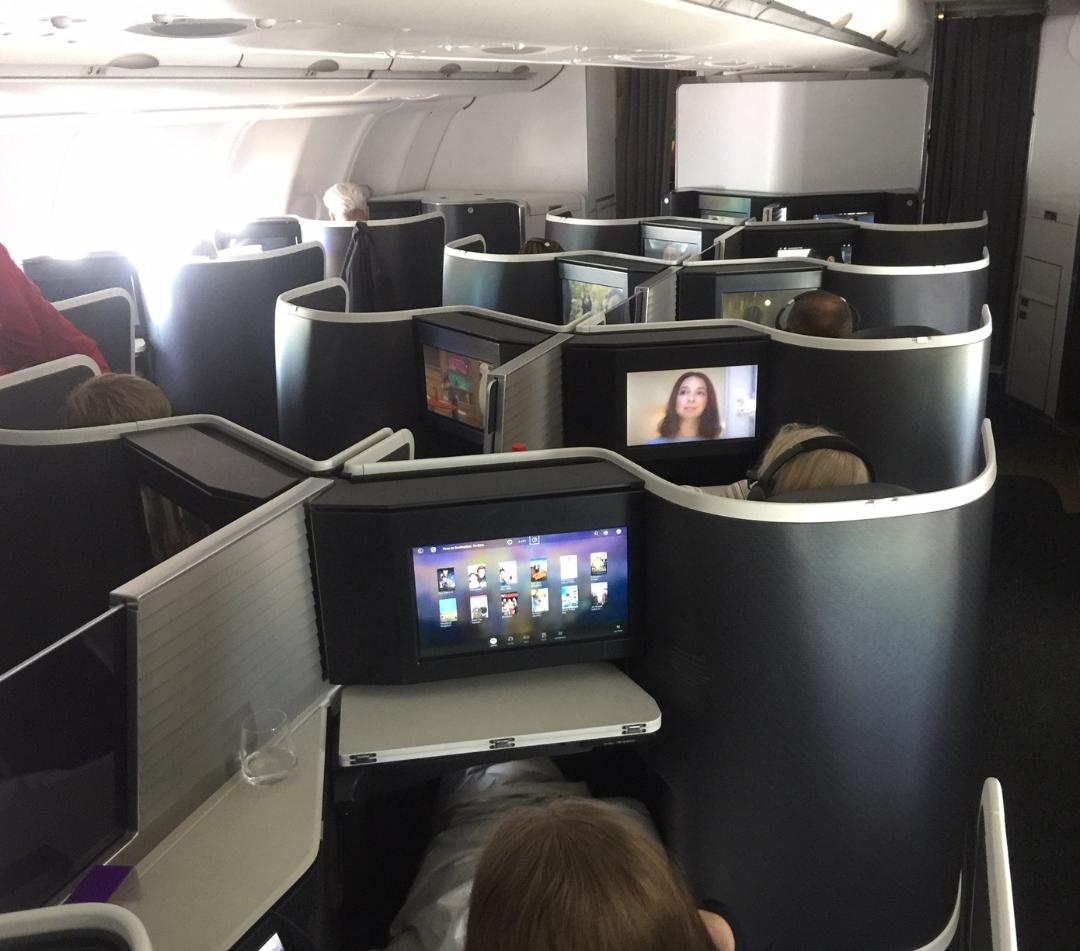 Virgin Australia A-330 Middle Seats
The seat itself is quite comfortable and offers a decent level of privacy. I noticed the 2 pillows waiting on the seat.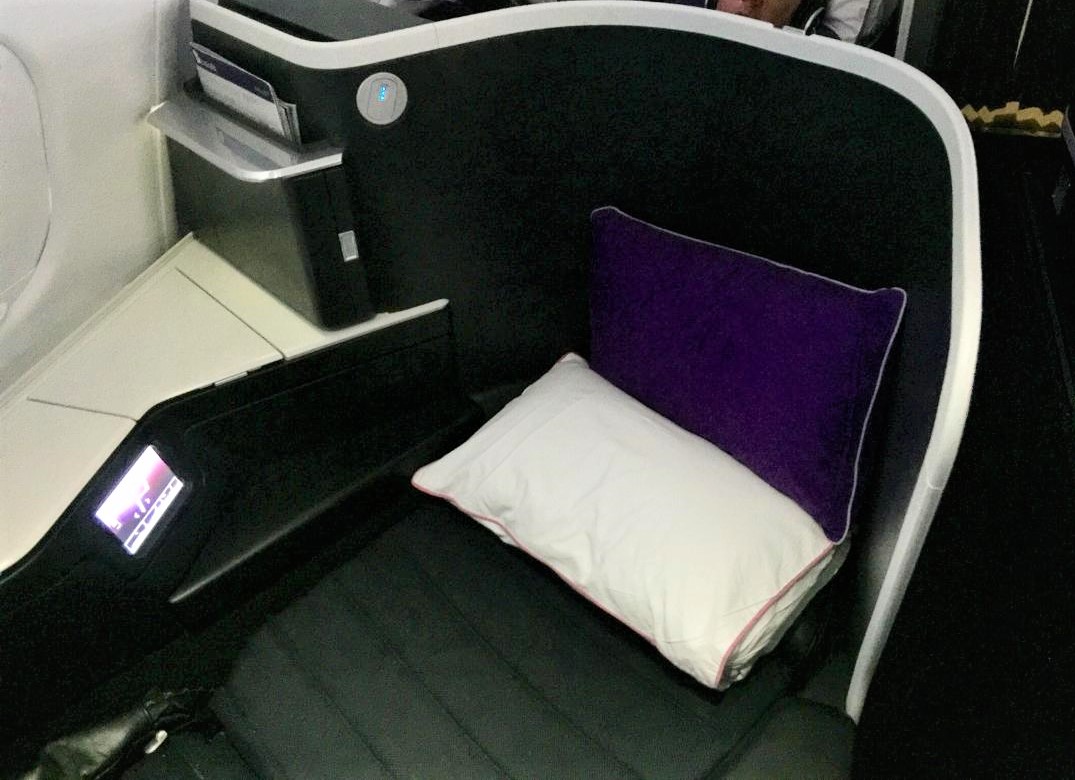 Virgin Australia A-330 Business Class Pillows
There is an extendable arm-wrest on the left of the seat which can be pushed-down to make the bed a little wider. You could pop-open the top by pressing an attached button, waiting inside was a bottle of water and a pair of noise-cancelling headphones.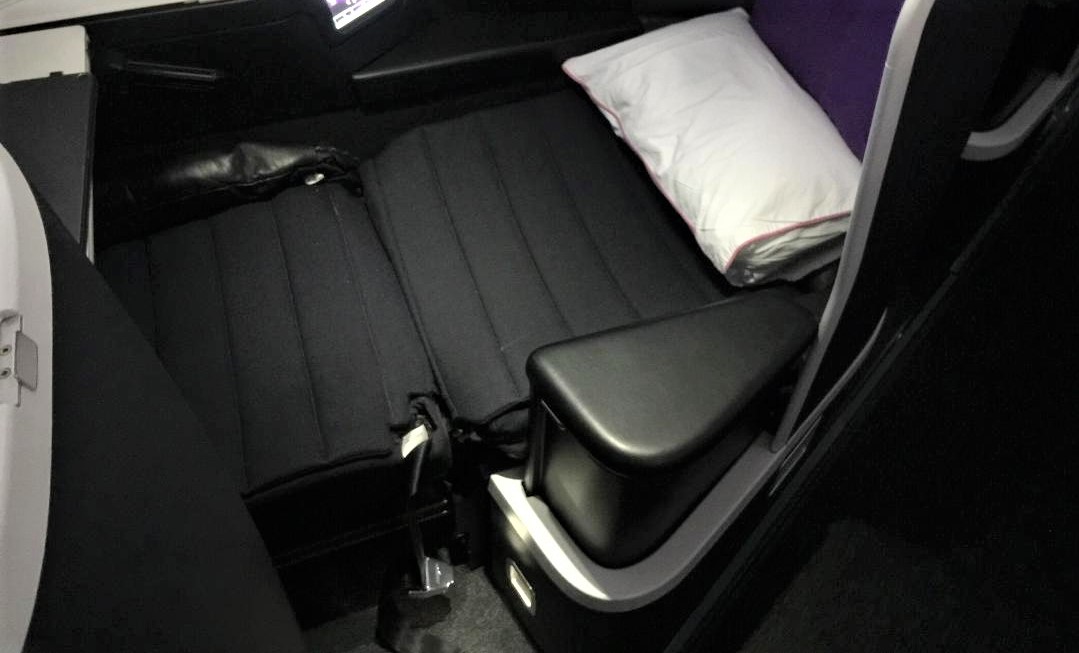 Arm-Wrest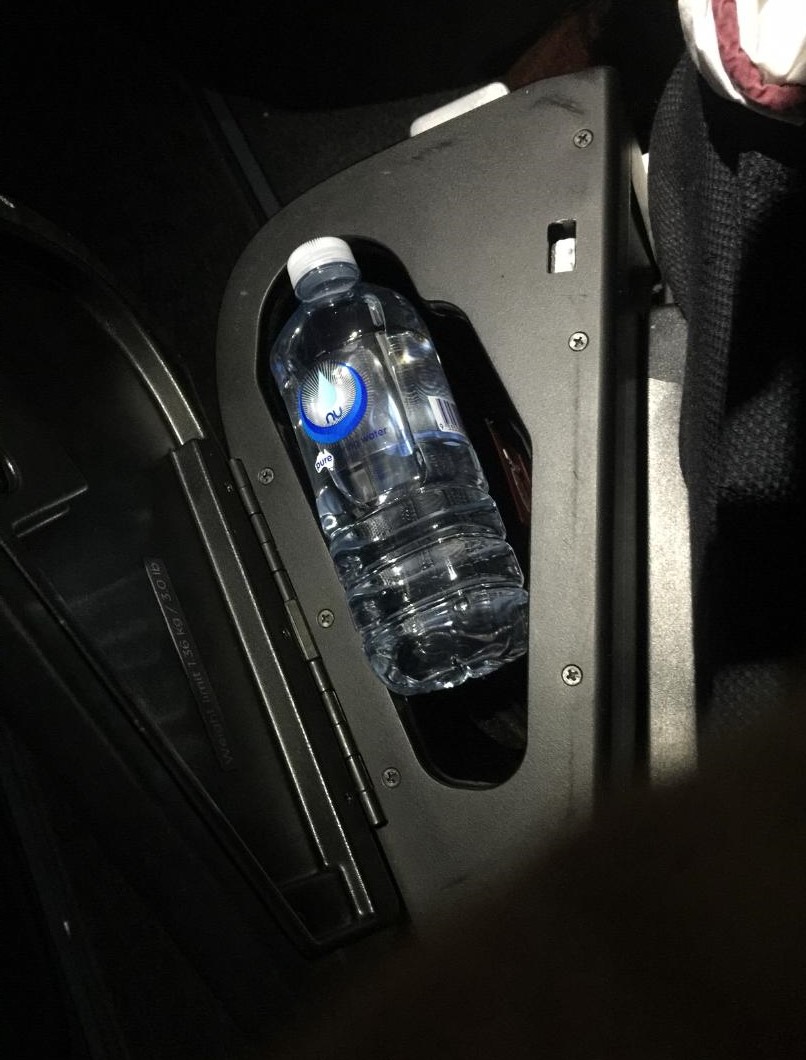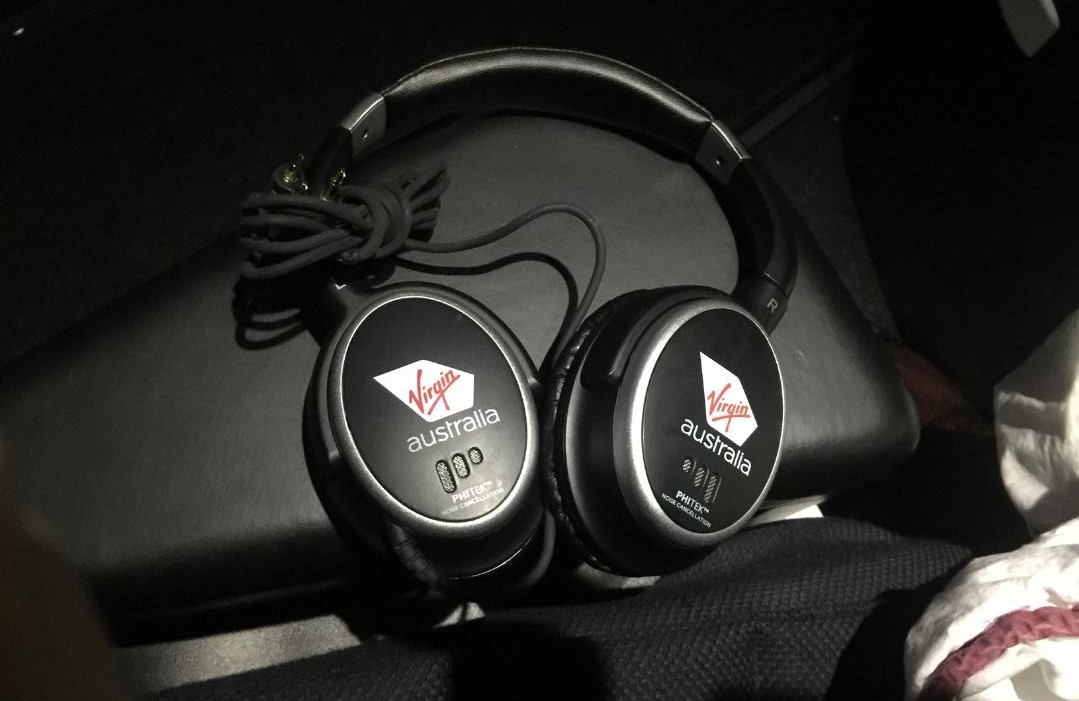 Virgin Australia Business Class Headphones
Since this was a day-time flight, no mattress toppers were on offer, however, blankets were available on request.
There is a touch-enabled comfort panel on the right to manoeuvre the seat into various positions. With a gentle push, the seat goes from it's default upright position into a semi-recline, perfect for when you want to lean back and watch something on the large touch-screen TV, which is at the back of the seat in front of you.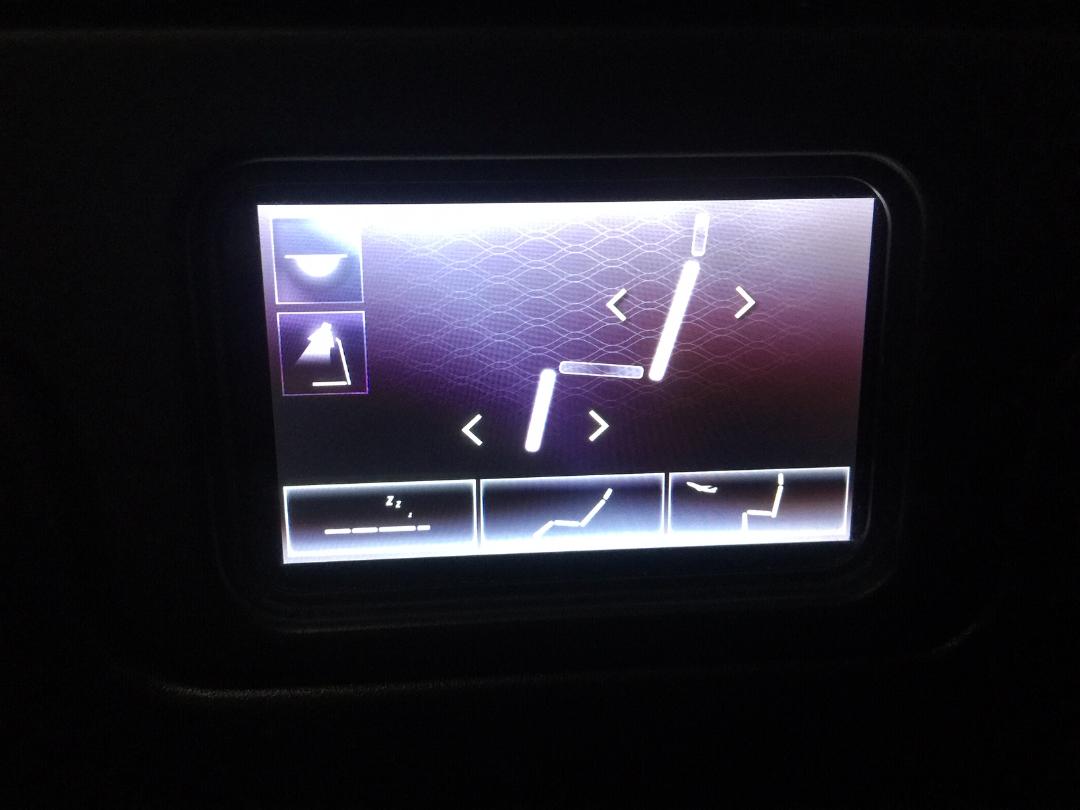 Virgin Australia A-330 Comfort Panel
When it's time to get some shut-eye, you could extend the recline all the way until it matches up to the foot-rest on the other end, and converts into a lie-flat-bed.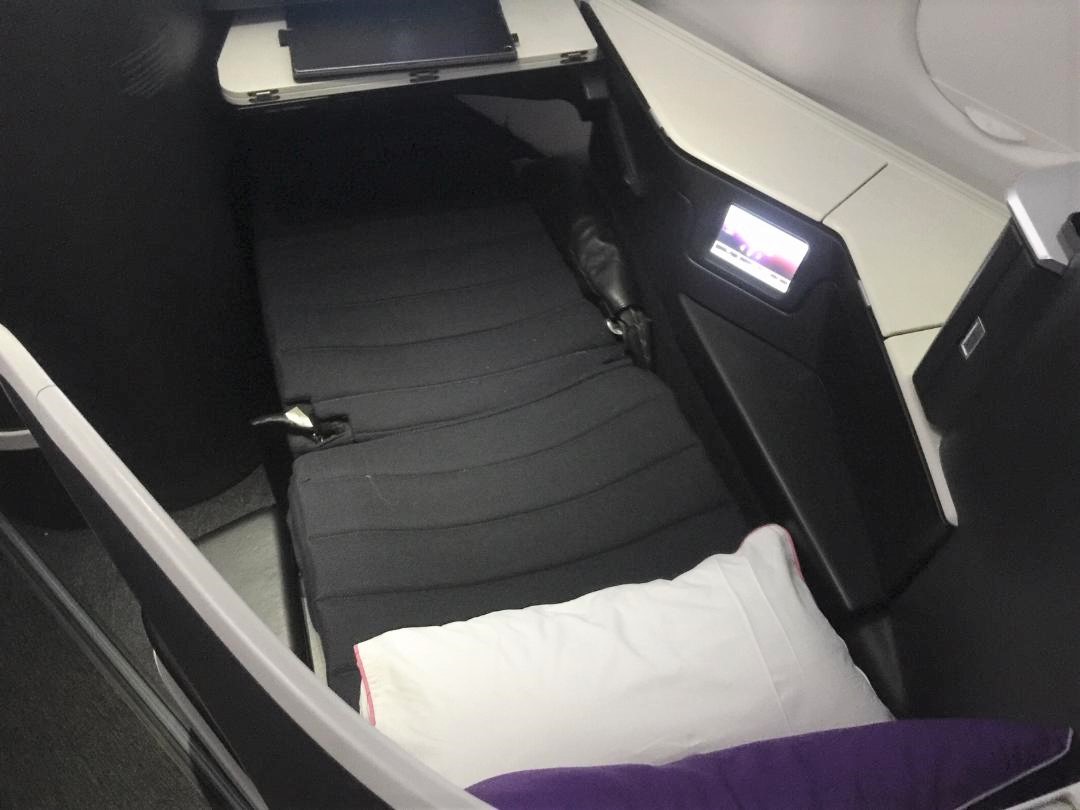 Virgin Australia A-330 Business Class Seat in bed-mode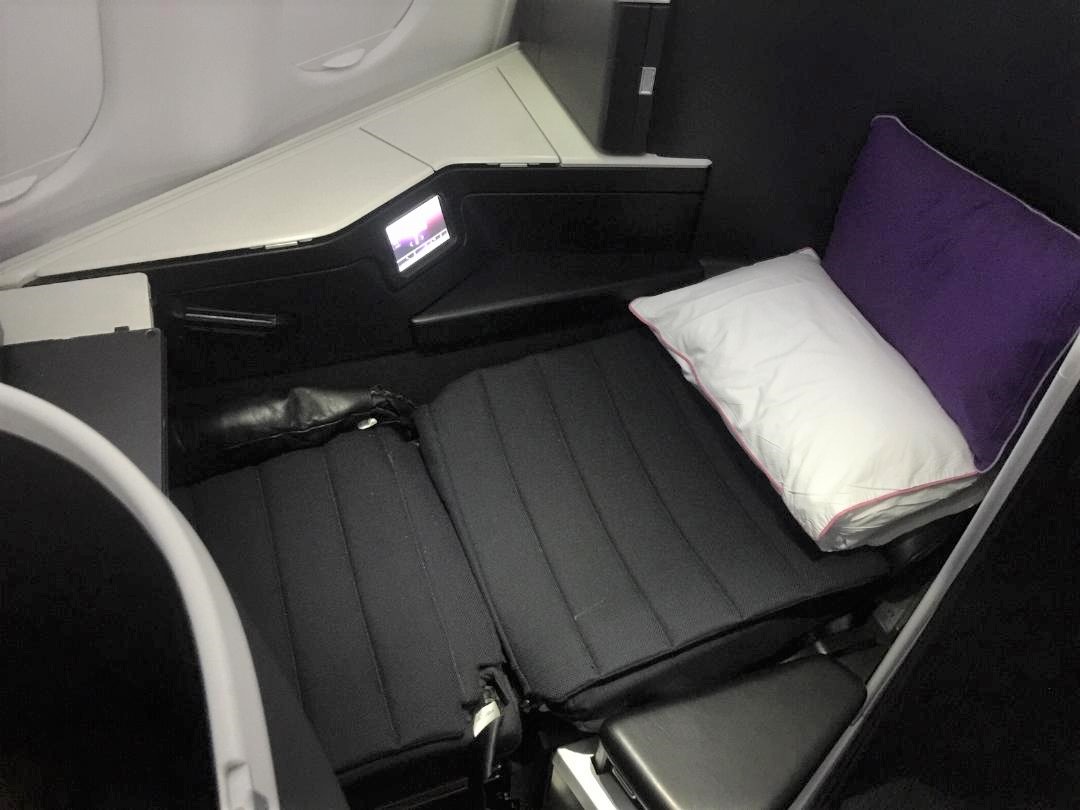 Virgin Australia A-330 Business Class Seat in bed-mode
To the right of the seat and just above the comfort panel are two compartments. One of these had the hand-held device fitted-in, which you could pull-out and use, the other compartment had a power socket and a USB port for charging the electronics.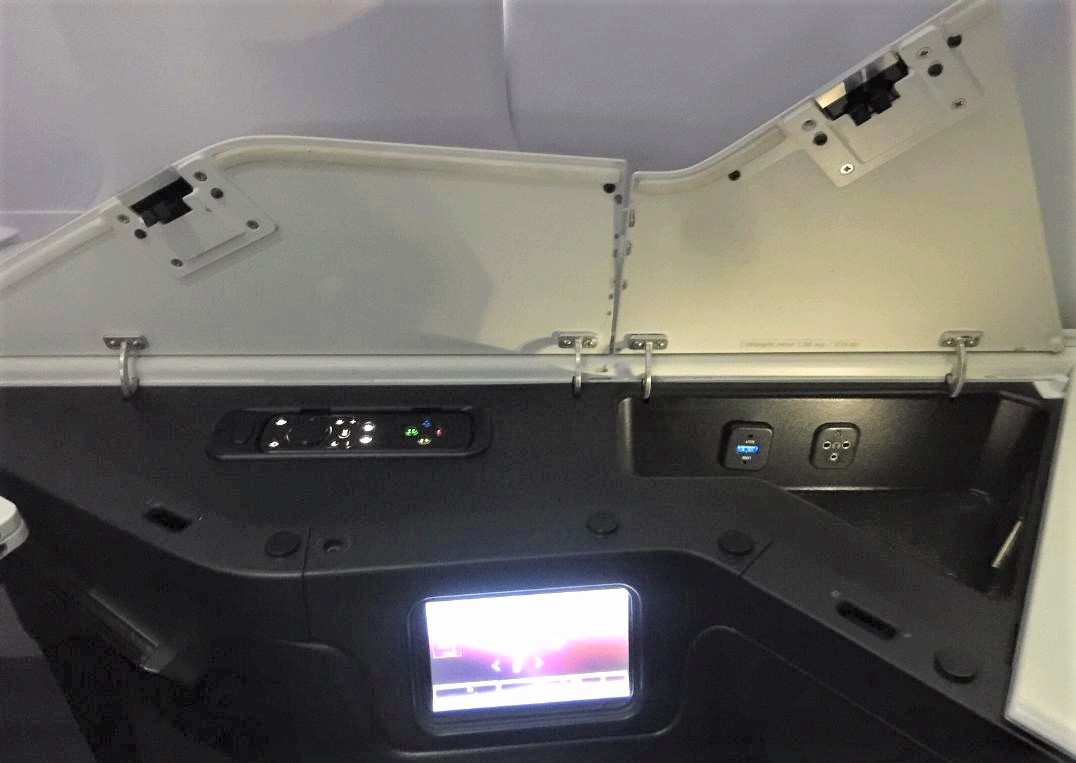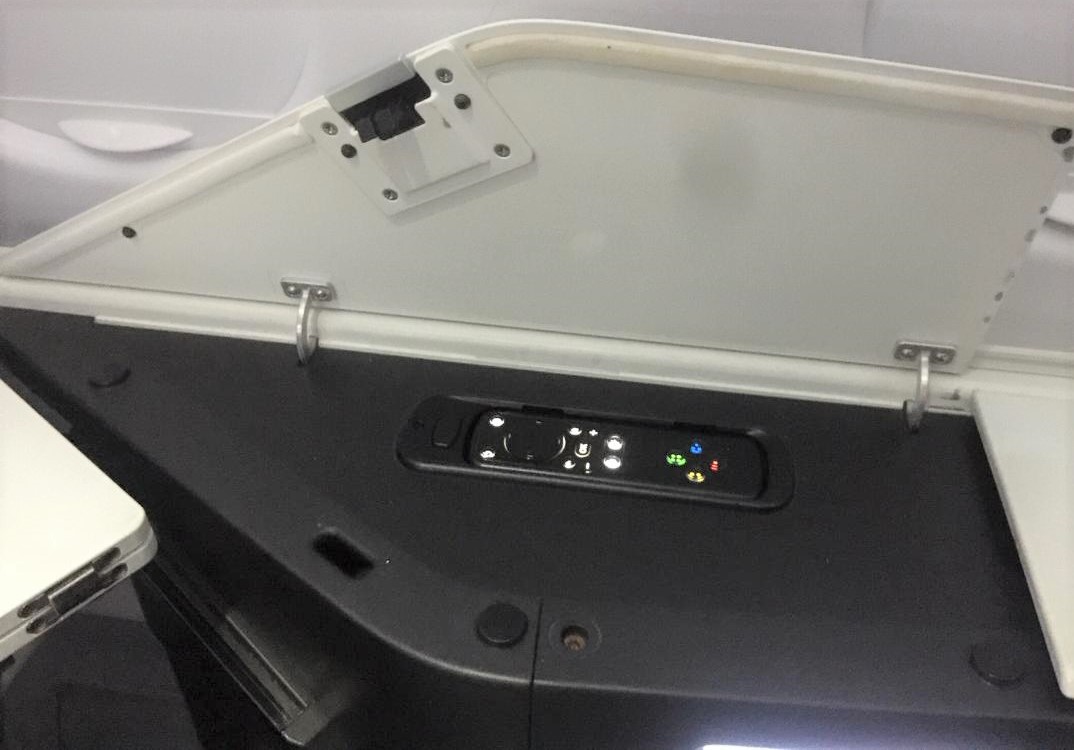 Virgin Australia – Handheld Device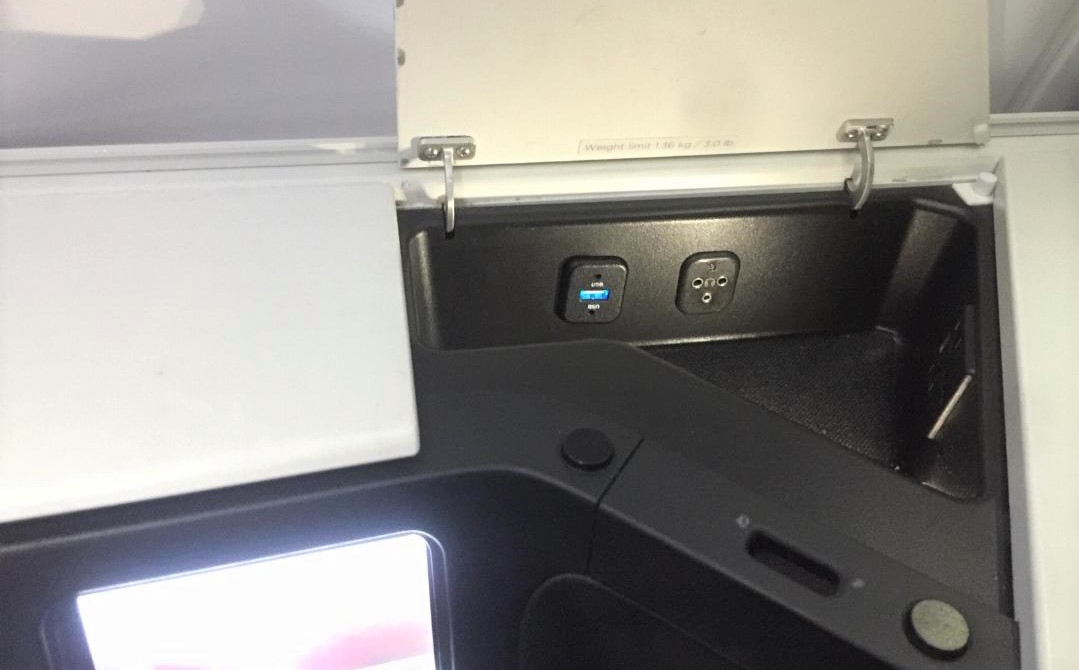 Power Socket & USB Port
The inflight entertainment offering consisted of numerous movies, TV shows, games, cartoons and so-on, more than adequate to keep you occupied for the duration of the flight. I usually follow the progress of the flight on the flight-map and don't watch too many movies etc. However, one of the documentaries, called 'The Final Quarter', which showcases the last 3 years of the playing career of now-retired AFL player Adam Goodes was available for viewing, and I couldn't resist watching it.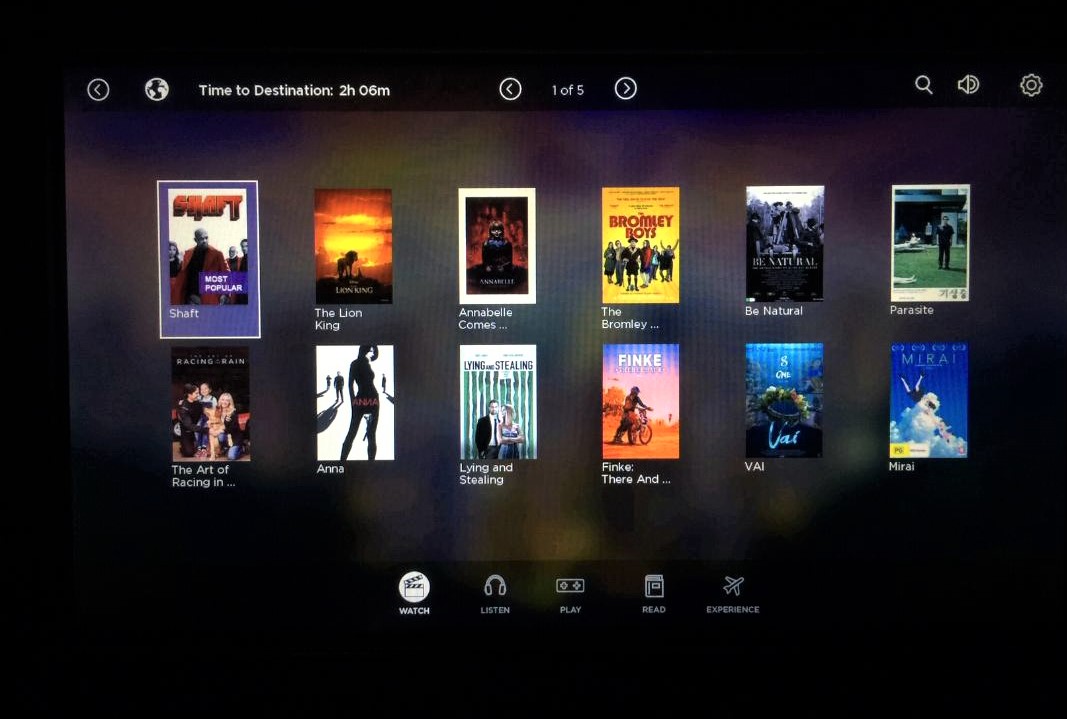 Virgin Australia Business Class IFE Screen
If you are an AFL fan and haven't seen it yet, I highly recommend it. It's quite a moving portrayal of the racism Goodes faced in those final 3 years of his playing days and his struggles to overcome it.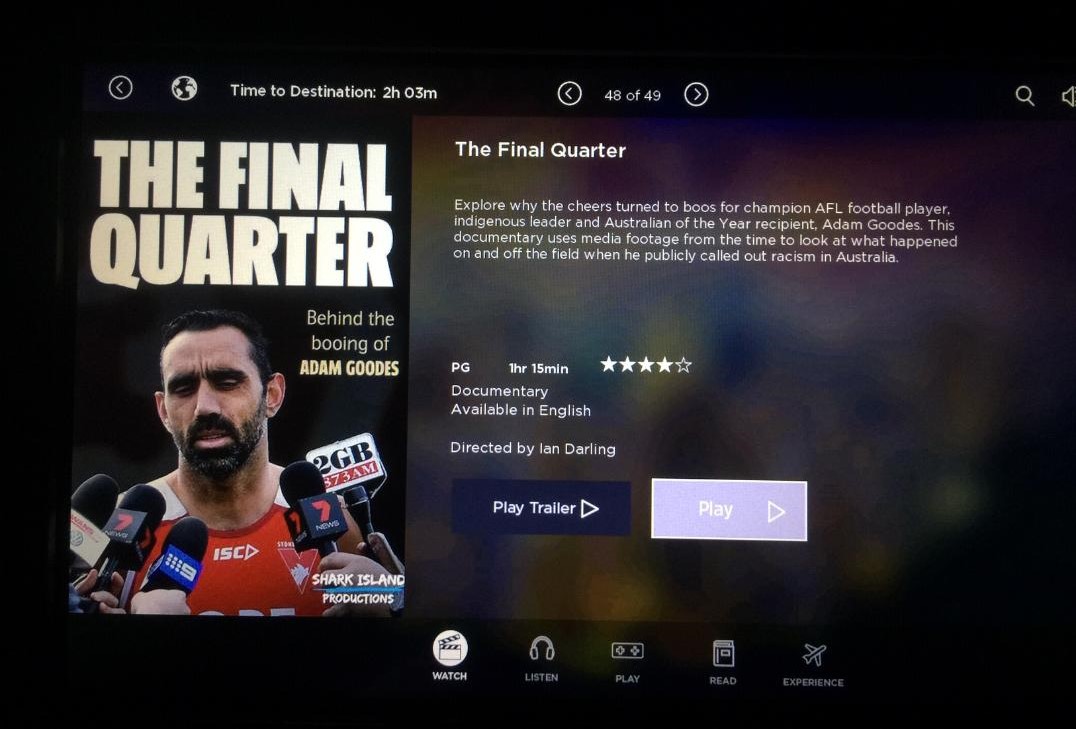 AFL fans should check-out 'The Final Quarter'
Drinks & Dining
A few minutes after boarding finished, menu's were handed out. The crew went around the cabin offering guests pre-departure drinks, which was a choice between orange juice and champagne. I went with the latter.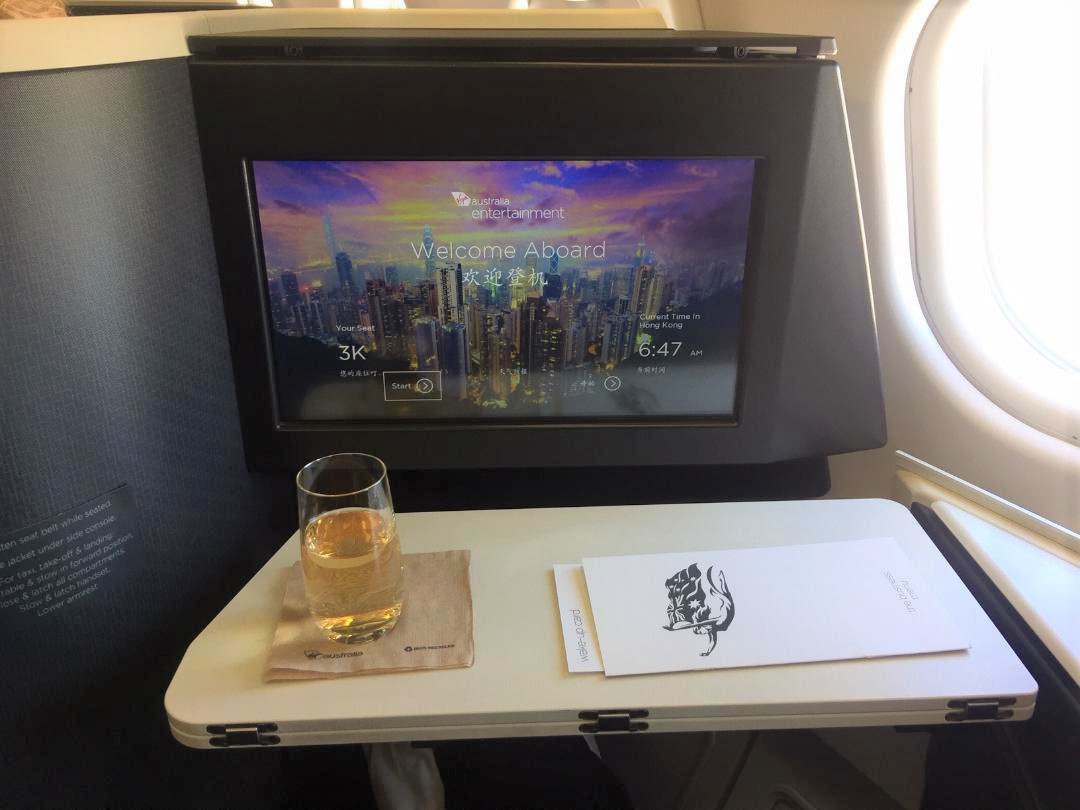 Virgin Australia pre-departure Champagne
The lunch service kicked-off approx 1 hr after take-off. The crew came around and set the table, which was followed by taking the drinks order.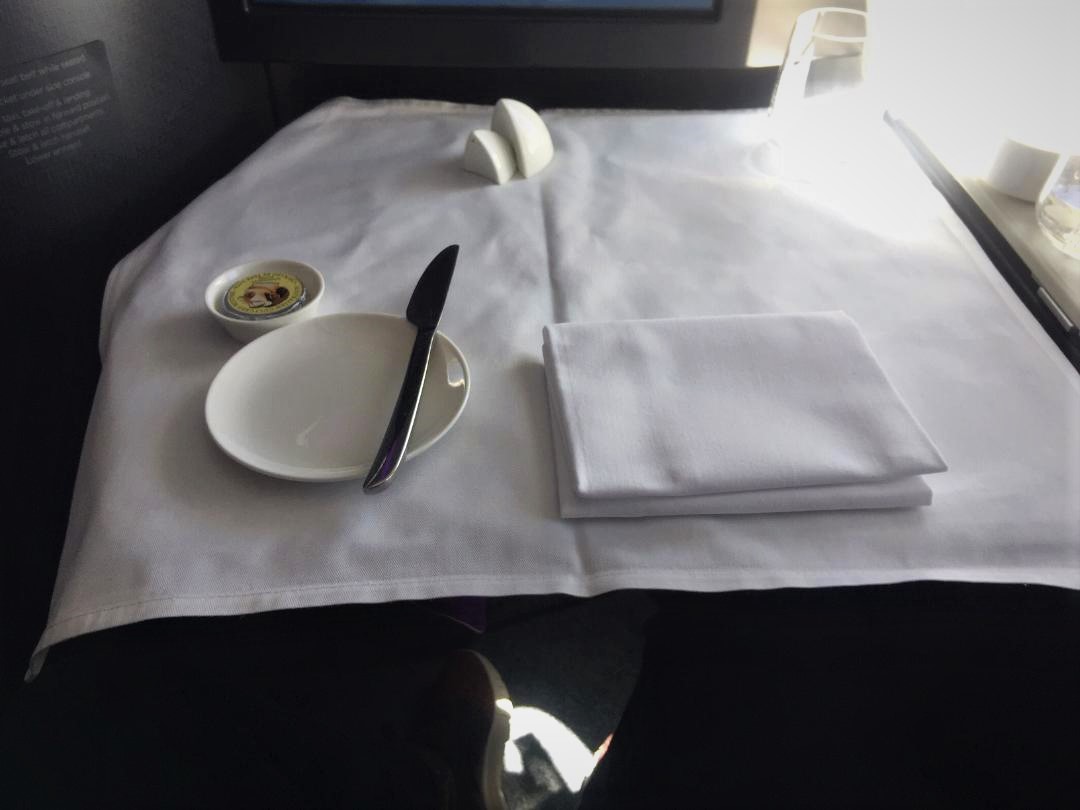 All set for lunch
Here's what was on offer.

Virgin Australia Business Class Drinks Menu
I ordered vodka and lemonade to go with the meal. It was accompanied with warm nuts.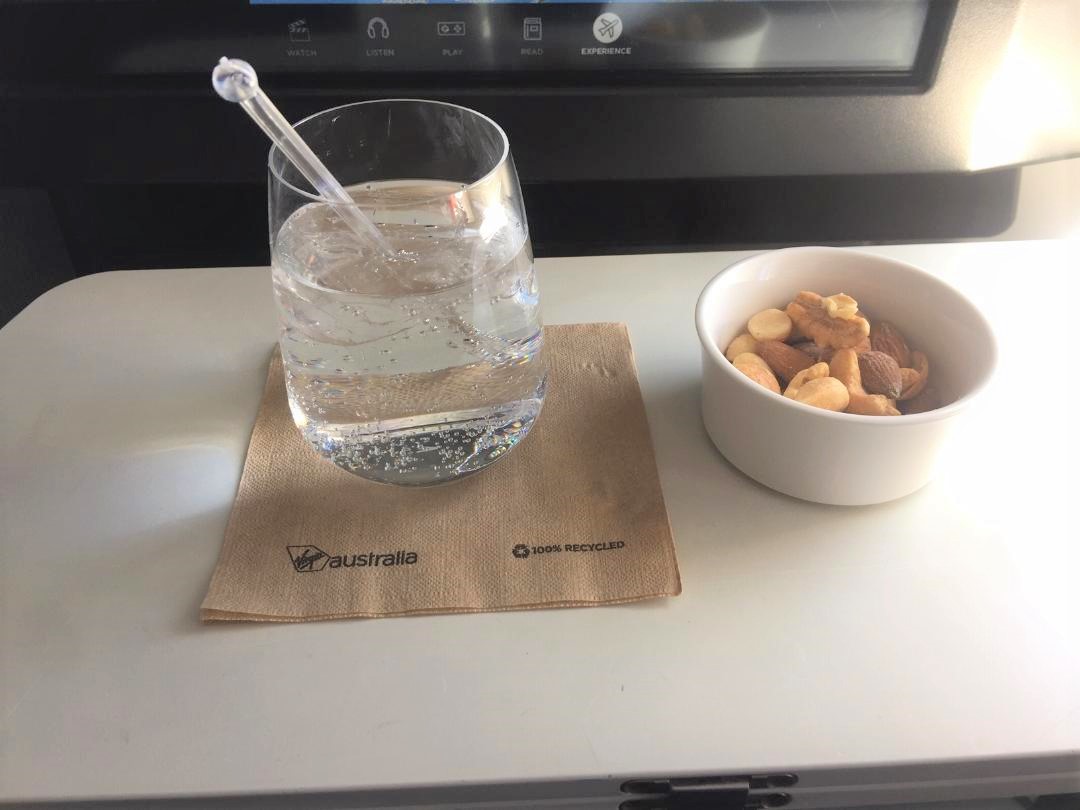 Vodka with lemonade & warm nuts
A while later, I also taste-tested the Talisker single malt, which one of my colleagues in the office had recommended. As someone who is not a whiskey drinker, it hit me HARD 🙂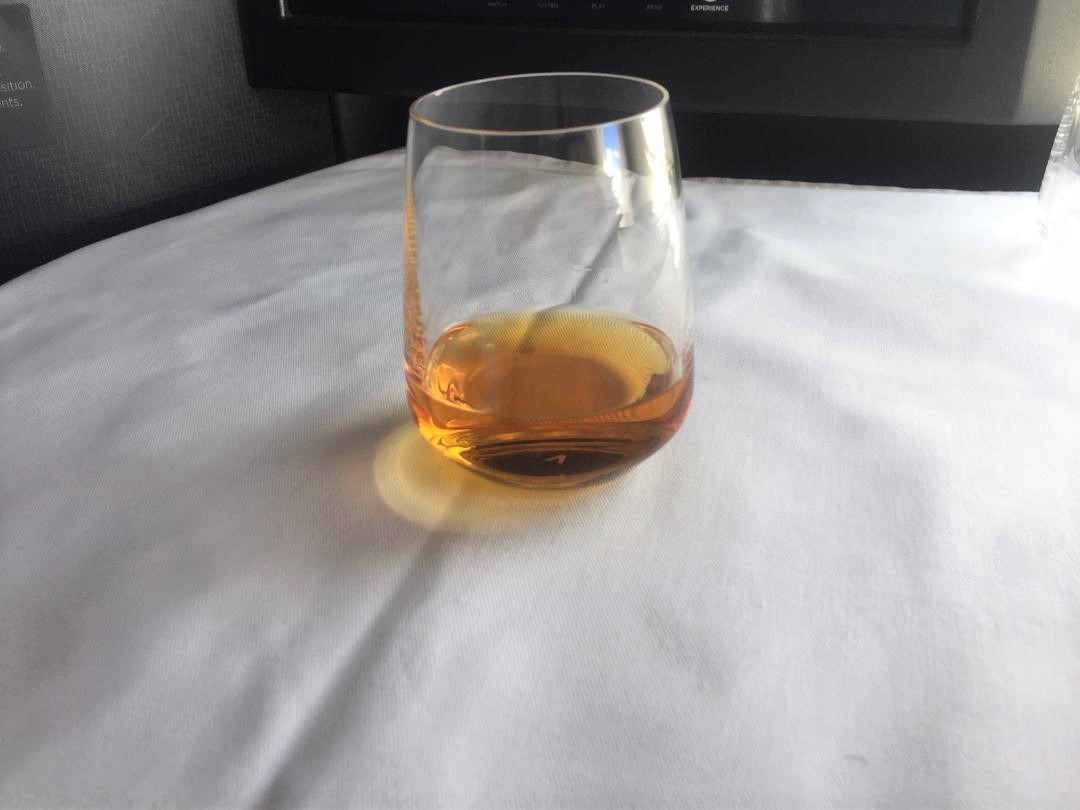 Talisker 10 year old, single malt
The food menu was reasonably good and offered multiple choices for each of the courses. Once again, take a look at what was on offer.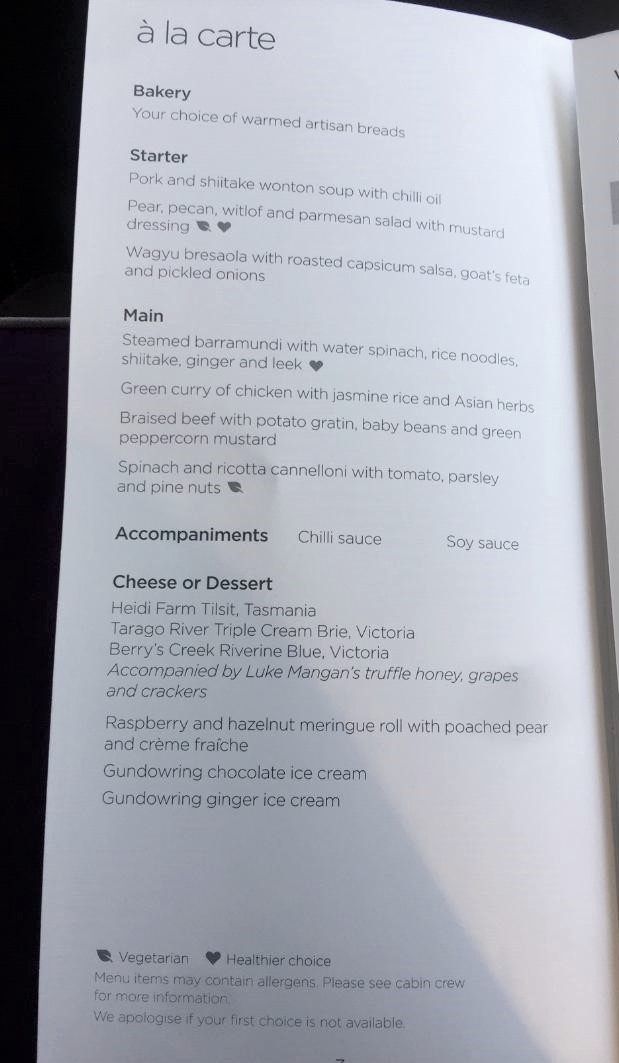 Virgin Australia Business Class Dining Menu
I started with a piece of warm and crunchy garlic bread which was delicious.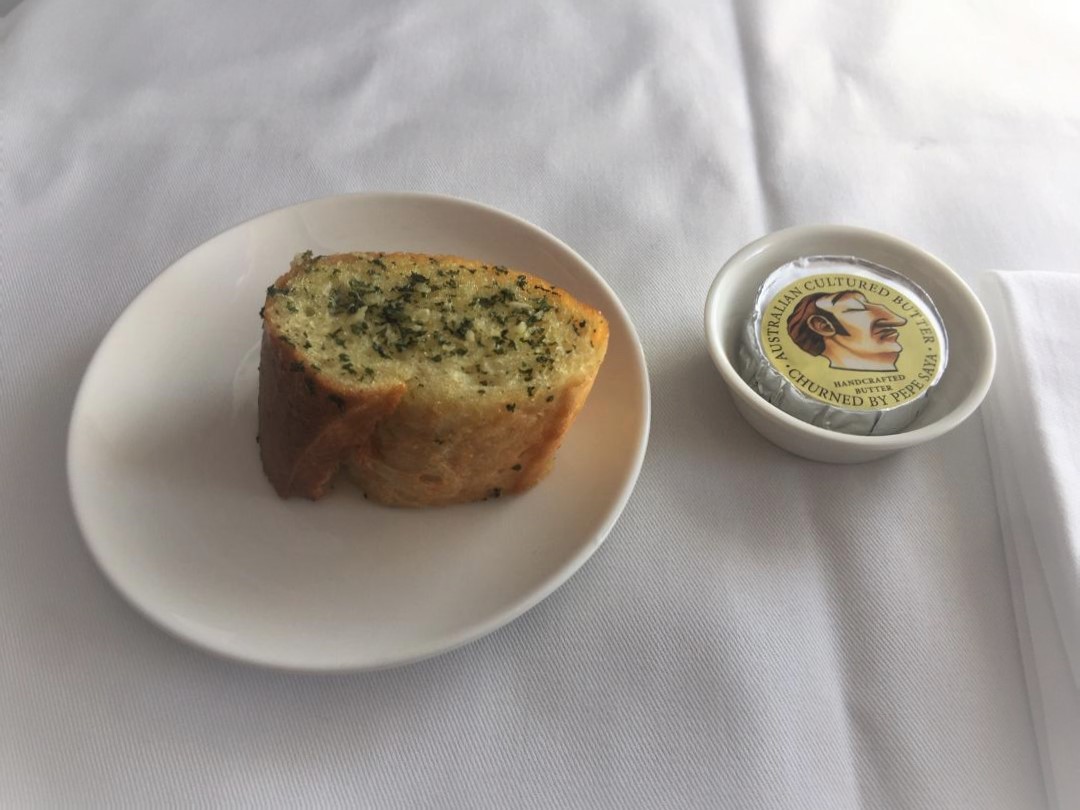 The garlic bread was delish !
This was quickly followed by a bowl of pork and shiitake wonton soup, topped-up with chilli oil. It was fairly average.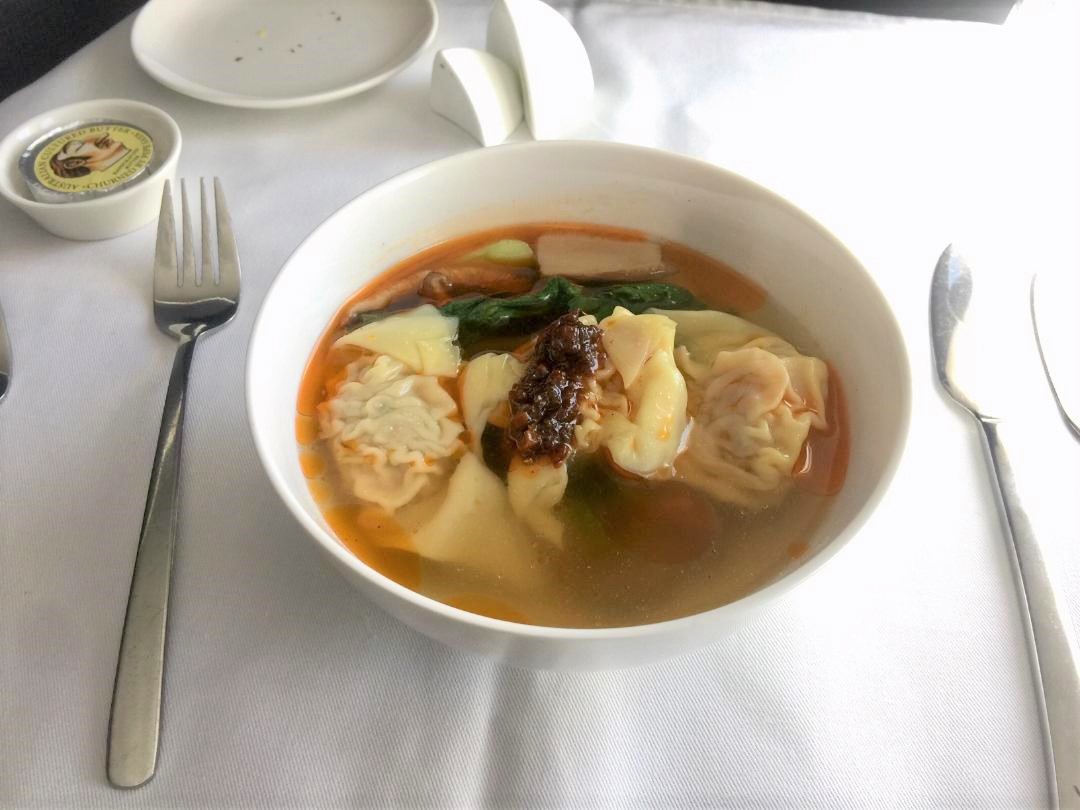 My pork & shiitake wonton soup starter
For the mains, I went with the cannelloni, which sadly was way too gooey and lacked texture. The pastry appeared to be over-cooked.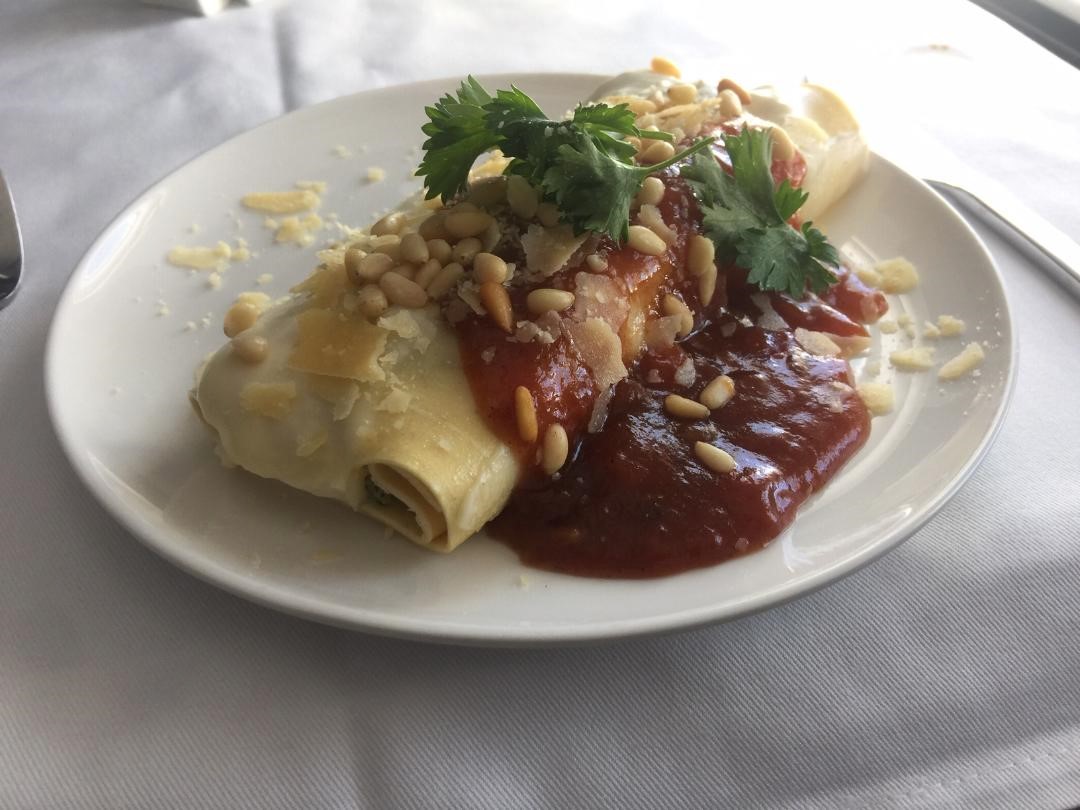 I didn't enjoy the Spinach & Ricotta Cannelloni
I rounded off the meal with Raspberry & Hazelnut meringue, which once again I didn't like.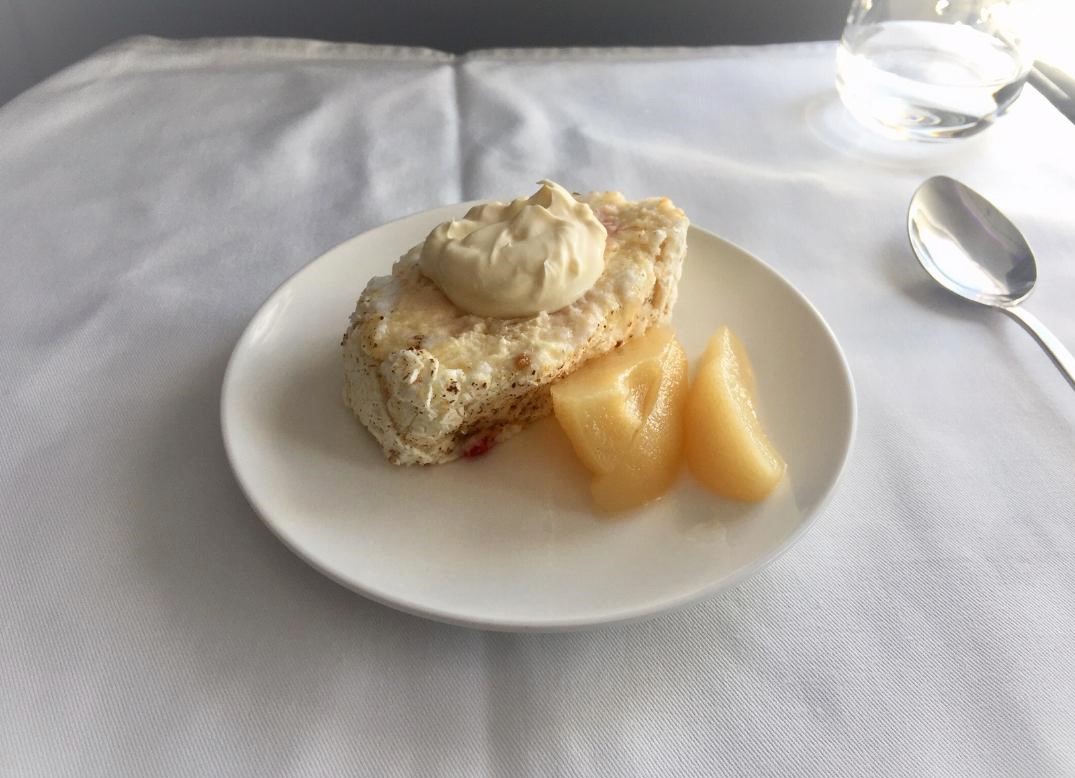 Rasperry & Hazelnut meringue roll with poached pear and creme fraiche
Later in the flight, and about 2 hours prior to landing in Hong Kong, there was a pre-arrival meal service. Apologies for the poor quality picture of the menu card, Virgin Australia's mood-lighting in the cabin sometimes make it tricky to do this properly.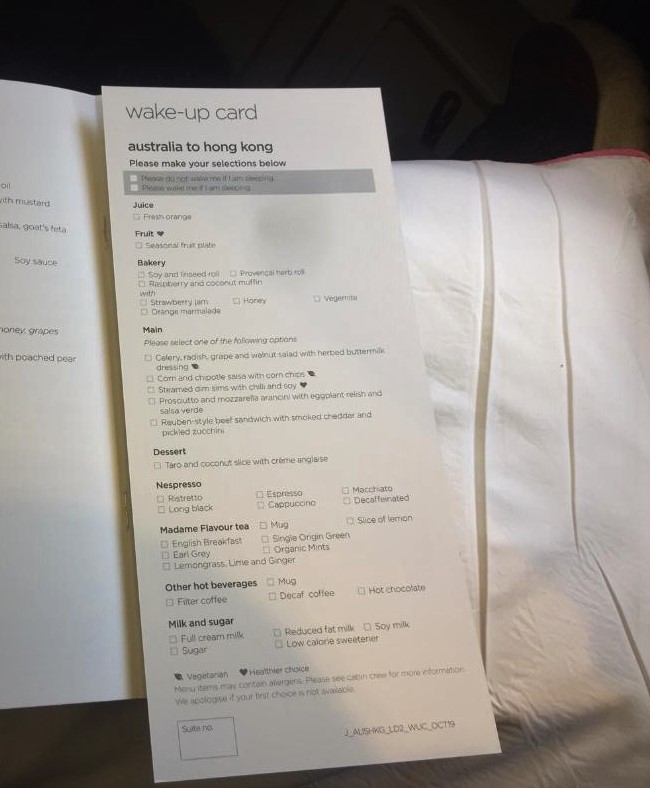 Pre-Arrival meal menu-card
I went with the dim-sum which were served with soy-sauce and chilli oil and came fully plated on a tray. I also had some orange juice to go along.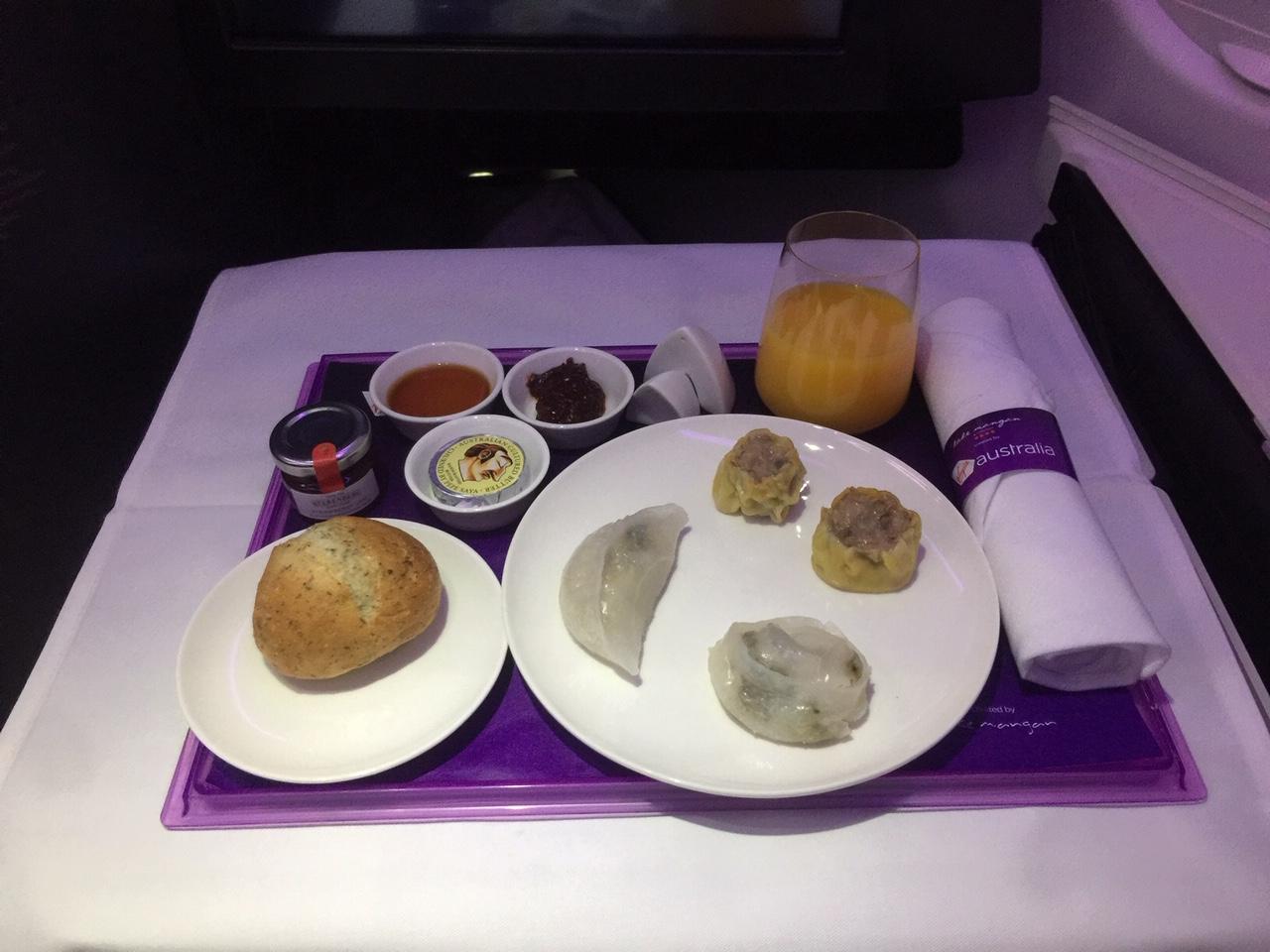 My pre-arrival meal tray
In 3 words, 'they were sumptuous'. The dim-sums were steamed perfectly, the pastry wasn't overly thick or chewy, the chilli oil had a kick to it. After the rather underwhelming lunch, I wasn't really expecting to be blown-away by such a high-quality dining experience.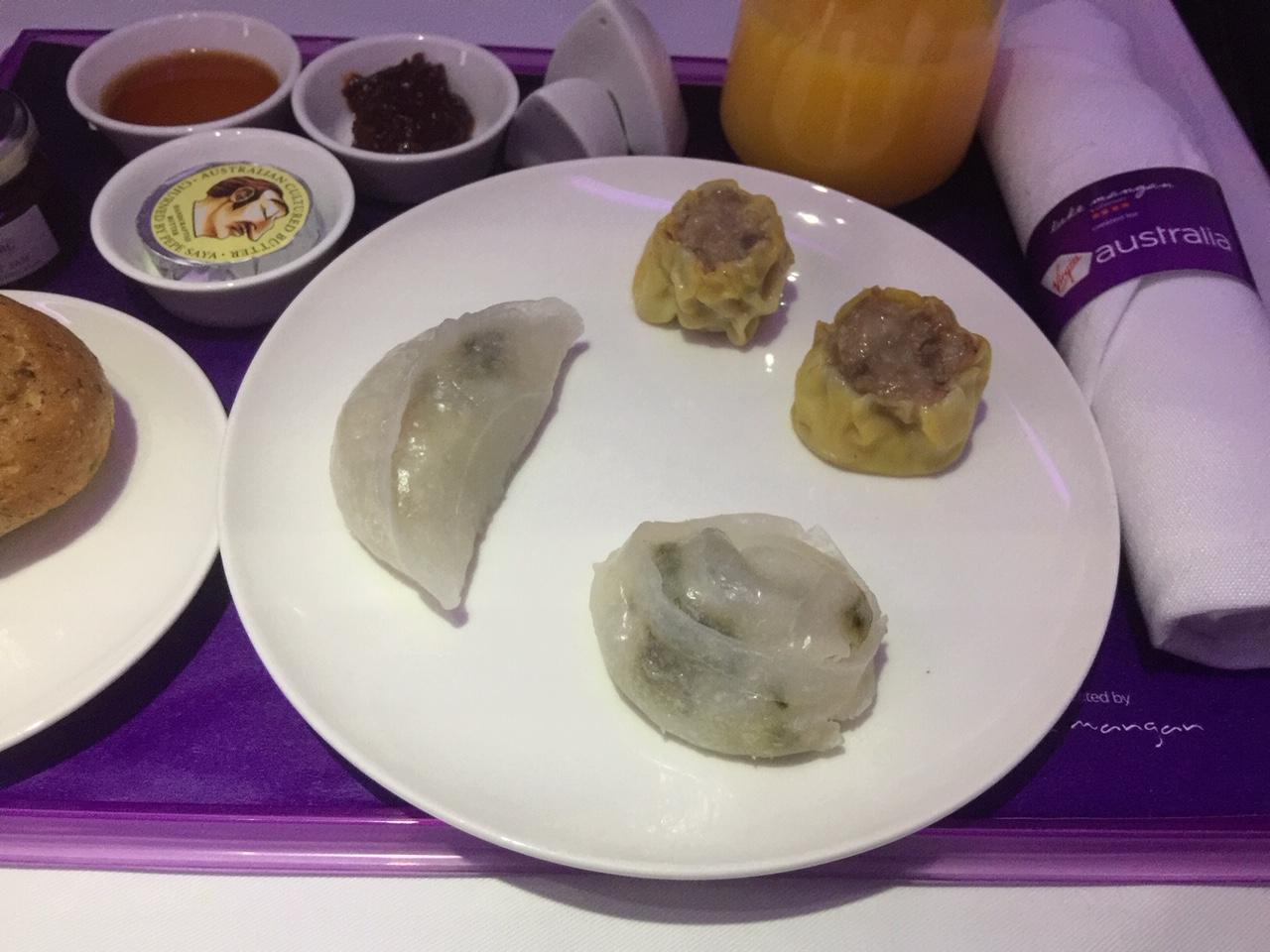 I thoroughly enjoyed the dim-sums
I finished off the meal with a cup of machine-made cappuccino.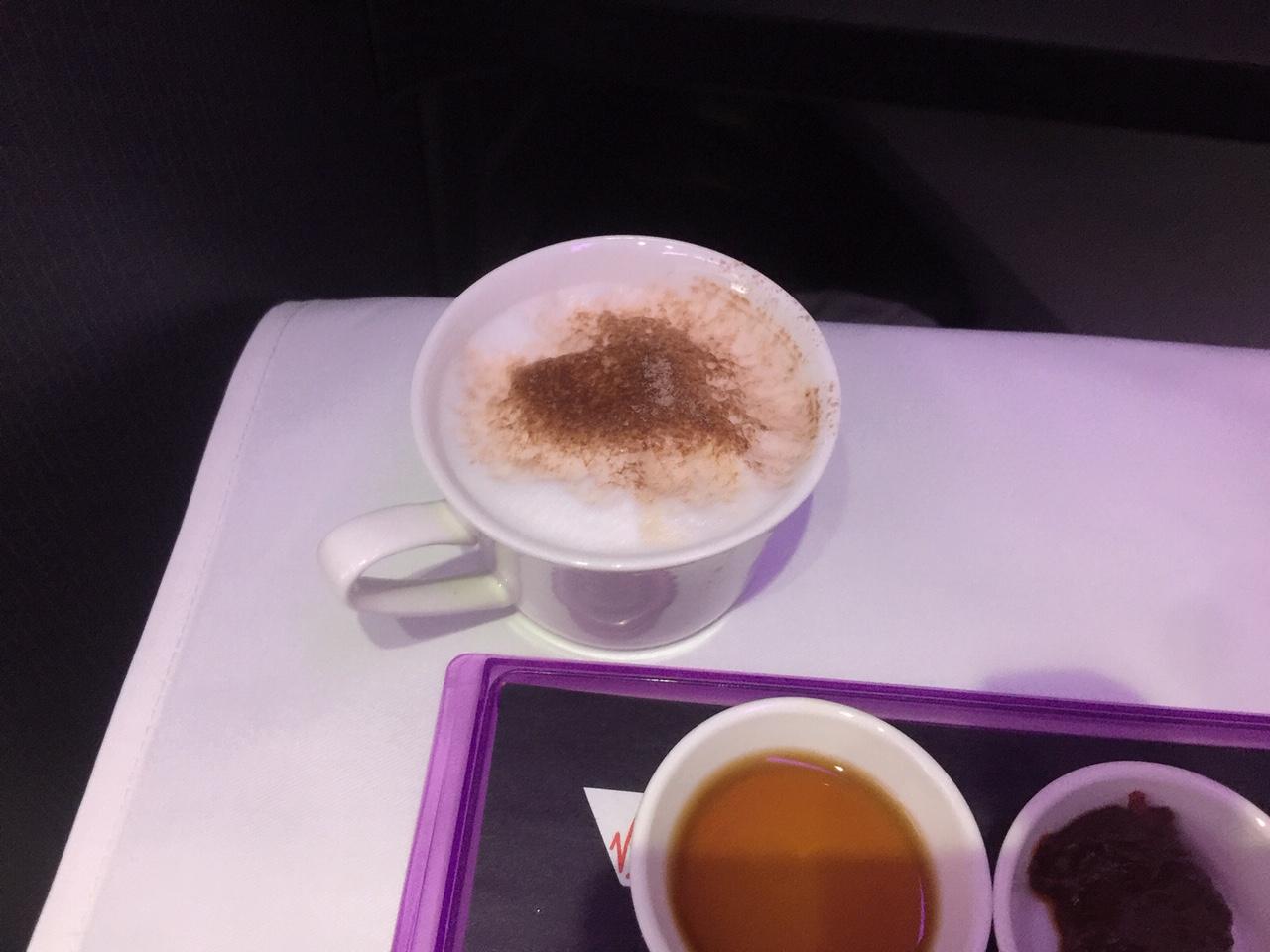 No barista made coffee sadly 🙁
Other flight amenities
Virgin Australia provides in-flight wifi on it's service to Hong Kong. Unlike the domestic flights where this is complimentary for all guests, even those in Business Class aren't spared on overseas flights.
There were 2 different packages available for purchase, prices varied depending on the length and speed of the service.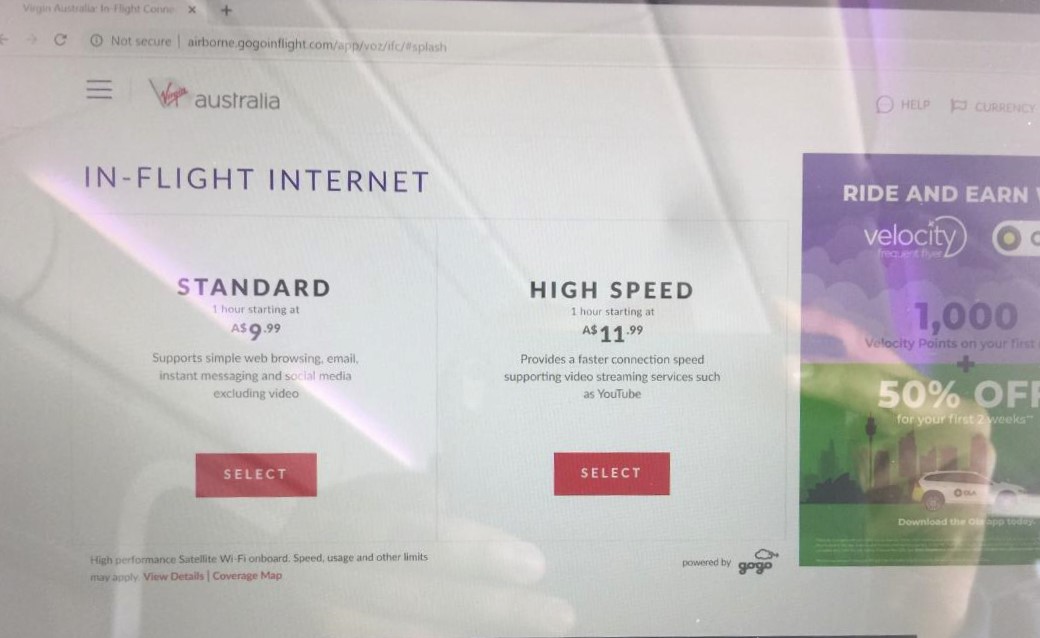 Virgin Australia in-flight wifi pricing
Amenity kits and sleep suits were handed out shortly after the take-off. At a time when more and more airlines globally are restricting sleep suits for first-class passengers only, it's very impressive that Virgin Australia continues to offer pajama's in business-class, even on daytime flights.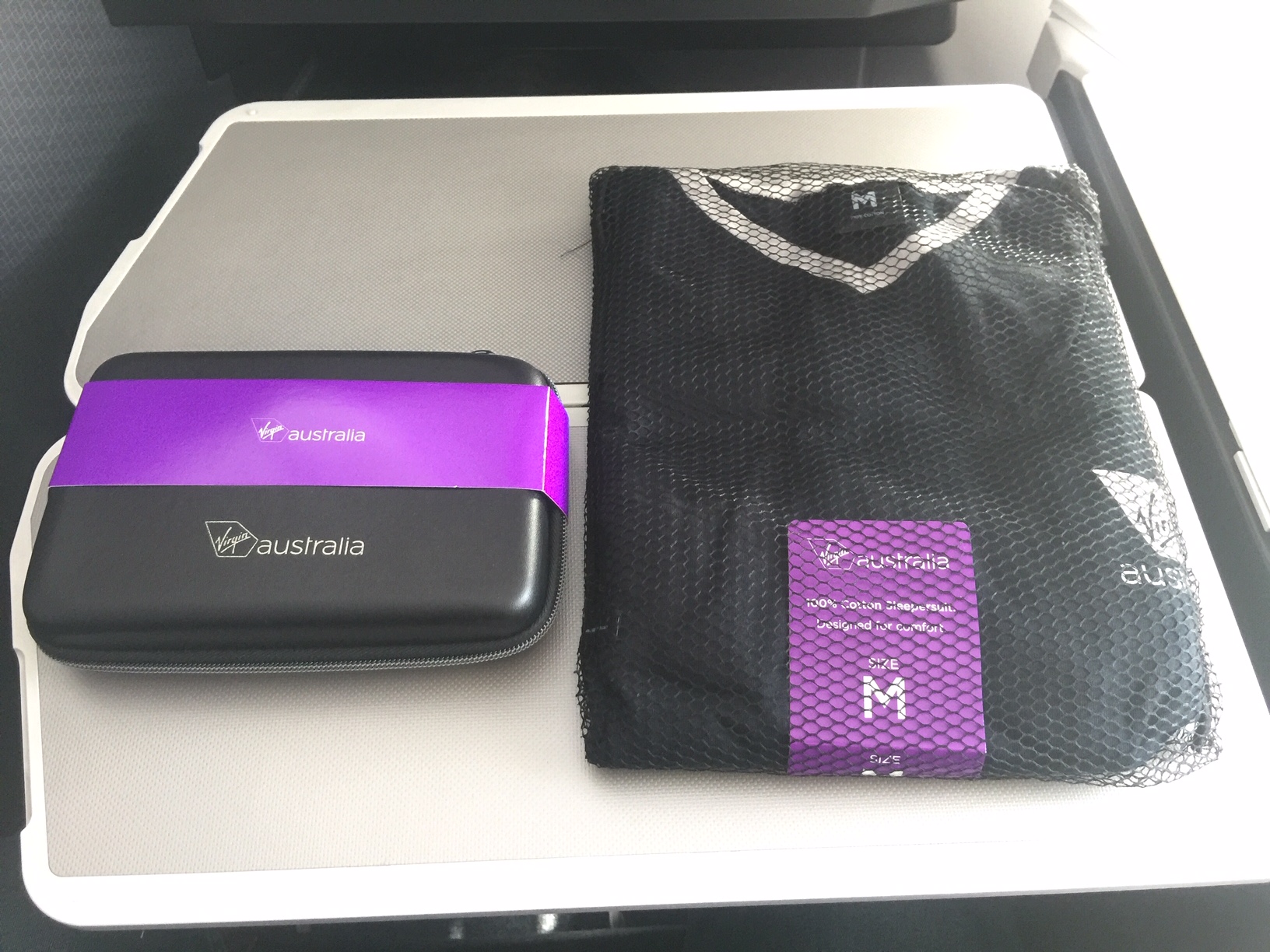 Virgin Australia Business Class Amenity kit and sleep suit
All the contents in the amenity kit were by Hunter and consisted of the usual items such as socks, eye-shade, tooth-brush, body lotion, pen etc.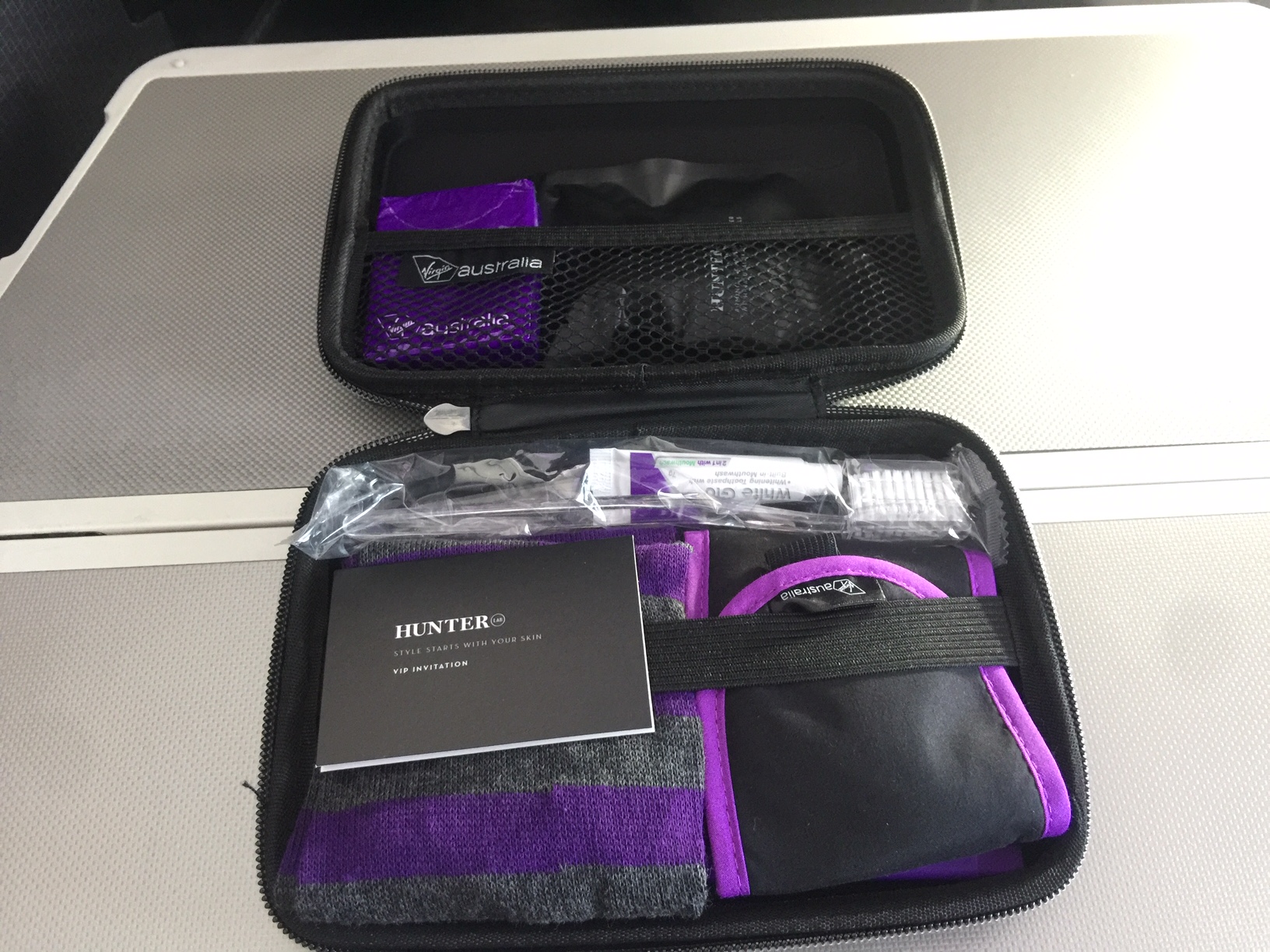 Virgin Australia Business Class Amenity kit
In Conclusion
This was a terrific flight, we departed Sydney a few minutes late but made-up time on the way, for an on-time arrival into Hong Kong. The crew were fantastic, the service was good, albeit lacking a bit of warmth which regular Virgin Australia flyers have come to expect over the years. The dining experience was a mixed bag and went from average to outstanding.
The business class product itself has now been out for over 4 years, although the seats and cabin do not overtly display any signs of wear and tear, which is a testimony to Virgin Australia's excellent maintenance & upkeep of its fleet. Cash prices for a one-way flight on this route are north of $2,000, which makes redeeming points worthwhile.
To sum-up, this is one of the best option to fly the Sydney-Hong Kong route and I would not hesitate to do it again.
Have you flown Virgin Australia A-330 business-class? Leave a comment below.