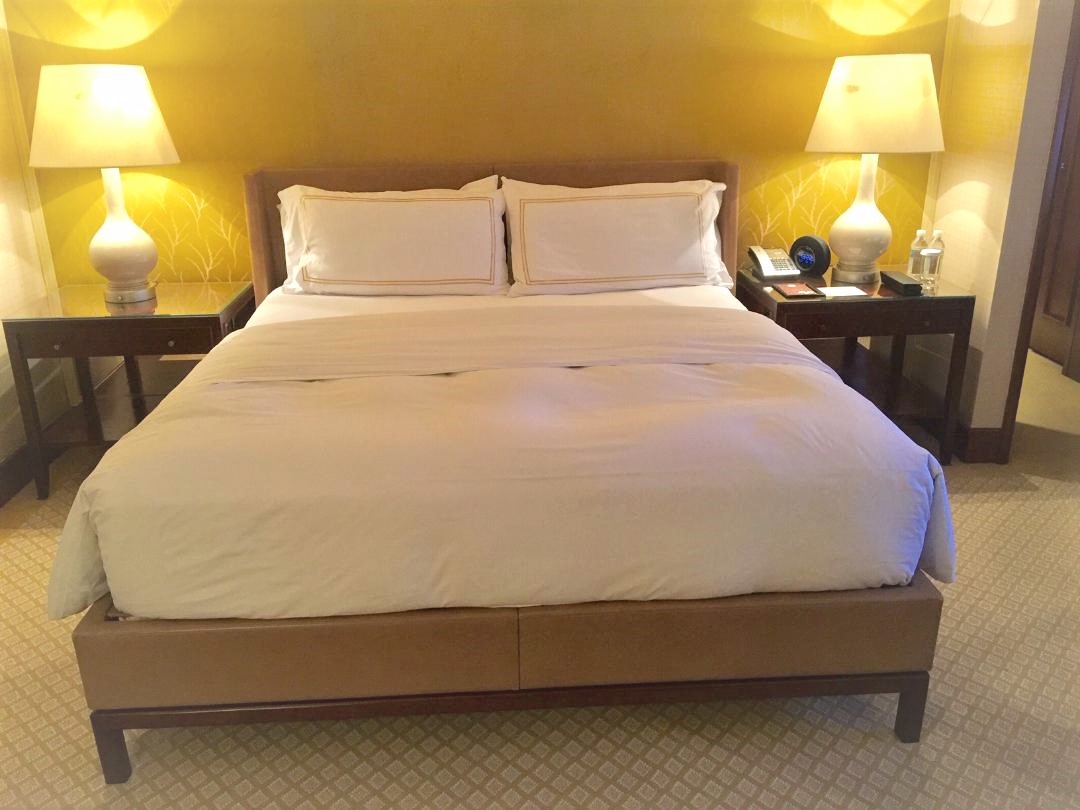 After my excellent Virgin Australia flight from Sydney, I caught the HK Express train to Central, followed by a quick taxi ride to the hotel.
Location & Classification
Conrad Hong Kong is located on Pacific Place, 88 Queensway on Hong Kong island side of the town in downtown Hong Kong. It is approx 40 km's from the airport and a short 10 minute taxi-ride from Central station. The hotel is merely 10 minutes from lower terminus, the jumping off point for the Peak Tram to Victoria Peak and about 5 minutes by taxi from The Star Ferry Terminal.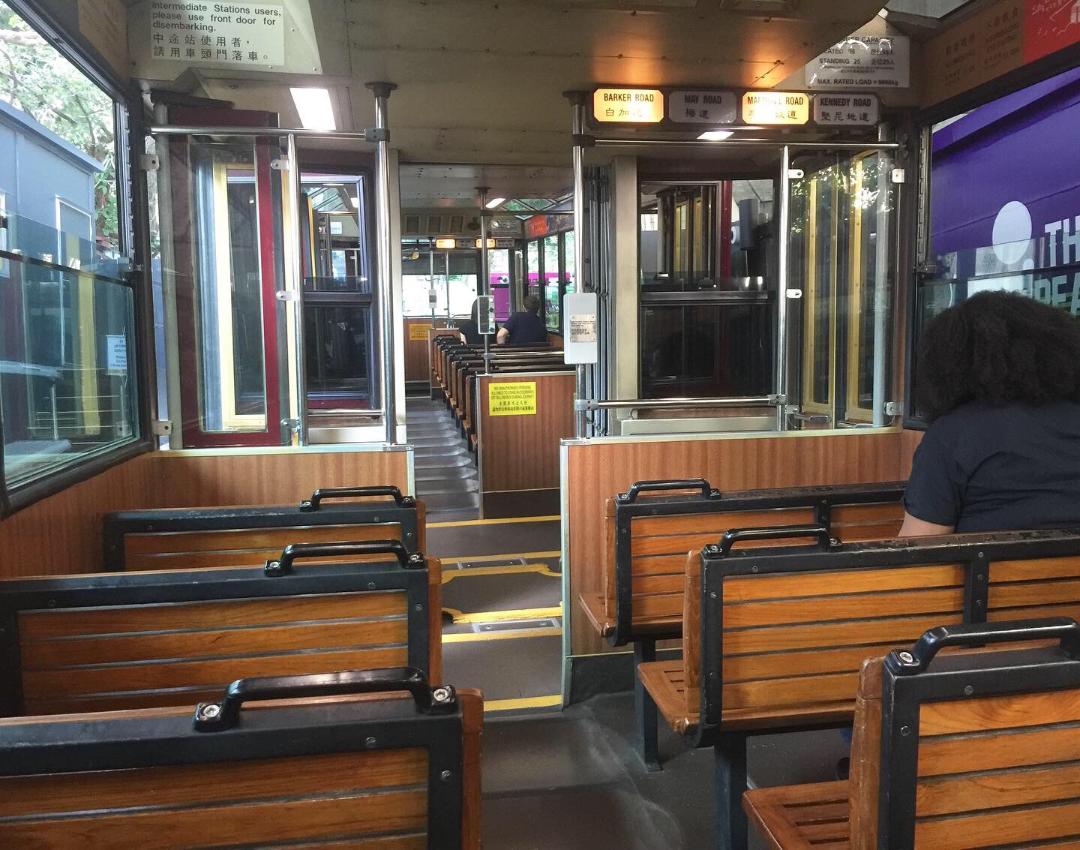 You can walk to Peak Tram in 10 minutes
Hilton stopped publishing fixed-price award charts for its properties few years ago. However, award nights at this property are generally priced between 60,000 and 80,000 Hilton Honors points per night. As with all Hilton properties, if you redeem points for a 5 night stay, you will only pay for 4 nights.
Cash prices at this property are normally quite high, in the vicinity of A$500 – $700 per night, however, as my visit was during the time of ongoing protests in Hong Kong, I managed to snare a room at around A$300.
Arrival & Check-In
I arrived at the hotel around 5:30 in the afternoon & was quickly taken-away for check-in by the waiting bell-hop.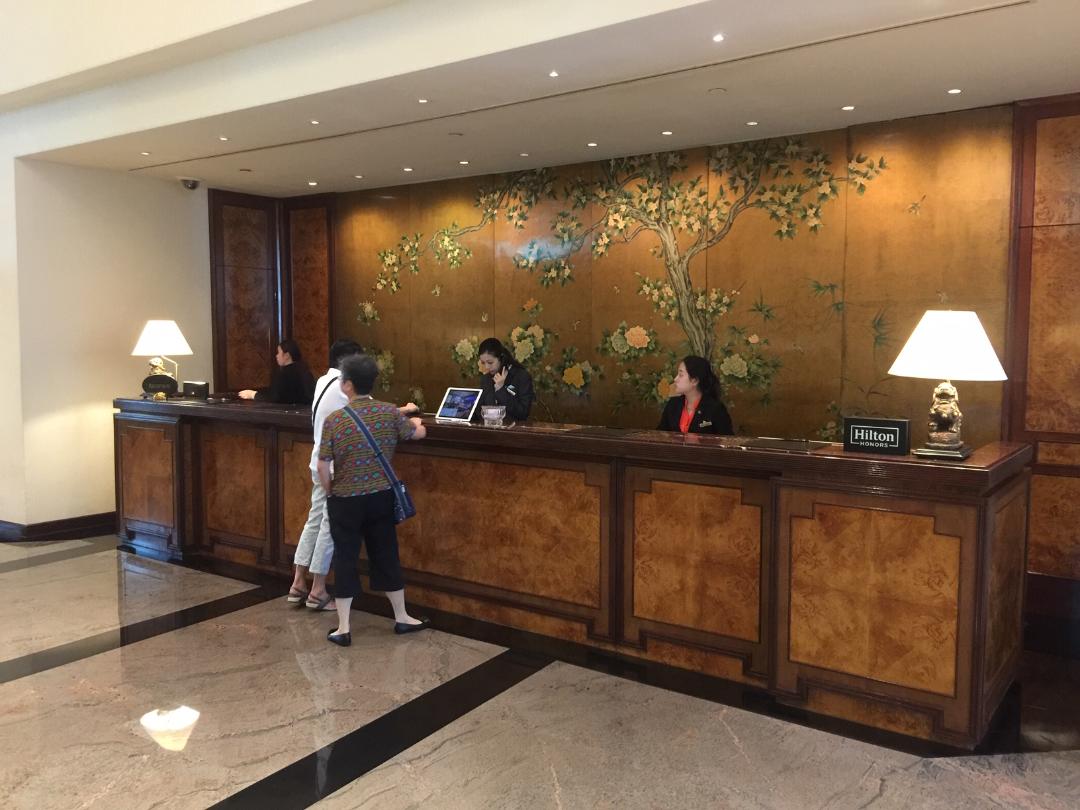 Conad Hong Kong Check-in Desks
The male staff-member (should have noted his name) working the desks was a consummate pro, who welcomed me as a 'valued' GOLD Hilton member, which I have it as part of the suite of benefits of my American Express Platinum Charge Card.
Anyhow, the staff member took his time with the check- in, he explained me that I had been upgraded to the King Deluxe Room on the Executive floor, which was the top floor in the building. He also advised that as a result of the upgrade, I was now able to access the Executive Lounge, which was open from 6:30 am to 11 pm each day. GOLD Hilton members do not automatically have lounge access, so the upgrade in this instance was quite lucrative.
I was then presented with a welcome letter detailing various benefits I could avail during my stay. Besides a host of other benefits, the letter also stated that should I choose, I could have my breakfast at the restaurant downstairs instead of the lounge.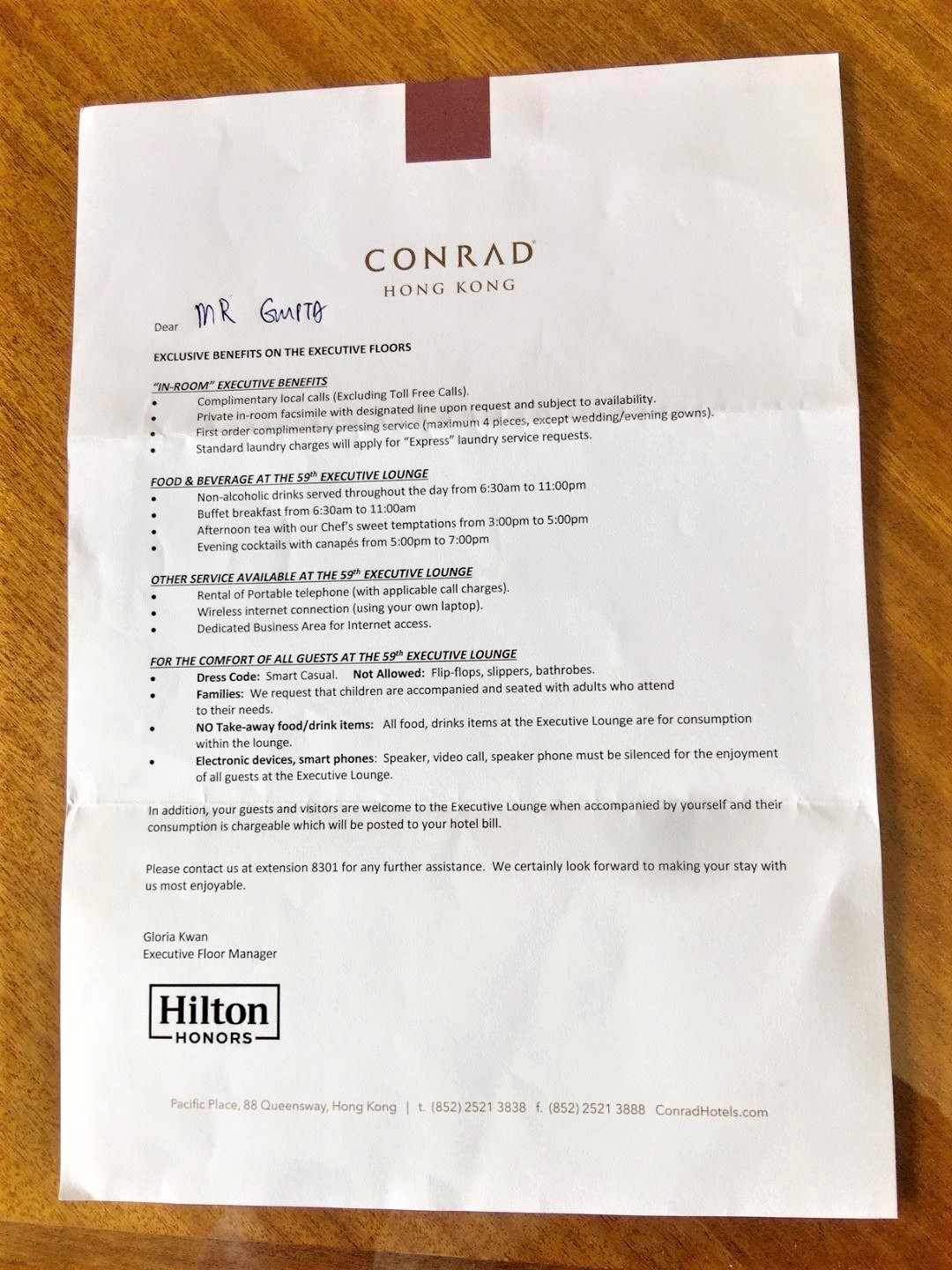 Welcome Letter – Conrad Hong Kong
The staff-member then escorted me to the lift, offered to carry my luggage to the room which I declined, scanned my card on the lift sensor and said his good-byes.
So no suite upgrade, but WOW, what an outstanding way to make your guests feel truly valued. I was a bit sad that this was only going to be a short 1 night stay, but the warm & genuinely caring theme continued throughout the whole time I was at the hotel.
The King Deluxe Room
I was assigned room no. 5926 on the 59th floor.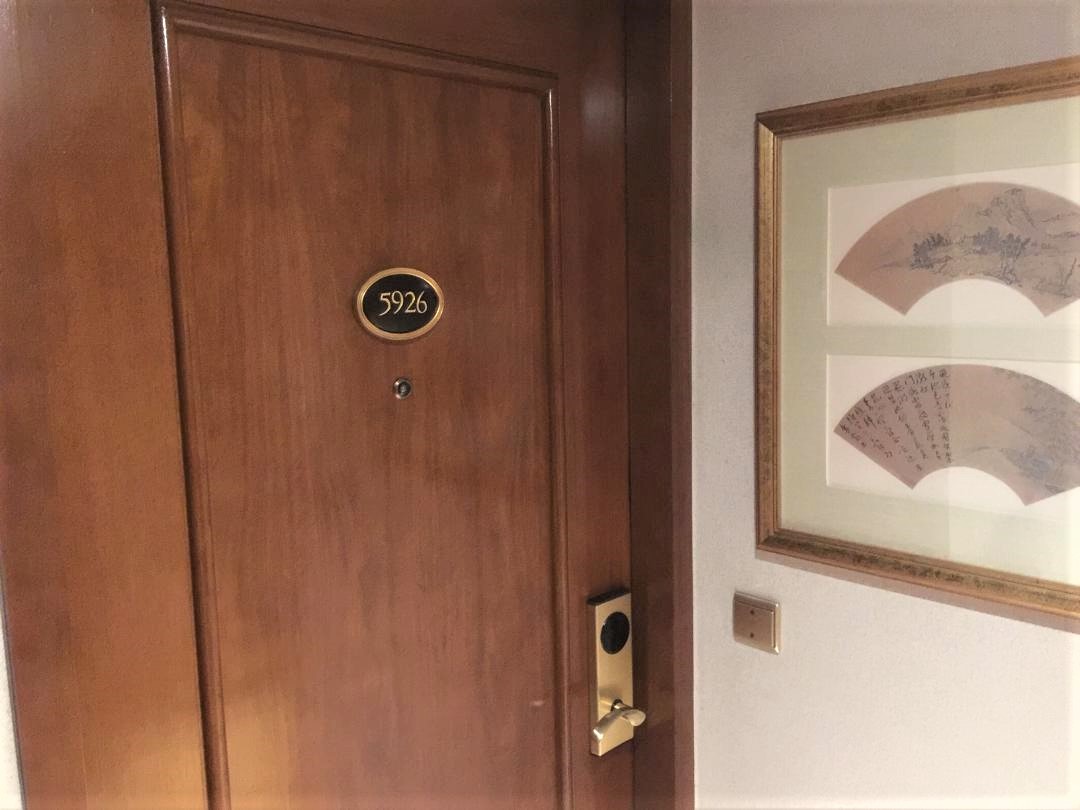 My allocated Room on the Executive Floor
As I entered the room, the bathroom was to the right. It featured dual vanities on a marble counter-top, a bath and a shower. The shower area was a tight squeeze, unless if you do yoga everyday, in which case, you would have been perfectly fine.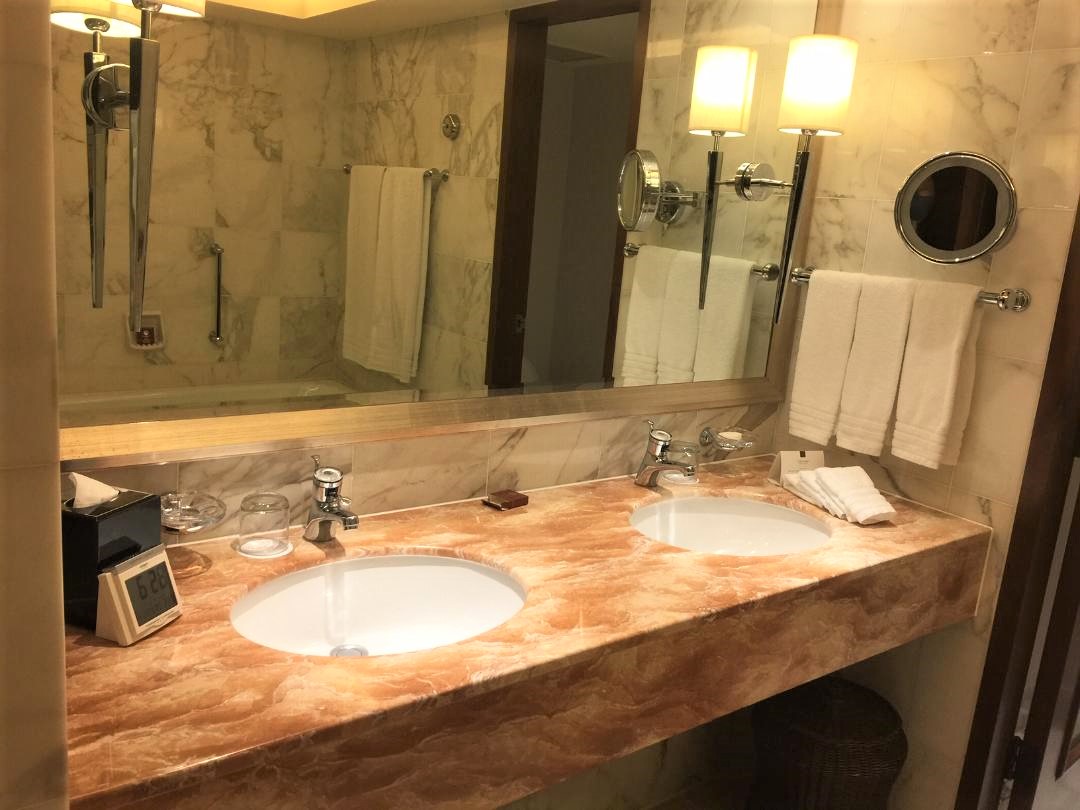 Bathroom, King Deluxe Room, Conrad Hong Kong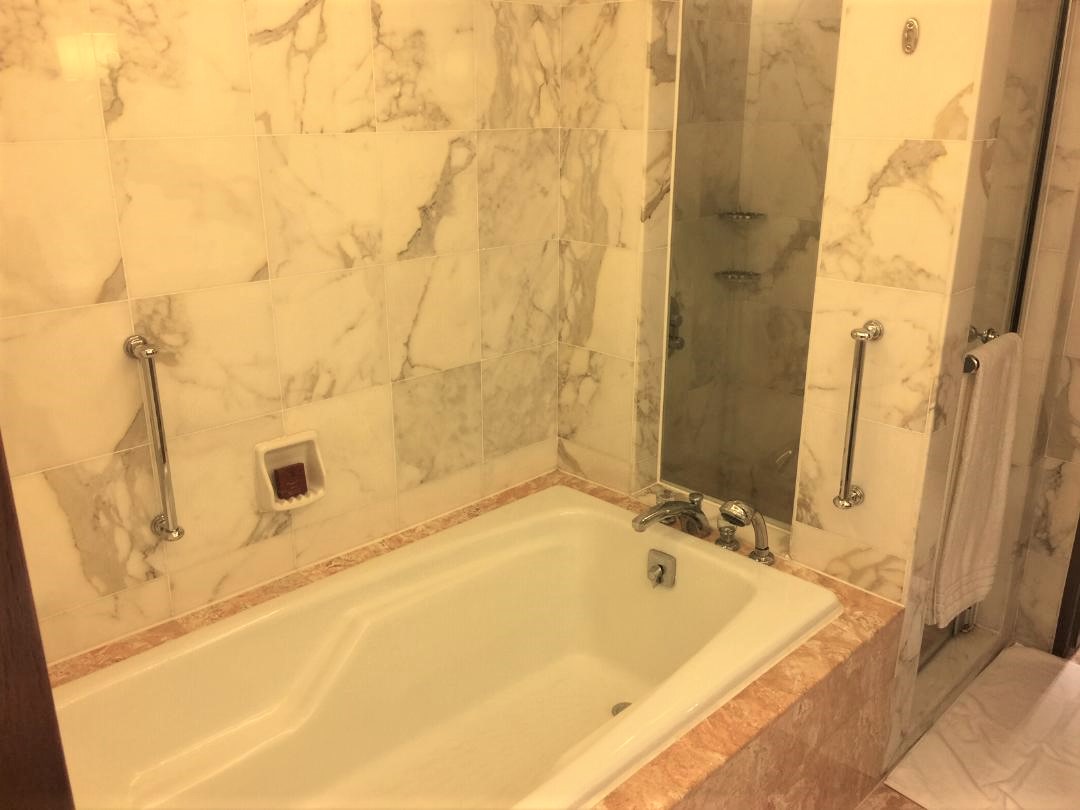 Bath & Shower, King Deluxe Room, Conrad Hong Kong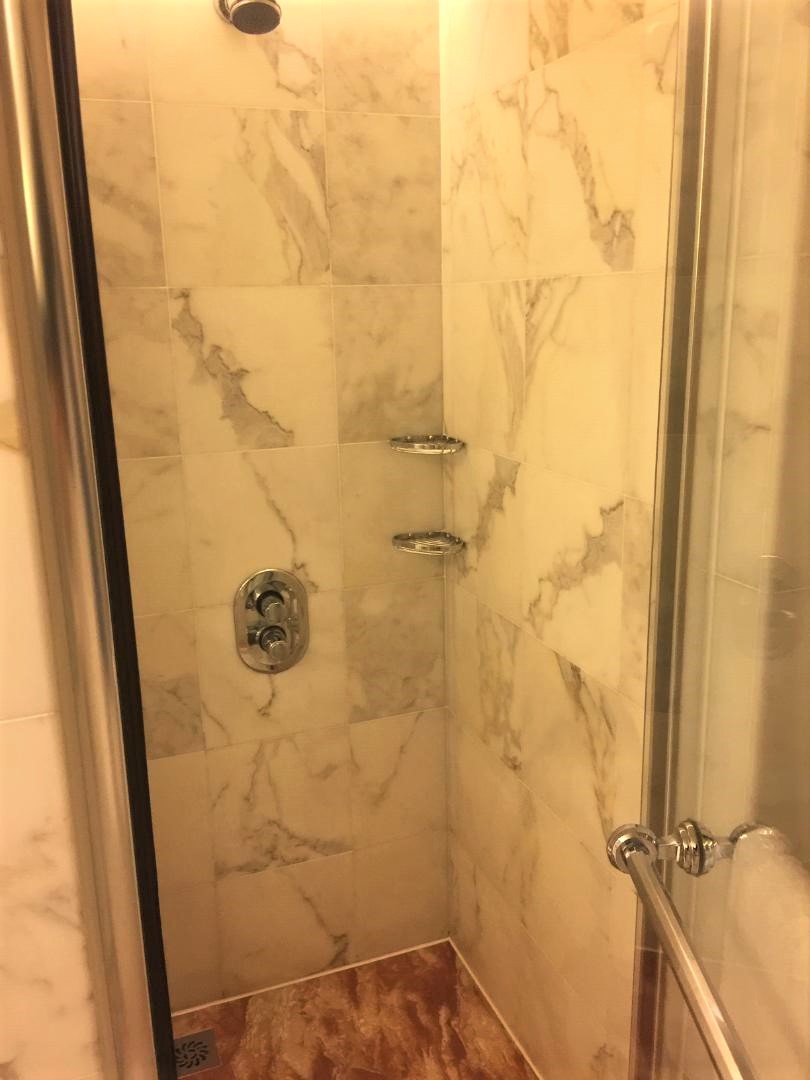 Shower, King Deluxe Room, Conrad Hong Kong
The bath products were from Mandarin Tea and of very high quality. Placed below them, and inside the drawer was the dental & male/female grooming kit. The toilet was on the other end of the room, separated from the rest of the bathroom via a lockable door.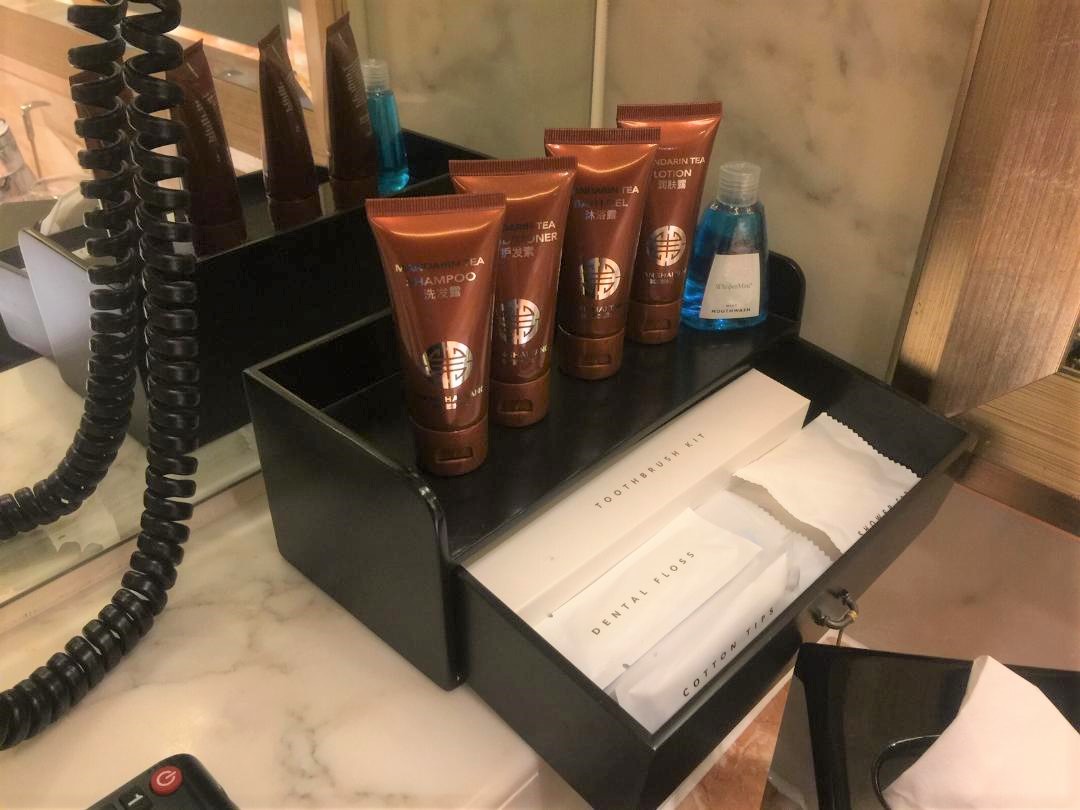 Bath Amenities were from Mandarin Tea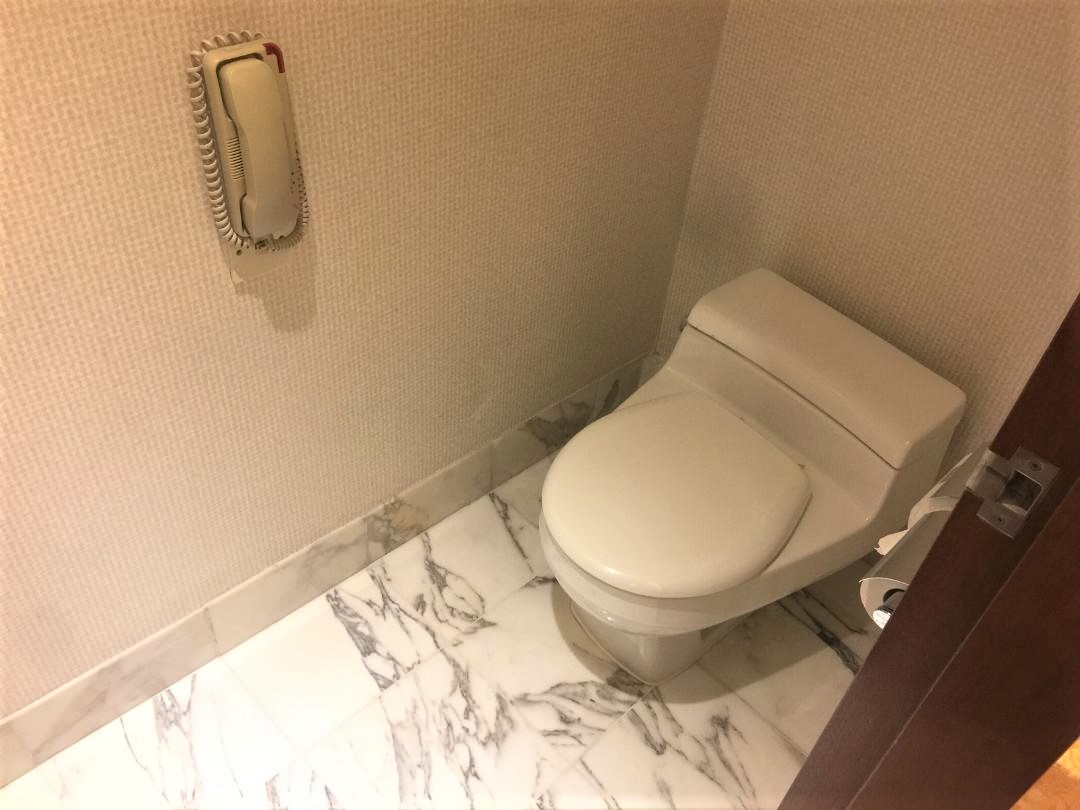 Toilet, King Deluxe Room, Conrad Hong Kong
Back out, there were 2 large wardrobes opposite the bathroom which contained an umbrella, a digital safe, some ironing paraphernalia, a laundry bag and a bunch of hangers.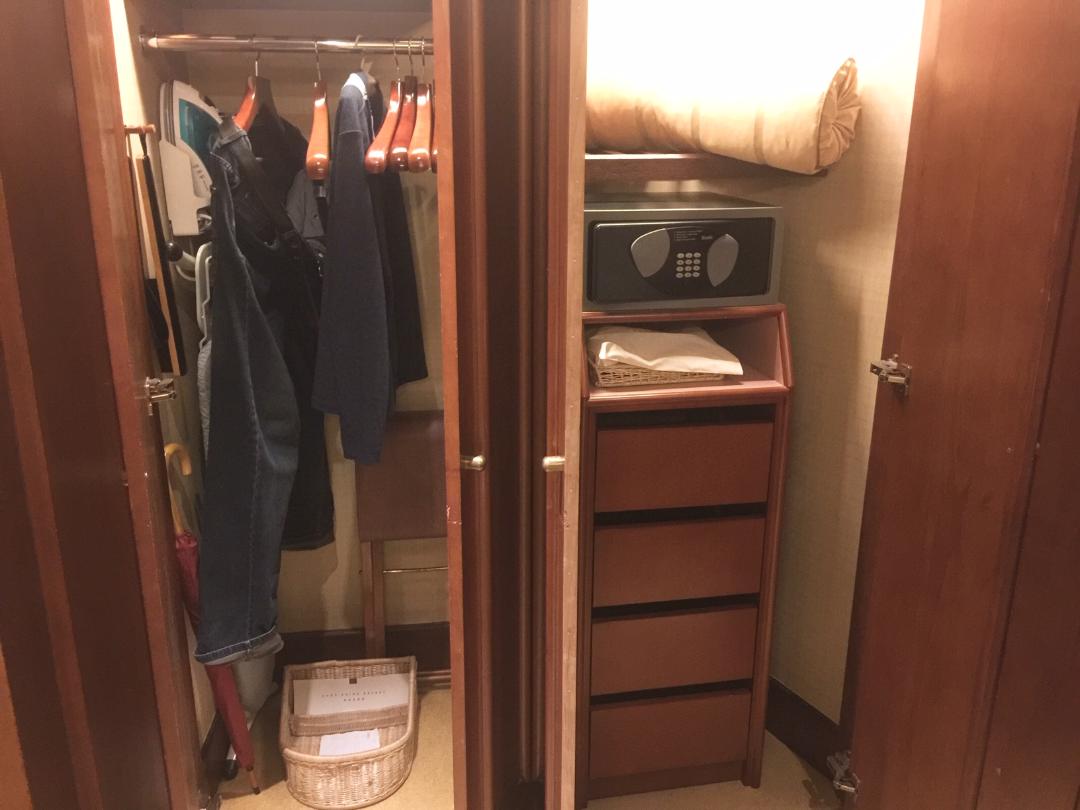 Wardrobes, King Deluxe Room, Conrad Hong Kong
There was a shelf above the mini-bar along the wall next to the bathroom. It was stocked with some munchies, a selection of tea, a Nespresso coffee maker, few capsules, and an electric kettle.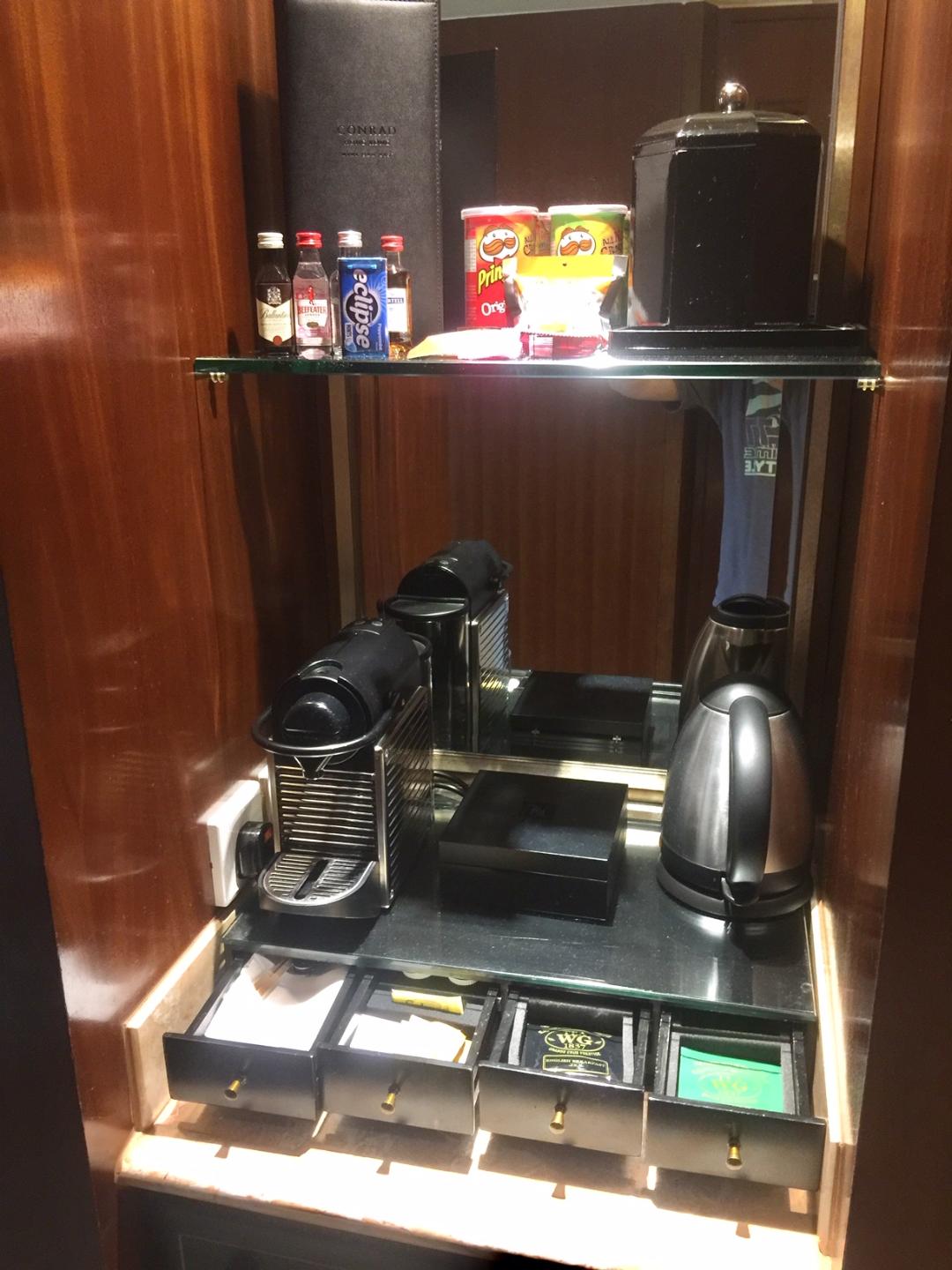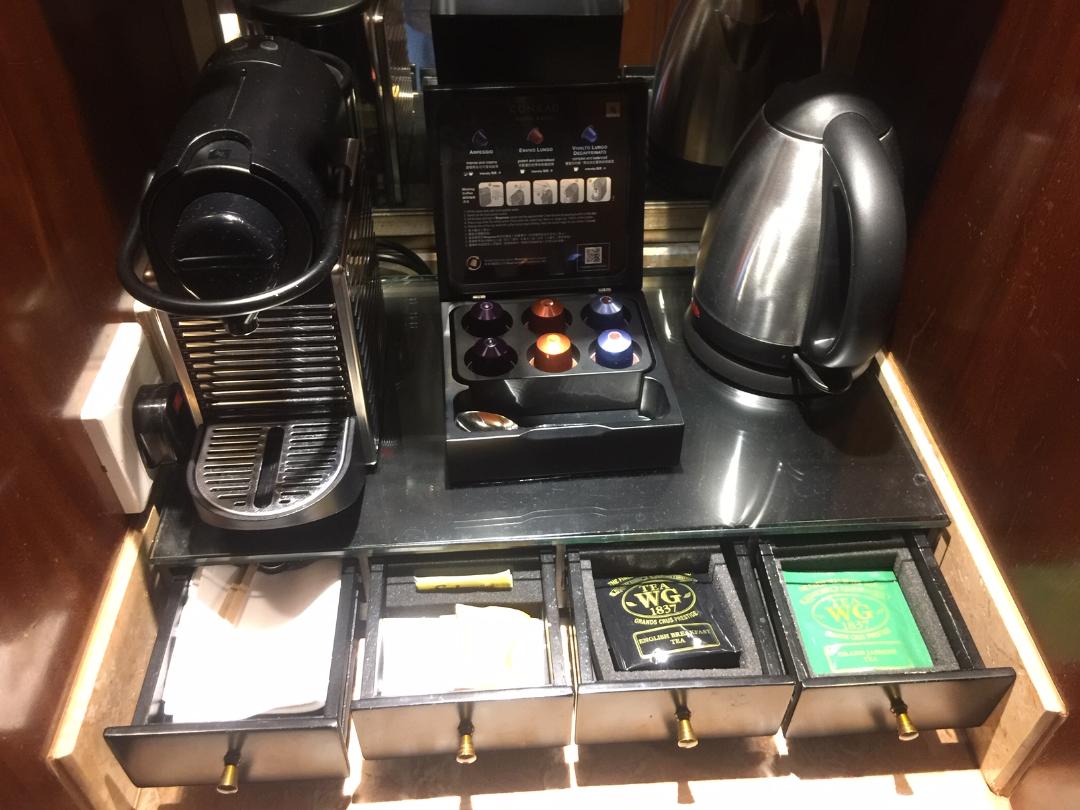 Nespresso Coffee maker, capsules and Tea Sachets
Further down, there was a large flatscreen TV on the wall, and a chest of drawers underneath. The drawers were empty and perhaps a waste of space in a room that wasn't exactly of generous proportions.
There was a work desk & swivel chair in the corner. I tried getting some work done at one point, but found the chair a little uncomfortable. It was fine while I sat straight like a stick, but when I tried to lean-back a little, the recline gave-way & I almost toppled-over.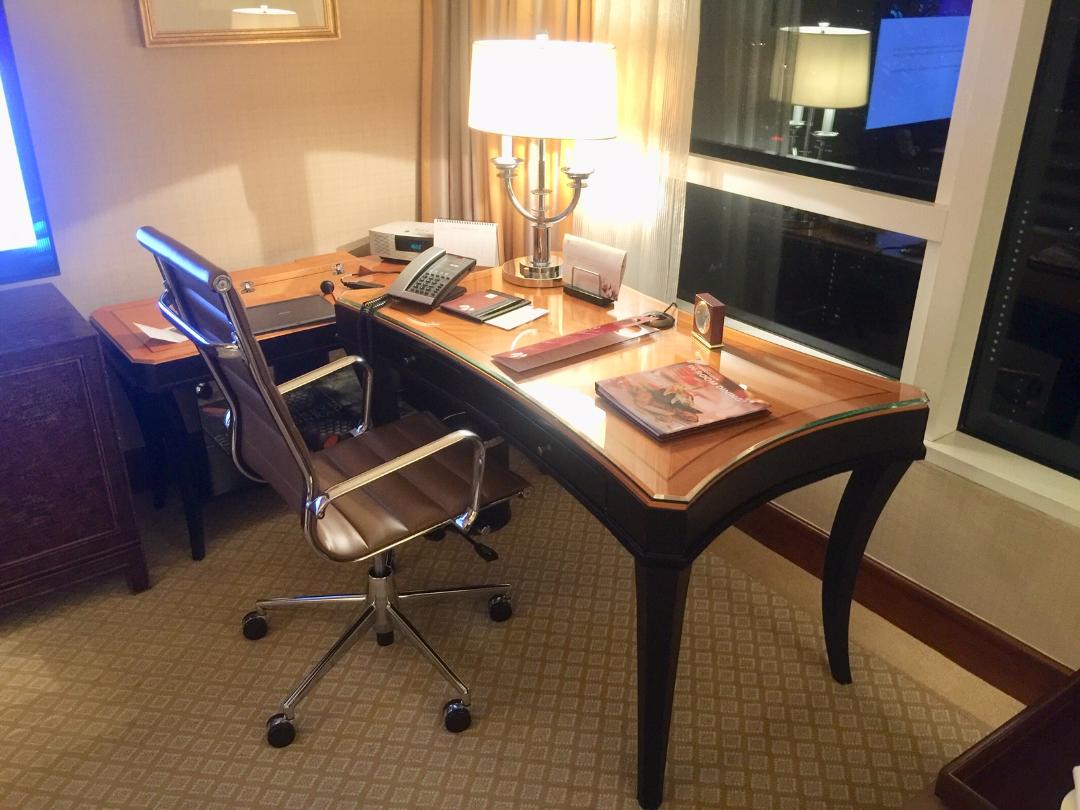 Work Desk & Chair, King Deluxe Room, Conrad Hong Kong
Next to the desk was an Ottoman, with the welcome amenity of a fruit platter and a welcome note. Further along the wall and on the far corner, there was a plush arm-chair, upholstered in leather.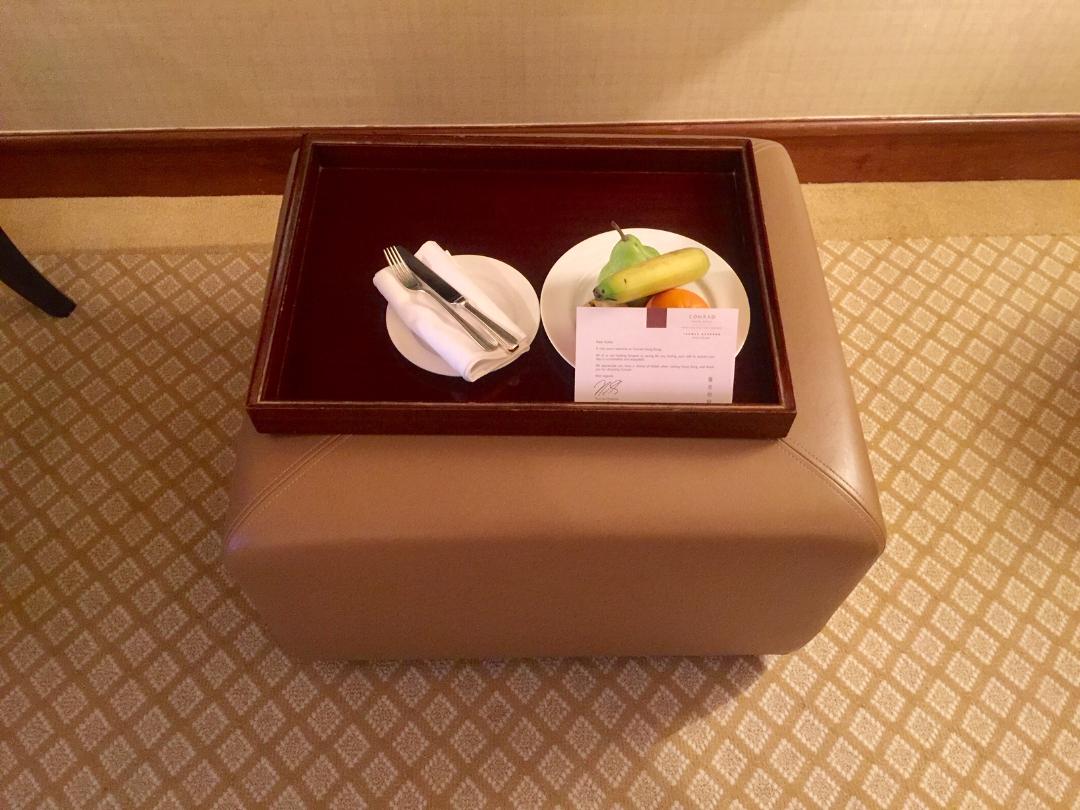 Fruit Platter & Welcome Note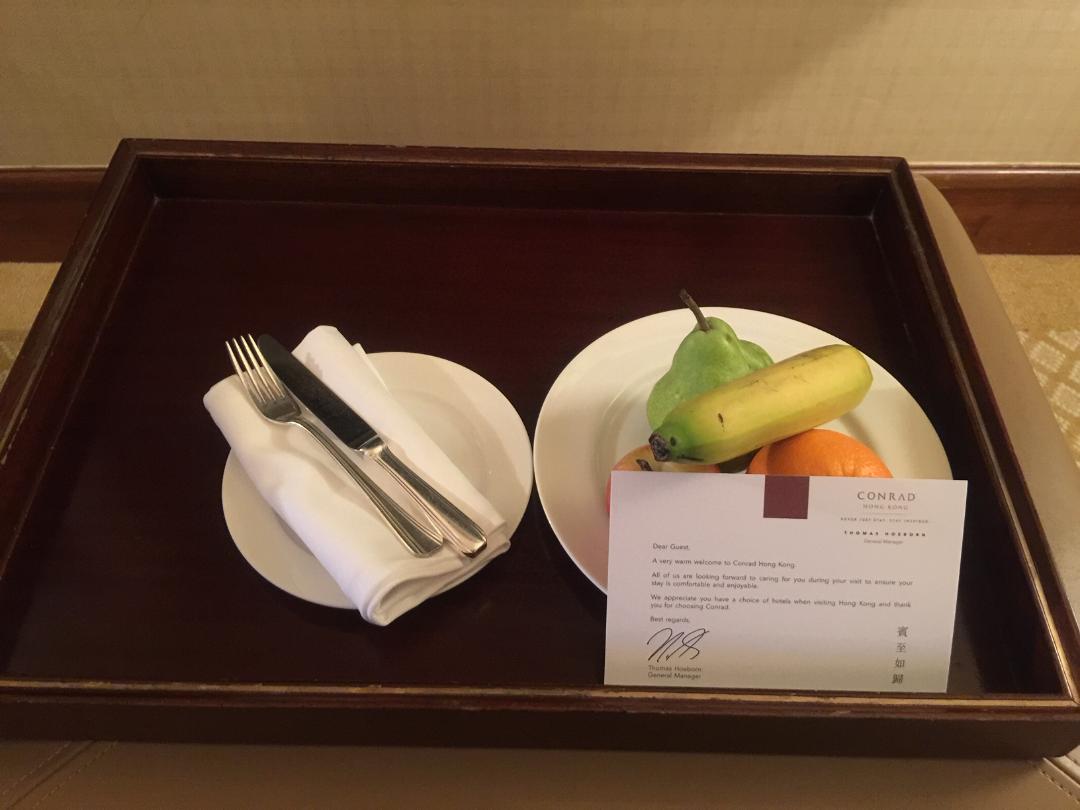 Fruit Platter & Welcome Note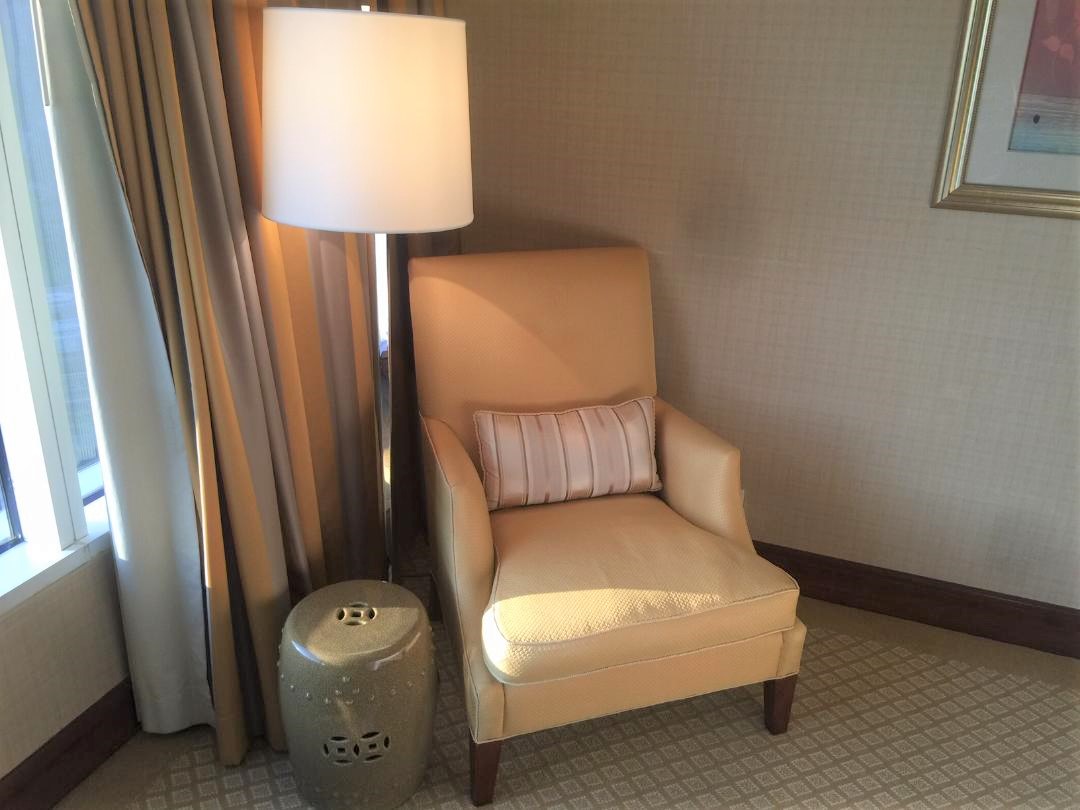 Leather Chair, King Deluxe Room, Conrad Hong Kong
The King size bed was on the other side, along the wall. It was enormous and extremely comfortable. There were several pillows you could choose from. The linen was of very high quality and the bed-sheets had that crisp, fresh feel to it.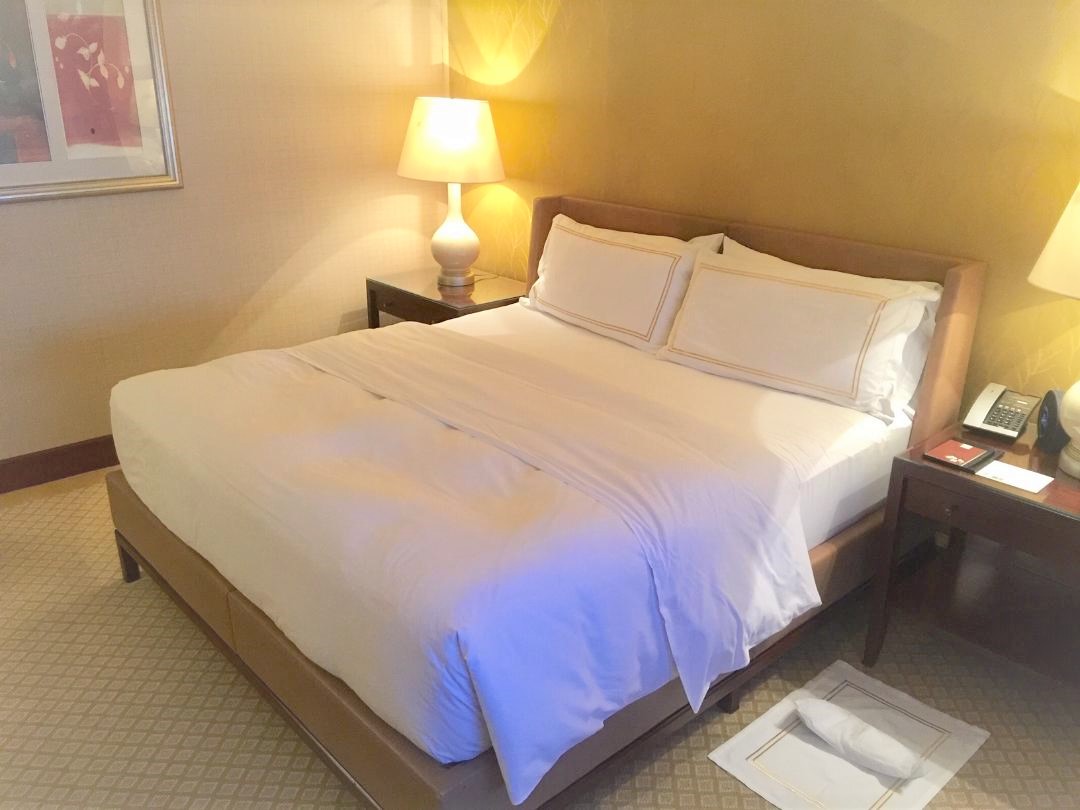 King Bed, Conrad Hong Kong
There were 2 bedside tables, one of these had the telephone, 2 complimentary bottles of water and the adorable Conrad bear.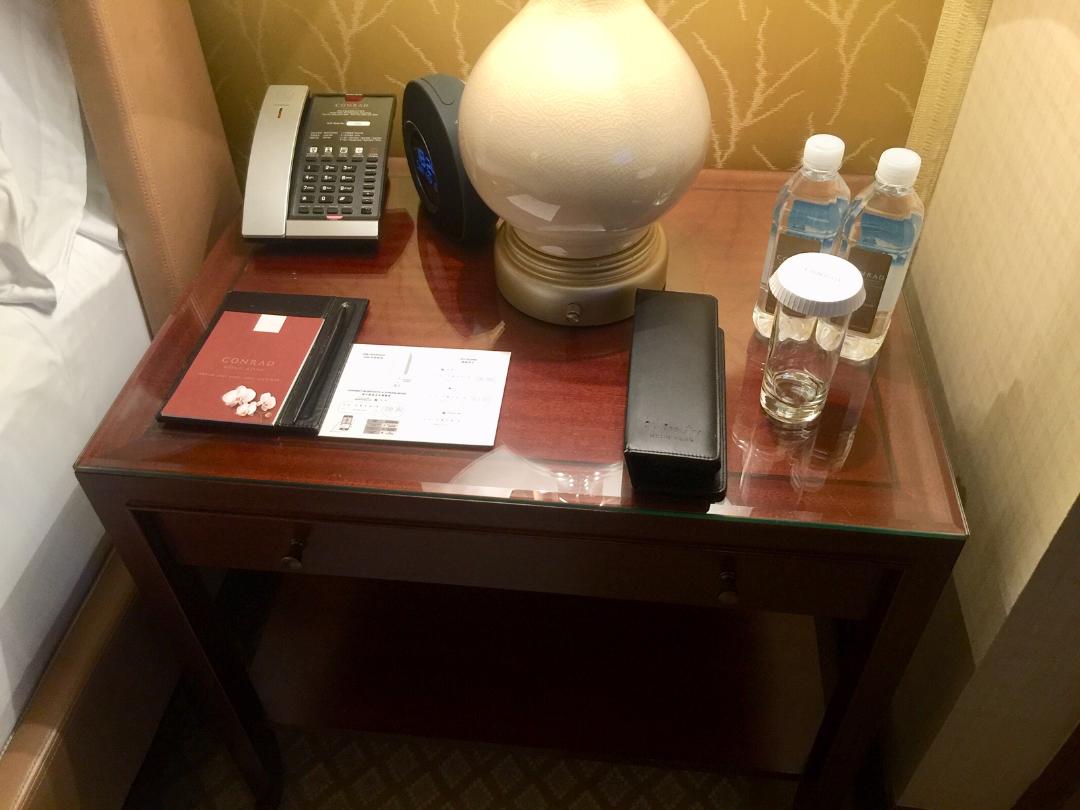 Bedside Table, King Deluxe Room, Conrad Hong Kong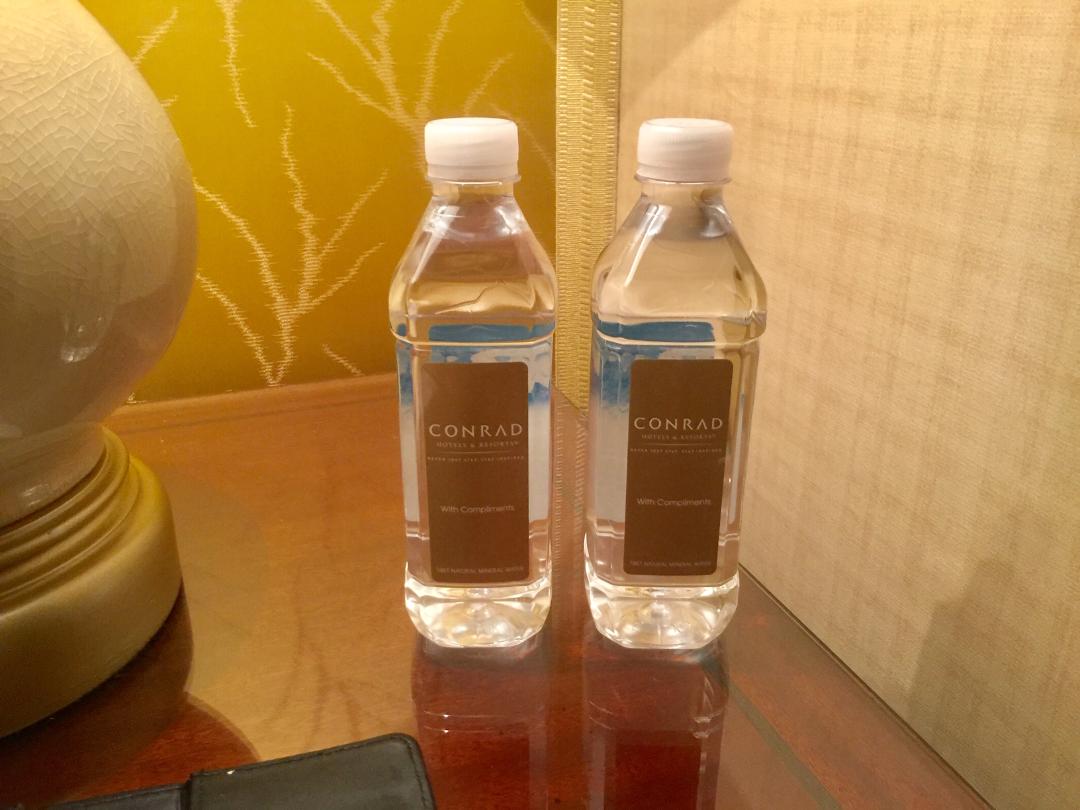 Bottled Water
For a King Deluxe Room, I though it was a bit on the cozy side, but not unexpectedly so. Hong Kong has some of the priciest real estate in the world and every single square-footage commands a premium.
At this point, I was getting hungry so I decided to go check-out the Executive Lounge which was located just around the corner from my room.
Executive Lounge
The lounge is located on Level 59. It offers decent amount of seating and terrific harbour views.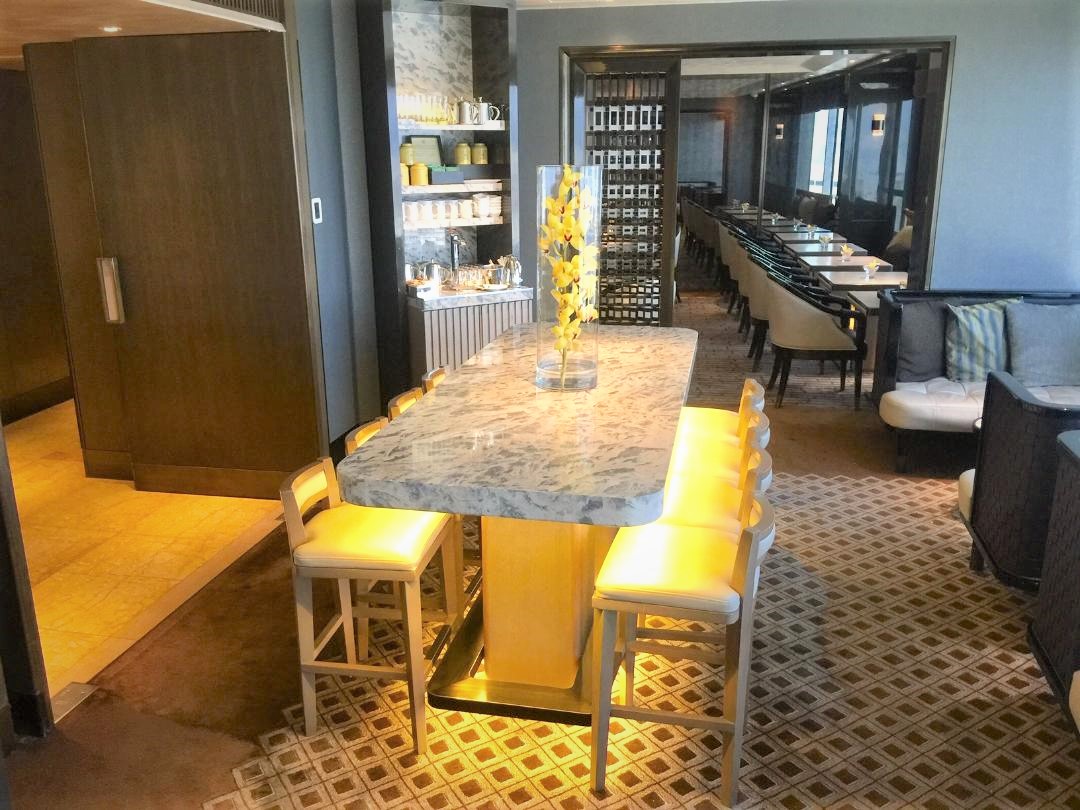 Executive Lounge, Conrad Hong Kong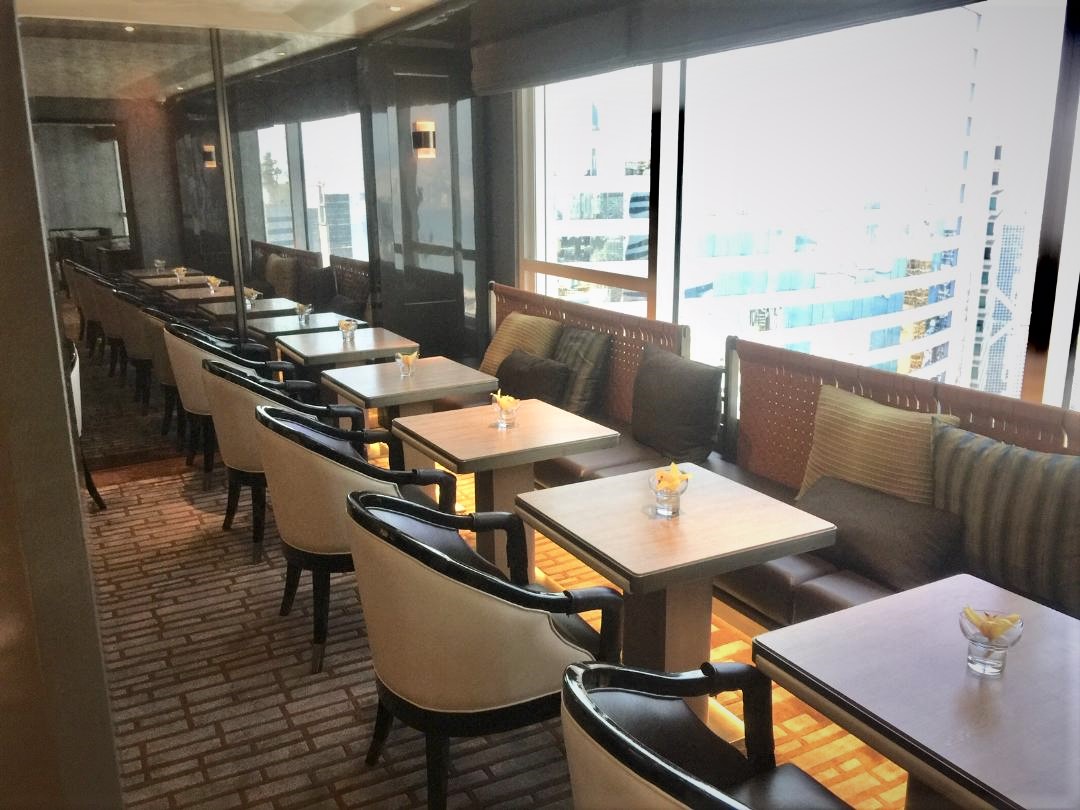 Executive Lounge, Conrad Hong Kong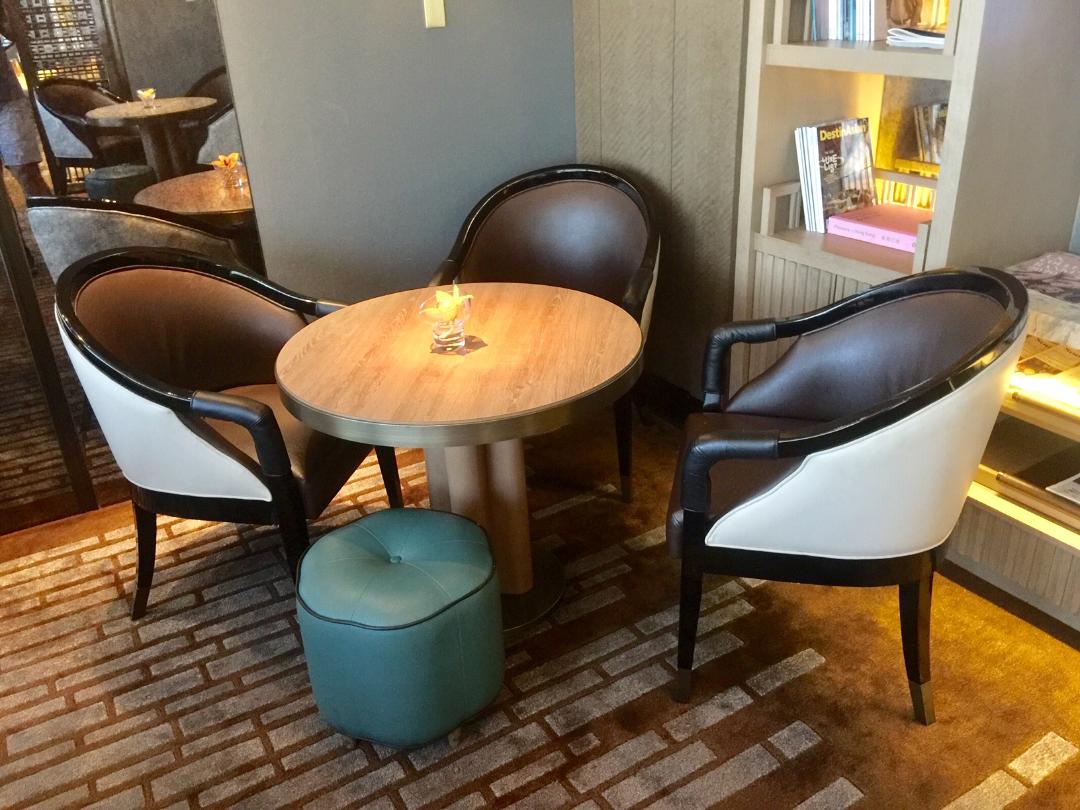 Executive Lounge, Conrad Hong Kong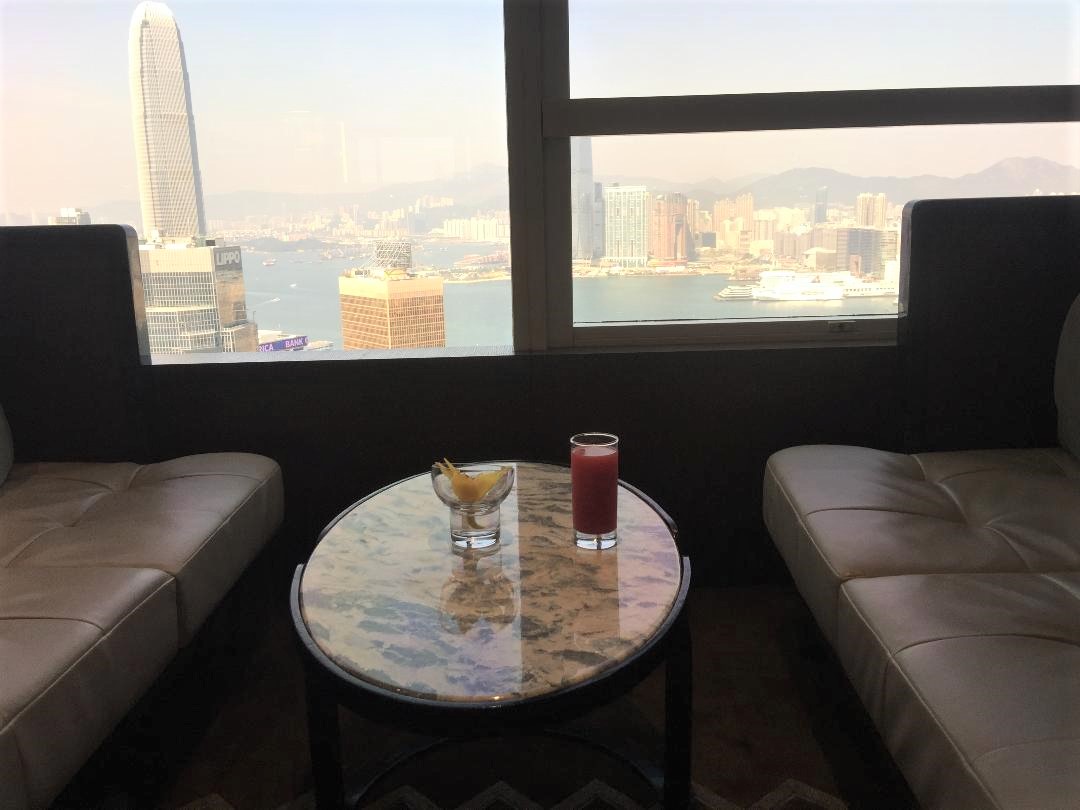 Executive Lounge, Conrad Hong Kong
On the evening of my visit, they were serving canapes of bite-sized pizzas, cornchips with sala and guacamole and some nuts. There was Tsingtao beer, wine and spirits to drink.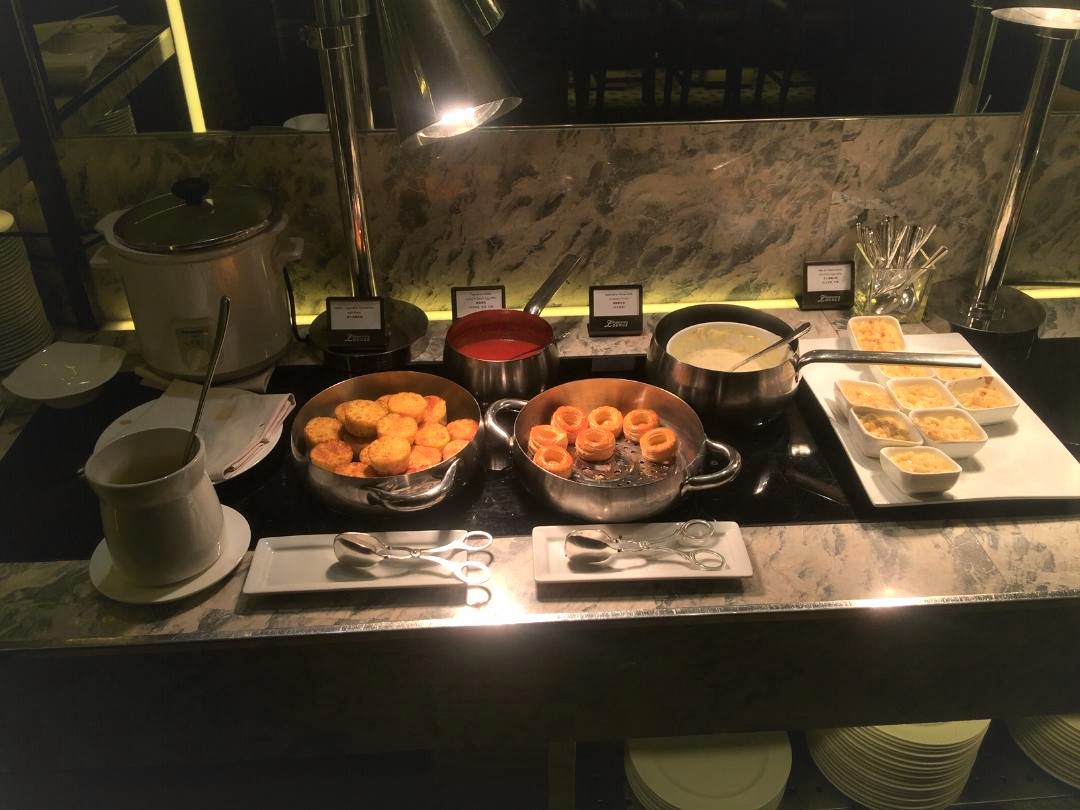 Executive Lounge Food, Conrad Hong Kong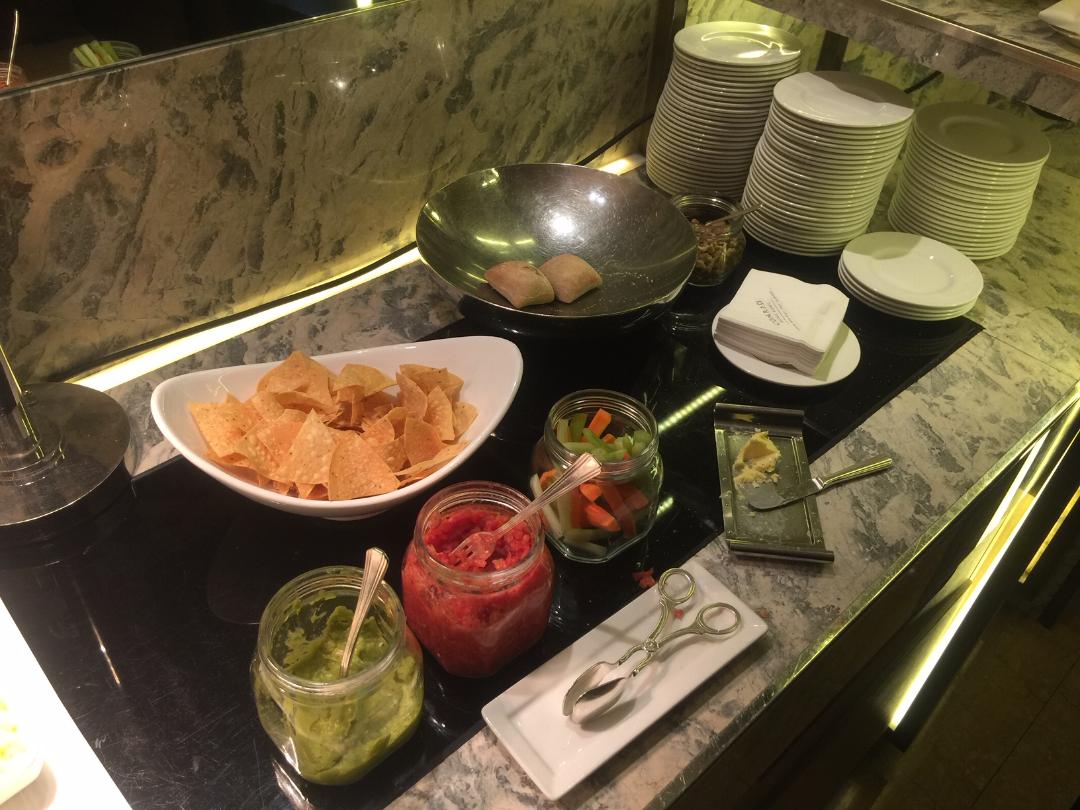 Executive Lounge Food, Conrad Hong Kong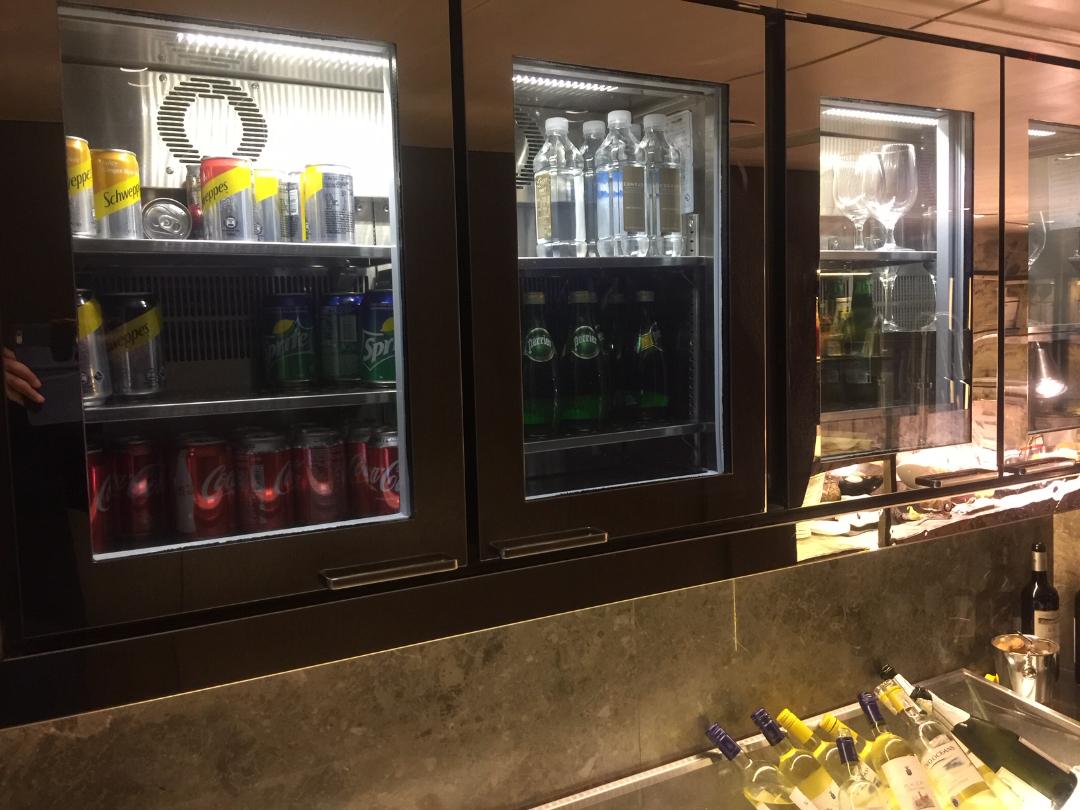 Executive Lounge Drinks, Conrad Hong Kong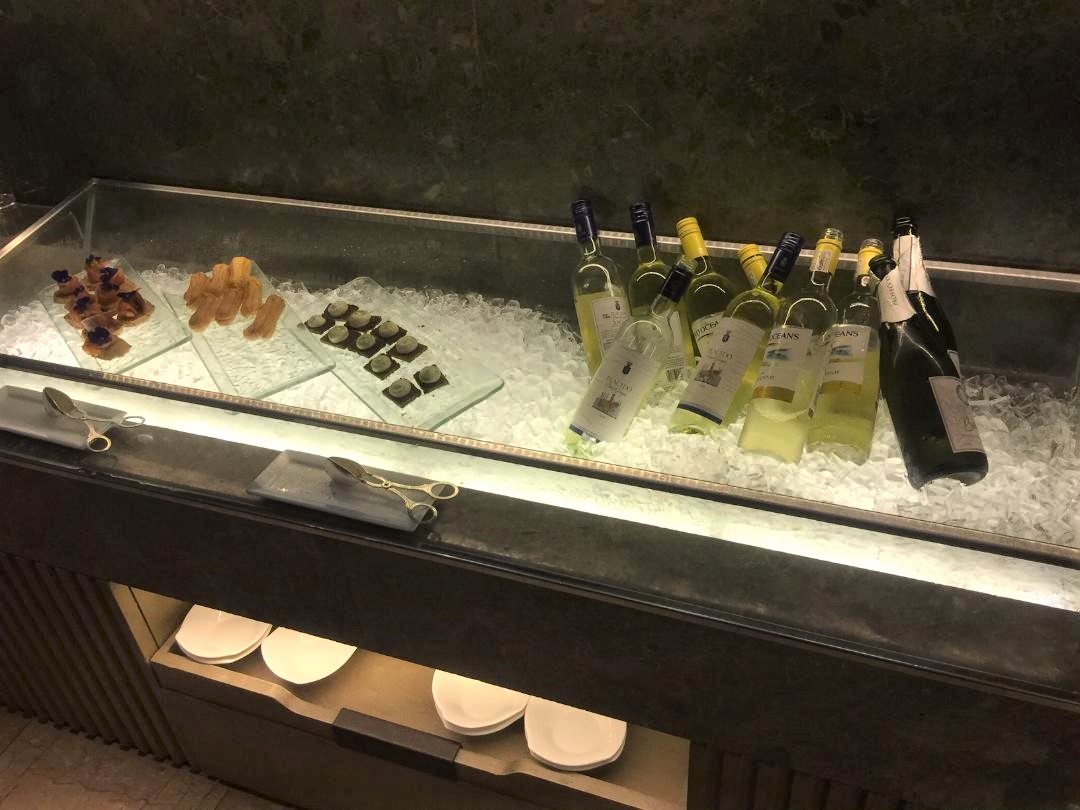 Executive Lounge Drinks, Conrad Hong Kong
I had a bit of everything, washed down with an ice-cold Tsingtao 🙂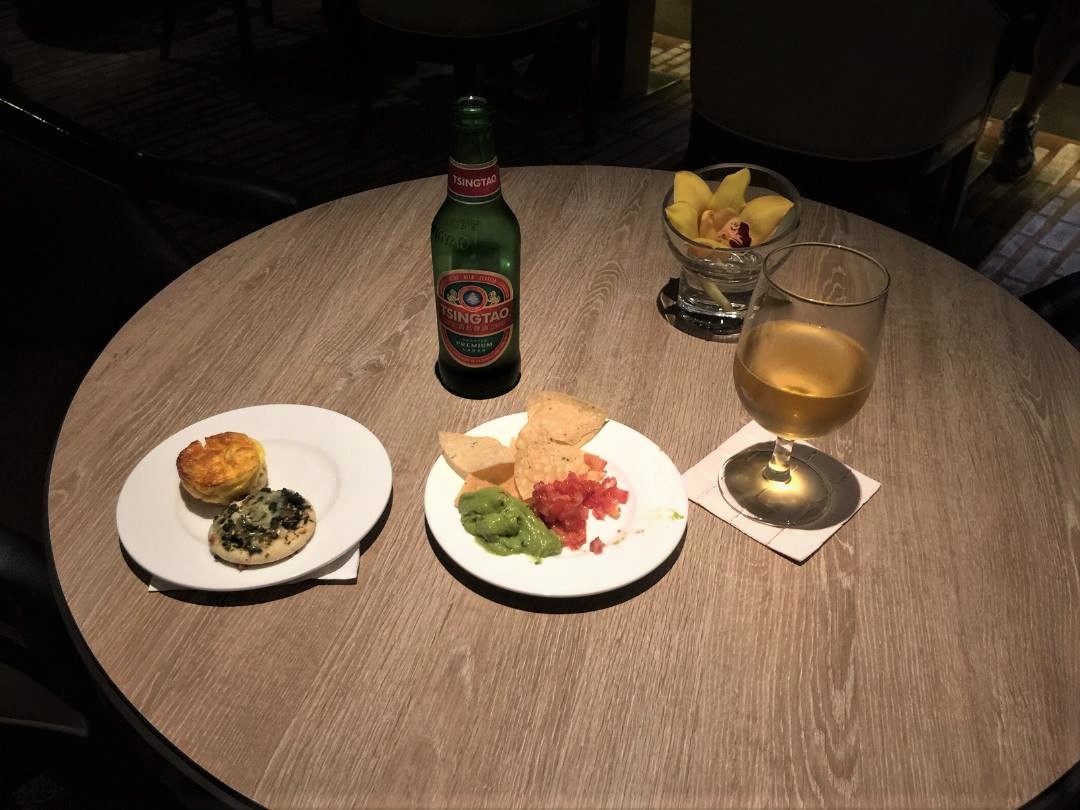 This is what I had
The lounge was pretty crowded, and it took a few minutes before the staff could find me a table. Other than that, this is a pretty good place to hang-around for drinks and snacks in the evening.
Dining
The property has several onsite restaurant, although due to my overnight stay, I was only able to check-out one of these named 'Golden Leaf', where breakfast is served each morning,
The restaurant is located on level LL (Lower Lobby), which is one level below the hotel lobby. It was bright and spacious inside, with lots and lots of seating.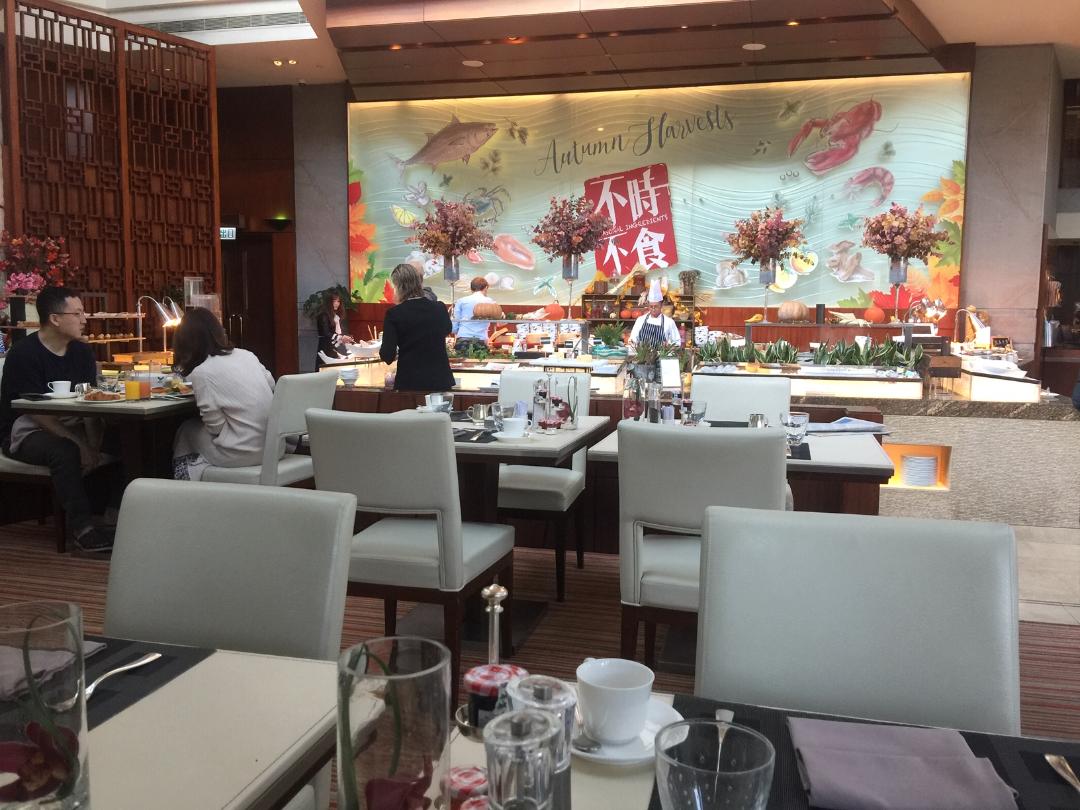 Golden Leaf, Conrad Hong Kong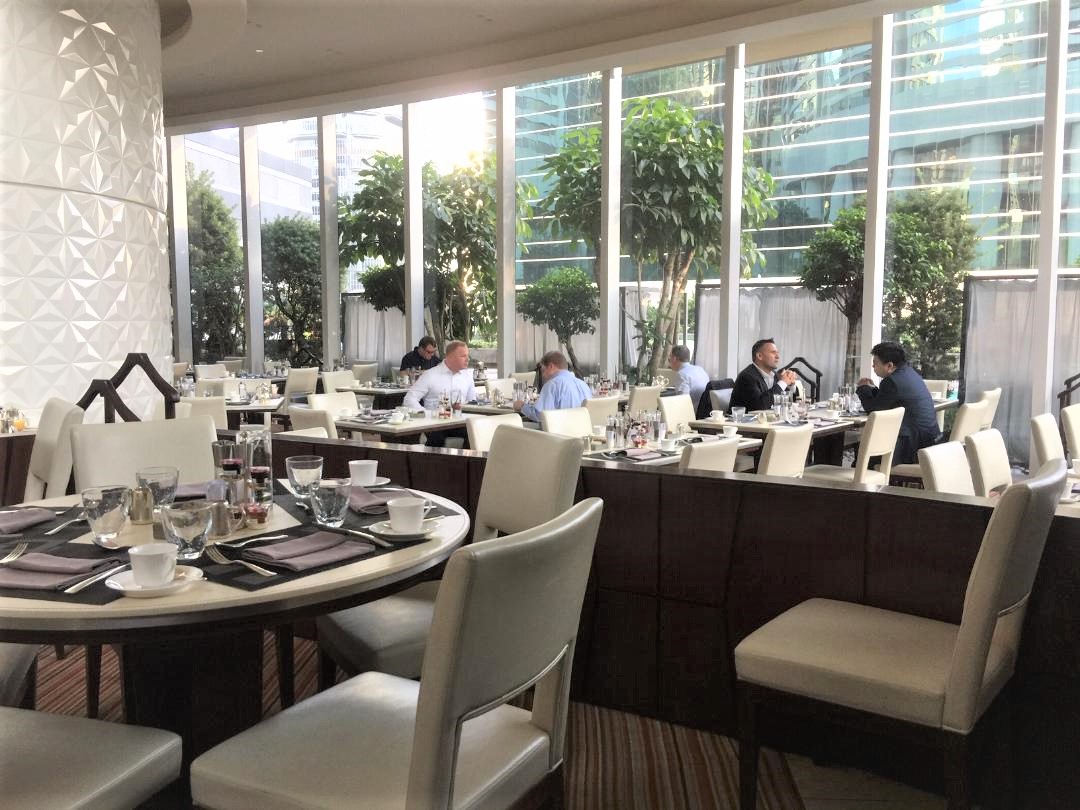 Golden Leaf, Conrad Hong Kong
The breakfast style was self-serve for the most part, although tea and/or coffee was delivered to the table. There was the usual fare of eggs, bacon, hash-browns and so-on, plus some Chinese and Japanese dishes. I will let the pictures speak for themselves.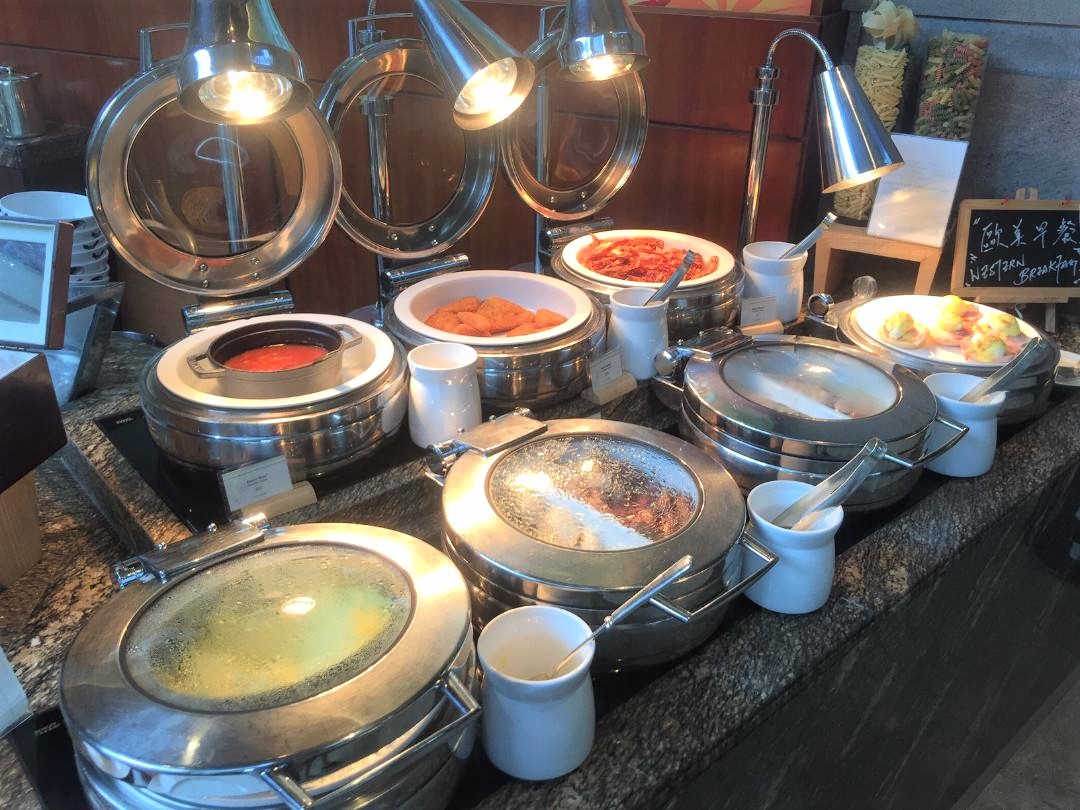 Breakfast, Conrad Hong Kong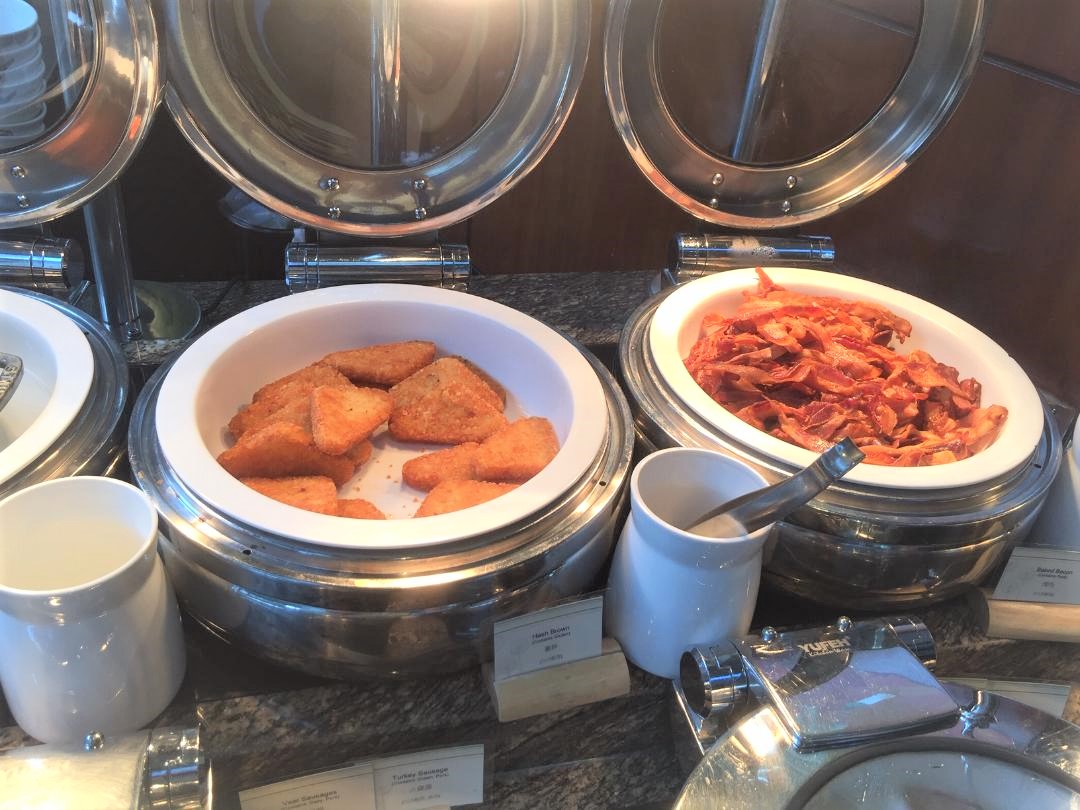 Breakfast, Conrad Hong Kong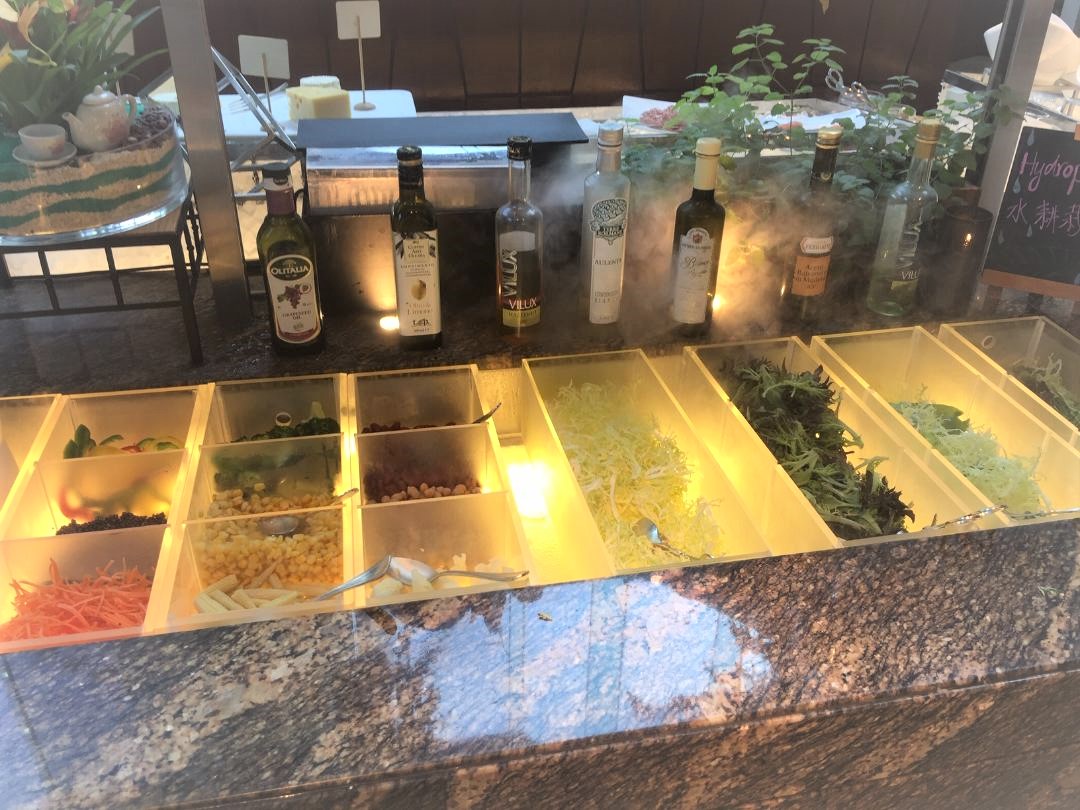 Breakfast, Conrad Hong Kong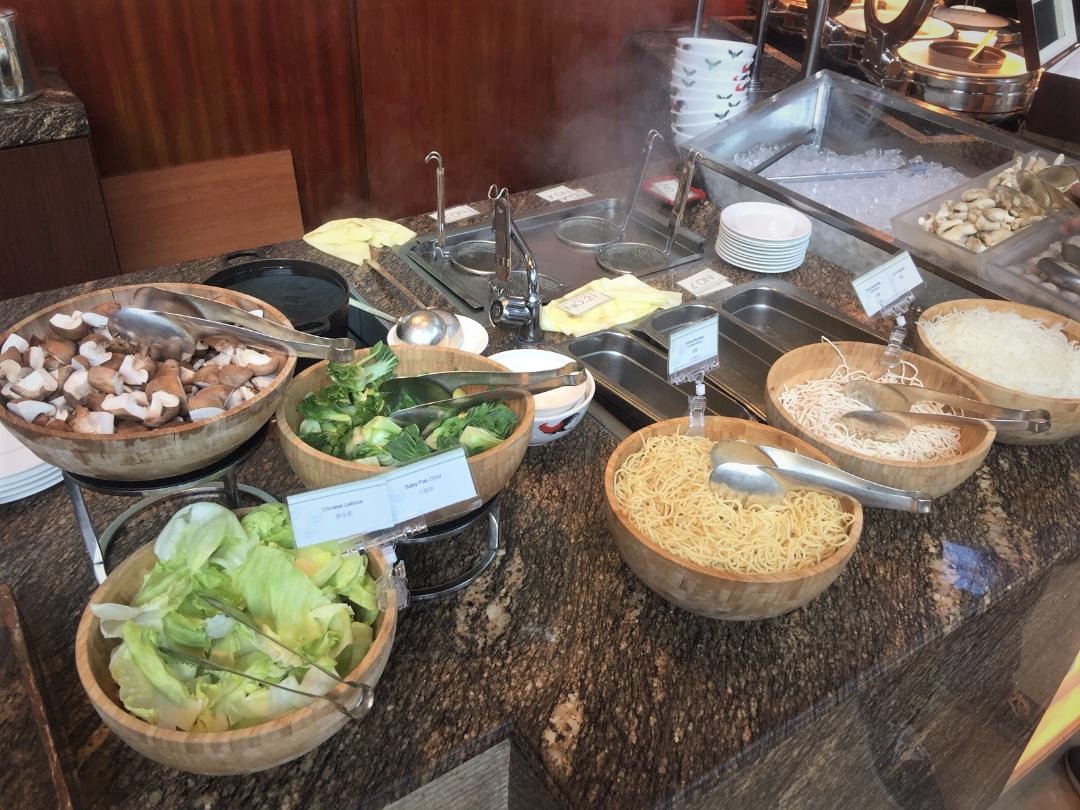 Breakfast, Conrad Hong Kong
In another section, there were cereals and pastry items, plus a live cooking station where you could order eggs cooked your style.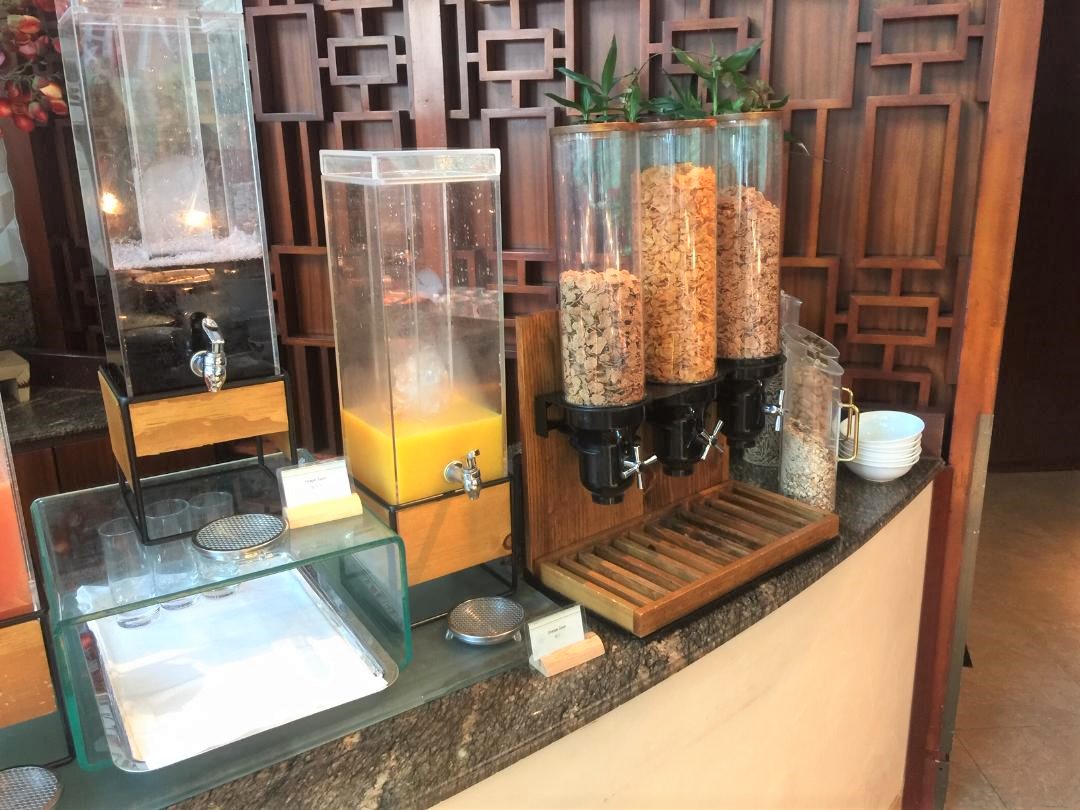 Breakfast, Conrad Hong Kong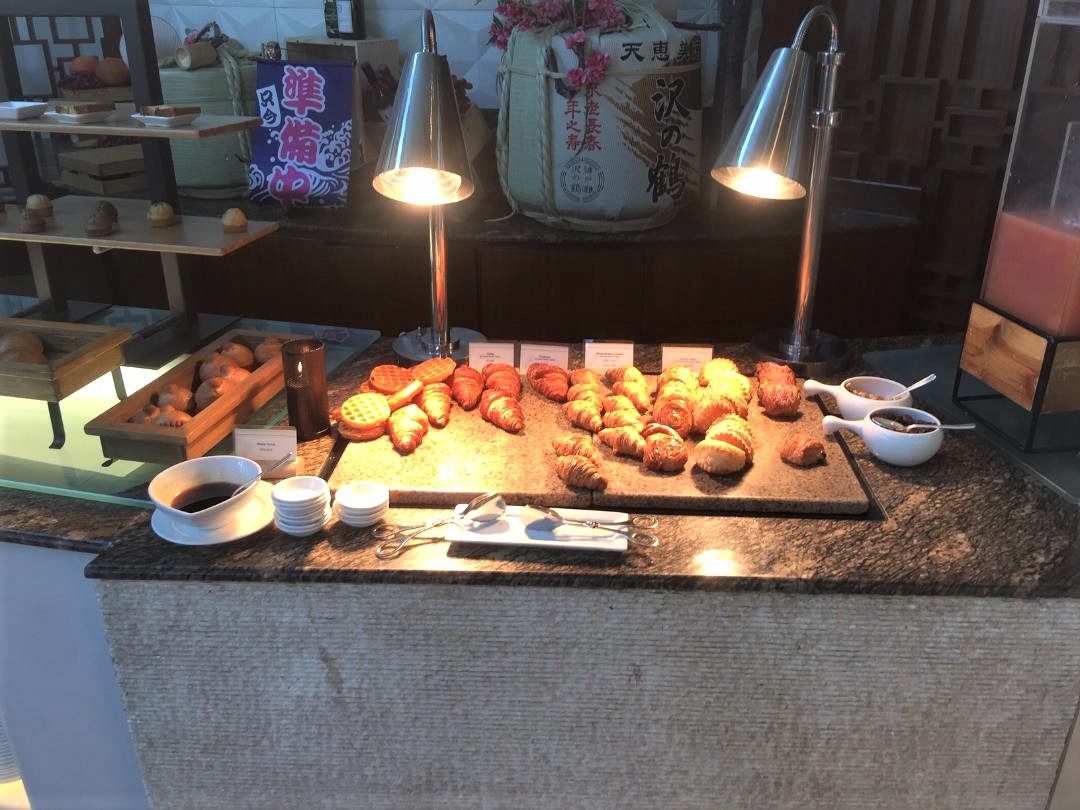 Breakfast, Conrad Hong Kong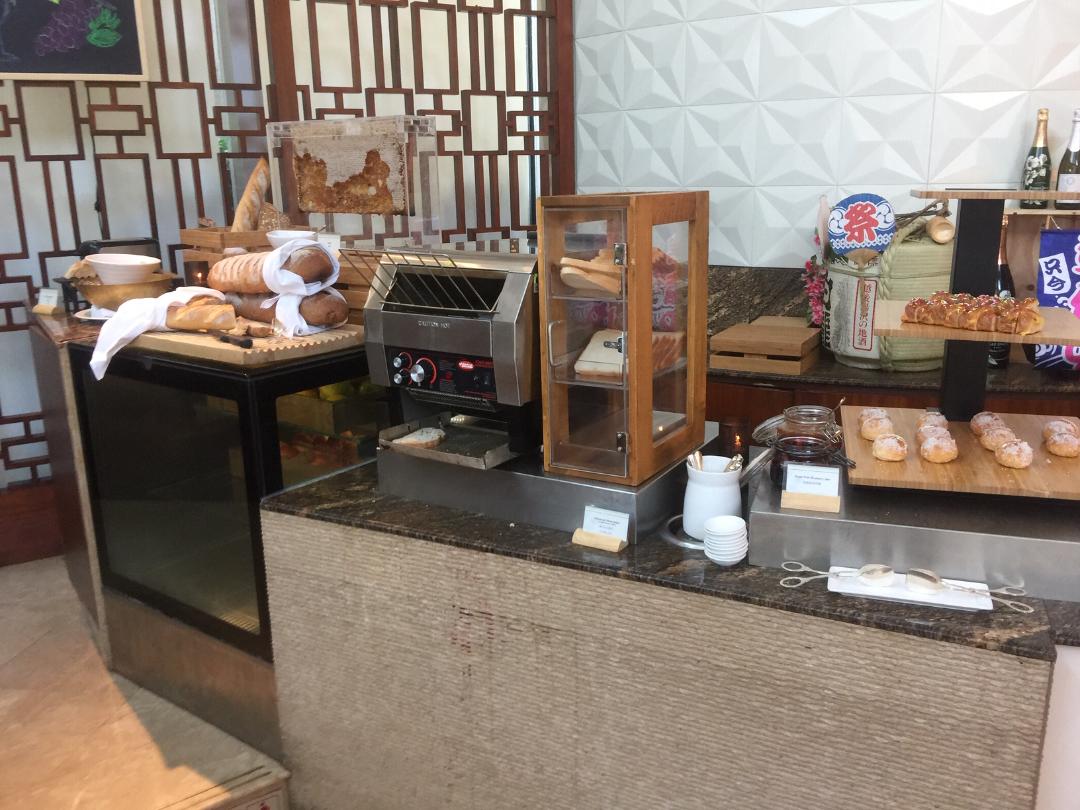 Breakfast, Conrad Hong Kong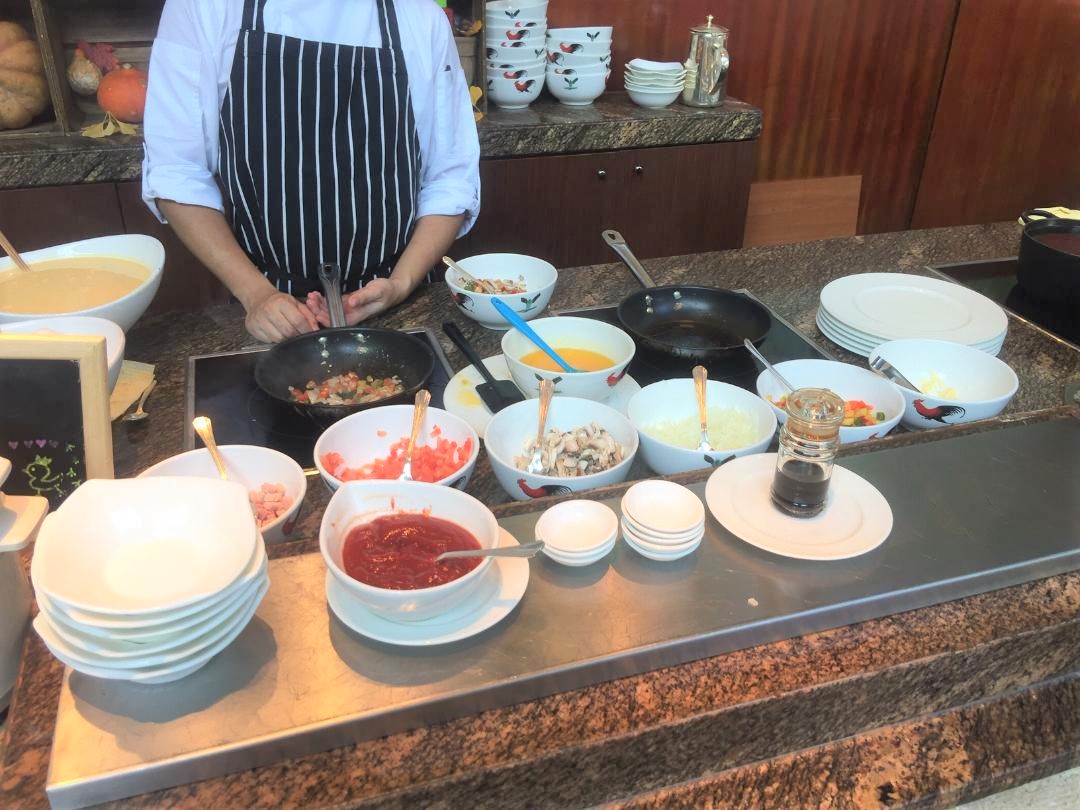 Breakfast, Conrad Hong Kong
I had some dim-sums to go with omelette and croissant. Everything was cooked perfectly.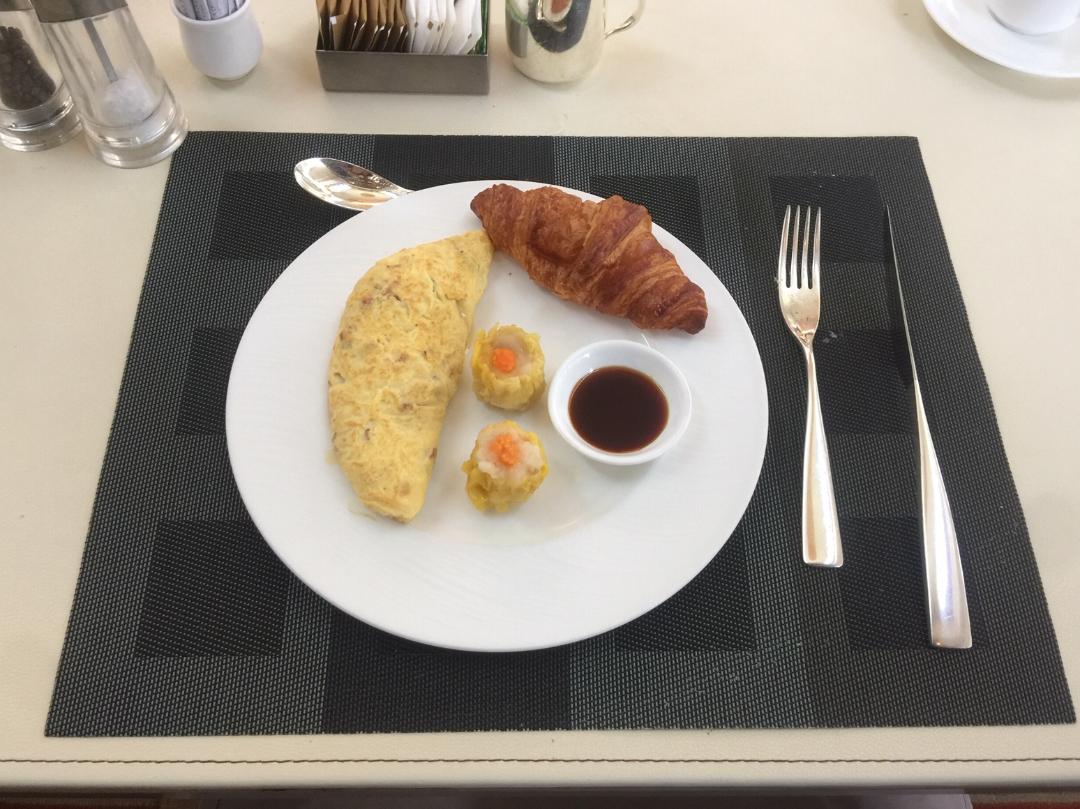 My brekky at Conrad Hog Kong
Overall, I thought the breakfast was very well-rounded & perhaps a little above average.
Other Amenities
The property has an onsite gym located a level below LL (Lobby Level). You had to take a take the stairs on the LL and go down. The gym was decent for a hotel gym. There were some medicine balls and yoga mats as you enter.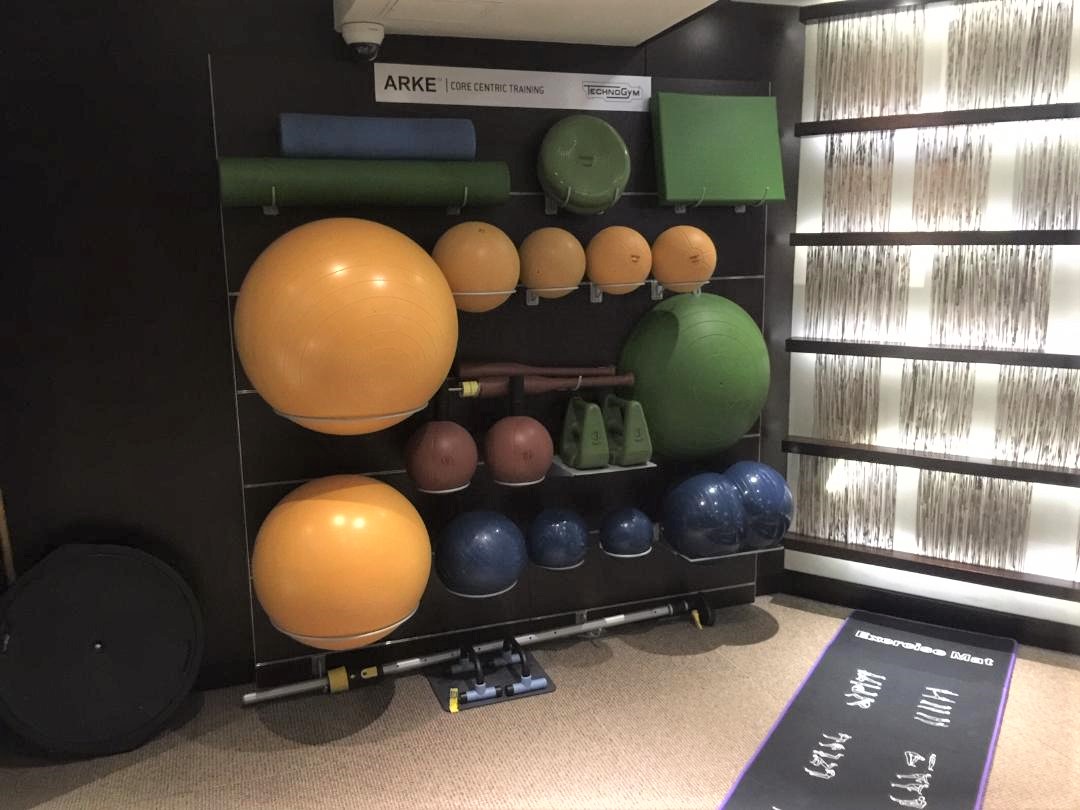 Gym, Conrad Hong Kong
On the right, there was a water filter and some towels.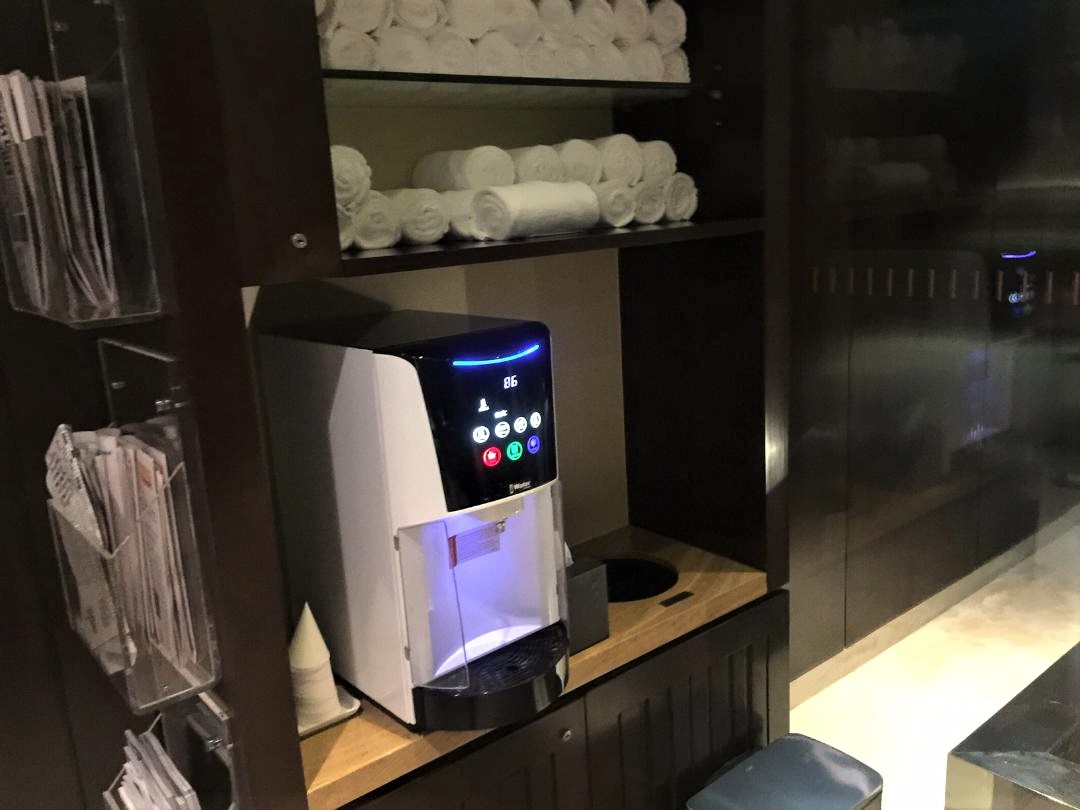 Gym, Conrad Hong Kong
Further down the hallway, there were some free weights and cardio machines.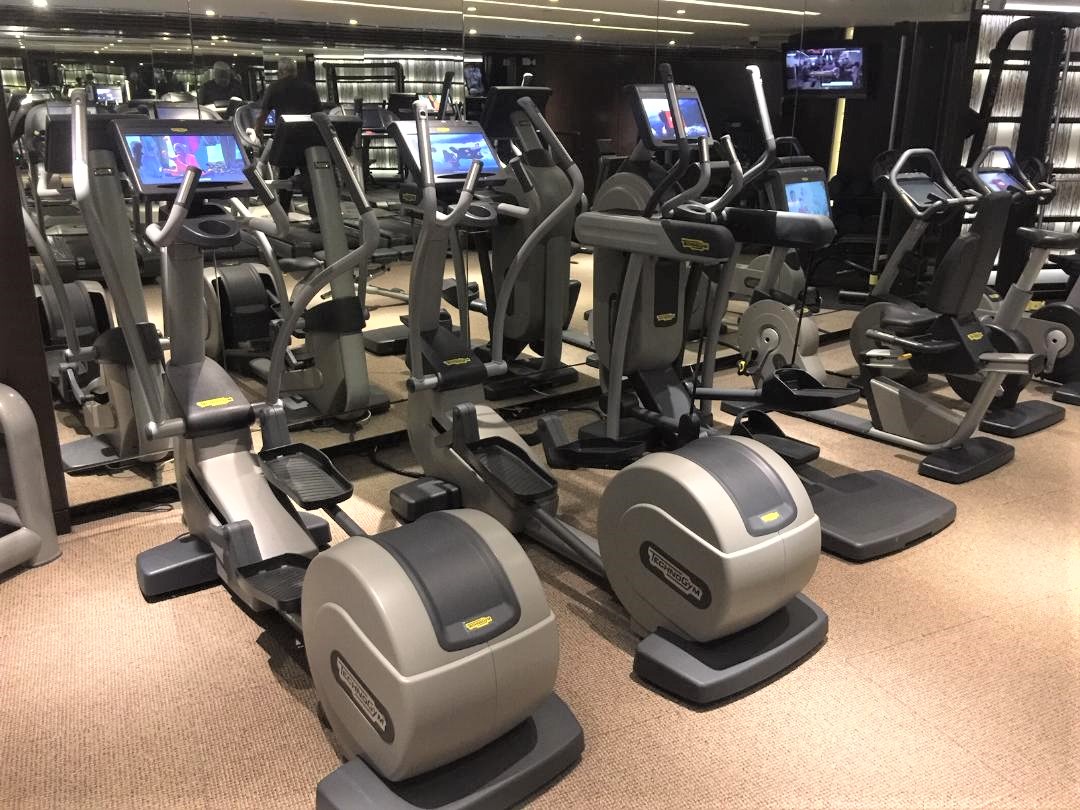 Gym, Conrad Hong Kong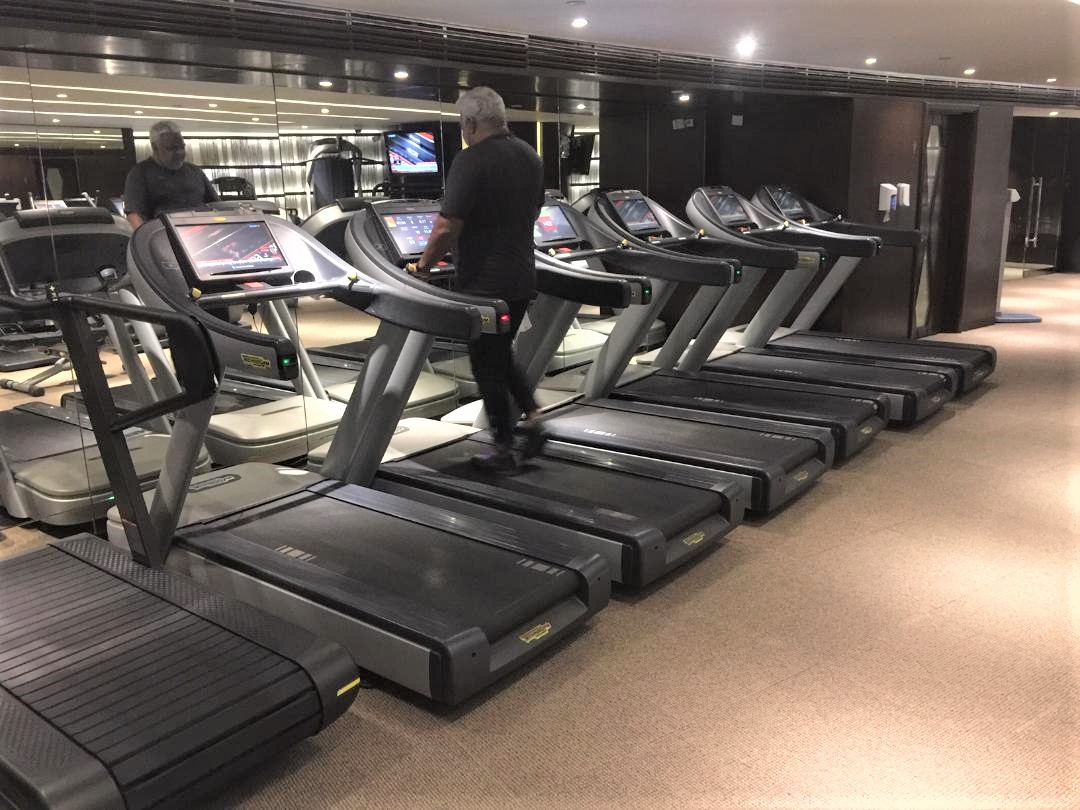 Gym, Conrad Hong Kong
There is a pool on the LL level, which was quite a nice one. Unfortunately, I forgot to take any photo's.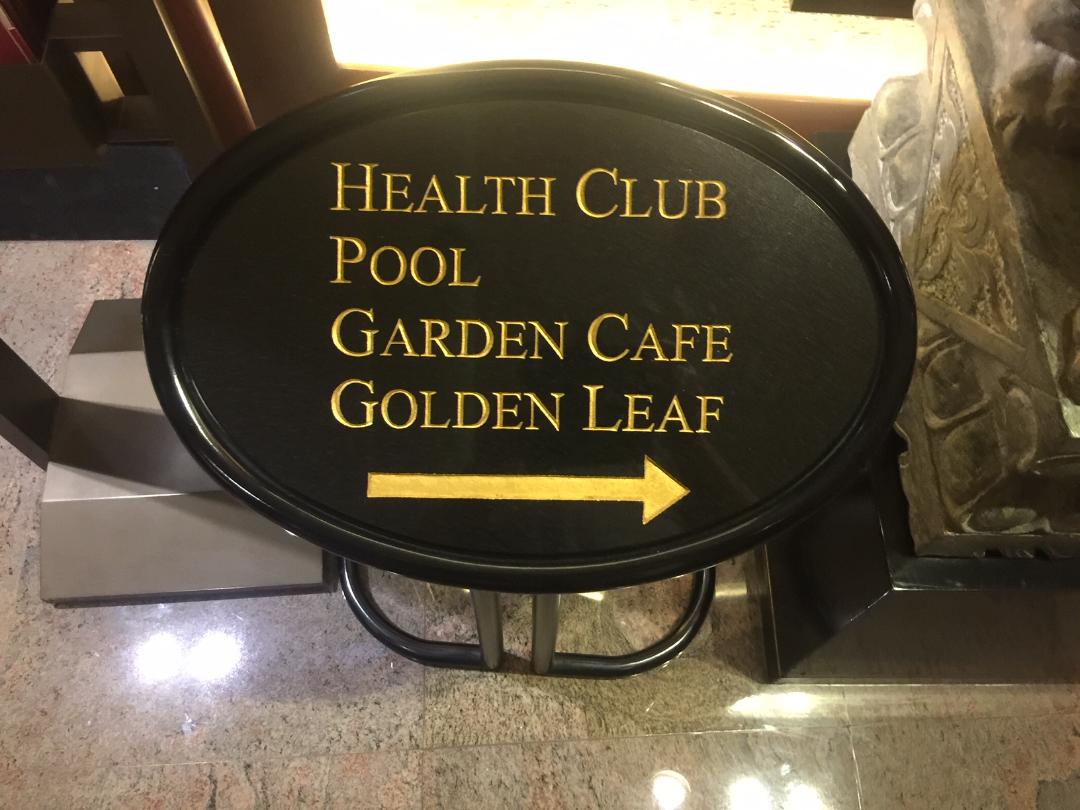 No photo's, but the hotel does have a pool 🙂
Wifi services were available through-out the property and the speed was very good. Hilton Honors members are entitled for free internet, as long as they book directly with Hilton.
In Conclusion
Conrad Hong Kong is one of the best hotels to stay in town. It boasts an excellent location, which puts you within few minutes of all the hot-spots in town, whether you are there for business, a holiday, or just having a stop-over.
The staff and their work ethic are second to none. The building is starting to show it's age and could do with some TLC, although it is by no means old or run-down. It's sad that the ongoing protests in Hong Kong have put so much negative spotlight on the city. That has in-turn caused visitor numbers to plummet and the airlines and hotel industry in particular are said to be doing tough. Let's hope normalcy is restored soon.
I had a fantastic stay at the hotel and will be very happy to consider it again for any future trips to Hong Kong.
Have you stayed at Conrad Hong Kong? Leave a comment below.