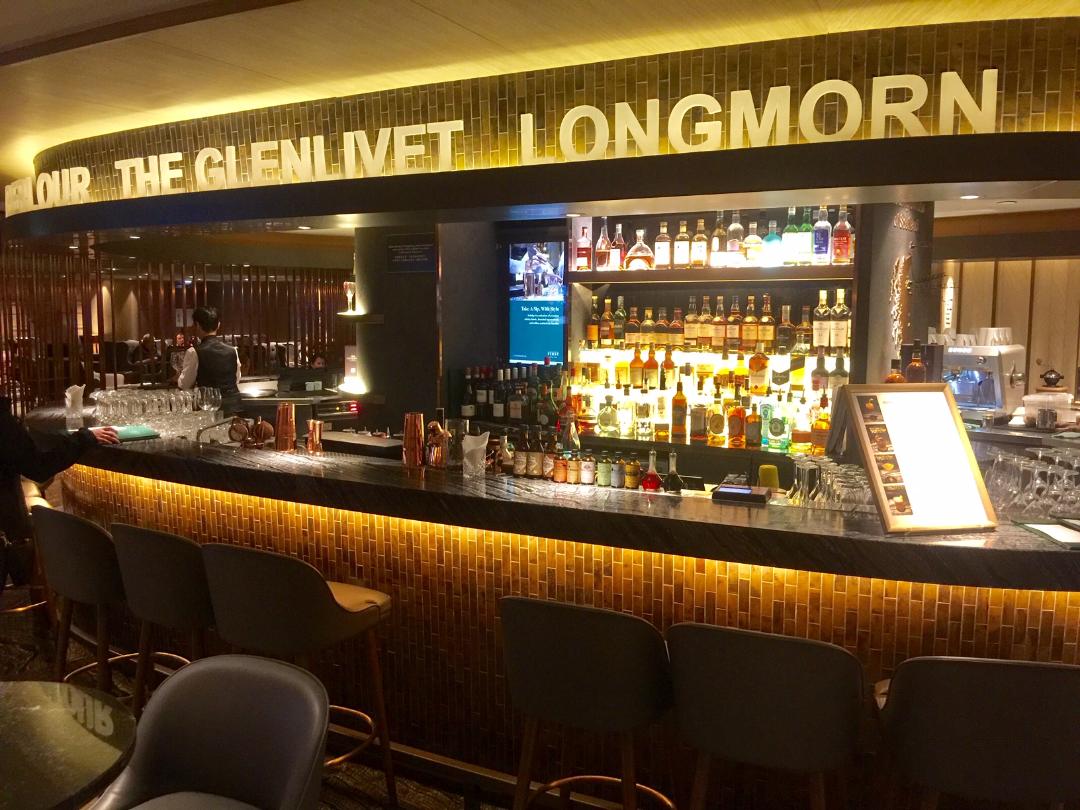 After spending a night each at Conrad Hong Kong and JW Marriott Macau, it was time to start the next leg of my trip flying Virgin Atlantic to London. At Hong Kong airport, business class guests flying Virgin Atlantic are directed to the Plaza Premium First Lounge.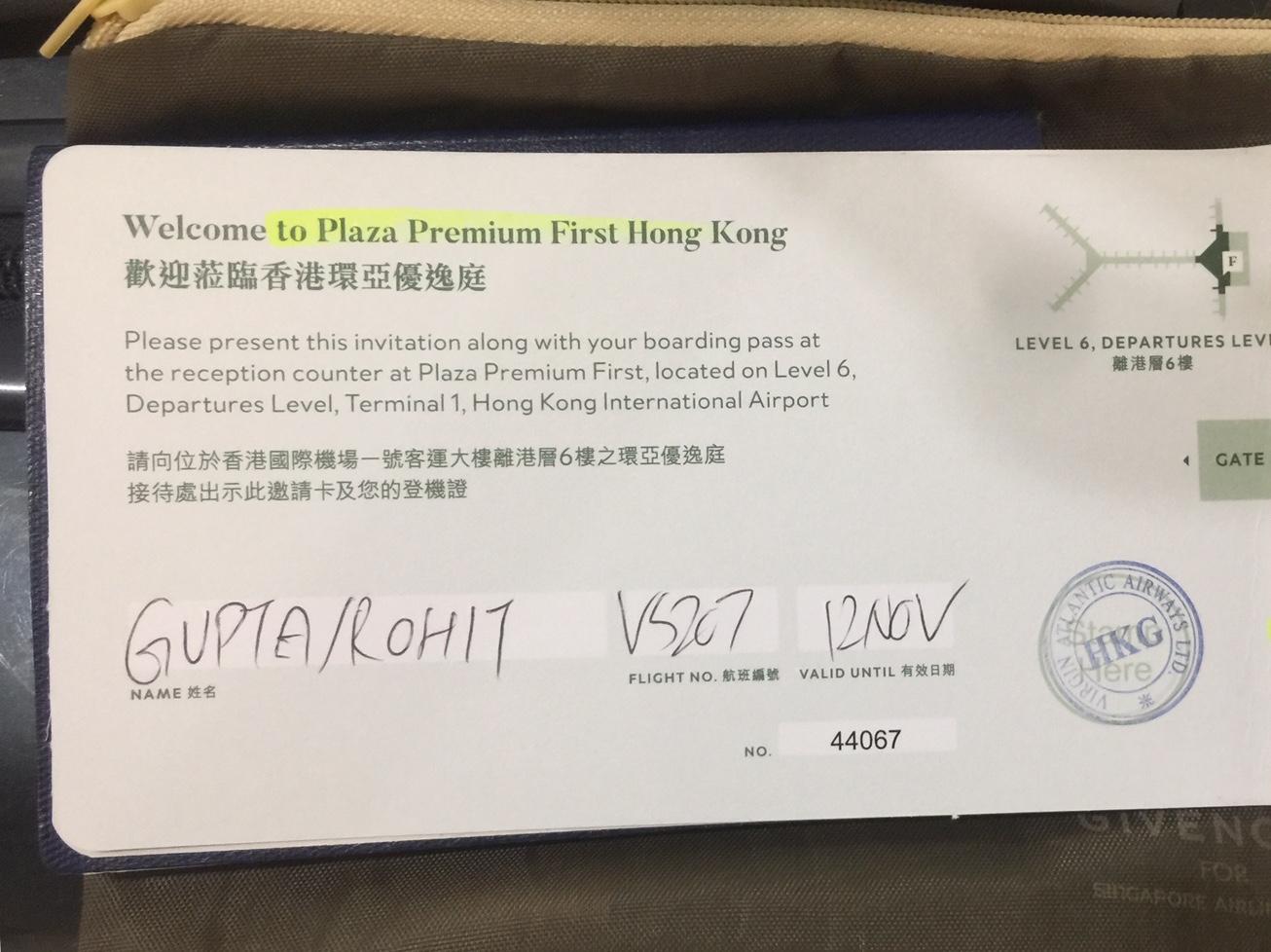 Plaza Premium First, Lounge Invitation
This is not to be confused with the regular Plaza Premium Lounge, which can be accessed with Priority Pass. To be able to access Plaza Premium First lounge, you have to be an invited guest of the airline you are flying. The only other way to access the facility was if you were happy to pay-your- way-in, with prices starting at a hefty US$113 (A$165) which grants you usage rights for up to 3 hours.
Location
Plaza Premium lounge at Hong Kong Airport is located on the Departures Level Terminal 1, near Gate 1 and is open 24/7. After clearing passport control, you will see the signs directing you to various lounges. It was about a 10 minutes walk from here, and along the way, I passed through the regular Plaza Premium Lounge, which wasn't a pretty sight.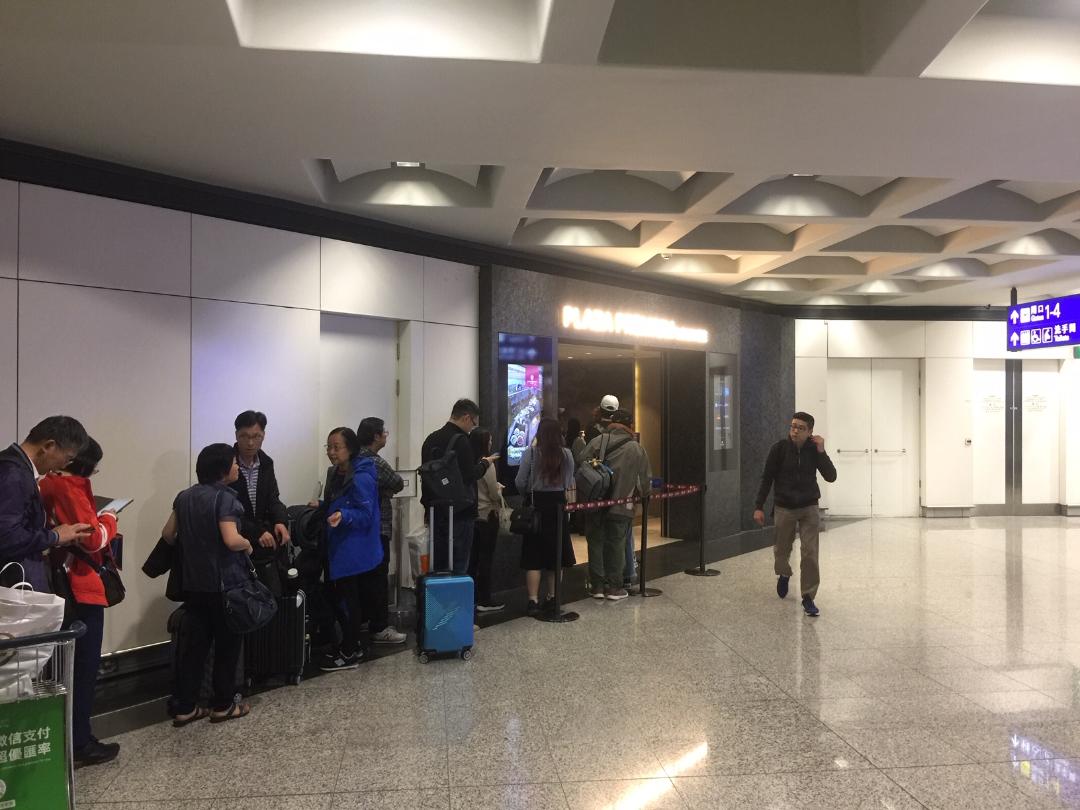 I was pleased NOT to be heading into this lounge 🙂
It was around 8:45 pm when I arrived at the lounge and noticed that it wasn't overly busy. There were 2 staff members manning the reception, one of them scanned the lounge voucher, had a quick glance of my boarding pass and welcomed me in.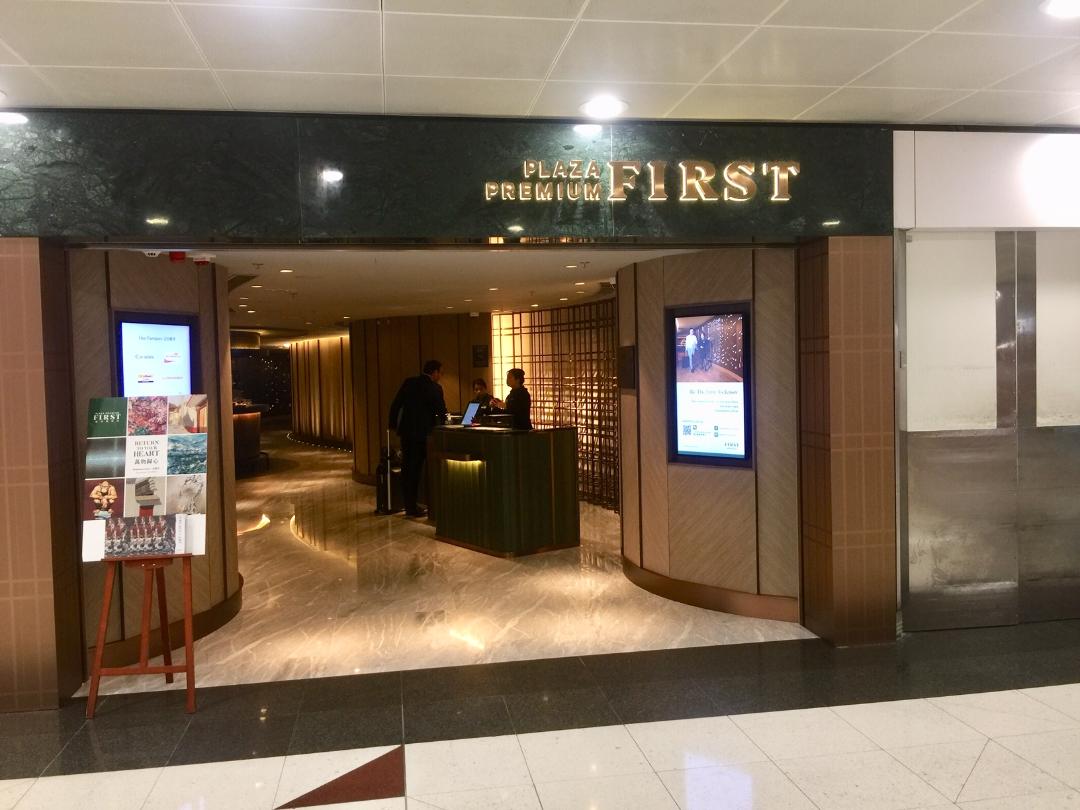 Plaza Premium First Lounge, Hong Kong Airport
The lounge offers complimentary 15 minutes massage service to guests, so before I stepped-in, the staff inquired whether I would like to make a booking for later-on. They said the next available slot was at 9:25 pm, which I accepted, and was handed a buzzer. With that out of the way, I entered the lounge proper.
Seating
The lounge is decently proportioned and features 2 separate sitting areas. As you enter, there is some casual seating with pub-style bar stools and tables and some traditional dining tables and chairs, on your left.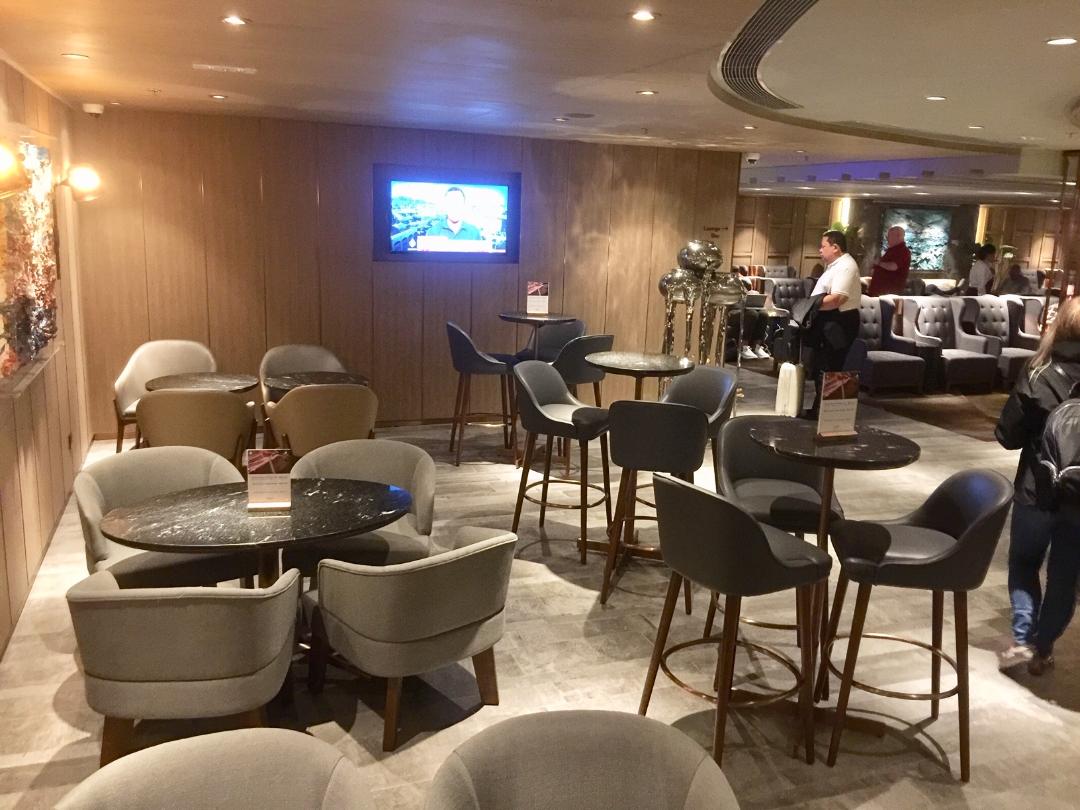 Plaza Premium First, Casual Seating
Further down is the 2nd, more formal seating. This section had loads of sofas and chairs and appeared to be somewhere guests would relax, read and catch-up on a bit of news and entertainment on TV before they boarded their flight.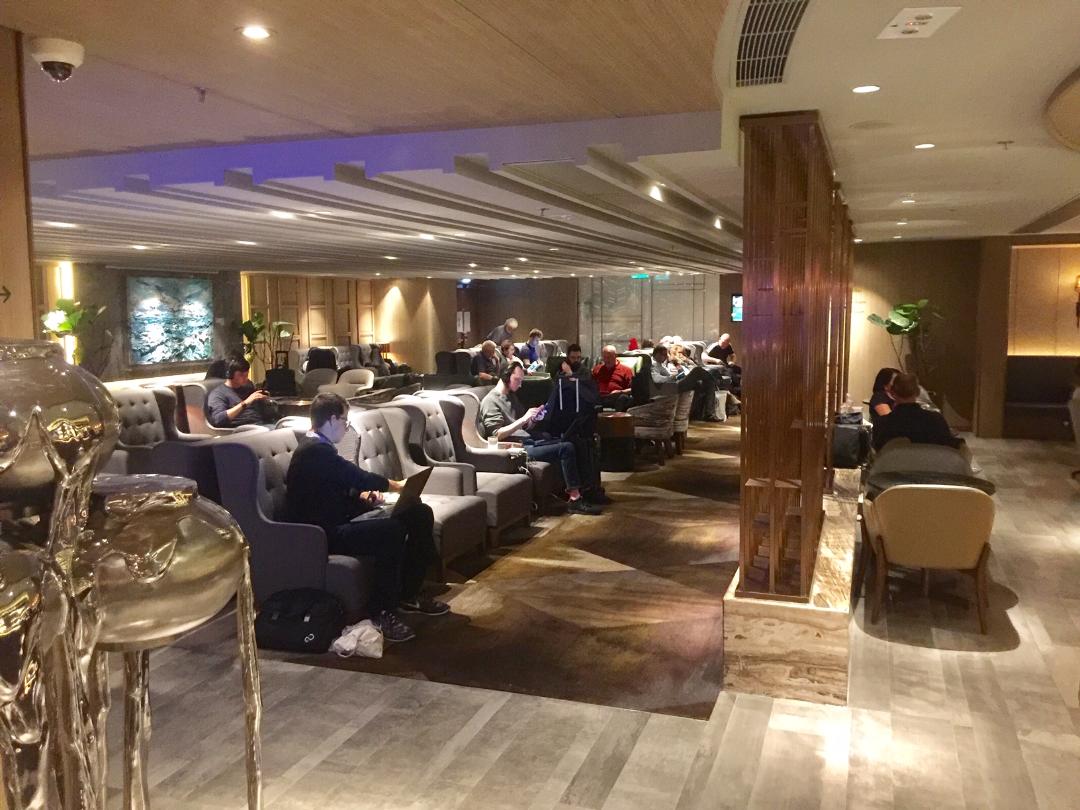 Plaza Premium First, Formal Seating
Internet was free and fast and was available throughout the lounge.
In-between these 2 sections, and to the right, is a gorgeous looking, oval shaped whisky bar which is one the most striking features of this facility.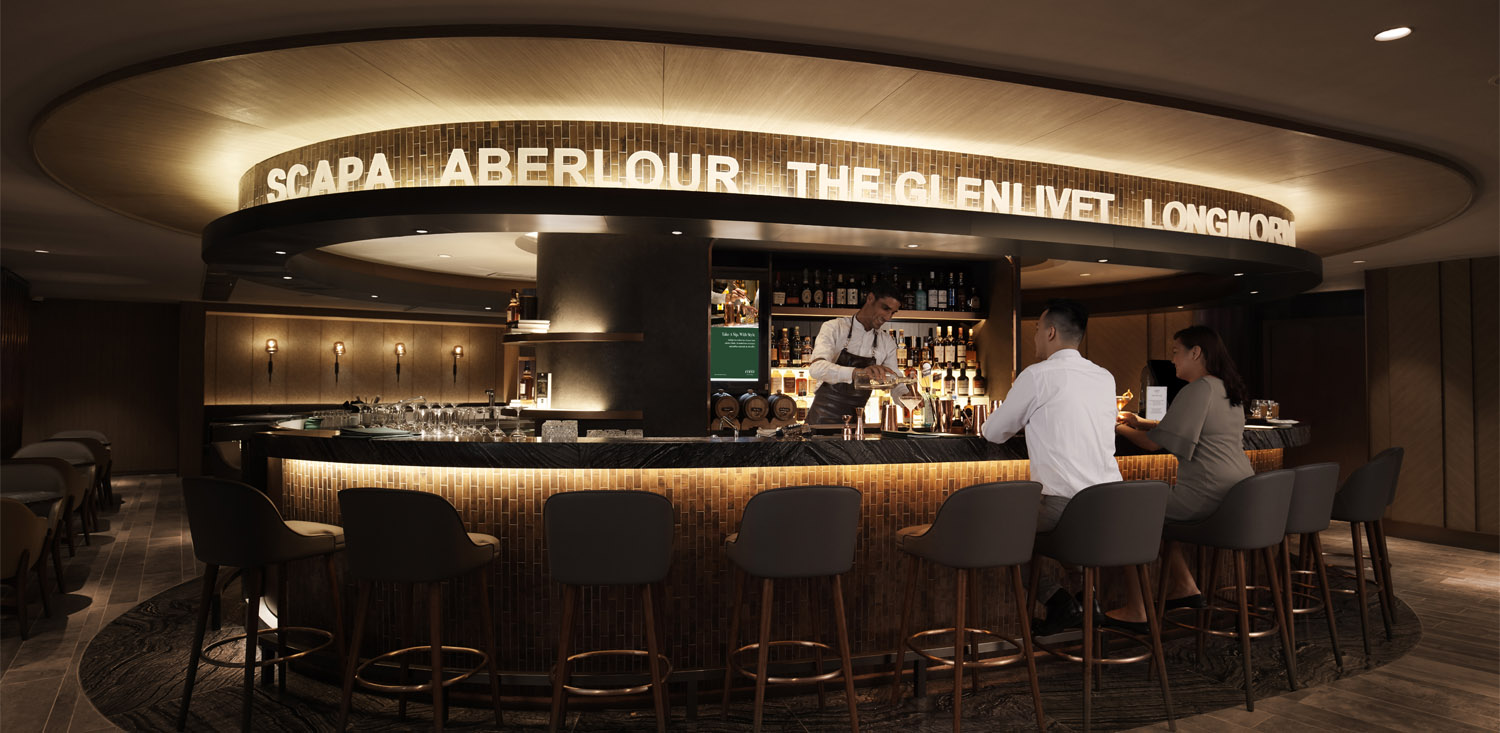 Image: courtsey plazapremiumlounge.com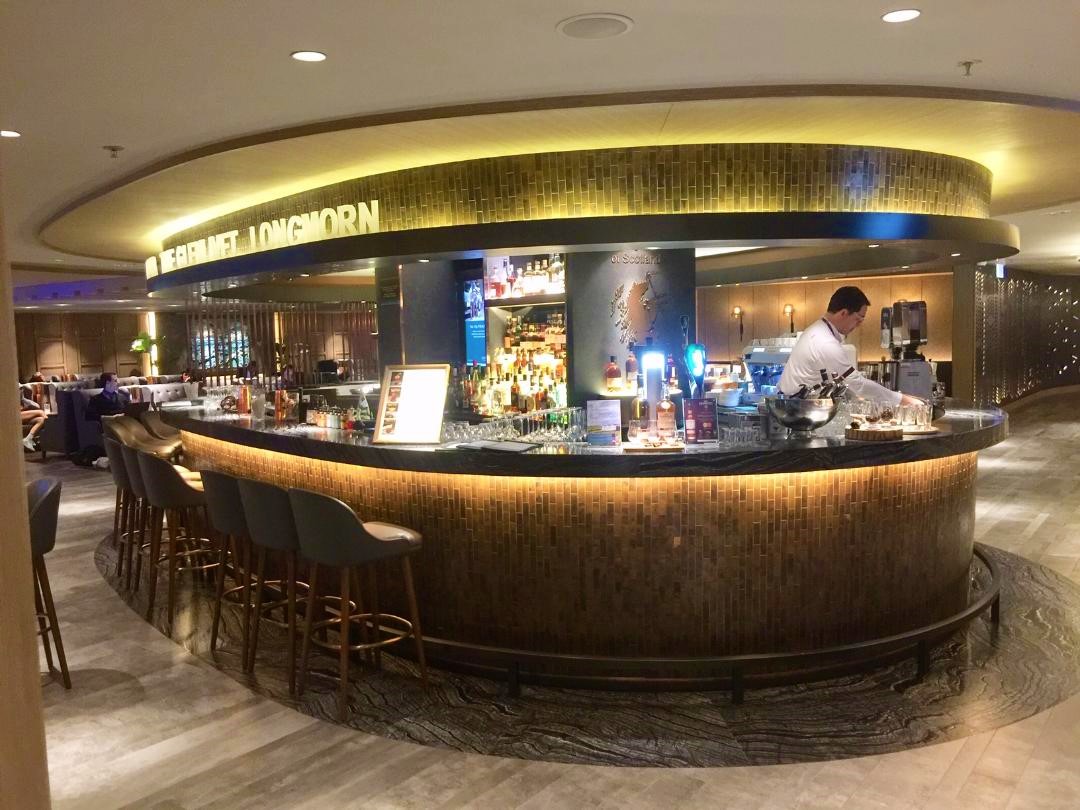 Plaza Premium First, Whisky Bar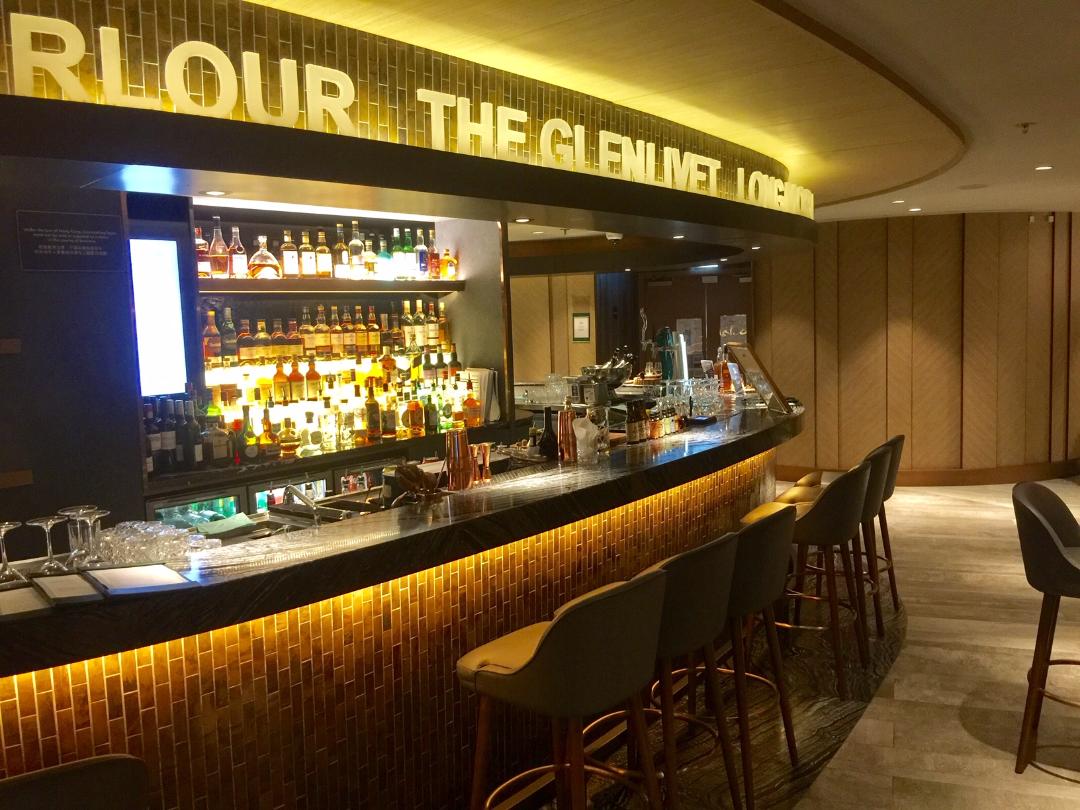 Plaza Premium says the bar stocks the airport's largest collection of whisky and that may well be the case.
Dining
The lounge offers both, a self-serve buffet and a la carte dining. The buffet station was to the right of the bar and had a limited selection of items such as soups, bread etc. Next to the buffet, there was a refrigerated cabinet where guests could help themselves to different salads, yogurt and fresh fruits.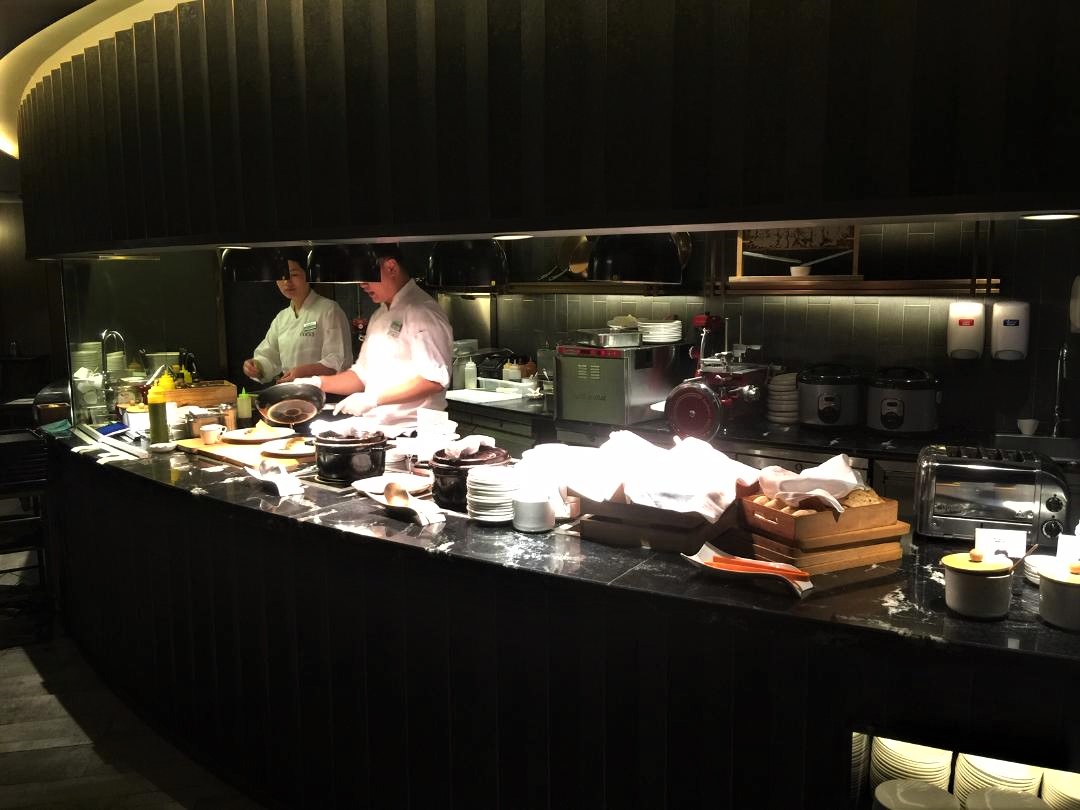 Plaza Premium First Lounge, Buffet Station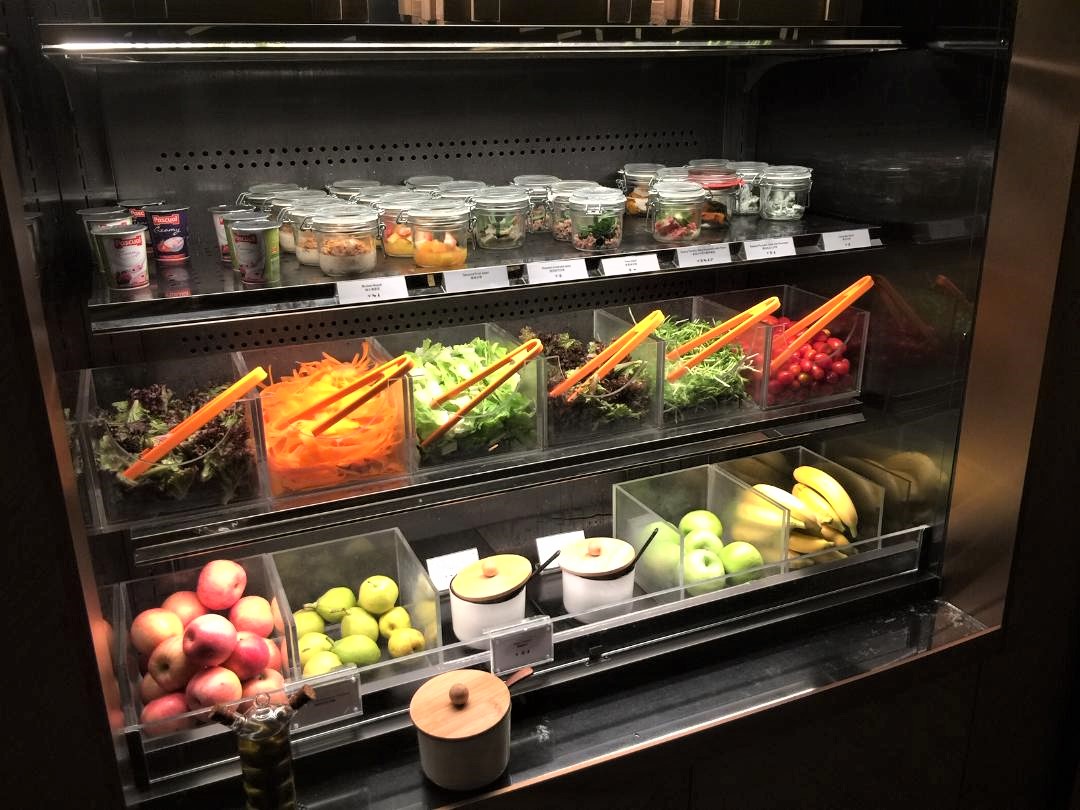 Self-serve salads and fresh fruits
However, this pales into insignificance when you see what was on offer at the a la carte dining, set up at the back of the lounge in a restaurant called Primo. So without wasting anytime, this is where I headed.
The dining area is exquisite and with neatly dressed waiters and meticulously arranged lay-out, wouldn't look out of place at a St Regis or Mandarin Oriental. It was spacious with plenty of seating.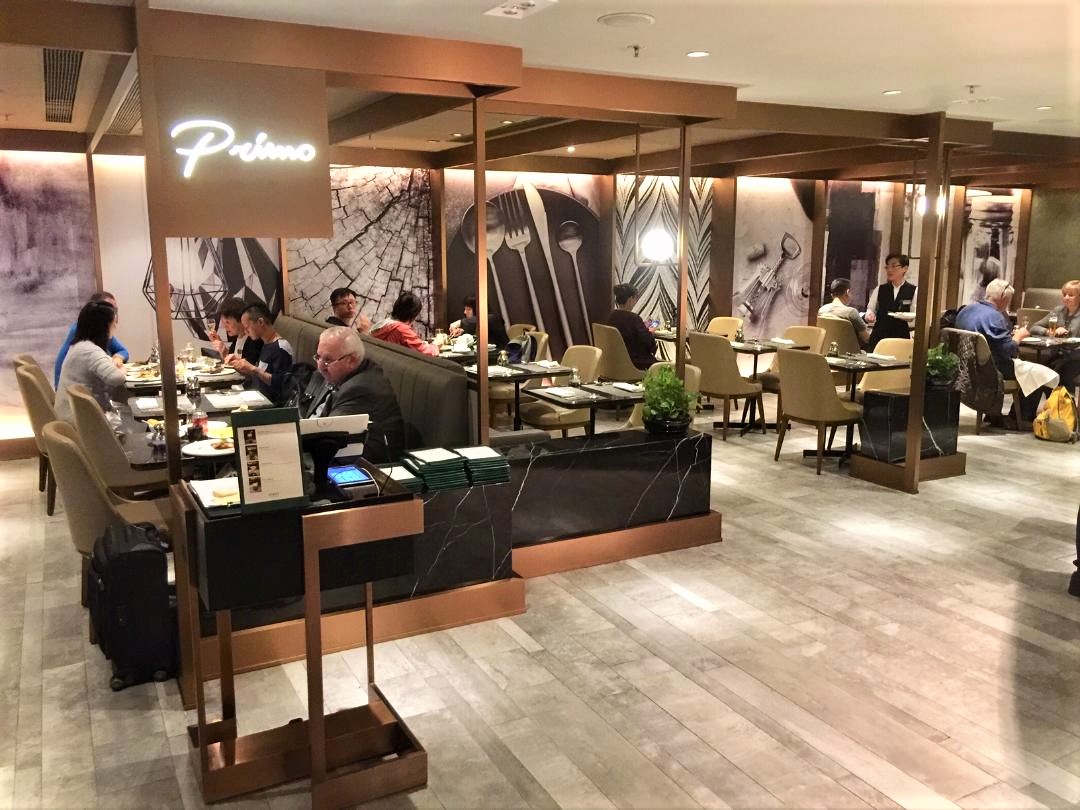 Plaza Premium First Lounge, Dining Area
I was greeted by one of the waiters as I approached the front of the restaurant. She showed me to a table and offered to get me a drink. I got a glass of Chardonnay. It was ok.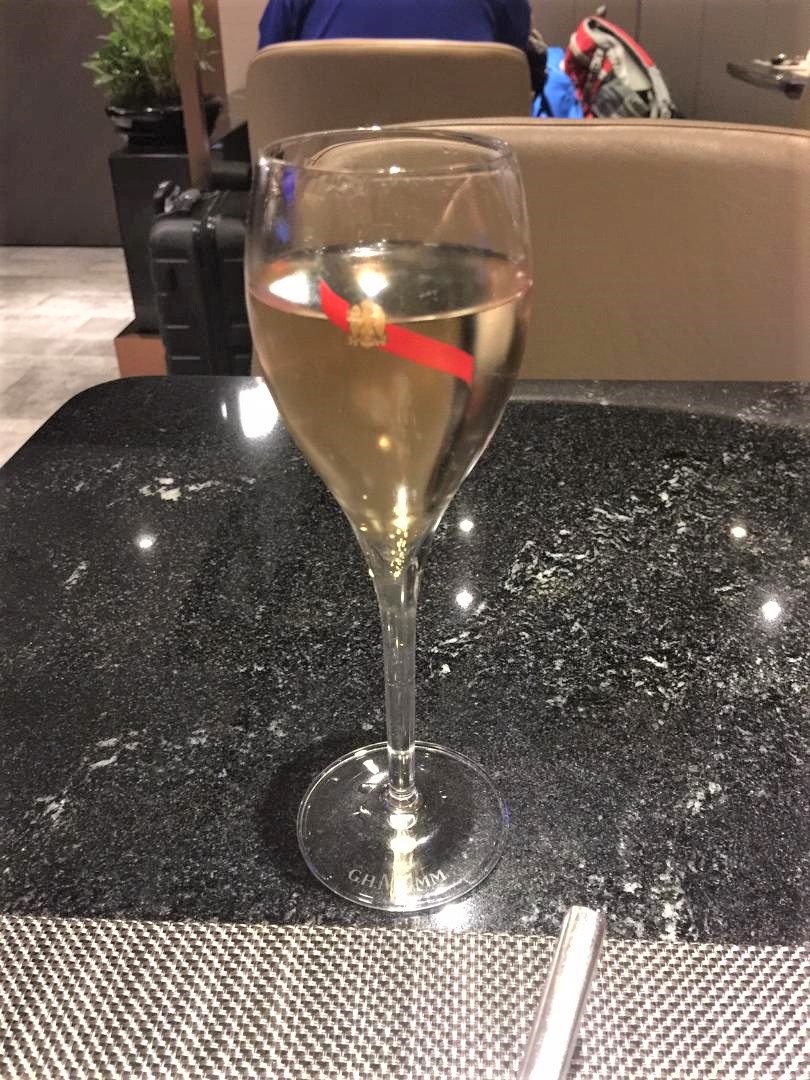 She then presented me with the menu. For a contract lounge, I thought the menu was more than impressive. It had multiple appetisers, soups and Asian dishes as you can see below.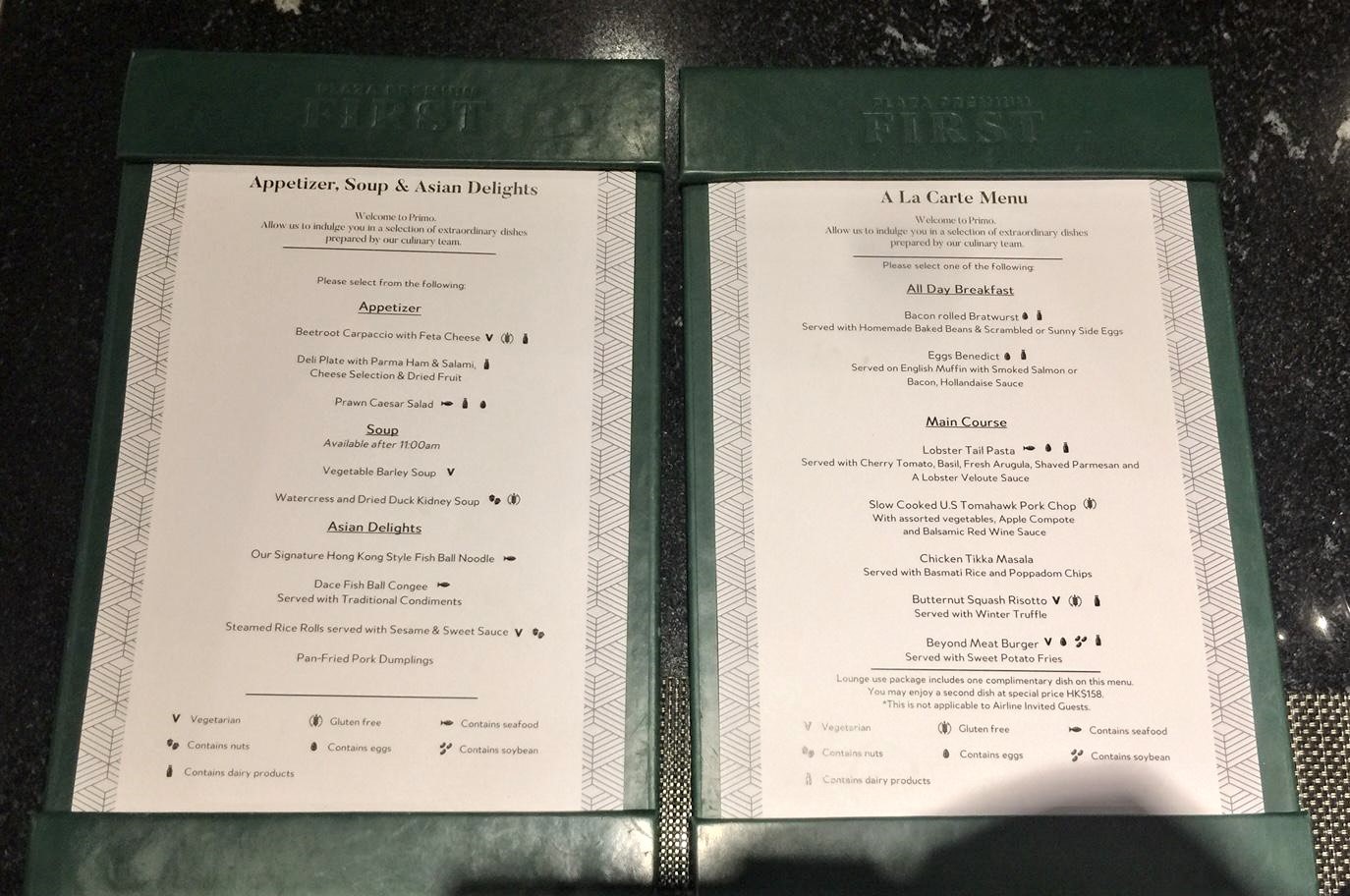 Plaza Premium First, Menu Book
The attention to detail was exemplary, with all the dishes clearly marked for any allergens it may contain. Moving on, the staff serving me advised that I could order unlimited appetisers, but could only order any 1 main dish (from the right). That said, those with a big appetite had the option to order a 2nd main and pay for it. The price was about A$30 for each additional main.
I started my meal with the vegetable barley soup. It had a strong peppery taste and was delicious.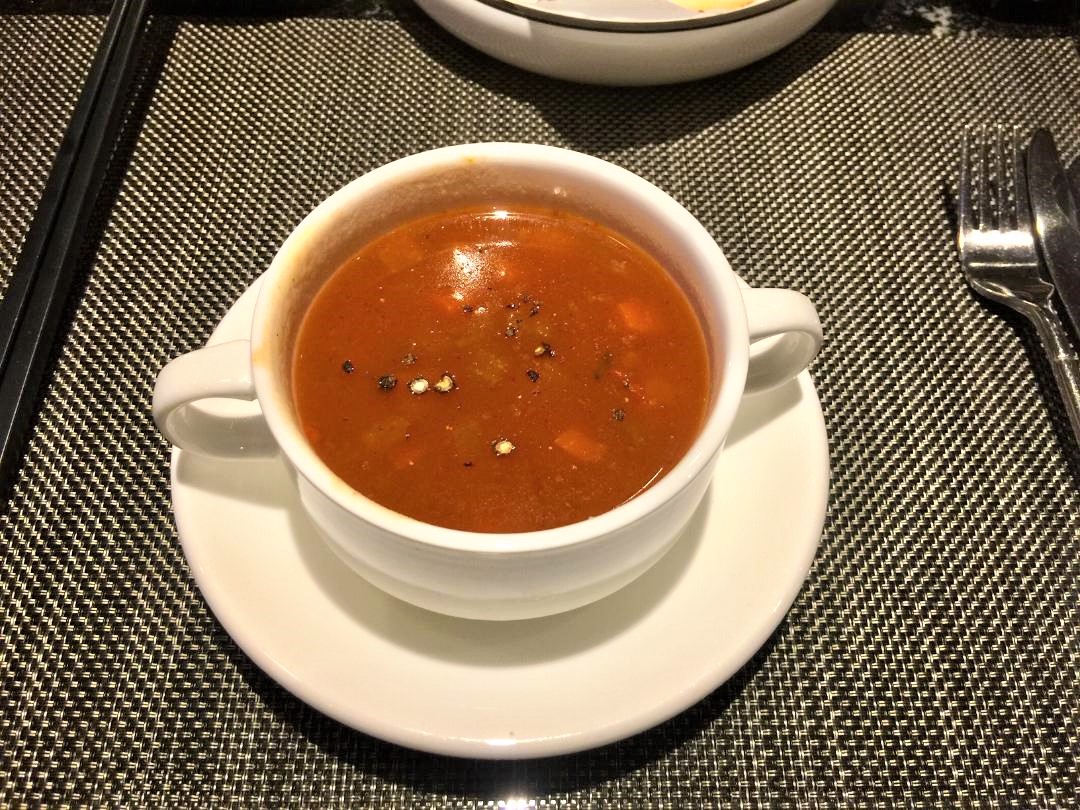 Vegetable & Barley Soup
Next I sampled some steamed rice rolls served with seasame & sweet sauce. They were also very good.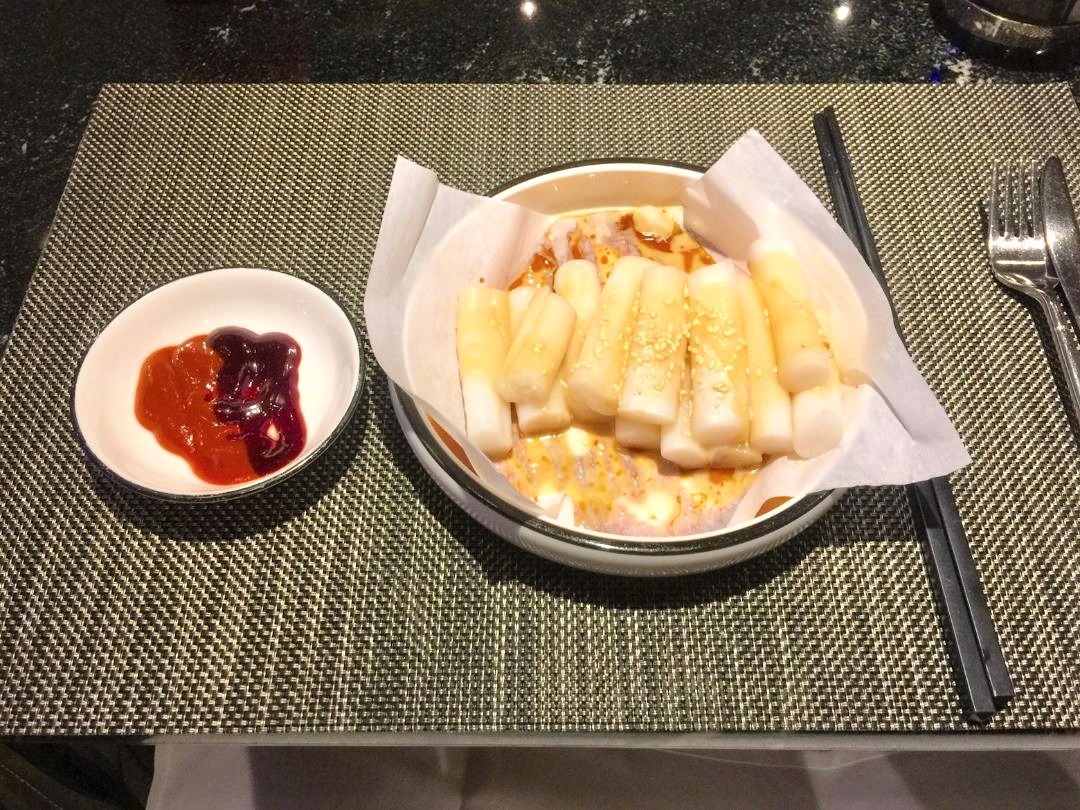 My appetiser of Steam Rice Rolls
At this point, the massage buzzer went off and the staff advised that I could go have the massage while she would put the meal service on hold. Wow 😮, I wasn't expecting them to go to these lengths to accommodate guests, and was pleasantly surprised 👏.
The 2 massage rooms were back near the entrance, to the right and contained a chair each. The rooms were small but adequate, although I did feel like they were a little bit dark.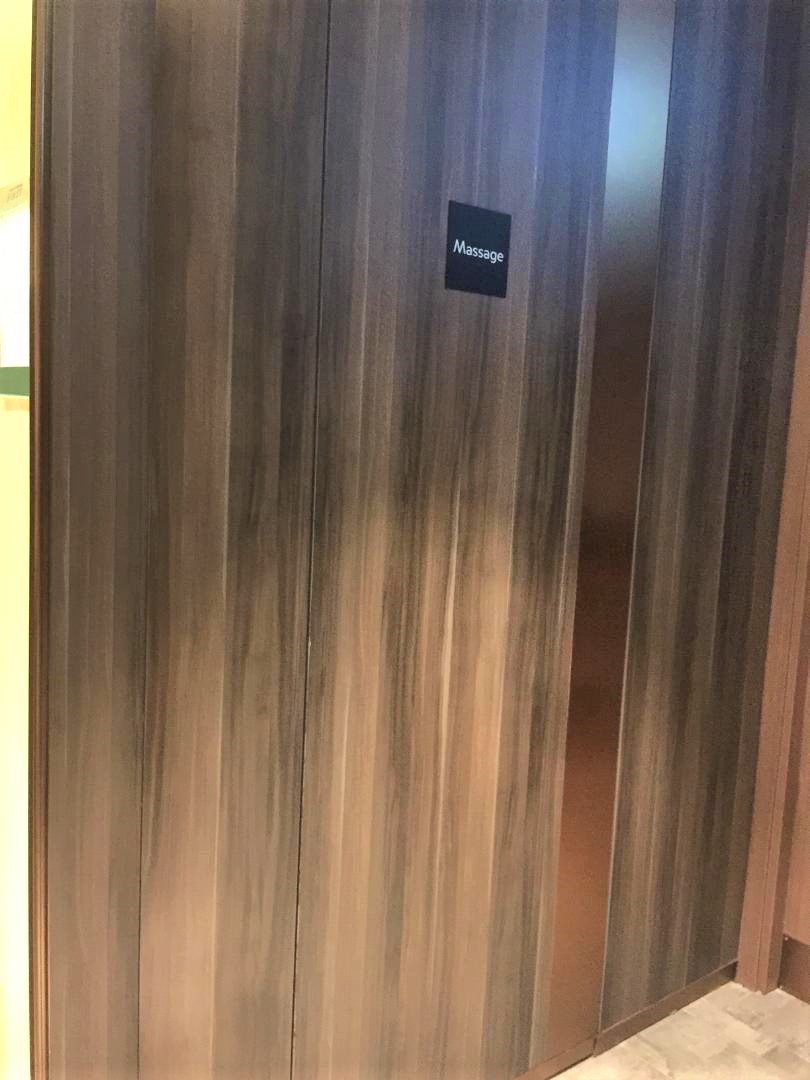 Plaza Premium First Lounge, Massage Rooms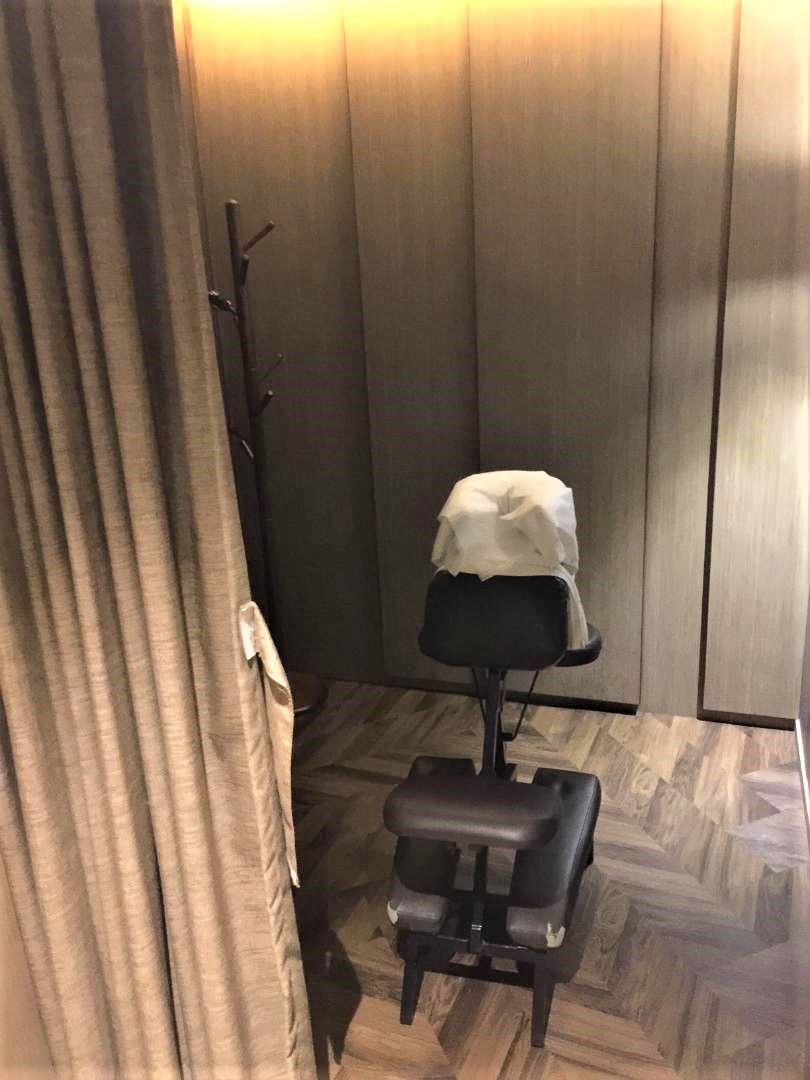 Plaza Premium First Lounge, Massage Chair
The massage lasted about 15 minutes, and while it wasn't a substitute for a lie-flat, table-top massage, it was fairly decent.
Once finished, I went back to my dining table and the staff brought out my main, which was chicken tikka masala served with basmati rice & poppadoms.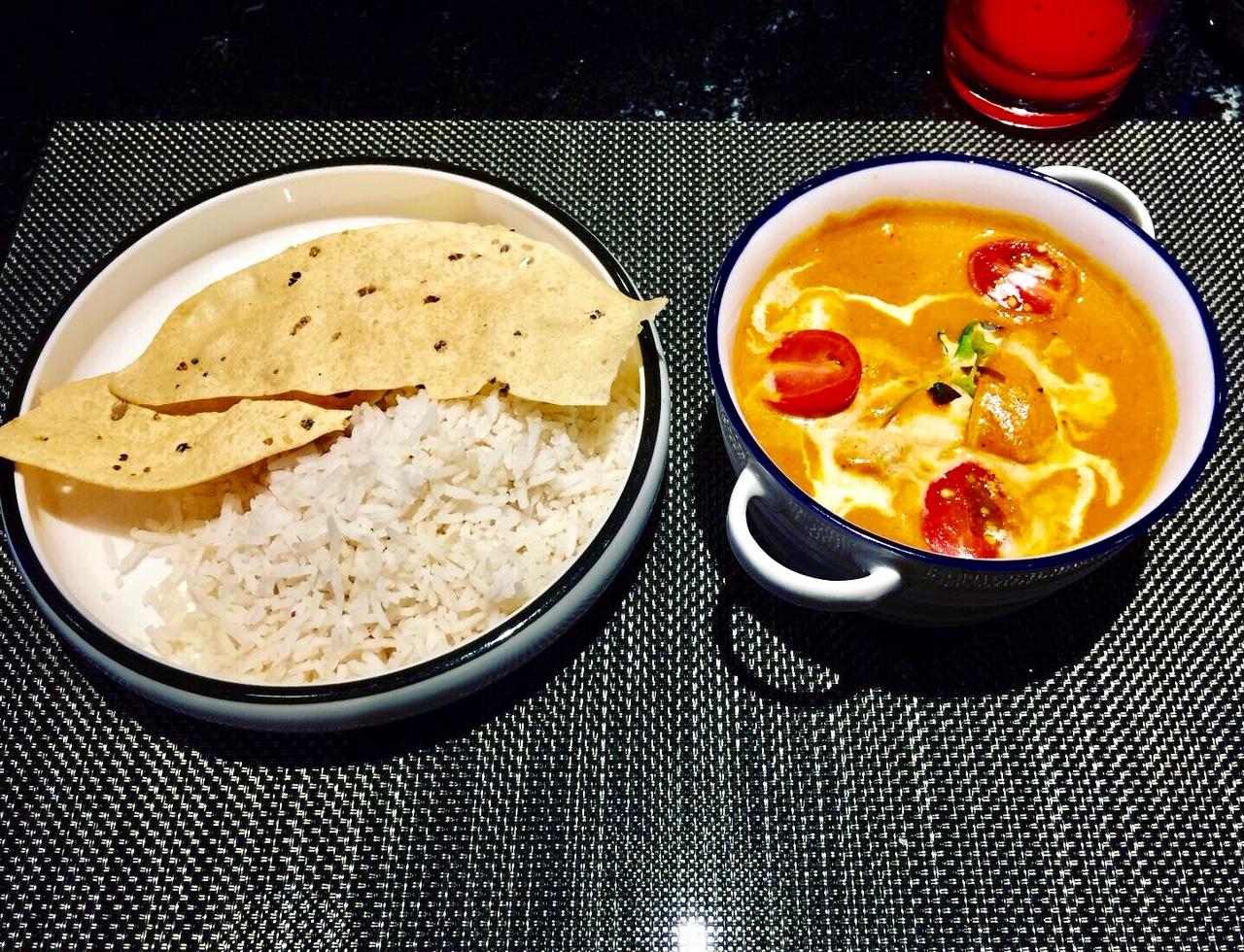 My main dish, chicken tikka masala served with basmati rice and a side of poppadoms
This was the best of the lot, and unlike most places where they overly sweeten the curry sauce, the dish came perfectly balanced. I took my time and savoured every morsel till there was none left 🙂
The lounge also has toilets and shower facilities, but by this time, there was just over an hour left until my flight departed, and I still wanted to duck into the Centurion lounge and check it out briefly, so I couldn't check those out. I also skipped the desserts.
In Conclusion
Overall, I came away with a very positive impression of the Plaza Premium First Lounge. The food, the service, the staff and their attention to detail were far superior to any of the contract lounges I have ever experienced, and in fact would quite easily put many of the airlines so-called Business & First class Lounges to shame (Air China's Chengdu Lounge comes to mind).
I initially wasn't planning to visit this lounge at all, and was more keen on checking out the Centurion Lounge, which although is nice, is nowhere near as impressive as Plaza Premium First.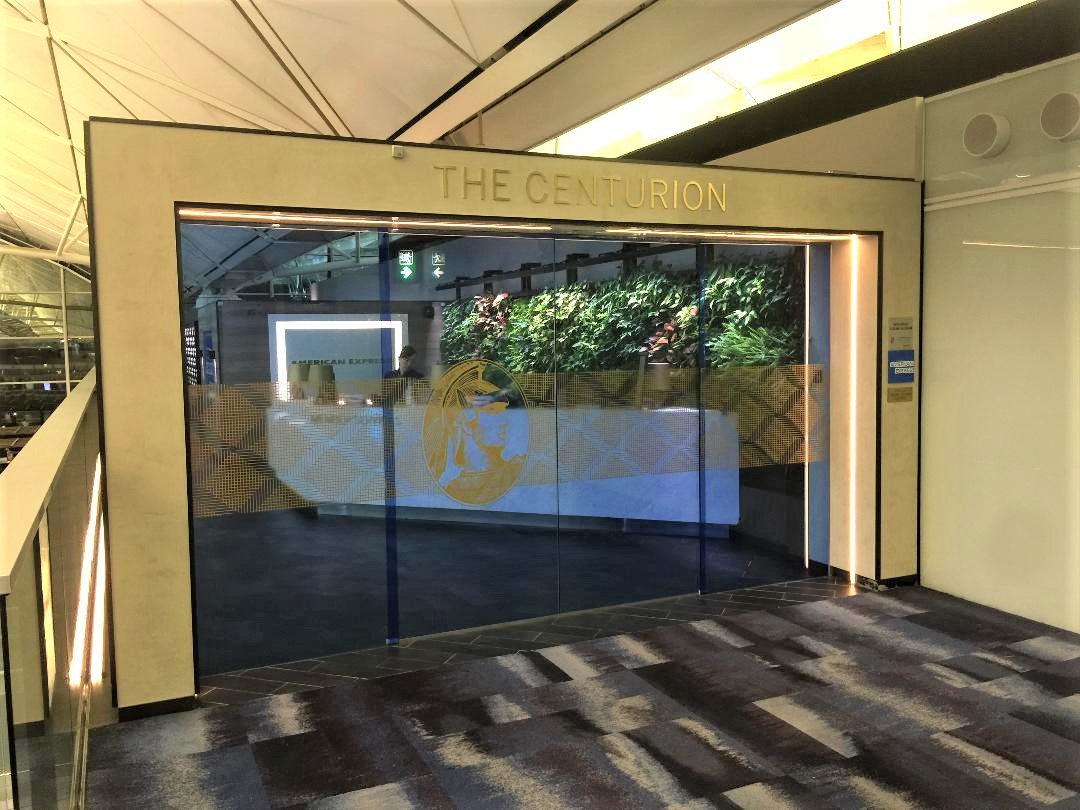 I would prioritise Plaza Premium First over The Centurion Lounge at Hong Kong Airport
To conclude, if you find yourself at Hong Kong airport and have access to the Plaza Premium First Lounge, I would highly recommend you spend some time at the facility.
Have you visited Plaza Premium First Lounge at Hong Kong Airport? Leave a comment below.