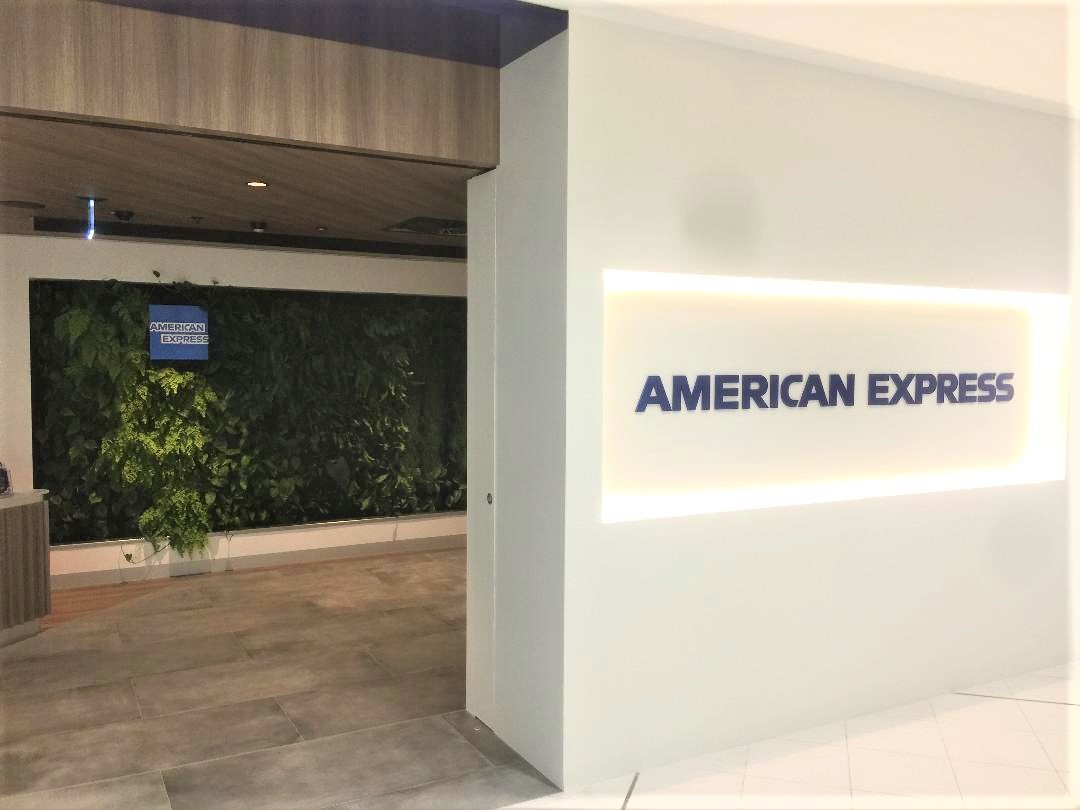 American Express operates a limited number of high quality airport lounges around the world. As of the time of writing, there are:
8 Centurion Lounges in US, 1 in Hong Kong
6 Centurion Clubs in Mexico
2 American Express Lounges each, in Australia & India
1 Lounge each in Sweden, Brazil & Argentina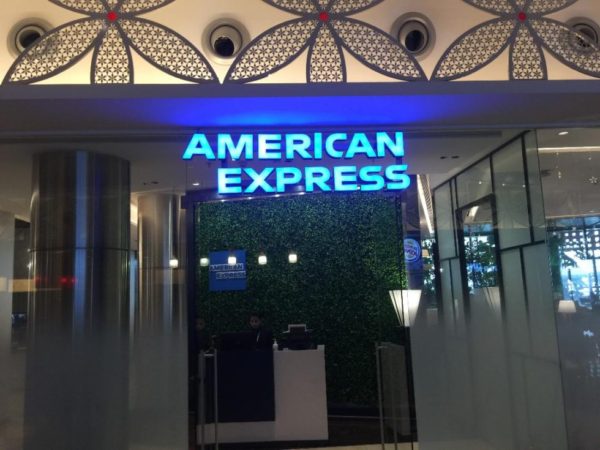 American Express Lounge, Mumbai Airport
What sets these lounges apart from thousands of others, is that they can only only be accessed with certain American Express credit or charge cards. It does not matter which airline or class you are flying, as long as you have a card that provides access to the lounge, you get in. I have listed all the eligible cards a little later in the post.
What to Expect
Not all American Express lounges are created equal. The Centurion lounges offer amenities such as shower suites, massage and so-on at certain locations. However, you can expect all the lounges to offer:
Local & seasonal fare
Hot and Cold beverages (including alcoholic beverages)
High Speed wi-fi
Personal workspace with universal power sockets
Desktop computers with printer and copier
Location
The American Express lounge at Sydney Airport is located in the Departure section of the International Terminal (T1). After clearing passport control, look for these signs directing you to the airline lounges.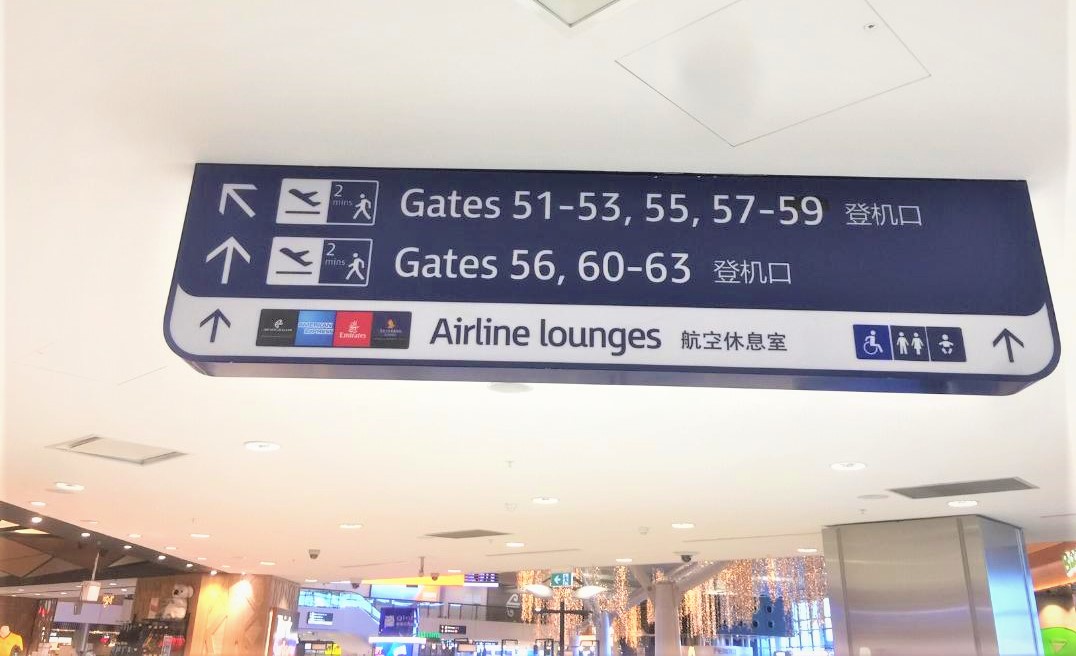 Lounge Signage at Sydney T1
It's a leisurely 8-10 minutes walk past the McDonalds and The House lounge. Follow the signs until you arrive at the set of escalators. The lounge is located 1 level below the main terminal. As you come down on the escalator, the Emirates lounge is to your right and the American Express Lounge is straight ahead.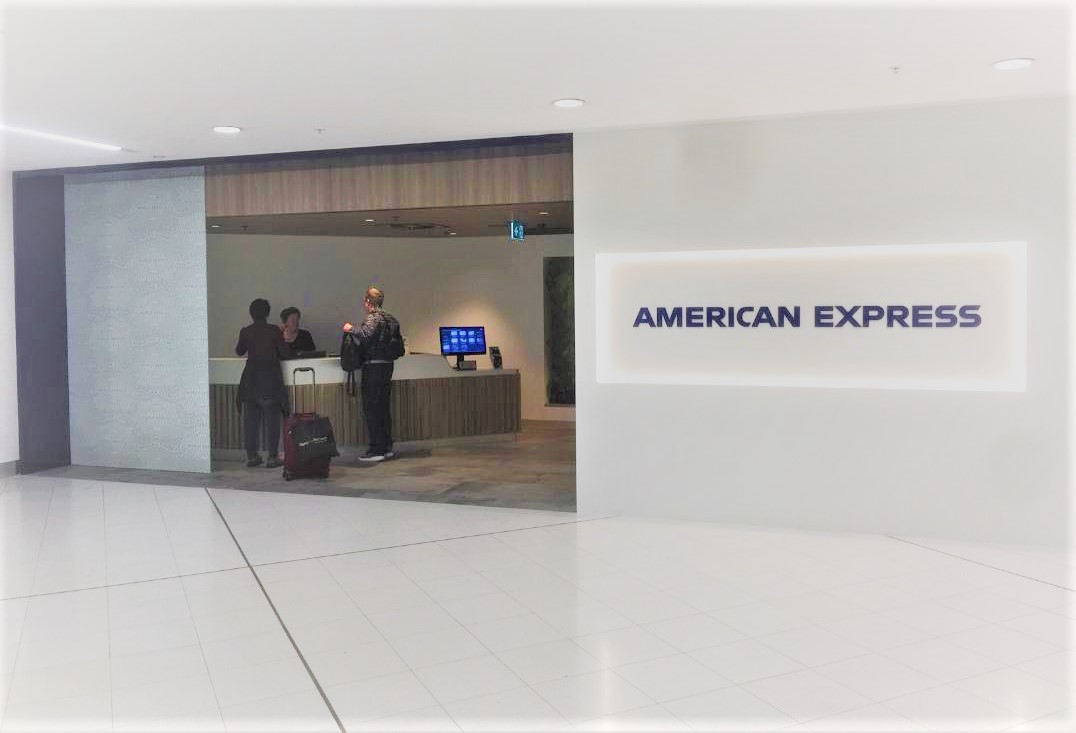 Entry to American Express Lounge, Sydney T1
As it was relatively early in the morning, there were only a couple of people ahead of me who were quickly processed by the friendly lady manning the reception desk. After waiting a couple of minutes and admiring the green living wall, a trademark feature of every American Express Lounge worldwide, I presented my boarding pass and my Amex card. She sighted my boarding pass, swiped my card and let me in.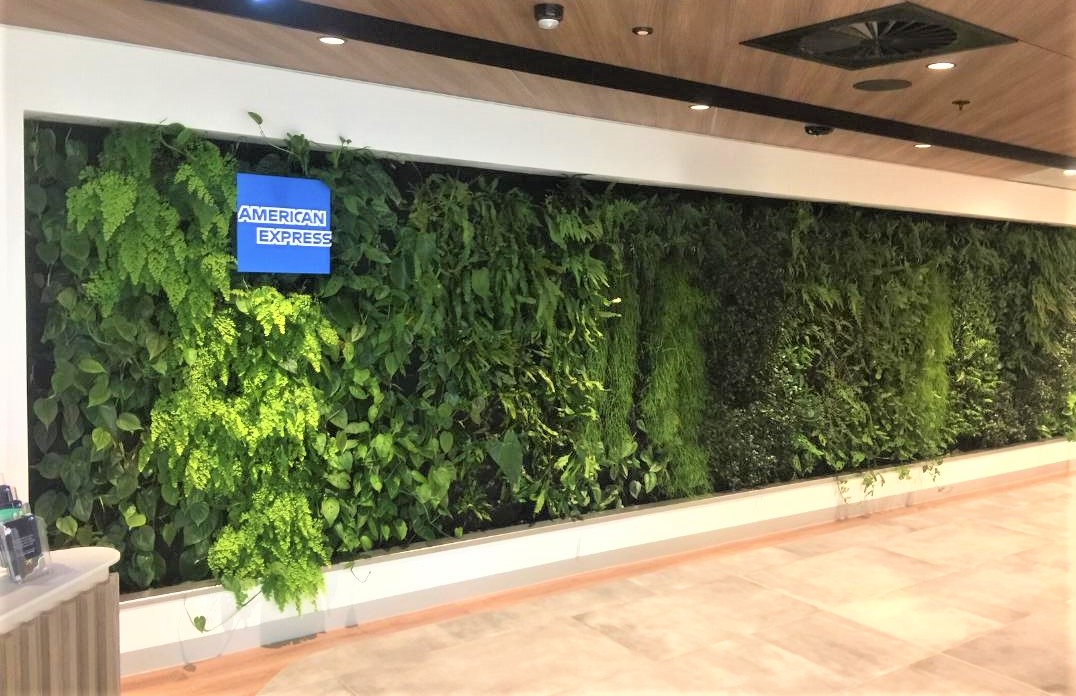 Green Living Wall, American Express Lounge, Sydney T1
Seating
As you enter the main lounge area, most of the seating is to your right. There are two communal work desks with loads of seating that form the centerpiece of this section of the lounge. Busy executives will appreciate the strategically placed power sockets and USB ports to keep their laptops and other electronic gadgets juiced-up.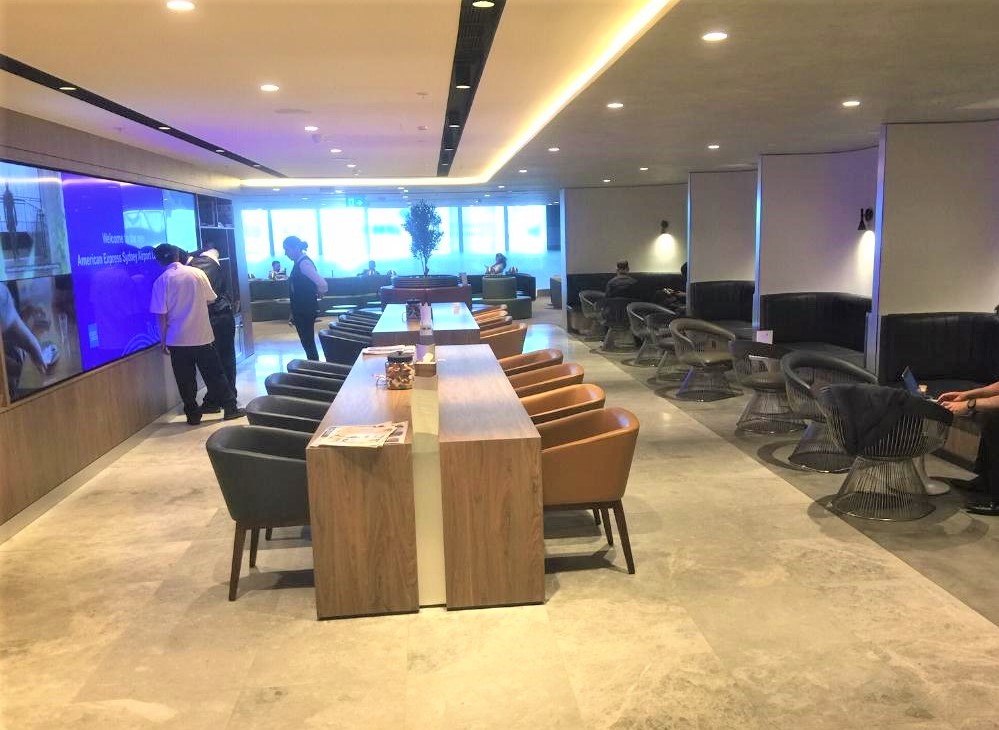 Communal Work Desks, American Express Lounge, Sydney T1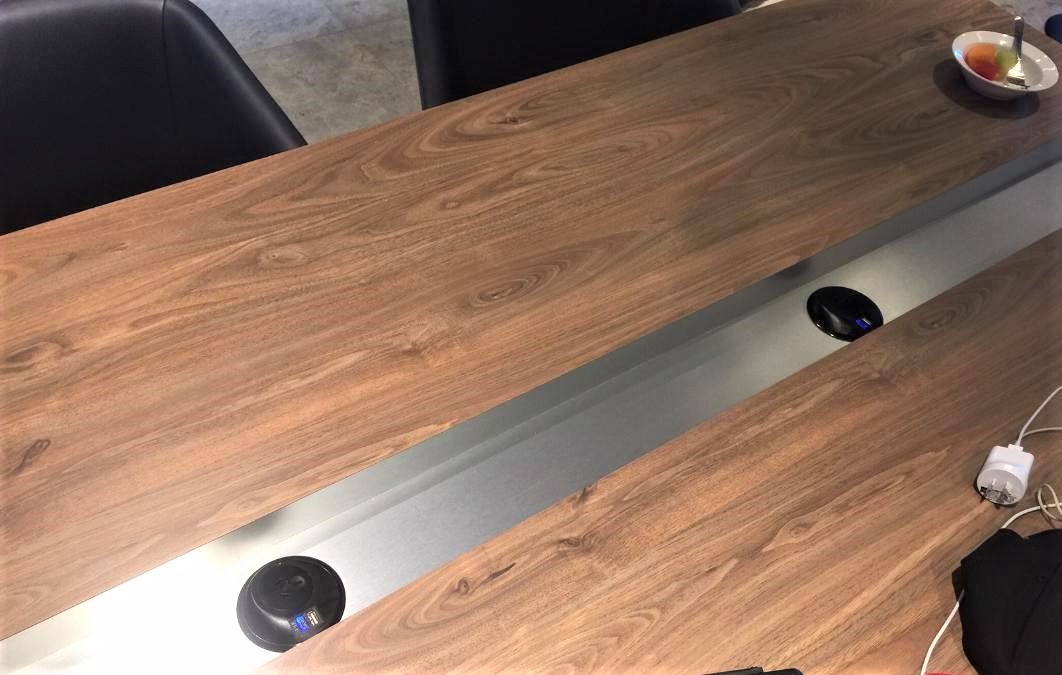 Power sockets and USB Ports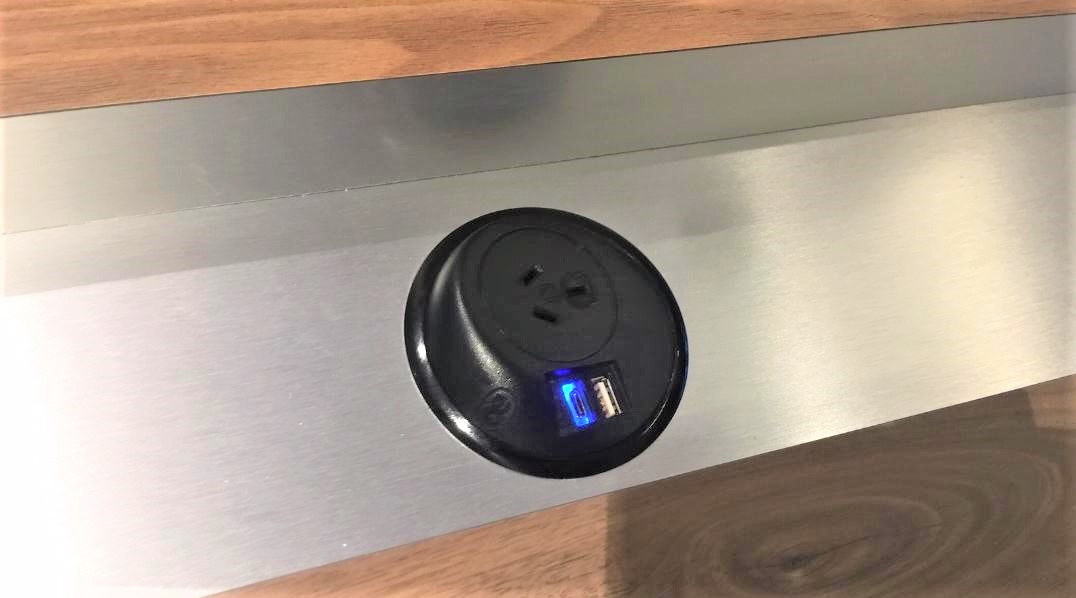 To the left of this shared working space is a large screen which takes up much of the wall. The screen though, it seems, plays a number of American Express commercials on repeat and not much else. There were self serve juice dispensers, flavoured water and a basket of fruits on shelves next to the screen on one end. Underneath, a small refrigerator was stocked with bottled beer.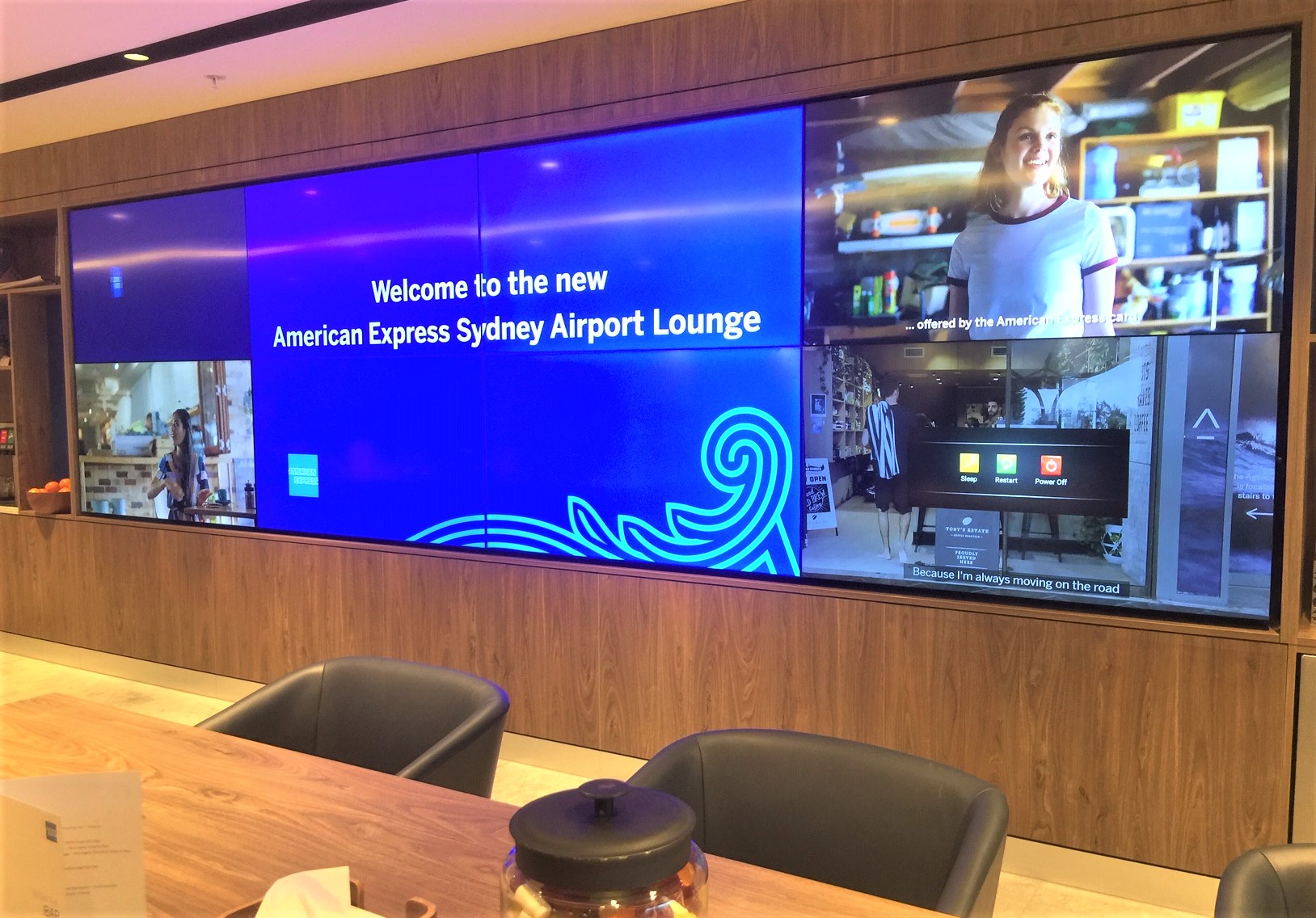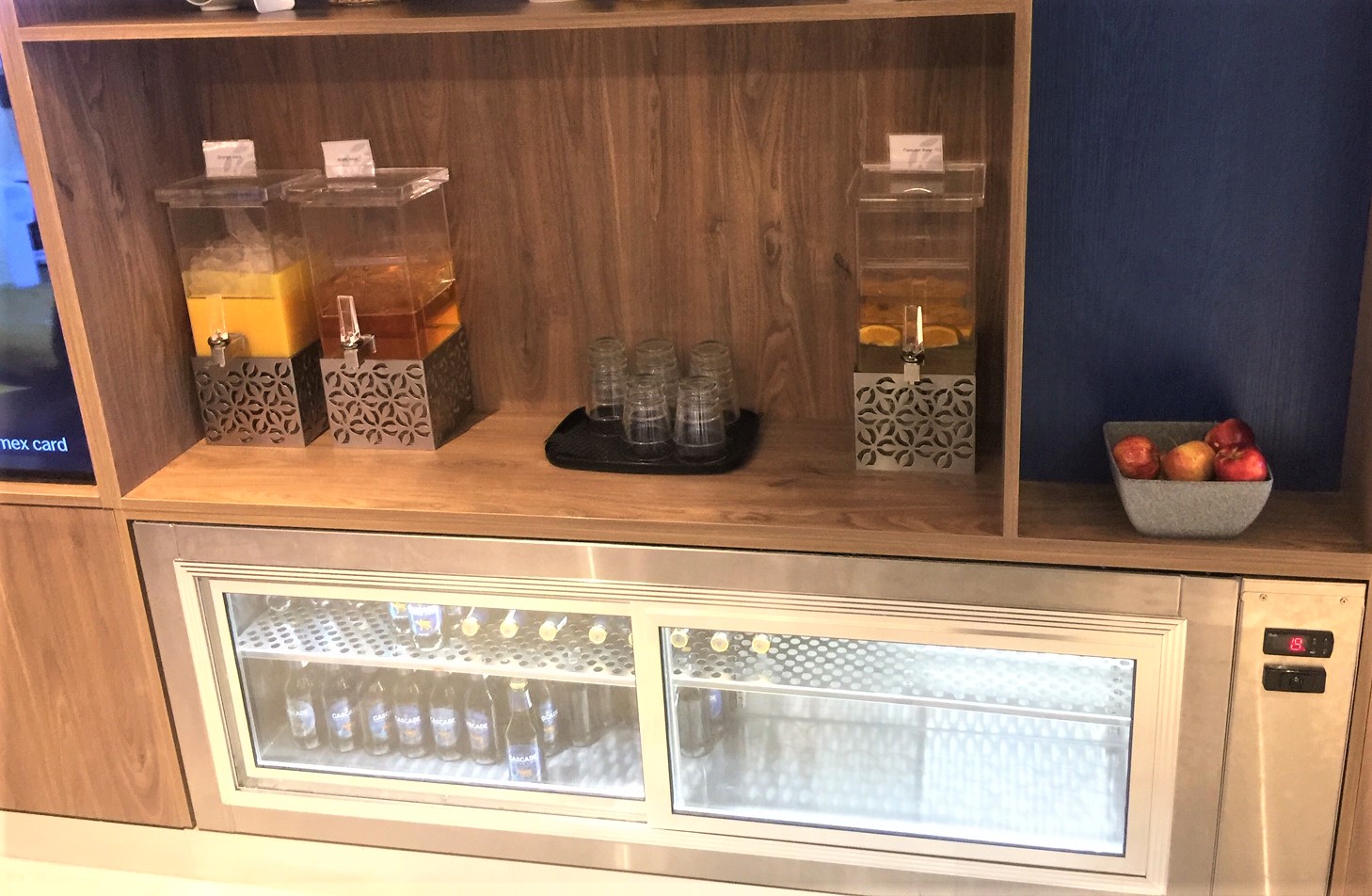 There is a similar set up on the other end, where card members could help themselves to still or sparkling water, or their choice of soft drinks.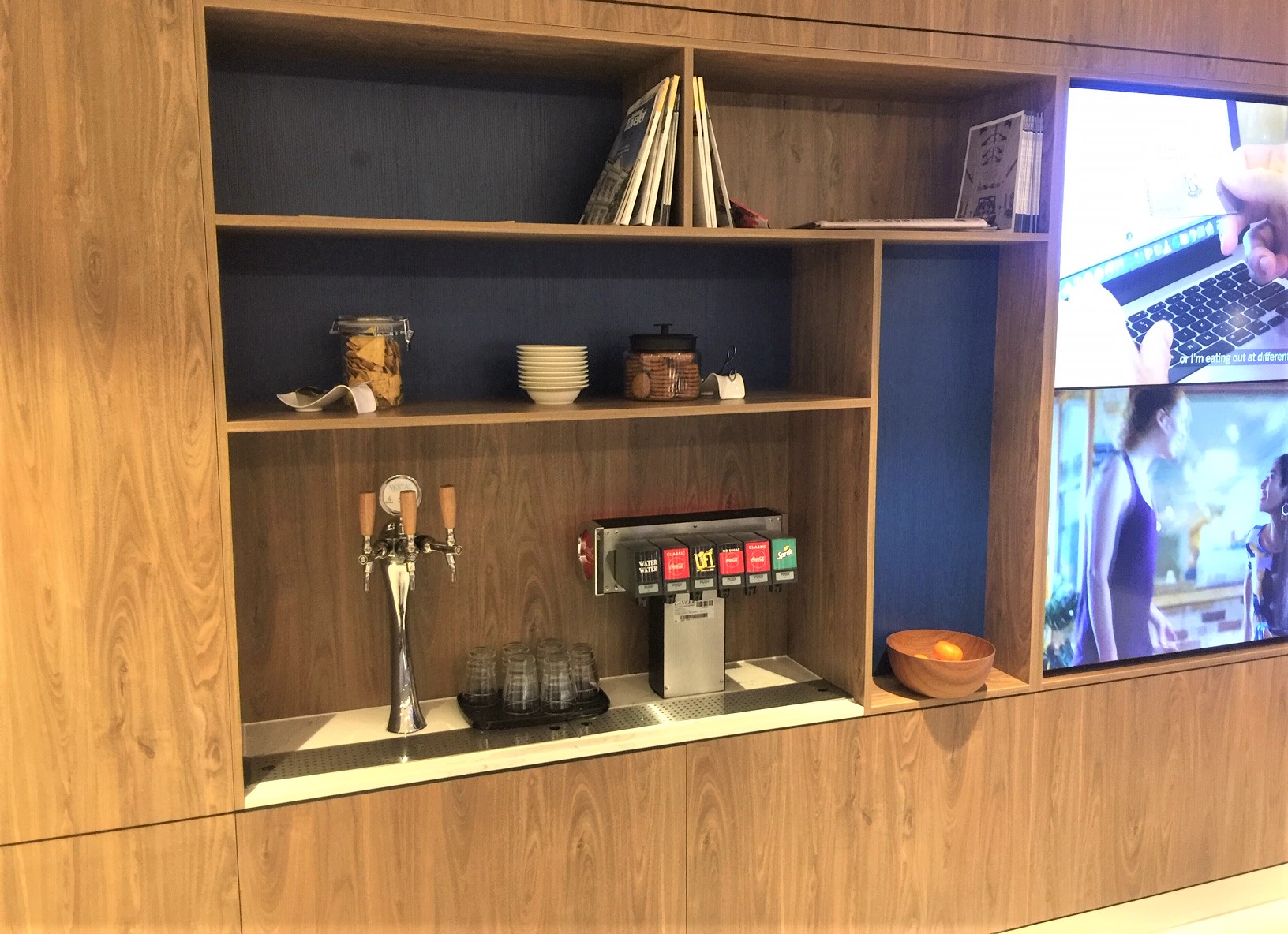 To the right of the work desk is some very attractive looking, cleverly designed seating that maximises space. It features long, padded benches, chairs and a small table that run along the wall. The angular design splits this area into multiple sitting zones, although I wouldn't say it's particularly private.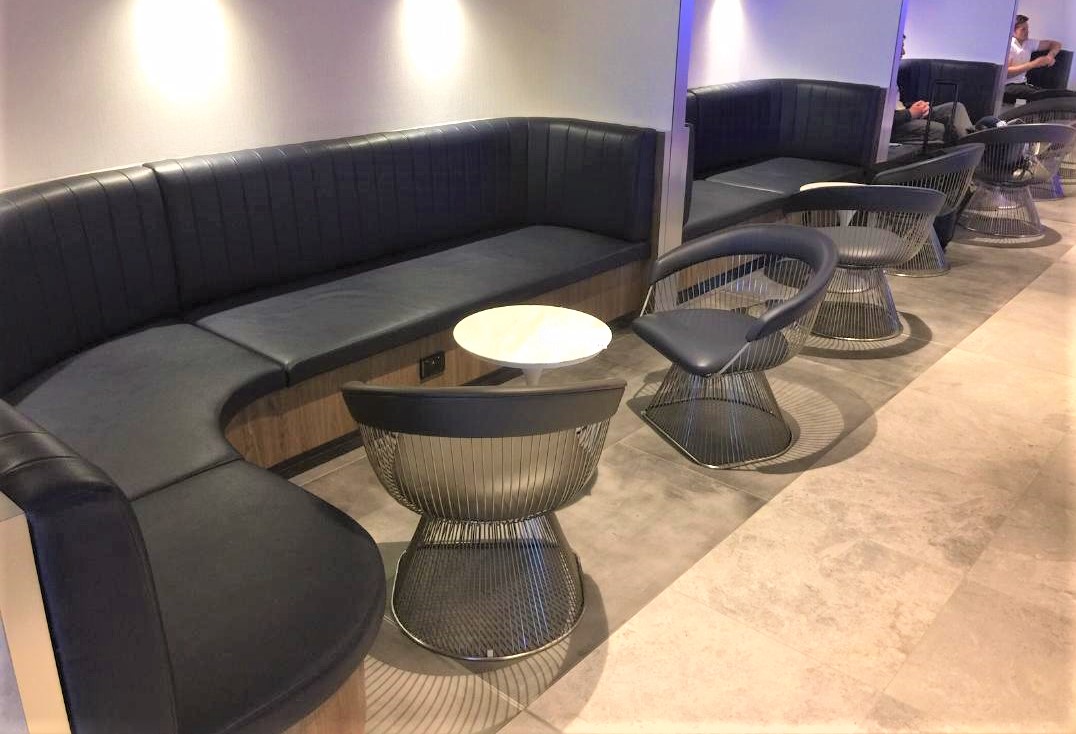 Bench Style Seating, American Express Lounge, Sydney T1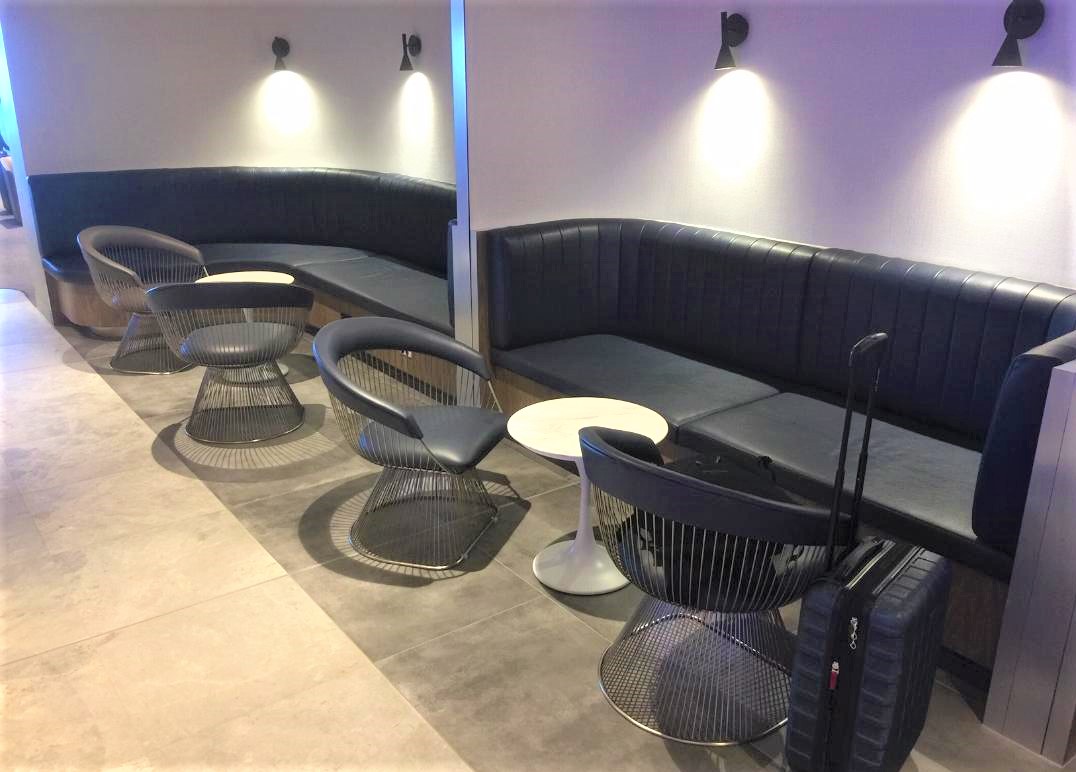 Further along the hallway, there is yet more seating. Regular visitors to the old American Express Lounge near Gate 24 (now closed) will appreciate the noticeably generous proportions and increased capacity of the new facility.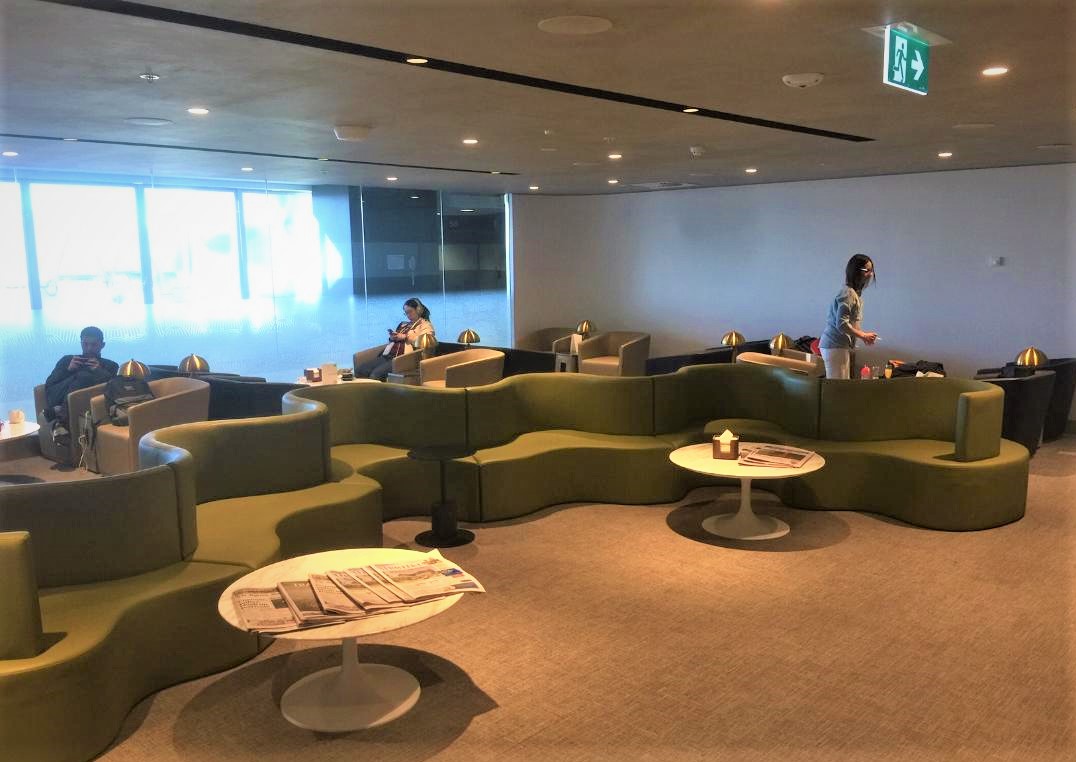 There are plenty of places to sit in the new lounge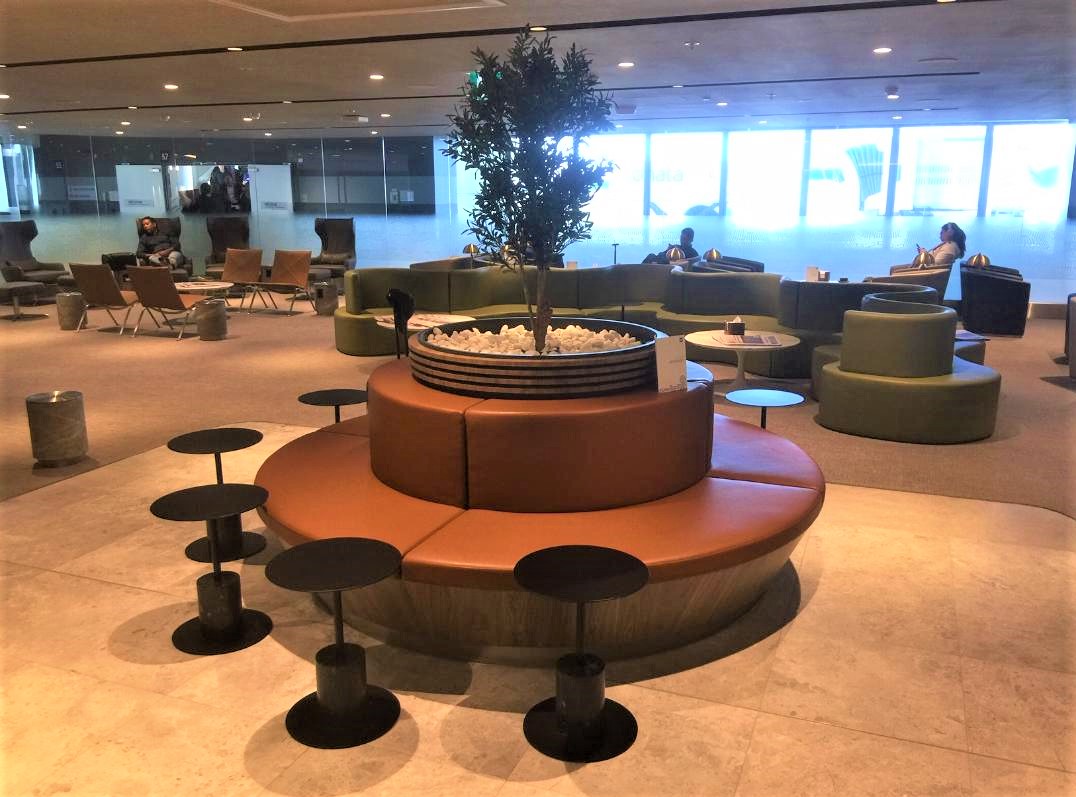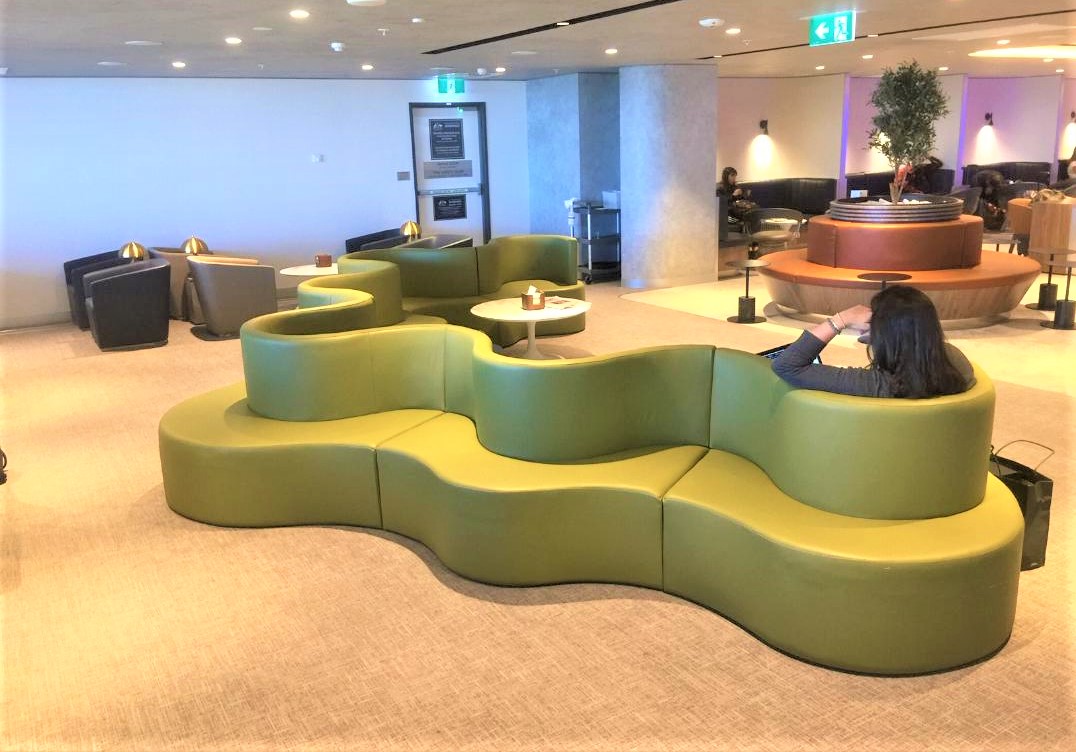 American Express says the new facility is 3x bigger and can accommodate up to 200 guests when opearting at peak capacity. Although the lounge is located a level below the concourse, thankfully there are floor to ceiling glass windows, which allow plenty of natural light to filter in. Guests can also take in views of the taxing planes near Gate 58.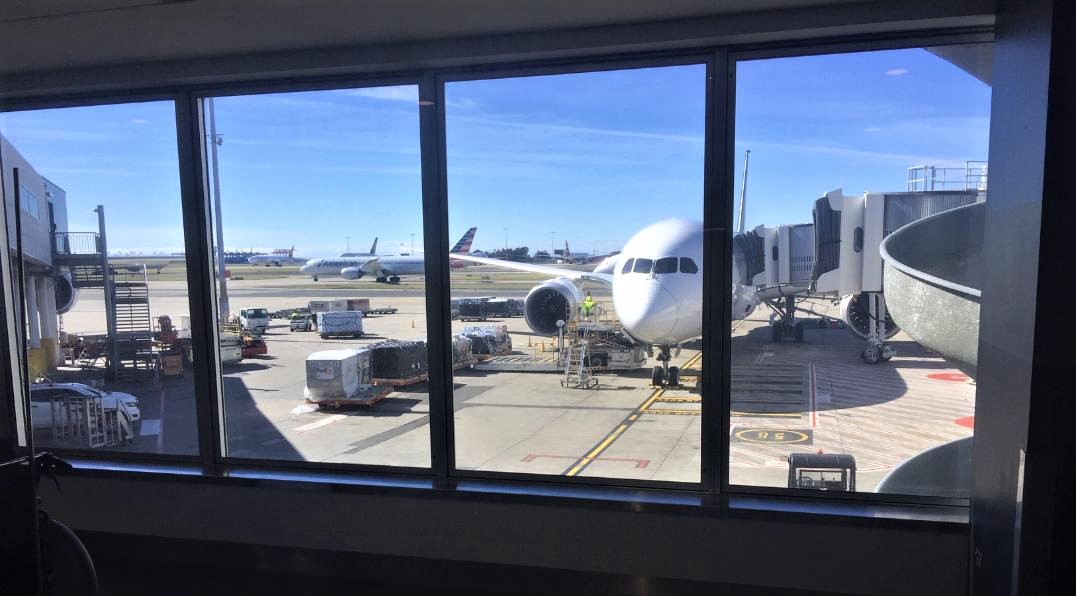 Food and Drinks
Back near the entryway is a long, curved bar. One end of the bar features a variety of beers on tap. The other end functions as a little cafe where barista's were seen whipping-up hot, steaming cups of beverages.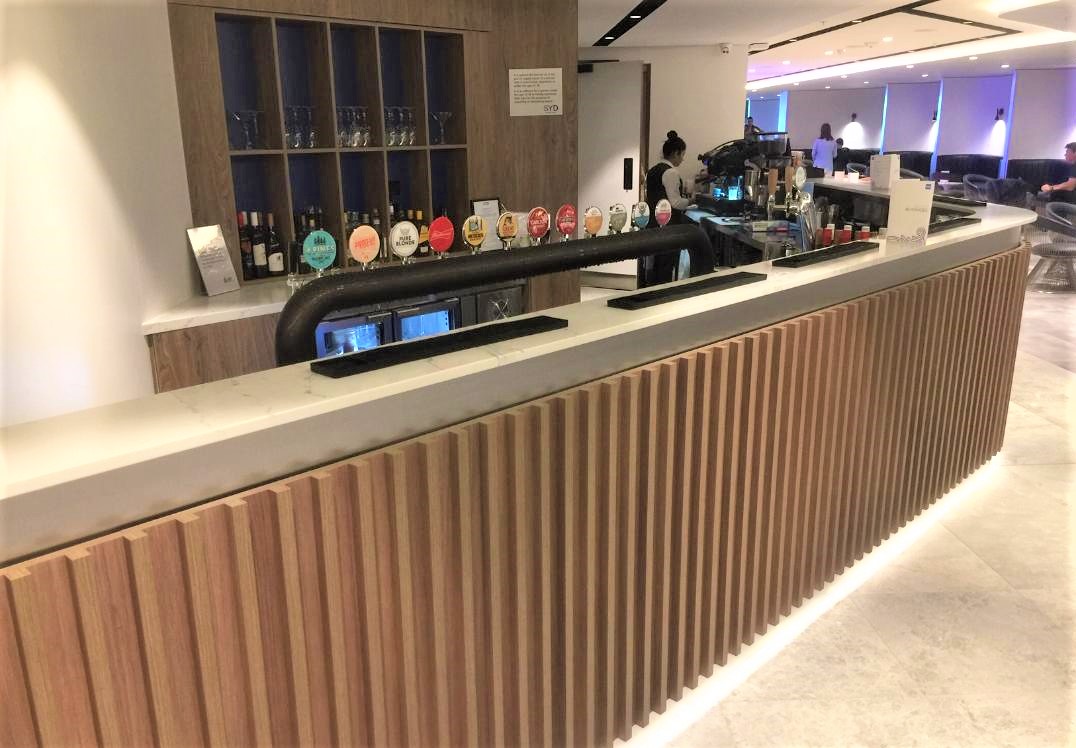 Tap Beer, American Express Lounge, Sydney T1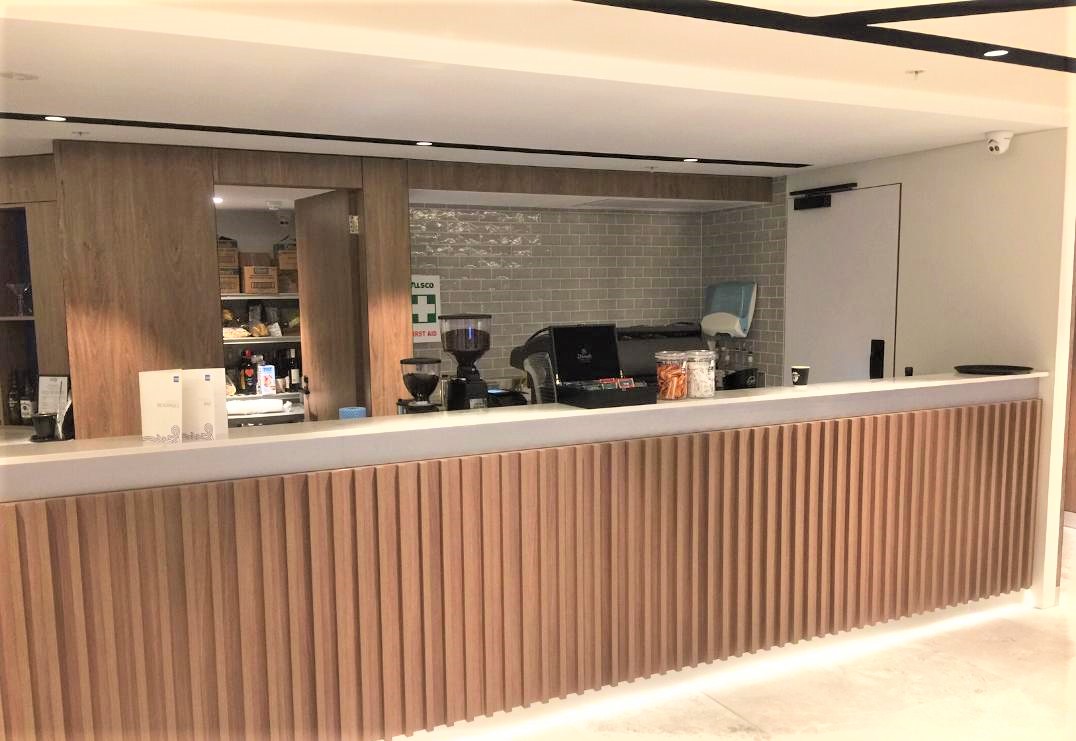 Treat yourself to some barista made coffee at American Express Lounge, Sydney T1
The main dining area is to the left of the bar and features a few different styles of seating. There weren't too many people when I first got there, although the numbers swelled-up markedly by the time I took a seat on one of the tables.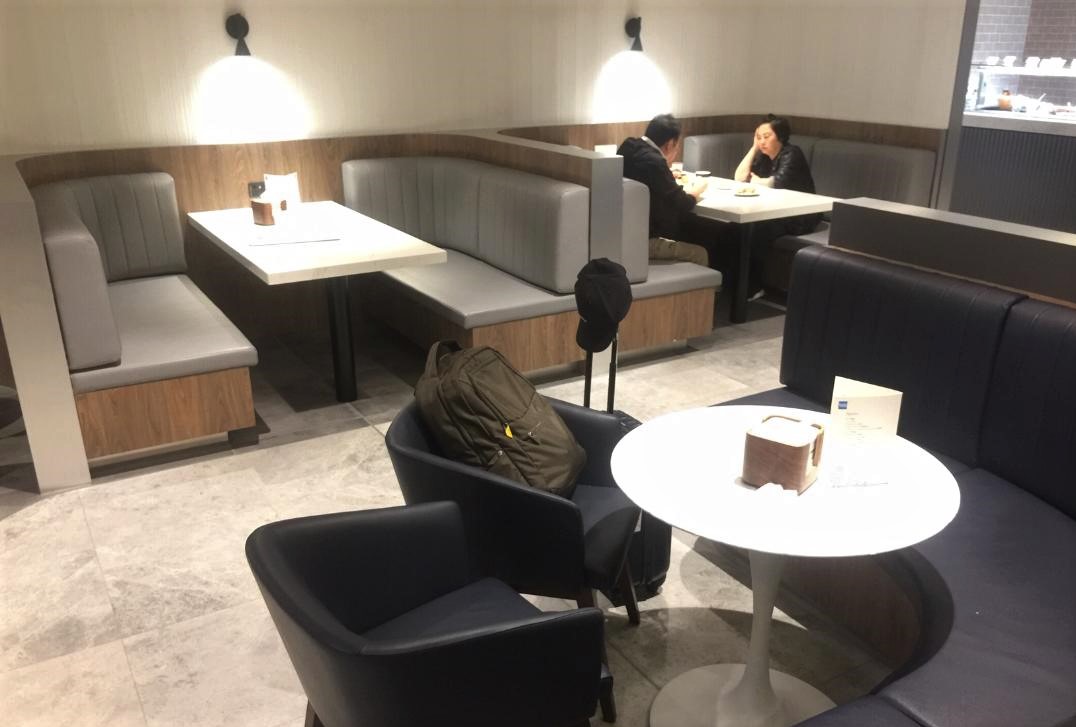 Dining Area, American Express Lounge, Sydney T1
The breakfast spread featured the stock standard offering of fresh fruits, yogurt, muesli and variety of cereals. There were also a number of cooked breakfast items such as scrambled eggs, hash browns, bacon and sausages etc, conveniently laid-out next to it.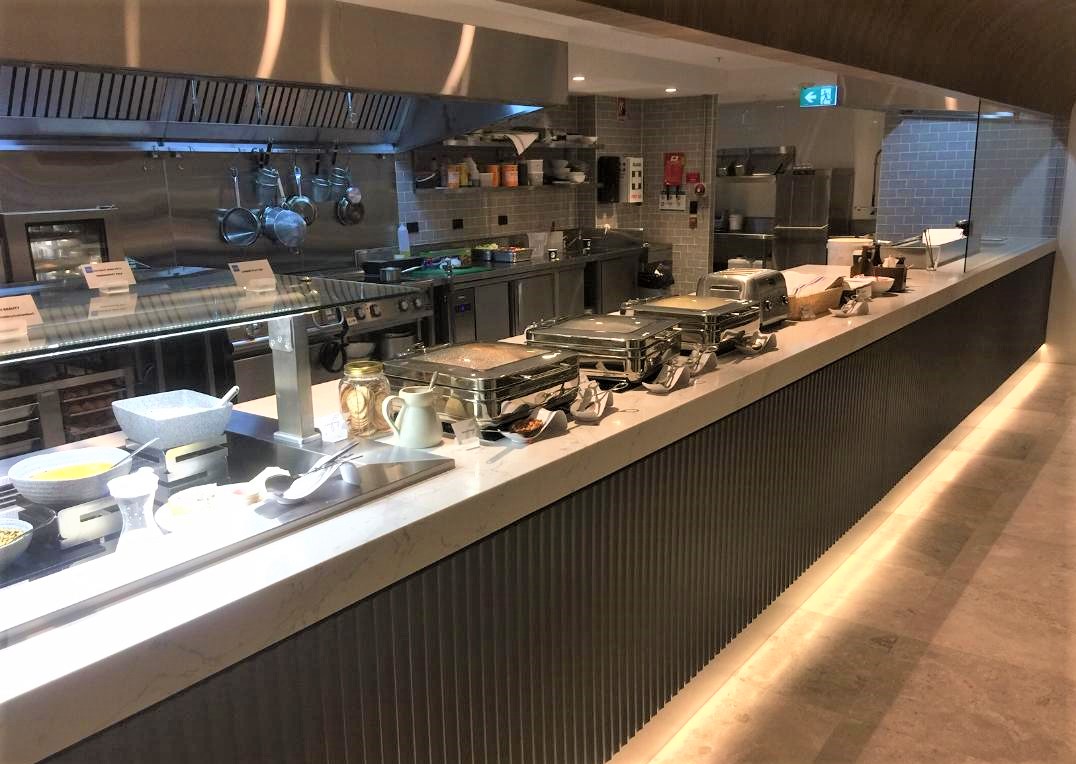 Self-serve Buffet Bar, American Express Lounge, Sydney T1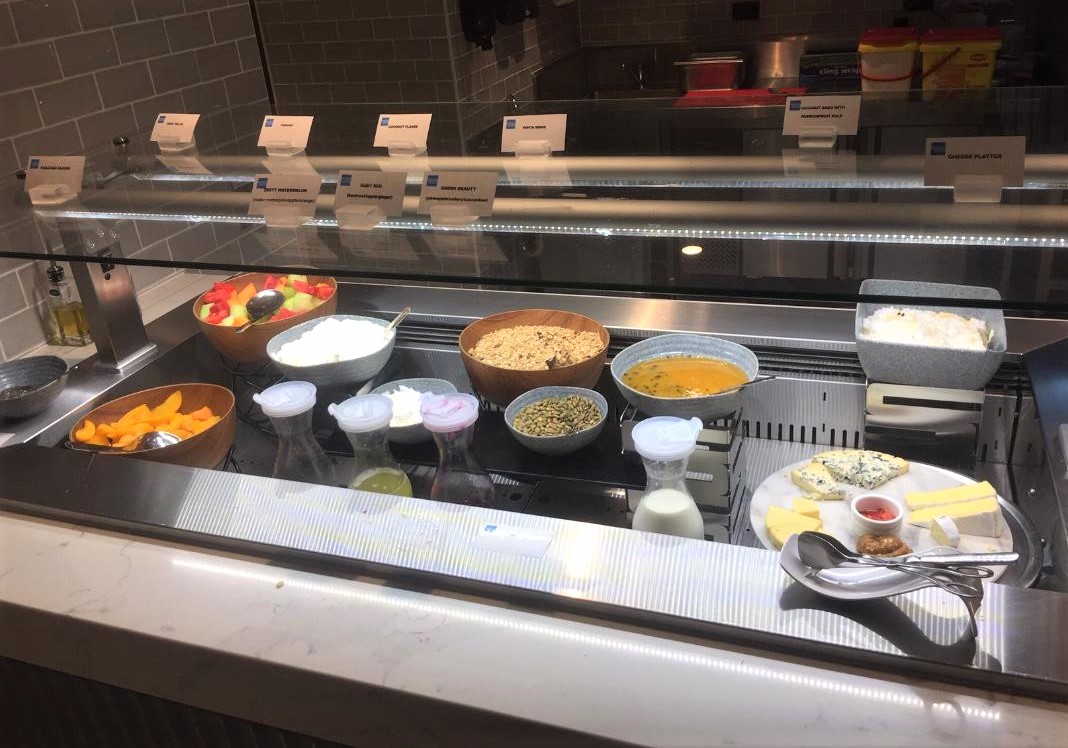 Breakfast Spread, American Express Lounge, Sydney T1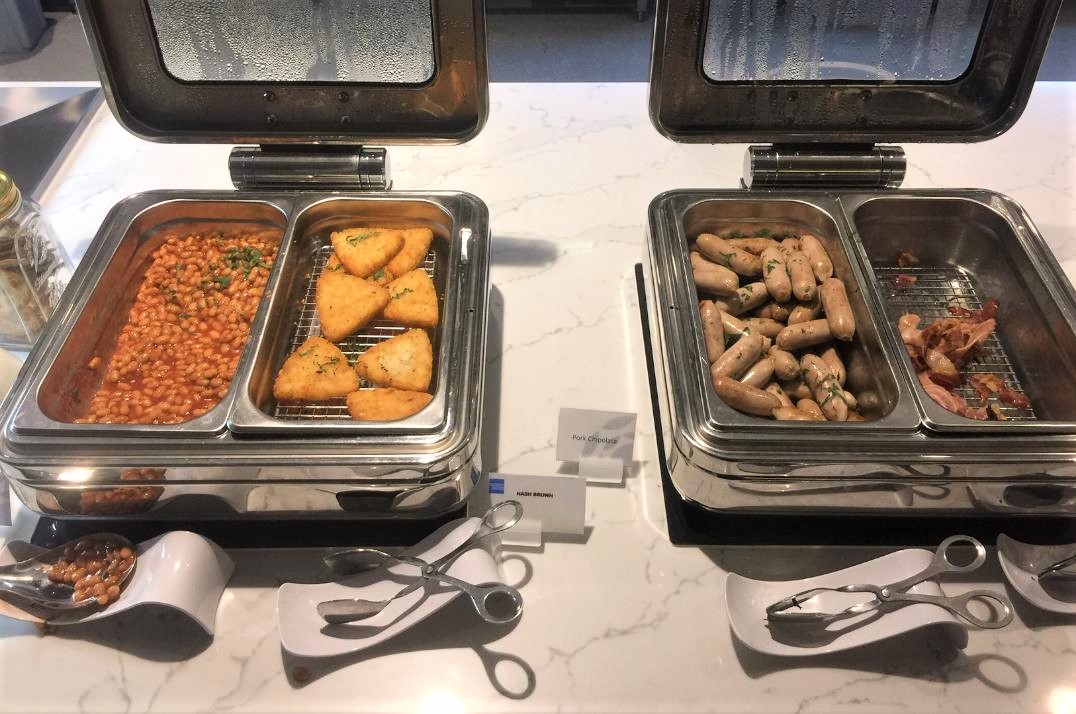 Breakfast Spread, American Express Lounge, Sydney T1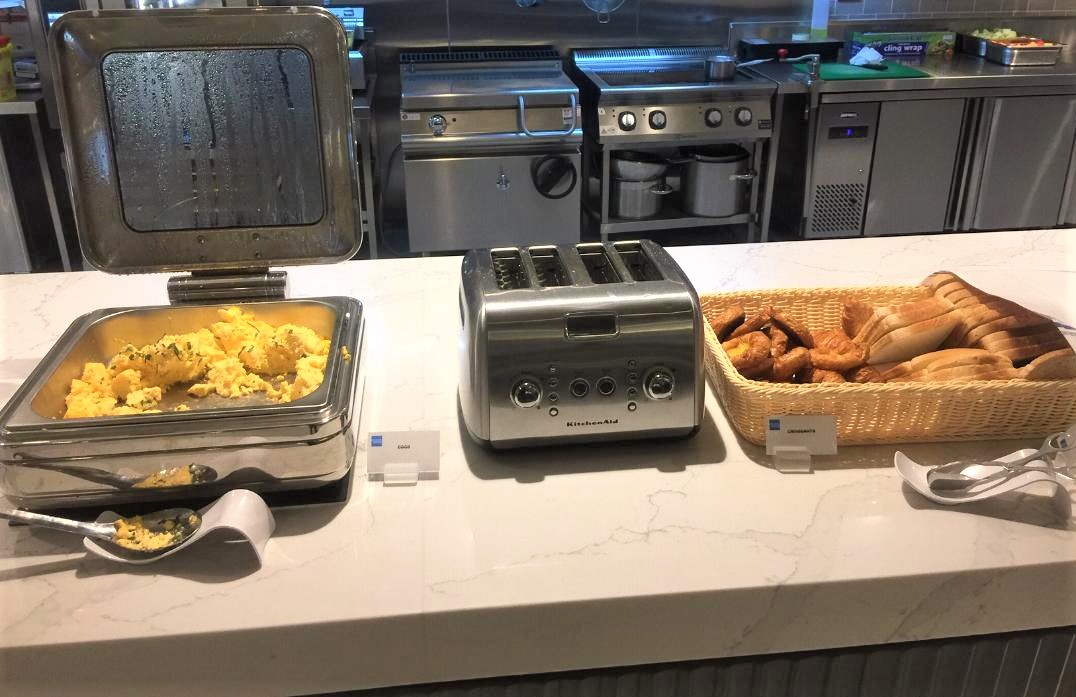 Breakfast Spread, American Express Lounge, Sydney T1
This section of the dining also has a live cooking station where guests can order up dishes such as a selection of pizzas. I didn't get a chance to sample the offerings though, as this was closed at the time of my visit.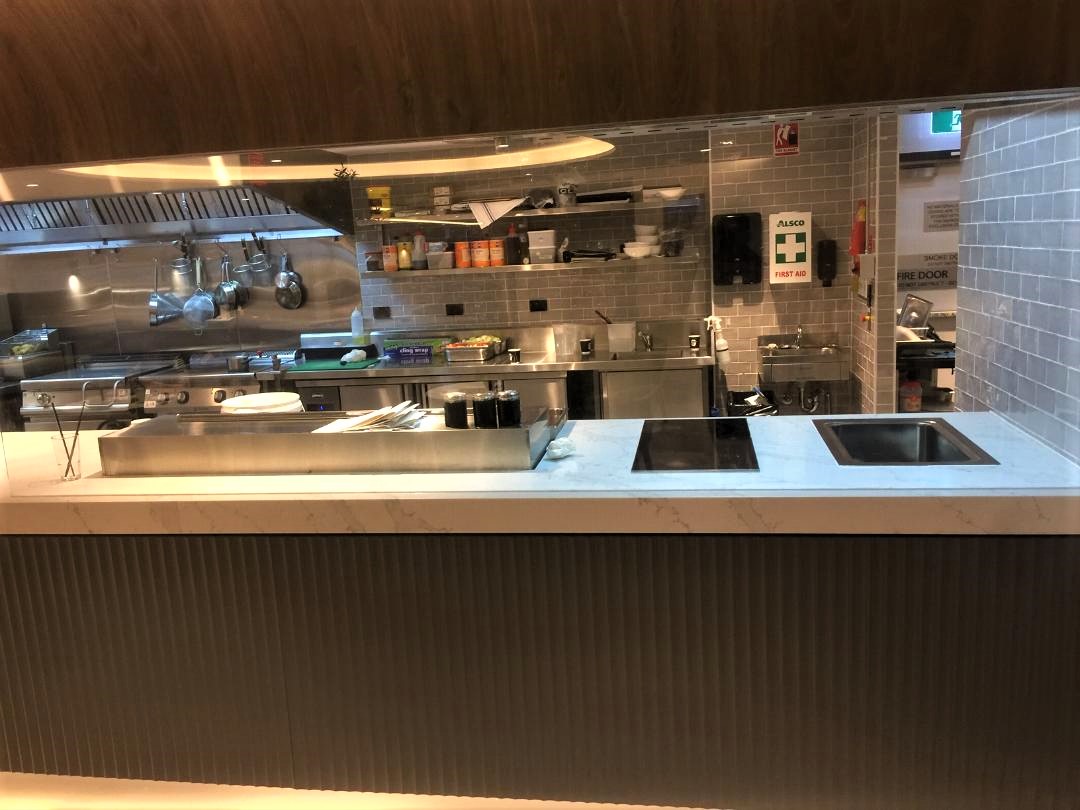 Pamper yourself with some cooked-to-order dishes at American Express Lounge, Sydney T1
By this time I was rather hungry, so I went and got myself a mix of cold and hot breakfast fare, as you can see below.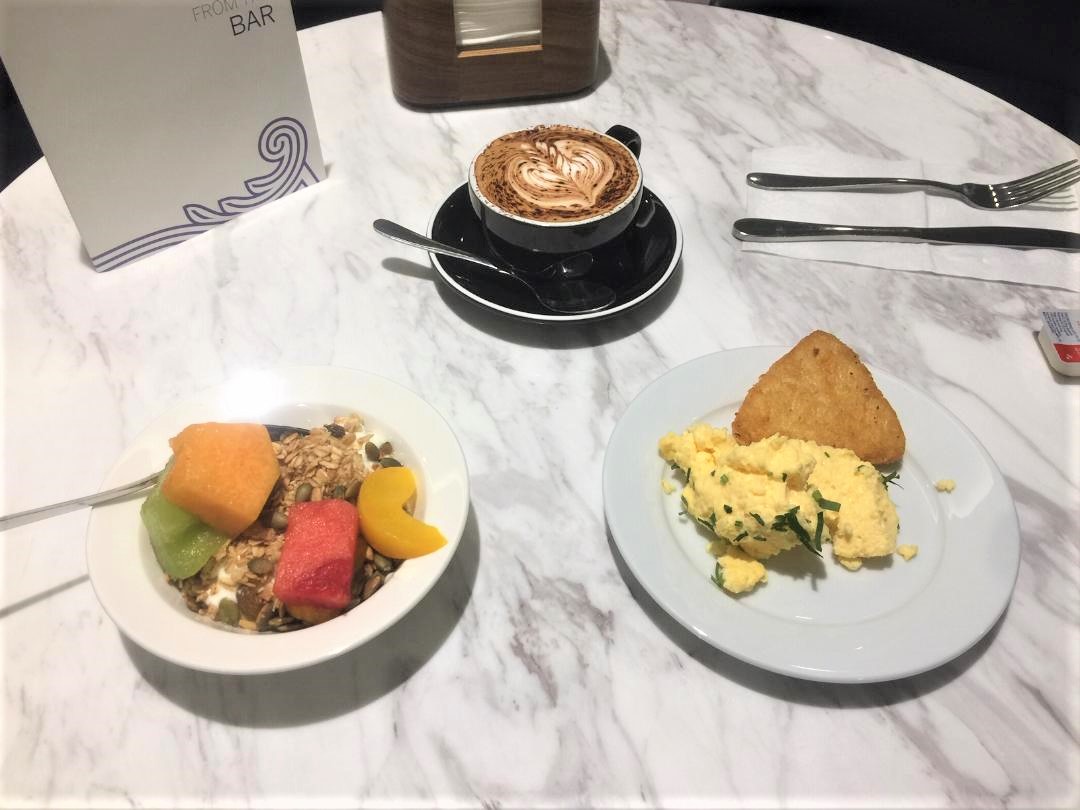 My Breakfast at American Express Lounge, Sydney T1
I rounded off the meal with a cappuccino, which was good, but not fantastic. Overall though, I came away satisfied with my dining experience.
Other Amenities
There are in-house toilets and showers located in-between the Seating and the Dining section of the facility, next to the bar.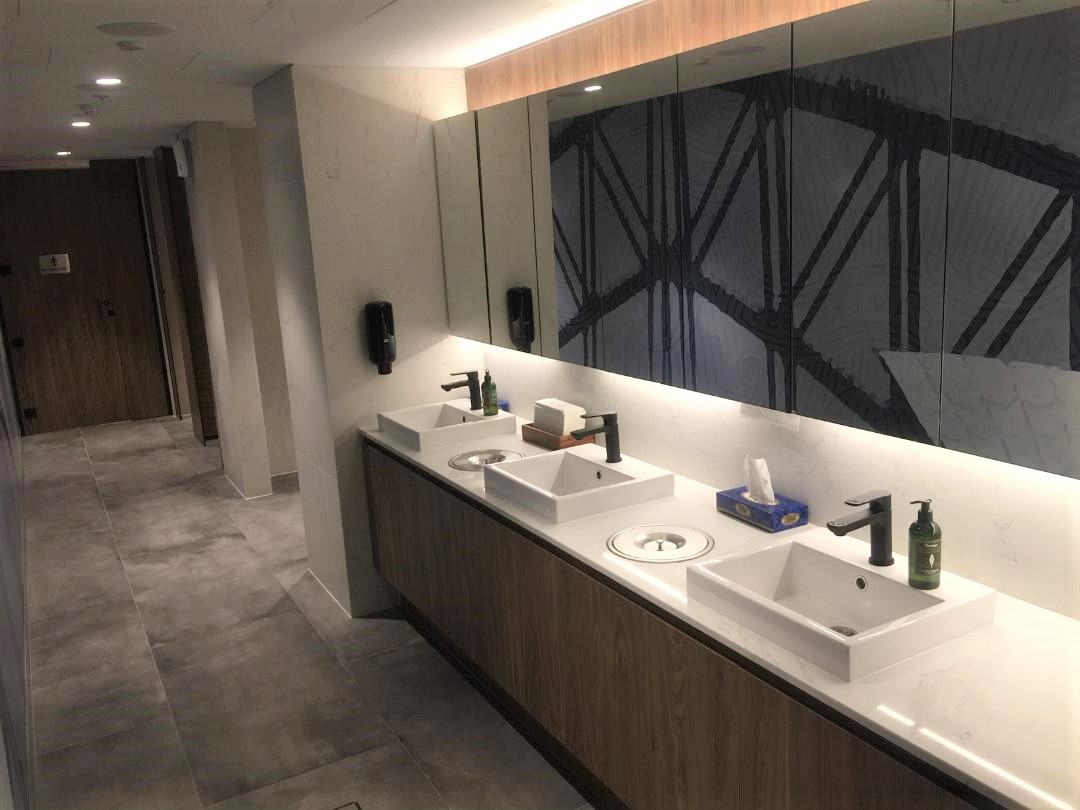 Bathroom, American Express Lounge, Sydney T1
One of the great additions to this new American Express Lounge are the shower suites, and there are three of them.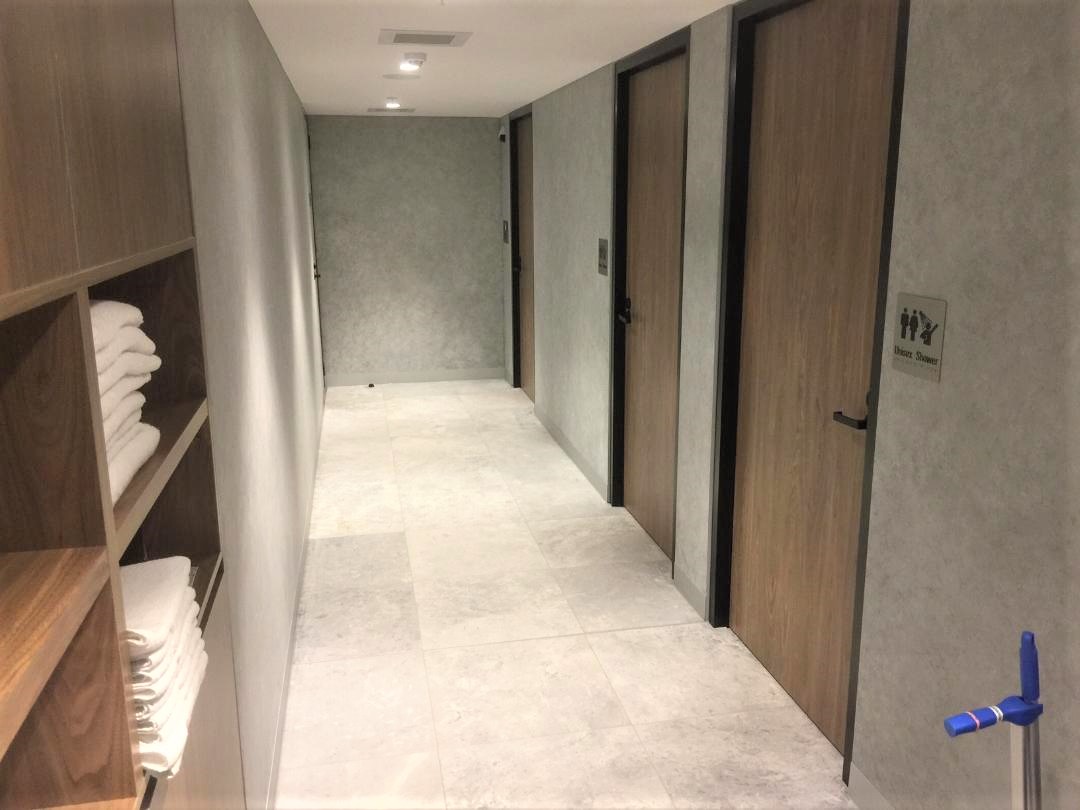 Rejuvinate with a shower at the American Express Lounge, Sydney T1
They were not in use during my visit but I was happy to see that these were kept sparkling clean and were regularly serviced by a dedicated staff. There were plenty of towels and bath products at hand. I was advised by the staff that booking is necessary should you wish to use the shower.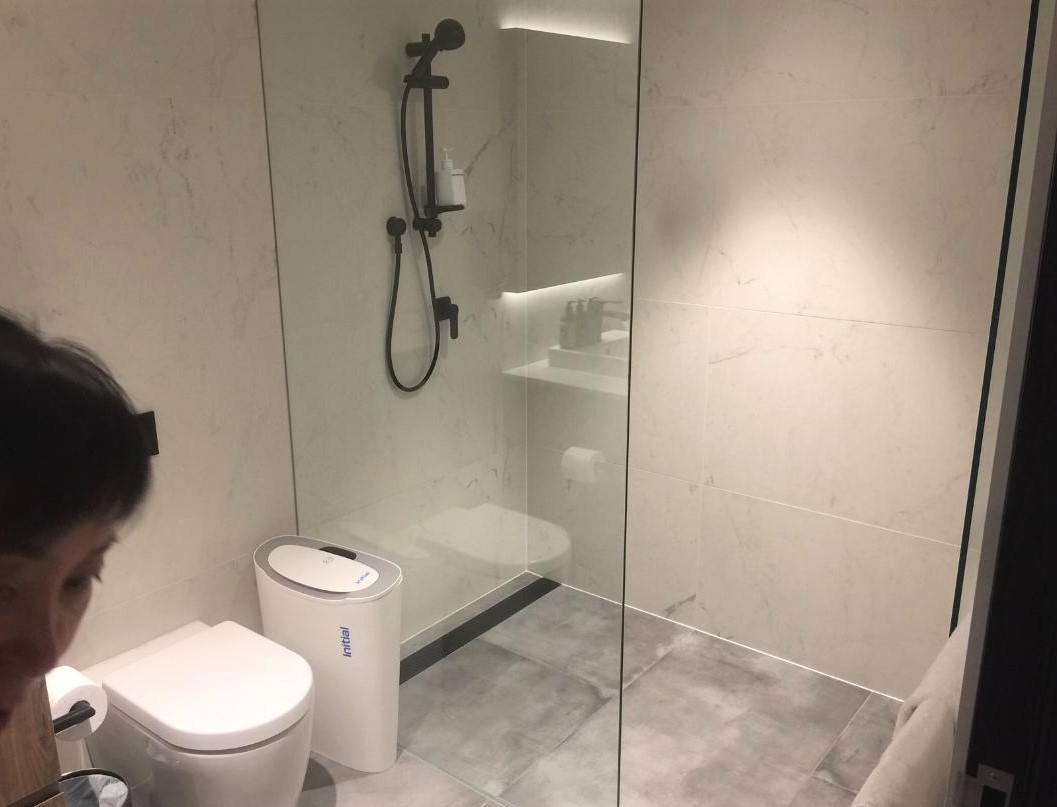 Shower suite, American Express Lounge, Sydney T1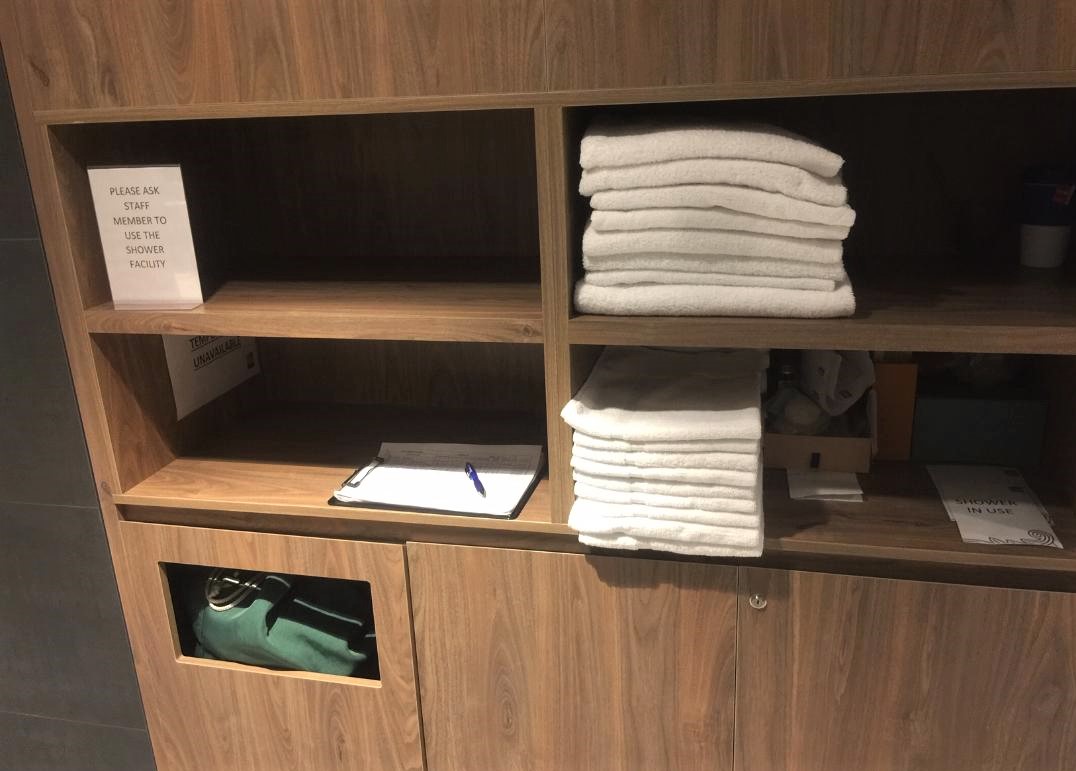 Bath towels, American Expess Lounge, Sydney T1
The lounge is a silent lounge and they do not make any flight announcements. So you will need to keep an eye on the flight display boards scattered throughout the facility.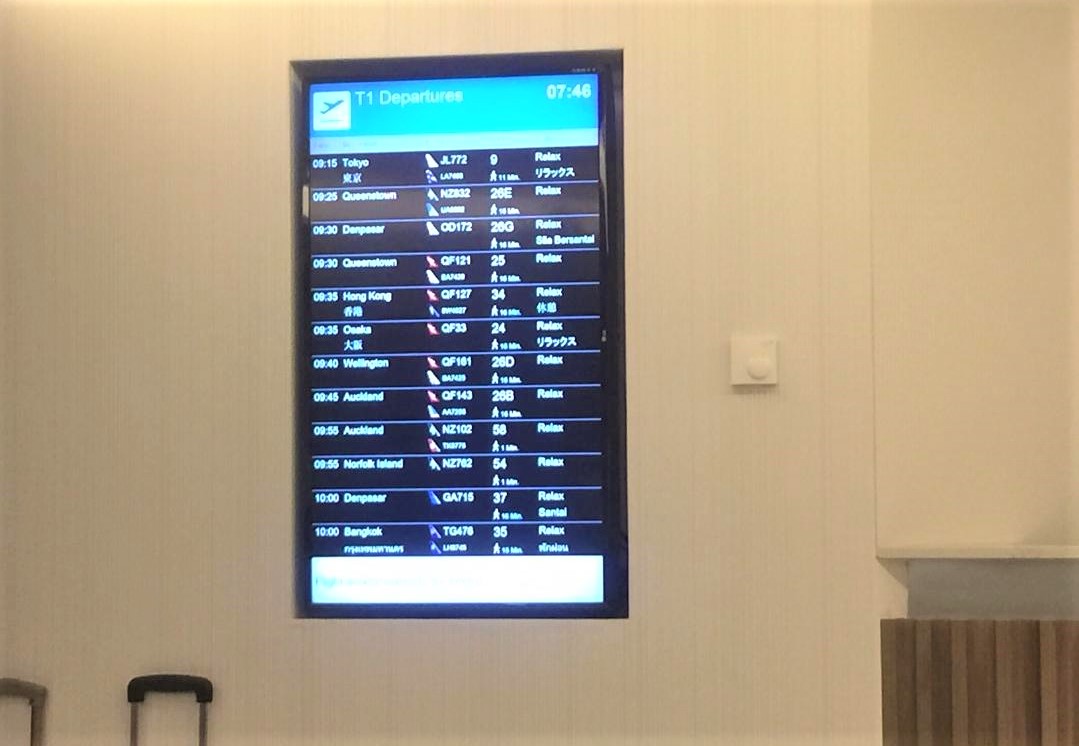 Finally, there is free and fast wifi available throughout the lounge. I didn't get a chance to test the speed, but from what I experienced, it felt more than adequate.
Lounge Access
None of the above matters if you can't produce the right card to access the lounge. As I mentioned earlier, unlike most airline lounges where access is granted either to those flying business and first class, or to those holding elite status in a relevant airline program, American Express lounges can only be accessed with eligible American Express Cards, such as:
The American Express Centurion, Platinum, Business Platinum or Corporate Platinum Card issued anywhere. If you have one of these cards, you have unlimited access to the lounge and can bring 2 additional guests with you for no extra cost.

The American Express Explorer Card, Business Explorer, Platinum Reserve, Qantas Ultimate, Qantas Corporate Platinum, Velocity Platinum, David Jones Platinum or Westpac Altitude Black Card issued in Australia. If you hold one of these cards, you are entitled to 2 visits to the lounge per card year.

American Express Airpoints Platinum Card issued in New Zealand. 2 visits per card year.
In Conclusion
The new lounge is a significant step-up from the older, much smaller facility. The seating is plentiful and well laid-out, no matter the size of your touring party.
The food and drinks offering are solid, there are in-house showers should you wish to freshen up before jumping on that 20+ hour long haul flight to Europe or United States. If you are a business traveller and can't afford to switch off, rest assured you can continue working un-interrupted right until you leave the facility to board your flight.
It's also great to know that American Express values card members enough, to have recognised the need for an updated, expanded facility, and to have made the required investments.
Have you visited the new American Express Lounge at Sydney Airport? Leave a comment below.