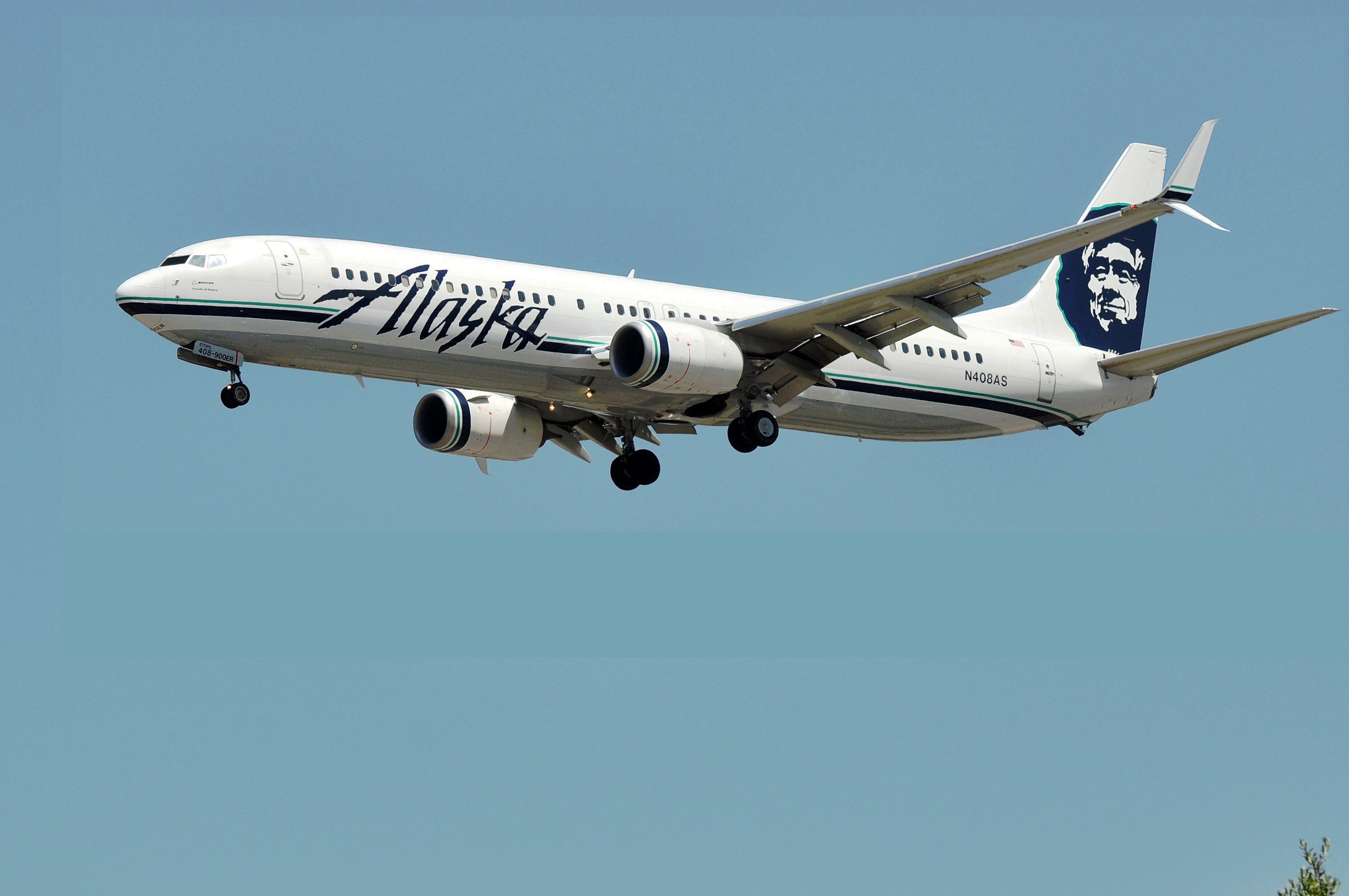 Come to think of it, Australians are a pretty captive bunch. We live in a country where 4 banks, 2 supermarkets, 2 airlines and so on (you get the gist), have a stranglehold in their respective field of businesses. Naturally then, most Australian flyers gravitate to either Qantas or Velocity Frequent Flyer program, or both, and understandably so. These 2 points currency are the easiest to earn and redeem in Australia.
But sometimes, it pays to broaden your horizon and cast the net a little wider.
Alaska Mileage Plan might seem like an odd choice at first, particularly when you consider that the airline does not fly into Australia. Heck it does not even operate flights to anywhere in Asia, Europe or Africa. In-fact, this North American carrier with it's largest hub in the city of Seattle, predominantly operates on the US west coast, with a smattering of flights to cities in mid-west and eastern shores of America.
It's International route network is tiny and for someone based in Australia, it would require an 8,000 km flight to Honolulu (Hawaii) to actually get on an Alaska plane. That said, one doesn't need to fly or even live on the territory where the airline operates, to actually benefit from it's frequent flyer program, as you will see below.
Partnerships
Alaska is not part of any of the big 3 alliances, however it does have a number of bilateral partnerships which makes the Mileage Plan a formidable program. Some of it's partners are:
Qantas
Cathay Pacific
Japan Airlines (JAL)
Emirates
Fiji Airways
Singapore Airlines
British Airways
You can check out the full list of airline partners over here.
Sweet spots on Alaska Charts
Lets look at a few instances where the program stands out and can provide out sized value.
Perth – East Coast cities on Qantas
Fancy flying Qantas business class coast to coast? The airline operates a mix of B-737's and A-330's on flights from Sydney/Melbourne/Brisbane to Perth. While the spacious recliner seats found on it's domestic workhorse, ie, B-737 are not the worst to spend the 5+ hrs criss-crossing the big-brown land, it sure pales into insignificance if you can land a seat onboard it's A-330.
The business class product on it's wide body, twin aisle A-330 features international grade business class seats that convert into a fully flat bed.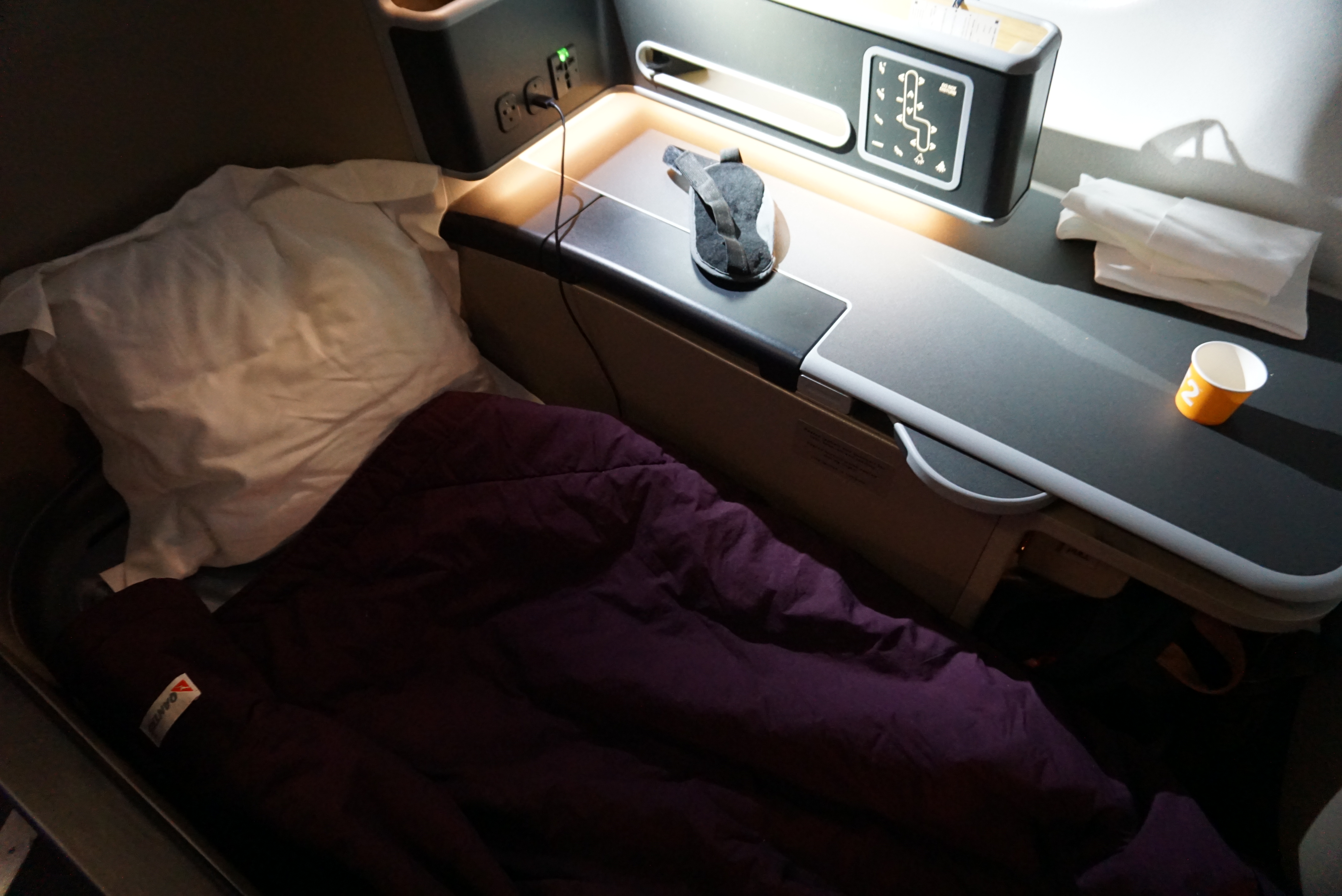 Qantas A-330 Business Class Seat
The experience doesn't come cheap though, with one way fares approaching an eye watering $2,500. Ouch….. Enter Mileage Plan. For a mere 20,000 Alaska Miles (plus $29 cash), you can traverse the continent in the comfort of Qantas Business Suites.
As a comparison, redeeming Qantas points will set you back 36,000 points (increasing to 41,500 points from 18/09/2019).
Intra Asia flights on JAL
Unlike a lot of Frequent Flyer Programs that work on a distance based chart, Alaska Mileage Plan operates a zone based chart. This opens up some really lucrative redemption on it's partner, JAL.
Japan Airlines, or JAL as it's commonly known operates several flights to major Asian destinations from it's base in Tokyo. If you fly one of these intra-Asia routes, you will likely find yourself onboard one of it's B-787 Dreamliner.
The business class cabin on these planes is laid out in a 1-2-1 configuration which is pretty standard for medium-haul flights.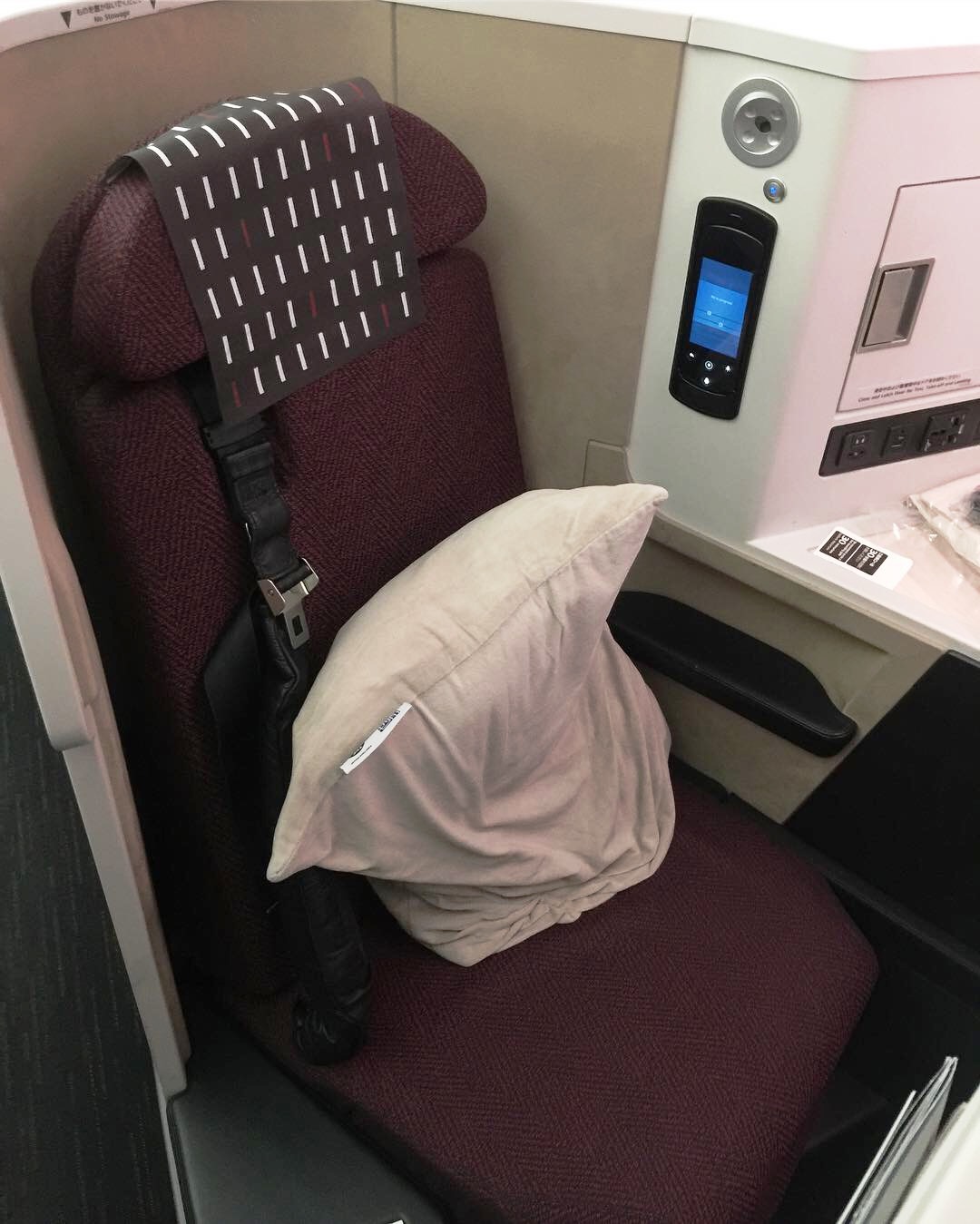 JAL B-787 Business Class Seat
You can fly any of JAL's intra-Asia routes for a tiny 25,000 Alaska miles, as can be seen below.

Earlier in the year, I took advantage of this sweet spot in the chart and flew JAL from Delhi to Tokyo, an 8+ hr flight by redeeming Alaska miles.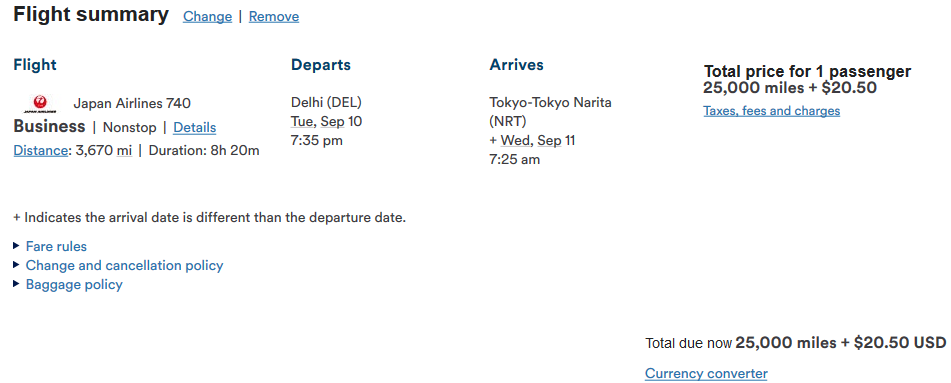 Redeem 25,000 Alaska Miles to fly JAL Business Class from Delhi to Tokyo
Cash prices on this route can go upwards of $3,000, making this an excellent redemption. But wait, it gets even better.
You see, one of the standout feature of Alaska Mileage Plan is that it allows free stop over, even on one way redemption. To be clear, we are talking stop over, not layover. A layover is a short break, typically ranging from few minutes up to 24 hrs, while a stop over can span several days.
So for instance, I could fly from Delhi to Tokyo, have a stop over, then continue onward to Jakarta. As both these sectors are intra Asia, I would still only pay 25,000 miles in redemption. I will though, fork out an extra $33 in airport fees and taxes as you can see below.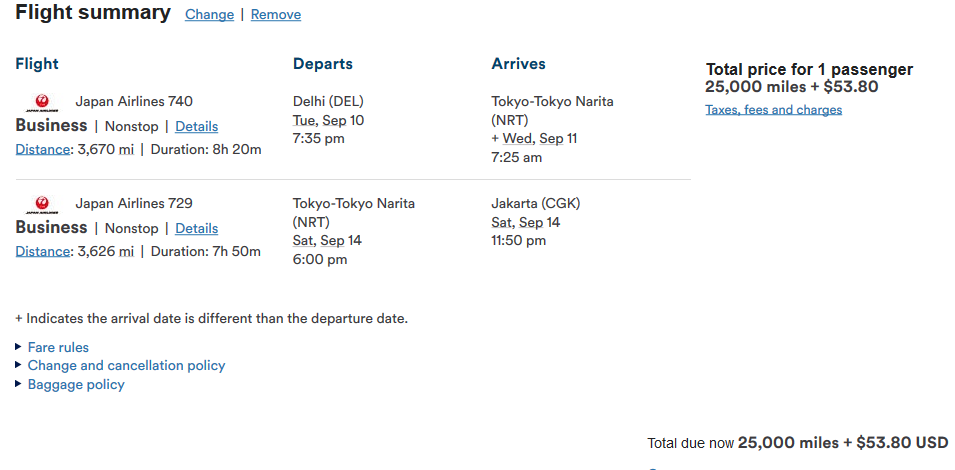 Alaska Mileage Plan lets you take a free stopover on partner redemption
A Frequent Flyer program, which is already well regarded for it's extremely low redemption cost, allows you to take a break along the way for no extra cost. Talk about getting 2 for the price of 1 🙂
As a comparison, Qantas charges 65,000 points (plus $163 cash) to fly the Delhi – Tokyo sector alone, which yet again highlights why the Alaska Mileage Plan is rated so highly by the points and miles community.
If you are wondering what the cash prices are like to fly this JAL itinerary, a quick search on Google Flights indicate this to be in the $4,500 ball park.
This sweet spot should particularly appeal to Perth based members, as they can catch a cheap flight to Singapore, redeem 25,000 Alaska Miles to fly Singapore-Tokyo-Kuala Lumpur (sort of round trip), before catching another cheap flight home.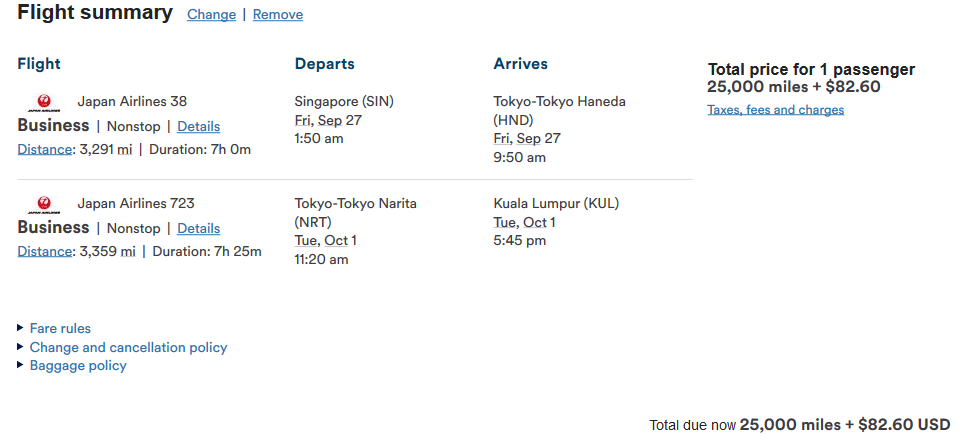 Redeem 25,000 Alaska Miles to fly JAL Business Class on Singapore – Tokyo – Kuala Lumpur
Australia – Hong Kong on Cathay Pacific
Another redemption which offers good value is on Cathay Pacific flights between Australia & Hong Kong. A one way business class flight from any Australian City to Hong Kong is priced at just 30,000 Alaska Miles.


Redeem 30,000 Alaska Miles to fly Cathay Pacific Business Class from Australia to Hong Kong
Although this isn't the worst use of Alaska Miles, the value has considerably dropped over the years given the intense competition on this route. The 3 carriers that operate non-stop services from Australia to Hong Kong, namely Cathay Pacific, Qantas and Virgin Australia frequently offer return business class fares of around $3,000. Even so, redeeming Alaska Miles on this route is still a good option, just not a great one.
As a comparison, redeeming through Cathay Pacific Asia Miles Program will see you pay 45,000 Miles.
A redemption using Qantas points will set you back 60,000 points (increasing to 68,400 points from 18/09/2019).
One important point to remember is that Alaska does not allow online redemption on Cathay Pacific, so you will have to make this booking over the phone.
Other Good Value Redemptions
Besides those mentioned above, here are some of the other high value redemption opportunities on Alaska Mileage Plan Chart.
Australia to US, flying Qantas or American Airlines Business Class – 55,000 Miles
Japan to US, flying JAL or American Airlines Business Class – 60,000 Miles
Japan to US, flying JAL or American Airlines First Class – 70,000 Miles
Hong Kong to US flying Cathay Pacific Business Class – 60,000 Miles
Hong Kong to US flying Cathay Pacific First Class – 70,000 Miles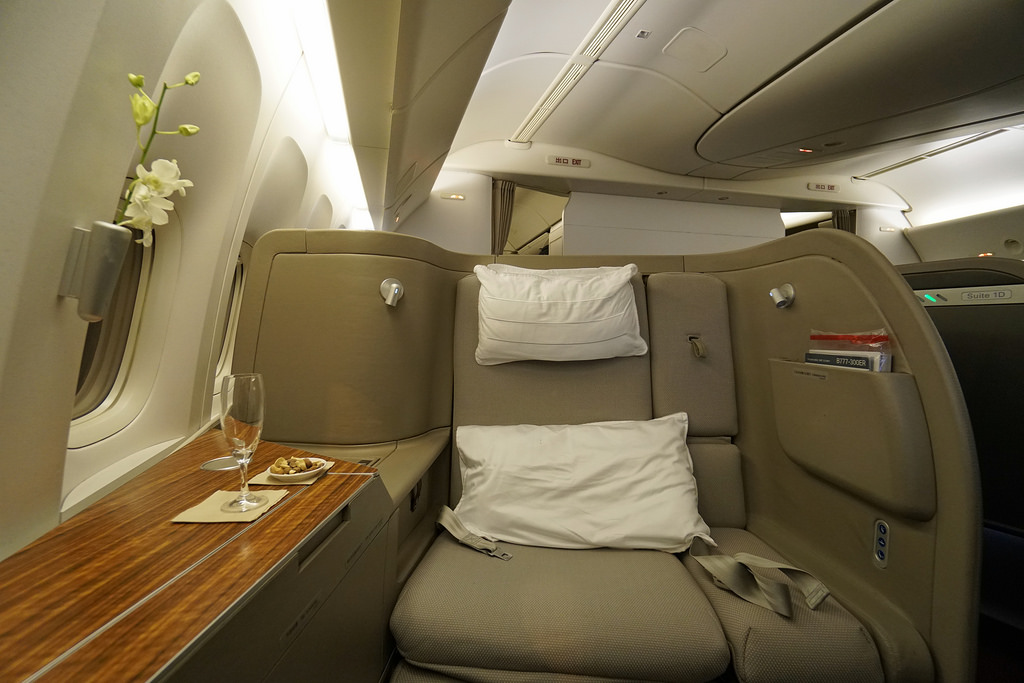 Cathay Pacific B-777 First Class Seat
You can check out the full list of partner award charts over here.
Earning Alaska Miles
Lets face it, none of this would make any sense unless you can get your hands over a bunch of Alaska Miles. So how can Australians earn them?
Credit Cards
Sadly, there are no credit cards in Australian Market that allow you to directly earn Alaska Miles. However, those with American Express cards may transfer membership rewards points to Marriott Bonvoy and then convert them into Alaska Miles. Check out my review of Marriott Bonvoy Program and step by step instructions on converting Marriott Bonvoy points into Airline Miles.
Mind you though, earning Alaska Miles via this route isn't very efficient and you may end up burning a very significant number of Membership Rewards points. Alternatively, if you earn Marriott Bonvoy points through hotel stays, converting them into Alaska Miles offers much better value.
Flying Partner Airlines
Besides Qantas, many Alaska partners such as Singapore Airlines and Cathay Pacific operate a very significant network of flights into Australia. If you fly these with any regularity, you may credit those flights to your Alaska Mileage Plan account.
However, for Australians, particularly those holding Gold or Platinum status in the Qantas Frequent Flyer Program, this may not really make sense, unless if they do more than enough flying to retain their status each year, in which case they may credit any excess flights to their Mileage Plan account. For most people though, this wouldn't be a practical option.
Buying Miles
Buying points or miles is generally poor value and should be avoided. For instance, nobody should be proactively buying Velocity or Qantas points unless they are short by a few hundred or thousand points off making a redemption, in which case it might be ok to top-up the account. However, just as in life, there are exceptions to buying points/miles too and Alaska Mileage Plan is a case in point.
Ordinarily, you can purchase Alaska Miles at US 2.95 cents/mile (incl 7.5% tax) which is not exactly a bargain.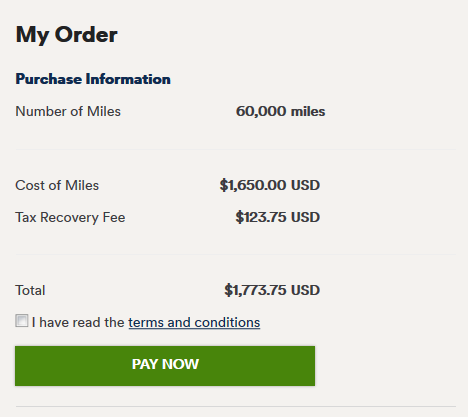 However, the program frequently offers bonuses ranging from 30-50% on purchases which makes buying Miles quite good value. Sometimes, the program also offers outright discount on purchases, but for the most part, it only offers bonus miles.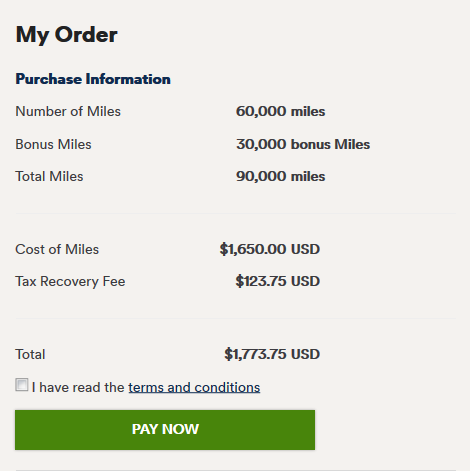 Buying Alaska Miles with a 50% bonus provides terrific value
There are a few rules which you should consider before making the purchase. You must buy a minimum of 1,000 miles and then go up in 1,000 miles increments up to a total of 60,000 miles per transaction. However, you can make multiple transactions for a total of up to 150,000 in a calendar year. Until recently, you could buy unlimited number of miles but that is no longer possible, unless if you happen to hold status in the Mileage Plan program, in which case there is no cap on the purchase.
Miles bought with a 50% bonus (which is not uncommon) bring the price down to about US 1.97 cents/mile. In today's value, that is about AU 2.8 cents/miles. So what kind of value purchasing miles at this price can get you? Well, lets revisit some of the redemption's discussed earlier and crunch the numbers.
At 2.8cents/mile:
You can fly Qantas Business Class, from Sydney/Brisbane/Melbourne to Perth for $590 (Cash price > $2,500).
You can fly JAL Business Class, intra-Asia for $730 (Cash price > $3,000).
You can fly JAL Business Class, intra-Asia, with a stop over in Tokyo (2 flights for the price of 1) for $775 (Cash price > 4,500).
You can fly Cathay Pacific Business Class from Australia to Hong Kong return for $1,800 (Cash price > $3,000).
You can fly JAL First Class, from Tokyo to USA for $2,050 (Cash price > $11,000).
You can fly Cathay Pacific First Class, from Hong Kong to USA for $2,050 (Cash price > $8,000).
In Conclusion
When you invest, you don't put all your money in shares or property alone, so why hold all your frequent flyer points in Qantas or Velocity program? Airlines have and always will devalue their programs, sometimes without notice. Qantas recently made some significant changes to it's Frequent Flyer Program and rest assured, it's only a matter of time before Virgin Australia follows. In that backdrop, you could be left counting the cost, should your own frequent flyer program were to undergo a big devaluation.
It goes without saying that Qantas and Velocity will always remain the no. 1 Frequent Flyer Program for Australians, but the points and miles ocean is home to a large variety of fish. There is no reason to be fishing in the same waters day after day. Alaska Mileage Plan happens to be one of those fishes that remain off-radar for most Australians, but it shouldn't as demonstrated above.
The Program is NOT currently running a bonus offer on miles purchase, so if you are interested in buying miles, it's best to hold off. Given the cash-cow frequent flyer programs are for respective airlines, the next one cannot be too far away.
Do you collect Alaska Miles? What has been your best redemption? Leave a comment below.