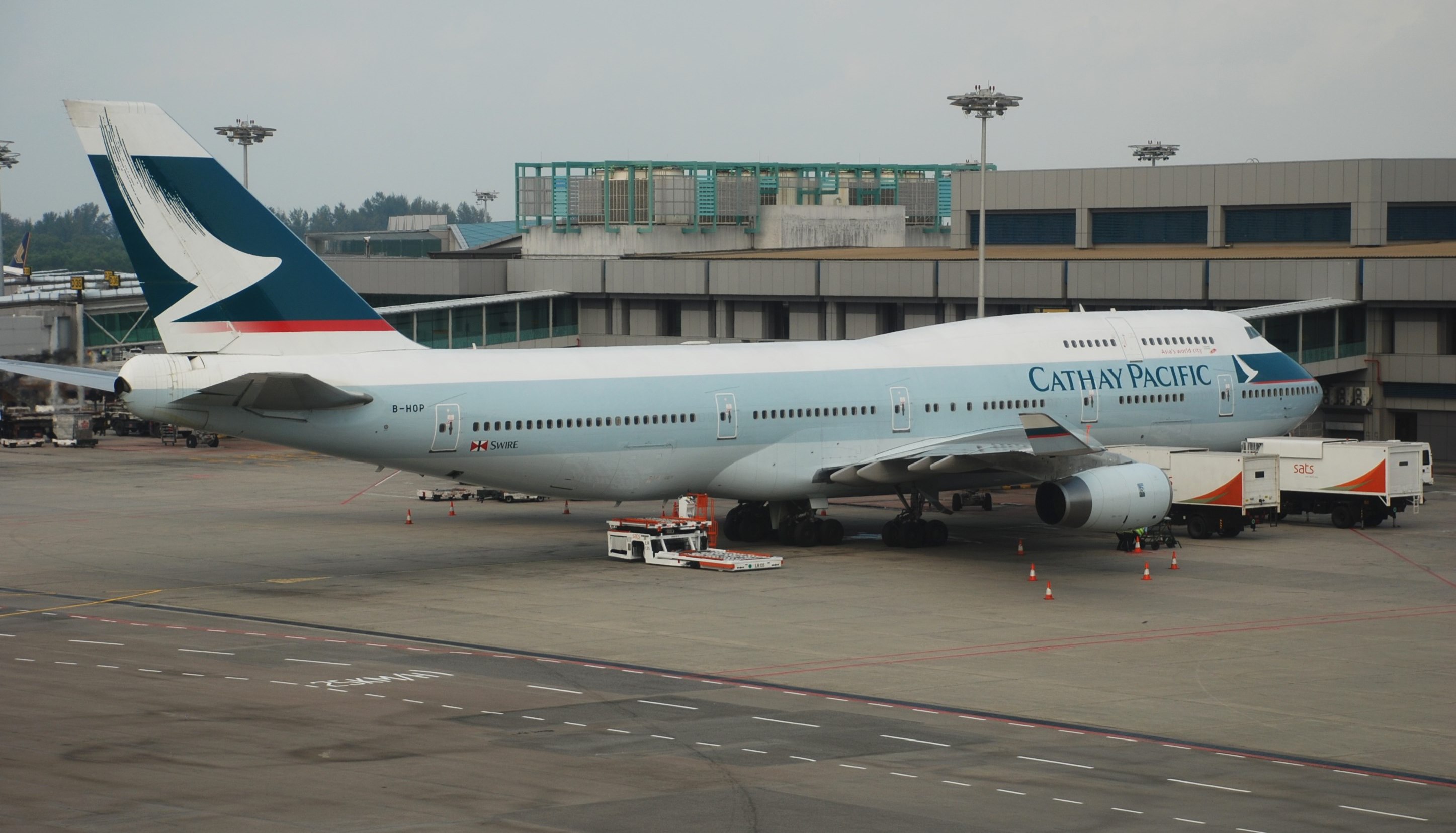 Continuing with the theme of reviewing a number of Frequent Flyer Programs in the wake of Changes coming to the American Express Membership Rewards Program, today I want to take a deep dive into Asia Miles. I have earlier reviewed the Singapore Airlines KrisFlyer Program and also written on Virgin Australia and Qantas.
Asia Miles
Asia Miles is the Frequent Flyer Program of Cathay Pacific. It is also one of the transfer partners of American Express and card-members are able to transfer Membership Rewards points to their Asia Miles account.


You can transfer Membership Rewards points to Asia Miles
Route Network
Cathay Pacific operates an extensive network into Australia spanning multiple cities. As of the time of writing it had:
Up to 4x daily flights to Sydney & Melbourne
Up to 2x daily flights to Brisbane & Perth
6x weekly flight to Adelaide
4x weekly flights to Cairns
From its Hong Kong hub, it operates to 75 cities worldwide. When you factor in destinations served by it's wholly owned subsidiary Cathay Dragon, that number swells to 180, making it one of the biggest airline in the world. You can check-out the full list of destinations here. Cathay Pacific is also a founding member of OneWorld Alliance, which allows Asia Miles members to redeem miles with all the alliance partners.
Redemption on Cathay Pacific
Asia Miles splits its award chart into various zones, with each zone covering distances up to a certain length. All destinations within the same distance-zone cost the same number of miles.
The awards are divided into 3 categories, Standard Award, Choice Award and Tailored Award. Choice & Tailored award provide earlier access and better availability for redemption, as Cathay Pacific releases more seats under these 2 categories. Consequently, they come at a higher mileage cost.
Redemptions made at the Standard award rate provide maximum value for your miles. Even though seats at this award rate open-up slightly later and have less availability than the Choice or Tailored award, they are popular as they cost a lot less miles. You can check out all 3 award charts here.
To make a redemption with Asia Miles, the first step is working-out the approximate distance between the origin and destination cities. You can do that on www.gcmap.com. This website lets you map distances between various cities.
For instance, if you wanted to fly from Sydney to Hong Kong, enter the 2 airport codes in the box and click on 'Distance'. See below.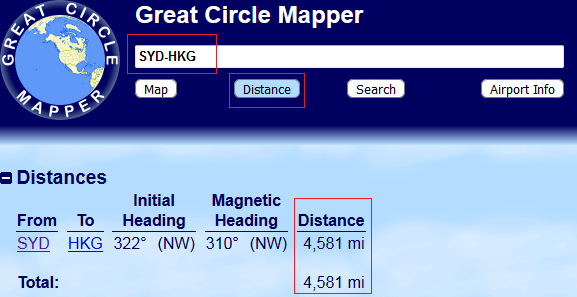 This route spans 4,581 miles. Equipped with this key piece of information, train your eyes on the chart below and look for the zone which captures this distance.


Asia Miles Standard Award Chart
That will be the zone marked 'Medium' covering distances between 2,751-5,000 miles. A business class seat on this route is priced at 45,000 Asia Miles (marked inside the red box).
The most you will pay for any one-way business class and First Class redemption on routes operated by Cathay Pacific is 85,000 and 125,000 miles respectively. This makes Asia Miles one of the best programs to redeem for long-haul flights.
For instance, if you wanted to fly business class from Melbourne to San Franciso, via Hong Kong, this route covers a distance of 11,517 miles,(see below) and corresponds to zone 'Ultra Long'.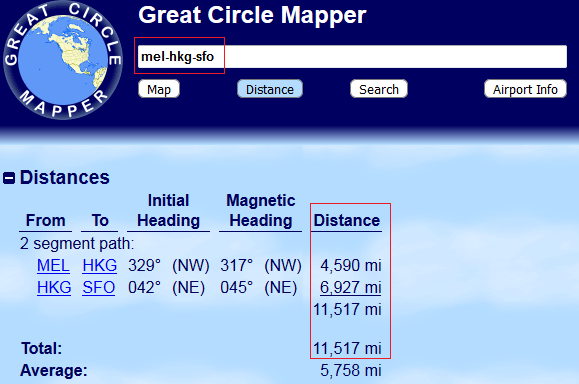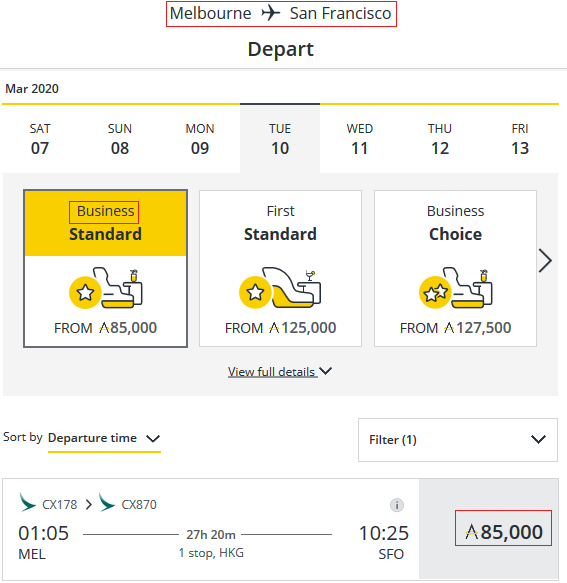 At 85,000 Asia miles, this 21hr+ flight in business class is a steal. For this reason, award seats on long-haul routes are difficult to come-by, unless you book within 2 weeks of Asia Miles opening up the seat or close to your departure.
Cathay Pacific First Class
Sadly, Cathay Pacific does not offer First Class on any of its flight into Australia. Majority of Cathay's First Class cabin are utilised on flights from Hong Kong to Europe and North America. If you are flying out from one of the Australian cities and would like to experience the First Class, you will need to make 2 separate redemptions. Doing this slightly increases the mileage cost but is well worth it.
Another option for Australia based flyers to experience Cathay Pacific First Class is by jumping on one of its routes within the Asia-Pacific. Presently, Cathay offers First Class on selected flights to Taipei, Tokyo and Jakarta. The cheapest First Class redemption is found on the quick hop (under 2 hrs) from Hong Kong to Taipei, which will set you back 25,000 Asia Miles.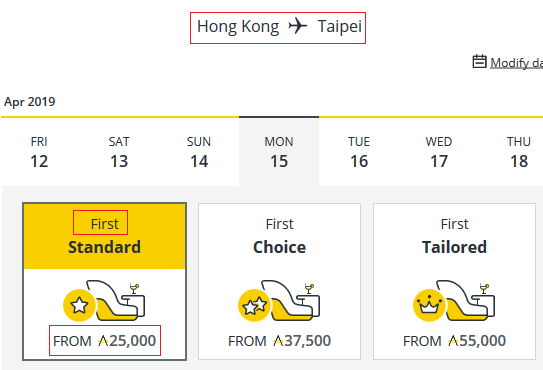 Fly Cathay Pacific First Class from Hong Kong to Taipei for 25,000 Asia Miles
I would personally though, suggest you burn 40,000 Asia Miles on the 5 hr medium-haul flight from Jakarta to Hong Kong, as this gives you a lot more time to sample the culinary delights and sprawl out on this cavernous First Class seat.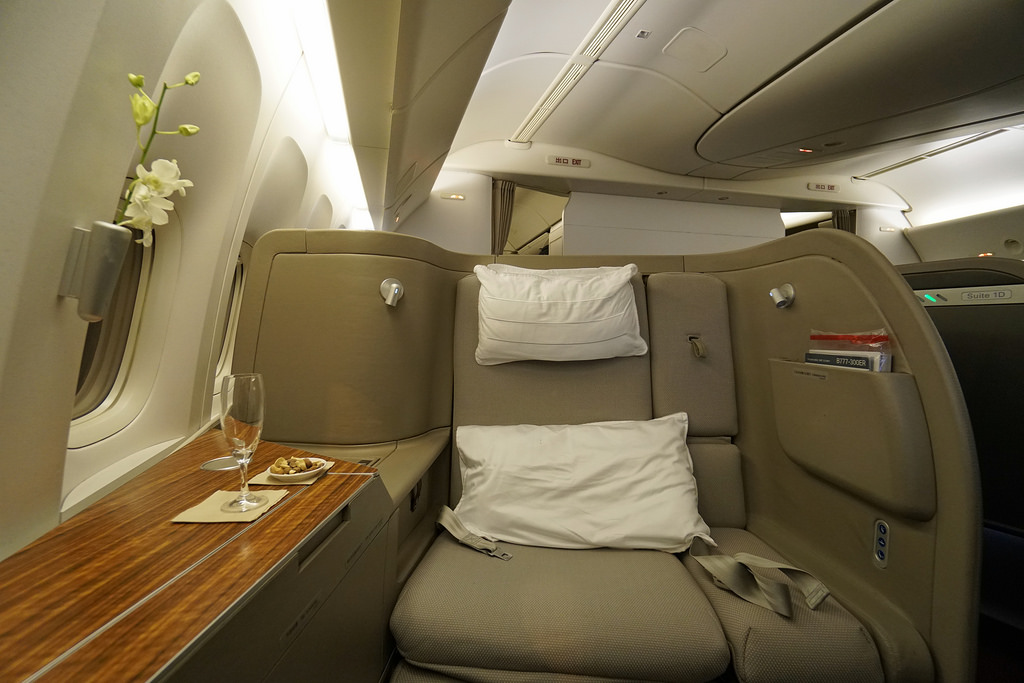 Fly Cathay Pacific First Class from Jakarta to Hong Kong for 40,000 Asia Miles
Redemption on Single partner flights
This is the part of Asia Miles where things become a little tricky, but not overly so. Asia Miles does NOT publish award charts for flights taken with any single partner. It's not a totally hopeless situation though.
As you are able to make online redemption for flights operated by Qantas, British Airways, Iberia, Qatar Airways, Finnair, Japan Airlines, Royal Jordanian, Sri Lankan Airlines and Alaska Airways, you can figure this out by plugging in the route you wish to fly in the Search fields.
For instance, while there is no published chart for a business class award seat flying from Adelaide to Doha, the search generates the following: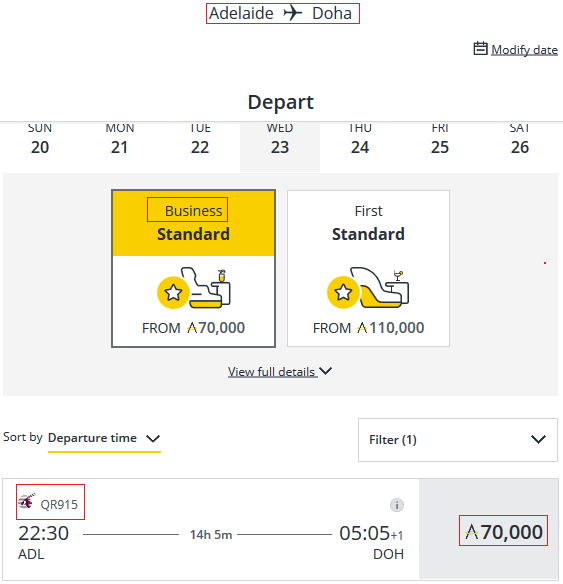 Fly Qatar Airway's Qsuite from Adelaide to Doha for 70,000 Asia Miles
Qatar Airways Qsuite is regarded by many aviation geeks as the best business class seat in the world. You can fly this for 70,000 Asia Miles which is a fabulous redemption.
The other really exciting opportunity lies in the ability to redeem Asia Miles on Qantas flights. In most instances, the pricing is more favourable than if you were to redeem on the same flight using your Qantas points.
For example, you can fly Qantas from Melbourne to Denpasar (Bali) for a tiny 30,000 Asia Miles.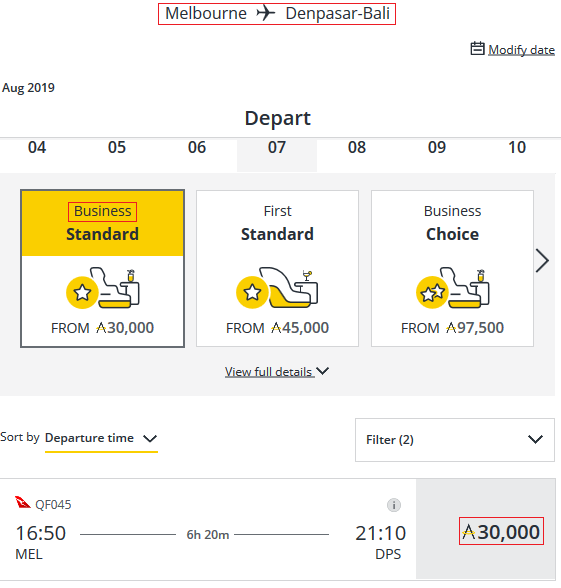 The same flight redeemed with Qantas points will have you coughing-up 50,000 points. Yikes!!
Qantas operates B737 on this route, featuring the recliner chairs which isn't great for the 6 hr+ flight. Melburnians need to route via Sydney and stump-up an extra 20,000 miles if they wish to travel in comfort and experience Qantas's A330, equipped with this lie-flat seat.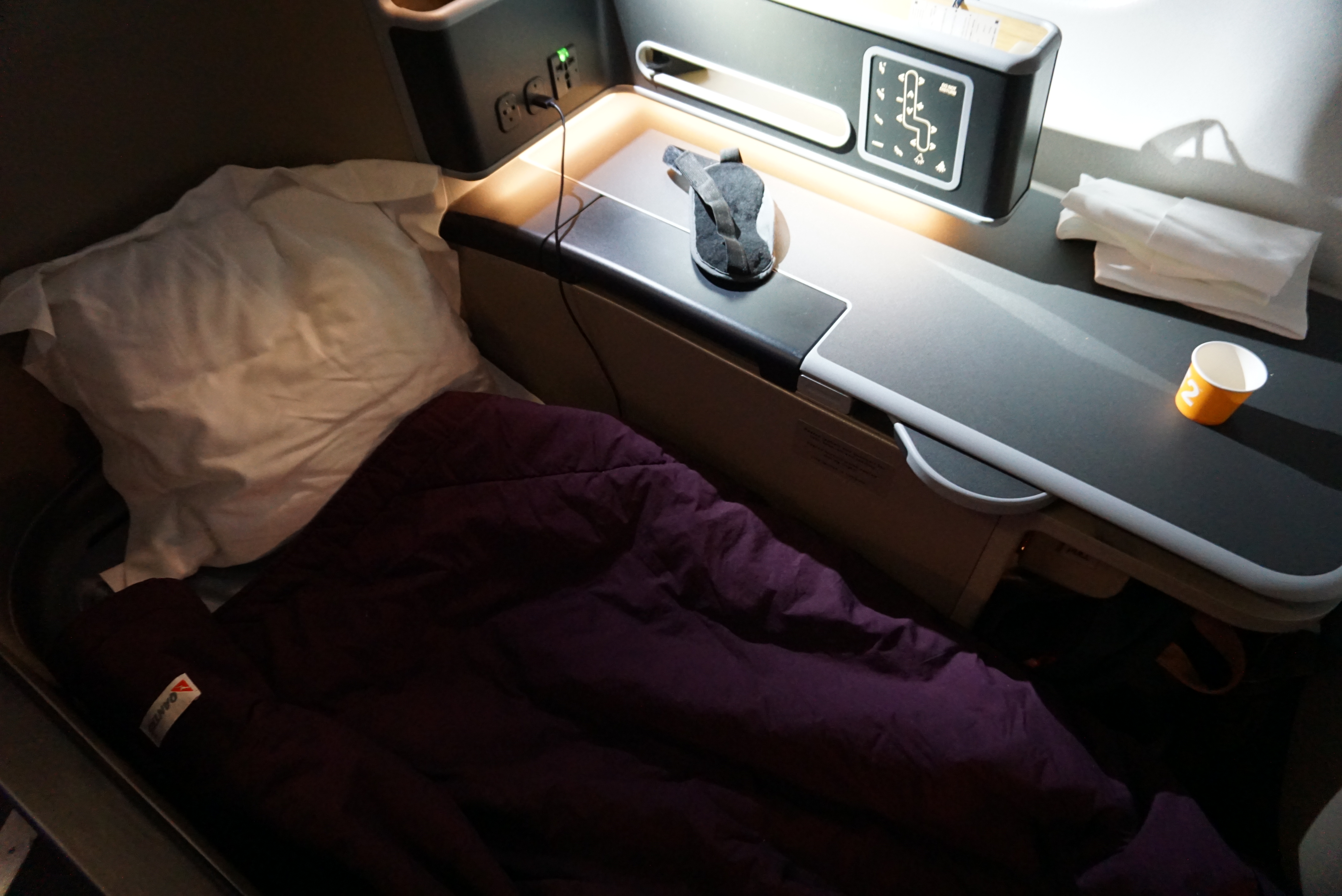 Fly Qantas A330 business class from Sydney to Denpasar for 50,000 Asia Miles
Another potentially good redemption is on flights from Eastern Australian cities to Perth. A business class seat from Sydney/Melbourne/Brisbane to Perth flying Qantas will cost you 30,000 Asia Miles as opposed to 36,000 Qantas points.
Finally, if you wish to redeem miles to fly a partner not listed above, you are required to complete this Flight Award Request Form and send it to Asia Miles. It beggars belief that a leading program such as Asia Miles still employs this old-school method of redemption. Hopefully, they will upgrade their IT systems in not too distant future and enable online redemption with all of their partners.
Redemption on OneWorld multi-partner flights
Asia Miles operates a 3rd, distinct award chart for itinerary including flights on multiple partners. This is the part where things get frustratingly complicated. There are a whole heap of rules and conditions you must meet should you be interested in a redemption of such kind. To keep things simple and avoid confusion, I am not going to cover this part here.
A small consolation is that Asia Miles does publish award chart for oneworld multi-partner flights. So if you are keen to check out the details and learn about it, you can do so here.
Earning Asia Miles
The easiest and most obvious way to earn Asia Miles is by flying Cathay Pacific or Cathay Dragon. You can also earn miles in the program by crediting flights taken with OneWorld partners or any of Cathay Pacific's other partners to your Asia Miles account.
There are no credit cards in Australia which earn Asia Miles directly. The program however, is a partner with American Express, ANZ, Westpac and Citibank in Australia and you can transfer points earned on many of the cards issued by these financial institutions to your Asia Miles account.
You can also earn Asia Miles with some of its hotel, car-rental and retail partners. Check-out the full list of partners and some of the other ways to earn miles here.
In Conclusion
The strength of Asia Miles program lies in redeeming flights with Cathay Pacific and other single partners. The ability to fly between any two destinations, regardless of the distance or geography, for a very reasonable 85,000 miles in business or 125,000 miles in first, is where the program really shines. It's partnership with Qantas, thanks to OneWorld alliance, also opens-up several lucrative redemption opportunities.
The program had a devaluation last year and mileage rates were raised across the board. This coincided with award availability plummeting sharply, and to date has not been restored to its former glory. The other weak point of the program is dealing with the call-centre staff and the response time. Many of the phone agents are not particularly adept at dealing with complex award queries and hold times can extend well beyond an hour. In many cases, Asia Miles have taken several weeks to respond, by which time the award seats have naturally disappeared, rendering the whole process futile.
Despite all of the above though, the program carries enough weight and deserves to be in your consideration when exploring redemption possibilities.
Do you collect Asia Miles? What are your thoughts on the program? Leave a comment below.