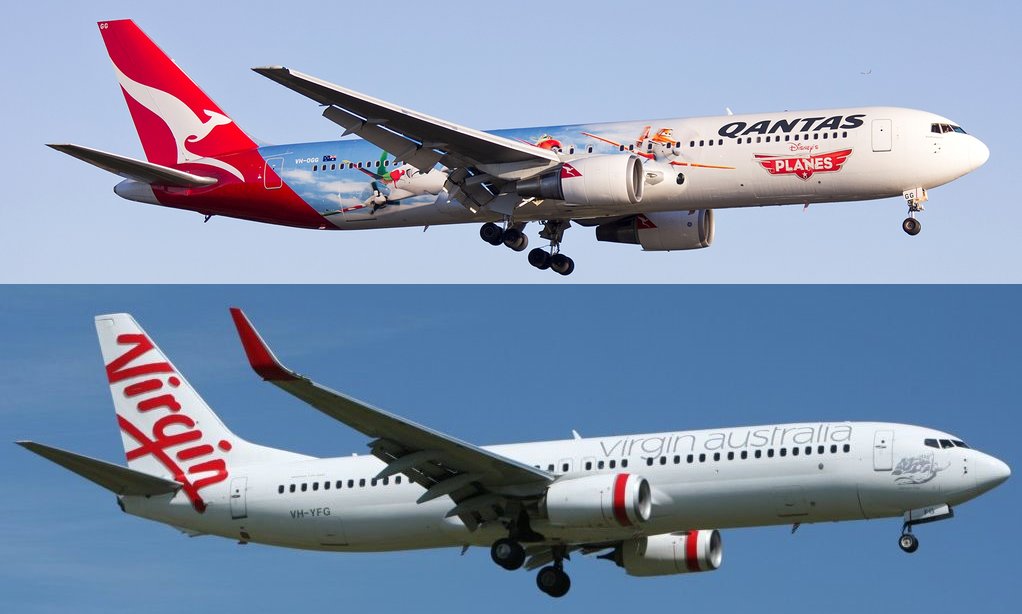 With the impending changes to American Express Rewards program, the battle for your Membership Rewards points is heating-up. As an American Express card-member, you have the ability to transfer points to any of its (up to) 10 partner airlines program depending on the card you possess.
While all the cards allow you to transfer points to Velocity, only the premium (annual fee $1,450) American Express Platinum Charge Card lets you transfer points to Qantas frequent flyer program. I will write on some of the other partner airlines over coming weeks, this guide covers Velocity and Qantas only, given they are the 2 most relevant programs for vast majority of Australians.
Velocity Frequent Flyer program
Velocity is offering tiered transfer bonuses for American Express card-holders as shown below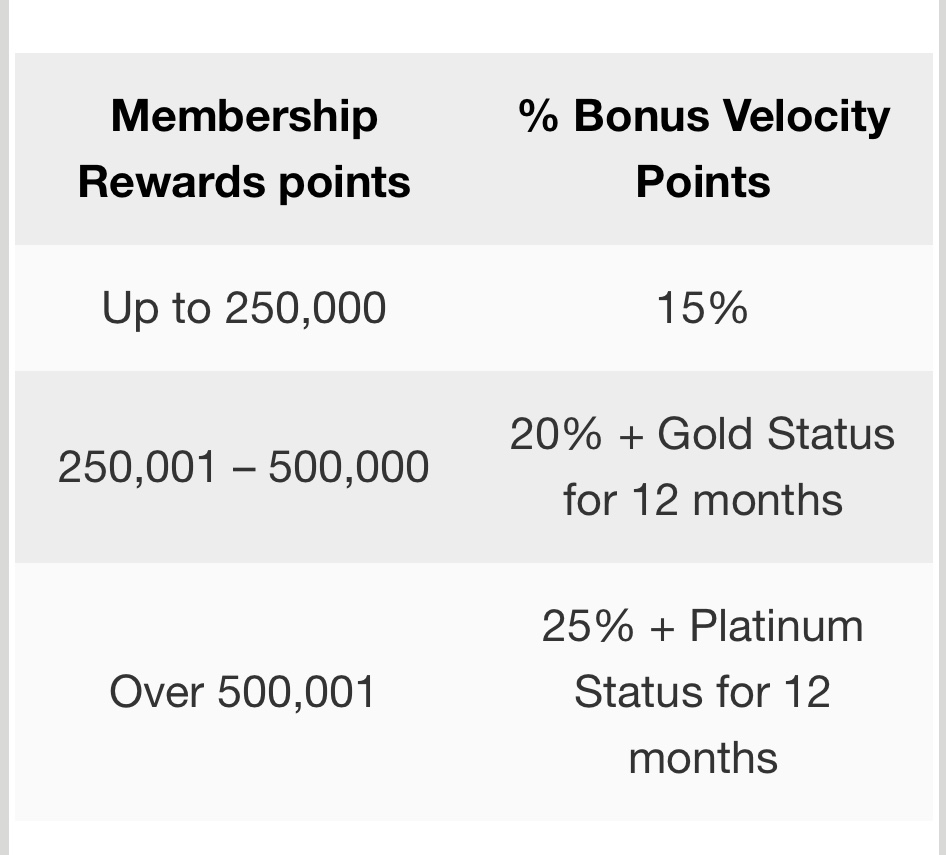 On transfers over 250,000 points, Velocity has sweetened the deal with complimentary 12 months of GOLD status. For transfers over 500,000 points, you receive the top tier Platinum status. Both status's give you lounge access, priority check-in and boarding and extra baggage allowance besides a few other perks. While the bonus points are offered to all American Express cardholders, the Gold and Platinum status offering appears to be targeted to Platinum Charge cardholders only. The elite status's are complimentary for the 1st year only, beyond this, card-members will be required to meet normal qualification criteria if they wish to retain it.
You maximise the bonus on transfers starting at 500,001 points. If you transfer from The American Express Explorer Credit Card or The American Express Essential Credit Card (both have 4:3 transfer ratio), this nets you an extra 93,750 Velocity points. The same number of points transferred from The American Express Platinum Charge Card or The American Express Edge Credit Card (both transfer 1:1) deliver 125,000 bonus Velocity points.
Should I transfer my points to Velocity
It is difficult to answer this question without knowing your travel pattern. Do you mostly fly on domestic, short or long-haul international routes? In my opinion, Frequent Flyer points are best utilised for flying long-haul international routes in business or first class, though there are exceptions.
If you mainly fly domestic, in most situations it might make more sense to pay cash unless you have to fly at short-notice or around the busy periods (school holidays, Christmas etc) when prices are substantially inflated. The only exception would be trans-con business class flights between capital cities on Virgin's A-330, which features fully flat beds and excellent Luke Mangan inspired menu for these (roughly) 5 hour flights.
For international travel, it's worth pointing out that Virgin's own network is extremely limited. Infact, the only 2 international long-haul destinations Virgin operates to, are Hong Kong and Los Angeles. However, this is more than made-up by Virgin's partnership with global heavyweights such as Singapore Airlines, Etihad and Delta to name a few. You can redeem Velocity points on all of Virgin's global partners and this is really where the appeal lies.
For instance, you can fly Delta from New York to London one-way in business class for a mere 49,500 Velocity points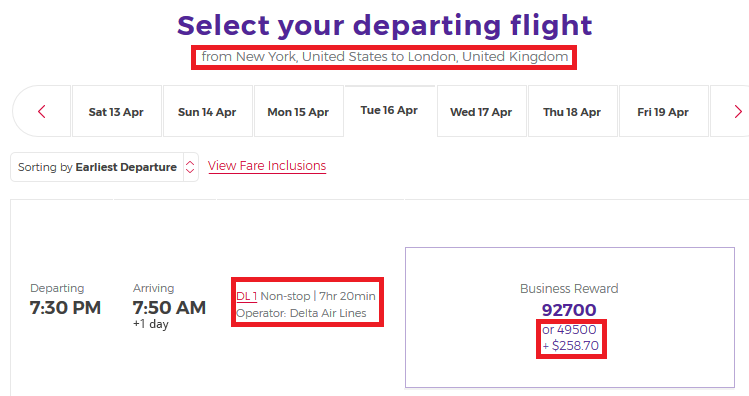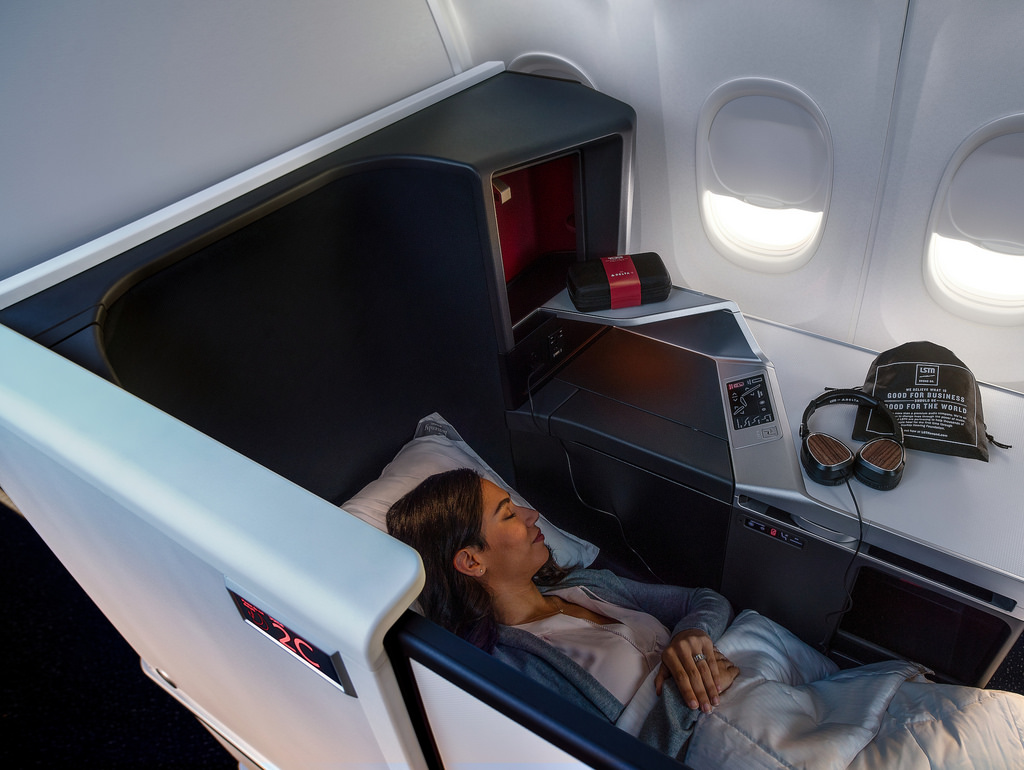 Redeem your Velocity points to fly Delta One suites
or Singapore Airlines from Sydney to Koh Samui one-way in business class for 65,000 Velocity points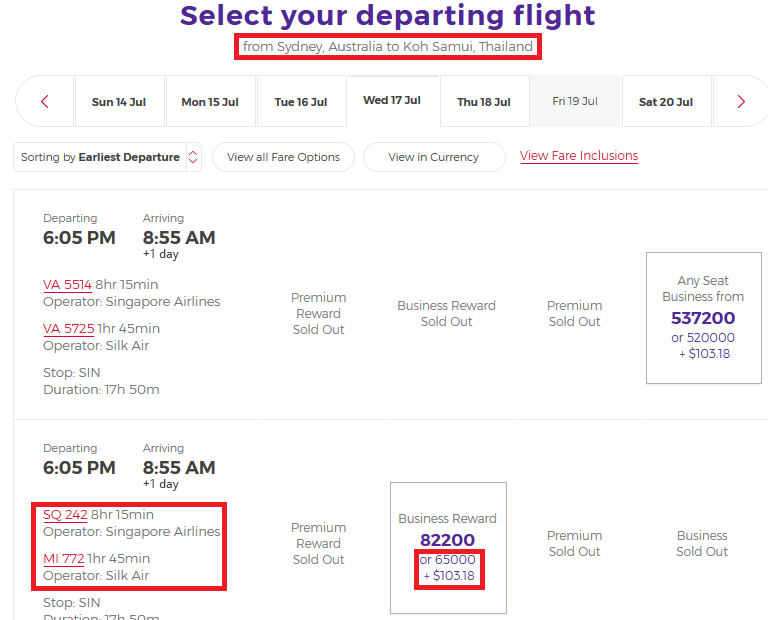 or Hong Kong Airlines from Hong Kong to Sapporo one-way business class for a rather miserly 38,000 Velocity points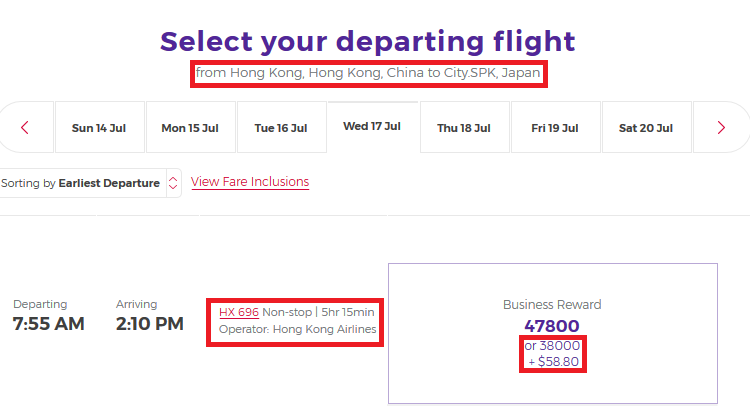 Velocity's close partnership with Singapore Airlines's KrisFlyer program also means you can convert Velocity points into KrisFlyer Miles at 1.55:1 and vice-versa, making this an extremely compelling proposition.
You can check-out all of Virgin's partners here.
To be eligible to receive bonus points, you must transfer your points to Velocity on or before 15th March 2019.
Qantas Frequent Flyer Program
Qantas's bonus offering is different to Velocity as can be seen in the table below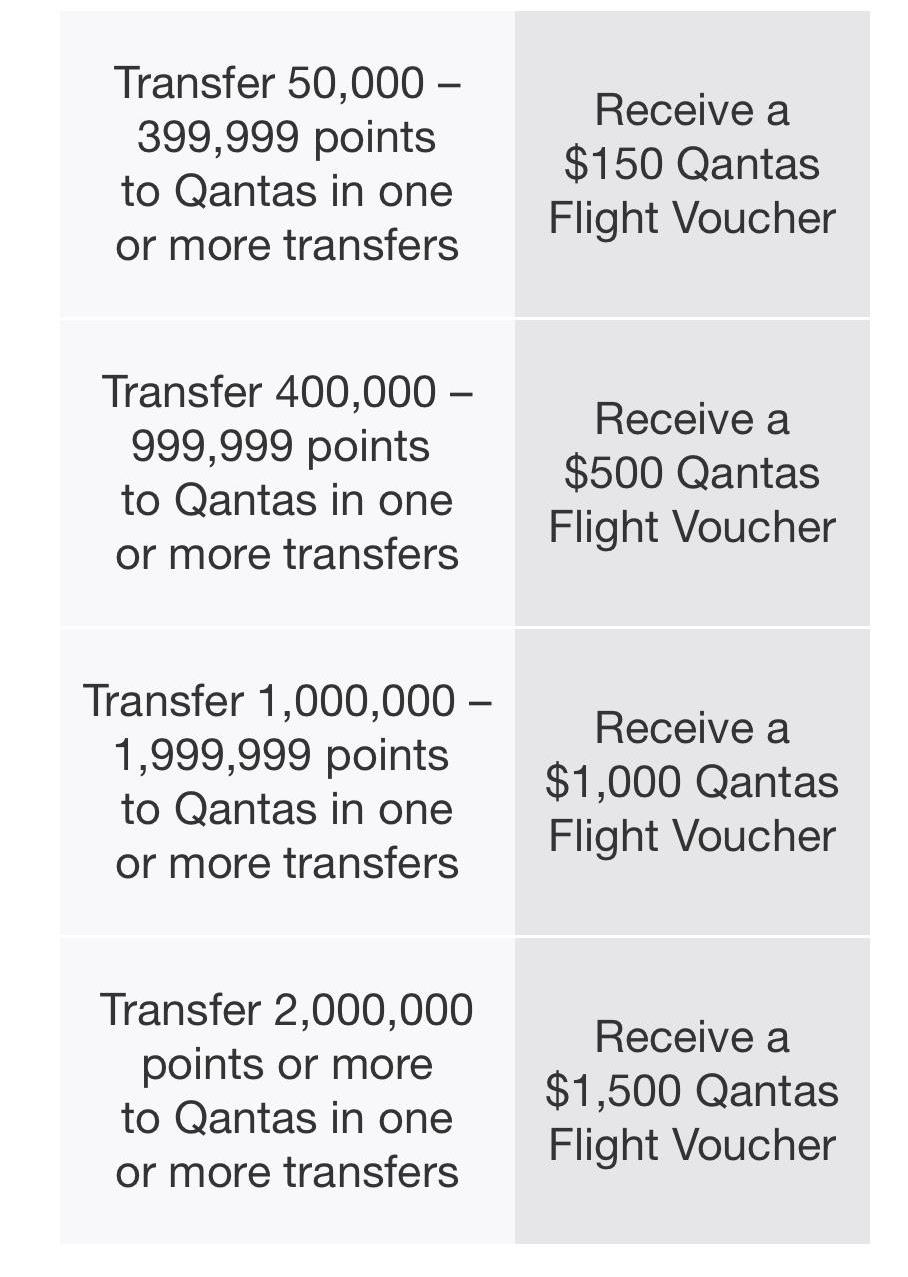 There are no bonus points on offer for transfers to Qantas
How does this compare with Velocity's offer?
Before I dive into it, I should get a few things out of the way.
Firstly, the only card with the ability to transfer Membership Rewards points to Qantas is The American Express Platinum Charge card. So if you do not hold this card, this part is not really relevant for you.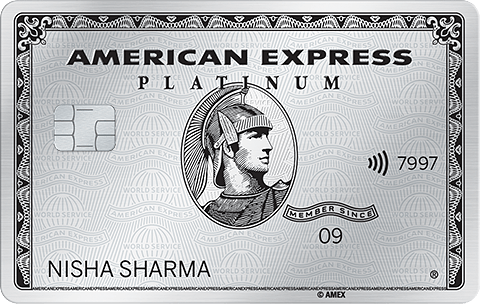 Image Credit : americanexpress.com
Secondly, since announcing changes to the Membership Rewards programs, American Express has been sending out letters to several (but not all) cardholders offering to double their balances as at 14th April 2019. This means that those targeted with this offer can choose NOT to move their points, as their points are not at risk of devaluation. Beware though that this arrangement is only applicable for points balances as at 14th April, any points earned after this date will be subject to the new transfer rate.
On to the nitty-gritty now.
Since there are no bonus points on offer here, it's not possible to make a direct comparison. Someone looking at maximising this offer will immediately notice that Qantas has set the bar really high. You require a steep 2,000,000 Membership Rewards points to start with. Points transfer at 1:1, giving you 2,000,000 Qantas points, plus a $1,500 Qantas flight voucher. The fact that this promotion is offering a flight voucher and not Qantas points, severely diminishes it's appeal in my eyes. If you take up the offer, the value of the flight voucher is the value you receive, there is no way to stretch the voucher and derive outsized value from it, like you could do if they offered bonus Qantas points.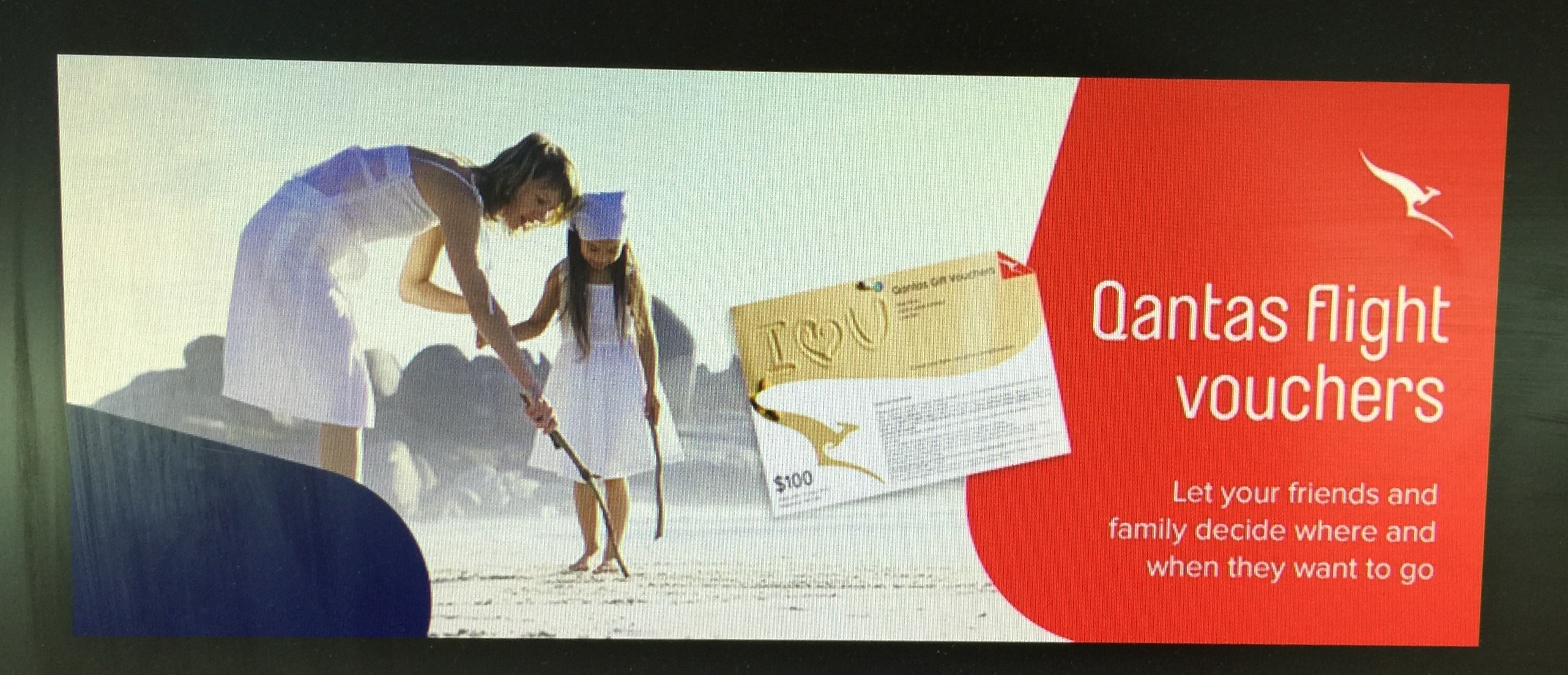 Only flights operated by Qantas can be booked with Qantas flight vouchers
If someone were to transfer the same 2,000,000 Membership Rewards points to Velocity, that would earn them a cool 500,000 bonus Velocity points. At a conservative value of 1c per point, the bonus points are worth $5,000. Savvy points collectors can easily extract a value upwards of 3c per point, thus making the bonus points worth at-least $15,000. Even if you transferred just 500,001 Membership Rewards points to Velocity, the 125,000 bonus points are worth $1,250, slightly less than the $1,500 Qantas voucher, but leaves a sizeable 1,500,000 Membership Rewards points in the kitty to be utilised elsewhere.
So on valuations, the offer from Velocity is hands-down the better one.
Then comes flexibility. As stated earlier, other than Virgin, Velocity points can be also redeemed for flights with a number of partner airlines. On the other hand, the Qantas flight voucher can only be used on domestic or international flights operated by Qantas. So although Qantas is part of OneWorld alliance with 13 other airline partners, you are limited to using the voucher on Qantas flights only, which is quite restrictive.
Lastly, the flight vouchers issued as part of this promotion have a 12 month validity from the date of issue which is yet another significant restriction. By comparison, Velocity points also expire after 18 month if there is no activity on your account, but you could keep them alive simply by earning or redeeming points at-least once during this period as that re-sets the 18 month clock. Given the numerous non-flying activities through which you can earn Velocity points you should never find yourself in that situation though.
The transfer bonus offer from Qantas ends 31st March 2019, so make sure to transfer points on or before this date should you wish to avail it.
In Conclusion
Qantas points are a valuable currency. You can argue that they are more valuable than Velocity points and I would respect that assertion. On the strength of this promotion though, the offering from Velocity leaves Qantas dead in the water. Having said that, if Virgin or it's partner airlines are unlikely to feature in your travel plans, or if you are a loyal Qantas or OneWorld flyer and have been offered to have your points balance doubled by American Express, you can decide to sit this one out and take no action.
Qantas have offered transfer bonuses of up to 40% in past and is quite likely to do so again at some point.
Are you an American Express card member? Where are you considering transferring your points? Leave a comment below.