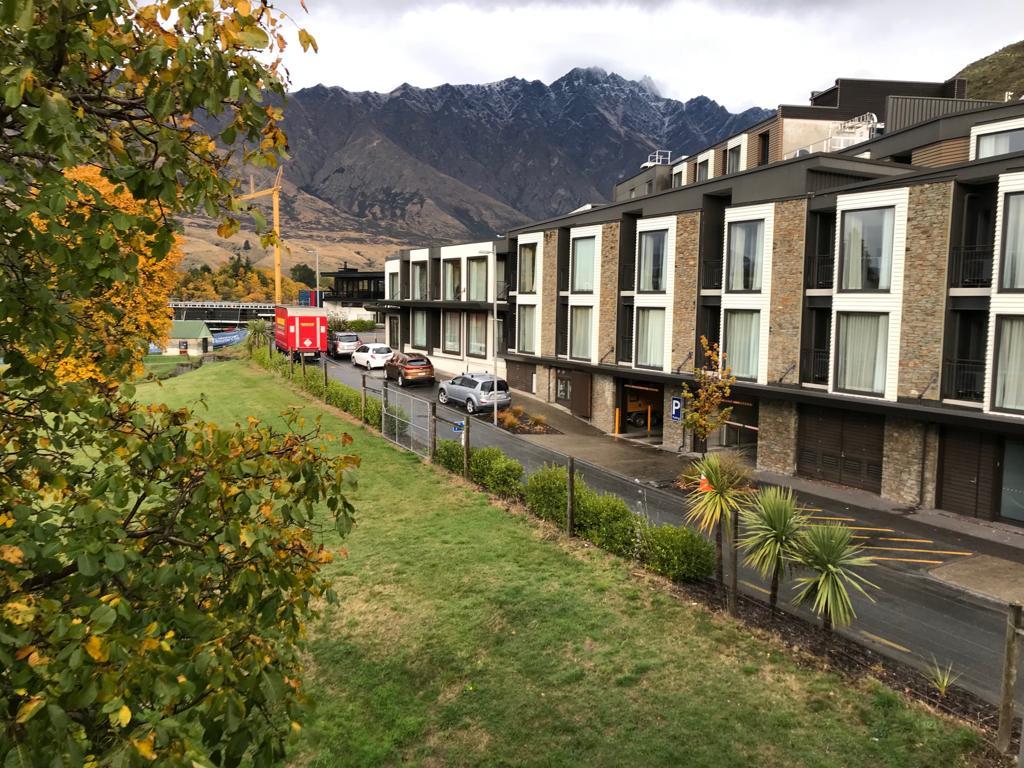 Location & Classification
Hilton Queensland Resort & Spa, as the property is formally known, is located on 79 Peninsula Rd, Kelvin Heights. It is approx 2 km from the airport and 6 km from Queenstown town centre.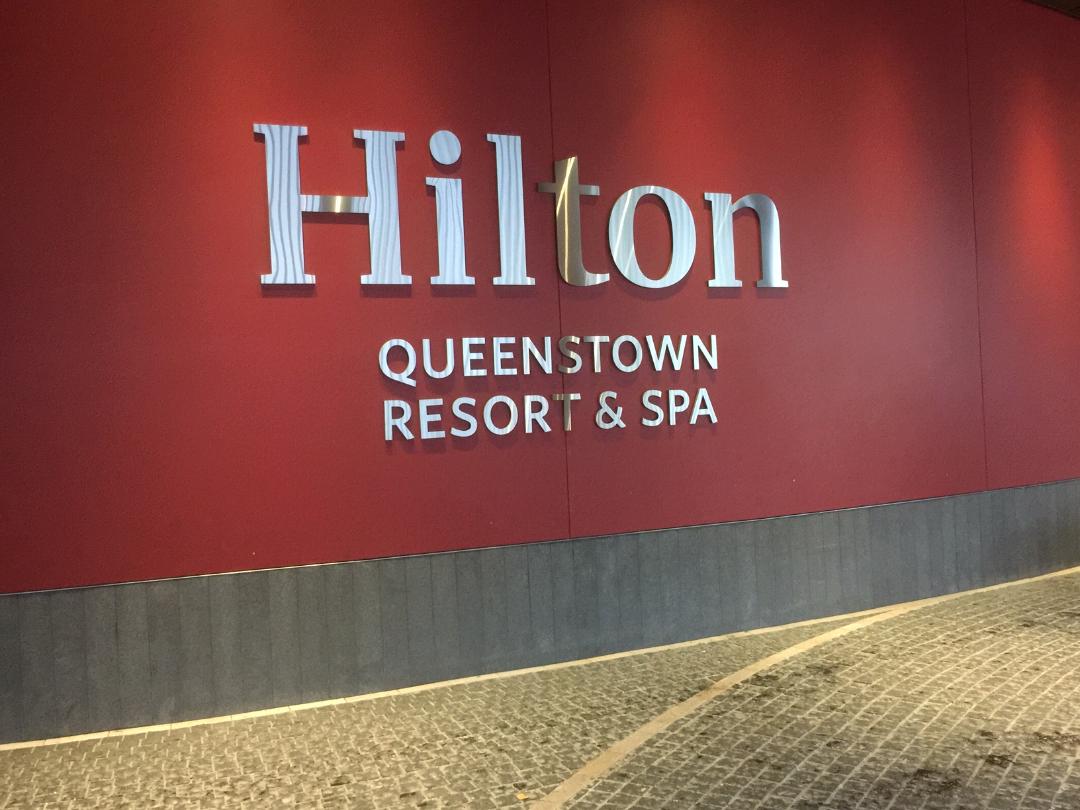 Hilton Queenstown Resort & Spa
Hilton does not have a fixed redemption chart for its properties. However, award nights at this property are generally priced at 33,000 Hilton Honors points per night. As with all Hilton properties, if you redeem points for a 5 night stay, you will only pay for 4 nights. Cash rates for standard room starts at NZ $200 and go as high as NZ $400 during busy periods.
It's worth stating that the resort also houses the other Hilton Property in Queenstown, DoubleTree By Hilton and most of the amenities such as the Car-park, Pool, Restaurants etc are shared by both brands.
Arrival & Check-In
I arrived at the hotel around 11 am and was met by the bellhop at the gate. As it was a little early to check-in, staff at the front desk offered to store the luggage and transport it to our room as soon as it was ready. We happily agreed to it as this gave us an opportunity to head into town for a wander and get some lunch.
The check-in itself was efficient. There was a separate desk for Hilton Honors member and another one for the rest of the guests, although it didn't really matter, given there was only one other guest checking-in at the time besides me.
The staff advised that as the property did not have an executive lounge, they were offering guests drink vouchers to use at any of the resort restaurants. I thought that was a really nice gesture, given my Hilton Honors Gold status doesn't technically offer lounge access.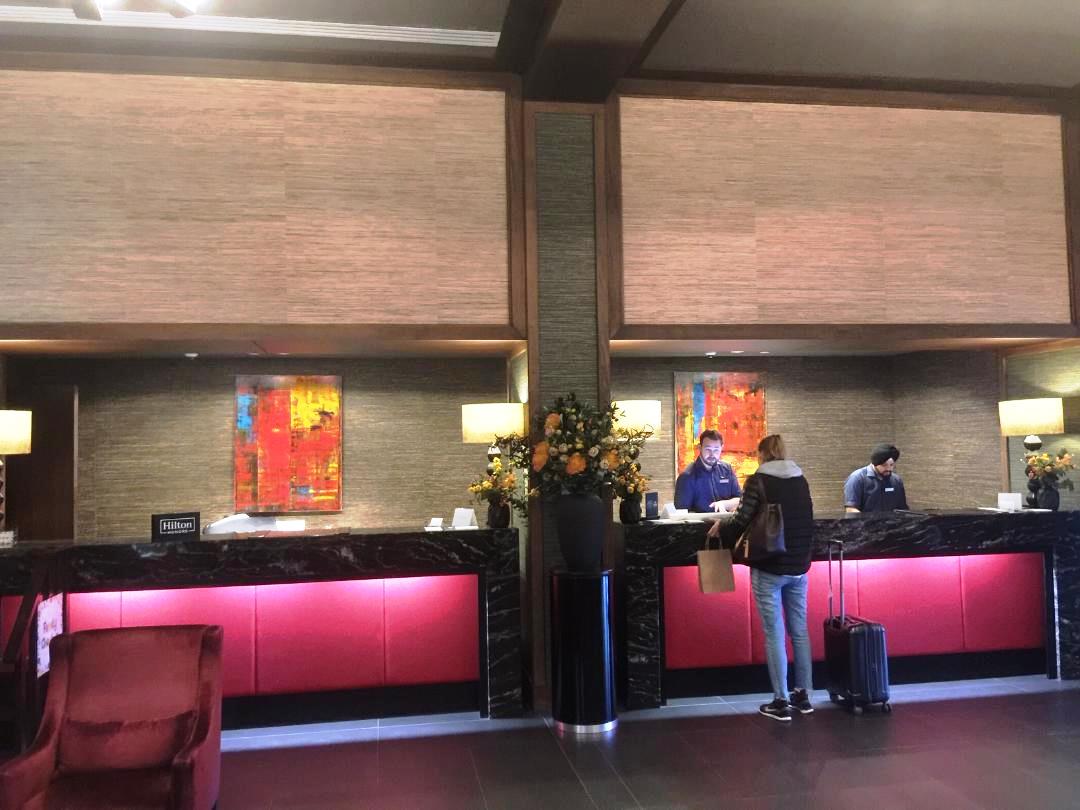 Hilton Queenstown Check-in Desks
On my return to the hotel around 4 pm, I was given some mixed news. I was told that as a valued 'Hilton Honors Gold member', I had been upgraded from a standard room which I had booked, to a 2 bedroom deluxe lakeview residence. The bad news was that the apartment wasn't ready. 🙁 So we waited in the lobby for another 15 minutes before we could finally move-in.
While waiting, I quickly went on the Hilton Honors app to research the upgrade I had scored. I was delighted to see that cash prices for this apartment ranged from NZ $340 to NZ $600+ depending on the time of the year.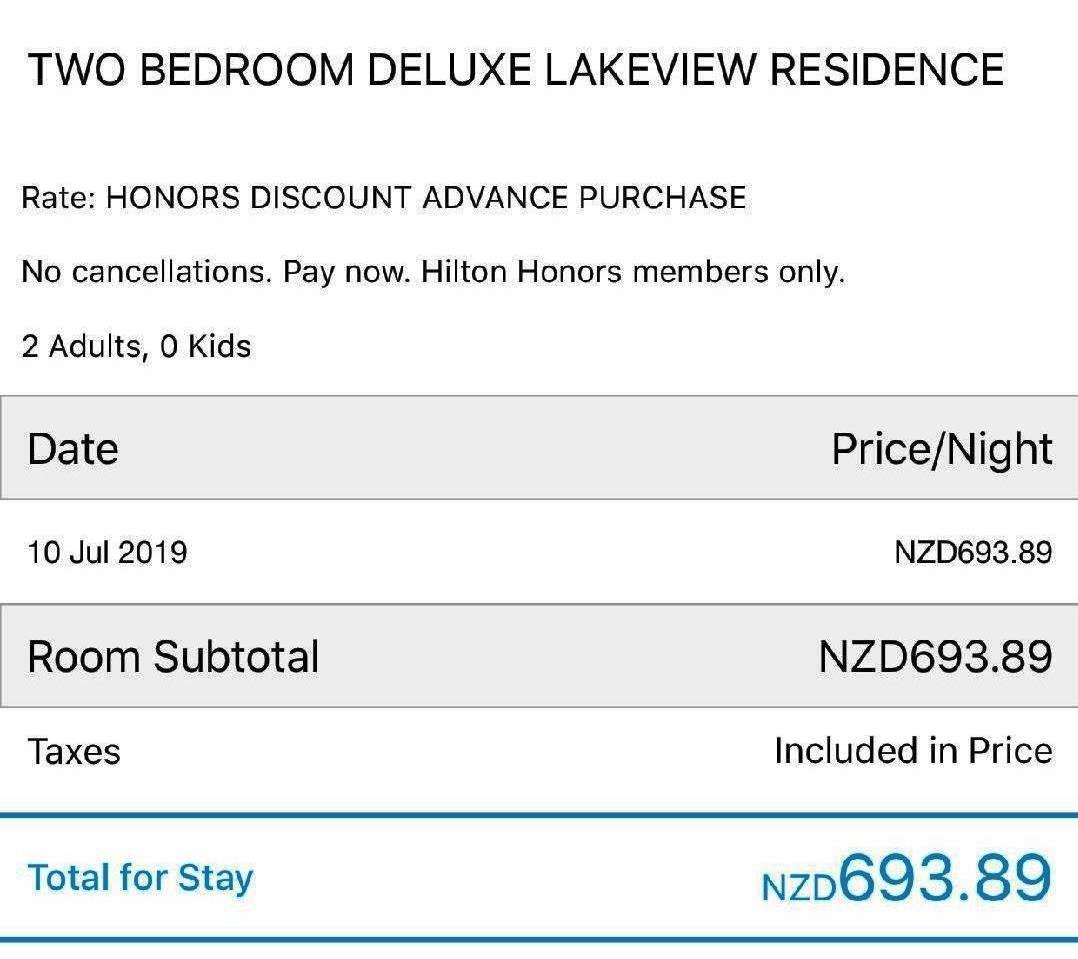 Be prepared to shell-out during busy periods
The apartment
The apartment was located in a separate building from where we checked-in, called 'Lakeside Residences', although both buildings are internally connected.
As I opened the door and stepped-in, I found myself in the spacious, fully furnished living room. There was a large dining table to accommodate 6 adults, 2 large, comfy sofas and a flat screen TV.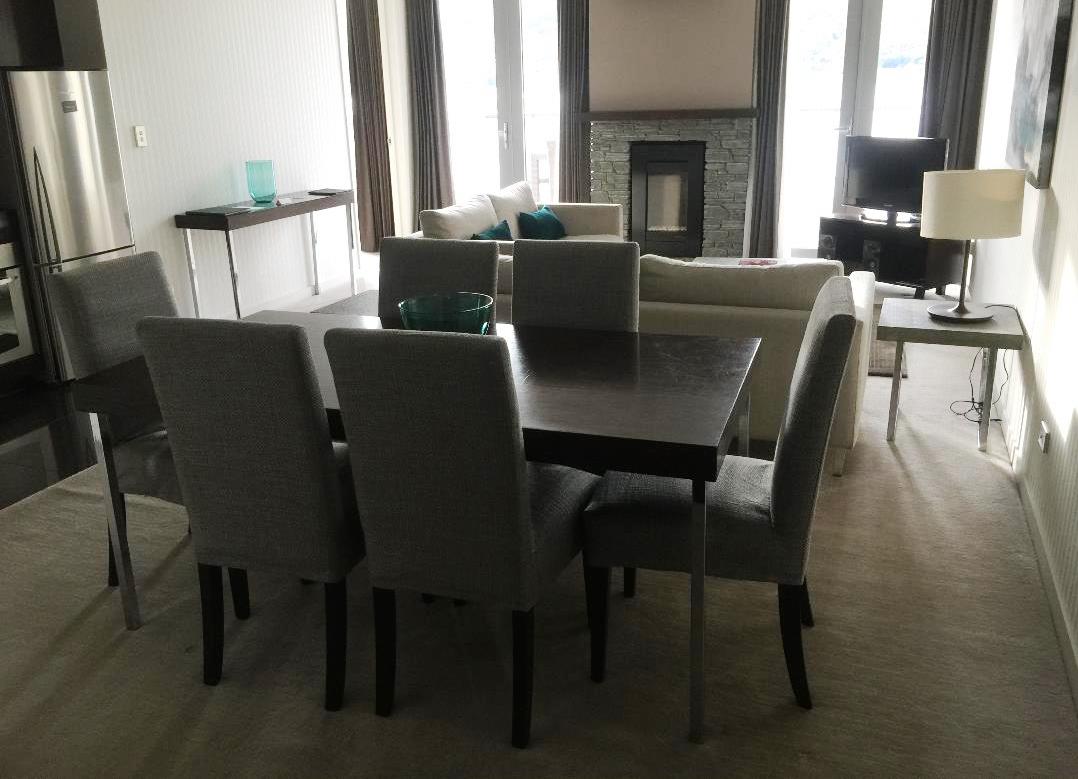 Hilton Queenstown 2 BR Apartment, Living Room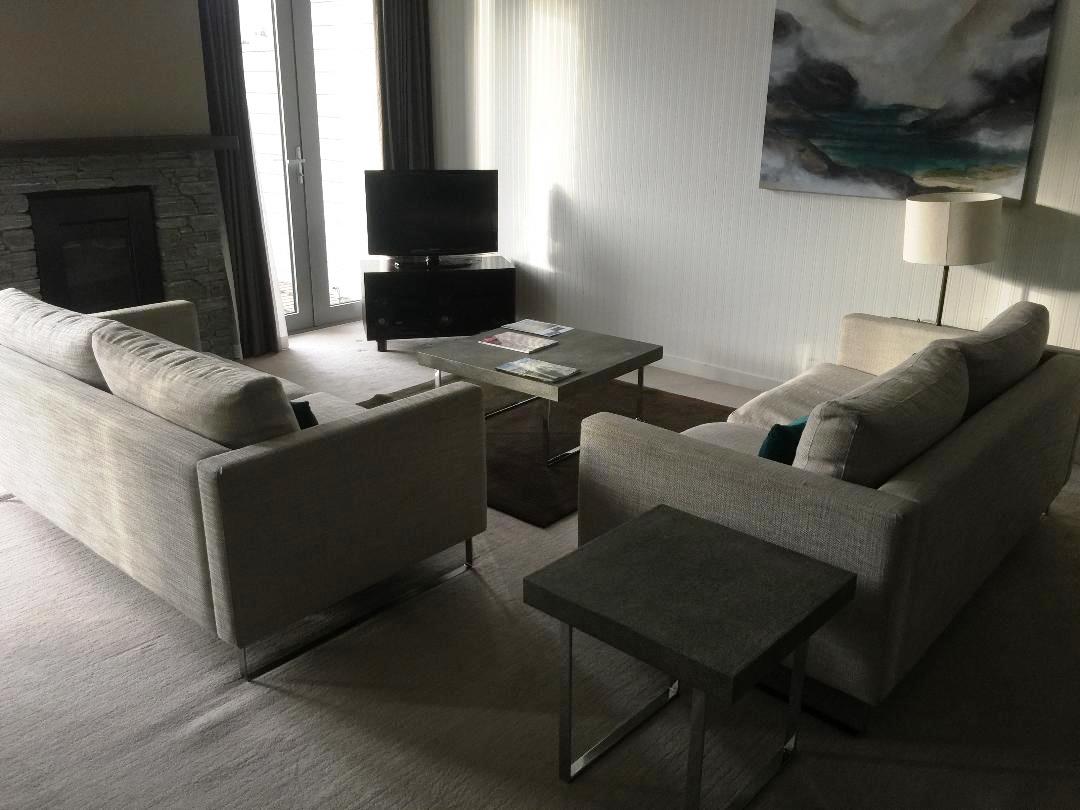 Hilton Queenstown 2 BR Apartment, Living Room
To the left was a full kitchen with refrigerator, induction cook-top with oven, microwave and a dishwasher. It was stocked with more pots, pans, crockery and cutlery than most holiday makers will ever get around to using.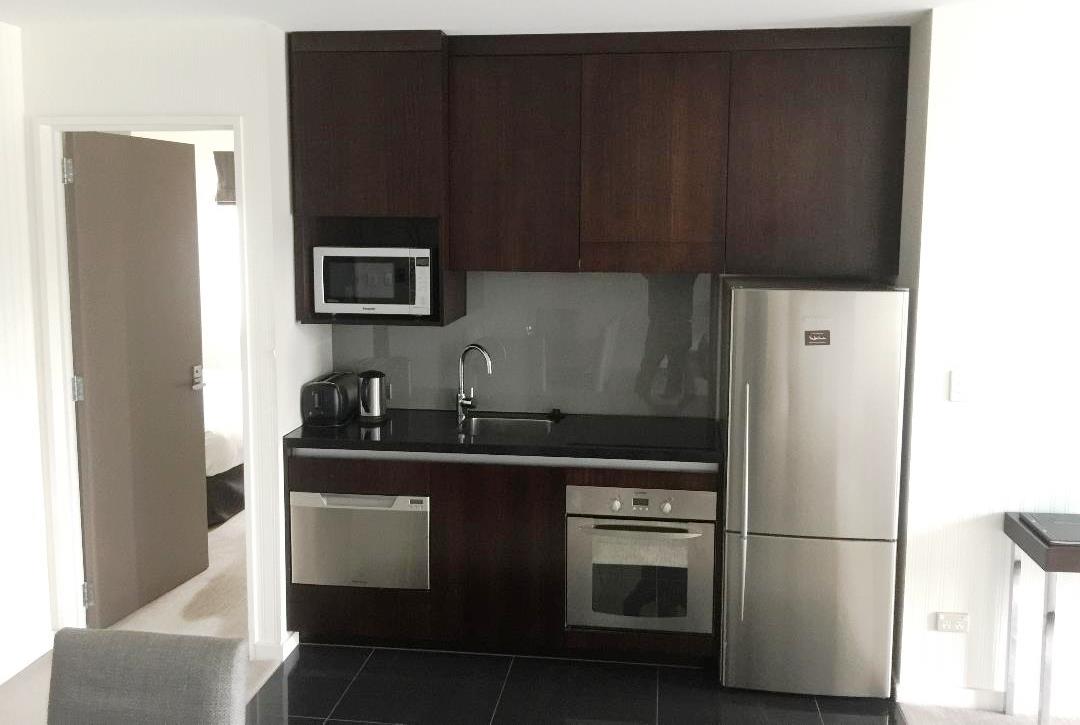 Hilton Queensland 2BR Apartment, Kitchen
The Master suite was to the right of the kitchen. It had a king bed, 2 small bedsides and not much else.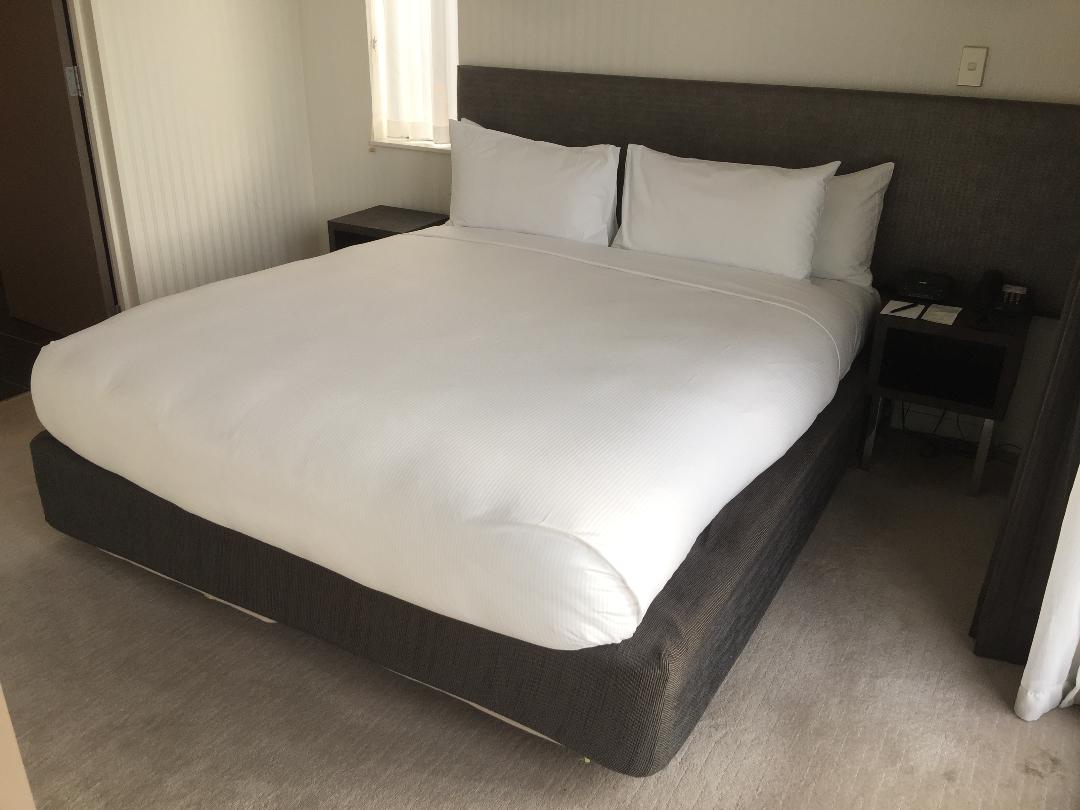 Hilton Queenstown, 2BR Apartment Master suite
I realise this was the apartment and not the main hotel, which presumably is better furnished, but the room felt barren and cramped relative to the size of the apartment.
The bathroom was spacious, with a large walk-in shower. It had manual temperature control and heated towel racks, which I thought was a very nice feature, considering how cold Queenstown can get during winter months. Curiously, there was no hot tub.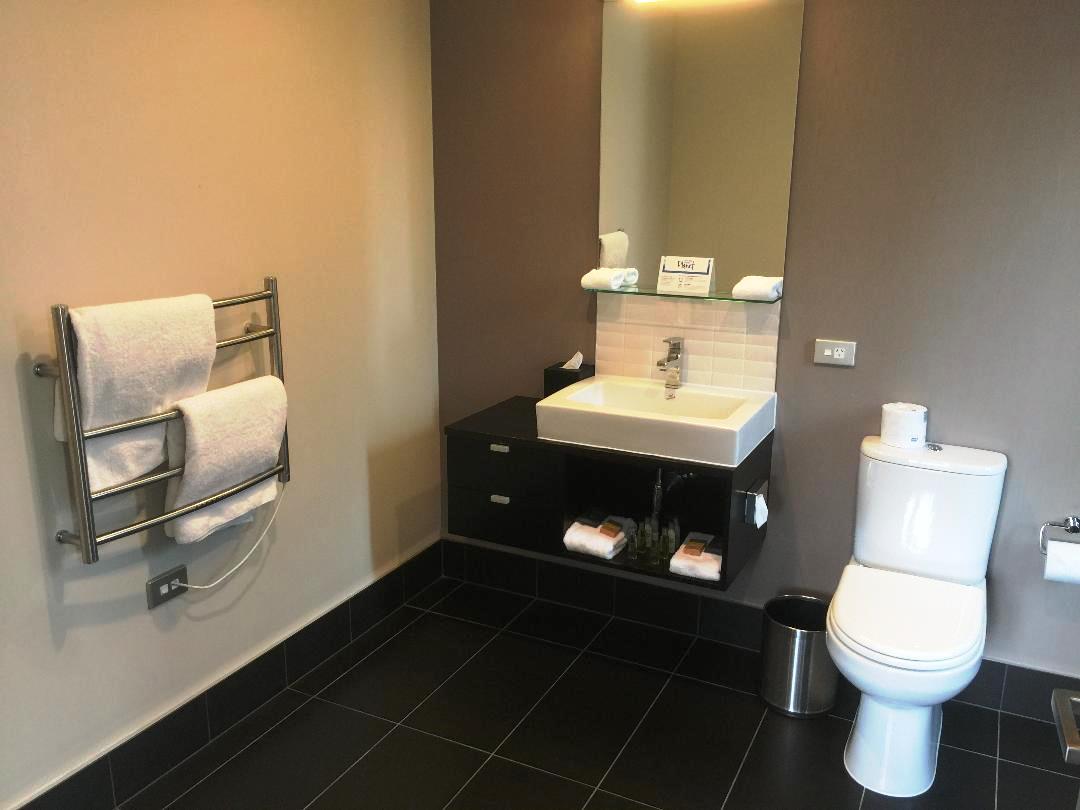 Hilton Queenstown 2BR Apartment, Master Bathroom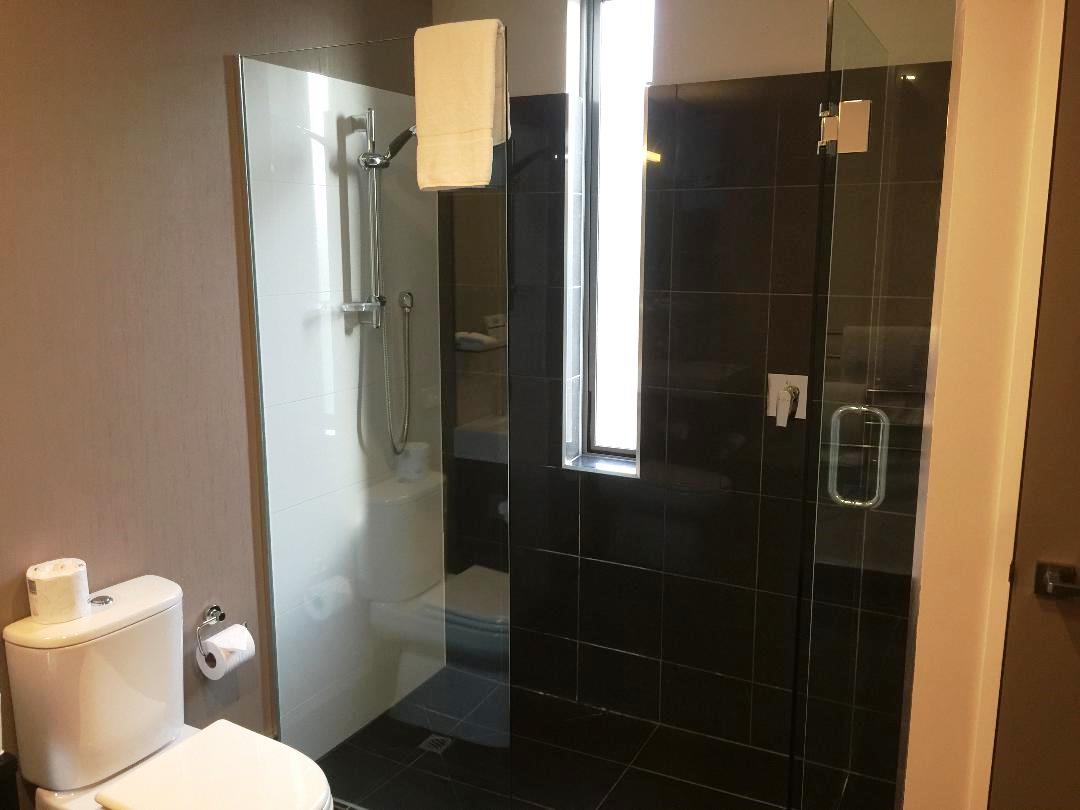 Hilton Queenstown 2BR Apartment, Walk-in Shower
The bath amenities were from Crabtree & Evelyn, a brand commonly seen throughout the Hilton portfolio of properties.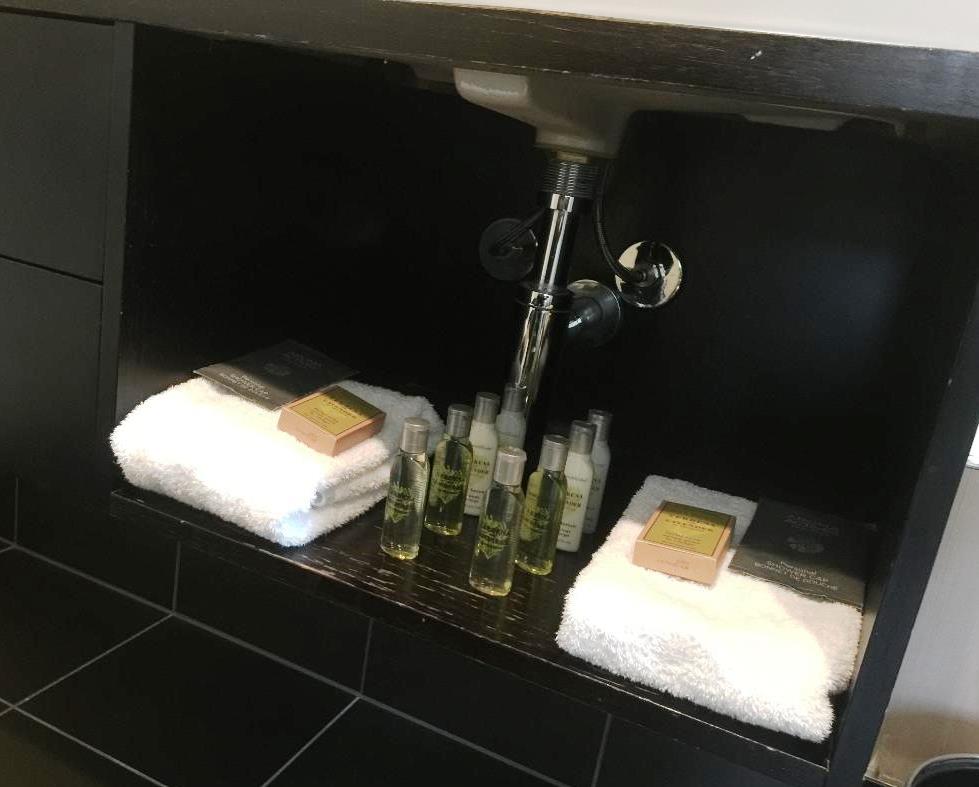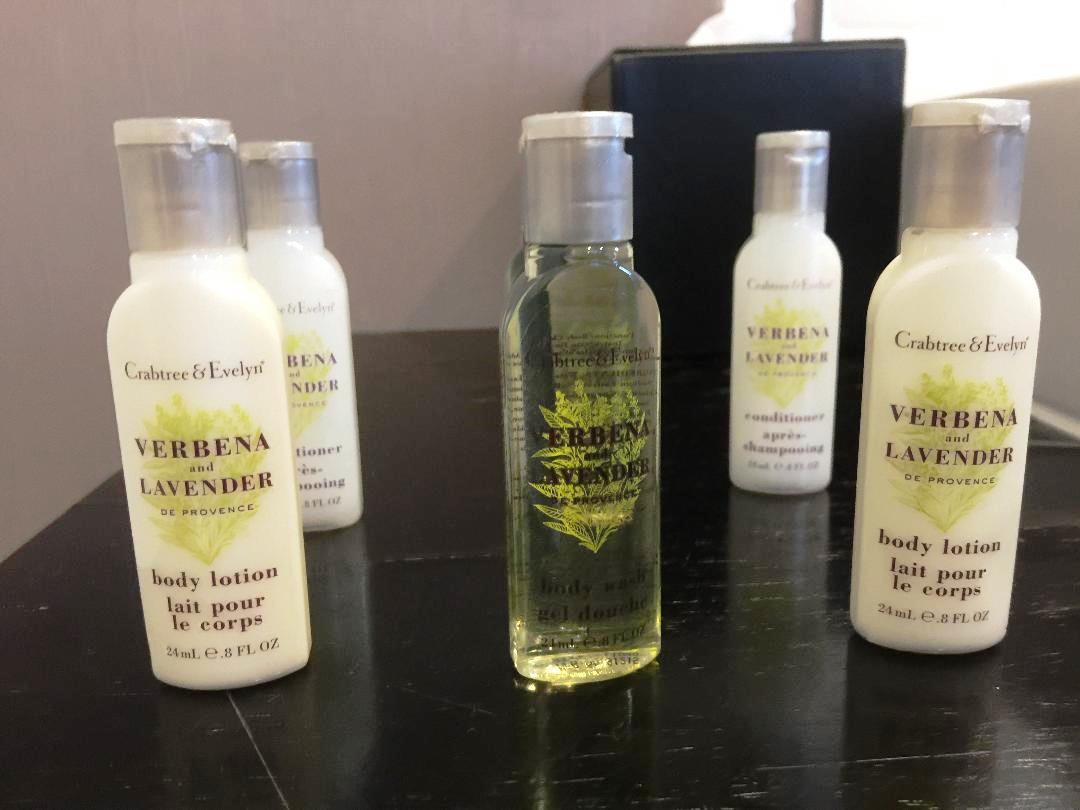 Hilton Queenstown Bath Amenities
The master suite opened out on the large, uncovered terrace which was the best feature of the apartment. The terrace had some basic outdoor furniture.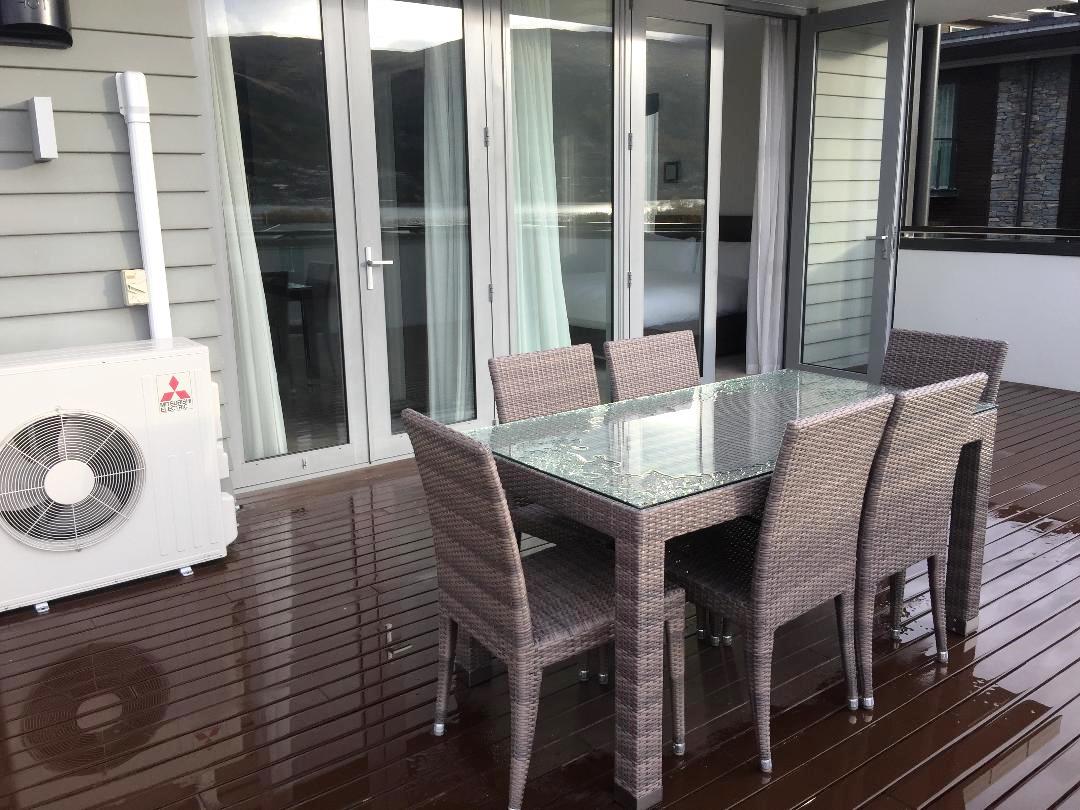 Hilton Queenstown 2BR Apartment, Terrace
It offered expansive views of the Lake Wakatipu.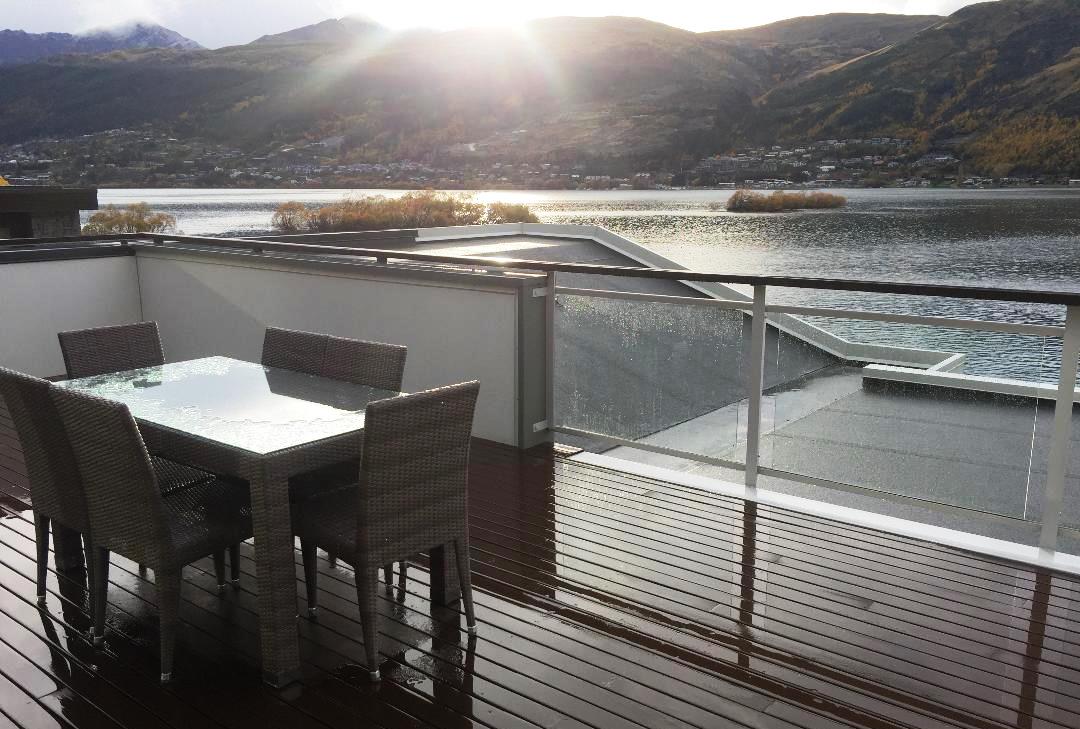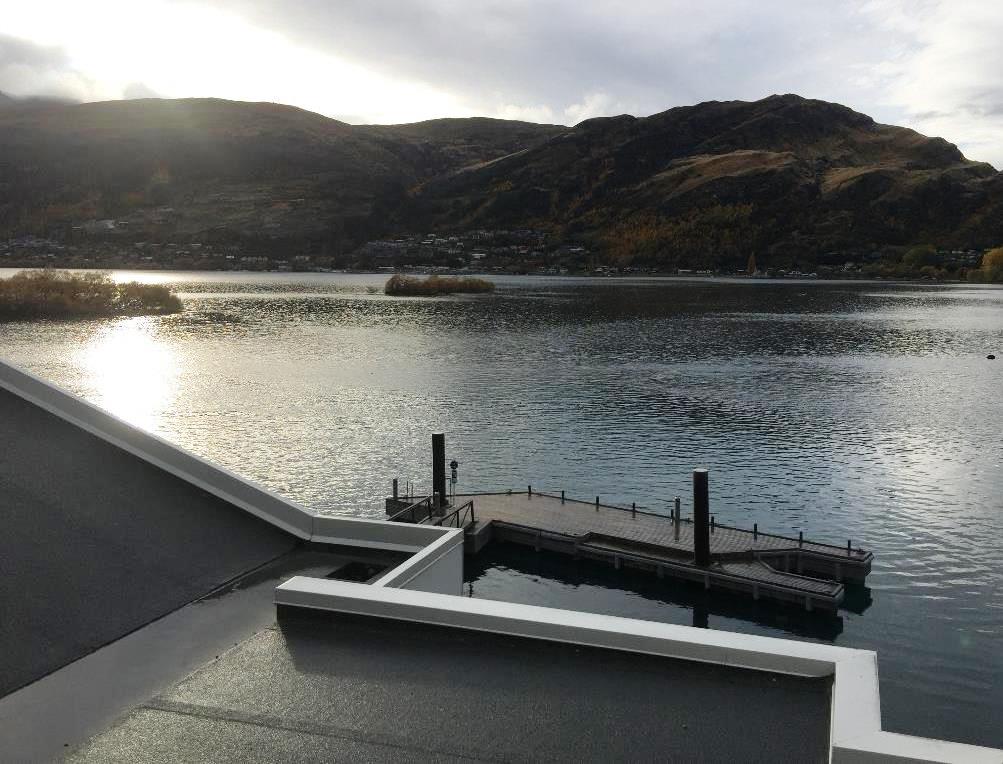 Back inside, the 2nd bedroom, which was again on the smaller side and the common bathroom, were located near the main entrance.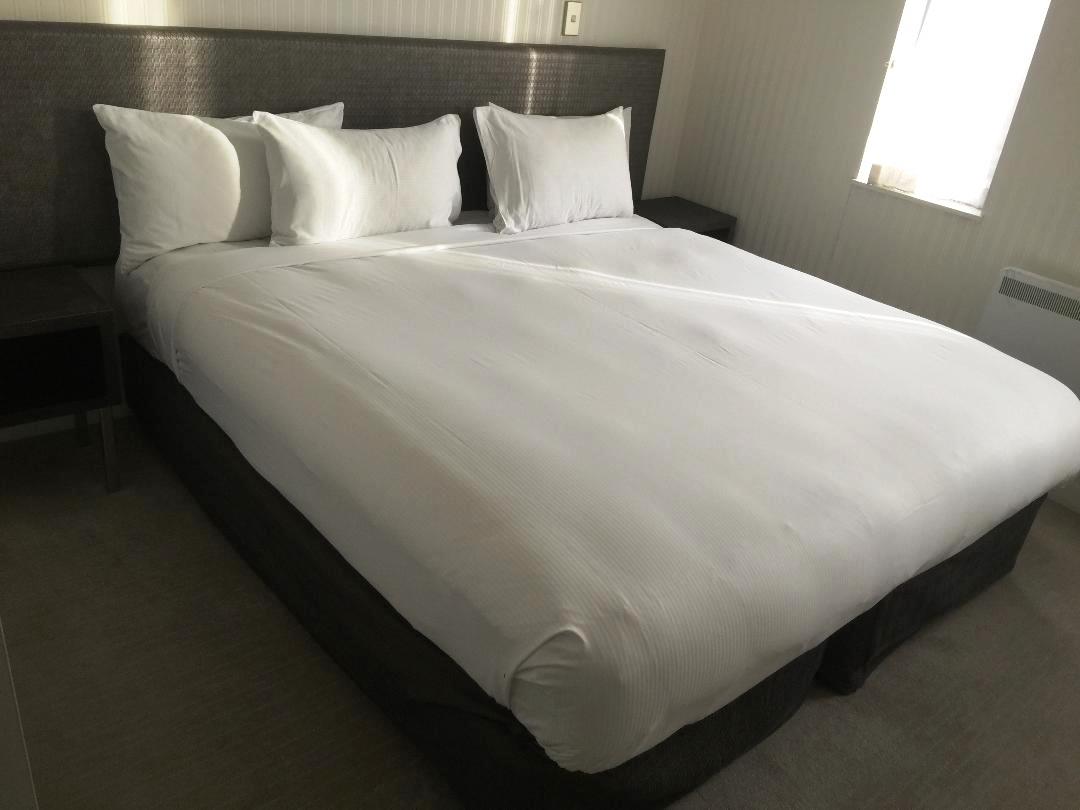 Hilton Queenstown 2BR Apartment, 2nd Bedroom
Those on long term stays will appreciate the provided washer and dryer.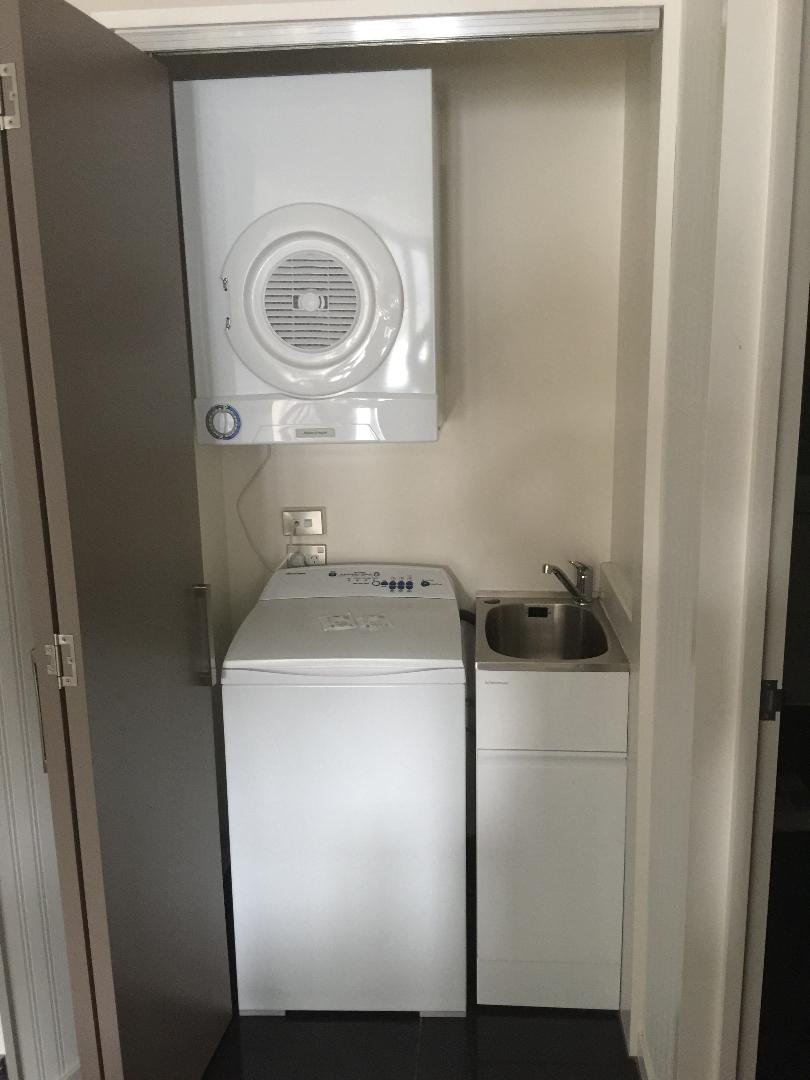 Hilton Queenstown 2BR Apartment, Mini Laundry
Besides the actual rooms, the apartment was quite nice and came equipped with all the mod cons to keep guests happy.
Dining
The property offers 3 onsite restaurant, 'Wakatipu Grill', 'The Stacks Pub' and 'Me & Mee'.
Wakatipu Grill
Breakfast each morning is served at Wakatipu Grill. All Hilton Honors Gold members, are entitled to free continental breakfast, with the option to upgrade to full breakfast for an extra NZ $10. I took the upgrade on some mornings.
I will get to the actual breakfast in a minute, which was nice, if unremarkable. Before that though, I want to point-out how ill-equipped the restaurant was in terms of size and capacity to deal with hoards of hungry guests. Every morning without exception, I had to negotiate serpentine queue of guests, waiting for their turn to get in.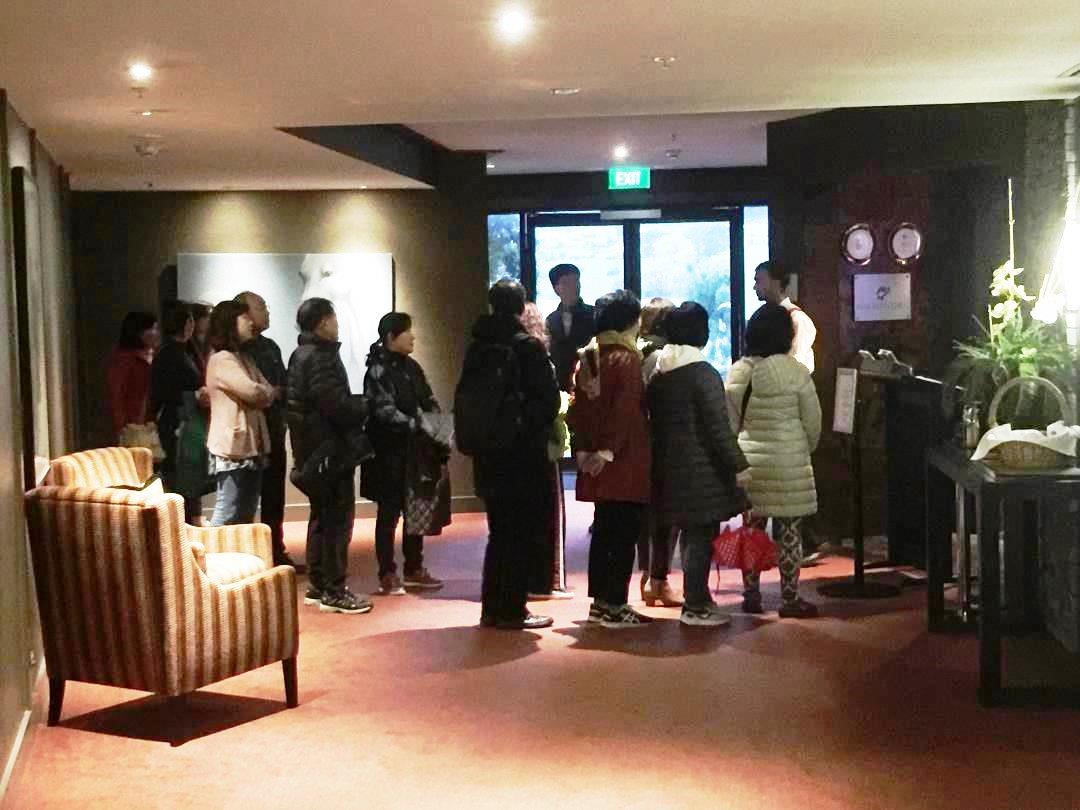 These scenes were repeated each morning at breakfast
Part of the reason this happens is because the restaurant is small, but the other, much bigger and fundamental reason is that all 3 resort properties, Hilton, Lakeside Residences and DoubeTree by Hilton share the same facilities. It is entirely possible that I happened to be here during a particularly busy, school holidays period and that during other times, this is not such a big issue. In any case, I do hope the hotel management looks into and it and find a satisfactory solution.
The breakfast, was a self-serve buffet style affair. It didn't feature any over the top lavish spreads, that are commonly found in many hotels across Asia and Middle-East, but was perfectly adequate. The hot dishes were laid-out on one of the buffet stands, another one featured fresh bread, cakes and muffins etc. I will let the pictures speak.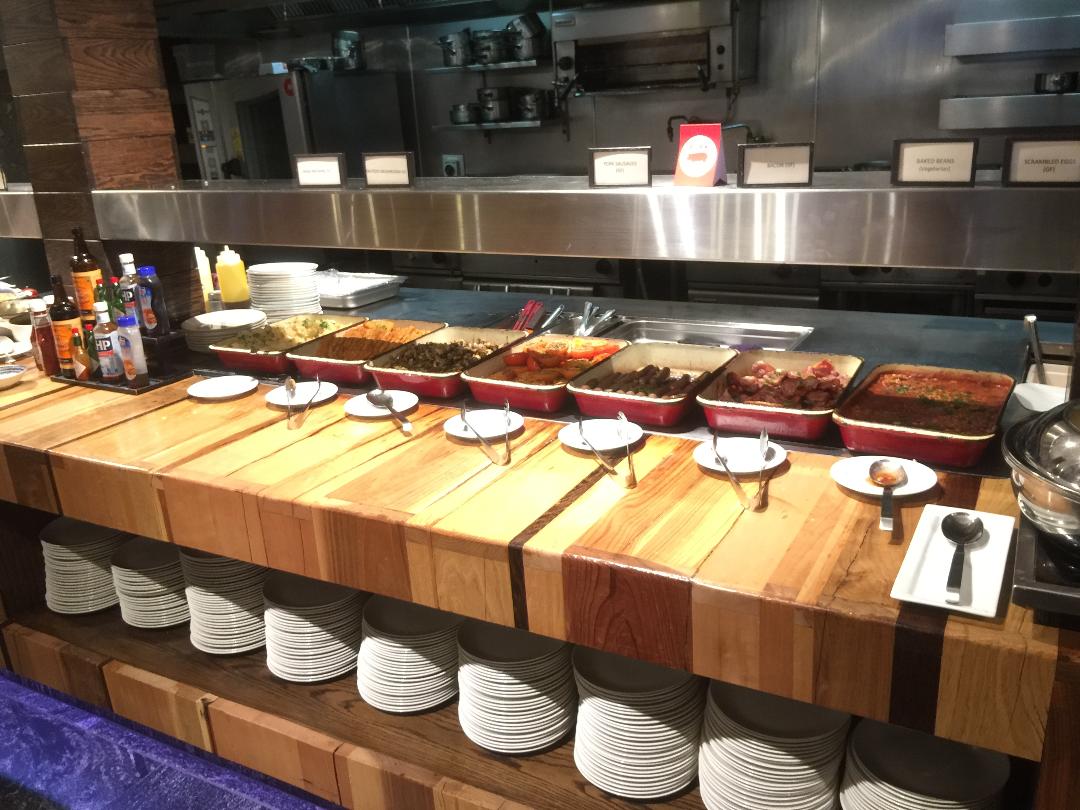 Hilton Queenstown Buffet Breakfast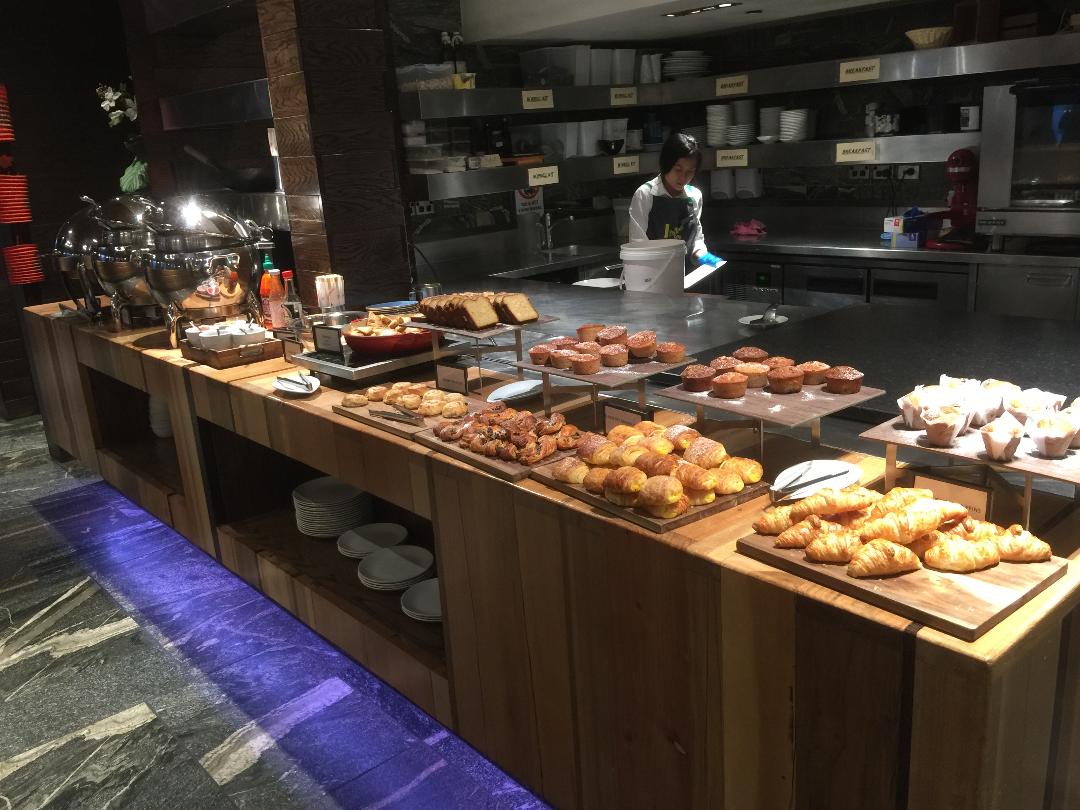 Hilton Queenstown Buffet Breakfast
There was a good selection of sliced and whole fruits, veggies, cheese, yogurts and muesli.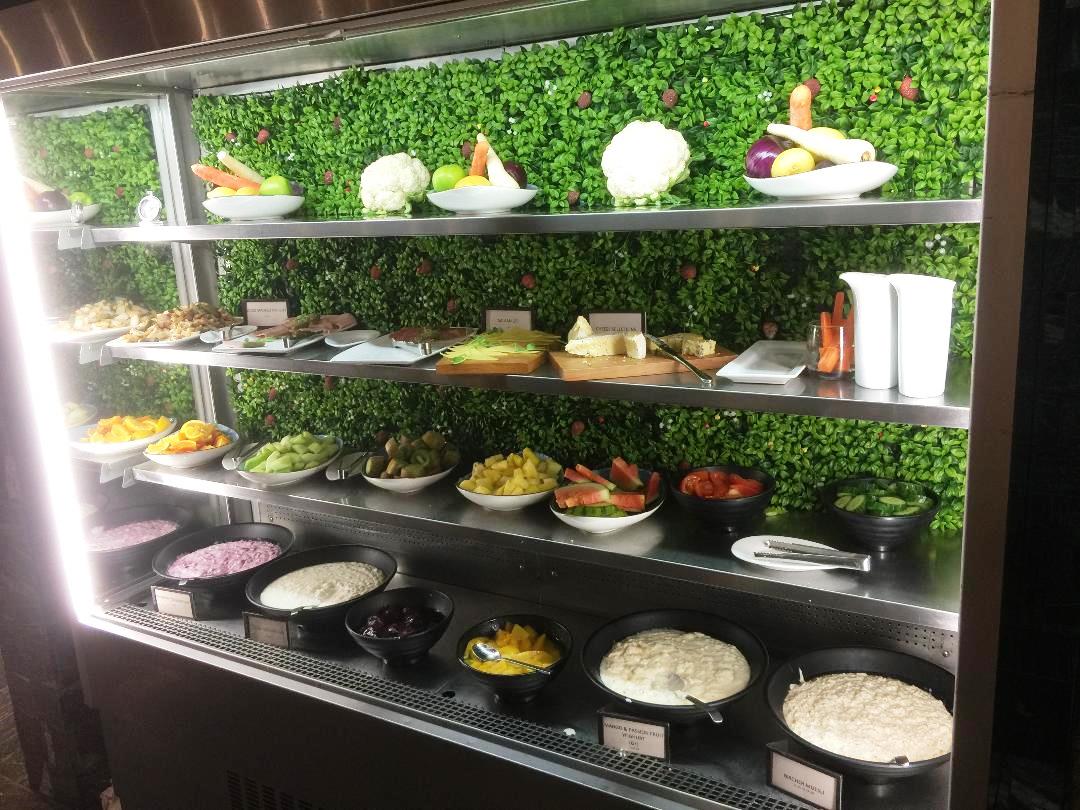 Hilton Queenstown Buffet Breakfast
Another stand was stocked with a variety of cereals, fruit juice, plus hot water and milk to make your own tea and coffee.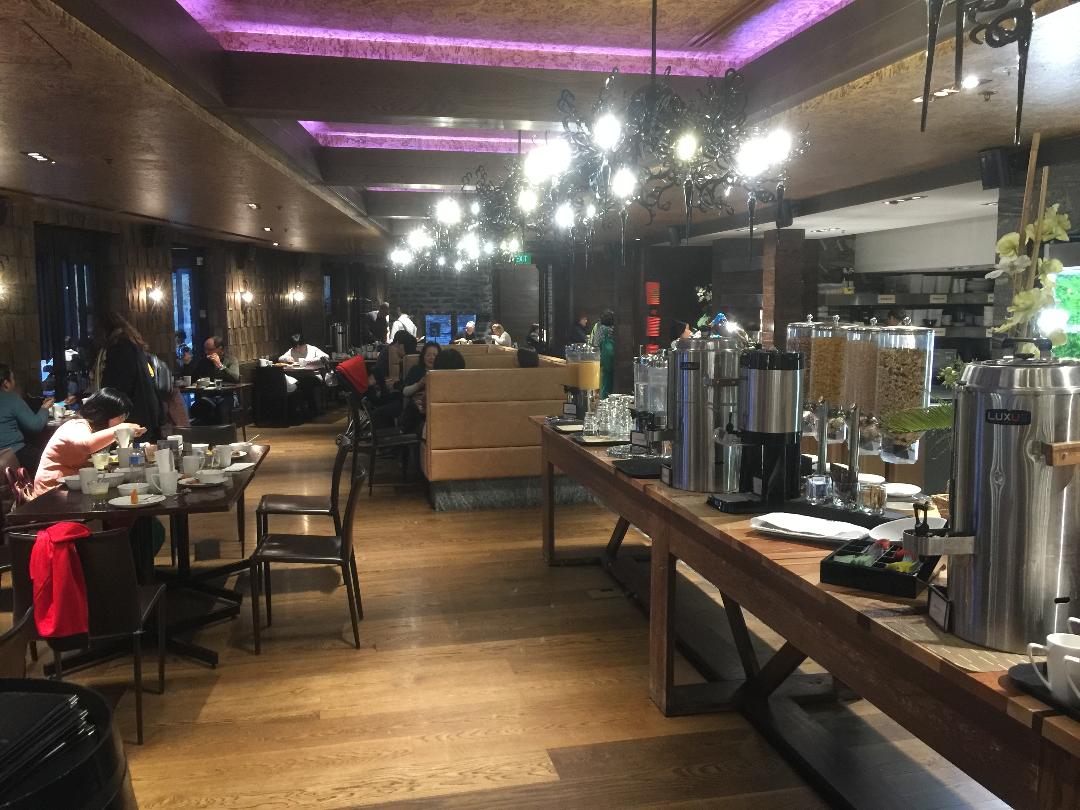 Hilton Queenstown Buffet Breakfast
Regular tea and coffee was included as part of the breakfast. If you craved anything fancier though, you had to order it with the staff at NZ $5 a cup, which was stingy, but not unexpected, as I have come to expect from hotels in this part of the world.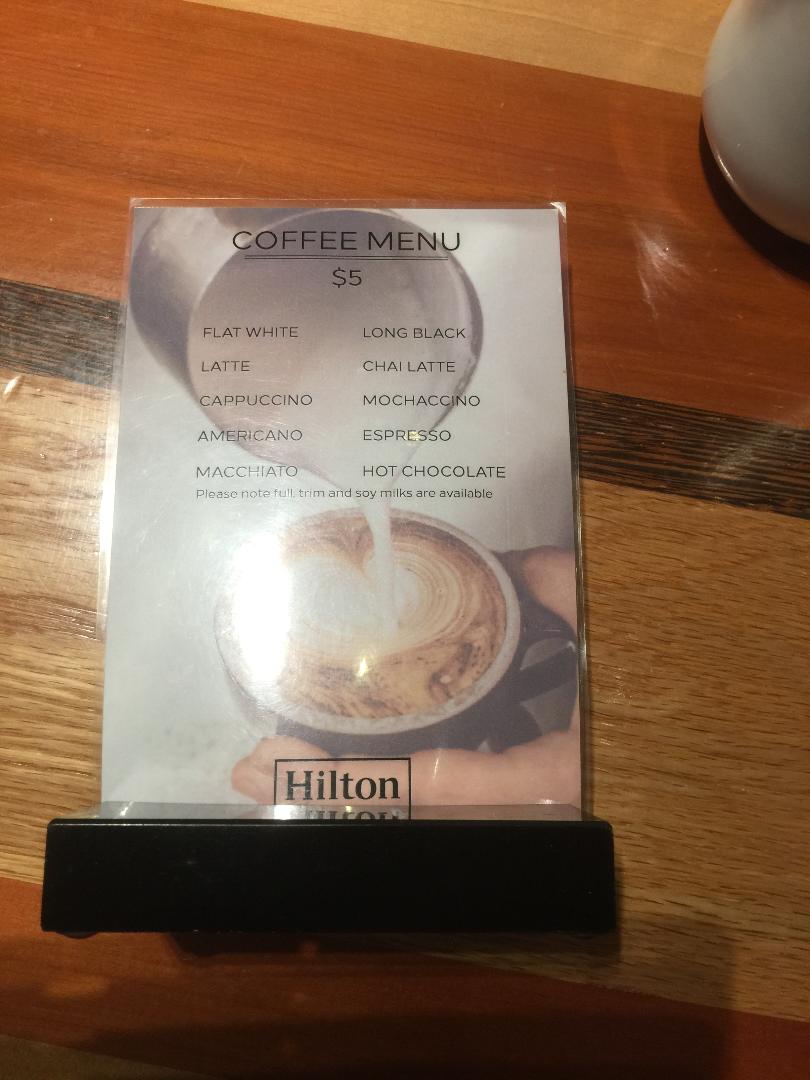 Hilton Queenstown Coffee Menu
That said, the drinks voucher handed out by the front desk could be used to order coffee. I regularly traded them in for hot cups of cappuccino during my stay.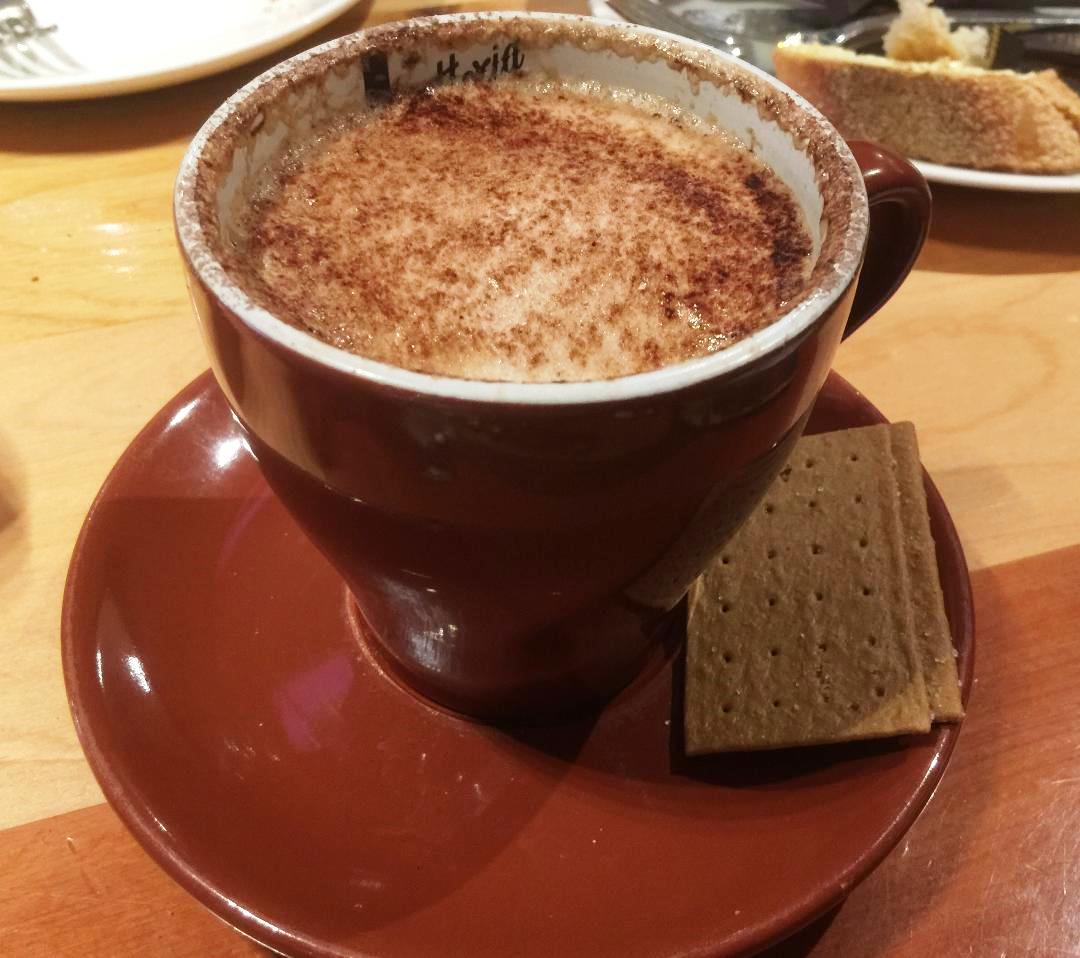 Hilton Queenstown Cappuccino
Outside of the breakfast, the restaurant was also open for dinner. The menu offered fresh local and seasonal fare. You can look up the menu over here.
The Stacks Pub
As the name suggests, The Stacks Pub offered pub-themed food and drinks. There was a bar in the middle, with bar-stools all around it.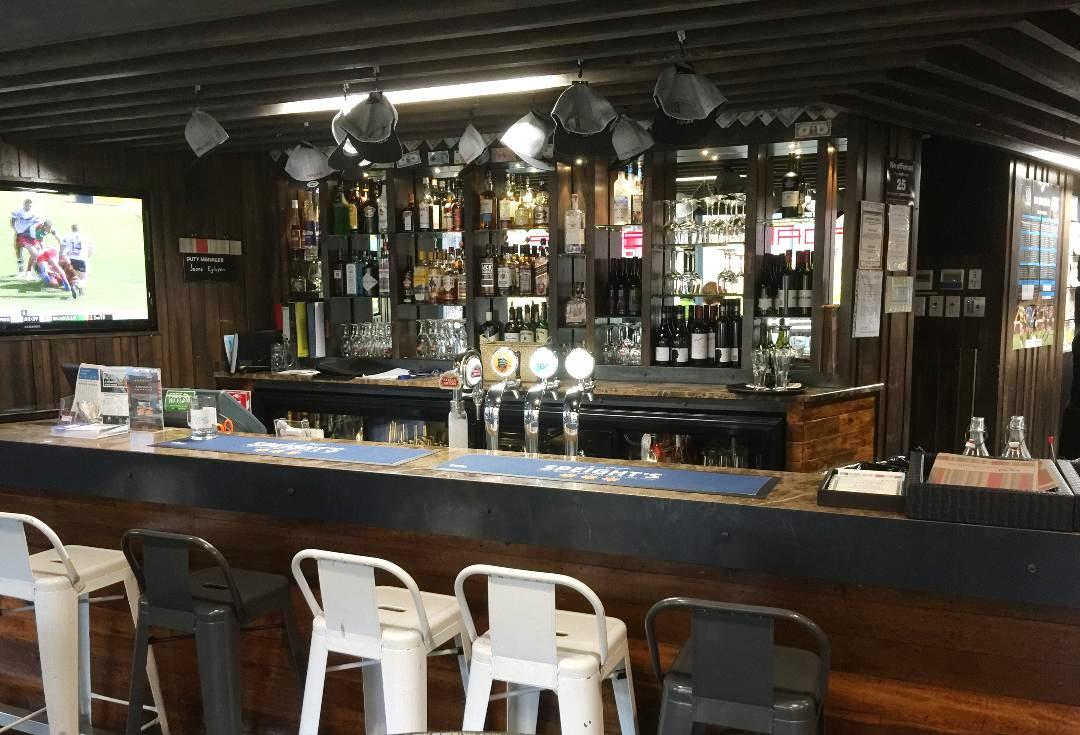 Hilton Queenstown, The Stacks Pub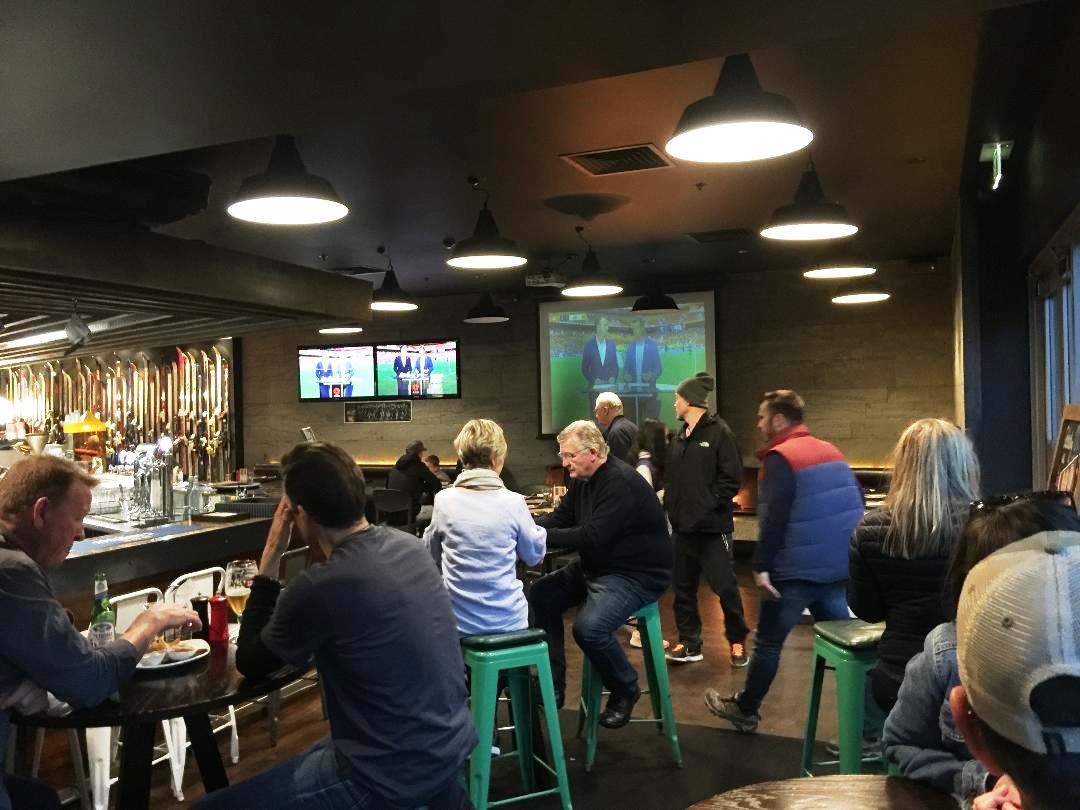 Hilton Queenstown, The Stacks Pub
I went there on couple of afternoons to redeem the drink vouchers, which unfortunately could only be used on a limited menu shown below.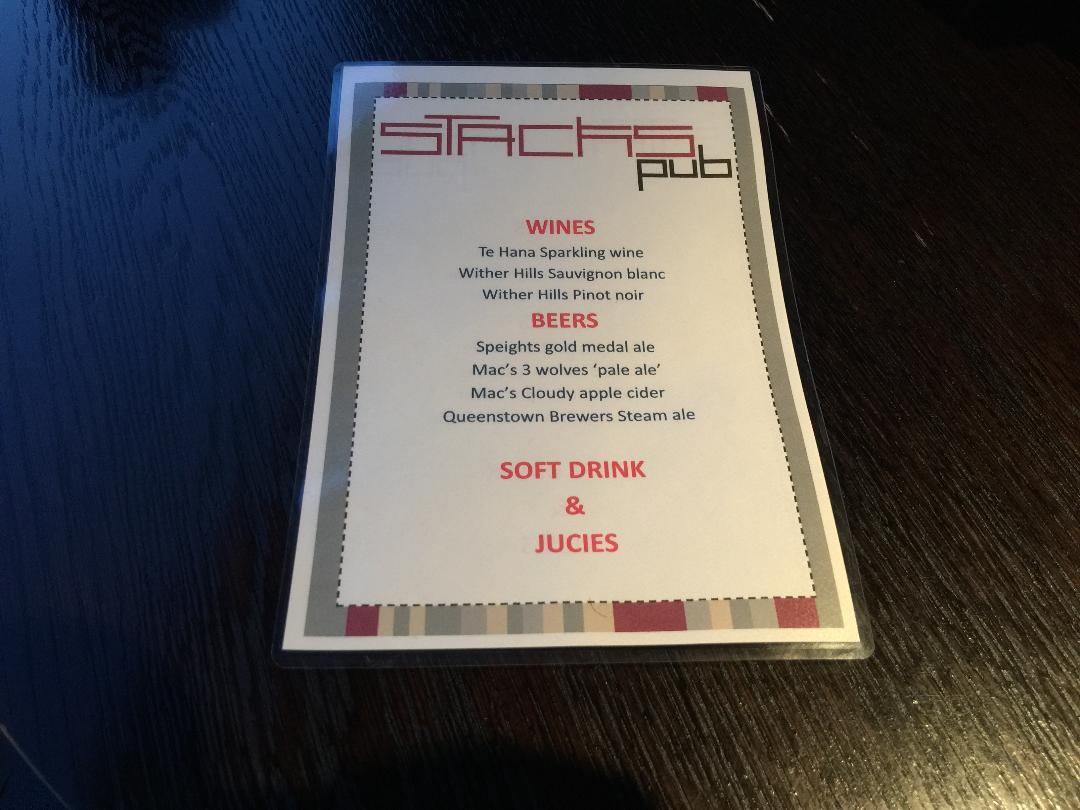 Hilton Queenstown, The Stacks Pub Drinks Menu
I ordered the Speights ale and some deep-fried onion rings to go with it. They were nice.
If you are interested in looking up the full menu, you can do that over here.
Me & Mee
This place describes itself as offering authentic Chinese favourites with a modern twist. Anytime I read the words 'modern twist', I figure there's a good chance the food is anything but, 'authentic'.
I did not get a chance to dine at this restaurant. If you are interested, you can check out the menu over here.
In-Room Dining
If you are not particularly keen to head-out and would rather have someone deliver the food, the resort's got you covered. The room service menu is not extensive, but adequate to ensure you don't have to go without. This is what's on the in-room dining menu: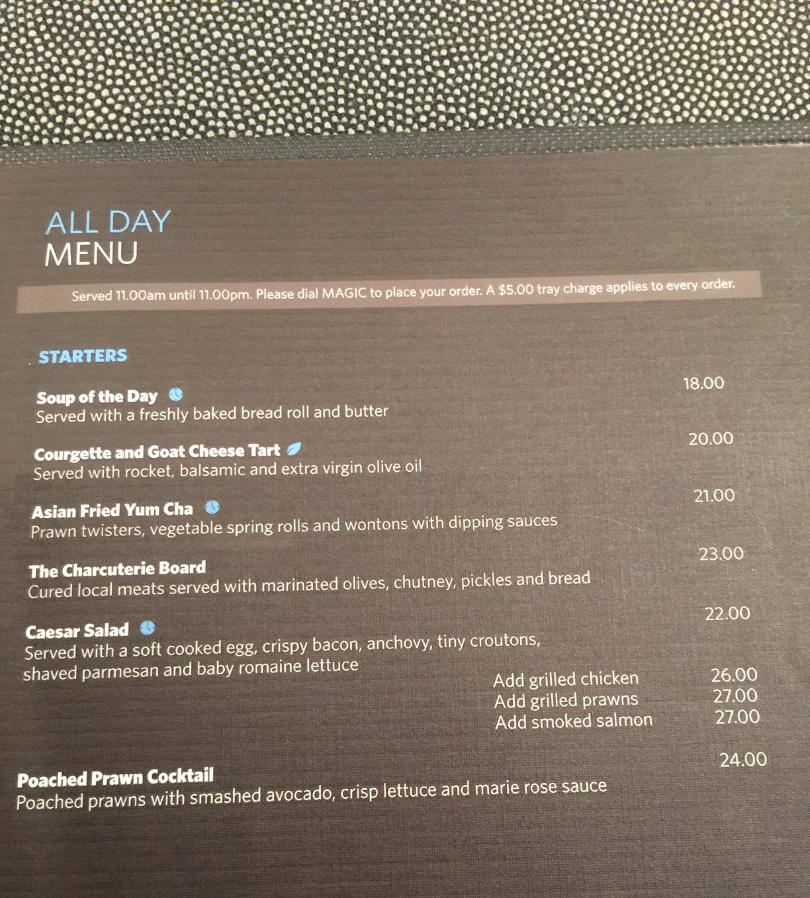 Hilton Queenstown, In-Room Dining Menu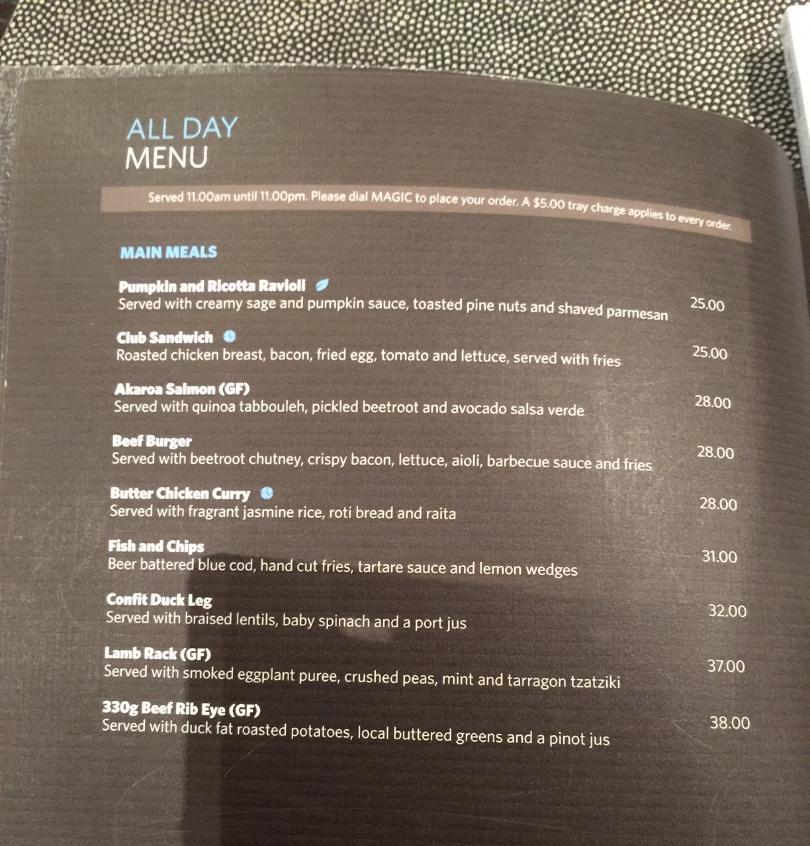 Hilton Queenstown, In-Room Dining Menu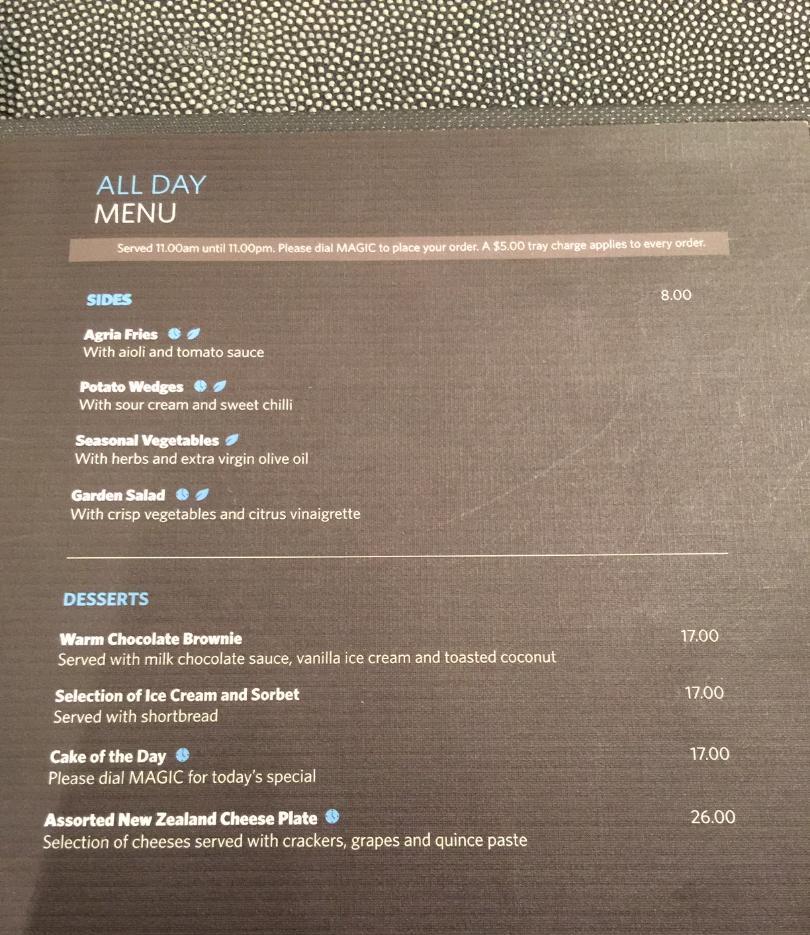 Hilton Queenstown, In-Room Dining Menu
There is a NZ $5 tray charge applicable to each order.
Other Amenities
The resort has a very impressive 25 meters long, heated indoor pool. The deck area had some daybeds and typical pool-side furniture.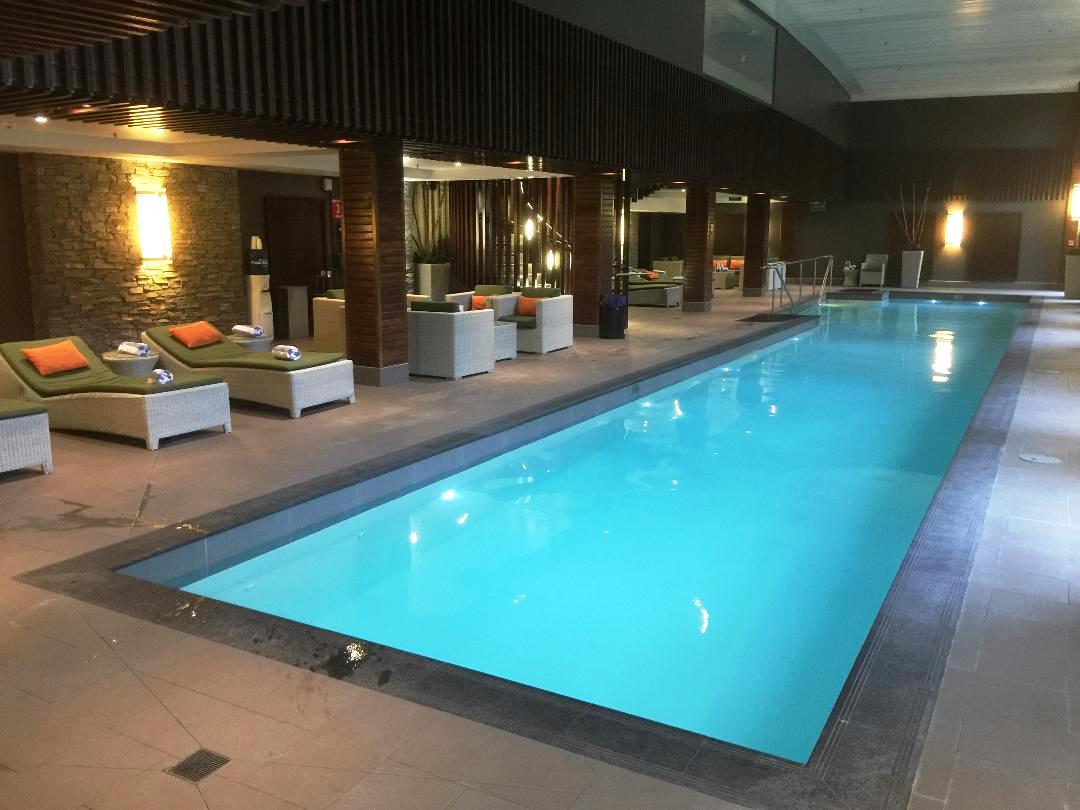 Hilton Queenstown, Indoor Pool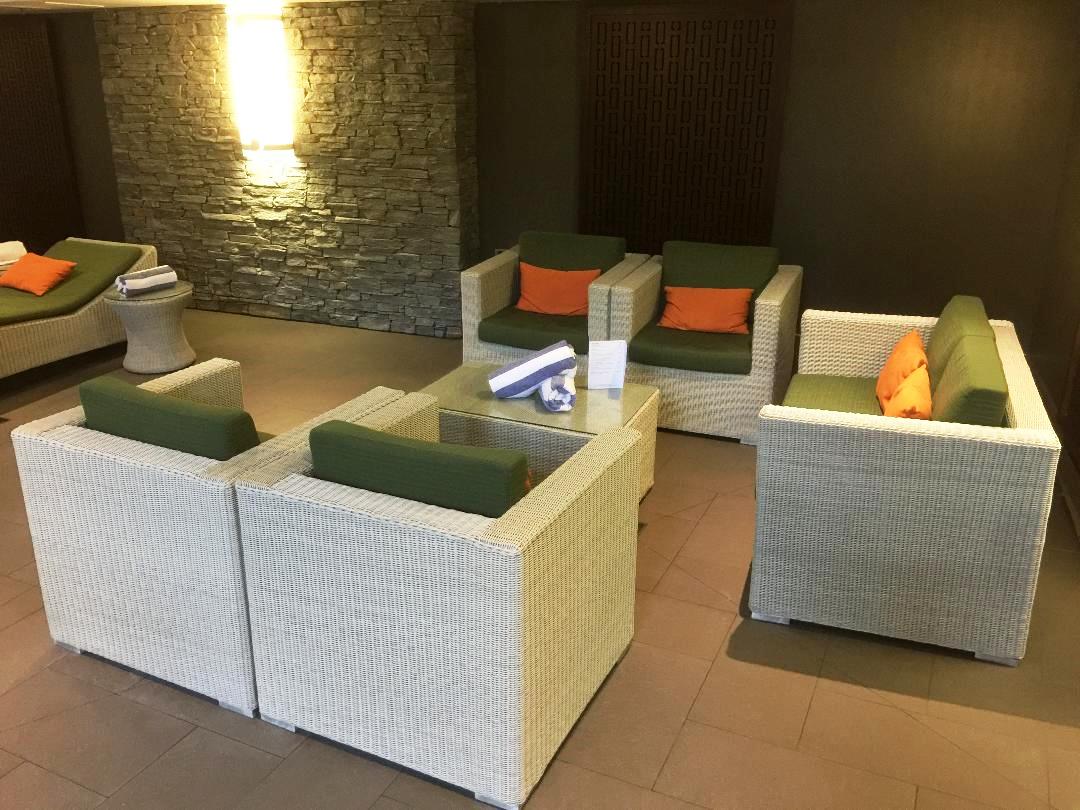 Hilton Queenstown, Deck Furniture
I did not get to try it out, but I can imagine this will be a huge hit with families with kids and lap-swimmers on a really cold day.
There was a basic gym next to the pool with some cardio machines.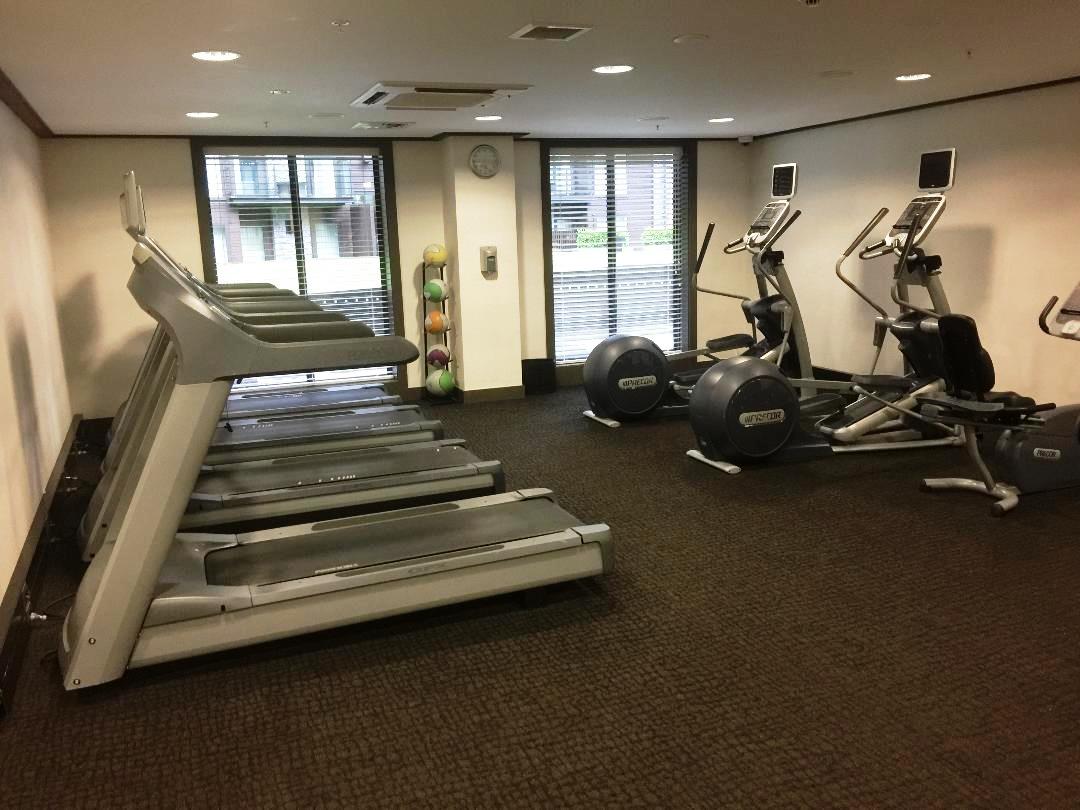 Hilton Queesntown Gym
There was another section with free-weights and towels on the other end of the room.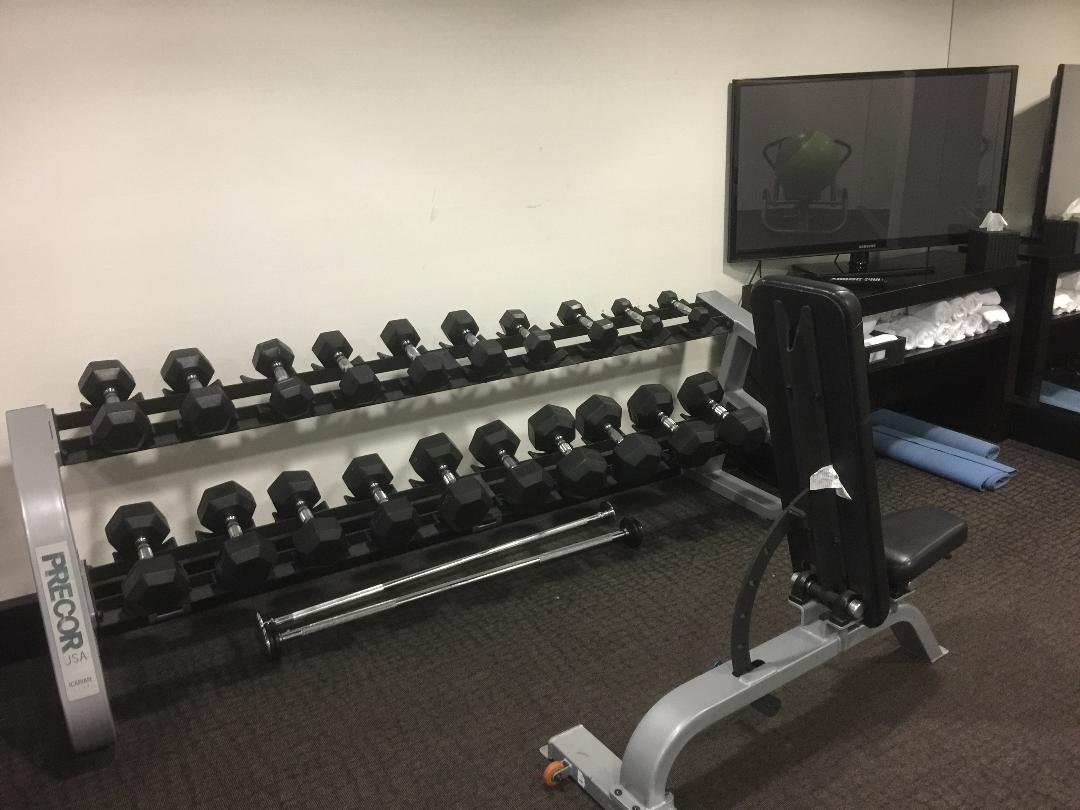 Hilton Queesntown Gym
Considering how overbooked the hotel was, it was a little strange to find the pool and gym completely deserted.
Then there's the eforea spa, which is located just off the hotel lobby. It was closed at the time of my visit.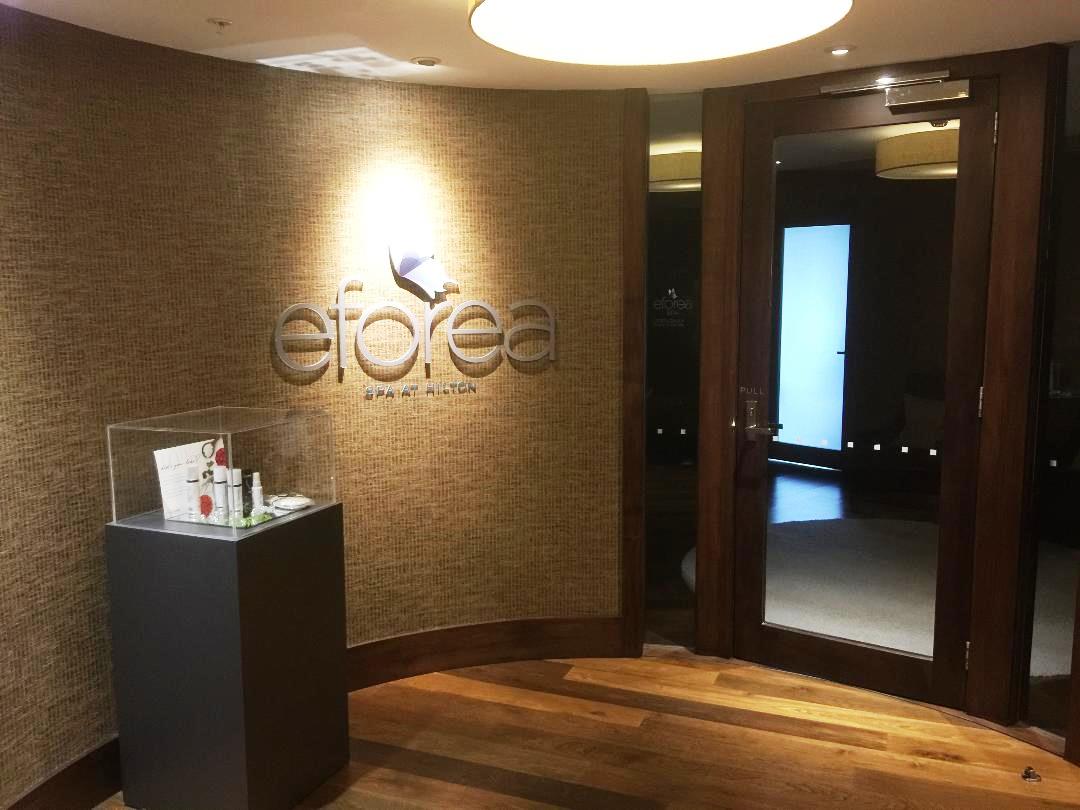 Hilton Queenstown, eforea spa by Hilton
The spa menu can be looked up over here.
Lake Shores
One of the great features of this property is that it's built on and around the lake shores. This means the buildings are all low rises and well spread-out. The 2 restaurants, 'Wakatipu Grill and 'The Stacks Pub', back out on to Lake Wakatipu. The shores are accessible to hotel guests and offer delightful views and slow, leisurely walks.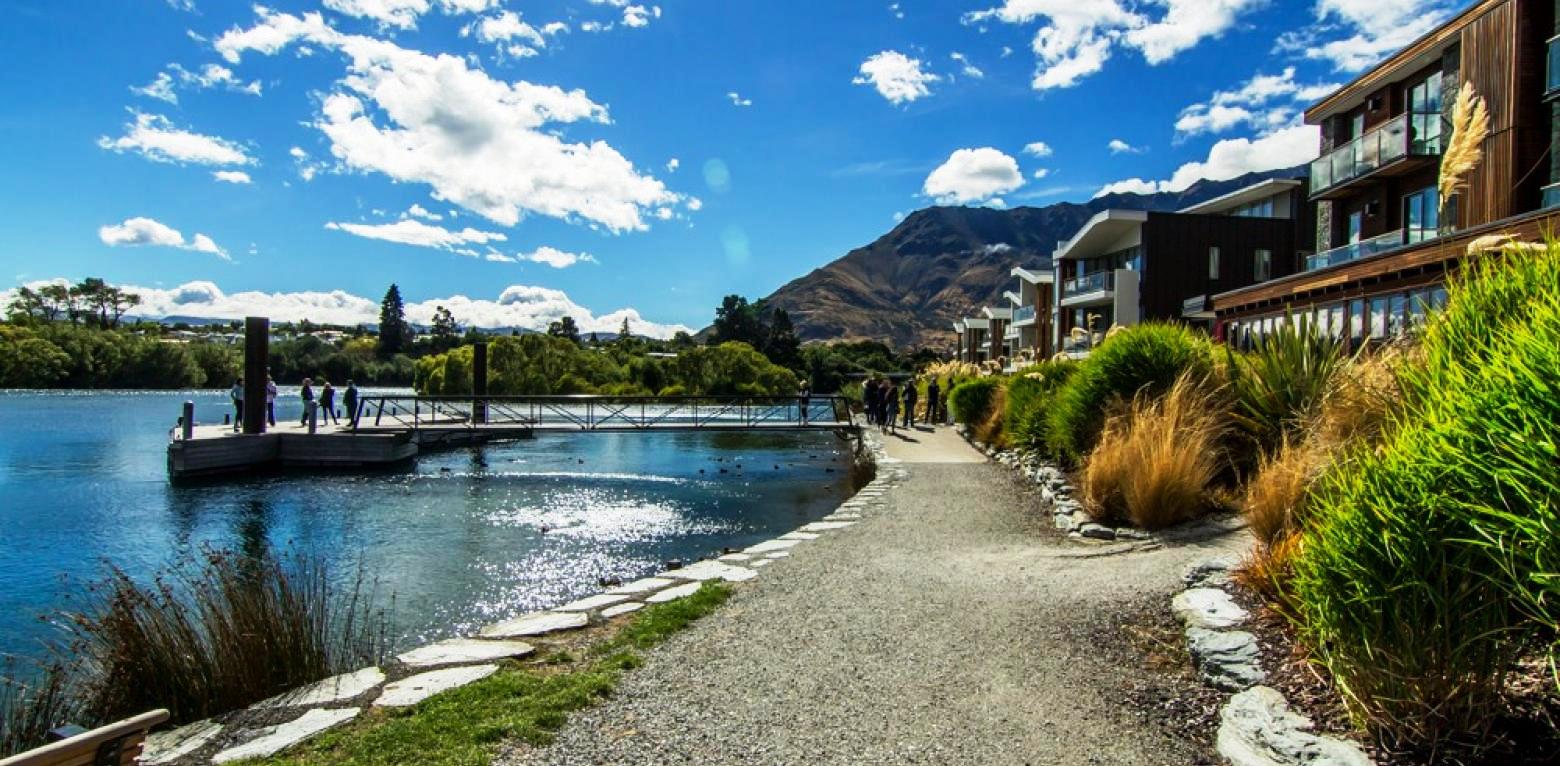 Hilton Queenstown Lake Shores
I ventured out one morning after finishing up my breakfast and loved spending a good hour or so taking it all in.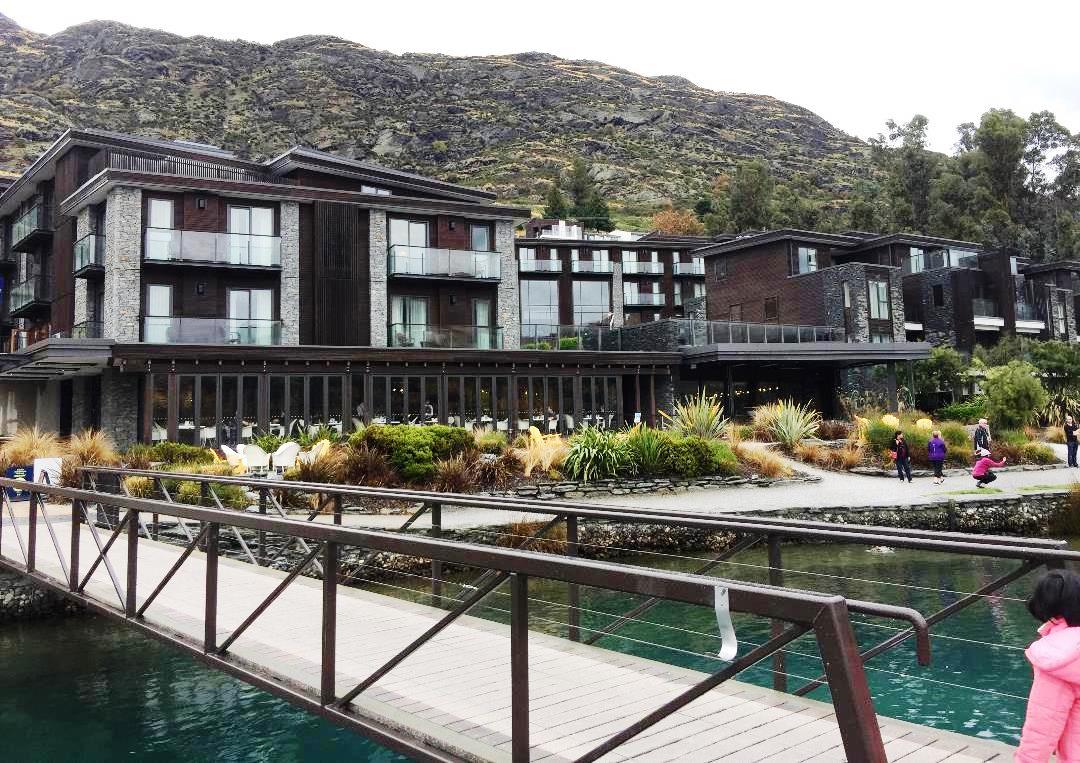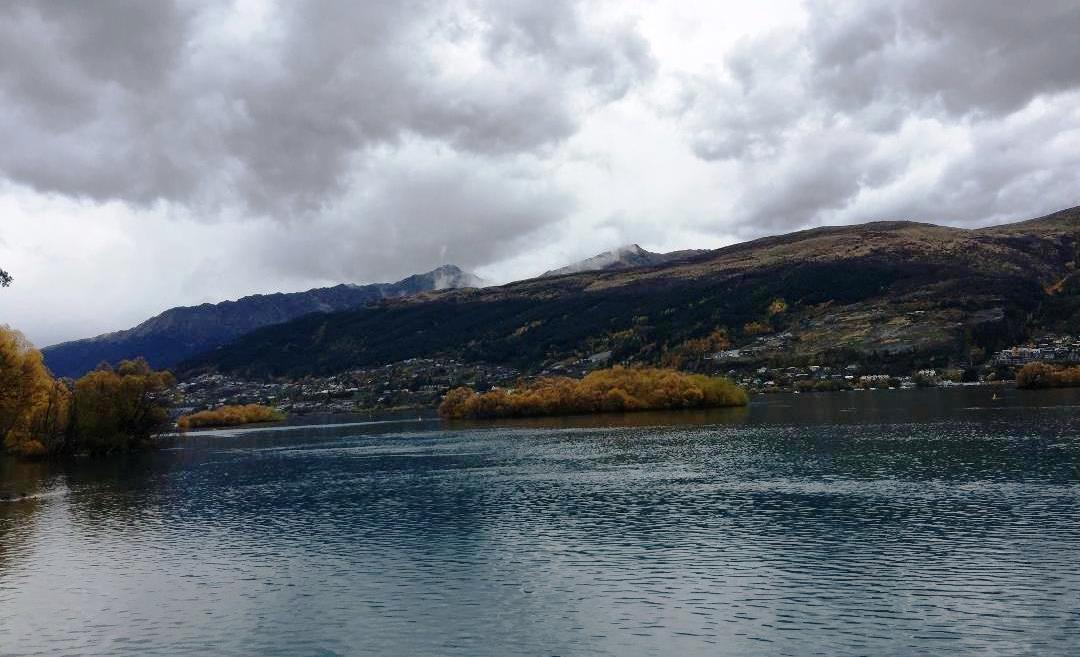 In Conclusion
The Hilton Queenstown Resort & Spa is a wonderful property. Whether you are travelling as a couple, family or for business, it caters to everyone's taste. Throughout my stay, I found the staff to be friendly and courteous, the service warm.
The 2 bedroom lakeside residences to which I was upgraded, are the resorts biggest and the highest category accommodation. Though from what I could gauge, other rooms were also pretty good. The location of the resort, built on the shores of New Zealand's longest lake and a short 15 minutes drive to one of Queenstown's premiere ski fields, The Remarkables is sure to appeal to lots of visitors.
Although the property is well patronised by guests right around the year, it's the busiest during the July-September ski season and school-holiday periods. There do remain some kinks to iron-out, particularly with regards to the breakfast arrangement where waiting times remain consistently high.
On the whole though, I will not hesitate to return to the property on my next trip to Queenstown.
Have you stayed at Hilton Queenstown? How was your experience? Leave a comment below