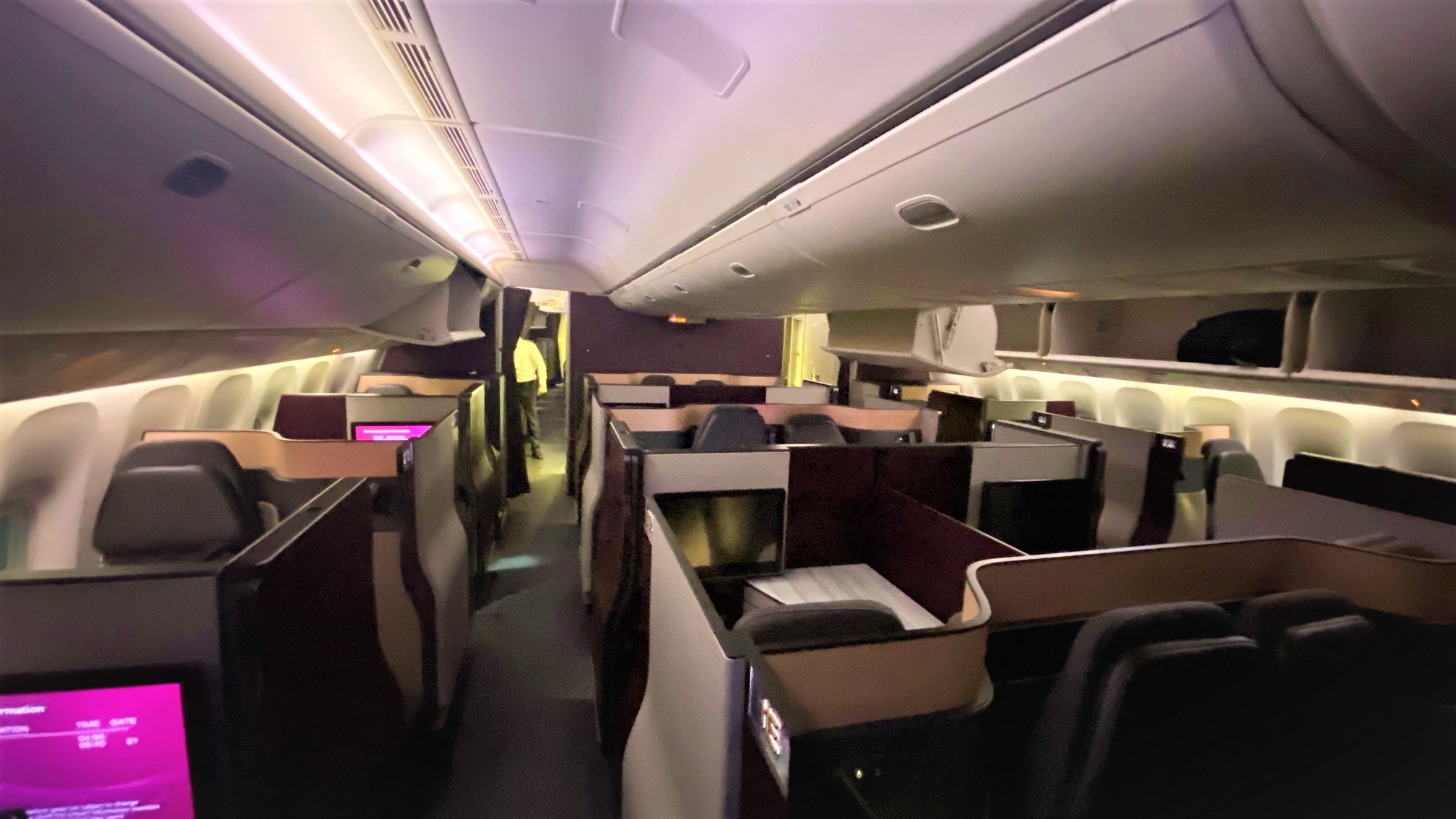 After spending some time at the Al Safwa First Lounge I made my way to the departure gate C8 where boarding was just about to get underway.
I entered the aircraft from the forward door and turned right. Like most business class cabins these days, Qatar's Qsuites are also laid out in 1-2-1 configuration with every passenger accorded direct aisle access. This is where however, the similarity ends.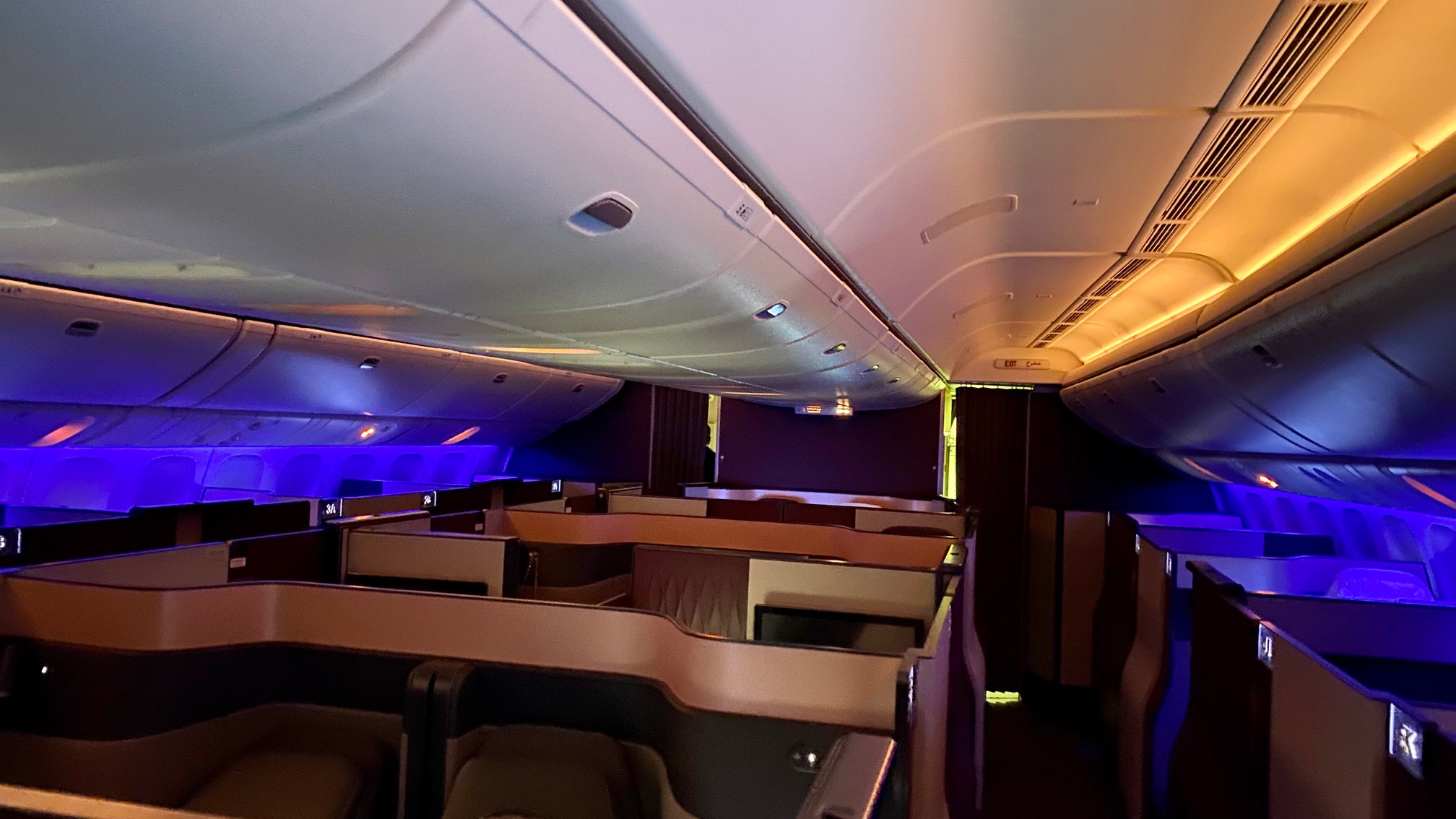 Qatar Airways B-777 Business Class Cabin
Most of Qatar's long-haul routes, including Doha – New York are served by the long range B-777. The business class cabin on these planes are split in two, with the larger forward cabin fitted with 24 Qsuites and the rear cabin with the remaining 18.
The seats in rows 1,3,5,8 and 10 are rear facing and colloquially known as true window seats. This is because the actual seats in these rows are set right by the window, with the console being closer to the aisle as you can tell from Seat 3K I had selected for myself on this flight.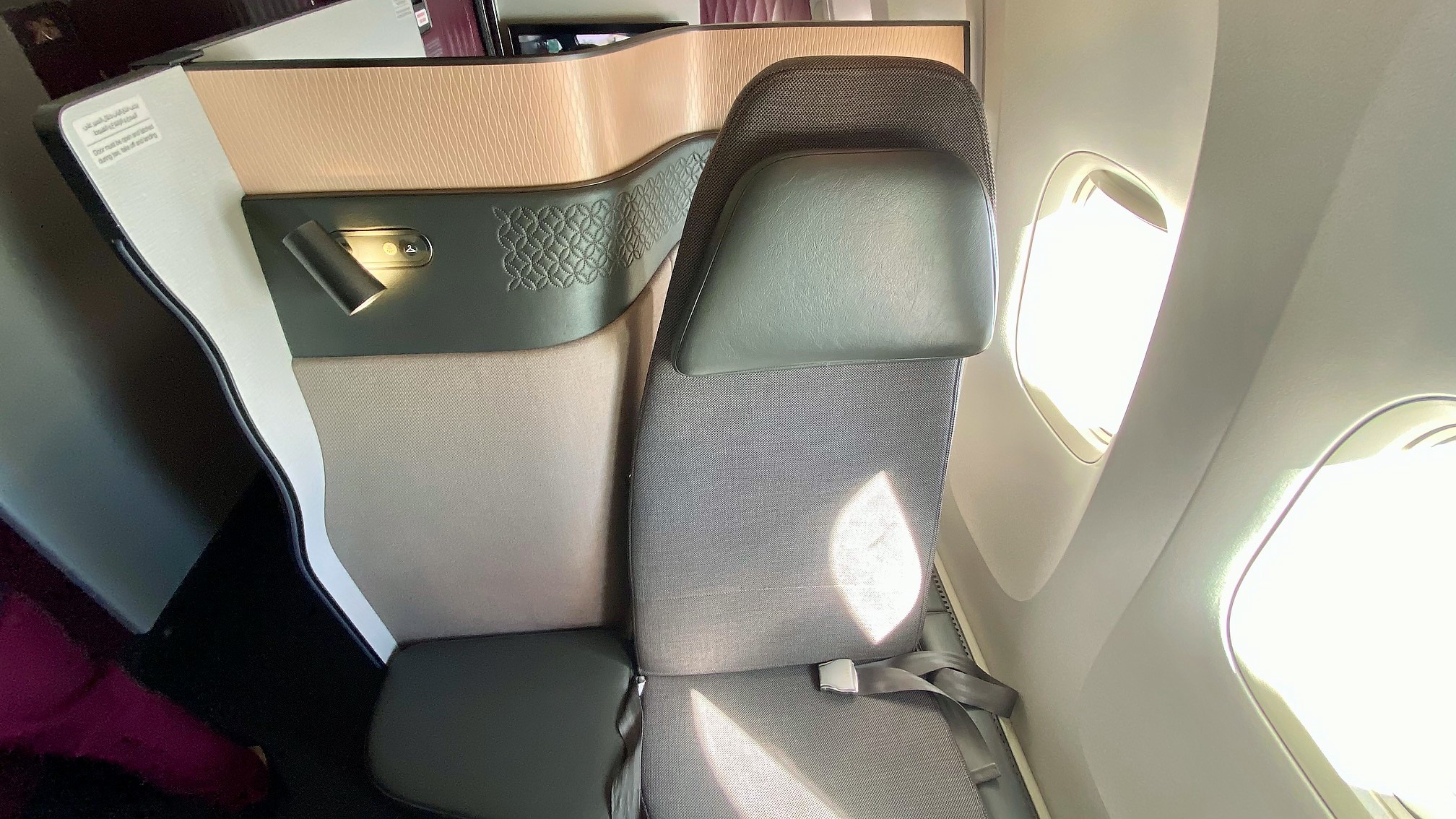 Qatar Airways B-777 True Window Seat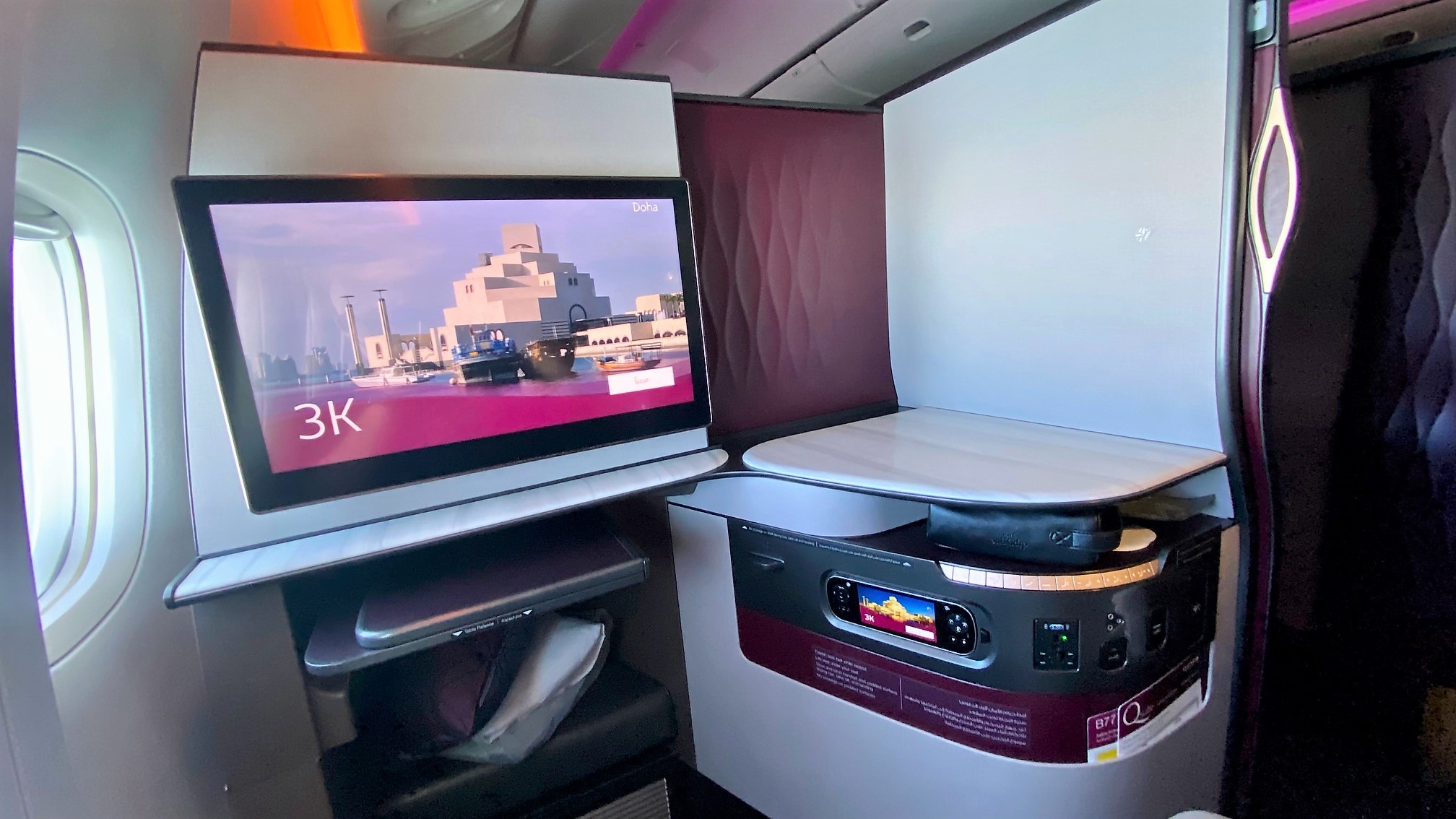 Qatar Airways B-777 True Window Seat
On the other hand, seats in rows 2,4,6,9 and 11 are forward facing with their console set closer to the window and the seat towards the aisle. I wouldn't say one is worse than the other but if you want a real window seat experience, stick with the rear facing seats.
Just like the window seats, the 2 Centre seats are also configured differently with those in rows 3,5,9 and 11 (basically the odd number rows) set closer together and able to be converted into fully flat double beds. If by some chance you end up on one of these seats next to a stranger, you are however able to keep the divider raised, thus giving you a good amount of privacy.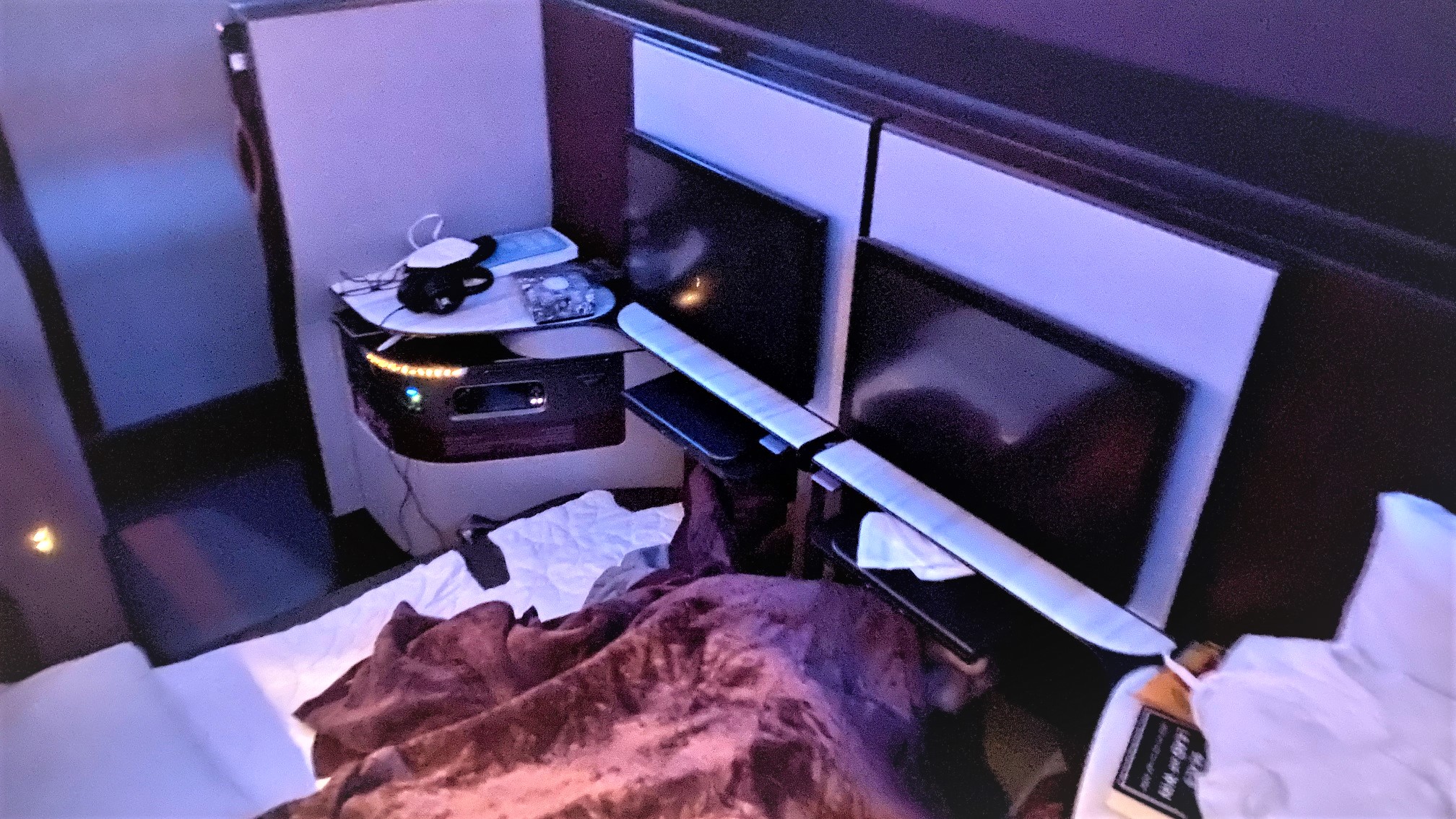 Centre Seats on B-777 convert into a double bed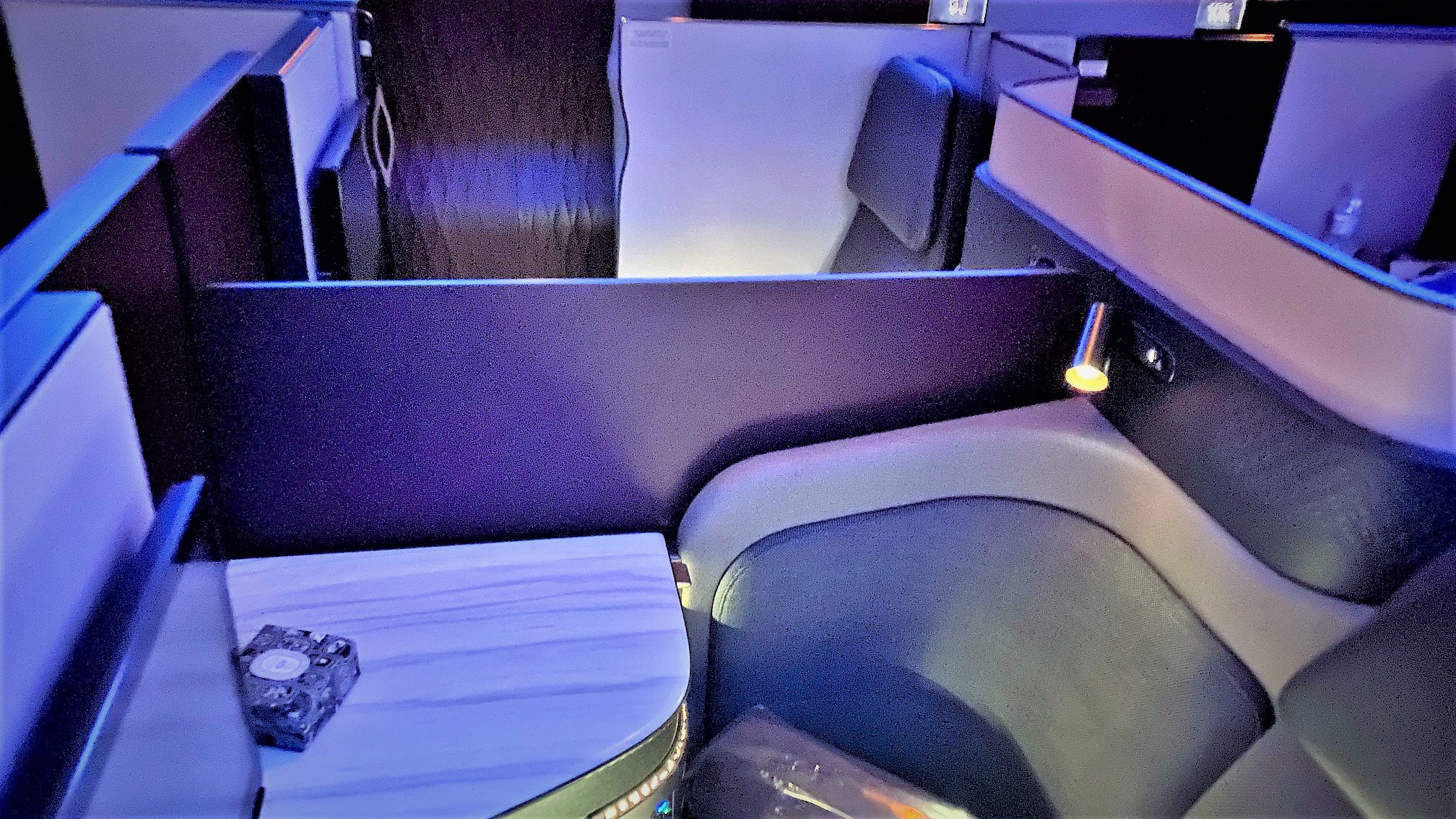 Centre partition raised for privacy
My Seat 3K on the left had copious amounts of legroom. It had a high quality entertainment monitor, a large tray table underneath which slides out and can be folded into half. The console on the right had a faux marble counter top and a small shelf below for storing small items such as mobile phones and sunglasses.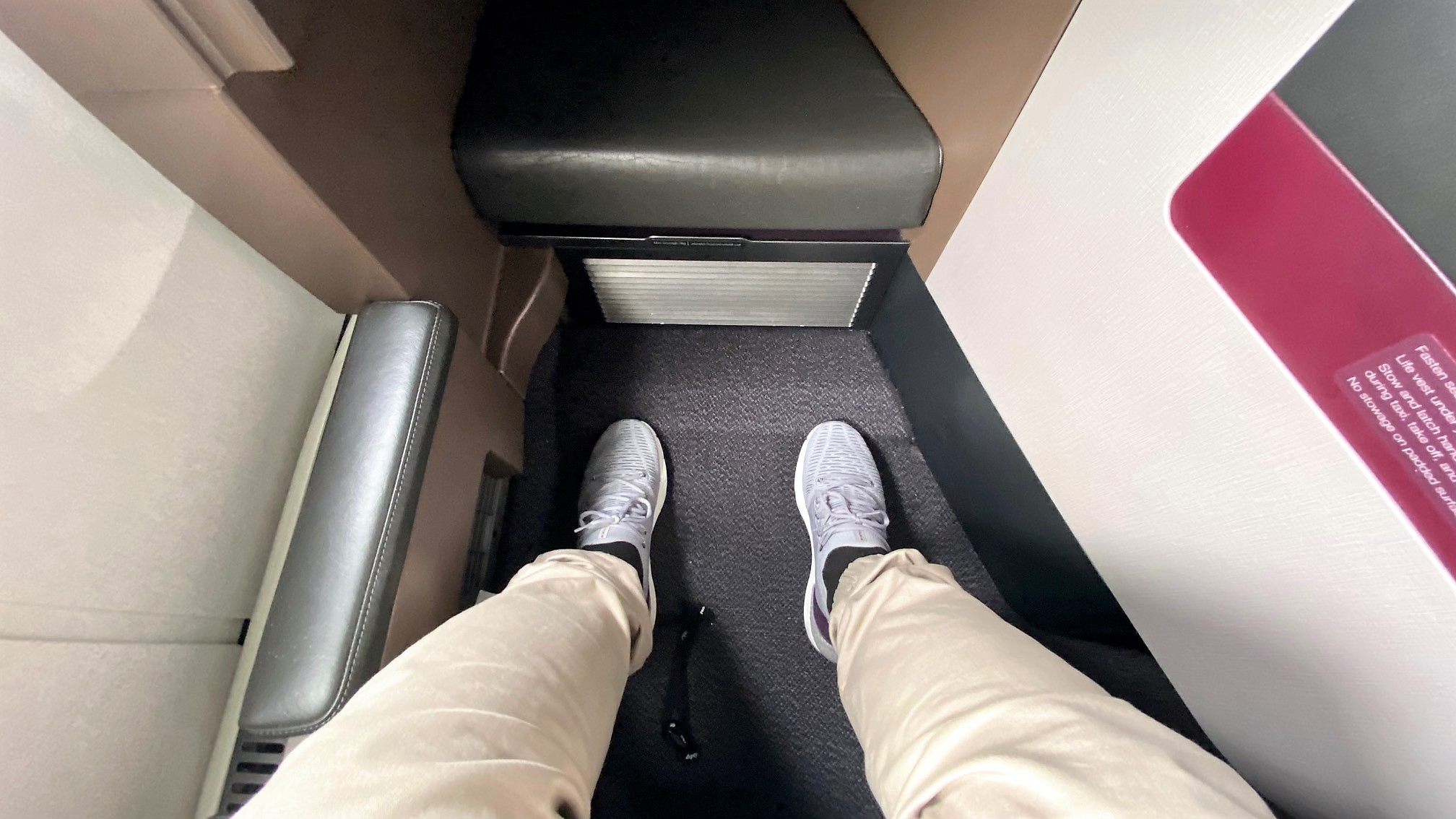 Seat 3K on Qatar Airways B-777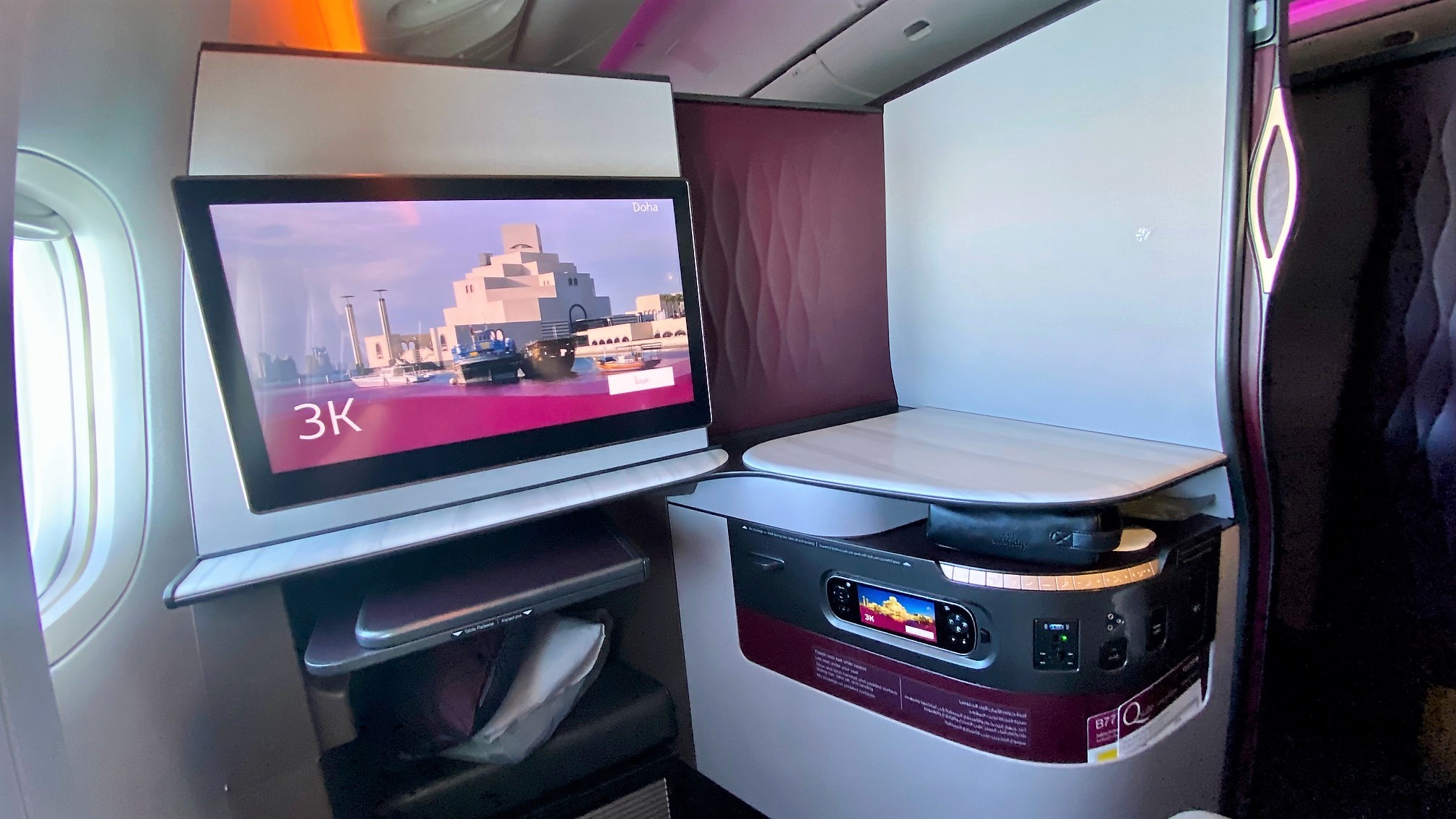 Seat 3K on Qatar Airways B-777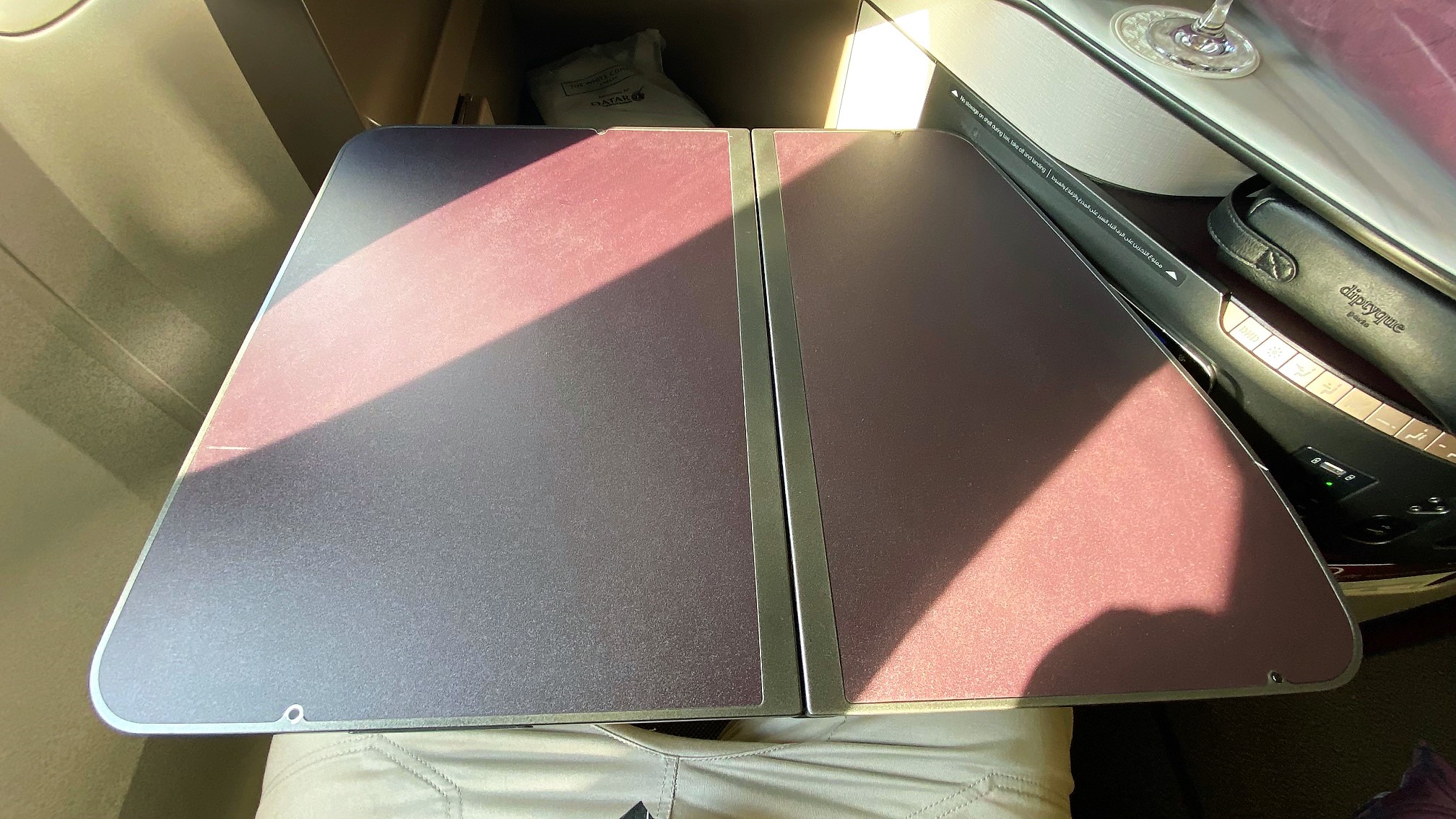 Seat 3K on Qatar Airways B-777
This is also where you will find the seat controls, a 110 volt outlet, a USB port, a headphone jack and an HDMI port. You could manoeuvre your seat into any number of positions, from sitting upright when dining, to lounging when catching up on movies to reclining it right down into a fully flat bed when its time to get some shut eye.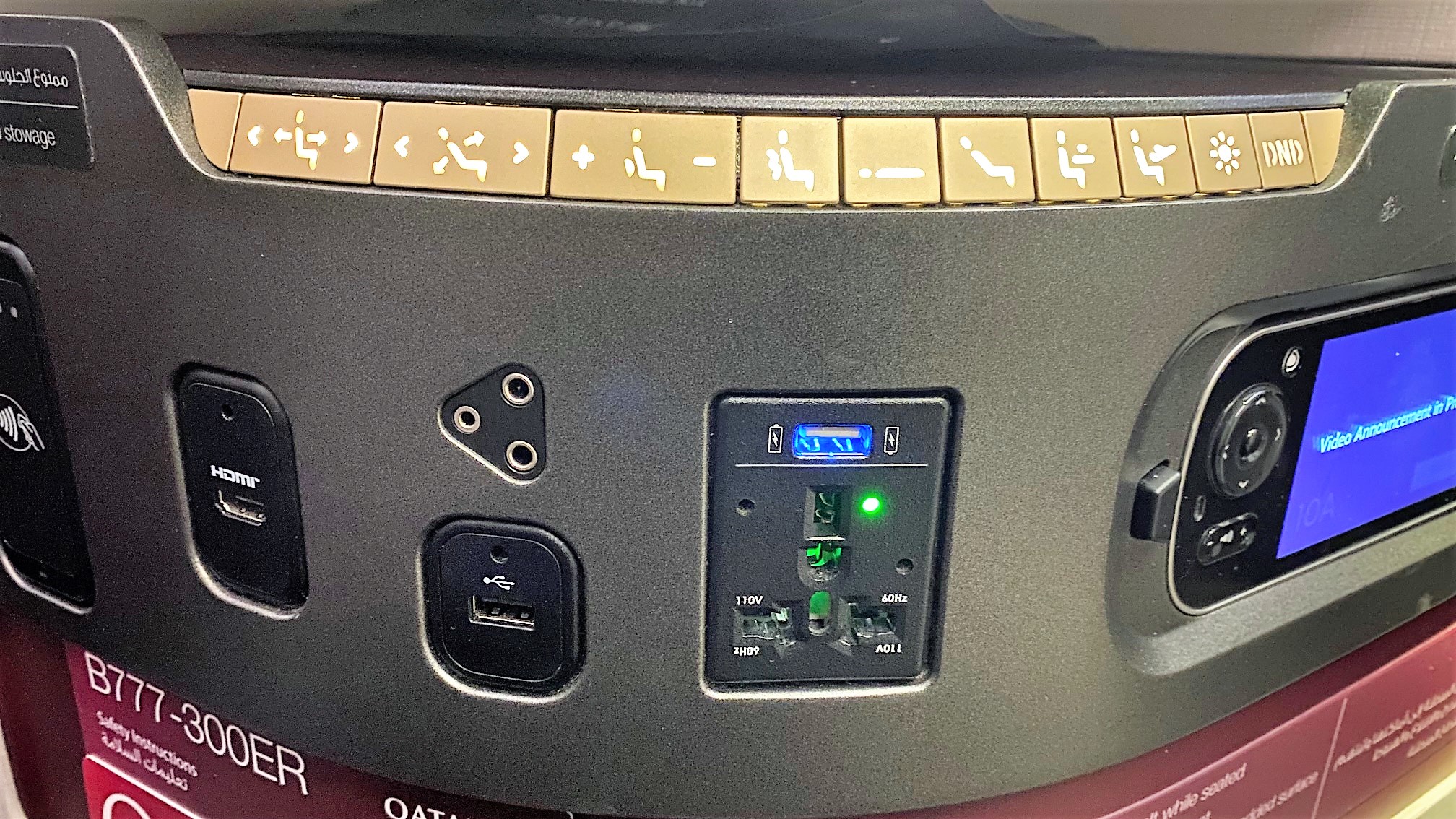 Seat Controls & various outlets
There is a hand held device to control the entertainment monitor, however, the high quality LED screen on the device also doubles up as a viewing monitor.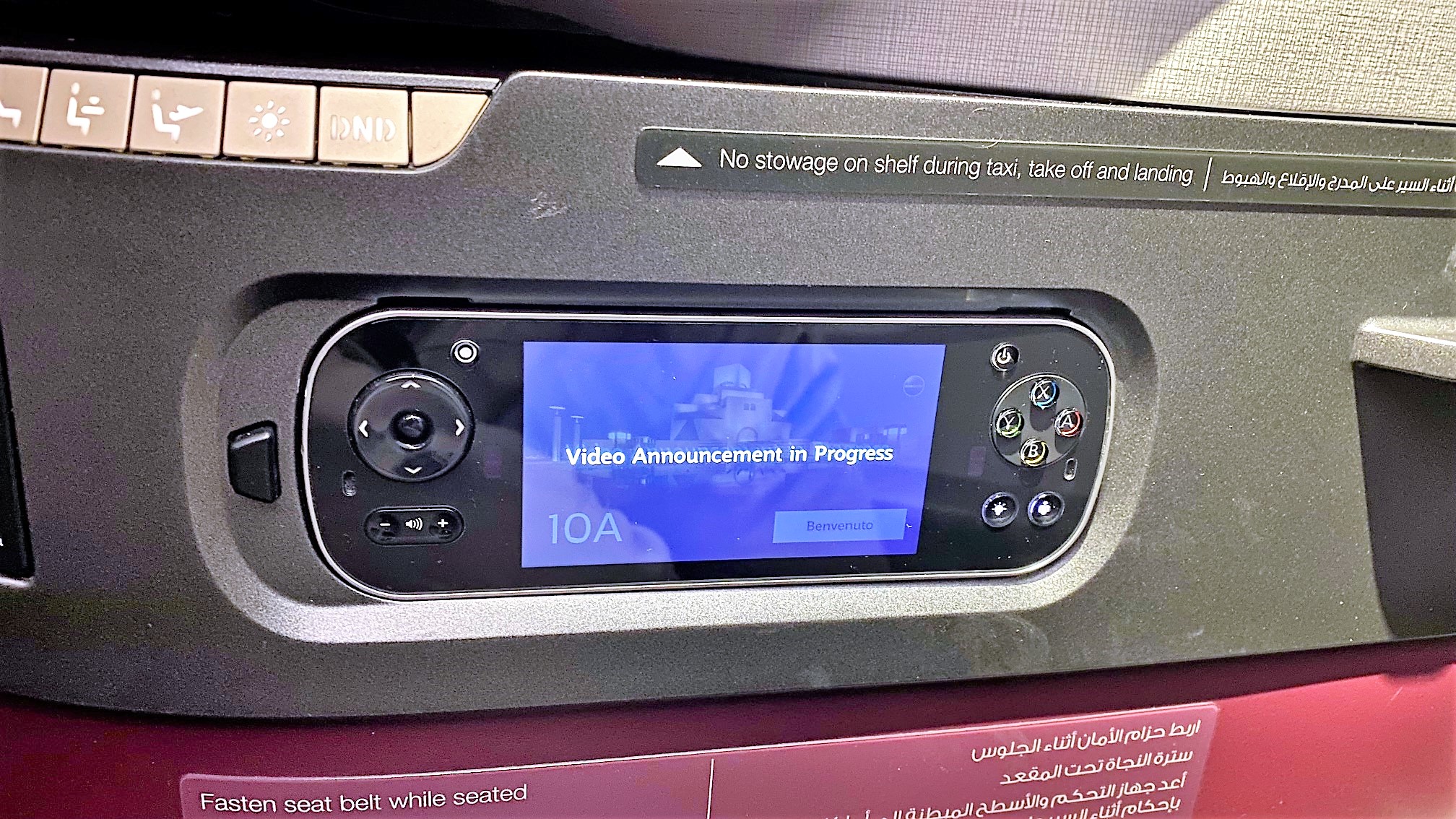 Hand held entertainment control device
Next to the seat, there was a reading light and an ottoman which could be used for storage. Inside, there was a bottle of water and Qatar Airways branded noise cancelling head phone.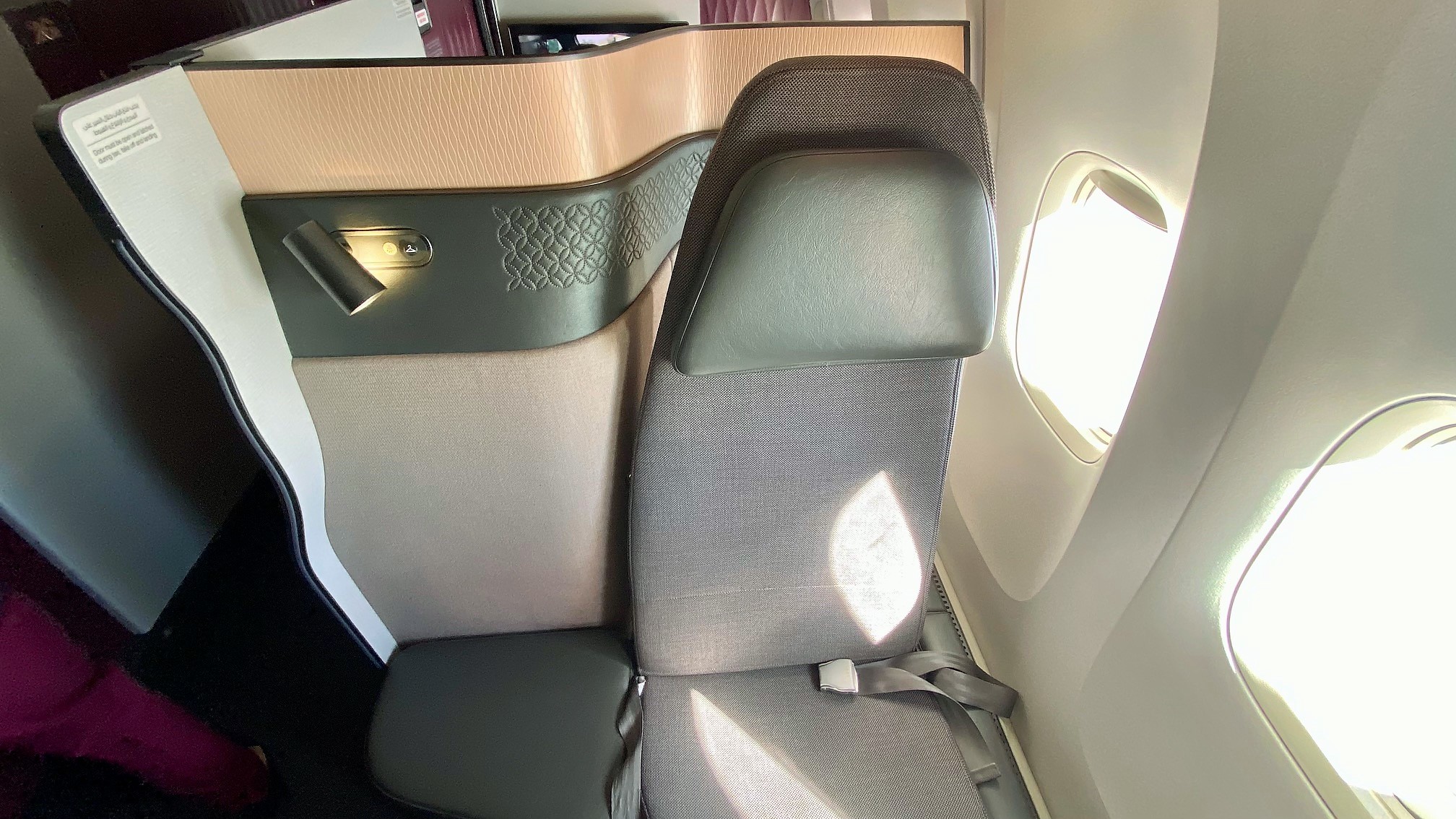 Reading Light, Qatar Airways Qsuites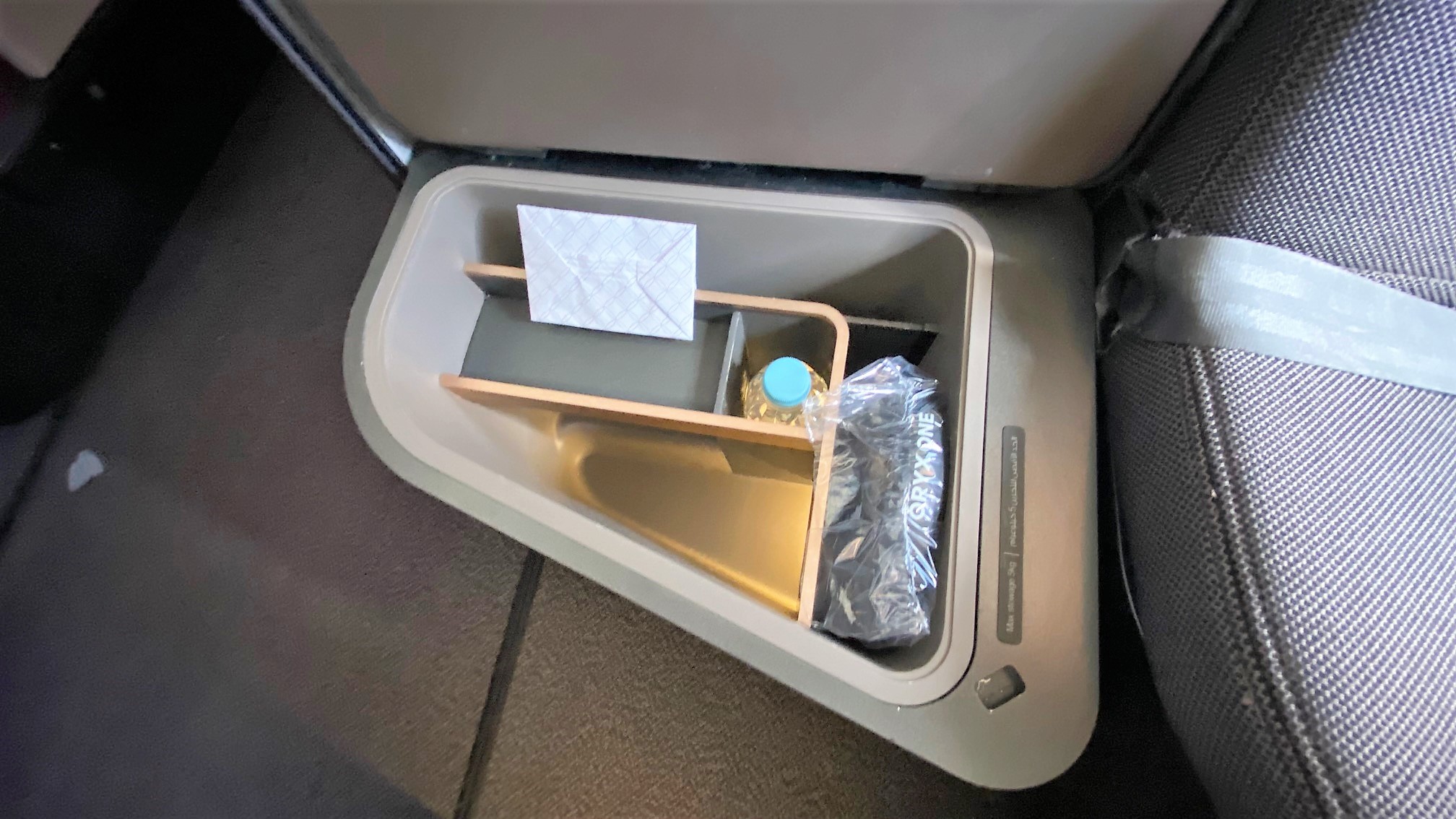 Ottoman, Qatar Airways Qsuites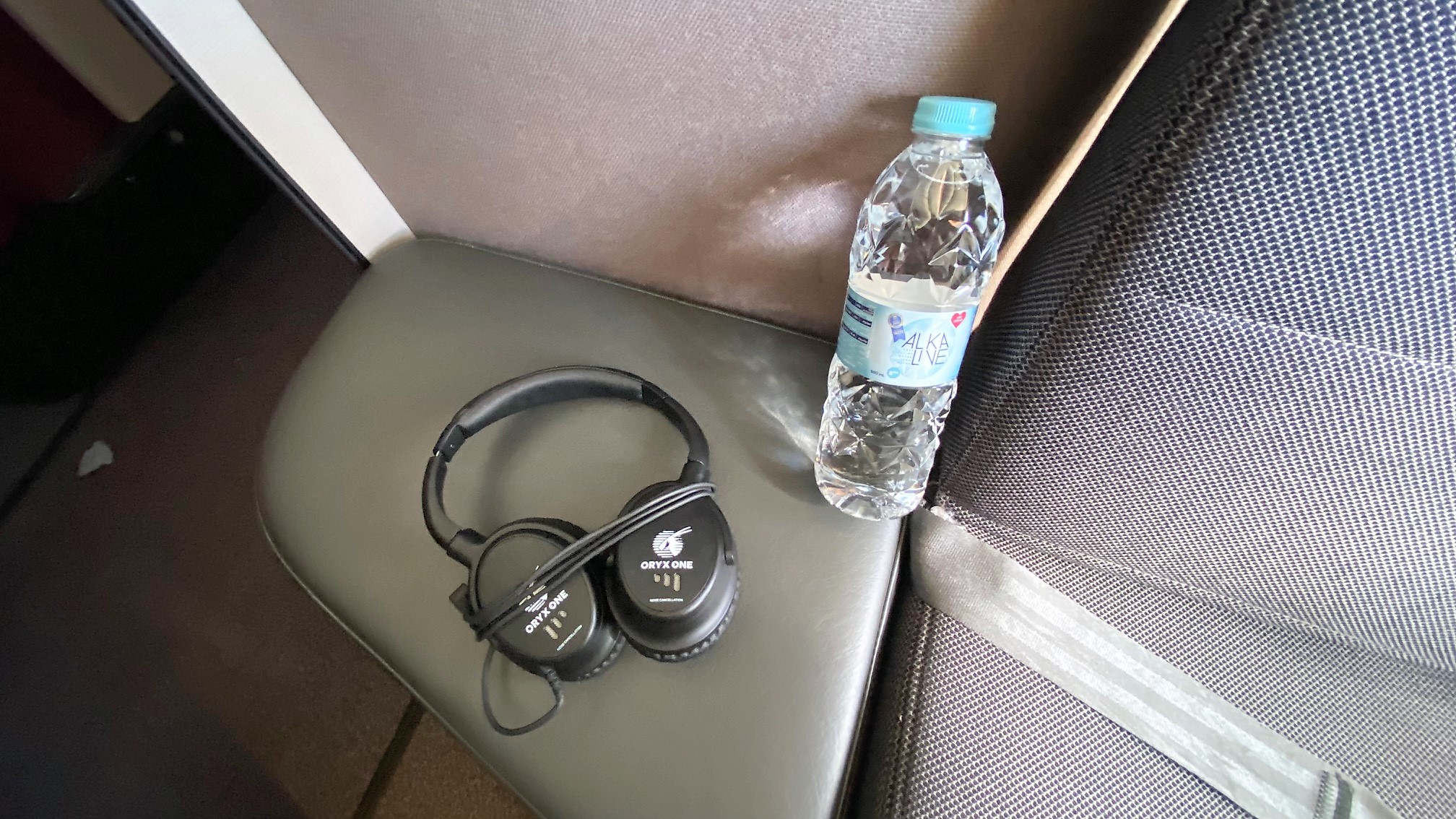 Water & Headphone, Qatar Airways Qsuites
When it is time to sleep, the seat extends into a lie-flat bed. I love the fact that Qatar Airways provides a quilted mattress pad over the seat for that extra level of comfort. These seemingly small gestures is what allows Qatar's sometimes controversial CEO Akbar Al Baker, dub Qsuites as First in Business. That is to say that it offers a First Class experience in a Business Class cabin.
In this position you are able to fully extend your legs, thanks to the extremely spacious footwell on the other end.
Sometimes, airlines tend to cut corners with this element of their business class seat which can restrict feet movement leaving them cramped. That is not the case at all with Qatar's Qsuites.
Qatar Airways also excel with their Qsuites bedding which comprises a small pillow (note the cute quote) and a larger plus pillow. The velvety blanket is class leading and something I would like to see other airlines emulate.
All up, this is the very best of business class seats out there.
While my bed was being made, I quickly went and checked out the lavatories. On B-777, guests in Qsuites have access to 2 large lavatories located between the forward and rear cabin. Then you have couple more right at the front of the plane.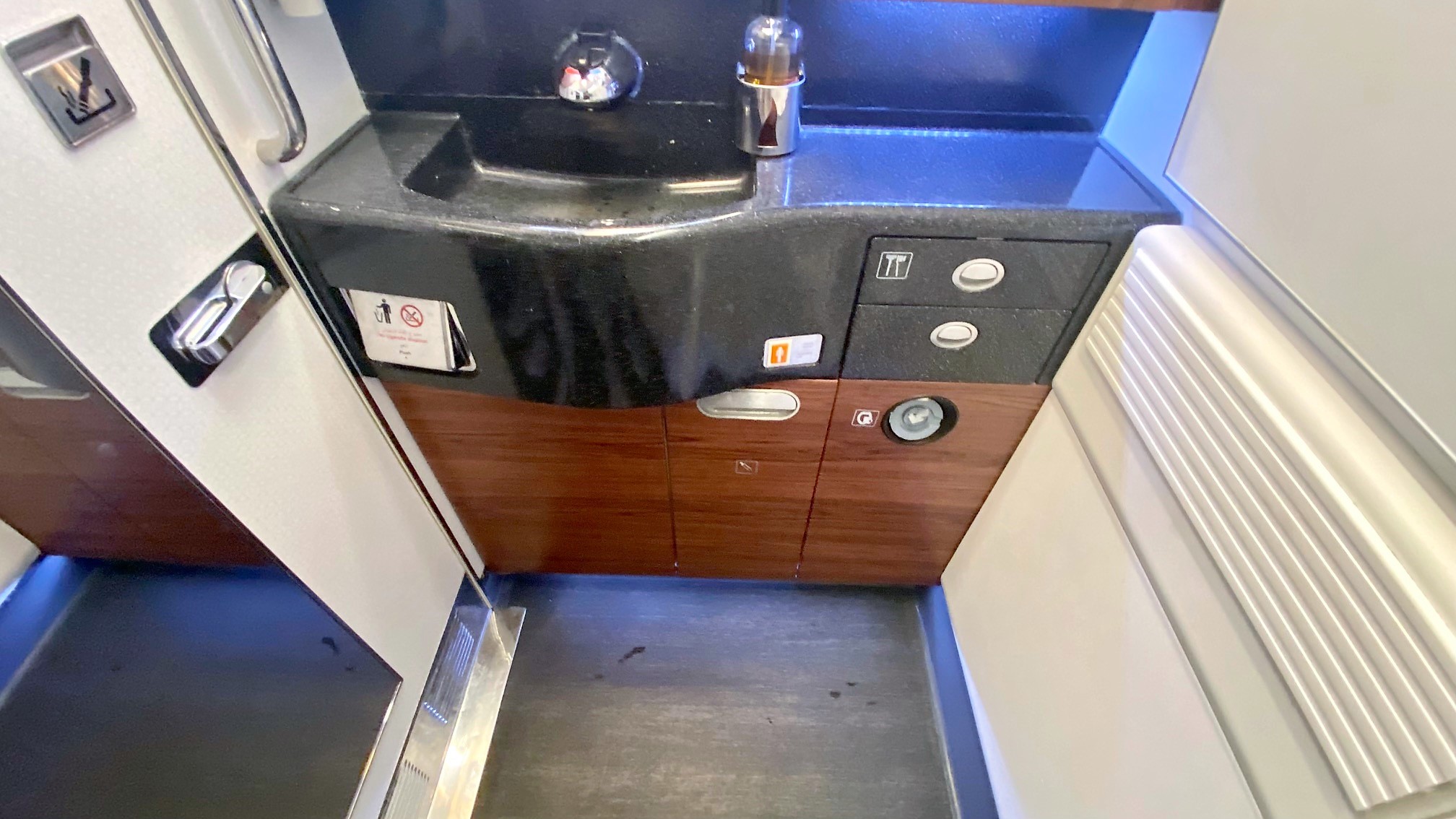 Qatar Airways Qsuites Lav
Not already are the lav's spacious, they are wiped and cleaned for the duration of the flight, possibly after each use which is incredibly important. I can remember more number of flights than I care (mainly in economy), where the lav's became so disgusting midway through that I preferred to hold it until the plane landed.
Dining
Within a minute or two of taking my seat, one of the crew members servicing business class cabin came around to welcome me onboard and inquire if I would like a pre-departure beverage and a hot or chilled towel. I asked for a glass of Bollinger Rose, 2006 and some still water. This was served with an assortment of warm nuts.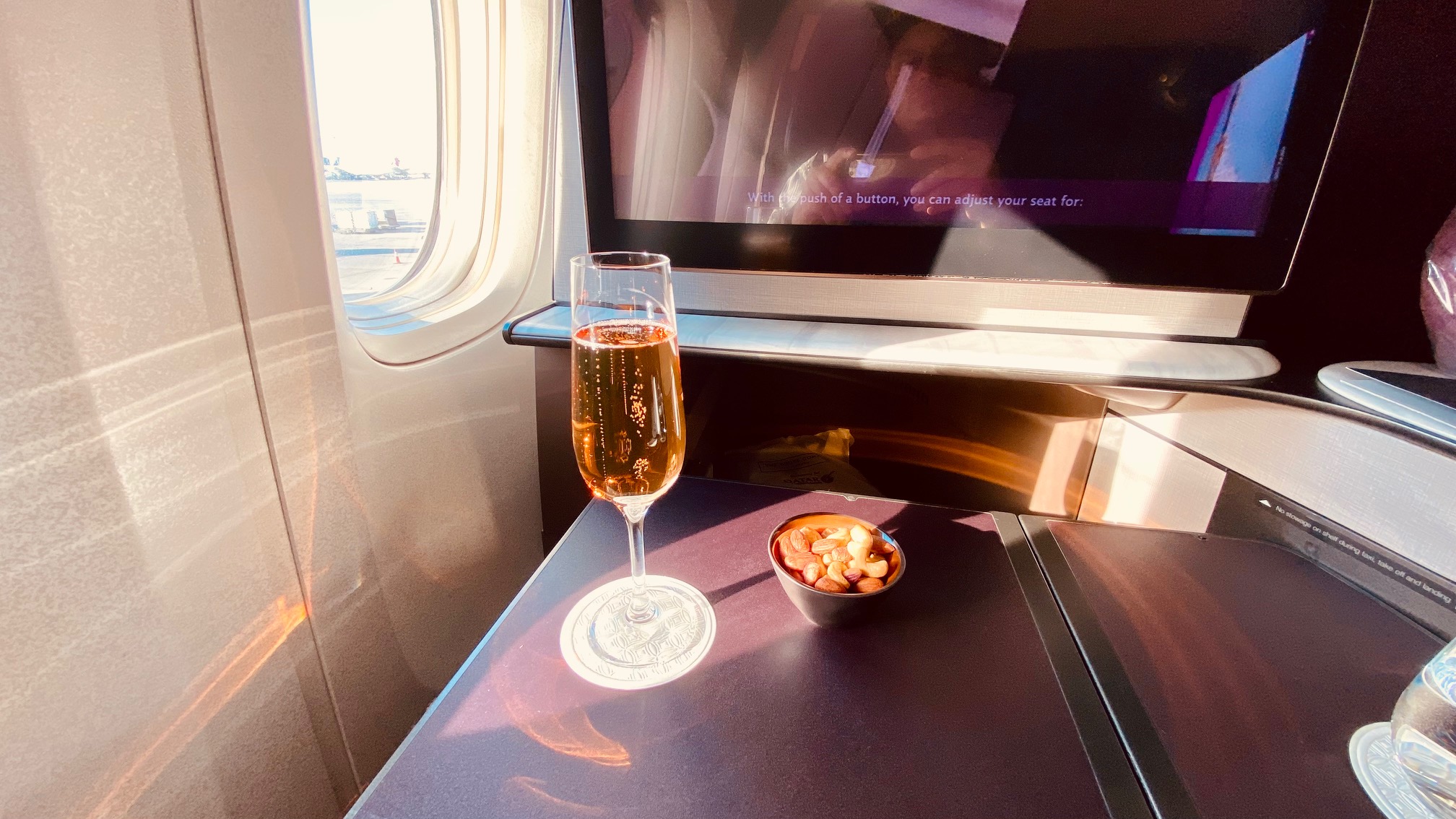 Qatar Airways pre-departure beverage & nuts
On the earlier flight from Sydney – Doha, I had tried Qatar's signature welcome drink, which was a spicy and lemony mint concoction. It came chilled and was thoroughly refreshing.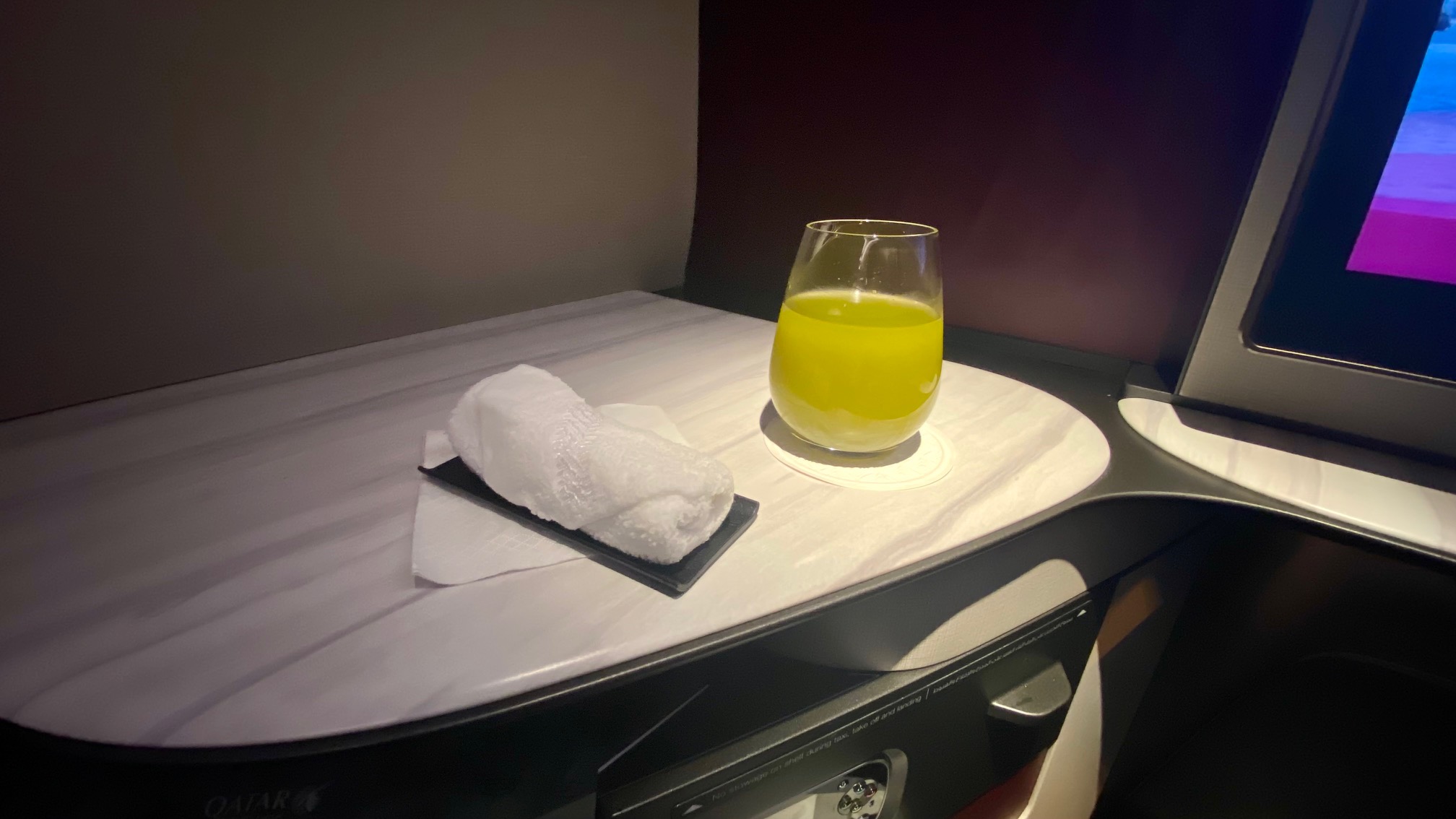 Qatar Airways Signature welcome drink
While the Rose was nice, I can imagine the lemon-mint being the popular choice in Qatar's hot & steamy weather.
The food and drinks menu were waiting on the seat. I will let the pictures speak for themselves.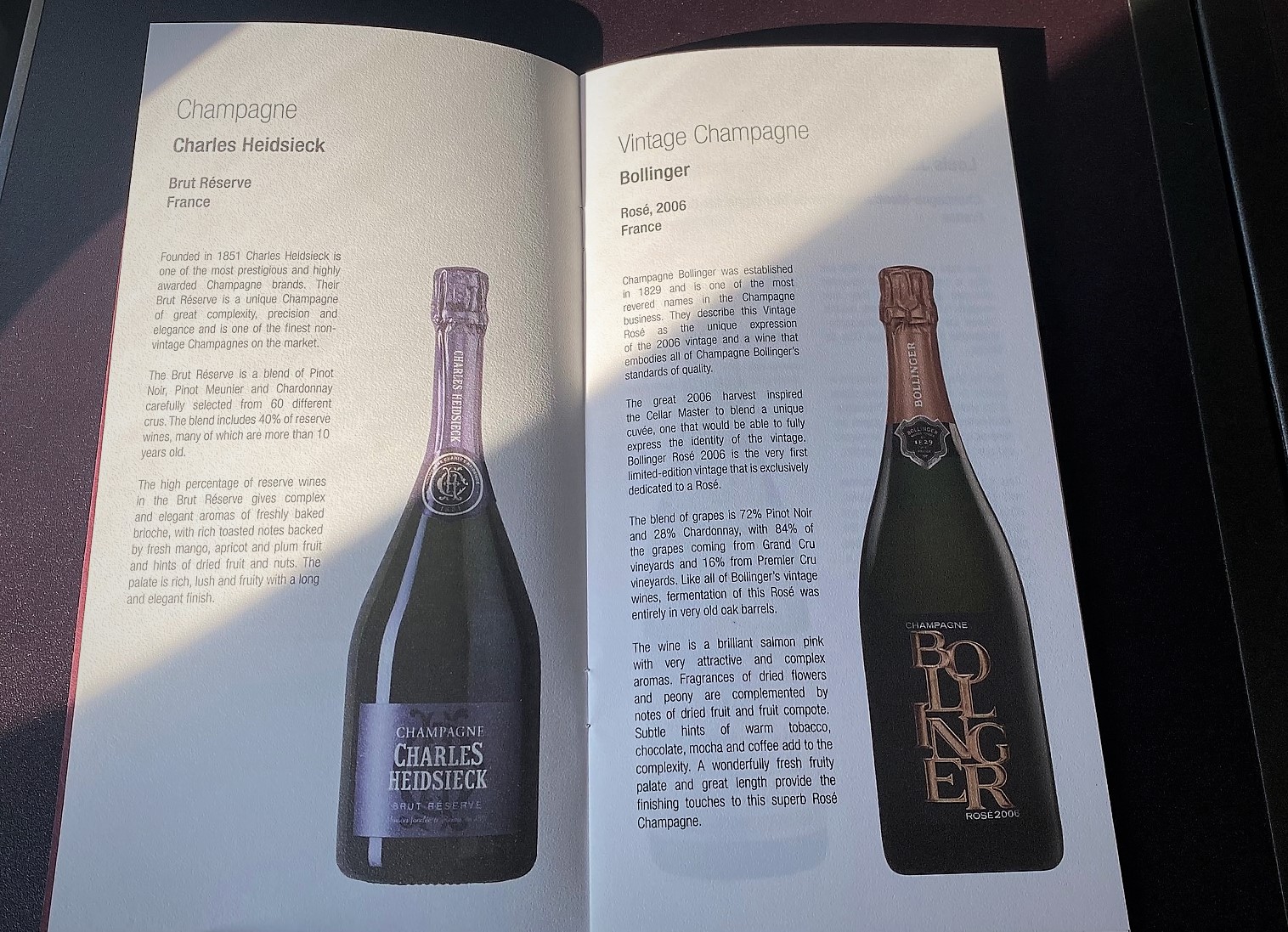 Qatar Airways Business Class Drinks Menu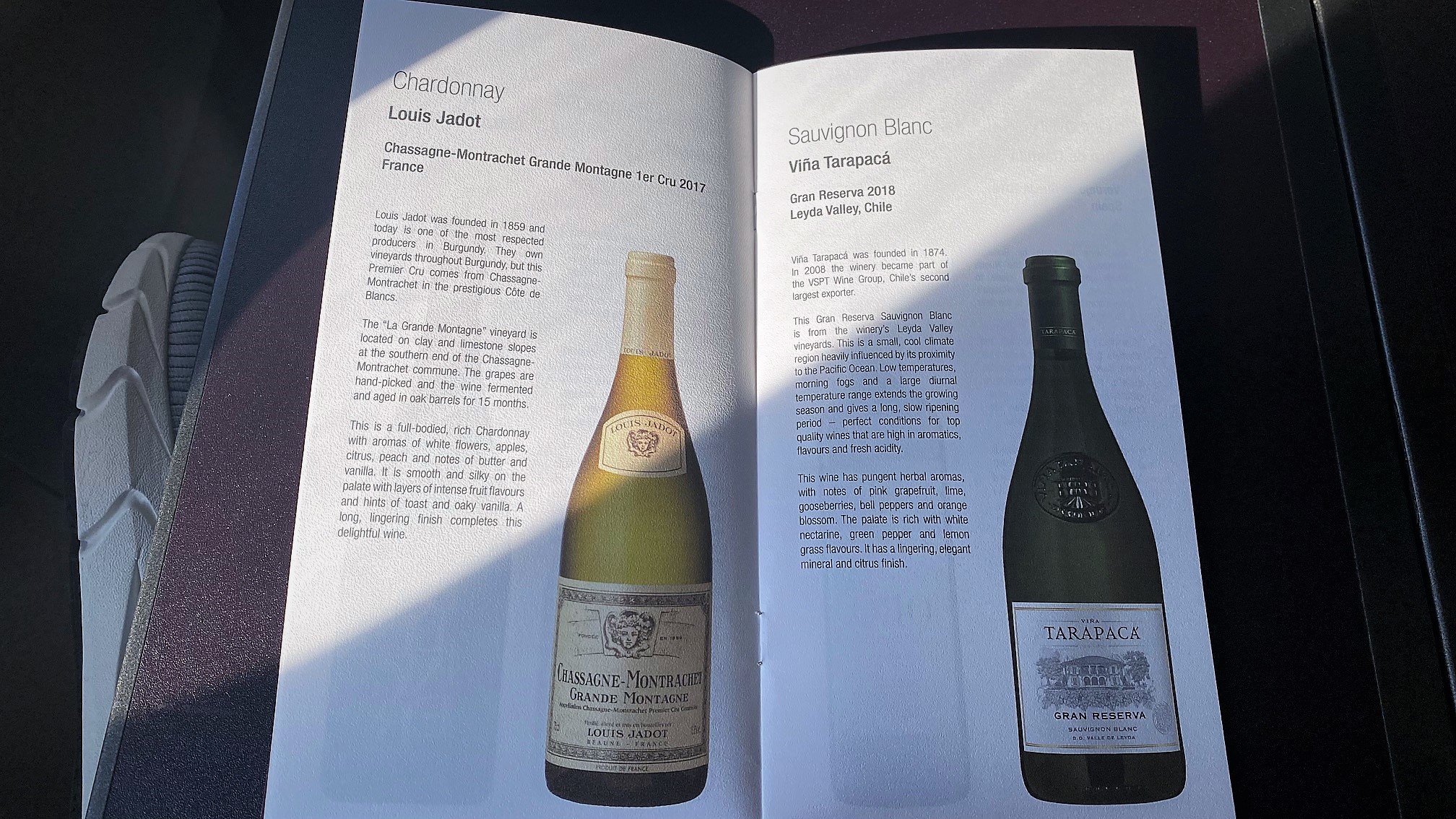 Qatar Airways Business Class Drinks Menu
Besides wine and champagne, the menu included all kinds of cocktails, beer and spirits.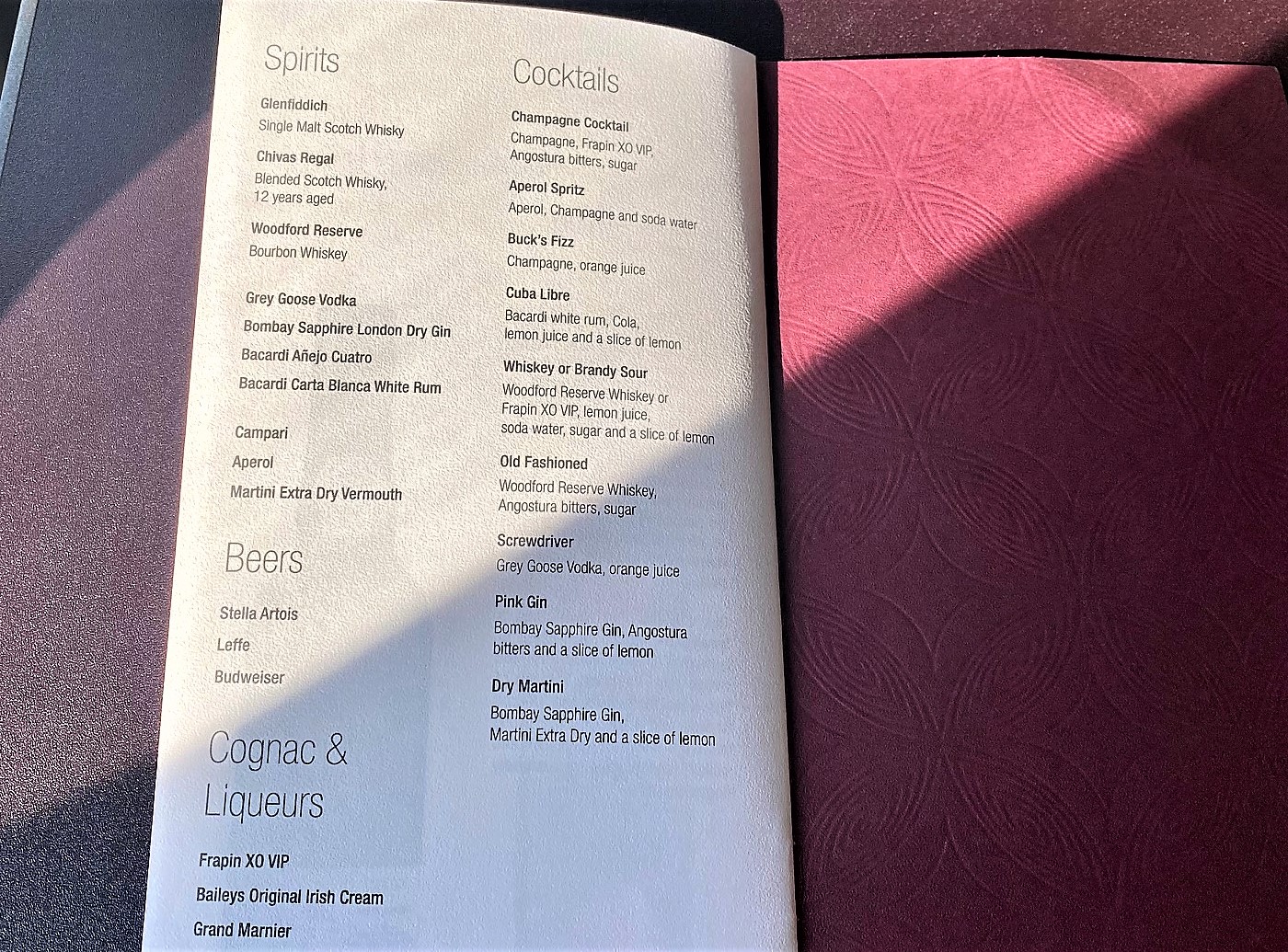 Qatar Airways Business Class Drinks Menu
And here is the food menu. Apologies for the poor picture quality.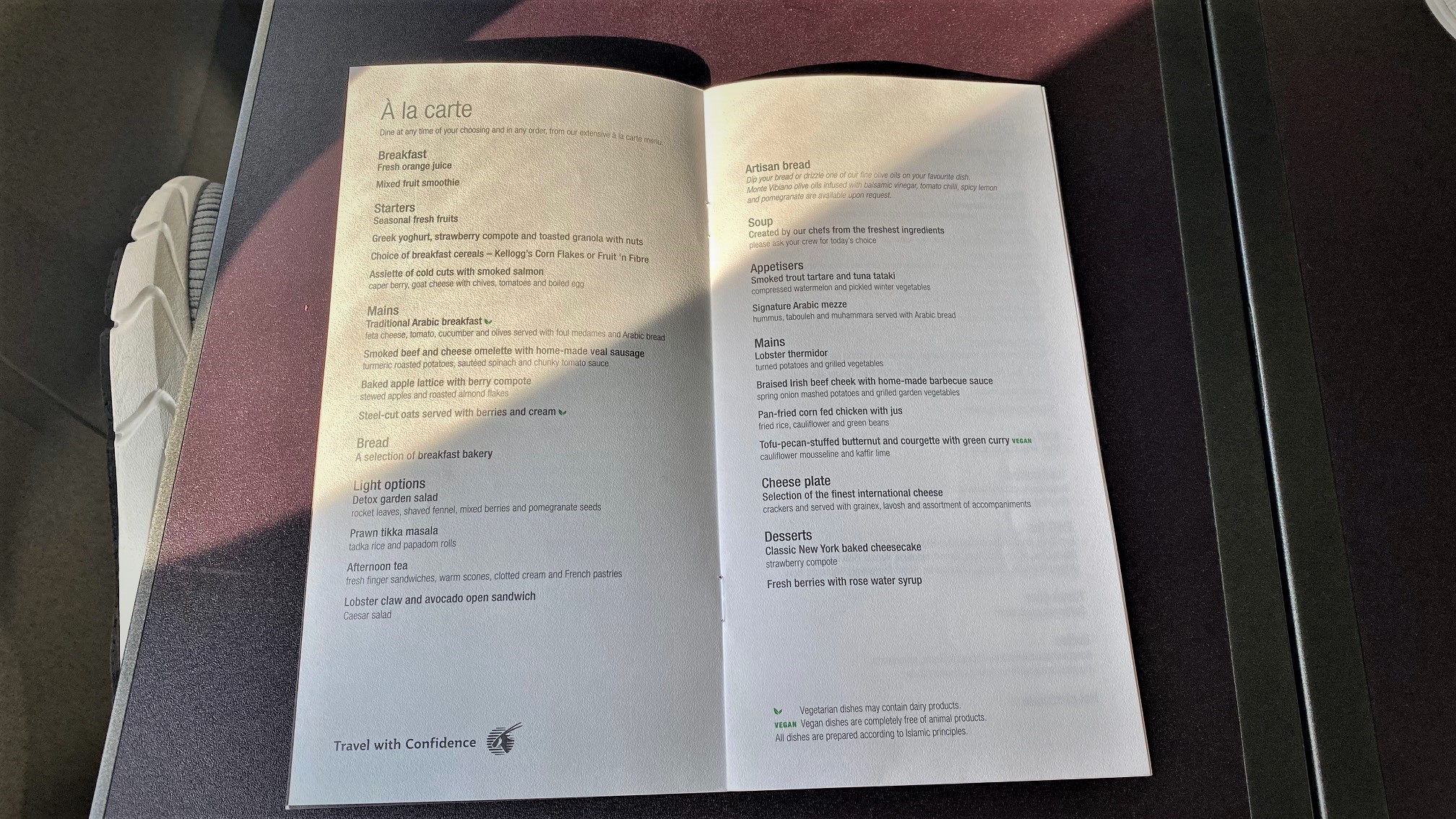 Qatar Airways Business Class Drinks Menu
When it comes to dining, Qatar Airways offers business class passengers the ability to Dine-On-Demand. What this means is that unlike other airlines that serve meals at set times and in accordance with the time of the day, guests in Qsuites can eat what they want and when they want.
Let's say you are on a dinner time flight but craving something from the breakfast menu. No problem, just let the crew know and they will bring it to you.
About 2 hours after take-off, I felt a little hungry and ordered the Prawn tikka masala and some orange juice. It came with a croissant on the side.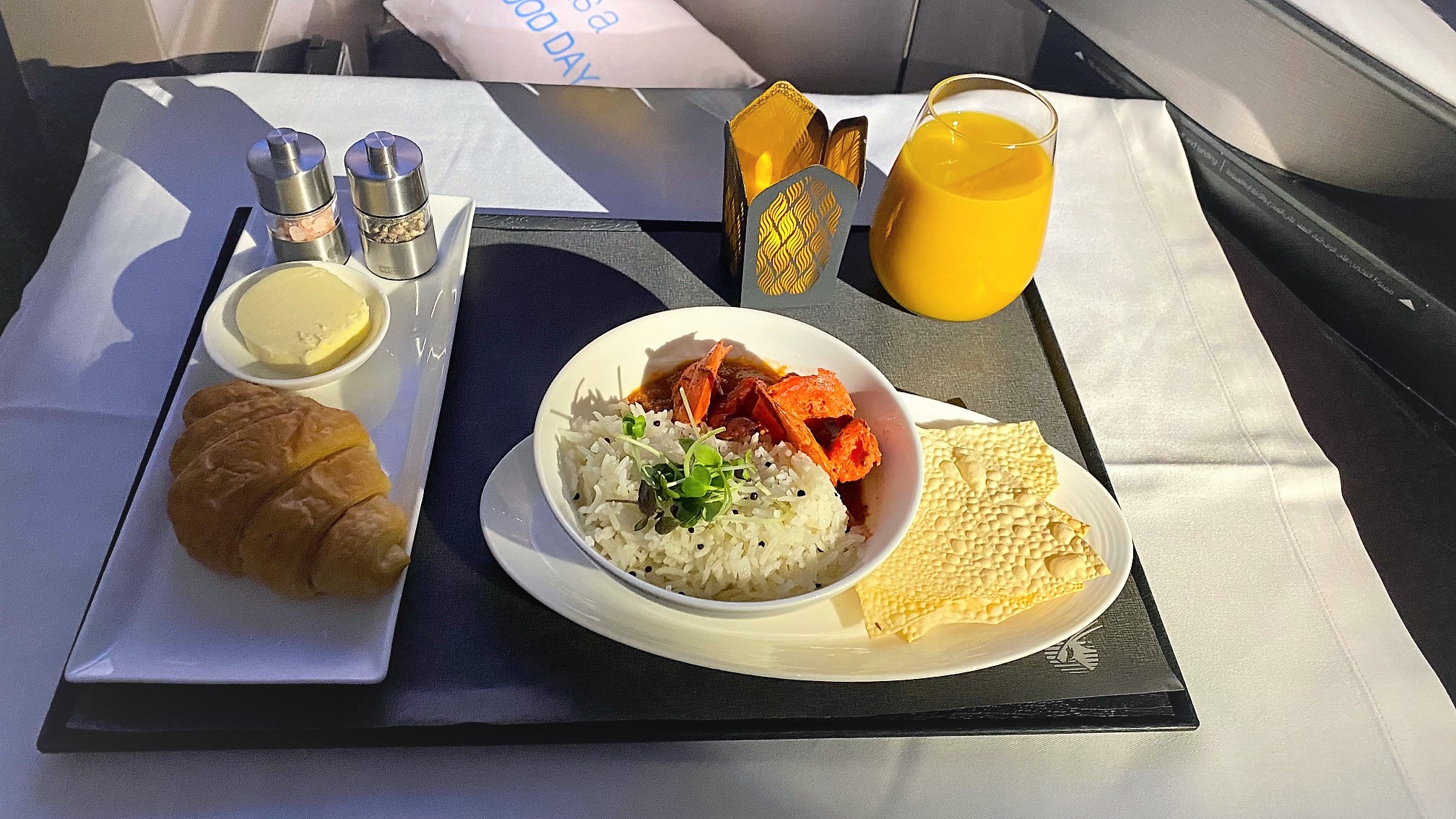 Qatar Airways Business Class Meal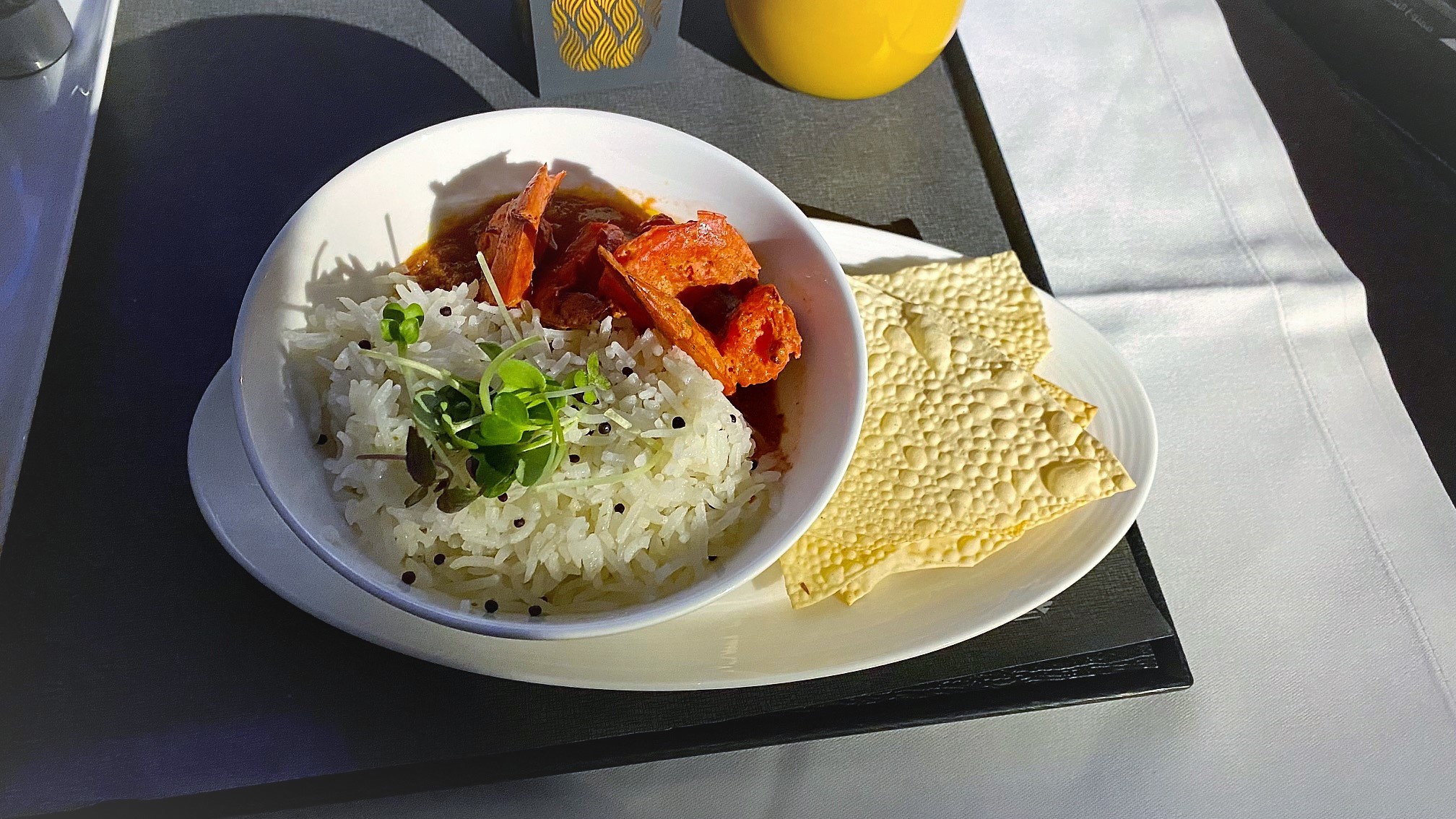 Qatar Airways Business Class Meal
The pawns were slightly dry but otherwise delicious.
Then about 2 hours before arrival into New York, I ordered my second, more substantial meal of Lobster Thermidor which came with roasted potatoes and vegetables and a side of mixed bread roll. This was quite disappointing.
The lobster tail only had a few small pieces of meat and the bread roll was cold and inedible.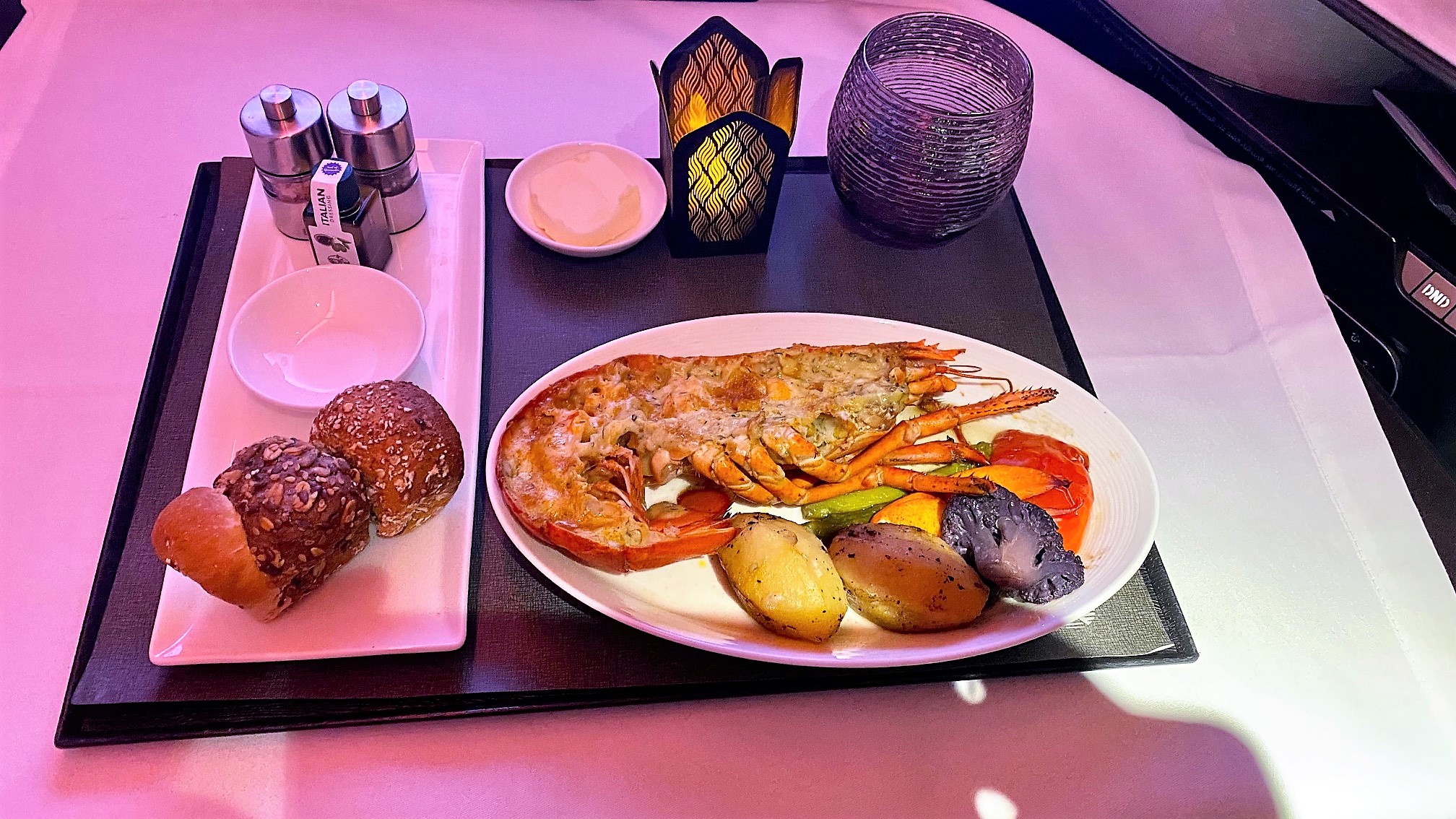 Qatar Airways Business Class Meal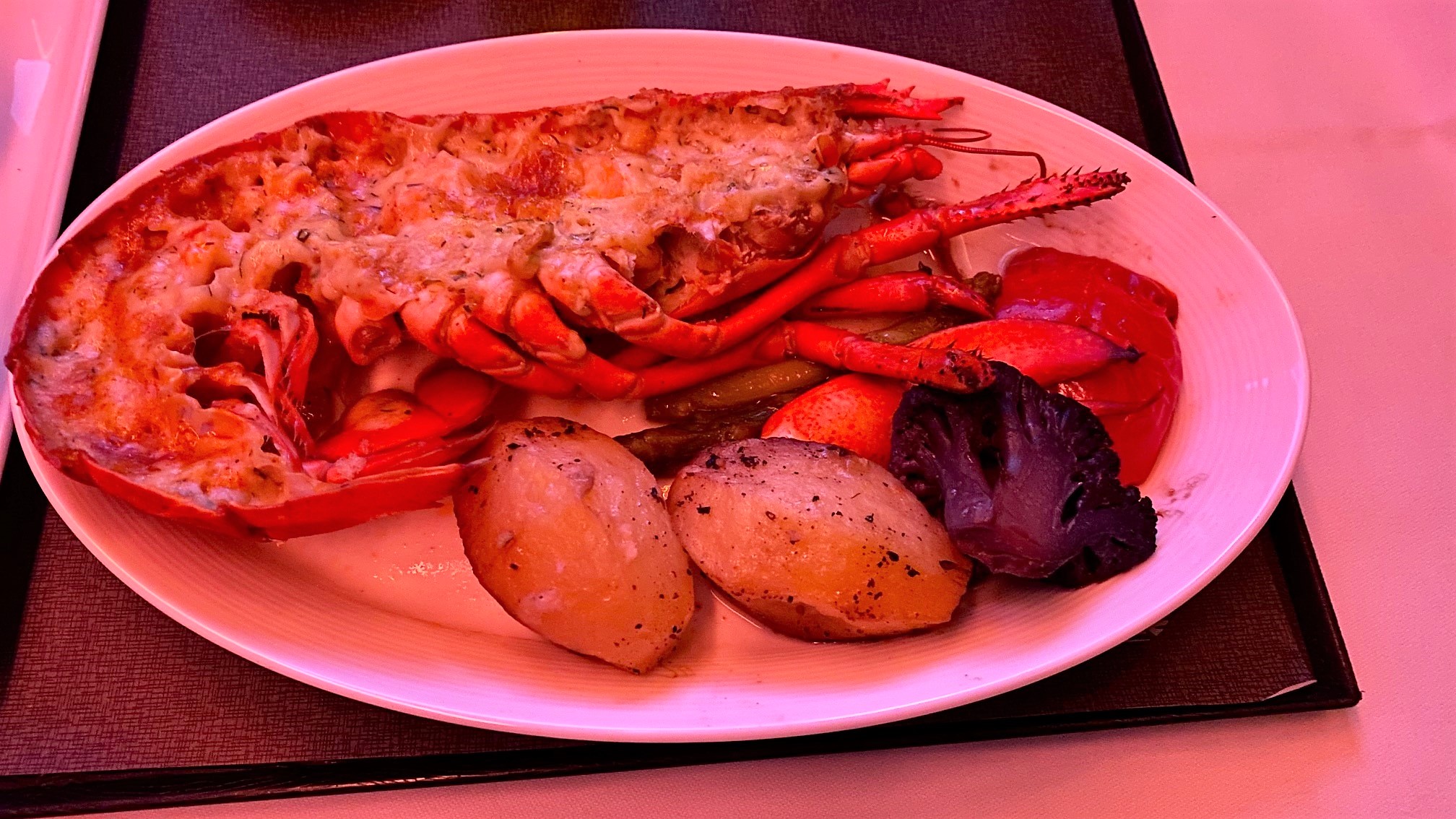 Qatar Airways Business Class Meal
I also ordered the greek yogurt and a So Jenny to go with my meal which were nice.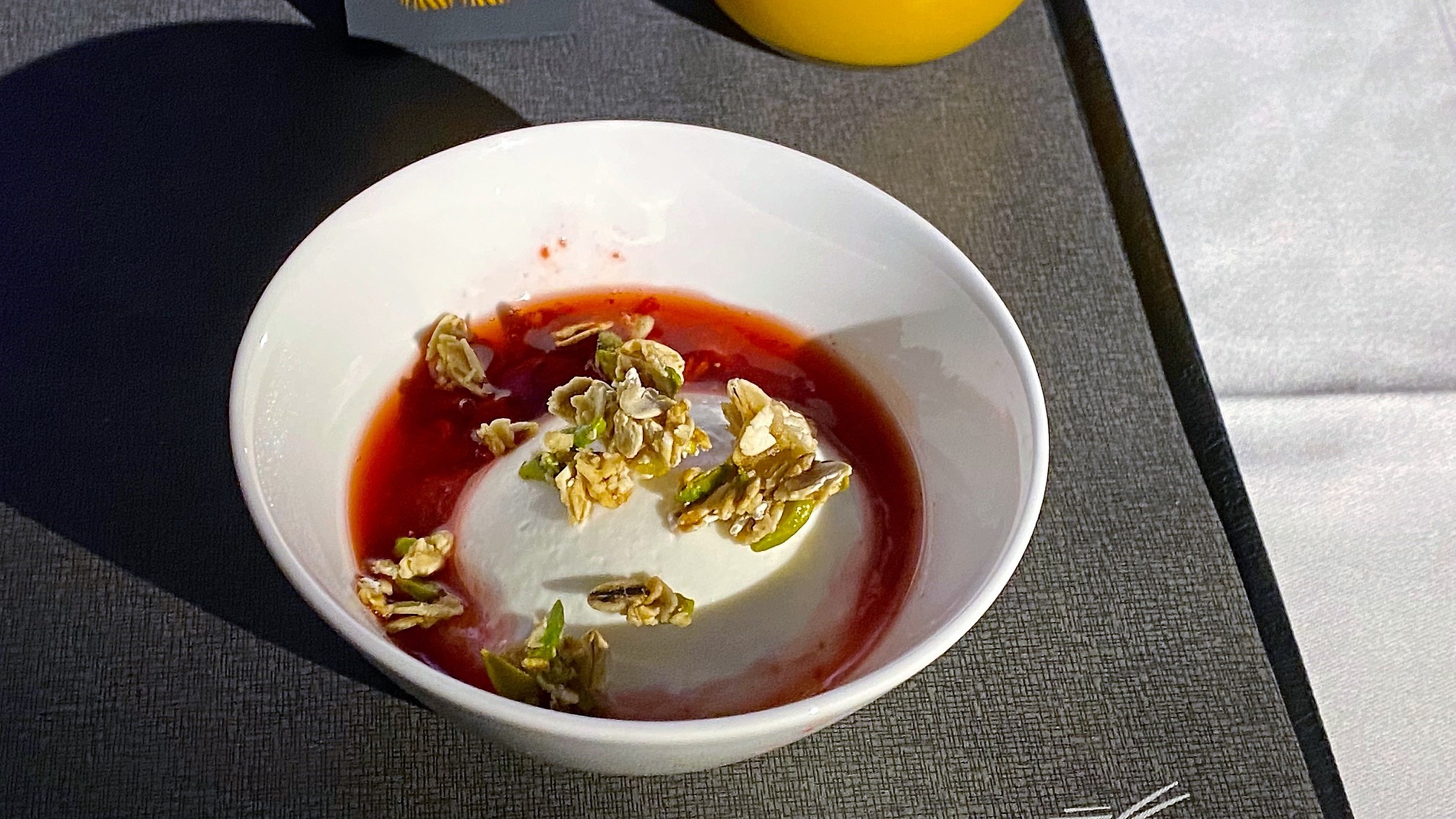 Qatar Airways Business Class Meal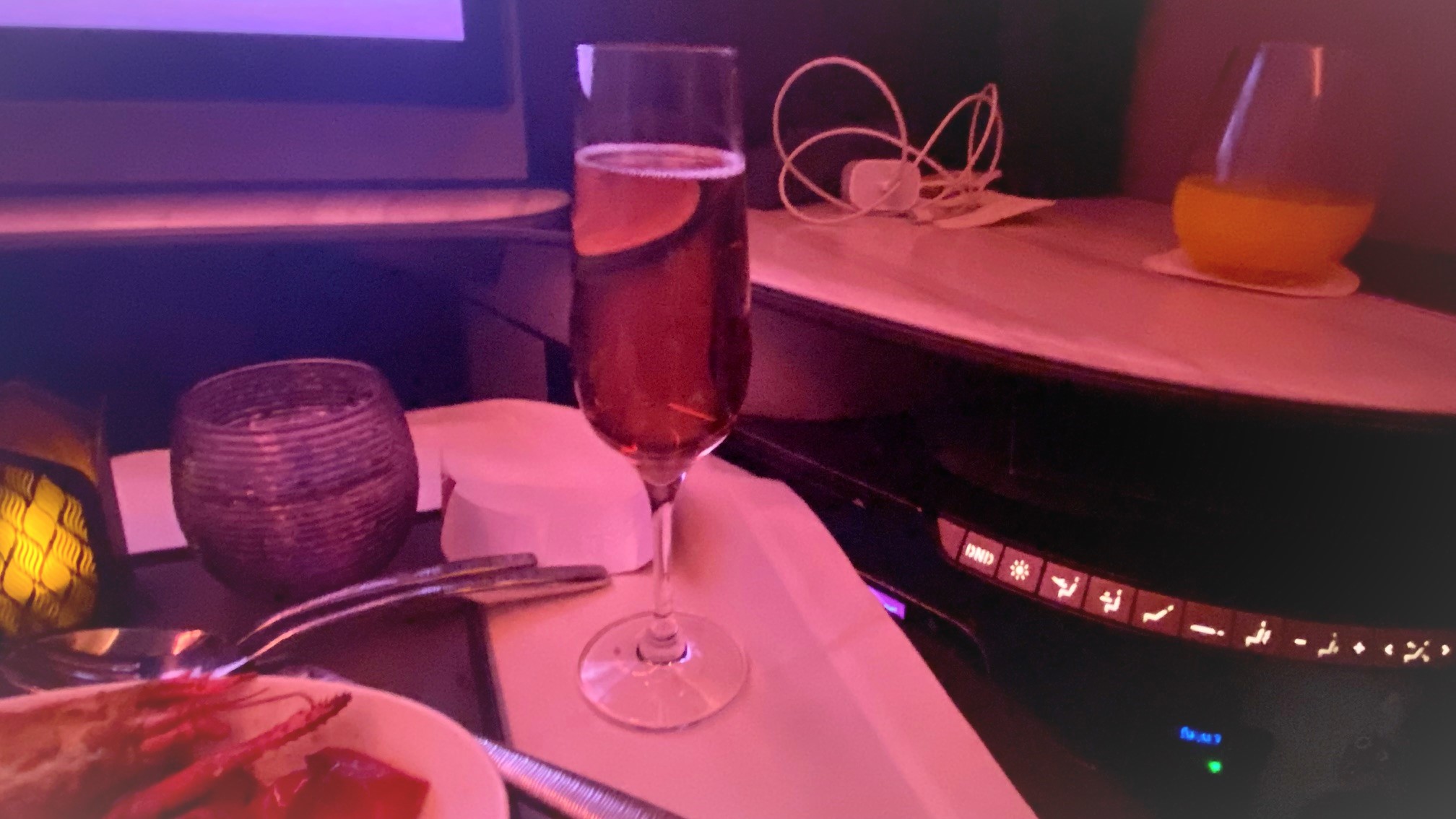 Qatar Airways Business Class Meal
On my earlier Sydney – Doha flight, I had sampled Qatar's signature Arabic mezze,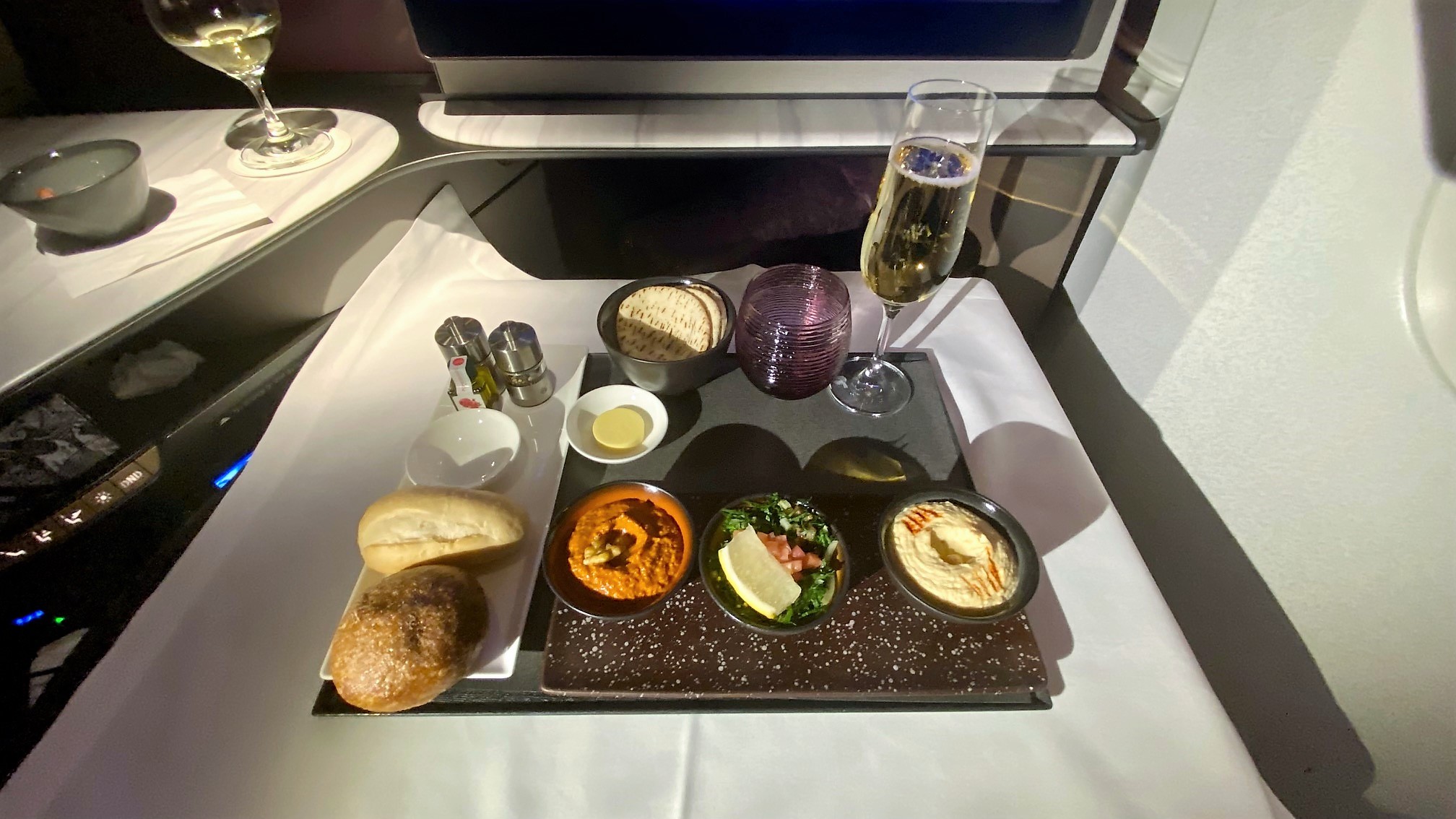 Qatar Airways Business Class Meal
and the Afternoon Tea serving which came with fresh finger sandwiches, warm scones, clotted cream and French pastries.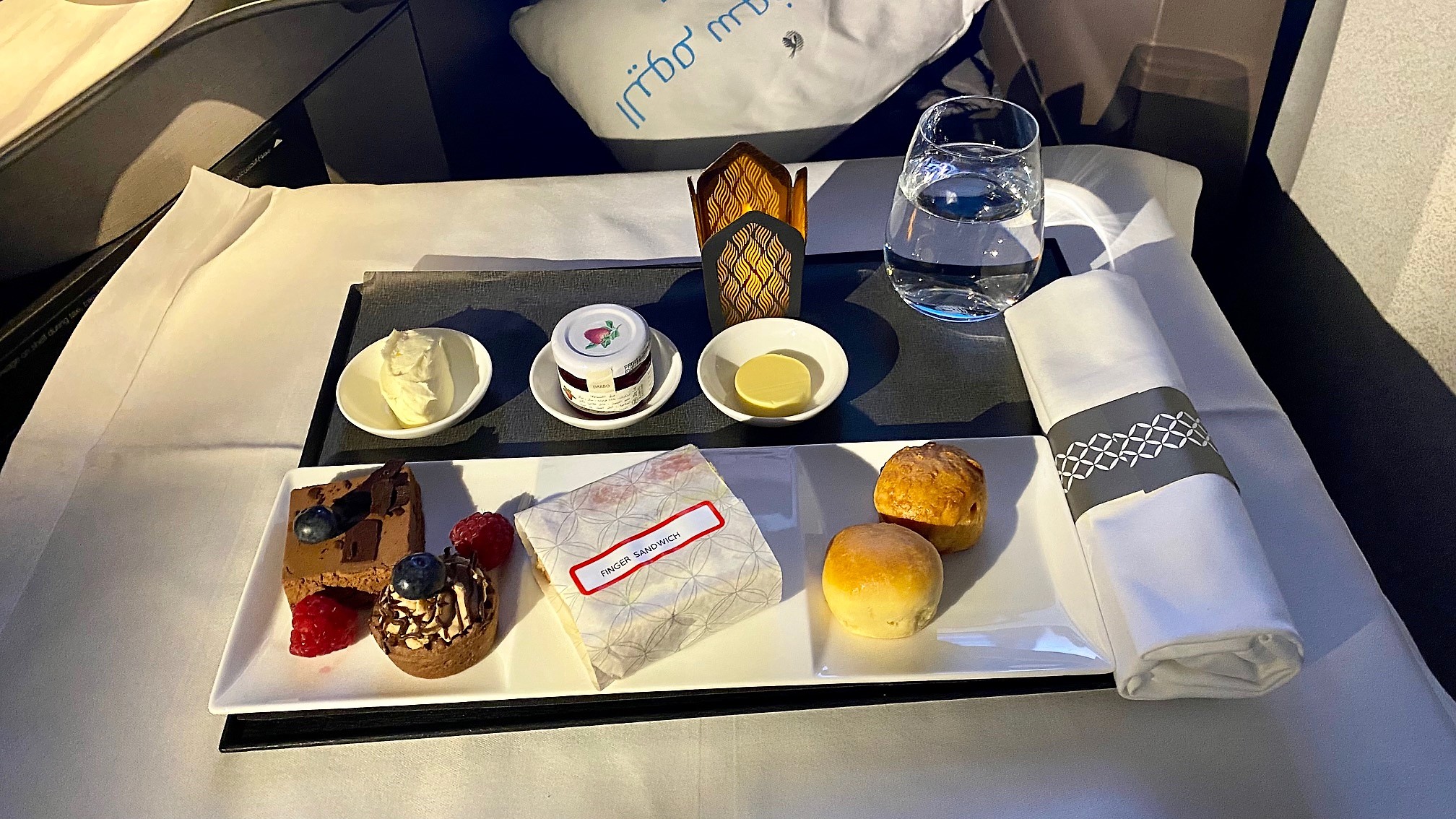 Qatar Airways Business Class Meal
About 45 minutes prior to arrival into New York, the cabin crew went around and thanked each guest for flying Qatar Airways, a small box of chocolate was also handed out which was nice.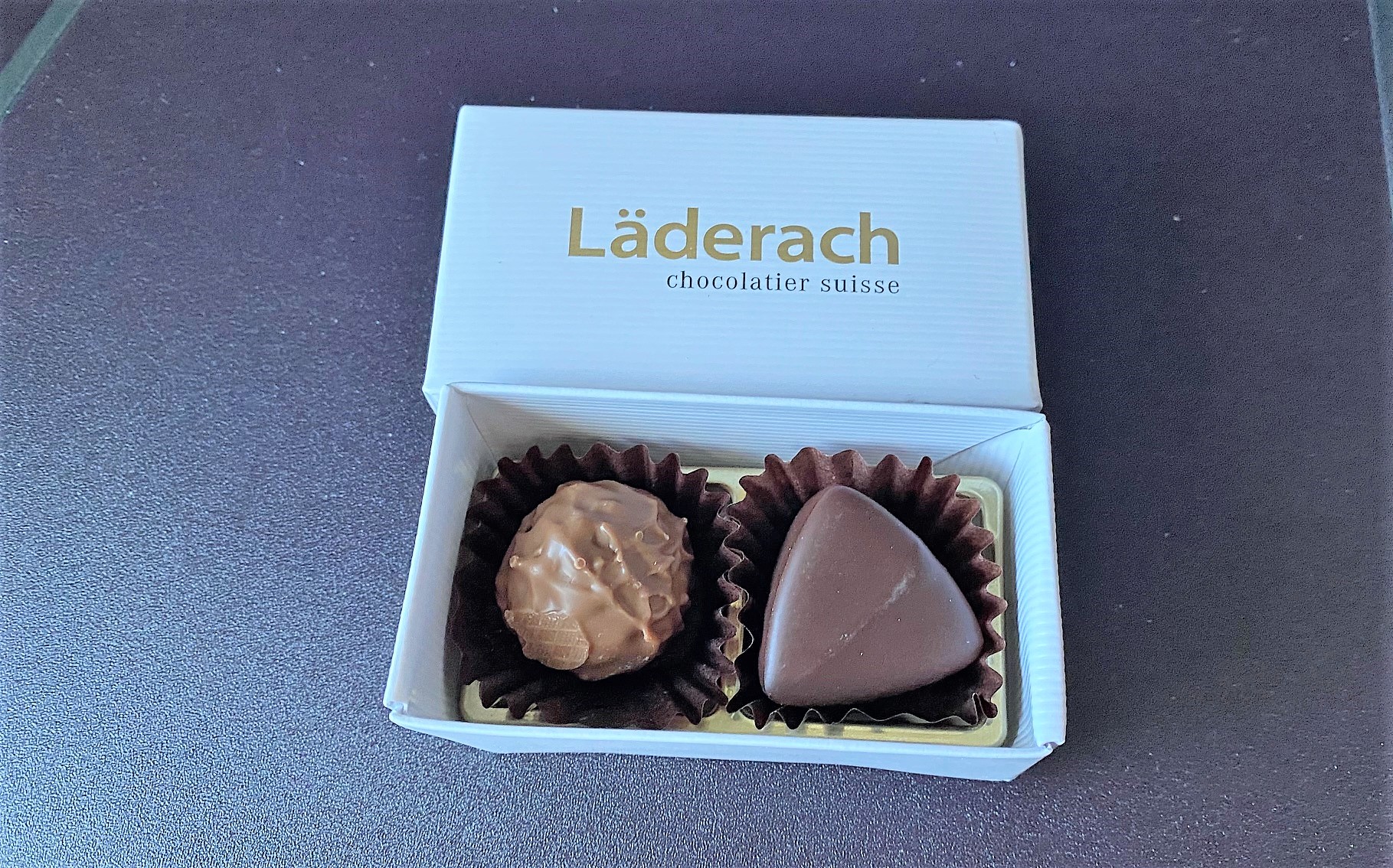 Qatar Airways Business Class Chocolates
Out of everything I tasted across both flights, the Afternoon Tea was a stand out and I highly recommend you give it a go next time you fly Qatar.
The rest of the dishes range from ok to disappointing, which I must admit was not unexpected. While Qatar Airways offer a wide variety of food and drinks options, I have found the taste and quality to be inconsistent over the years.
Amenities
In Quites, Qatar Airways offers guests an amenity kit as well as Pyjama's. The kits are distributed by the cabin crew before boarding commences, so you will generally find them waiting on your seat when you first board. In addition, there was also a Protective kit on my seat which contained items such as masks and wipes.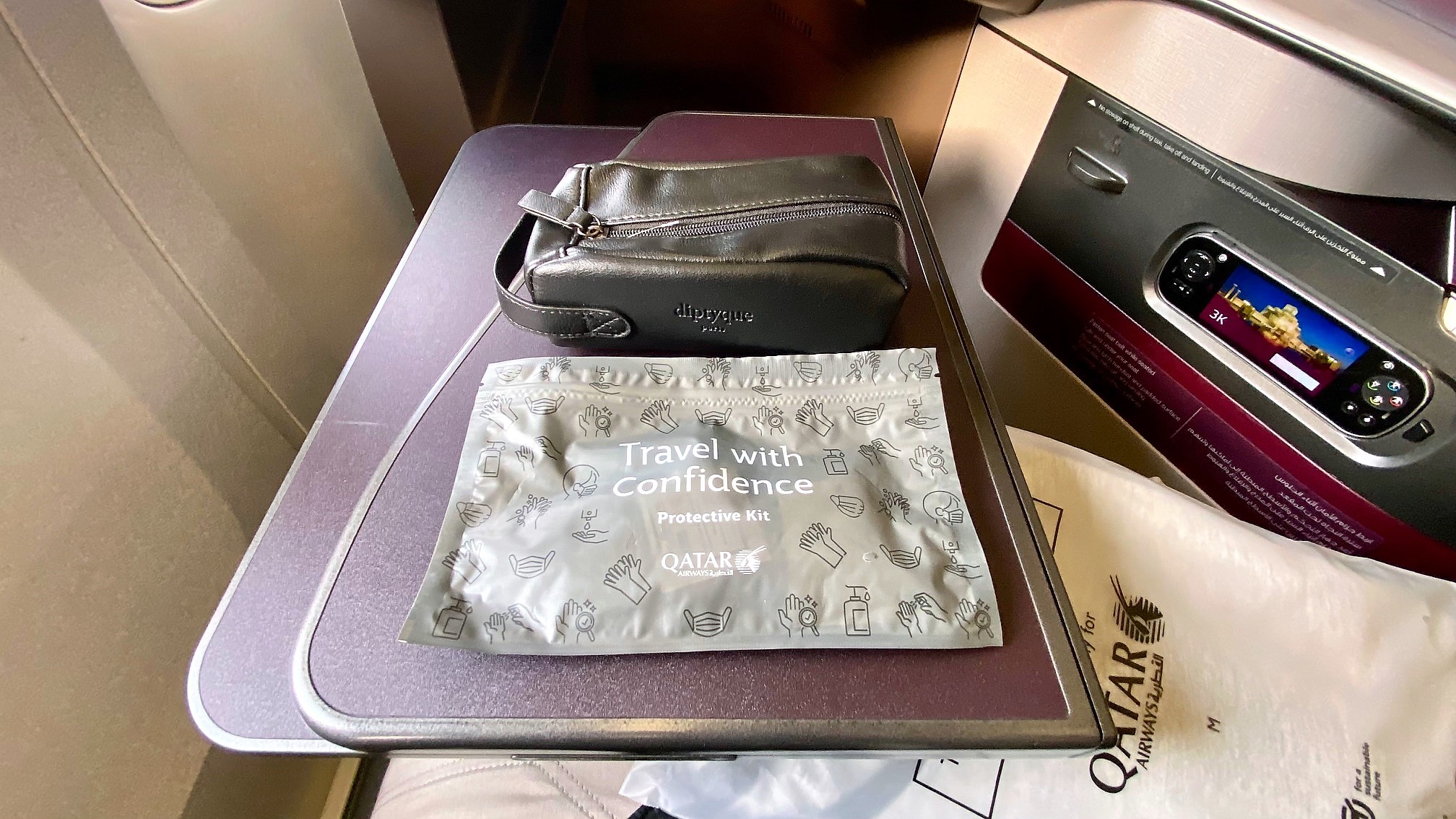 Qatar Airways Business Class Amenity & Protective kit
The personal amenity kit was from Diptyque, a high-end French brand. It was packed with an eye shade, pair of socks and all kinds of creams and lotions as you can see below.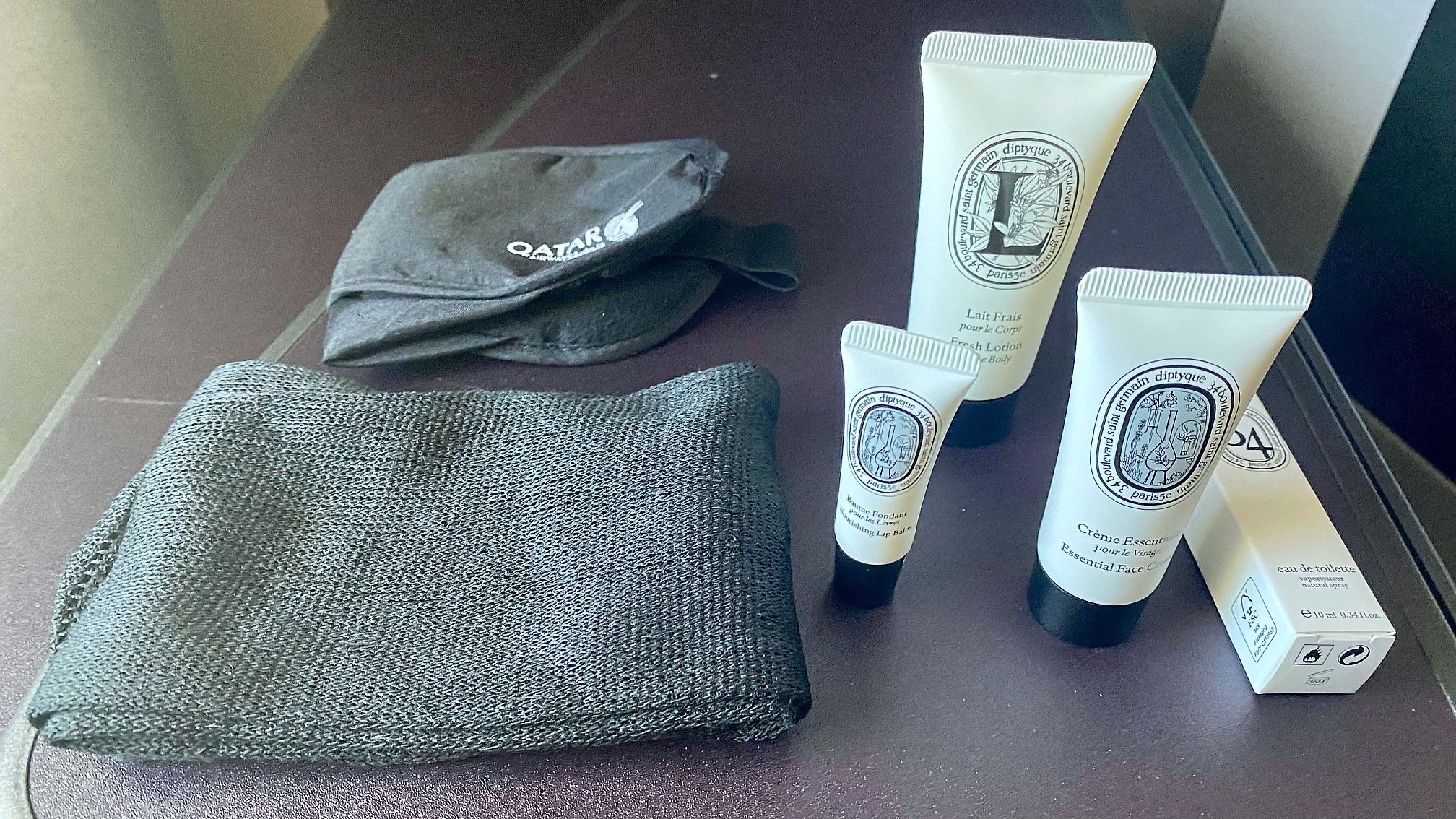 Qatar Airways Business Class Amenity kit
The Pyjama's were from The White Company, a UK based company that manufactures sleepwear amongst many other things.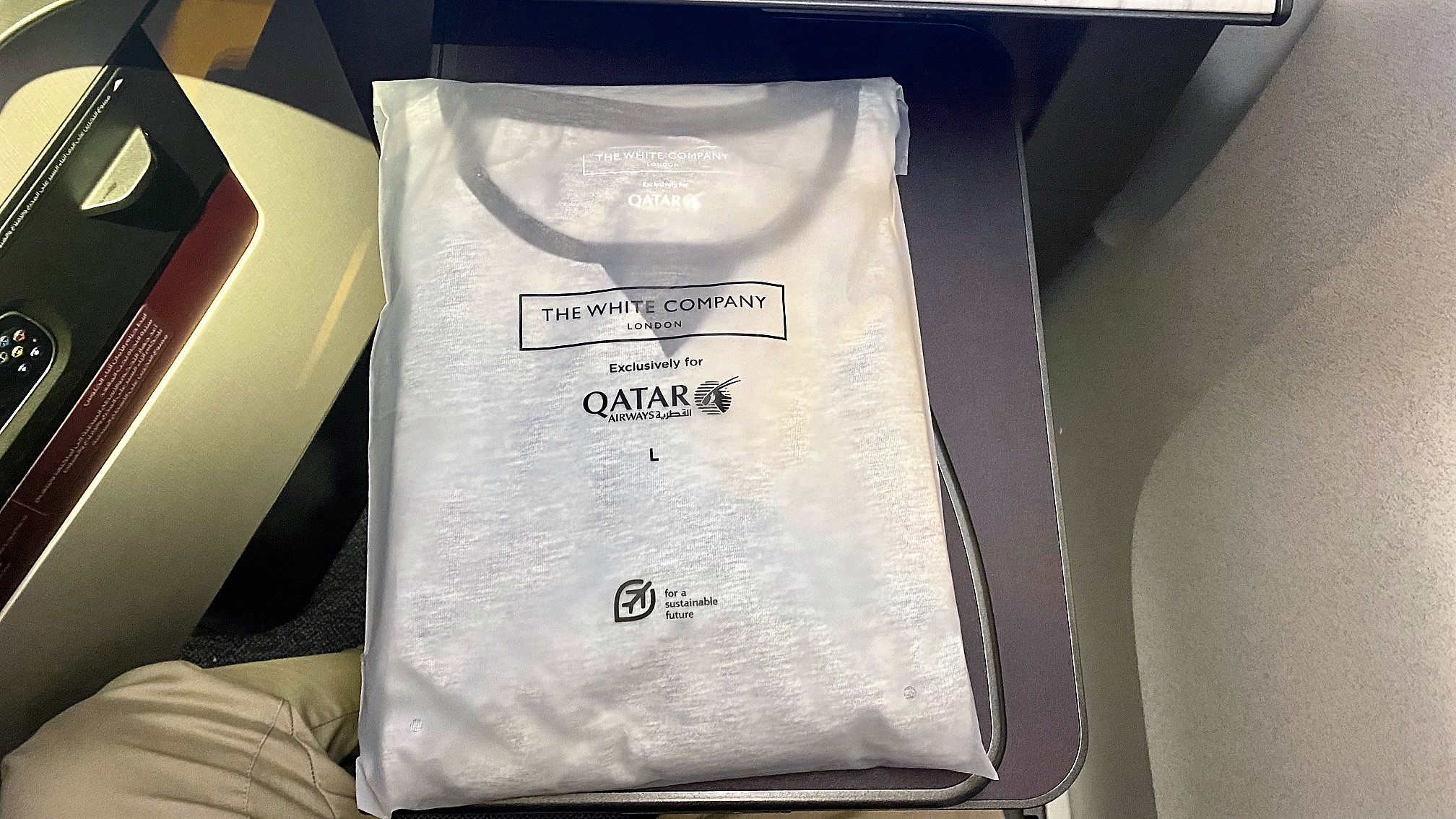 Qatar Airways Business Class Sleepwear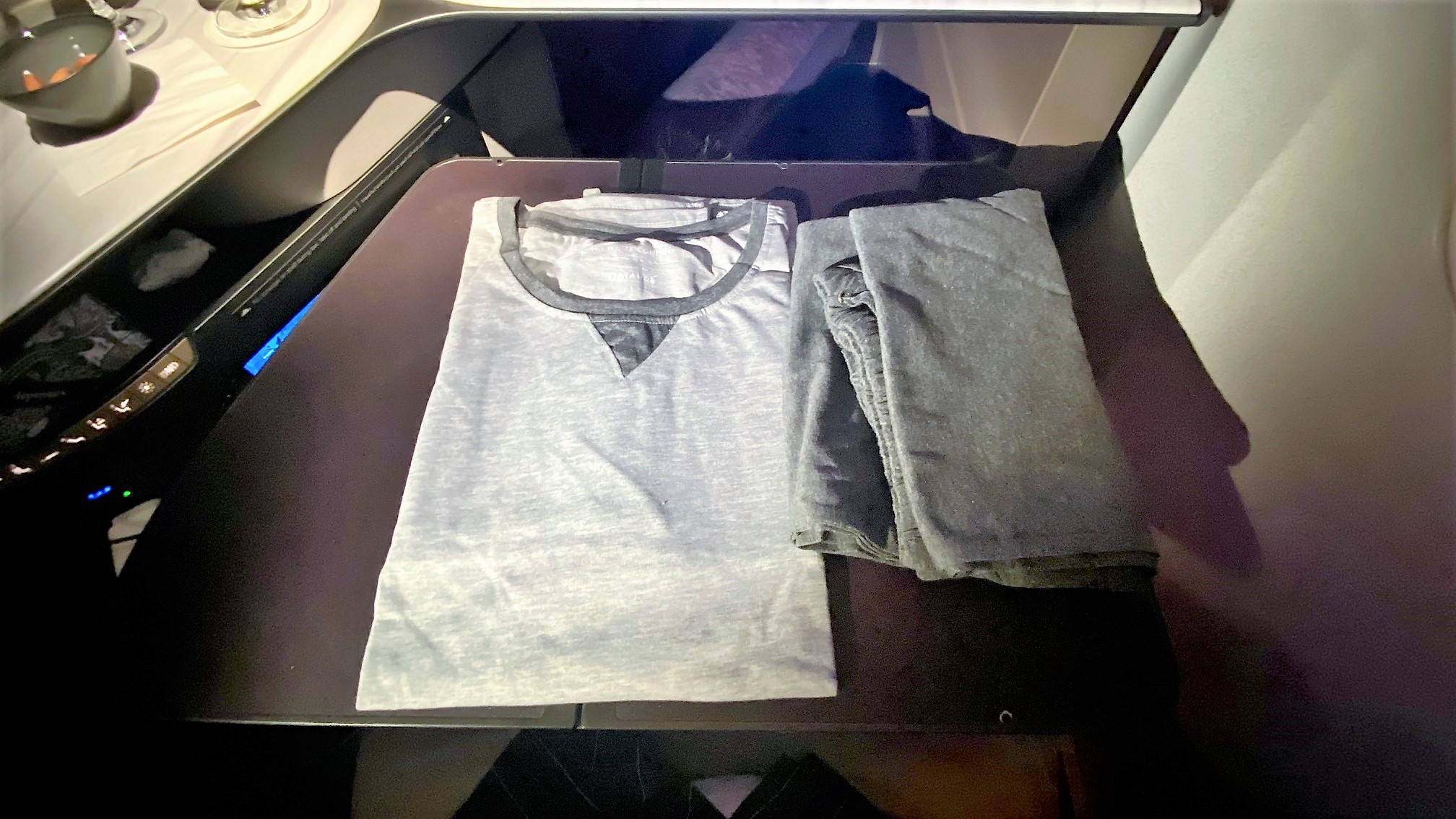 Qatar Airways Business Class Sleepwear
I have always loved Qatar's PJ's and managed to collect some half a dozen of them over the years, so I might have to start thinking about donating a few 😉
One thing I should point out is that while PJ's were proactively offered on Doha – New York flight, I had to actually request them on Sydney – Doha flight which I thought was a little strange considering the latter was a late night flight where people were most likely to use them.
In Flight Entertainment & wifi
Qatar Airways employ Oryx One entertainment system on their planes which is amongst the very best, possibly only behind Emirates. From Movies to TV shows to Games there is something for everyone.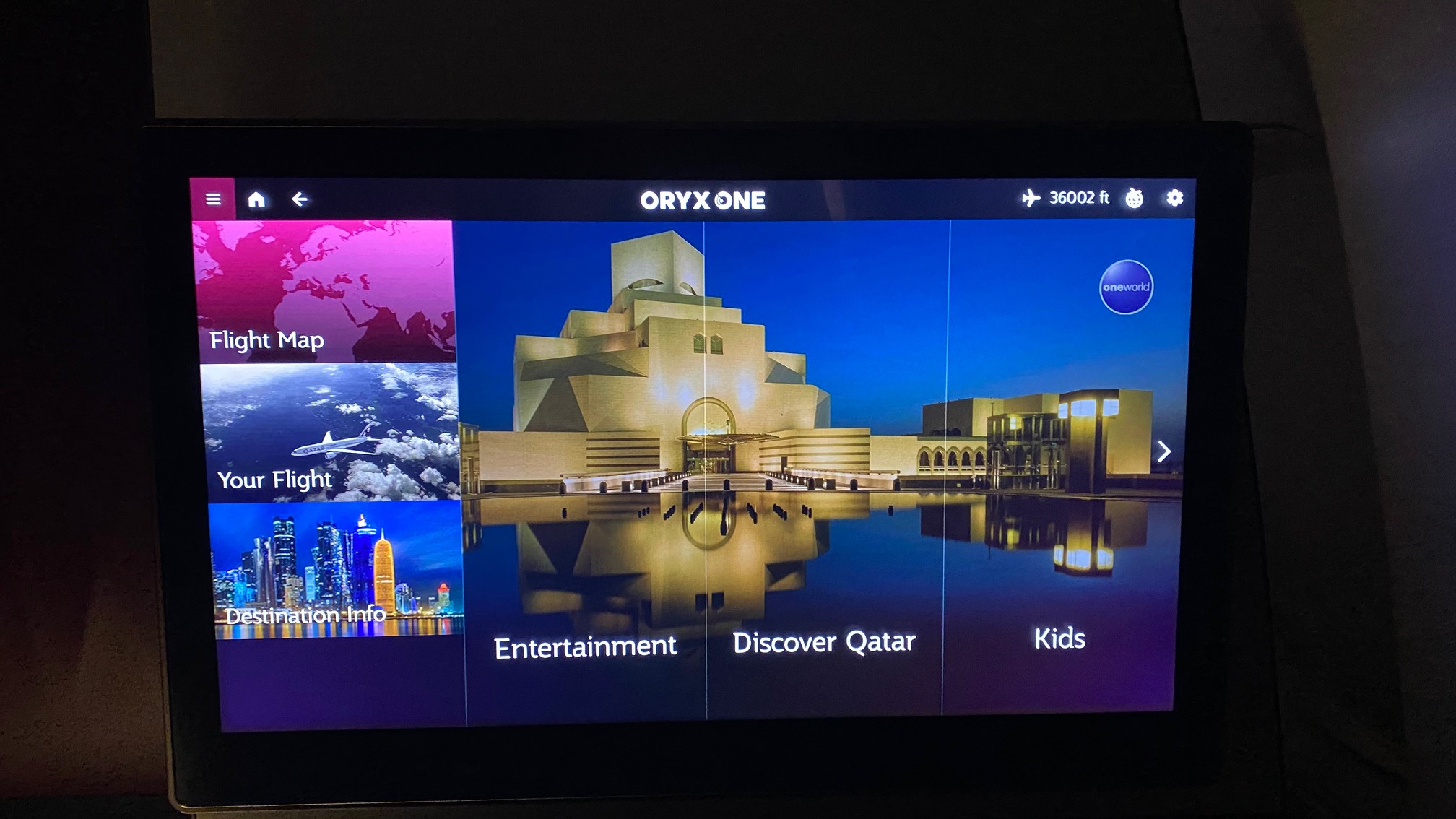 Qatar Airways Oryx One Entertainment System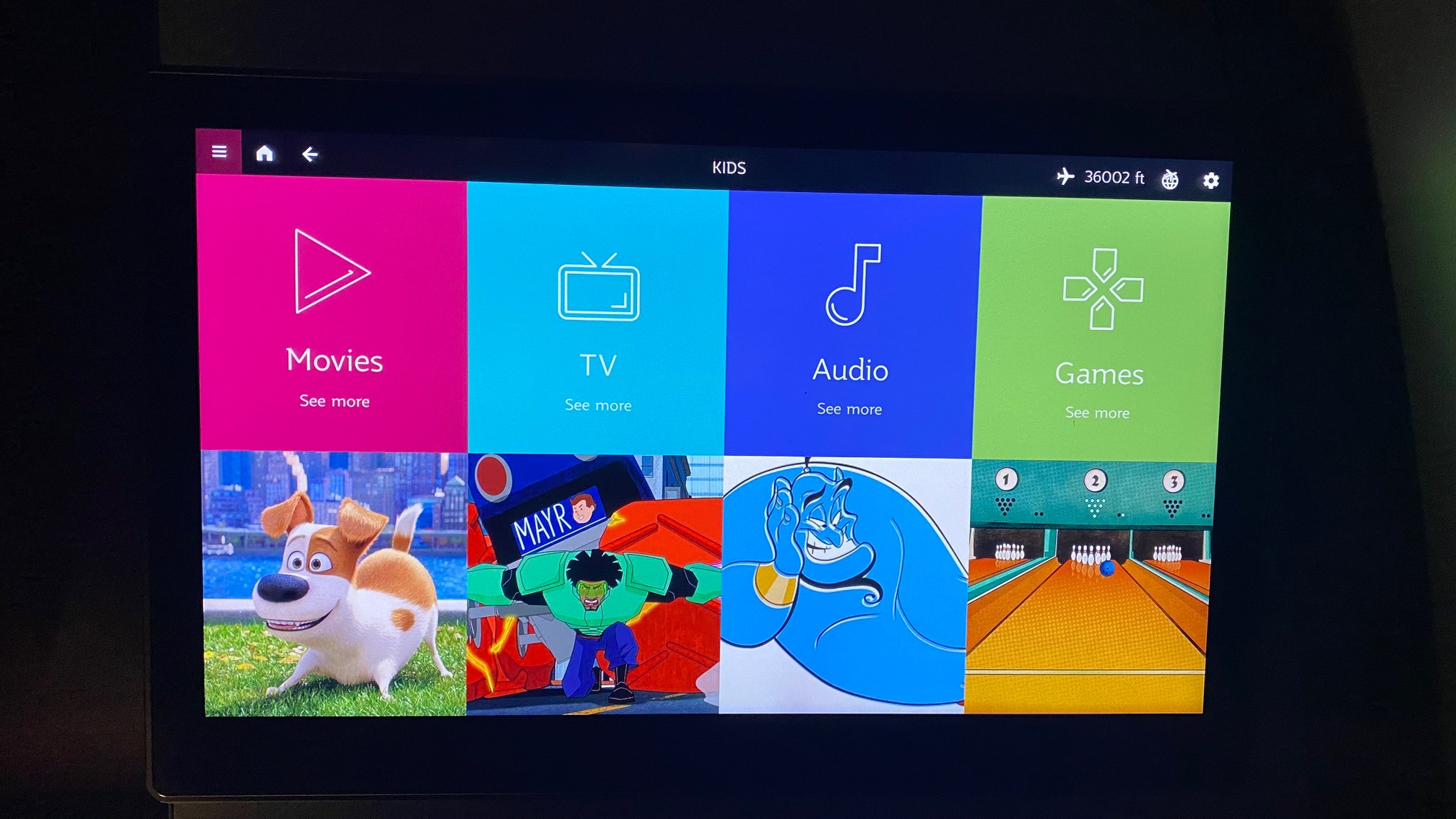 Qatar Airways Oryx One Entertainment System
Even on Qatar's ultra long-haul flights such as Doha – Los Angeles or Doha – Auckland, you are guaranteed to feel overwhelmed by it's ginormous content catalogue.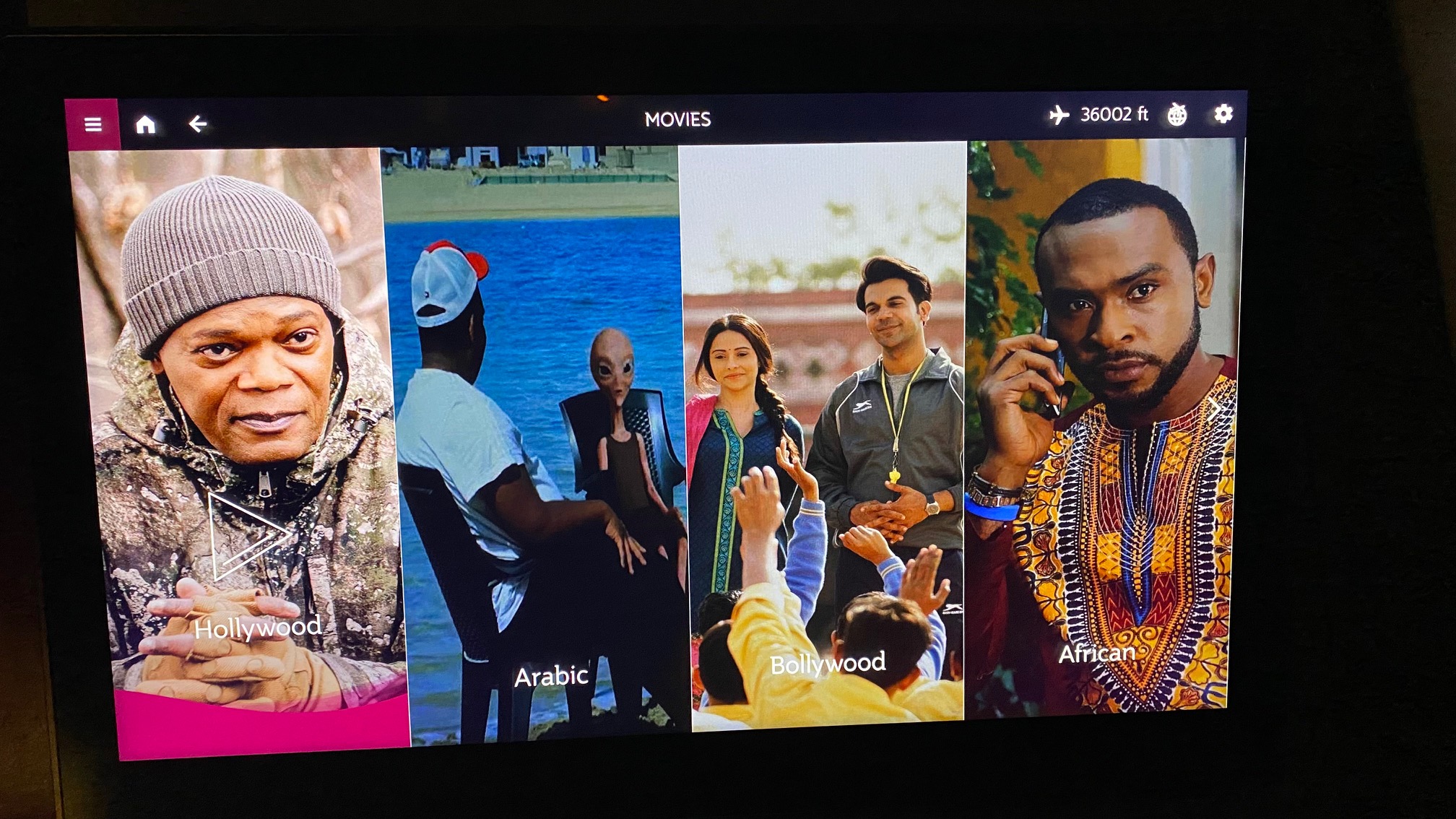 Qatar Airways Oryx One Entertainment System
Personally speaking, I find it tough to get into the mood to watch anything other than the moving map, which I kinda do to the extreme 🤦‍♂️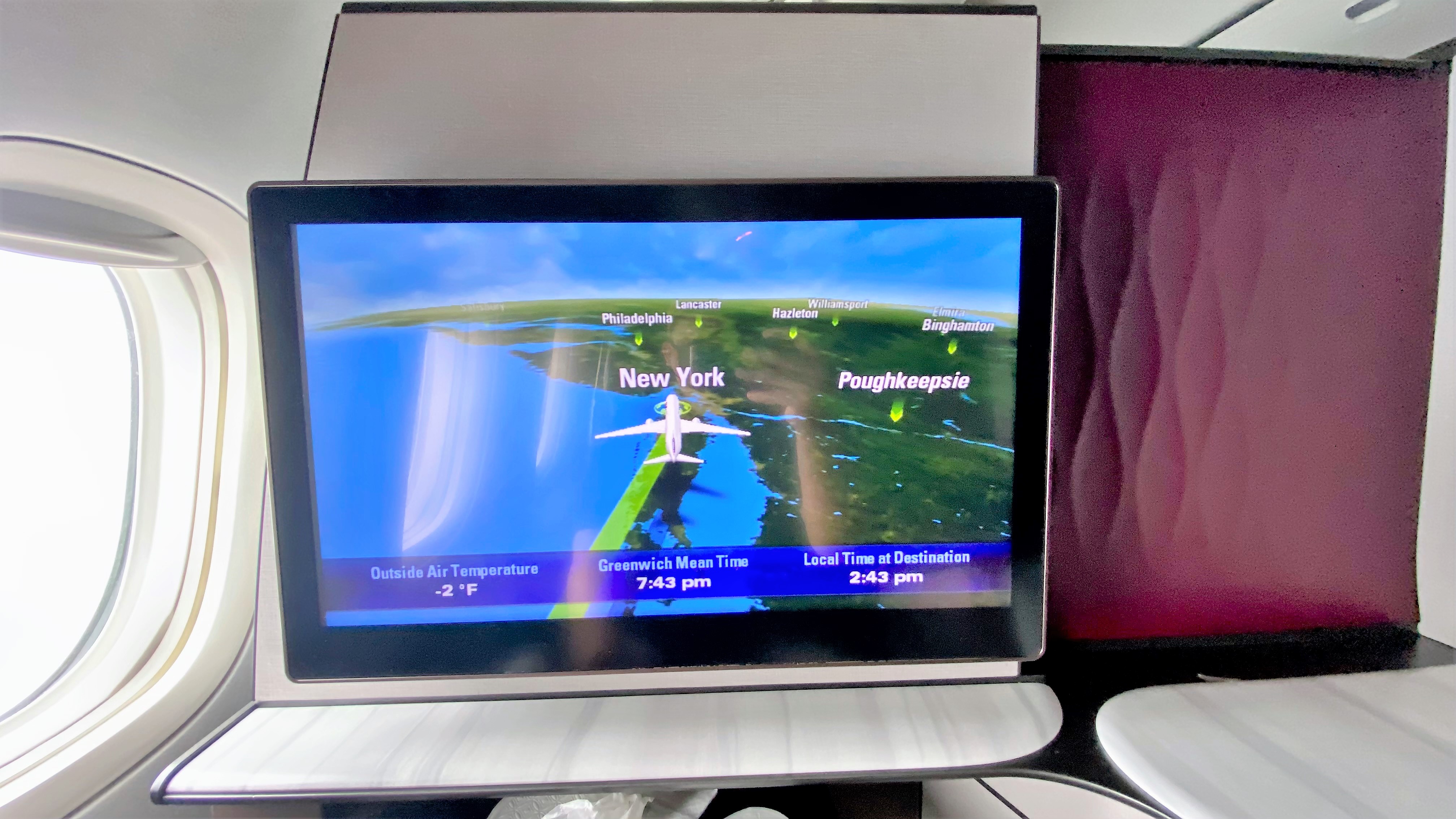 Qatar Airways Moving Map Display
One hour of free in-flight wifi is offered to every Privilege Club Member. Beyond that, you are required to fork out US $10 which gives you access for the duration of the flight. I was happy with the freebie and did not pay beyond that but if I was planning to work, the cost is quite reasonable and I will be happy to pay.
In Conclusion
I flew nearly 30 hours in Qatar Airways Qsuites from Sydney – New York via Doha and loved every minute of it. Do they get everything right? No, but like anything in life if the positives outweigh the negatives, you come out ahead. I would rate my Qatar Airways experience very high on the scale, at least 8/10.
The Qsuites were revolutionary when they were first launched in 2017. Since then, business class seats on airlines have tremendously improved right across the industry. Even so, the Qsuites remain an excellent way to fly.
I know many Velocity Gold and Platinum members who status-matched to Qatar's Privilege Club Gold or Platinum status which I have written about on many occasions. As part of the status match, Velocity members also received either 40 or 60 Qcredits depending on their status. These Qcredits are enough to upgrade a cheap one-way economy flight to Business Class from any city in Australia to Doha and/or beyond.
For most people, the Qcredits will expire sometime in May or June 2022 and cannot be extended. If you haven't yet used them and want to experience Qatar Airways Qsuites, now is the time to get booking.
Have you flown Qatar Airways Qsuites? Leave a comment below.