Here's a chance to pocket 10,000 Emirates Business Rewards Points without any flying or spending requirement, all you need is an ABN. Got one? Read on.
To mark UN Small & Medium-sized Enterprises Day, Emirates are offering businesses who sign-up for a new Emirates Business Rewards account by 27th July, and use promo code EKBRUNSMEDAY21, an opportunity to earn bonus 10,000 Business Rewards Points. That is enough points for a return economy class flight between Sydney and Christchurch.
To be clear, Business Rewards Points are different to Skyward Miles, Emirates' everyday points currency. They have different earn and redemption rates and cannot be interchanged or merged. That said, if you have an existing Skywards account, you can sign up for the Business Rewards Account using the same login details which pre-populates most of the information. It's free and took me just 2-3 minutes to create an account.
Note that you will be prompted to upload a copy of the Trade Licence during sign-up, so make sure you have a copy of your ABN handy.
I signed up last week and the bonus 10,000 points posted a few days later, as you can see below.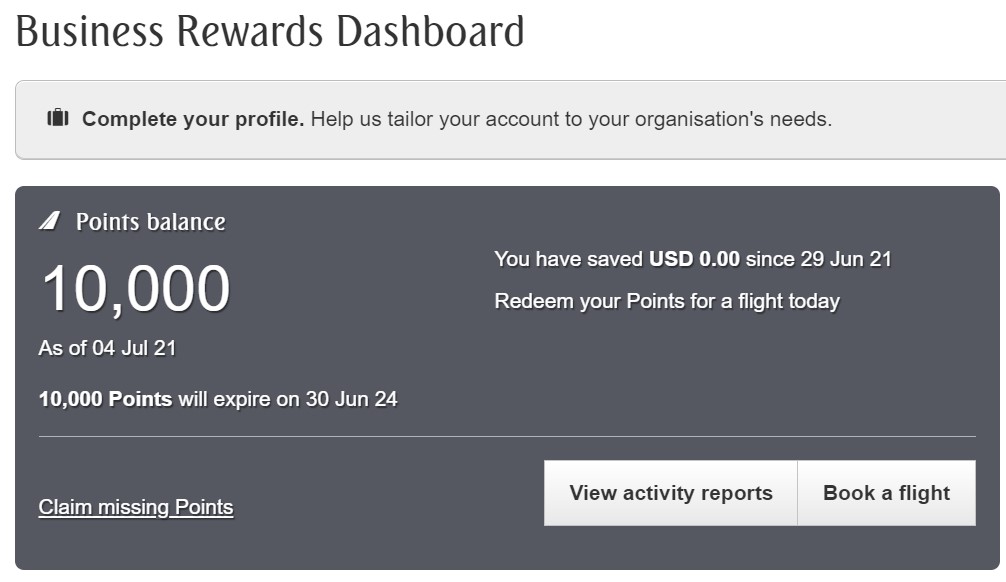 Redeeming Business Rewards Points
When it comes to redeeming Business Rewards Points, the process is similar to Skyward Miles. At login, you will be presented with both options as shown below.

Click on View Business Rewards which will take you to the Dashboard (as seen above) where you can book flights.
If you are familiar with Skywards redemption rates, which can sometimes be pricey, you might think 10,000 points aren't much, but as I said earlier, Business Rewards Points work entirely differently. As they are harder to earn, they have a greater value. You earn 1 Business Reward Point per $ on Emirates flights booked for yourself or your employees.
Here are a few examples of flights you can book with 10,000 Emirates Business Rewards Points.
Sydney to Christchurch

You can fly Sydney to Christchurch (return) in economy class for under 10,000 points. Although, some might find the prospect of a one-way business class flight for an extra 2,120 points more appealing.
Dubai to London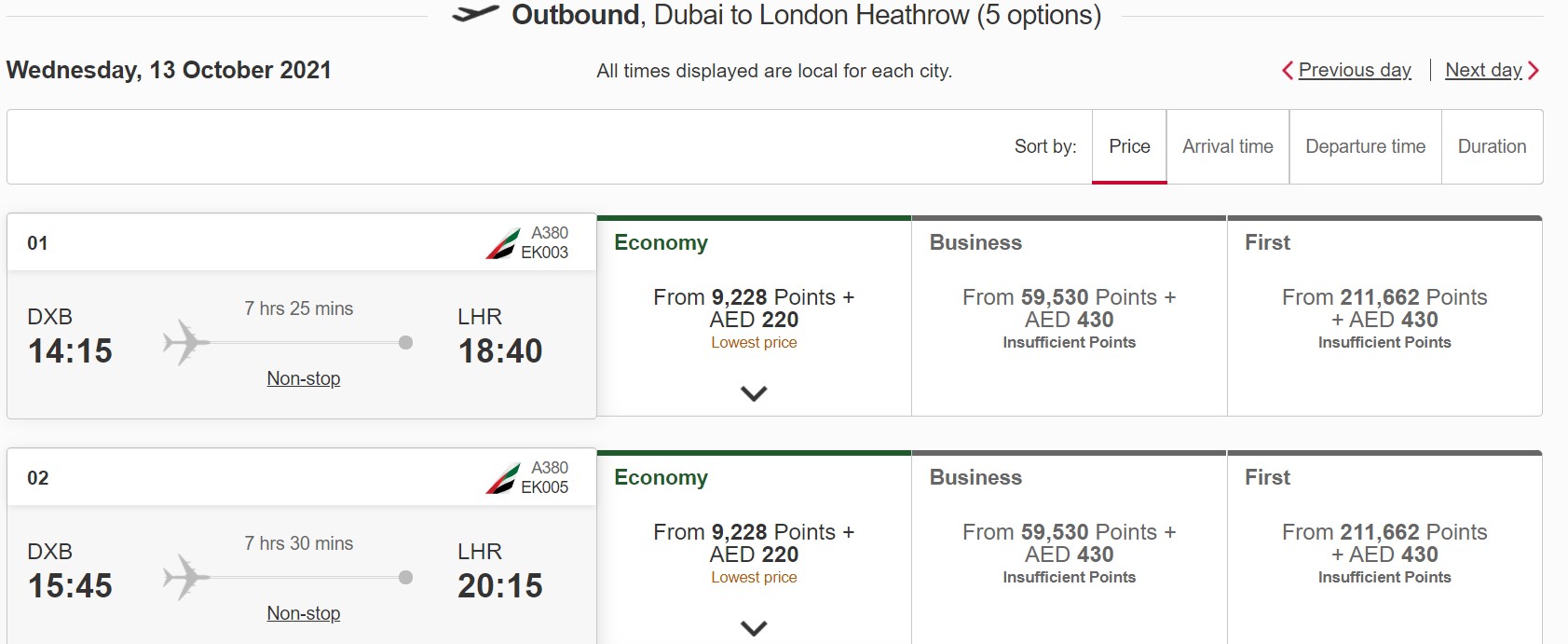 You can fly from Dubai to London in economy class for 9,228 points.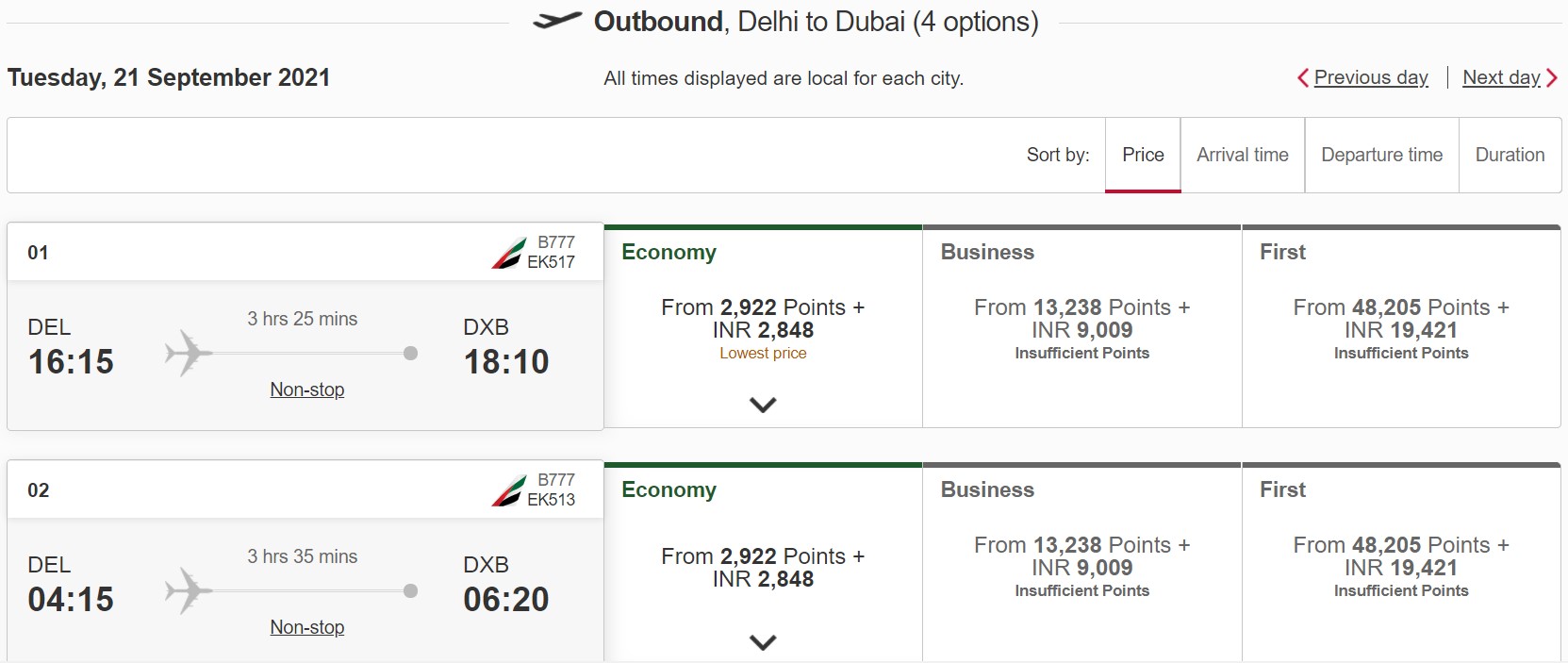 At just 2,922 points, a one-way economy class flight from Delhi to Dubai is a steal.

Lastly, you can fly from Singapore to Dubai in economy class for just 6,035 points. In all cases, you will need to cover fees and taxes as they apply.
These are just a few examples of what 10,000 Business Rewards Points can get you, I am sure there are many more routes where you could redeem these points and extract a lot of value.
In Conclusion
It is rare to see a promotion offering a bunch of points with absolutely zero spend or flying requirements. When you consider the number of potential use for these points, signing up for a new account is a no-brainer.
Note that to be eligible, you don't need to be running a business with dozens of employees or tens of thousands of dollars in revenue. A sole practitioner, or someone with a side hustle is fine, you just need to have a valid ABN.
Do you plan to take advantage of this promotion? Leave a comment below.