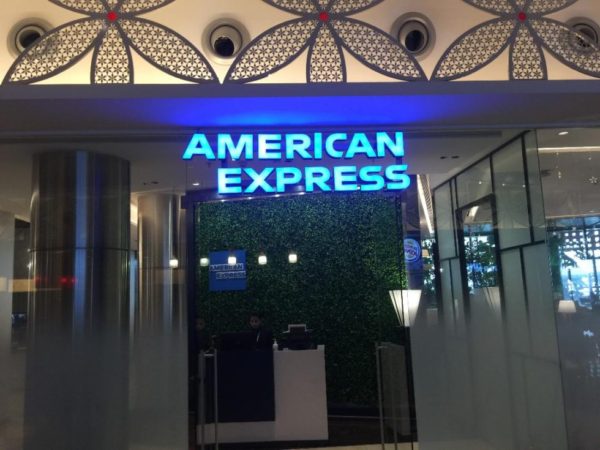 Amex have done a great job keeping cardmembers engaged all through the pandemic. Since March 2020, they have come out with numerous promotions that in many instances have allowed members to recoup the cost of their annual fees in full, thus compensating for the inability to use card's travel related perks.
But even as travel resumes, Amex are not taking the foot off the pedal. If you are an American Express cardmember, get ready for Amex' first ever Membership Month which starts today and goes until 30th November 2021. Some of these offers are ready to be used straight away, while others will be rolled out over the course of the month.
Here's what's on the menu.
Add an additional card, earn 5,000 points
Apply for an additional card by 30th November 2021 and if approved, you will receive 5,000 Membership Rewards Points.
Amex offers up to 4 additional cards at no extra cost, but you can only earn points on the 1st card. All cards including the cobranded David Jones cards are eligible to earn bonus points.

If you have multiple Amex cards, you can earn 5,000 points on each of those cards.
The additional cardmember does not need to be a family member or someone from the same household, but as the primary cardholder, you are responsible for any spends they put on their card. So make sure the card does not end in wrong hands.
Enhanced Refer a Friend Bonus
American Express runs a referral program called Refer a Friend. The program rewards card members by awarding bonus points for every successful referral they make via their personal referral link (capped at 200,000 points per year).
Your family or friends can apply for the same card as you have, or any other eligible American Express card. The number of bonus points you receive depends on the type of card used to generate the referral link, but generally range between 30,000 – 45,000 points.
For a limited time though, Amex have enhanced the offer. If you successfully refer a friend by 2nd December 2021, on offer is a referral bonus of up to 55,000 points on Personal cards, depending on the card. If you hold a Business card such as the Business Platinum card, you could earn an enormous referral bonus of 125,000 points.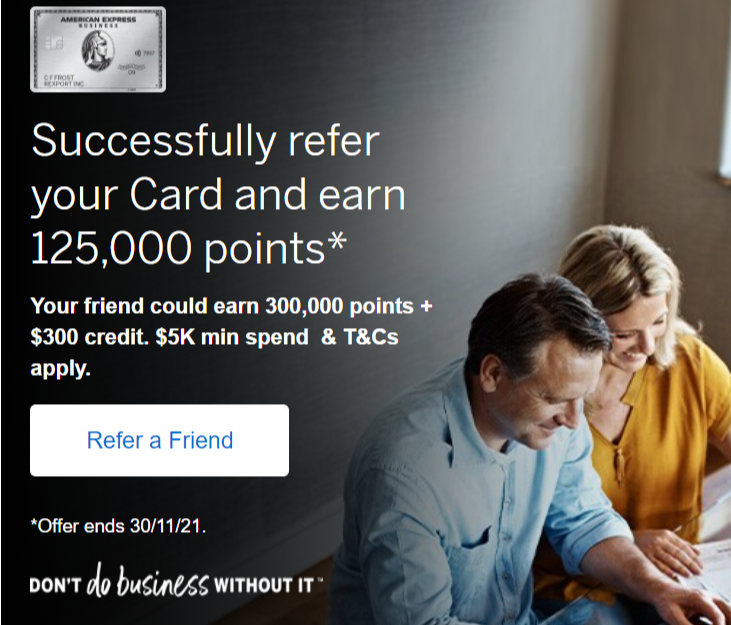 Image courtesy : americanexpress.com
Being able to maximise this extra benefit means, you could earn tens of thousands of additional points.
Dining Discount
Until 30th November 2021, cardmembers can save 15% on their bill each time they dine at participating restaurants.


Save 15% on your bill at participating restaurants
Unfortunately the list of venues is rather limited and largely concentrated in Sydney and Melbourne. But for those who are able to make use of this benefit, its a nice little earner.
Save through Amex Offer
One of the most valuable perks of American Express cards is Amex Offer. The way this works is that cardmembers – depending on the offers they are targeted for, can earn cashback or bonus Membership Rewards points by making the required spend at participating businesses. The spending requirement varies and could range from around $10 to several hundred dollars.
Amex have released a ton of these offers recently in all kinds of categories, particularly travel. Below, you can see some of the offers my account was targeted for;
Note that not every card receives every offer, some offers may only be available on primary cards where as others may be more widely available.
Personally speaking, I love Amex Offers as I am usually able to recoup most of the annual fee on my cards by the savings I make on purchases. If you are not very familiar with this benefit, check out one of my earlier posts on Amex Offers over here.
Enhanced Shop Small Program
To encourage card members to shop at small businesses, Amex runs a promotion called Shop Small. In previous years, the program has run for a set period of time (usually 1 month) and offered cardmembers a fixed amount of cashback on making a minimum spend with one of the participating small businesses.
Traditionally, the offer has been in the form of:
Spend $20 or more, Get $10 back (up to 5 times for a total $50 cash back).
or
Spend $10 or more, Get $5 back (up to 10 times for a total $50 cash back).
For 2021, Amex have made Shop Small all year-round and are running it differently, thus offering card members hundreds of dollars in potential value. Until 31st March 2022, instead of earning up to $50 cash back, cardmembers will earn an extra 3 points per $ (capped at 40,000 points) when they shop at a participating small businesses.


You can earn up to 40,000 bonus points with Shop Small 2021
With this promotion, there is no minimum spend or limit to the number of times you can shop at a participating business which massively increases it's value. For someone able to maximise the offer and earn 40,000 bonus points, that's an extra $400 in value (by my valuation of A$0.01 pp).
Other Offers
Besides the above, Amex are also offering cardmembers the opportunity to participate in virtual events such as cooking demo's and group exercises.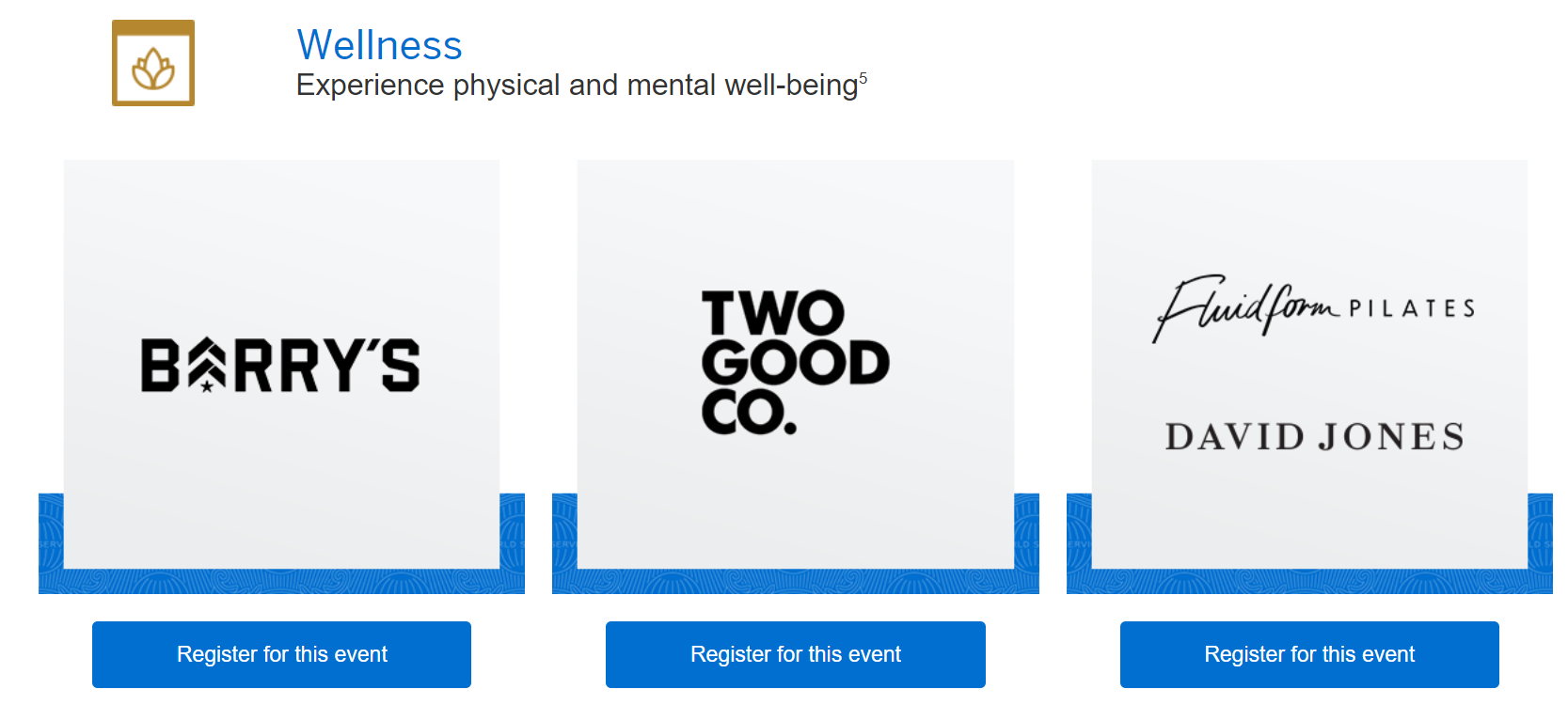 Indulge the budding cook in you by joining a LIVE cooking masterclass
The cooking sessions are aimed at people with medium level of cooking experience and you are required to bring your own pots and pans etc.
The exercise events are also targeted at people with a medium level of fitness – and as the sessions are not supervised, Amex will not be responsible if you suffer an injury. Registration is essential if you want to be a part of these events.
At various times during the month, cardmembers will be able to redeem points for Gift Cards from participating retailers and receive 5-10% bonus value.
Cardmembers will also be able to take advantage of shopping deals from retailers such as Amazon, Kogan, JB Hi-Fi etc. These deals are not available yet, but you can track them through this link to see when they go LIVE.
In Conclusion
American Express are trying hard to keep cardmembers engaged as we slowly emerge from the pandemic. As you can see, there is a lot on offer in the month of November and hopefully, there is something that most people can benefit from.
If you don't have an American Express card, but have considered getting one at some point, now could be a good time to get started.