KrisFlyer is the name of Singapore Airlines's Frequent Flyer Program. In terms of network and reward seats it consistently makes available to members, few programs can rival or exceed it. If that is not enough, it also lets members book rewards seats on the cheap, every month, with it's KrisFlyer Spontaneous Escapes promotion.
I haven't previously written about the program, so with the June Spontaneous Escapes just being released, now is a good time to dive into it.
What is KrisFlyer Spontaneous Escapes?
KrisFlyer Spontaneous Escapes is Singapore Airlines's discounted redemption program under which, KrisFlyer members have the opportunity to book reward flights with Singapore Airlines and Silk Air at 30-50% discount off standard redemption rates, for travel in the month after its released. So the one that just came out is valid for the month of June (1st – 30th June).
The promotion has been around for a long time, although under it's older avatar, it was only offered irregularly, few times a year. Since February 2019, Singapore Airlines has made this a permanent feature on the calendar and it typically comes out towards the middle of each month.
Not every route or class of travel is included each month. Some routes see frequent inclusions, while others only come around once or twice a year. One month, you may have seats in Economy, Premium Economy and Business class, all 3 offered, while in another, it could be seats at the rear of the aircraft alone. Further, popular flights, such as those to London, Tokyo etc are seldom included.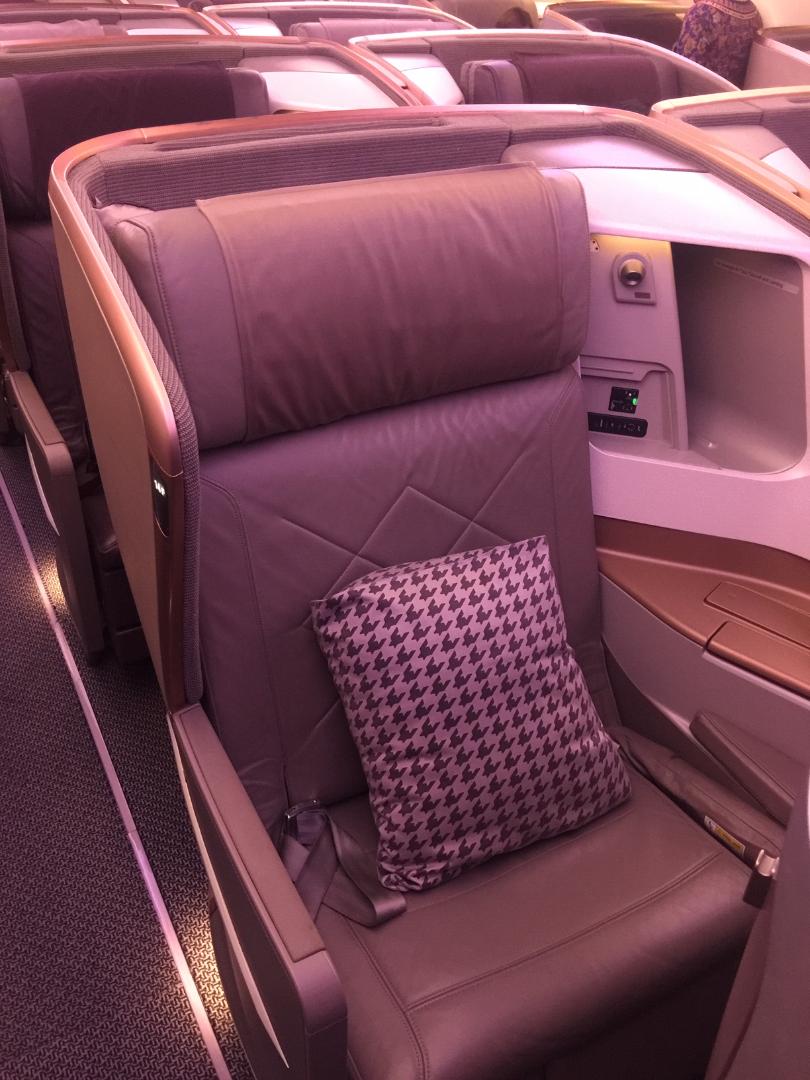 Singapore Airlines A-350 business class seat
So this wouldn't work for those who like to plan ahead and don't want to deal with the last minute vagaries of the awards game. But if you are someone who can fly at short notice, and embrace the thrill & exhilaration last minute travel brings, there's tremendous value to be had.
30% off on June Escapes
A total of 37 destinations have made the cut this time around. Some of the elusive one's on offer are Dubai, Tokyo, plus a couple of Singapore Airlines's fifth freedom flights. Until 31st May, you can book these at 30% less than the standard redemption prices, for travel between 1st and 30th June (both days inclusive).
Some routes have blackout dates, so keep that in mind. You can see the full list of destinations and miles required over here.
Flights to Australia
Melbourne, Sydney, Brisbane, Darwin and Cairns are on the list, the latter 2 being served by Silk Air. Adelaide and Perth have sadly missed out on this occasion. Further, not all flights are eligible for the promotion.
Brisbane residents fare the best with 2 out of 4 daily flights included in both directions. For those in Melbourne, all 5 daily flights are included for the trip home (SIN-MEL), but none for the trip over 🙁
If you are Sydney based, the deal is not so good. Only 2 out 5 daily flights are included for the trip home (SIN-SYD) and none in the opposite direction. Worse still, unlike your Queensland and Victorian cousins who get to fly in the pointy end, only the economy seats are on offer for you 🙁
Cairns and Darwin residents can take advantage of these discounted rates in both directions, but business class seats remain out of bound for them too. Here's the table for Melbourne, Brisbane & Sydney flights.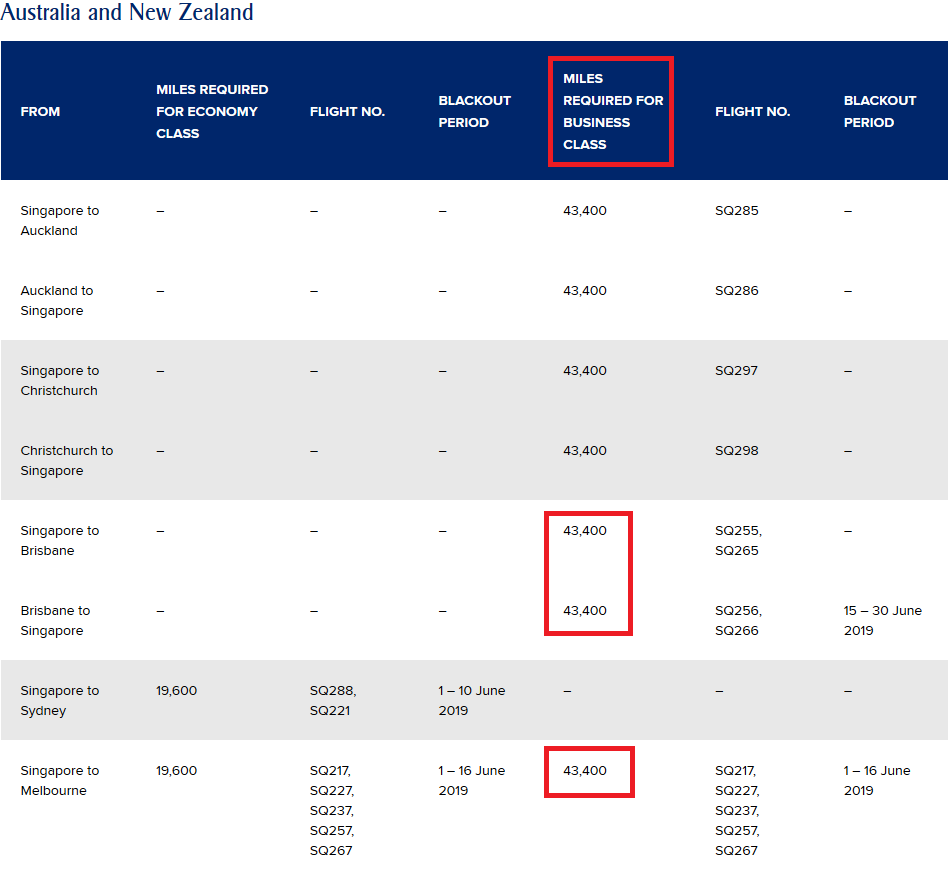 And here are details of Silk Air flights serving Cairns and Darwin.

Connecting flights not eligible
One important thing to note is that only direct flights are valid for discounted rates. For instance, if you want to fly from Brisbane to Dubai, although both Brisbane to Singapore and Singapore to Dubai flights are offered, if you book this itinerary under a single ticket, you will be charged the regular price of 86,000 KrisFlyer Miles, as seen below: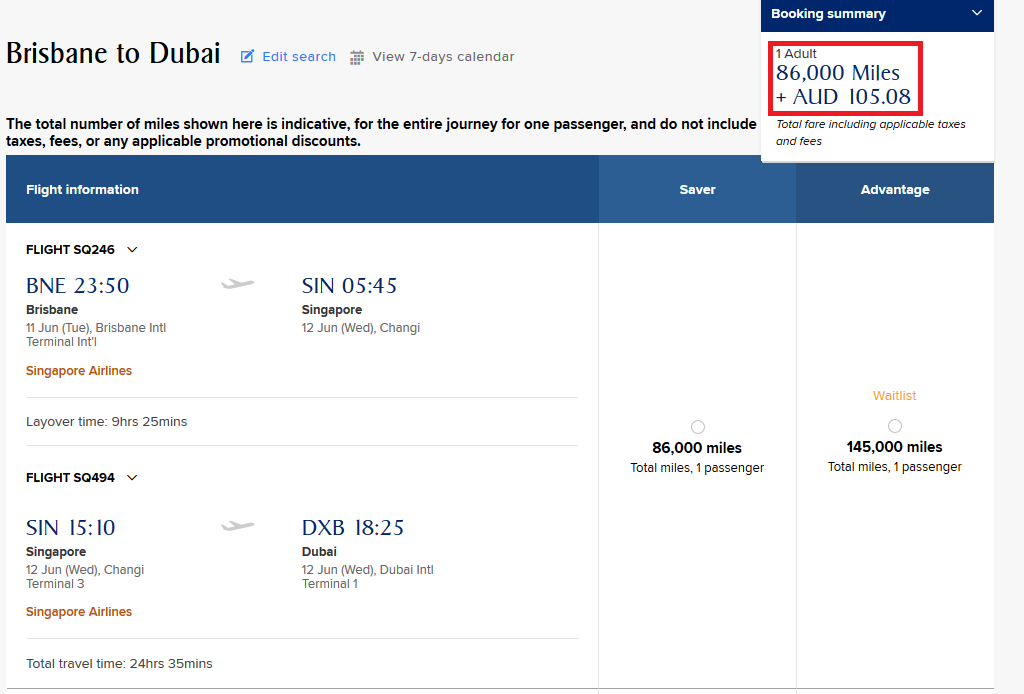 However, when you book this as 2 separate itineraries, the 30% discount will be applied to both flights and you will save 8,300 KrisFlyer miles in the process.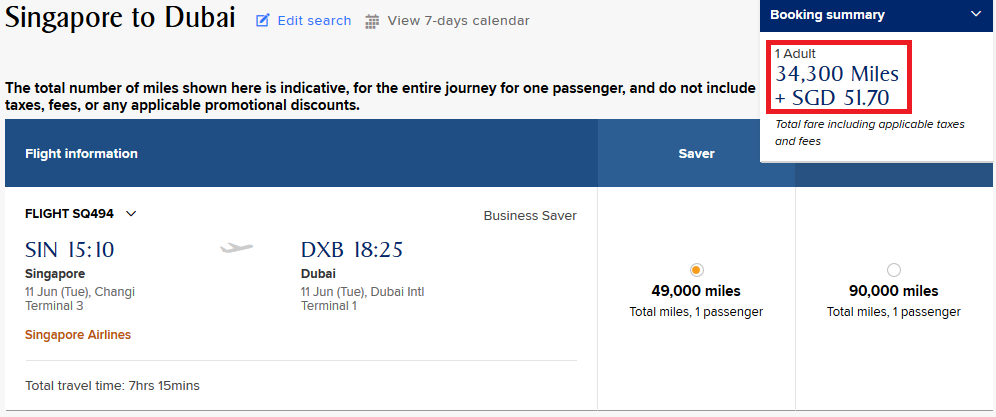 Break-up long haul flights under separate itineraries and save
In Conclusion
I am a big fan of Frequent Flyer Programs that offer discounted redemption flights regularly. It's a win-win proposition for both the members and the program itself. Although there is no way to accurately predict flight loads, I suspect that by the middle of the month, airline revenue management teams have a pretty good idea of the number of seats that may go unsold. These seats are subsequently included in the Spontaneous Escapes promo for the following month.
July & December see a lot of Australians head to Northern Hemisphere (mainly Europe), and flights often run full. So I wouldn't take a chance leaving things until the month before, and hope to score a discounted flight. For the remainder of the year though, as long as you are flexible and prepared to position yourself to any of the capital cities, chances are you will find a discounted flight. That said, if long term planning and peace of mind is your thing, my suggestion is to book the flights at standard redemption rates as and when they are made available.
I should point out that to be eligible for Spontaneous Escapes rates, tickets must be booked by 31st May. Once booked, they cannot be modified or cancelled. If you wait-list a ticket and do not receive the confirmation by 31st May, standard redemption rates will apply in case it is confirmed after this date.
Before you make the booking, I suggest you to take some time and familiarise yourself with the Full Terms and Conditions.
Have you ever booked a Spontaneous Escape? Leave a comment below.