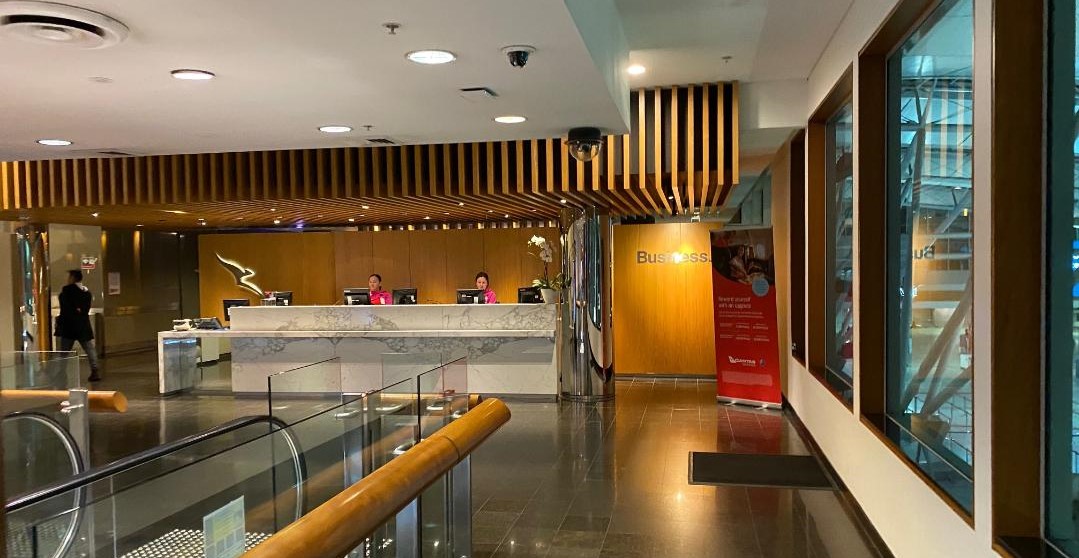 2020 has turned the world topsy-turvy and changed travel in ways most of us could never have imagined at the turn of the year. From getting to the airport and going through security, to lounge etiquette and in-flight conduct, no part of the experience is untouched.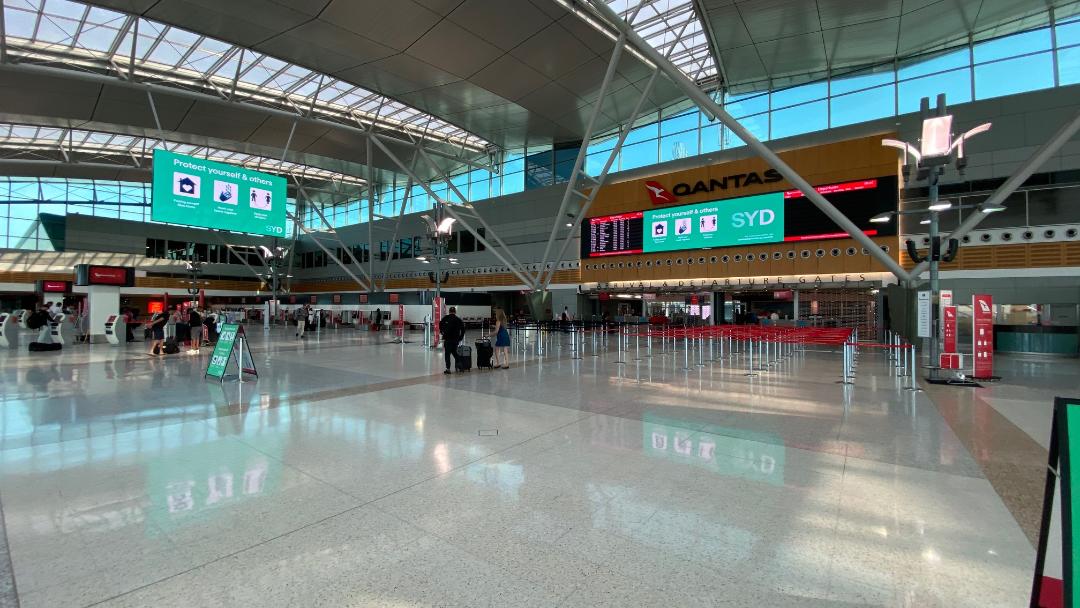 Airport Terminal or ghost town?
I recently flew from Sydney to Darwin, my first flight in more than 7 months and spent some time at the Qantas Domestic Business Lounge (T3) to get an idea of the changes Qantas have made to it's lounge offerings.
Just to be clear, this isn't a full review of the lounge, rather, an overview of changes Qantas have made to abide with the health restrictions and COVID-19 protocols in place. I did a full review of this lounge earlier in the year and if that's something you wish to check out, you can do that over here.
So what's changed?
The Visual Impact
You actually notice changes even before you step inside the lounge. As you come up on the escalator and turn left, the entire length of the floor is dotted with COVID safe messages.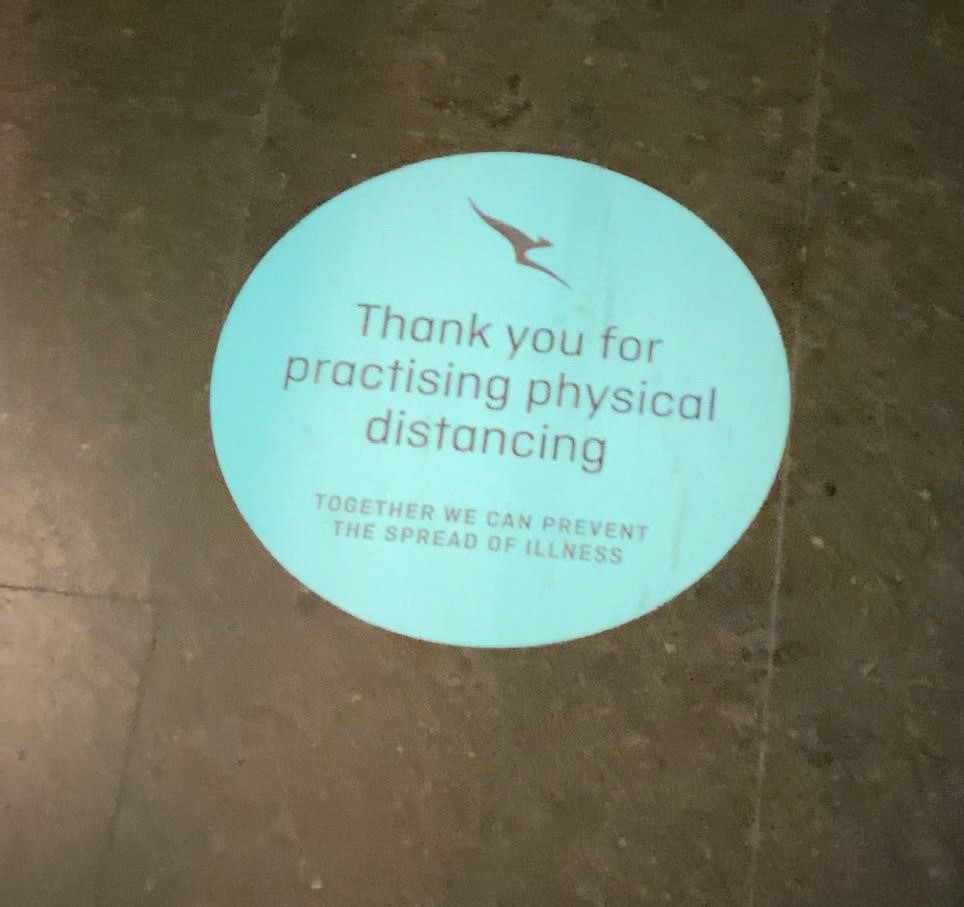 Keep distance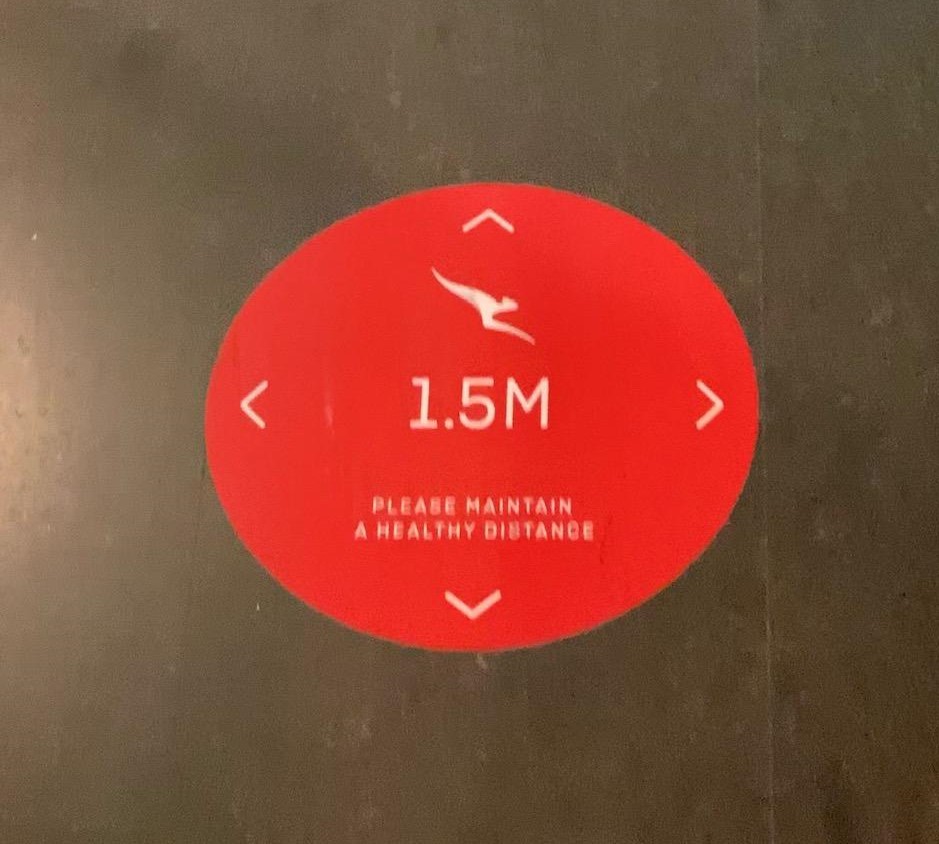 And although the reception desk is staffed, there is an expectation that you self-scan the bar code on your Qantas Frequent Flyer Card or your boarding pass and let yourself in.
Seating
Oddly, there have been no significant changes to the seating capacity or layout in some parts of the lounge. The seating section still retains most, if not all of the capacity from before COVID.
For instance, here's what a section of the lounge looked like earlier in the year.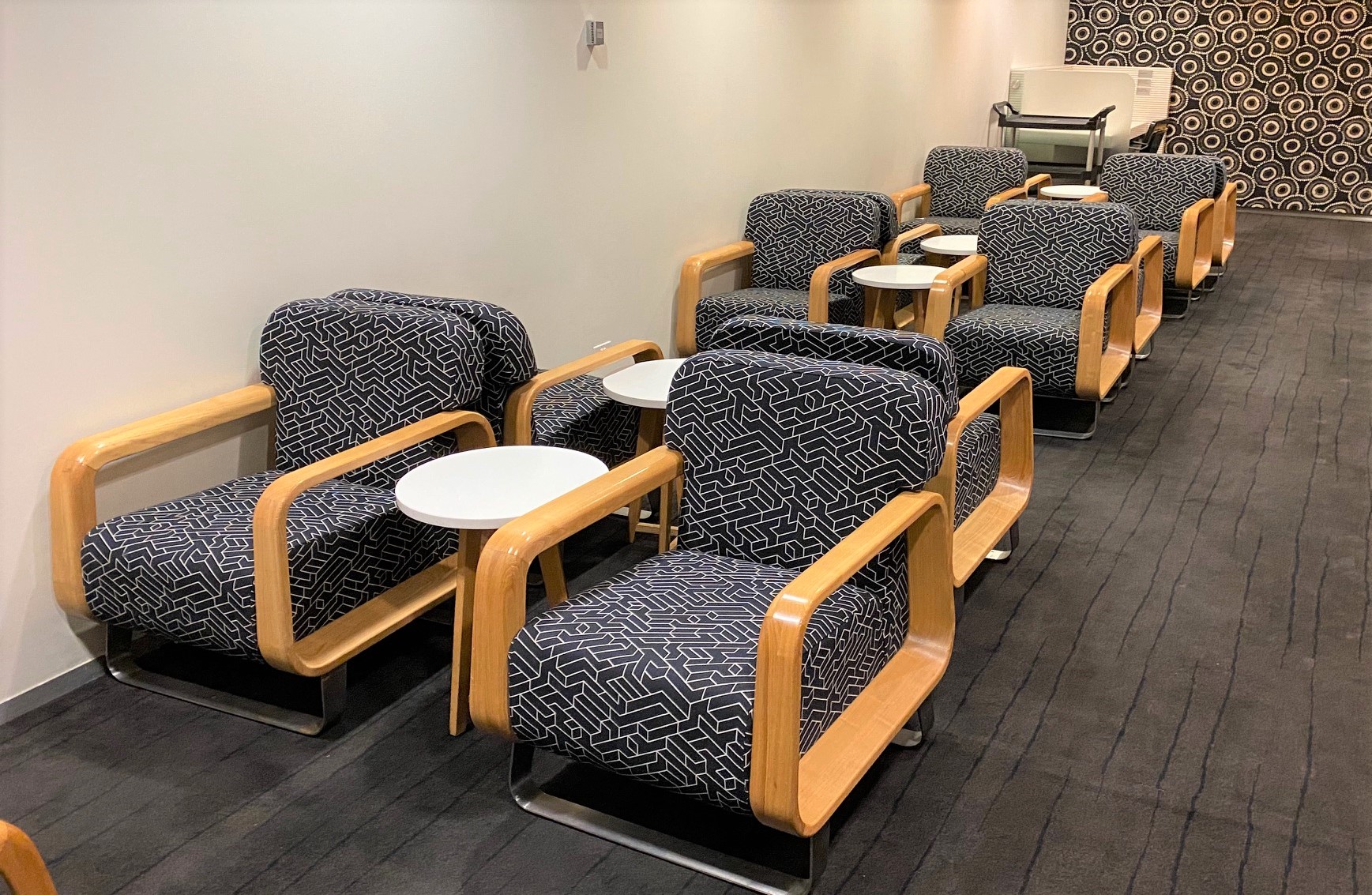 Seating layout in March 2020
And this is a shot of the same section from few days ago.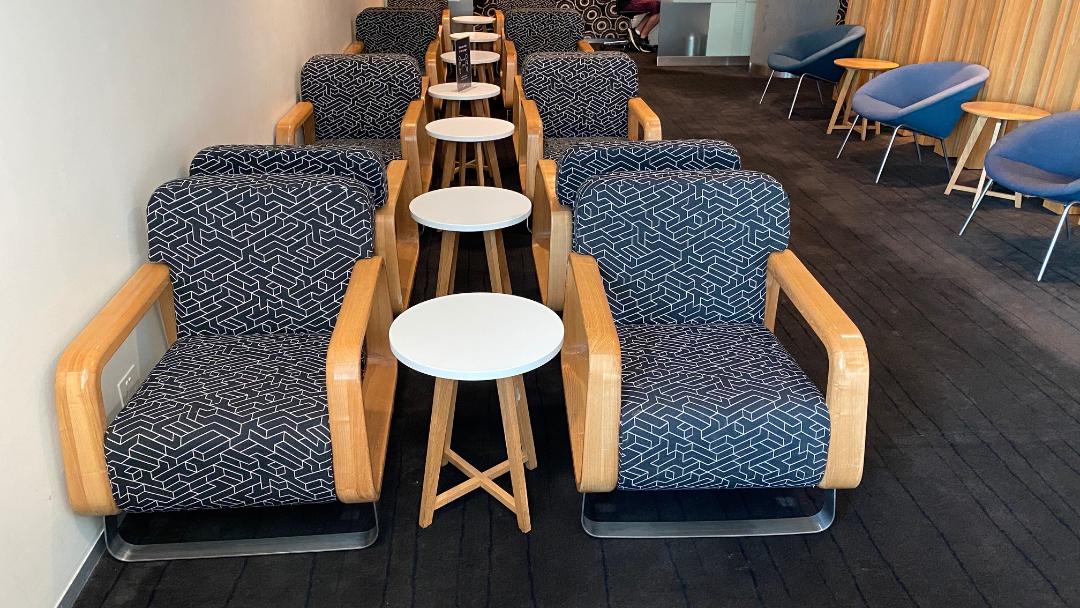 Can you spot any difference? I can't
In a different section of the lounge however, the distancing measures are far more apparent. For instance, below you can see multiple groupings of tables and chairs well spaced out.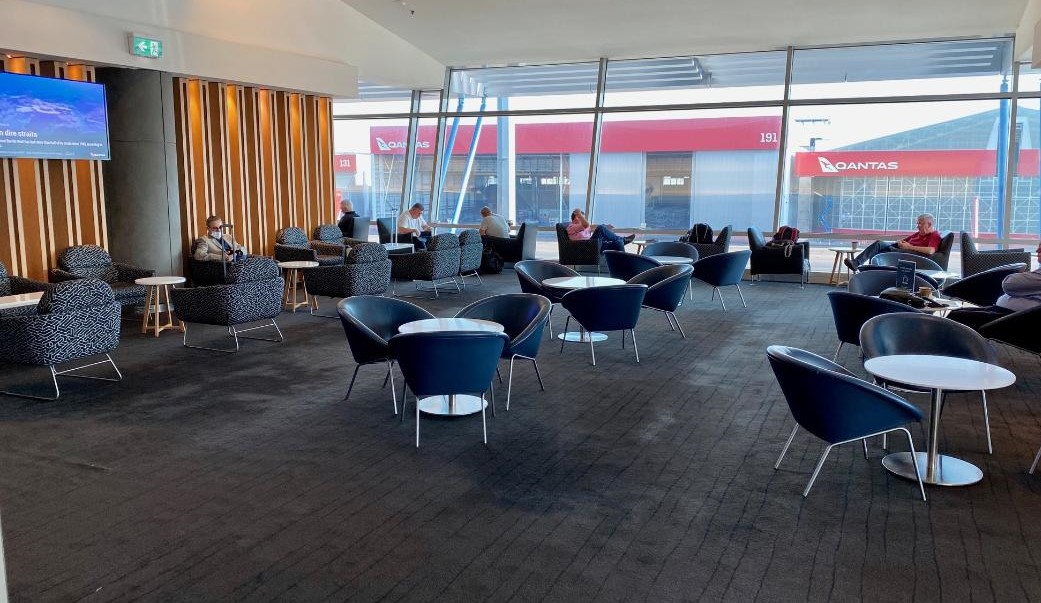 Seating with appropriate social distancing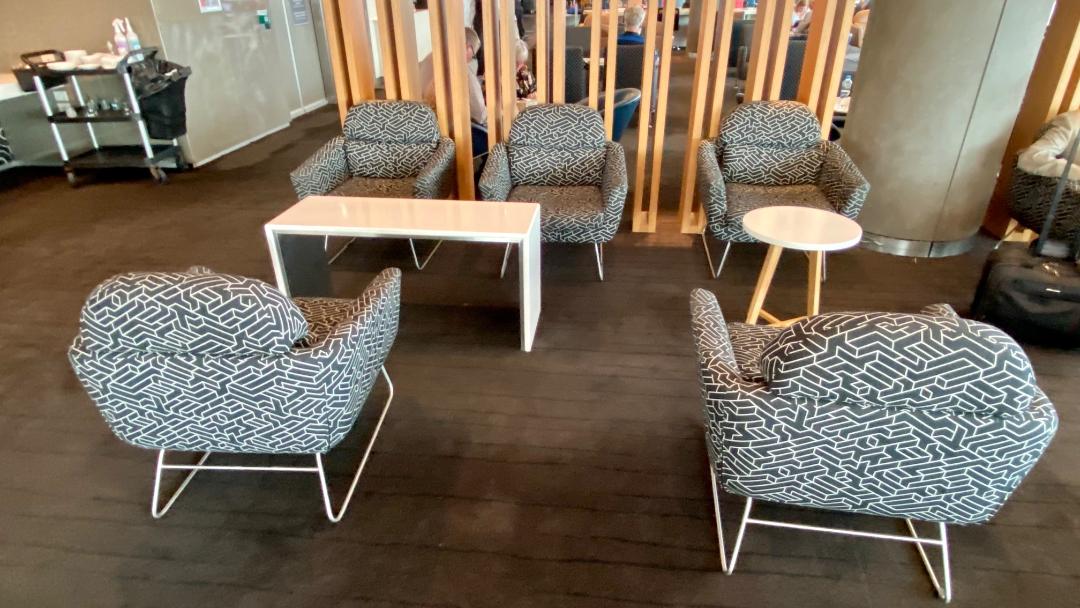 But perhaps the most effective social distancing was provided by the lack of patronage. I can't say this is the case everyday, but at least on the day of my visit, the lounge was at best 25% full. Vast sections of the seating area were completely deserted, as you can tell from these pictures.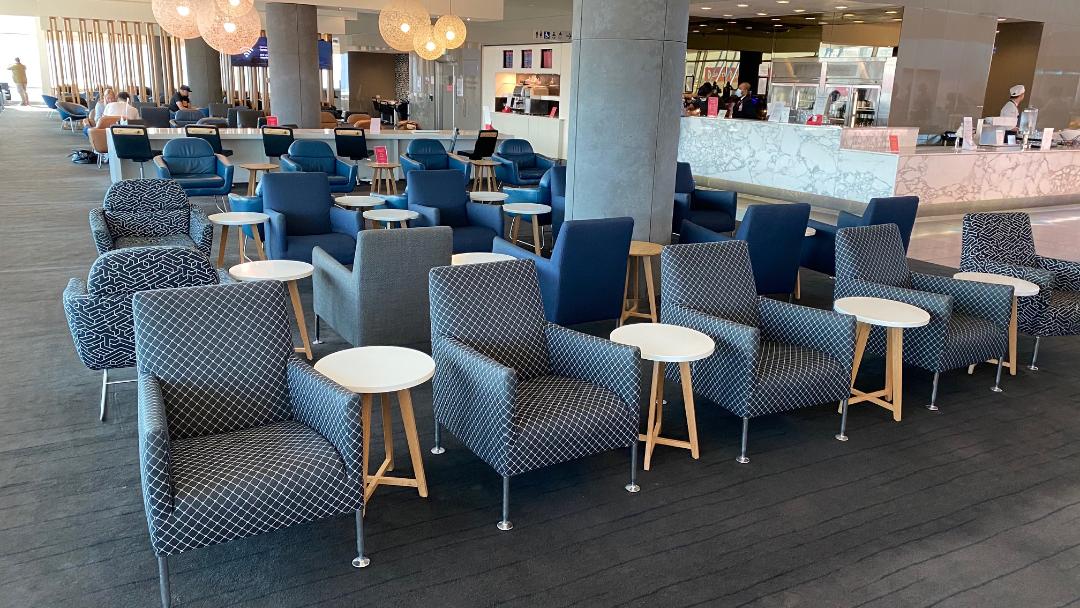 Vacant seats make social distancing very easy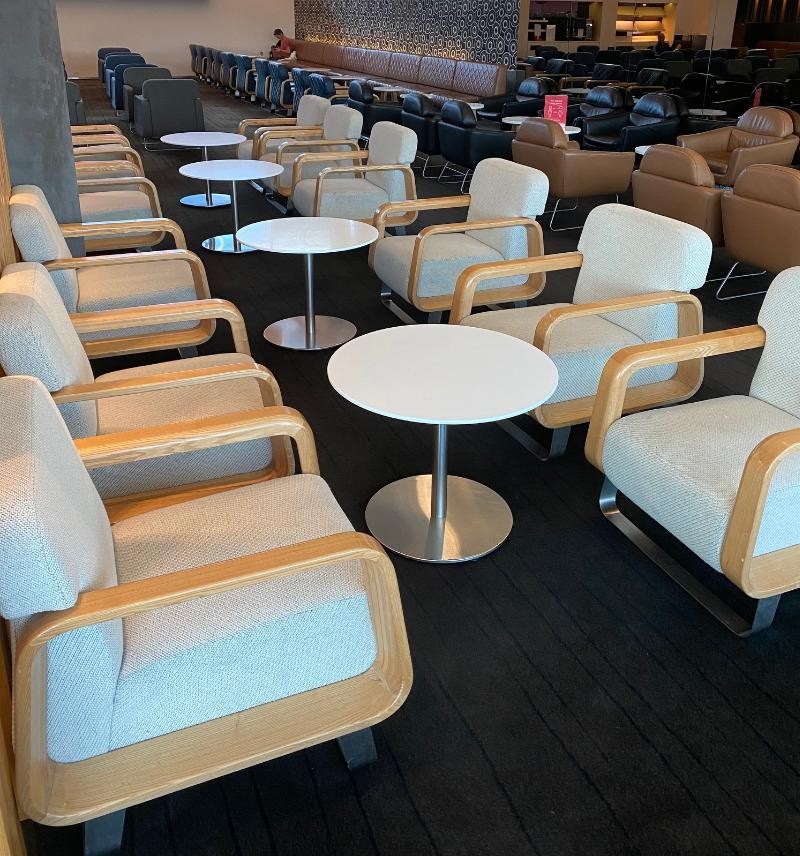 Anybody here?
Dining
I visited the lounge in the morning and breakfast was being served at the time. Dining is possibly the part of offering that has changed the most. The self-serve buffet and accompanying lavish spread is gone. In place, you have what Qantas calls Breakfast Snacking Menu.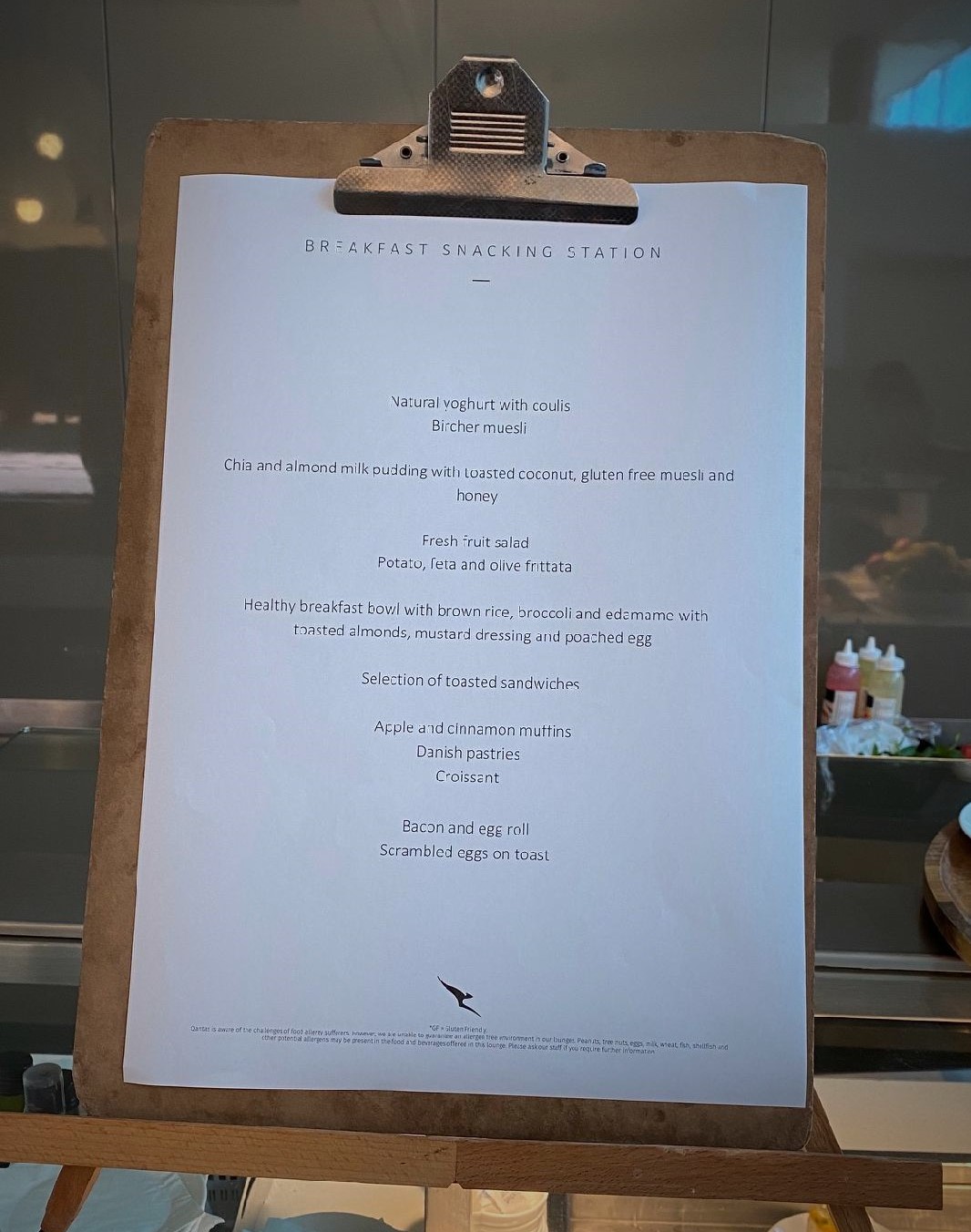 There was a small selection of fresh & whole fruits, flavoured yogurt and pastry items on show in the cabinet, just let the staff-at-hand know what you want and they will give it to you.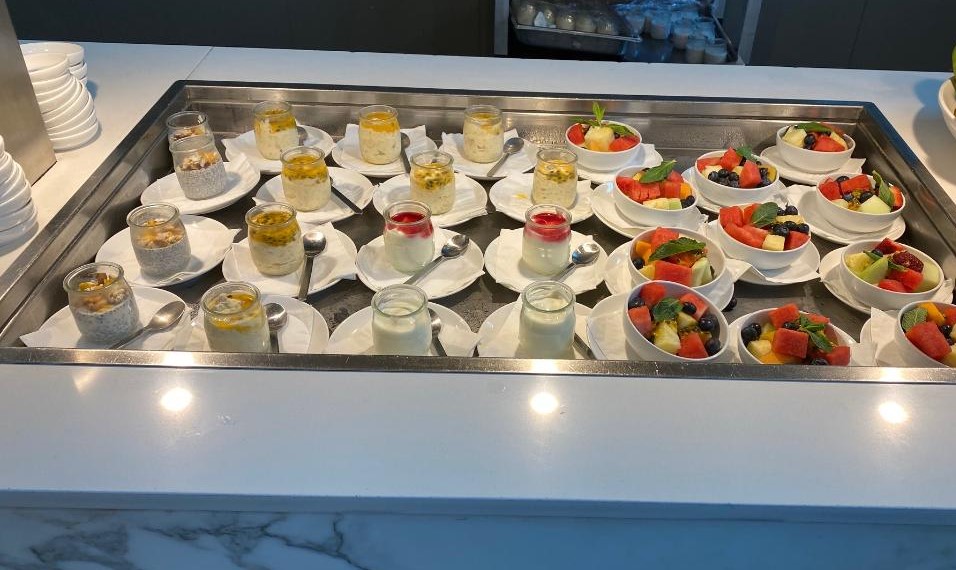 Breakfast – Qantas Domestic Business Lounge at Sydney Airport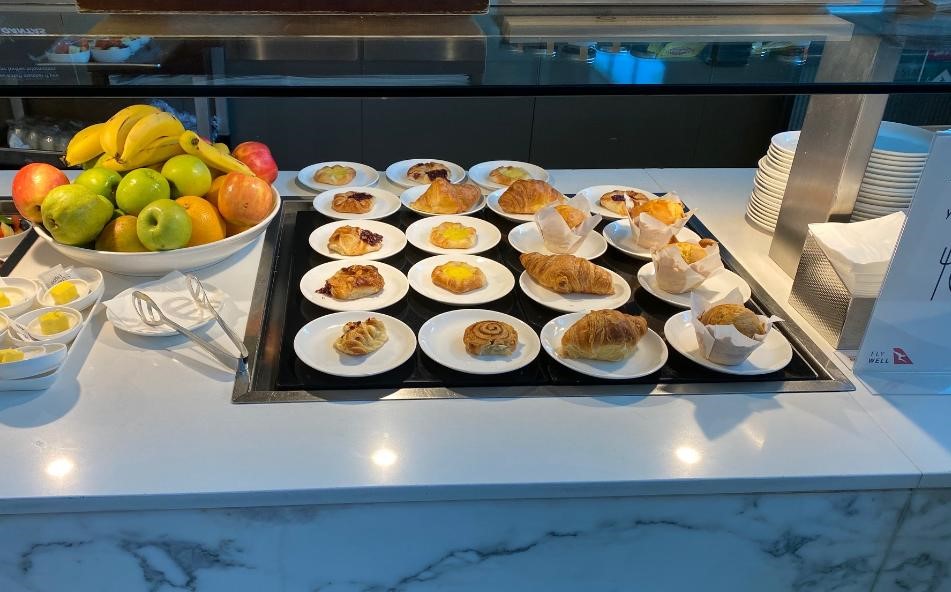 The remainder of the menu, including all the hot food items are cooked-on-demand. There is a smattering of samples on display on a shelf nearby, I am guessing to help the patrons make their selection.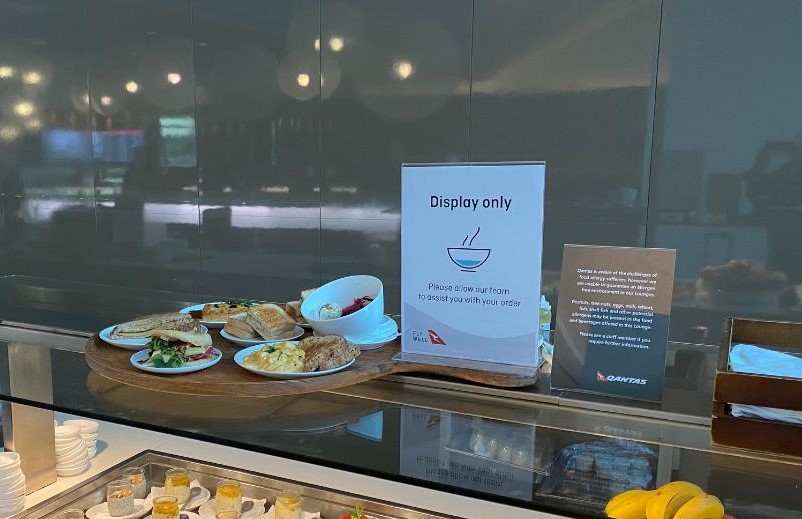 Once you place your order, it is delivered to your table by one the staff. I had a bacon n egg roll and some muesli which were nothing to crow about.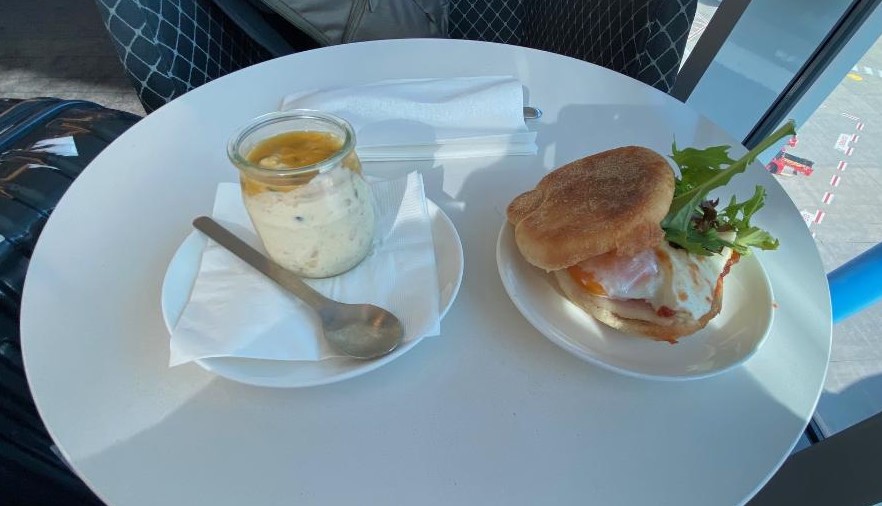 Not sold on my breakfast
The bar was open and staffed, although as always you could only order coffee at this hour. Here again, the chinaware has been dispensed with and the coffee now comes in disposable cups made with 100% recycled material.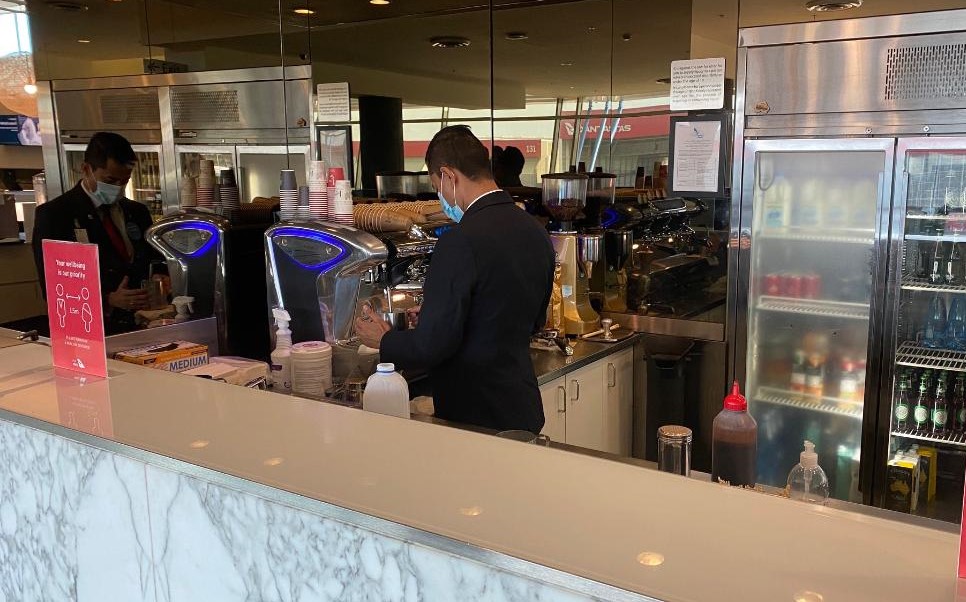 Barista at work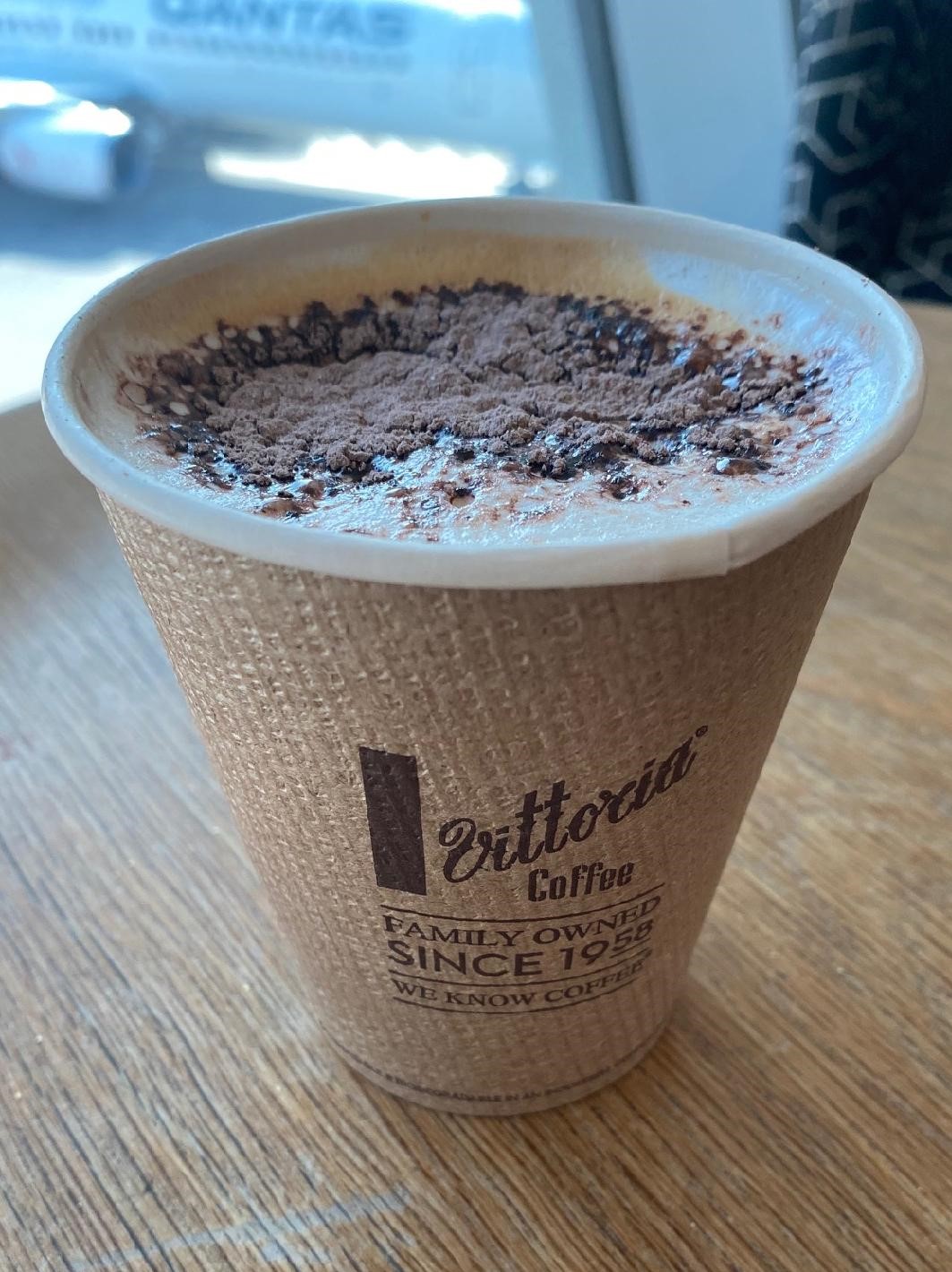 Housekeeping
There are plenty of hand sanitising stations right across the length and breadth of the facility. Messages reminding guests to wear a face mask & keep a safe distance are prominently displayed all around.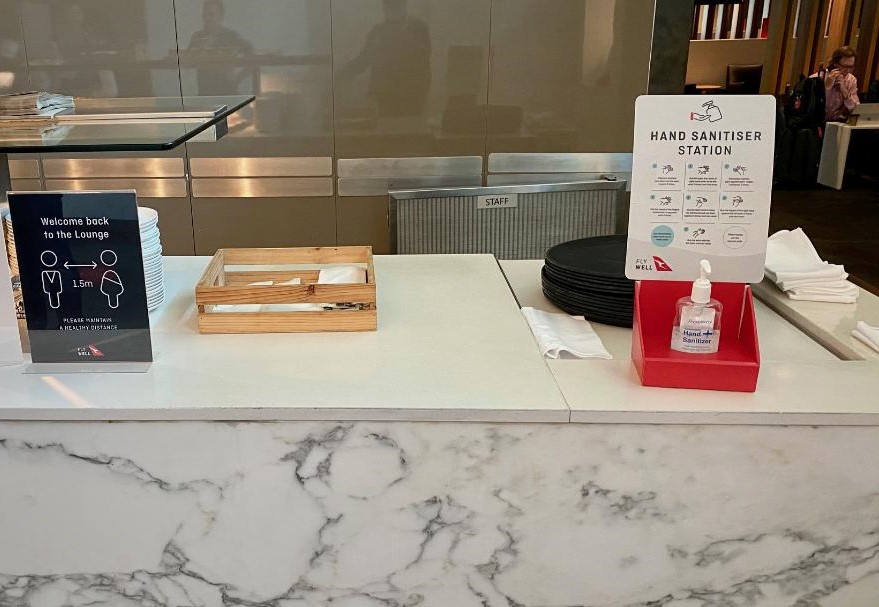 No excuse for not sanitising your hands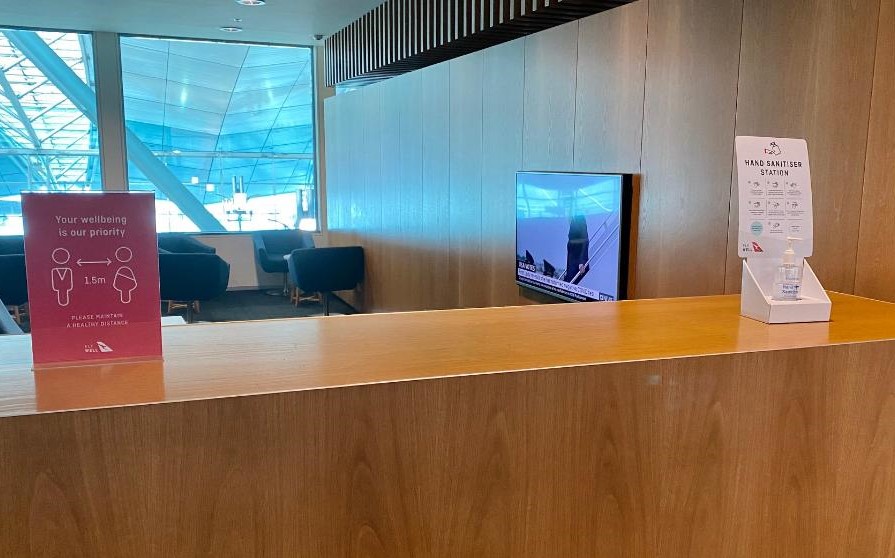 I also noticed staff constantly go around, removing used plates and wiping down the table for use by the next guest, which was pleasing.
The toilets appeared well maintained and squeaky clean, although that is no different to any other time in the past.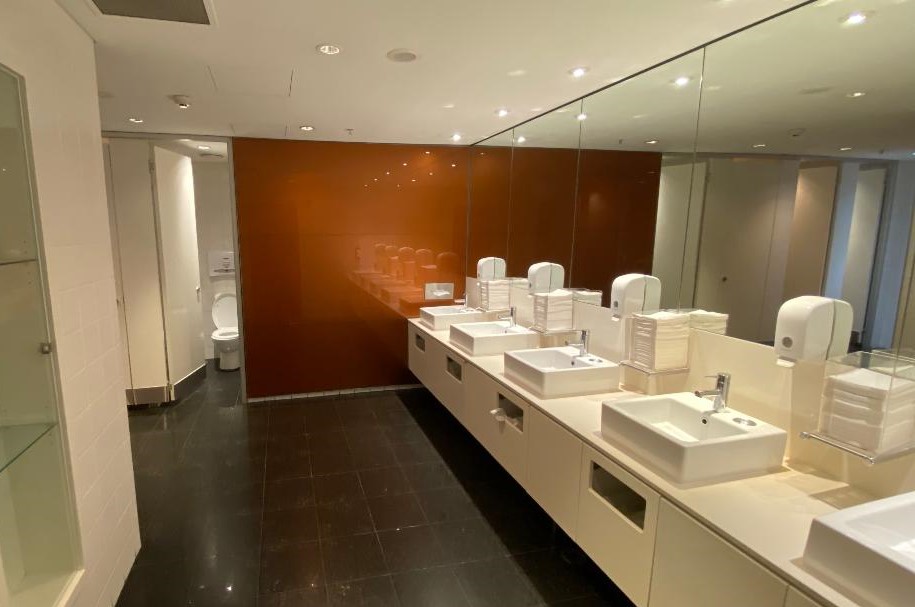 All up, I thought Qantas have done a stellar job at this and anybody visiting the lounge will walk-away satisfied by what they see and experience.
My Thoughts
It hardly needs stating that things are not business as usual. Qantas have made some pretty significant cutbacks to its drinks and dining offerings, which for a lot of people is perhaps the most important part of their lounge experience.
That said, it's hard to be too critical about it when you see the head-winds buffeting the airline industry and especially when the competition is serving 75c cup noodles to its business class guests 😉 . I would have liked to see more people wear face masks in the lounge, but it's almost impossible to enforce something of that nature when there is no law around it.
The only other thing that Qantas probably need to reconsider is the seating arrangement. I thought there were too many chairs bunched up together with inadequate spacing in-between. This might be ok while interstate borders are closed and travel is slow, meaning there are too few people in the lounge to be impacted by it. Overtime though, this may become an issue.
Have you visited any Qantas lounges recently? Leave a comment below.