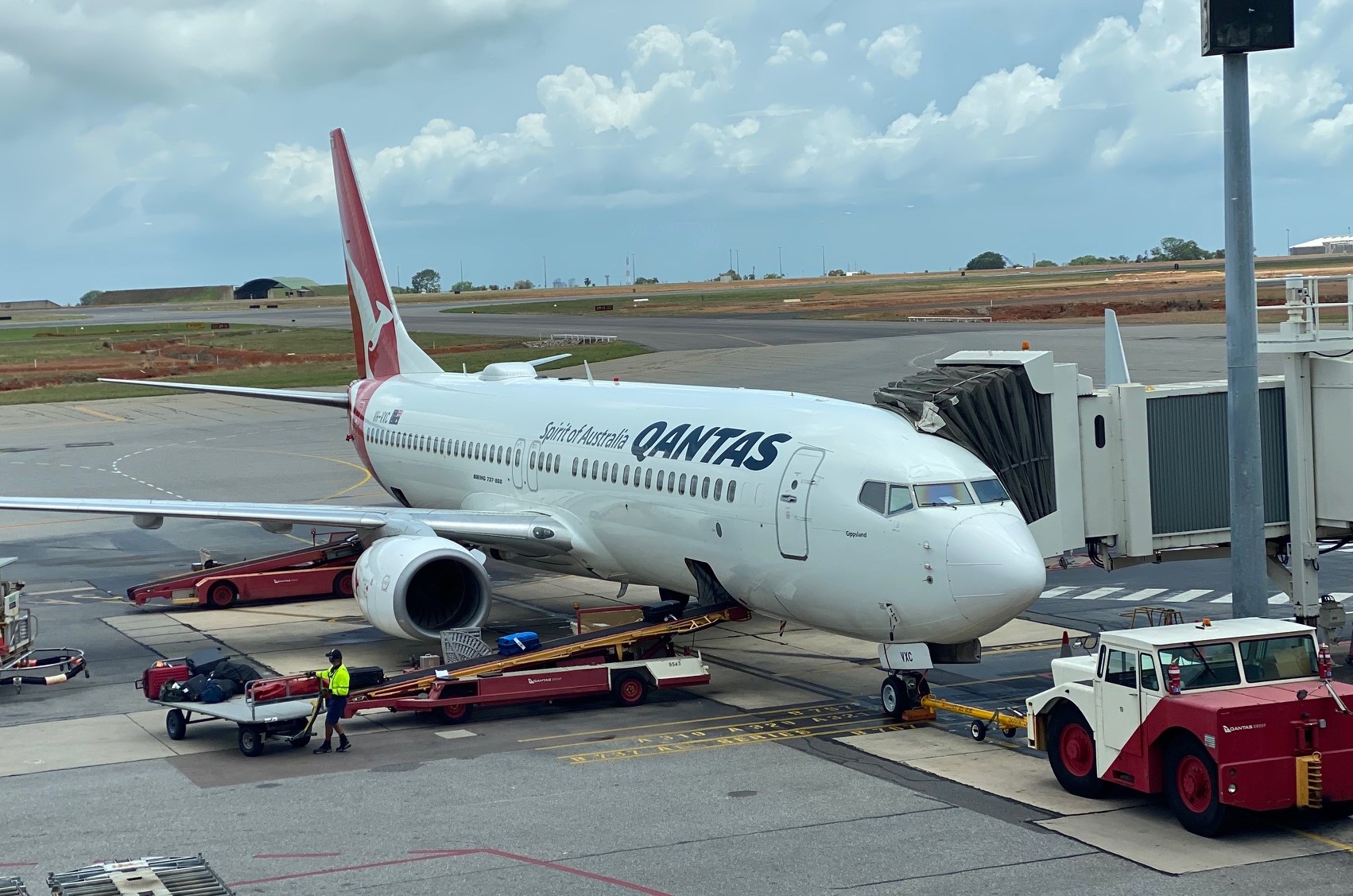 ROUTE FLOWN – Sydney (SYD) to Darwin (DRW)
After spending 40 odd minutes at Qantas Domestic Business Lounge, it was time to head to the departure gates. On this day, my Qantas flight (QF840) was departing from Gate 2 which was less than 5 minutes away. A reasonable sized crowd had congregated in the boarding area by now.
Booking
I redeemed 41,600 Qantas points for this flight and paid $48 to cover fees, taxes and surcharge. I wouldn't say it was unbeatable value but given cash prices on this route are generally north of $1,300, it made sense to redeem points.
Qantas points are fairly easy to earn if you live in Australia, but if you don't have enough of them, these are some of the other points and miles currency you can put to work for this route.
You can redeem 30,000 Cathay Pacific Asia Miles or 36,000 Emirates Skywards Miles which you can transfer from any number of American Express Cards and select Australian bank cards. In the latter case, you also have the option to earn Skywards Miles through Emirates Citi World Mastercard.
You can redeem 20,000 Alaska miles. It is fairly tough earning Alaska Miles for Australians and the easiest way to get your hands on them is to actually buy them. Alaska frequently sell miles on discount and if you take advantage of one of these promotions, you can buy them for about 2.4c per mile, which translates into a price of approx. A$ 480 for this flight.
You can redeem 22,000 British Airways Avios. Again, it's not a currency easily accumulated in Australia and the only way to earn them in reasonable quantity is by purchasing them.
Fees, taxes and surcharge in all cases are similar to what Qantas charges.
Boarding
A call went out 25 minutes before the scheduled 9:55 am departure inviting Business Class passengers, Qantas & oneworld elites to board. As I made my way through the boarding queue, I noticed the hand sanitising station & a pile of Fly Well packs just outside the aerobridge.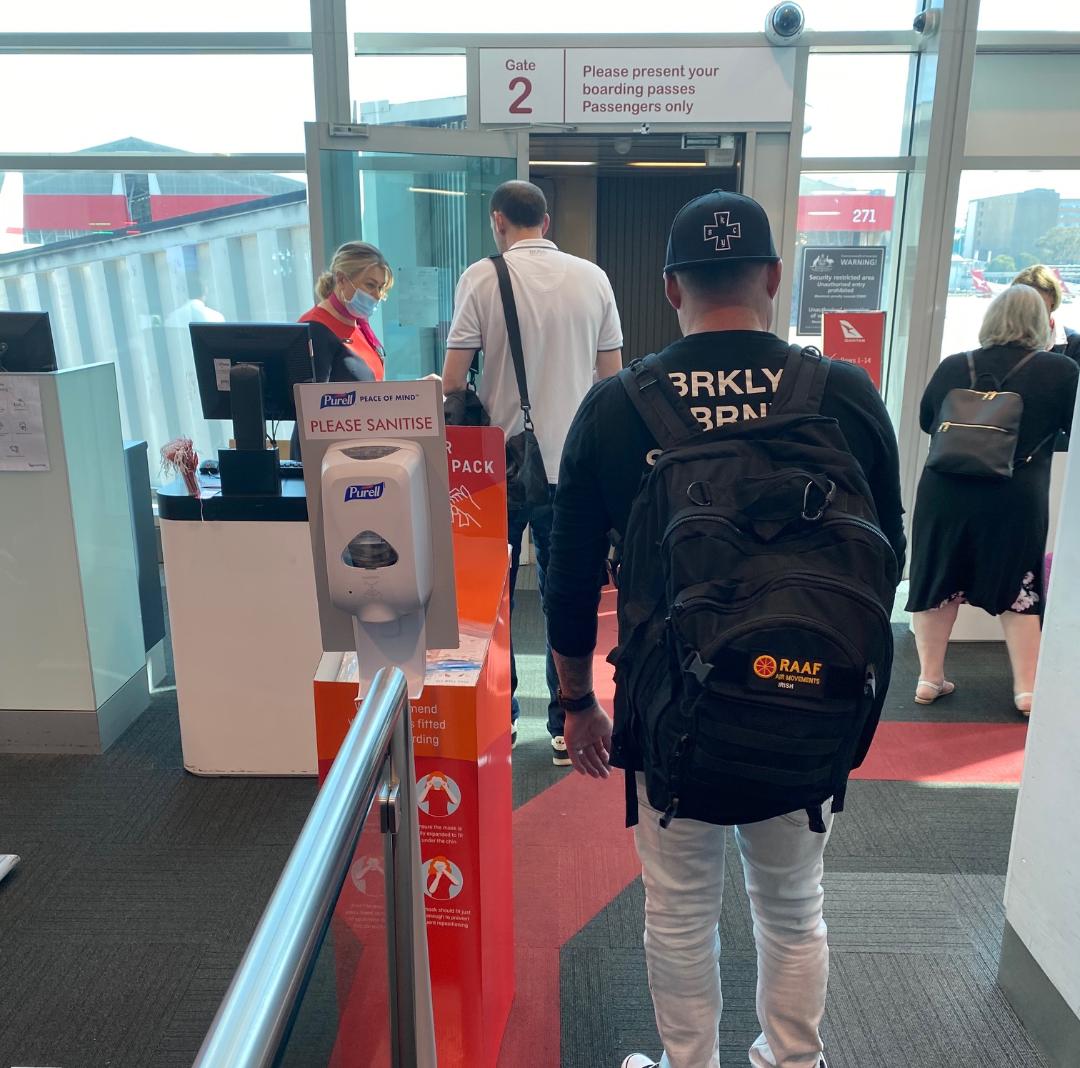 Hand Sanitising Station, Sydney Airport (T3)
The Fly Well pack contained a face mask and some wipes for hand and surface sanitisation. You could also ask for additional masks if you wanted. Wearing it onboard is strongly encouraged but not enforced. From what I observed, the take up was around 30%.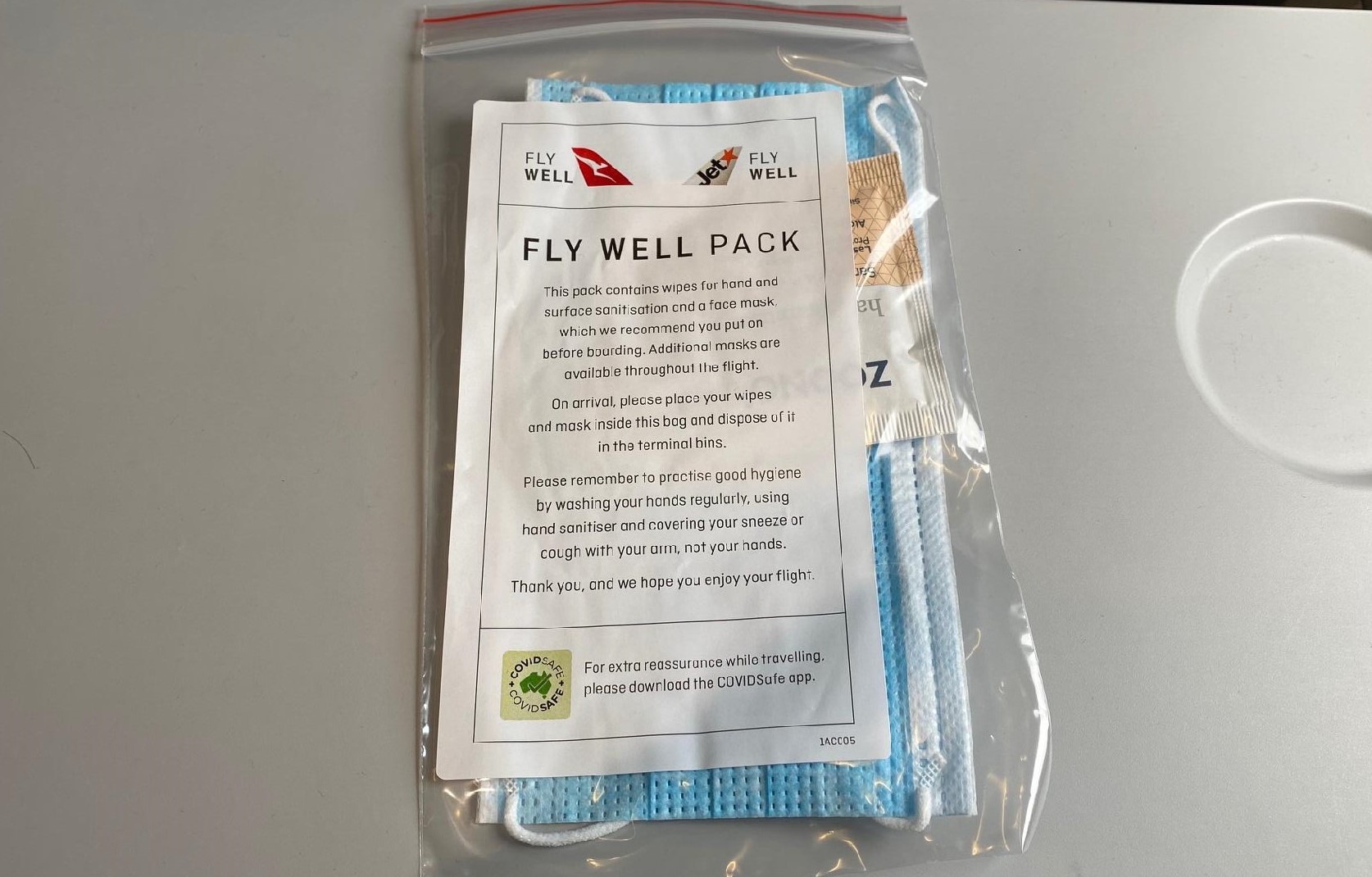 Qantas Fly Well Pack
I boarded the aircraft and arrived at my seat 3A, which was a window seat on the left in the last row of Business class cabin. I am not going to dwell too much on the seat itself, except saying that it's a spacious and well regarded recliner seat you will find right across Qantas' fleet of more than 100+ B-737 planes.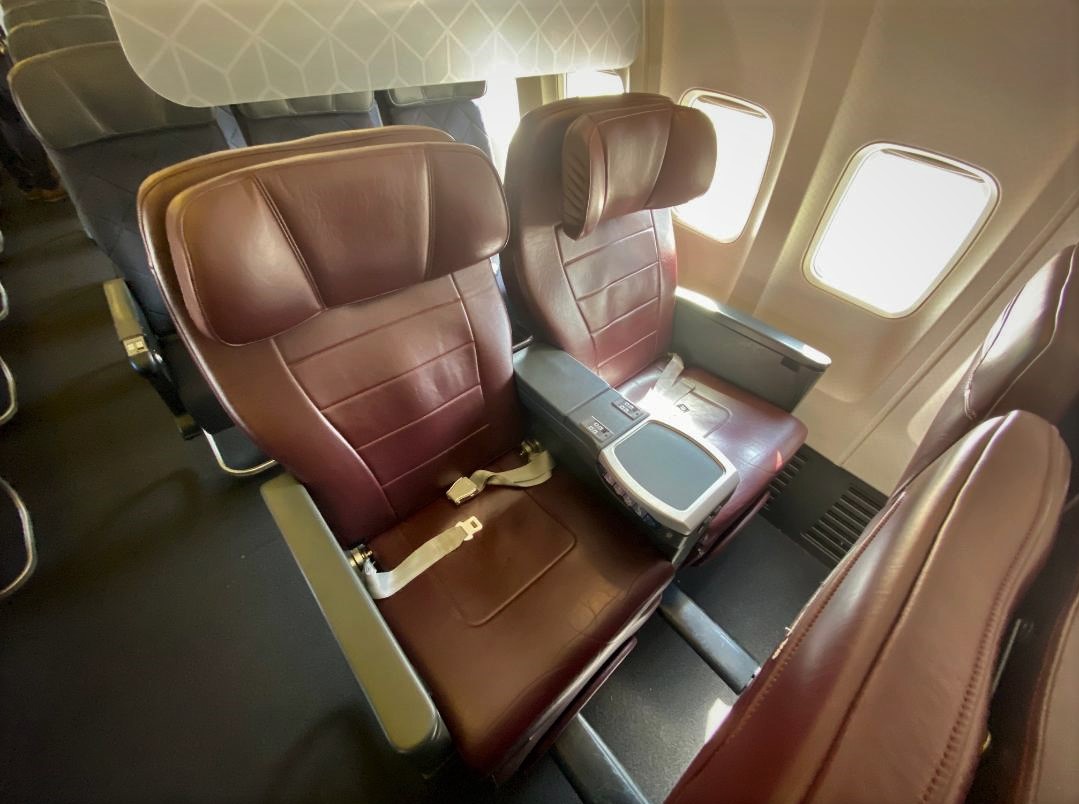 Qantas B-737 Business Class Seat
Soon enough, the remainder of the passengers arrived and all 12 seats were occupied.
Service
The business class cabin on this flight was served by a crew of 2 female flight attendants. At this point, it was more than 10 minutes since I took my seat and in that time, I didn't get as much as a peep from the crew, let alone a welcome drink.
It would be another 30 minutes after take off, that a reluctant and deeply unmotivated crew member would show up asking if I would like a drink. The choices were beer, wine and juice. I queried if they had a Chardonnay, which they didn't so I asked her to get me whichever white wine they had onboard.
Anyhow, I waited and waited, and waited for my glass of wine, which …….. never arrived.
Dining & Drinks
The main meal on this flight was lunch and service commenced about 90 minutes after take-off. The options were either a chicken dish or salad. My neighbour on the next seat had got the salad and it didn't look great, so I went with the chicken. The meal had been pre-plated and was delivered on a tray.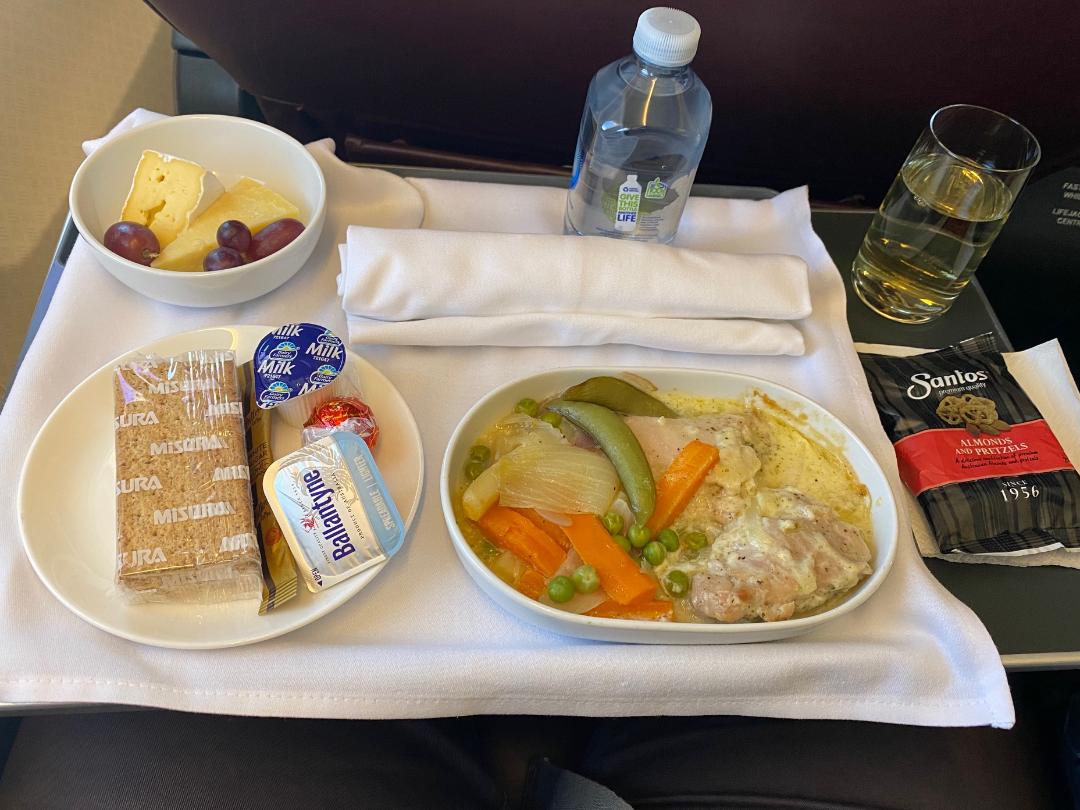 Qantas B-737 Business Class Lunch
This was followed by a round of bread-basket.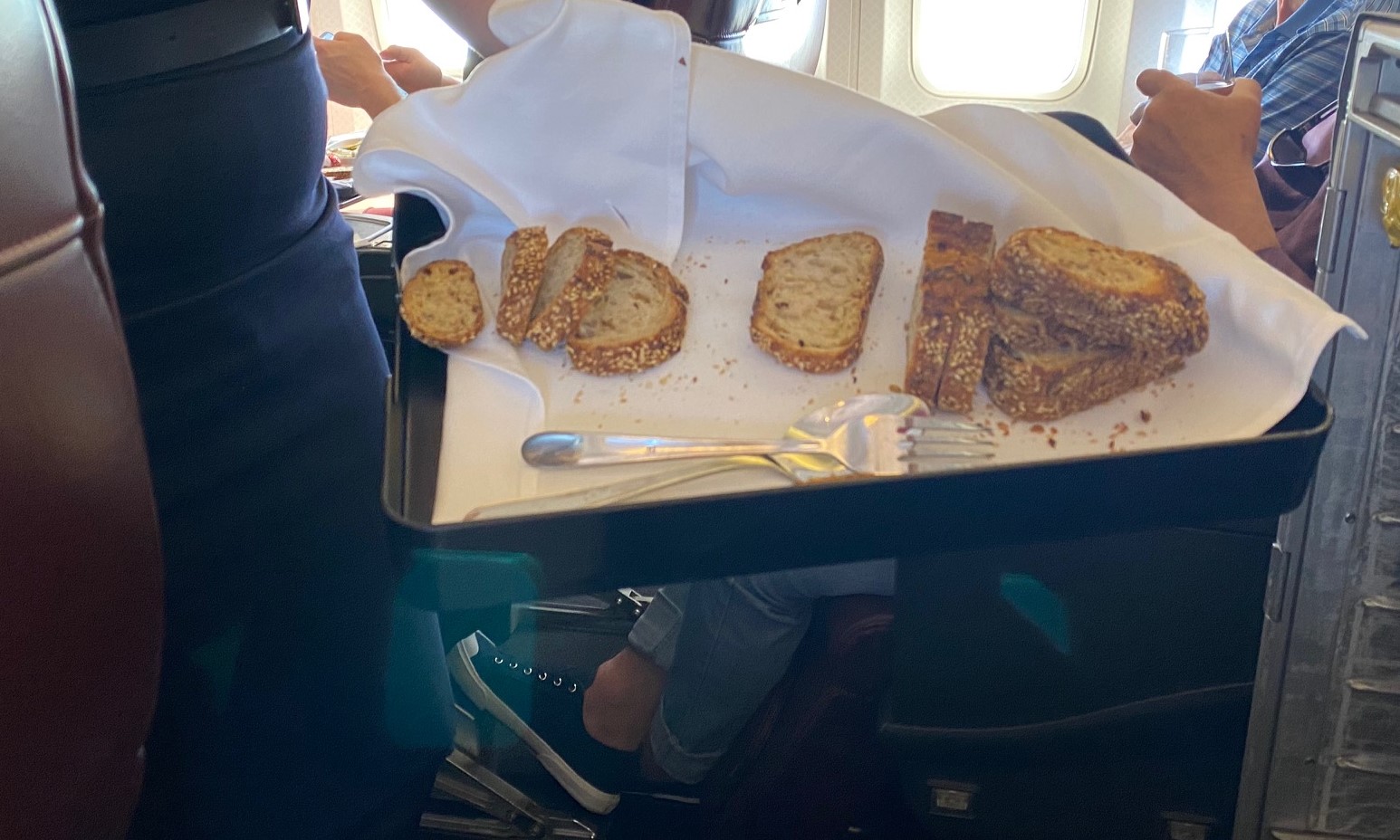 Qantas B-737 Business Class Bread basket
The crew member then asked if I wanted something to drink and it wasn't until I actually politely reminded her about not receiving my earlier drink order that she realised her folly. No apologies were forthcoming though, in fact the words uttered were something along the lines of how she doesn't get any help around here 🙄
Anyhow, the chicken looked decidedly unappetising and tasted even worse. It was served with a side of over cooked vegetables lathered in some kind of sauce totally bereft of flavour.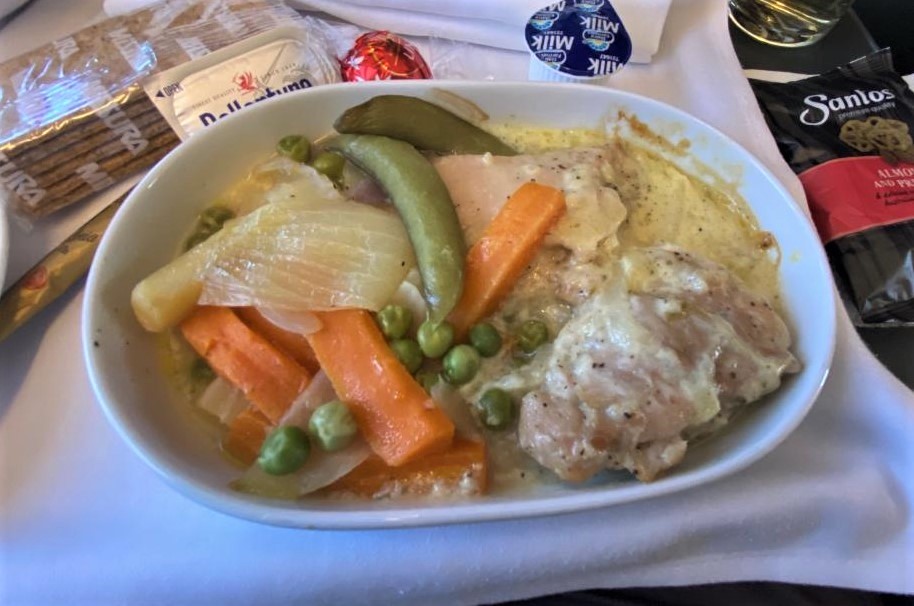 Qantas B-737 Business Class Chicken
I took a couple of bites of the chicken and moved it on. I then reached for the cheese bowl and plain crackers which were a major improvement over the main course.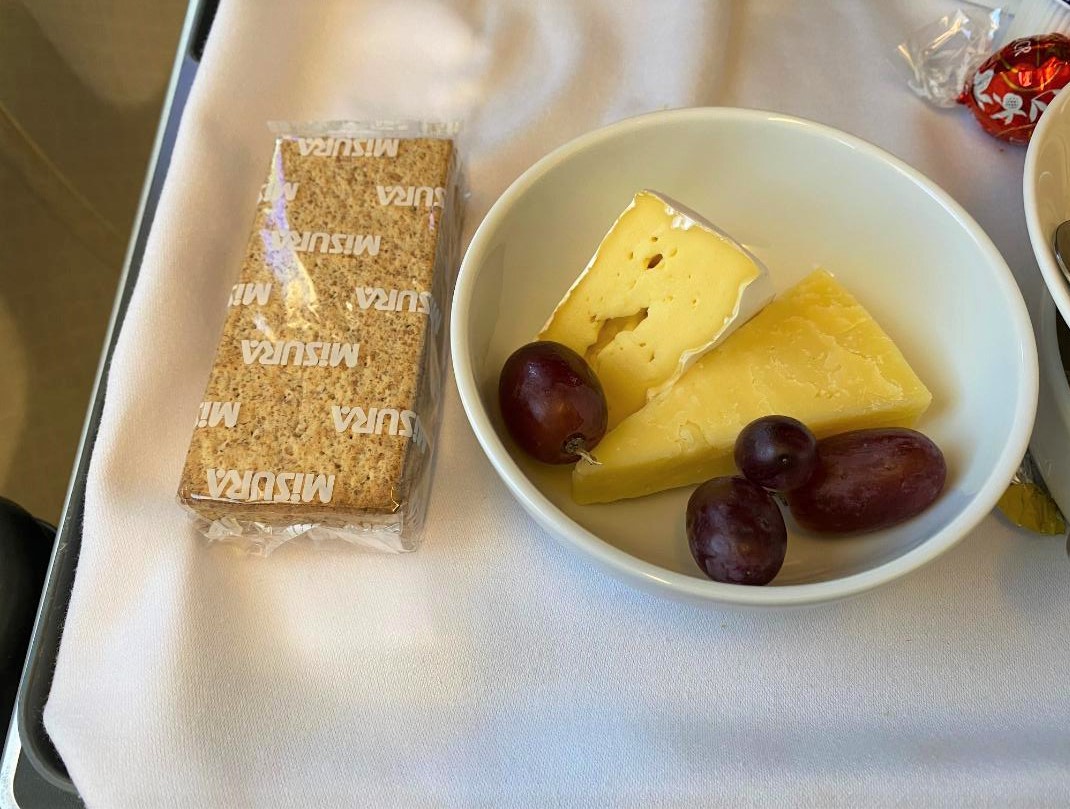 Qantas B-737 Business Class Cheese & Crackers
The brie had aged well and carried the right mix of fruity and mushroom-like flavour, the crackers were crisp. I washed it all down with the glass of white wine which did eventually appear.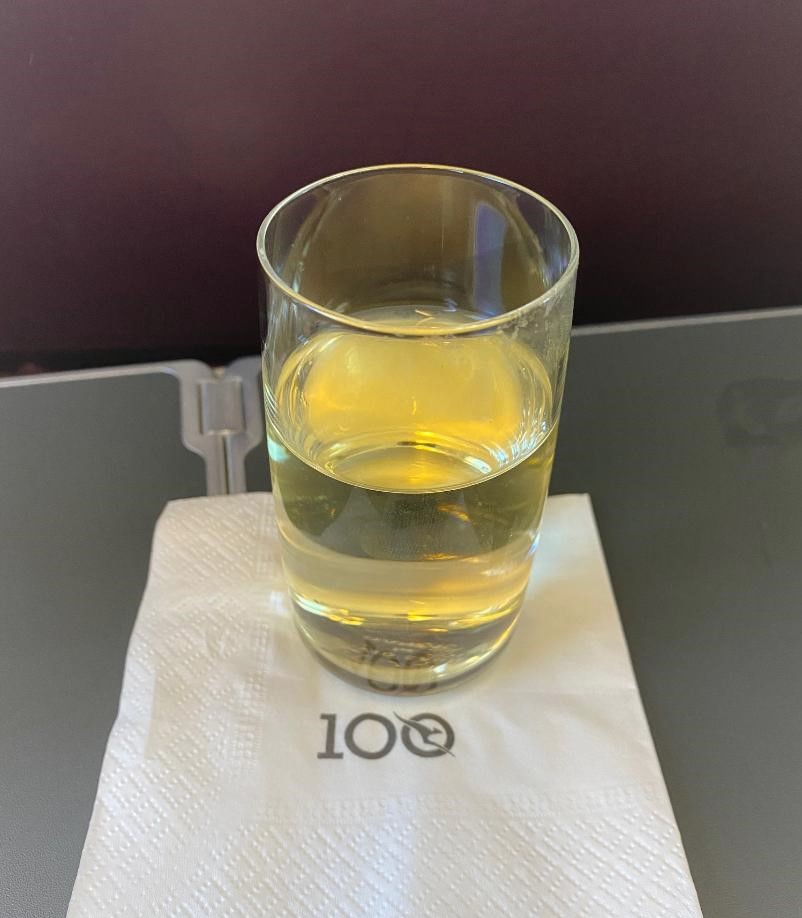 Qantas B-737 Business Class White Wine
Later on, about an hour before arrival into Darwin, the crew ran a snack service. The sizeable coconut and chocolate cookie was delicious and went a long way in compensating for the lacklustre chicken.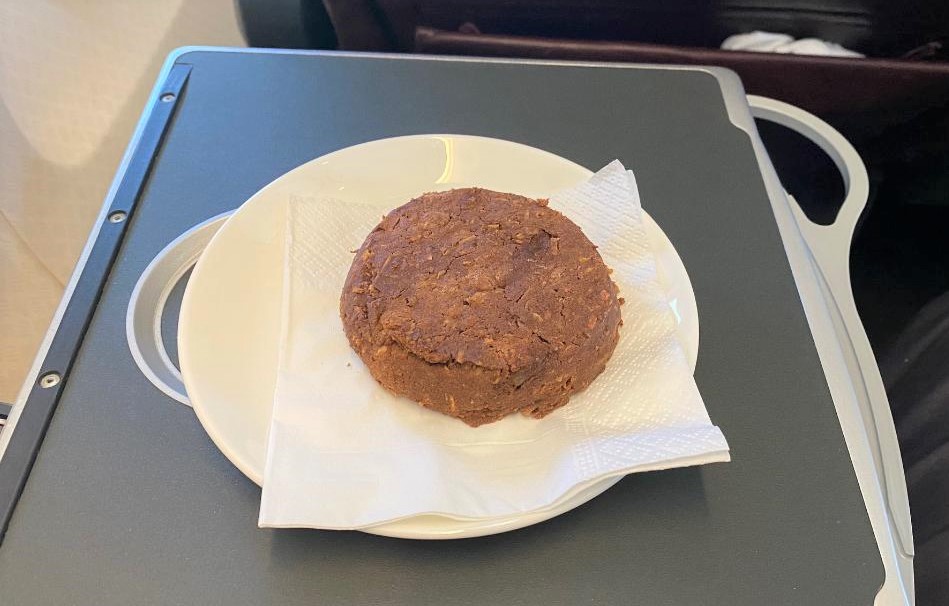 Qantas B-737 Business Class Cookie
I absolutely devoured it, thus ensuring it got the respect it commanded 😉
Arrival into Darwin
We touched down in Darwin 20 minutes prior to the scheduled arrival time and after a short taxi to the gate, it was time to disembark. As we came out of the plane, I noticed an airport staff handing out masks and directing passengers to a controlled area in the terminal.
COVID safe messages were plastered across the terminal floor.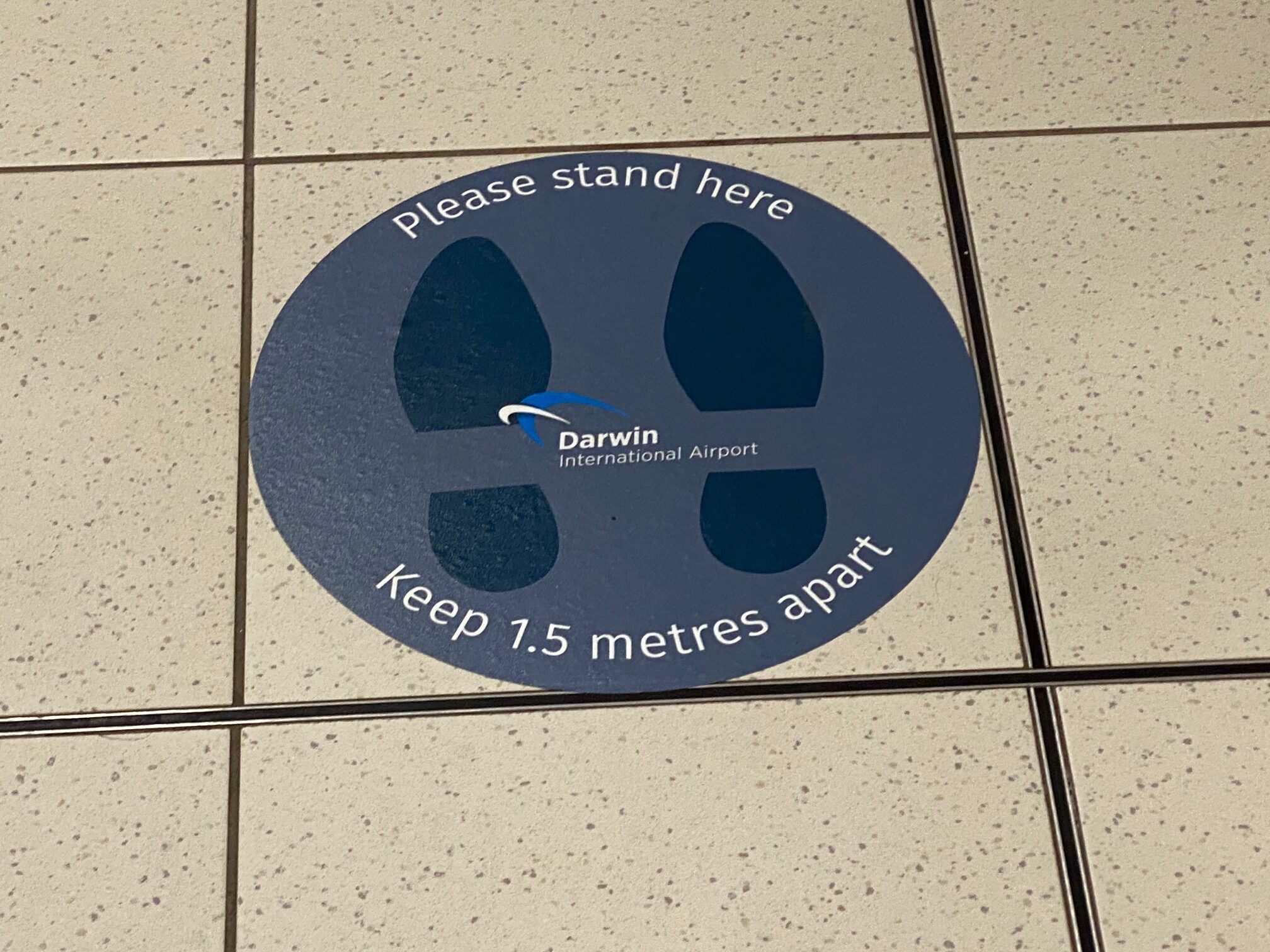 Although Northern Territory is open to people from New South Wales including Greater Sydney, everyone entering the state is required to fill out a Border Entry form like the one below.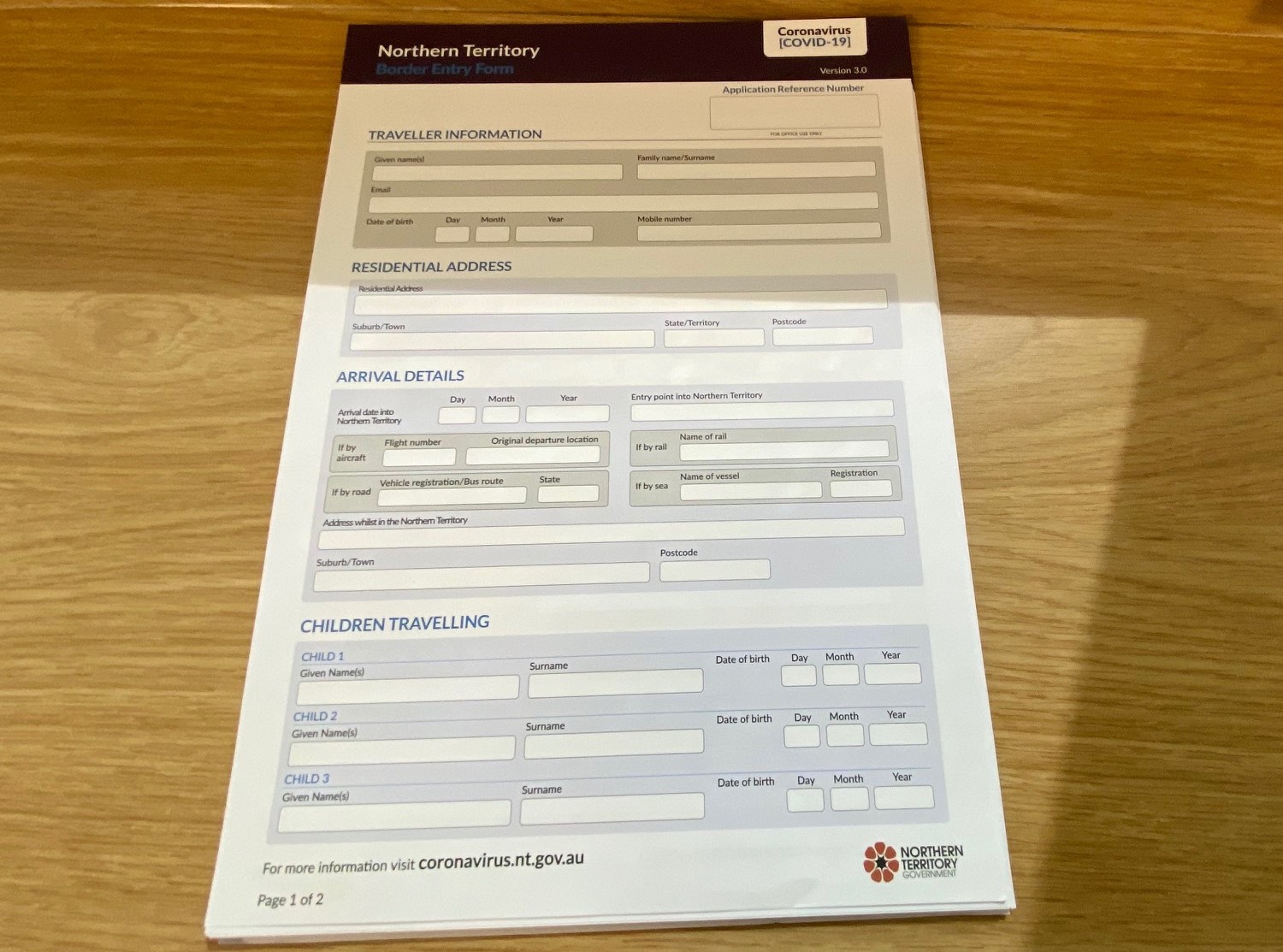 Border Entry Form, Northern Territory
The information requested is pretty standard, you also had to affirm you are well, have no flu-like symptoms and have not been inside a declared COVID hot-spot in the past 14 days. Once finished, I took the paperwork and queued up for assessment at a dedicated desk, where staff sat behind protective glass shields.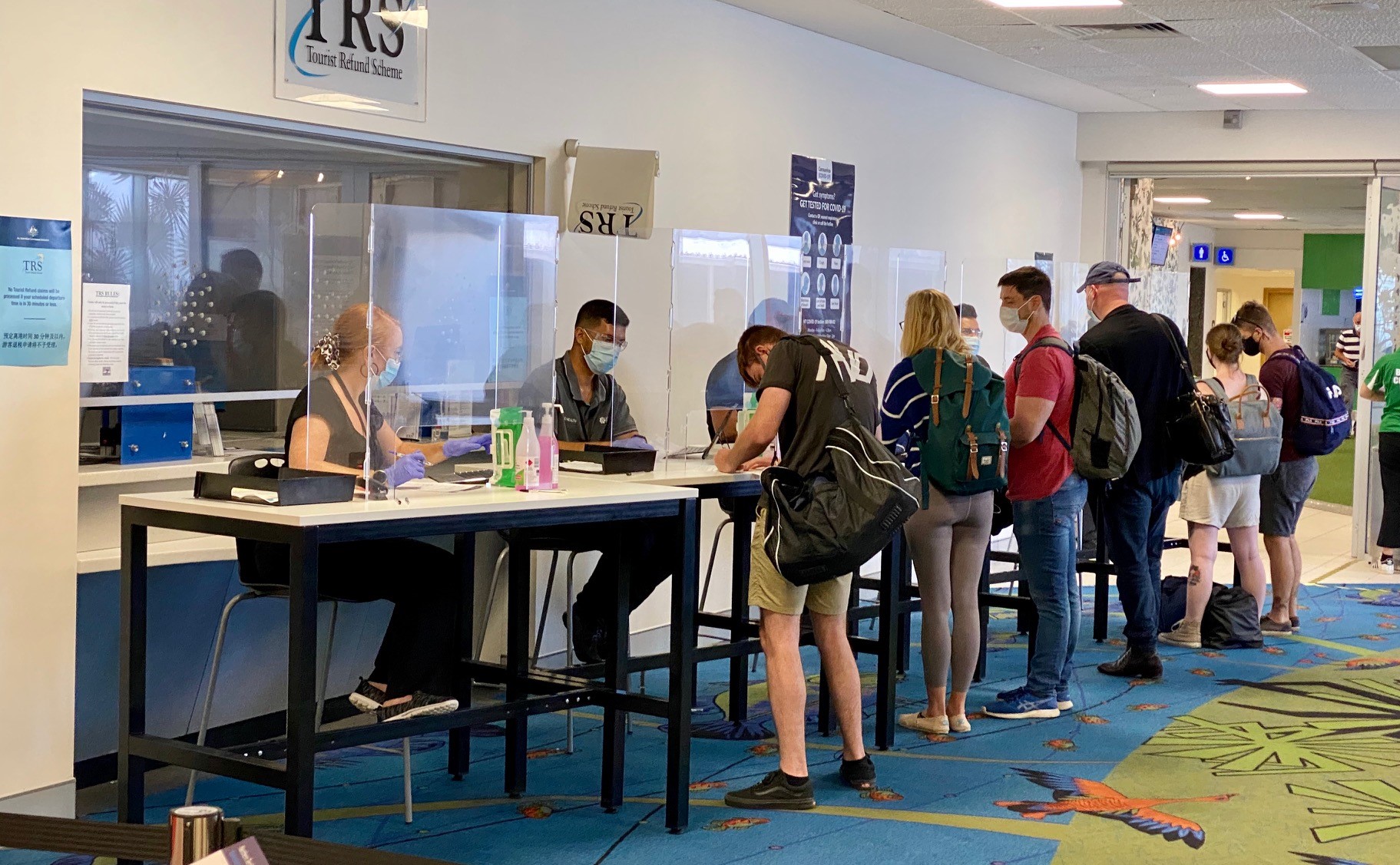 COVID-19 Screening Desk, Darwin Airport
Thankfully it was a very quick process and I was cleared to go in under 2 minutes. As I had no bags to collect, I went straight to the car rental shop located in the arrivals hall, got my car and was soon on my way to the hotel.
My Thoughts
This was a flight unlike any other I have experienced in my life, and yet, some things felt all too familiar. Take service for instance. Poor service on Qantas is my pet-peeve and like a broken record, I have seen it play-on-loop, on countless flights over the years, so this was hardly a surprise. Give me (pre-covid) Virgin Australia any day.
At a time when millions of airline workers have lost their jobs, you would think the lucky few who have managed to retain theirs would show a little more enthusiasm coming to work.
Food was another huge let-down. I understand that due to the pandemic, airlines are trying to minimise interaction with passengers, and as a result, dining is no longer a multi-course, hour long affair with each course brought out individually. But is that an excuse for serving a meal which is barely edible?
I might sound harsh, but the only really positive aspect about this flight was it got me from Sydney to Darwin safely and on time.
Have you flown Qantas recently? Leave a comment below.