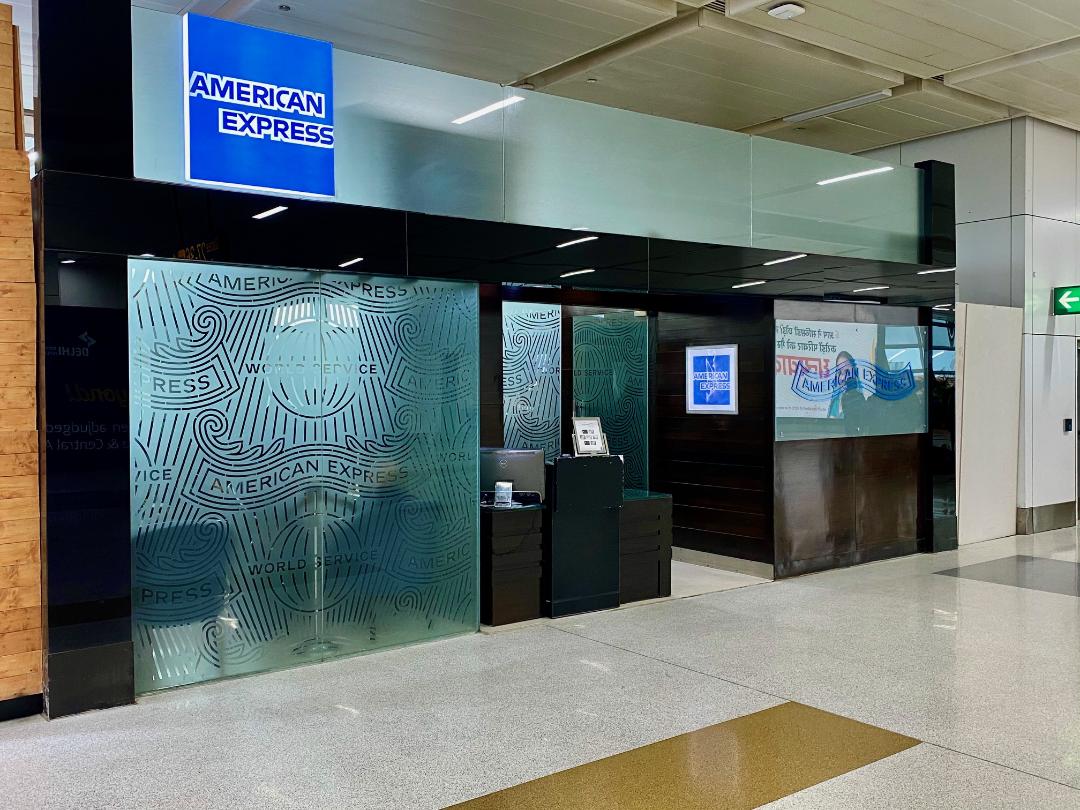 American Express operates a limited number of high quality airport lounges around the world. As of the time of writing, there are:
8 Centurion Lounges in US, 1 in Hong Kong
6 Centurion Clubs in Mexico
2 American Express Lounges each, in Australia & India
1 Lounge each in Sweden, Brazil & Argentina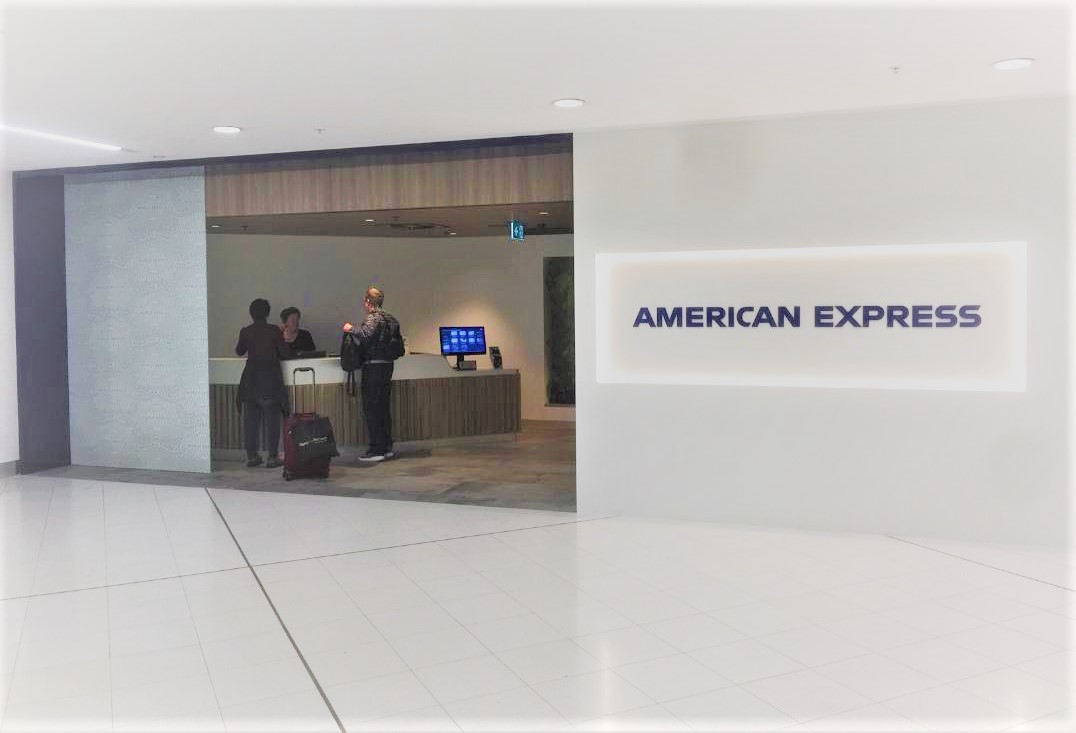 American Express Lounge at Sydney International Airport
What sets these lounges apart from thousands of others, is that they can only only be accessed with certain American Express credit or charge cards. It does not matter which airline or class you are flying, as long as you have a card that provides access to the lounge, you get in. I have listed all the eligible cards a little later in the post.
What to Expect
Not all American Express lounges are created equal. The Centurion lounges offer amenities such as shower suites, massage and so-on at certain locations. However, you can expect most of the lounges to offer:
Local & seasonal fare
Hot and Cold beverages (including alcoholic beverages)
High Speed wi-fi
Personal workspace with universal power sockets
Desktop computers with printer and copier
Location
The American Express lounge in Delhi is located at Terminal 3. Although the Terminal serves both domestic and international flights, due to its location, the lounge can only be accessed by domestic passengers.
This means that those flying Air India, Air Vistara or AirAsia can access the lounge prior to their flights. Indigo & SpiceJet operate from T1 and T3 both, so you will need to check your tickets for details. Meanwhile, those booked on Go Air will not be able to access the facility since the airline operates solely from T1.
After clearing security, follow the signs directing you to the airline lounges. The American Express Lounge is located just before Gate 27.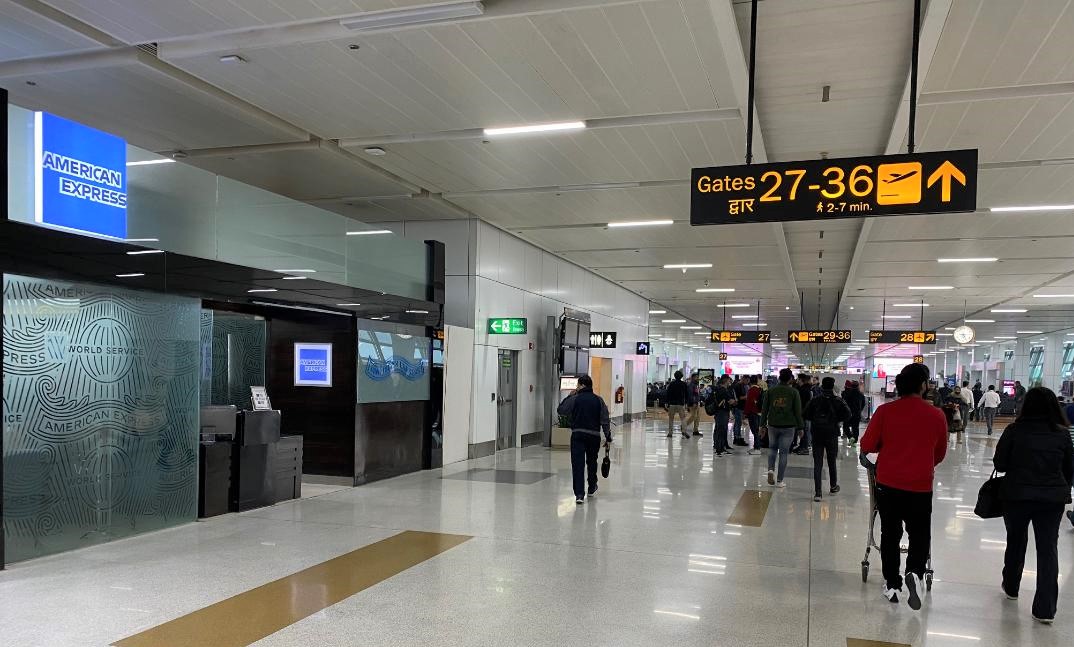 First Impressions
I arrived at the lounge around 8:30 am and immediately noticed that unlike other Amex lounges, this one was missing the green living wall. There was a small reception desk up the front displaying all the eligible cards for access.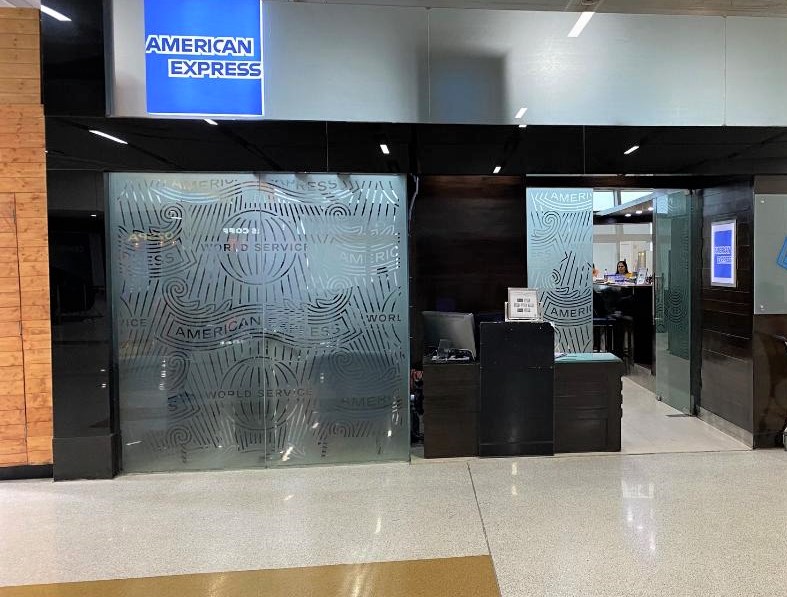 Entry to American Express Lounge at Delhi Airport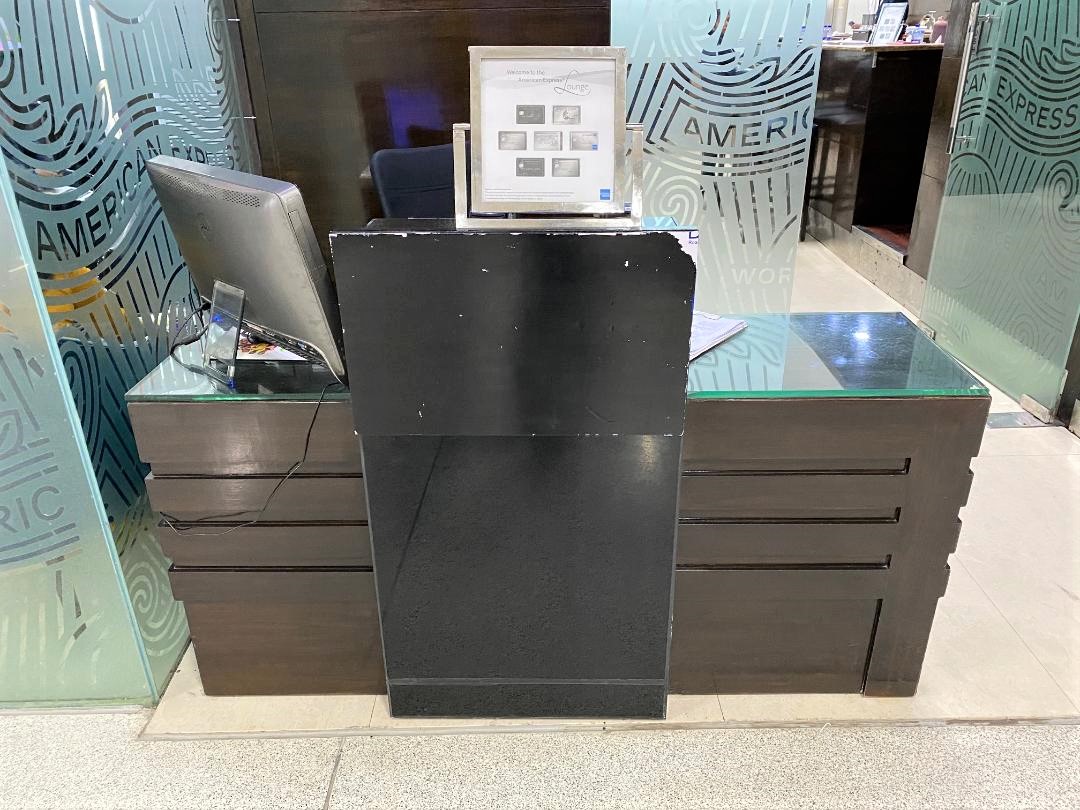 I presented my American Express Platinum card which was scanned and an amount of Rs 2 was charged. With that out of the way, I was in.
As you step-in, there is a small seating area to the left with about half a dozen odd tables and chairs. Most tables could only seat 2, with 1 large table in the middle able to accommodate a slightly bigger group. As you can see, privacy is non existent with tables packed in fairly close together.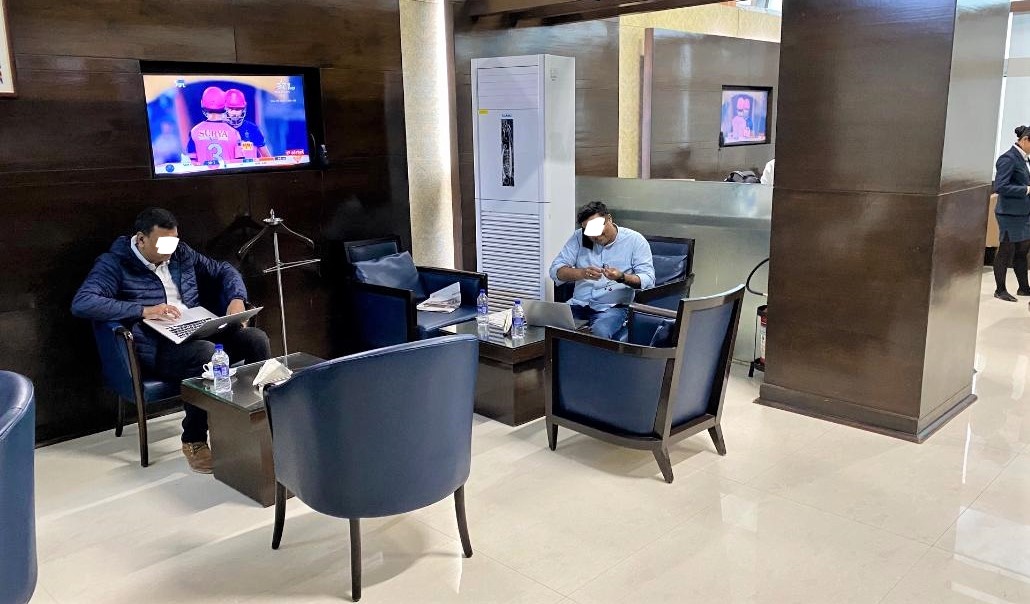 Seating – American Express Lounge, Delhi Airport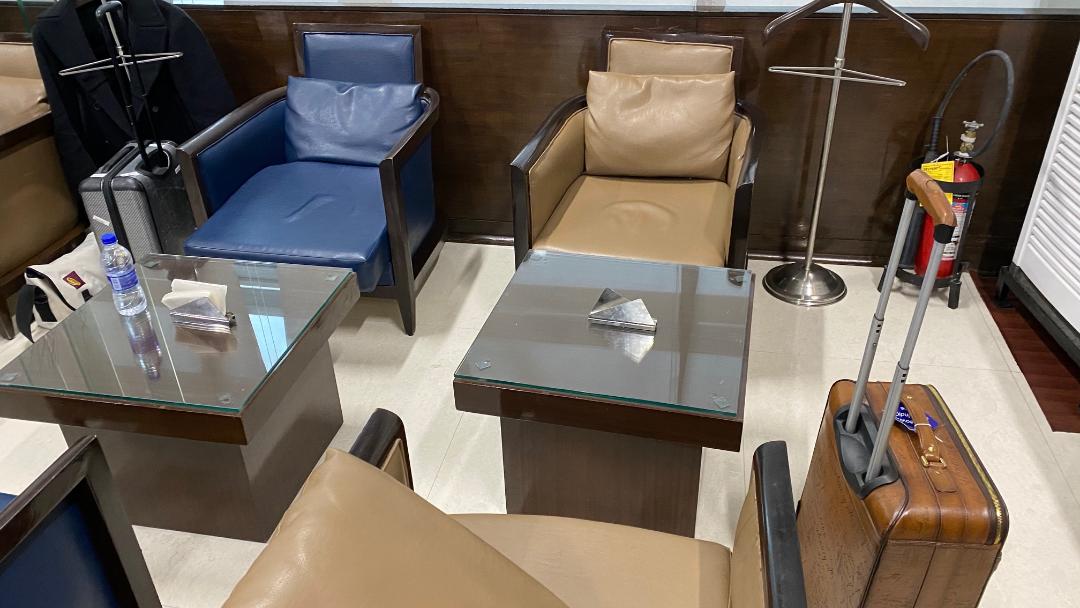 Seating – American Express Lounge, Delhi Airport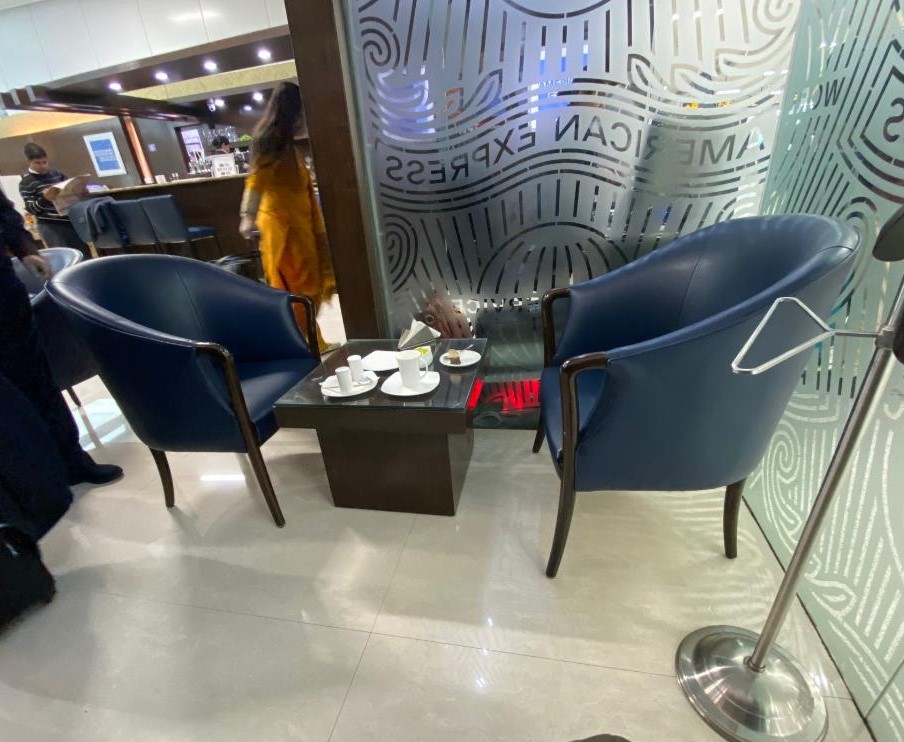 Seating – American Express Lounge, Delhi Airport
The bar/cafe is to the right, on the opposite side. As I visited the lounge during breakfast hours, one of the staff was doubling up as the barista and whipping up hot cups of tea and coffee.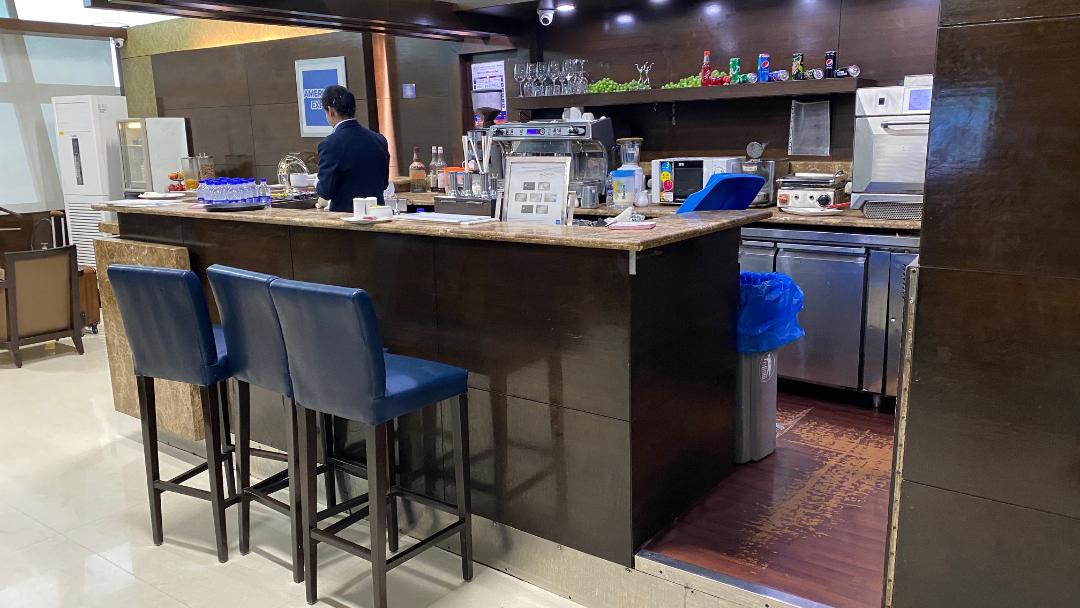 Cafe, Amex Lounge at Delhi Airport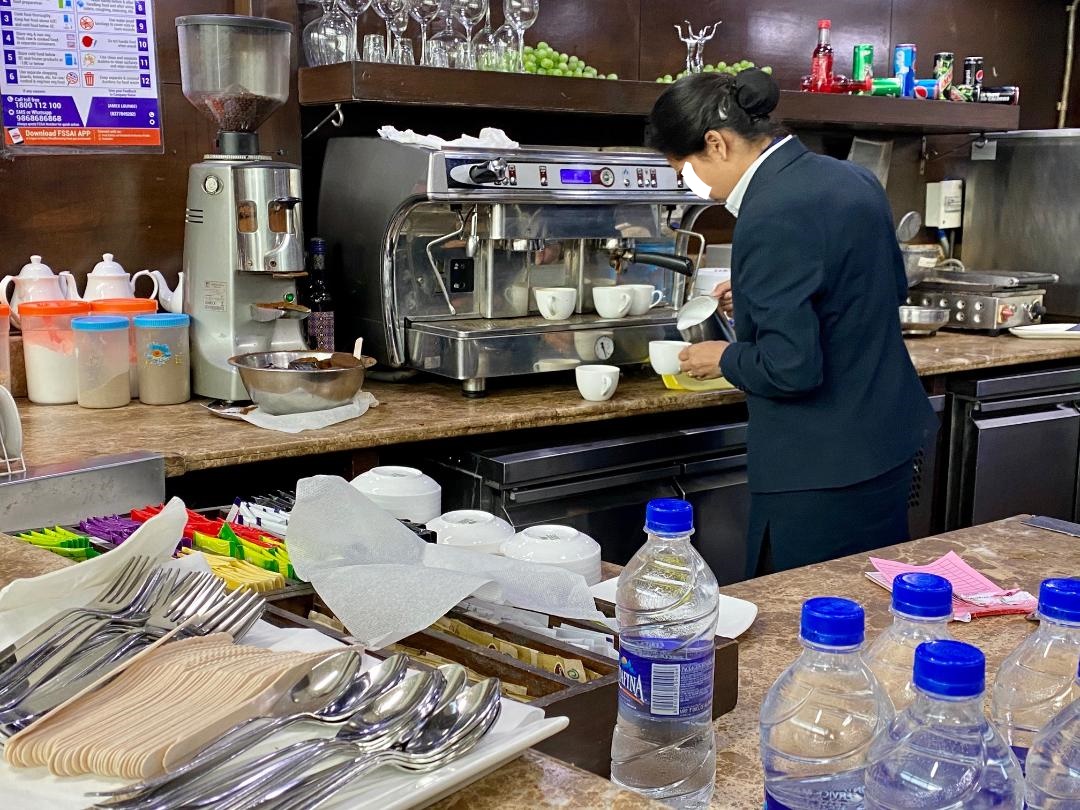 There were no alcoholic drinks in sight, so I queried one of the staff who advised that the bar opens at 11 am, fair enough.
Further down from the bar and to the right, along the wall was the facilities sole buffet station with a small selection of breakfast items laid out. There were the all-time Indian favourite breakfast dishes of vada, upma, idli and a variety of chutneys.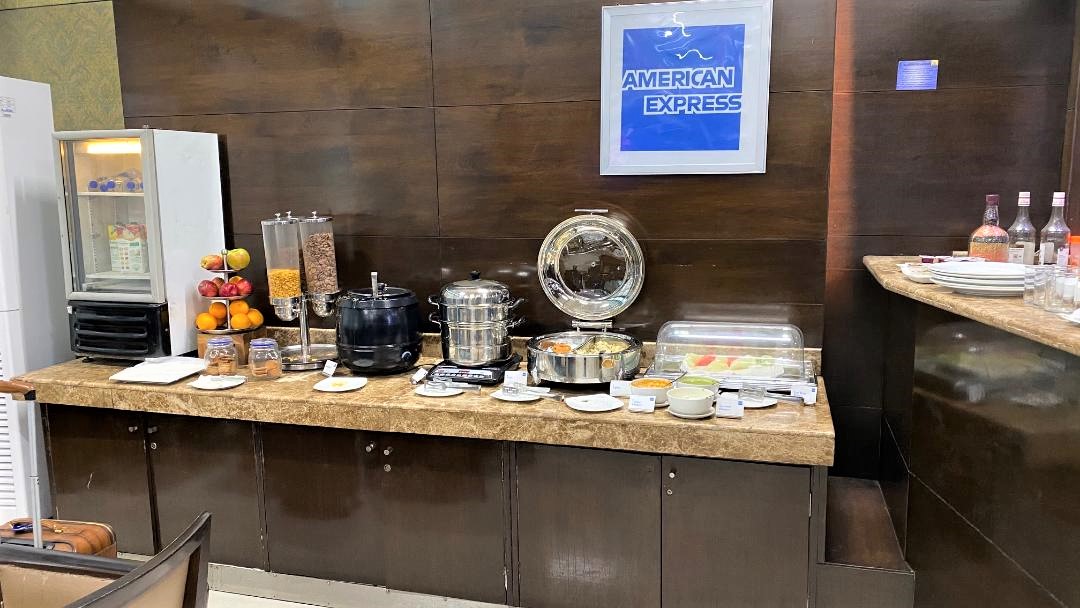 Buffet breakfast at Amex Lounge, Delhi Airport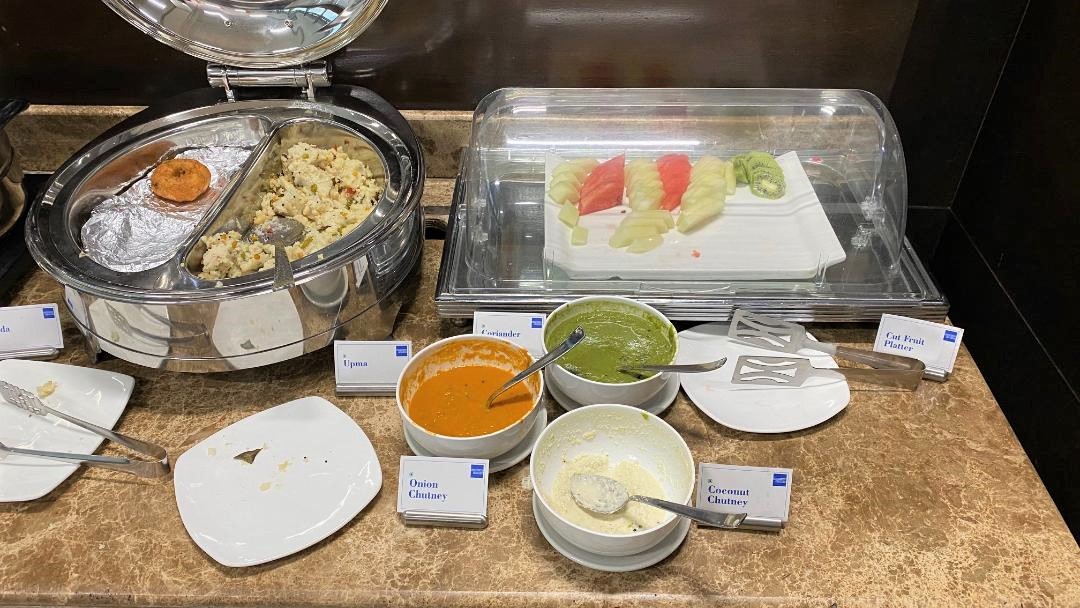 Idli's & piping hot sambar were in a large hot-pot. Then you had some cornflakes, whole fruits and a couple of jars of cookies next to them.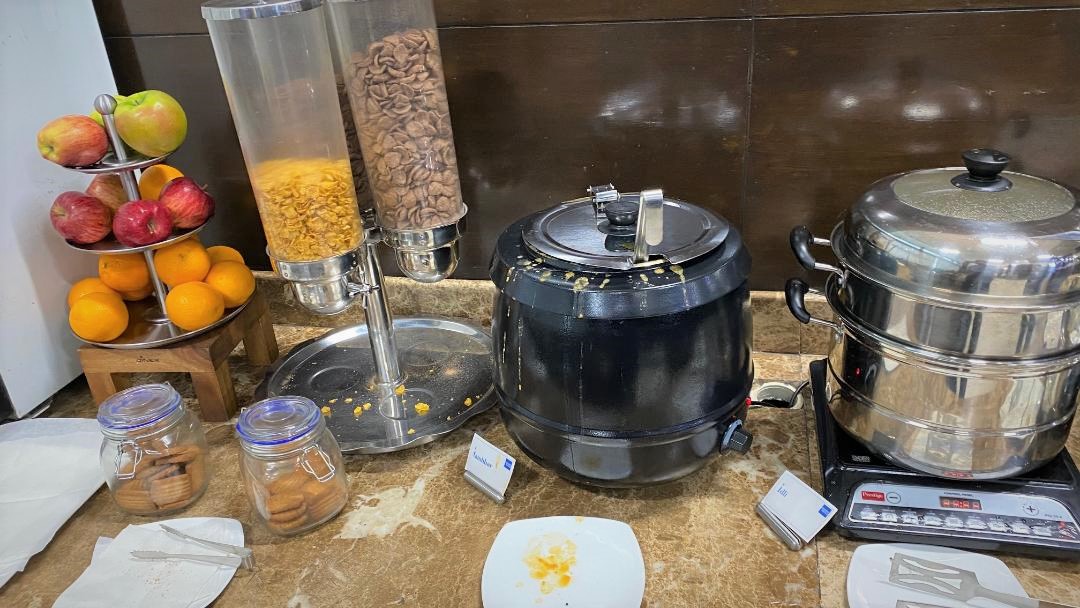 Buffet breakfast at Amex Lounge, Delhi Airport
I helped myself to some idli and upma, which was scrumptious 🙂 Later on, I also ordered a cappuccino which was delivered to my table.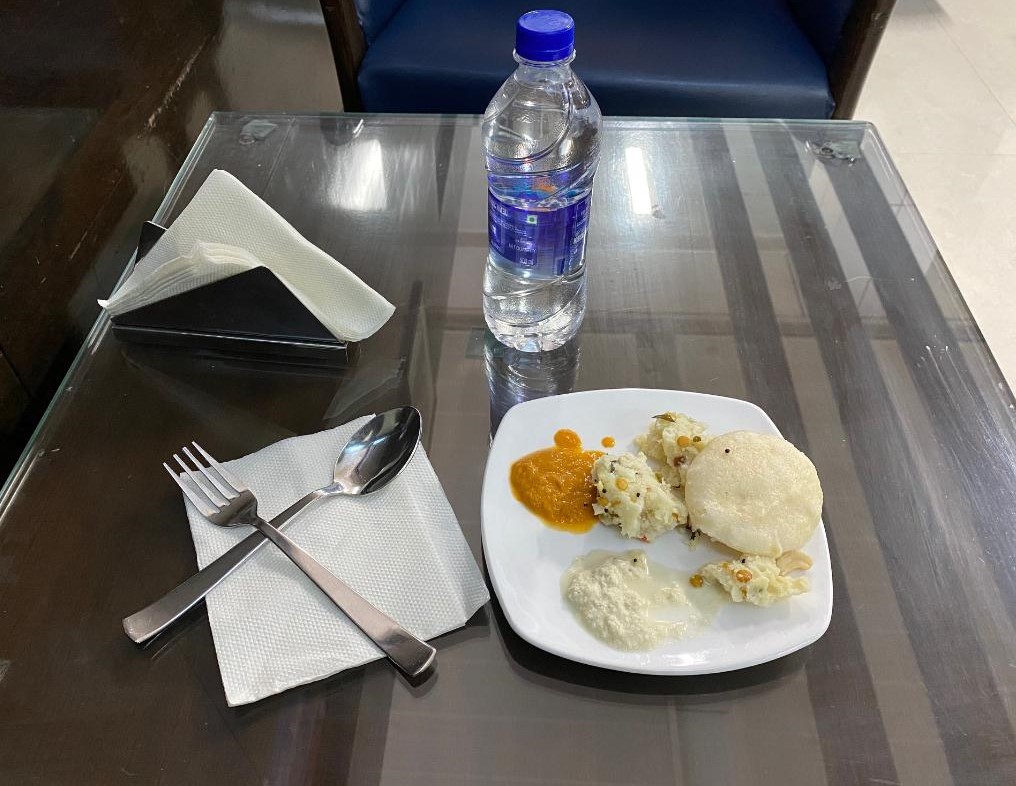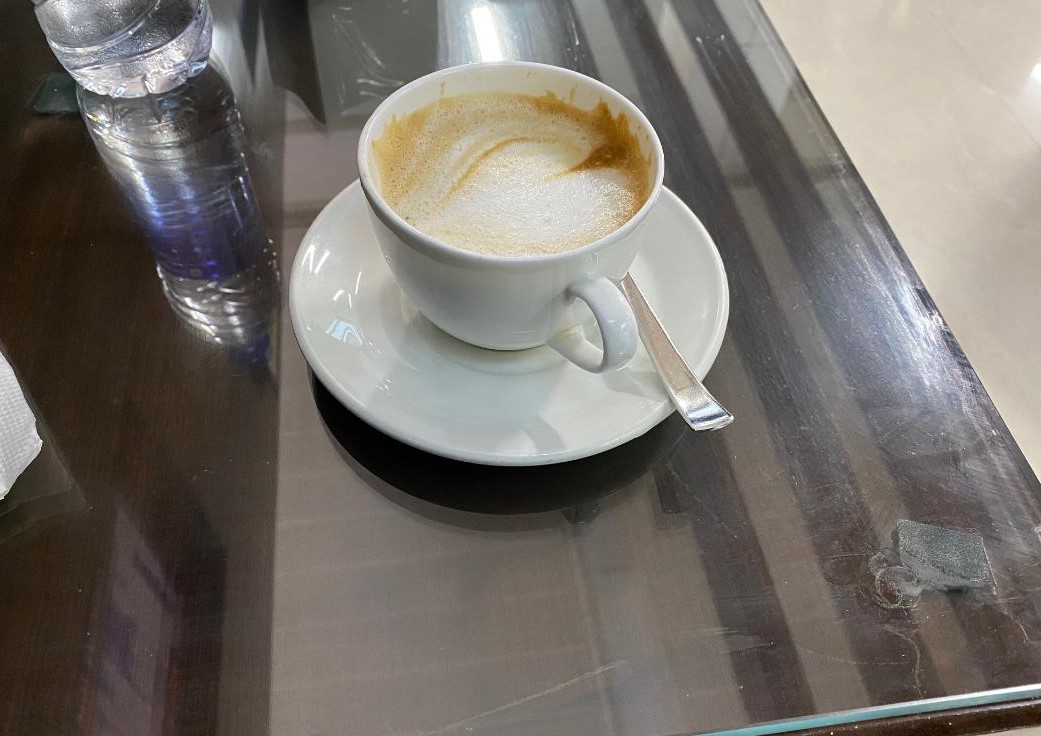 Besides the buffet items, the lounge also provides a limited selection of a la carte menu that you could order from. These included items such as eggs cooked your style, croissant, danish pastries etc. Here's the menu.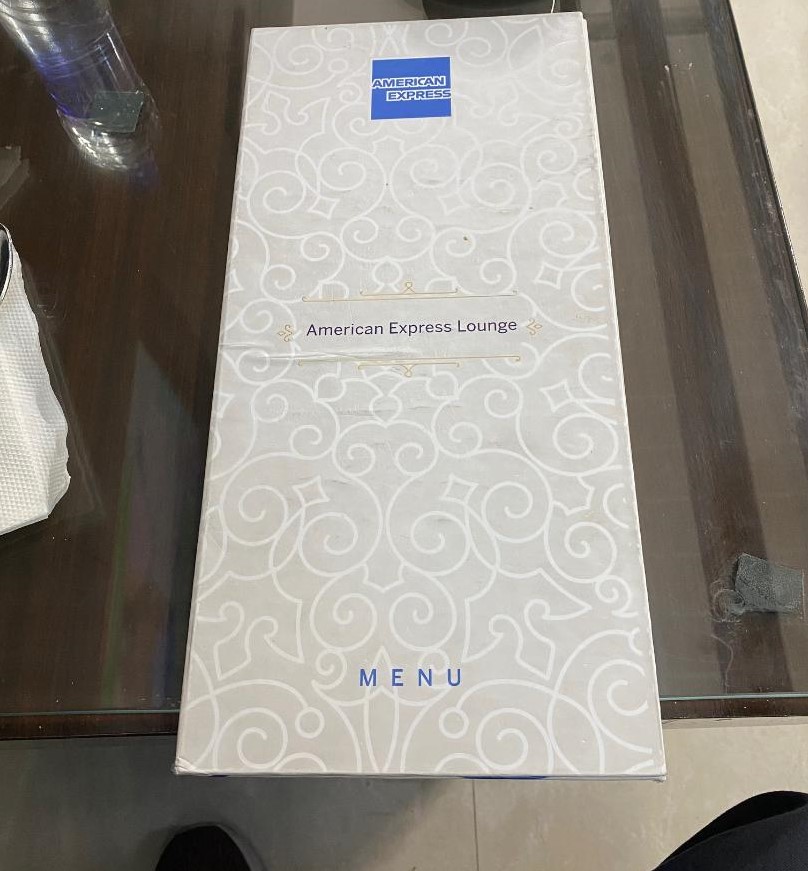 Menu – American Express Lounge Delhi Airport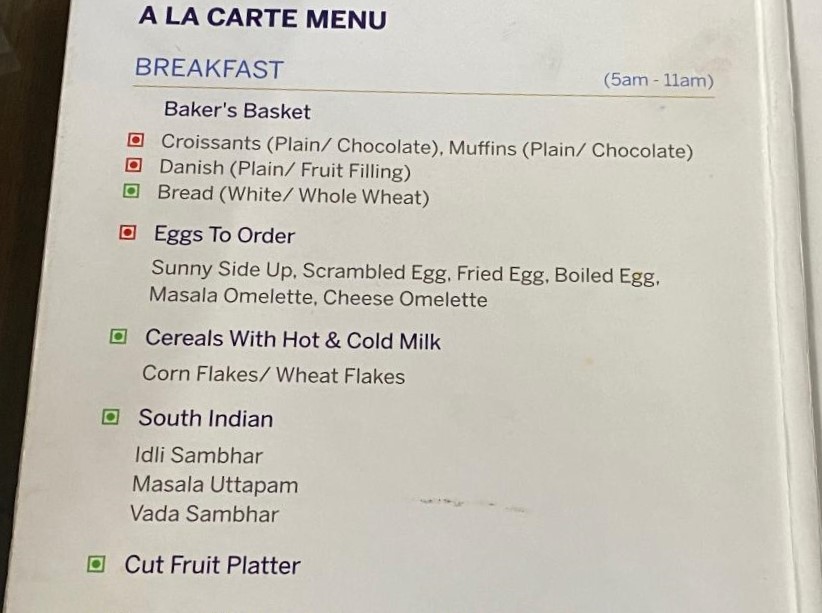 Breakfast Menu – American Express Lounge, Delhi Airport
I thought the overall offering was adequate, although you could tell by the lack of western favourites such as bacon, hash browns, sausages etc that this was mainly targeted at Indian clientele.
That said, during my time in the lounge I did notice a small group of non-Indian
travellers, so there's probably grounds for the lounge to expand the range and include a few more dishes to cater to the western palette.
Opposite the buffet section, there was another small seating area. There are large windows alongside, but as the blinds were fully pulled down, there were no views.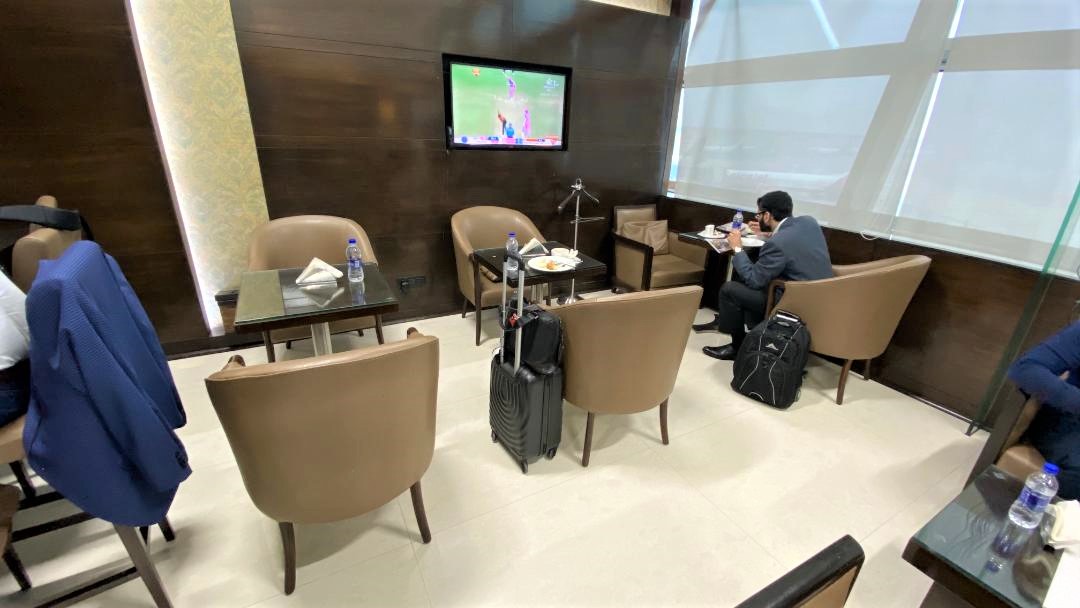 Seating – American Express Lounge Delhi Airport
The tiny and rather cramped nature of the lounge made taking pictures rather awkward.
Other Amenities
In-between the 2 seating areas, there was a small library style book stand. There were some newspapers and magazines for the guests to while away time.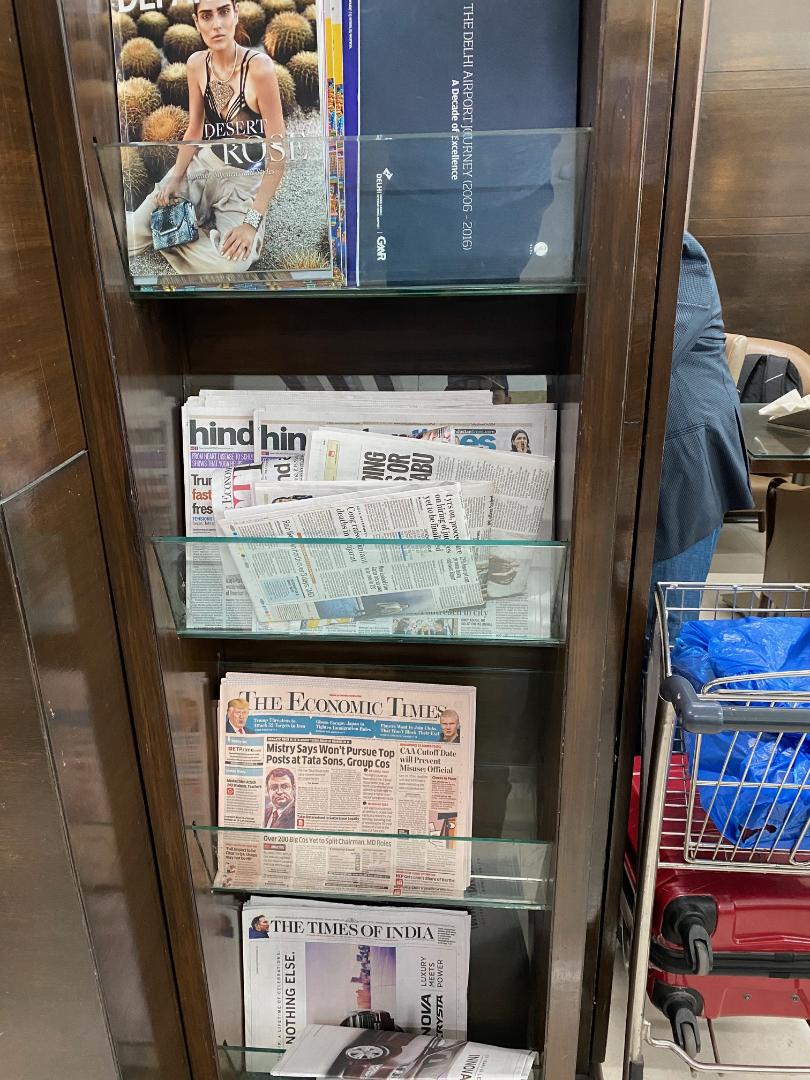 There are power outlets on the wall, conveniently placed in the seating area which was nice. Although, there was no provision for USB ports.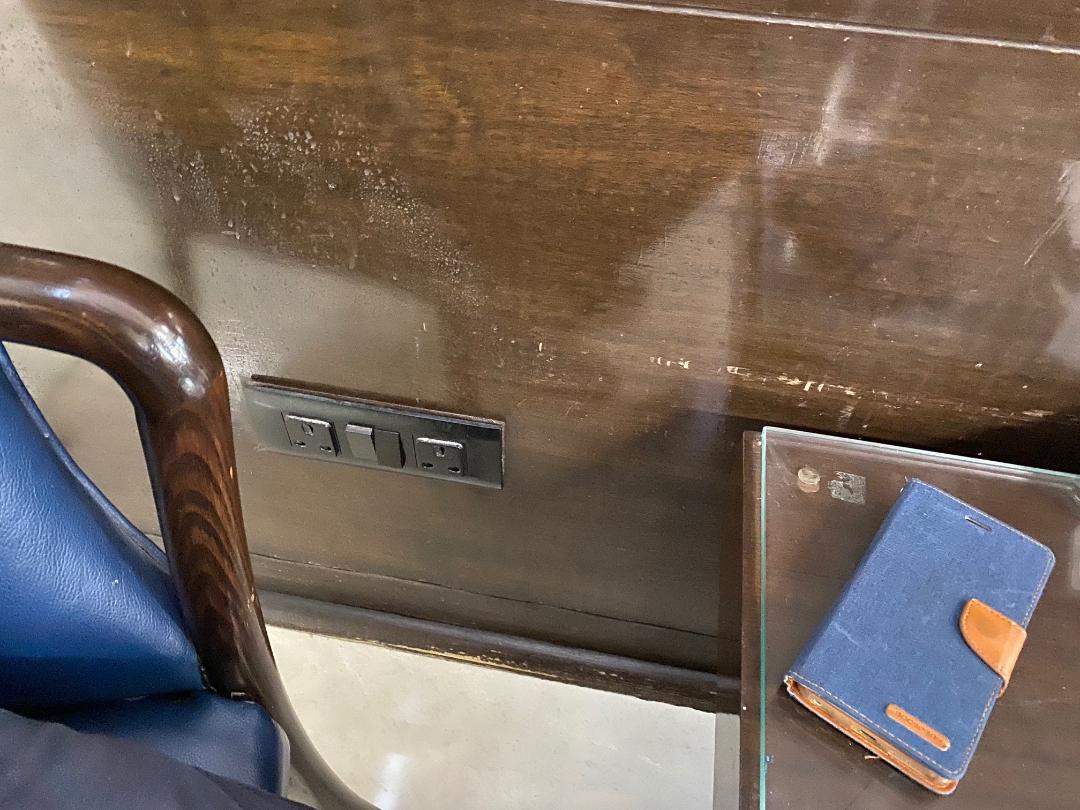 Power Oultet – American Express Lounge Delhi Airport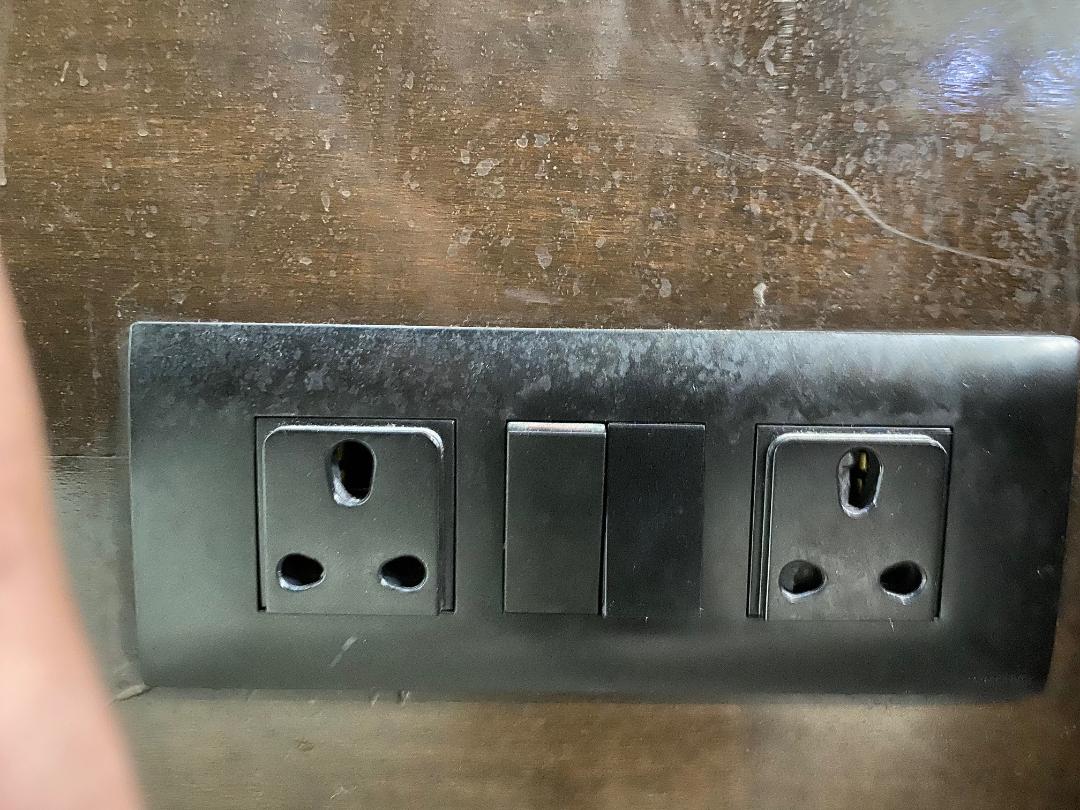 There are no toilets or showers in the lounge. When queried, the staff directed me to the washrooms outside the lounge, which thankfully are right next door.
Lastly, the lounge does not have its own wifi network, rather guests are advised to select the free airport wifi. To do this, you need to login and provide your phone number where they send you a One Time Code. The wifi speeds throughout the terminal was pathetic and there is no way anybody can get work done with speeds like these.

Wifi speeds at Delhi Airport (T3) are painfully slow
Lounge Access
None of the above matters if you can't produce the right credentials at the front door. Following cardholders can access the lounge.
Unlimited access for Personal & Business American Express Centurion cardholders and 2 guests (issued anywhere).
Unlimited access for Personal & Business American Express Platinum cardholders and 2 guests (issued anywhere).
Unlimited access for for Jet Airways American Express Platinum cardholders, no guests allowed.
Limited no. of entries (3 per quarter, up to 12 per year) for American Express Platinum Reserve cardholders, no guests allowed (India issued only).
In Conclusion
The American Express Lounge at Delhi airport is the smallest and one of the least impressive of all the American Express Lounges I have ever visited. The only acceptable part of the facility is it's food and beverages offering, and that is me being generous.
There is no way anybody should be getting to the airport early to spend time here. To be honest, anybody with access to other lounges in the terminal should be prioritising those over this lounge.
Shorty after leaving the lounge, I went and checked out the Air Vistara lounge and came away impressed. I will put that review up in few days time.
Have you visited American Express Lounge at Delhi airport? Leave a comment below.