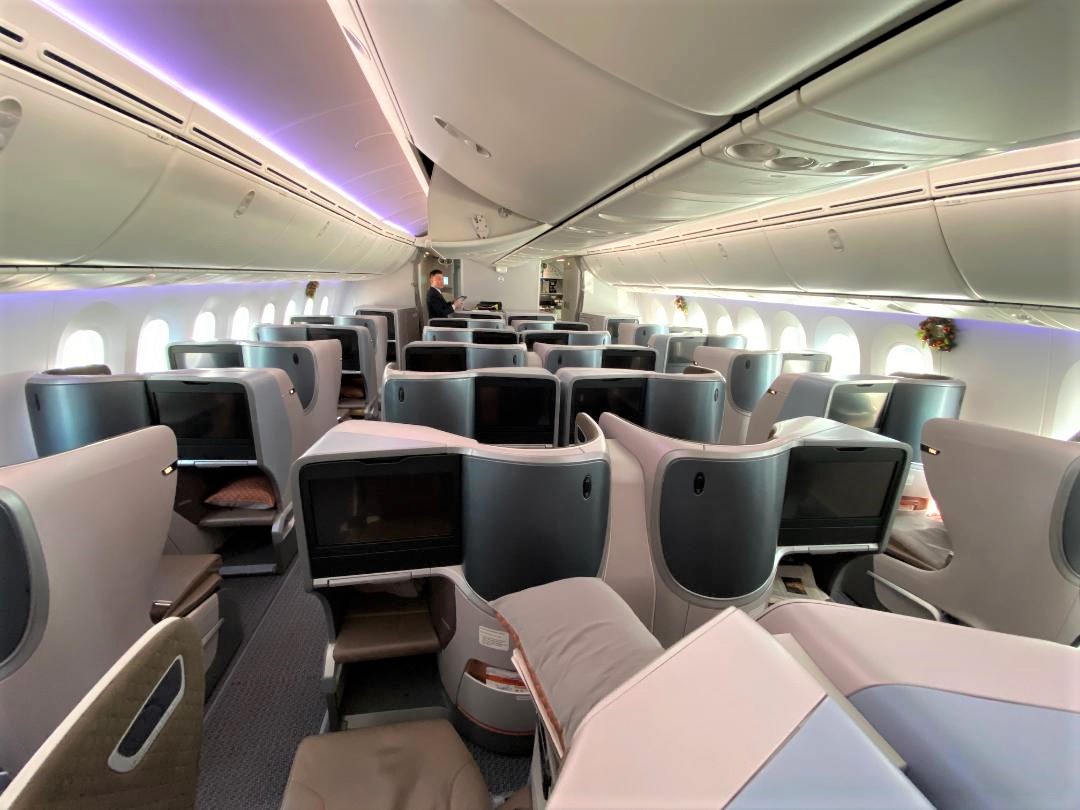 After spending a few nights at Four Points by Sheraton Bali, Seminyak, it was time to continue the next phase of my trip to Dubai, via Singapore. I flew Singapore Airlines all the way to Dubai, with the first segment between Denpasar (Bali) and Singapore operated by the carrier's B787-10 featuring it's regional business class seats.
Booking
I redeemed 49,000 Krisflyer miles for this flight and paid approx. $35 in cash to cover the fees and taxes. KrisFlyer is a transfer partner of American Express Membership Rewards program and points transfer at 2:1 (2 Amex points = 1 KrisFlyer Mile) so I transferred 98,000 AmEx points to my KrisFlyer account to cover this flight.
The other program to fly this route would be Velocity Frequent Flyer. If you wish to redeem Velocity points, it will cost you 78,000 Velocity points for a one way business class flight between Denpasar & Dubai. Velocity points are very easy to earn and I have written about them previously over here.
Velocity Frequent Flyer Program is also a transfer partner of American Express Membership Rewards program and points transfer at 2:1 (2 Amex points = 1 Velocity point) so you will be required to transfer 156,000 AmEx points to your Velocity account to cover this flight.
The third, and possibly not very well appreciated aspect to booking this flight is the close relationship between Singapore Airlines and Virgin Australia, where the points and miles currency of the two programs can be freely interchanged. The transfer ratio is 1.55:1, ie, 1.55 points/miles from either program convert to 1 point/mile in the other program.
For more on this, see here.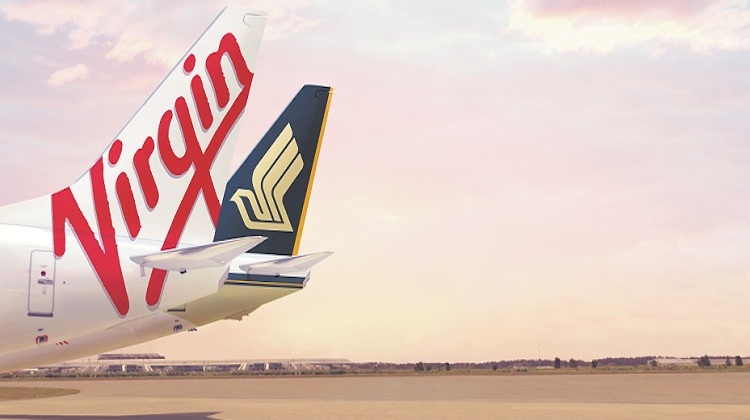 Virgin Australia & Singapore Airlines are close partners
This can be particularly helpful in a situation when there is award availability under the Krisflyer program but the same seats aren't made available to Velocity Frequent Flyer members. In that event, you could transfer 76,000 Velocity points to Krisflyer, which would give you just over the required 49,000 KrisFlyer miles to book this flight. The transfers are instant.
Check-in & Immigration Clearance
I arrived at the airport approx. 2 hrs prior to the scheduled departure and headed for the check in desks.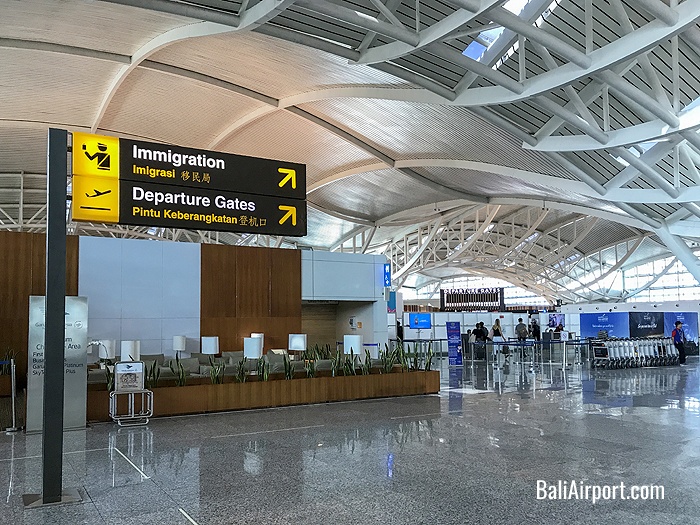 Image courtesy: Bali Airport
There were only 1 or 2 people in the business class check-in queue. Our bags were checked-in through to Dubai and although Australian passport holders visiting Dubai don't need a visa, they must possess the onward ticket. I already had my flight booked out of Bali, which I showed to the agent. All of this was done in under 5 minutes and I proceeded for immigration clearance.
The customs area was teeming with people. It was another 20 minutes or so by the time I cleared immigration and was on my way the lounge.
Lounge
Singapore Airlines don't have their own lounge at Denpasar airport, which is a bit surprising, considering the number of flights they operate on this sector. Instead, business class passengers, along with elite KrisFlyer members and those of other participating program are sent to the Premier Lounge.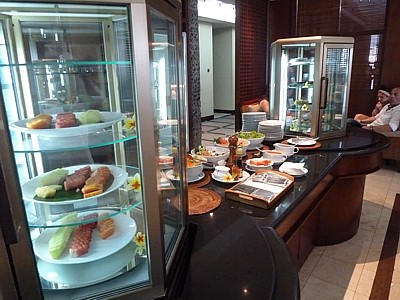 Premier Lounge, Denpasar Airport, Image credit : loungeindex.com
As there aren't many airline operated lounges at Denpasar, this is also where premium cabin passengers from other airlines are directed. If this wasn't enough, Premier Lounge is also part of the Priority Pass program, which means the facility can on occasions get uncomfortably crowded.
Luckily, the place was just about half full on the day of my visit. I wasn't able to review or take any pictures of the lounge as I had made plans to catch up with one of my Uncles. We were only there for 15 minutes and spent the time chatting, so I couldn't even go around and check out the offerings.
Boarding & Seating
I left the lounge about 30 minutes before departure and got to the gates where boarding was underway. I boarded the plane through the front gate and arrived at my seat, 15A.
The business class cabin on Singapore Airlines B787-10 is laid out in the 1-2-1 configuration, providing everyone with direct aisle access. There are 9 rows with 4 seats per row, adding to a total of 36 business class seats.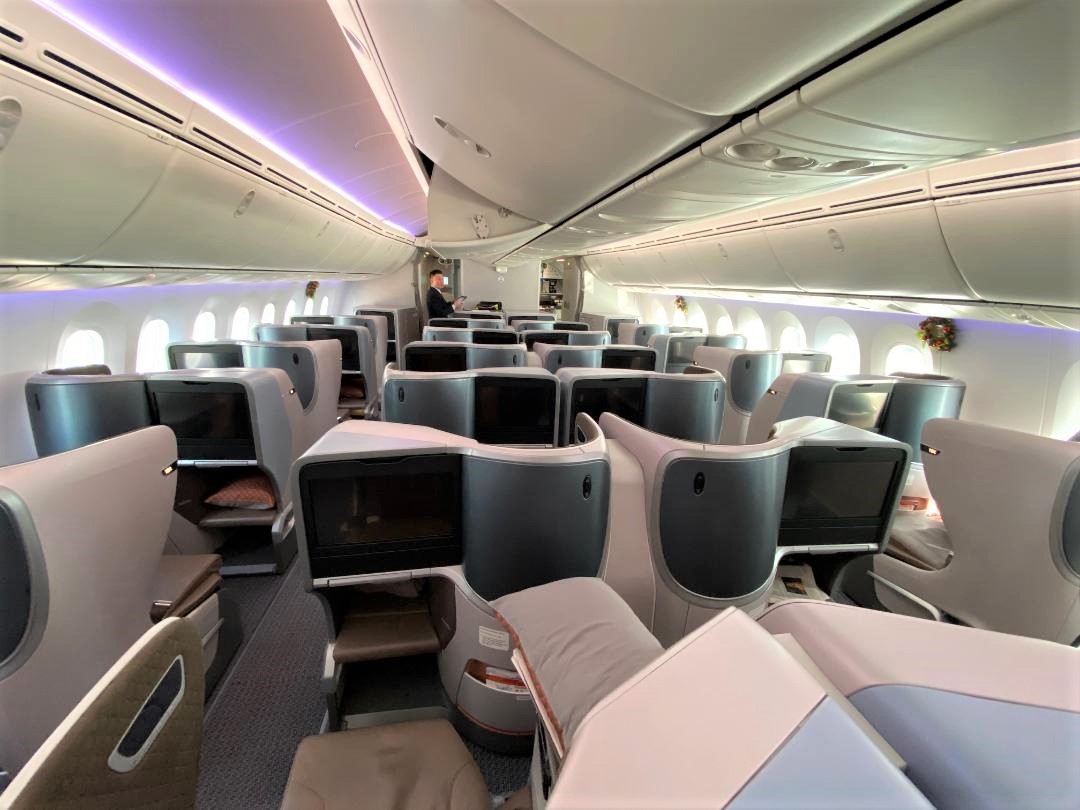 Singapore Airlines B787-10 Business Class Cabin
The seats are about 26 inches in width which to me has always felt a little tight, and about 76 inches in length which is fine. The single seats by the window are configured in a way where the odd number seats are much closer to the window and the console is towards the aisle.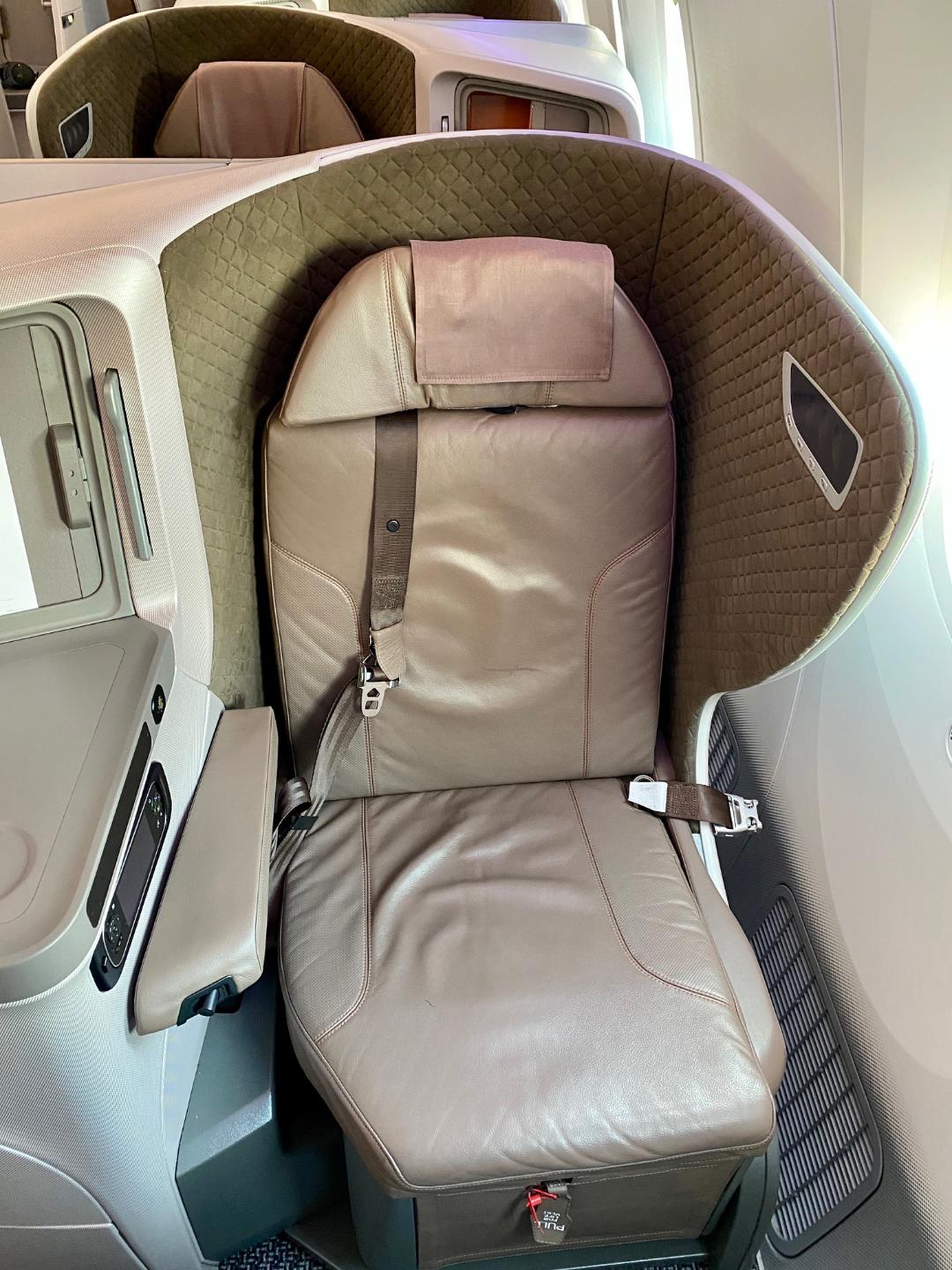 My window seat 15A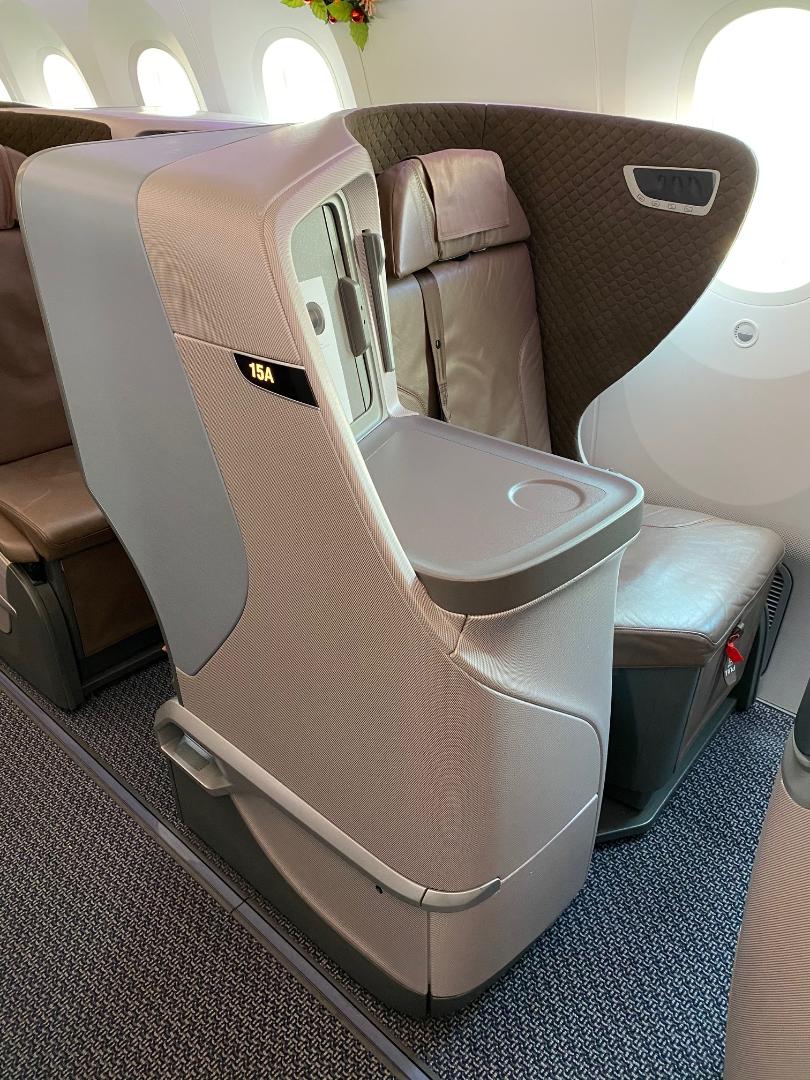 Odd number seat with the console near the aisle
Meanwhile, the even number seats have the console near the window and the seats are closer to the aisle.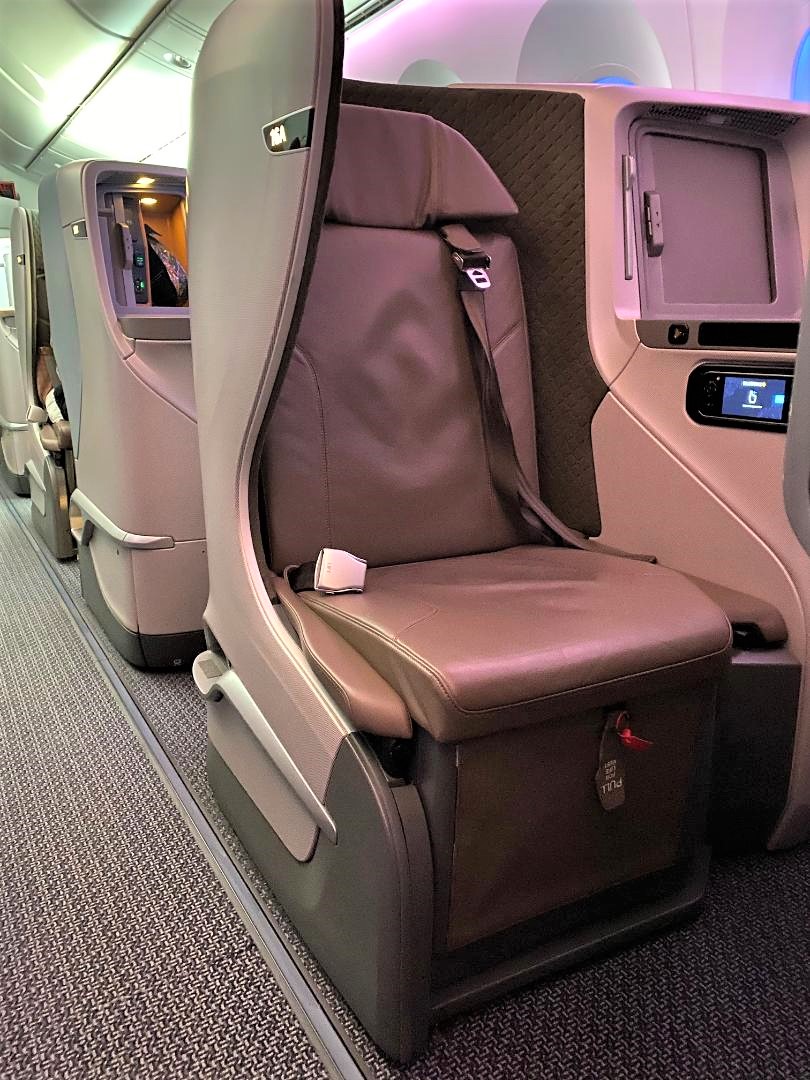 Even number seat with the console closer to the window
That said, no matter where you are seated, the semi-wrap around privacy shell around the seats mean that you do not really get a true window seat experience, as the tip of the shell extends much further than it ideally should, and obstructs the view.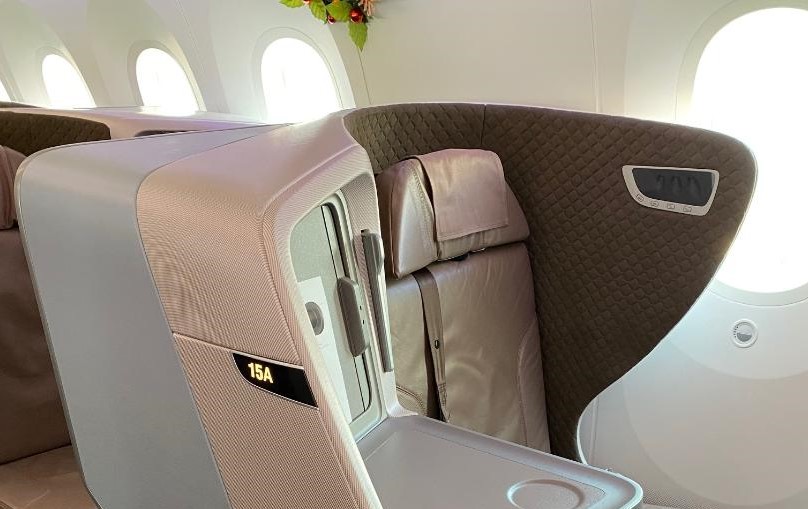 You need to lean forward to get a clear view out of the window
Couples and families travelling together may prefer the pair of middle seats. Here again, like the single seats, some seat pairs are close together in the middle while others are separated with the bulky consoles in-between.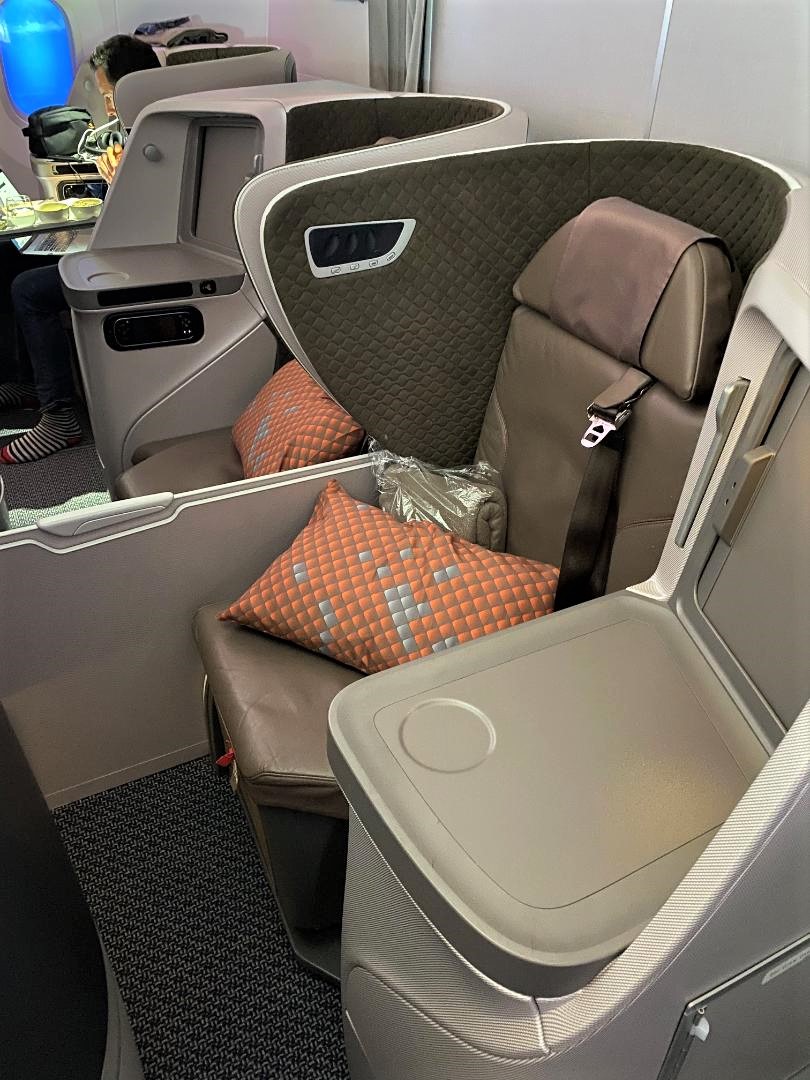 Middle Seats on Singapore Airlines B787-10
If you are traveling alone and find yourself in one of the middle 2 seats with a stranger next to you, you can always raise the privacy barrier in the middle.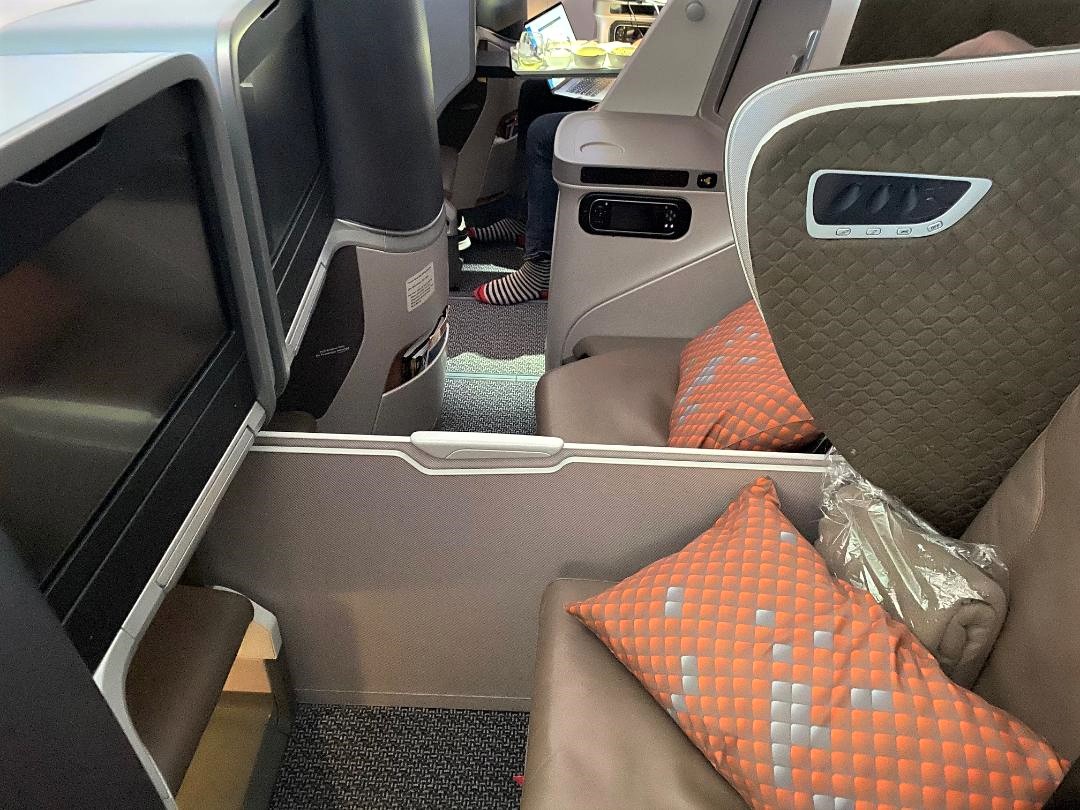 You can raise the divider to get some privacy
Although these regional business class seats are much narrower than what Singapore Airlines have on their B-777's, A-350's and A-380's, and not my personal favourite, they work on regional routes where the flights range from 1 to 7 hours.
Within 5 minutes of boarding, one of the crew members came around offering the welcome drink & a chilled towel.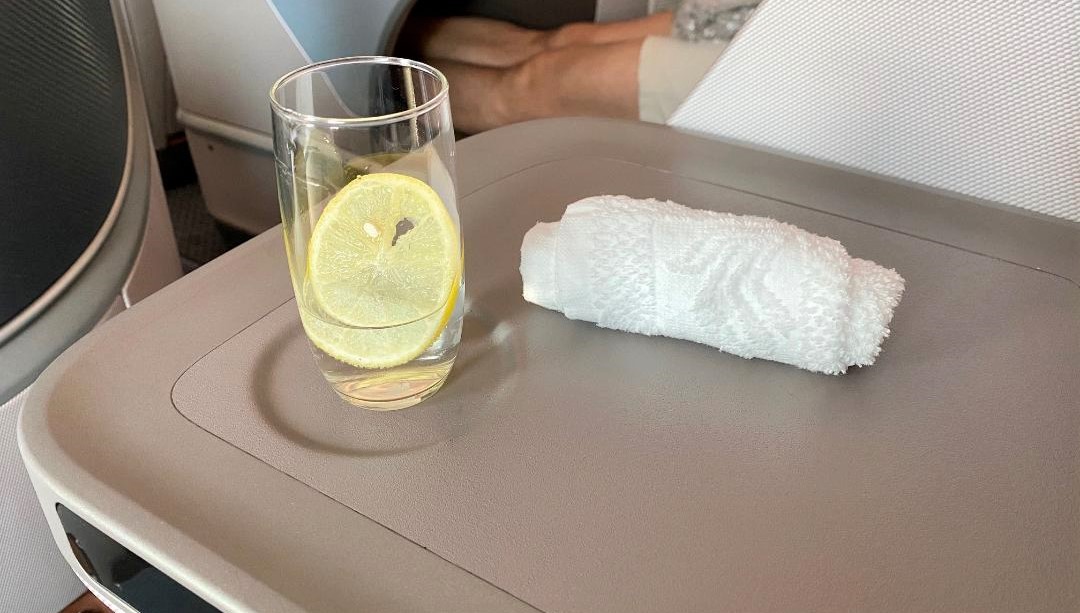 My welcome drink was a glass of lime water
The seat controls and the headphone jack are fitted to the console, within easy reach. You had to tap the panel gently to bring it to life. Once lit-up, you could use this to manoeuvre the seat into various positions. The panel also contains the TV on/off functionality and the Do Not Disturb sign.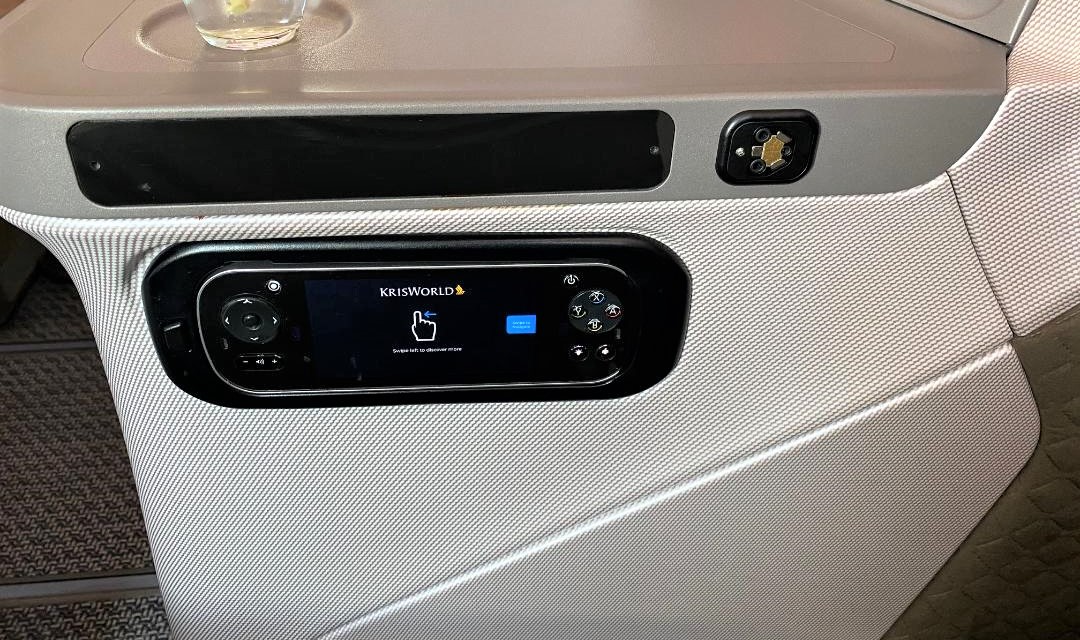 Controls on Singapore Airlines B787-10 Business Class Cabin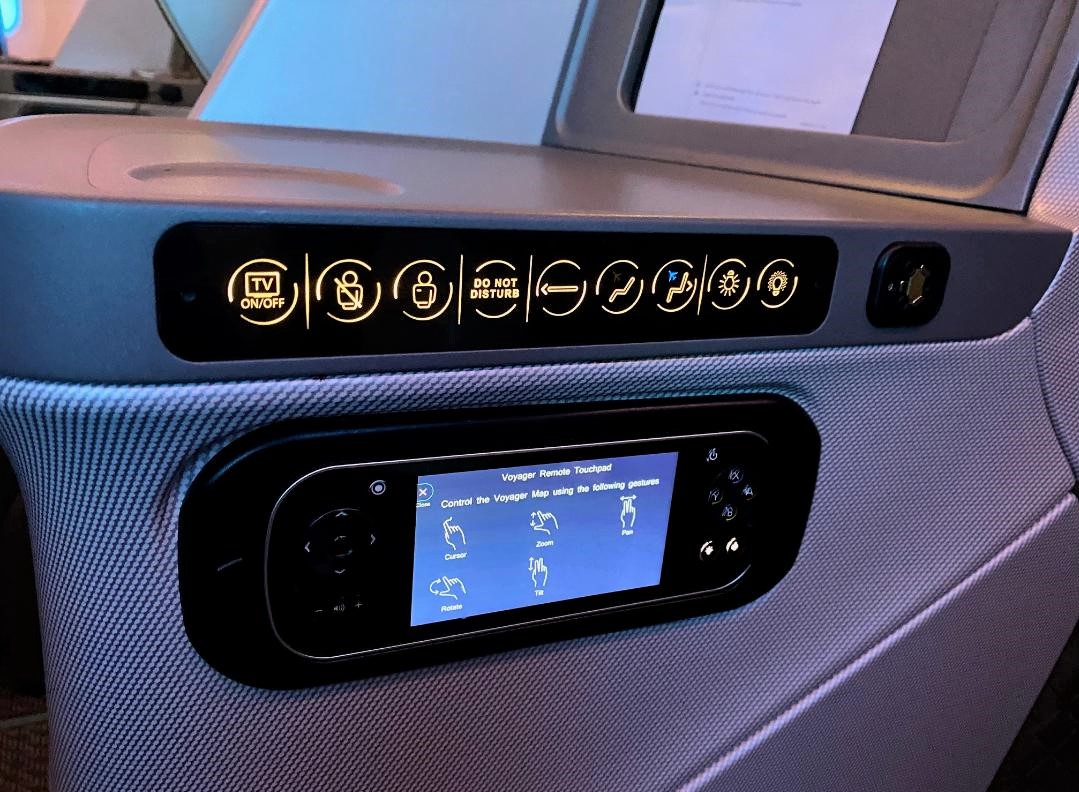 Also attached to the console and under the control panel, there was a touch enabled handheld device with its own LCD screen to operate the In-flight entertainment monitor which was located at the back of the seat in front of you.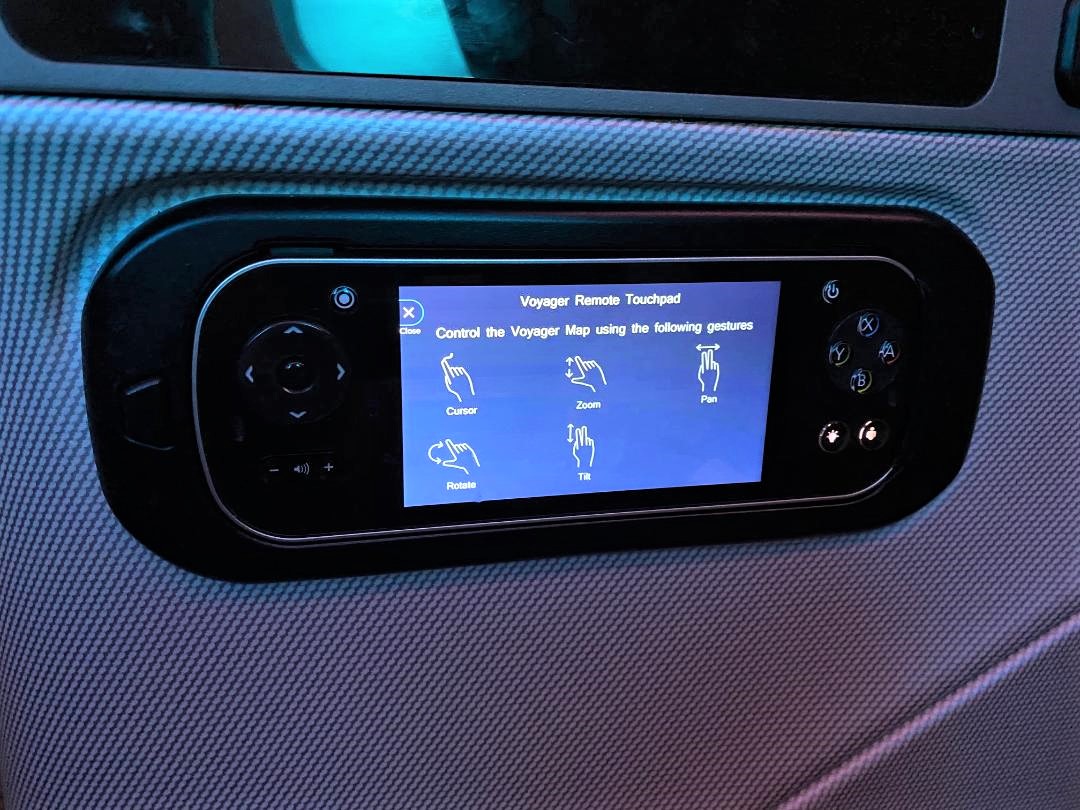 In the bed-mode, the seat extended all the way to the footrest on the other end and converted into a fully flat bed. When sleeping, you can push the armrest down for some added width.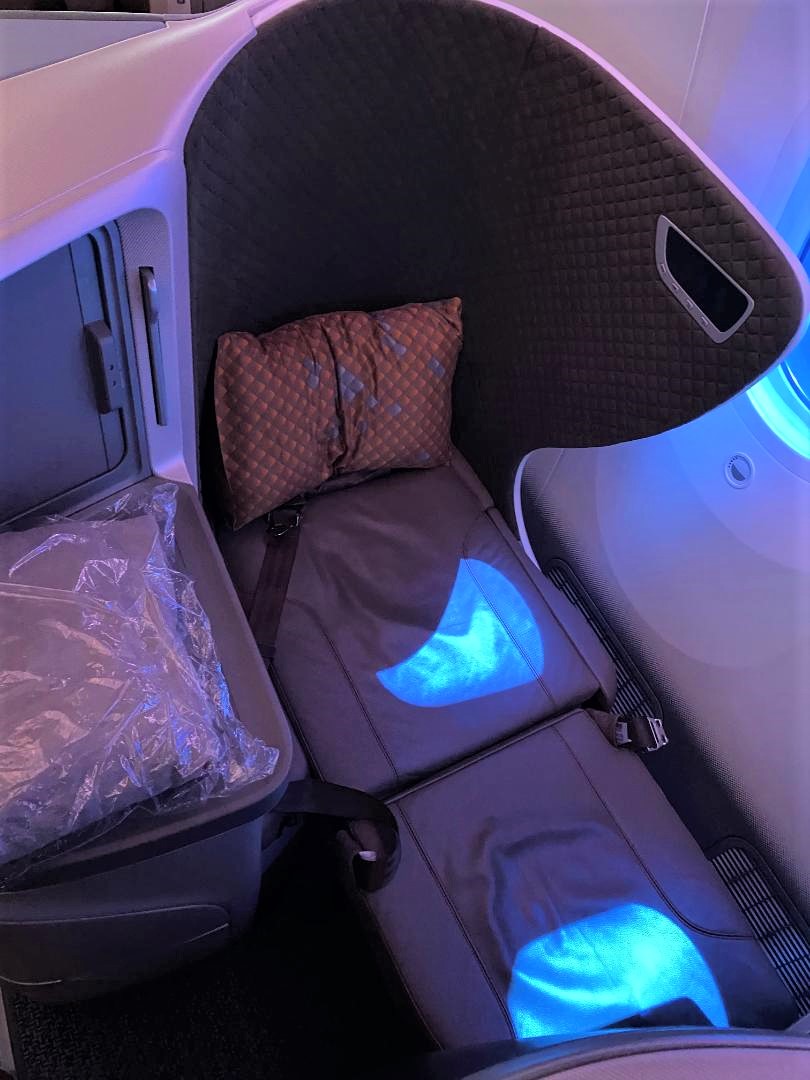 Bedmode, Singapore Airlines B787-10 Business Class Seat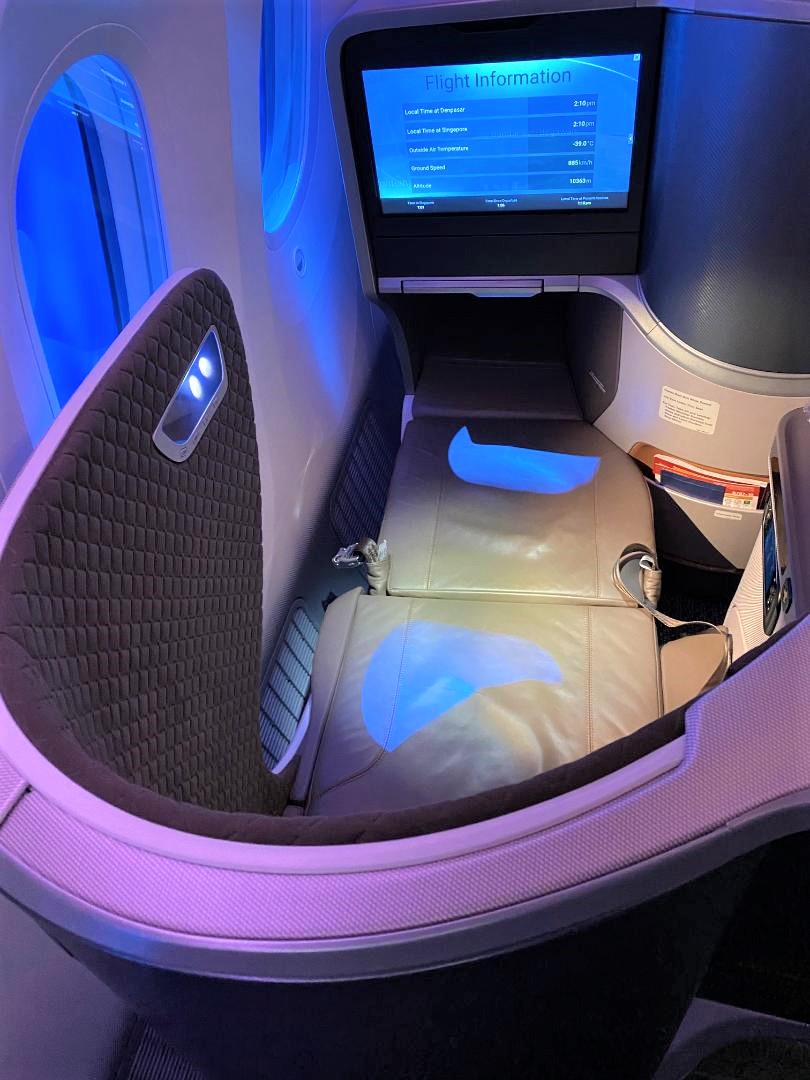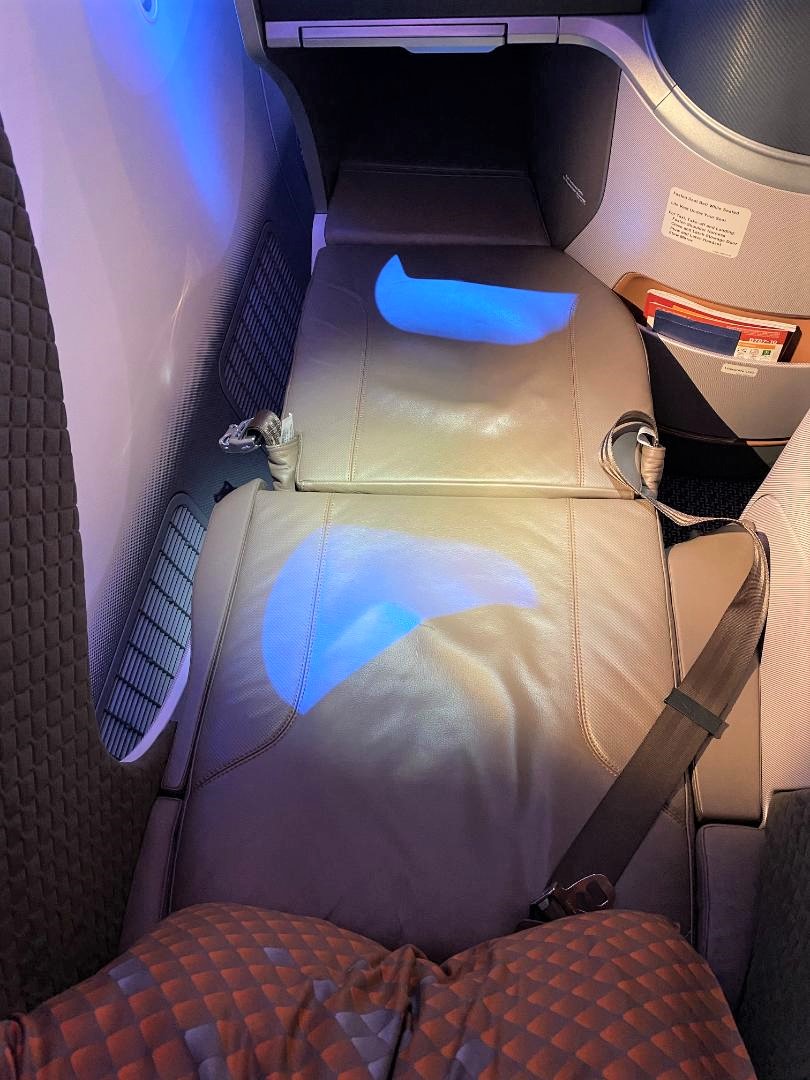 Lower the armrest for added space in the bedmode
In this position, you lie down straight, with your legs placed under the console of the seat in front of you. This is a great improvement over the seats onboard Singapore Airlines' older planes where you had to sleep at an angle and the legs were in the cramped cubbyhole.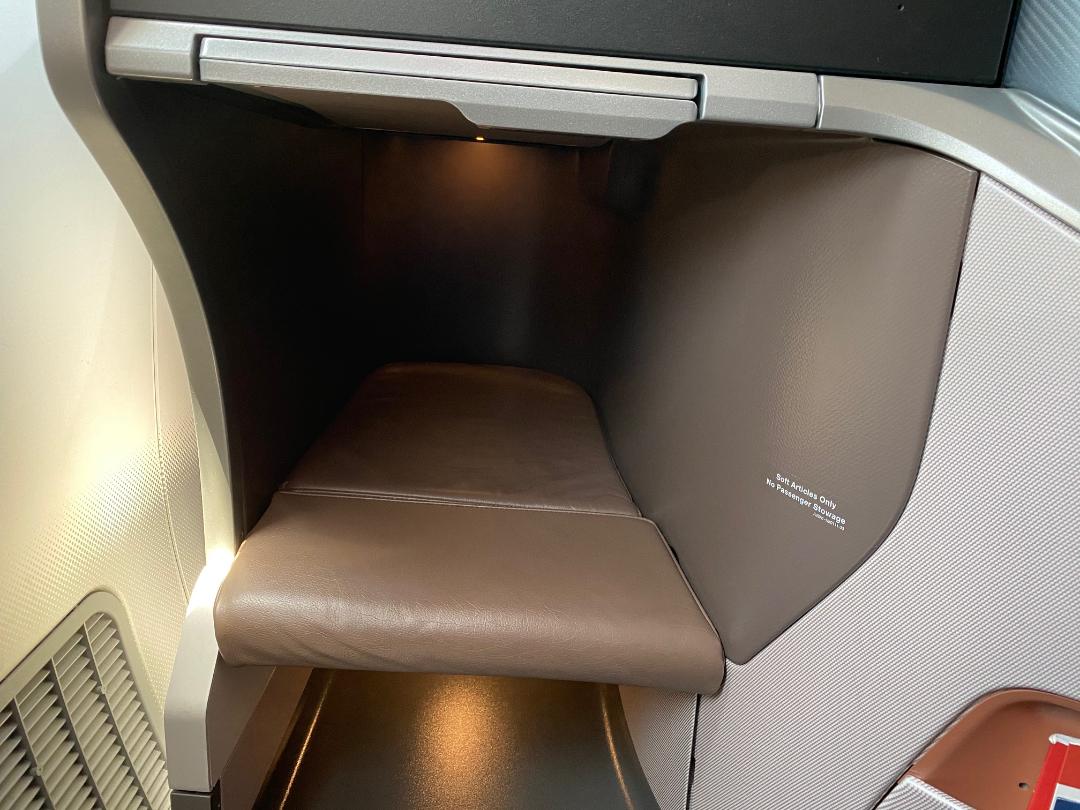 Footrest on Singapore Airlines B787-10 Business Class Seat
There is a another big storage area underneath the footrest.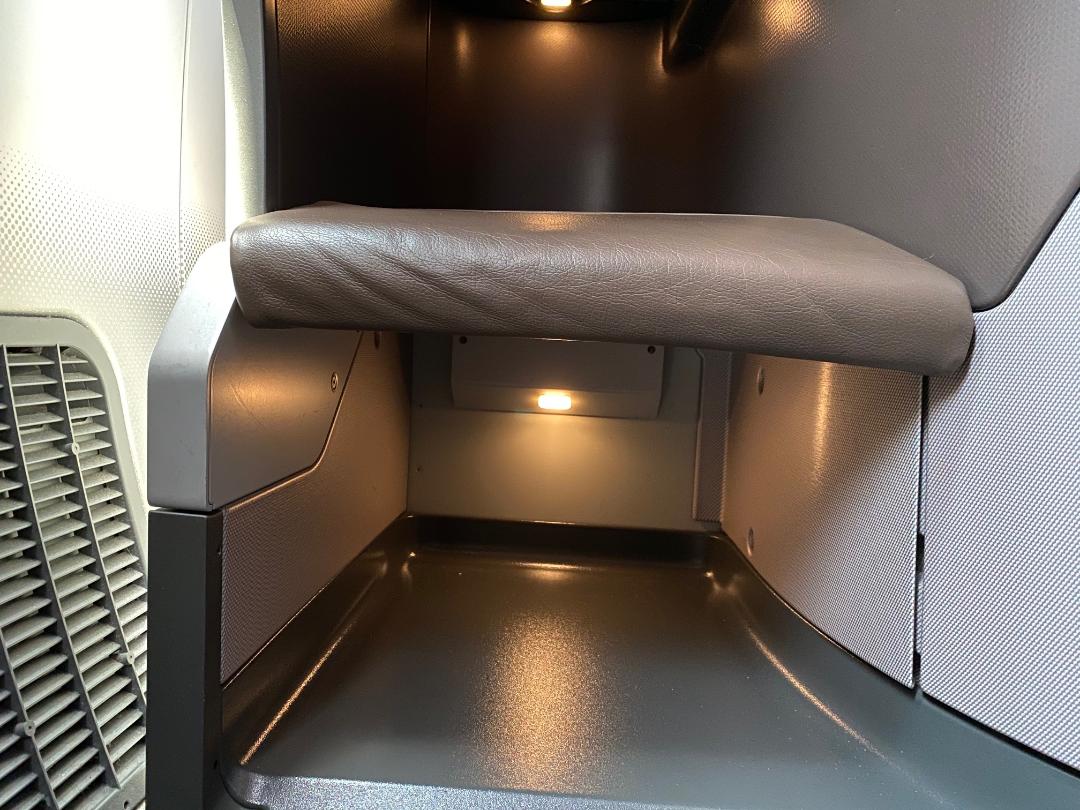 When seated, you have a shuttered storage compartment just above the shoulder on the right.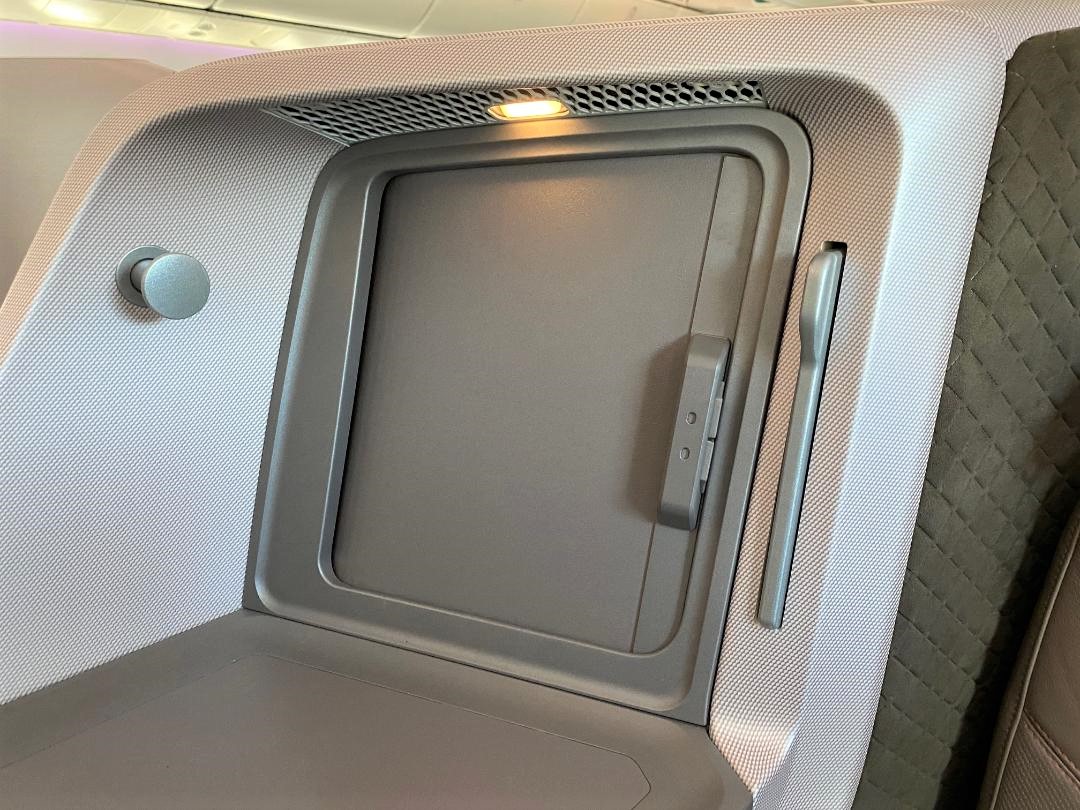 Store your mobile phone or other small electronic devices here
Inside, there is a charging panel, with universal power outlet and 2 USB ports. The NFC reader above the power outlet wasn't operational.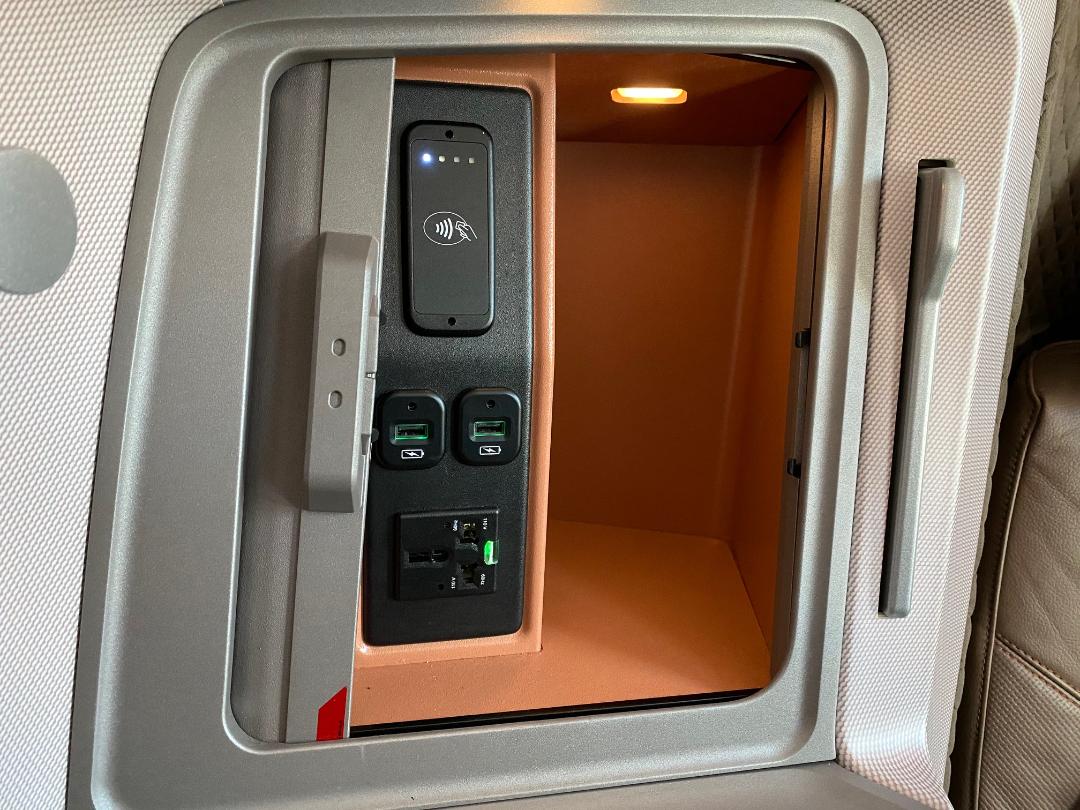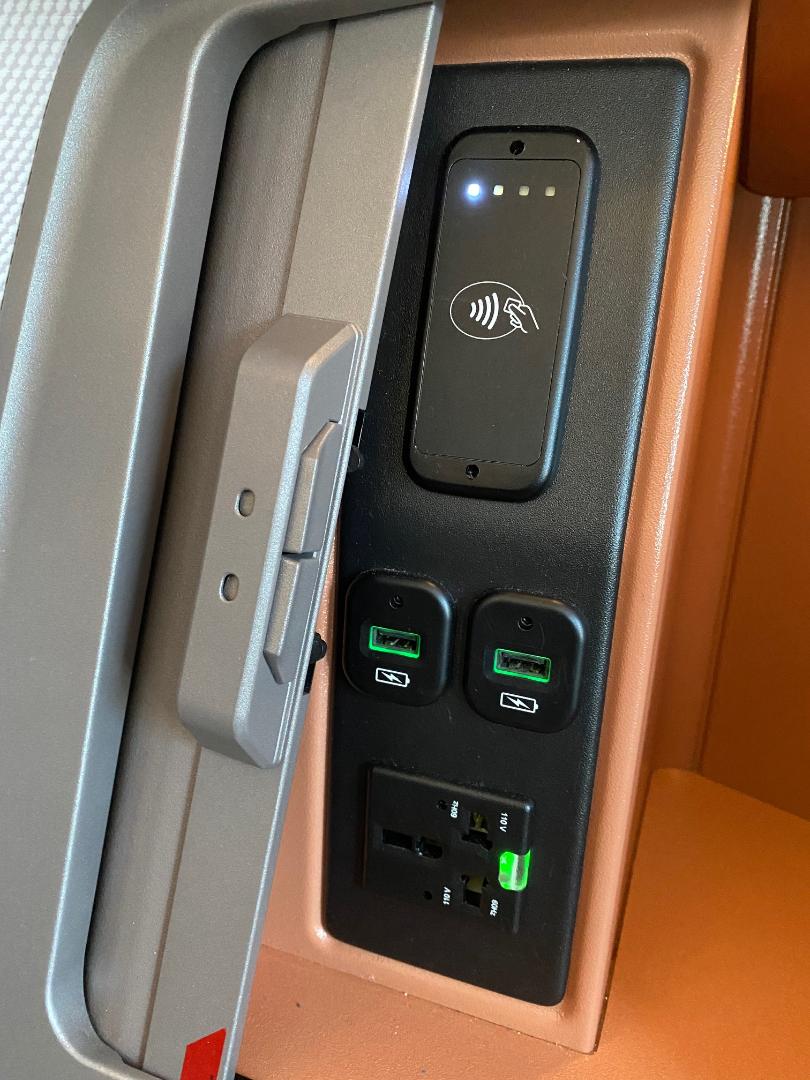 Universal power oulet and USB ports
Singapore Airlines in-flight entertainment (IFE) system is one of the most comprehensive and incorporates a massive catalogue of movies, TV shows, entertainment, games and so-on to keep you occupied even on their longest flight between Singapore & Newark, which spans 18 hours.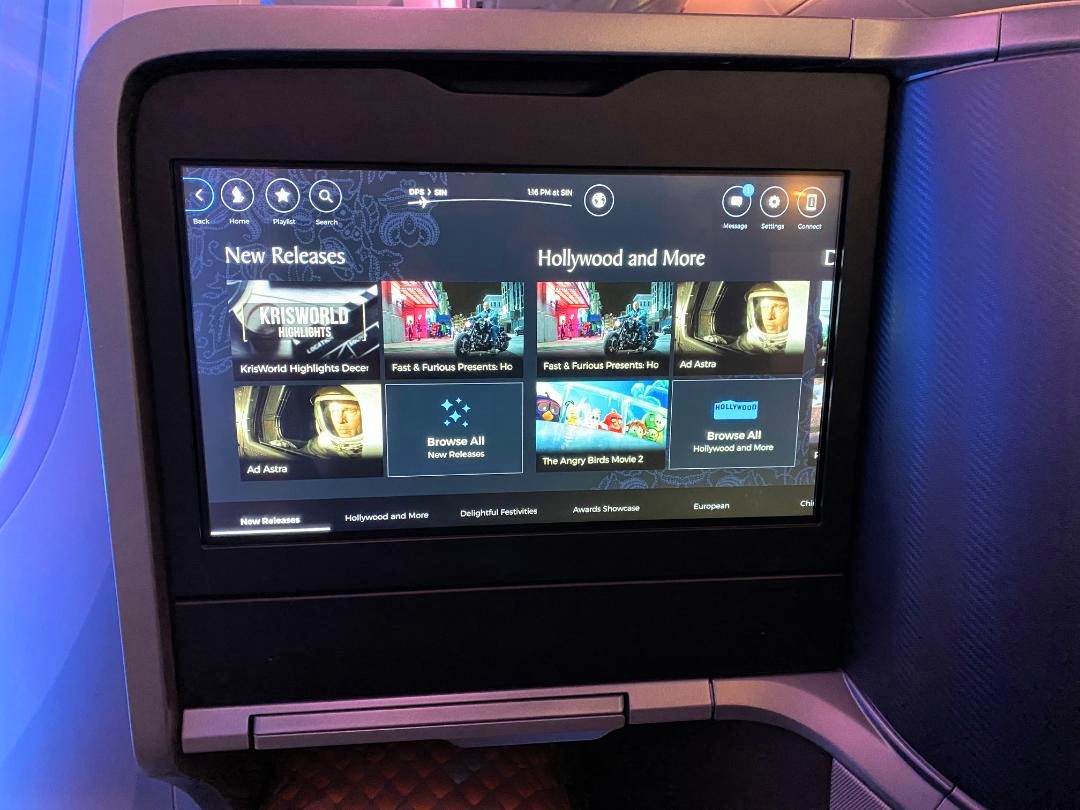 IFE Screen on Singapore Airlines B787-10 Business Class Seat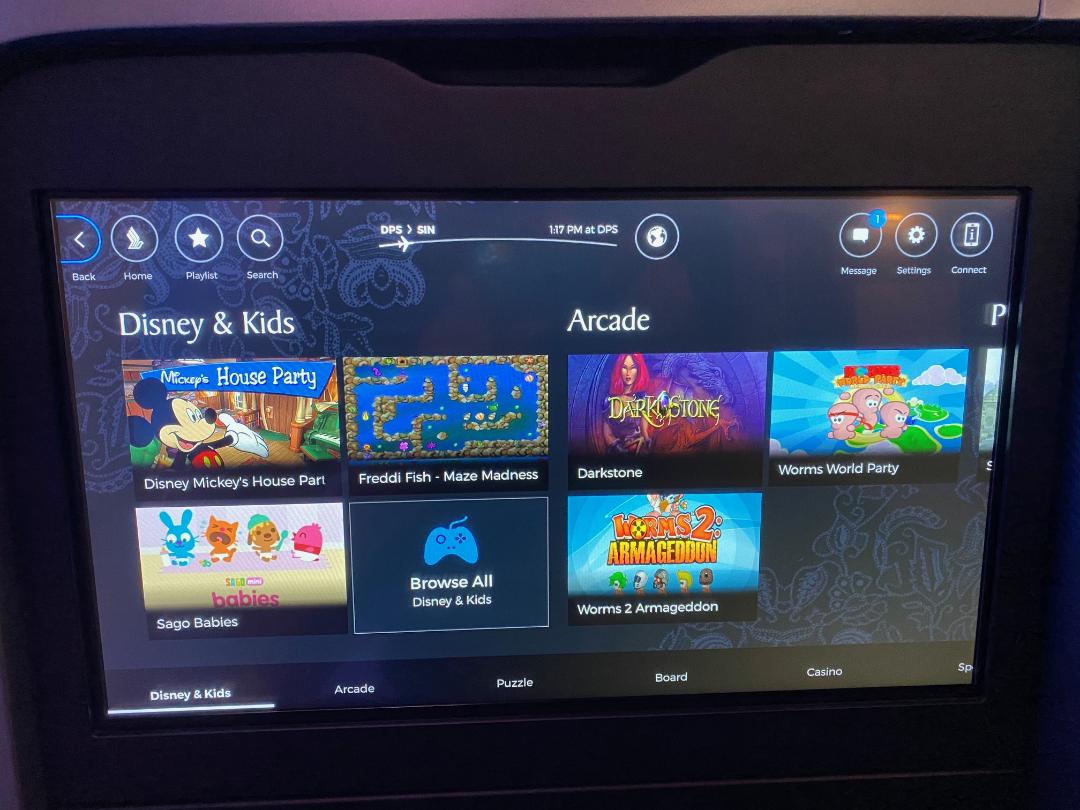 You could operate the system either through the screen itself or through the handheld device.
The tray table is located under the monitor. To release, you need to press a lever which isn't visible but needs to be felt by running your fingers under the IFE screen from side to side. Once found, squeeze it and slide the table out. The table is quite sturdy and can be partly or fully extended.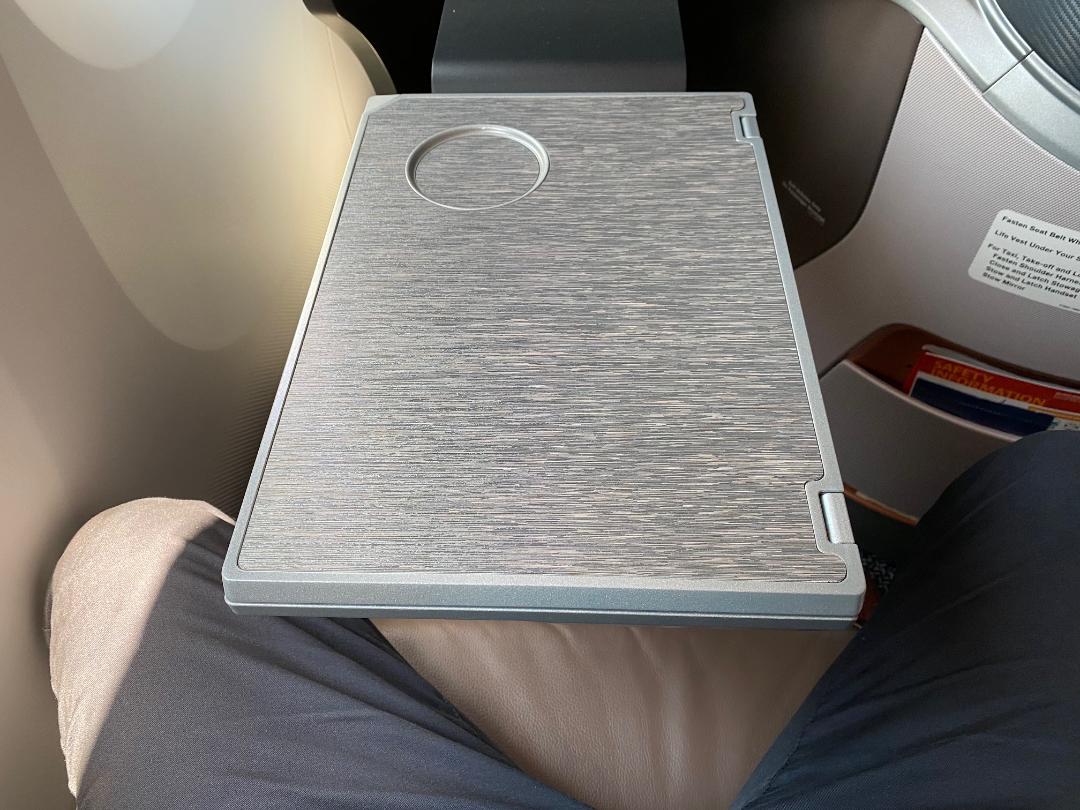 You could open the table partially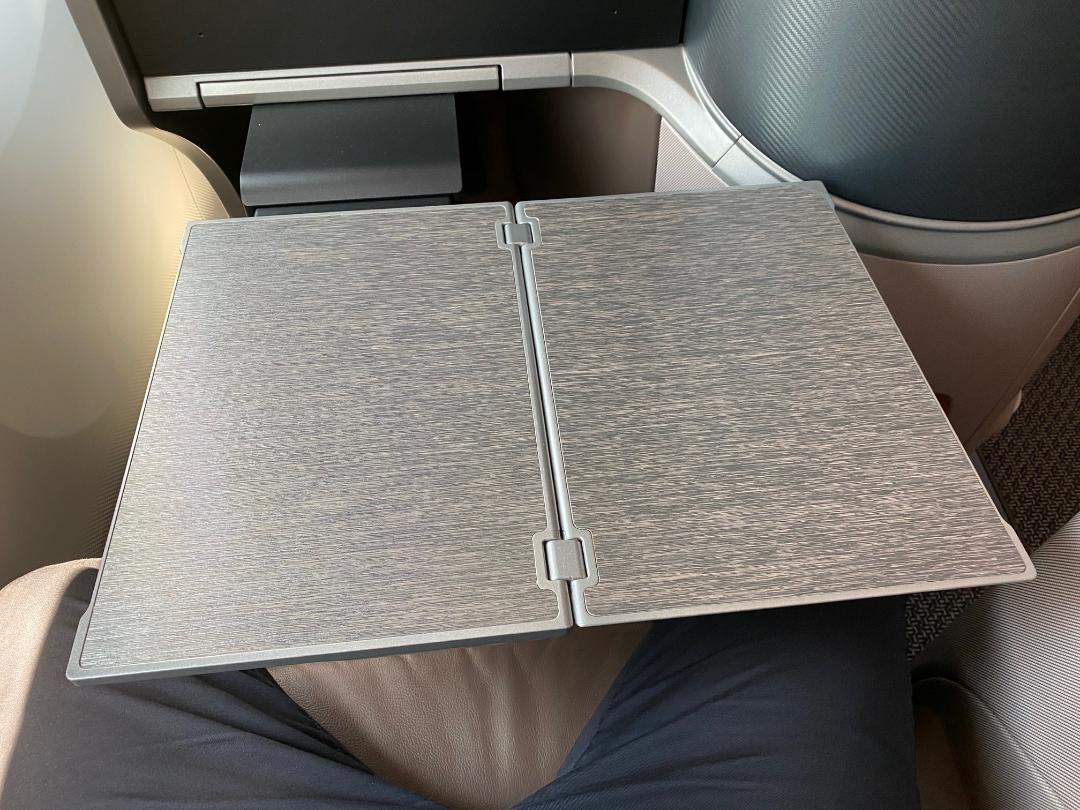 or fully
Besides having meals, I found the table to be stable enough to get some work done on your laptop.
There was a noice cancelling headphone which I didn't get a chance to use. No amenity kits were provided on this 2:20 hr flight, besides a pair of socks, which is understandable.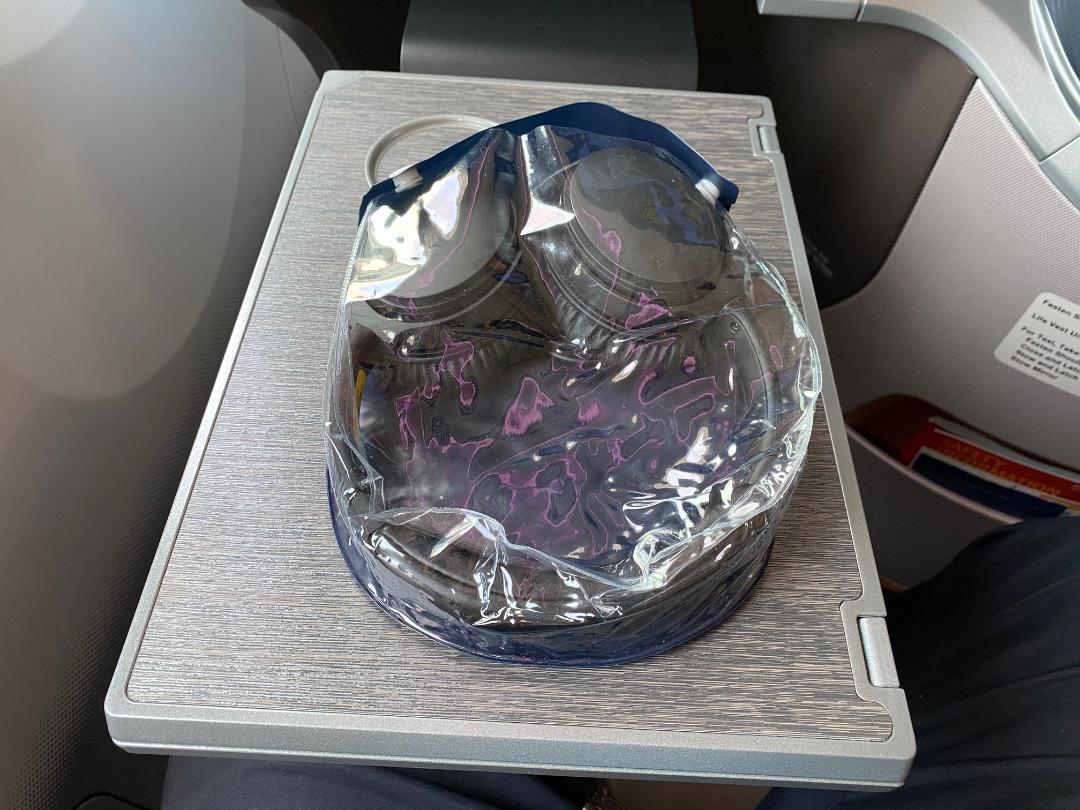 Singapore Airlines Noise Cancelling Headphones
Another place to store a book, magazines or your ipad is the pocket attached to the back of the seat in front of you, down near your feet.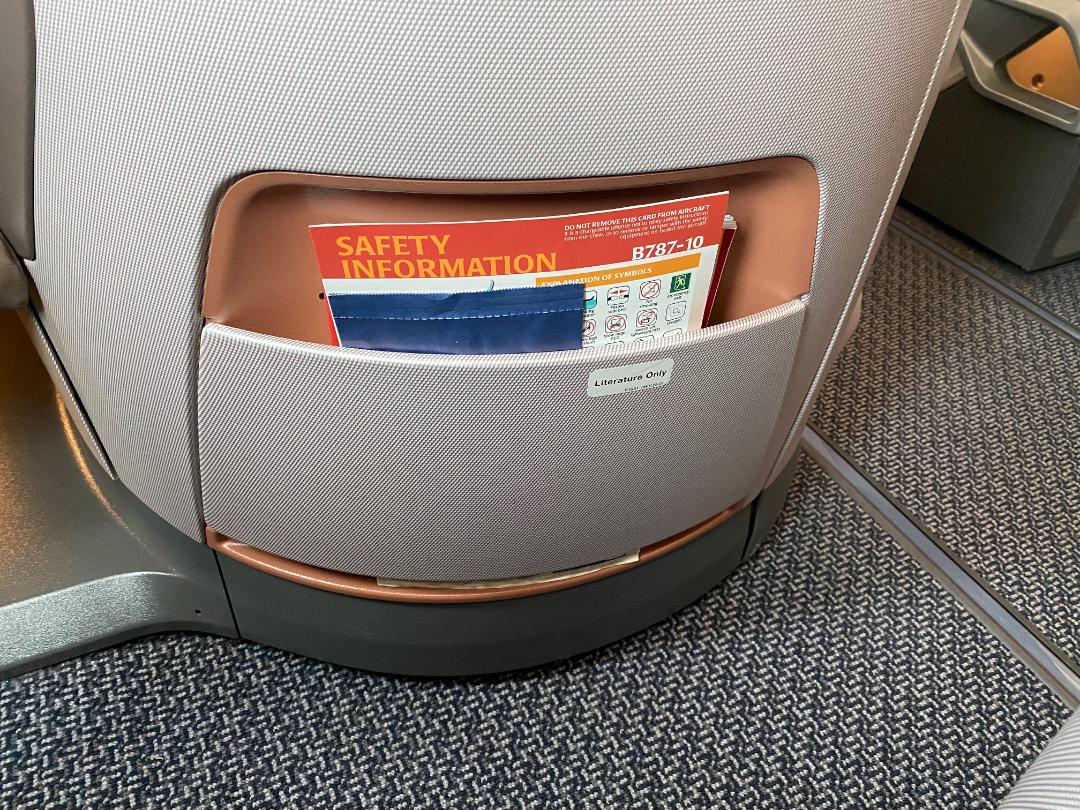 There is wifi connectivity on many Singapore Airlines planes these days and passengers in business class cabin are offered complimentary access of up to 20 MB of data download. This is ok for texting and email etc, but not enough if you wanted to watch YouTube videos or post pictures/videos on your social media accounts.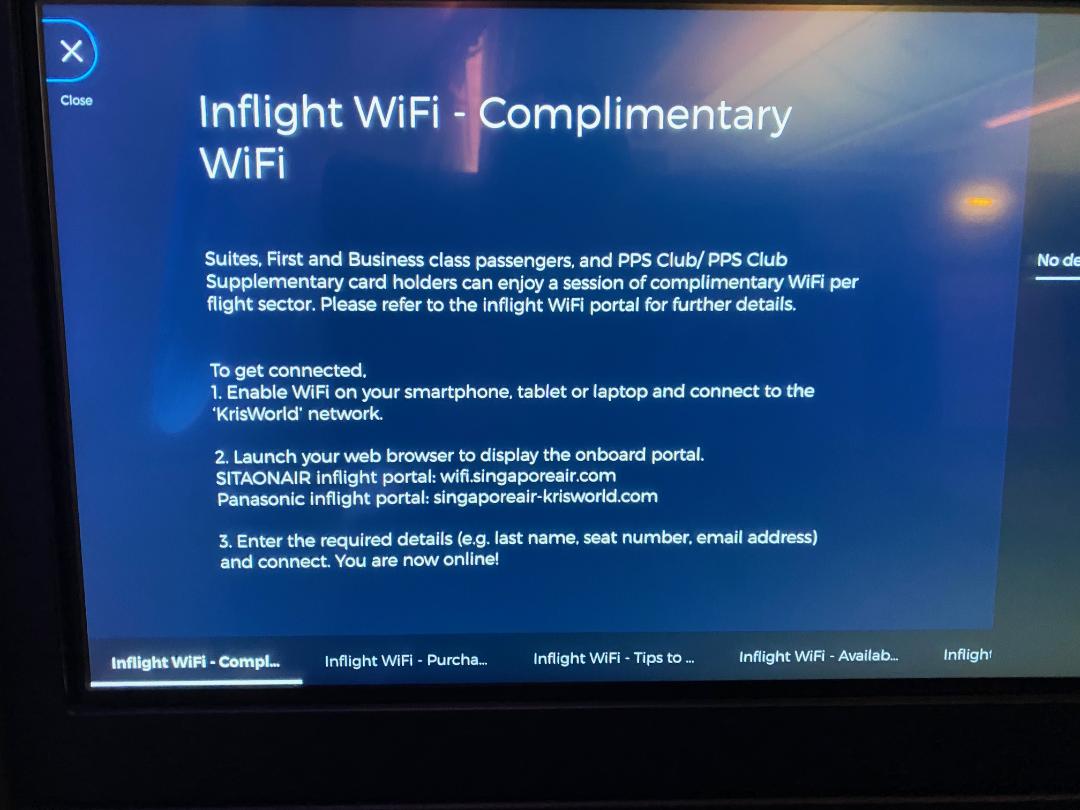 Stay connected in the sky with limited, complimentary wifi
Once you have exhausted the 20 MB cap, you could purchase additional data, which is priced very reasonably.
Dining
The meal service kicked off once we were at the cruising altitude and menu's were distributed.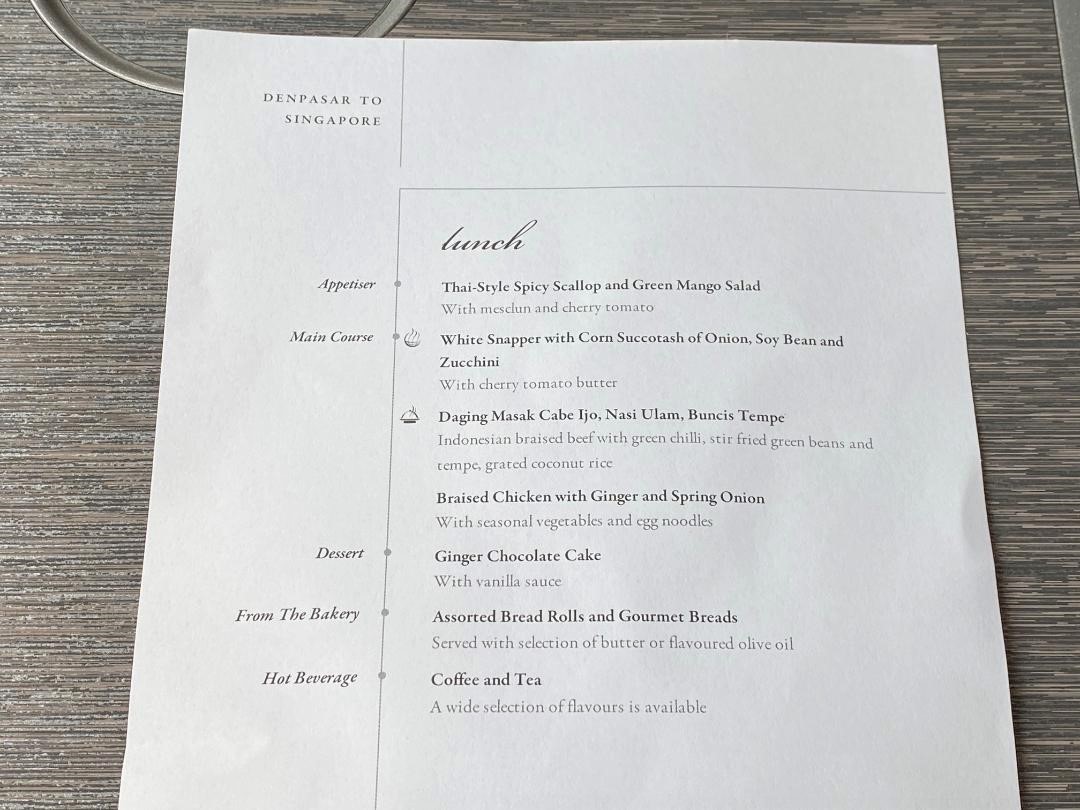 Business Class Menu on my flight
Unlike their medium & long haul flights where this is usually an elaborate 3 course affair, with each course served individually over an hour or so, on these short flights, lunch was delivered fully plated on a tray.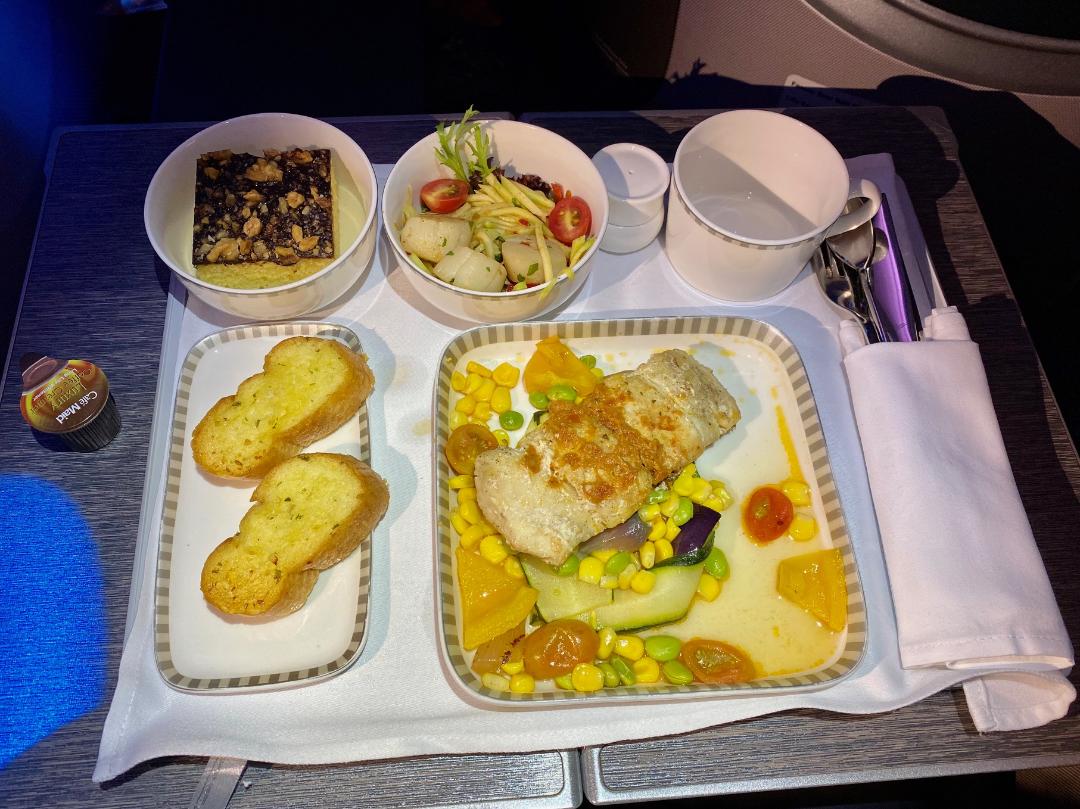 Lunch was served fully plated
The garlic bread could have been warmer, but the appetiser of spicy scallops and green mango salad was fresh & crunchy.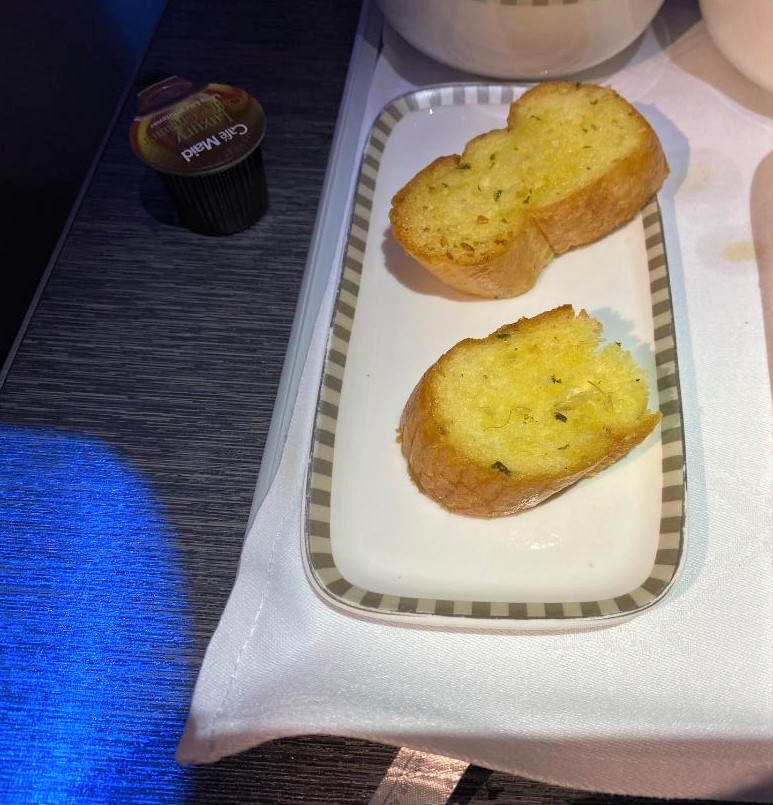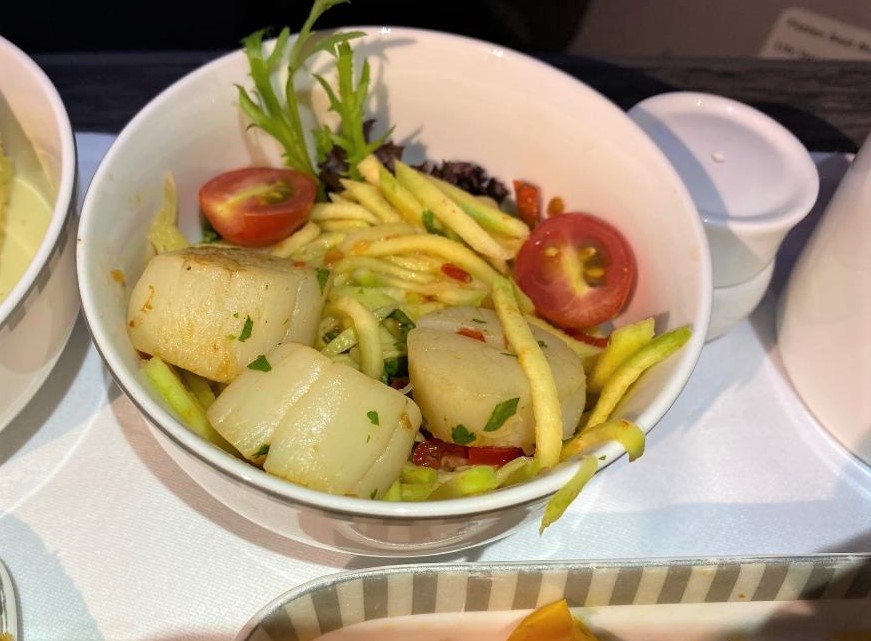 My appetiser of scallops and green mango salad
The main course featured 3 options, a local Balinese dish, fish and chicken, I went with the snapper which was good and washed it down with some sparkling wine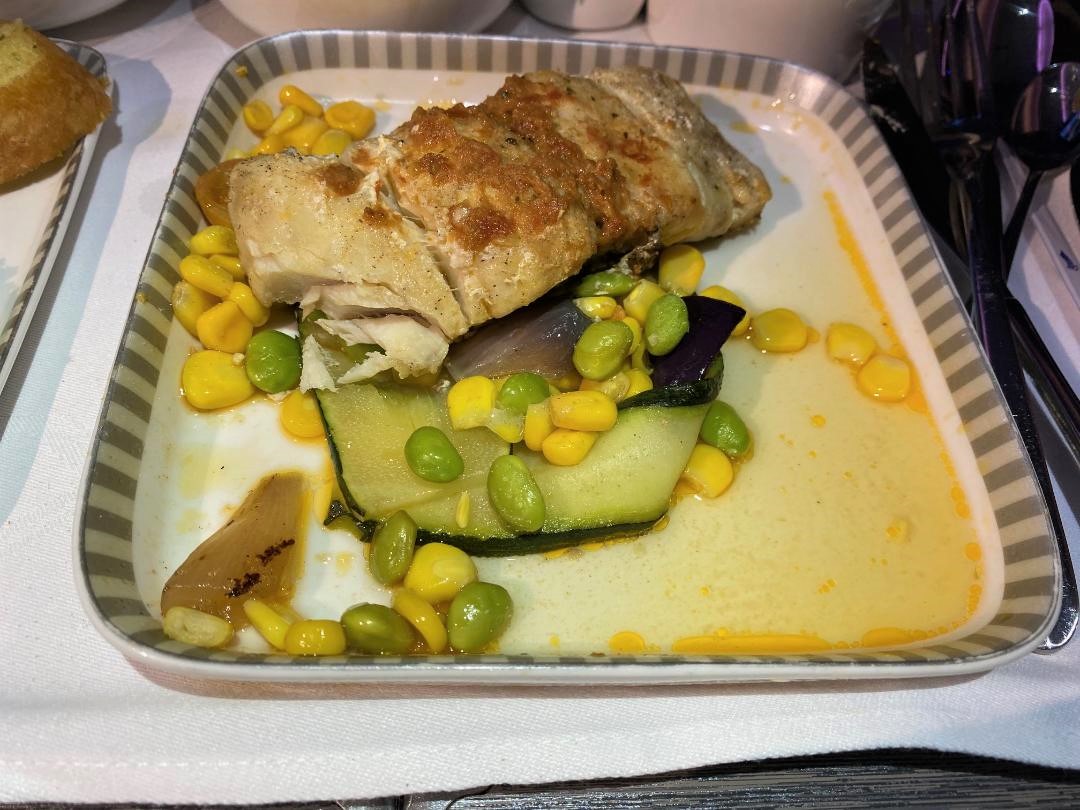 My Snapper Lunch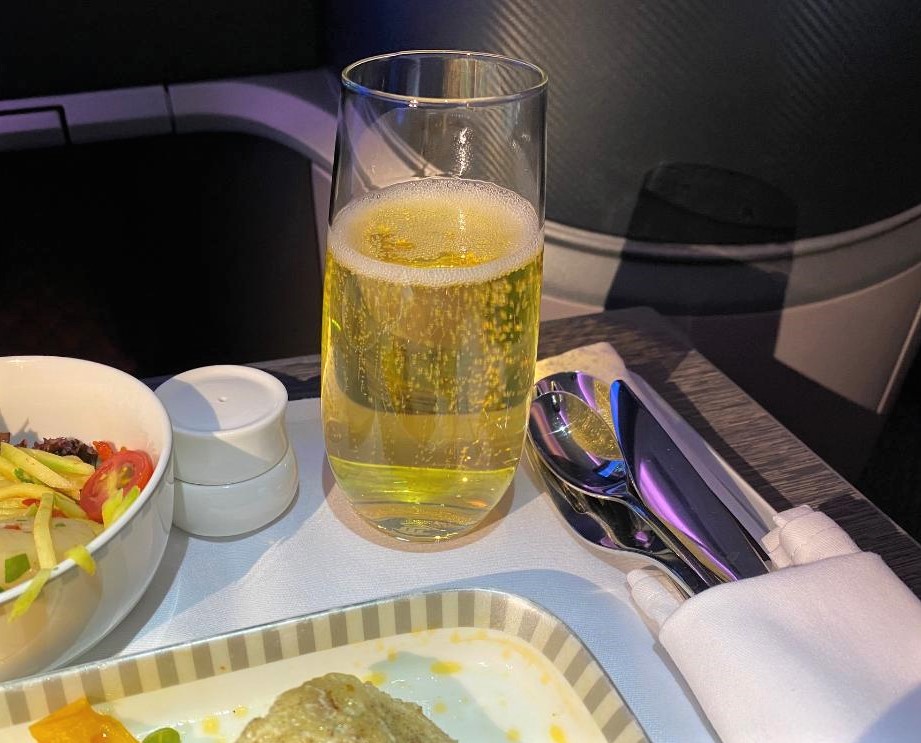 To round things off, I sampled some of the ginger chocolate cake which was yummy delicious 😋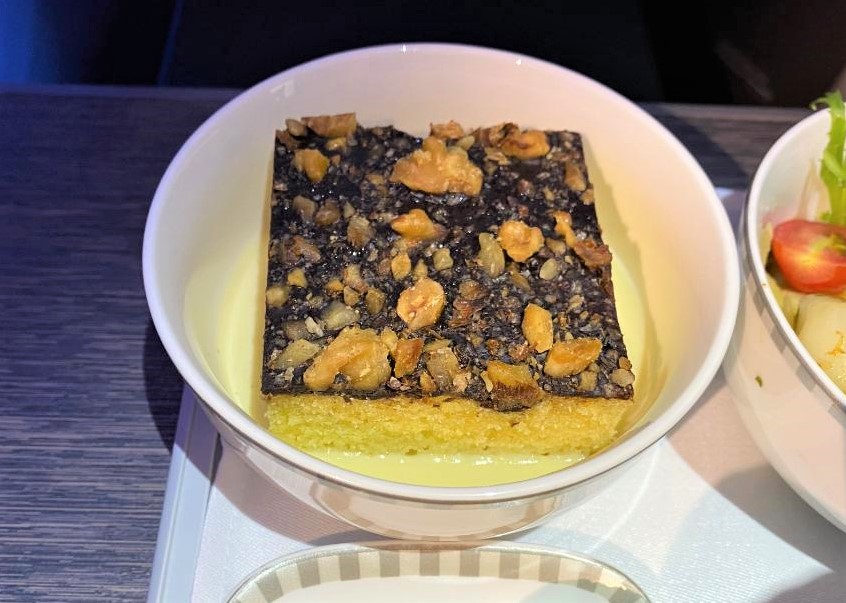 Singapore Airlines B787-10 Business Class Dessert
Later on, after my table was cleared, I had a cup of coffee. All up, the offerings were above par and fairly substantial for a flight under 3 hours.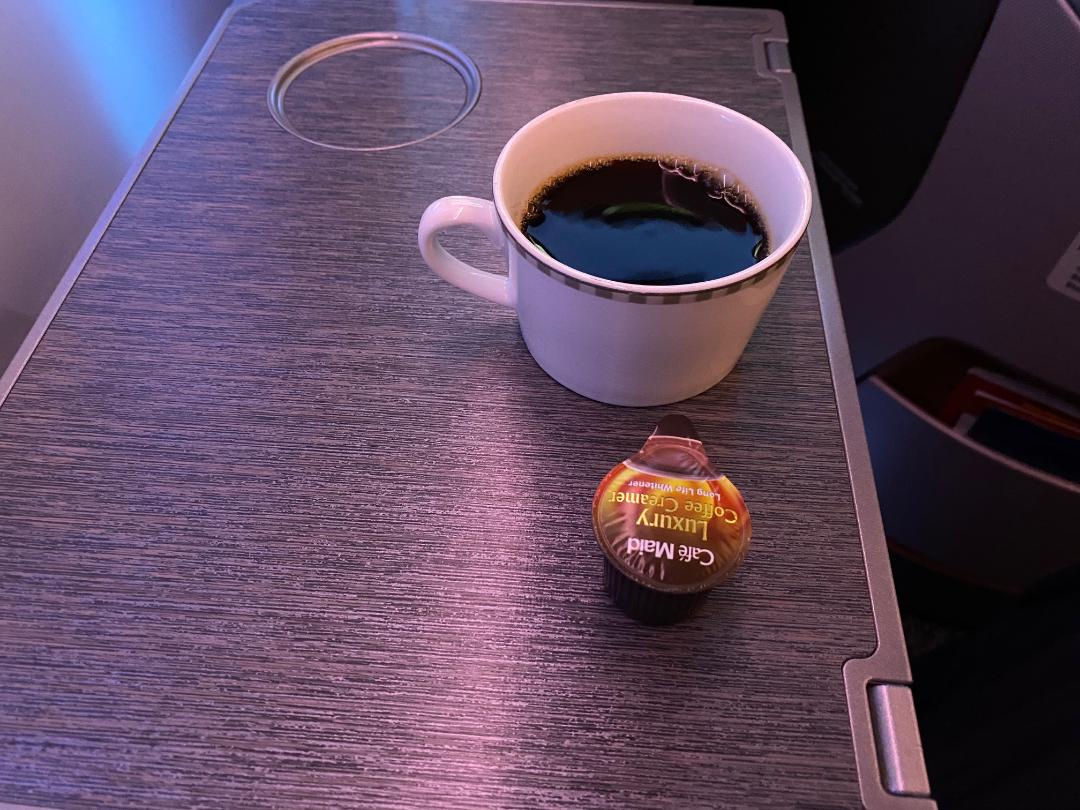 Once finished, I decided to check out one of the lav's at the front of the business cabin. It was clean, roomy and contained some airline branded toiletries.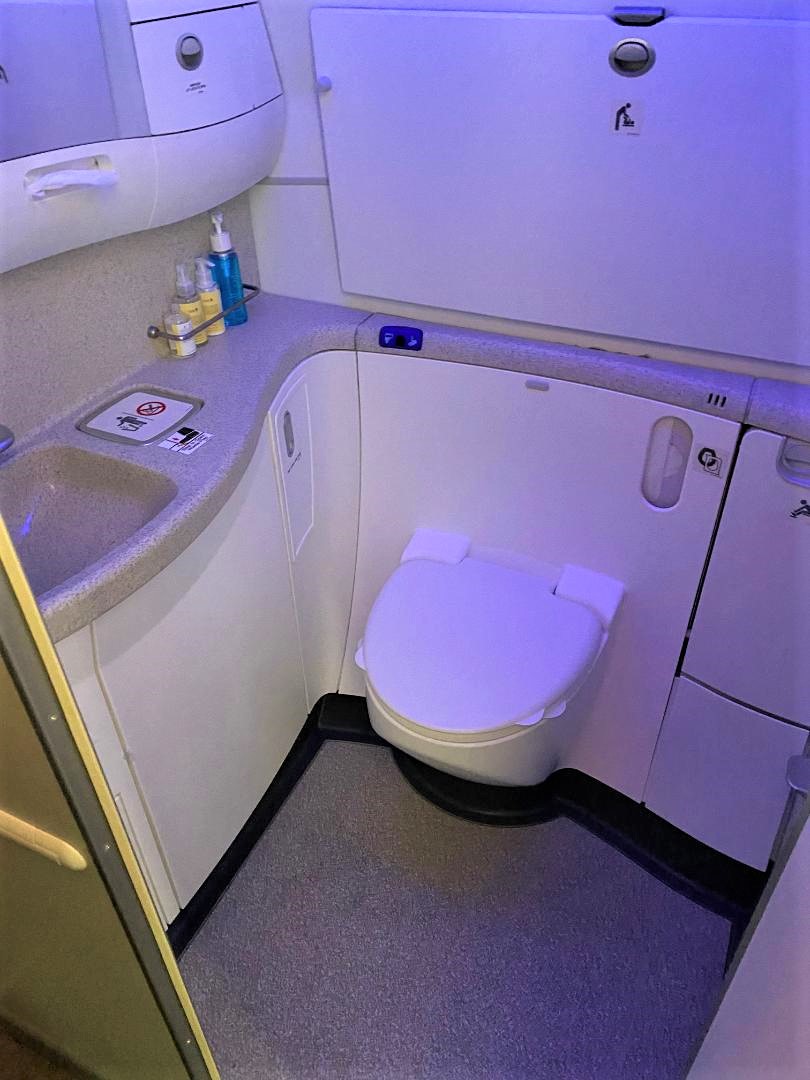 Business Class Lavatory, Singapore Airlines B787-10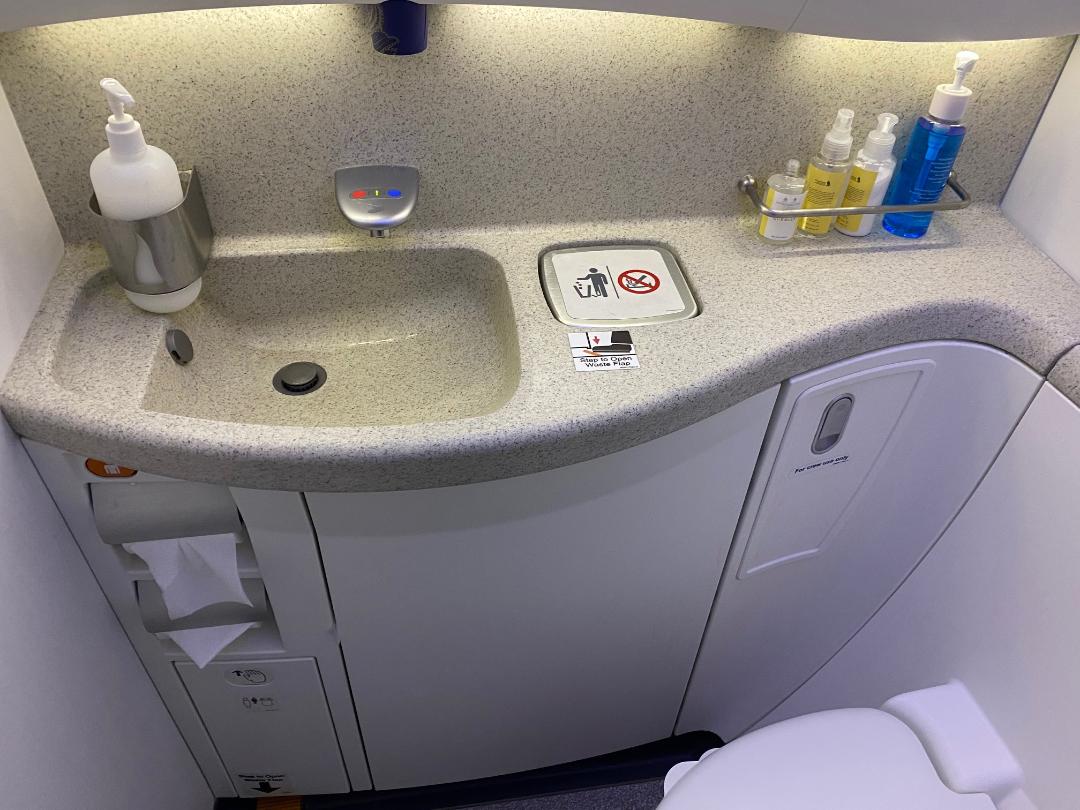 Singapore Airlines crew consistently do an excellent job of ensuring that the lavatories are maintained well and serviced frequently, which can make for such a pleasing experience, particularly on long flights.
About 20 minutes after I returned to my seat, the seatbelt signs were turned on. The captain came on the PA system and made the pre-landing announcement. Soon after, we started the descent and touched down at Changi around 3:20 pm which was 20 minutes ahead of schedule.
In Conclusion
Singapore Airlines are renowned the world over for delivering an industry leading experience and this flight was no exception.
The seats I thought were a little cosy, but the overall hard product is amongst the best. After all, there aren't too many airlines out there offering a lie-flat seat on such short routes.
To conclude, this was a very good flight and met my expectations.
Have you flown Singapore Airlines B787-10 Business Class? Leave a comment below.