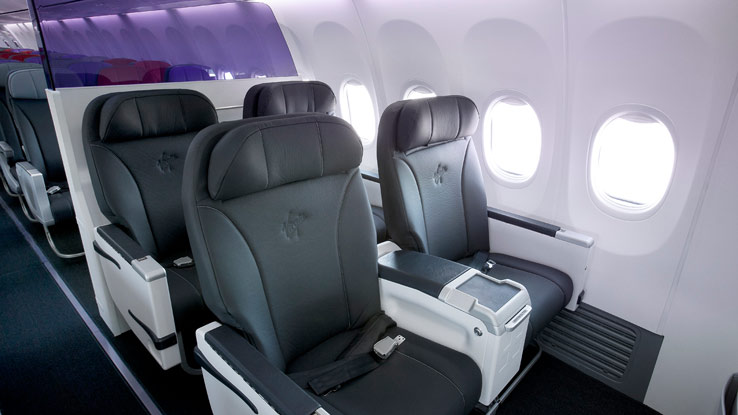 It had been a few years since I last visited Bali, so as part of my wider travel, I decided to spend a few days over there.
Booking
I flew Virgin Australia from Sydney to Denpasar, via Brisbane. All flights from Australia to Bali are operated on VA's domestic workhorse, B737-800 . The availability for Business Reward seats on this route isn't particularly good, given the cabin has just 8 seats.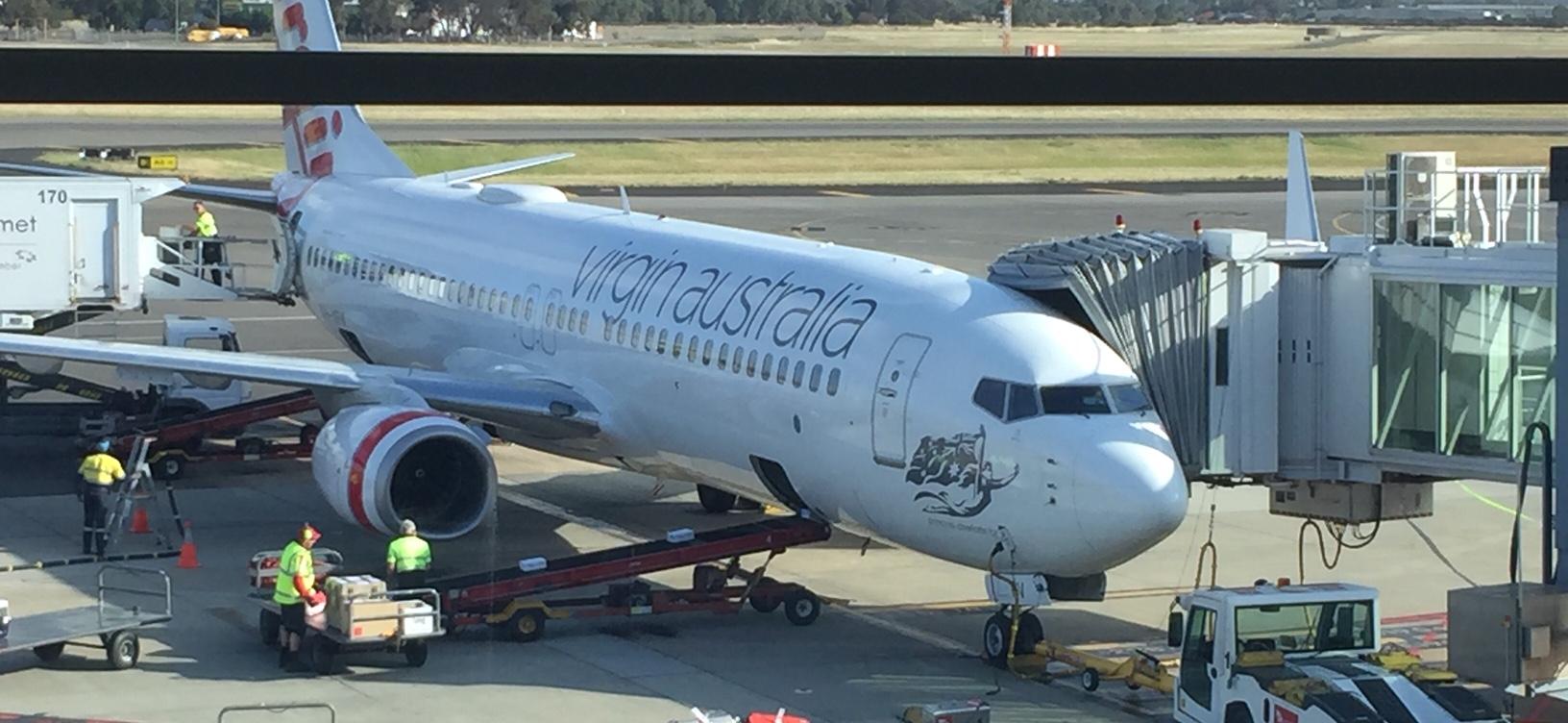 Virgin Australia B737-800
So I booked a one-way cash fare for around $750 which wasn't the worst deal. To maximise value, I made this booking during one of Virgin Australia's double status credits offer which netted me a total of 350 SC's. If you do manage to find award seats however, you can redeem 49,500 Velocity points (plus fees and taxes) for this flight.
There are literally hundreds of ways of earning Velocity points. For more on this, check out one of my earlier posts, 5 easy ways to earn Velocity points. However, if you would like to earn a big pile of Velocity points relatively quickly, The American Express Velocity Platinum Card is currently offering Welcome Bonus of 100,000 Velocity points, enough for a return business class flight from Australia to Bali. You may apply for The American Express Velocity Platinum card here and will have to meet the minimum spend requirement of $3,000 in the first 3 months of card membership to receive the welcome bonus of 100,000 Velocity points.
Disclosure – If you apply for the card using the link above and are approved, pointsHq or its related parties may receive some referral bonus points.
The other option to fly this route would be Etihad Guest miles. If you wish to redeem those, it will cost you 33,800 Etihad miles for a one way business class flight between Australia & Denpasar. Etihad Guest is a transfer partner of American Express Membership Rewards program and points transfer at 2:1 (2 Amex points = 1 Etihad Guest Mile) so you will be required to transfer 67,600 AmEx points to your Etihad account to cover this flight.
You can check out the full Etihad redemption table for Virgin Australia over here.
Keep in mind that transfers to Etihad Guest program can easily take over a week, further, you can't make the booking online, but will have to call the Etihad Guest contact centre on 1300 532 215 to redeem miles. In my experience, Etihad Guest members have access to the same seats as Velocity members, so as long as there is availability, you should be able to book with Etihad miles.
Lounge
The Sydney – Brisbane sector operates like a standard domestic flight, so business Class guests and Velocity Gold & Platinum members have access to the Virgin Australia Lounge at Sydney Terminal 2.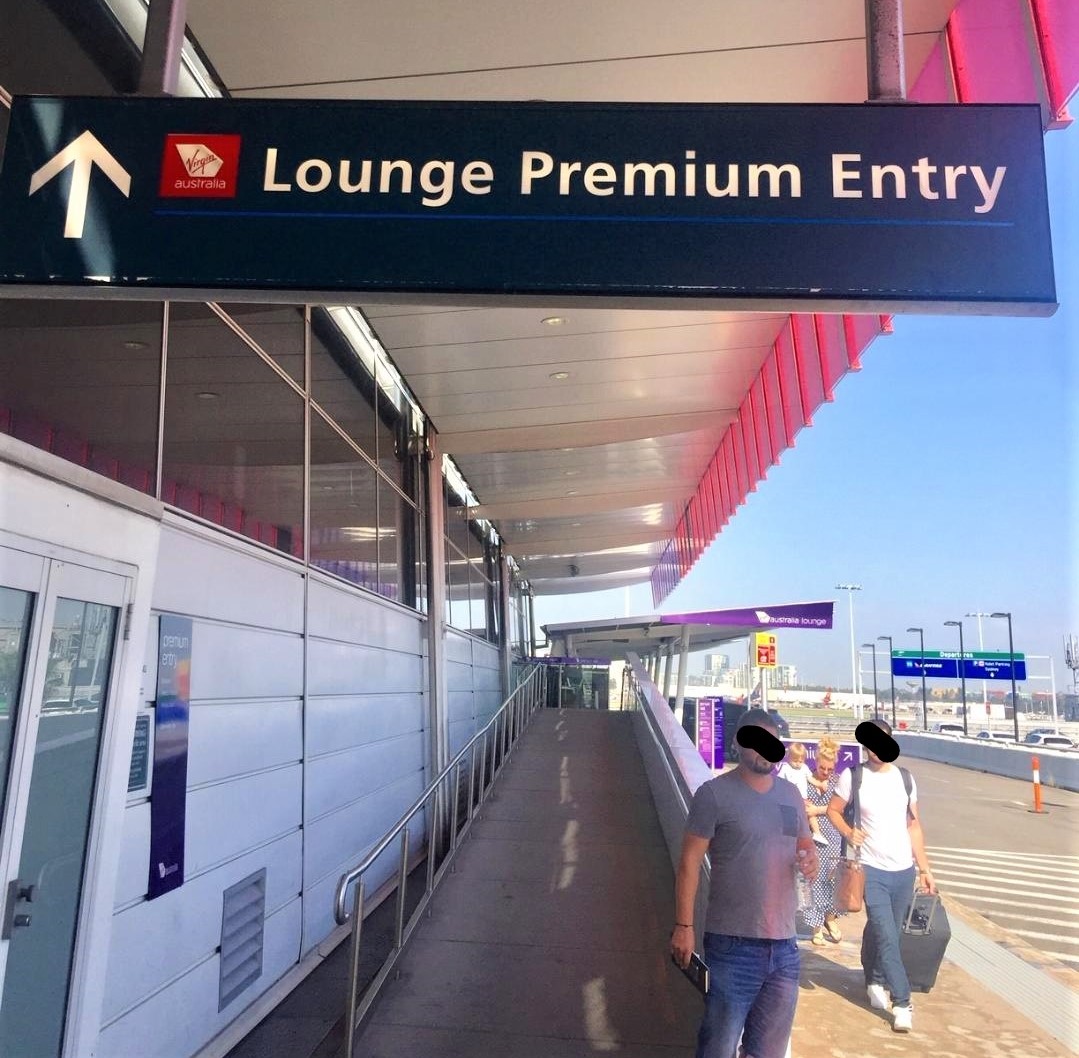 Premium entry to Virgin Australian lounge at Sydney Airport
In Brisbane, guests are invited to use My Lounge, a brand new lounge which opened just a few months ago. It's a decent facility to spend about 40 minutes or so prior to the flight. I checked out this lounge recently and you can read my full review of My Lounge over here.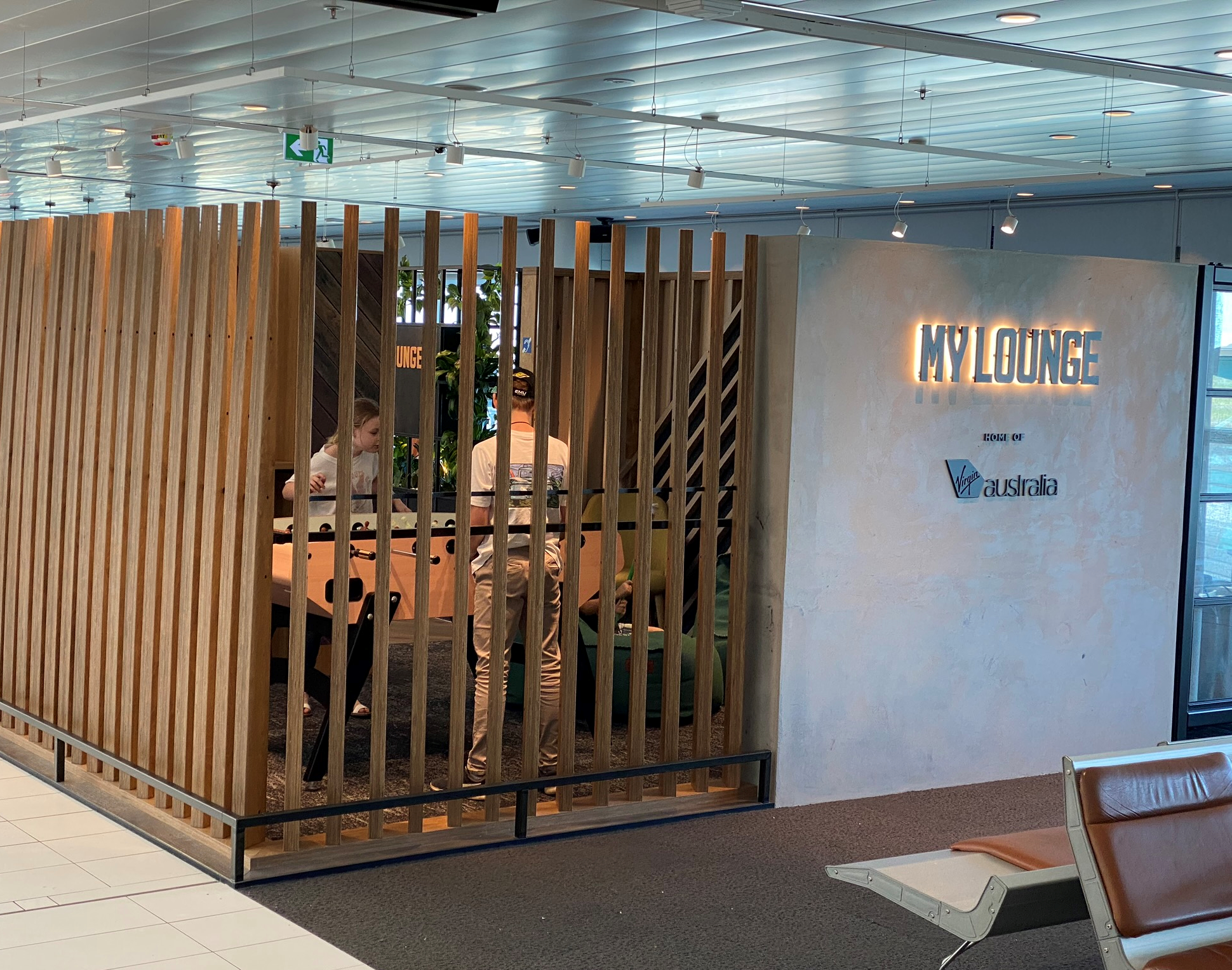 My Lounge at Brisbane International Airport
Flight 1 (Sydney – Brisbane)
The scheduled departure of my flight to Brisbane was for 2 pm, but due to the late arrival of aircraft, boarding was delayed and started only at 1:55 pm. On domestic flights, unless you end up with the bus gate, all passengers board through the front door of the aircraft. As I entered the plane and turned right, the small business class cabin with just 8 seats was first up.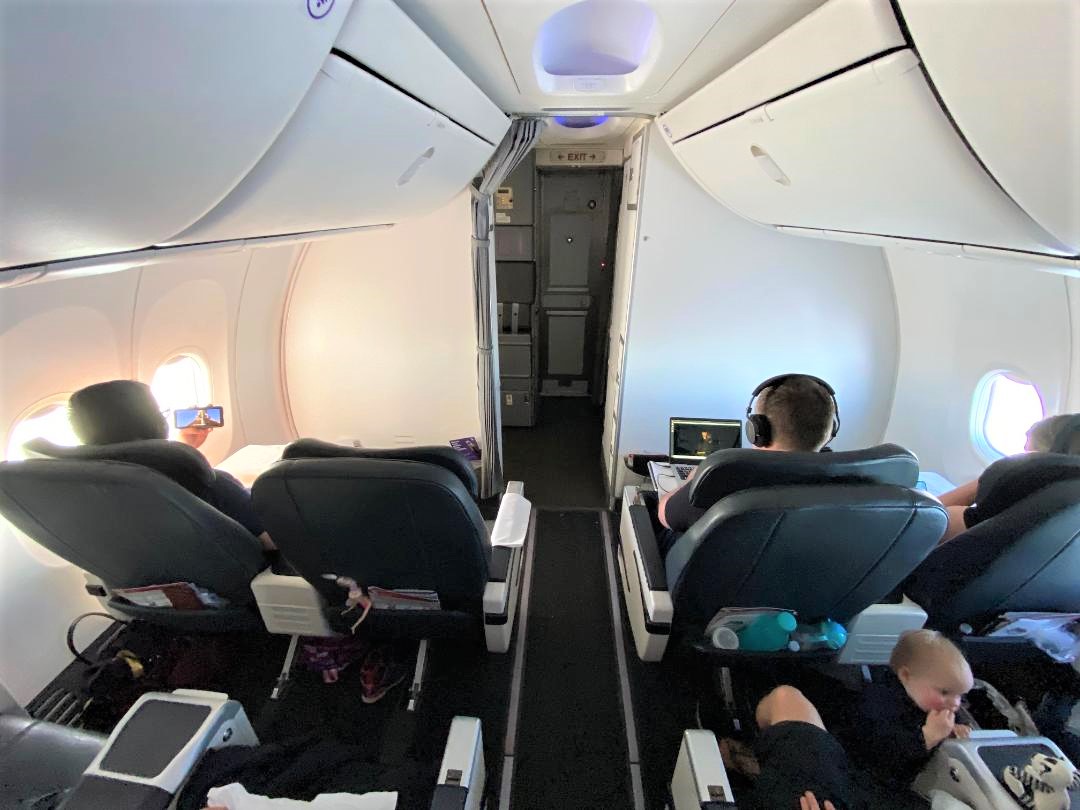 Virgin Australia Business class cabin on B-737
The cabin is laid out in 2-2 configuration featuring 8 recliner seats. The seats itself are pretty plane-Jane with no real features to speak-off.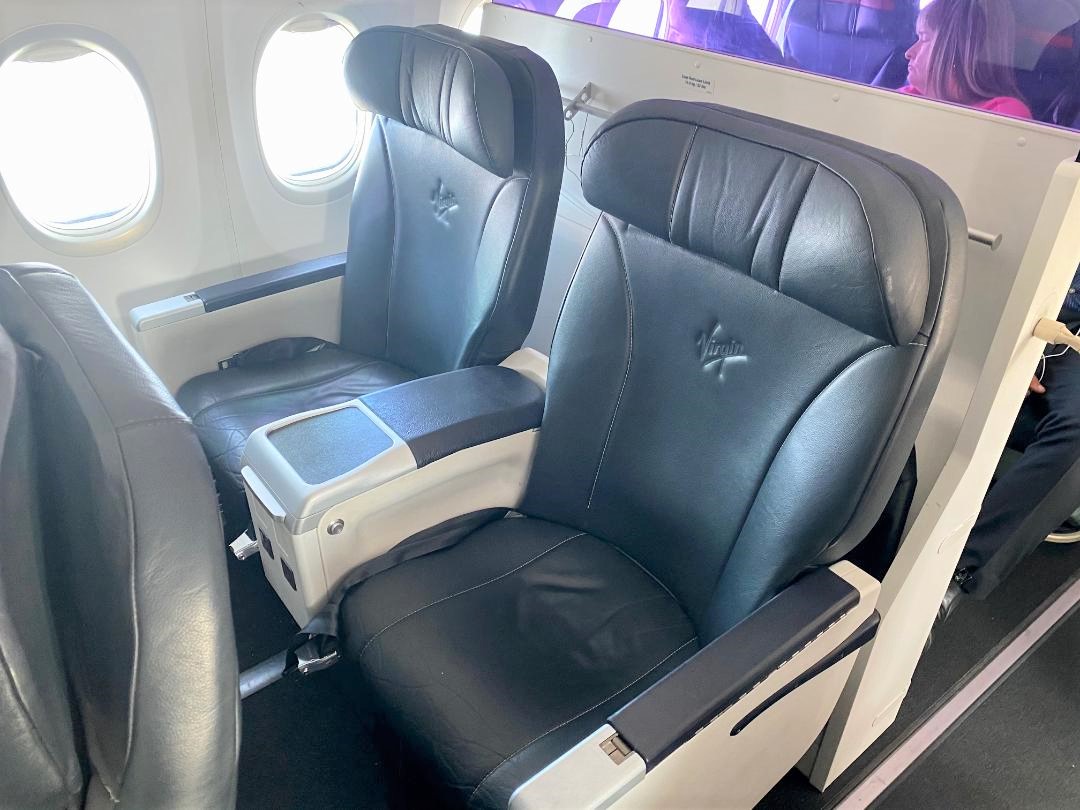 Virgin Australia B-737,Business class seats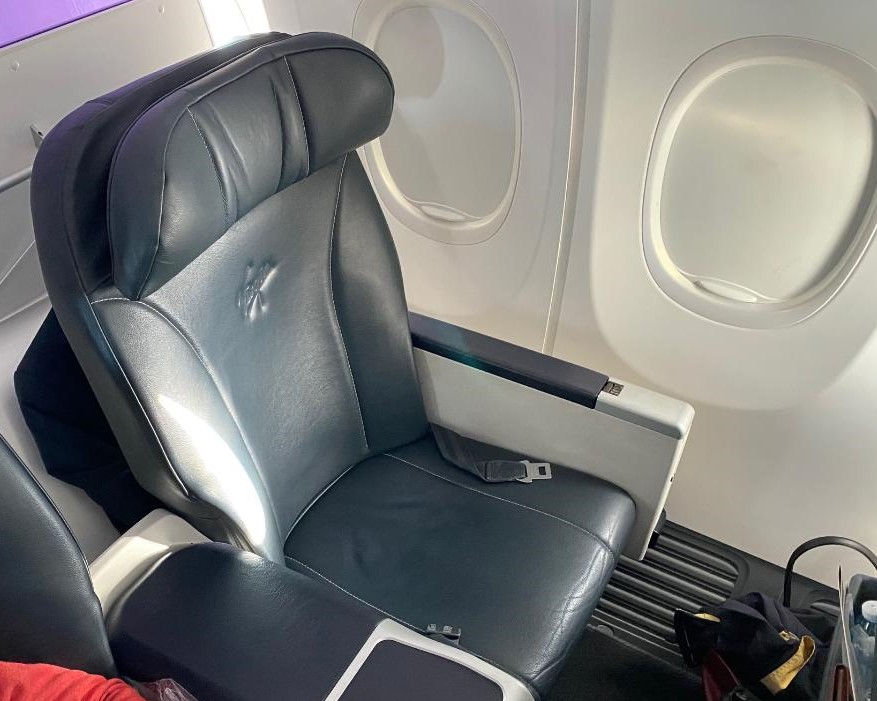 Virgin Australia B-737,Business class seat
To the right, and just under the armrest, there is a button you could press and push the seat back to create a slight recline.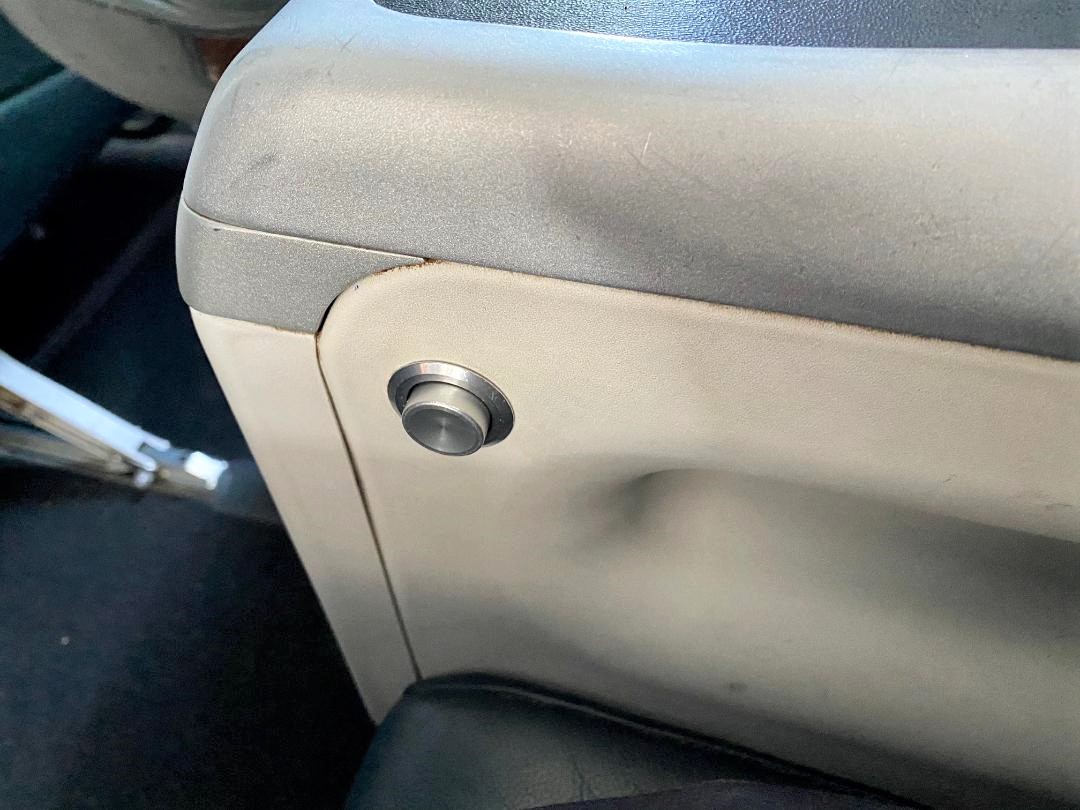 You can press this button and recline your seat back slightly
The tray table is stored inside one of the armrests. You need to open the top and pull out the table manually. I found the table to be pretty sturdy, and you could have it fully or partly extended.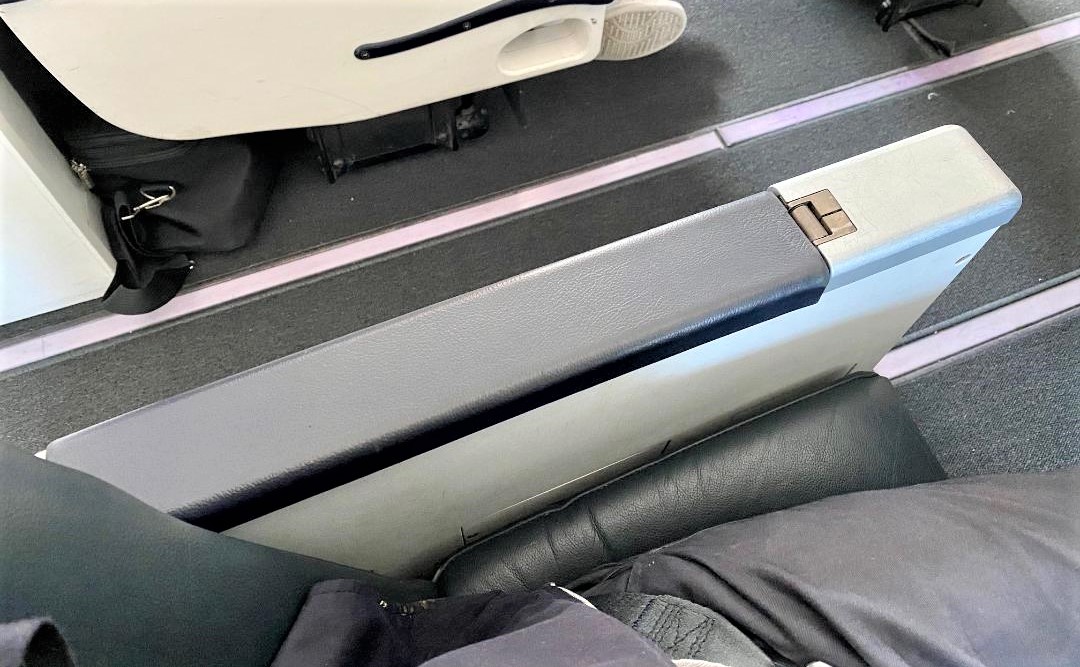 You need to open the top of the armrest and pull out the tray table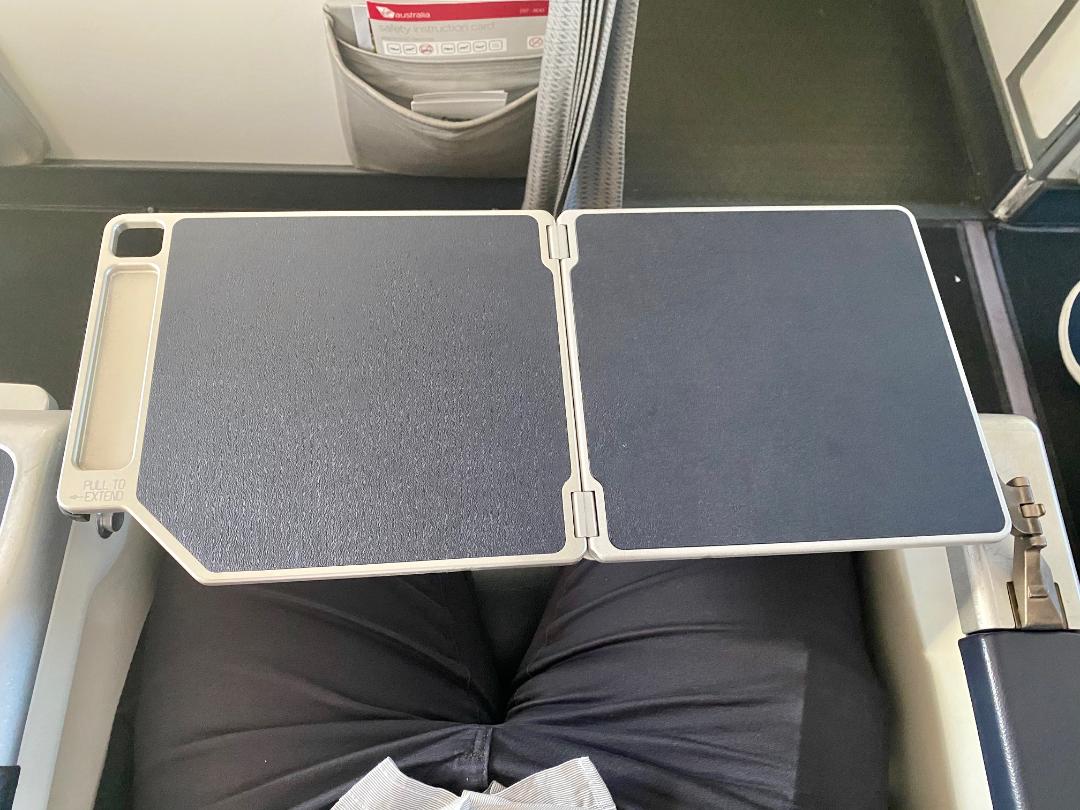 Fully extended tray table
There is no seat back entertainment screen on these B-737's. You could however download the Virgin Australia entertainment app on your own device and connect once onboard. There is a decent selection of movies, kids & TV shows etc on the app.
All passengers on Virgin Australia domestic flight have access to complimentary wifi, which you could connect to once the aircraft is at cruising altitude. This is a genuinely great feature, which isn't offered by Qantas, or too many other airlines around the world.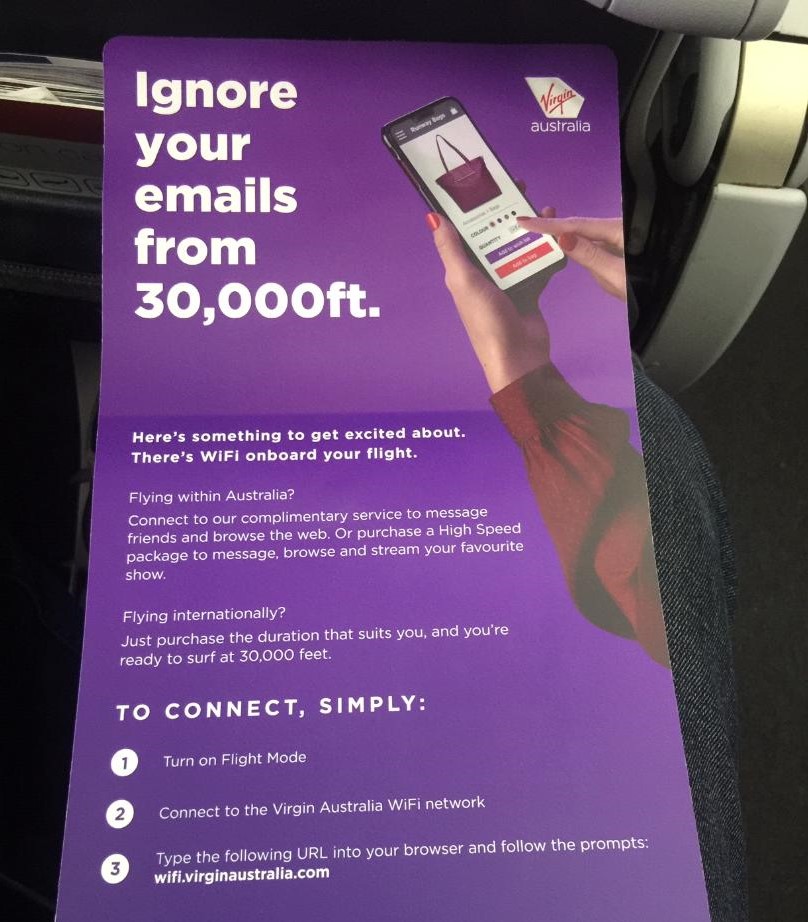 Stay connected when flying domestic on Virgin Australia
The business cabin is roped off after the 2nd row, with the rest of the aircraft taken up by economy class seating.
As soon as I took my seat, I was offered a welcome drink, which was a choice between orange juice and water, I had a glass of water. The juice you see below was for the passenger on the next seat from me.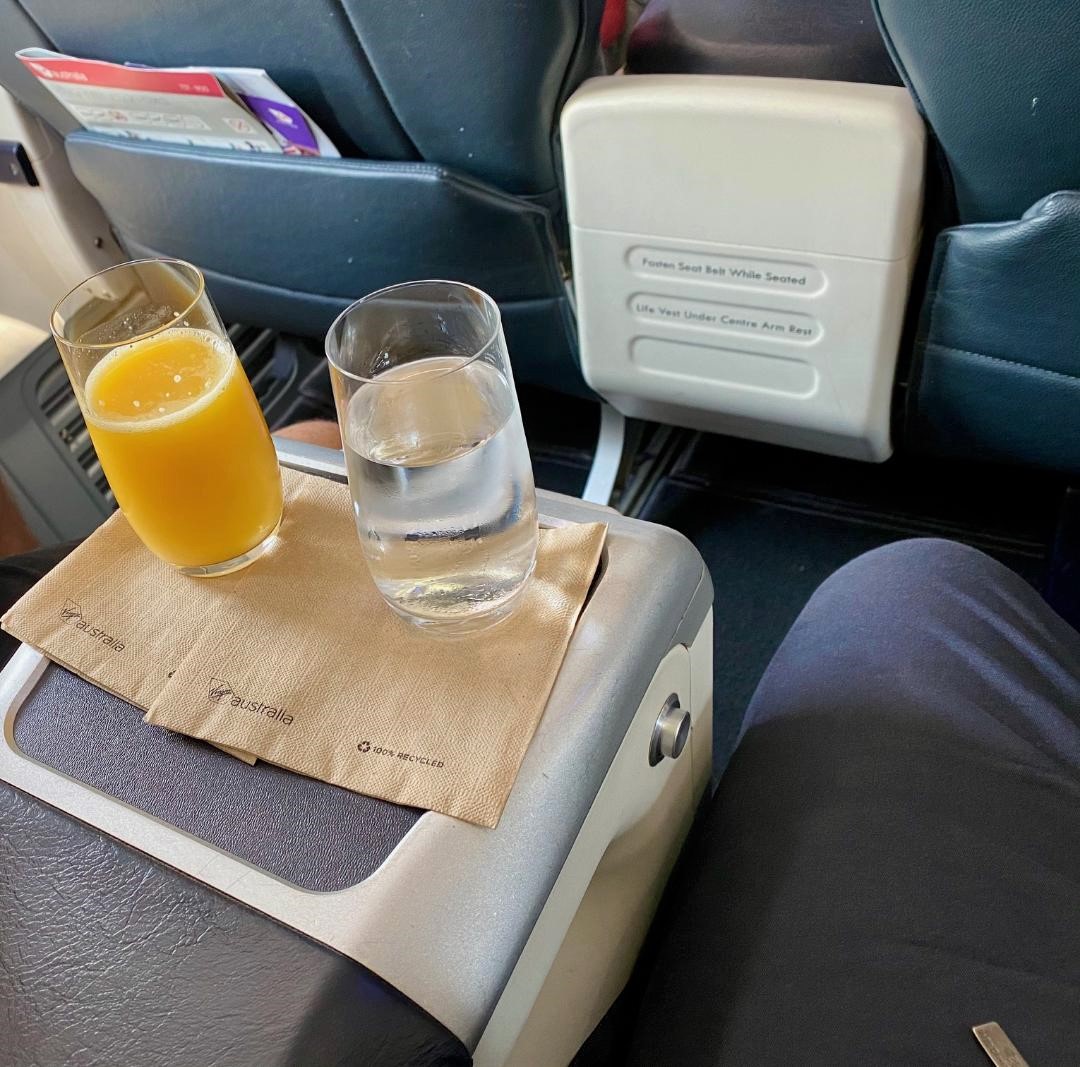 Once airborne, and after the captain had turned off the seat belt signs, lunch was served. There were 2 choices, you could either have the chicken dish or smashed avocado salad. I went with the smashed avo option which came topped-up with chunks of fetta cheese and sundried tomatoes. There were some corn-chips, a vanilla and choc-chip cookie, plus some cheese and crackers.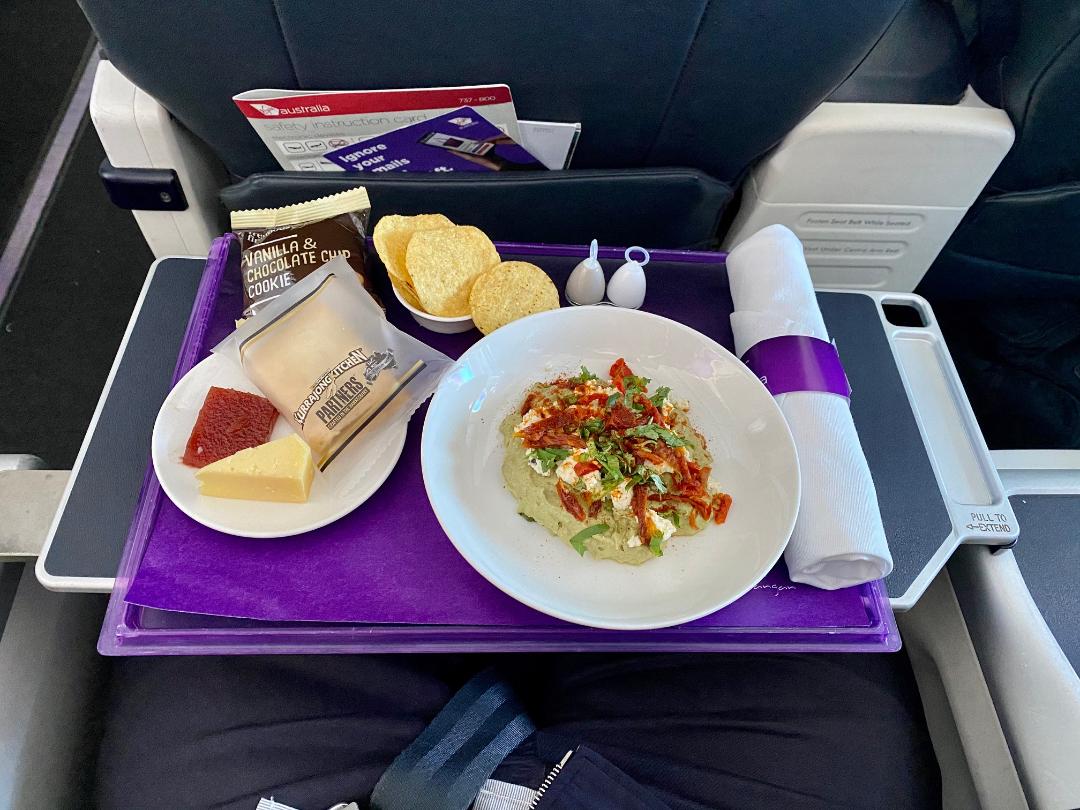 My business class meal on Sydney to Brisbane leg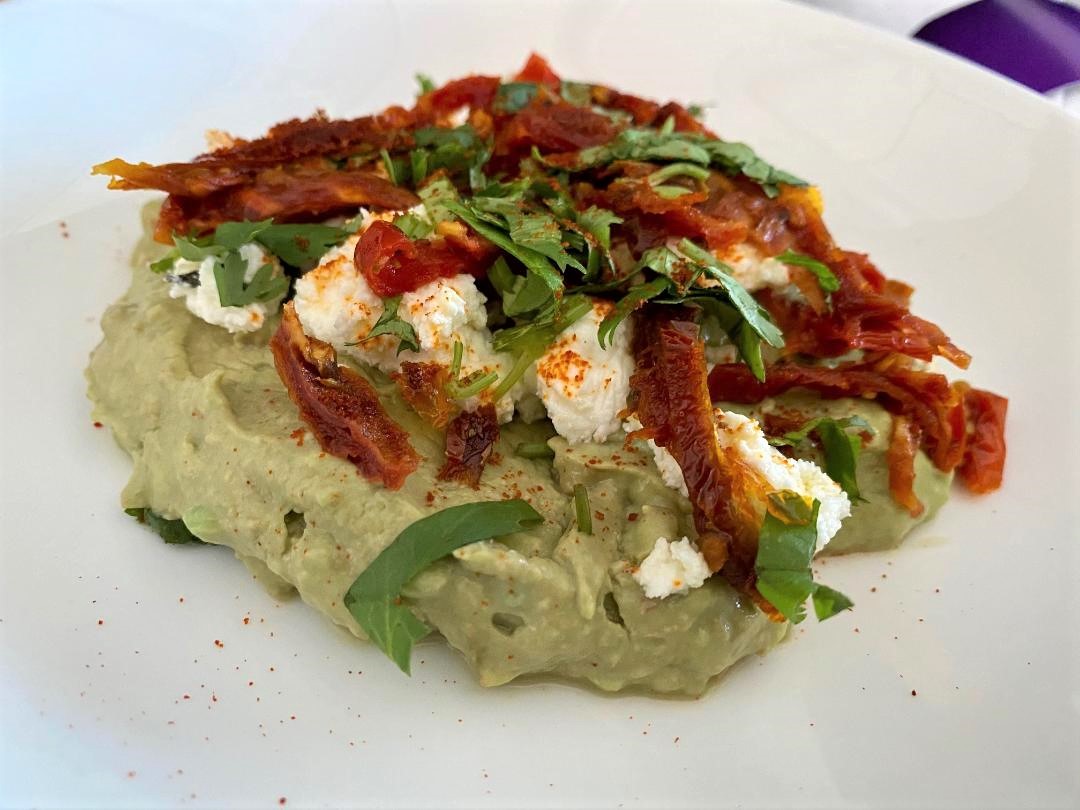 Everything was delicious. The crew were at-hand through out the flight topping up drinks.
About 10 minutes after the meal service finished, the captain announced that we were commencing our descent into Brisbane. We landed just after 2:30 pm and I quickly made my way to the area outside the arrivals hall where the free inter-terminal shuttle stops.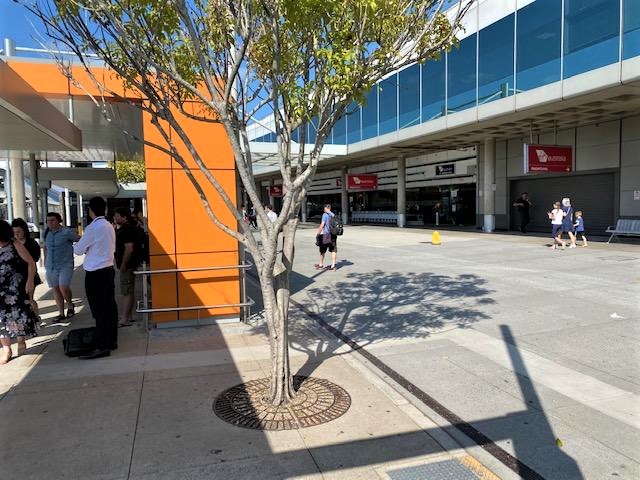 Inter-terminal shuttle stop, outside the Virgin Australia arrivals area
I jumped on the next shuttle that came along and arrived at the International Terminal in about 5 minutes.
Since my bags were checked-in right through to Denpasar and I had my boarding pass for the next flight already in possession, I went straight through security and immigration and into My Lounge.
Flight 2 (Brisbane – Denpasar)
I hung-around in the lounge until I heard the boarding announcement for my flight from Gate 77, which was right next door.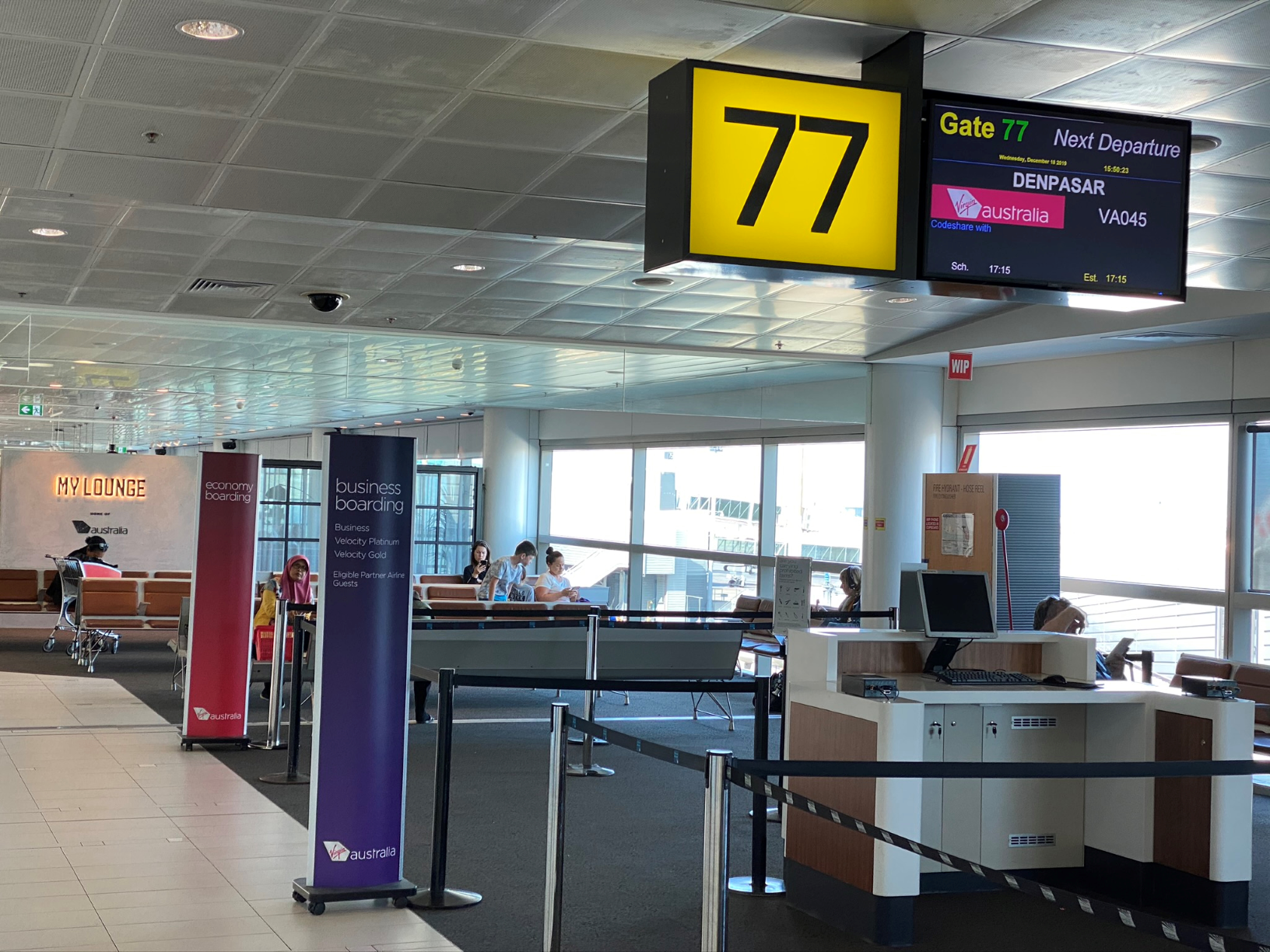 By the time I arrived at the gate, which was overflowing with holiday-makers, boarding for business class guests was well under way.
Once again I entered the aircraft through the front door and was welcomed onboard by the flight purser Steve who showed me to my seat. Given that this flight was also operated with the B-737, it was essentially the same cabin as on my earlier flight from Sydney – Brisbane. That said, there were some minor differences, the biggest of which were the in-seat power outlets located in-between the 2 seats.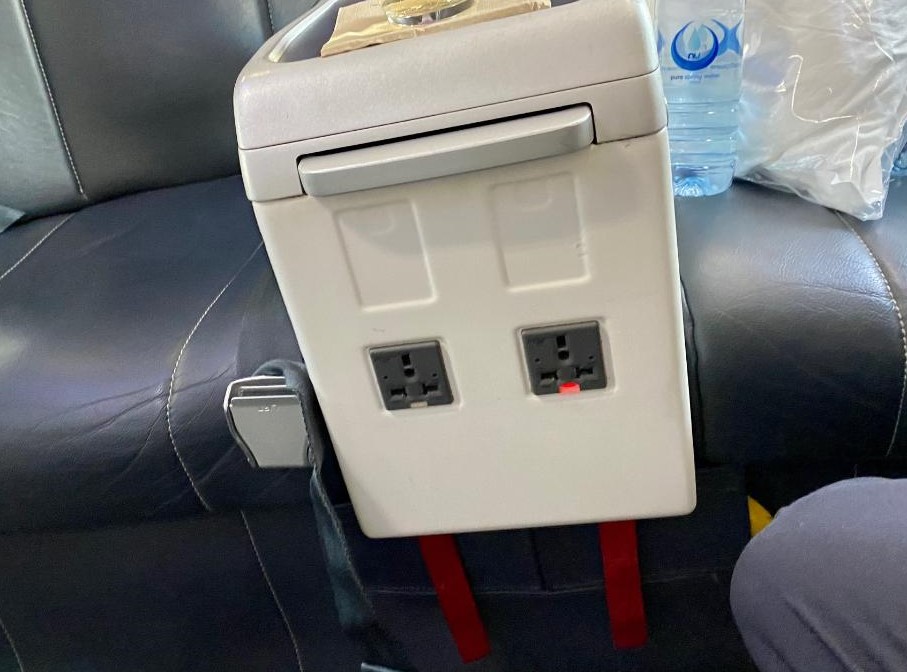 In-seat charging is available on some of Virgin Australia's B-737 aircrafts
I believe that in this day n age when people travel with multiple gadgets, this is the bare-essential every aircraft should have, whether that be the short 30 minute hop or the ultra long-haul 17 hour that criss-crosses numerous time zones. It's a bit bizarre that everyone flying domestic on Virgin Australia have access to free inflight wifi, but there are no power outlets even in the business class cabin.
The other noticeable feature of this flight were the blanket and pillows, water bottles and menu cards waiting on every seat.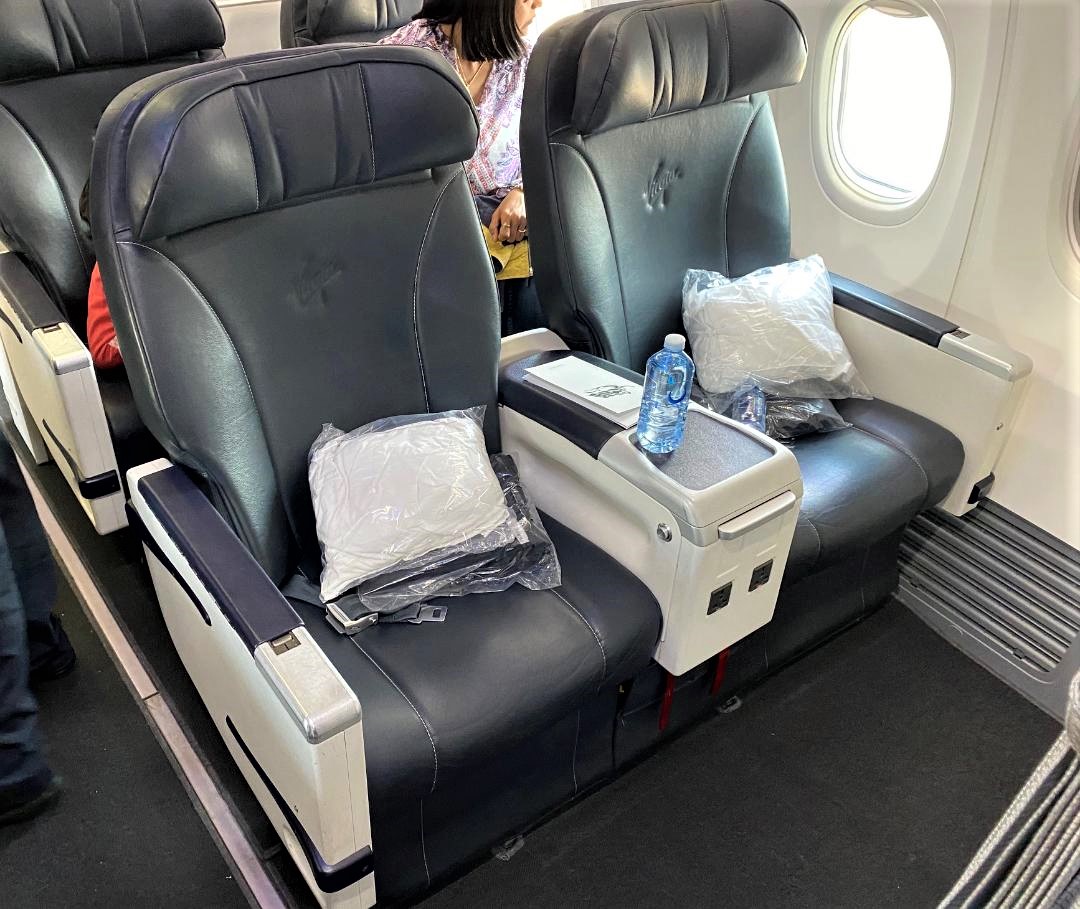 Blankets and pillows were provided on my Brisbane to Denpasar flight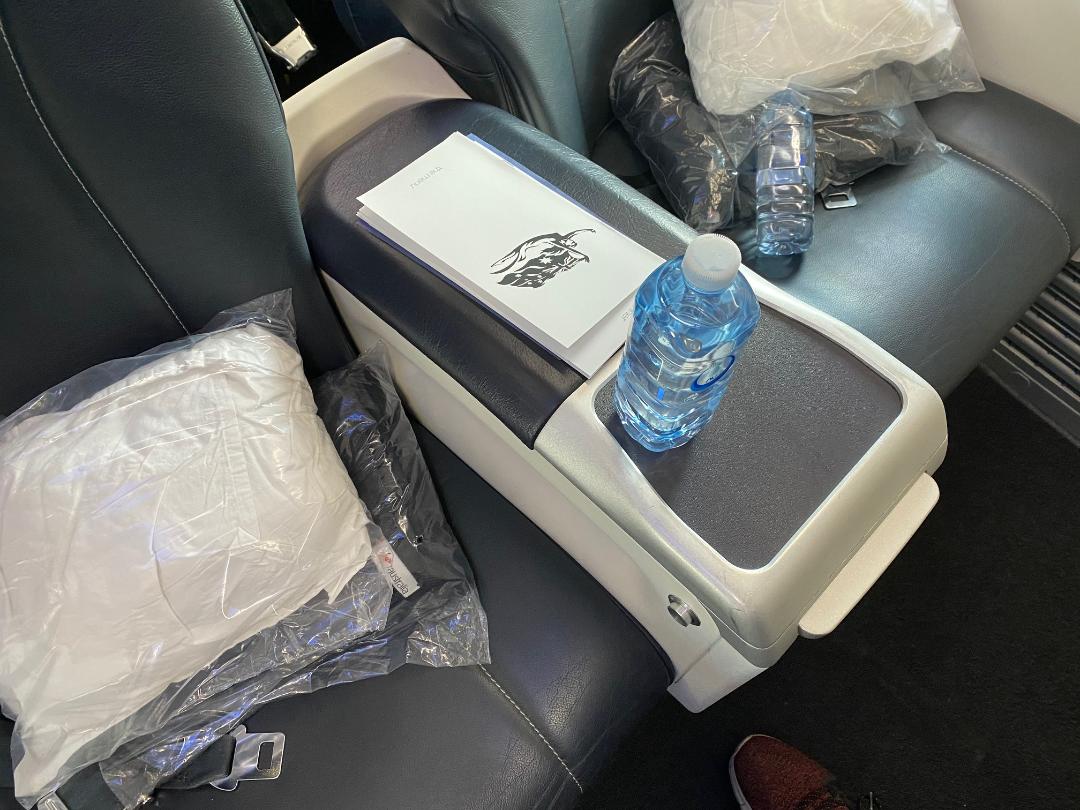 I made myself comfortable and within a couple of minutes, Steve came around with the welcome drink. I asked for some sparkling wine.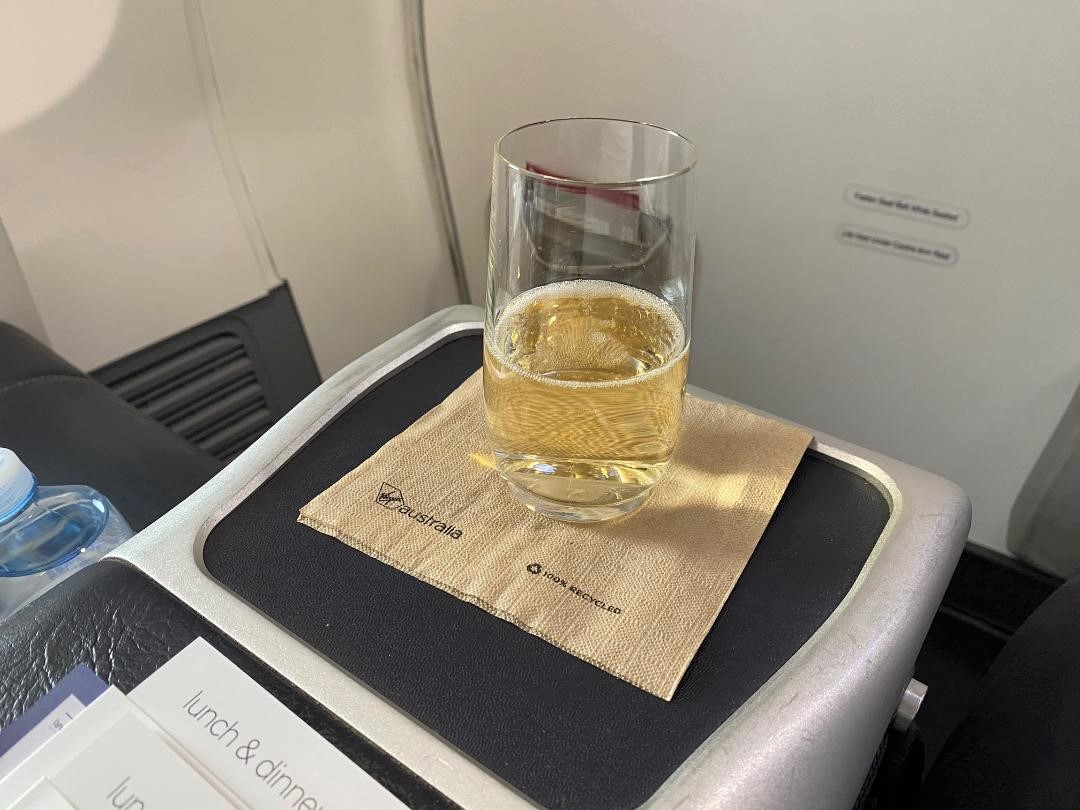 My welcome drink of sparking wine
Menus were handed out soon after, which you can see below.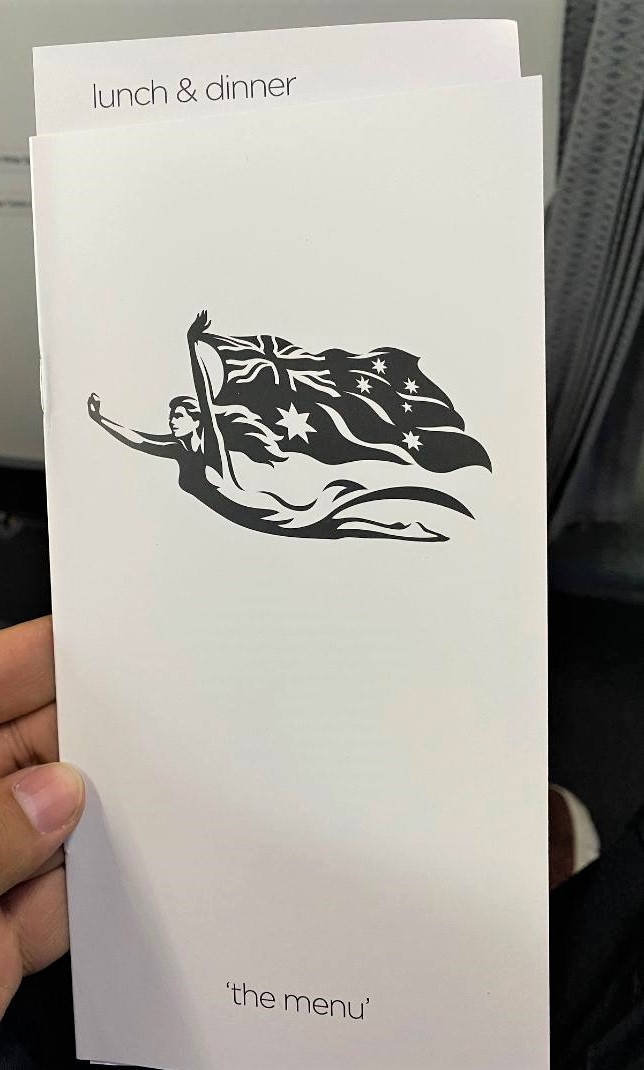 Virgin Australia Business Class Menu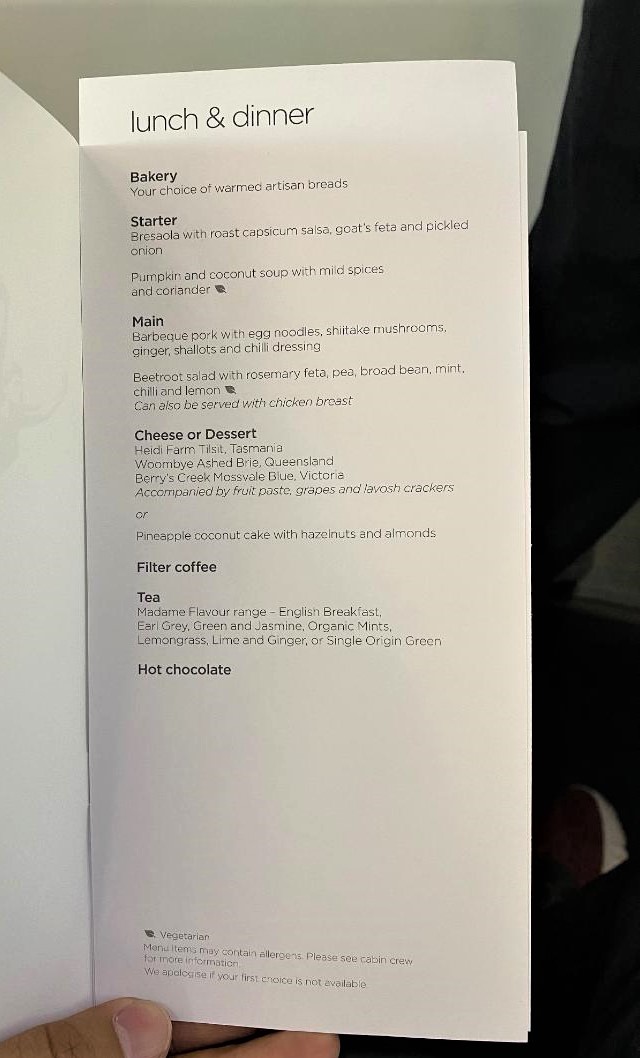 Virgin Australia Business Class Food Menu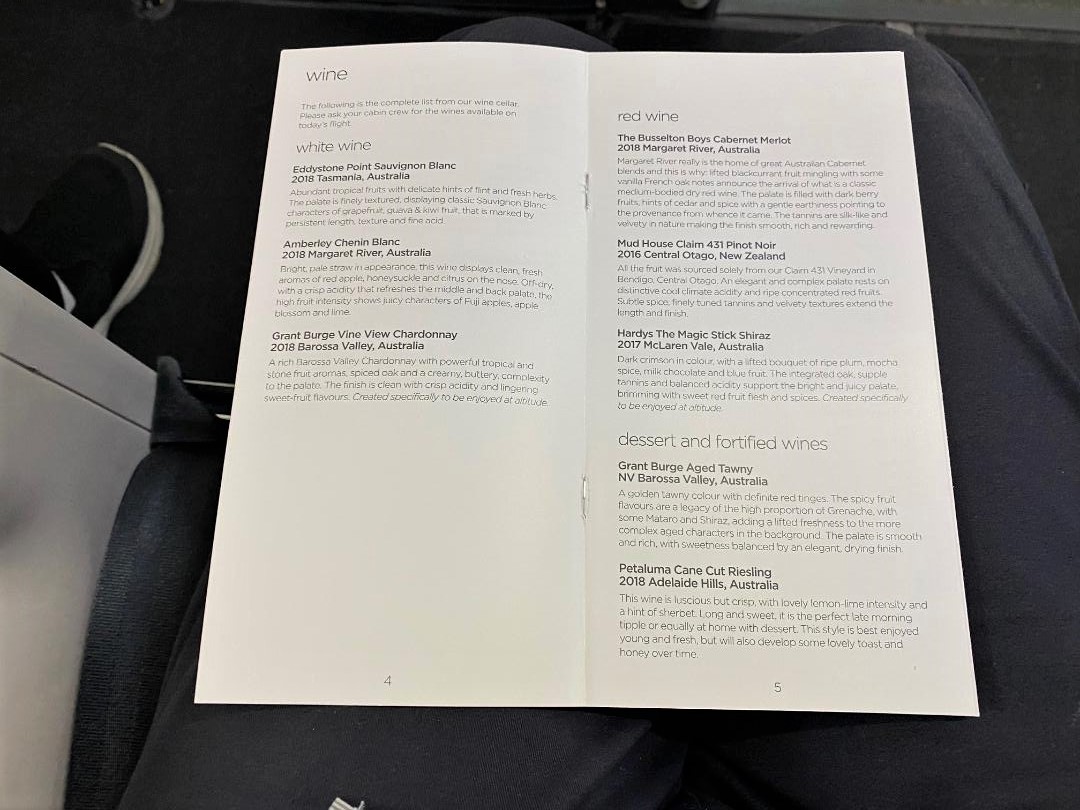 Virgin Australia Business Class Drinks Menu
Busy executives would appreciate the express dining option where you could have a quick bite and settle in to get some work done. Those with an eye for finer things in life though, would undoubtedly opt for the leisurely 3 course meal spread over an hour or so. Personally for me, it's always the latter 😋.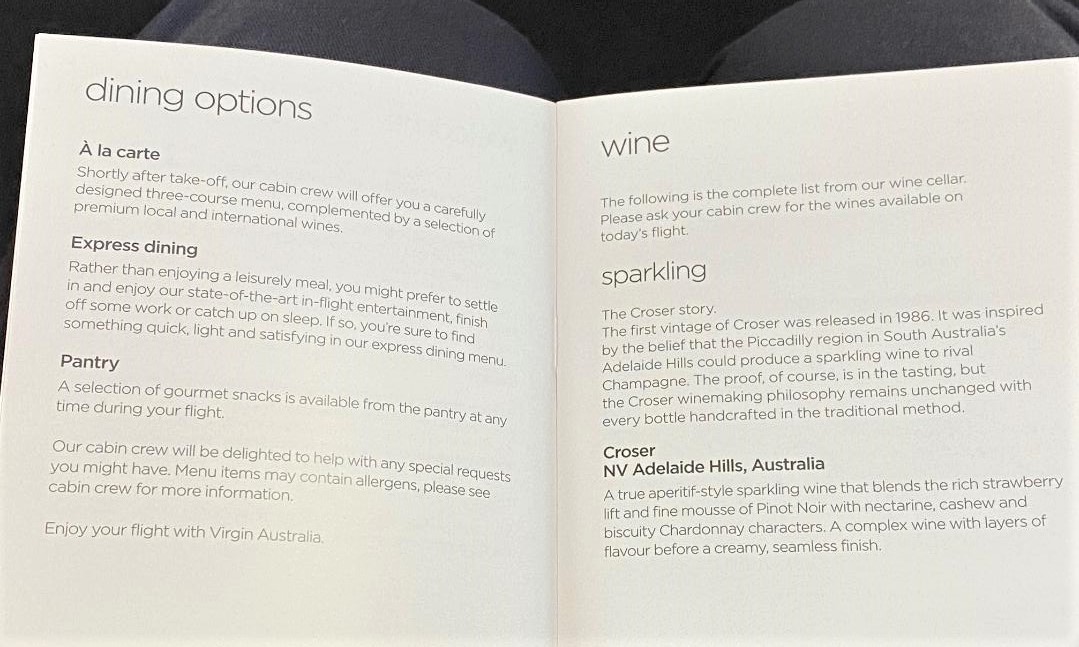 You could choose the express dining option if not very hungry
The dinner service started with the drinks order, I asked for some vodka and lemonade which was excellent and came with a bowl of warm mixed nuts.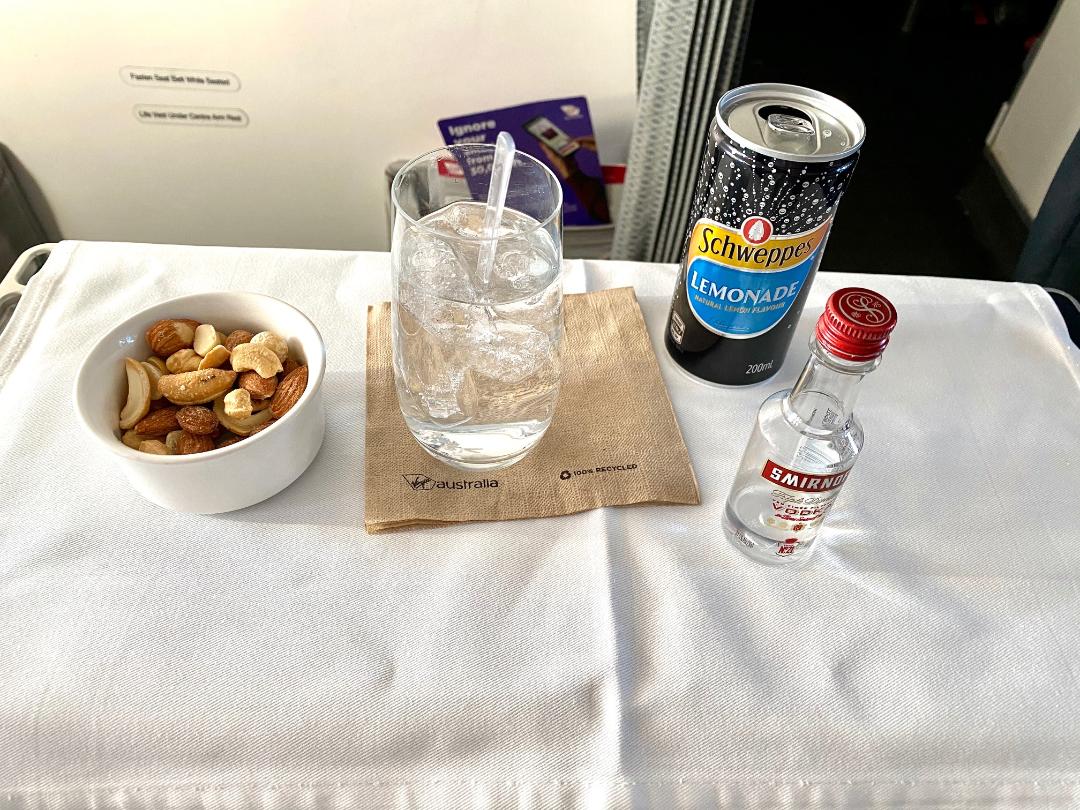 Steve ensured that my glass never went below the half way mark 🙂
Next came the starter which was a piping hot bowl of pumpkin and coconut soup served with a crusty bread-roll. The soup was finger licking good and I made sure nothing went to waste.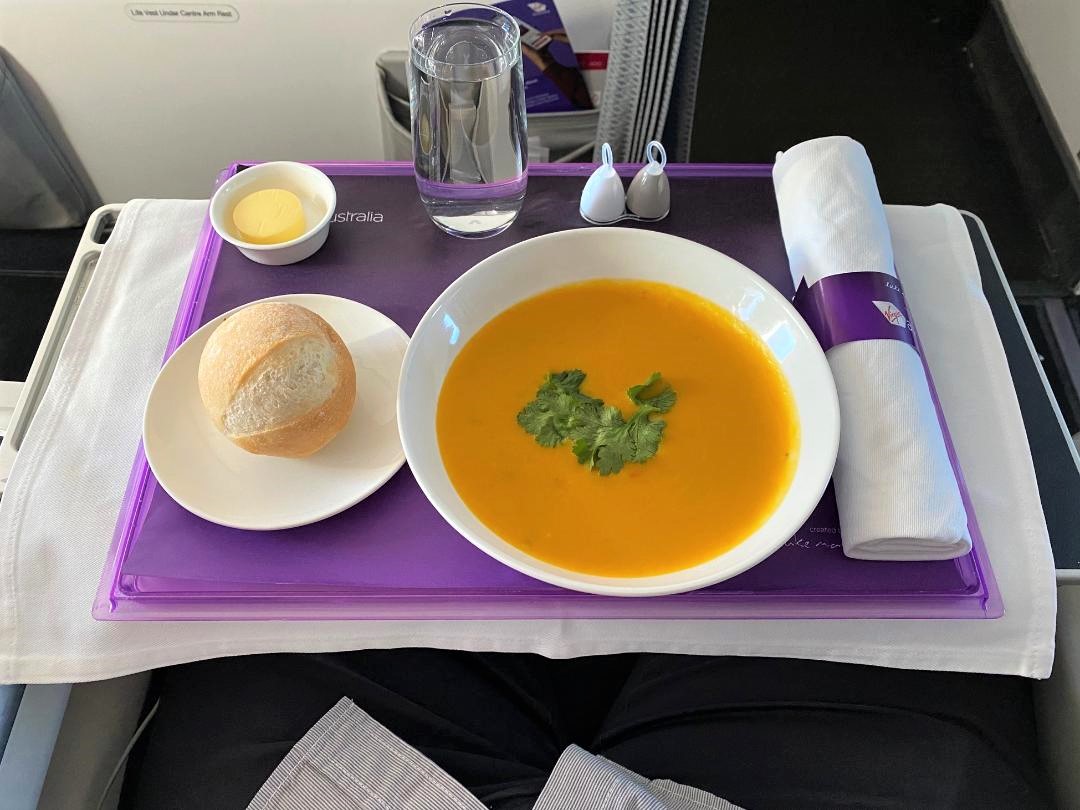 The pumpkin soup was delish
For the main course, I had the chicken with egg noodles, which was ok and my least favourite of all.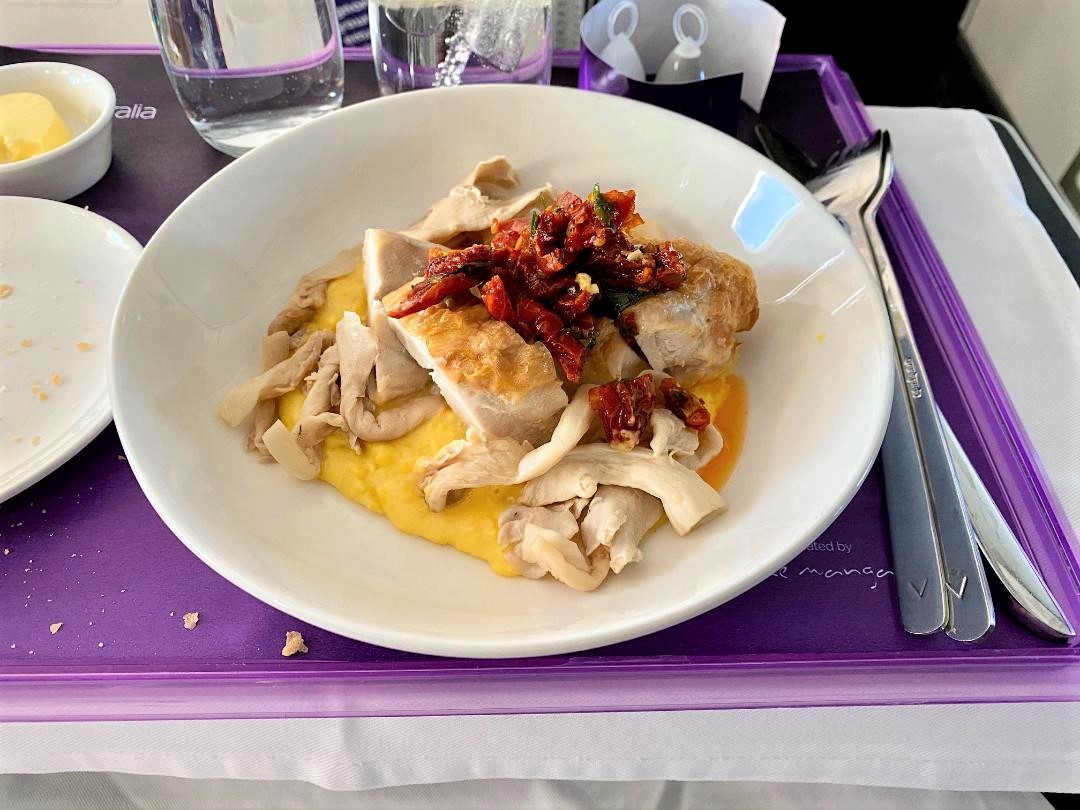 I finished off the meal with pineapple coconut cake with almond and hazelnuts. It was yummy.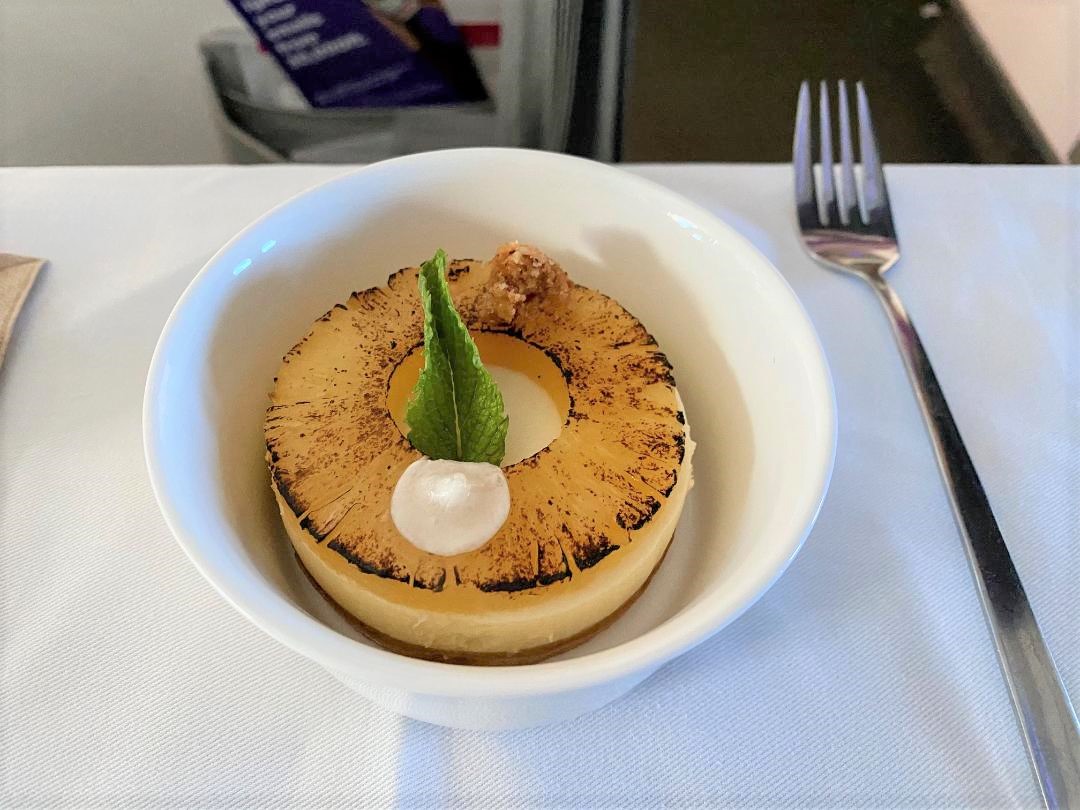 I had pineapple cake for desserts
This was the only formal meal on the flight, but if you did feel a bit peckish later on, you could order anything from the pantry menu.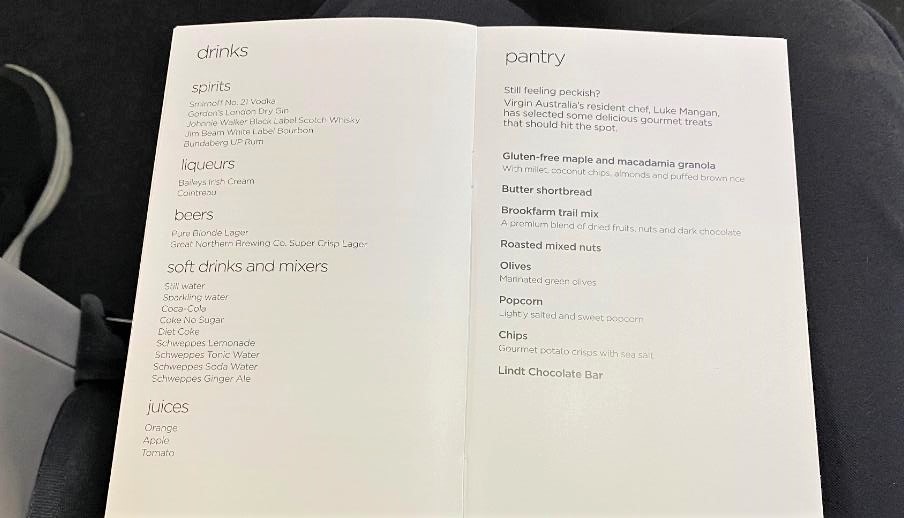 You can order a snack from the pantry menu at anytime during the flight
Later in the flight, I asked for a coffee which was served with a pack of cookies.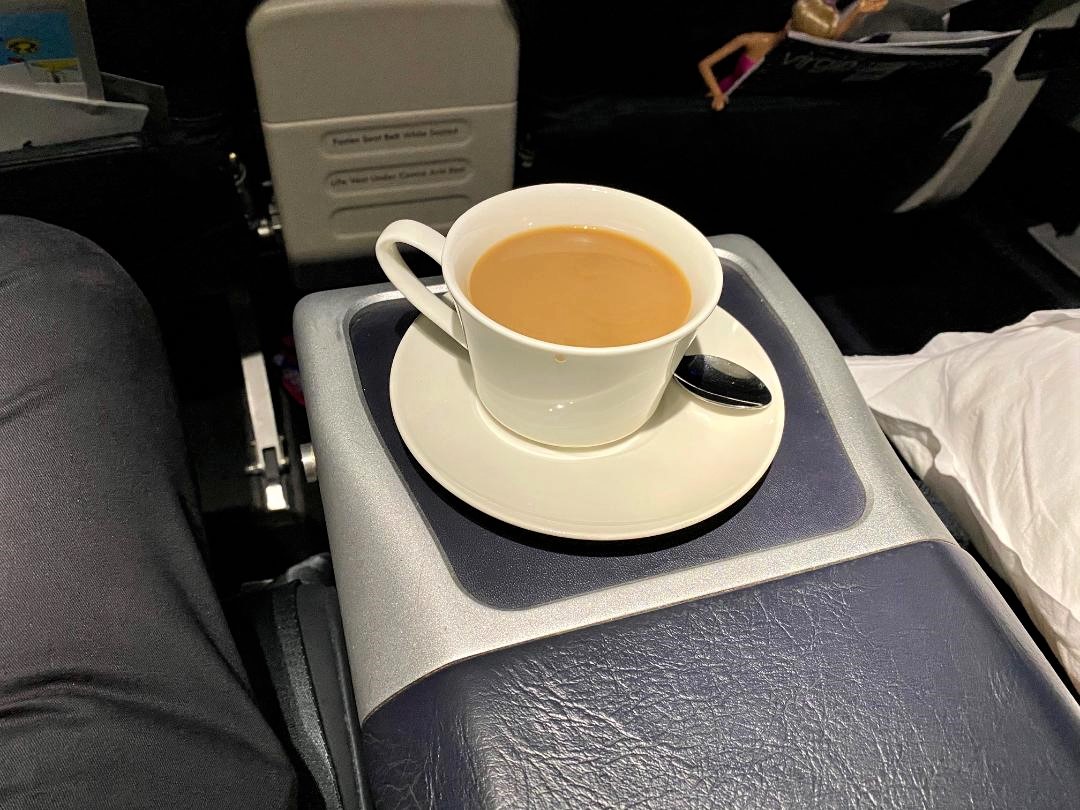 I ordered a cappuccino, post dinner
A word about Steve, the flight purser. It's a big call, but I must make it. In all my years of flying Virgin Australia, I have never ever come across a more committed and friendly staff member than Steve. I honestly believe that every guest flying business class on this flight on that day was lucky to have someone of the quality of Steve look after them.
Steve was on his toes for the full five and a half hour of this flight and checked on every guest multiple times. On the 2 seats to my right, there was a young couple travelling with a 15 month old baby. At one point, the young parent looked a bit exhausted from looking after the baby, so Steve took the baby in his care while his mum n dad got a break.
I could go on, but in short, the standards set by Steve is what every person working in the service industry ought to strive for. In my opinion, he is a real asset to Virgin Australia and the airline should count itself lucky to have him on their pay-roll. Far too often, the hard work of airline crew goes unrecognised, but on this occasion I made it a point to post about it on my Instagram and Twitter account.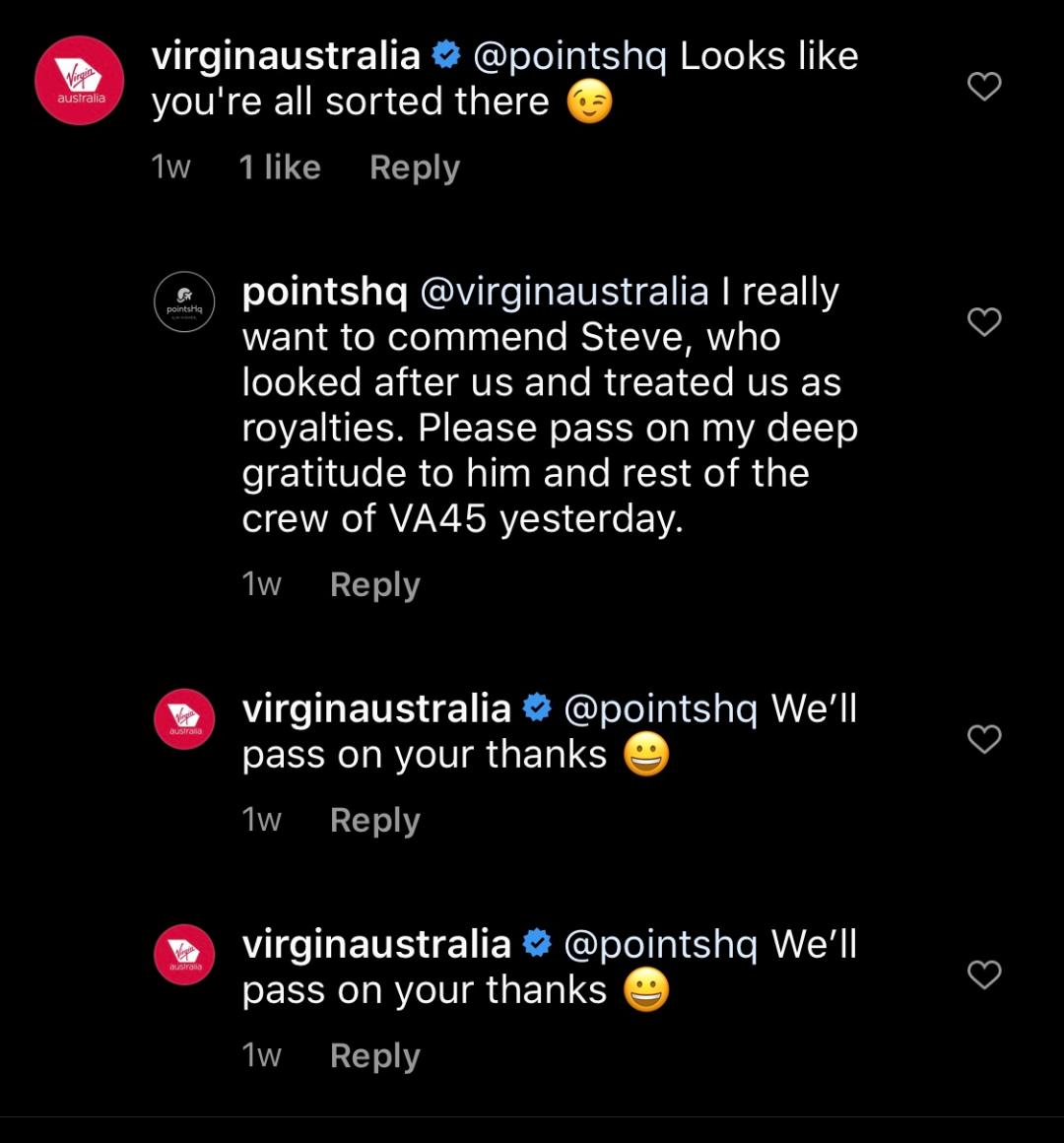 Good service deserves recognition
Around 8:30 Bali time, the captain appeared on the PA system and announced that we will be arriving about 30 minutes ahead of schedule. At this time, I quickly went and had a look at the solitary business class bathroom which was uncomfortably small, but looked clean.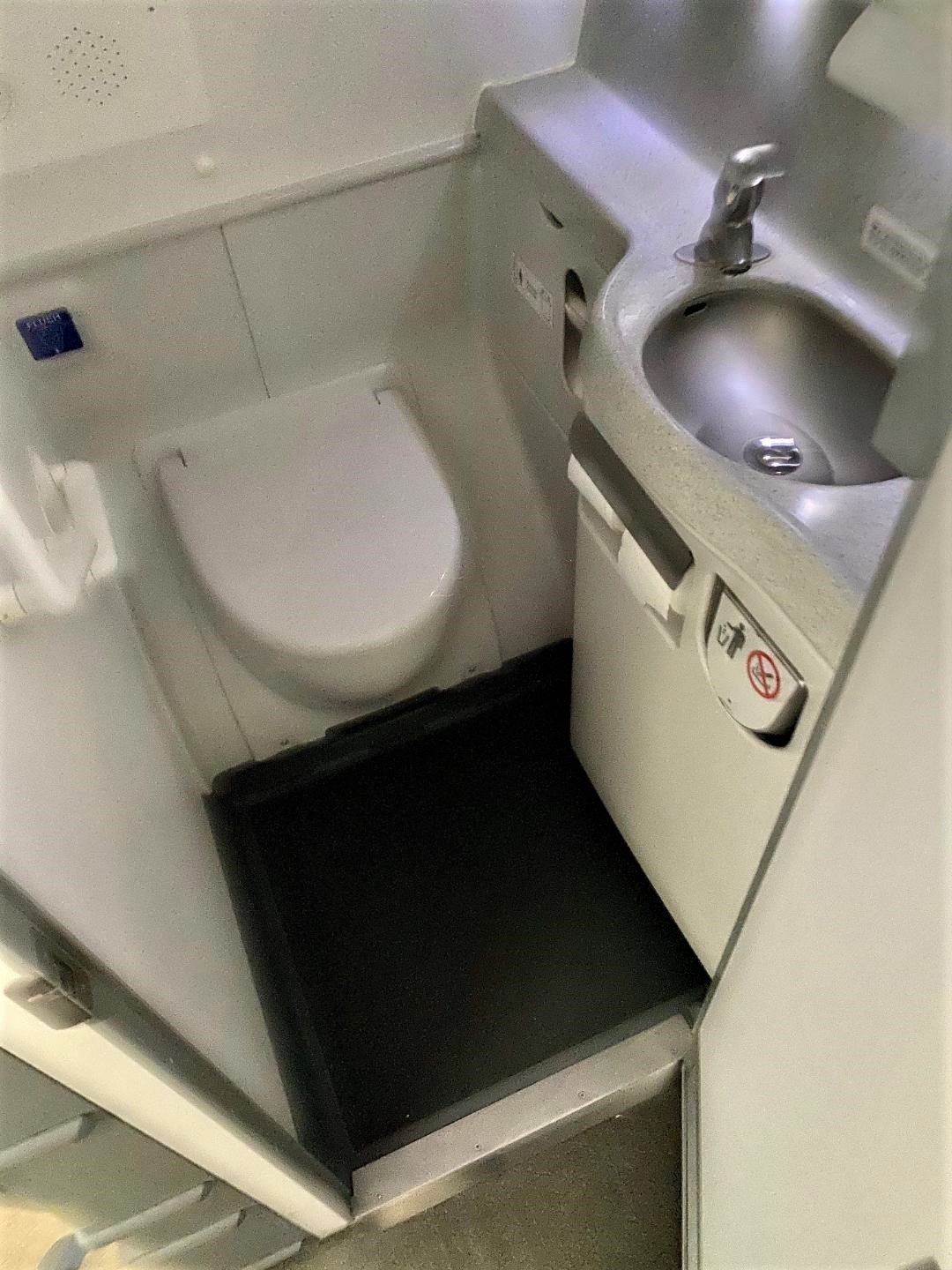 Virgin Australia Business Class lavatory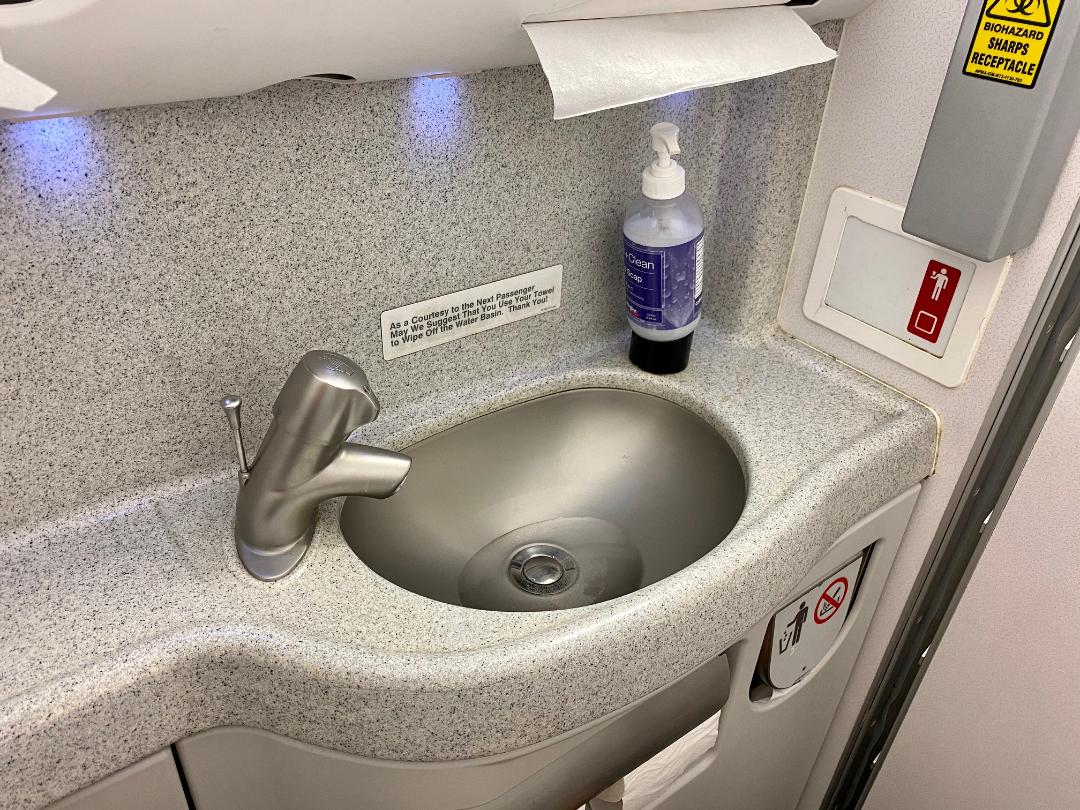 We started our descent into Denpasar soon after and touched down around 9 pm, a full half hour early as advised by the captain. After clearing the customs and picking up my bags, which took more than 1 hour to come out, I jumped into a taxi and arrived at my hotel close to midnight.
In Conclusion
I can't in any honesty say that flying Virgin Australia offers best business class experience on flights between Australia and Bali, particularly on flights from Sydney to Denpasar where Qantas deploys one of it's A-330 featuring lie-flat seats.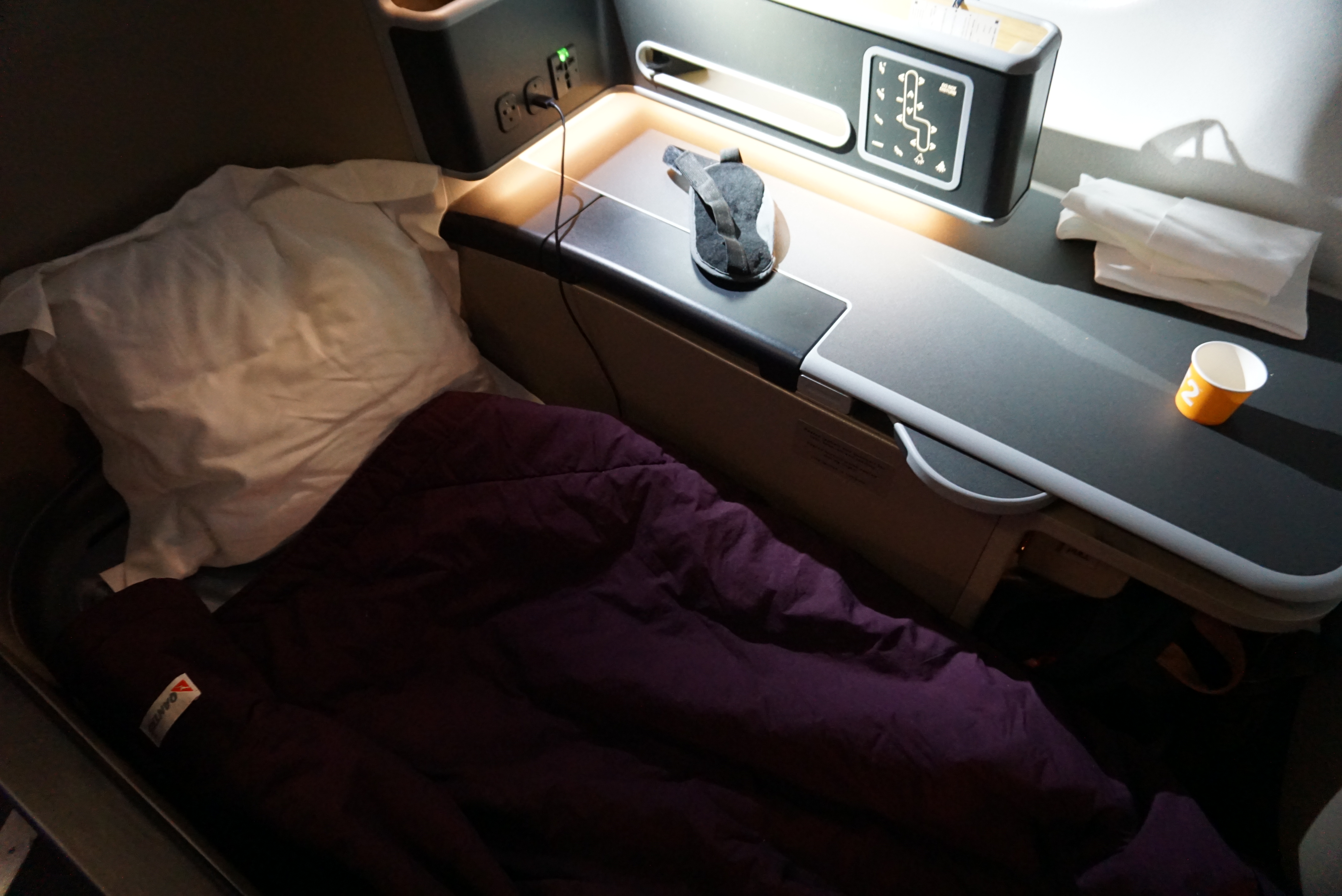 Qantas A-330 with lie-flat business class seat
That may not seem like a big deal on the day time departures from Australia, but almost all of the flights home from Bali depart after 10 pm, and on these so-called recliner seats, there's little chance of getting any shut-eye.
The other big drawback on these B-737's is the lack of seat back entertainment screen. I can understand people willing to stream on their own devices on domestic flights, but on some of these routes bordering on medium-haul, it's just not good enough.
The annoying bit is that this is not expected to be resolved at least until July 2021, when Virgin Australia is expected to take delivery of the 1st of the 25 B-737 Max 10 it has on order. We don't know what the business class seats will be on those planes, but it is understood they will be a significant step-up from the one's on B737-800.
Outside of these 2 issues, everything else was terrific, with the crew on my flight being the particular high point. On the balance though, I had a good flight and wouldn't hesitate flying Virgin Australia on this route again.
Have you flown Virgin Australia B-737 Business Class? Leave a comment below.