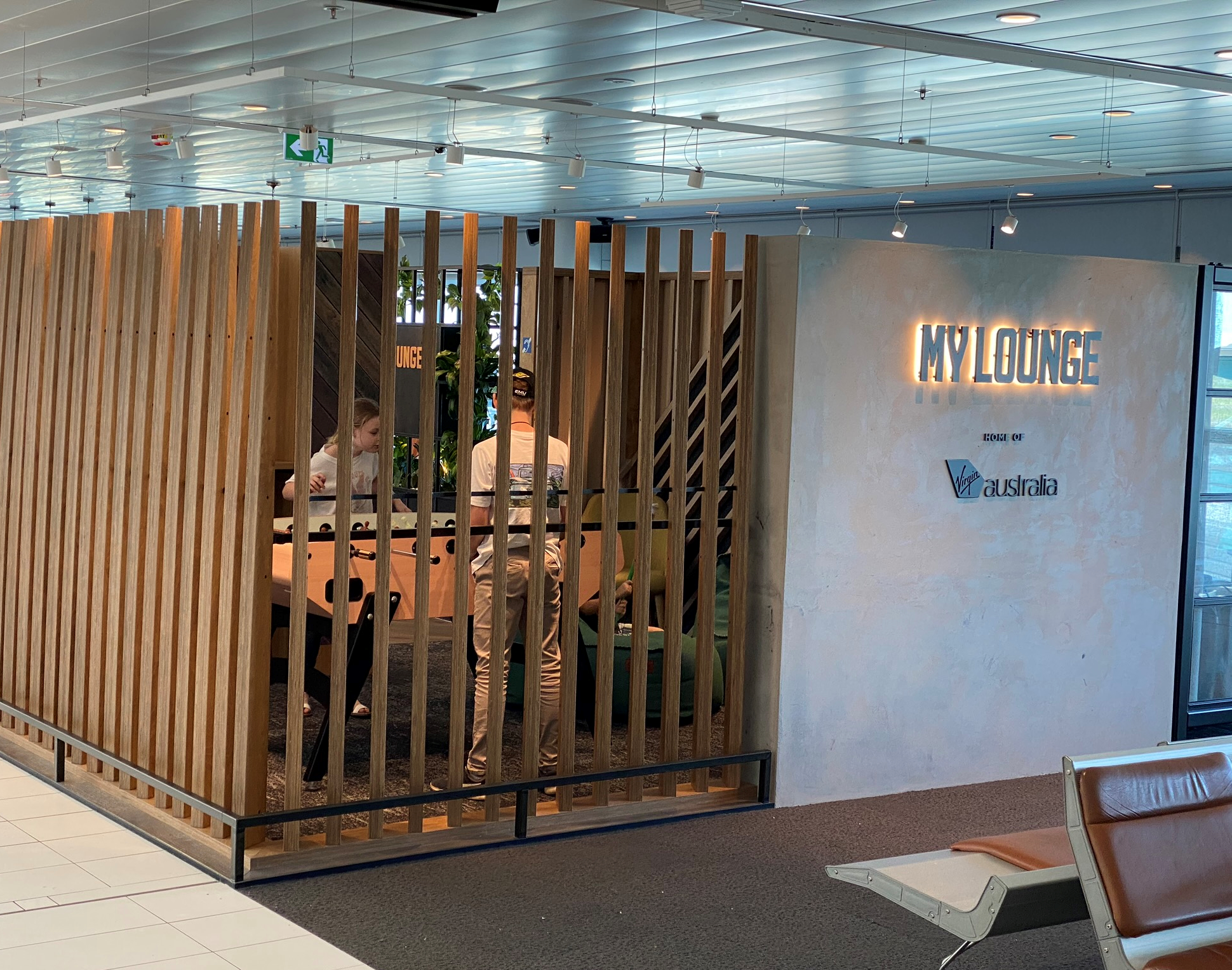 Brisbane Airport's newest lounge flung open it's doors in September this year. Dubbed My Lounge the facility is operated by British lounge operator No.1 Lounges, the same company that operates The House lounge at Sydney and Melbourne airport.
In Brisbane, the lounge welcomes all of Virgin Australia's business class guests and Velocity Gold and Platinum members. Others can get access to the lounge too, on pay-per-use basis, which I have covered a little later in the post.
Location
My Lounge is located inside the International Terminal at Brisbane Airport. After checking in, head for the departures by taking the lift or the escalator down.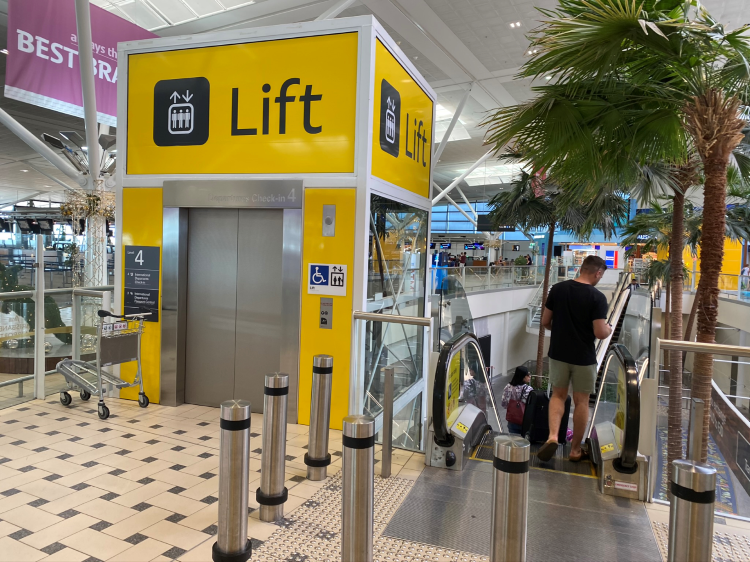 Lift & Escalator to Departures
You will arrive into the hall where you clear immigration and security. Once finished, walk through numerous duty free-shops until you see signs directing you to various lounges. For some reason though, My Lounge isn't featured on these boards.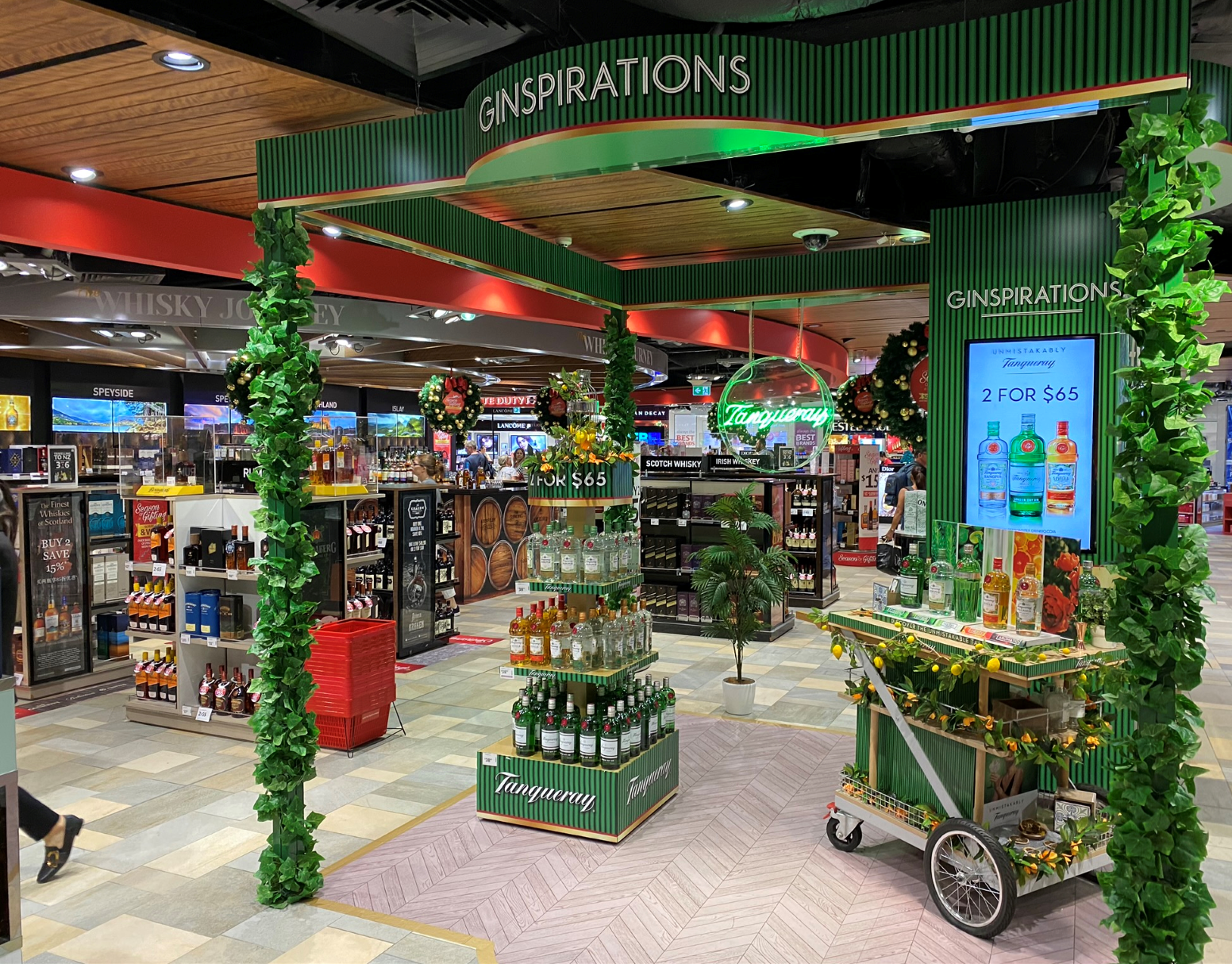 Brisbane Duty Free Shops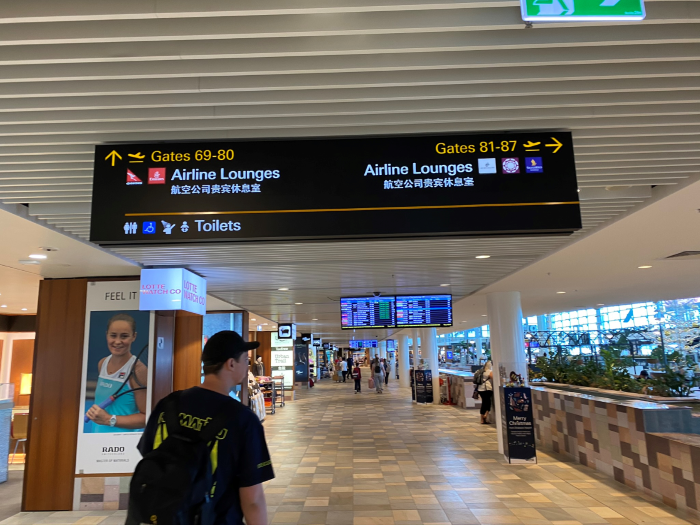 Directions to Airline Lounges
Once you see the above sign, turn right towards the departures gates, then left and keep walking. The lounge is some 150 metres down the hallway, conveniently located near Gate 77 from where most Virgin Australia flights depart.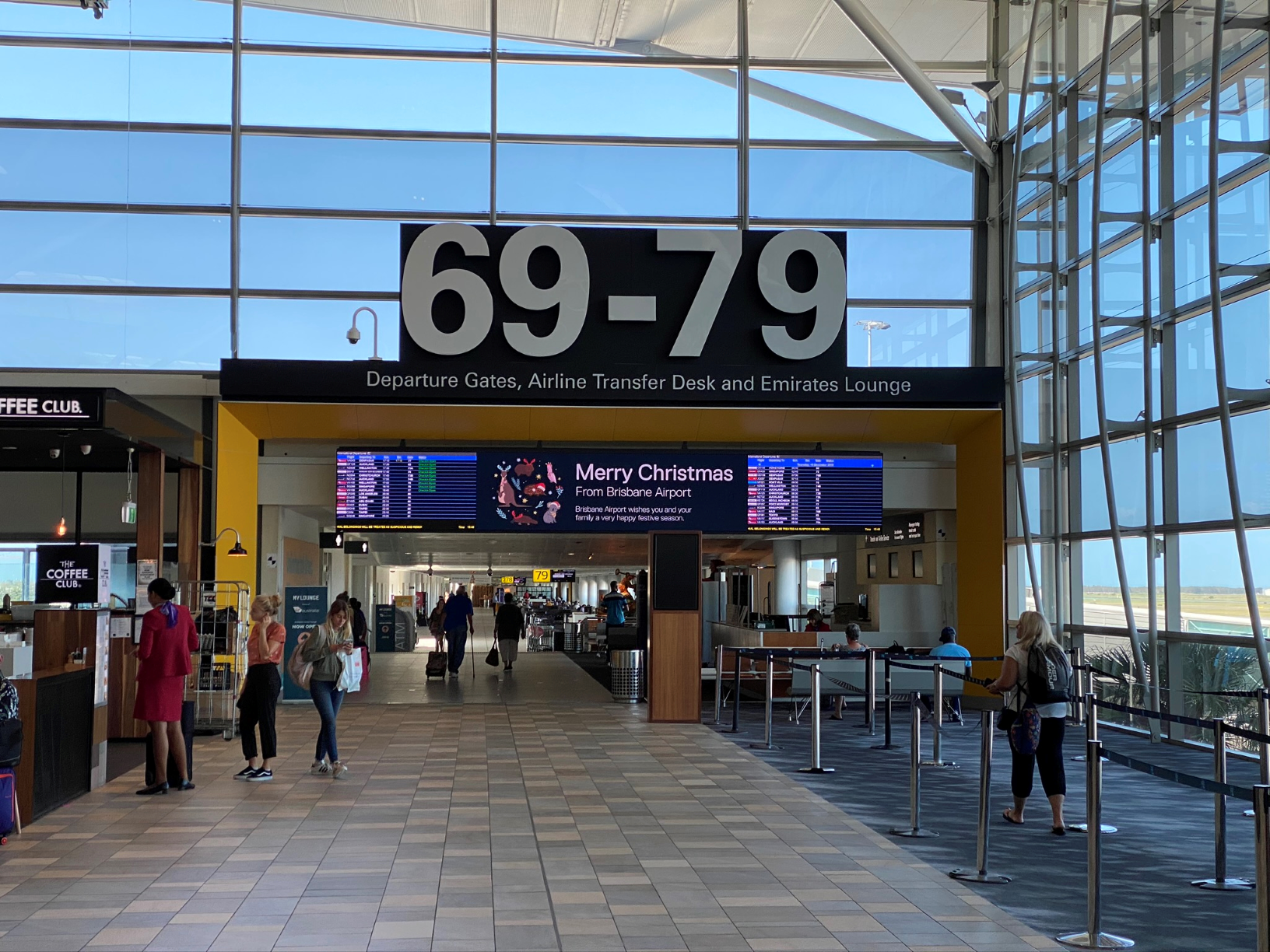 My Lounge is about 150 metres down this hallway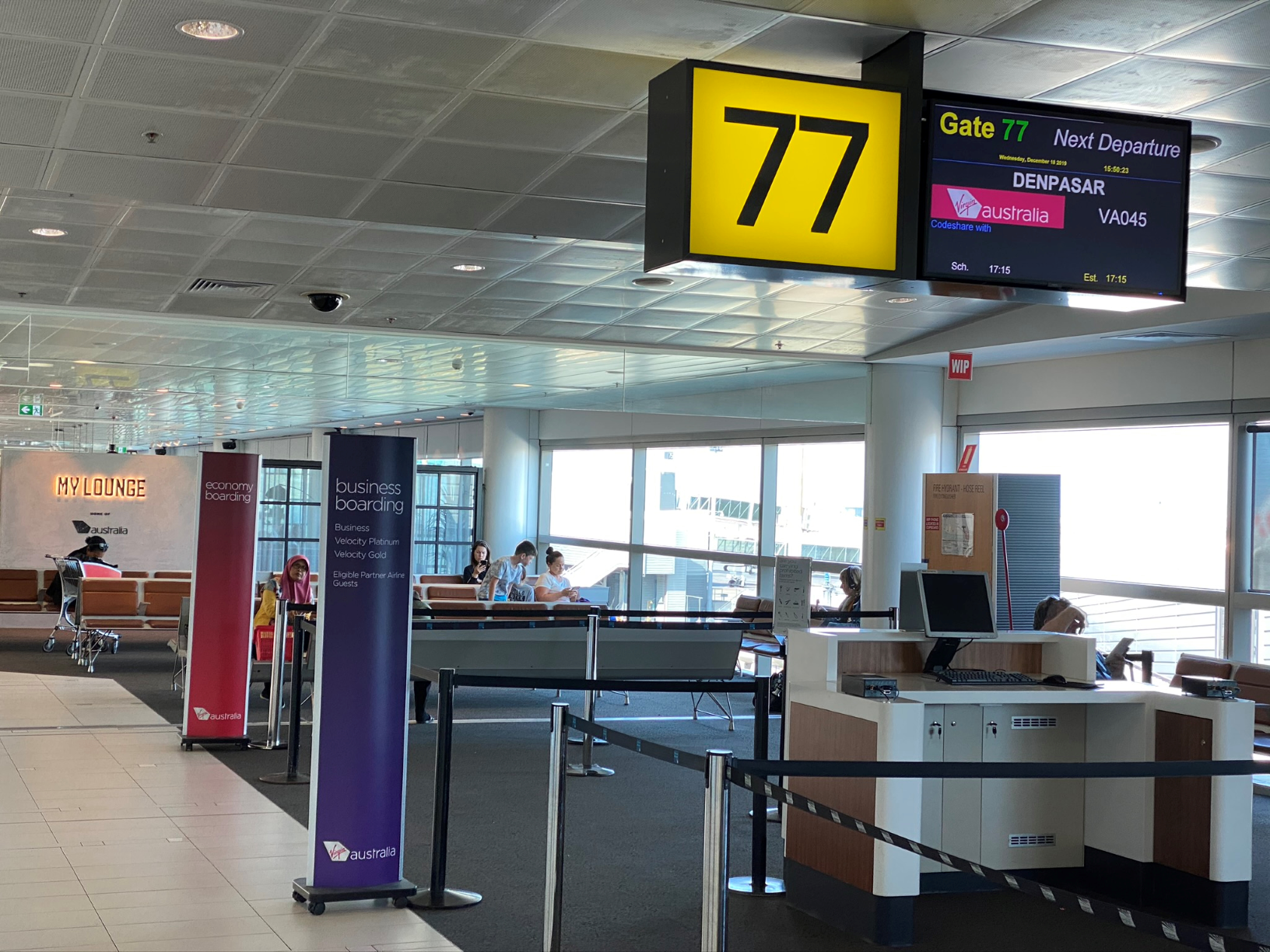 My Lounge, adjacent to Gate 77
First Impressions & Seating
I arrived at the entrance and noticed that unlike most lounges, there were no reception desks here. There were 2 staff standing and working on their computers.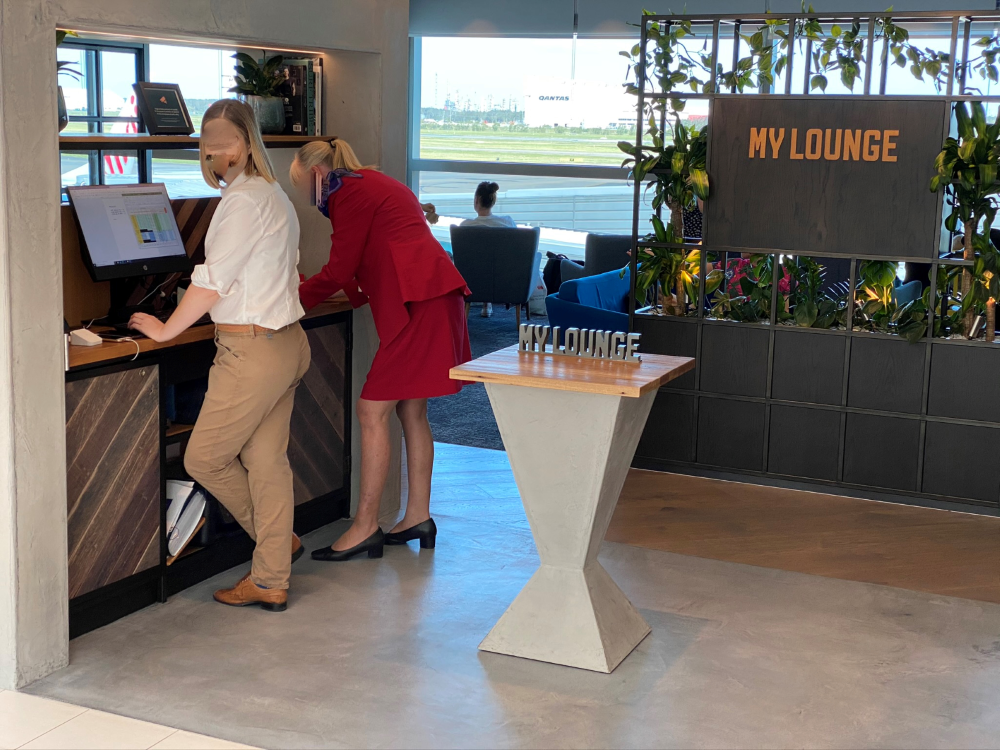 Entrance to My Lounge at Brisbane Airport
I presented my boarding pass which they scanned on the machine below and I was let in.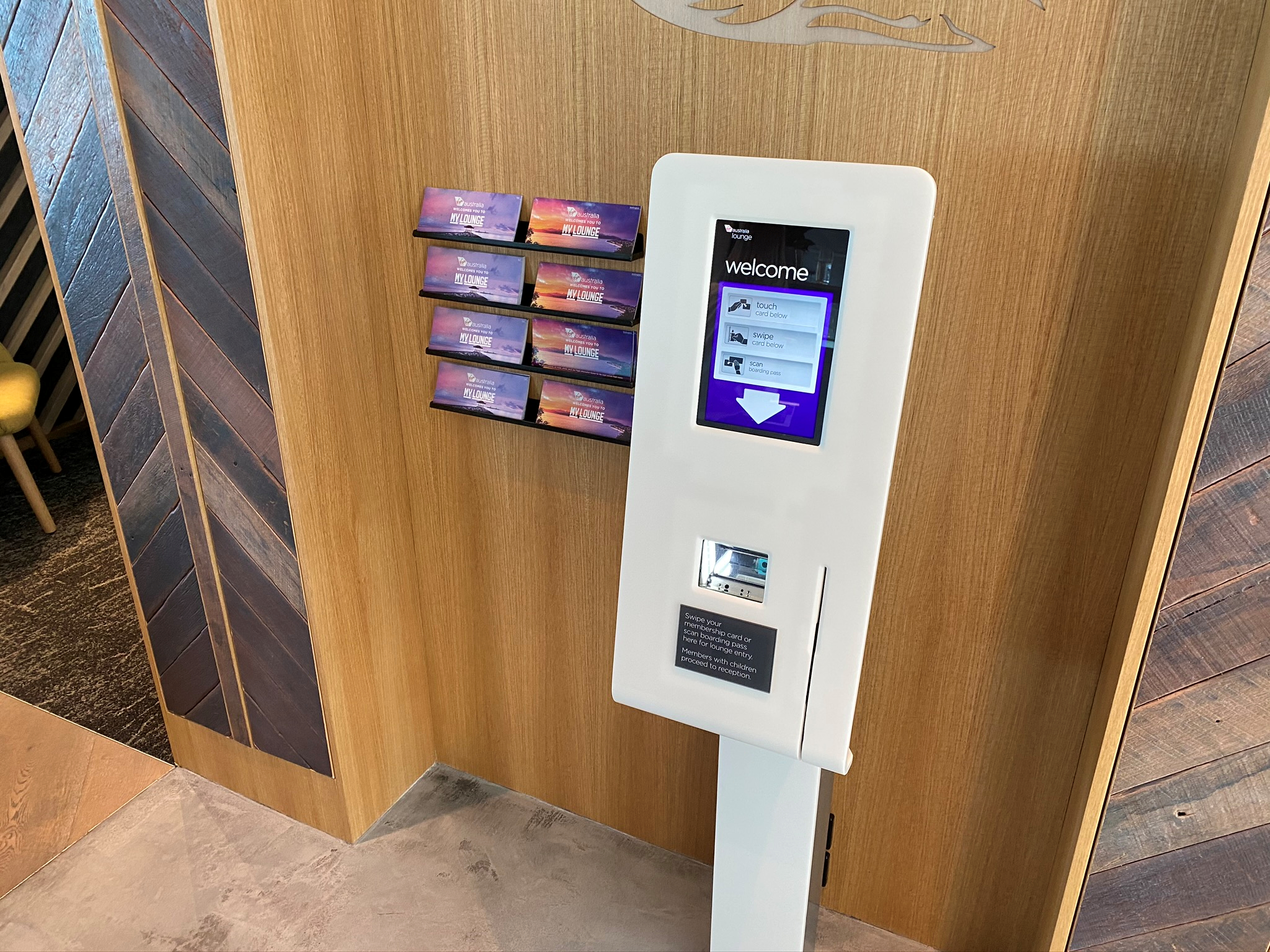 As you enter, there is a small group-sitting area on the right, plus a row of individual chairs looking out of the glass windows.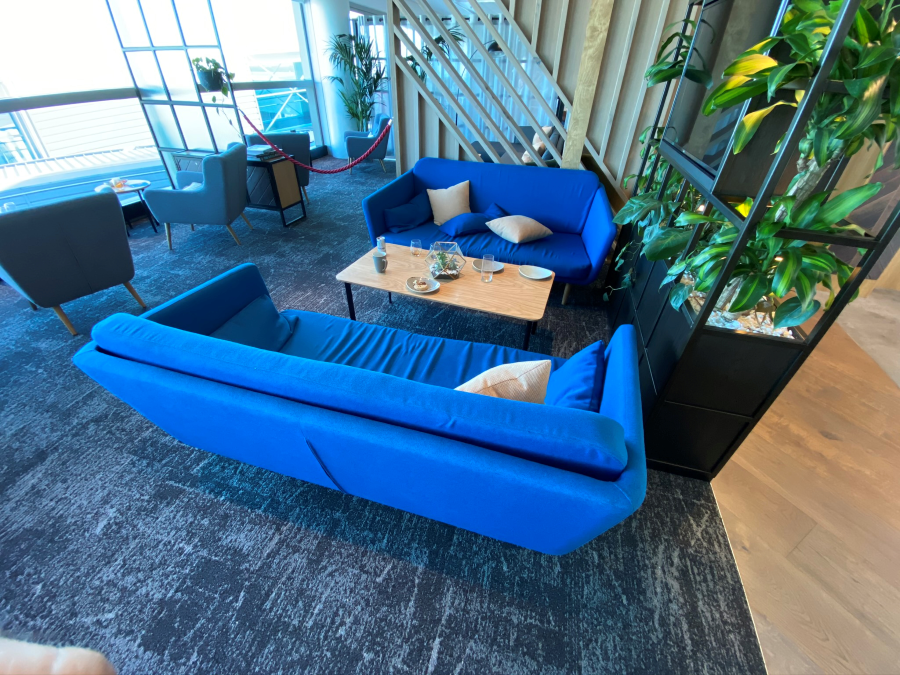 Seating at My Lounge, Brisbane Airport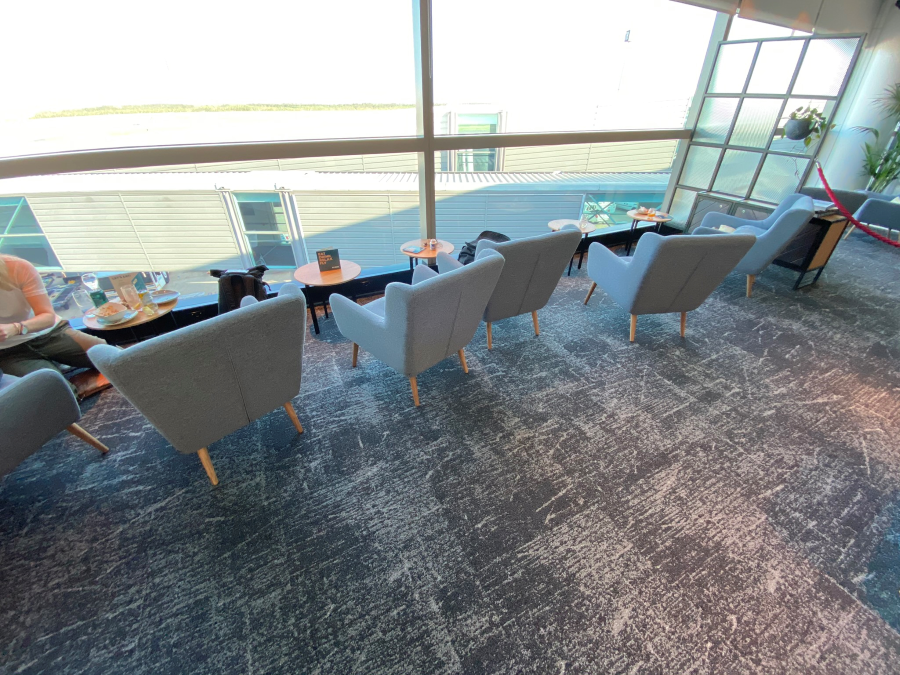 Row of Chairs facing the window
Next to these was another semi-private sitting nook which was roped off.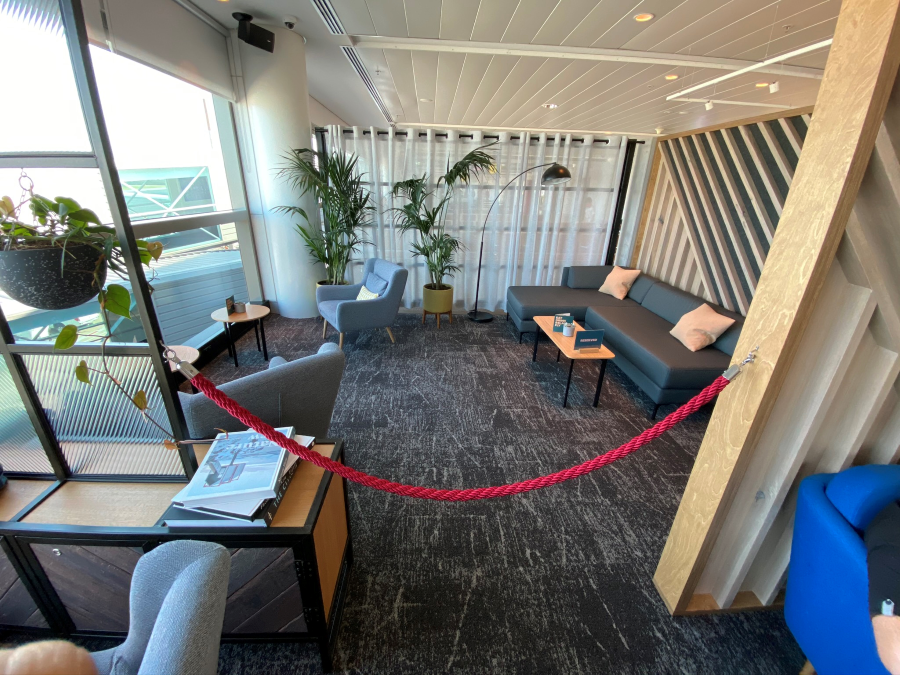 The remainder of the seating is to your left. Take note of the open-plan layout of the facility with no real physical separation of space.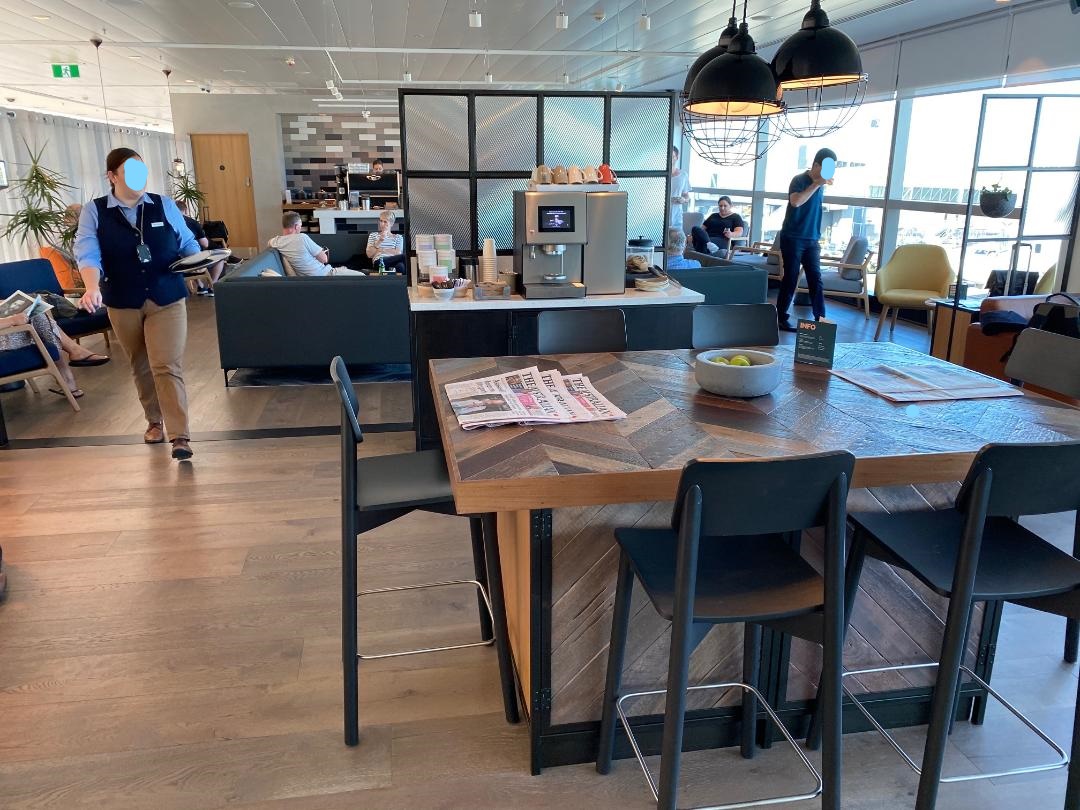 Open-plan lay out
That said, Virgin Australia have done a good job of splitting the space into 3 mini zones, each interspersed by a small glass and wood partition. The middle section has a long communal table and chairs. It had a few magazine holders & fruit bowls in the centre.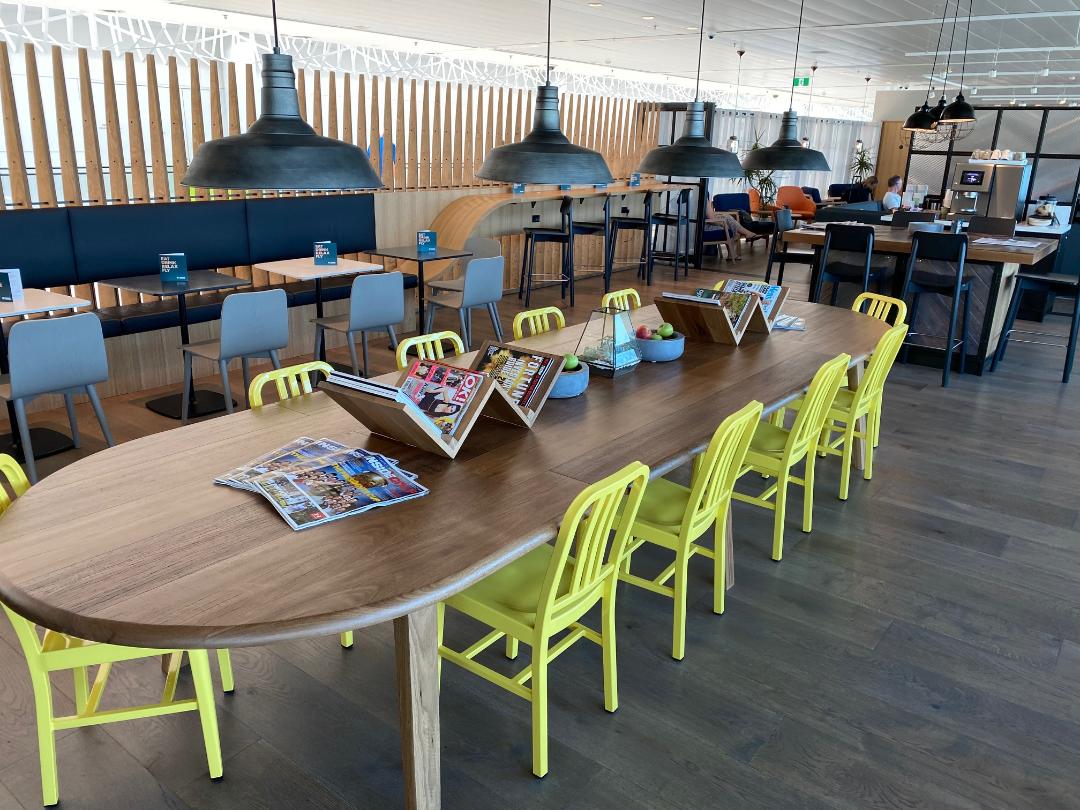 Communal Table and Chairs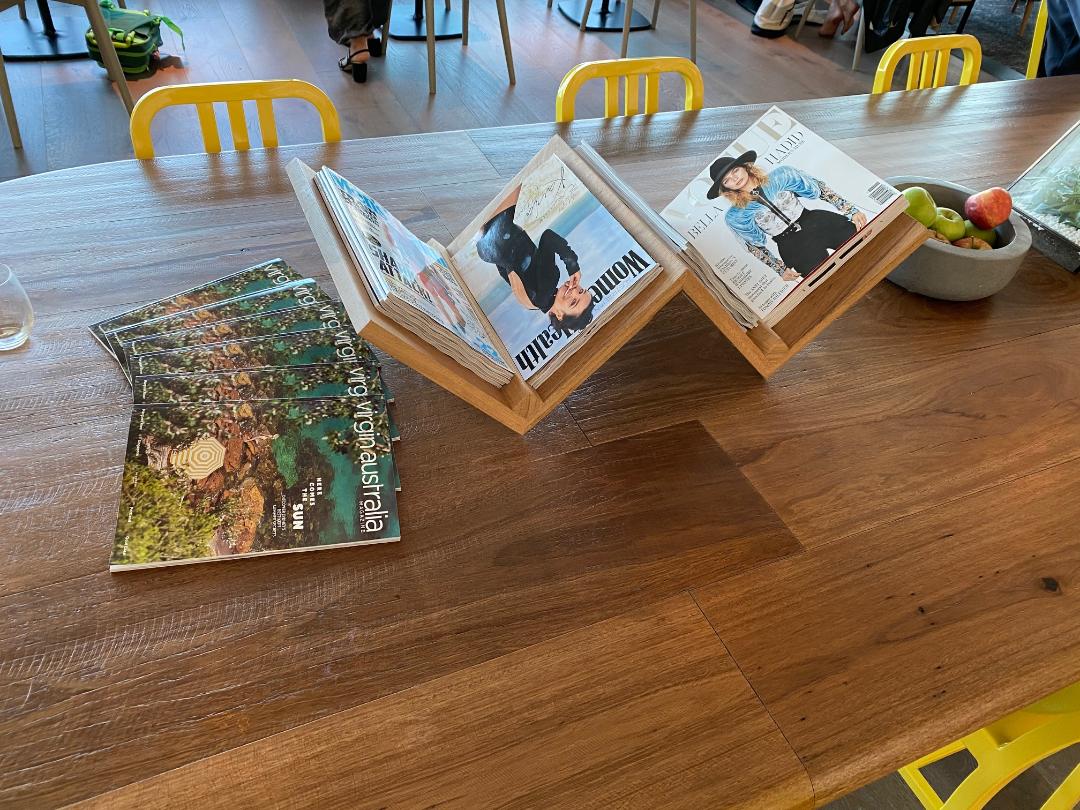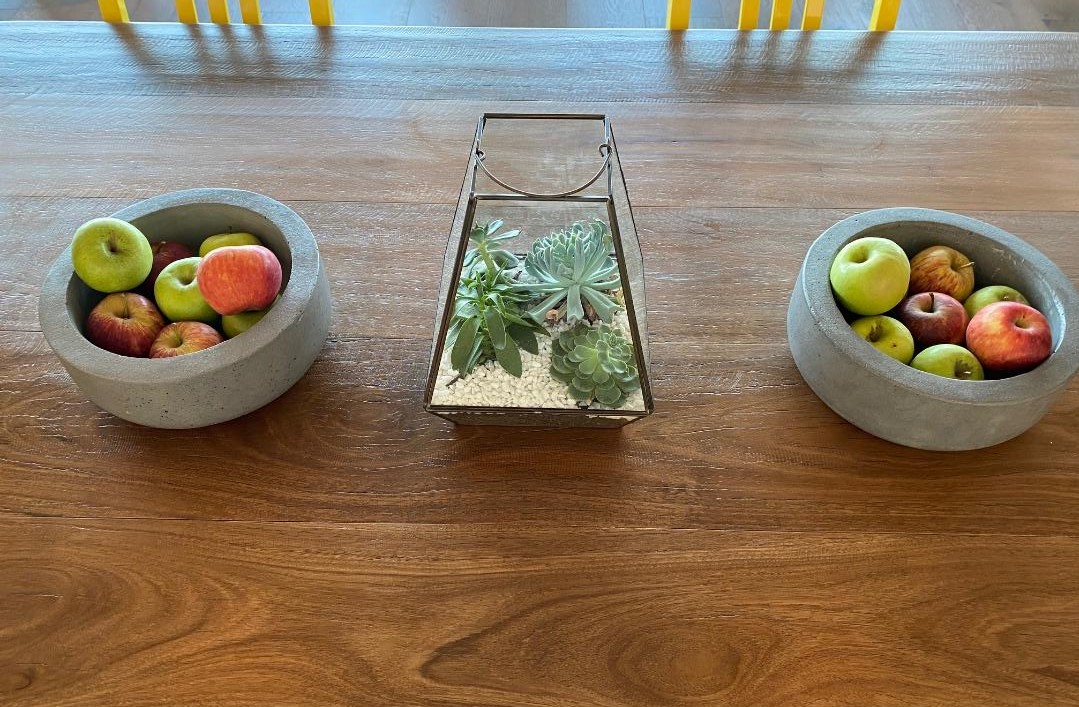 Although you could use this space to get some work done, strangely enough there were no power outlets to hook up your laptops or charge your devices.
On the left, and along the wall, there is some space-saving bench style seating and a few tables. Note the individual power outlets on the wall.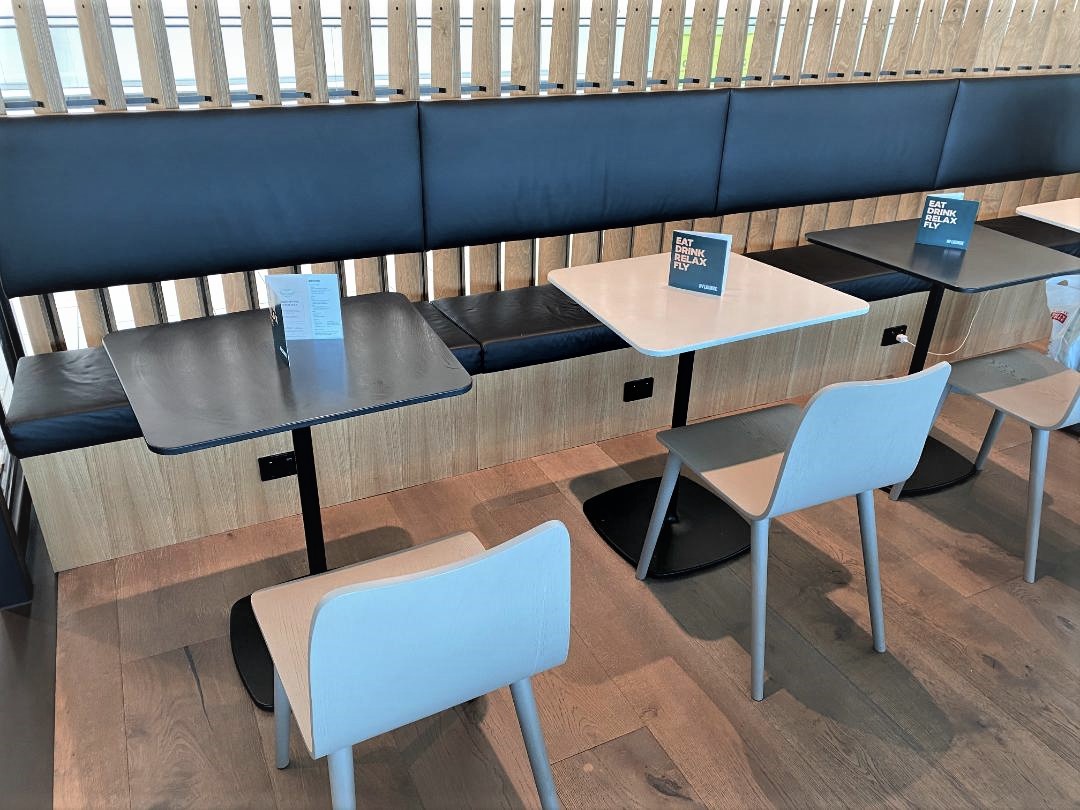 Seating, My Lounge Brisbane
Next to them, there was a long table and some high top chairs where I saw a few people working away. Underneath, there were a few charging outlets.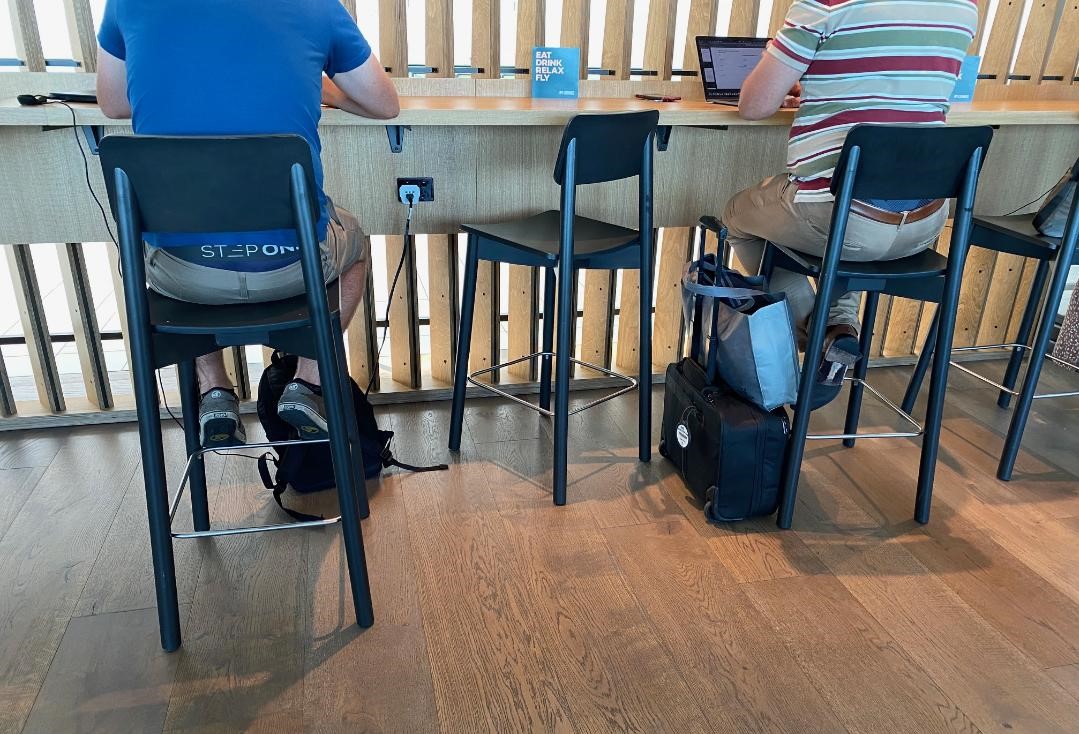 From what I saw, these were the only outlets in the lounge, although it's likely that I just missed the other one's.
Then on the opposite side, there were some café-style dining tables and chairs. There were nice views of the tarmac and my parked Virgin Australia plane that would fly me to Bali.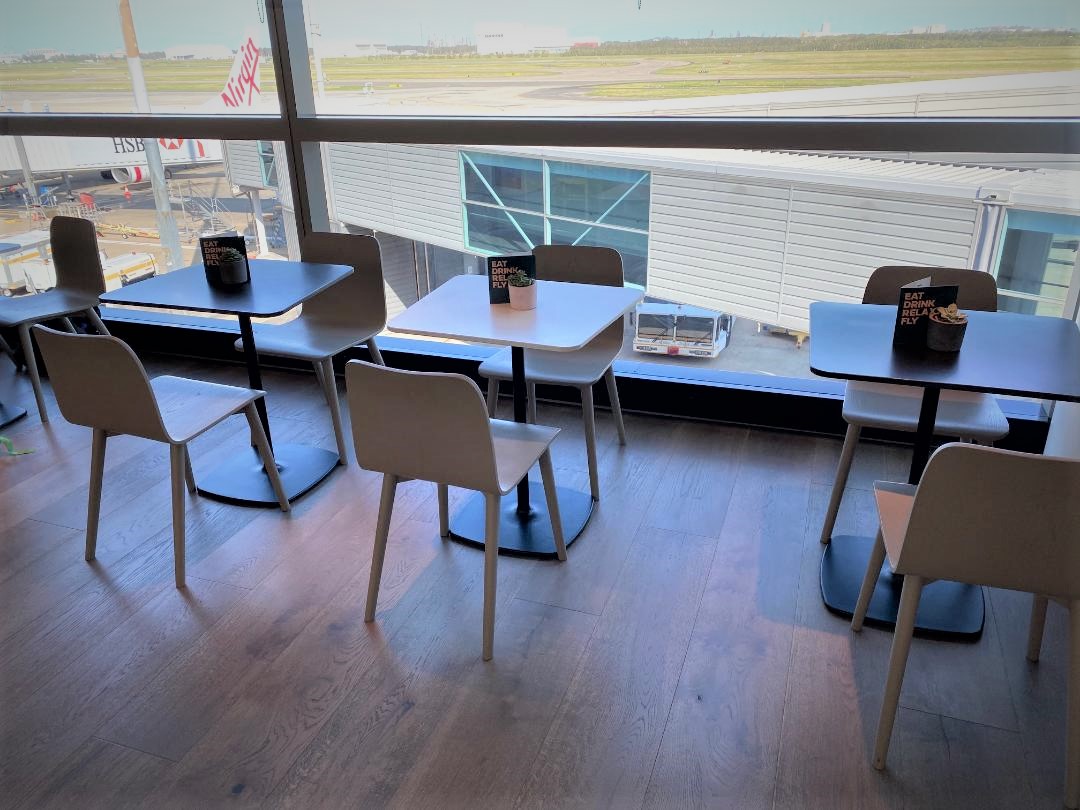 Dining with a view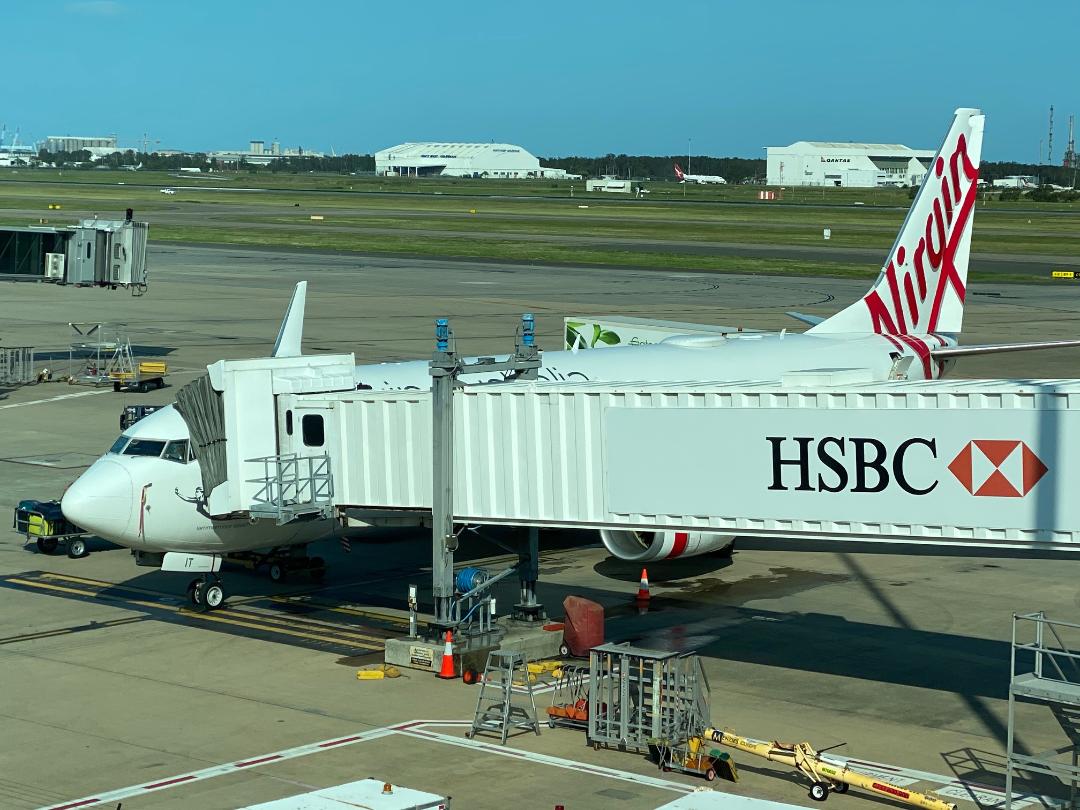 Preparing to Take-Off
There was a DIY coffee machine backing up against the half-wall, beyond which there was another sitting area plus the drinks and food section.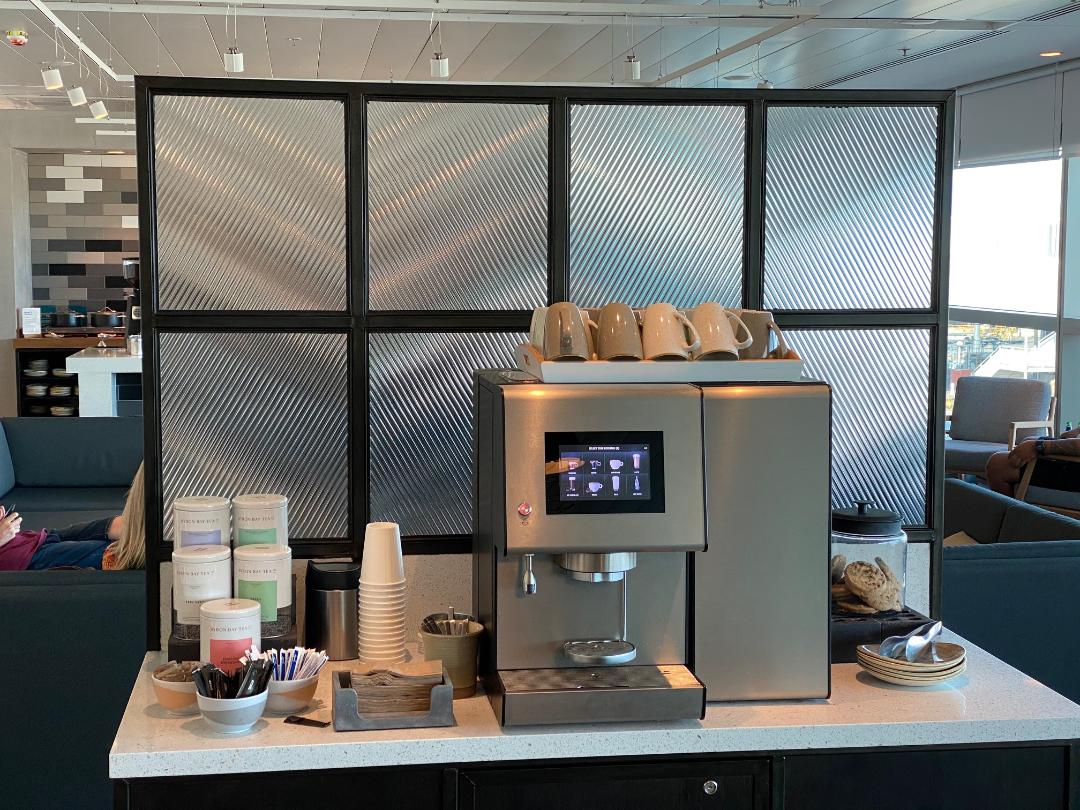 Coffee Machine, My Lounge Brisbane
Food & Drinks
The self-serve food and drinks buffet is set up right at the back of the lounge. As you approach this section, first up, you will notice the formal seating area in the middle with 2 large L shaped sofa's as its centrepiece.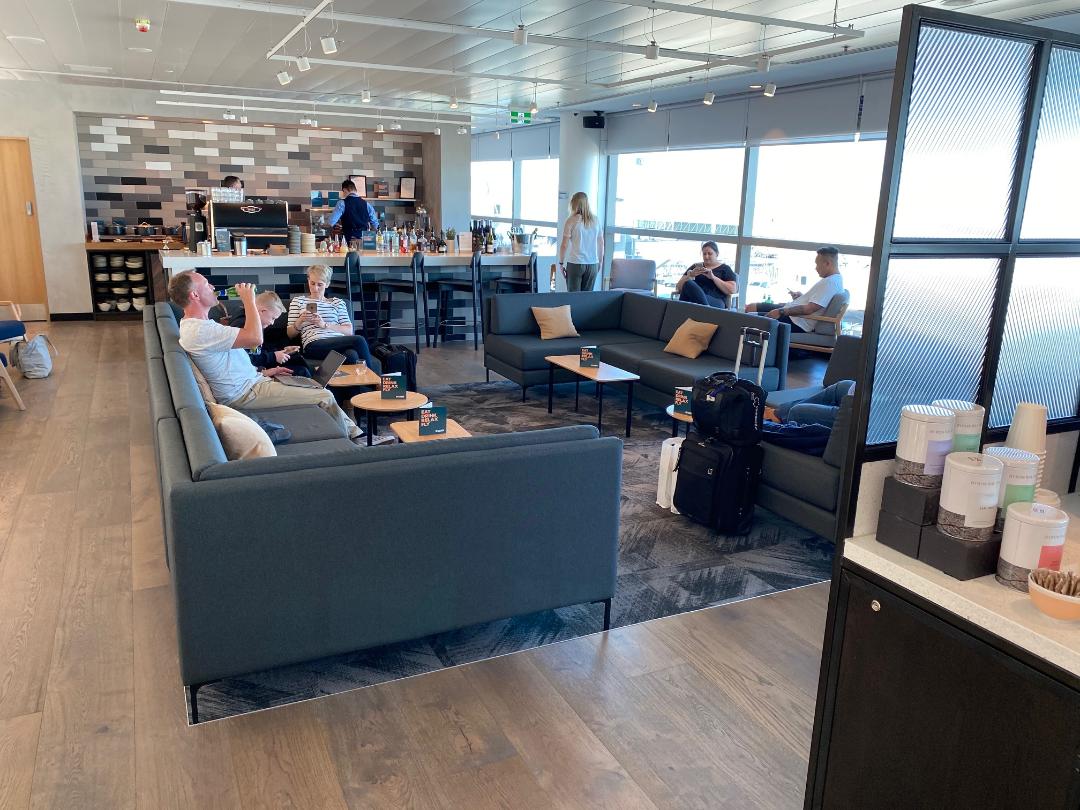 Further down, there is a good looking bar and some barstools around it. The bar offering was impressive with a decent selection of whisky, spirits, sparkling and still wines. There was also a coffee machine on the other end where you could order your favourite style of brew with the on-site barista.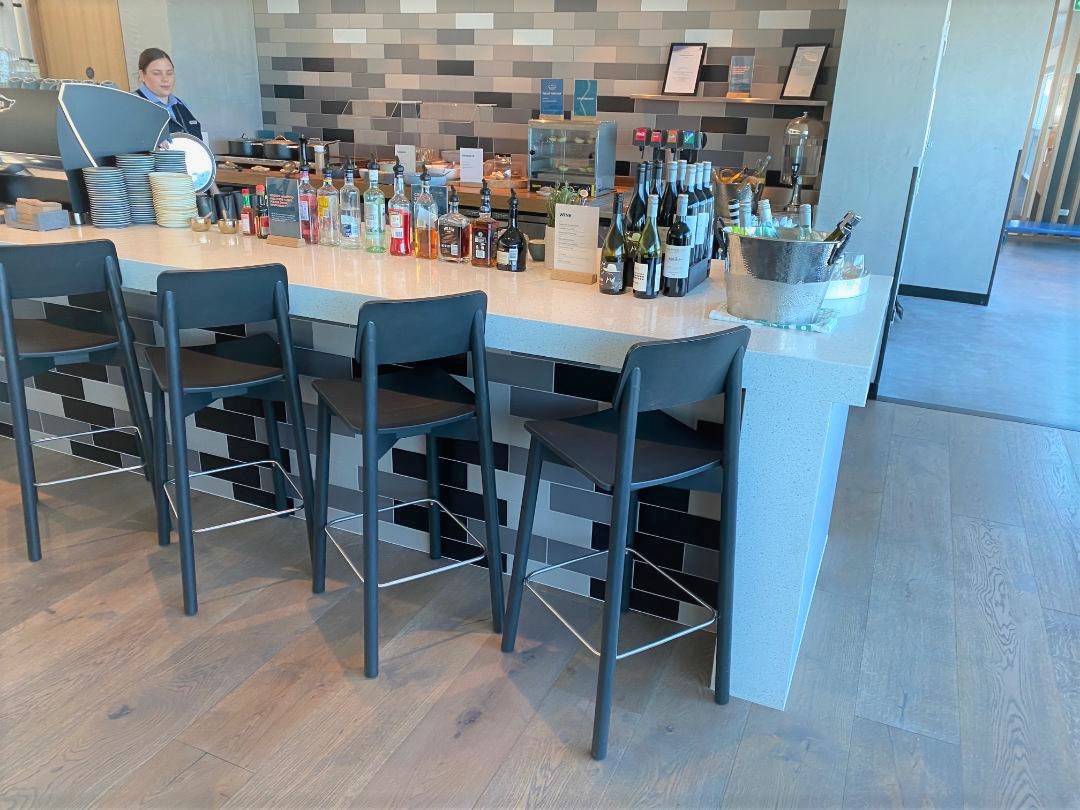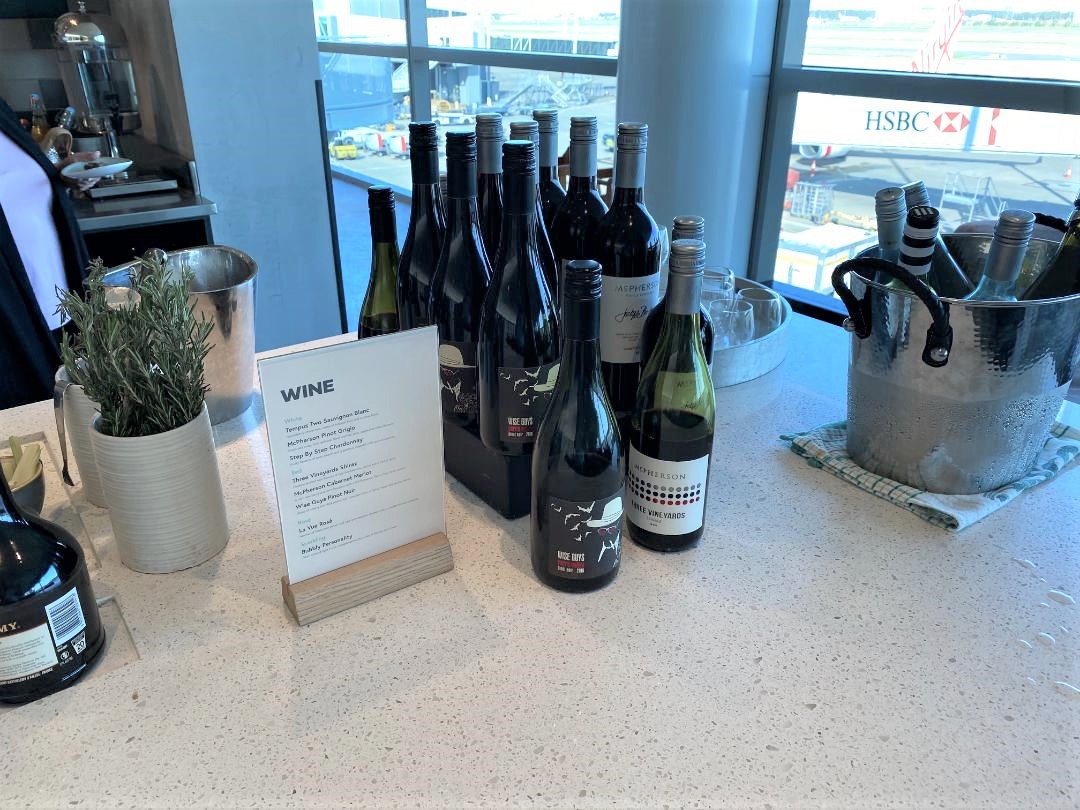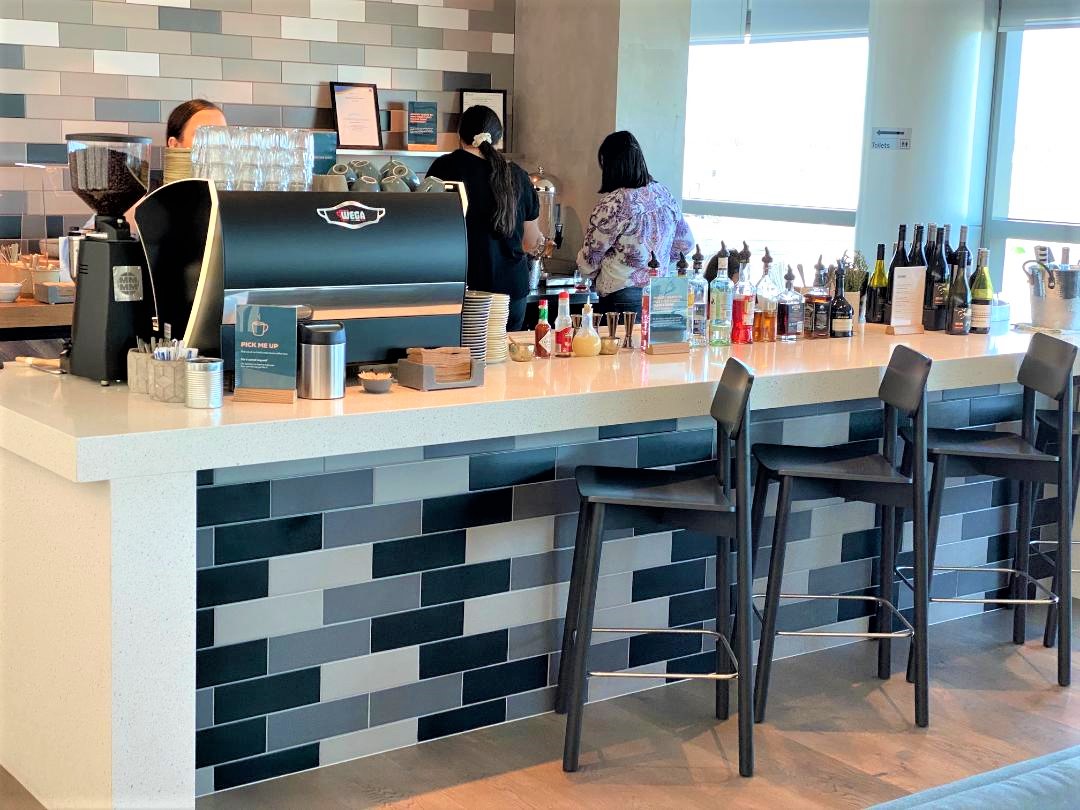 The beers were stored behind the bar, inside one of the series of see-thru refrigerators.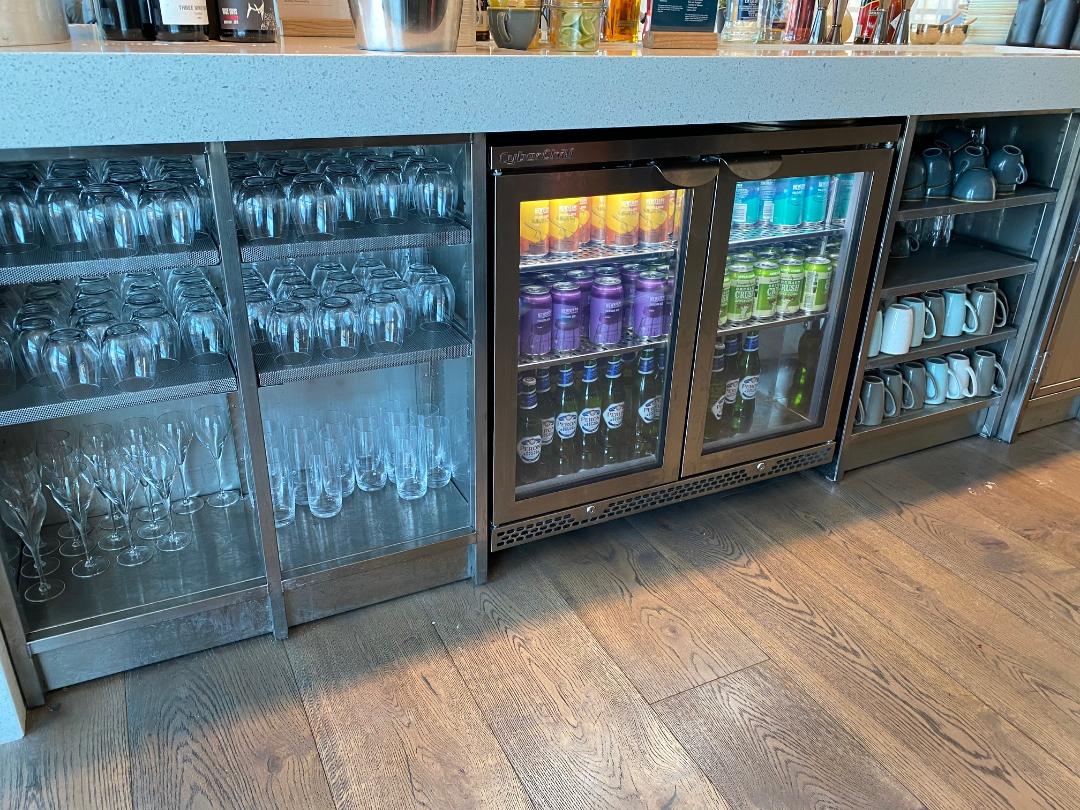 Then you had the food laid out on a bench adjacent to the bar with various salads, desserts, a few hot options and a cheese & crackers board.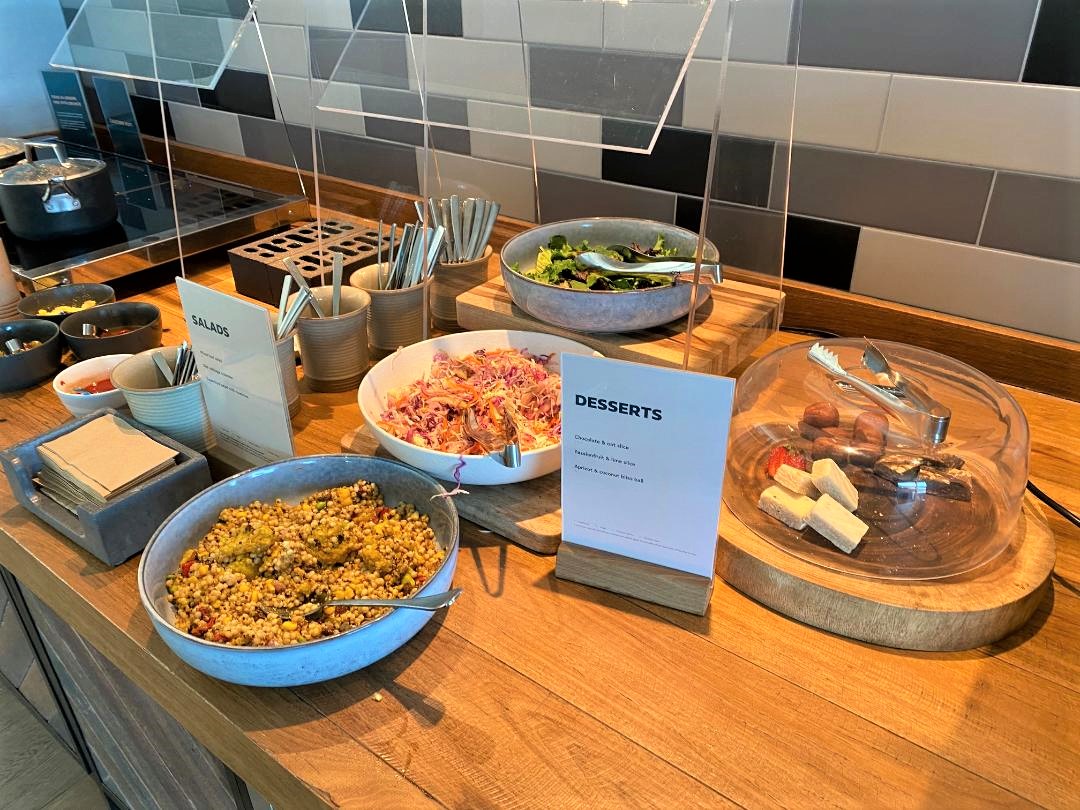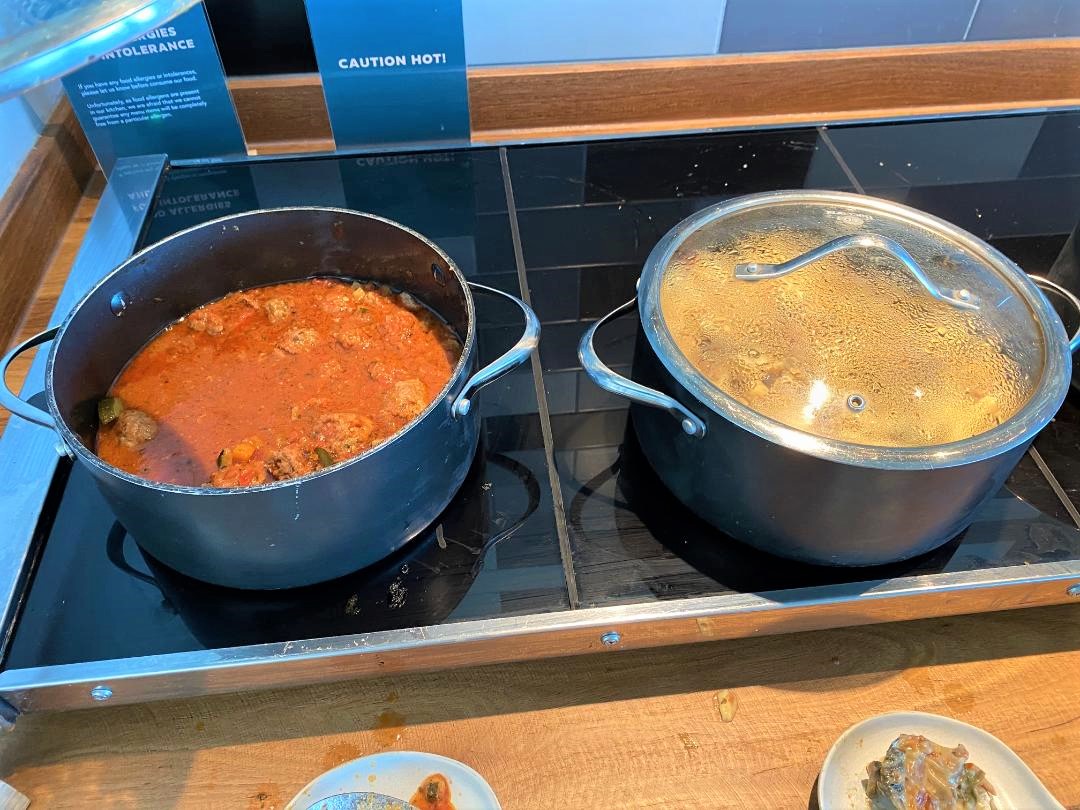 For those looking for something light and healthy, there was a carrot & cucumber platter with hummus. Then on the corner, you had a few different types of juices in reusable glass bottles.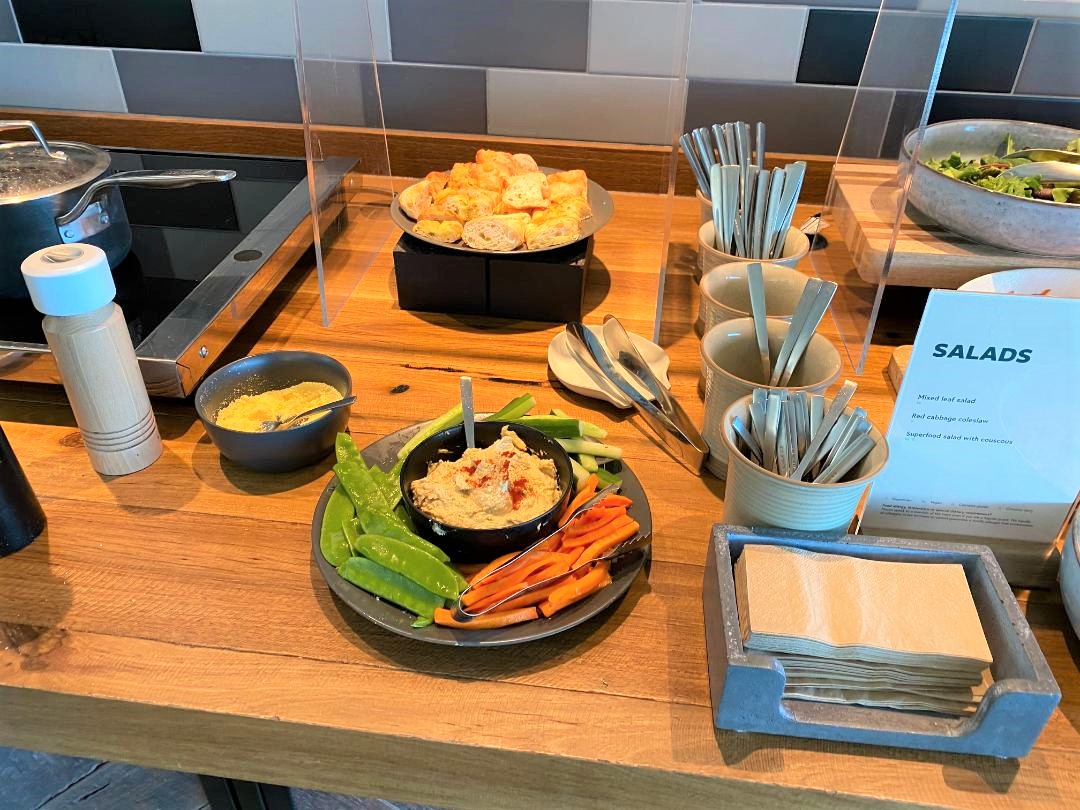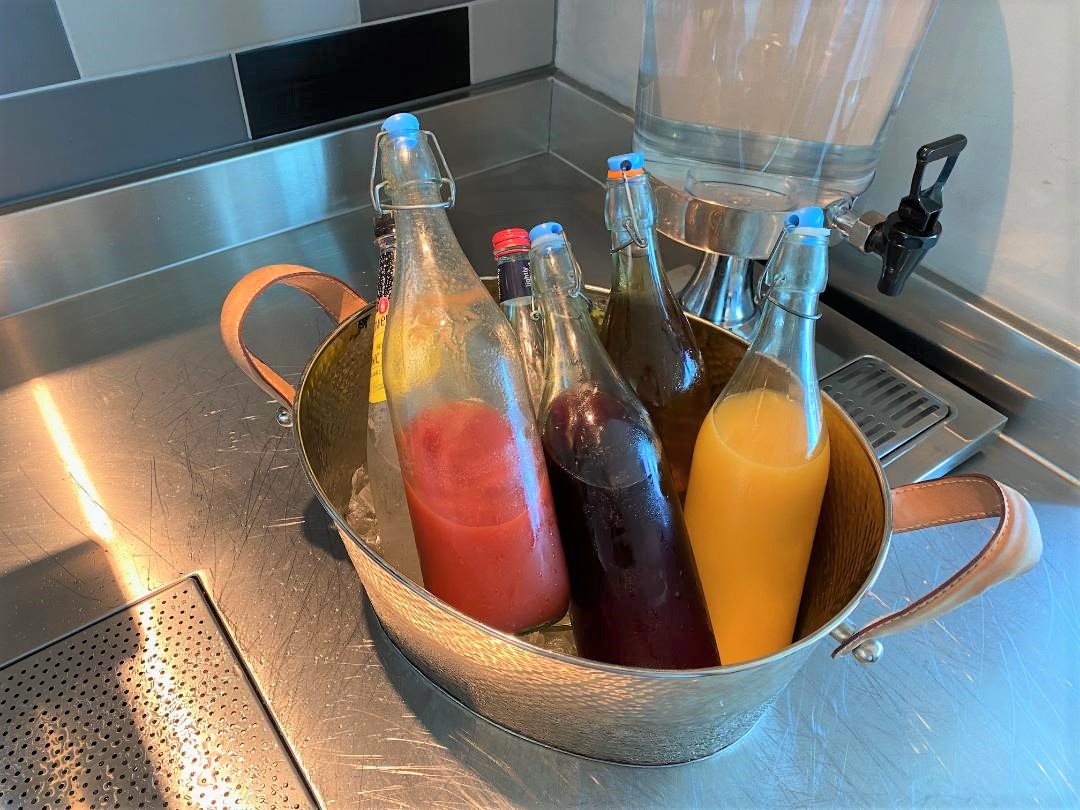 All up, the food & drinks on offer was far superior to what Virgin Australia provides guests at their domestic lounges.
Other Amenities
The lounge has unisex toilets and showers which are located behind the food & drinks area. These were clean & appeared to be serviced regularly.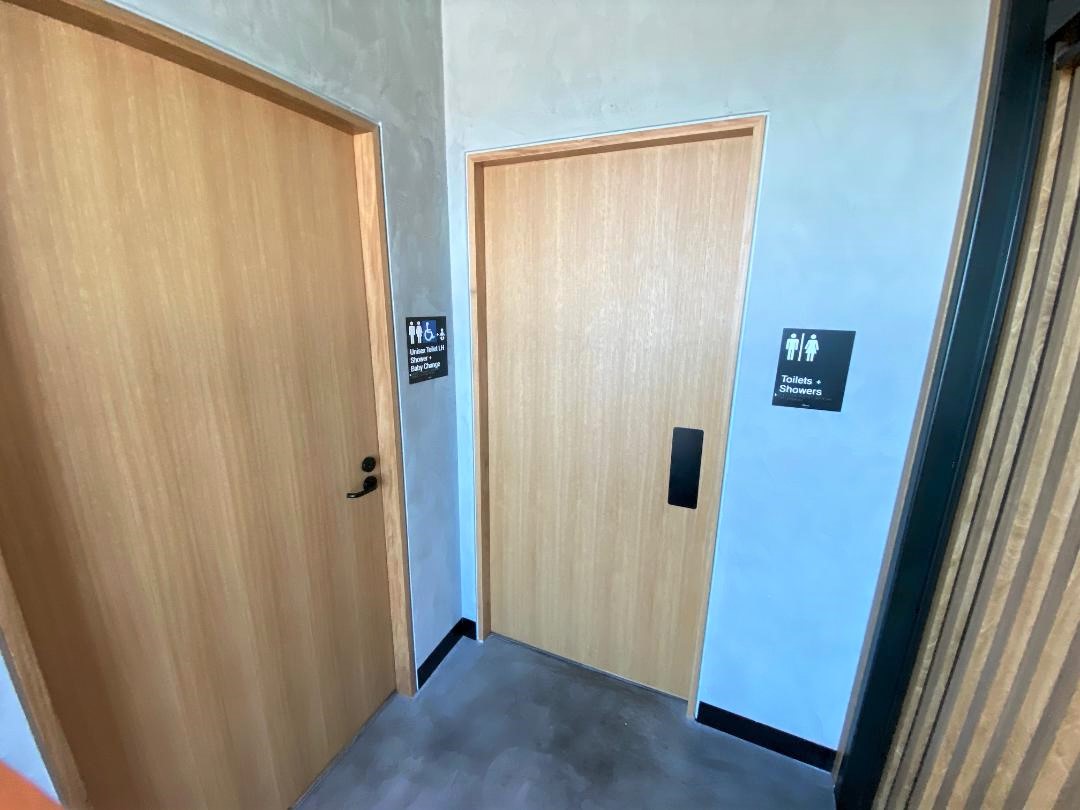 Toilets & Shower, My Lounge Brisbane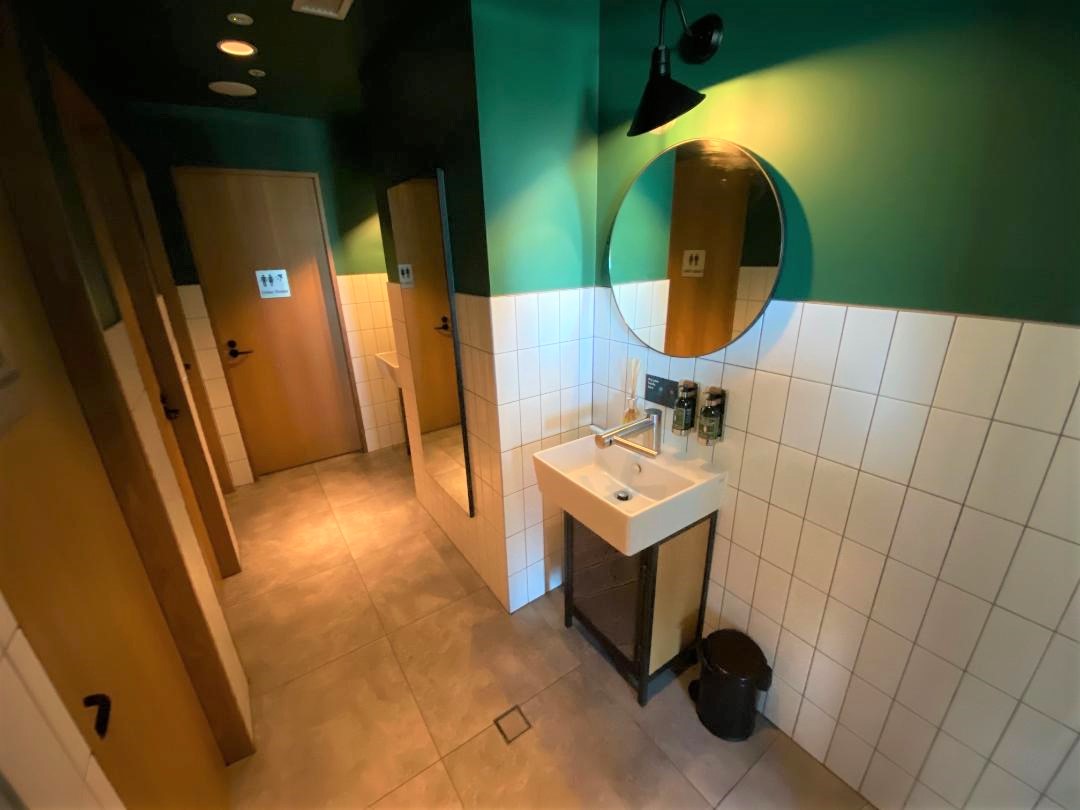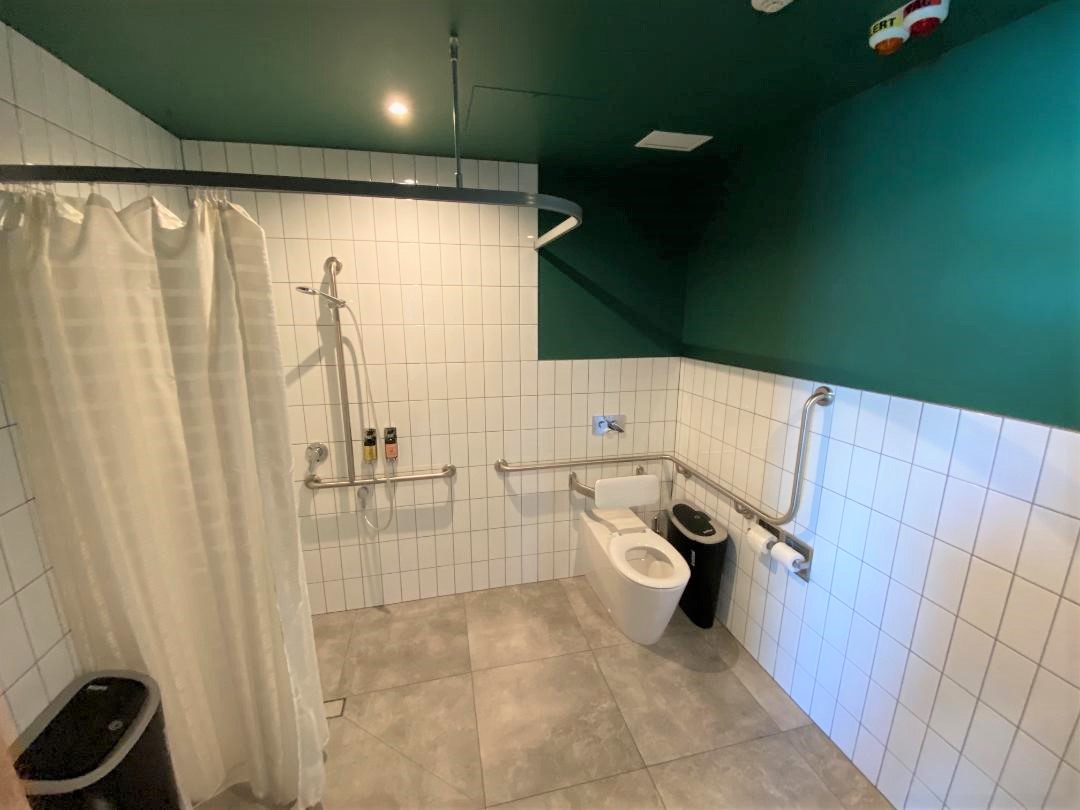 Back toward the entrance and to the right, there is a small children's play room. It had a TV, couple of bean bags on the floor plus a foosball table.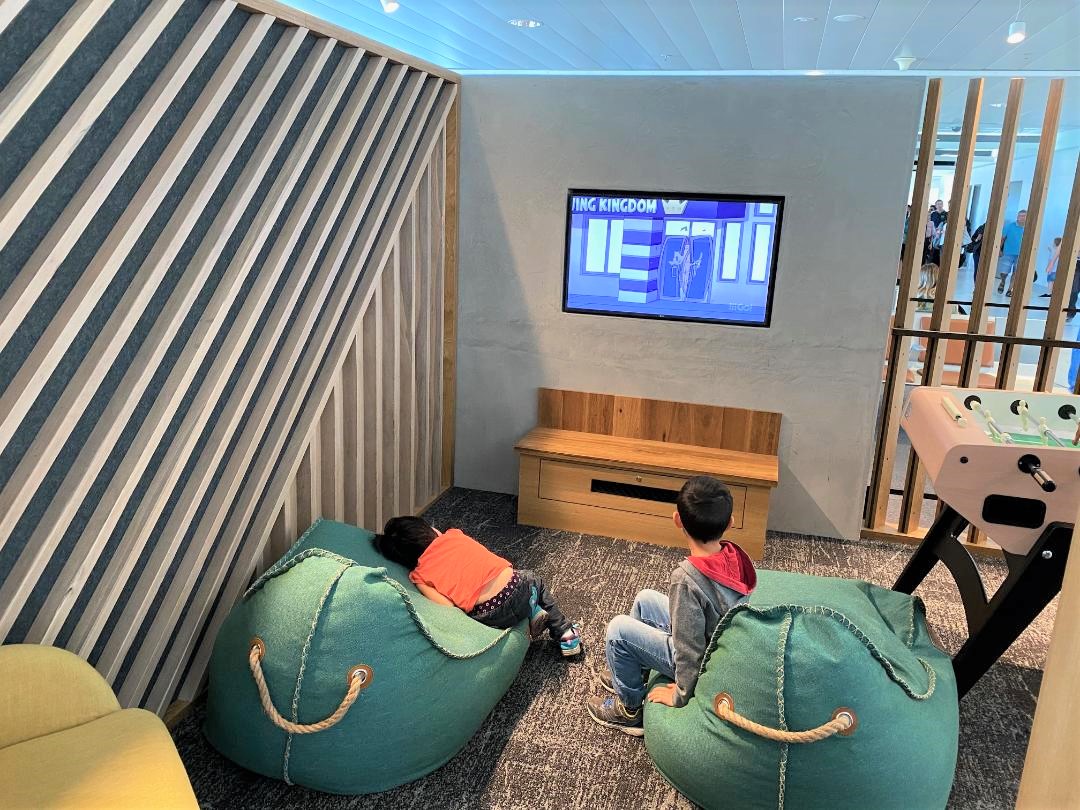 One of the staff members informed me that they don't make any flight announcements in the lounge, so you will need to keep an eye on the solitary flight display board which is on one of the walls near the entrance.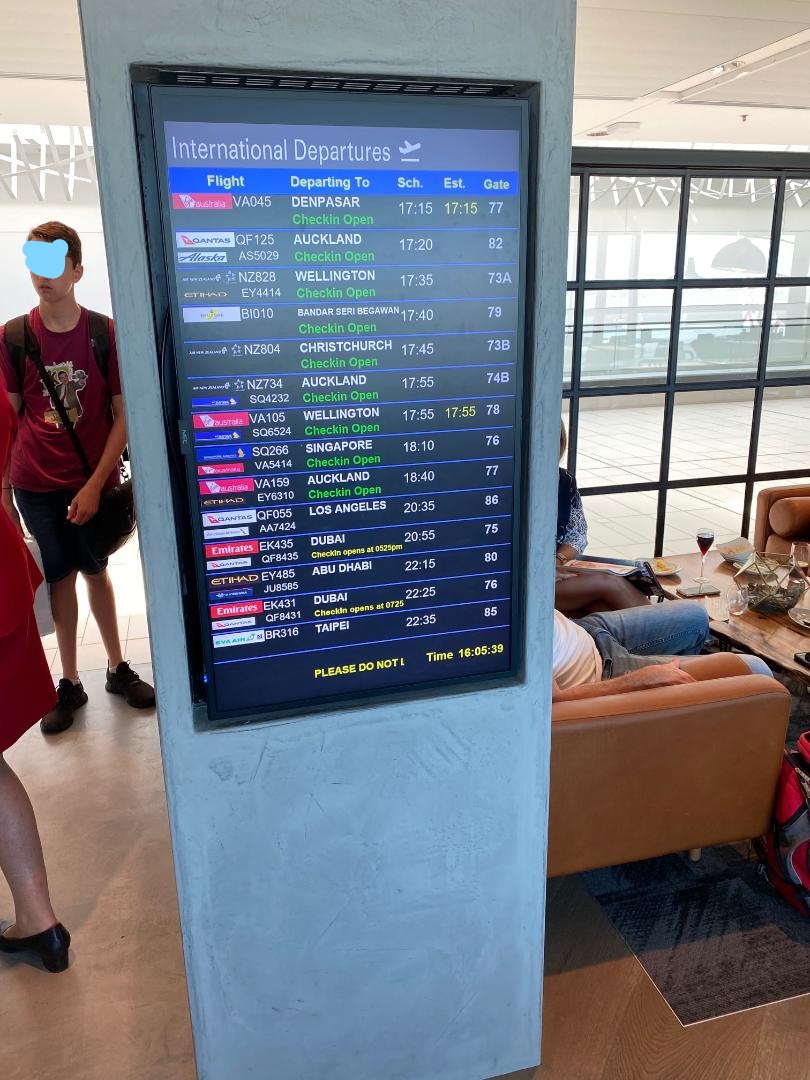 Lastly, there is complimentary wifi available to all guests and although I didn't test the speed, it felt pretty fast.
Lounge Access
Although Virgin Australia business class guests, plus Velocity Gold & Platinum members have priority access to the lounge, just about anybody with a same day boarding pass, flying any airline or class can pay and enter. The cost is $60 for adults and $30 for children aged 2-11 when you book online or $70 at the door. A valid DragonPass membership card will also open the doors for you.
Finally, it's worth pointing that the lounge is NOT part of the Priority Pass network of lounges so a Priority Pass membership alone will NOT get you in.
In Conclusion
After years of directing guests to partner lounges such as the Silverkris lounge and the Air New Zealand lounge, it is fantastic that Brisbane based Virgin Australia flyers have finally got a dedicated facility to spend some time prior to their flights. As mentioned earlier, the lounge is not access controlled, meaning anybody can pay-their-way-in, so there is always the possibility of overcrowding.
Having said that, the lounge didn't feel busy at all while I was there, although I will be interested to see how it copes with the mid-morning rush, when several Virgin Australia trans-tasman, pacific island flights depart longside the service to LA. Things may get even busier when the new daily service to Tokyo (Haneda) takes flight from late March onwards.
In terms of food and drinks and other amenities, the lounge ticks all the boxes and I wouldn't mind spending sometime here prior to my flight, however, I can't say I would make an effort to get to the airport early just for the lounge.
Have you been to My Lounge Brisbane? Leave a comment below.