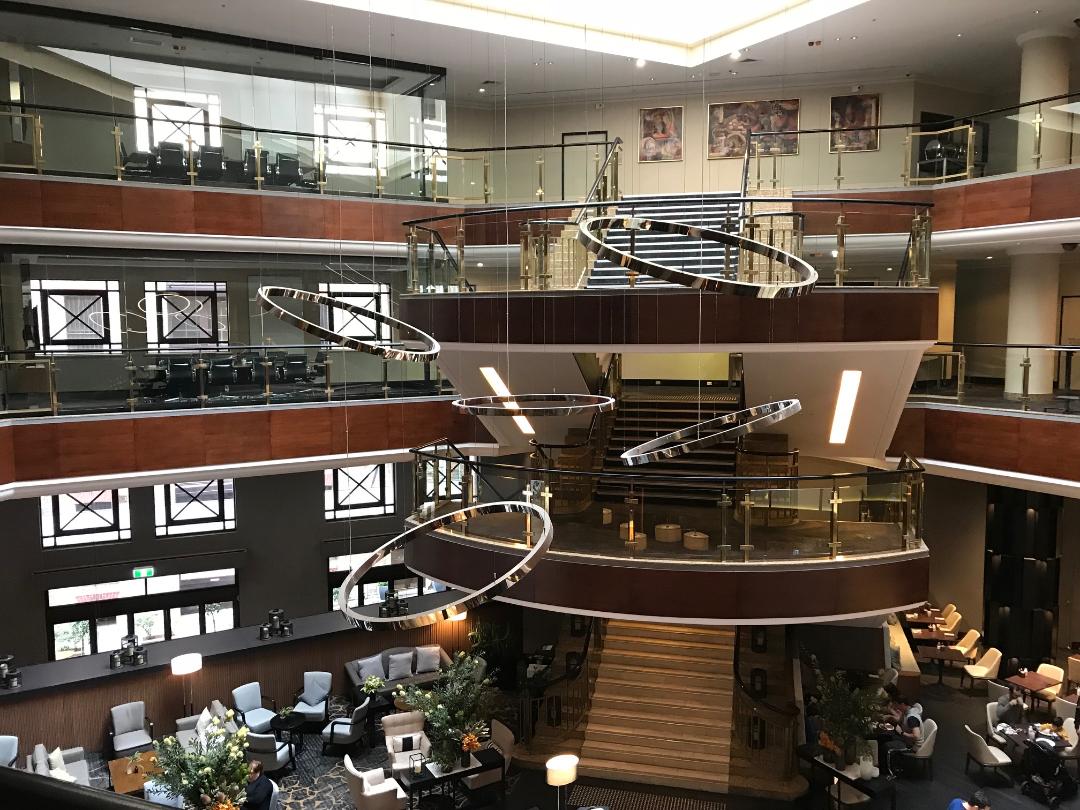 Location & Classification
Sydney Harbour Marriott at Circular Quay is located at 30 Pitt Street in the heart of Sydney CBD. With the iconic Harbour Bridge, Opera House, Circular Quay train station and hundreds of pubs and restaurants literally at your door step, the location does not get any better. Darling Harbour is at a leisurely 10 minutes walking distance.
The hotel is classified as Marriott Category 5, with cash prices starting from $200+. A standard reward room will set you back 35,000 Marriott Bonvoy points per night.
Arrival & Check-in
As this was a staycation rather than a holiday, I arrived at the hotel around 5:30 pm having spent the day slaving at my day job. There were 2 staff manning the front desk. After a short wait, I was attended by one of them who started by Thanking me for being a Platinum member. It may not seem like much, but in my experience at-least 50% of the hotels fail this basic test. He then proceeded to check me in.
I was offered a choice of welcome gift, I chose points. My booking was for a standard city view room which was upgraded to a 'bridge view' room on one of the Top 3 floors. I was also presented a welcome letter with a brief description of the property, it's amenities and my entitlements as a Platinum member.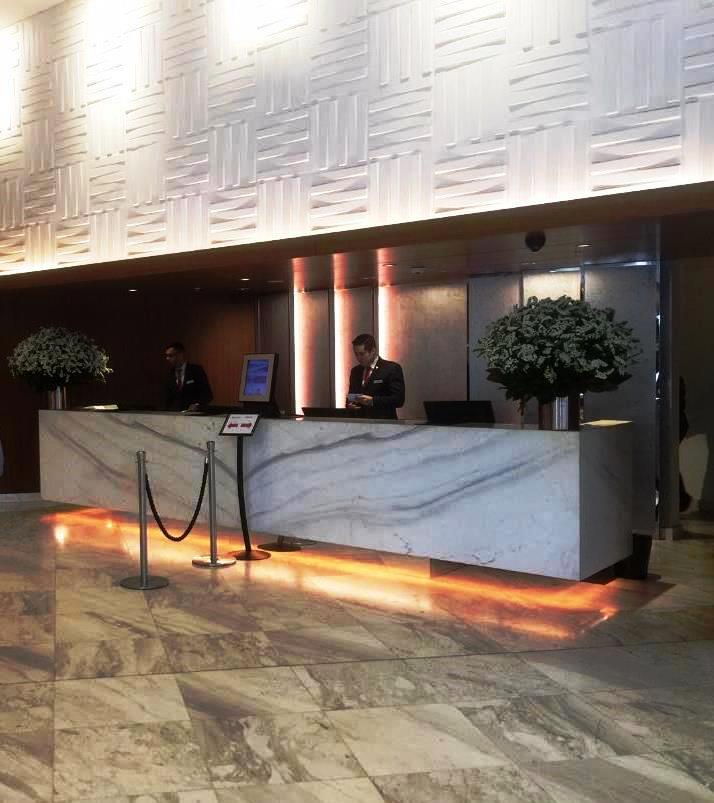 Sydney Harbour Marriott, Front Desk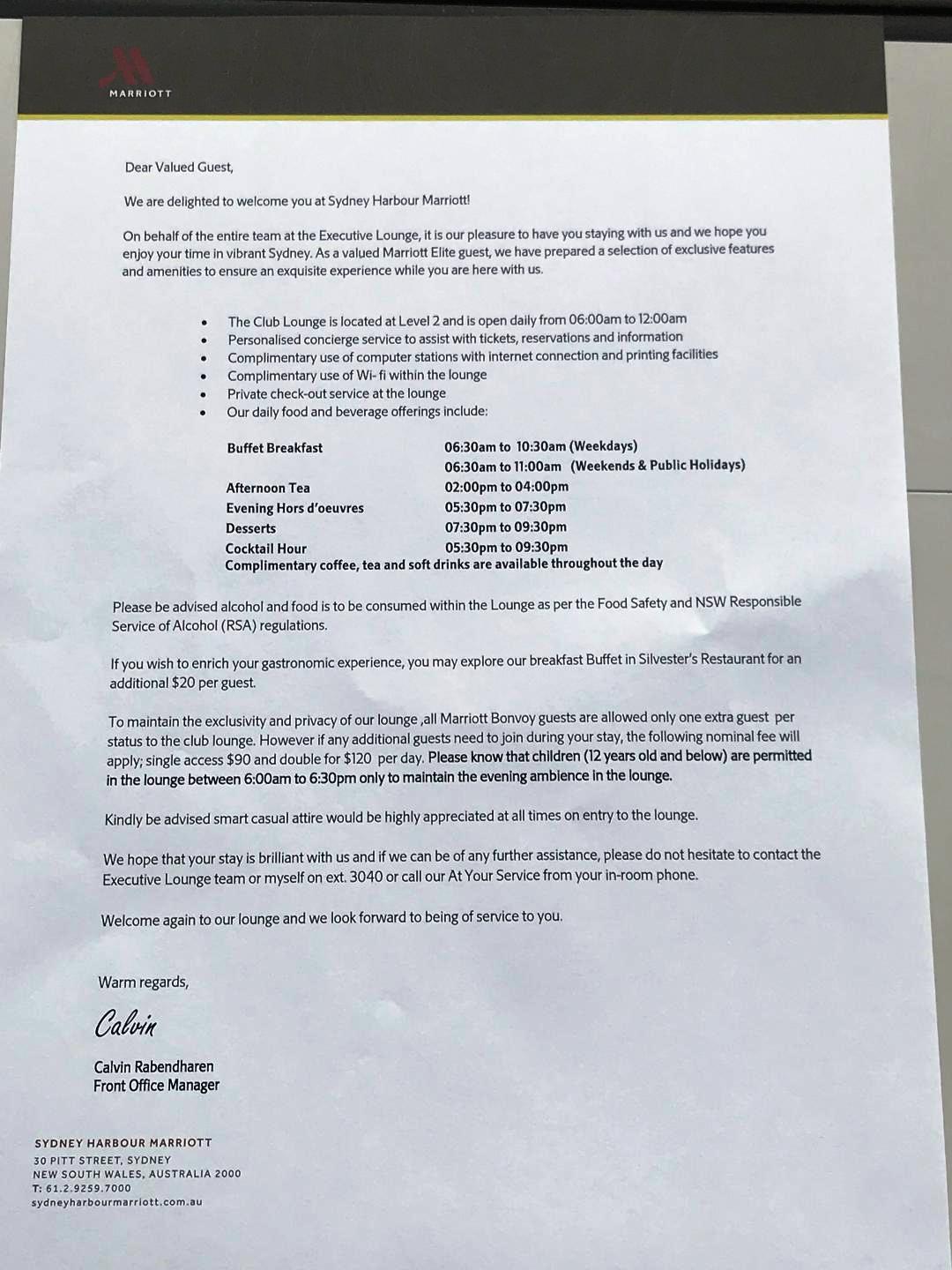 Sydney Harbour Marriott, Welcome letter
The Room
I took the lift and arrived at my assigned room. As I unlocked the door and pushed it back, I found myself looking at a typical J shaped room with the bathroom to the left, luggage rack and mini bar to my right. There were 2 complimentary bottles of water on top of the mini bar.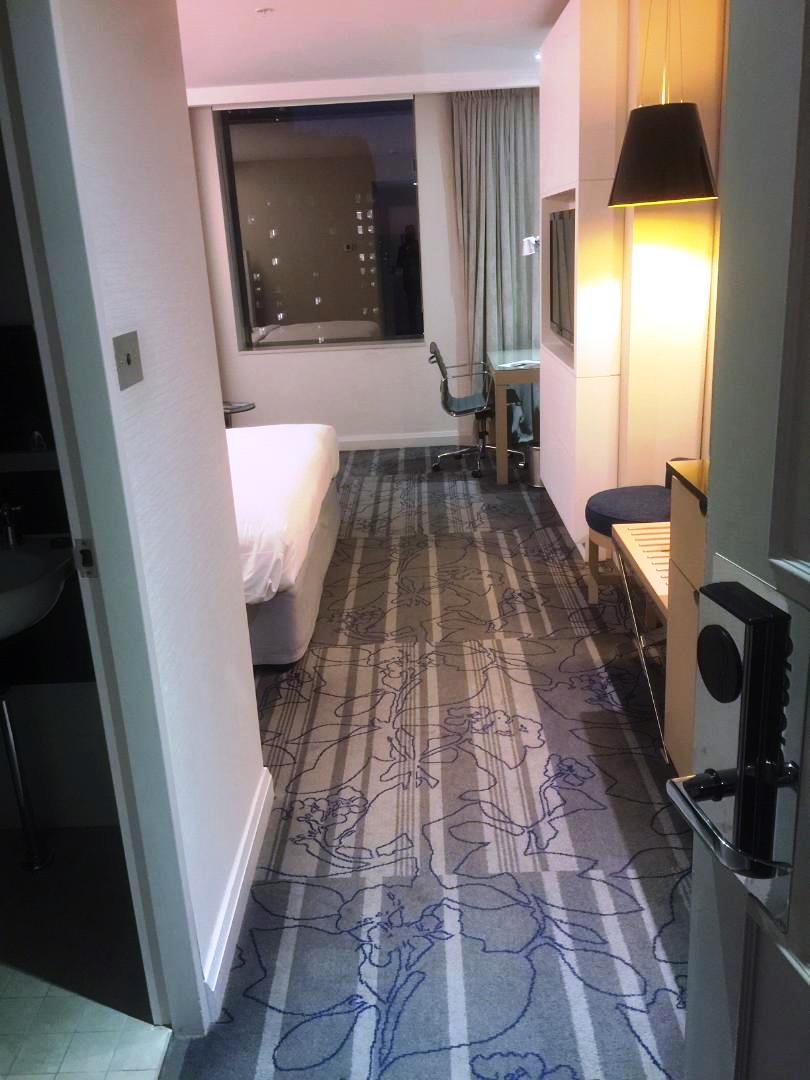 View looking into the room from the front door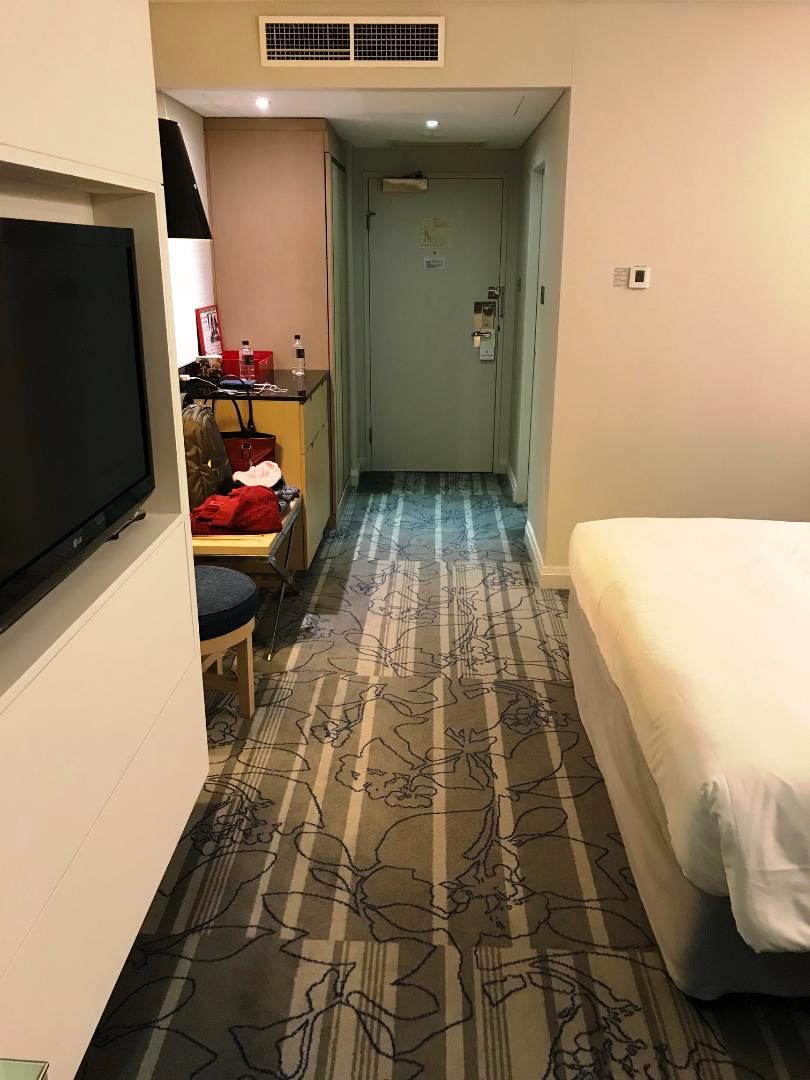 Reverse View towards the front door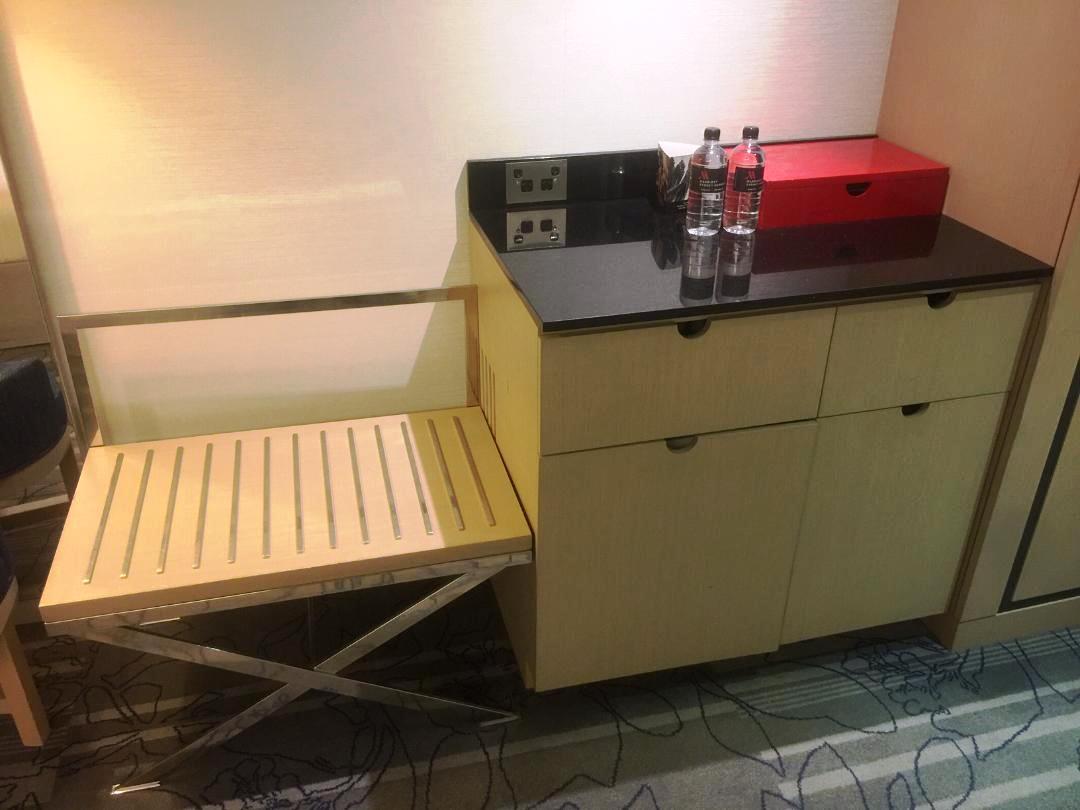 Bridge View Room, luggage Rack & the mini bar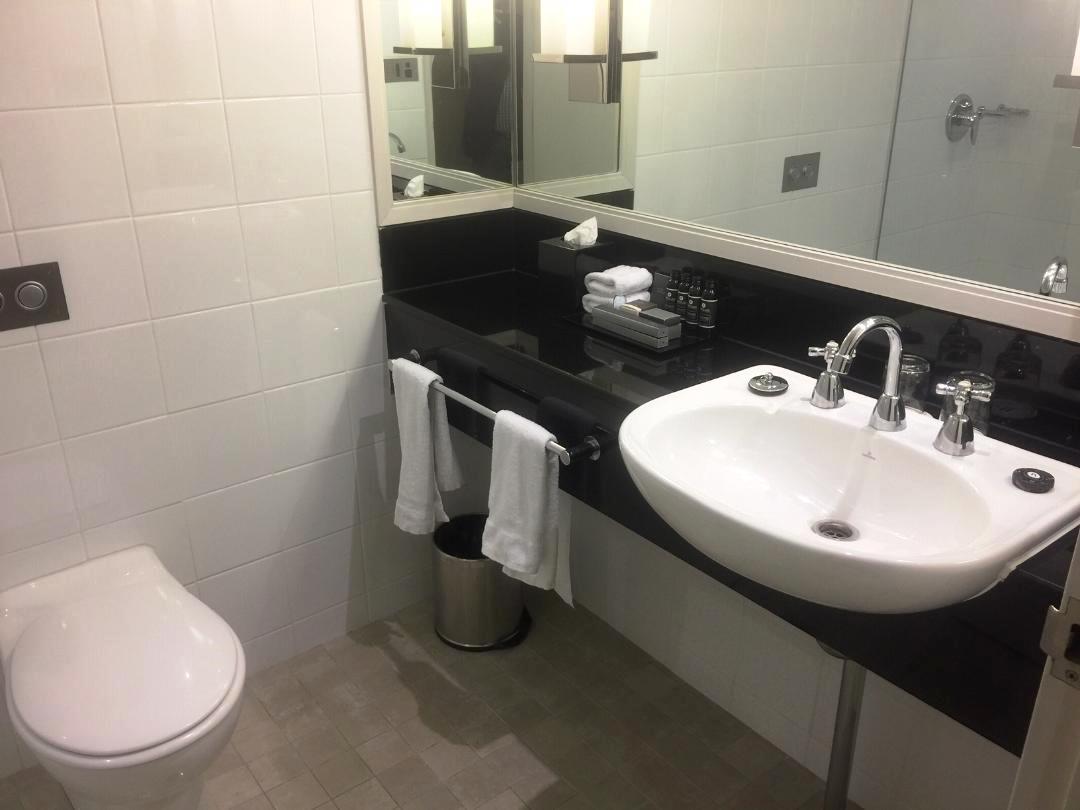 Bridge View Room, Bathroom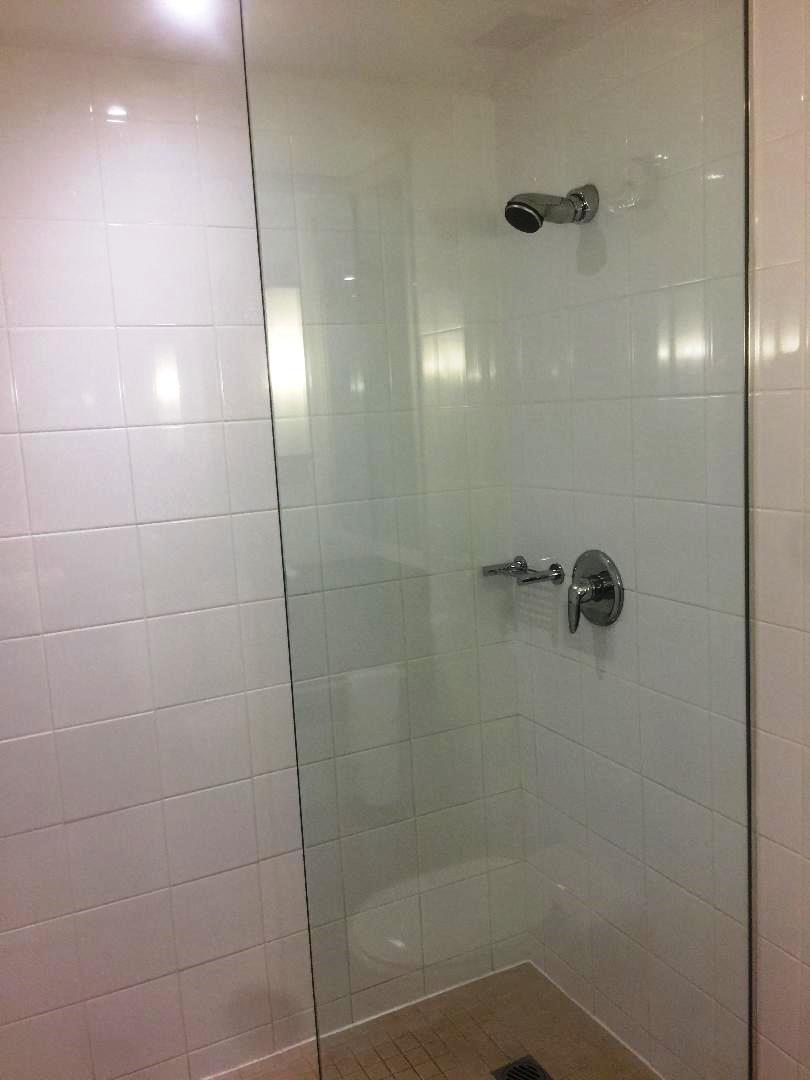 Bridge View Room, Shower
The bathroom was old and in urgent need of some TLC. The tiles on the wall seemed particularly bad, and may look the part at one of the numerous run-down motels dotting the Pacific Highyway between Sydney and Coffs Harbour, but were woefully out of place at a premier 5 star city hotel.
The hair care and bath amenities were from APPELLES, an Australian brand based in Sydney.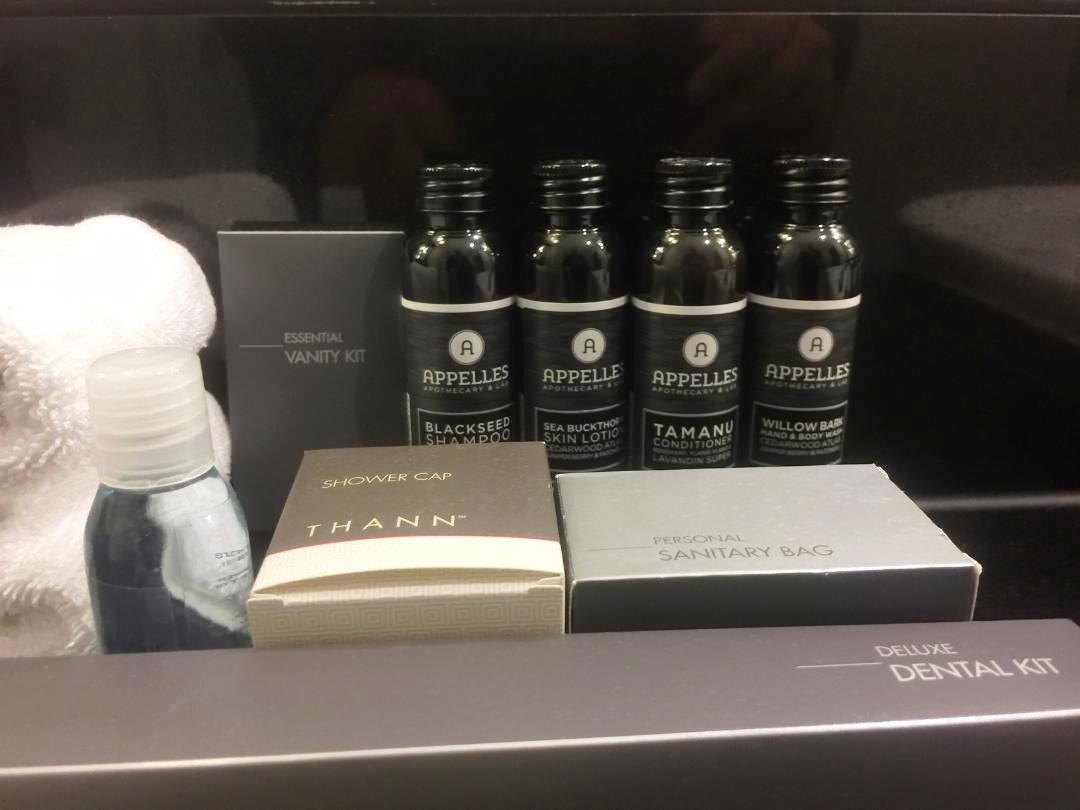 Back out, one of the two mini bar drawers was stocked with an electric kettle, tea, coffee and condiments. The other one contained a few bottles of wine and crisps.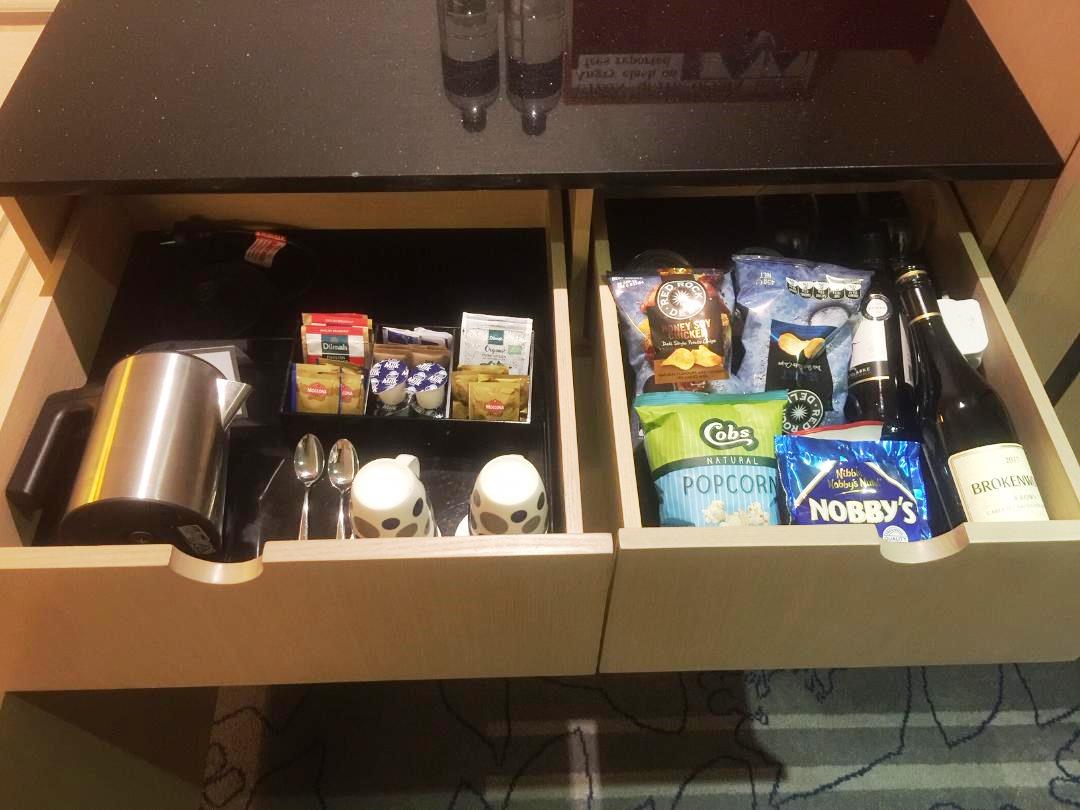 Bridge View Room, Mini Bar Content
The bar fridge underneath the drawers had some over-priced soft drinks, sparkling water, few beers and chocolates.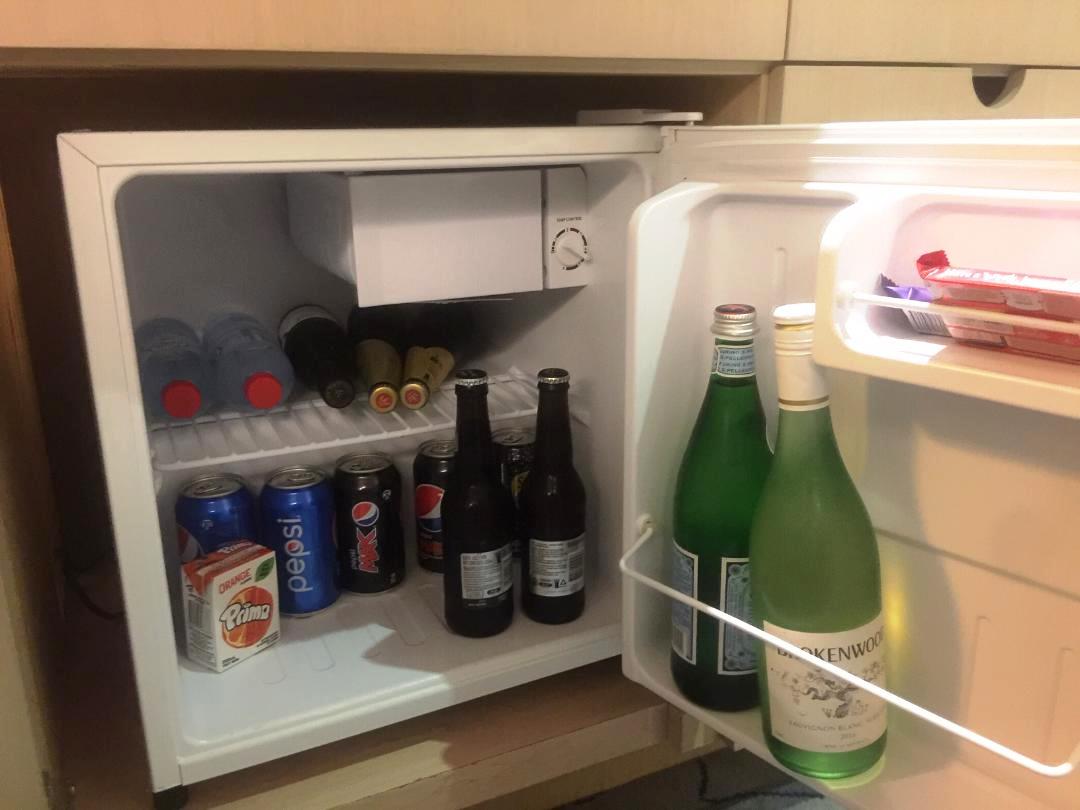 Bridge View Room, Bar Fridge
Further down the room, there was a King bed with good selection of pillows. A swivel chair with foot rest and a small, round-top magazine holder placed in the corner.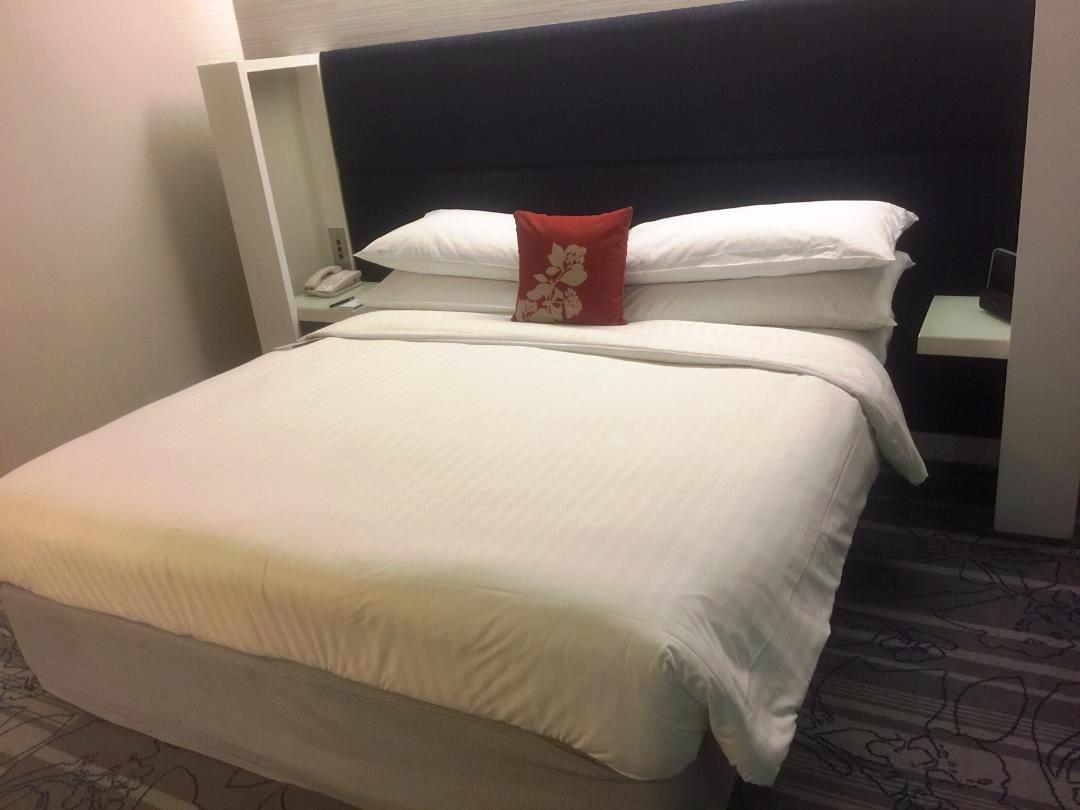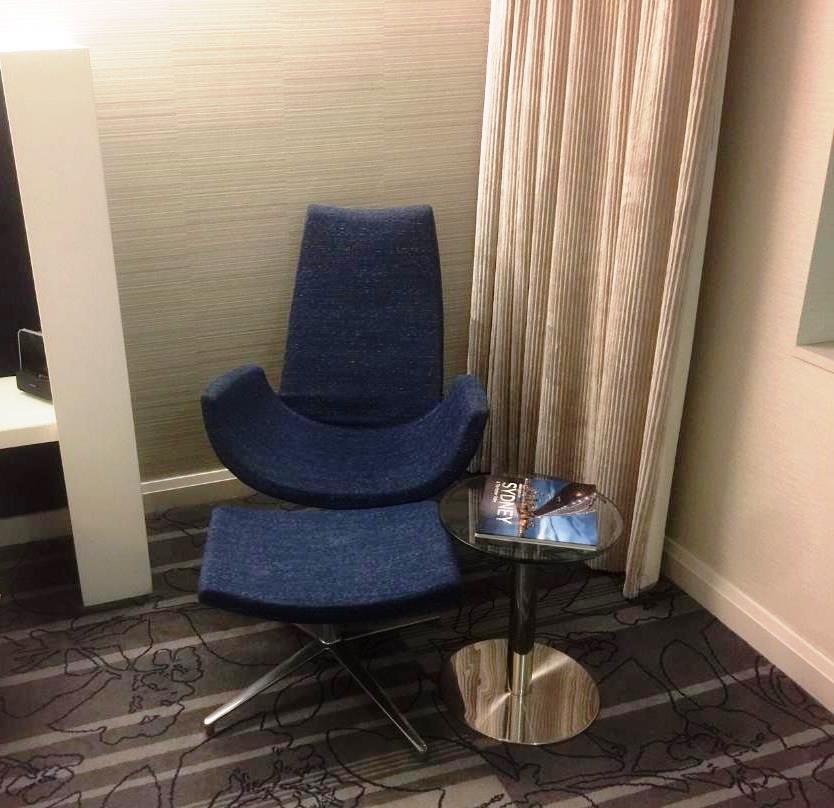 On the opposite side, the work area contained a spacious desk, office style chair and power points to hook up your gadgets. There was a large, wall mounted flat-screen television next to the mini office.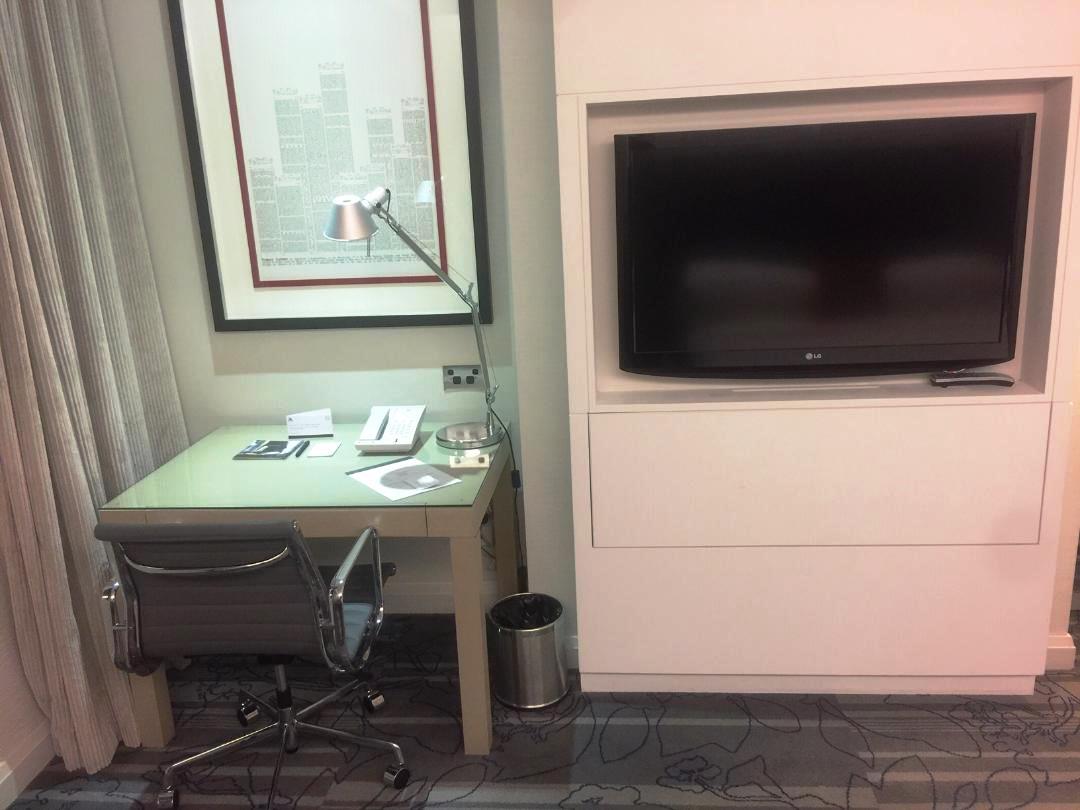 The Executive Lounge
At this point, I was pining for a beer. So after a quick change, I dashed for the Executive Lounge located on Lvl 2.
The lounge is open daily from 6:30 am to midnight. Drinks & canape's are served each evening between 5:30 – 9:30 pm. Desserts are brought out from 7:30 pm onward.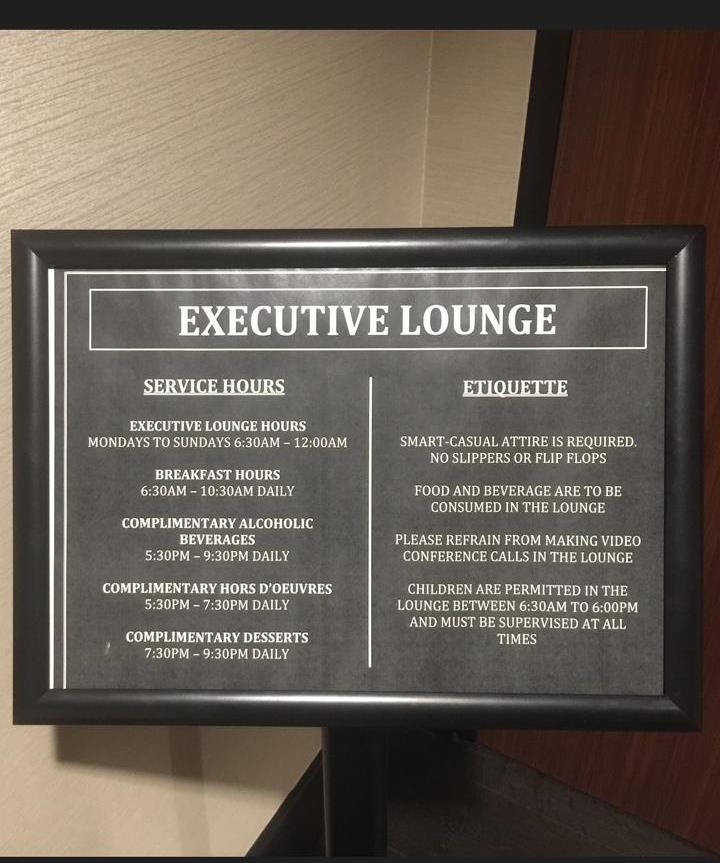 The lounge was a large, open area with plenty of seating to cater for all group sizes. I will let the pictures speak.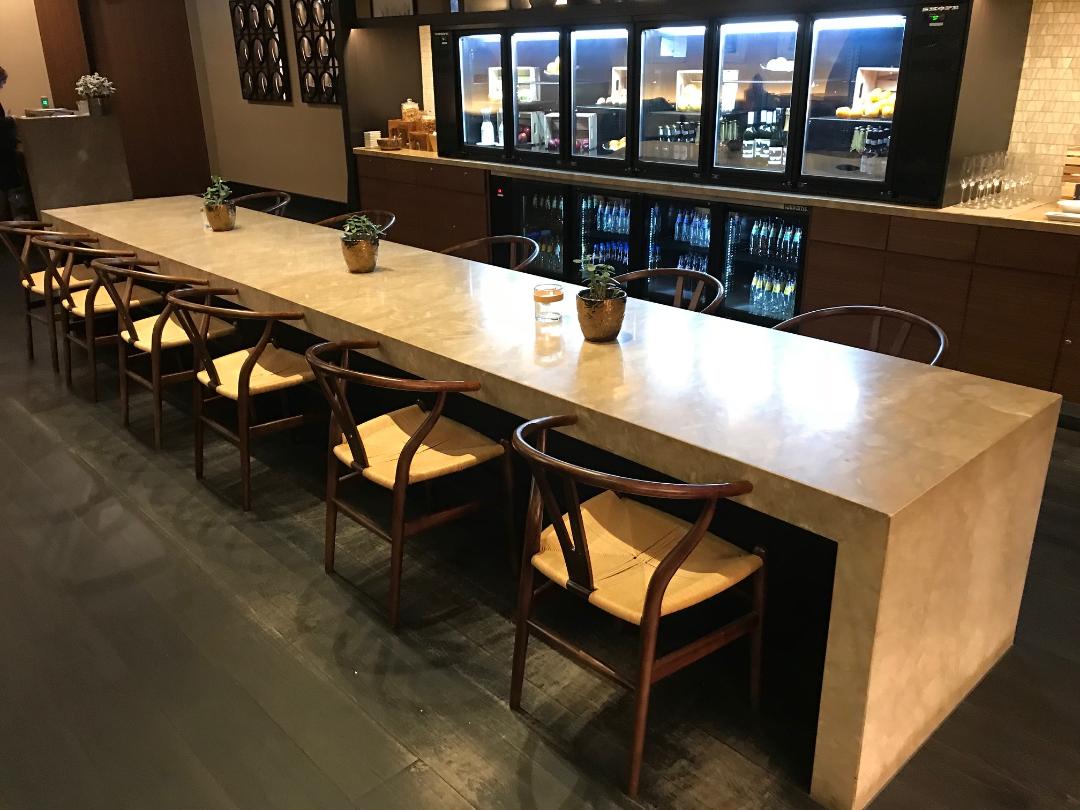 Executive Lounge Seating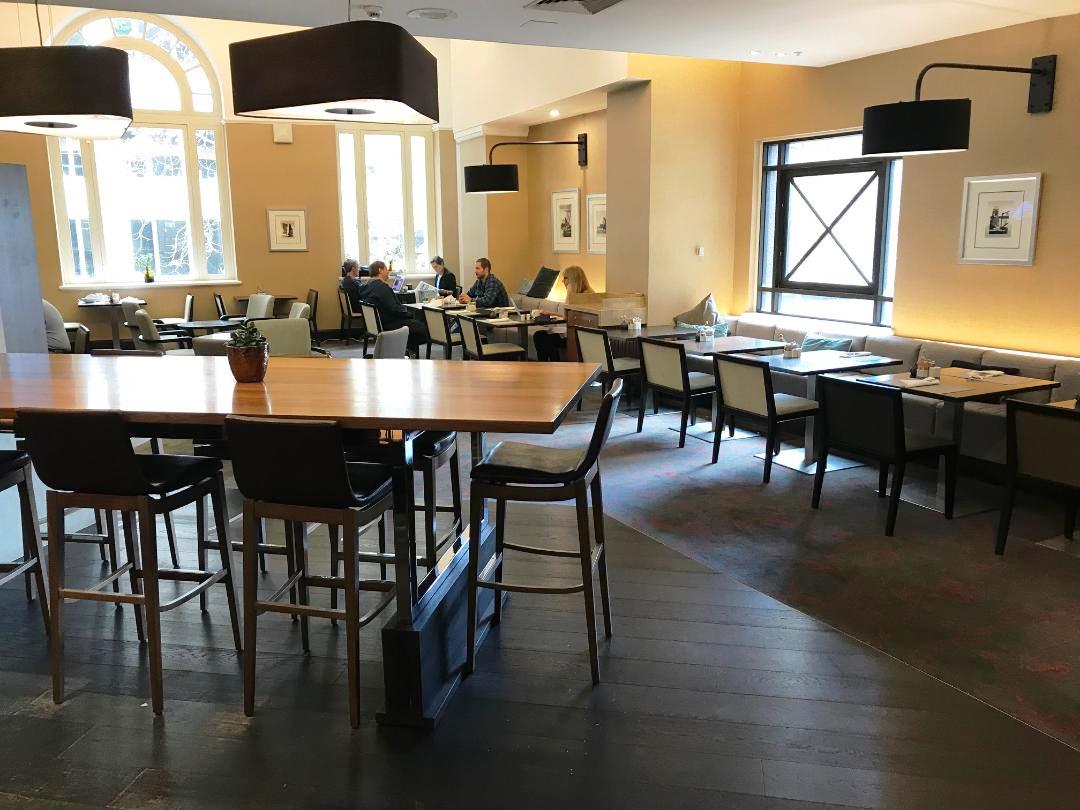 Executive Lounge Seating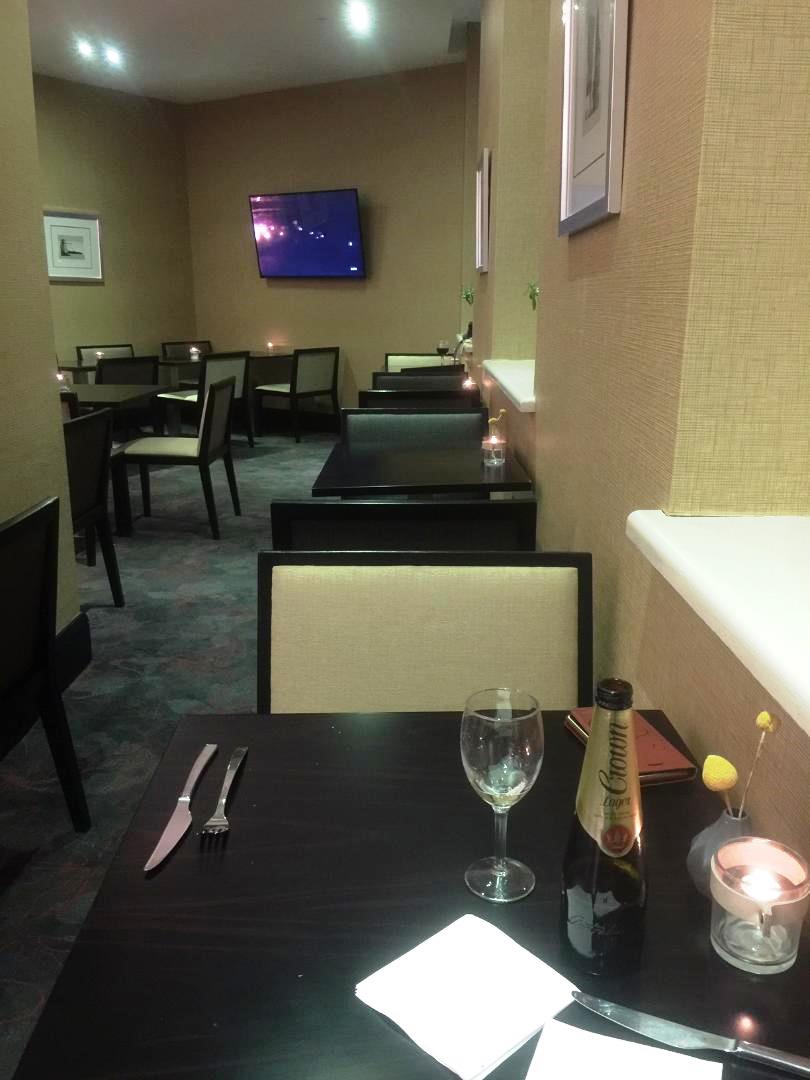 Executive Lounge Seating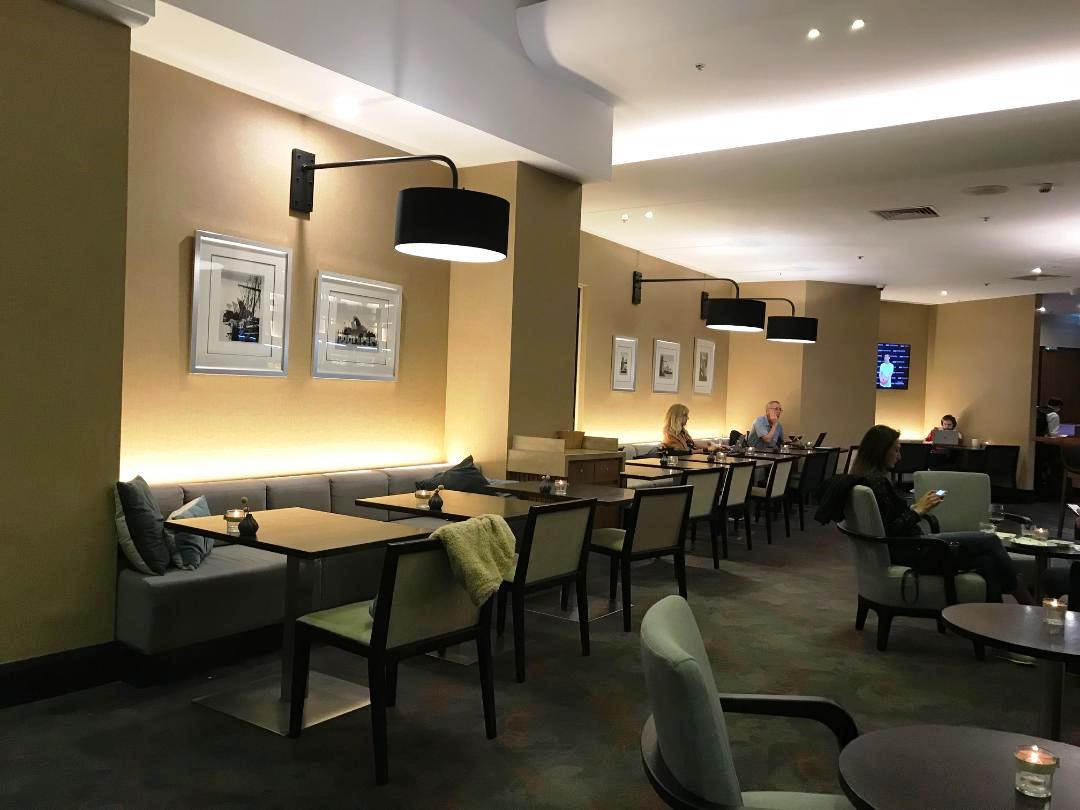 Executive Lounge Seating
The food was laid-out on a long buffet stand located on one end of the lounge. There was soup and crusty bread roll, bread sticks, a couple of hot dishes, fruits, cheese platters and so-on. Once again, I will let the pictures speak.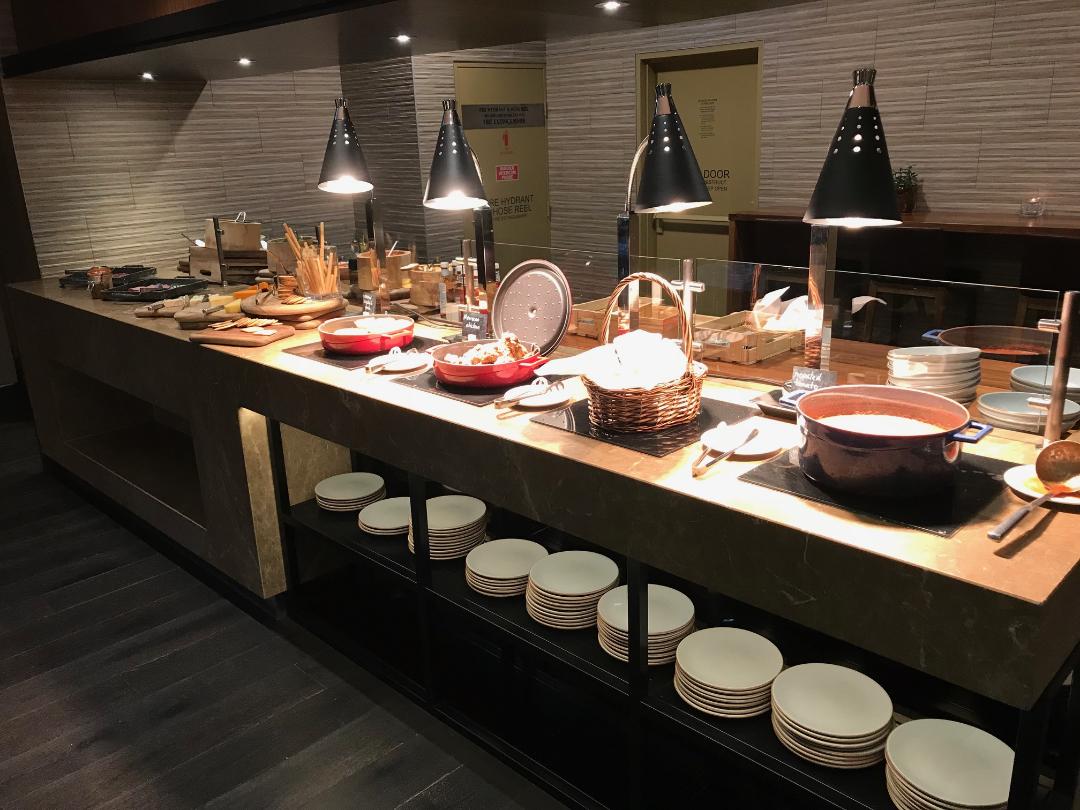 Executive Lounge, Buffet Stand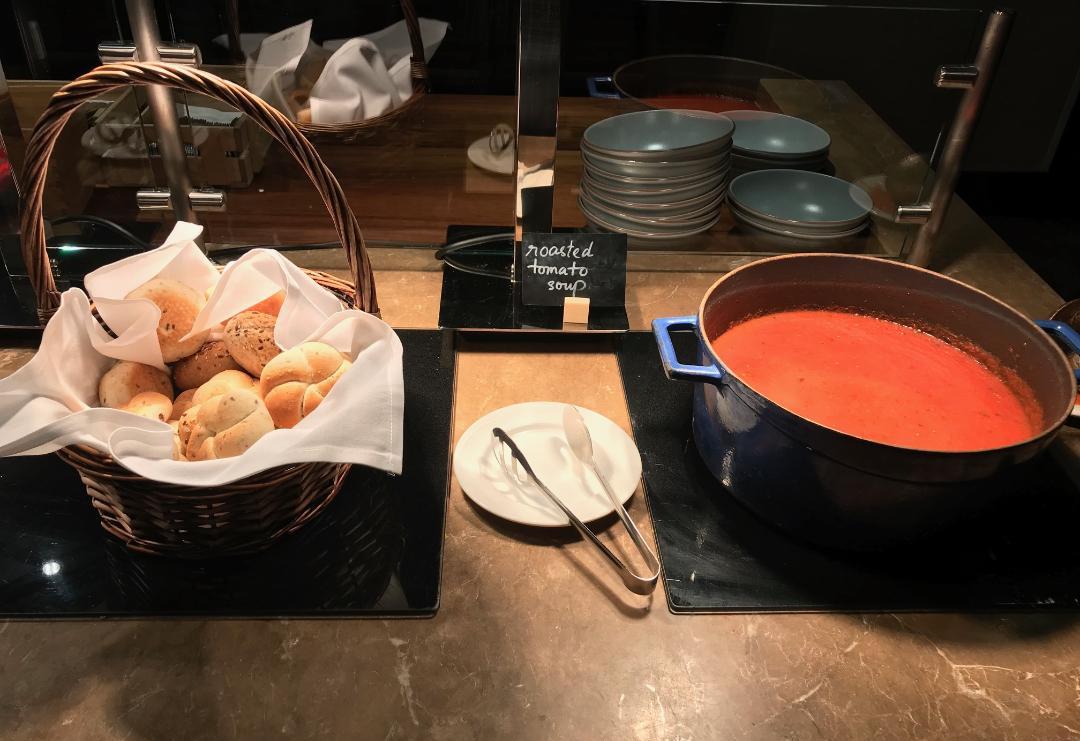 Executive Lounge, Hors D'Oeuvres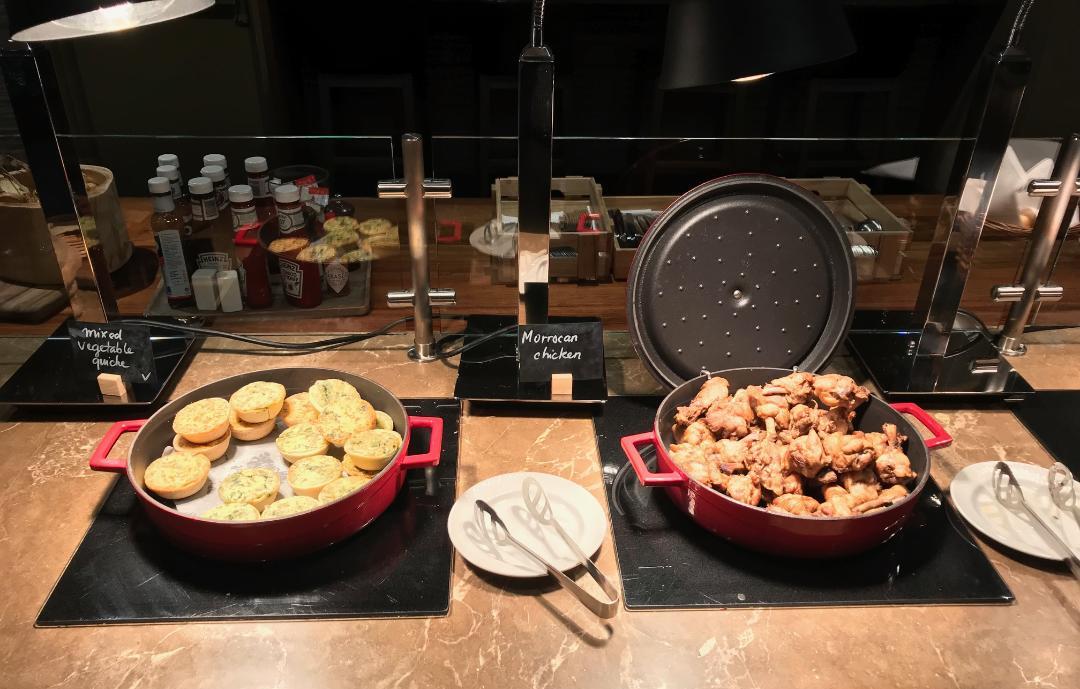 Executive Lounge, Hors D'Oeuvres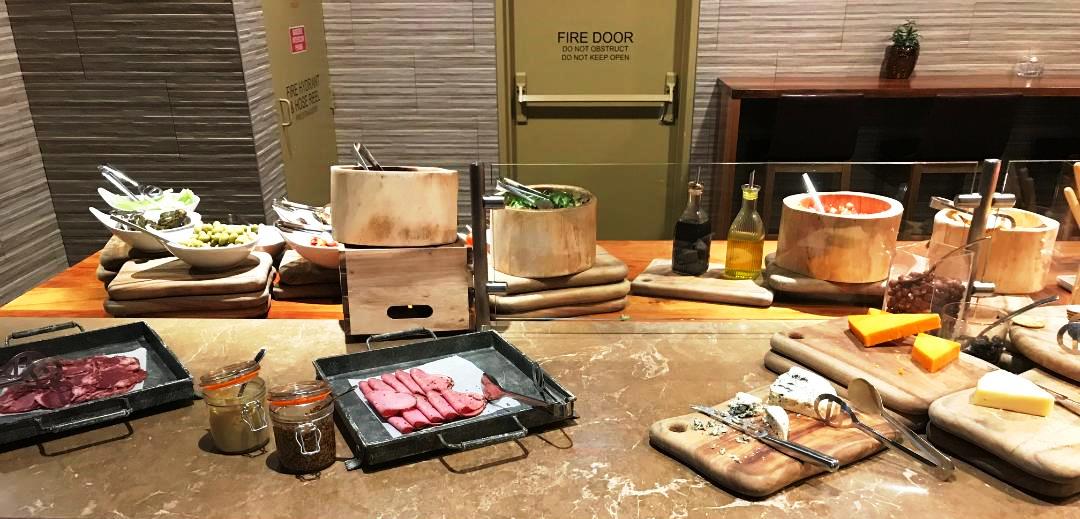 Executive Lounge, Hors D'Oeuvres
There were alcoholic drinks, soft drinks and fruit juice in a row of chillers running along the length of the wall.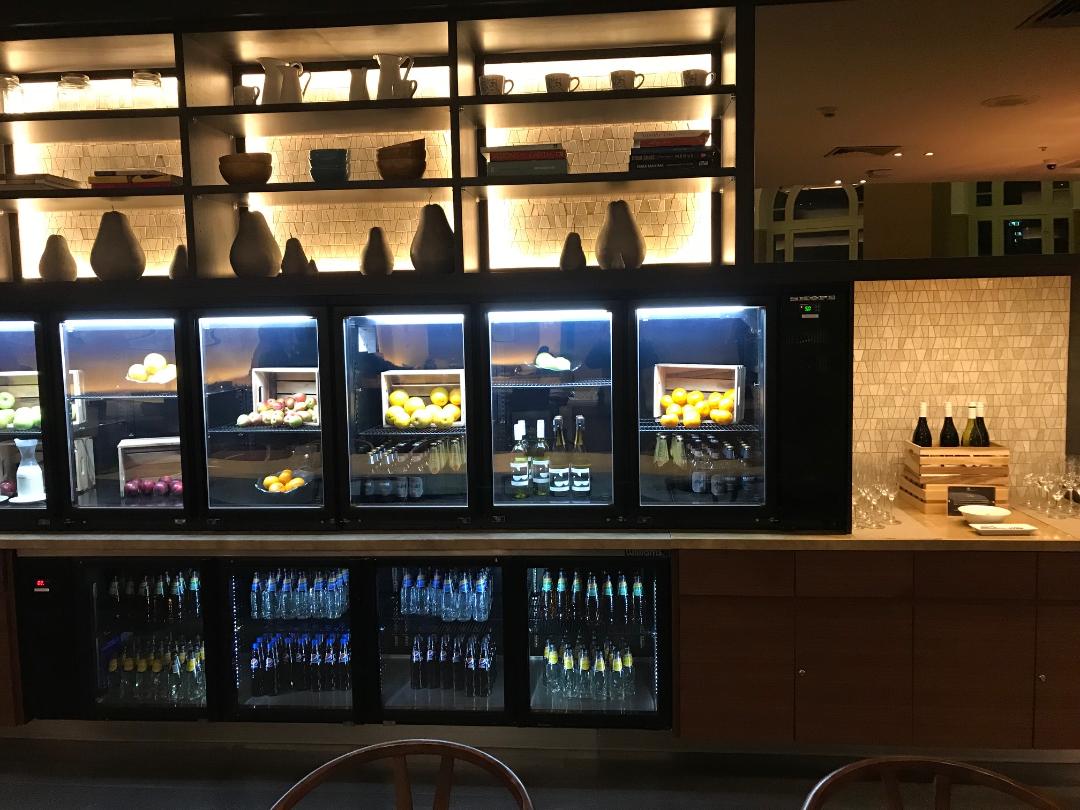 Executive Lounge, Drinks
I was famished and helped myself to a bit of everything until I was stuffed 🙁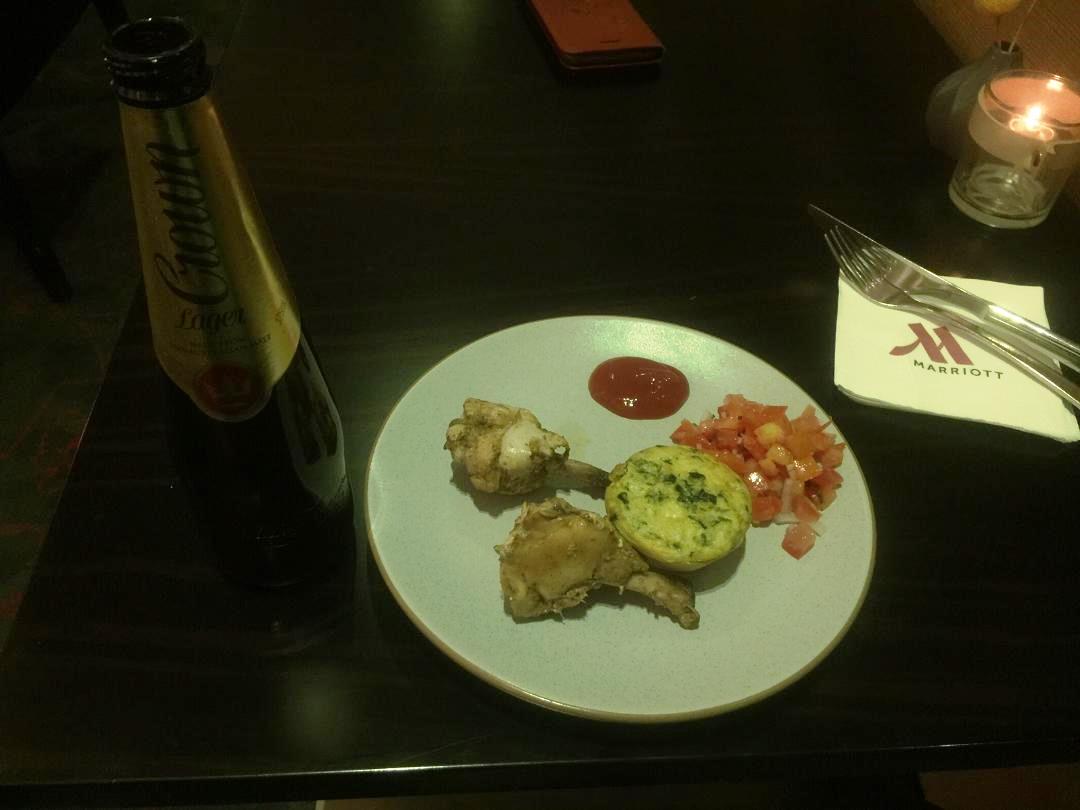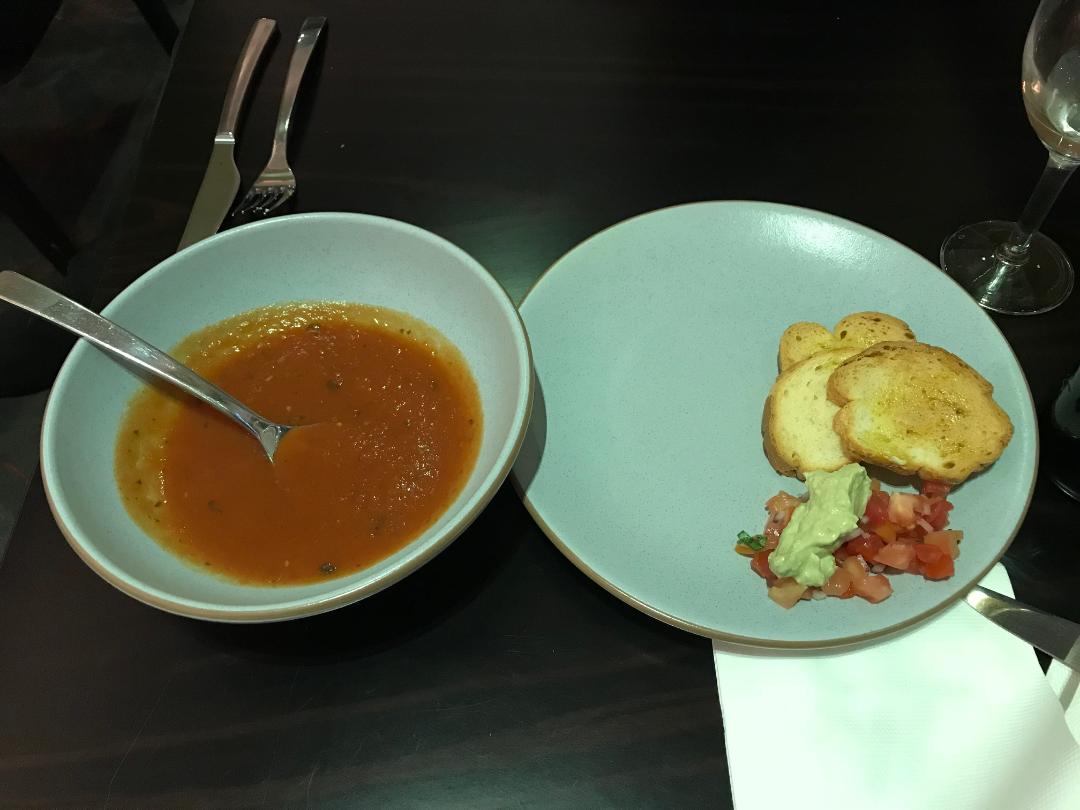 Breakfast
Often enough, hotels allow elite members the choice of eating breakfast in the executive lounge or in the main restaurant. Most people prefer the restaurant breakfast as lounges are space constrained and can only offer a limited selection of items. During check in, when I inquired with the front desk If I could have the breakfast in the restaurant, I was told there would be a $20 pp charge if I wanted to 'upgrade', I didn't take up the offer.
Strictly speaking, hotels are not obliged to offer breakfast in the restaurant. Even so, I think hotels that go the extra mile leave a lasting impression. Sure there is a cost to it, but one that in my opinion, pays itself back many times over by ensuring loyalty and repeat business.
The lounge breakfast was perfectly adequate. There were grilled tomatoes, sausages, scrambled eggs, bread and pastry items, cereals, sliced and whole fruits.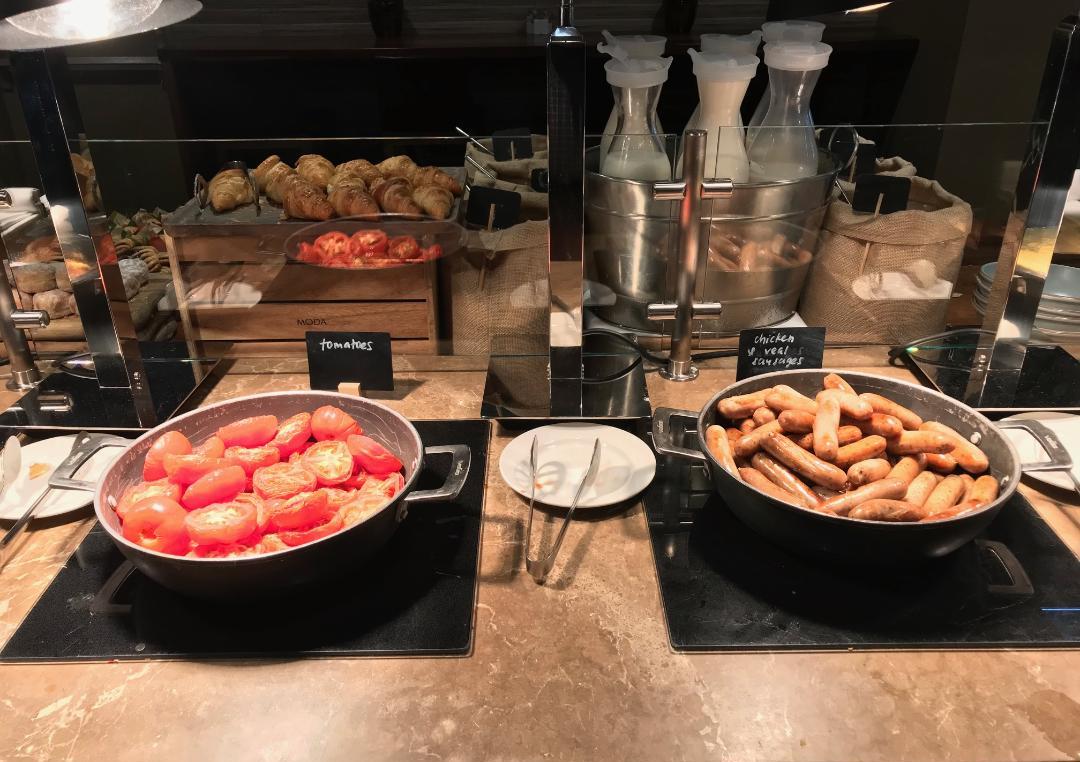 Executive Lounge, Breakfast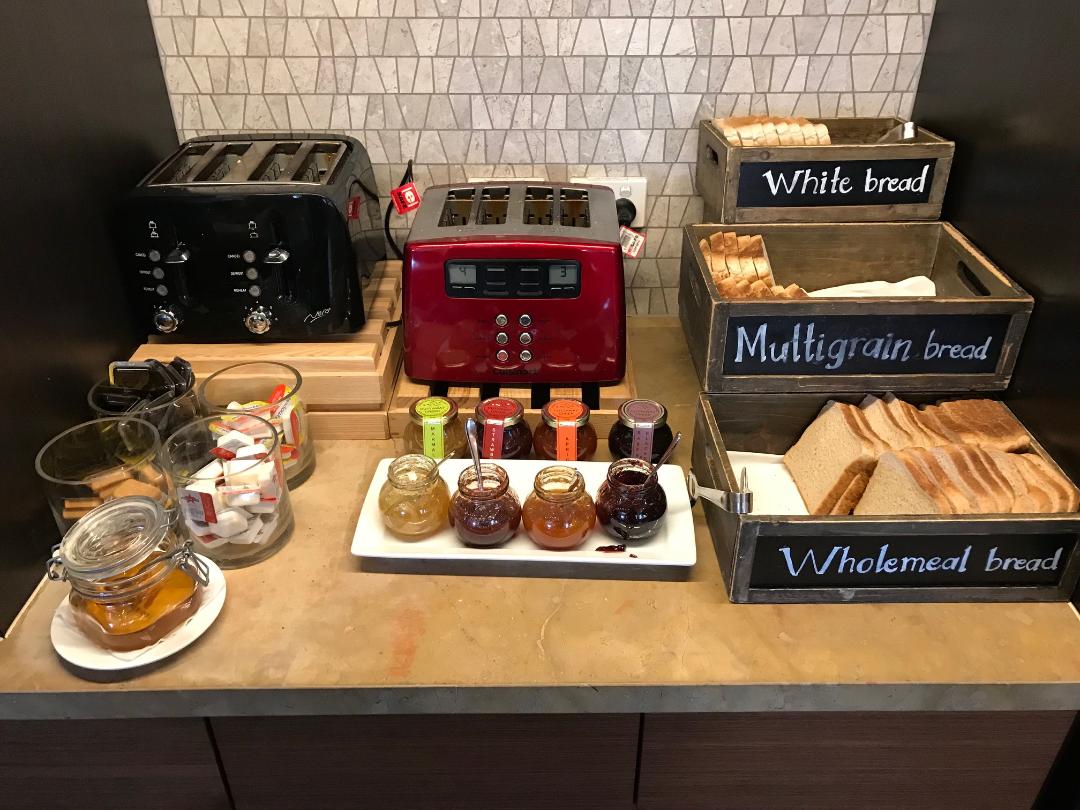 Executive Lounge Breakfast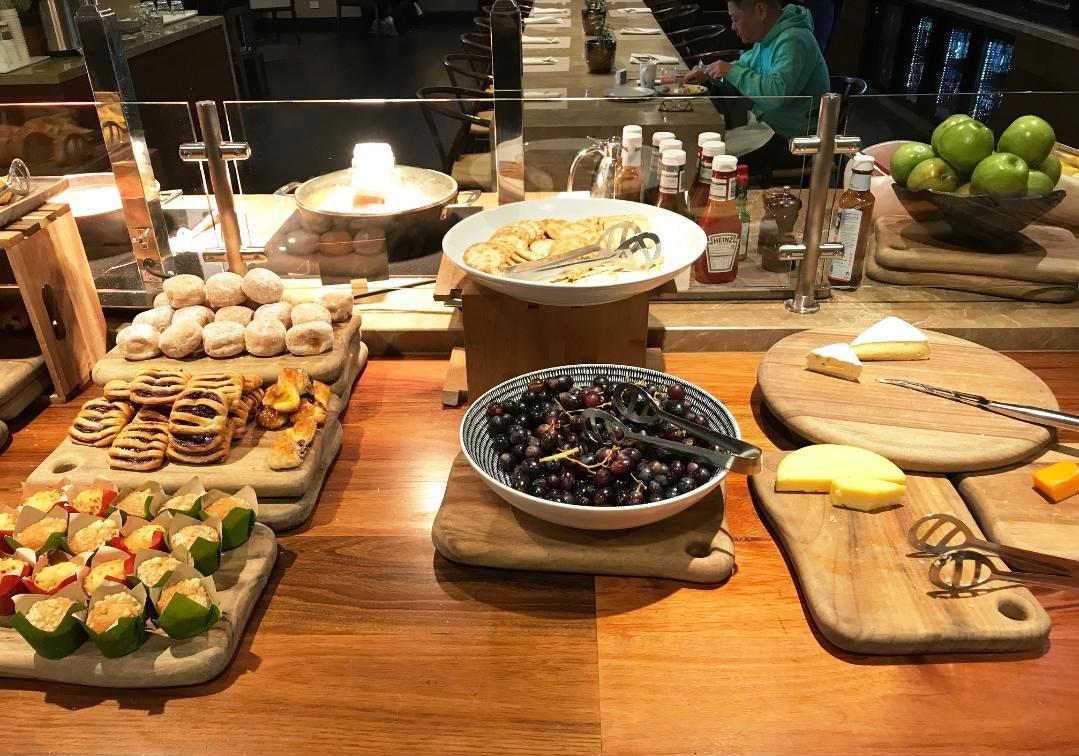 Executive Lounge Breakfast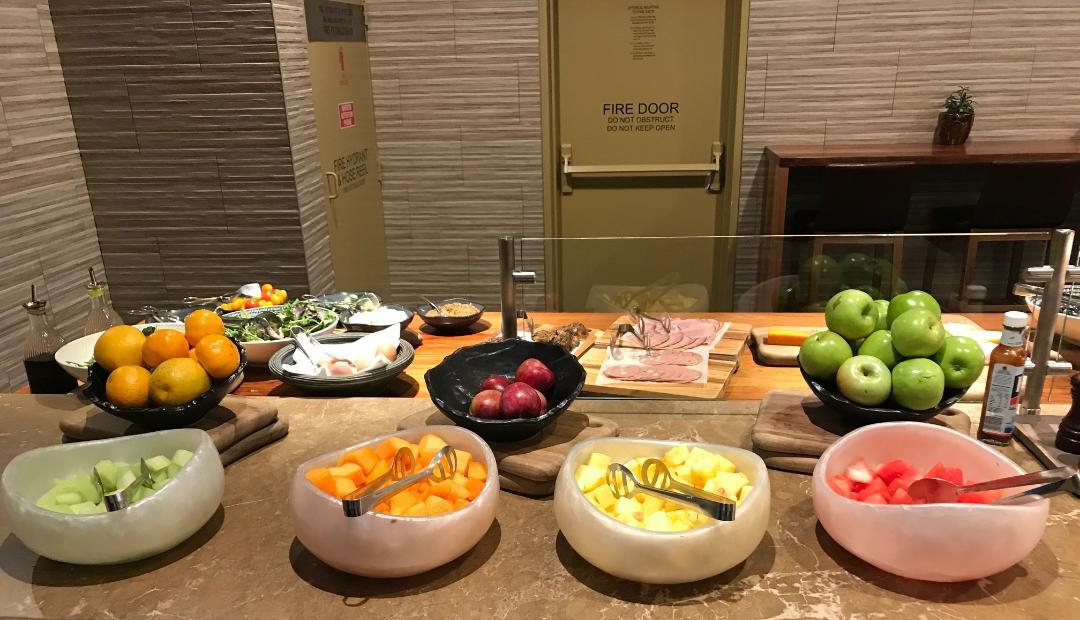 Executive Lounge Breakfast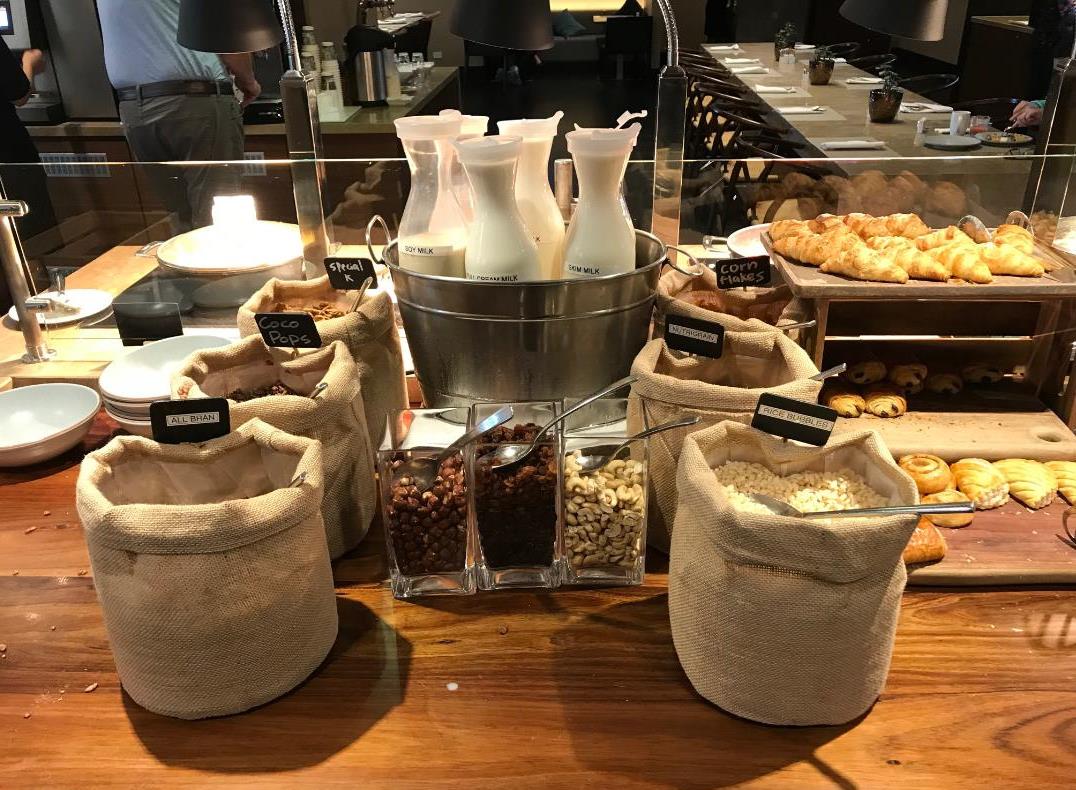 Executive Lounge Breakfast
There was no barista on-site, but the couple of coffee machines near the seating area were churning out fairly respectable cups of cappuccino.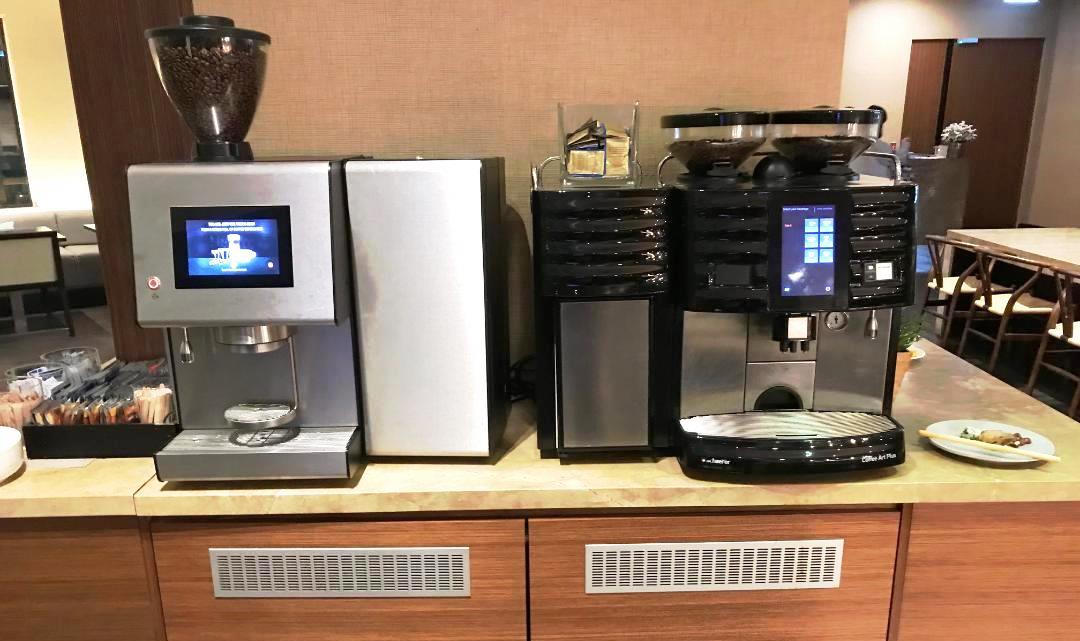 Executive Lounge, Coffee Machines
Overall, the lounge offerings had enough variety and I suspect would have satisfied everyone, but the most discerning of breakfast connoisseur.
Other Amenities
The hotel has an in-house spa on level 4. The gym and pool are also located on the same level. I am not usually a spa person and barely ever use the facility.
The gym was a nice feature and appeared to be well equipped. It had a large collection of cardio machines in one section.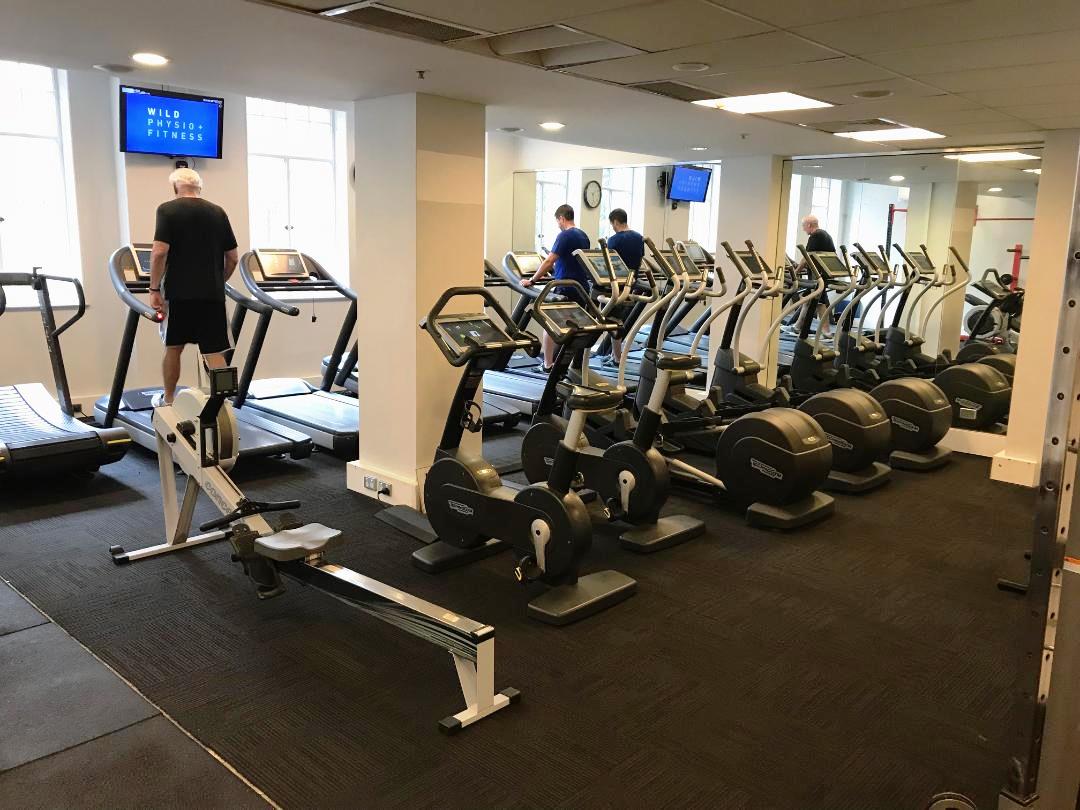 Sydney Harbour Marriott, Gym
There were some exercise machine and free weights in another section.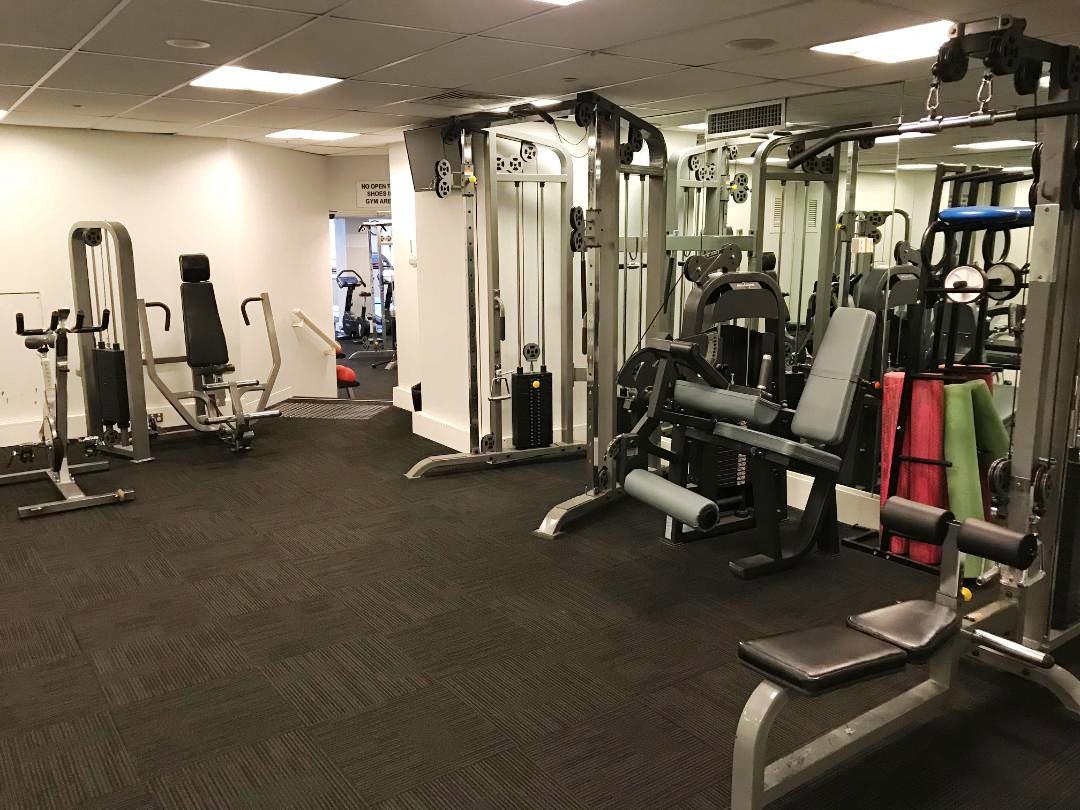 Sydney Harbour Marriott, Gym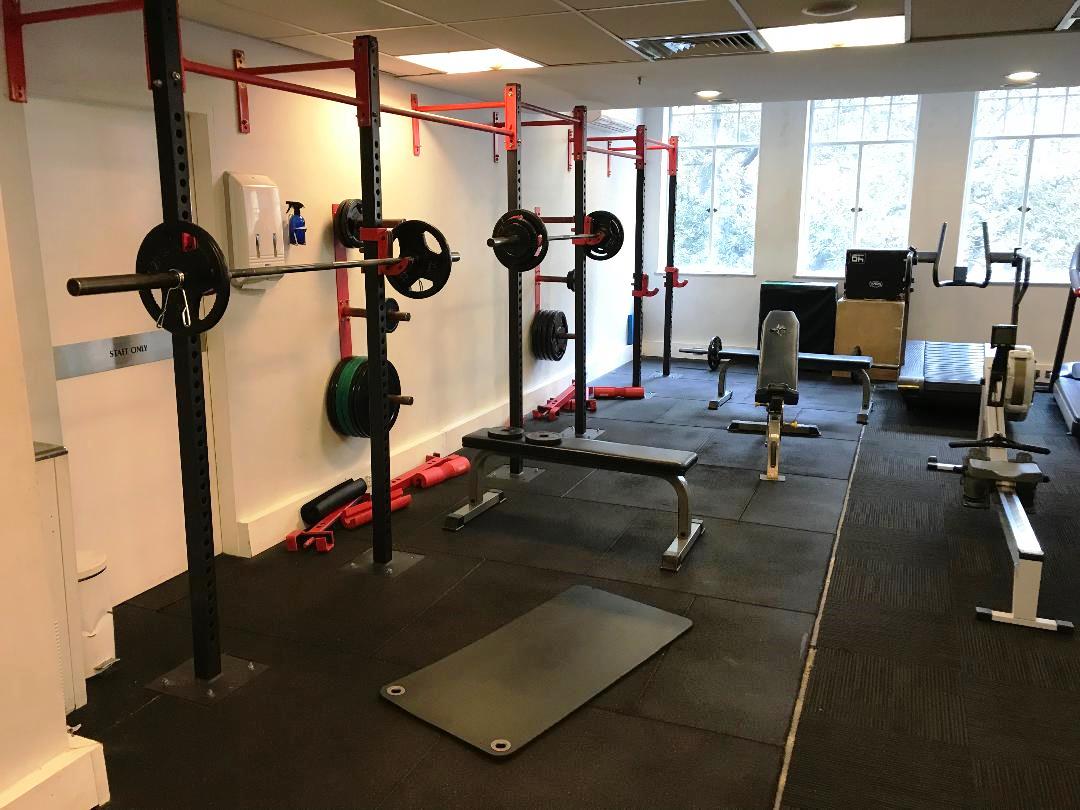 Sydney Harbour Marriott, Gym
A door from within the gym led to the indoor pool area, which was fenced off. Although the pool was heated, it was totally deserted.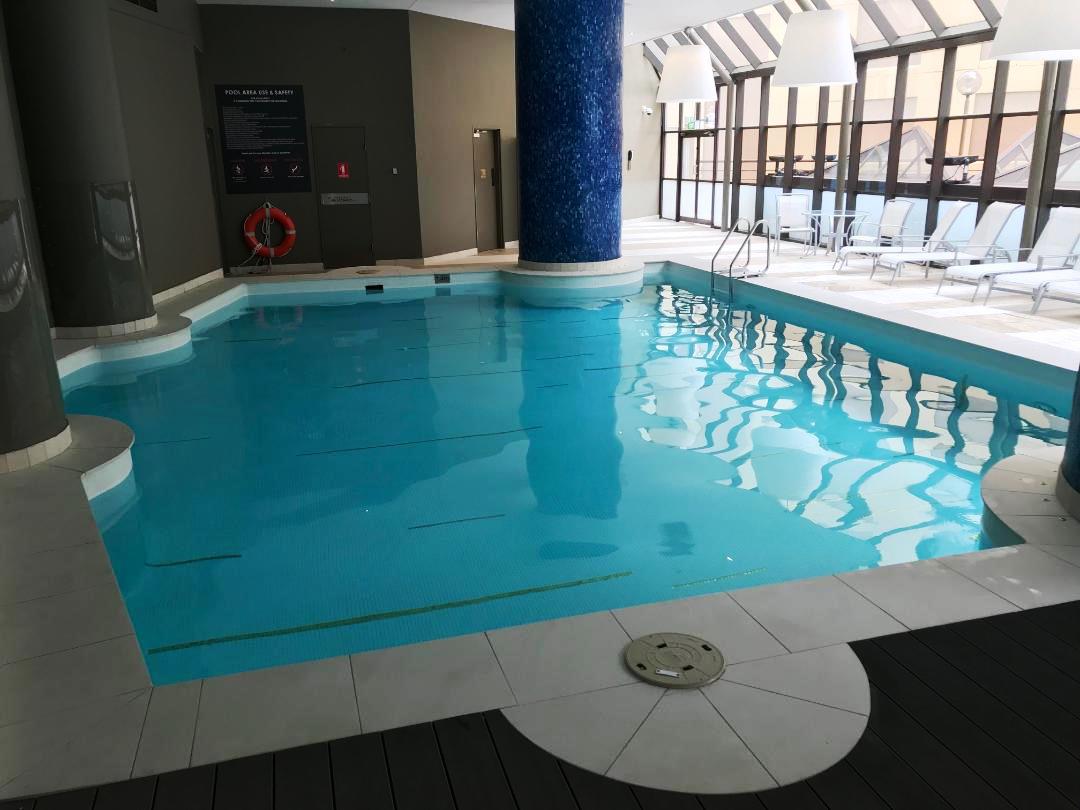 Sydney Harbour Marriott, Pool
There were plenty of towels stocked on a shelf, further out were the electronic lockers for storage.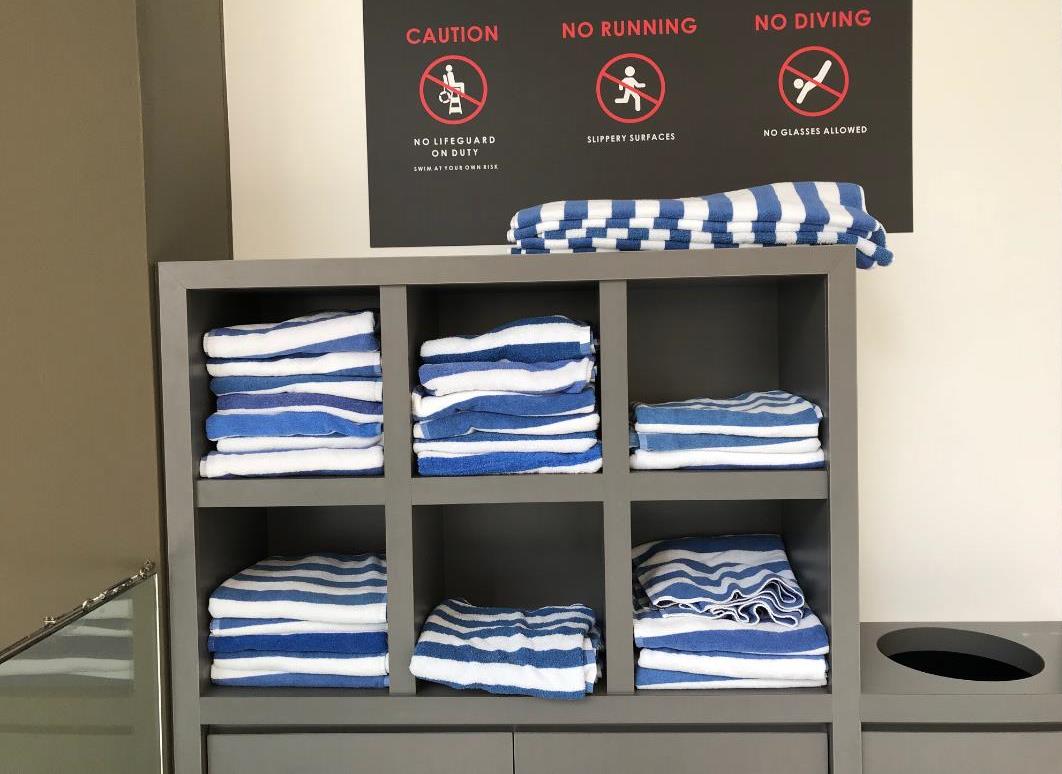 Sydney Harbour Marriott, Pool Towels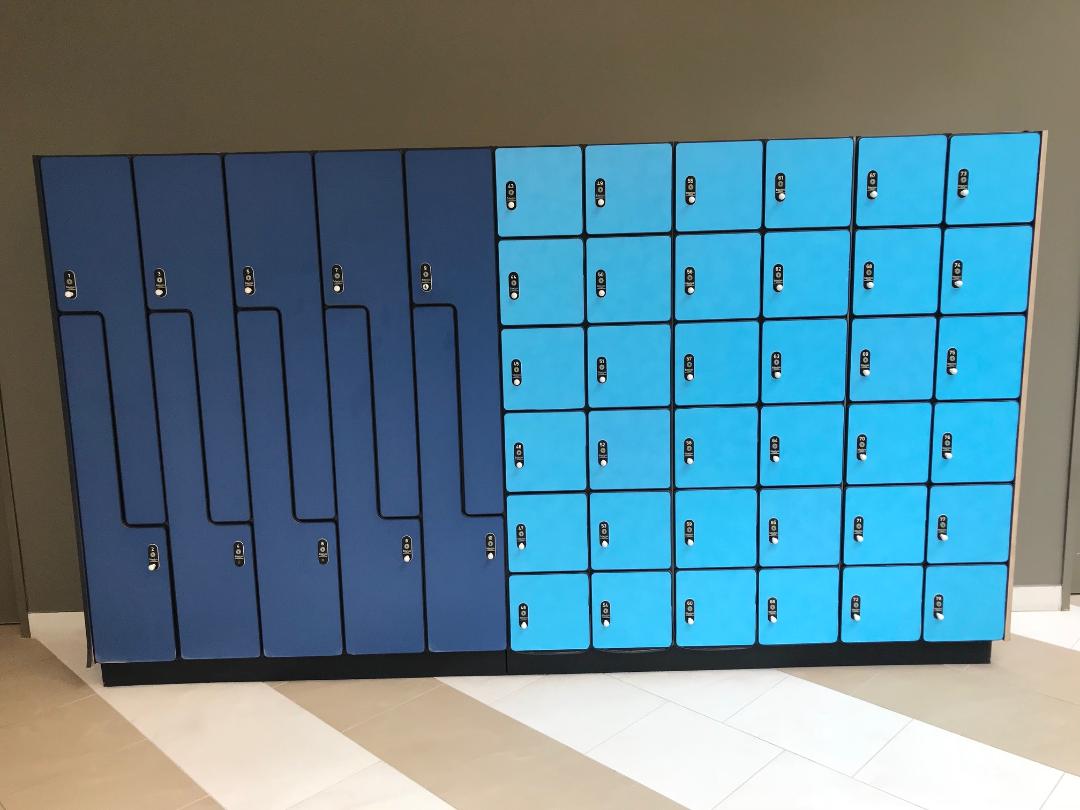 Sydney Harbour Marriott, Lockers
Dining
The hotel has 3 restaurants, Silvester's which is on the Lobby level and open all day serving breakfast, lunch and dinner.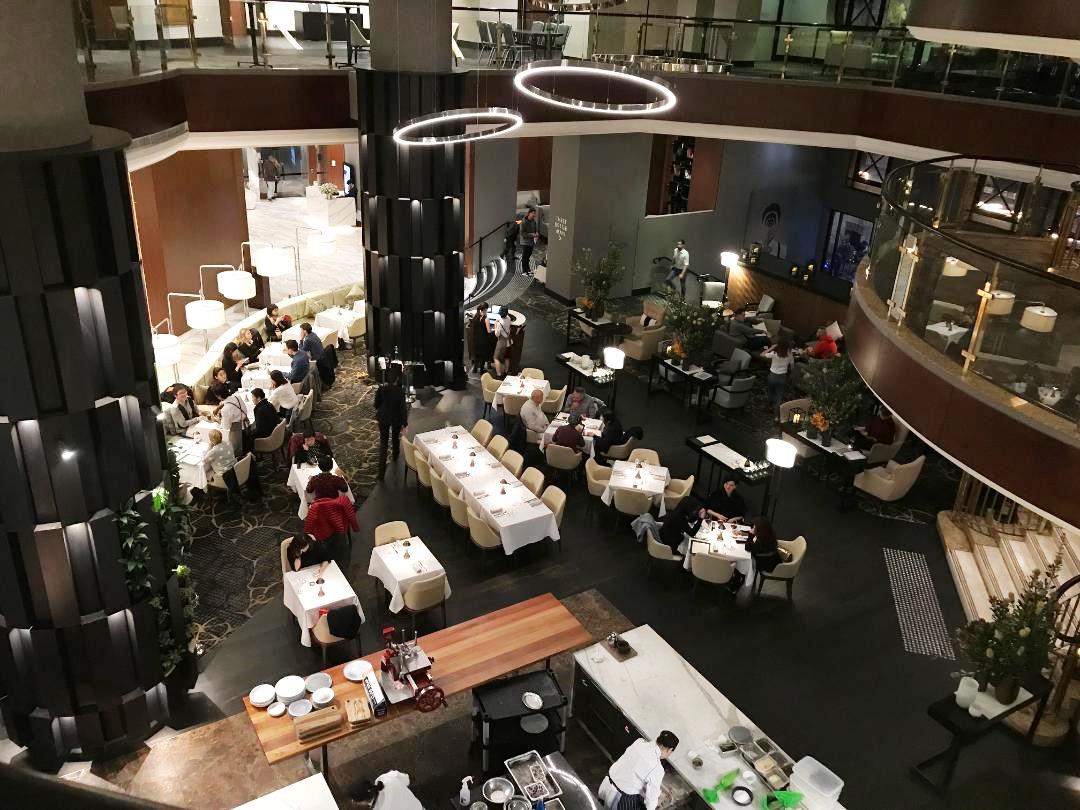 Sydney Harbour Marriott, Silvester's Restaurant
Three Bottle Man bar is a cafe by the day, before transforming into a bar once the sun goes down. It serves breakfast in the morning and a daily rotating a la carte menu and cocktails in the evening. You can check out the full menu over here.
Customs House Bar is the other F&B establishment serving pub themed food and drinks. Live Sports is played on the big screens scattered around the venue.


Sydney Harbour Marriott, Customs House Bar
In Conclusion
Sydney Harbour Marriott at Circular Quay occupies prime real estate in the heart of Sydney city. Whether you are in town for shopping, business, a night out or just to check out the top tourist attractions, the hotel's got you covered. During my stay, the hotel didn't look overly busy but for some inexplicable reason, the staff appeared to be always rushed.
The rooms are small'ish and rapidly ageing. A facelift cannot be too far away. There are high-rises all around the hotel and there isn't much of a view to speak off, from many of the rooms. Some rooms on the higher floors do have views of the Harbour Bridge and Opera House, provided you are prepared to crane out your neck a little.
Given the nature of my stay, I did not get a chance to dine at the in-house restaurants.
If I was a tourist visiting Sydney, I would be happy to stay at this hotel primarily due to it's location. That said, I can't see myself spending too much time inside the hotel except when getting some shut-eye.
Have you stayed at Sydney Harbour Marriott at Circular Quay? How was the experience? Leave a comment below.