Following into Qantas's footsteps, Virgin Australia have launched their own version of points plane. For travel between 1st Dec 2021 and 31st March 2022, Velocity members can book every economy seat on Virgin Australia's domestic network as Velocity Rewards Seat, which is the lowest cost points seat you can get.
Bookings are open now and close tomorrow night (23rd November), so there isn't much time to ponder if you want to take advantage of this promotion.
Sadly, this is a rather poor imitation of what Qantas offered. I say poor because unlike Qantas where every seat (including in business & first class) on every international flight could be booked deep into 2022 for the price of classic reward seat, Virgin Australia are only offering reward seats on domestic flights and only in Economy class. So if you were planning to scoop-up business class flights to Fiji or Bali, you will be disappointed.
Mind you, Virgin Australia are being less than honest when they say every domestic seat as flights to Cocos and Christmas Island remain out of bounds. These flights cost well over $1,000 even in Economy class as you can see below, so this would have made for a great redemption if it could be booked.


Flights to Cocos & Christmas Island are excluded from this promotion
The travel period is until end of March 2022 which is rather limited too.
How many Points do you need
Velocity operates a distance-based reward chart, meaning the further you fly, more points you need. Domestic network is split in 3 broad distance-bands as you can see below.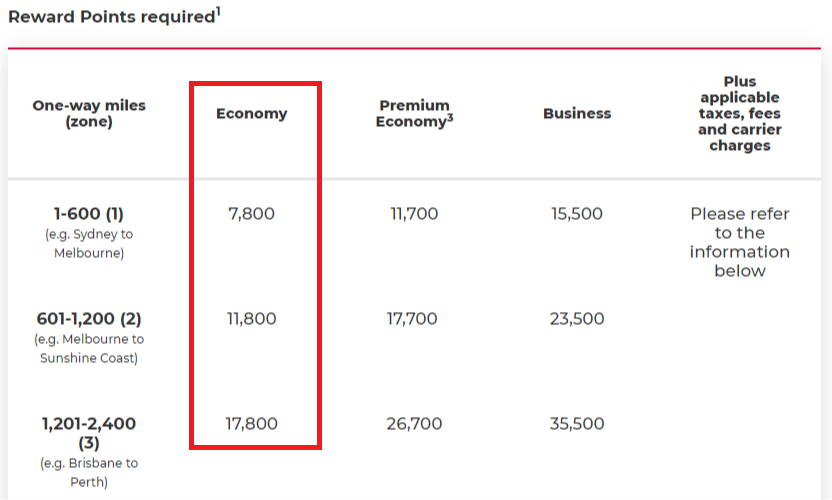 Velocity Frequent Flyer Reward Table
Short hops up to 600 miles such as Sydney – Brisbane or Melbourne – Adelaide cost just 7,800 points. Medium distances between 600 and 1,200 miles such as Perth – Broome or Brisbane – Cairns are slightly more expensive at 11,800 points.
Anything further than 1,200 miles such as the trans-con flights are priced at 17,800 points in economy class.
My Thoughts
I have a hard time getting excited about this promotion. As points and miles enthusiasts can tell, the best value redemptions are generally had when you redeem points for business or first class flights. Sure there are exceptions such as flights to Christmas Island, but these are far and few and rather inconsistent.
The other thing about flying Virgin Australia is that it has heavily slashed prices since coming under the ownership of Bain Capital. So much so that redeeming points, particularly for short distances in Economy class is now a bad deal.
For instance, flights on the golden triangle of Melbourne, Sydney and Brisbane which account for the lions share of air traffic in Australia is ridiculously cheap.
I have recently booked flight from Sydney to both Brisbane and Melbourne for just $69 one way. In fact, at various times during 2021 to compete with Rex, Virgin Australia have sold flights between Sydney and Melbourne for just $37.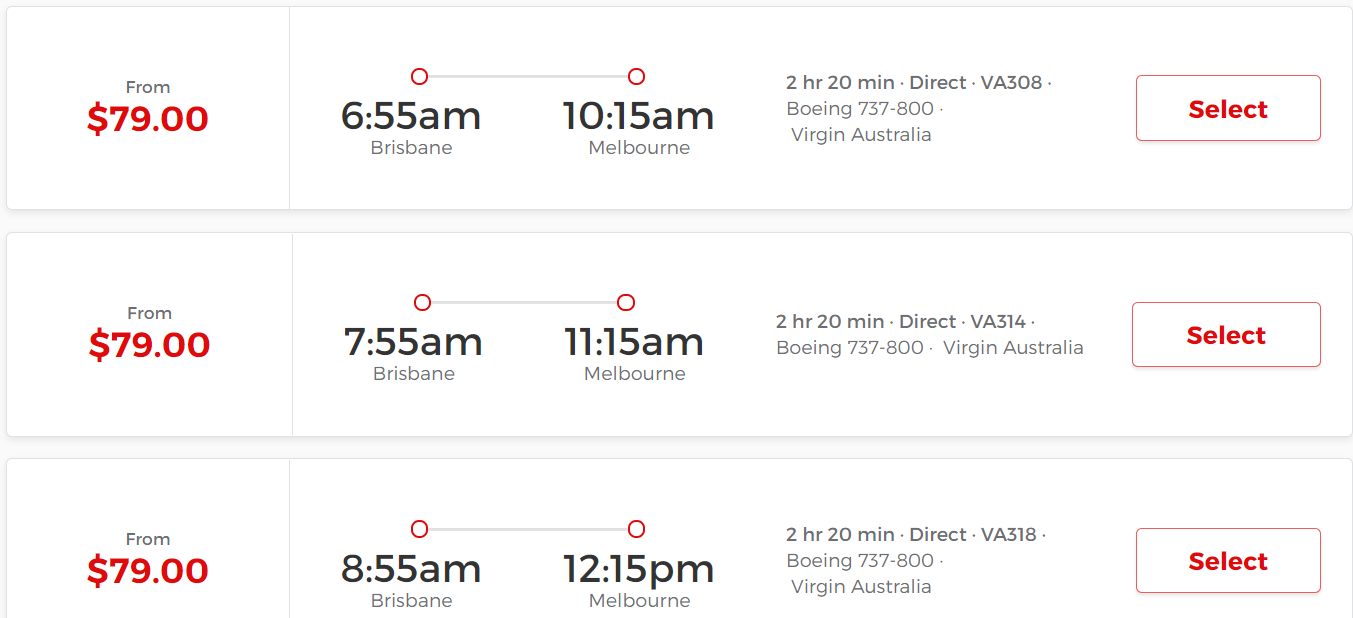 Fly Virgin Australia between Brisbane and Melbourne for $79
Right now, there are plenty of flights between Brisbane – Melbourne on sale for just $79 (see above).
These flights cost 11,800 points. I value Velocity points at 1c pp (1 cent per point), so the points alone are worth $118. When you factor in the taxes, fees and Velocity carrier charges (about $40), which Virgin Australia have jacked up twice in recent years, it adds up to a terrible redemption.
Personally speaking, I will be giving this promotion a pass.
Do you plan to redeem Velocity points for domestic flights? Leave a comment below.