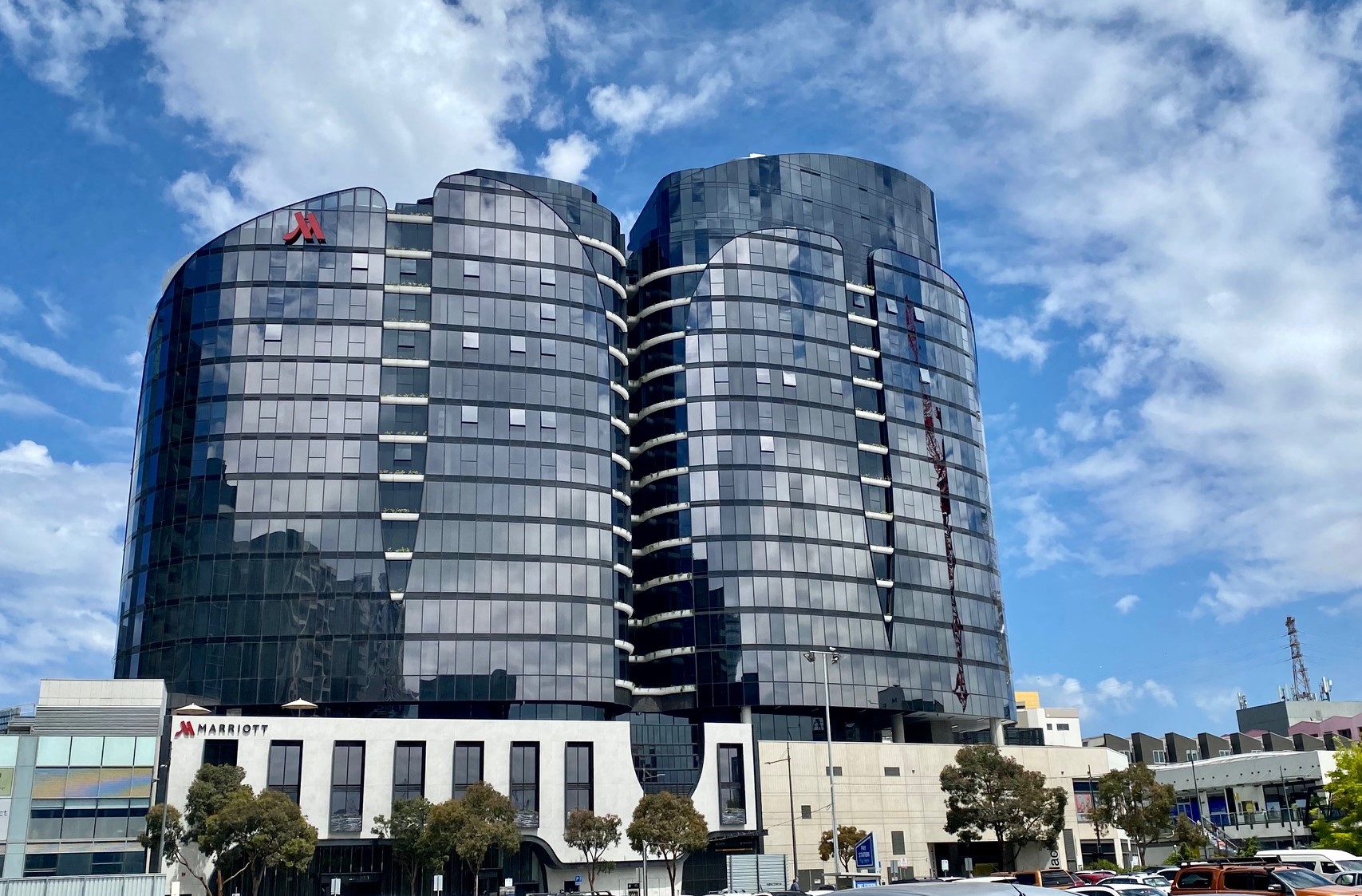 I had been waiting to check-out the Marriott Docklands in Melbourne for a long time – so after multiple bookings and cancellations, I was thrilled when the property finally opened its doors in November 2021.
The following week, I flew to Melbourne and spent a couple of nights experiencing Marriott's newest Australian offering.
Location & Classification
As the name suggests, Marriott Docklands is located in the relatively newly developed Docklands part of the Melbourne CBD, a leisurely 10 minutes tram ride from Flinders Street Station. If you are coming from the airport, your Uber or Ola ride should get you to the hotel in about 25 minutes.
Marriott Melbourne Docklands is a Category 5 property, meaning if you are redeeming points, expect to pay between 30,000 and 40,000 points per night. Cash prices start at around $270, which makes it tricky deciding whether redeeming points is good value or not. Prices during my stay though were unusually low, around $190 per night. I was also able to take advantage of an Amex Offer and save another $80, so I just paid cash.
Note that Marriott is transitioning to dynamic award pricing in March 2022, at which time there will be no Categories or award charts. Award pricing from then on will be closely aligned with prevailing cash rates.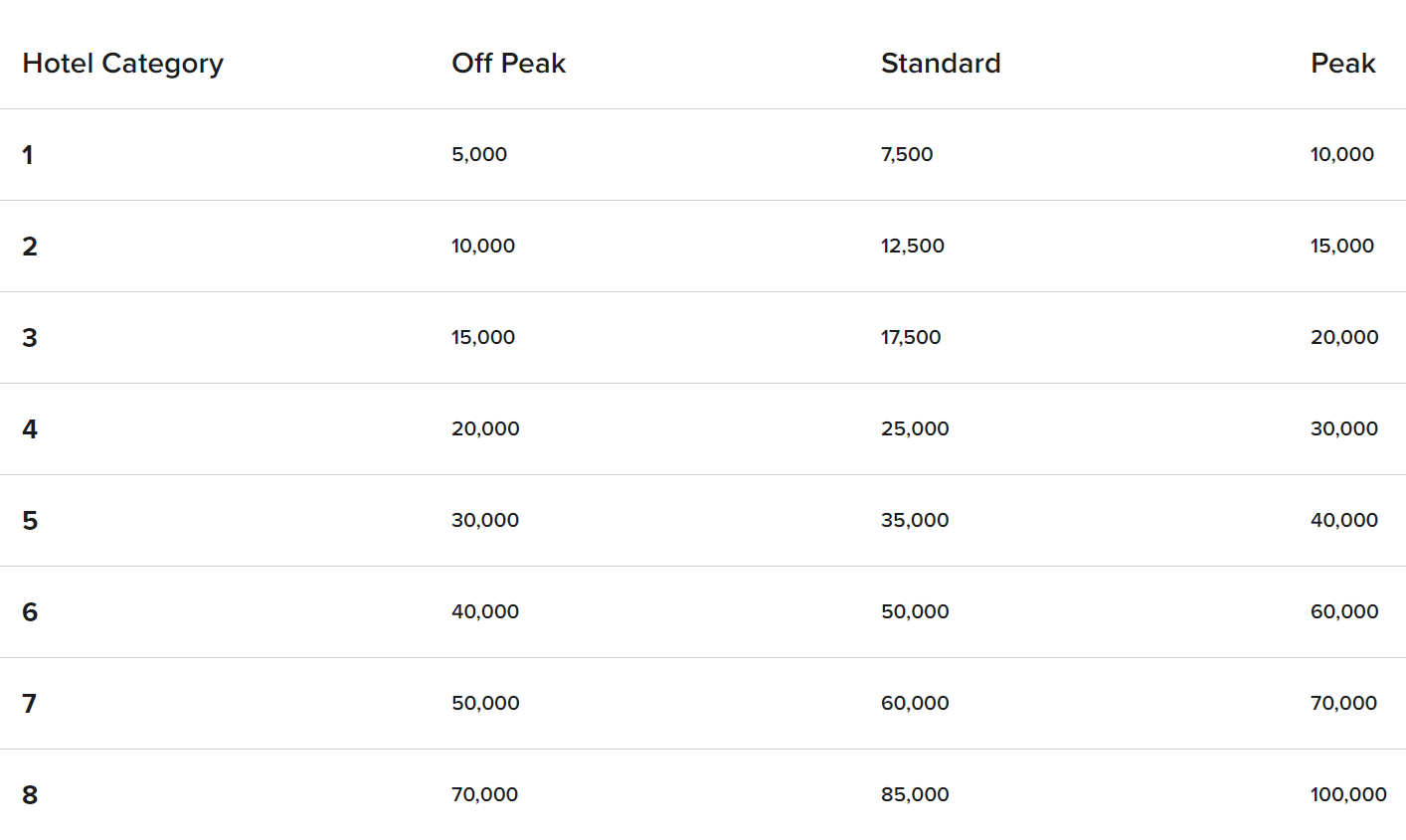 Marriott Bonvoy Award Table
Arrival & Check-in
I arrived at the hotel just before 2 pm. As you come in, the reception is on your left.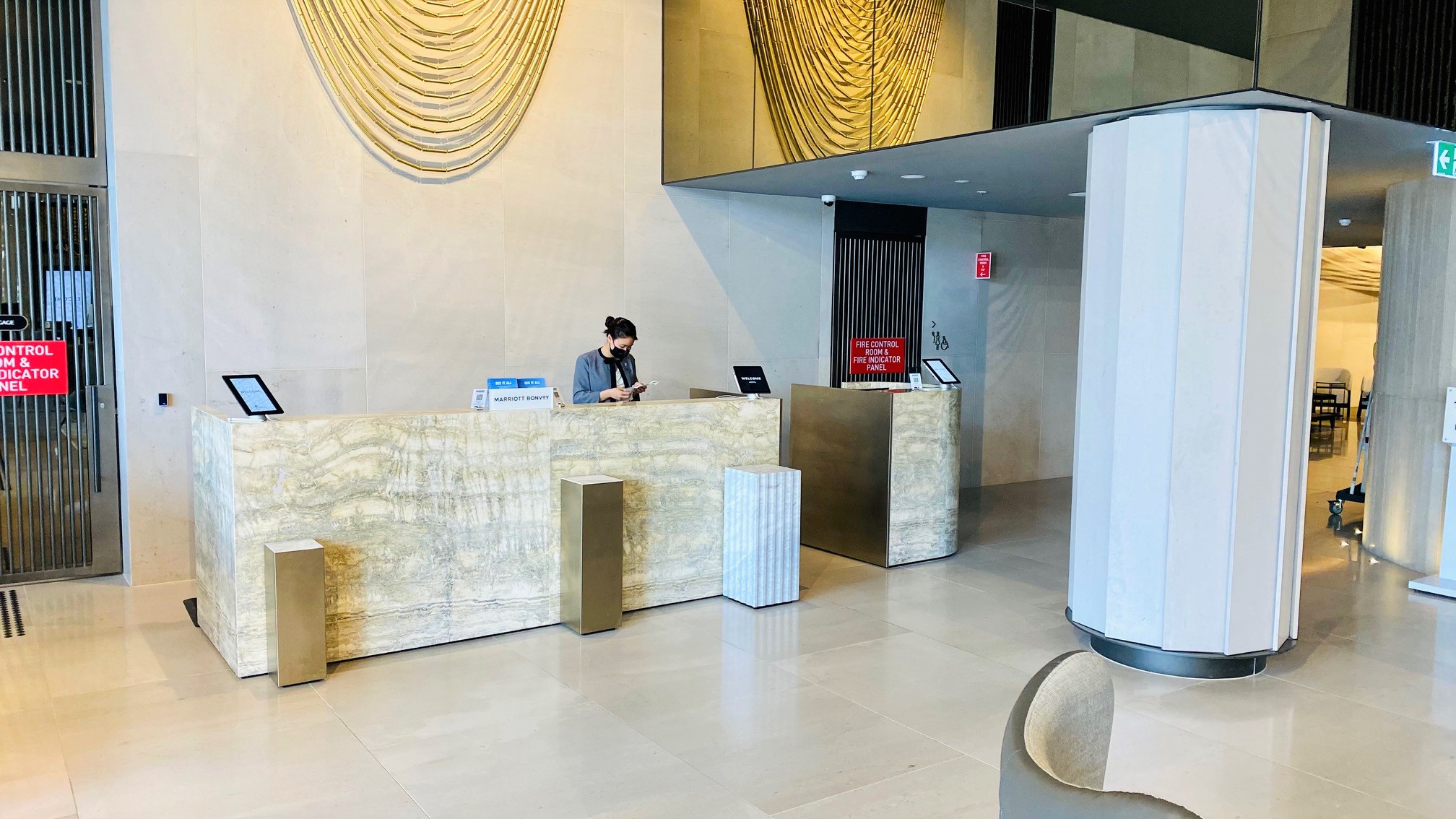 Marriott Melbourne Docklands, Reception
I was promptly attended by one of the staff and advised that my room was still being cleaned and will not be ready for some time yet. The desk staff presented a welcome amenity card and asked me to make a selection. I chose points.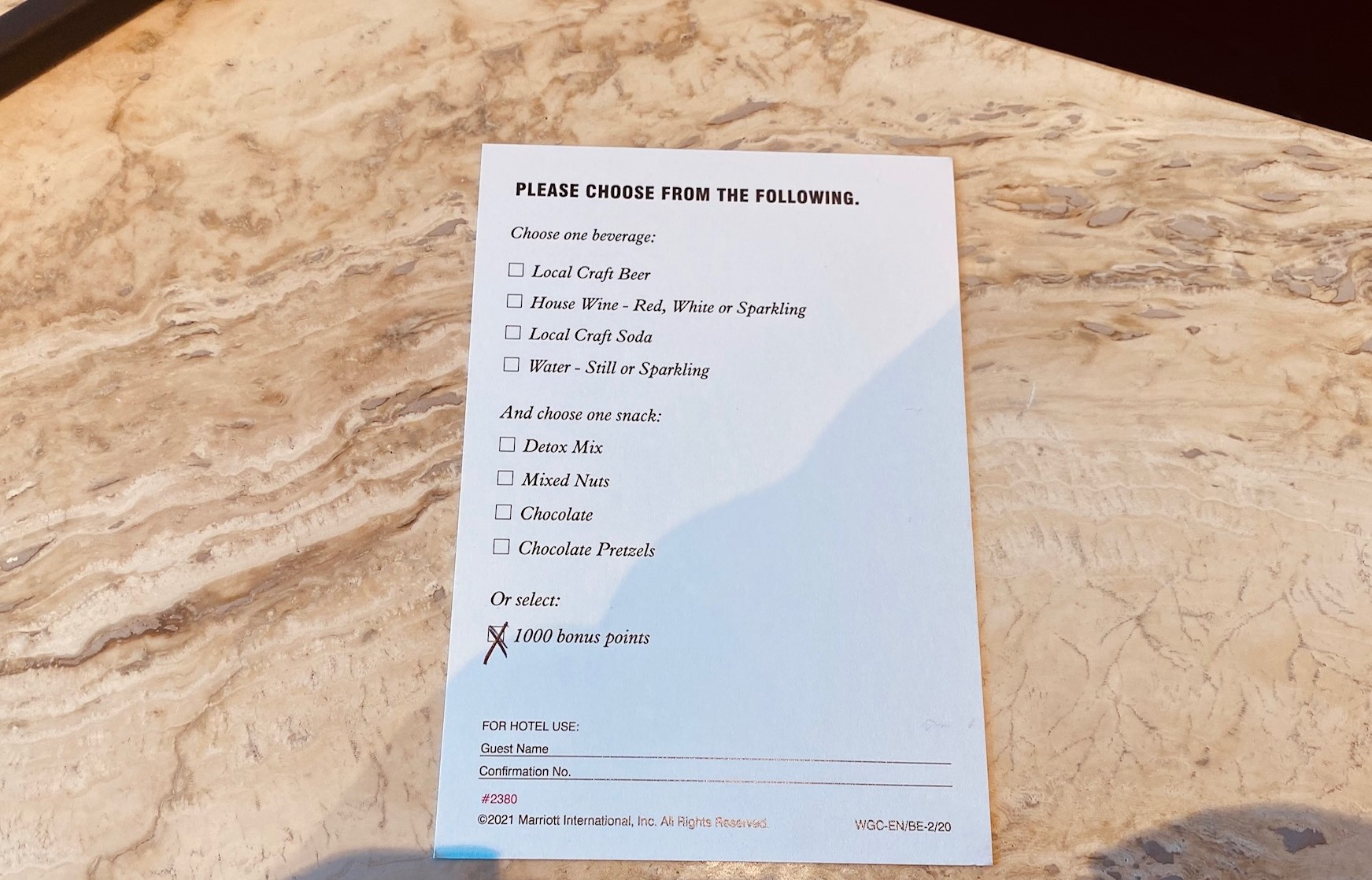 Marriott Melbourne Docklands, Welcome Amenity Card
The check-in process was protracted and a little bit stand-offish, even though I was the only person checking-in at the time. But given that the hotel had been open just over a week, and the industry at large was dealing with crippling staff shortage at that time, it would be unfair to be critical about it. Lets hope though, that this improves with time.
There is a small sitting area in the lobby.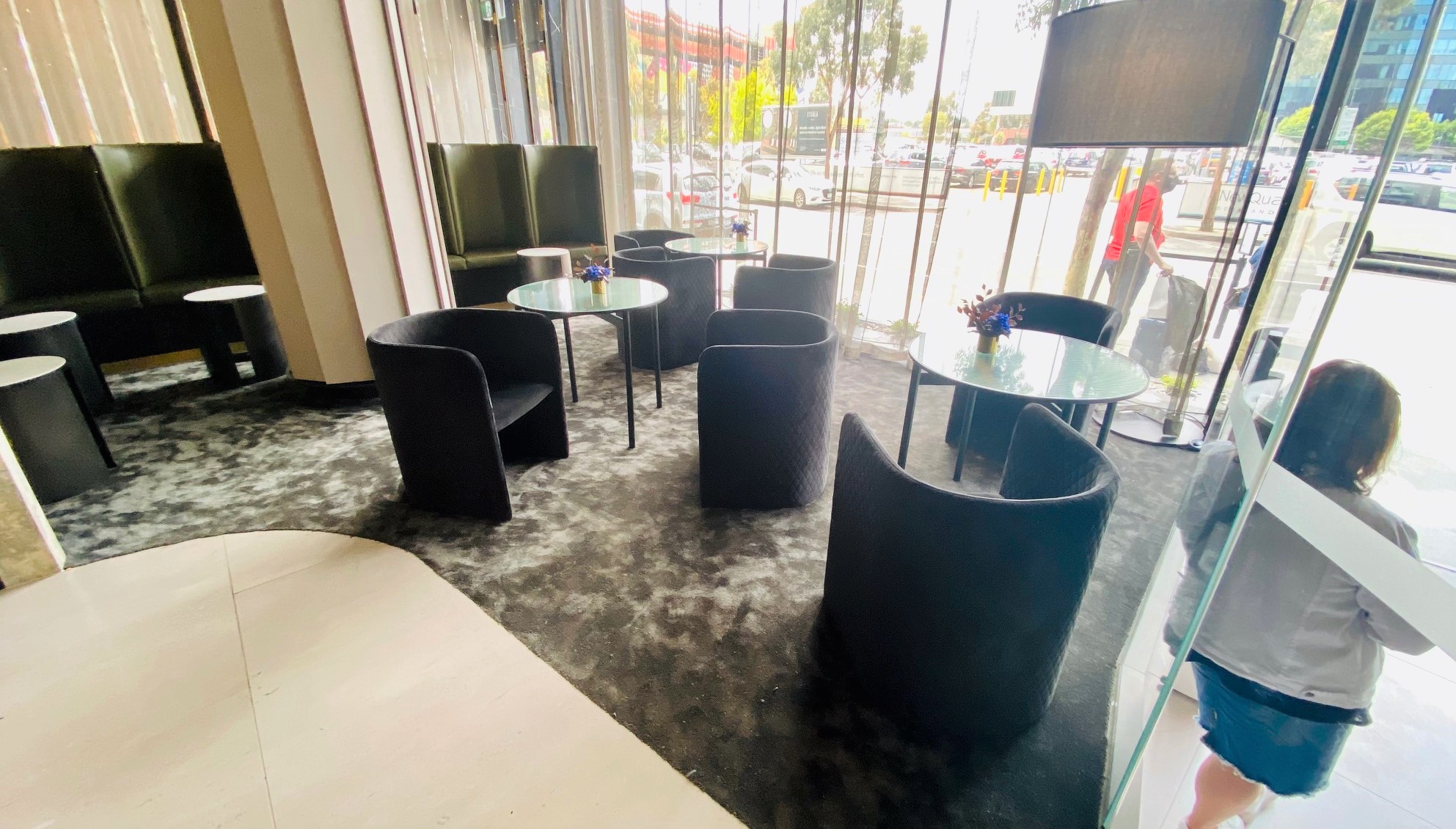 Marriott Melbourne Docklands, Lobby Seating
After finishing checking-in, I picked up my bag and headed to M Club on Level 3 to wait around. At about 3:30 pm, I received a call advising me the room was ready.
M Club King Room
Marriott Melbourne Docklands has a total of 189 guest rooms. The property does not have Suites, with M Club Rooms being their highest category room. My original booking was for the standard Deluxe Room, but the hotel upgraded me into one of their M Club Rooms which was nice.
My room was located on Level 8 which is the highest floor with guest rooms. The building is mixed use and Levels 9-14 are private residences. Then you have the pool and other hotel amenities on Level 15, more on this later.
As you enter, there is a small closet and space to put down your luggage straight up. The closet contained an iron table and an electronic safe.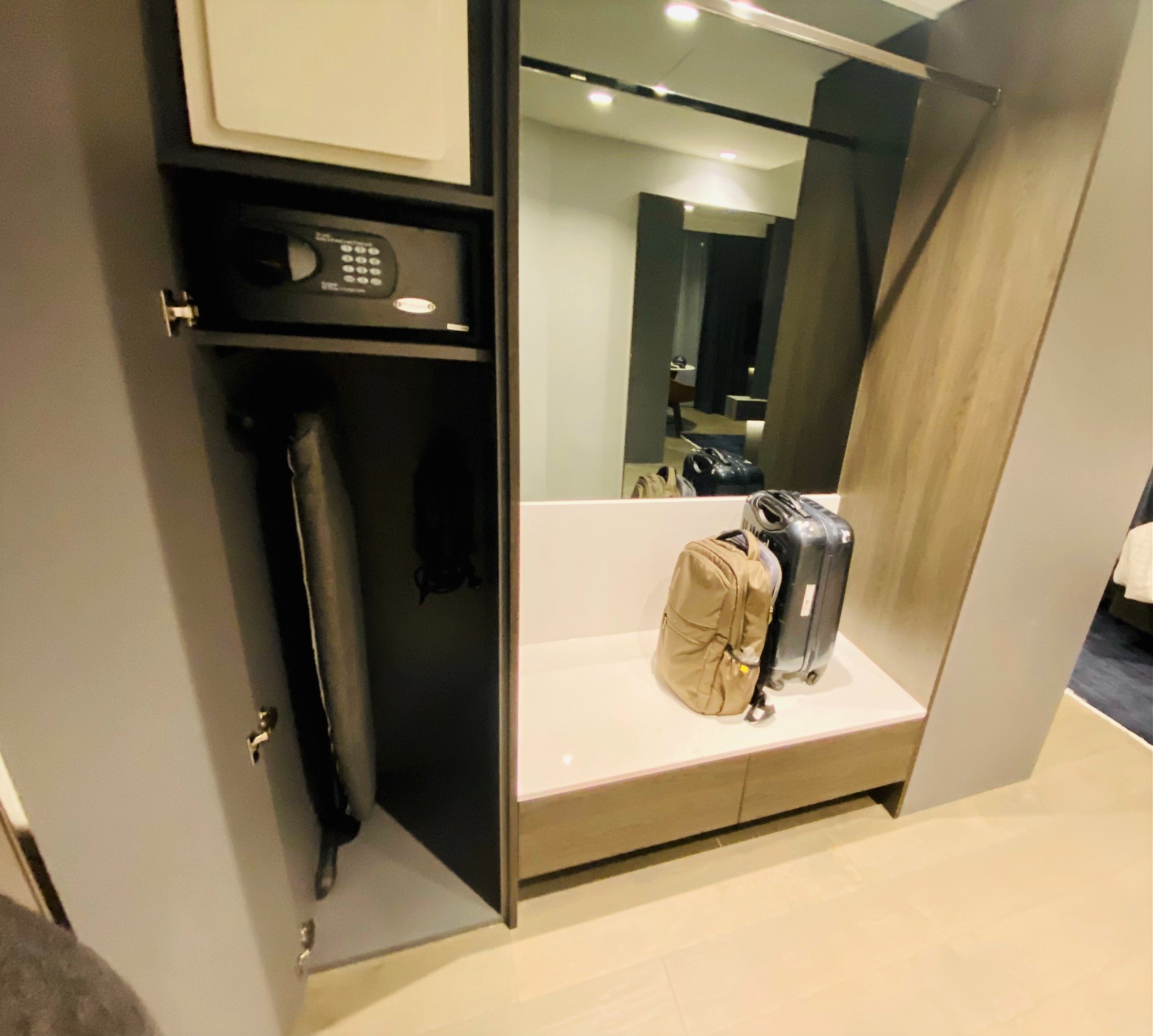 The space opens up into the rest of the room which I thought was on the smaller side.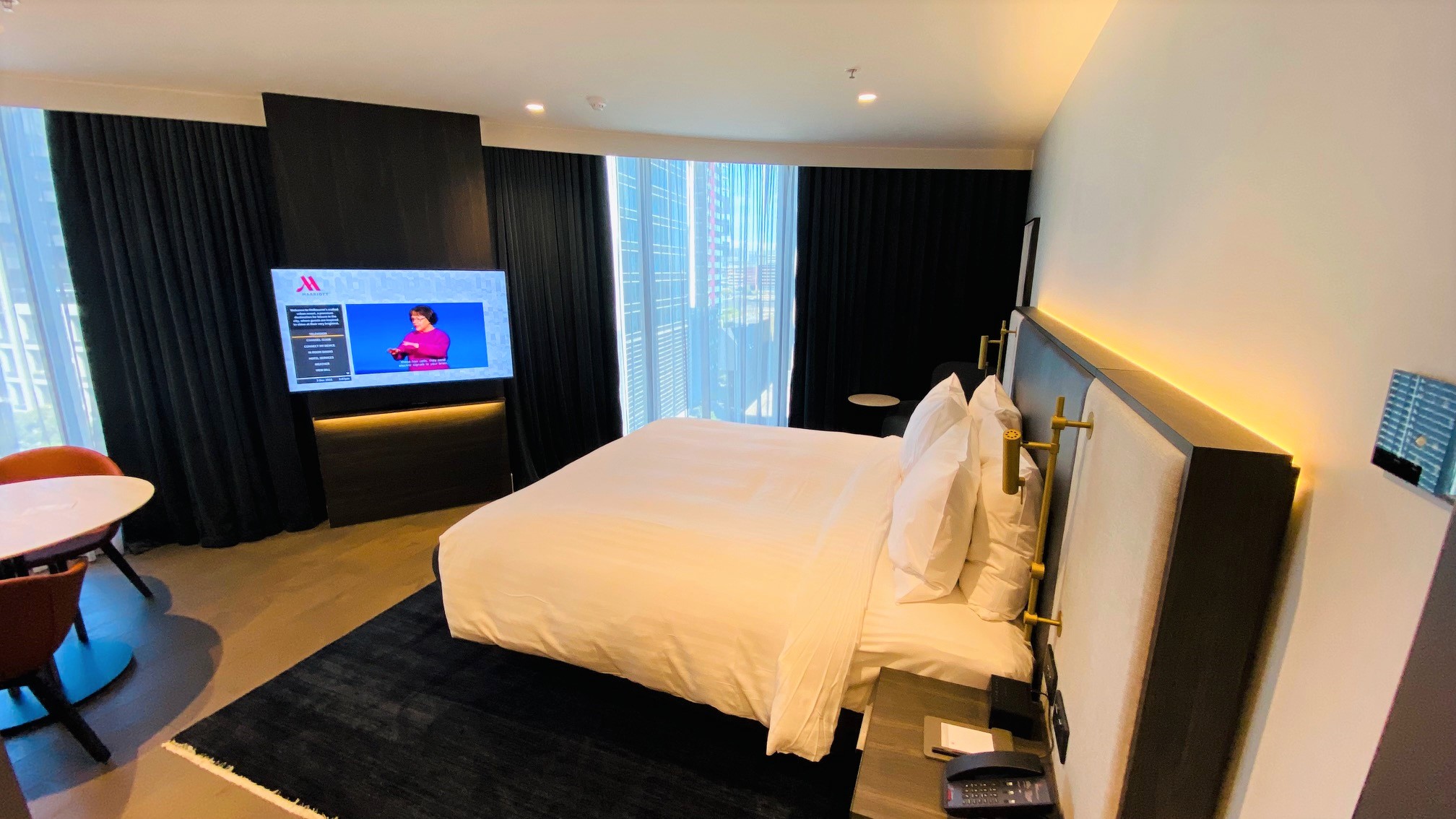 Marriott Melbourne Dockland, M Club King Room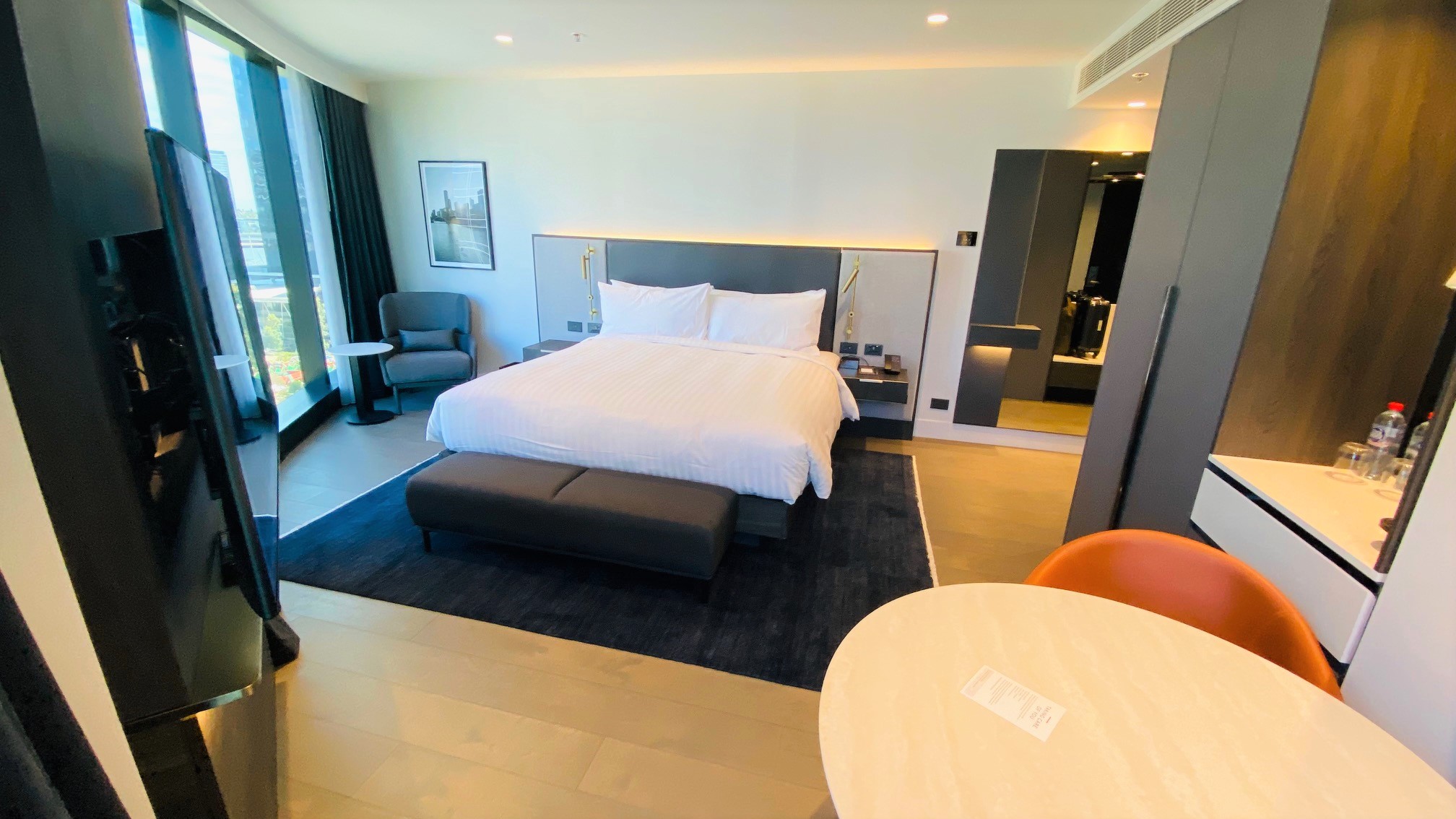 Marriott Melbourne Dockland, M Club King Room
A large King size bed formed its centrepiece and took up most of the space.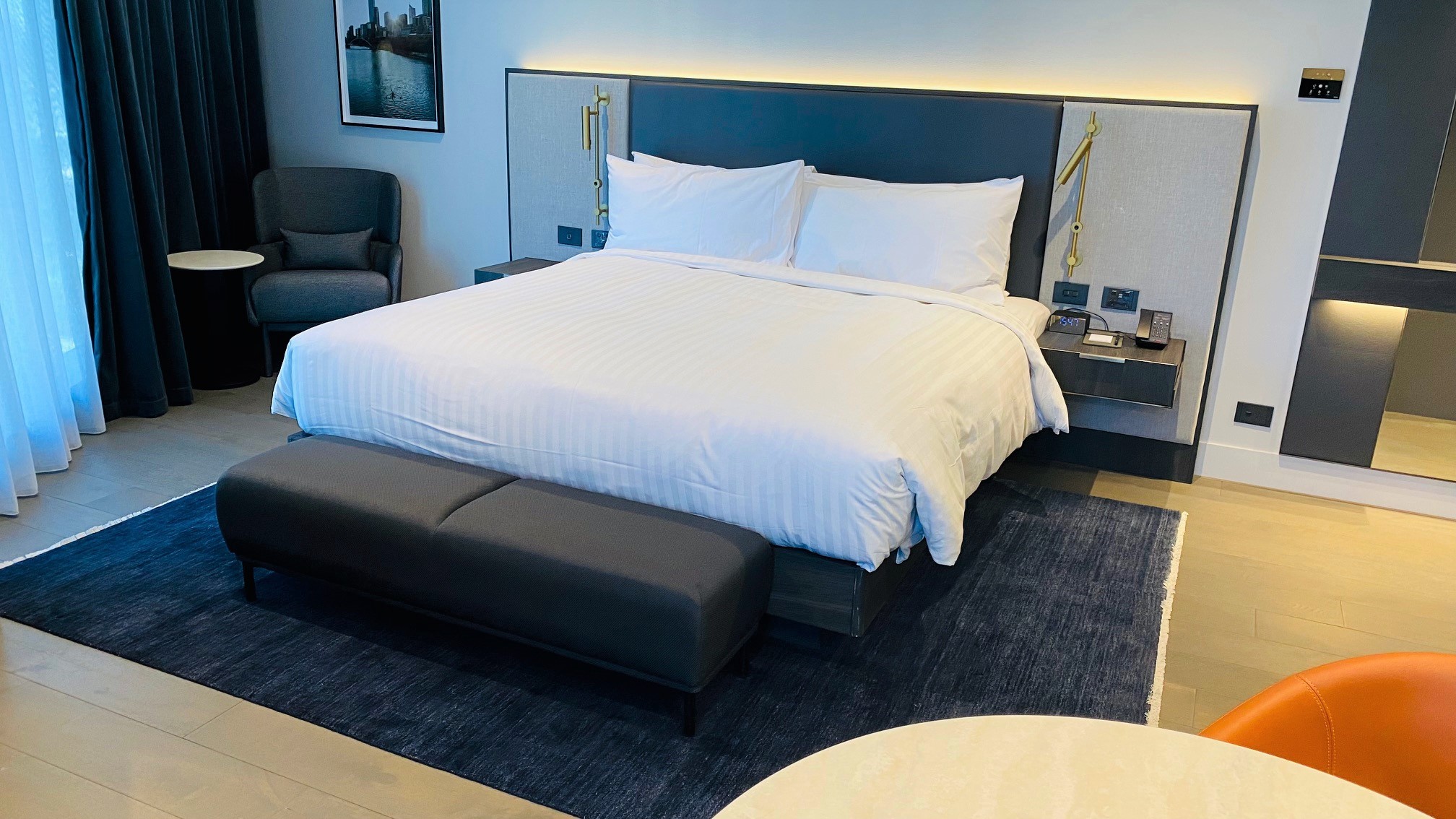 Marriott Melbourne Dockland, King Bed
There were no less than 4 pillows on the bed, each one of them terribly soft and fluffy. Now I realise most people like soft pillows so this shall suit them just fine. I however, prefer my pillows to be slightly firmer. I have never been able to sleep well on pillows that sink right in as you rest your head on them. This was remedied the next day when the hotel provided me a change of pillow.
The old-style bedside tables were nowhere in sight, instead the bed was flanked with fixed stands on each side. A reading light and a modern outlet with multiple USB ports completed the set up.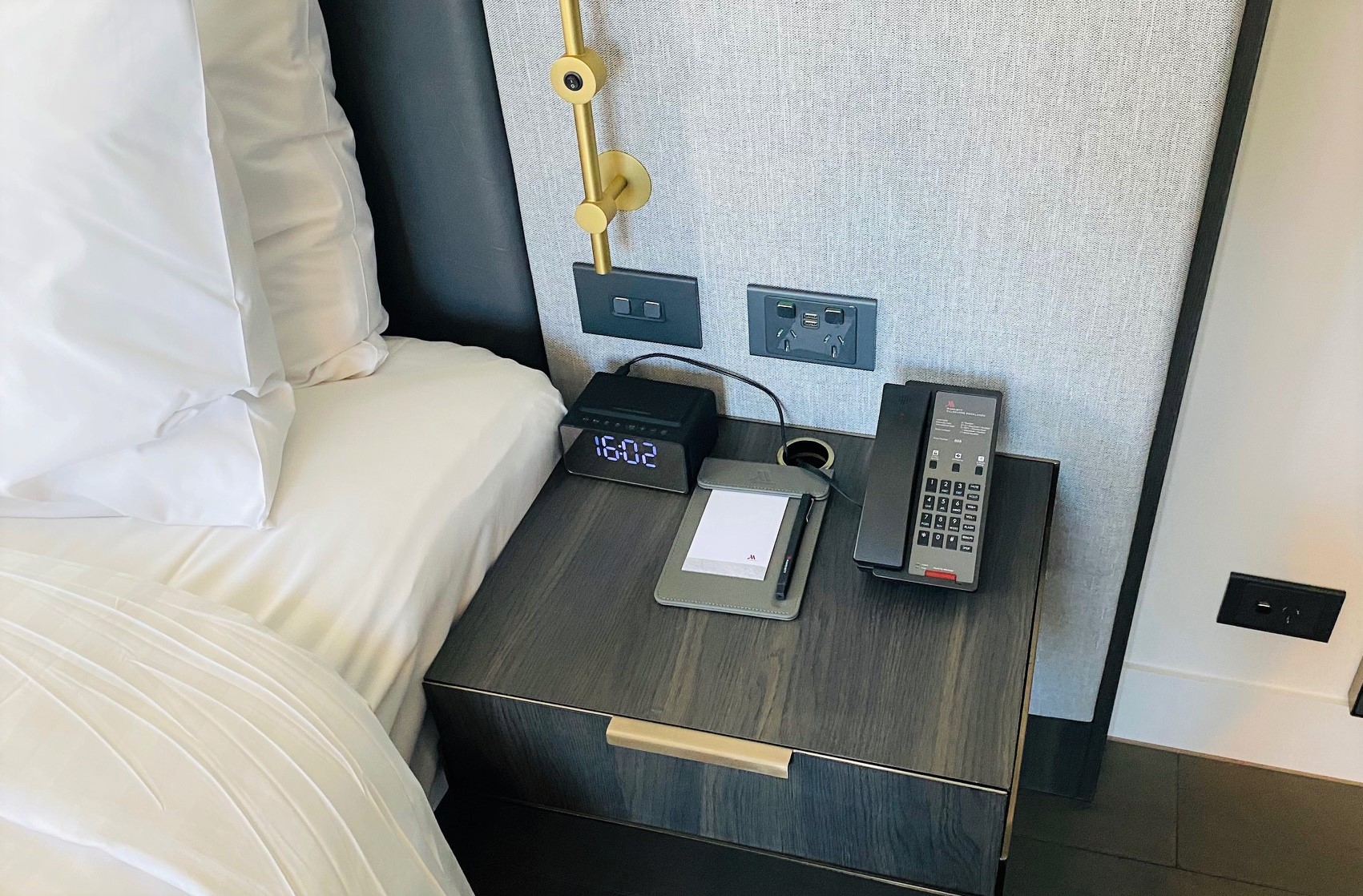 M Club King Room, Bedside Stand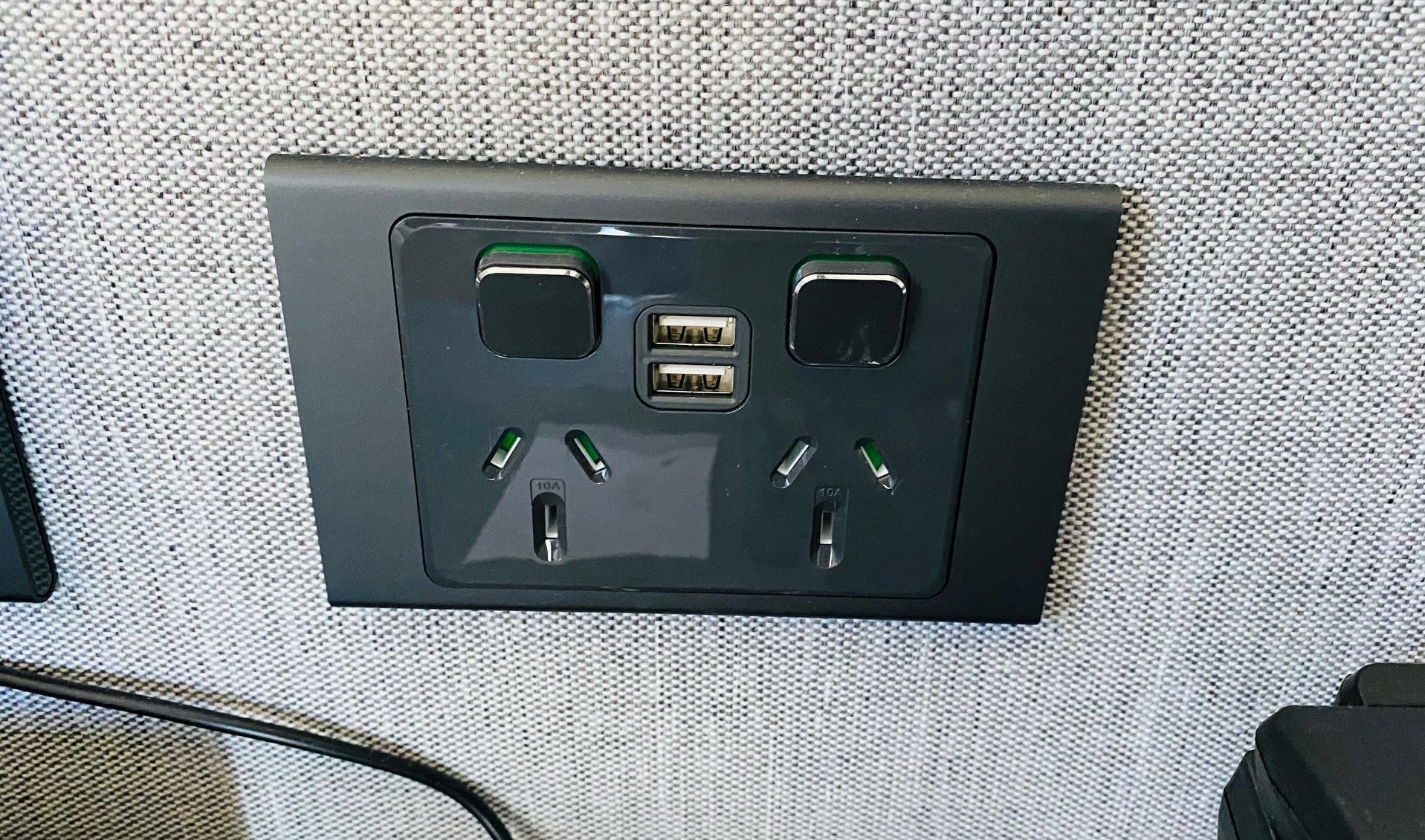 M Club King Room, Bedside Outlet
There was a chair and a small table on the other side of the bed, perfect to chill out with a book (or a kindle if that's your thing) and contemplate when (if ever) the world will bring an end to the hideous virus.
The views from the giant floor to ceiling windows were of the street below and the gazillions of high-rises that have come to dominate Docklands skyline in recent years. There were glimpses of Dockland's beautiful waterfront from in-between the buildings.
Back in, there was a large wall-mounted flat screen TV opposite the bed
and a faux marble round table with a pair off swivel chairs clad in leather.
There is no dedicated working space in the room, but there is a power outlet on the wall near the table. If you were planning to do some work, this is where you set yourself up. The hotel offers super fast wifi connection. I ran a speed test and it clocked out at over 230 Mbps, which for Australia is incredibly fast. I think I have only ever experienced such speeds once before, and that was in Singapore.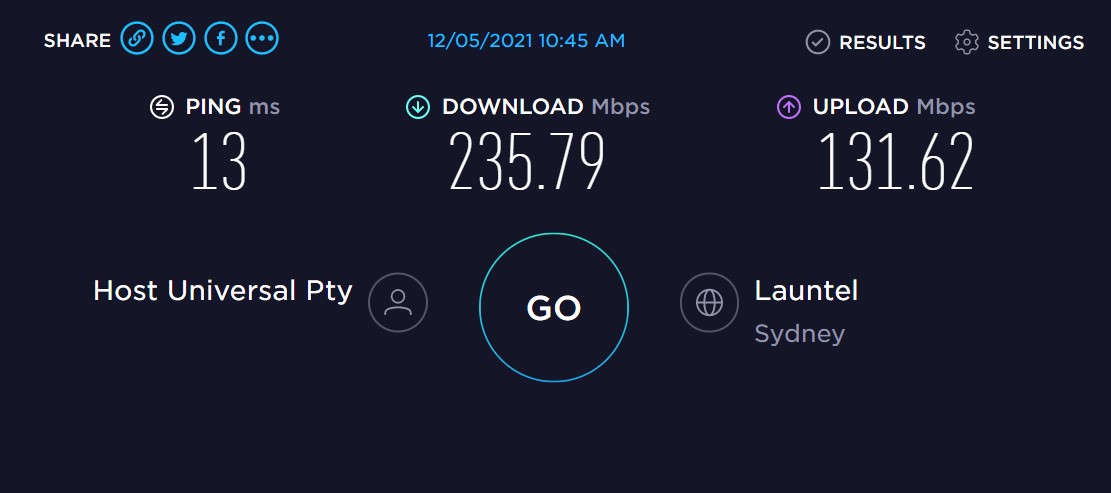 Marriott Melbourne Dockland, Speed Test Result
The room's mini bar is next to the table, there was a coffee maker and 2 bottles of water at the top. The drawer underneath contained sweet and sugary snacks, coffee tabs, condiments and a few cups.
Further down, you had a bar fridge stocked with milk, juices, fizzy drinks and some wine.
There is a large wardrobe next to the mini bar, inside you will find a pair of robes and room slippers.
A narrow passageway along the window leads to the bathroom, which was a decent size.
The vanity was plenty big and contained a single sink and a large mirror. There were towels, dental and hygiene kit and Thann branded toiletries.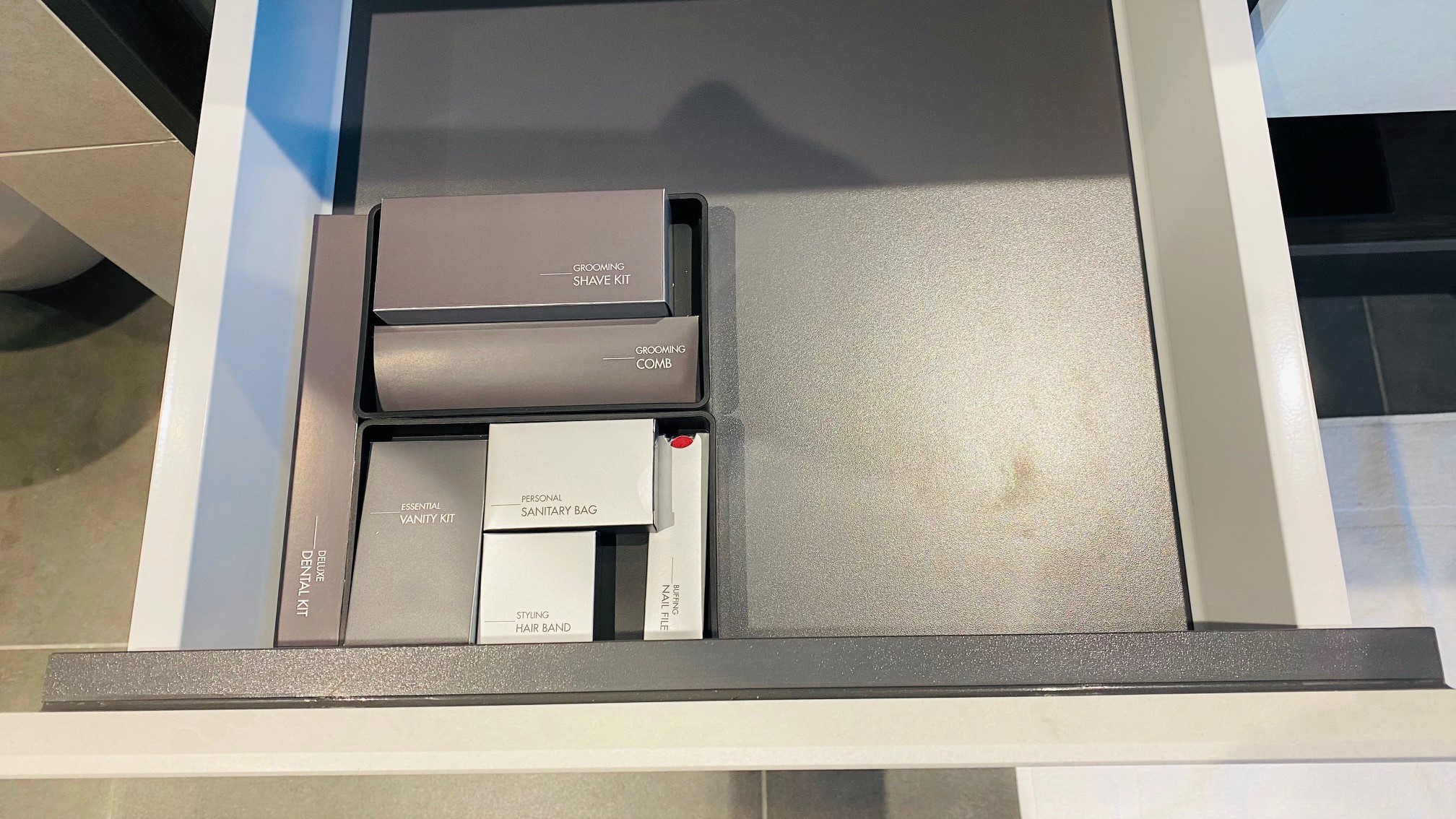 M Club King Room, Dental & Personal hygiene kit
The shower was roomy and fitted with the hand-held as well as the fixed shower-head.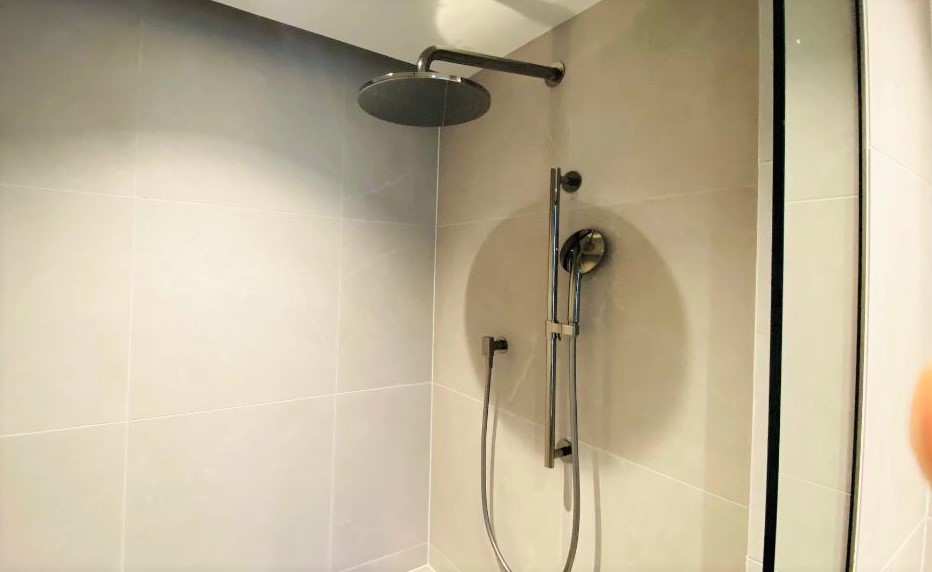 M Club King Room, Shower-Heads
The most glaring omission was the hot tub, which I know some of the other rooms have. Overall though, I thought the room was reasonably good if a little cosy.
M Club
Marriott Melbourne Docklands is home to Australia's first and only M Club. If you are not familiar, M Club's are Marriott's contemporary take on conventional Executive Lounges that you might have seen in other group properties, particularly the Sheraton's and JW's.
The Club, located on Level 3 is open 24/7 and all Marriott Bonvoy Platinum, Titanium and Ambassador elites get complimentary access to it. Non elites can book the M Club rooms, which are priced higher but come with Club access.
There is a meeting room that Marriott Bonvoy elites as well as guests with M Club access can reserve. Perfect spot to get some work done.
The dining area is located behind the reception and wears a plush look.
There is an outdoor seating area, which weather permitting, would make for a great spot to eat your breakfast or share a few laughs over drinks with friends and colleagues.
The Club can accommodate up to 30 people at a time, although at no time did I see more than a handful of guests.
Although the Club is always open, it mainly operates during the breakfast hours on weekends (7-11 am) and for daily drinks and canape service (5-8 pm). If you come outside of these times, the Club may not be staffed and you will have to self-serve drinks and snacks.
I ate breakfast in the Club on both mornings and the menu was pretty much identical on both days. Do note that compared to the restaurant, the Club breakfast is somewhat limited in its offering, mainly on account of its smaller size.
I will let the pictures do the talking for this part.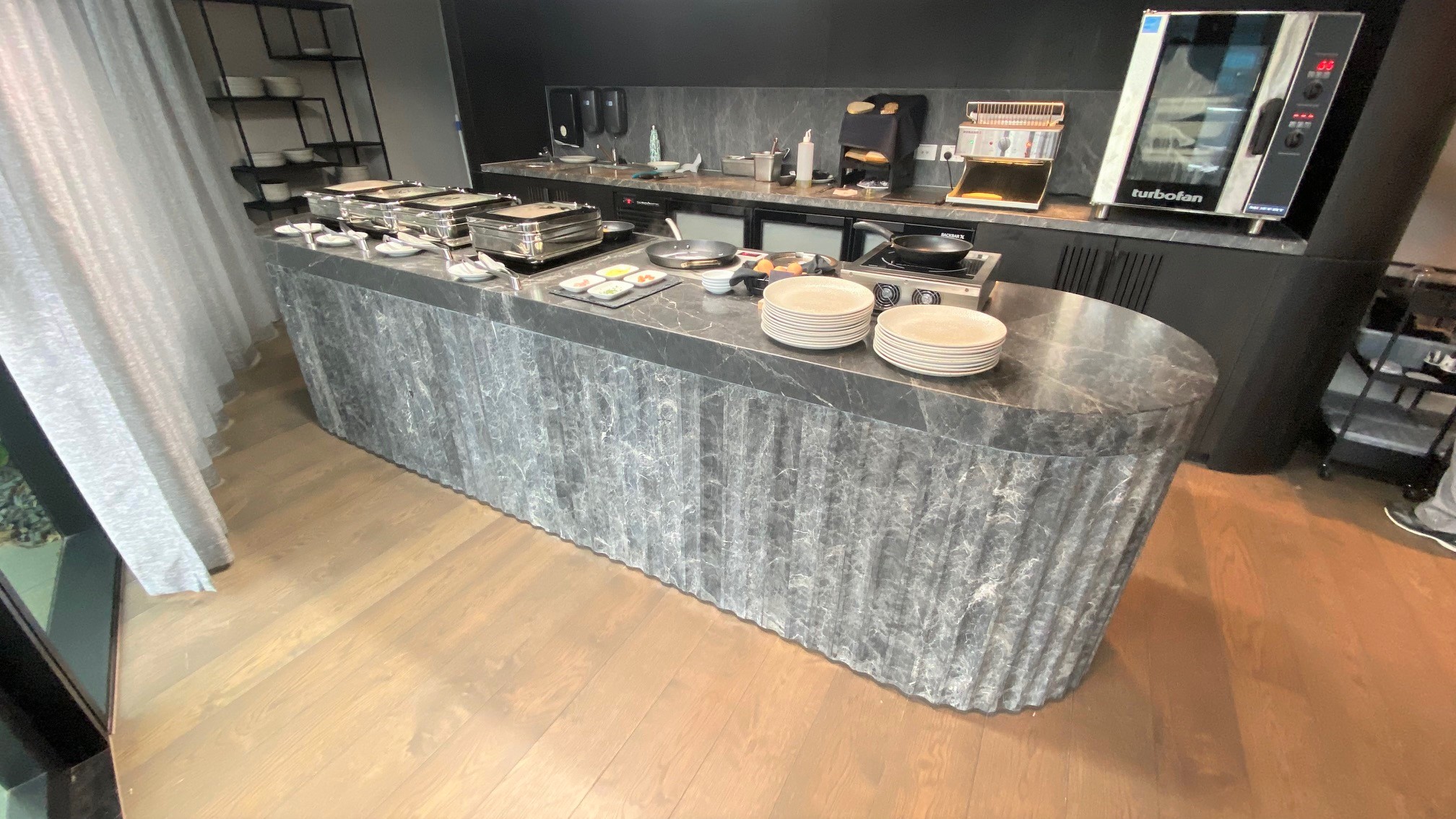 M Club Breakfast Buffet Station
On another table, you had fruits, a cheese platter, cold-cuts and pastries.
Each table had a card to order the eggs the way you wanted them. Mark your selection and take it to the chef who will prepare and deliver it to your table. Juice, tea and coffee are also brought to your table.
I had a simple breakfast of fried eggs and sourdough toast, plus some bircher muesli which was delicious. The coffee was machine made and missed the mark. Luckily, this was Melbourne so good coffee was easy enough to find.
The Club lays out the drinks and canapes in the evening. While not quite the lavish spread you see in places such as South East Asia, expect to find a handful of hot food items, an assortment of cheese and crackers, fruits and cold-cuts not too dissimilar from the breakfast.
The desserts looked absolutely delectable.
The bar is nicely stocked and offers a full range of drinks, there's wine, beer, spirits and sparkling champagne.
Fancy something salty and spicy to go alongside your tipple, help yourself to some wasabi nuts.
Given that a large proportion of hotel guests are likely to be corporates, the M Club is a perfect place for head honchos to kick back after a long day in the office.
Drinks and Dining
The property houses a number of drinking and dining establishments.
Archer's
Archer's is hotel's primary dining venue. Located on the Ground Level, it is open for Breakfast, Lunch and Dinner. The restaurant's design and architecture is inspired by Melbourne's historic bridges and train stations and visible in it's curved ceiling.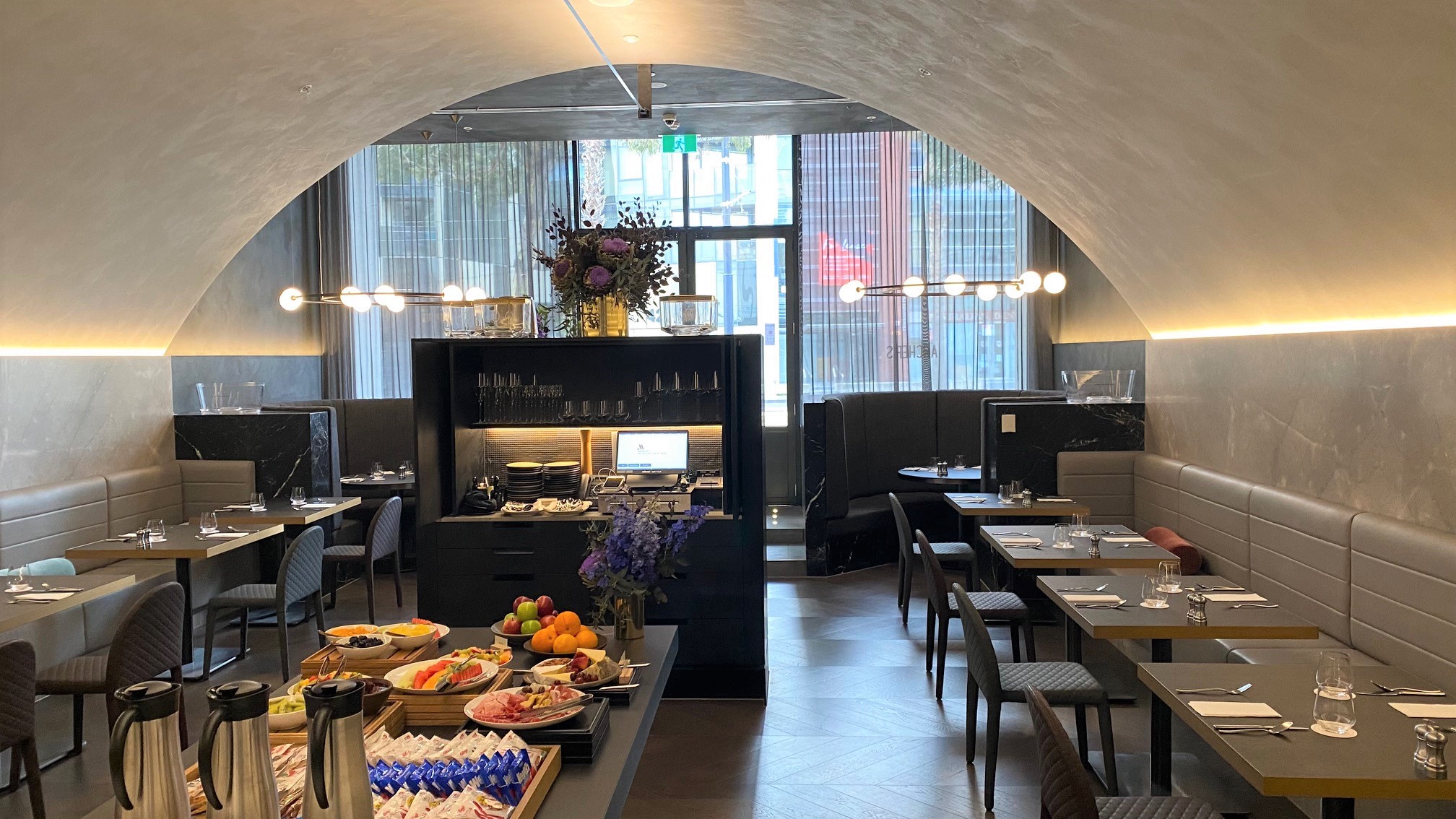 Marriott Melbourne Docklands, Archer's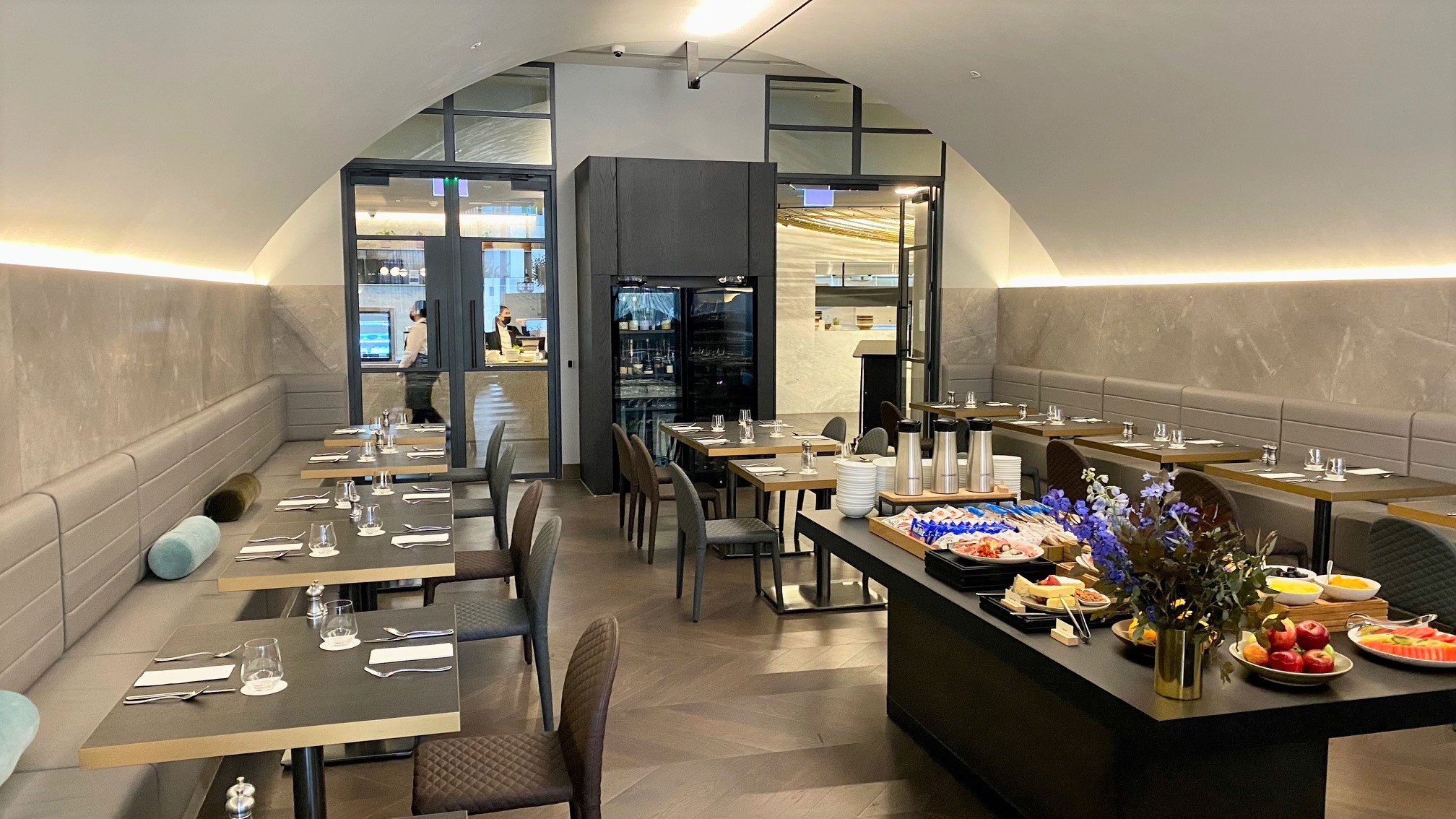 Marriott Melbourne Docklands, Archer's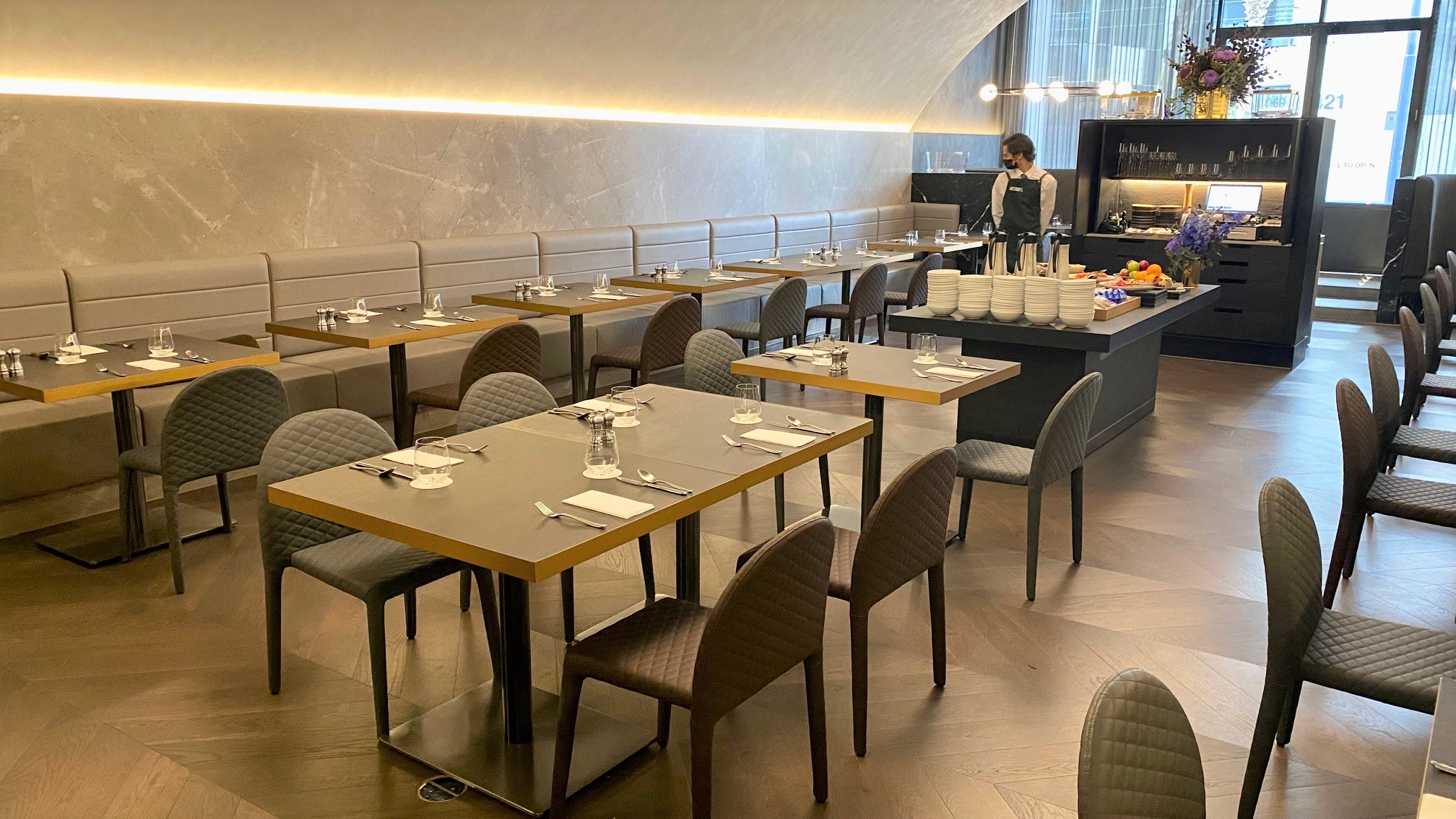 Marriott Melbourne Docklands, Archer's
This is also where they serve breakfast to all guests. I did not get a chance to dine here, but if the design and interiors are anything to go by, diners are in for a treat.
Ada's
Ada's is the hotel's hip lobby bar, serving everything from the humble flat white to fancy cocktails. Located on the Ground level, opposite from the check-in desks, Ada's is open daily between 9am and 9pm.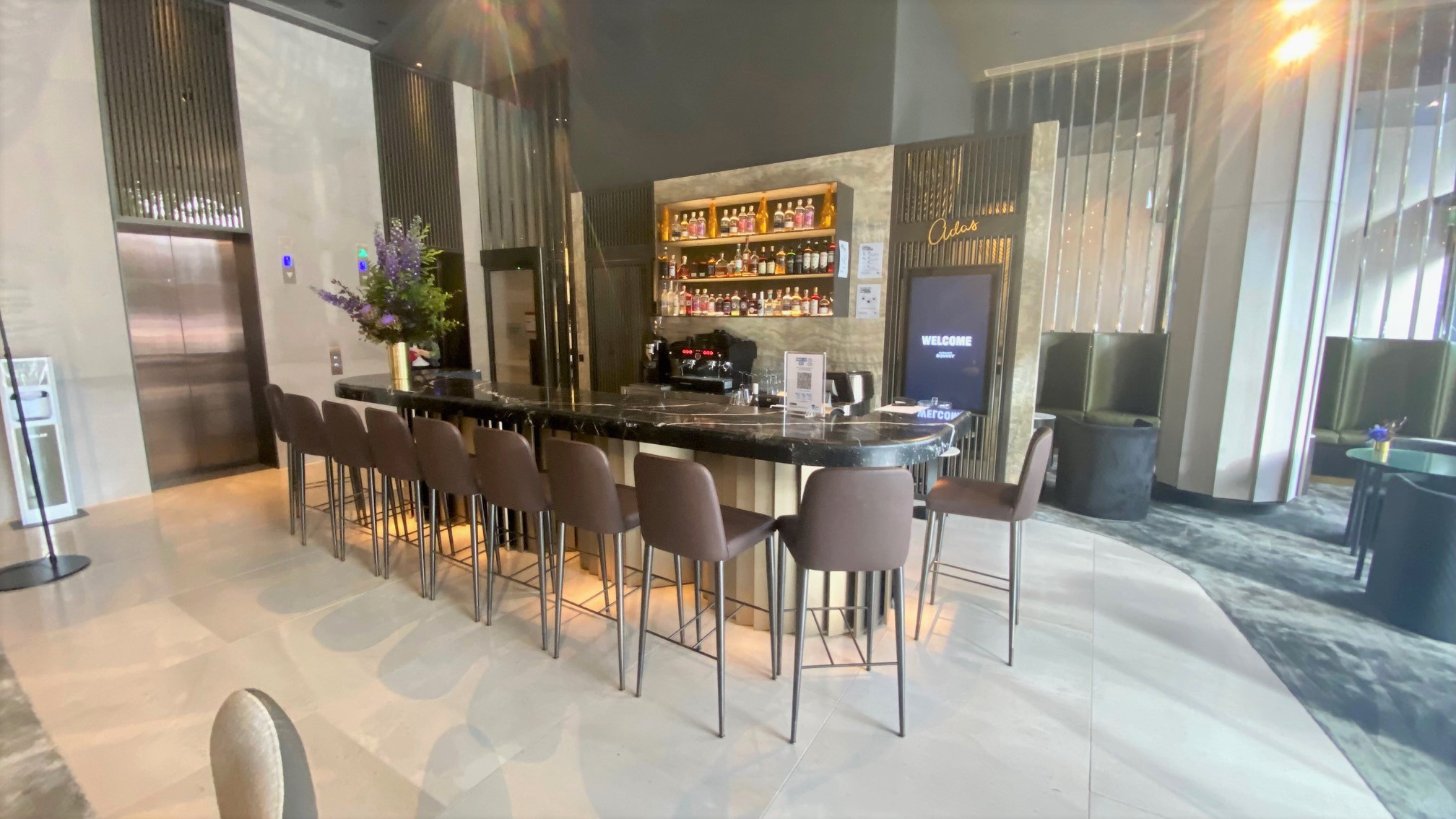 Marriott Melbourne Docklands, Ada's
Sunset House
Sunset House is a rooftop pool bar located on Level 15. Marriott markets this as Melbourne's newest must-visit social destination, and it is easy to see why.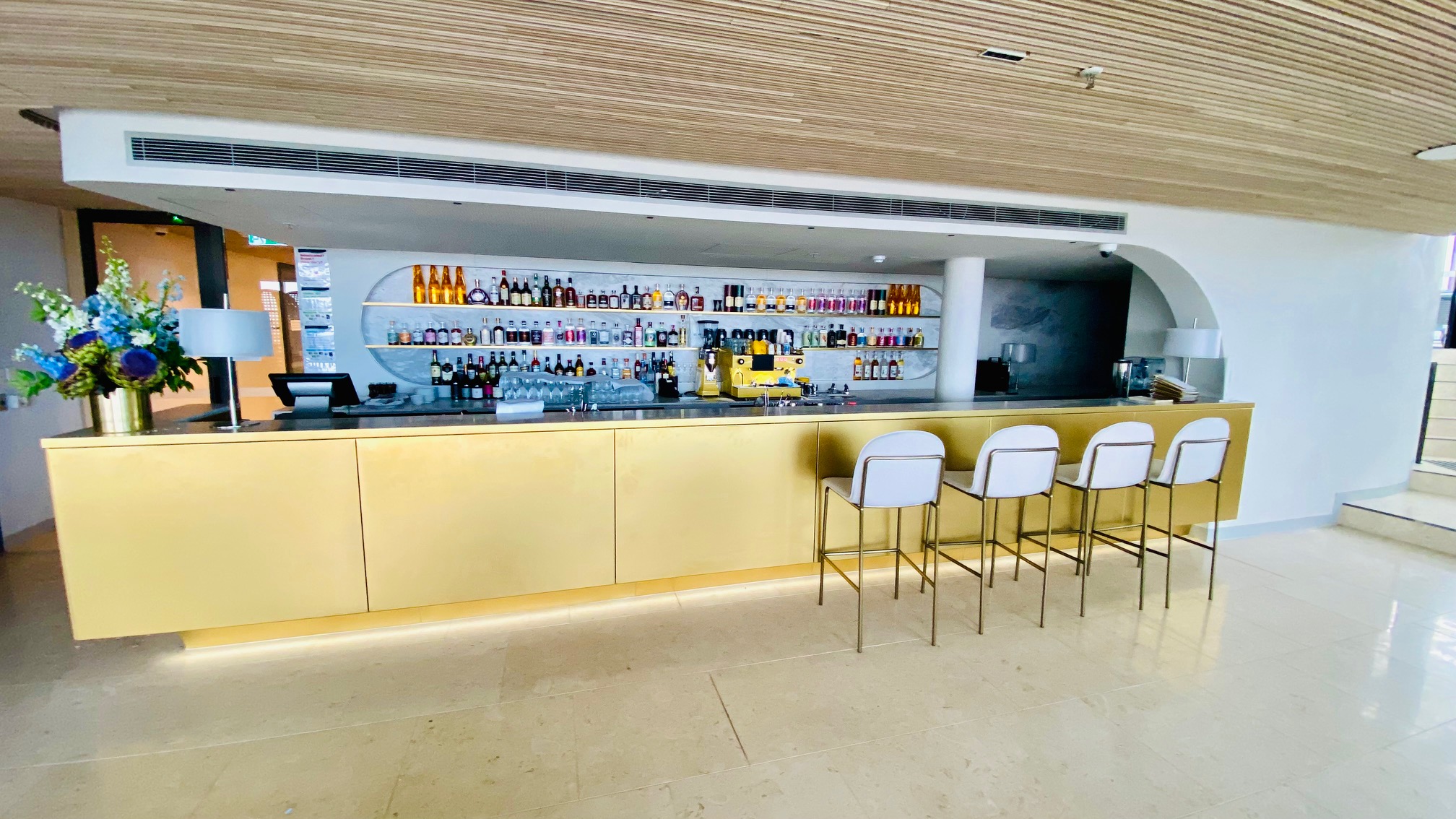 Marriott Melbourne Docklands, Sunset House
Packed with high-top tables, comfy couches and some eye catching decorative pieces, the whole place screams PARTY.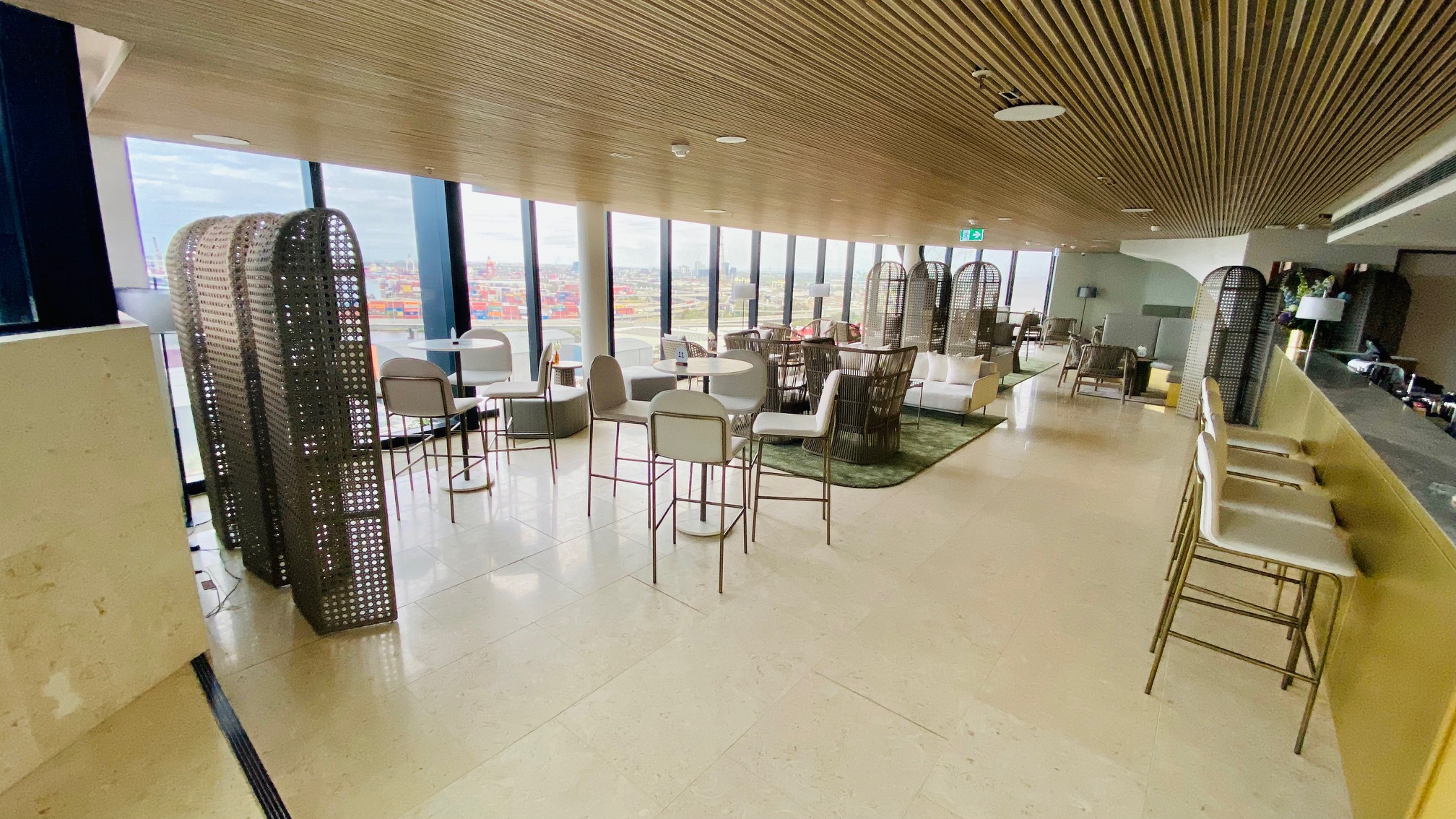 Marriott Melbourne Docklands, Sunset House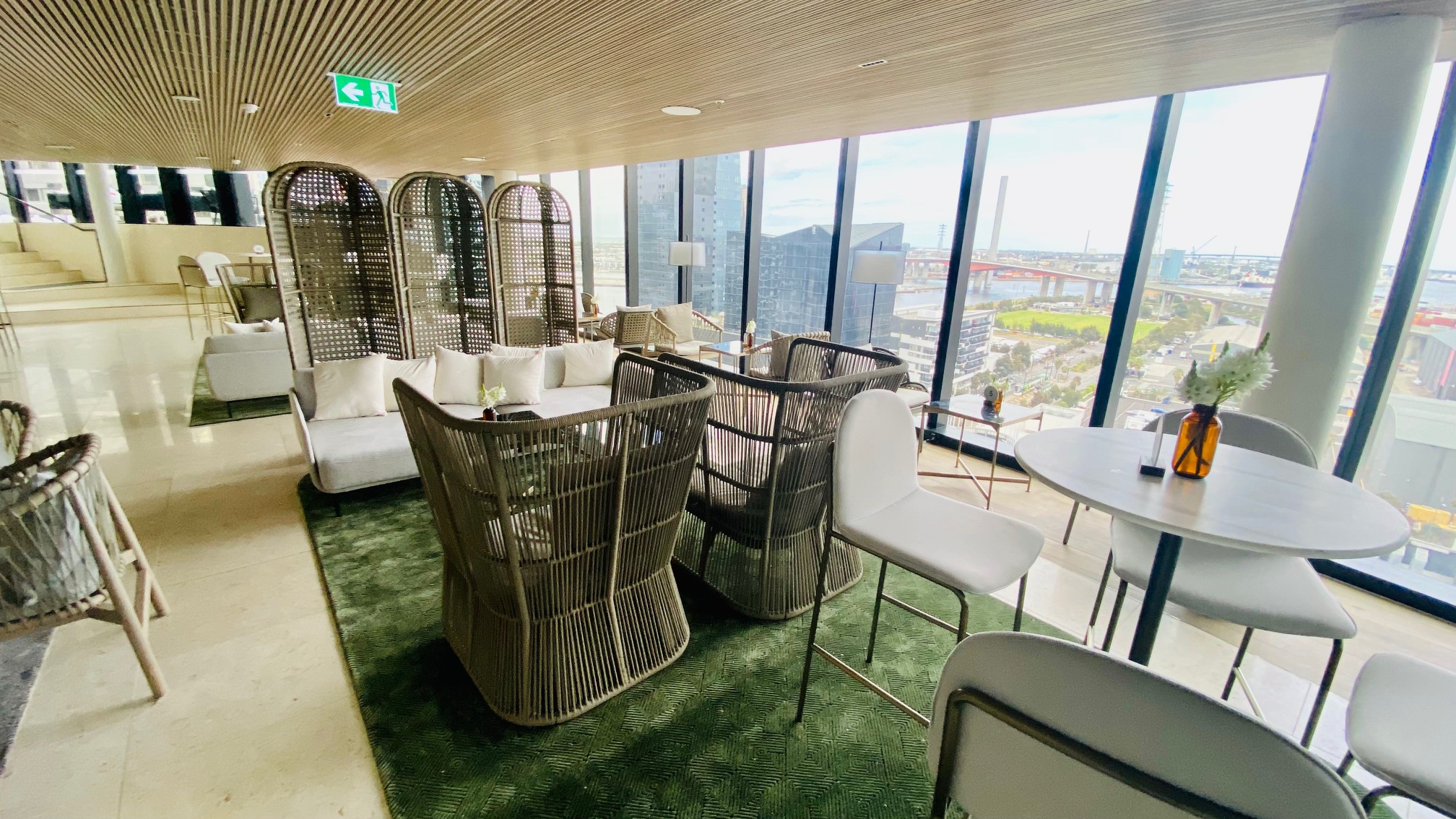 Marriott Melbourne Docklands, Sunset House
Grab a seat on one of the tables by the window if you want some views to go along with your bites and drinks.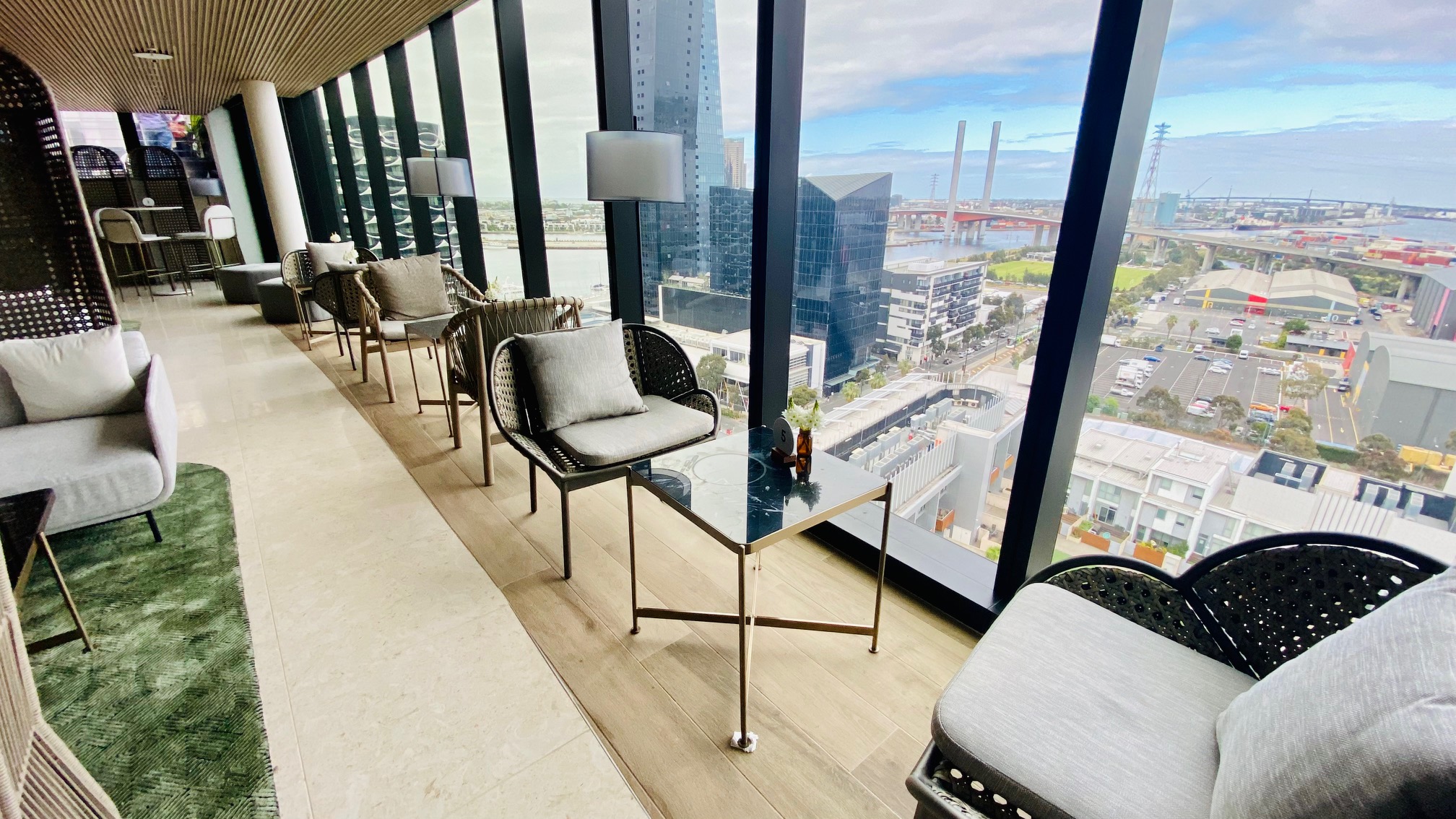 Marriott Melbourne Docklands, Sunset House
Other Amenities
The hotel has a fitness centre and a roof-top open air pool, both located on Level 15. I thought the gym was very impressive, it was spacious and stocked with plenty of weights and fitness equipment.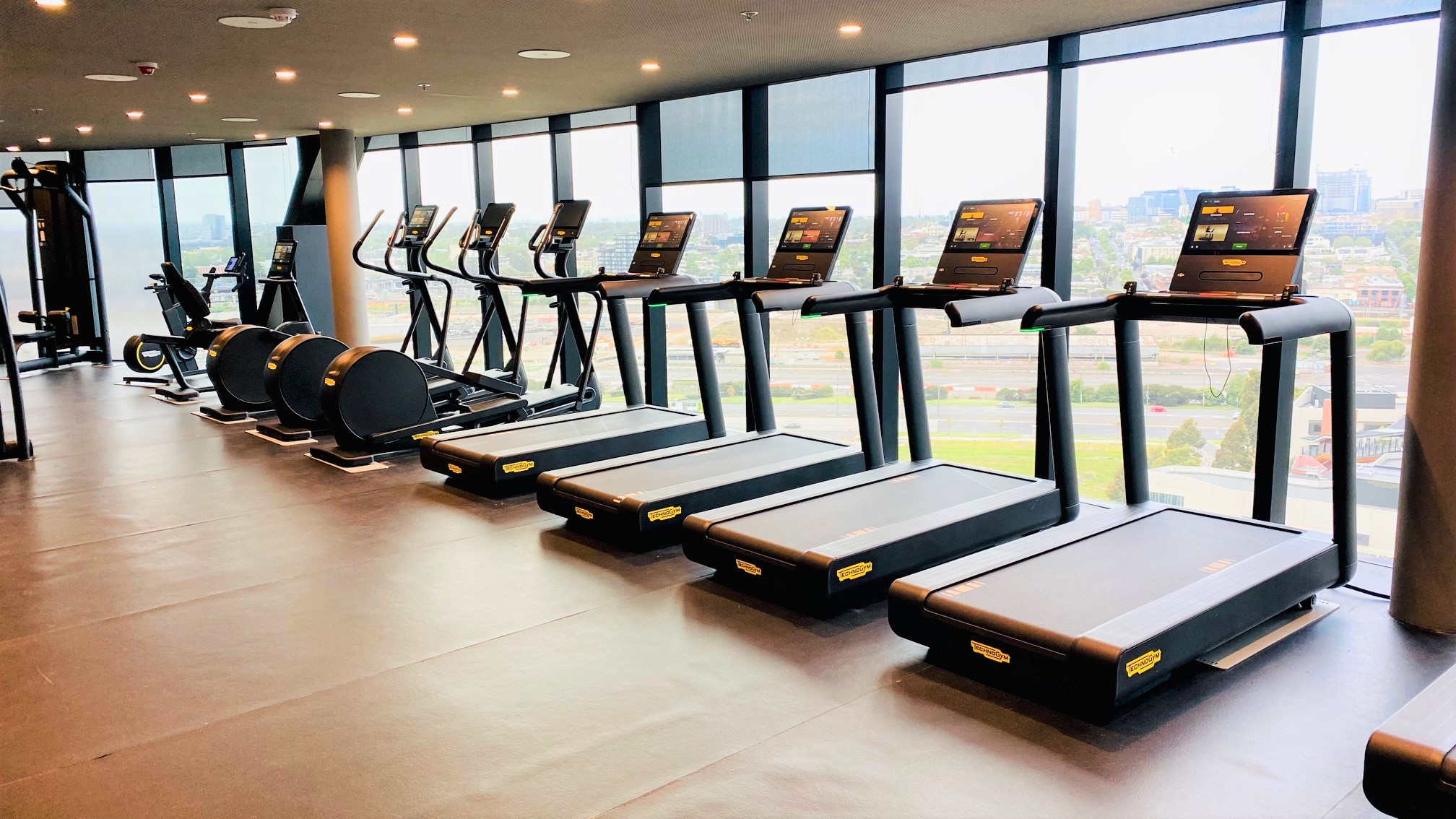 Marriott Melbourne Docklands, Gym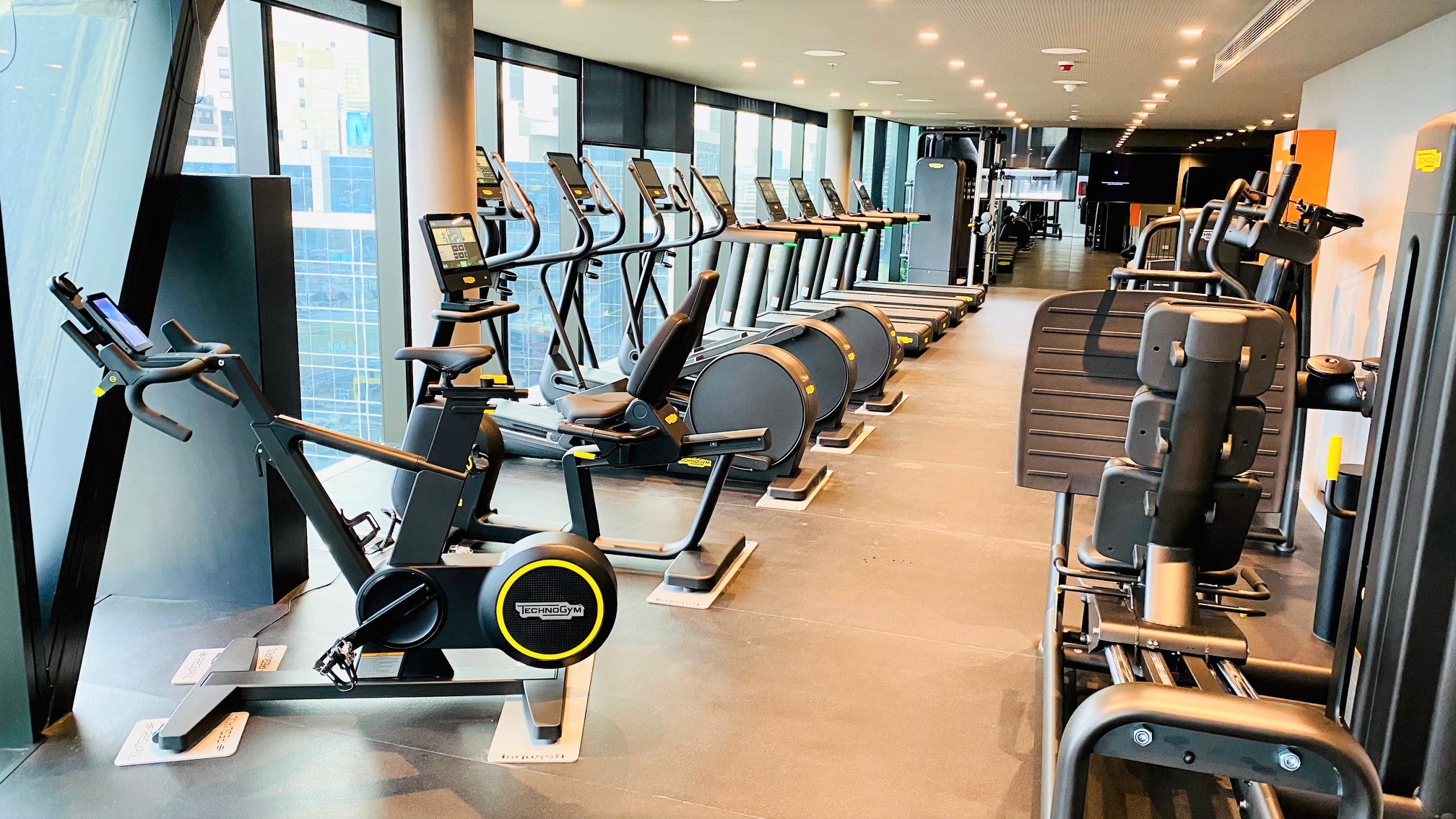 Marriott Melbourne Docklands, Gym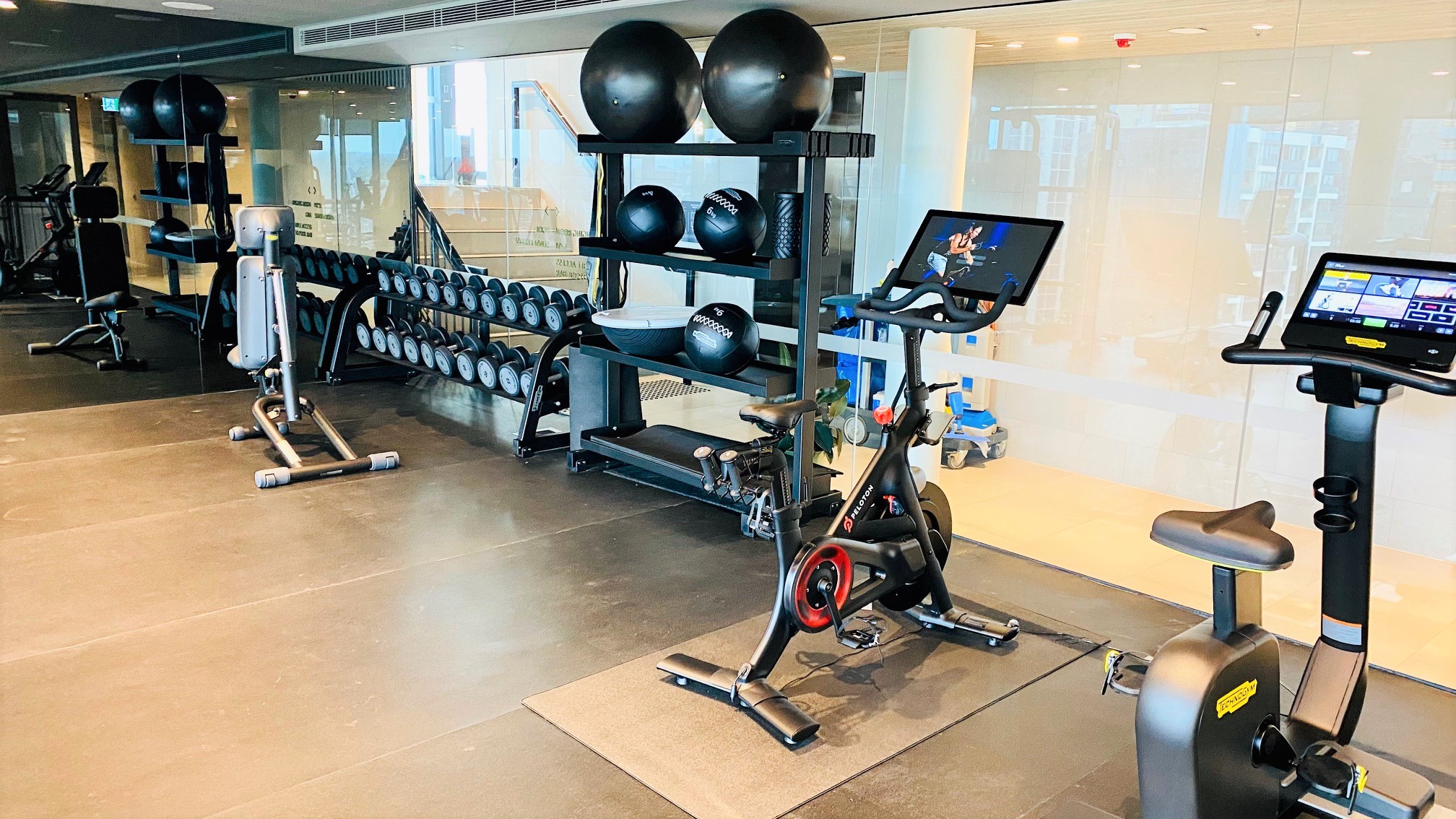 Marriott Melbourne Docklands, Gym
The roof-top infinity pool was gorgeous. Marriott's take on this is that it is Melbourne's answer to Singapore's Marina Bay Sands. As pretty as the pool is, I am not buying that argument 😉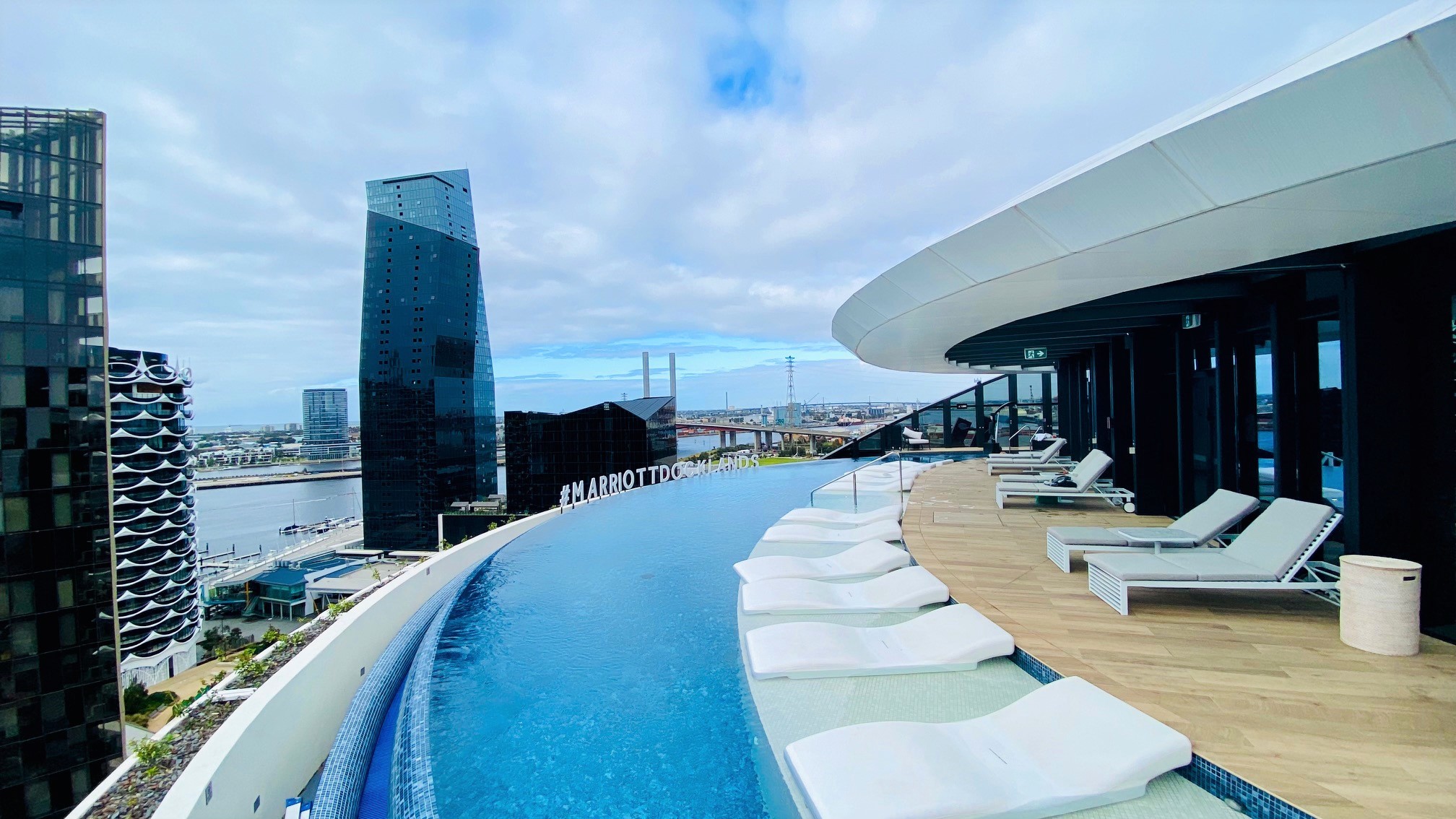 Marriott Melbourne Docklands, Infinity Pool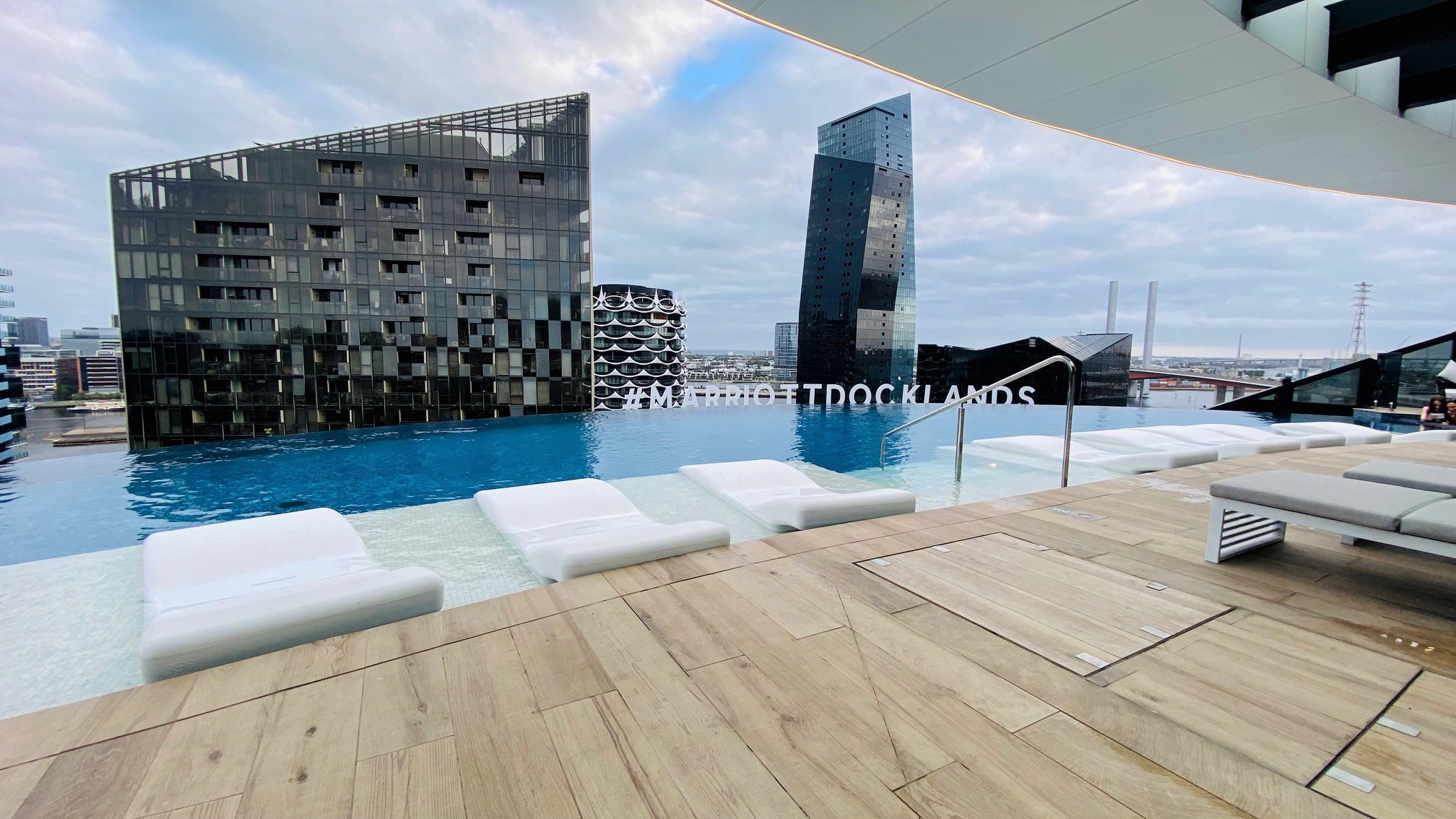 Marriott Melbourne Docklands, Infinity Pool
On a warm sunny day, I can imagine the pool teeming with swimmers and hoards of Instagram influencers. During my visit though, the weather was cool and windy and not really conducive for a dip.
Service
I don't always talk about the Service in my hotel reviews. It would however be remiss of me not to do so in this instance.
Service for the duration of my stay was absolutely top notch. Every hotel staff I came across – with the minor exception at check-in was warm, friendly and polite to a fault. I was amazed at how they could remember me and address me by name every single time. Nothing ever was too much or too hard. This might sound like the most obvious thing to state, but it isn't.
That is because service standards at Australian hotels have plummeted over the years. Good service is no longer something you can take for granted, which makes it all the more important to acknowledge it when you are fortunate enough to receive it. A special mention for Shana who I interacted with in the M Club. Thank You for your genuine care and efforts in making the time spent in the Club productive and enjoyable.
In Conclusion
Marriott Melbourne Docklands is a fabulous addition to Marriott's growing Australian portfolio. Even though the hotel is geared towards corporates and business travellers, there is no reason why a leisure traveller or even a staycationer wouldn't be able to make the most of their time here.
The rooms are a tad bit on the smaller side, but what it lacks in size is more than compensated by the warmth and inspirational work ethic of its staff. If you are a Marriott Bonvoy member, you will be pleased to know that the property does a fantastic job in recognising and honouring elite benefits.
Melbourne has no shortage of big name hotels and there are plenty more in the pipeline for 2022. Time will tell whether Marriott Melbourne Docklands can sustain high levels of service standards when travel opens more widely, and the hotel gets busier.
I certainly hope it does.
Have you stayed at Marriott Melbourne Docklands? Leave a comment below.