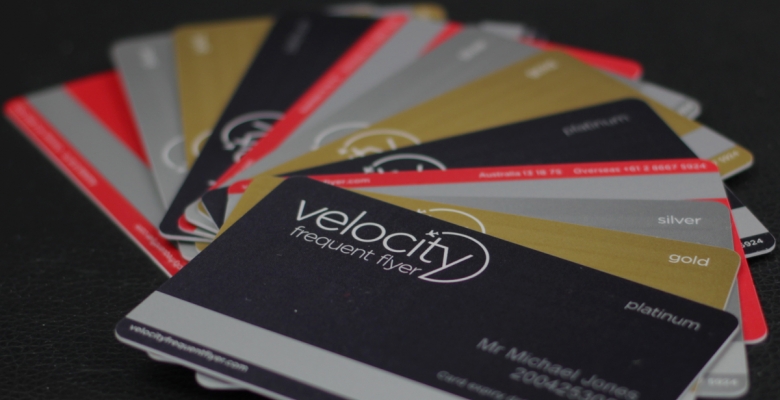 Last week, Virgin Australia's Velocity Frequent Flyer program opened Reward Seat Bookings on partner airlines. At present, you can redeem Velocity points on the following partners;
Delta Airlines
Air Canada
Virgin Atlantic
Etihad
Hawaiian Airlines
South African Airways
Velocity members cannot currently redeem points to fly Singapore Airlines, although Virgin Australia have indicated this will become possible in coming days – the exact date is not known.
Booking flights
If you are planning travel with Delta Airlines, Etihad or Air Canada, you are able to book these flights on Velocity's website. The process is straight forward and no different to booking Virgin Australia flights. In time, when Velocity opens redemptions on Singapore Airlines, it is understood members will be able to book these flights online too.
For those not comfortable, or unwilling to traverse the world wide web, Velocity offers the option of contacting its Membership Contact Centre where phone agents can make the bookings.
The number to call is 13 18 75, and the contact centre is open 8am to 8pm on weekdays and 9am to 6pm on weekends. Note though, that the service isn't free, these bookings are charged at $70 or 8,800 Velocity points per person per booking. So just be aware of that.
If your travel plans have you flying with Virgin Atlantic, Hawaiian Airlines or South African Airways, you need to call Velocity Membership Contact Centre to make the booking. As these flights cannot be booked online, the phone booking service is free.
Points required to book flights
Velocity operates a distance-based redemption chart where the number of points required for a flight is linked to the actual distance flown. There is also the small matter of whether the flight is in Economy or Business Class, with the latter requiring higher number of points. Generally speaking, its the long-haul Business and First Class flights that provide the greatest bang for your points – although there are some exceptions.
Coming back to redeeming points, Velocity operates 2 separate redemption charts.
The first chart (see below) applies to flights operated by Virgin Australia, Virgin Atlantic and Delta Airlines. This chart has a more favourable pricing, meaning you need less points to fly the same distance when compared to the other chart, which you will see a little later.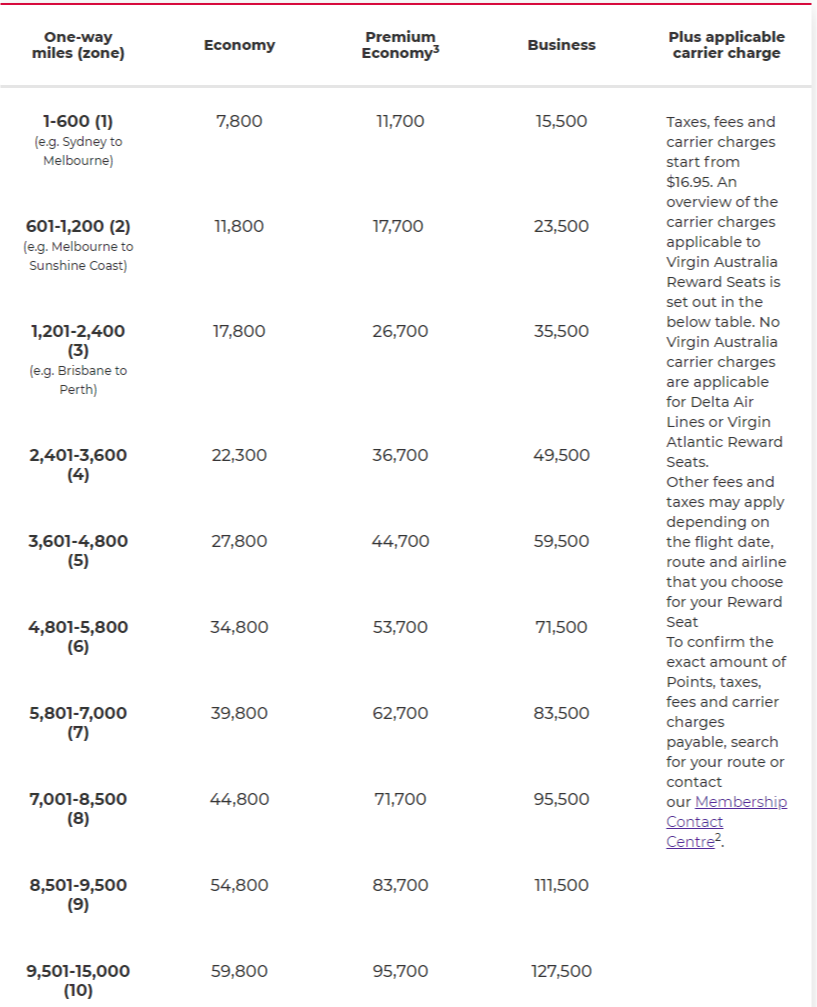 Screenshot : courtesy velocityfrequentflyer.com.au
The 2nd chart (see below) shows the number of Velocity points required to book flights with Hawaiian, Etihad, Air Canada, South African Airways and Singapore Airlines.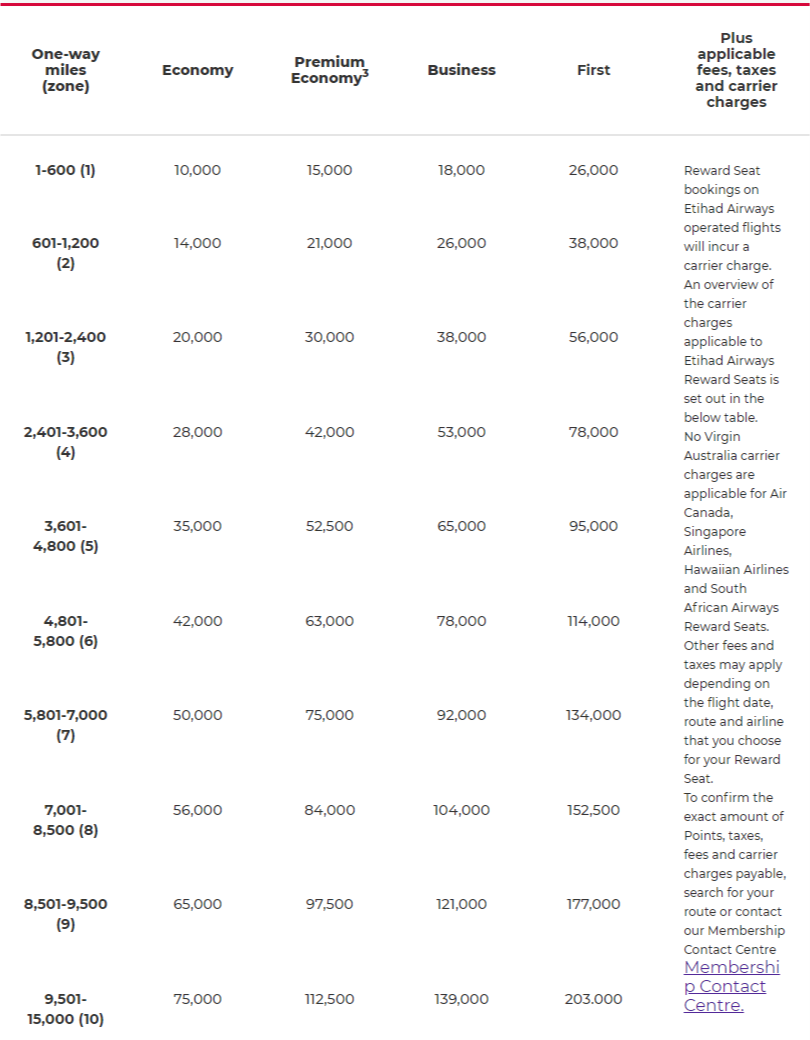 Screenshot : courtesy velocityfrequentflyer.com.au
Velocity charges a higher number of points for flights operated by these partners. For instance, both Air Canada and Delta fly between San Francisco and Vancouver.

But as you can see above, an economy class, one-way flight with Air Canada on this route prices at 14,000 points + taxes. The same route flown with Delta costs 11,800 points + taxes, a small but not insignificant saving of 2,200 points.
Changes & Cancellation
To deal with evolving border changes and travel restrictions, Virgin Australia have a flexible flying policy in place. Under this policy, all Reward seat bookings made by 30th April 2022, for travel until the end of 2022 can be changed or cancelled free of cost. As long as a reward seat is available, you can make unlimited changes to your booking.
Cancellations must be made at least 24 hours prior to the departure date. All points redeemed will be recredited to your Velocity account and fees and taxes refunded to the original form of payment. You can read more about it over here.
Best Value Redemptions
Having got all the boring – but important details out of the way, it is time to dive straight into examples of high value Velocity points redemptions. These are, by no means the only redemptions to optimise the value of your points, but they do provide terrific value.
Sydney – Vancouver on Air Canada
Kicking things off is Air Canada's Sydney to Vancouver service. You can fly this route in Business Class for 104,000 points + fees and taxes of about $115.
At 7,757 mammoth miles, this is Canadian carrier's longest route and provides incredible value for points.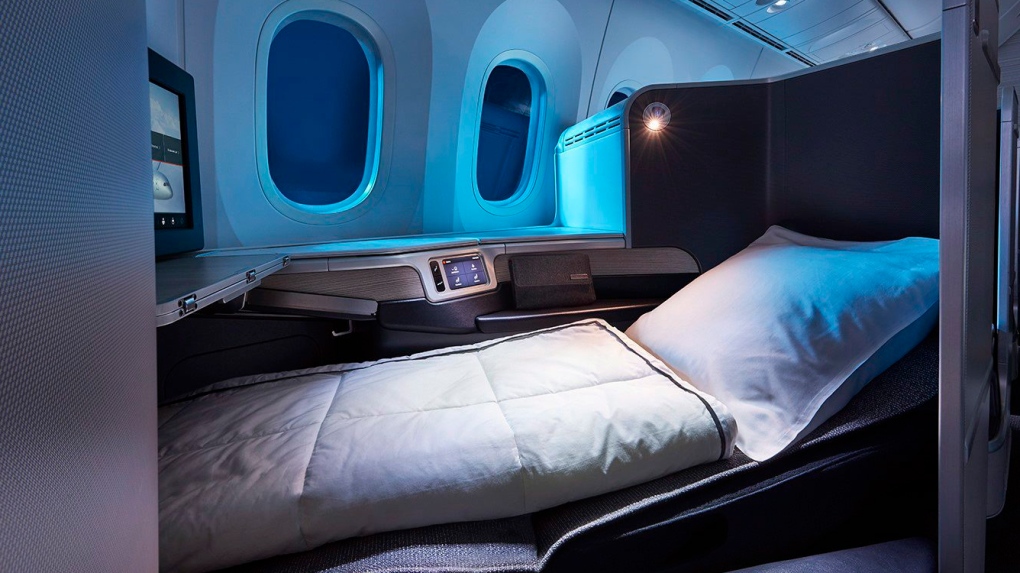 Air Canada 777-200 LR Business Class : Image, courtesy Air Canada
Velocity does not impose carrier charges on flights operated by Air Canada, which keeps the cash component low. As a comparison, you will be forking out over $350 in cash if you fly this route on Qantas.
New York – London on Delta
New York – London is one of the busiest air-corridors in the world. As you can imagine, a lot of very wealthy people regularly fly this route which often pushes the price of a business class seat on this short 6 hour hop, well north of $3,000.
Luckily, Velocity members can fly this route with Delta for a bargain basement price of just 49,500 points + fees and taxes of about $60. Talk about a deal.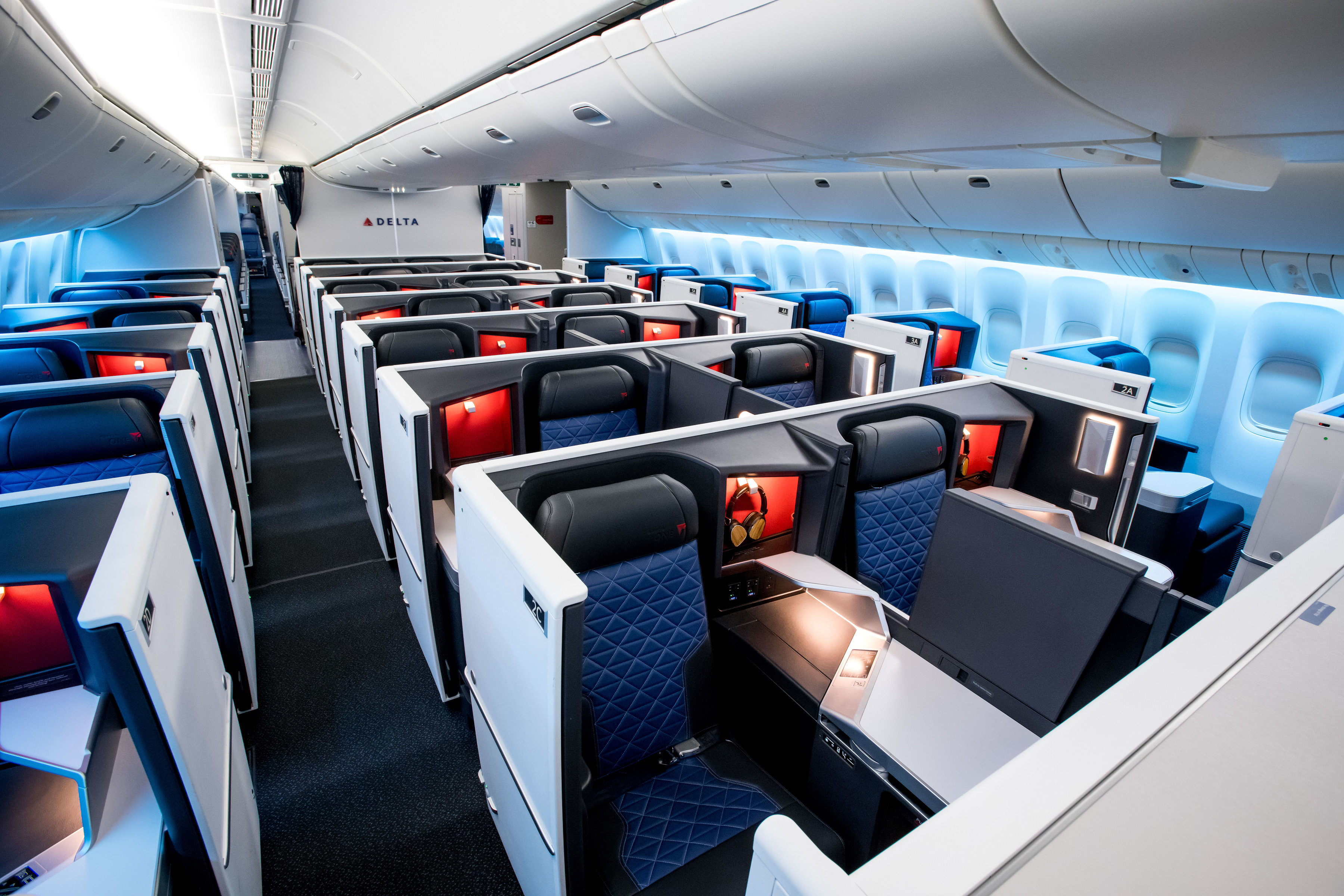 Fly Delta One between New York and London for 49,500 Velocity points
Melbourne – Istanbul on Singapore Airlines
Flights from Australia to Europe are pricey, even on points. A one-way Business Class flight from Melbourne to London on Qantas will set you back 144,600 points + fees and taxes of about $435. If you are travelling as a party of 4, besides the fact that it will be mighty difficult to find 4 classic reward seats on the same flight, you will be on the hook for over $1,700 in cash. 😯
Enter Singapore Airlines' KrisFlyer program and its unique relationship with Velocity. Although currently suspended, it is expected that Velocity members will soon be able to convert their Velocity points into KrisFlyer Miles. The conversion ratio, until COVID brought things to a standstill was 1.55:1 (1.55 Velocity points = 1 KrisFlyer Mile). It is possible that this ratio will see a devaluation when the functionality is restored – but for now lets assume it remains the same.
Now, the way KrisFlyer operates it's redemption chart is that it splits the world into multiple regions. Turkey, which straddles Asia & Europe is included as part of the Middle East, rather than Europe. This means that flying from Australia to Istanbul or to Dubai, costs the same number of miles, even though the former is a much longer flight.
A quick look at KrisFlyer Saver Award chart shows that you need 86,000 miles to fly between Melbourne and Istanbul in Business Class. Given the transfer ratio, this equates to about 133,400 Velocity points, which is 11,000 fewer points compared to Qantas.
But the real saving is on fees and taxes, which amount to just $122. That is a saving of around $313 per person, or well over $1,200 for a family of 4.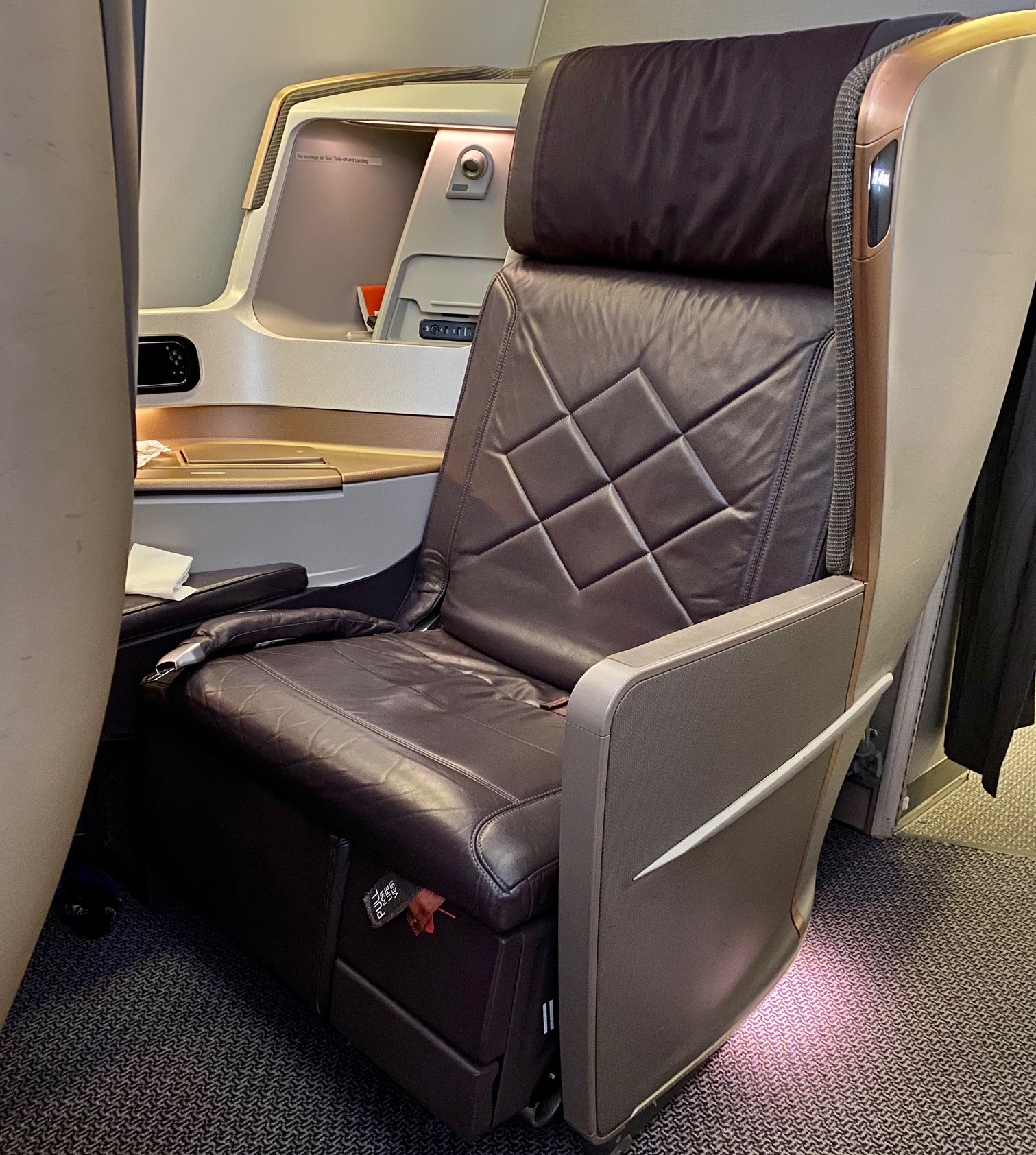 Redeem Velocity points to fly Singapore Airlines Business Class to Europe
Sure it does not get you all the way to Europe, but this is easily overcome by catching a separate flight for as little as $75.
Even though Velocity members can book this flight directly with Velocity points, the advantage in converting them to KrisFlyer is that you will have access to a lot more reward seats. It is not uncommon to find 4 Reward seats on Singapore Airlines as long as you book well in advance.
Sydney – Honolulu on Hawaiian Airlines
Hawaiian Airlines is restarting flights between Sydney and Honolulu from 15th December 2021. If you plan to soak up the Hawaiian sun or ride the waves on one of its many legendary beaches, your stockpile of Velocity points will come in handy.
A one-way, Business Class fare on this 10 hour route can easily top $5,000, as you can see below.

Instead, you can take the sting out of your holidays by redeeming 78,000 Velocity points and travel to the paradise in total comfort. As Velocity does not apply carrier charges on Hawaiian, fees and taxes should be minimal.
Hawaiian Airlines also flew between Brisbane and Honolulu in pre-pandemic times. If and when it returns, Velocity members can fly this route for just 65,000 points owing to the slightly shorter distance of this flight.
Melbourne – Paris on Etihad
Redeeming Velocity points on Etihad shouldn't really be your first option. This is because of the enormous carrier charges Velocity applies on Etihad Airways Reward Seat bookings.

Screenshot : courtesy velocityfrequentflyer.com.au
As cane be seen in the table above, the carrier charges are priced in US$. Further, they are applied per sector, not per booking making the overall cost prohibitive in many instances.
For instance, if you fly Business Class from Melbourne to Paris via Abu Dhabi (total 2 sectors), when converted to A$ – you will be on the hook for about $585 in carrier charges plus another $95 in fees and taxes. That is a total of $680 per person, or $2,720 for a family of 4. Ouchh.. 😢, that supposedly free points flight is starting to look rather ugly.
However, the somewhat comforting news is that if you are prepared to shell out cash – finding availability on Etihad is usually not a problem – sometimes even just a few days ahead. You can fly from Sydney or Melbourne to the City of Love for 139,000 Velocity points, ensconced in Etihad's famed Business studio.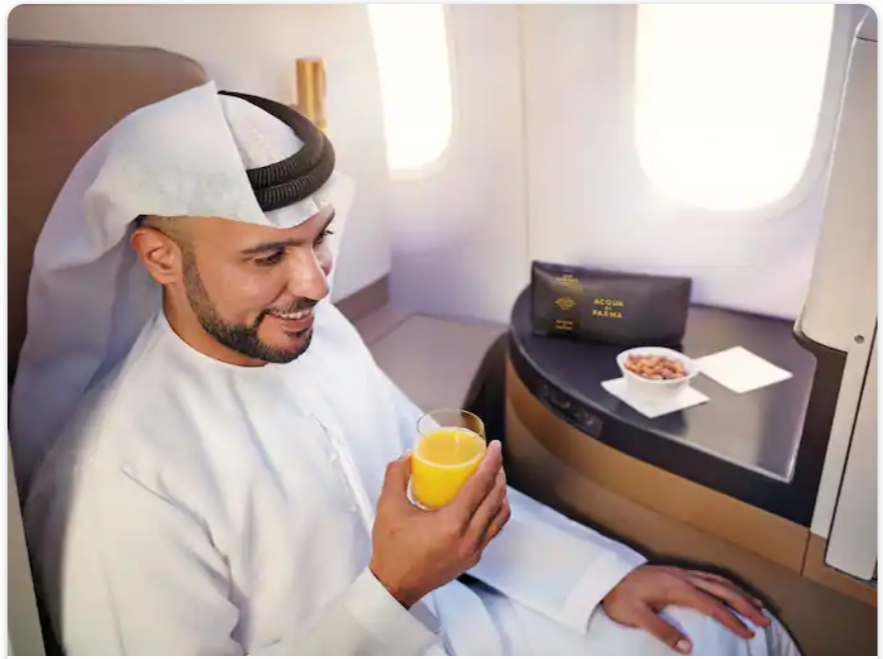 Redeem Velocity points to fly Etihad Business Class
Don't expect to be treated like Nicole Kidman though. Thanks to a series of rash financial investments which turned sour, Etihad has been forced to enact significant cost-cuttings in recent years – that in-turn has somewhat taken the sheen of this once revered airline.
That said, between Acqua Di Parma amenity kits and a solid hard product, you will hardly be slumming your way across the 24 hour trek to Europe.
My Thoughts
Velocity points have suddenly become a lot more valuable, thanks to all the long-haul, premium cabin flying it now offers. When flights with Singapore Airlines and points conversion to KrisFlyer is reactivated, that will add another leg to its valuation.
If, as it has stated on many occasions, Virgin Australia start their own long-haul operations, that will truly be the icing on the cake.
The best part about Velocity points has always been the ease and speed at which you can stockpile them in Australia. With the pandemic gradually starting to ebb, it is now time to make a dent in that stockpile and travel the world again.
How do you redeem your Velocity points? Leave a comment below.