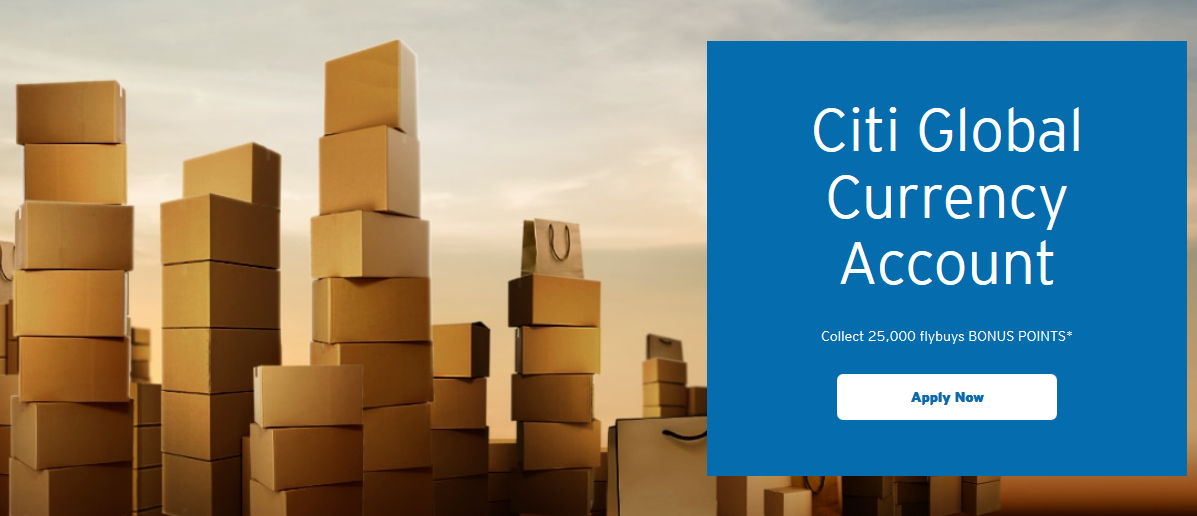 Here's an opportunity to earn easy flybuys points. Citi are offering 25,000 bonus flybuys points to members who open a new Citi Global Currency account through this link, deposit a minimum of $1,000 and convert it into any one of the nine global currencies within 90 days. Note that you must apply through the dedicated link to be eligible for bonus points, if you go directly to Citibank online and set up the account, you will not be eligible.
Another thing to note is that since this is a debit account and you are not applying for new credit, there is no credit check involved, which means that even those with less than optimal credit history may be able to take advantage of this offer. That said, the offer is only applicable for new accounts, so if you currently have a similar account with Citibank, you are not eligible 🙁
flybuys points
On it's own, flybuys points are good value. You can redeem 2,000 flybuys points for 10 flybuys dollars (1 flybuys dollar = 1 AUD) and use it to pay for shopping at a limited number of partners including Coles and Target. I have earlier written a post with step by step guide to activate this feature. By this measure, the 25,000 flybuys points are worth $125, which is not half bad.
However, you can get out-sized value by transferring them to your Velocity Frequent Flyer account. If you can align the transfer with the frequently offered 15% transfer bonus, you are looking at receiving a total of 12,500 Velocity points.That might not sound like much, but here's a few example of what it can get you:
You can fly Virgin Australia from Brisbane to Port Villa (Vanuatu) for 11,800 points.
You can fly Singapore Airlines from Singapore to Kuala Lumpur for 10,000 points.
You can fly Virgin Australia from Sydney to Melbourne for just 7,800 points.
Velocity points can be very valuable when used properly. For other potential uses of Velocity points, check out one of my earlier post over here.
Account Features
The account itself comes handy when you travel overseas. The way it works is that you make an initial deposit in A$, which you could later convert into up to 9 other global currencies. The currencies offered are:
United States Dollar
Singapore Dollar
Canadian Dollar
New Zealand Dollar
Hong Kong Dollar
Japanese Yen
Pound Sterling
Euro
Swiss Francs
There is no compulsion to hold funds in any 1 currency at a time. Should you wish, you could split them across all 9 currencies as per your requirements. The supplied debit card can be used both in-store and online wherever Citibank cards are accepted, which is pretty much everywhere.
Citibank claims to offer excellent exchange rates which are updated every 10 seconds. You can switch funds across various currencies through the Citibank mobile app, which is a great feature since it gives account holders control over when they decide to change money. This means you could hold the funds in your local currency and change it only when you feel you are getting a good deal.
Check out the current exchange rates over here.
Rates & Fees
There is no fees on withdrawals from overseas ATM as long as the currency you withdraw, is the same currency of your account. However, a 2.5% foreign exchange fee applies if the currency withdrawn is different to the currency of your account.


Currencies available with Citi Global Currency Account
For instance, if you convert your initial A$ deposit into US$ and use an ATM in United States to withdraw funds, which will presumably be dispensed in the local currency, you will pay no fees. However, if you travel onward to Japan and make a withdrawal in Japanese Yen, a 2.5% fee will apply. That said, this can be avoided easily by switching the currency of your account to the local currency of the country (JPY) you are traveling in, before making the withdrawal.
There are no other one-off or ongoing fees.
In Conclusion
I love flybuys points. Over the years, I have earned and redeemed hundreds of thousands of them. The sheer ease of earning them means even someone just starting their flybuys journey can quickly build up an impressive stock pile of points. To that end, this offer from Citi is a no-brainer.
Even if you do not have plans to travel overseas, it's still worth taking advantage of the offer. Once the bonus points hit your account, you can always switch the currency of your account back to Australian dollar and withdraw the funds. Sure there is a cost involved in doing so, but that is far outweighed by the value of points you will receive.
This offer is valid until 30th November, so you must apply by or before this date.
Do you plan to open a new Citi Global currency account?. Leave a comment below.