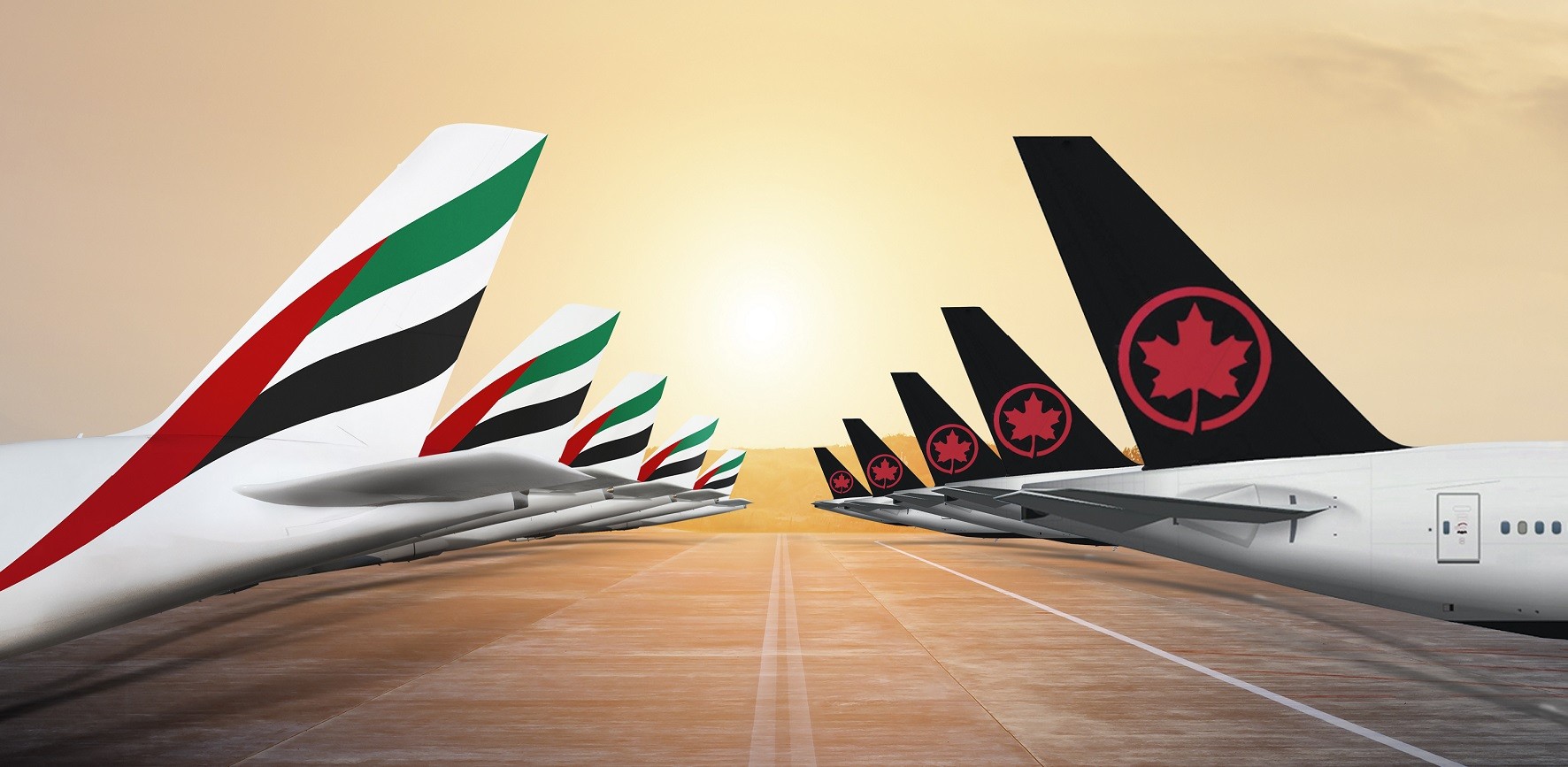 Aeroplan members can now earn and redeem points on flights with Emirates. This adds to Aeroplan's already burgeoning list of partners and makes the program even more valuable. To start with, members can redeem points for Economy, Premium Economy and Business Class seats, with First Class redemptions to start in January 2023.
Ordinarily, Emirates reward flights can burn a real hole in your wallet with hundreds or even thousands of dollars in surcharges, this is the case whether you are redeeming Skywards Miles or other partner currencies such as Qantas points. So it is absolutely incredible that Aeroplan redemptions will be surcharge free. You simply pay the Government or Airport mandated fees and taxes plus a $39 partner booking fee, thus saving you a tonne of cash.
Earning Aeroplan Points with Emirates
Members are able to credit most scheduled Emirates flights to Aeroplan. The number of points you earn depends on the distance flown as well as the class of travel like you can see below.
| Class of Travel | Booking Class | Aeroplan Points |
| --- | --- | --- |
| First | F,A | 150% |
| Business | C,J,I,O | 125% |
| Business | H | 110% |
| Premium Economy | W,E | 110% |
| Economy | R,Y,P | 100% |
| Economy | U,B,M,K | 50% |
| Economy | G,T,L,Q | 15% |
| Economy | V,X | 0% |
Note that Aeroplan members do not earn Status Qualifying Miles (SQM), which is the Qantas/Virgin Australia equivalent of Status credits, on Emirates flights. So if you are someone who is keen to earn or retain status with Aeroplan, unfortunately the partnership doesn't help you achieve that.
Redeeming Aeroplan Points with Emirates
Aeroplan generally operates a mix of distance and zone based redemption charts, (more on this here for most partners. However, pricing for Emirates flights is based on an exclusive and much pricier chart as you can see below.
| Distance (Miles) | Economy | Business | First |
| --- | --- | --- | --- |
| 0-2,000 | 15,000 - 35,000 points | 30,000 - 77,500 points | 65,000 - 175,000 points |
| 2,001-5,000 | 21,000 - 65,000 points | 45,000 - 140,000 points | 110,000 - 325,000 points |
| 5,001-9,000 | 40,000 - 85,000 points | 80,000 - 185,000 points | 225,000 - 475,000 points |
| 9,001-12,000 | 60,000 - 110,000 points | 120,000 - 225,000 points | 300,000 - 600,000 points |
| 12,001+ | 85,000 - 150,000 points | 180,000 - 300,000 points | 400,000 - 750,000 points |
It is being reported by some U.S. bloggers that pricing until the end of year will mirror pricing on other Aeroplan partners. In other words, if you can hurry up and book your Emirates awards over the next 2-3 weeks, you will get a much superior deal.
Then in the new year, the Emirates-specific redemption chart will take effect which also coincides with the ability to book First Class flights.
Examples of Aeroplan Redemption on Emirates
Like other partners awards, Emirates flights are also bookable online. Additionally, all other features of the Aeroplan program such as the ability to mix partners, add stopovers for 5,000 points etc. are also available on Emirates redemption which is fantastic news.
In terms of redemptions, I want to kick things off with an Emirates fifth freedom route that most Australia based Aeroplan members will find greatly beneficial.


Redeem Aeroplan points to fly Emirates Business Class
As you can see, a one-way Business Class flight between Sydney and Christchurch is priced at just 30,000 points. As a comparison, Qantas charges 43,800 points to fly this route with Emirates.
Where Aeroplan vastly outshines other partners though, is on flights operated to and from Emirates's Dubai hub. For instance, take a look at the Dubai to Paris flight below.


Redeem Aeroplan points to fly Emirates Business Class
A one-way Business Class flight on this route is priced at just 45,000 Aeroplan points, plus CAD 83 (AUD 90). Now take a look at what Qantas charges for the same flight.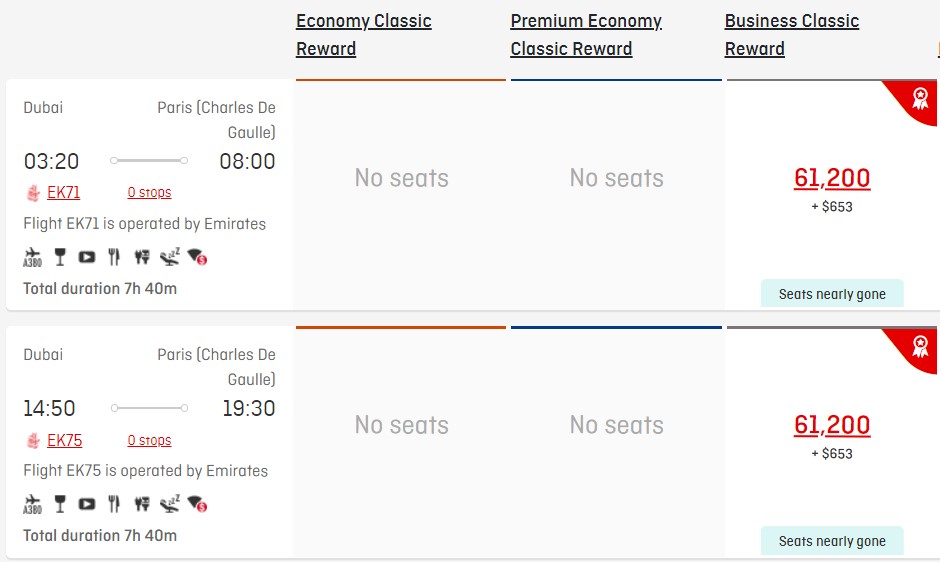 Qantas redemptions on Emirates are very pricey
Not only are you shelling out an extra 16,200 points, you are also on the hook for a massive $653 in surcharges. That is $563 more than what Aeroplan charges, making the latter a clear winner. If you are travelling as a couple or a family, redeeming Aeroplan points instead of Qantas can save you a small fortune.
I ran a few searches for non-stop Emirates flights between Australia & Dubai but could not find any award space. This is not surprising as airlines fill-up the premium cabins on this route with cash paying passengers, and so have no incentive to release award seats. However, all is not lost.
As long as you are flexible and don't mind a detour, there are ways to circumvent the issue as you can see below.


Aeroplan allows mixed partners on award flights
Because Aeroplan allows you to mix partners, you can fly from Melbourne to Hanoi on Bamboo Airways and connect on Emirates to Dubai.
Availability from Asia into Dubai or further north into Europe tends to be far better than Australia. So if you are travelling in Asia or don't mind catching a positioning flight to get there, your options increase dramatically.
For instance, you can fly one-way in Business Class from anywhere in South East Asia to Dubai for 60,000 points;

or connect in Dubai and fly onward to Europe for an extra 20,000 points.

or all the way to North America with a stopover of up to 45 days in Dubai for an extra 12,500 points.

When you consider the hundreds of dollars you will save in surcharge payments, its not difficult to justify a positioning flight to somewhere in South East Asia.
In Conclusion
You can now redeem Aeroplan points to fly Emirates. If you have any upcoming travel plans with Emirates, there is a strong incentive to finalise the bookings over the next couple of weeks, as Emirates awards temporarily will be pricing just like other partner awards.
But even if you are not in a position to do that, it's comforting to know that you will never pay carrier imposed surcharge when redeeming Aeroplan points.
First Class redemptions are not currently open, but will become available in the new year. If you don't care about where you fly but just want to experience Emirates First Class, keep an eye on the Sydney – Christchurch route where availability tends to be much better than other routes.
Do you plan to redeem Aeroplan points on Emirates? Leave a comment below.