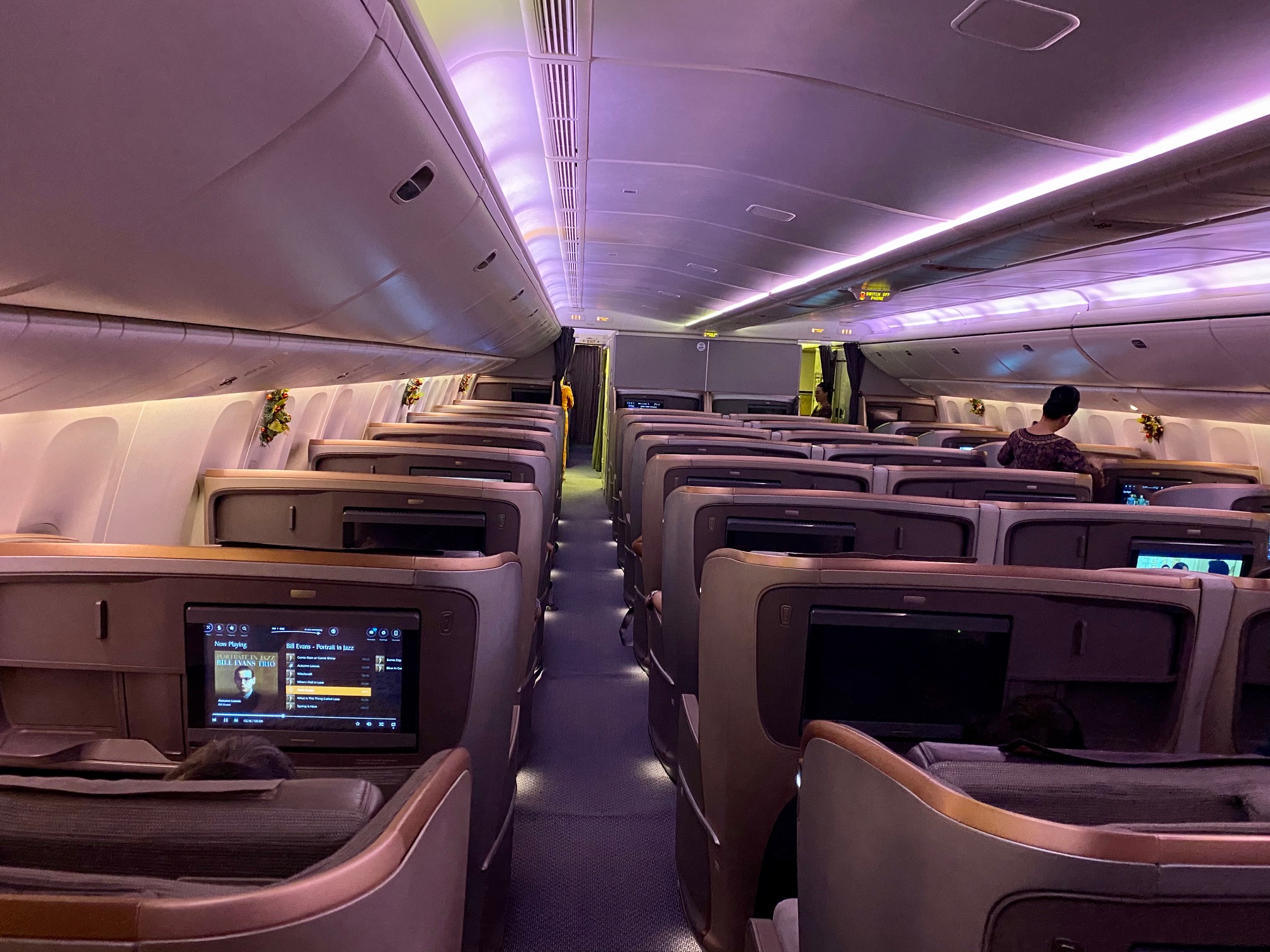 Call me a fanboy, but I do really, genuinely, absolutely love Aeroplan. It has more airline partners than you could reasonably count and offers unmatched redemption opportunities which is pretty darn hard to beat. Just last week I had written a post titled Hidden gems of the Aeroplan program.
Well, not the one to rest on it's laurels, Aeroplan have just ventured where even the mightiest of the programs dare not set foot.
Singapore Airlines Business Class Redemption
Aeroplan members can now redeem points for Singapore Airlines long-haul Business Class flights. This is quite the coup, given that the airline bars all but members of Velocity and it's own KrisFlyer Program from venturing anywhere near the hallowed cabin.
With the launch of Star Alliance Credit Card which has made earning Aeroplan points so easy in Australia, the access to Singapore Airlines premium cabin award seats adds tremendous heft to a program already dripping with value. Let's go over a few redemptions that were forbidden for Aeroplan members, until now.
First up, here's a simple Business Class redemption between Australia and Singapore.


Redeem Aeroplan Points to fly Singapore Airlines to Singapore


Redeem Aeroplan Points to fly Singapore Airlines to Australia
And because Aeroplan allows members to add a stopover of up to 45 days for a piddly 5,000 points, you could eat all the laksa and chilli mud crab to your hearts content (and stomach) before continuing the journey to some place else.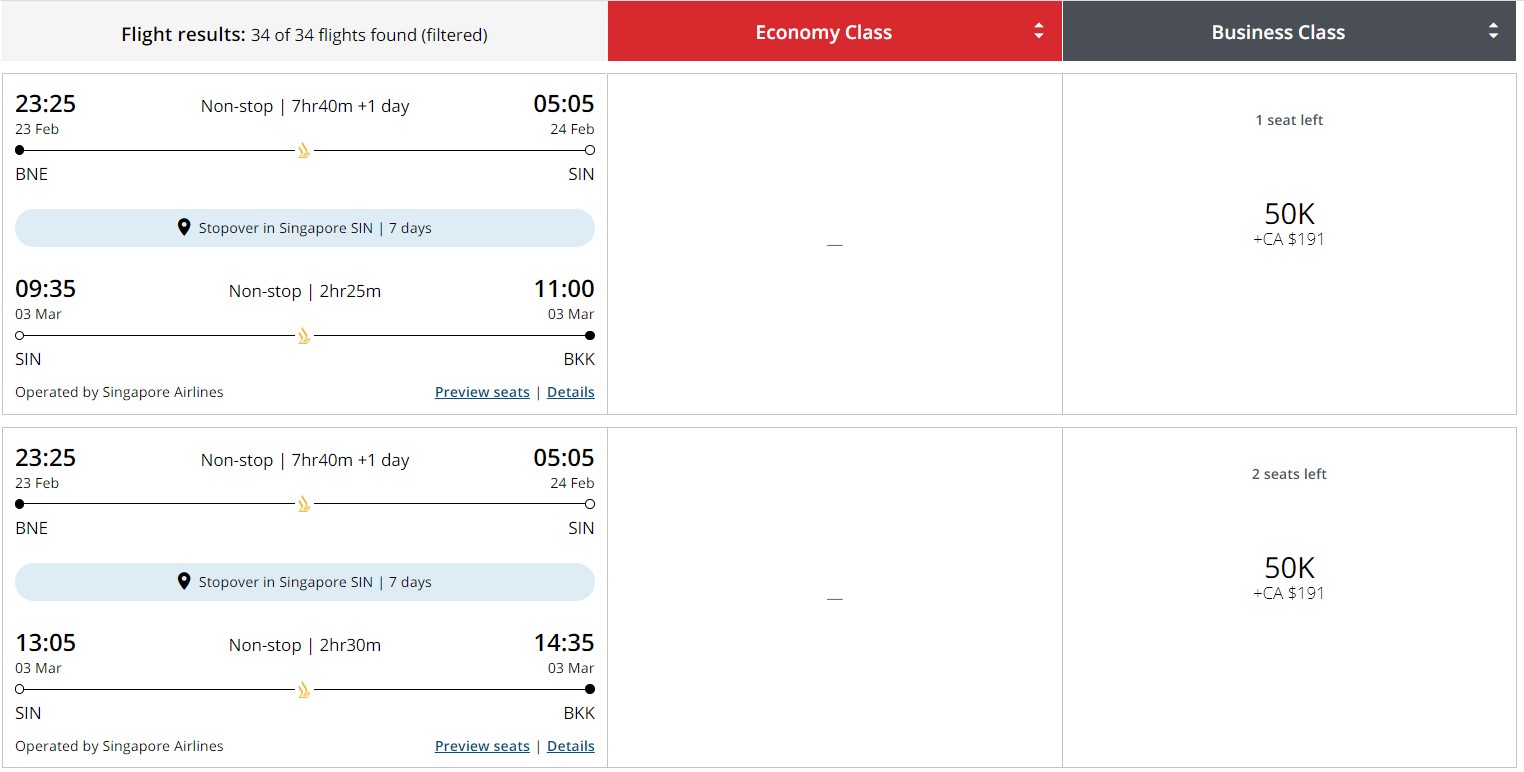 Add a stopover for an extra 5,000 points
You can freely mix and match partners and there's 50 to choose from. For instance, award seats between Singapore and Tokyo can sometimes be difficult to find, so you could fly Singapore Airlines to Hanoi and connect on Bamboo Airways to fly to Tokyo.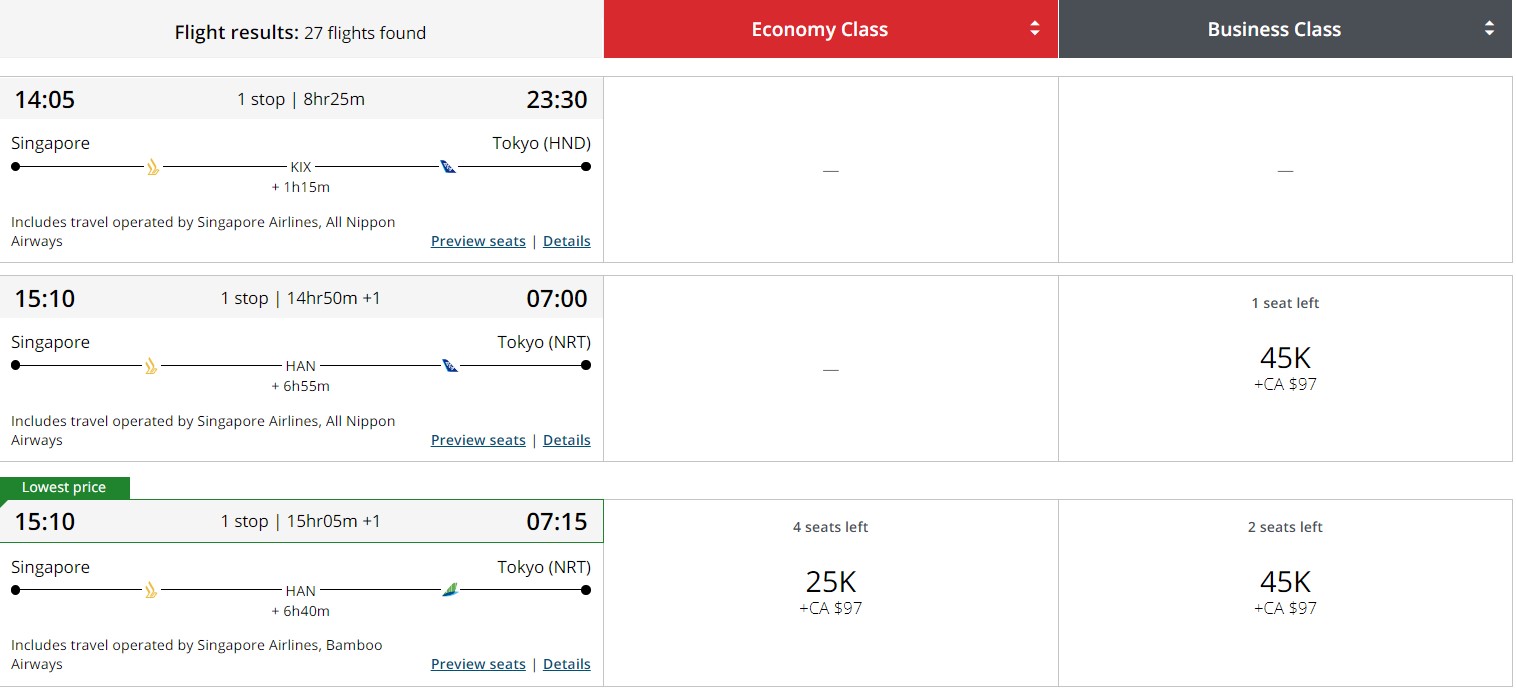 Redeem Aeroplan Points to fly Singapore Airlines to South Asia
Traffic between Australia and India has sky-rocketed in recent times and the trend is set to continue, so it's nice to have another option to make this trip. The redemption value IMO is quite acceptable.


Redeem Aeroplan Points to fly Singapore Airlines to India
You could even fly between Australia and Europe which is a route with loads of demand and never enough Business Class award availability.


Redeem Aeroplan Points to fly Singapore Airlines to Europe
The newer Business Class seats found on Singapore Airlines A-380 are very nice and coveted by many points and miles enthusiasts, and it is often easier to find availability on flights to Frankfurt than anywhere else.
If you want to fly between Australia and North America, it can be tough finding Business Class availability on non-stop flights with the likes of Qantas, United, Delta etc. But if you don't mind taking a detour, and prioritise comfort over convenience, is is far easier to find availability between United States and Singapore.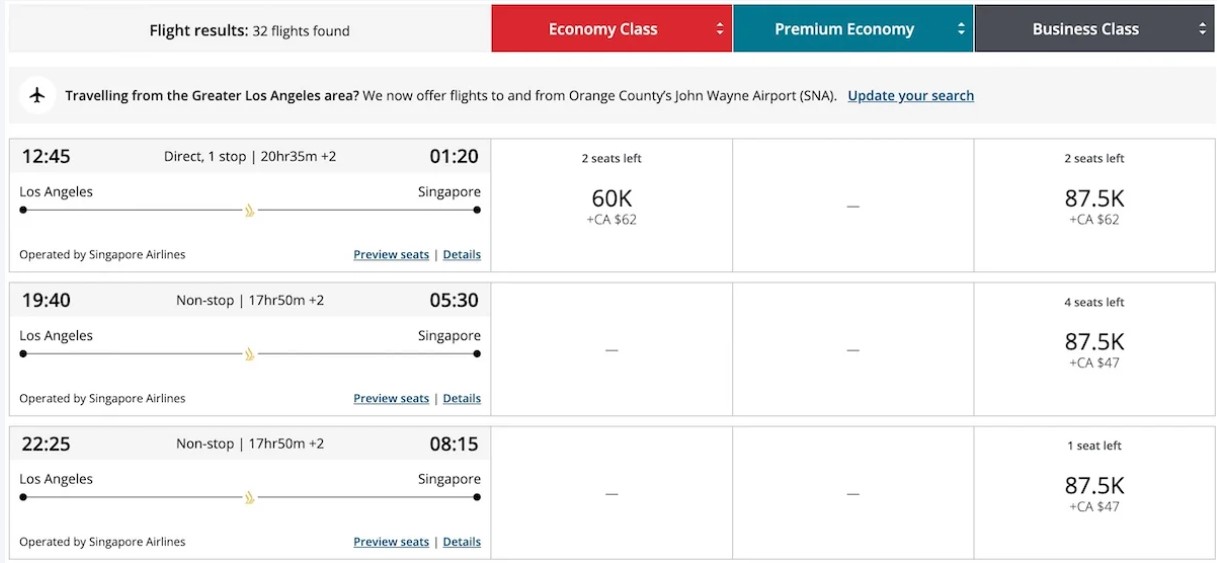 Redeem Aeroplan Points to fly Singapore Airlines to North America
You could obviously redeem KrisFlyer Miles to fly any of these routes too, and in Australia at least, they are far easier to come by than Aeroplan Points. What the latter offers though is the ability to combine Singapore Airlines flights with its plethora of other partners, add stopovers, and come up with itineraries that are otherwise tough (if not impossible) to create.
In Conclusion
While most Frequent Flyer programs focus on penny pinching, and as a result, lose value over time, Aeroplan stands out as one of the few exceptions. To be fair, Aeroplan did slightly devalue it's award chart couple of months ago which was disappointing to see.
But all things considered, the program continues to offer phenomenal value, particularly with regards to the sheer number of partners, ability to mix partners, generous stopover rules and now the ability to redeem points on Singapore Airlines Business Class flights.
At this time, it doesn't appear like Aeroplan have access to Singapore Airlines First Class or Suites, but the way the program continues to evolve and add value for its members, it would be a brave person to bet against that happening at some stage.
Do you collect Aeroplan Points? Leave a comment below.