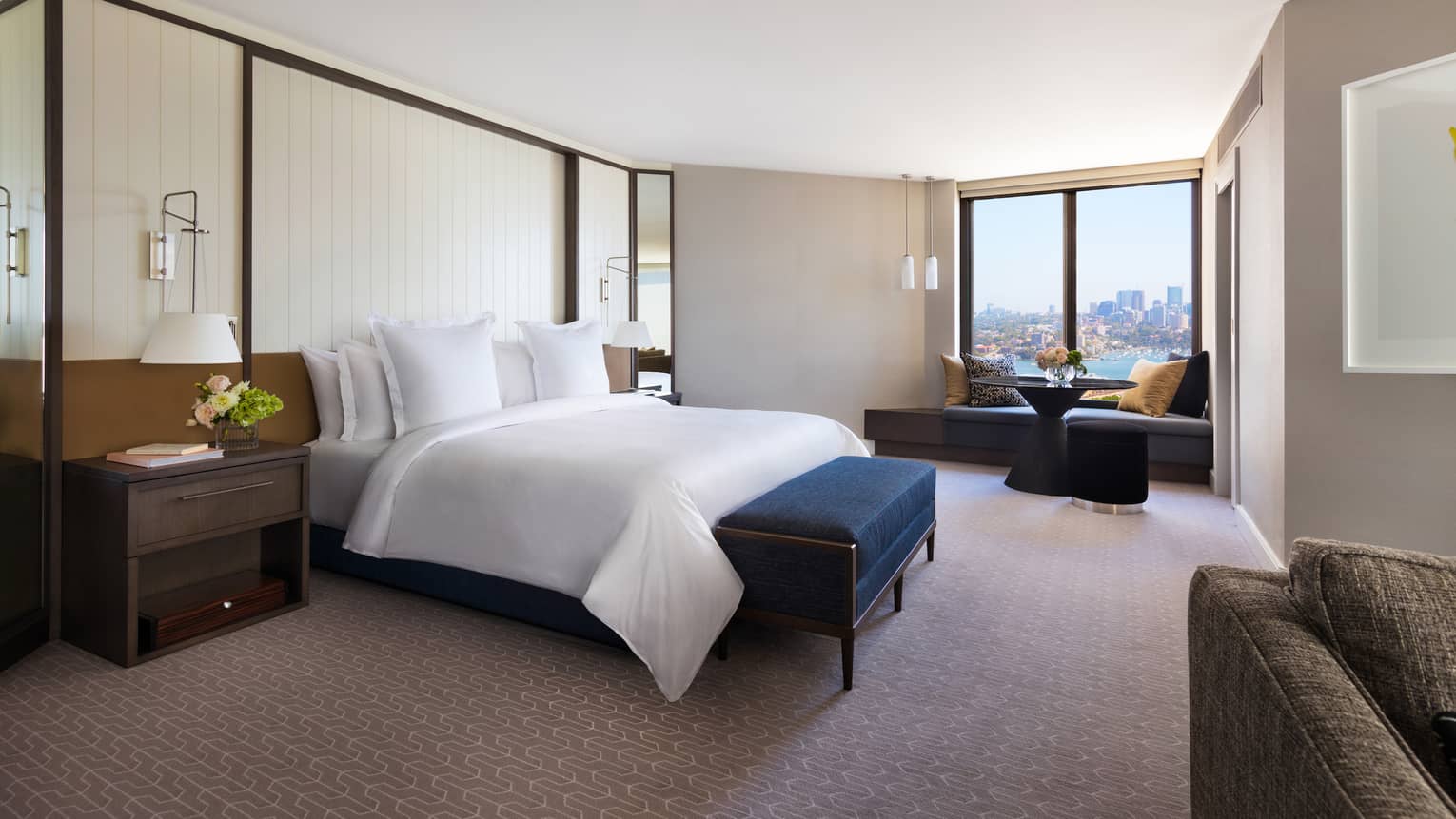 Fancy a night at Four Seasons Sydney for mere $95? How about free brekky and dinner thrown-in? Sounds too good to be true? Not if the American Express Platinum Card finds a coveted place in your wallet. Got one? Great, read on to see how you can take advantage of this lucrative offer.
One of the great features of Platinum card is it's access to Amex Fine Hotels & Resorts program. The program allows cardmembers to book some of the most luxurious (and super expensive) properties all around the world. I have written about the program earlier, so if you are not familiar with it, I highly recommend you check it out over here, as it can potentially provide you hundreds of dollars in extra value on each hotel stay.
You will find that prices with Amex Fine Hotels & Resorts are often higher that what you would pay if you book directly with the hotel or through an OTA. That said, each booking comes packed with a whole host of exclusive benefits, which allows you to offset some of that higher cost. The other unique feature of the program is that if you book a stay at one of the chain hotels such as Marriott, Hyatt or Hilton, your elite status in the program (if any) is recognised by the hotel meaning you will also be able to earn points, nightly credits and so on which is quite amazing.
So what's the deal with Four Seasons Sydney?
Four Seasons Sydney is one of the very few Sydney hotels that make the cut to be included in the Amex Fine Hotels & Resorts program. The hotel is located smack bang in the heart of Sydney CBD, providing easy access to many of Sydney's attractions. In fact, several rooms in the hotel provide excellent views of two of Sydney's most iconic landmarks, The Opera House and The Sydney Harbour bridge. For those wanting to spend a few hours checking out Sydney's food scene, the culinary delights of Darling Harbour and Haymarket are just 15-20 minutes on foot, or a short Ola ride away.
Coming back to the deal, for the month of June, you can book a night at Four Season's Sydney through Amex Fine Hotels & Resorts page for as little as $220. Some nights are priced a little higher but the most you will pay in June is $265 per night. Lets say you book a night for $245, sort of the avg nightly price, which, when compared with the hotel's normal going rate of $350+ is a great deal in itself. But wait, it gets better. The Amex Fine Hotels & Resorts booking comes with the following benefits: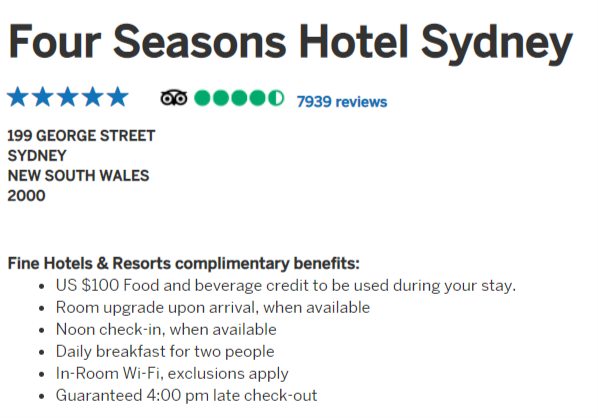 Each stay at Four Seasons Sydney comes with these benefits
As you can see above, with this booking you get free breakfast for 2 people, potential room upgrade (based on availability), free wifi, late check out and so on, all valuable benefits. But the US $100 food and beverage credit which in today's money is worth at-least A$150, takes it to another level and drops the net cost of your stay right down to $95.
You can apply this credit towards your food and drinks bill at any of the in-house bars or restaurants, which I suspect for most people will cover their cost of dinner. When you factor in other benefits such as complimentary breakfast for 2, which is usually worth $35-$50 pp and room upgrade, it might even feel like a free stay 😊
One thing worth remembering is that the US $100 credit is per stay and NOT per night. So you get the most out of it on stays of just 1 night. That said, if you are planning a longer stay, you can still take advantage of this benefit by alternating the nightly bookings between you and your partner.
In Conclusion
The travel bans and restrictions on day to day movement brought on by the corona virus have been very tough on a lot of people. I don't think cooped-up in your home, not being able to see your friends and loved one's is anybody's idea of a normal living.
Luckily, Australians have done an amazing job in (seemingly) beating the virus and we are slowly inching towards normalcy. From 1st June, people in many states including NSW are able to freely move within their state, and since NSW, unlike most other states (except VIC) never closed its state borders, this means anybody living anywhere in Australia can travel to Sydney and take advantage of this deal.
If you do not presently have the American Express Platinum card but would like to get it, apply through this unique referral link for American Express Platinum Card to get an extra 10,000 Membership Rewards points (total 90,000 points) in welcome bonus.
Disclosure : If you apply for the card using the links in this post and are approved, pointsHq or it's related entity may receive some referral points.
What do you make of this deal? Do you plan to take advantage of it? Leave a comment below.