Etihad Guest are offering transfer bonus of up to 40% from a range of partners. The offer is only available until 11:59 pm UAE time on 28th August, which is 5:59 am AEST on 29th August, so there isn't a lot of time to procrastinate.
Which partners are participating?
There are a total of 9 partners included in this round of promotion, you can check out the full list of partners over here. Most of these partners wouldn't be relevant for Australians, but there are couple where you may have a bunch of points. Let's take a look at them.
American Express
American Express Membership Rewards Program Program is a transfer partner of Etihad Guest. Ordinarily, you can transfer your Amex points to Etihad Guest in the ratio of 2:1 (2 MR points = 1 Etihad Guest mile).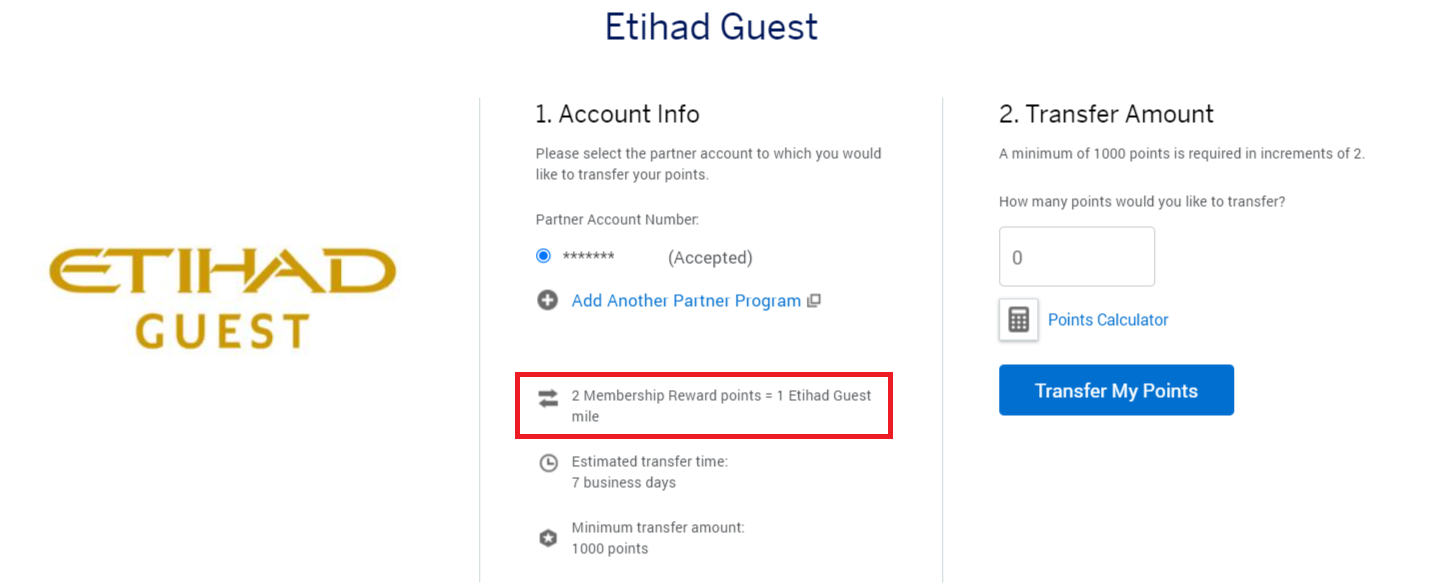 Etihad Guest is a partner of Membership Rewards Program
If you take advantage of the current promotion, the transfer ratio jumps to 2:1.2 (2 MR points = 1.2 Etihad Guest mile). Put another way, for every 20,000 Membership Rewards points you transfer, you will receive 12,000 Etihad Guest Mile.
Marriott Bonvoy
Marriott Bonvoy is the loyalty program of Marriott International, world's largest hotel chain with over 7,300 properties criss-crossing the length and breadth of Planet Earth. If you travel with any regularity, chances are you have stayed at one of their hotels at some stage.
What is less well known though, is that the program also partners with more than 40 airlines, allowing Bonvoy members to swap Marriott points for points/miles in any of these airline programs including Etihad Guest.
The regular transfer ratio is 3:1 (3 Marriott points = 1 Etihad Mile), but if you transfer points in batches of 60,000 points, Marriott will throw in a bonus of 5,000 miles. Put another way, if you transfer 60,000 Marriot points to Etihad, you will receive a total of 25,000 Etihad Guest Miles (20,000 + 5,000 bonus miles) which drops the effective transfer ratio to 2.4:1 (2.4 Marriott points = 1 Etihad Guest Mile).
If you take advantage of this transfer bonus offer, you can earn another 40% bonus miles on top of the 25,000 miles. To simplify, if you transfer 60,000 Marriott points to Etihad Guest, you will receive a total of 35,000 Etihad miles (25,000 + 10,000 bonus miles) which is an incredible deal.
Should you transfer points?
One of the reasons Membership Rewards Points are so highly coveted by points and miles collectors is their flexibility & longevity. You can transfer these points to any of American Express' 10 airline and 3 hotel partners, and unlike most rewards points they do not expire.
So once you transfer them to a partner, you lose that flexibility as the transfers cannot be reversed. That is the reason you should only ever transfer them when you have confirmed travel plans and you have done your homework in terms of searching the award availability.
If you would like to learn more about Membership Rewards, I highly recommend you spend some time checking out my detailed review over here.
The Virgin Australia angle
The current value of Etihad Guest program is debatable. As its parent, Etihad's fortune has dipped, thanks to some awfully bad financial decisions made over the years, the program has also taken a beating and lost a string of partners. Luckily, there are still some opportunities to derive outsized value on partner redemptions, Virgin Australia being one of them.
Etihad Guest operates individual redemption charts for each of it's airline partners. You can look at the full Virgin Australia redemption chart over here.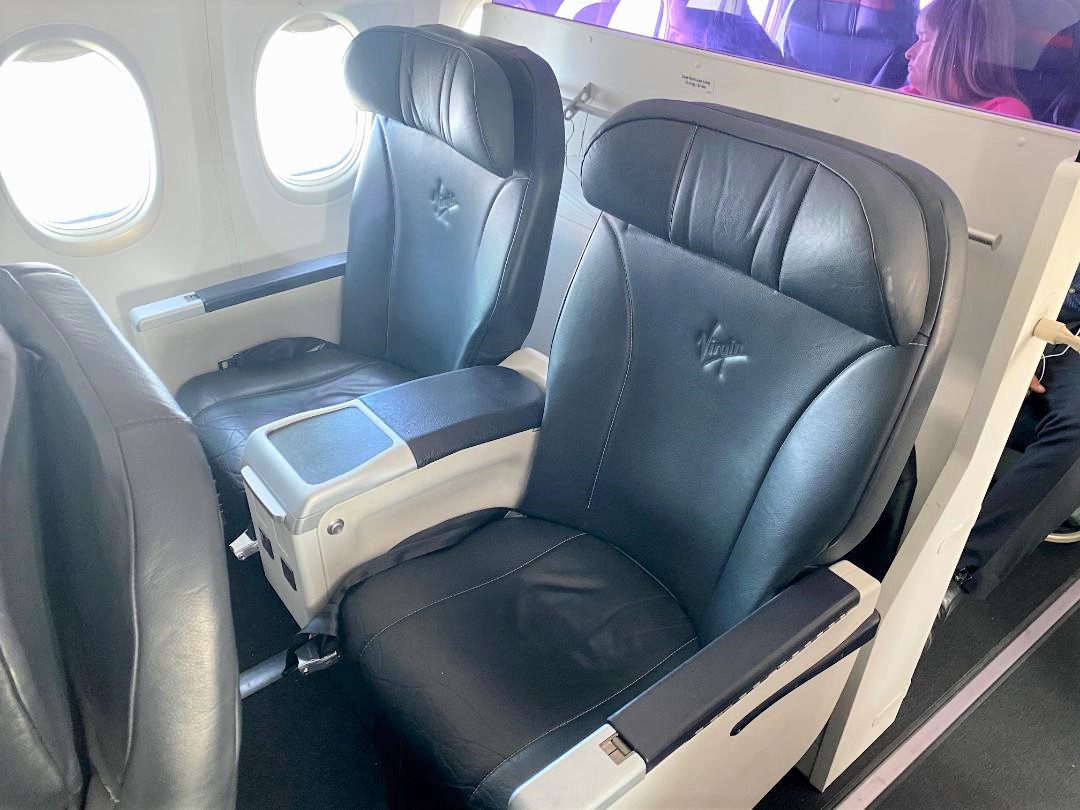 Redeem Etihad Guest Miles to fly Virgin Australia Business Class
As you can tell from the chart, it has some excellent redemption opportunities for domestic and trans-tasman travel on Virgin Australia. Some of these are:
You can fly from Sydney to Cairns in Business Class for 13,800 Etihad miles. The same redemption through Velocity will have you shelling out 35,500 points.
You can fly from Melbourne to Perth in Business Class for 21,800 Etihad miles. Again, the same redemption through Virgin Australia's Velocity Frequent Flyer Program will cost you 35,500 points.
When trans-tasman travel resumes, you can fly from Sydney to Christchurch in Business Class for 13,800 Etihad miles, or from Brisbane and Melbourne to any city in New Zealand for just 21,800 miles.
When travel to Fiji resumes, you can fly from Brisbane to Nadi in Business Class for just 21,800 Etihad Miles. The same redemption through Velocity will see you forking out 49,400 points.
Things to Know
If you are planning to transfer points, here are some of the T&C's to be aware of :
The offer is valid for all Points to Miles conversions made between 26 August 2021 (00.00am) and 28 August 2021 (23.59pm) both days inclusive.
Partners included points transfer partners: Emirates Islamic Bank, FAB Rewards, ADCB Touchpoints, Amex GCC, CitiBank UAE and HSBC UK, Le Club Accor Hotels, Marriot and Etisalat.
Once the Miles transfer request is initiated it cannot be reversed.
Terms and conditions governing the existing points transfer partners will apply.
The promotion is applicable for any member who transfer's their points from a qualifying Partner loyalty programs to Etihad Guest Miles. The eligibility of the bonus miles for a specific member will be done based on the validity of the promotion and the date of conversion provided by the partner for that respective member.
Base Etihad Guest Miles transferred by the member will be awarded as per the applicable conversion ratios of each respective partner.
Bonus Etihad Guest Miles earned during this promotion will reflect in the member's Etihad Guest membership account within 10 working days of the end date of the promotion.
This offer construct is governed by the transfer ratios and minimum thresholds applicable for these respective partners.
Bonus Etihad Guest Miles will not be calculated on a retroactive basis under any circumstances i.e. credit card/ hotel reward points transferred to Etihad Guest Miles and posted into the membership account during the promotion period but for which the transfer request was placed outside the promotion period will not qualify for the bonus miles promotion.
In Conclusion
Etihad has launched a limited time transfer bonus promotion; you literally have hours to decide and take action if you wish to take advantage of the offer and pocket some bonus points. Any transfers without set travel plans and confirmed redemption is a bad idea, but if you do see yourself redeeming Etihad Miles over the coming months, it may be worth transferring some points speculatively.
I have always maintained that the best value for Marriott points is realised when you redeem them for pricey hotel stays with Marriott, but if you are sitting on a pile of Marriott points and do not have a use for them in near future, it might make sense to swap them for Etihad miles for travel on Virgin Australia.
Do you plan to take advantage of this offer? Leave a comment below.