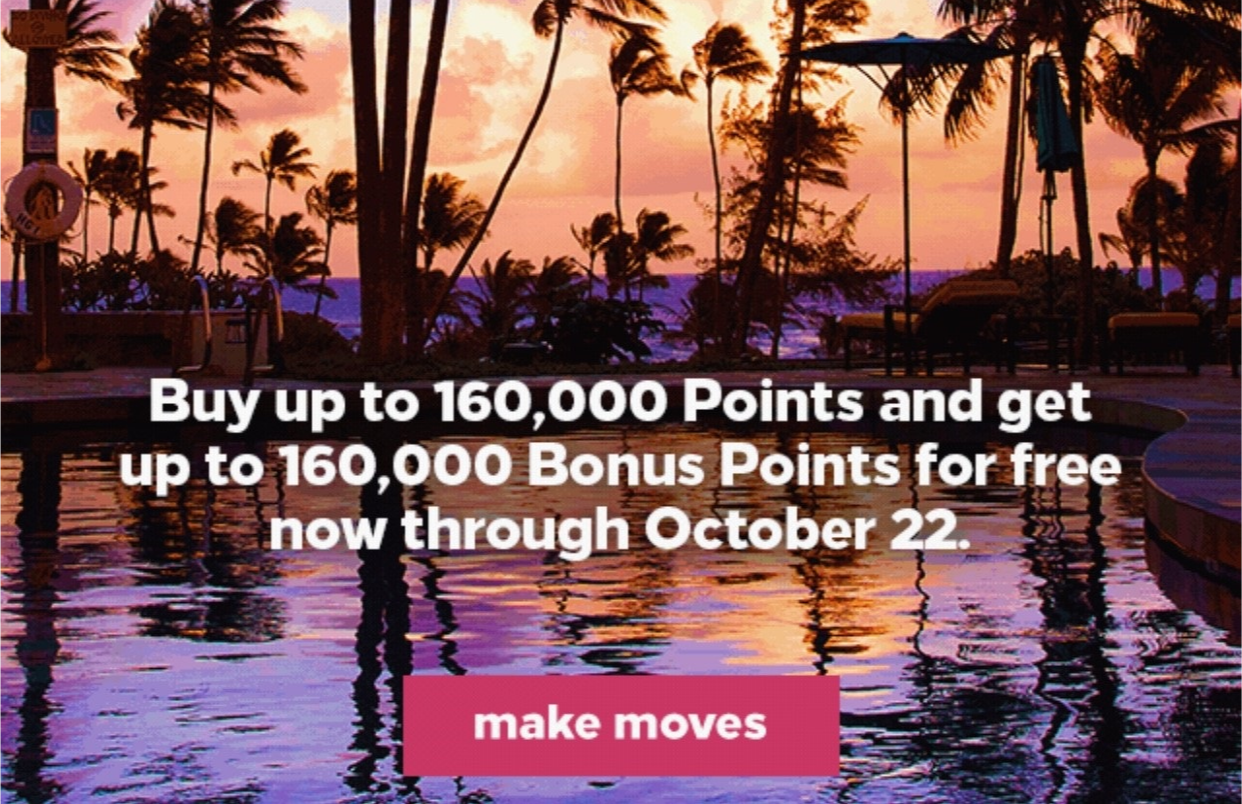 Amongst all the big hotel groups, Hilton is arguably the most generous when it comes to offering bonus points on stays at Hilton properties. As we speak, Hilton has several different promotions where members could potentially earn tens of thousands of points relatively easily.
Outside of earning points through stays at Hilton properties, members are also able to buy up to 80,000 points per calendar year for US$800 (A$1,168). This translates into a price of US$0.01 (1 cent) per point. Although at this price, you may occasionally derive good value redeeming points at certain properties, I don't necessarily consider it a good buy. However, it's a different story when they offer bonus points on purchase, as Hilton are doing right now.
100% Bonus
Hilton have just come out with their latest bonus points offer which I consider the most compelling in some time. Until 22nd October 2019:
Members can earn up to 100% bonus on purchased points.
The cap on annual purchase has been lifted from 80,000 points to 160,000 points.
Hilton often sells points with 100% bonus, although the number of pre-bonus points are generally capped at 80,000. Under the current offer though, that cap has been doubled to 160,000, meaning someone maximising the current promotion could accumulate up to 320,000 Hilton points (160,000 pre-bonus points + 160,000 post-bonus points).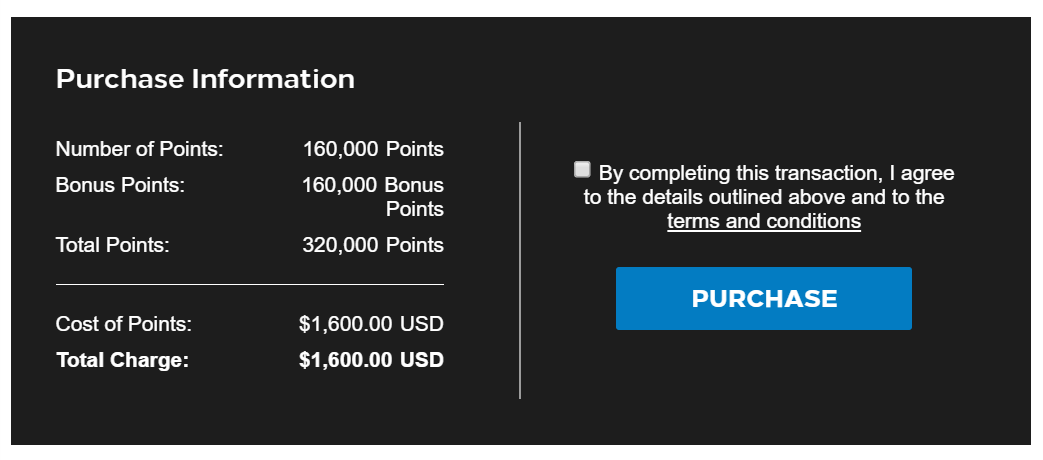 As seen above, under the current promotion, you are paying just US$0.005 (half cent) per point, which is amazing value.
Best Use of Hilton Points
Unlike some of it's competitors such as Marriott or World of Hyatt, Hilton does not publish a redemption chart. That said, the most number of points you need for a standard room, at any of it's top-notch property (with the exception of Waldorf Astoria, Maldives) is between 80,000 – 95,000 points per night.
As with all points redemption with Hilton, when you redeem 4 nights, you get the 5th night free, which makes this promotion even more valuable.
Generally speaking, it's best to redeem points for stays at luxury properties during peak holiday season, when cash prices are sky high. For instance, prices at Conrad Maldives, Rangali Island during the busy Christmas-New Year period is upwards of US$1,590 per night or 95,000 Hilton points, as seen below.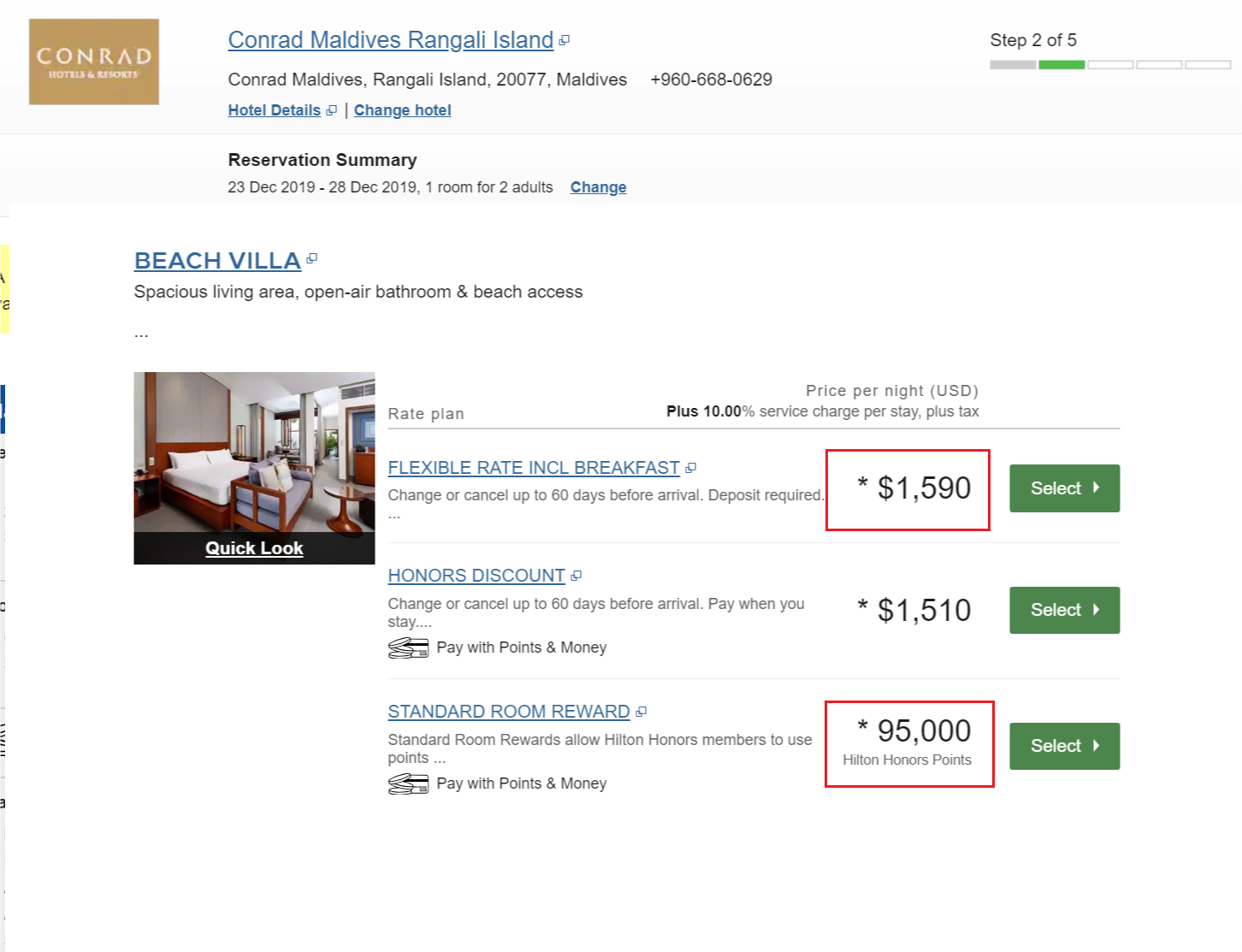 Someone taking advantage of the current promotion and buying points will only pay the equivalent of US$475 per night (95,000 points X US$0.005), which is a 70% discount off the cash price.
But wait, the magic really happens for those staying 5 nights. With the 5th night being free, you only need a total of 380,000 points for the duration of the stay, dropping the redemption rate down to 76,000 points per night.

Put another way, that's the equivalent of paying a rather ridiculous US$380 per night (76,000 points X US$0.005) as opposed to the cash price of US$1,590. How good is that??
Other Good Redemptions
Some of the other Hilton properties which may provide good value when redeeming points are:
Habtoor Palace Dubai, LXR Hotels – 80,000 points per night or AED3,000 (US$817)

If you take advantage of the current promo, you will pay just US$400 (80,000 points X US$0.005)

Hilton Waikoloa Village – Hawaii – 60,000 points per night, or US$745

If you take advantage of the current promo, you will pay just US$300 (60,000 points X US$0.005)

Hilton Tokyo Bay – 80,000 points or JYP127,400 or (US$1,175)

If you take advantage of the current promo, you will pay just US$400 (80,000 points X US$0.005)

Remember that these are prices for 1 night stay. If you plan on redeeming points for 5 nights, you can shave-off a further 20% off these prices.

In Conclusion

This is a terrific opportunity to buy points and redeem for stays at some of the most aspirational and iconic properties in Hilton portfolio. To be sure, some of these properties are prohibitively expensive, and even when you redeem points, you will be paying a LOT of money.

That said, if you have a special occasion such as a big birthday or wedding anniversary coming up and don't mind splashing out, you can save A LOT OF MONEY by taking advantage of this promotion.

Personally speaking, I only occasionally stay with Hilton, even so, I am tempted to purchase a small quantity of points.

Do you plan to buy points under the current promotion? Leave a comment below.