Hilton have officially announced details of its newest global promotion and it's a very good one. If you want to take advantage of the promo, make sure you register prior to completing your stays. You can Register through this link.
Before I delve into the details of the new promotion, it's worth pointing out that the Points Unlimited promotion is still running and does not end until 7th September, so just be aware of that.
2020 Double Rewards Promotion
Off all the major Hotel groups, Hilton have consistently offered the best and most valuable promotions over the last couple of years, and that's coming from a Marriott loyalist 😉. It has also been the only hotel chain to have offered promotions without any gap, which is quite unlike many of it's competitors who take their own sweet time brining in the new promotion after the previous one ends.


Earn thousands of points and 2x night credits with Hilton's newest promotion
The new promotion kicks off on 8th September and goes until the end of the year (31st December). During this promotional period, Hilton Honors members will:
Earn double points and double night credits on all stays.
All nights, including bonus nights earned in this period will count towards 2020 nightly credits, will be eligible for rollover night credit and count towards 2021 status qualification.
There is no cap on number of bonus points or double night credits you can earn (except of-course the mathematical cap as the promotion has an end date).
How many points will you earn
As is usually the case with these promotions, you earn bonus points only on base points and not on any bonuses linked to your status. Another important point to be aware of, particularly for non-US residents is that points are awarded on US$ spends.
For those not familiar with the points earning structure of Hilton Honors program, or need a quick refresher:
Hilton Honors Member (with no status) earn 10x points (base point).
Hilton Honors Silver earn 20% bonus on base points.
Hilton Honors Gold earn 80% bonus on base points
Hilton Honors Diamond earn 100% bonus on base points.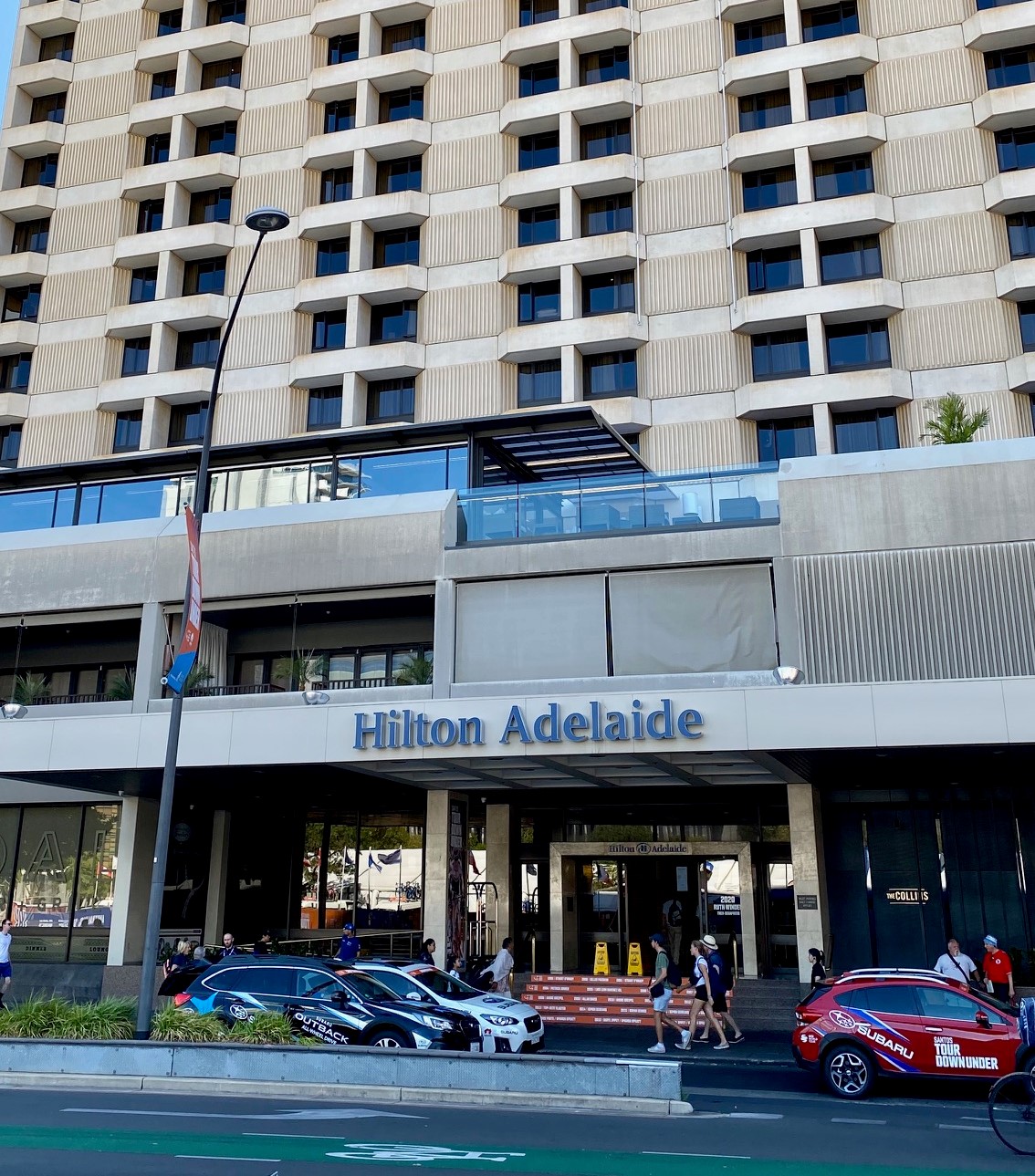 Hilton Adelaide
This means that by taking advantage of the promotion:
Hilton Honors member can earn 20x points (10+10)
Silver elites can earn 22x points (10+2+10)
Gold elites can earn 28x points (10+8+10)
Diamond elites can earn 30x points (10+10+10)
The above does not include any points you earn on your credit card spend, which means that Australians are looking at earning a further 1-2x credit card points potentially on their A$ spend.
In Conclusion
Hilton, you have done it again. I love the fact that Hilton is offering everyone a chance to earn double points, which in itself is quite respectable. What really takes this promotion to the next level though, is the ability to earn double night credits on all stays. Let me explain why.
Earlier in the year, Hilton announced that any nights earned in 2020 will be rolled over to 2021 and count towards achieving or retaining status in that year (2021). Now, with bonus nights also counting towards the 2021 status qualification, earning or progressing to that coveted Gold or Diamond status just got 50% easier.
As an example, if you stay 5 nights with Hilton during the promotional period, you will earn a total of 10 night credits and all of these nights will count for your 2021 status qualification. Is that good or is that good 😉
Do you have any Hilton stays planned during this promotion? Leave a comment below.