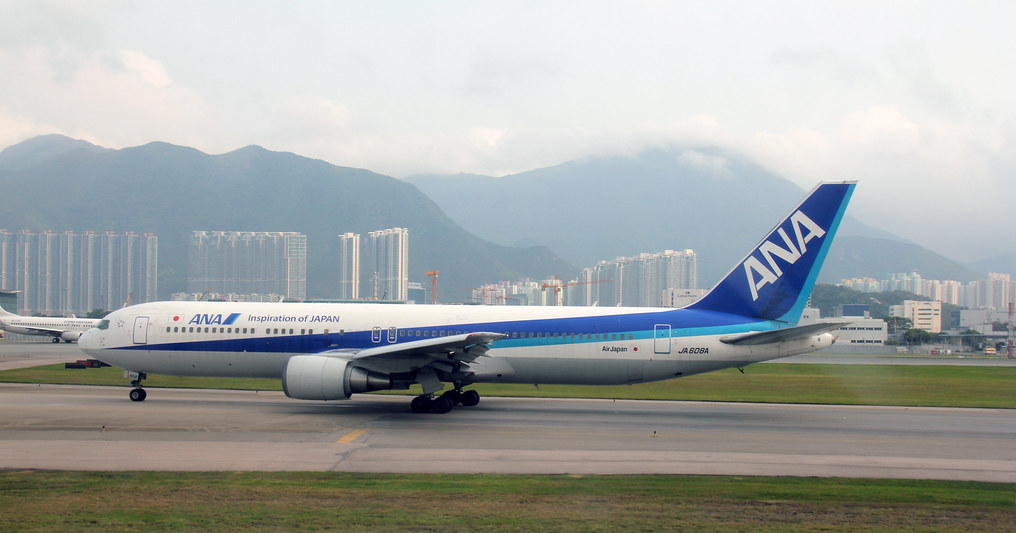 ANA, Japan's flag carrier is returning to Perth after a 3 year hiatus. Starting 29 October 2023, West Australians will once again be able to fly to Tokyo non-stop onboard ANA's workhorse B-787 Dreamliner.
The service relaunches with 3x weekly flights between Tokyo's distant Narita Airport and Perth, with flights departing every Sunday, Wednesday and Friday in both directions. Refer to this link to read ANA's announcement.
And this is how you could fly between Perth and Tokyo in the comfort of Business Class on points.
Virgin Points
Virgin Points (not to be confused with Velocity Points) is the points currency of Virgin Atlantic Flying Club. As Flying Club is a transfer partner with American Express Membership Rewards Program, Virgin Points are easy to come by.
You can fly ANA Business Class between Perth and Tokyo for 45,000 Virgin Points.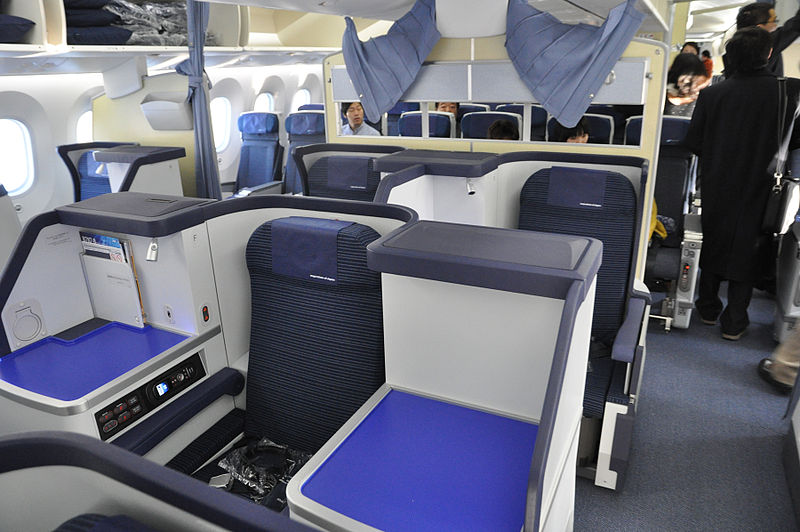 ANA B-787 Business Class Cabin
It is not currently possible to book ANA flights on Virgin Atlantic's website, to do that, you need to call in the Flying Club Contact Centre on 0344 209 2722 (UK number).
KrisFlyer Miles
ANA is part of Star Alliance meaning you are able to redeem points from Star Alliance partner programs too. KrisFlyer Miles is the official points currency of Singapore Airlines, the biggest Star Alliance member to operate flights into Australia.
You can fly ANA Business Class between Perth and Tokyo for 104,000 KrisFlyer Miles.


Redeem KrisFlyer Miles to fly ANA Business Class
As you can see, KrisFlyer pricing on this route is on extreme end of ridiculous, so this isn't an option anybody should be considering as their first choice. But it is an option.
The saving grace is that KrisFlyer Miles are very easy to earn in Australia. Besides American Express Membership Rewards, the program also partners with most major Bank Rewards Program. You can also convert Velocity points to KrisFlyer in the ratio of 1.55:1 (15,500 Velocity Points = 10,000 KriFlyer Miles).
Note that although Singapore Airlines do not impose carrier charges on its own metal, it does pass these charges on partner redemptions. Expect to pay around $415 in fees, taxes and carrier charges on this route.
ANA Mileage Club
ANA Mileage Club is almost unheard of in Australian points and miles community, probably because there is no efficient way to earn ANA Miles.
The program partners with Marriott Bonvoy, so you could transfer Amex points to ANA Mileage Club via Marriott. But this option only makes sense when Amex is offering transfer bonus to Marriott Bonvoy, which it does at least once per year. But if you can look past the difficulty of earning ANA Miles, the rewards are unparalleled.
You can fly ANA Business Class between Perth and Tokyo for as little as 65,000 ANA Miles Return.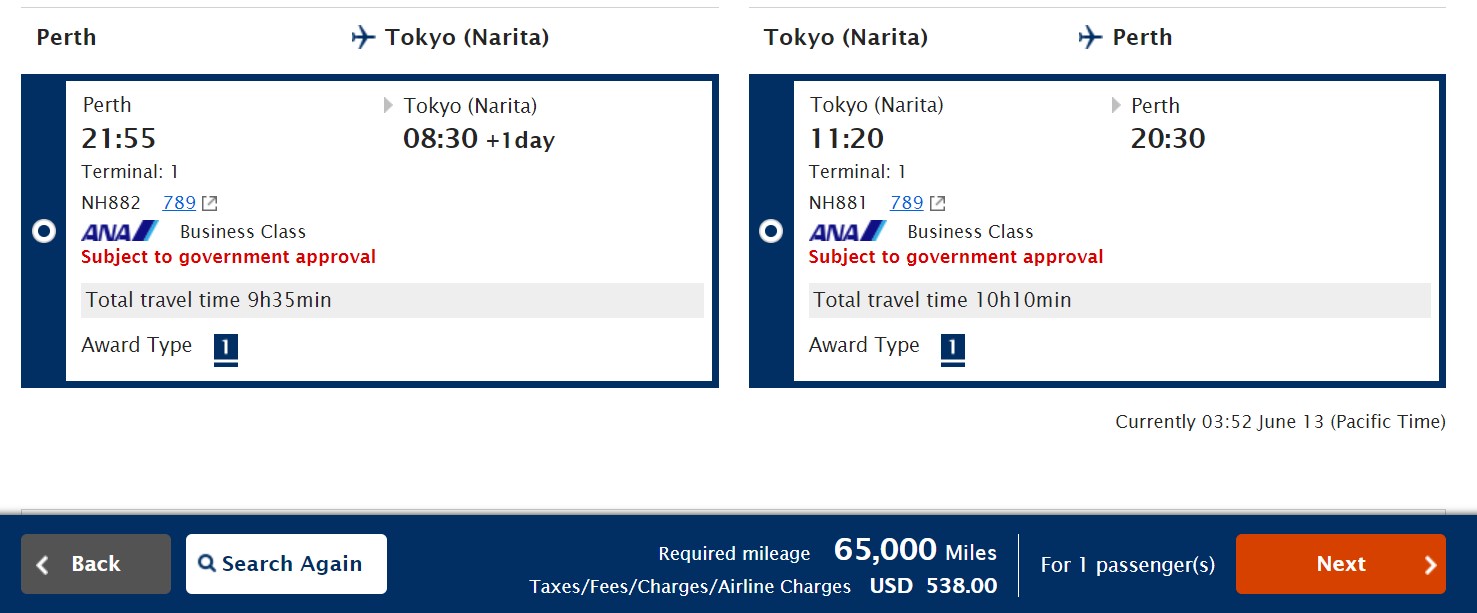 Redeem ANA Miles to fly ANA Business Class
That is ridiculously generous when you consider that KrisFlyer wants 100K+ miles just for a one-way flight on this route.
If you want to redeem ANA Miles, there are couple of important points you should be aware of :
ANA Mileage Club only allows round-trip bookings, one-way awards are not allowed.
The other is that ANA operates seasonal award chart and pricing varies, in high season the cost to fly this route in Business Class jumps to 75,000 miles. Still very respectable though.
Aeroplan Points
These days its tough to talk about good value partner redemptions without talking about the ubiquitous Aeroplan program.
For those not familiar, Aeroplan is the Frequent Flyer Program of Air Canada, a Star Alliance member and ANA partner. If you are after a redemption with low points pricing and no carrier imposed surcharge, Aeroplan fits that profile to a T.
You can fly ANA Business Class between Perth and Tokyo for 45,000 Aeroplan Points.


Redeem Aeroplan Points to fly ANA Business Class
Aeroplan points are not the simplest to earn in Australia, although things have become somewhat easier with the arrival of Star Alliance Credit Card. You can also transfer Amex Points to Aeroplan via Marriott Bonvoy.
Aeroplan is also a transfer partner with Commbank Awards, but I wouldn't recommend you pay much attention to it as the earning and transfer rates are quite poor.
Velocity Points ??
Don't get too excited, it is not presently possible to redeem Velocity points on ANA flights even though both airlines have often talked about their close partnership. But, this may change soon.
As is well known, Virgin Australia is launching flights between Cairns and Tokyo on 1 July 2023. It is expected that closer to that date, Virgin and ANA will announce further details about their expanded partnership, which besides other titbit's may address Velocity redemption on ANA flights.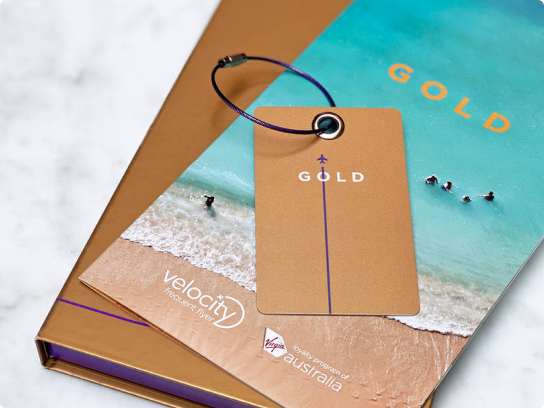 Velocity members may be able to redeem points on ANA soon
Should that happen, Velocity members will be able to fly ANA Business Class between Perth and Tokyo, either for 71,500 points or 78,000 points depending on which redemption table ANA is placed on.
I also expect Velocity to pass along ANA's hefty carrier charges to its members. Watch this space for more.
In Conclusion
ANA will be launching non-stop flights to Perth from 29 Oct 2023 which is fantastic news for travellers in Western Australia. While any new flight is welcome news, points and miles collectors will be particularly pleased about this one, given how many options they have to fly this route on points.
There is a strong possibility that Velocity may soon join the ranks of partners with the ability to redeem points on ANA flights, which would be quite nice.
Have you ever redeemed points on ANA flights? Leave a comment below.